---
The InterContinental Jimbaran Bay was the first hotel I ever stayed at in Bali, and quickly became one of my favorites. I've stayed there twice, and you can find the previous reviews here and here.
The InterContinental has a special club wing, which they don't upgrade Royal Ambassador members to for free. There's quite a premium for it (over $100 per night), but I've always found it to be worth every penny. Back in the day they had an airport arrivals service for club guests, whereby they literally picked you up at the gate and took care of immigration formalities while you sit in their lounge. A free transfer to the hotel was also included. A couple of years ago they removed that benefit for "security" reasons, and now just meet you outside immigration and drive you to the hotel.
The other awesome thing about the club is that it was open 24 hours per day and had a menu off of which you could order, all of which was free. While the portions weren't huge you could try as many things as you wanted, so there was no need to spend a cent during your stay otherwise. I've heard reviews of the club service being cut back, so I was curious to experience firsthand just how bad it is.
We were staying four nights and it wasn't cheap at $320 per night. I always have a hard time redeeming points in Bali. The reason is because the hotels are neither cheap nor outrageously expensive, and just never quite meet my threshold for redeeming points. However, they did have a package deal whereby we would get a car and driver for an entire day at no extra charge just for staying for nights. Not that a car and driver in Bali is really that expensive, but it was a nice bonus.
I should also mention that instead of booking a club room I booked a duplex suite. On my last stay I learned their upgrade policy the hard way. The standard Royal Ambassador upgrade from a club room is to a duplex suite, despite the fact that a duplex suite is only about $20 more than a club room. If you book a duplex suite you get an upgrade to one of their larger specialty suites.
After landing at Denpasar Airport and clearing immigration there was someone with an InterContinental Bali sign waiting for us. He walked us to the pick-up area, where a Mercedes was waiting to take us to the hotel.
The InterContinental is in Jimbaran Bay, which is among the closest resort areas to the airport. It's only a few miles, though with Bali traffic it takes 20-25 minutes.
While I was disappointed in many of the changes at the hotel, what impressed me was their Royal Ambassador recognition. As I arrived there was a bellman waiting who thanked me for being a Royal Ambassador and welcomed me back. He walked us over to the club, where check-in would be processed. It's always nice to skip the outdoor lobby and go straight to the air conditioned club, where we were offered cold towels and drinks.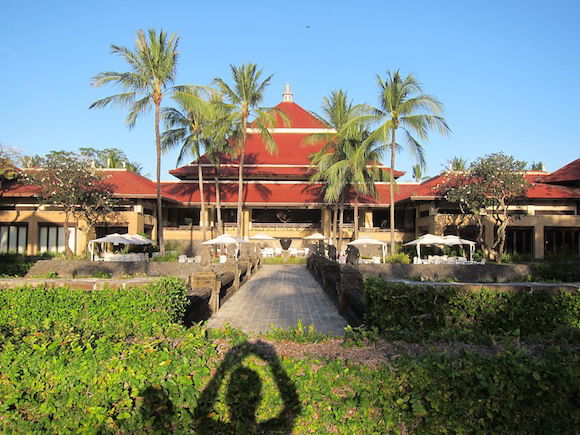 Hotel exterior (and I'm trying to take a picture, not do ballet, for the record)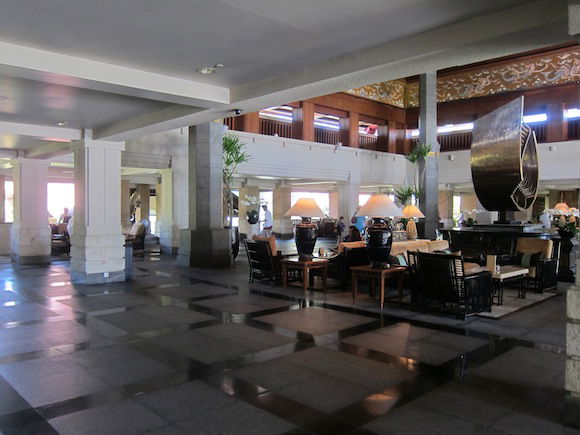 Lobby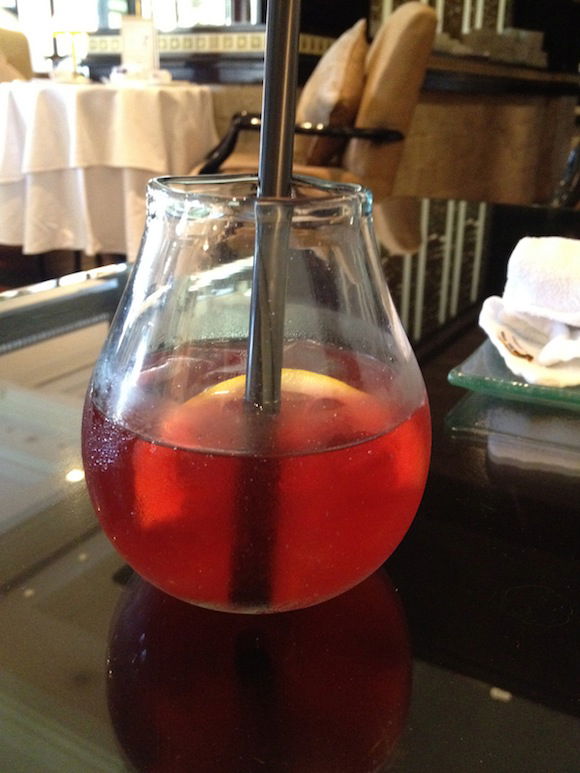 Welcome drink
At the club I was welcomed back by the club manager, who made it really personal by saying "nice to see you again." She also informed me that we had been upgraded to the Jimbaran Suite. I believe I was technically only supposed to be upgraded to the Uluwatu Suite, though the hotel was quite full and that was the next room category up.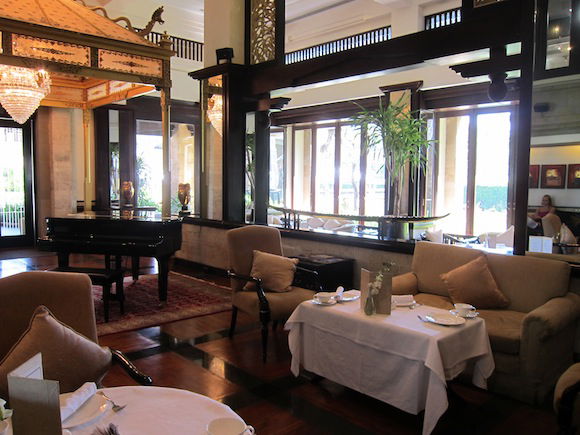 Club lounge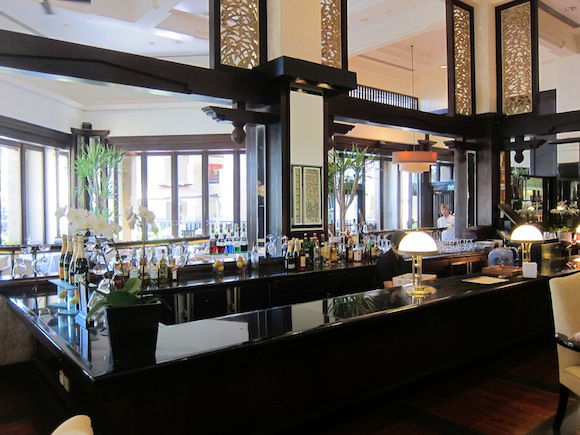 Club lounge
This is the same suite I stayed in the first time I visited, except this one was on the ground floor.
Our butler walked us to our room, which is about a five minute walk from the club, and gave us a tour, though I was already quite familiar with the room.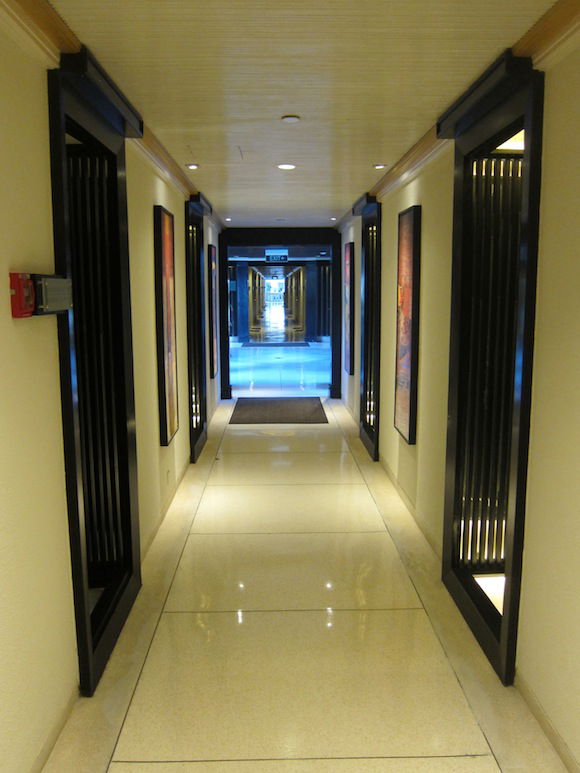 Entrance to suite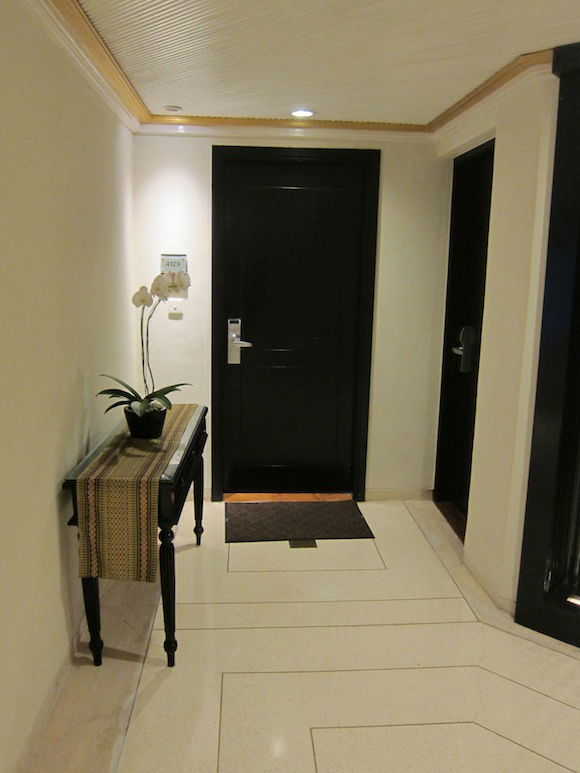 Suite door
The suite is huge with a living room, large dining room table with six seats, and kitchen.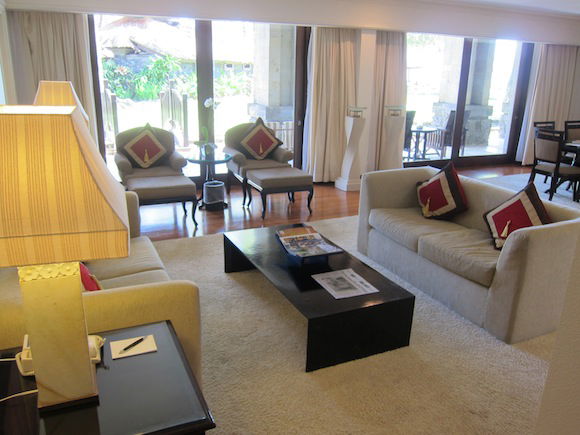 Living room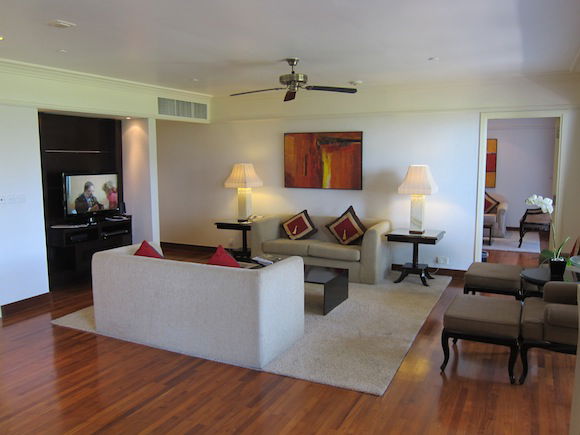 Living room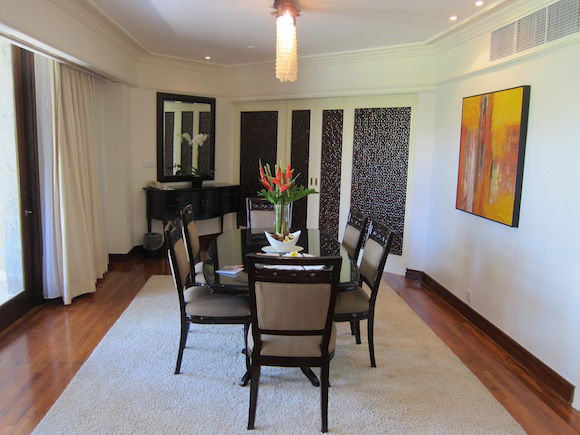 Dining room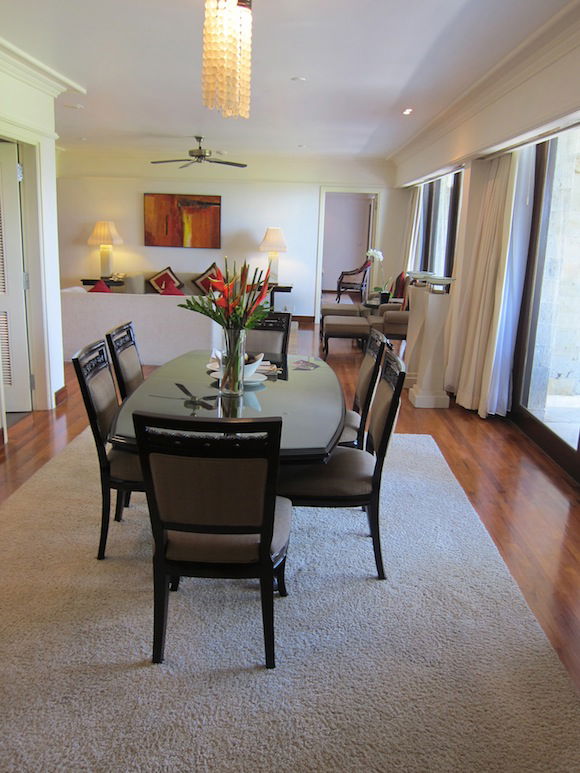 Dining room
On the dining room table was an amenity consisting of some fruit and a box of chocolates.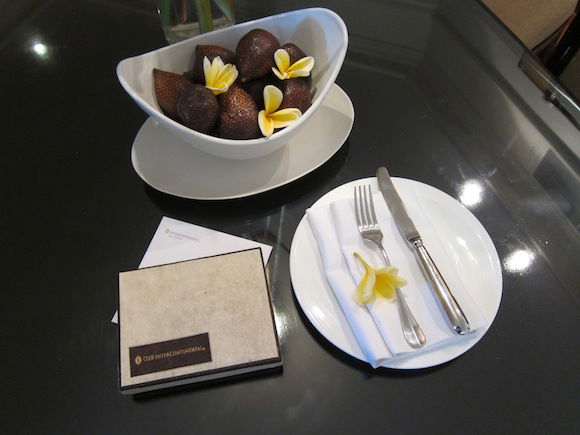 Welcome amenity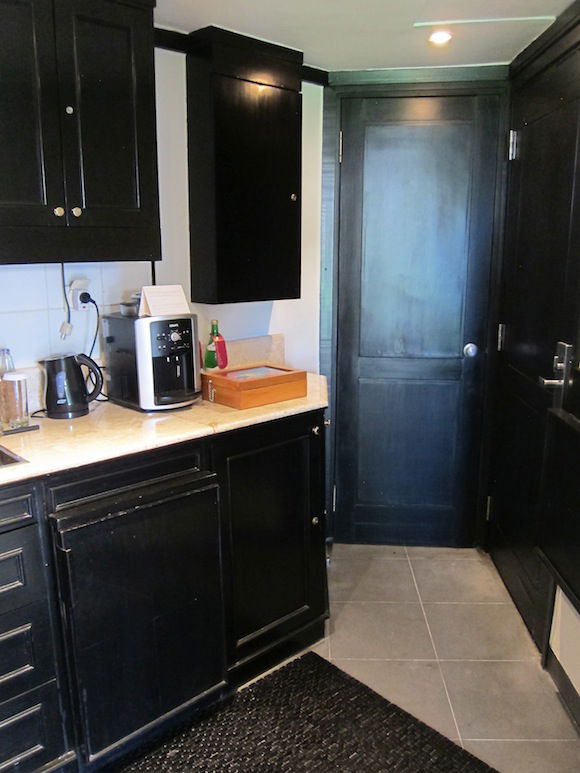 Kitchen
Then there's the separate bedroom with a king bed, pull out couch, and desk. The minibar is also located in the bedroom.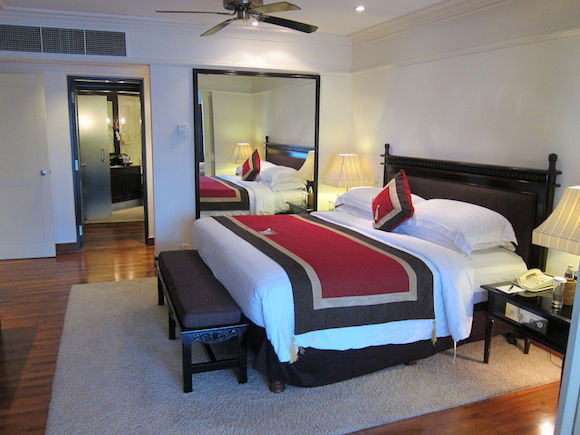 Bedroom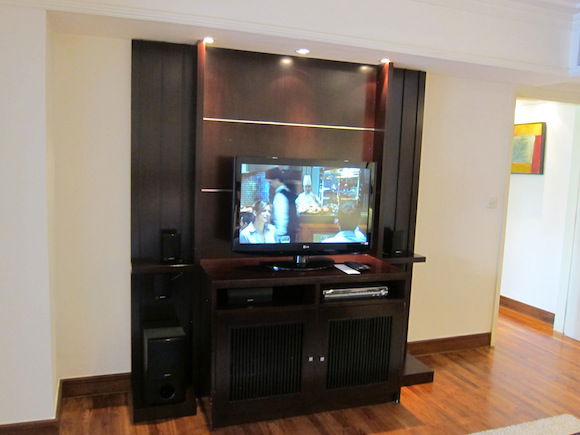 TV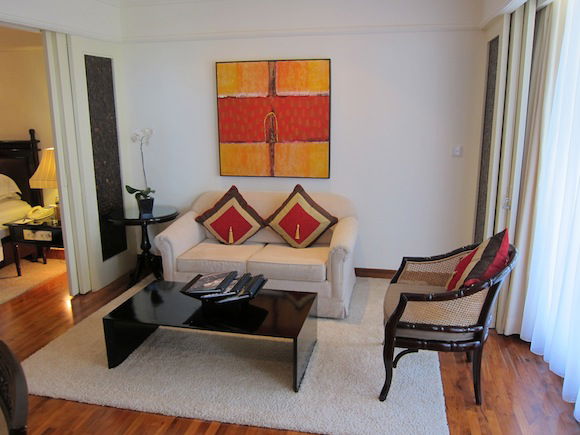 Couch in bedroom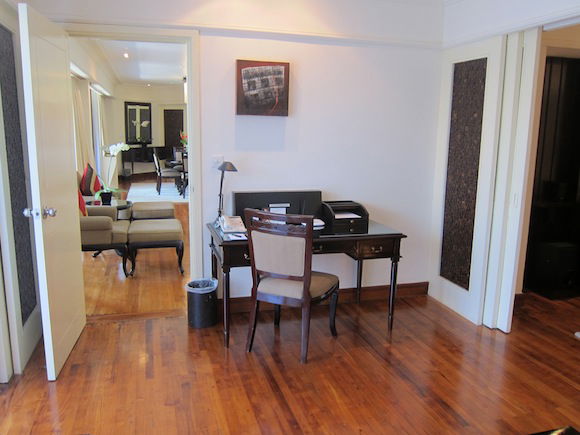 Desk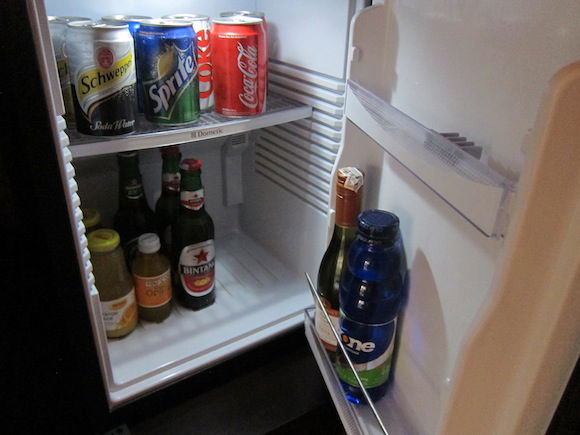 Minibar
There are also two bathrooms – one half bath and one bathroom with a tub and shower. Leading to the main bathroom is a vanity mirror and desk.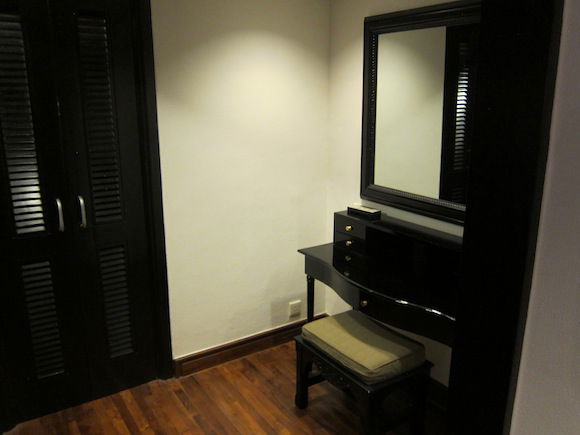 Vanity mirror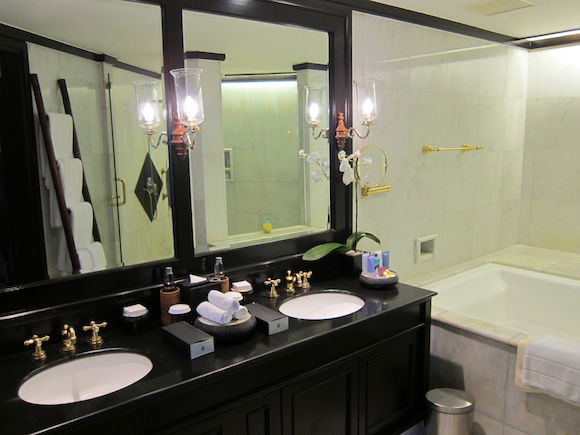 Double sinks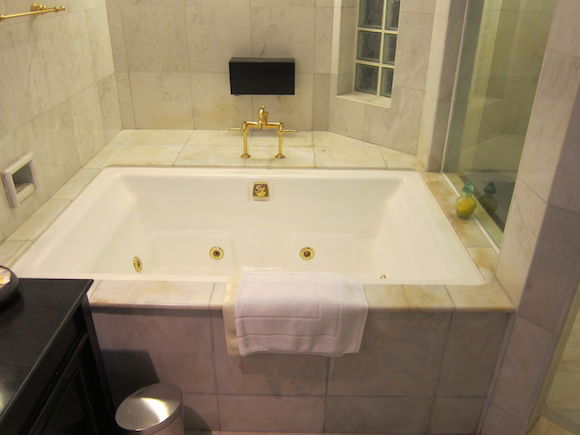 Tub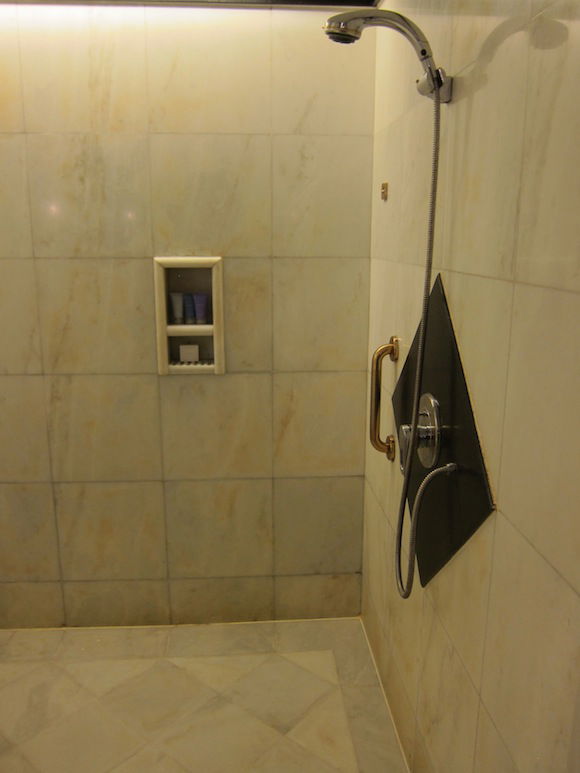 Shower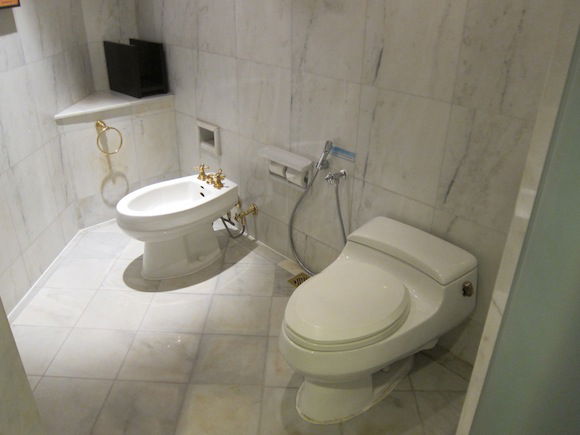 Toilet
There's also a huge balcony, though I far preferred the one on the second floor suite since the one on the lower floor is accessible by foot bridge and lacks privacy.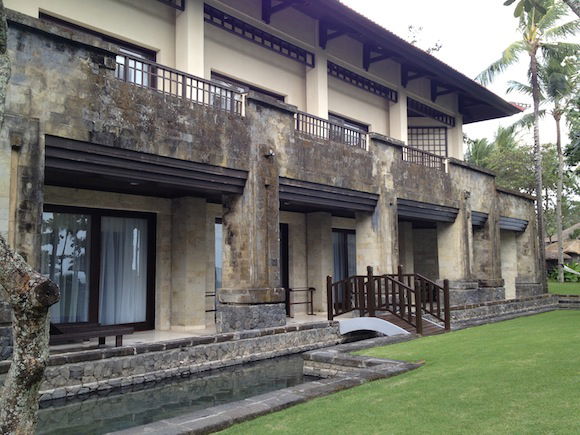 Balcony
The resort grounds are really nice, though they're slowly starting to show a bit of age. I don't really mean that in a bad way, but rather am just saying it wasn't super-modern anymore.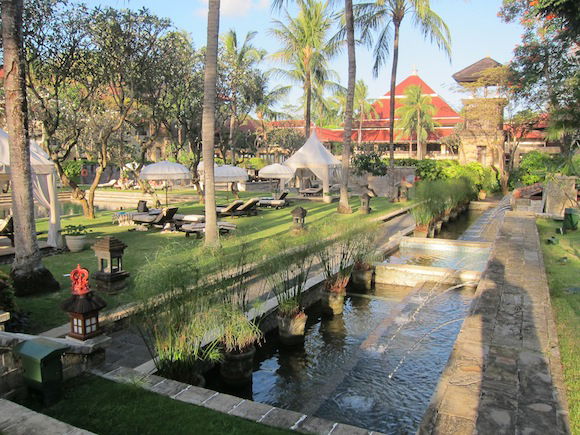 Hotel grounds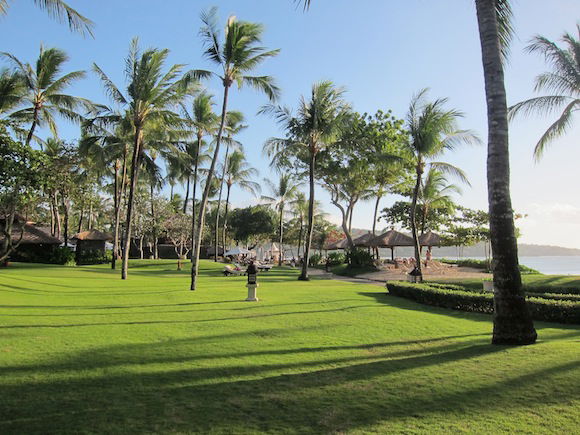 Hotel grounds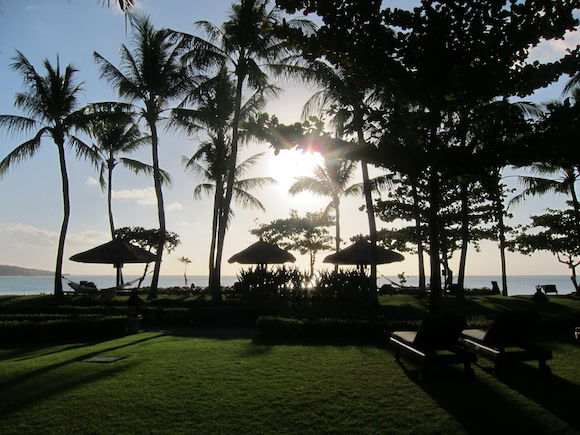 Hotel grounds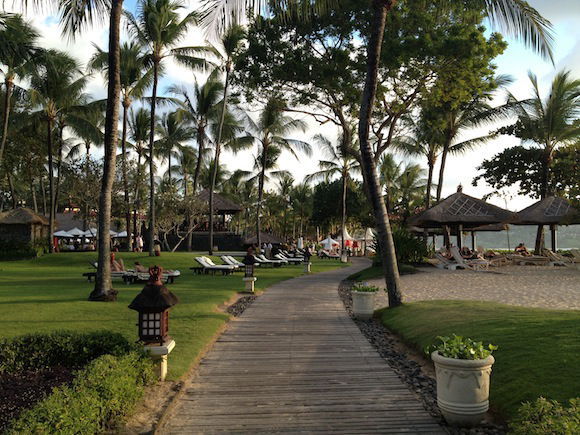 Hotel grounds
Contrary to popular belief (among those that have never visited) Bali isn't really much of a beach destination. That being said, as far as beaches in Bali go, Jimbaran Bay has one of the better ones, and I find the sunsets in Jimbaran Bay to be especially spectacular.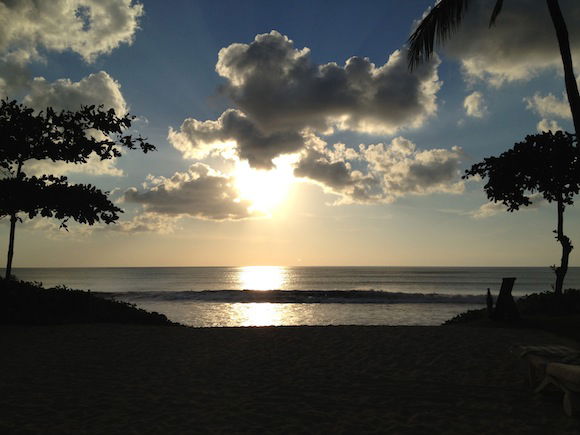 Sunset
I like Bali more for the people and the vibe. Besides, I'm more of a person that likes to lounge at the pool instead of the beach.
The hotel has one main pool which is huge and has plenty of lounge chairs.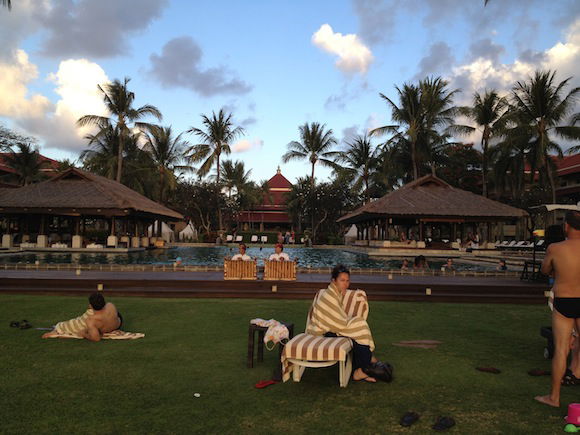 Main pool
But then there's also a pool exclusively for club guests, which is much quieter and where I spent most of my time.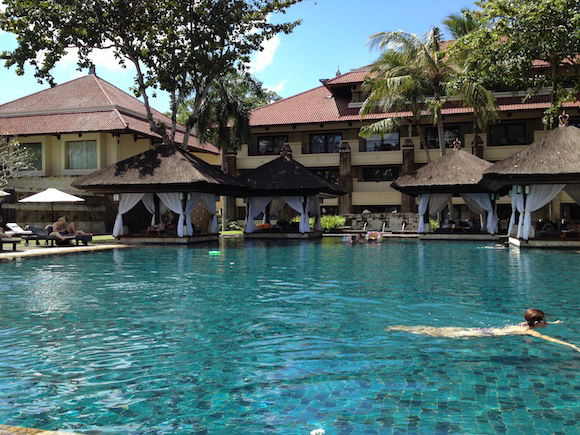 Club pool
There's also a really nice spa, and the treatment prices are reasonable for a major hotel brand. An hour long massage is ~$60USD including tax and tip. Yes I realize massages are much cheaper outside of hotels, but compare that to the Westin Siray Bay in Phuket, where an hour-long massage was nearly twice as much.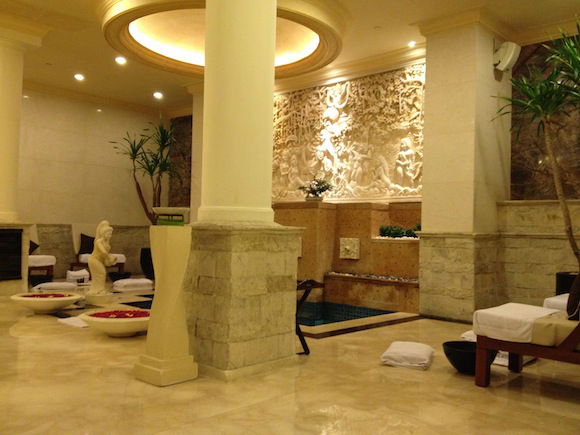 Spa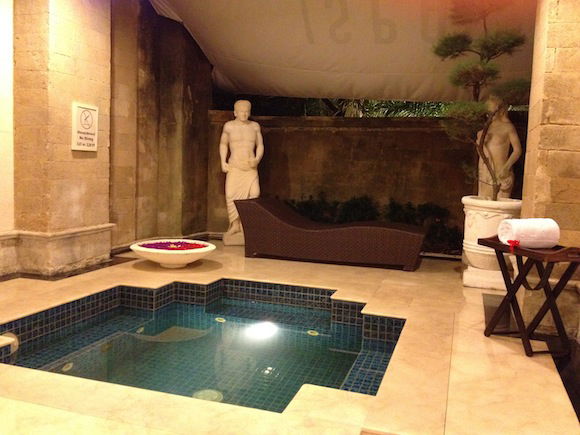 Spa
I also saw this in the spa, and I'd love if someone could explain to me what this is, as I lost sleep over it: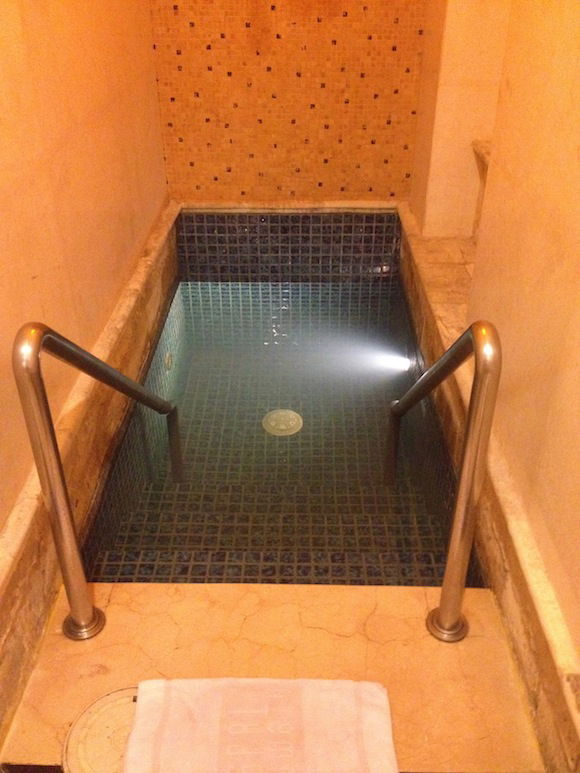 What the…?
So the club lounge is the thing I was most curious about in relation to my previous stay, since I had heard of all the cutbacks. As a club guest you can have breakfast in the club, in the restaurant, or via room service.
We had breakfast in the club three of the four days, and that didn't change too much since the last time I was there. The buffet spread was a bit more limited though they had an a la carte menu from which you could order.

Breakfast buffet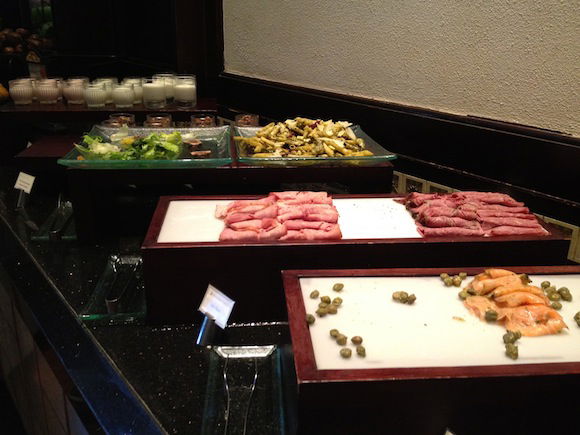 Breakfast buffet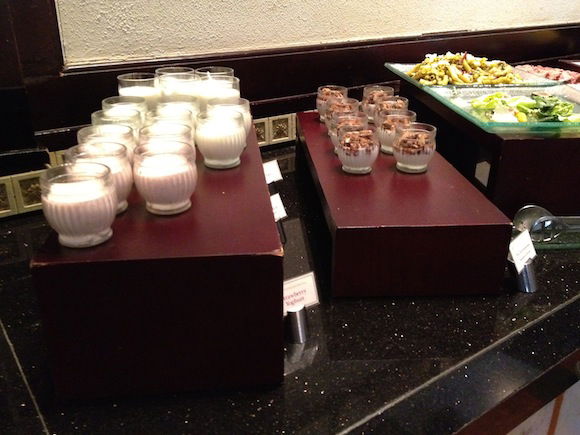 Breakfast buffet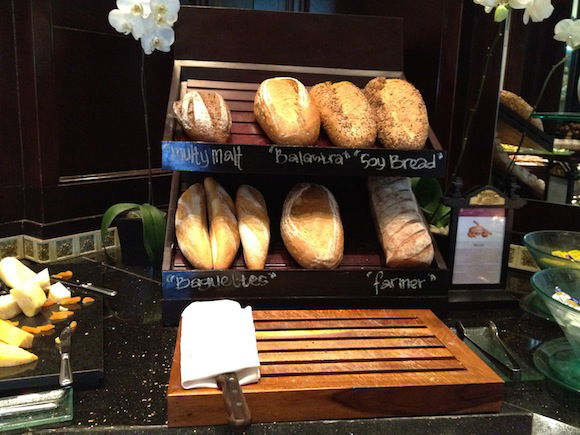 Breakfast buffet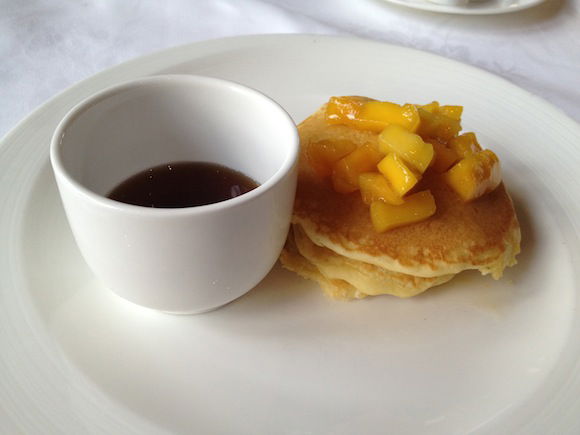 Pancakes (a la carte)
And for those of you wondering, this is what the a la carte breakfast menu looked like: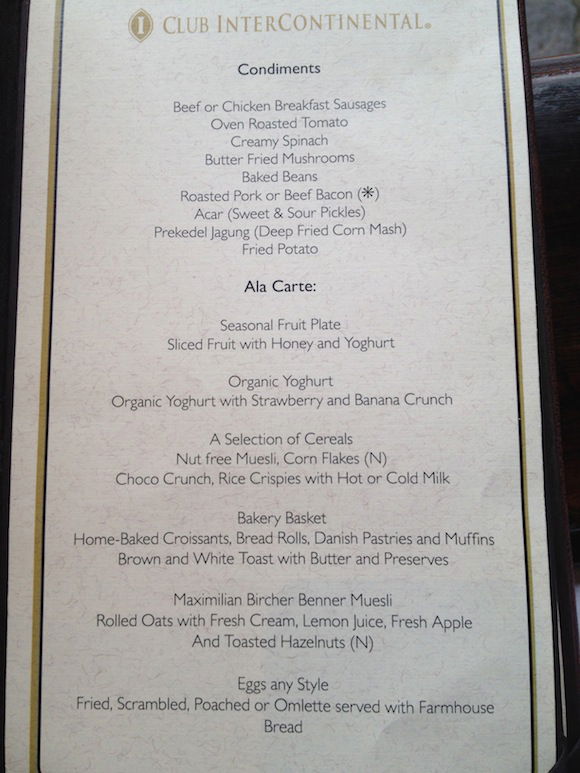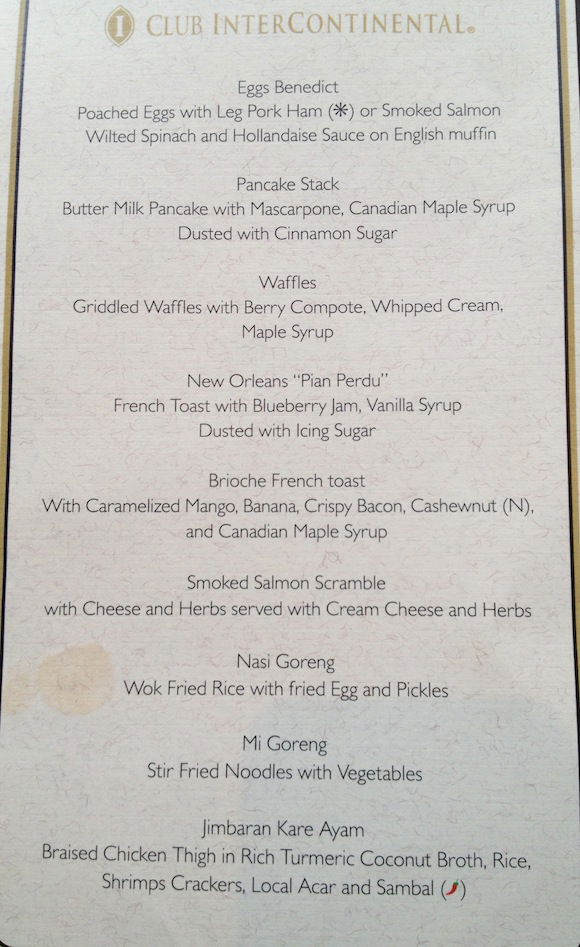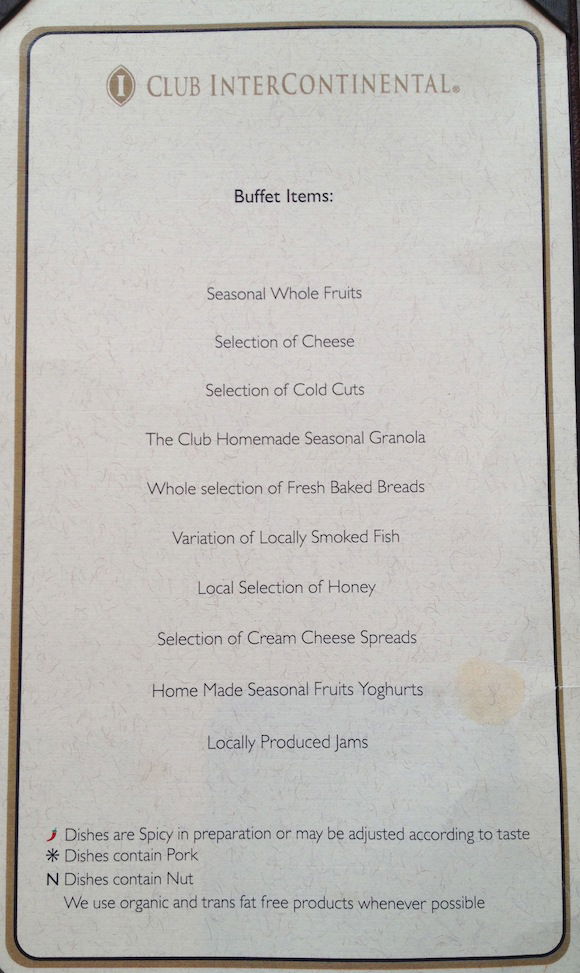 One morning we also had breakfast in the restaurant, which featured an expansive spread. I was trying not to overeat too much, so we only went to the buffet one morning.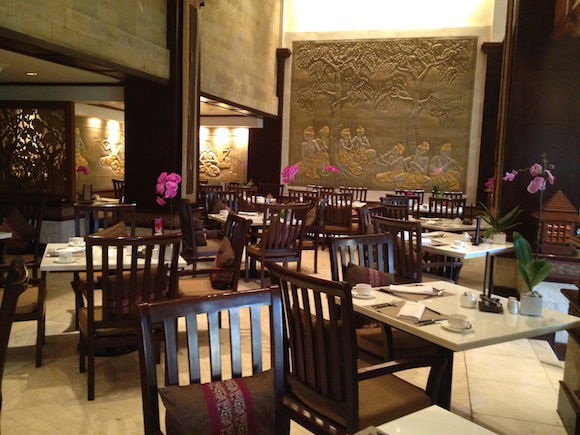 Restaurant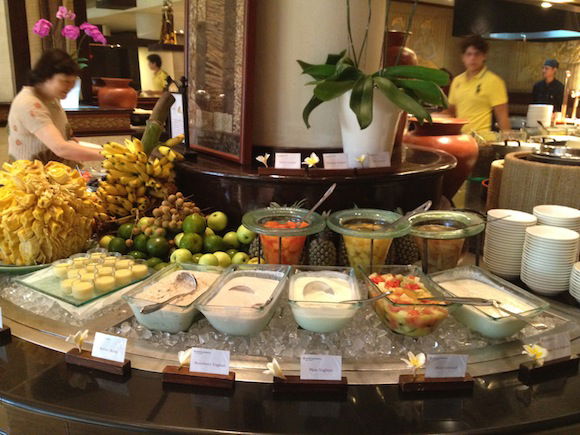 Breakfast buffet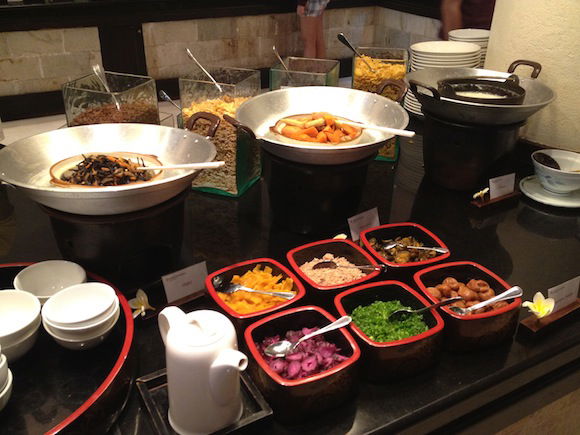 Breakfast buffet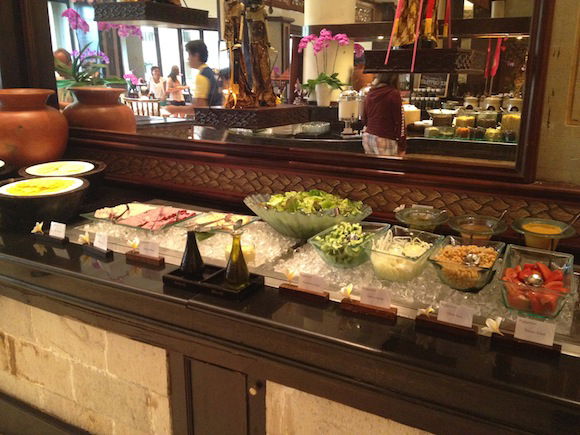 Breakfast buffet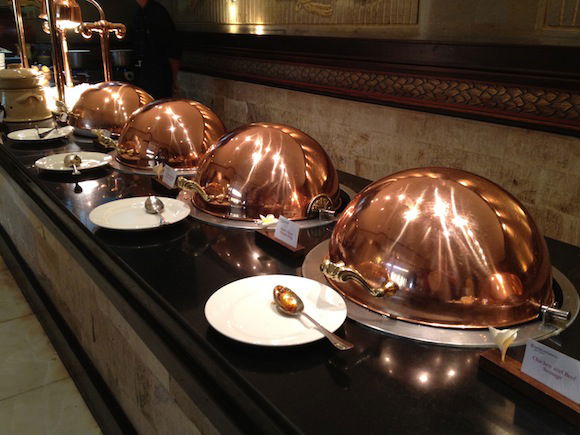 Breakfast buffet
Afternoon tea was also served in the club lounge, consisting of a variety of sweets and sandwiches.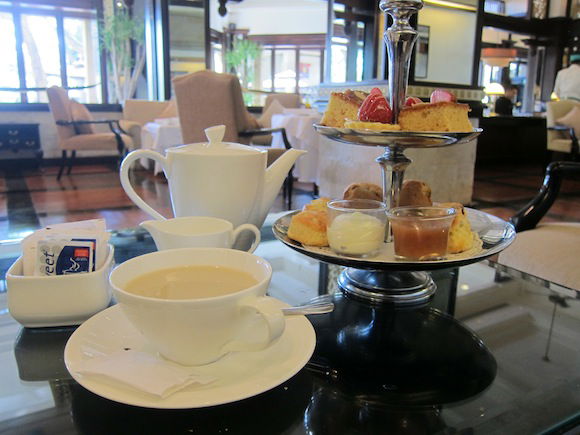 Afternoon tea
Now the real disappointment came with the evening spread, and this is more or less what kills the value of the club lounge for me. As you'll see in my previous reports, the hotel used to have a very nice evening spread and an a la carte menu off of which you could order food (which was complimentary). Not only have they cut back on the evening spread, but there's also no longer an a complimentary a la carte menu (though they do have a paid one). So there's no way the club lounge spread will pass for dinner anymore, unfortunately.
Instead they just automatically bring you out a couple of small appetizer plates as you're seated.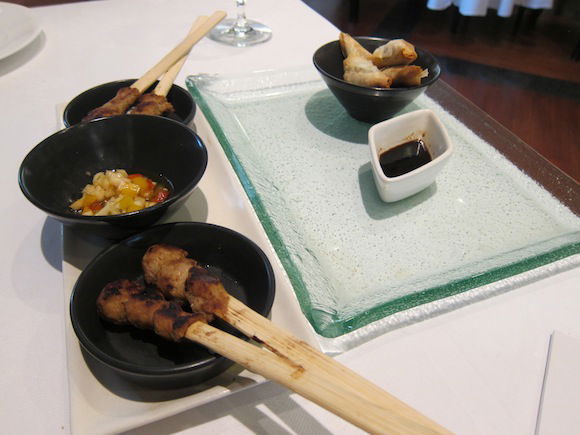 Appetizer plate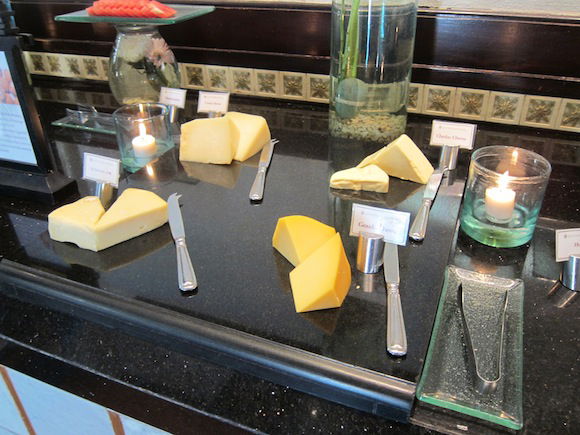 Extent of the evening spread
On the plus side they do have a very nice drink selection, so it's a nice space to relax in the evenings.
But I really think the hotel made a bad decision with their cutbacks. I understand the need for hotels to cut back on expenses, but they do charge a huge premium for club rooms and frankly it's the club wing that drew me to the hotel, as there are plenty of other options. It's nice to have something like the club lounge at this hotel where you're not nickle and dimed, and to me that justified the premium.
I no longer think it's worth paying for a club room, though, and I'm not sure this hotel would be my first choice if I would just be in one of their standard rooms, as there are other hotels where I'd get complimentary club access (though for the most part the clubs aren't as nice as the one at the InterContinental). It's interesting to note that there were several other repeat hotel guests expressing their displeasure at the change.
On the plus side, the service at the hotel is phenomenal. The Balinese people in general are among the friendliest in the world, and the employees at this hotel deliver some of the most sincere, friendly, and polished service imaginable. So they deserve huge props for that.
But I'm not all that sure I'd recommend this place anymore, and I was their biggest fan.