While I don't consider amenity kits as such to be a vital part of an airline's product, they can to some degree set the tone for the quality of a product. If you get a super-cheap amenity kit, generally the onboard product will reflect that. And airlines which invest in amenity kits generally have a good soft product.
There are some exclusions, like Singapore Airlines, which doesn't offer amenity kits in business class. Instead they just give you slippers and eyeshades, and have the rest of the amenities you'd want available on demand. I don't think that's a bad system, given that it's a lot less wasteful — a vast majority of people don't seem to bother taking amenity kits with them.
Which brings us to the snazzy new amenity kits American Airlines is introducing.
American has just announced they'll be introducing new amenity kits, which will feature products from four American brands — Cole Haan, 3LAB Skincare, C.O. Bigelow Apothecaries, and Clark's Botanicals. The new amenity kits will be available starting in March 2016, and will be distributed in four rotations of various colors through March 2017. The first rotation will last four and a half months beginning with gray, blue, and red kits.
Each kit will include a toothbrush, toothpaste, eyeshade, socks, and ear plugs. Each kit will also have a discount code providing 20% off the skincare brand in the kit, and $75 towards a future Cole Haan purchase. That's awesome, as 3LAB makes some fantastic skincare products. I'm also curious about the exclusions with the Cole Haan discount.
Here are the details of the amenity kits, which are different for international first class, international business class, and transcon first class:
International First Class – Cole Haan/3LAB
Featuring perforated detail and available in six different colors, this kit's bag is inspired by Cole Haan's design and innovation collection, ZerØGrand.
3LAB Skincare products (M Cream, Perfect Hand Cream, and Perfect Lips (Balm), tissues, hand sanitizer, mouthwash, pen and foam headphone covers.
International Business Class – Cole Haan/C.O. Bigelow
This Dopp Kit design is versatile and is available in eight different color combinations.
C.O. Bigelow Apothecaries products (lip balm, Lime & Coriander body lotion and mouthwash), tissues, pen and foam headphone covers.
Domestic Transcon First Class – Cole Haan/Clark's Botanicals
This kit's bag resembles an envelope with its folds and stamped exterior and is available in six different colors.
Clark's Botanicals skincare products (Smoothing Marine Cream, Ultra Rich Lip Balm, as well as Moisturizing Hand Cream and Refreshing Hand Wipe, both created exclusively for the American Airlines kit), toothbrush, toothpaste, eyeshade, socks and ear plugs.
America presently has collector's edition heritage amenity kits, acting as a tribute to the airlines which became the new American.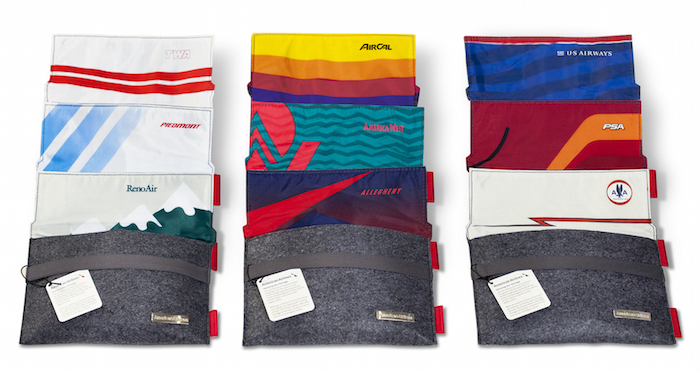 They're a cool concept for aviation geeks, though that's probably lost on many. They have amenities from Red Flower, which is a decent enough brand, though likely isn't anything you'd take home and make a purchase decision from.
Bottom line
Kudos to American for these new amenity kits. They're partnering with some great brands, and have products I'd actually want to take with me. The discounts for the products in the kit are pretty awesome as well.
What do you make of American's new amenity kits?