Yesterday after an amazing flight in Singapore Suites including sleeping in a double bed for nearly 10 hours, it was time to transit Hong Kong.
My connection was off to a great start when an agent met the plane to escort me through transit security. I figured that was excessive since there couldn't possibly be a queue at 5:50AM in the morning, but boy was I wrong. We must have walked past a 45 minute queue. The issue is that while the escort guided me, he kind of just kept walking without looking back, so I kind of followed him like this duck:
https://www.youtube.com/watch?v=MUNbvhcaXwA
I'm hoping that visual clarifies things a bit. 😉
So to some people it wasn't apparent I was being escorted, and apparently some thought I was cutting the line.
I get to the front of the security queue and there's a British guy who had already been complaining for the 15 seconds I was near him. "I thought this airport was supposed to be efficient, what the hell is this?"
So anyway, I'm directed to cut him in line, and this bloke loses it — "and who the hell do you think you are?" Now there are a few douchebag responses you could dish back, though I wasn't looking to be an ass, so I simply signaled that I was following the escort. He then continued with "well why are you so special that you get escorted through?" Oy, this is awkward.
It was kind of like this:
https://www.youtube.com/watch?v=cV0tCphFMr8
I made it to the Silver Kris Lounge and was alone in it for about 30 minutes, because I guess all the other premium cabin passengers were stuck in the queue.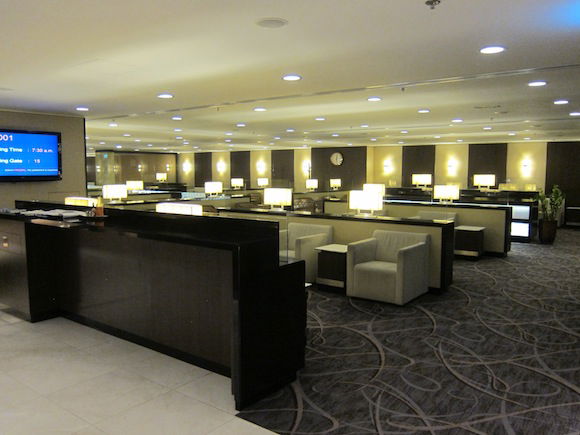 I asked about the possibility of a shower, and was informed they didn't have showers. Shoot, I guess I should have researched that before the flight. I asked if there was another lounge with a shower in the area (I knew the Thai and United lounges had them, though they're near gate 35, which is a real haul), and the agent informed me there was a Priority Pass lounge with showers near gate one — "just keep walking that way, there's a big black, uh, door, you can't miss it."
So I did that, and after they registered me asked about getting a shower room. "Ohhhh, long queue for shower, at least 3-4 hours." I did a double take as I looked at the lounge and it was more or less deserted, so I asked him if there was somewhere else I could shower. He said there was a Priority Pass lounge near gate 35 that had available showers, and I should go there.
At this point I was crunching numbers in my head. There was about an hour till departure, so I figured I could swing it if I hurried.
Hong Kong is one of the most visually stunning airports in the world, in my opinion, though can also be a real pain to haul through.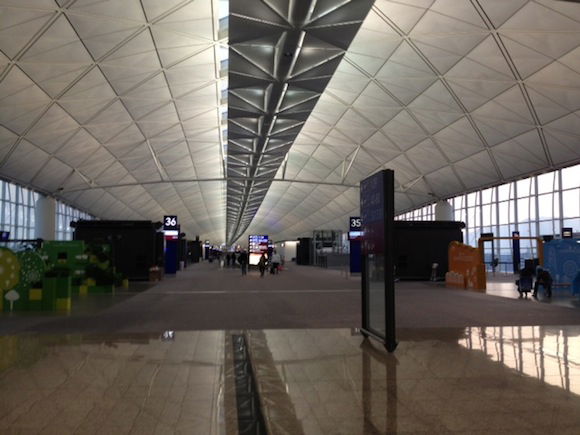 So after walking at a fast pace for 15 minutes I made it to the lounge with showers. Unfortunately these weren't the shower rooms I'm used to at airports with sinks and toilets (let alone bath tubs and rubber duckies), but rather tiny individual shower rooms with communal sinks and toilets, and this warning sign in the shower: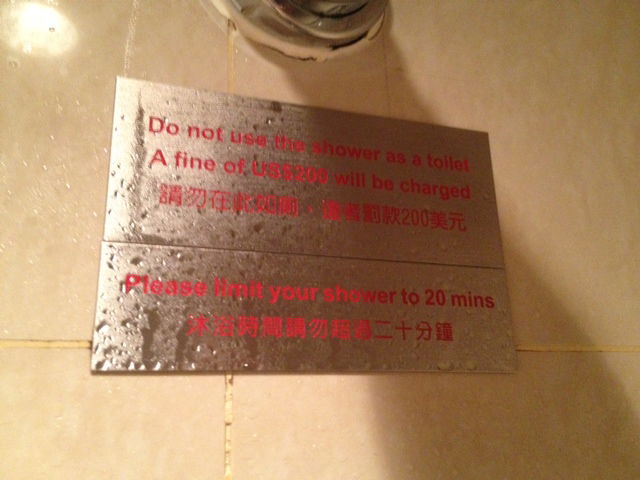 I was so curious about the enforcement of this that I… well, nevermind.
Anyway, the problem with tiny showers rooms isn't the lack of amenities, but rather how hot they get when water is running, meaning you're sweating by the time you get dressed.
So after the shower I was sweatier than when I got in, and with 20 minutes to go till departure I hauled back to gate 15, where my flight was just boarding.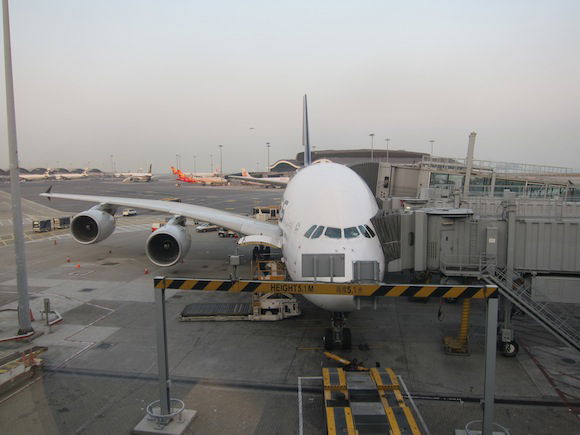 And the greatest surprise of the entire trip was no doubt this: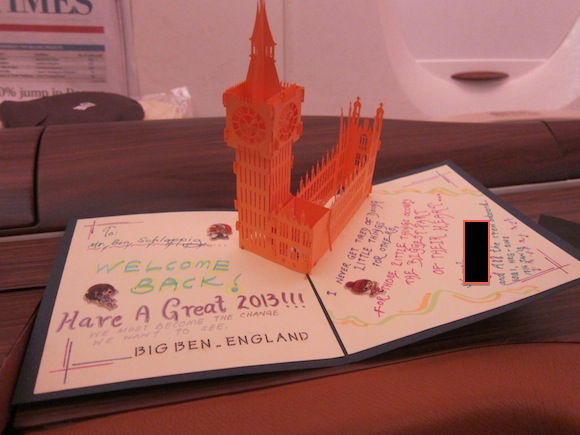 Anyway, I learned my lesson — no showers in Hong Kong!