I don't actually hate you guys, but… 😉
In December I wrote about how United Airlines did the unthinkable — no, not drag a man off a plane, or cut employee bonuses and call it an exciting improvement.
Rather they released a cookbook. I appreciate innovation, like when companies come up with new products that meet needs that weren't previously addressed. Maybe it's just me, but an airline cookbook doesn't seem to fit into that category.
Nonetheless I couldn't help myself. I ordered the cookbook, and of course a stylish United apron to go along with it, so I too can live out my United-flight-attendant-with-40-years-of-seniority fantasy.
There's an added wrinkle here. I've never cooked before. Not once. I mean, I've once in a while put popcorn in the microwave, and a couple of times I've even boiled water to make tea.
But other than that I rely on reservations or Postmates to have a good meal. So I figured that if I'm going to learn to cook, a United Airlines cookbook is the place to start, since they don't really know how to cook either. I figured it was a toss up between United, Chef Boyardee, or Olive Garden (apparently they have a Tuscan cooking school, though I suspect that's code for "Tuscan microwave course").
I'm visiting Tiffany this week, so it seemed like the perfect opportunity to tackle this task. Tiffany suggested we have readers vote on what they want to see cooked. I agreed.
So, what are we cooking?
When Tiffany said we'd prepare a "whole meal," I didn't realize she was referring to a multi-course meal. I thought she meant, like, an entree. But now apparently we're preparing a four course meal… FML.
So, what did you guys vote on?
Crispy Octopus, Avocado, Pickled Pearl Onions, Cilantro, Chicharron spices
Confit Chicken Salad with Roasted Butternut Squash, Pickled Beets, and Goat Cheese
Five-Spice Braised Short Ribs with Fried Black Rice
Black Sticky Rice with Fresh Mango and Sweet Coconut Cream
SERIOUSLY, guys? Seriously?!?
I've never cooked before, and I'm supposed to make crispy octopus, confit chicken, braised short ribs, and black sticky rice?
As if that's not challenging enough, let me also add that I was a vegetarian for eight years, and I'm actually disgusted at the thought of handling raw meat and anything that's bloody or looks like an animal. So the prospect of preparing octopus, chicken, and short ribs, is quite horrifying.
We went shopping!
Today Tiffany and I went shopping for our little adventure, which included going to four different stores. Yes folks, we're actually taking this seriously.
Since we want to emulate United, we were on a quest to find only the freshest, seasonal, artisanal, bespoke, locally-sourced, and organic ingredients, so that we can replicate the farm-to-table experience that United offers.
That started with going to Spokane's one Asian supermarket, appropriately called "Best Asian Market."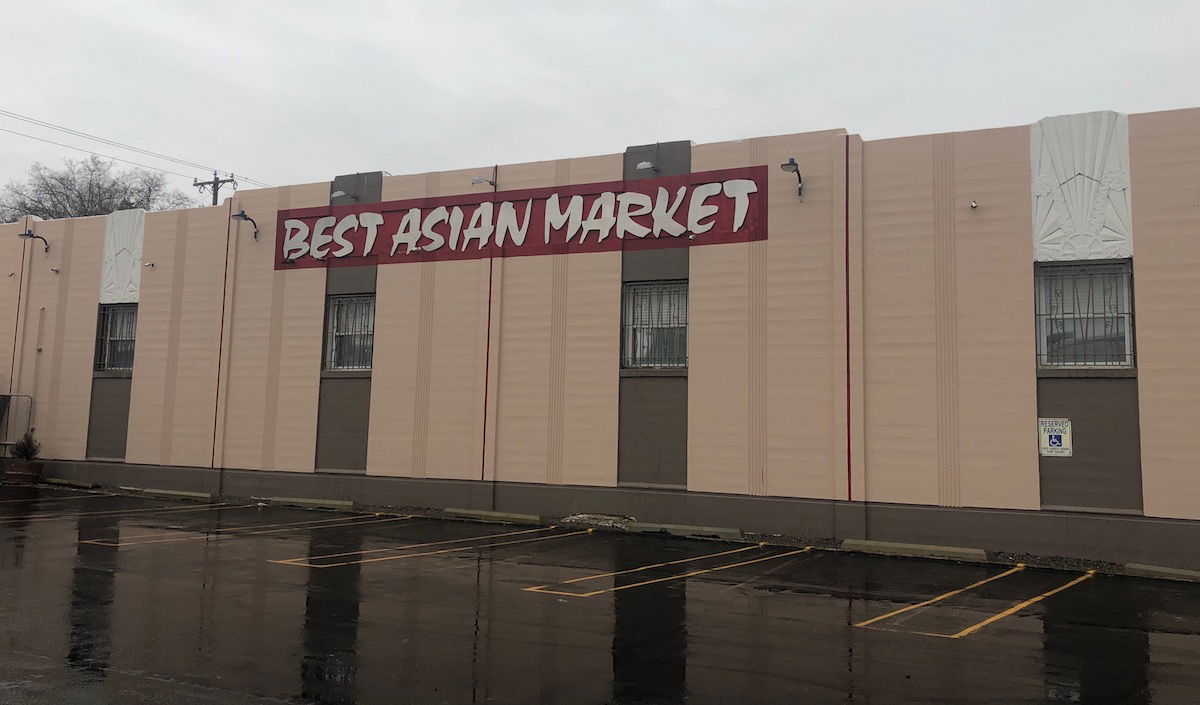 You know it's authentic when it has a rickshaw above the door!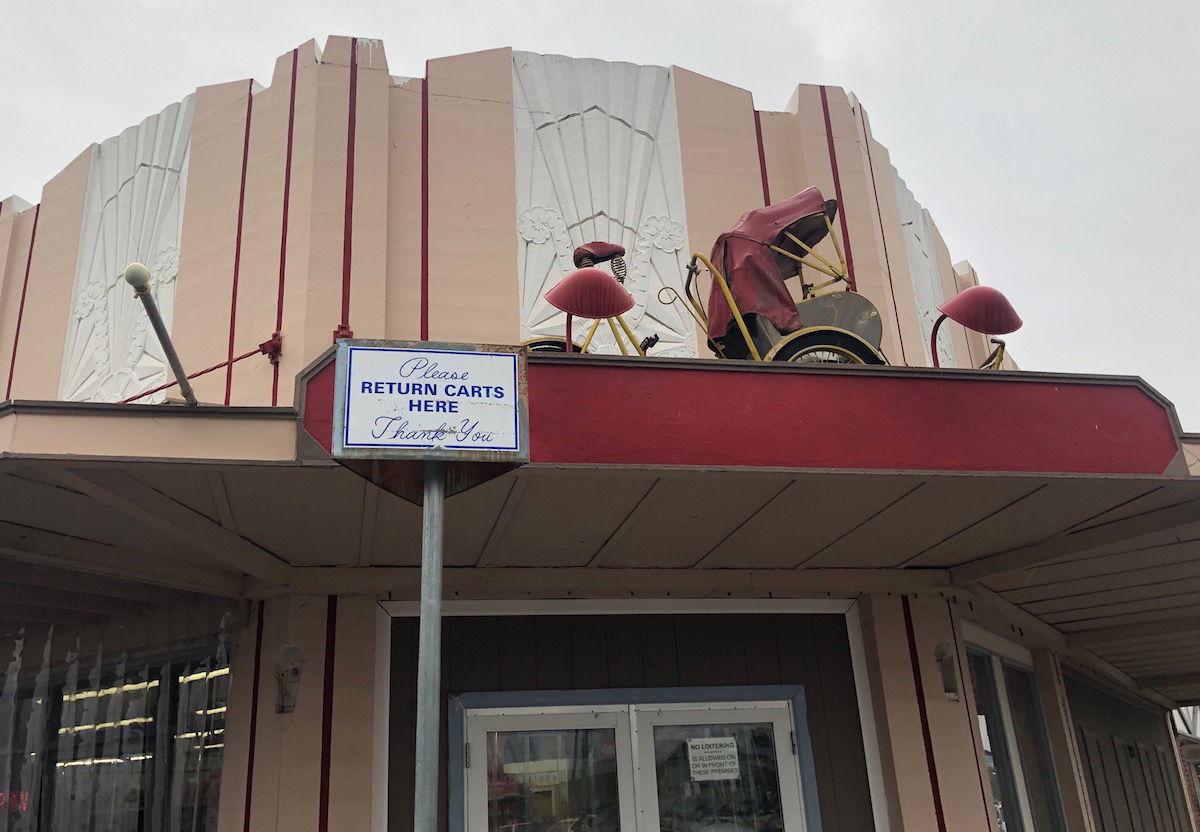 I'm taking the shopping experience really seriously, as you can see…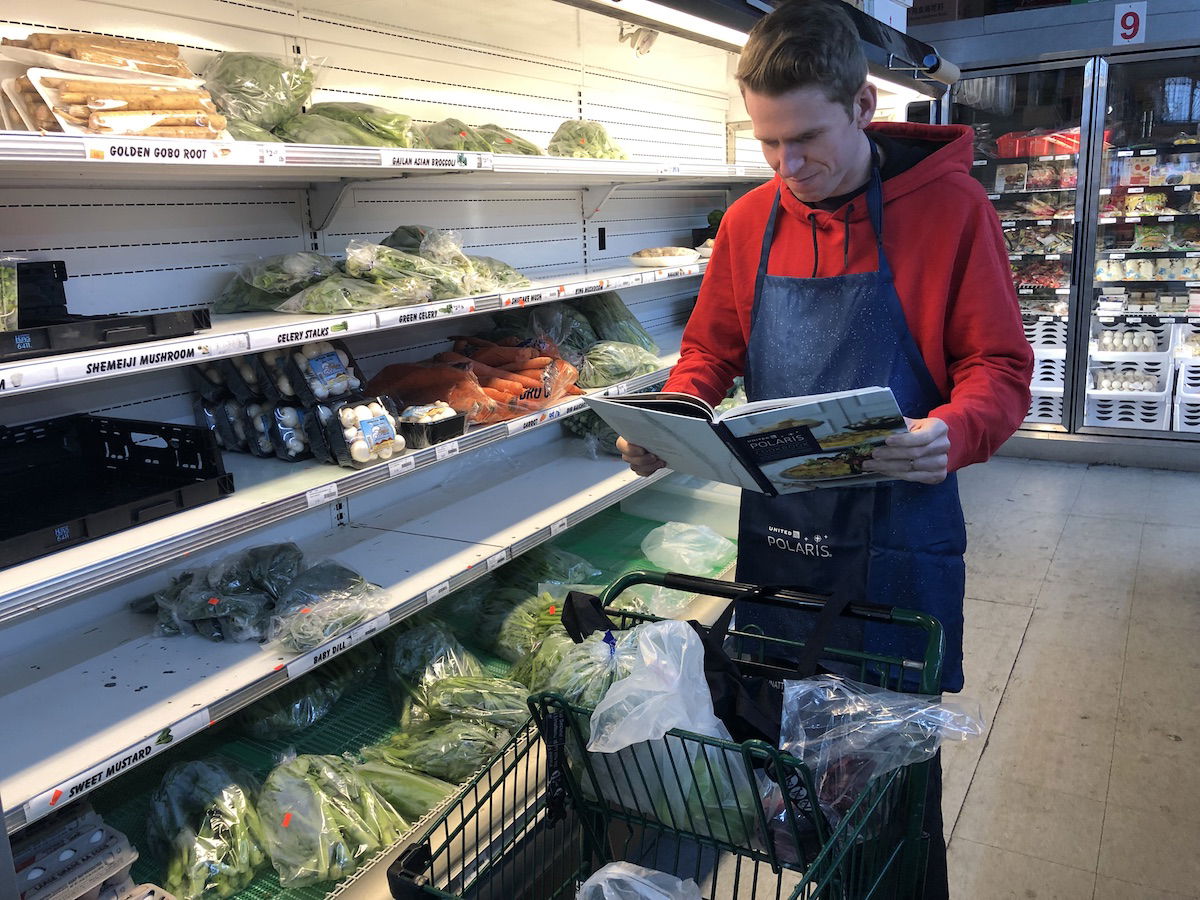 The market had a lot of things…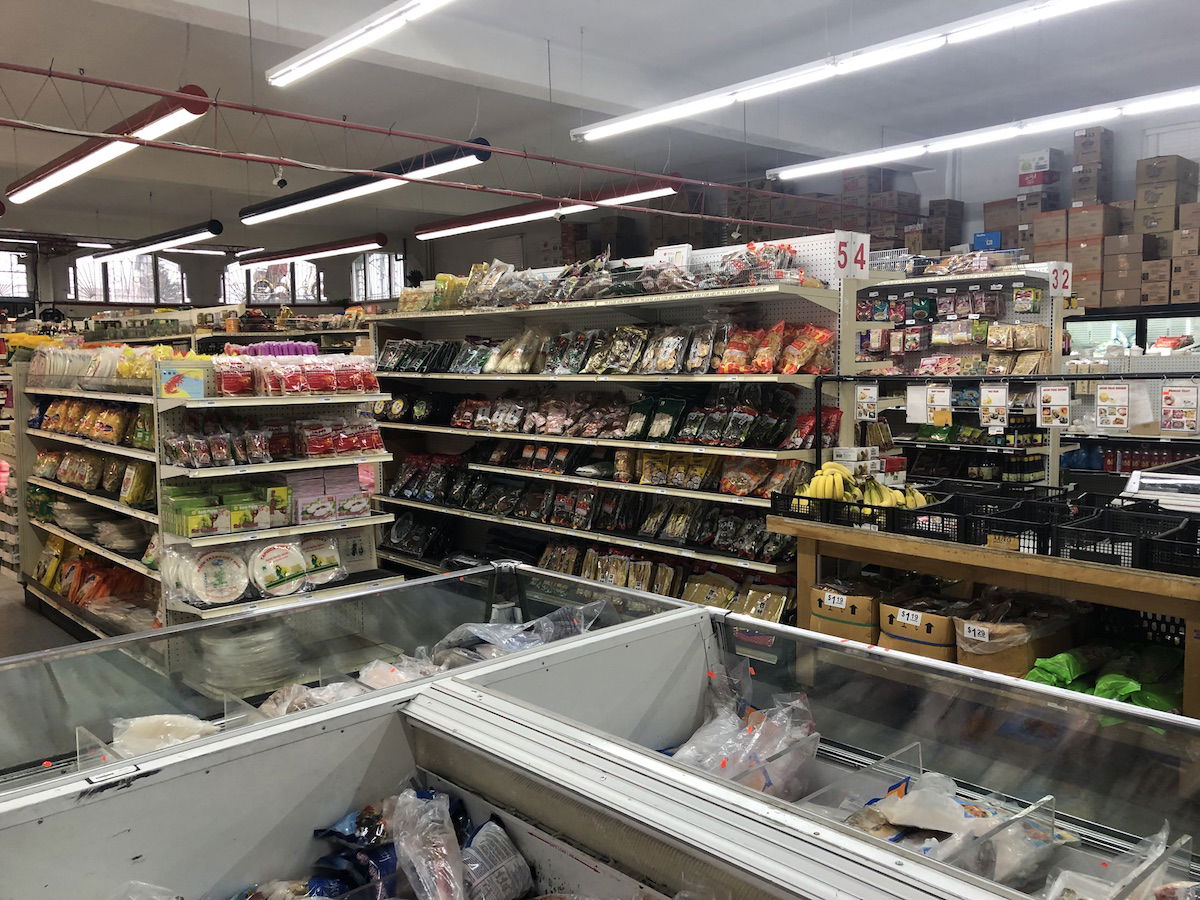 Though the octopus OMFG this isn't going to end well OMFG…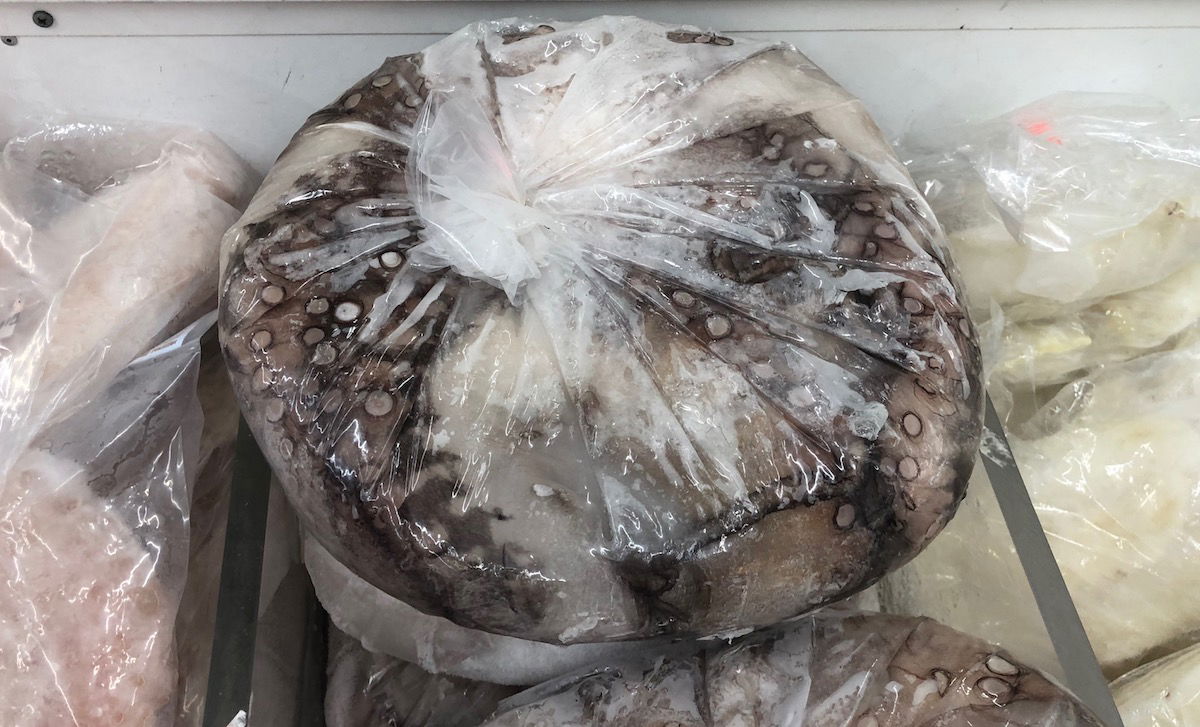 And I love the fins just sticking through the fish packaging.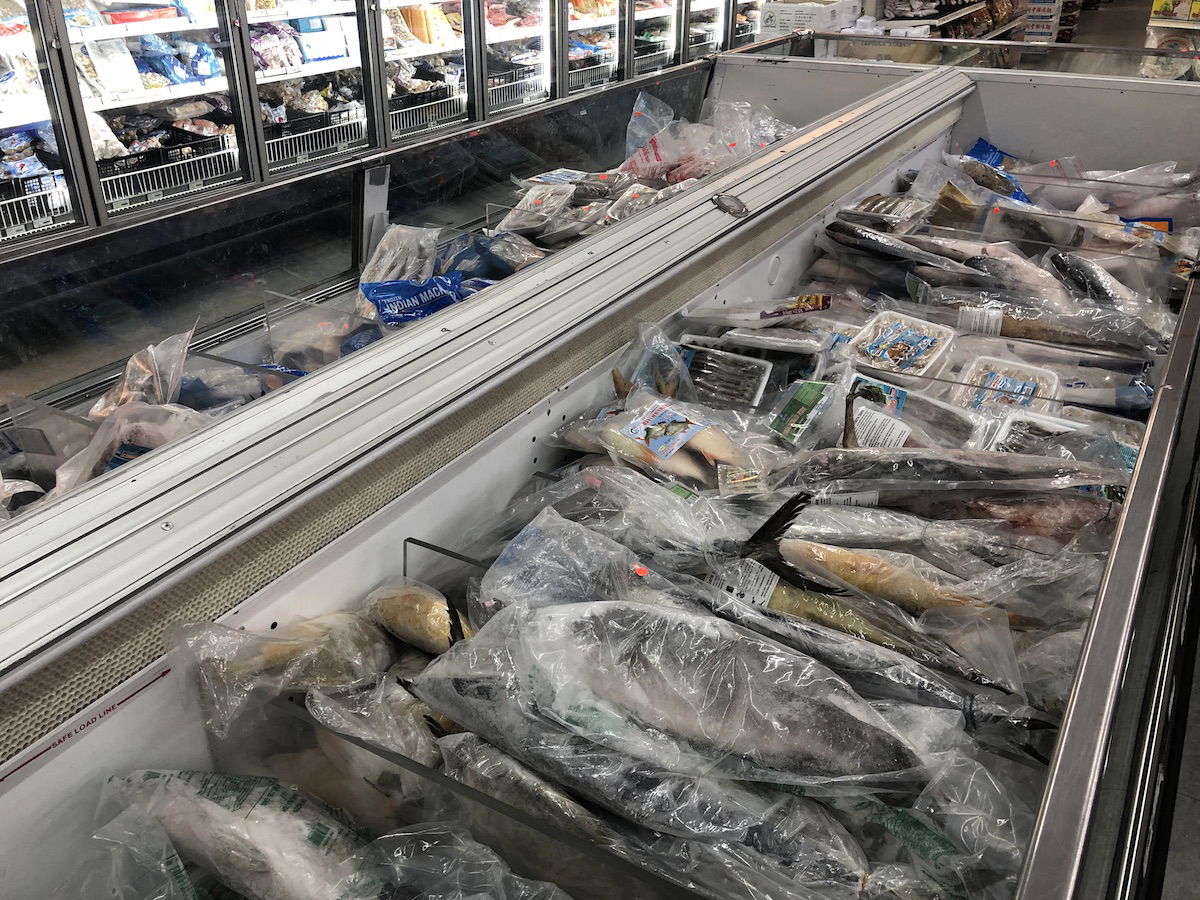 And the random air hockey table in the store…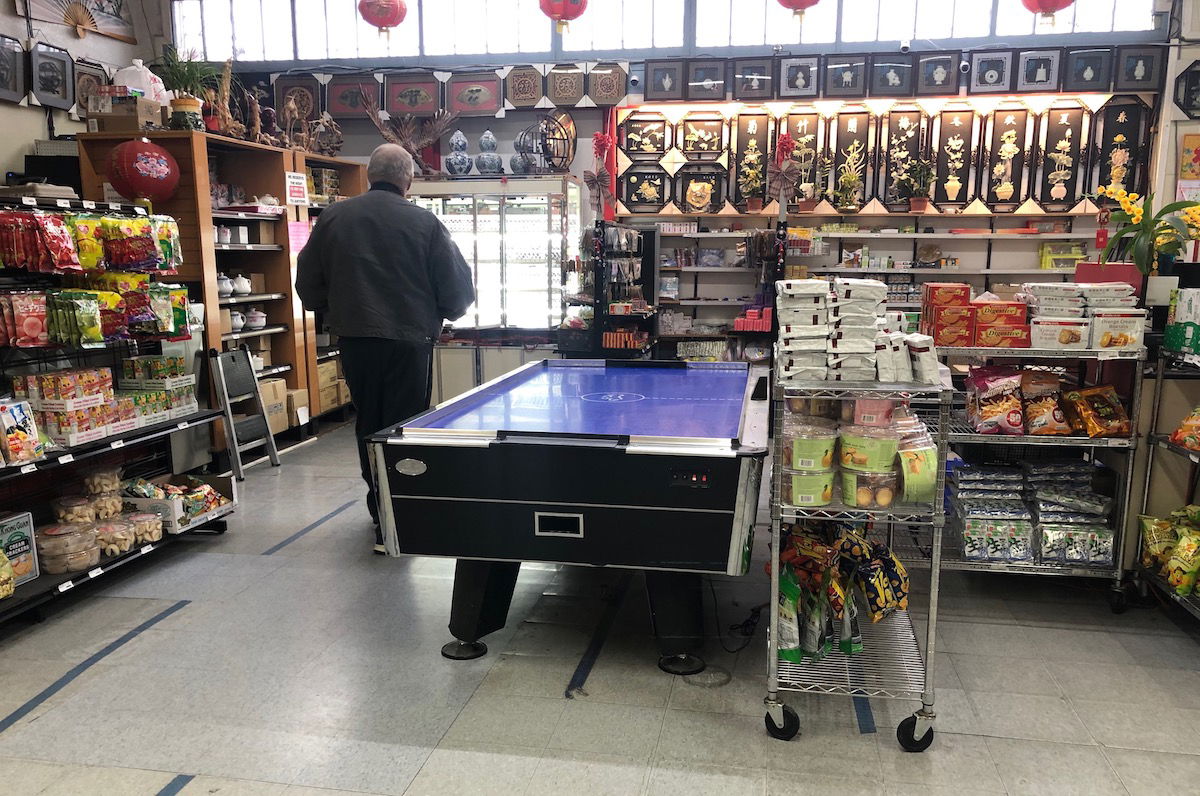 That was only our first stop, though after three more stops, below is what the kitchen counter looked like.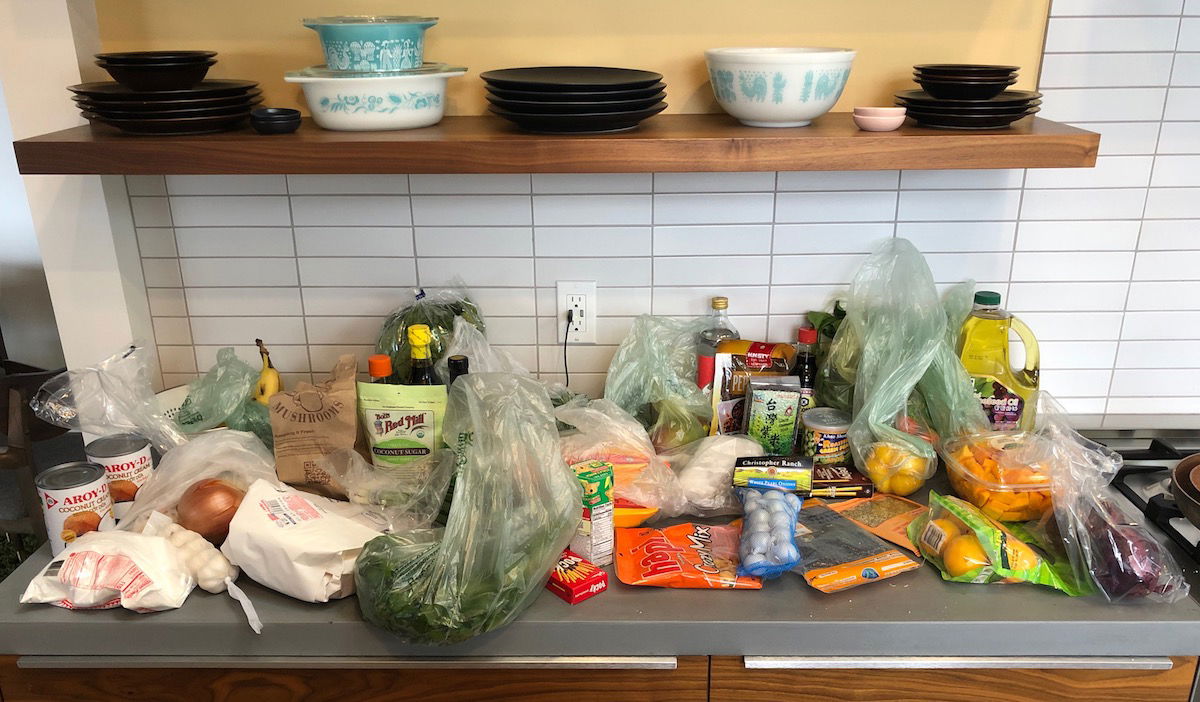 Completely unrelated, but the best part of going to the "Best Asian Market" were these treats that I picked up. YASSSS!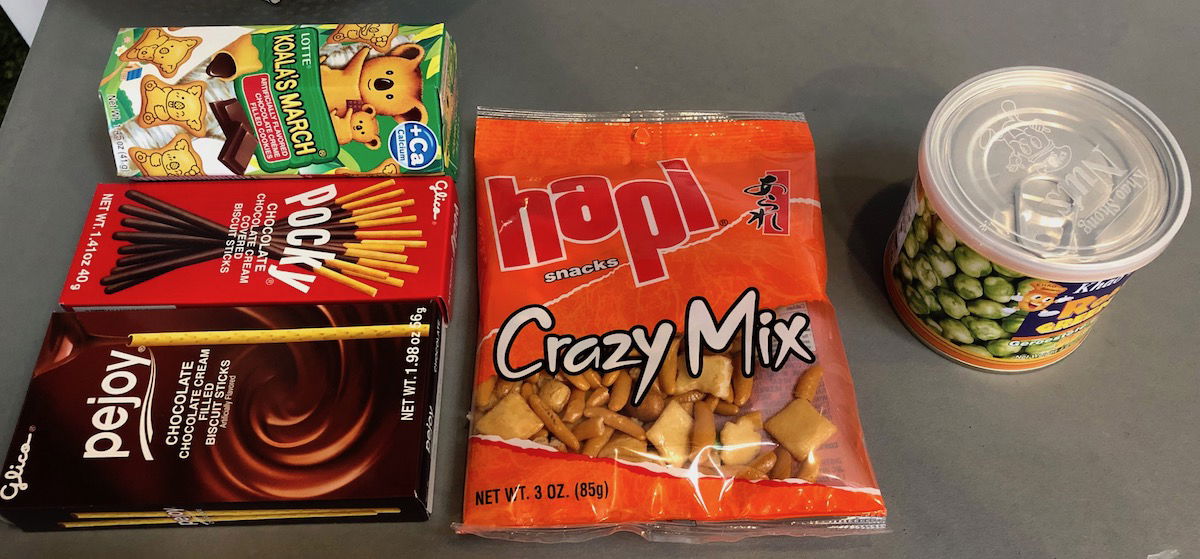 So now we start the process of cooking…
Now the cooking begins!
I figured the entire meal might take a couple of hours to prepare. We're having a big dinner party tomorrow for our valued self loading freight guests, so we need to prepare the entire meal tonight.
No, not because anything needs to marinade overnight, but rather because we're trying to be as true to United Polaris as possible. All the food needs to be prepared tonight, then refrigerated, and then microwaved tomorrow, prior to being carelessly plated and then served.
But in true airline fashion, we'll be focusing on some of the other details as well:
We need to make sure we have credit card applications at everyone's seat, with an exclusive, special offer that's only available at this particular dinner
We need to make sure we don't have quite enough food for everyone to eat what they want
We have to make sure we don't actually remember what we prepared — we're serving octopus, chicken, beef, and rice, and if anyone has any questions about the details, I'm going to roll my eyes
I need to get some sort of a badge so that everyone respects my authority in the kitchen and at the table; after all, I'm there primarily for their safety
I need to invite someone over with a spreadsheet, so s/he can tell us how we could improve our bottom line by "enhancing" our meal
While dinner is complimentary for our valued guests, we're going to require a $60 surcharge if they want to buy their way out of the "basic dinner" service — basic dinner is served cold and you don't get to choose where you sit
Making sure we can turn the lighting at the table dark enough so that we can actually encourage everyone to sleep rather than eat; not at all related, we have to make sure we have enough magazines for the cooks 😉
Bottom line
Wish us freaking luck. I can't believe we literally just spent four hours shopping for this stuff, and now we're going to spend lord-only-knows how long cooking.
Looking at the cookbook, two separate components of our salad have to marinade for four hours and then simmer for three hours (seriously?!?), and that's before the cooking even starts.
The short ribs require making a sachet (whatever the hell that is?), and boiling it for two hours. It also says to "cook rice according to package instructions."
There's just one problem with that…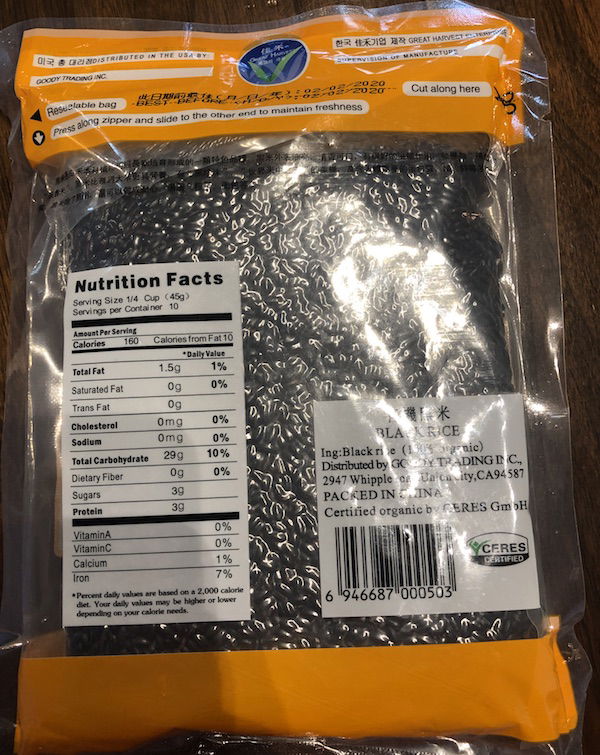 Dear short ribs…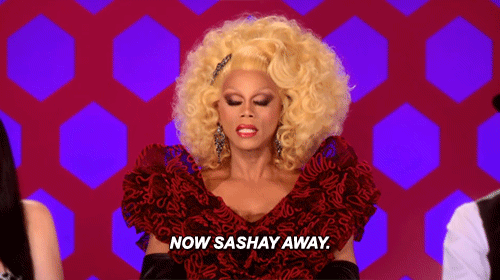 And let's not even talk about the dessert. The first instruction there is to soak for three hours.
I hope you guys know just how much we love and appreciate you, because…