---
Ford and I have been on our current trip for a few days now, and it has really surprised us. We are doing a road trip (after flying to Las Vegas), enjoying the great outdoors, and we're driving through Nevada, Utah, Arizona, and Colorado. The scenery has been nothing short of breathtaking.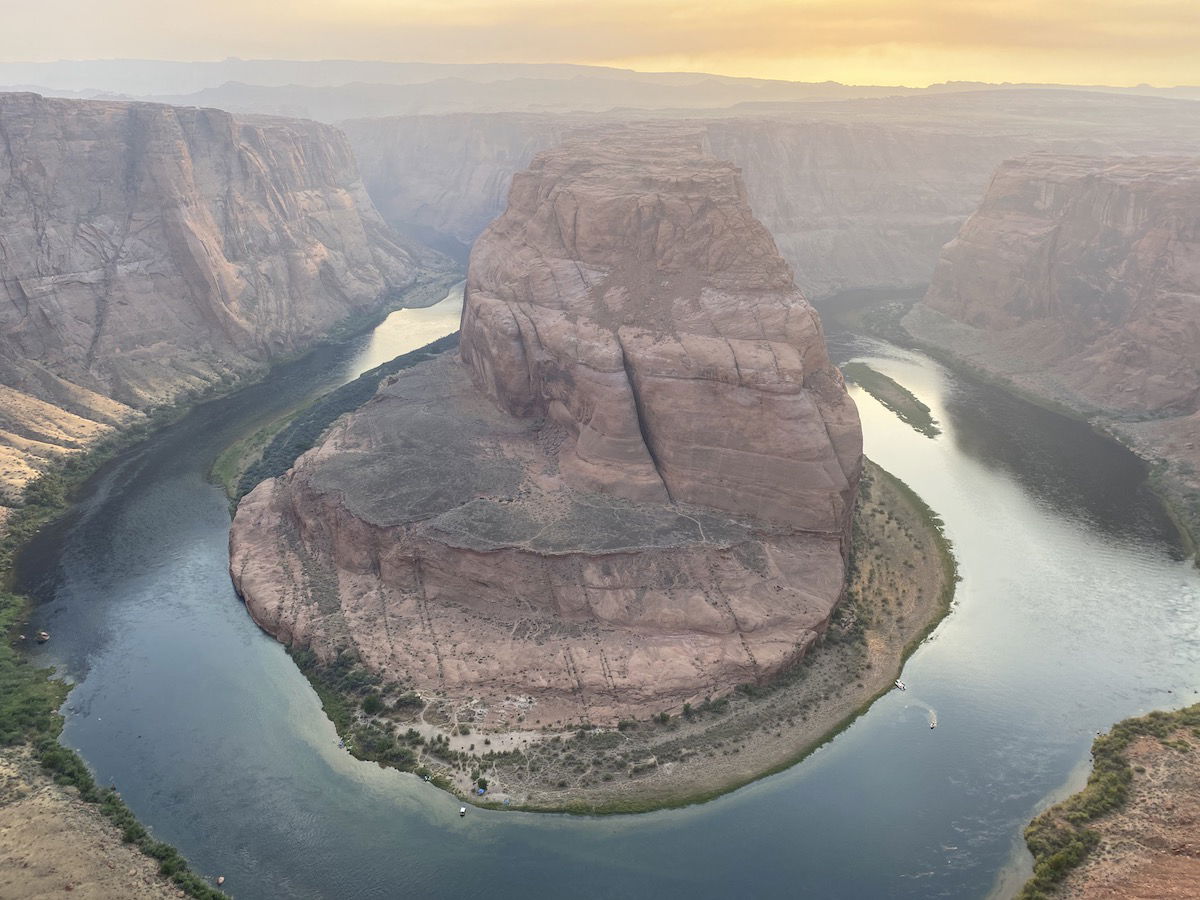 Horseshoe Bend in Arizona
Going in, we assumed that the most unnerving part of the trip would be the flight. Oh, how wrong we were…
Coronavirus precautions we're used to in Miami
It goes without saying that Florida is a coronavirus hotspot, though overall we feel like we have a lot of control over our situation, and when we do go out, we feel safe:
We occasionally go to restaurants, primarily where we can dine outside, and it has always at least seemed like proper protocols were being followed
For the appointments I do have (doctors, dentists, etc.), extreme precautions have been taken
The building we live in is very strict in terms of requiring everyone (both residents and staff) to wear masks at all times in public areas
The point is, in Miami I feel like a lot of people at least recognize coronavirus is a thing, and are trying, as is probably the case in most major cities. At least most reasonable people are. I also hear of people going to house parties with dozens of people, going to night clubs (how are they open?!?), etc., and I just shake my head.
I also want to acknowledge that with a spike in cases we're going to be doing less going out when we return to Florida, and likely go back to near full quarantine, as we were for a long time…
I feel like we landed on a different planet
We have been in disbelief ever since we landed in Las Vegas — for this entire trip it has almost felt like coronavirus isn't a thing. I don't even know where to begin, but it has been so confusing.
My primary issue isn't even individuals choosing not to wear masks in situations where physical distancing isn't possible. But it has been jarring to see, as face mask usage has been almost non-existent:
At Las Vegas Airport maybe a few percent of people were wearing masks, while the rest weren't
We've been in Springdale, Utah, and Page, Arizona, and again, almost no one was wearing a mask, even in crowded areas
In Page, Arizona, specifically, I saw more people wearing political hats than masks
At a restaurant in Page people laughed and pointed at us; who knows if that was because we were wearing masks, or because we're gay?
In the lobby of the Hyatt Place Page a big family ordered four pizzas, and they ate them all barefoot in the lobby, sometimes placing individual slices directly on tables, and there was no hand washing (I realize being barefoot won't give them coronavirus, but I wanted to set the scene)
Apparently wearing a mask is so exceptional that one lady rolled down her car window and yelled "good for you guys for wearing those, no one does that around here"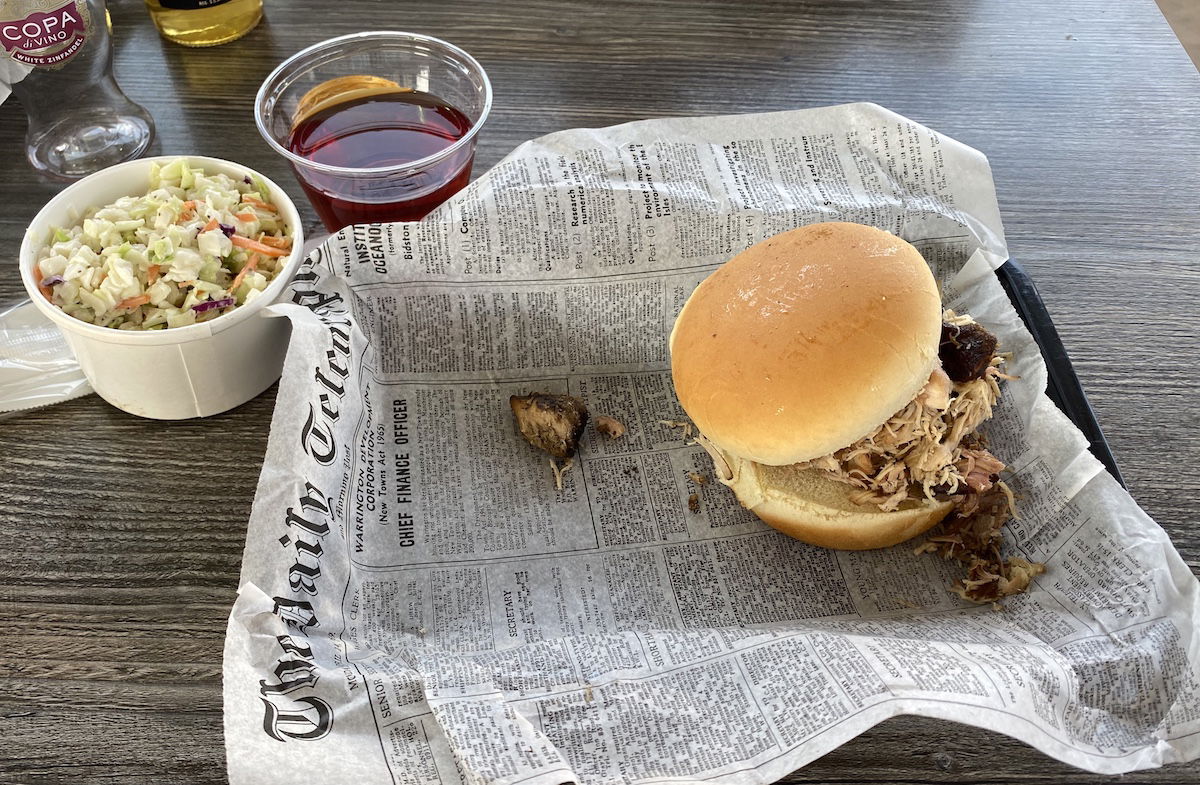 When in Page…
To be clear, I'm not talking about people in national parks. It's typically possible to physical distance there. Rather I'm talking about situations where physical distancing wasn't possible while in town, in hotels, in restaurants, etc.
The real disappointment: businesses
Ultimately people have free will, and if they choose not to wear masks in areas where it's not legally required, then I guess I can't blame them. What really disappointed me, though, was how businesses failed when it came to protecting customers.
I've already written about my disappointment with all three hotels we stayed at, where face mask usage wasn't consistent, even though this is something that brands promise.
If a Hilton, Hyatt, or Marriott can't deliver on consistency I guess I shouldn't expect anything from small businesses either, but they were even more disappointing.
When we were in Springdale, Utah, we needed to rent some hiking gear for Zion National Park. Zion Guru is apparently the most popular place in town to rent equipment. They have a small store, and it gets packed, given how many people are planning trips outdoors right now. The employees there also get really close to you, as they help you try on shoes, check the height of hiking sticks, etc.
Well, not a single employee was wearing a mask (and no customers were either, other than us). I just don't understand. These people are inches apart from tourists, and they don't have any sort of protective equipment.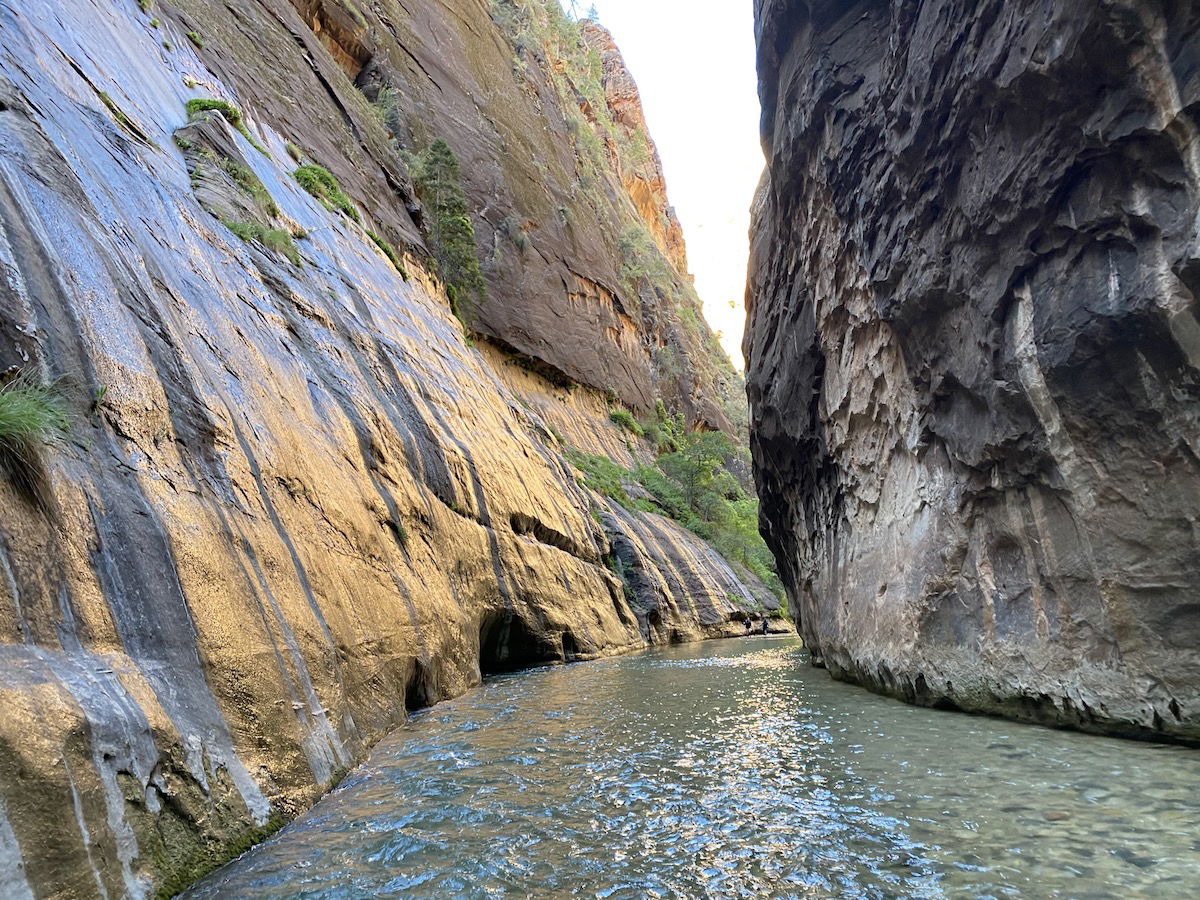 Hiking down the river in Zion National Park
In Moab, Utah, we booked a UTV tour with Ultimate UTV Adventures. When we arrived at the office and walked in, the first thing the guy said to me is "we don't allow those masks around here." Nice.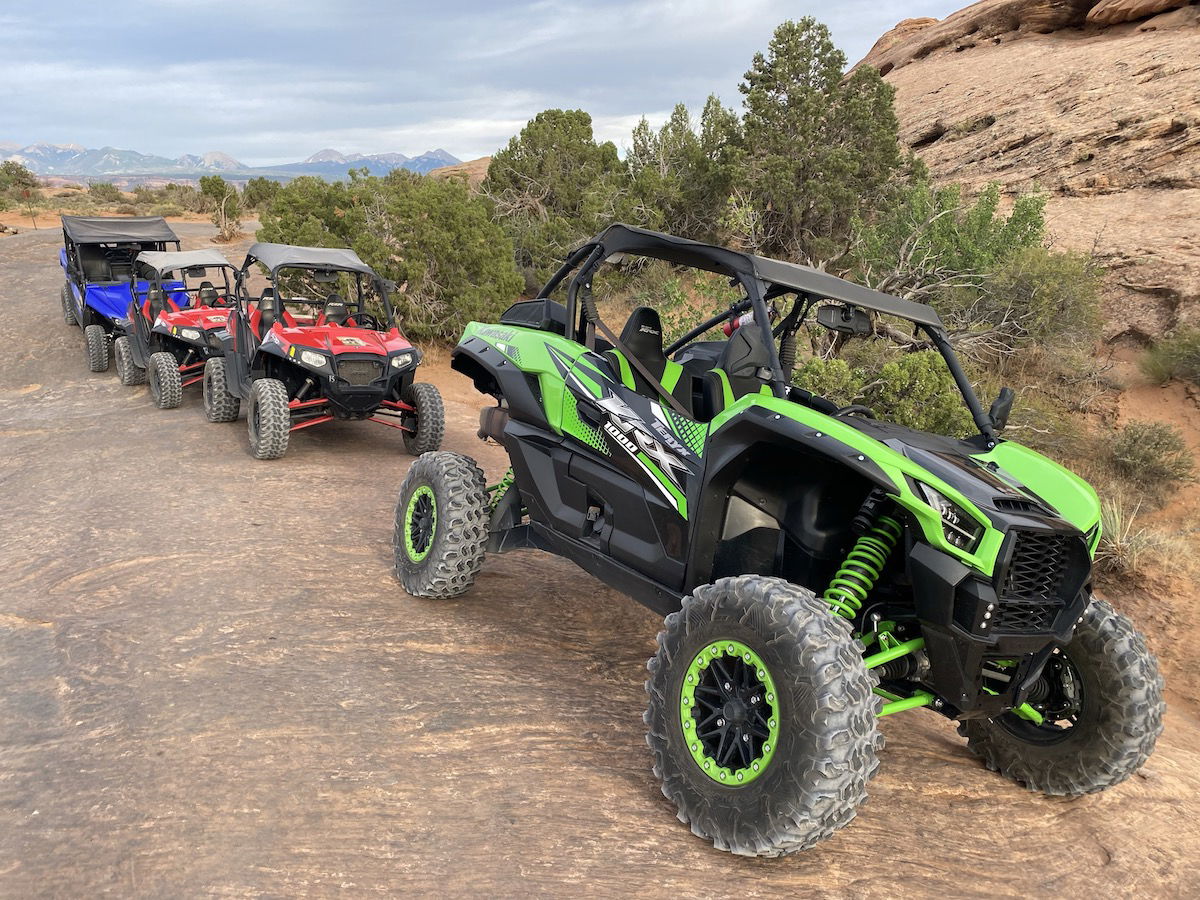 UTV tour to Hell's Revenge, Utah
During parts of our trip we've even seen restaurant servers not wearing masks, including in Page, Arizona.
My takeaway from all of this
Part of having spent several months at home is not having had much firsthand knowledge about how coronavirus is viewed in other parts of the country. We know what the media shows us, but that's it.
In the end I've felt less safe getting hiking gear for a national park than I did on a flight with 150 strangers. What does this mean for my desire for future travel?
First of all, while we're having an amazing time (more on the incredible things we've seen shortly), we both can't wait to get back home into our environment where we're comfortable and can take the precautions we think are appropriate.
I figured that a trip focused on the outdoors would be one of the safest bets right now and would make me feel most at ease, but in some ways the opposite has been true. Of course if you're able to completely avoid stores, restaurants, gas stations, and hotels, you're probably fine. But in our case we stayed at hotels, had to rent hiking equipment, had to go into gas stations to buy water, etc.
In retrospect, personally I'd feel more comfortable traveling to a city like Los Angeles than a small town where no precautions are taken.
What a weird experience this has all been…