Hello from Sydney! I'm just in the middle of a quick surprise round the world trip with my dad. After flying Etihad Airways' Boeing 787 first class, Qatar Airways' Boeing 737 MAX first class, and Qatar Airways' Airbus A380 first class, our next segment was from Perth to Sydney in Virgin Australia's Boeing 737 business class.
This was my first time flying with the "new" Virgin Australia, so I was looking forward to it. I managed to book this ticket using miles (in a separate post, I shared a trick for finding multiple seats).
So, how was the experience? All-in-all, I thought it was a pleasant flight, with a tasty meal and very friendly service. However, there were some aspects to the experience that seemed kind of cheap to me. While I'll have a full trip report soon, I wanted to share some initial impressions in this post.
Virgin Australia's odd 737 business class cabin
Virgin Australia has eight business class seats on its Boeing 737s, spread across two rows in a 2-2 configuration. The airline recently started reconfiguring its fleet with these new seats. I really lucked out, because it's my understanding that only a few Virgin Australia aircraft have these new cabins so far.
I have to say, the seats are quite comfortable. They should look familiar, as these are very similar to the seats you'll find in domestic first class on American Airlines.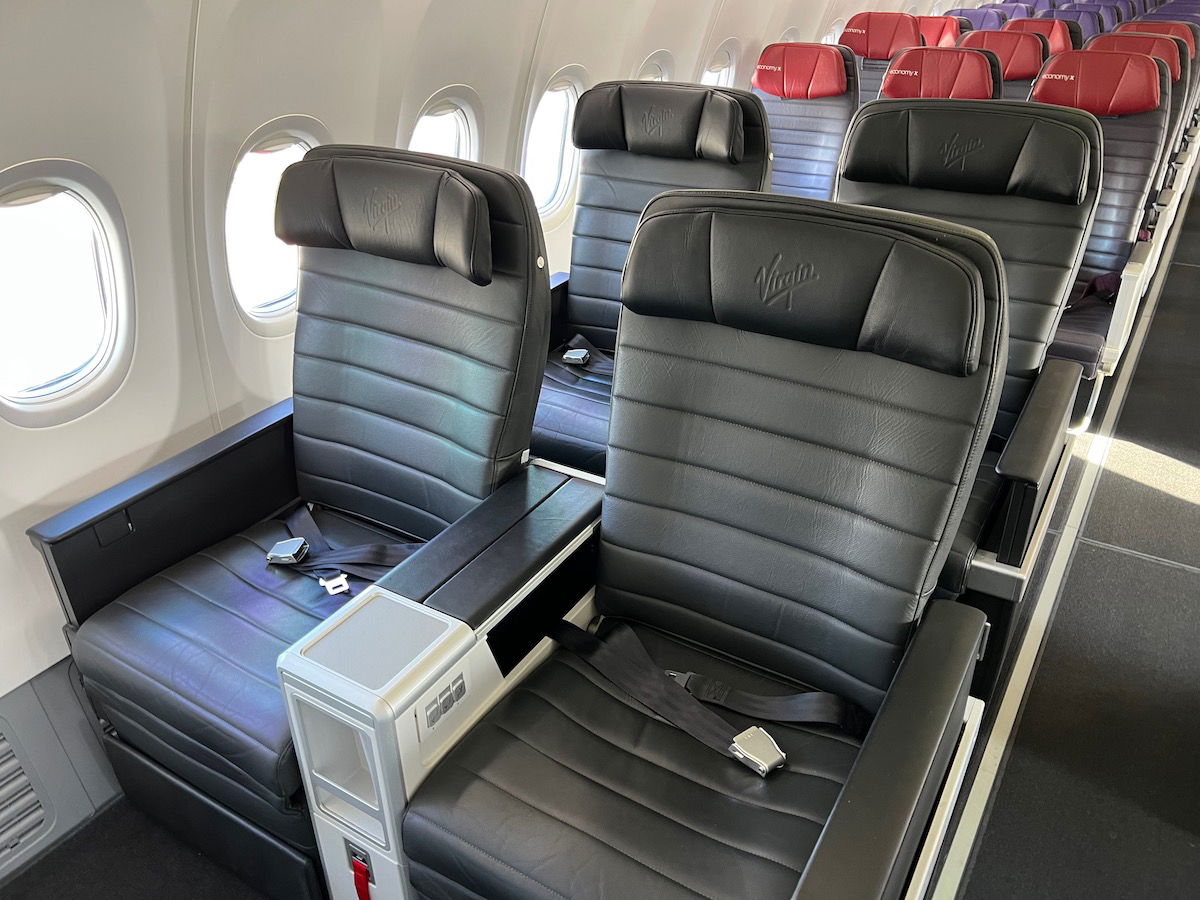 Legroom is definitely a bit better than on US airlines, and there's even a footrest and legrest, which is a nice feature.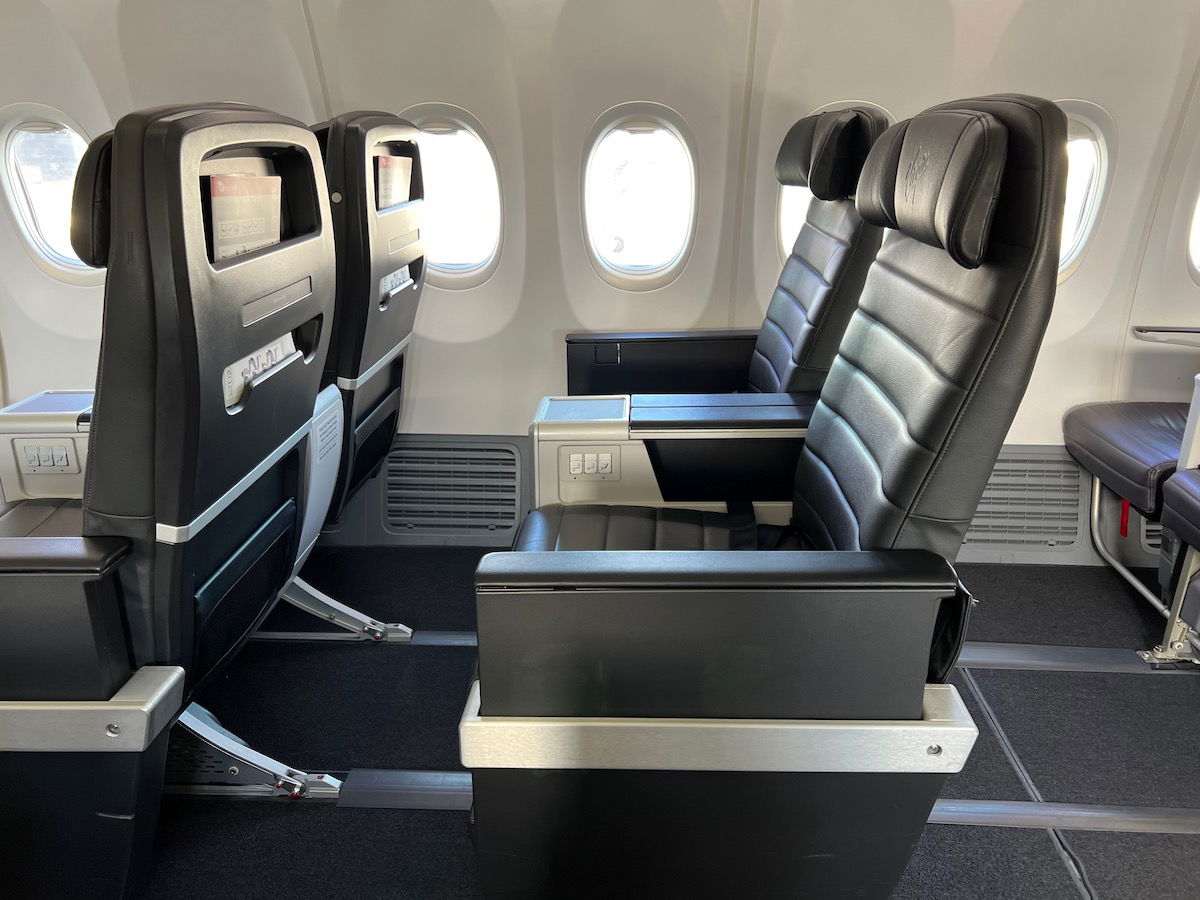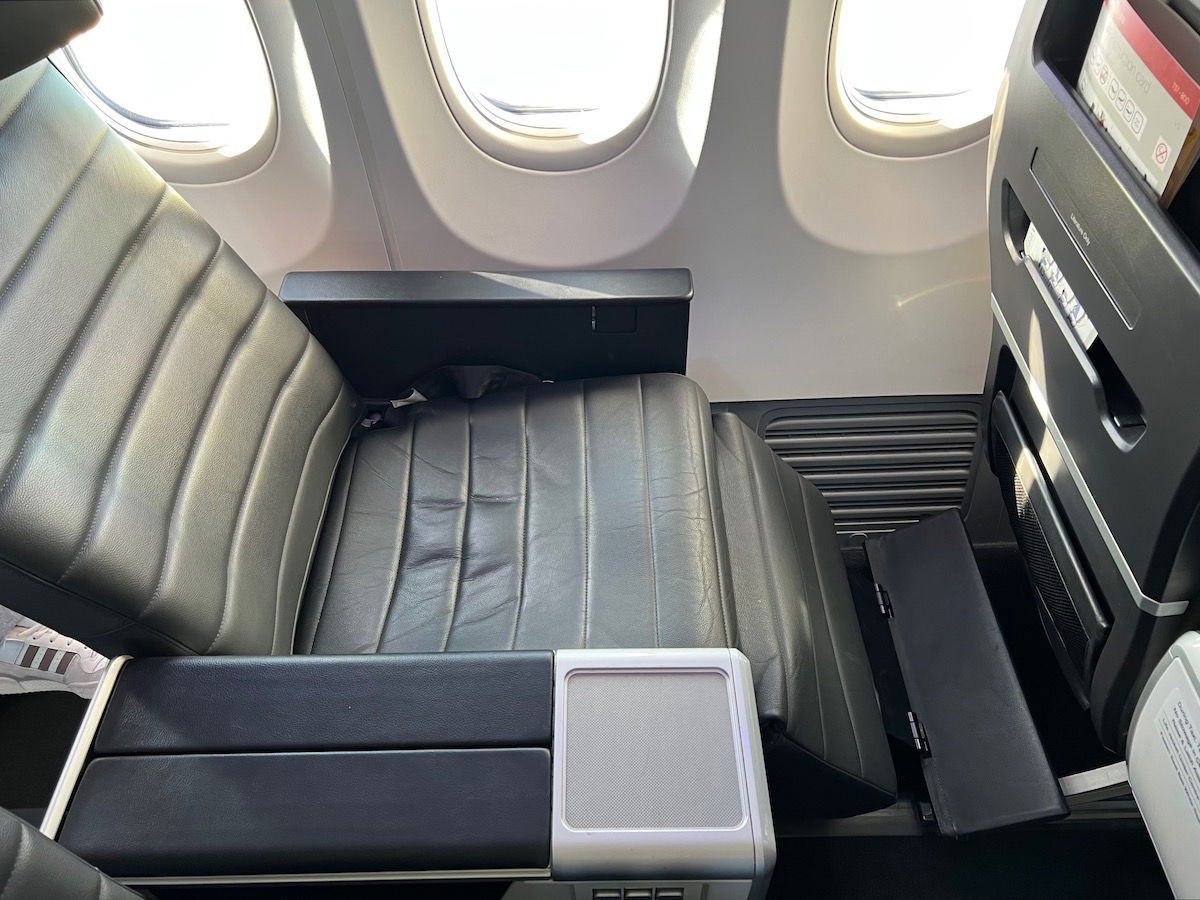 The cabin felt fresh and modern, and was clean. While there were power ports at each business class seat, along with a limited selection of streaming entertainment, there was no W-Fi. Virgin Australia is in the process of installing Wi-Fi throughout its 737 fleet, but it's a gradual process.
One thing I found to be unusual is how there's absolutely no separation between business class and economy class. It's not just that there isn't a bulkhead or a curtain, but there aren't even small partitions under the overhead bins.
That's not a huge deal, though I find it weird because the forward lavatory is strictly reserved for business class (there was consistent enforcement of this), though the lack of any curtain or barrier meant that people kept trying to use the forward lavatory. I can't blame them, since this restriction isn't obvious.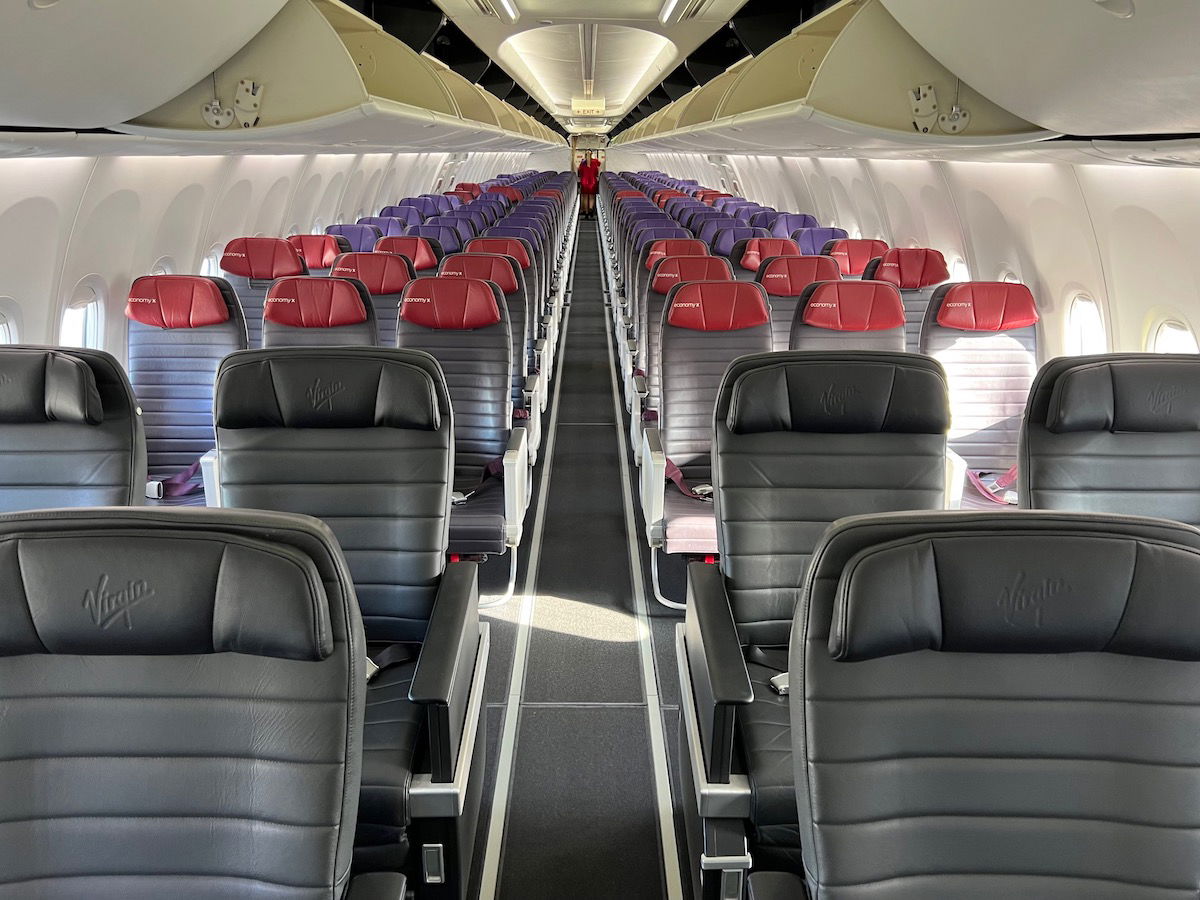 Virgin Australia's good food and friendly service
Virgin Australia's business class soft product was good… for the most part. Every Virgin Australia employee I interacted with was friendly. The cabin manager, Sarah, was taking care of the business class cabin, and was professional, attentive, and friendly. The flight attendant to passenger ratio was great, with one flight attendant taking care of just eight passengers.
What was the meal service like on this roughly four hour transcontinental flight? Well, there were two meal choices, though by the time the flight attendant got to us, there was only one choice available (there's no option to pre-order your preferred option).
The meal consisted of vegetable rigatoni with tomato sauce and pine nuts. It was served with a side of artichokes and sundried tomatoes, boxed cheese and crackers, and a small chocolate cherry cake.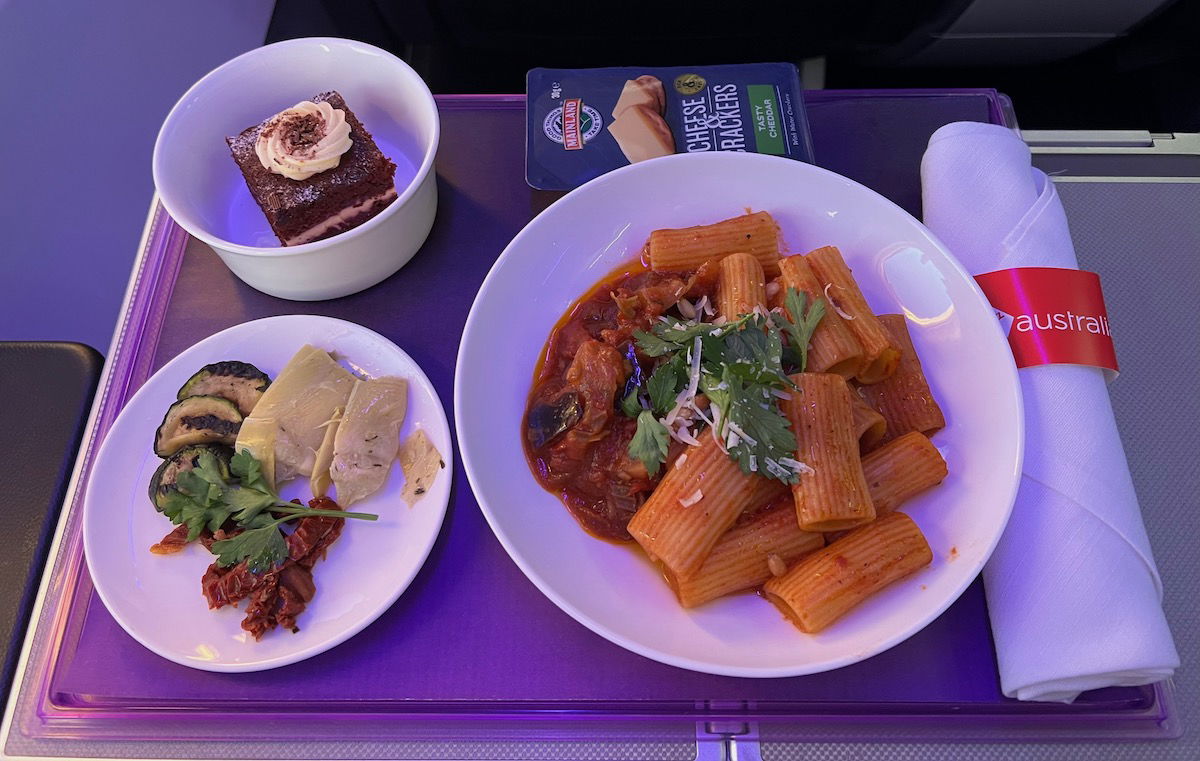 The meal was very good, and drinks were constantly refilled, with a decent selection of wine as well.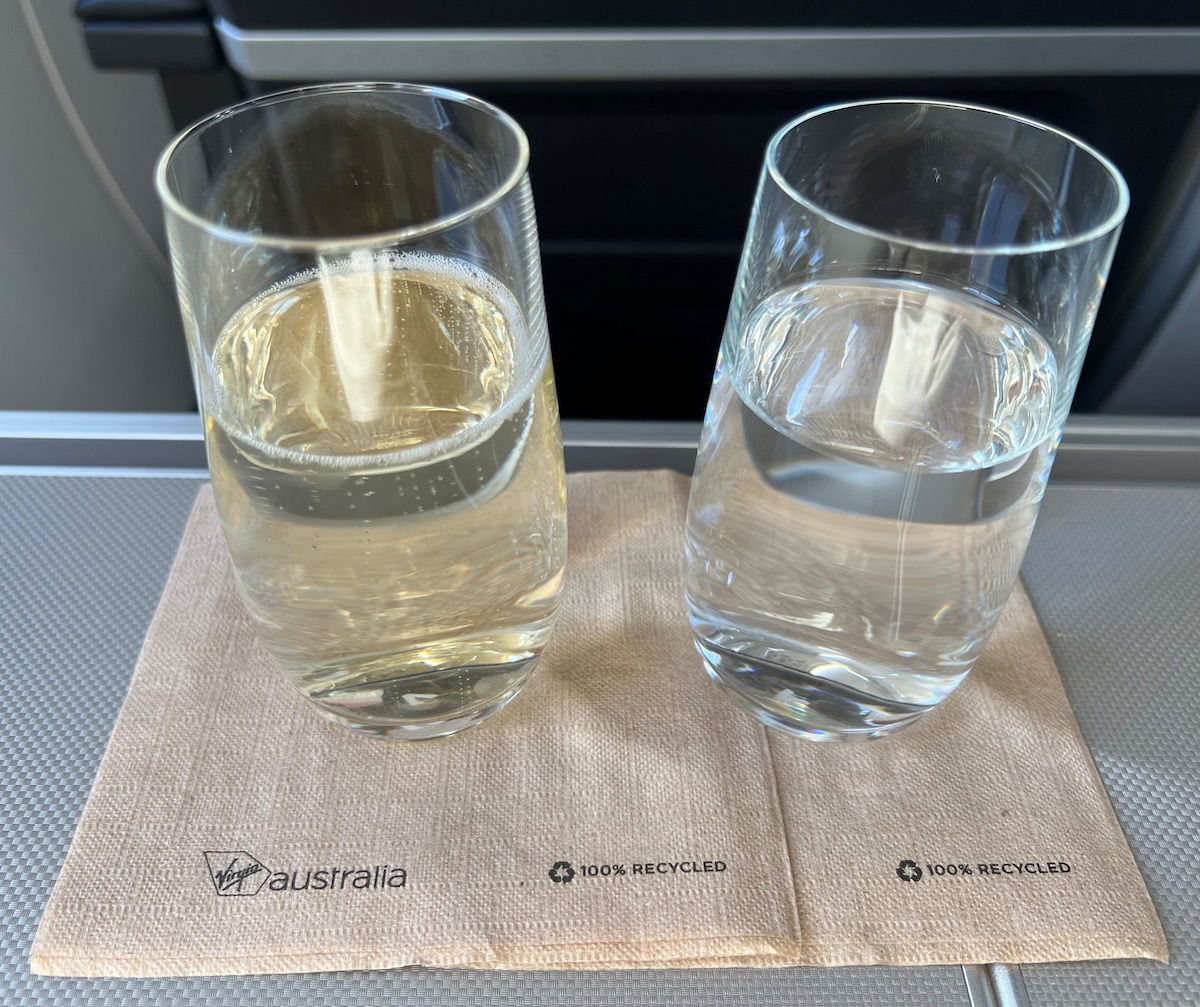 The experience still felt kind of low cost
All-in-all, I was pleasantly surprised by Virgin Australia business class, with one exception. Perth to Sydney is a roughly four hour flight, and it's essentially the Australian equivalent of New York to Los Angeles, in terms of being a premium transcontinental route (though the crowd was a bit different in Perth — the lounge was full of people wearing high-visibility vests and chugging beers, and I also saw more mullets than I've otherwise seen in the past decade combined… I digress).
What surprised me a bit was the lack of amenities beyond the above. There were no pillows or blankets available. Furthermore, there were no snacks whatsoever. You'd think that maybe they could serve a ramekin of mixed nuts with the first drink service, or have a snack basket passed around later in the flight. But there was nothing.
It's not a big deal, but in my opinion the experience would feel more premium if there were a bit more to the service. Admittedly the airline probably doesn't have much of an incentive to improve the experience beyond what it is. Australian aviation isn't exactly that competitive, and it's not like someone is booking away from Virgin Australia because they don't have a blanket or mixed nuts.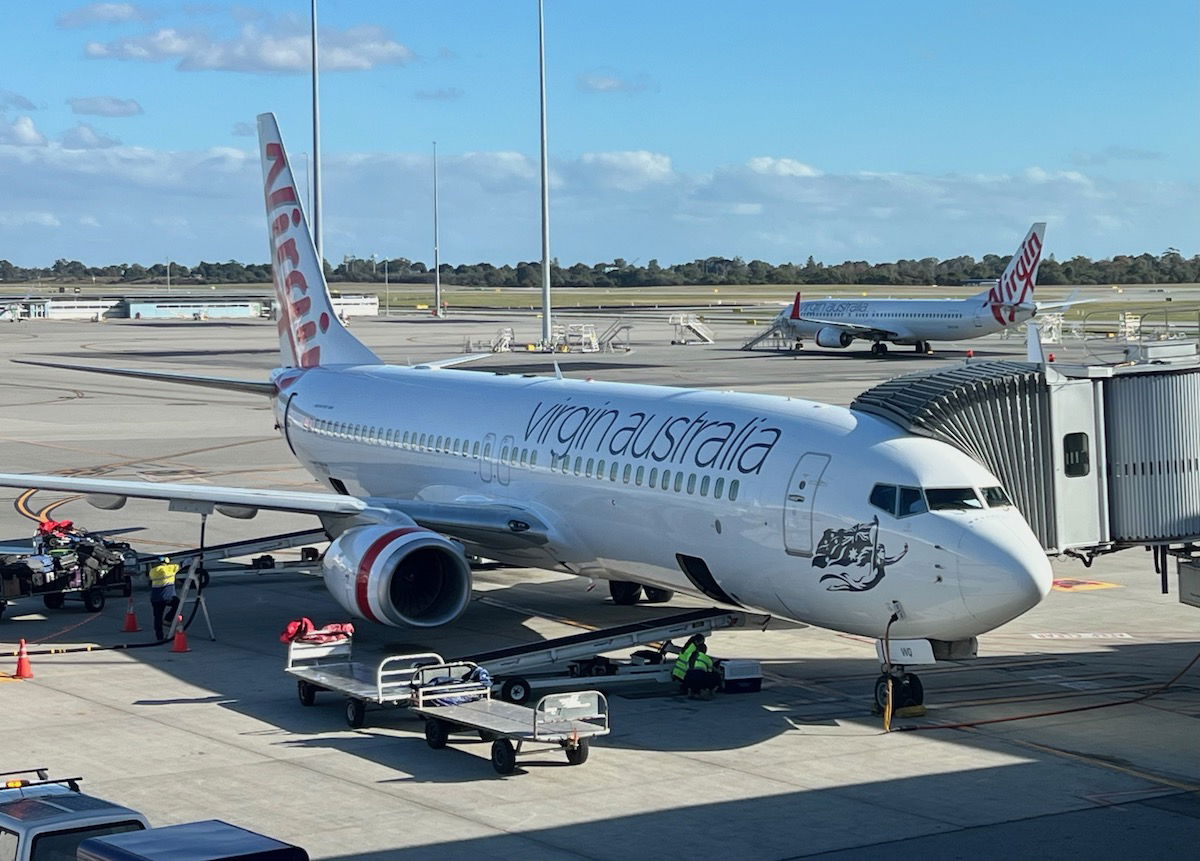 Bottom line
I had a pleasant flight in Virgin Australia's Boeing 737 business class. The airline has modern cabins and seats that are a bit more comfortable than you'd find on most domestic US airlines. On top of that, the service was excellent, and the meal actually tasted good.
There's not much to the experience, otherwise, though. There was no Wi-Fi on this aircraft, no bedding of any sort, and no snacks.
What do you make of Virgin Australia's 737 business class?