Recently, Tiffany wrote about the various frequent flyer program options for crediting the amazing cheap Hong Kong Airlines business class flights to Asia that many of you booked. She noted that while you could credit the flights to Virgin Australia's Velocity program, you would only earn Velocity points on the shorter intra-Asia flights, and not the longer flights from North America to Hong Kong, so each person flying would only earn a few thousand Velocity points, which is not enough to redeem for an award flight.
But if you are a family traveling together, you could consider using the family pooling option Velocity provides, to pool the points together into something more useful. It got me thinking about the family pooling, and then the points transfers feature Velocity offers.
While there may be better programs to credit these specific flights to (as Tiffany described), this is a good chance for me to explain the pooling and transfer options of Velocity that I've been using for more than five years.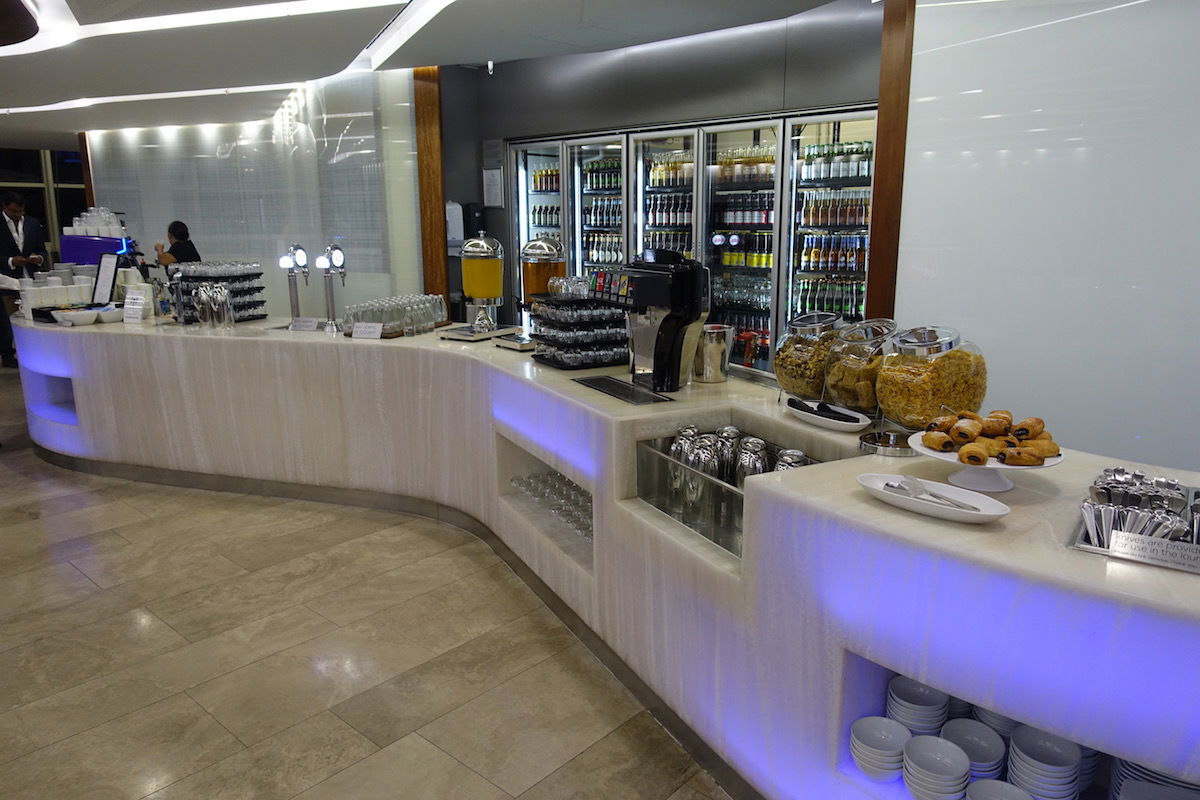 Velocity Frequent Flyer – The Basics
Velocity is the frequent flyer program of Virgin Australia, the second largest airline in Australia (behind Qantas). I haven't written about it that much because in the scheme of worldwide programs, its a pretty small program with 'only' around seven million members (compared to programs like AAdvantage, which have around 100 million members).
But I've earned and redeemed millions of Velocity points over the years, so I'm pretty familiar with its features. Its far from a perfect program, but it does have some unique benefits, and family pooling and points transfers are two of them.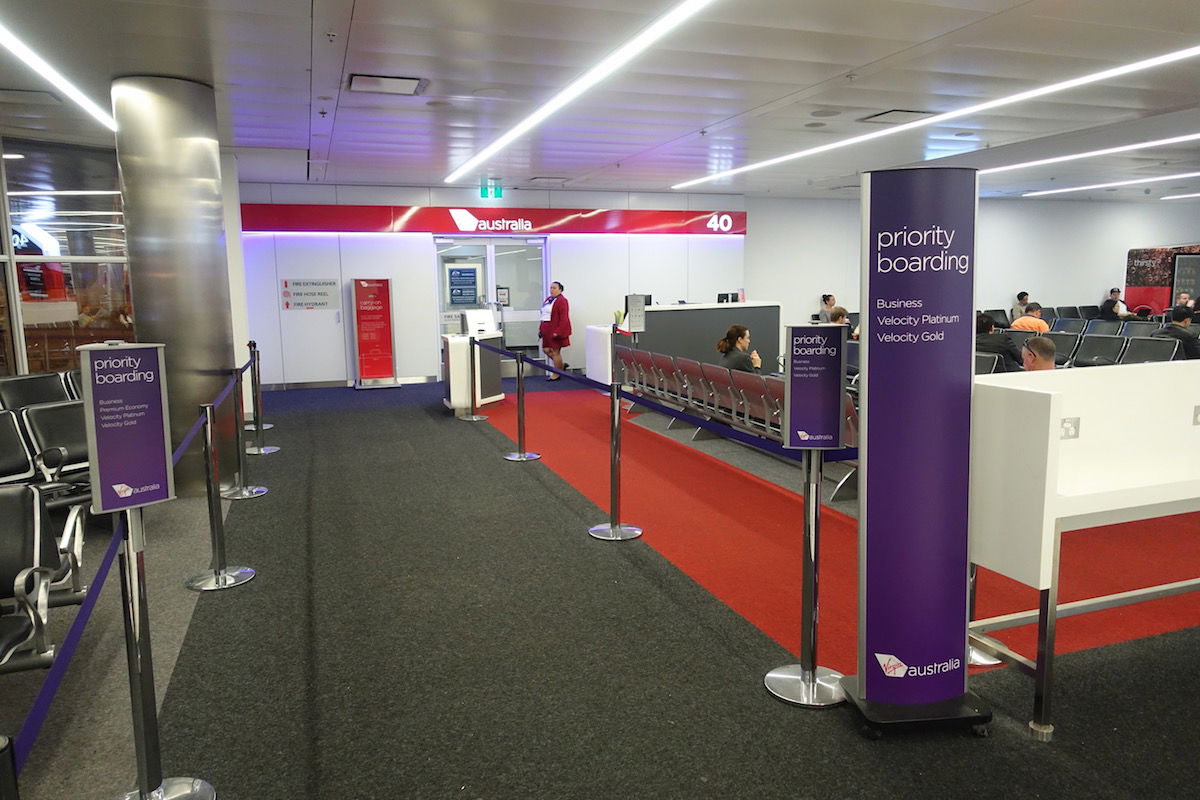 Family Pooling
The Velocity family pooling feature allows you to pool either your Velocity points, or points and status credits, from multiple accounts into one account. The best way to think of this is that if all members of, say, a four person family are traveling semi-regularly, then by themselves they may not be able to earn enough points or status credits for any meaningful reward or status. But if they 'pooled' all of the points or status credits into one account, they may be able to achieve something meaningful, much sooner.
If the status can benefit an entire family (such as family lounge access), but would not otherwise be earned by just one member on their own, pooling can be a great solution.
There is no cost to pool and you can switch it on or off as you please.
Here's how to set it up.
First of all, work out who is going to be the 'beneficiary' – i.e. the person 'benefiting' from receiving the points or points and status credits. Then determine who will be 'contributors' – i.e. who will contribute their points or points and status credits. Once you have determined your beneficiary, up to five 'contributors' can pool to the beneficiary, made up of:
one (other) adult, over 18 years of age (assuming the beneficiary is also an adult); and
four children, below 18 years of age.
Then each contributor should head to 'My Account' on the Velocity website, and nominate whether they wish to pool just Velocity points, or points and status credits, and which beneficiary they wish to pool to, by entering their membership details.
All members of the pool must live at the same address, as evidenced in the Velocity contact details for each member.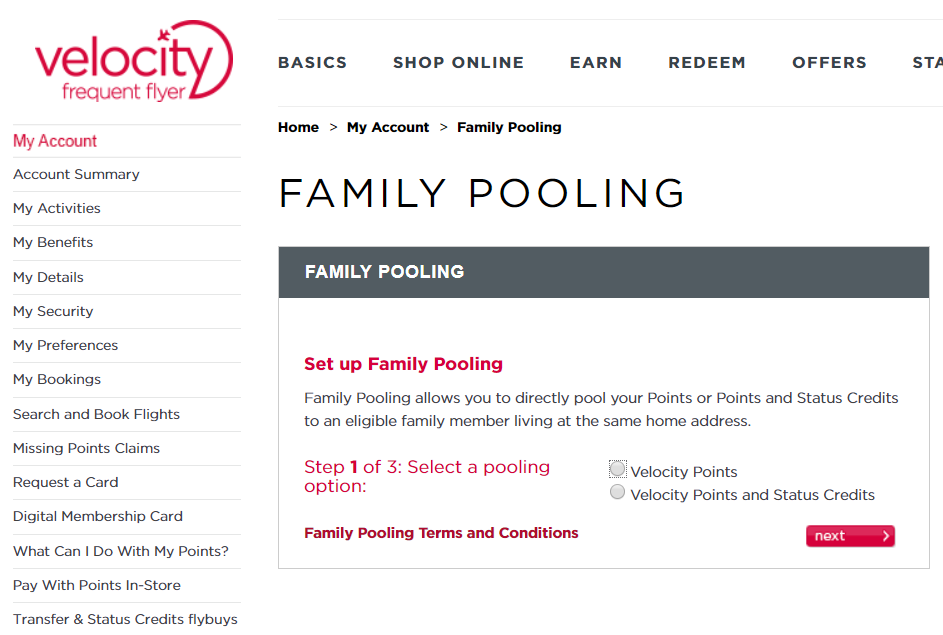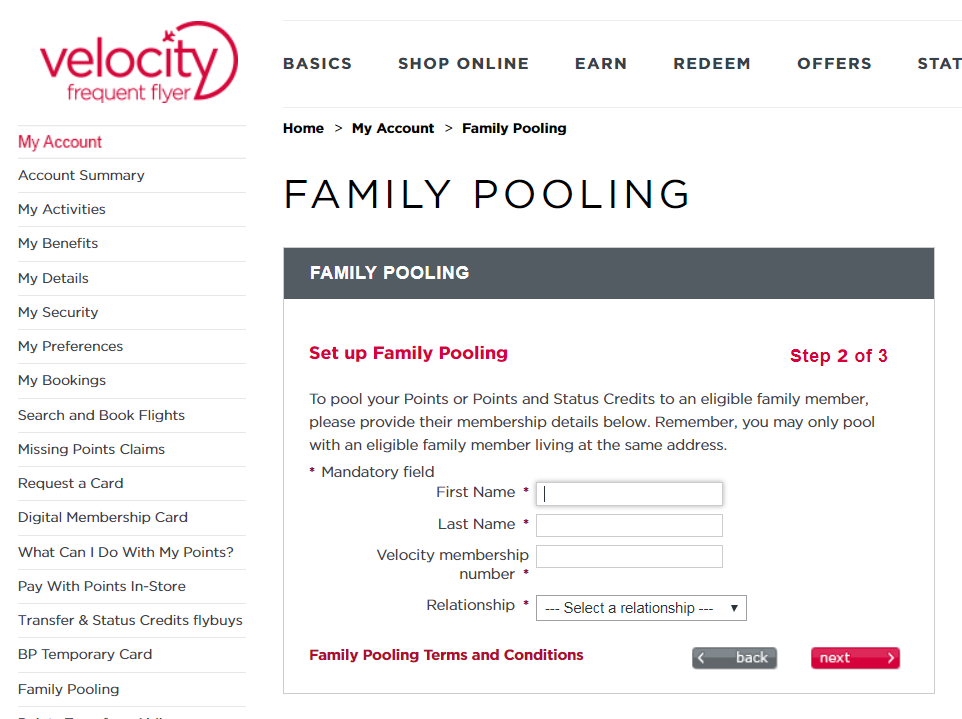 Once a contributor goes through these steps to pool to the beneficiary, both parties will receive an email notifying them that the pool has been set up. The pooling will continue until it is changed, or switched off.
For anyone who travels frequently and reaches status levels quickly, they could then change the pool to a spouse, and then each child so each member of the family could earn status.
Remember!
The most important thing to remember if you wish to pool any points and/or status credits, is that the pooling must be set up before the points or status credits you wish to pool are earned.
If you forget to set it up before you travel, you will not receive any benefits by doing a retroactive claim (believe me, I've tried!).
Points Transfers
Points transfers allows you to transfer your existing Velocity points to eligible family members, at any time, four times per year. You can transfer between 5,000 and 125,000 points each time.
Do this this by selecting 'Points Transfer – Family' from the Velocity account menu.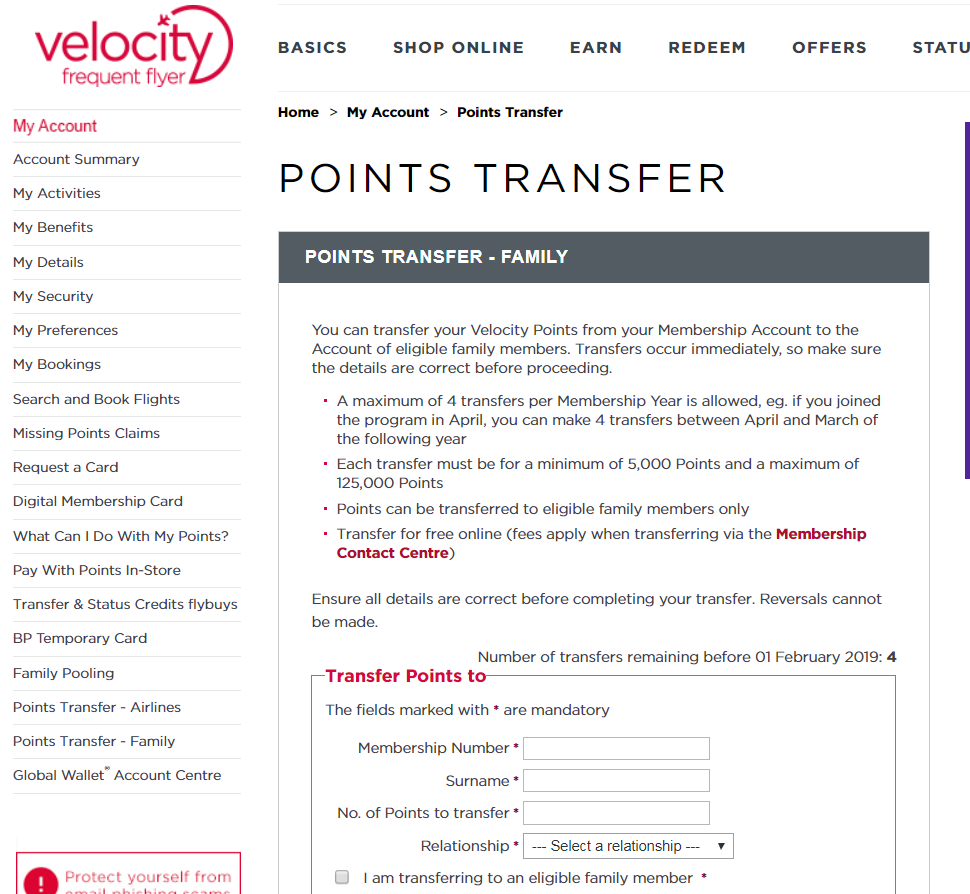 Enter the details of the person you wish to transfer to, and then you will both receive an email notification that the transfer has occurred. Transfers are instant.
Points transfers are great if multiple eligible members don't have enough points for a redemption in their own account, but would if they were able to combine points in their accounts. You cannot transfer status credits — for this you will need to have a family pool set up before the status credits are earned (as described above).
There is no fee to transfer points, unlike some programs that provide a 'share miles' option for a fee. At the same time there are never any bonuses for transferring points to a family member, as there is no cost to do so.
Remember!
Now it is critical that you only transfer points to an eligible family member. This is defined as:
Husband/wife/domestic partner/de facto,
Parent/child,
Brother/sister,
Grandparent/grandchild,
Son/daughter-in-law,
Brother/sister-in-law,
Father/mother-in-law,
Uncle/aunt,
Nephew/niece,
First cousin, or any
Foster, step or adopted relationship in any of these categories
Now you might think 'oh well, I can just transfer to a friend – Velocity will never know.' Well let me tell you, I know of several people who had their Velocity accounts frozen, and then audited because of suspicious points transfer activity. The members were then required to provide statutory declarations of their relationship with the person they received points from, and some members lost hundreds of thousands of points because Velocity was not satisfied with their response.
So don't risk it.
Play by the rules.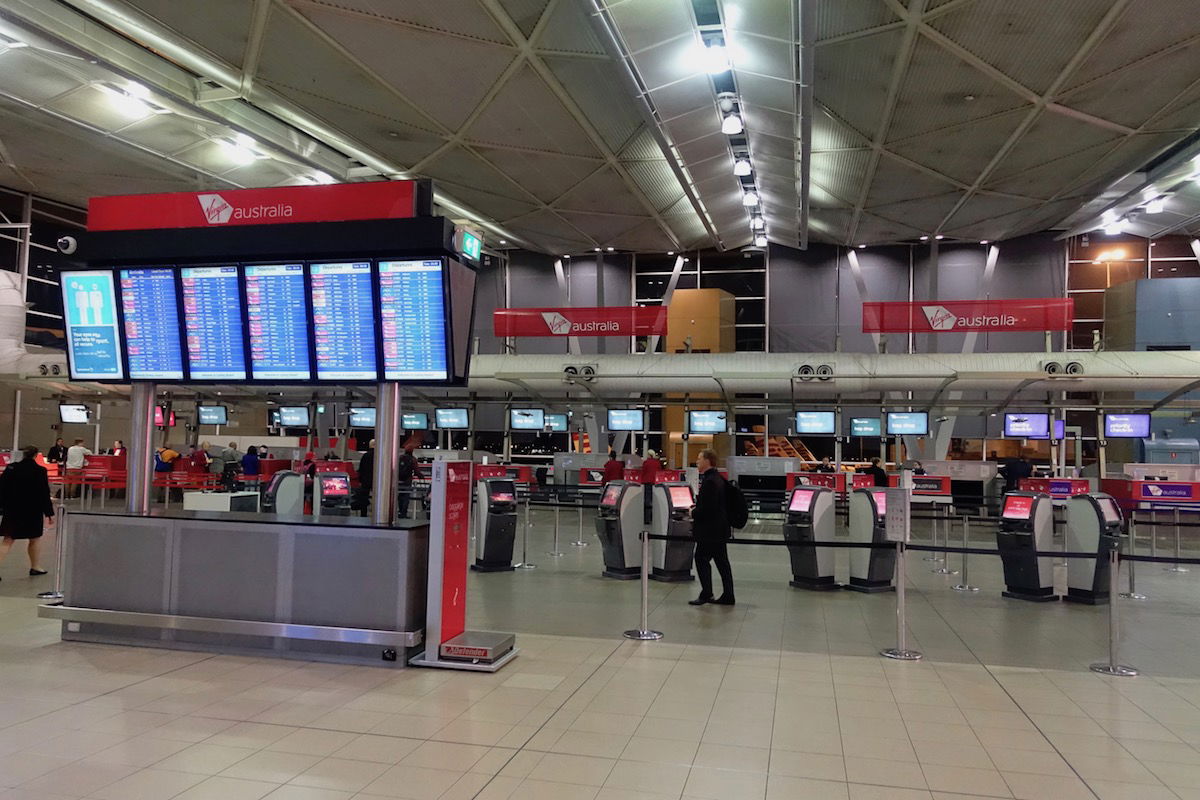 Bottom line
Velocity is a program I have a love/hate relationship with. Much like Avianca Lifemiles, take it for what it is — it can be both extremely lucrative and extremely frustrating. I have utilised the family pooling feature for years with my domestic partner – it allowed me to reach Gold and then Platinum status. I wouldn't have been able to achieve it on my own, but it was possible thanks to pooling status credits. One Gold status with Velocity is far more valuable than two Silver statuses, in my opinion.
I cannot stress enough how important it is to follow the rules. It hasn't happened to me, but accounts do get suspended/frozen, and then points forfeited because Velocity is not satisfied that points transfers and family pooling meet the eligibility criteria.
If you have booked a family trip using the Hong Kong Airlines fares, you may wish to consider pooling your points and status credits into something more meaningful, rather than the points or status credits just sitting in separate accounts.
Have you used Virgin Australia's Velocity pooling feature? What was your experience?