Hello from Los Angeles! I'm just wrapping up a quick surprise round the world trip with my dad. After flying Etihad Airways' Boeing 787 first class, Qatar Airways' Boeing 737 MAX first class, Qatar Airways' Airbus A380 first class, and Virgin Australia's 737 business class, our last international segment was from Sydney to Los Angeles in Qantas' Airbus A380 first class.
I hadn't flown Qantas first class in nearly a decade, so I was curious to see how the product was holding up. Last time I flew Qantas first class, I wasn't terribly impressed. The product doesn't even rank in my list of the world's top 10 first class products.
So I have to be honest, I had a much more favorable impression of the experience this time around. While I'll have a full trip report soon, let me share some impressions of the experience.
Qantas' big but comfortable A380 first class cabin
Qantas has one of the biggest first class cabins in the world on its A380s, as there are a total of 14 seats. First class is located on the lower deck, between doors one and two, and is in a 1-1-1 configuration.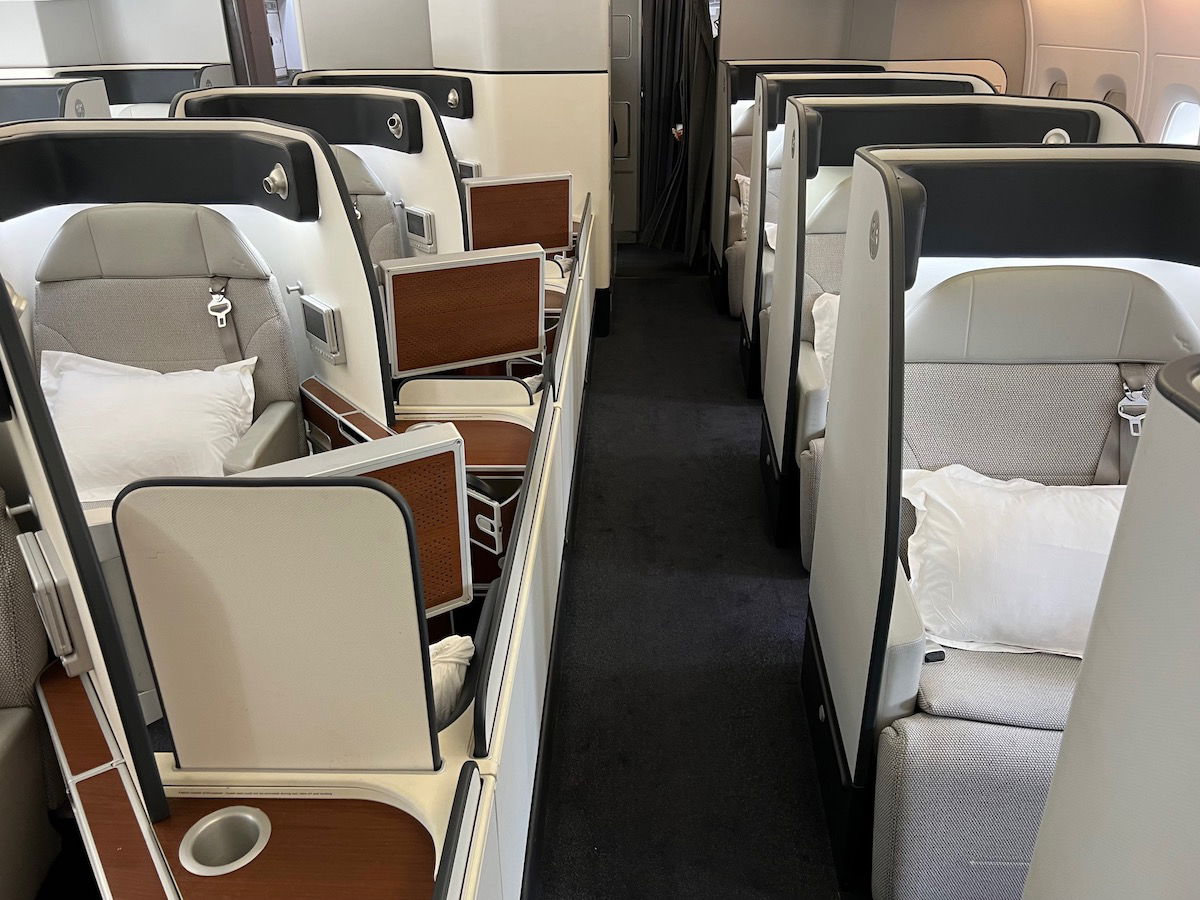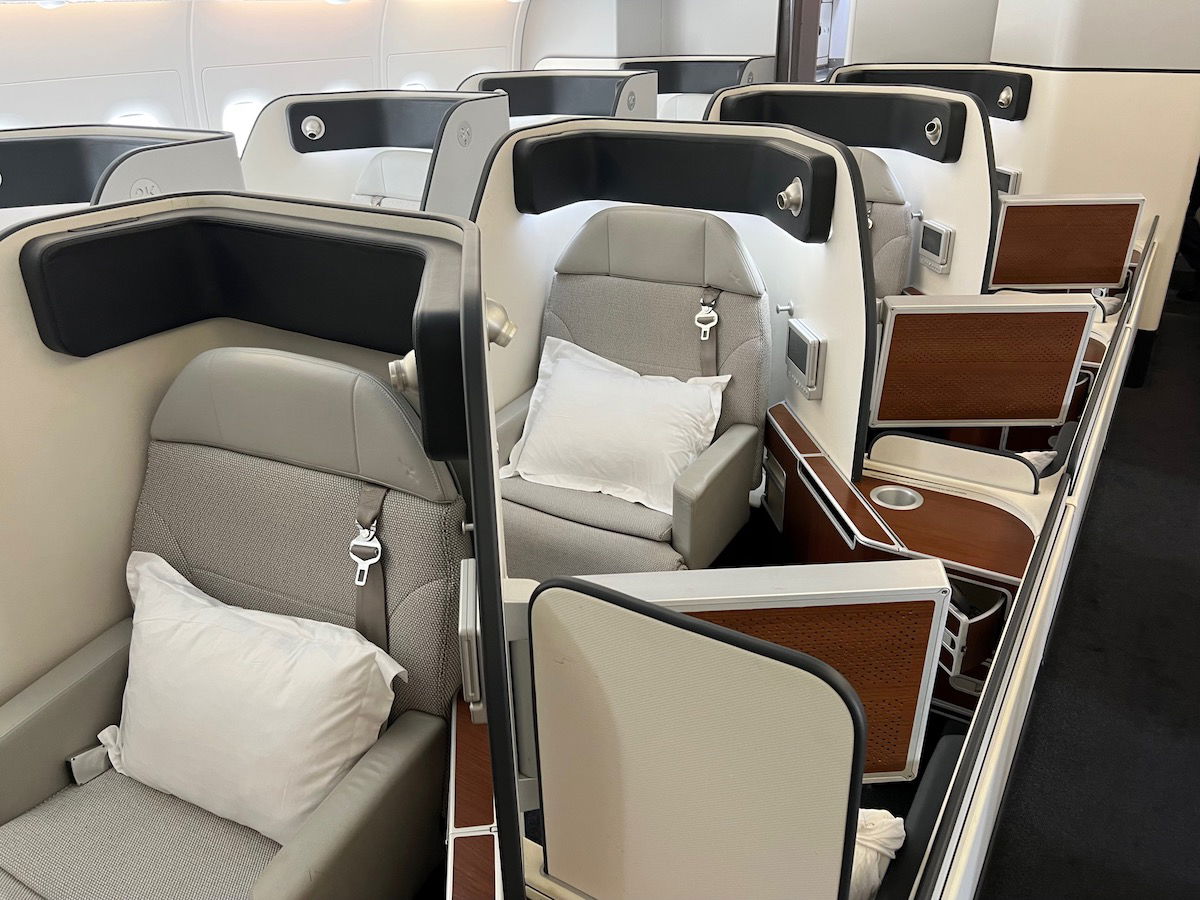 This isn't a cutting edge product, in the sense that the seats don't have doors or any real frills. However, this has to be one of the most spacious and comfortable first class seats out there.
For one, the seats are quite private. The seats in the center section face the right aisle and also have a privacy partition on the left, so if you're seated on the left, you basically won't see anyone else. The seats are also functionally designed. While you face forward during takeoff and landing, the seats can swivel to the left when you want to watch TV, eat, or sleep.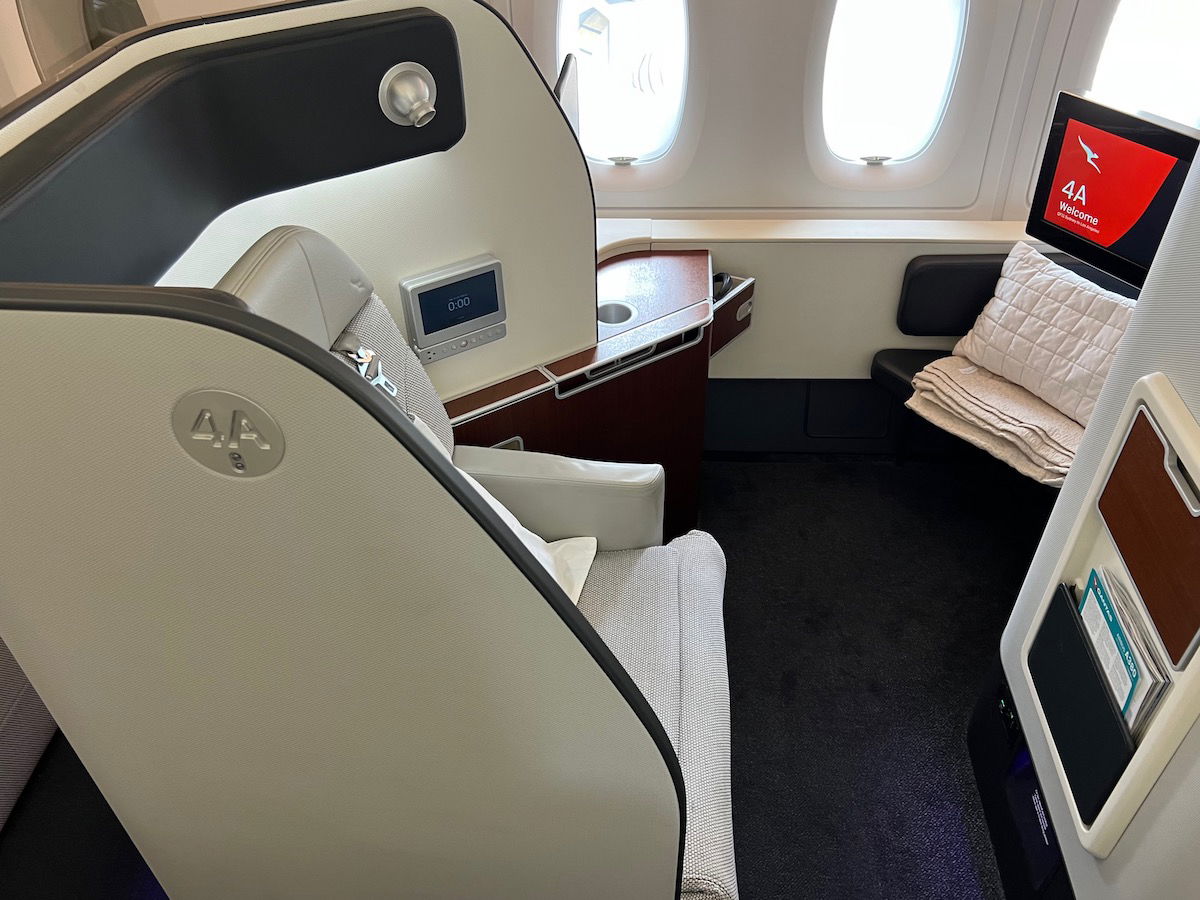 Speaking of sleeping, the Qantas first class bed is incredibly comfortable. I appreciate that there are multiple air nozzles, the bedding is exceptional, and the bed feels quite large. It's rare for me to sleep well on a plane, but I got the best sleep of the whole trip on this flight.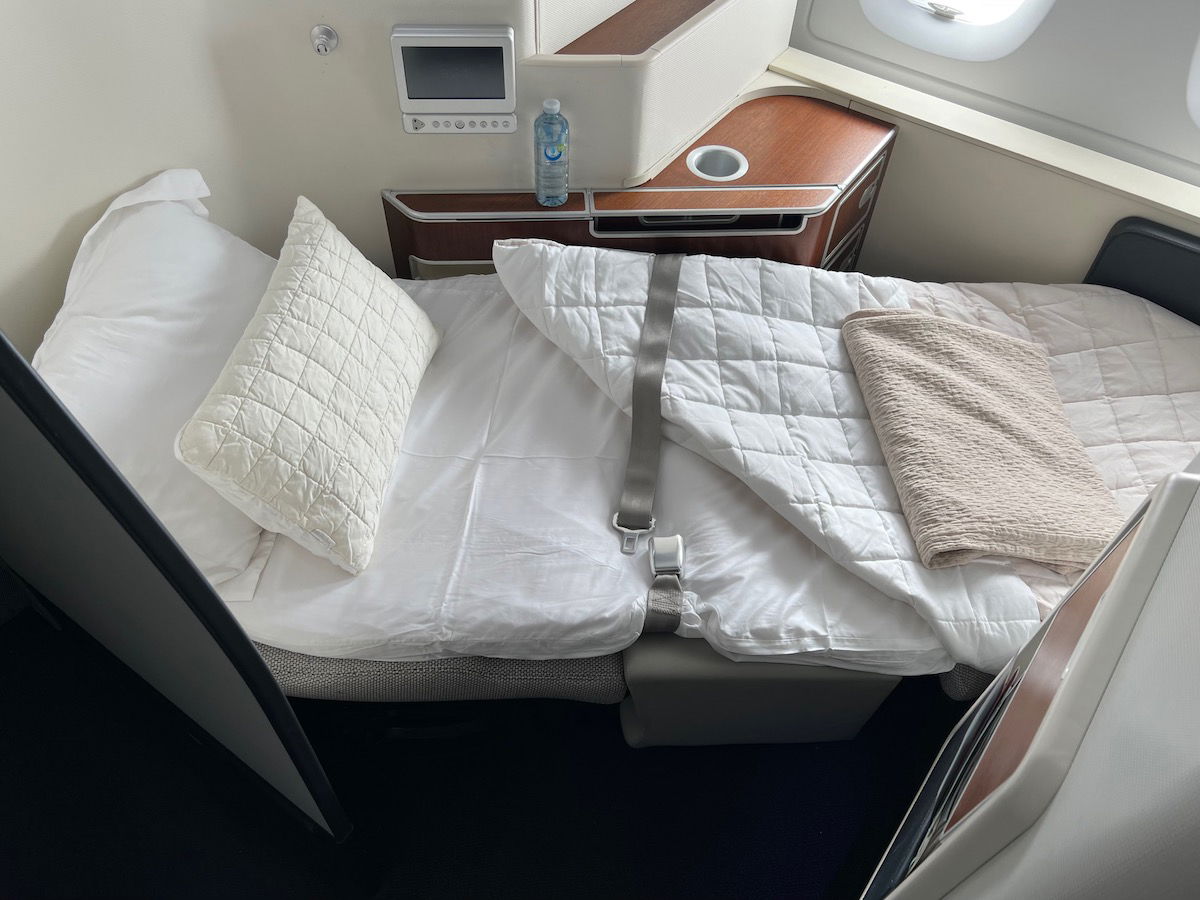 Qantas also has an excellent entertainment selection on its A380s, though frankly I could just watch the tail camera for the entire flight. The only major oversight is that Qantas doesn't have Wi-Fi on its A380s, which… is puzzling to me.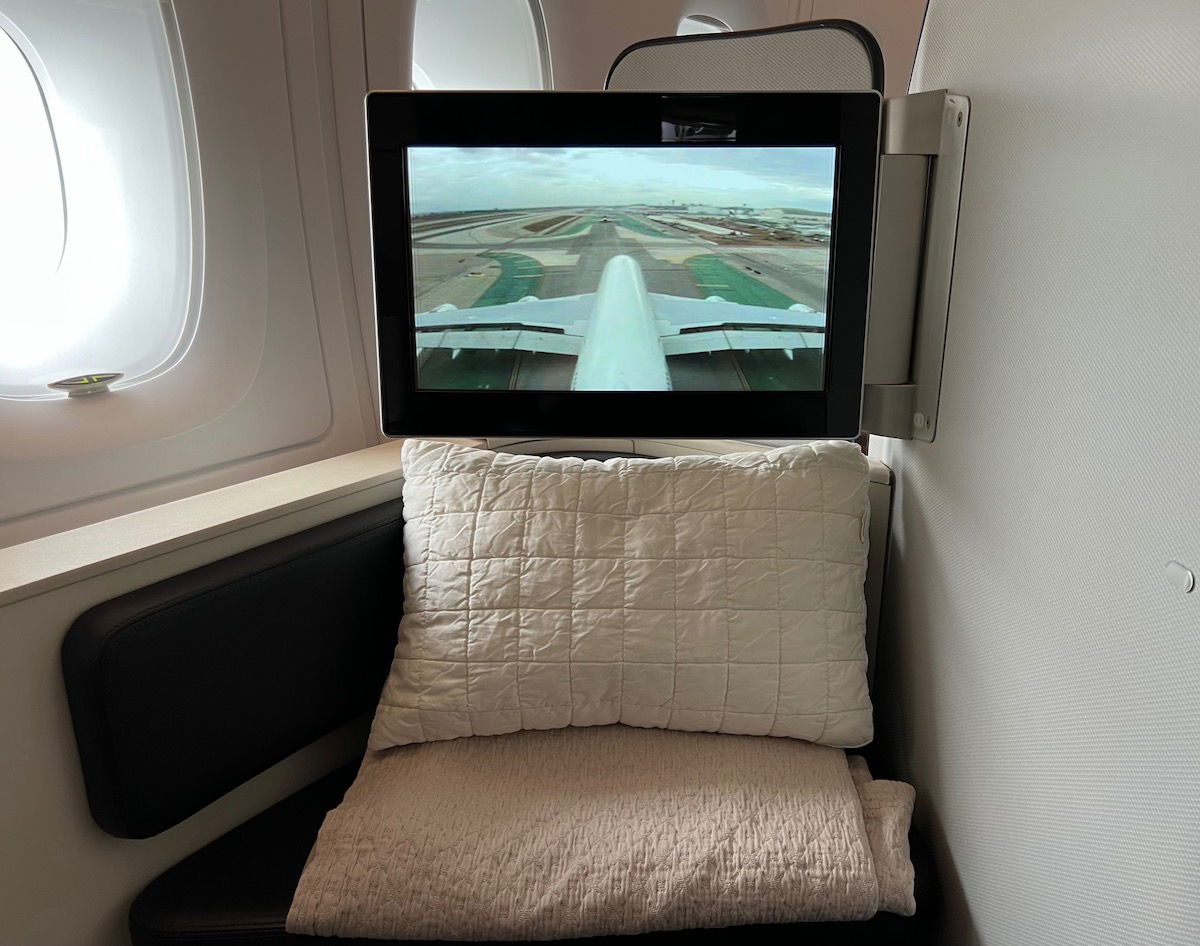 Then Qantas has a shared first and business class onboard lounge at the front of the upper deck, which I enjoyed briefly checking out.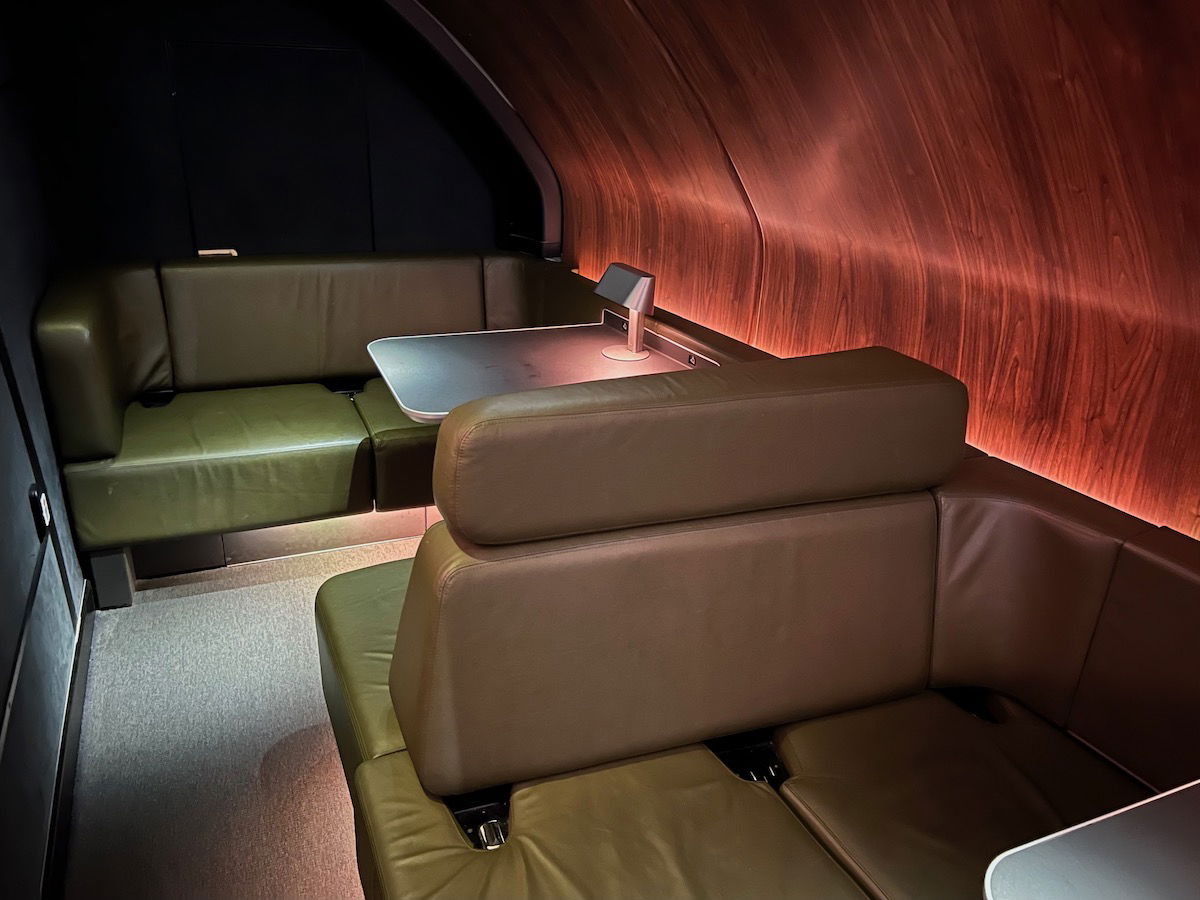 Qantas' excellent first class amenities and food
Qantas definitely cuts some costs with its lack of a proper caviar course and fairly inexpensive champagne, but other than that, I loved the food & beverage selection in first class. The menu is huge, and provides a lot of flexibility, which is always nice, and the crew encouraged trying as many things as we wanted.
After takeoff, service began with a caviar and smoked salmon canapé, and I also tried the signature cocktail, the Qantas Sky Spritz.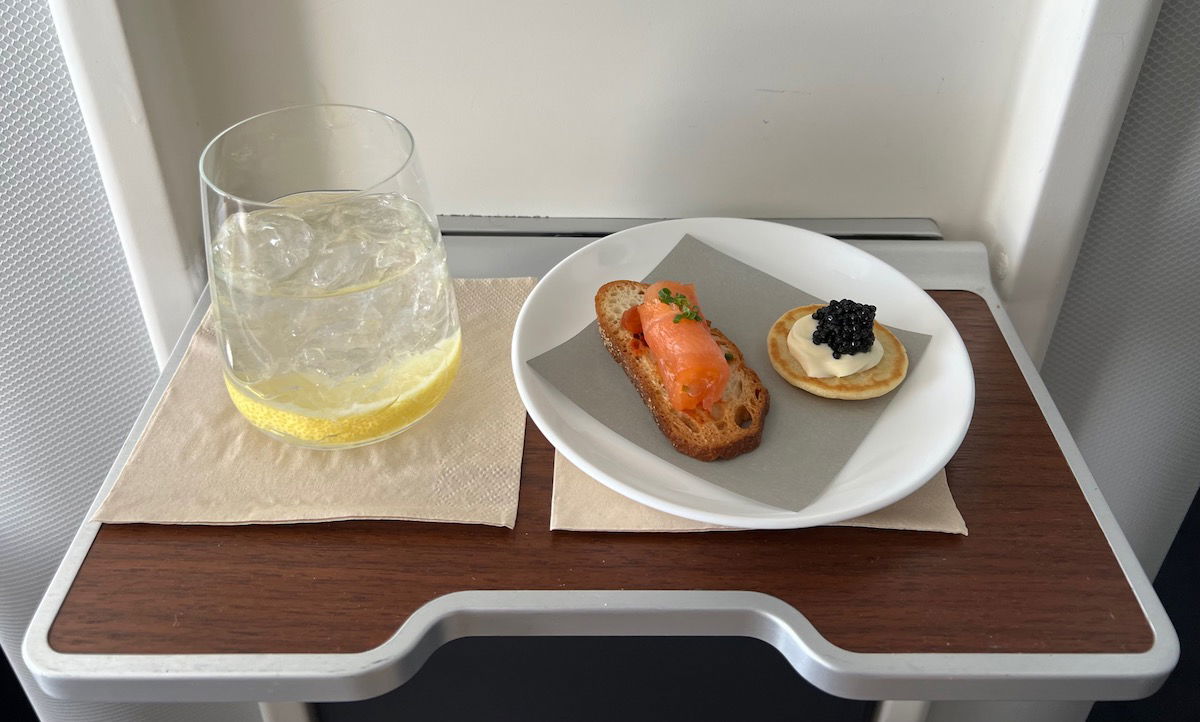 After that, I had the mezze plate, with sweet potato hummus, baby eggplant, goat's cheese, tabbouleh, and lavosh. I had some champagne to drink with that — Duval-Leroy Clos des Bouveries 2006 was on offer. Qantas also has an irresistible bread selection.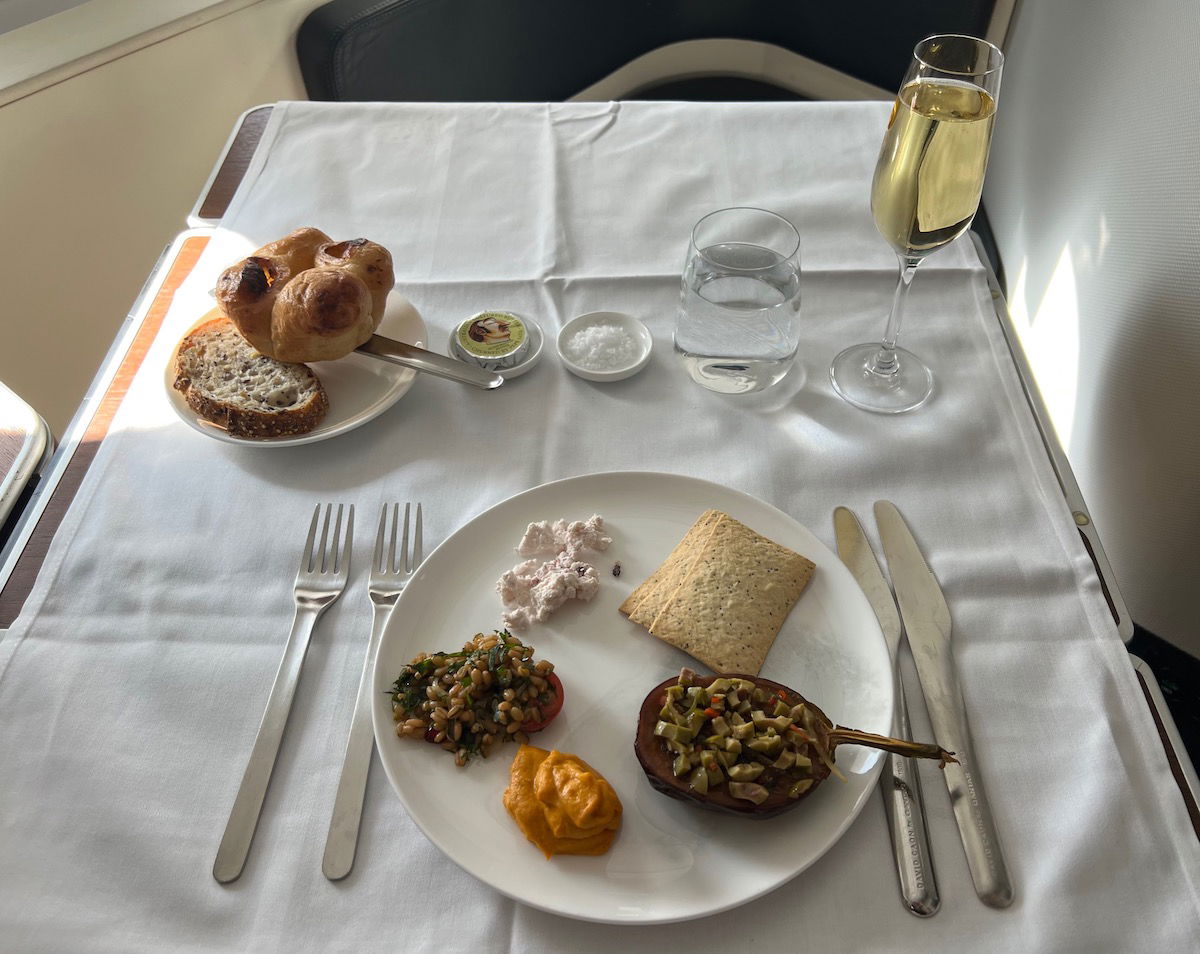 For the main course, I had the seared toothfish with saffron sauce, steamed fingerling potatoes, and braised fennel. This was served with a side salad.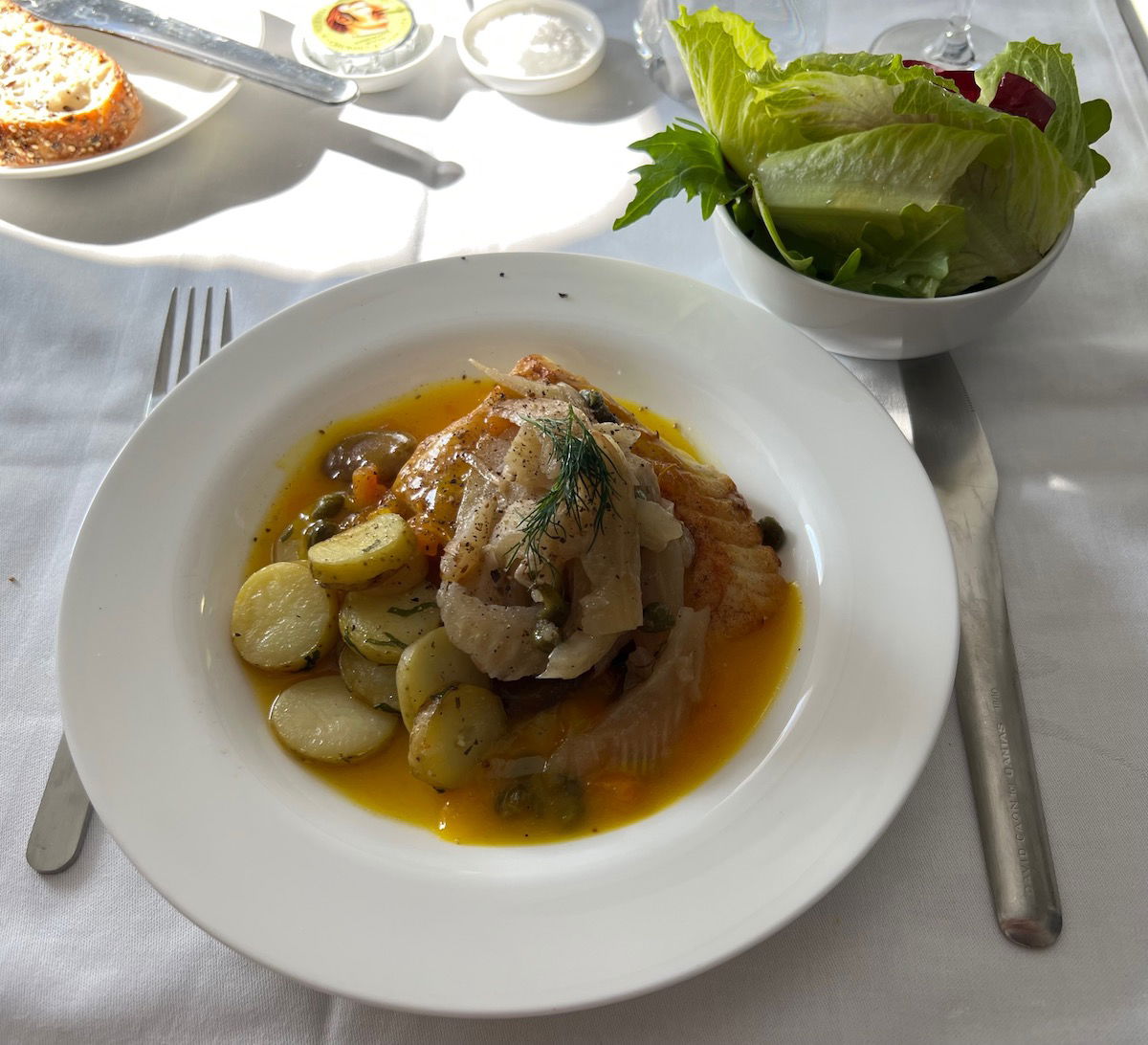 Lastly, for dessert I had the affogato — yum!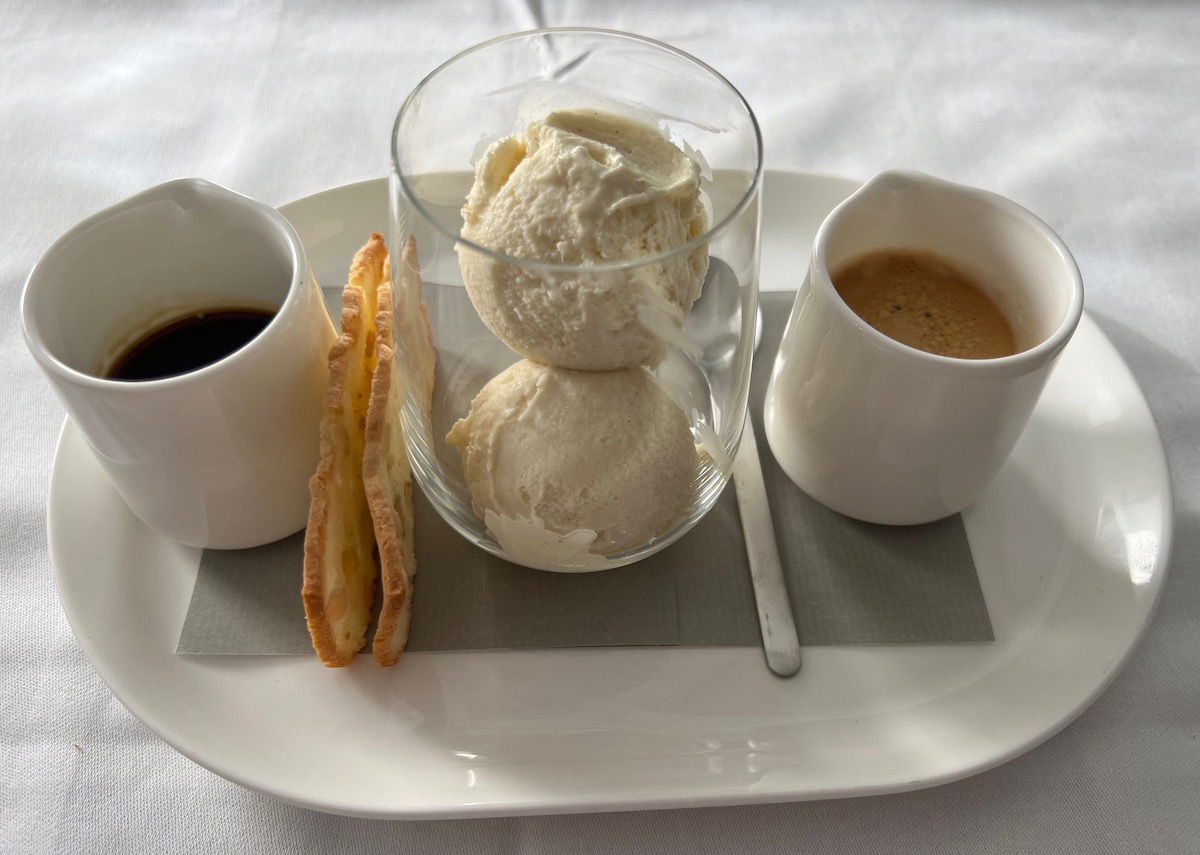 Coffee onboard was also excellent, including the flat whites.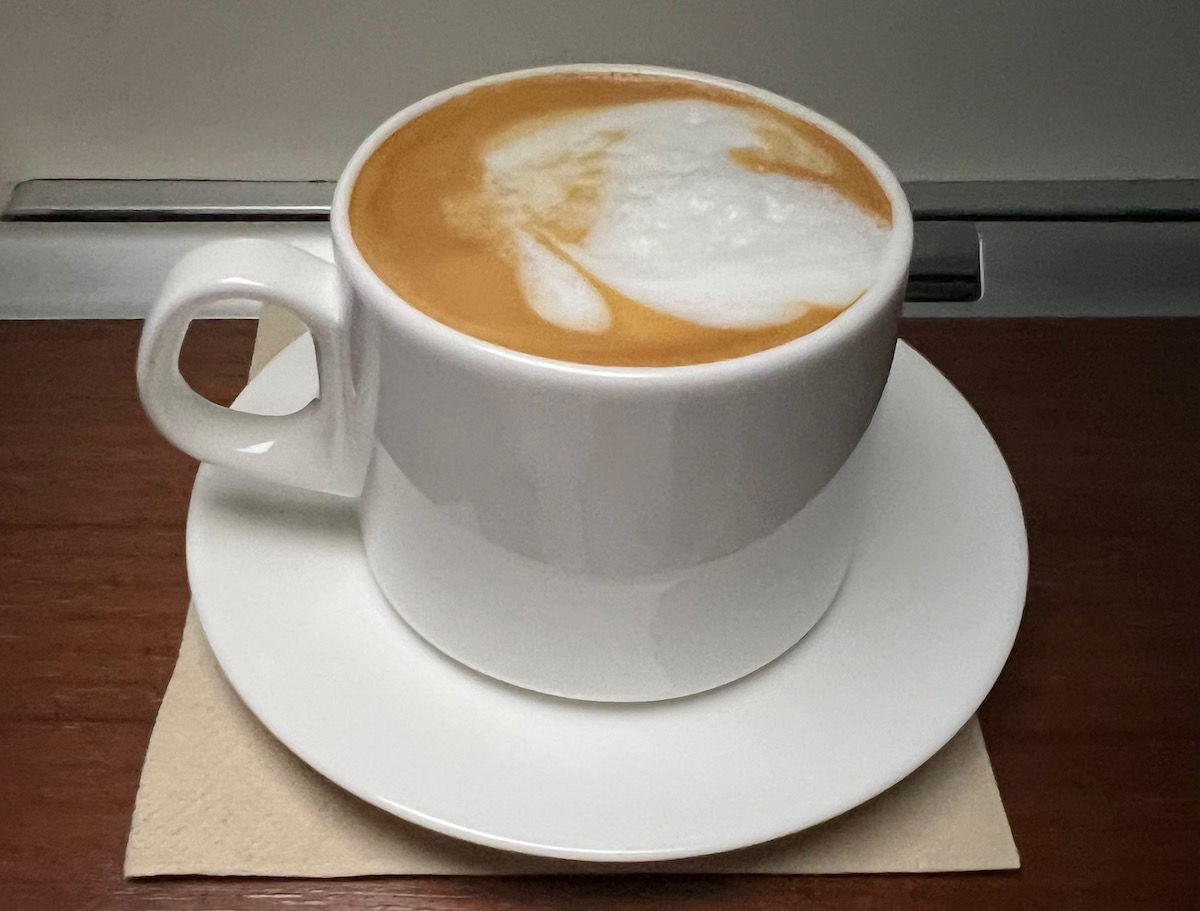 There was also a very nice selection for breakfast. I had a green juice and an avocado toast with goat's cheese and tomatoes.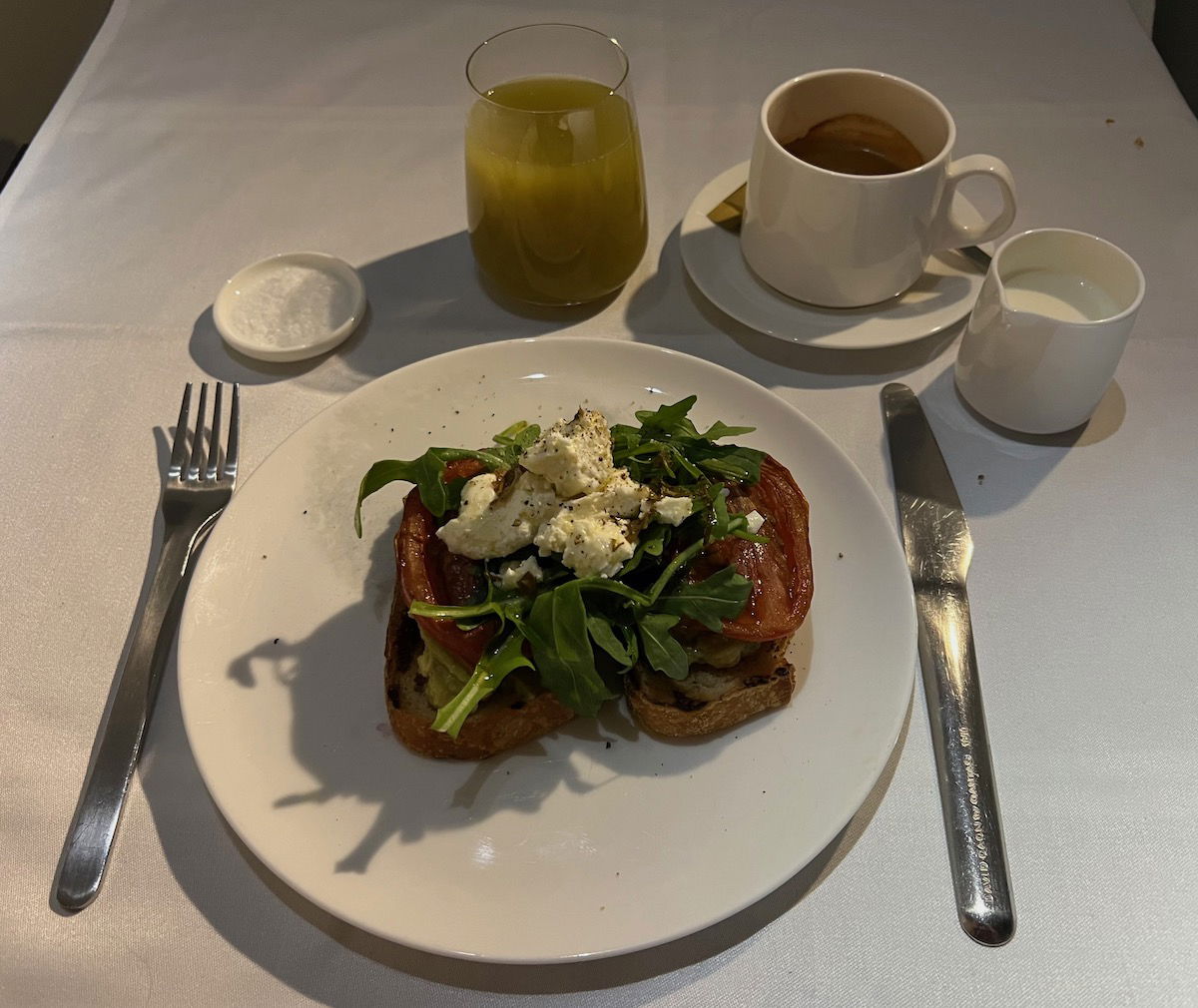 Beyond the food quality being excellent, the whole experience felt restaurant quality, which is otherwise often lacking on some airlines. For example, the flight attendants put on different uniforms during the flight that felt more like restaurant server uniforms than flight attendant uniforms, which I thought was cute. On top of that, they'd bring out cracked pepper with each course, and offer all kinds of other condiments. Furthermore, they'd pour water out of pitchers, rather than out of bottles. They're all little details, but they add up.
The amenities in first class were also top notch, including pajamas, slippers, and an amenity kit.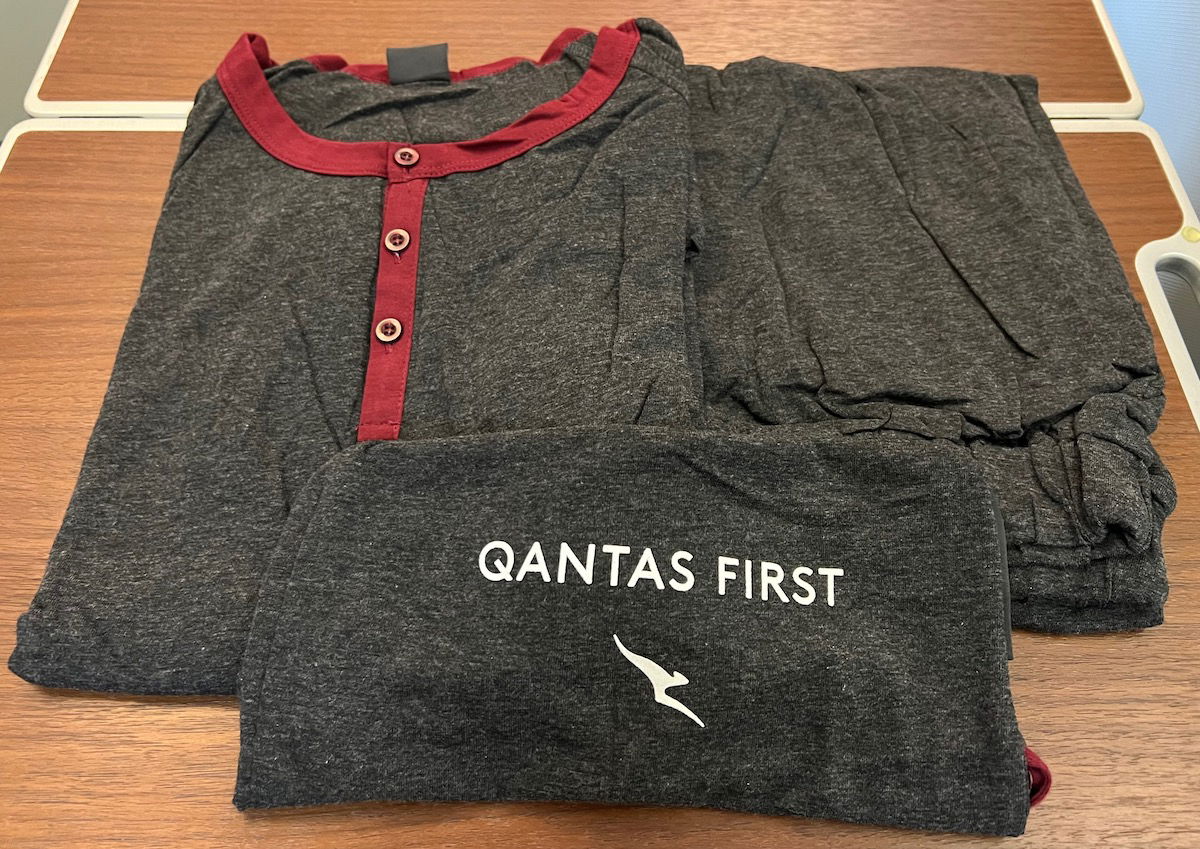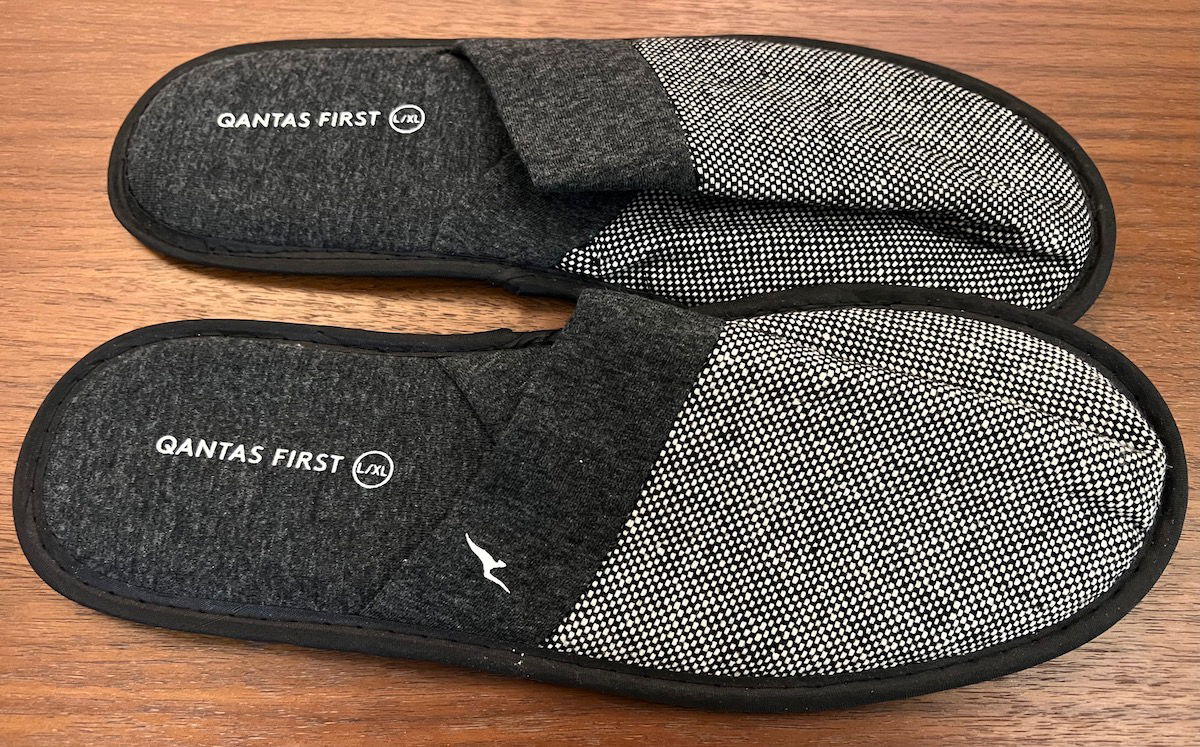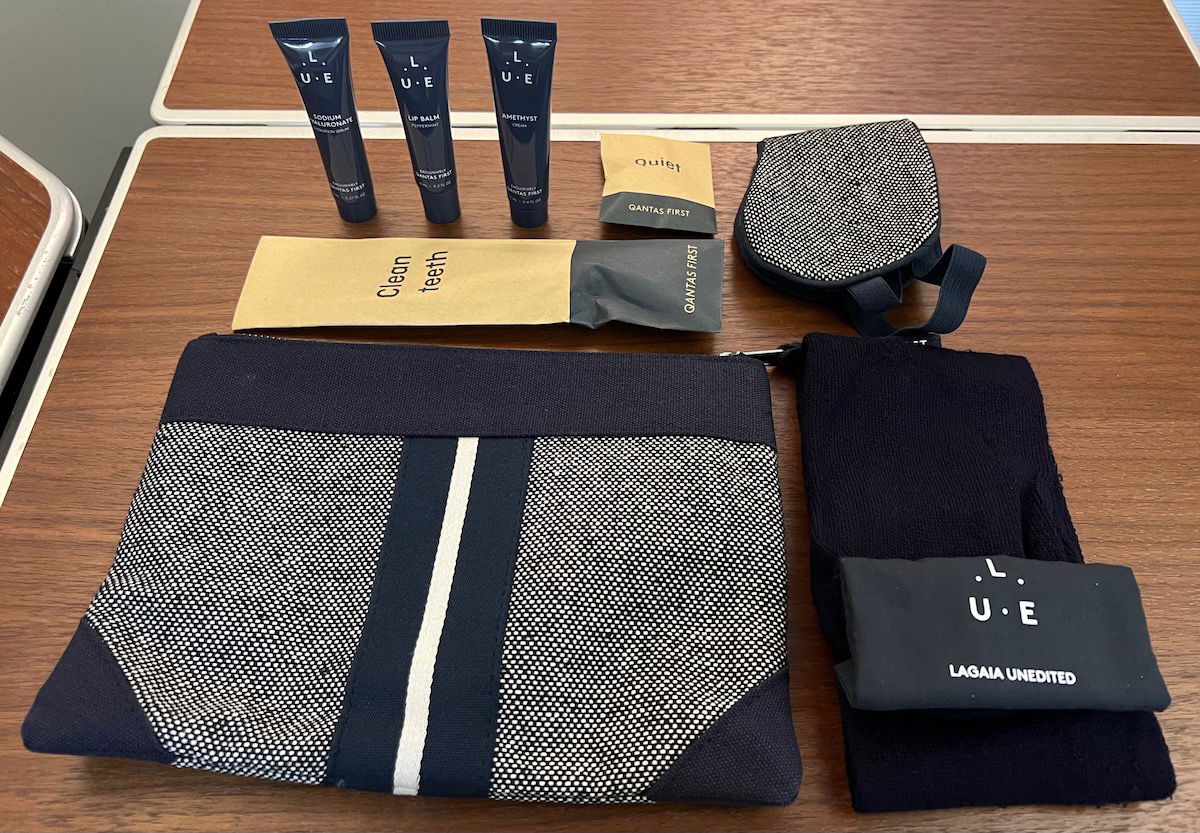 Friendly service in Qantas first class
Service can make or break a flight. On this flight we had Rob taking care of our aisle, and he was a superstar. He was attentive, friendly, and personable. Even though the first class cabin on Qantas is big (and seemingly always full), service is still very good.
It's not just that the crew was professional during the meal services, but even between meals they were passing through the cabin. For that matter, lavatories were constantly refreshed, and were spotless every time I visited, with the toilet paper rolls even in perfect "triangles."
Bottom line
We had a very pleasant 13-hour flight from Sydney to Los Angeles in first class. I had last flown Qantas first class nearly 10 years ago, yet this experience was much better than the last experience I remember having.
The downsides of Qantas first class are that the cabins are among the biggest out there, the airline definitely saves on champagne and caviar, and A380s don't have Wi-Fi. Other than that, though, this was an excellent experience, with a very comfortable seat and bed, great amenities, tasty food, and friendly service.
Qantas is one of the stingiest airlines in the world when it comes to making first class award seats available, so I couldn't help but book us when I saw two first class awards available. I'm happy I did, because the experience didn't disappoint.
What's your take on Qantas' Airbus A380 first class?