With Etihad Airways no longer managing Air Serbia, the Serbian flag carrier is now looking at adding a second long haul route.
Air Serbia's planned Belgrade to Beijing route
Serbia's state-owned postal operator, Posta Srbije, has announced that Air Serbia will launch flights between Belgrade and Beijing as of January 2022. Here's how the logic for this route is described:
"In order to establish long-term stable delivery of postal items from China, Posta Srbije initiated direct negotiations with the national operator of China, and additional acceleration of e-commerce flows is expected in January 2022, announced by introducing a direct Air Serbia flight to Beijing."
There had been discussions about Air Serbia launching China flights for quite a while, in order to increase economic cooperation between the two countries. In 2017, Hainan Airlines operated flights from Beijing to Belgrade via Prague, though that service only ended up lasting for about a year, unfortunately, and was cut in 2018.
As of now there has been no official announcement from Air Serbia about the route, though I'd imagine that's coming soon. Given that both the airline and postal service are government owned, I think it's safe to say that this is a pretty reliable statement of intent (which isn't to say that the government couldn't backtrack, but…).
Currently Air Serbia's only long haul flight is between Belgrade and New York. The airline launched this route in 2016, and has maintained it consistently for five years, though with varying frequencies.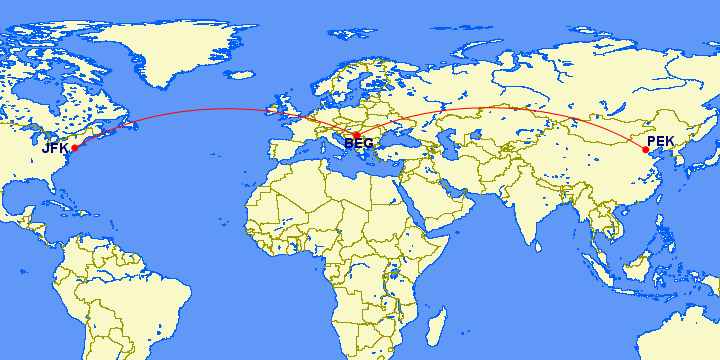 Will Air Serbia get a second Airbus A330?
Air Serbia currently has a single wide body aircraft, which is a former Aeroflot Airbus A330-200 that was recently acquired. The airline previously had a different Airbus A330-200, but the decision was made to swap out planes, given a more favorable lease agreement on the new plane.
Can Air Serbia operate both New York and Beijing flights with a single Airbus A330?
Looking at the current schedule, Air Serbia is scheduled to operate just 2x weekly flights to New York in January through March, 3x weekly flights in April through May, and 4x weekly flights in June
With tight scheduling, the airline could do a Beijing rotation in around 24 hours, so the airline could in theory add Beijing rotations on days where New York flights aren't operated
For a long time there have been rumors that Air Serbia may acquire a second A330, and if the airline follows through with Beijing service, it seems most likely that the airline would acquire a second A330
The most likely outcome seems to be that the airline could use its first A330 for winter rotations to New York and Beijing, then in the spring it could get a second A330, and then by summer the airline could even add Toronto into the mix, since that route has been rumored for a long time
Bottom line
Air Serbia intends to launch nonstop flights between Belgrade and Beijing as of January 2022. This will mark the second long haul route for the Serbian flag carrier, as Air Serbia has otherwise flown to New York for the past five years.
It's cool to see Air Serbia expanding, though I'm curious to see how this plays out — will the airline acquire a second A330, or what exactly is the plan for operating this service?
What do you make of Air Serbia's planned Beijing route?
(Tip of the hat to EX-YU Aviation)