Last week I flew Air Serbia business class from Belgrade to New York, which is the carrier's only long haul route (I redeemed Aeroplan points for the flight, thanks to the partnership between Air Canada and Air Serbia). While I'll have a full review soon, I just can't help but first write about how much worse Air Serbia's business class has become, which is sad.
Some background on Air Serbia (and the Etihad connection)
For some context, Air Serbia is the national airline of Serbia (as you'd expect). The airline used to be known as Jat Airways, but had a bit of a rebirth in 2013. Specifically, Abu Dhabi-based Etihad Airways and the government of Serbia started the airline as a joint venture, with the two parties initially owning 49% and 51% stakes, respectively. This was part of larger scale cooperation between Serbia and Abu Dhabi.
Not only did Etihad own nearly half of Air Serbia, but the airline also had a contract to manage Air Serbia for a period of five years. As part of this, Air Serbia acquired a former Jet Airways Airbus A330, and the airline began operating a long haul route between Belgrade and New York.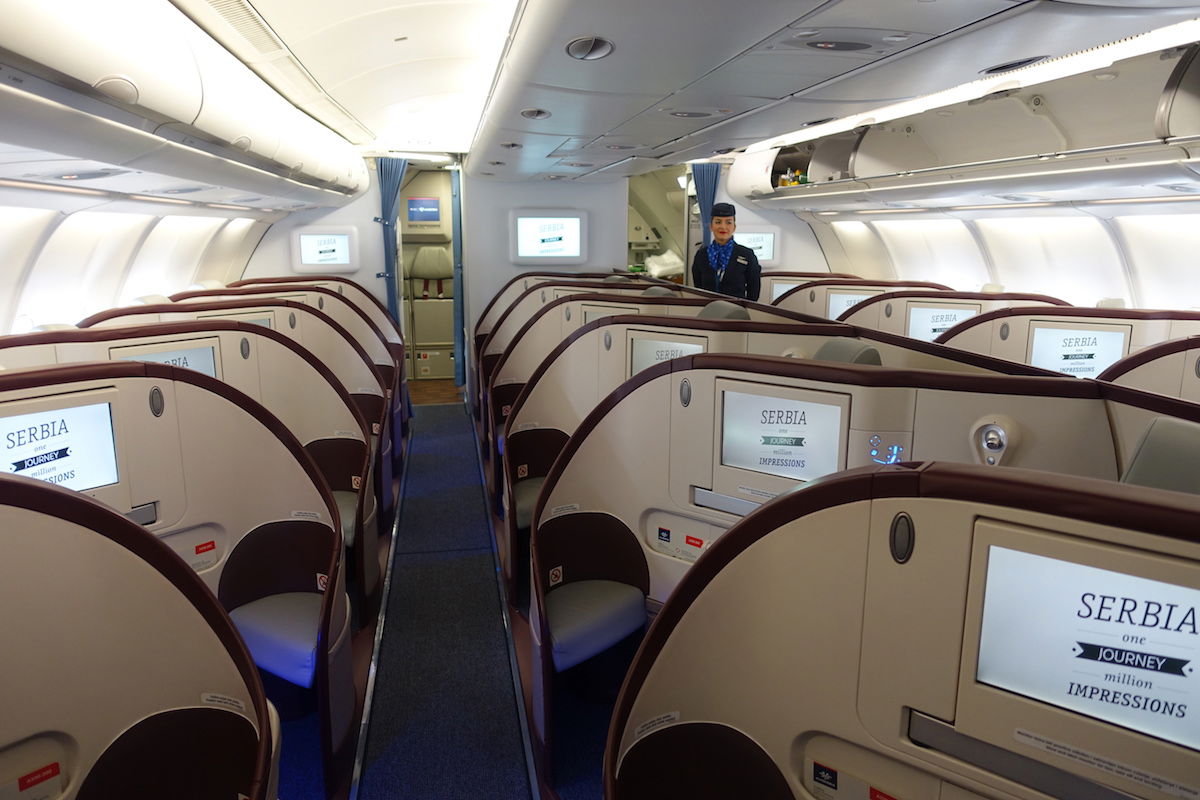 One of the (only) nice things about Etihad getting involved in an airline is that they get them to invest in the soft product. Under Etihad's management, Air Serbia had a menu in the lounge, and a great onboard business class product, with cappuccinos, mattress pads, pajamas, dine on demand, etc.
To get a sense of what this used to be like, see my review of the Air Serbia Lounge Belgrade, and my review of Air Serbia's A330 business class (again, this was from back in the day).
Unfortunately Etihad's investment strategy hasn't worked out at all, and the airline has progressively been decreasing its stake in Air Serbia, and Etihad now only owns an 18% stake (with the Serbian government owning the other 82%).
Air Serbia still only has a single A330, but it's a different one than what the airline initially had. In 2021, Air Serbia took delivery of a former Aeroflot Airbus A330. So it's the same type of plane Air Serbia initially flew, but with a different configuration.
While I don't have strong feelings about the change in seats as such (neither the old or new cabin were cutting edge), it's sad the extent to which Air Serbia's soft product has gone from exceptional to below average.
Air Serbia's business class: not great anymore
I had flown Air Serbia business class a few times before on the Belgrade to New York route with the old product, and the soft product was always a treat. This time it wasn't. It's not that any one thing was horrible, but rather it was "death by a thousand cuts," if you will.
Let's start with the Air Serbia Premium Lounge in Belgrade. Back in the day the lounge had a la carte dining, while that's no longer available. Now this lounge is also open to Priority Pass members (presumably to generate extra revenue), and has a pretty average contract lounge food & drink selection.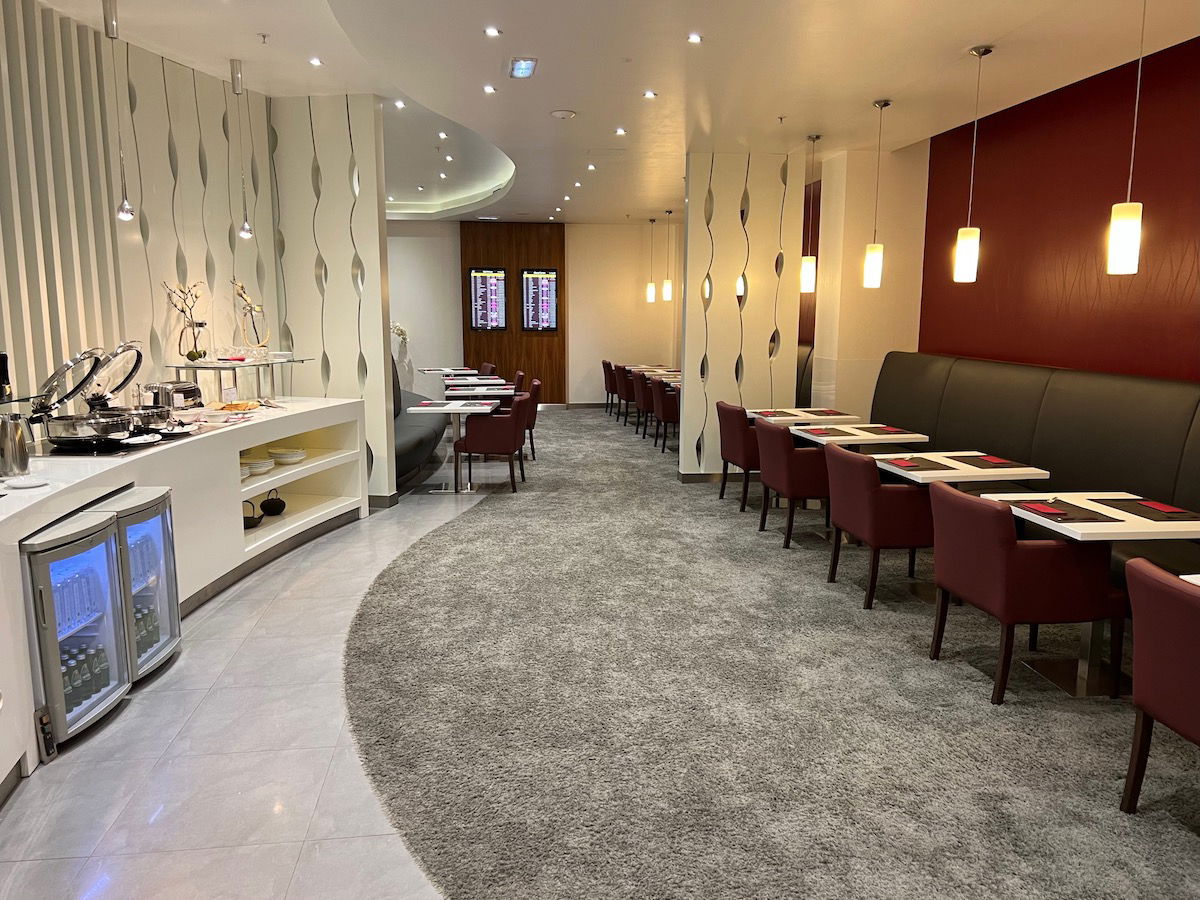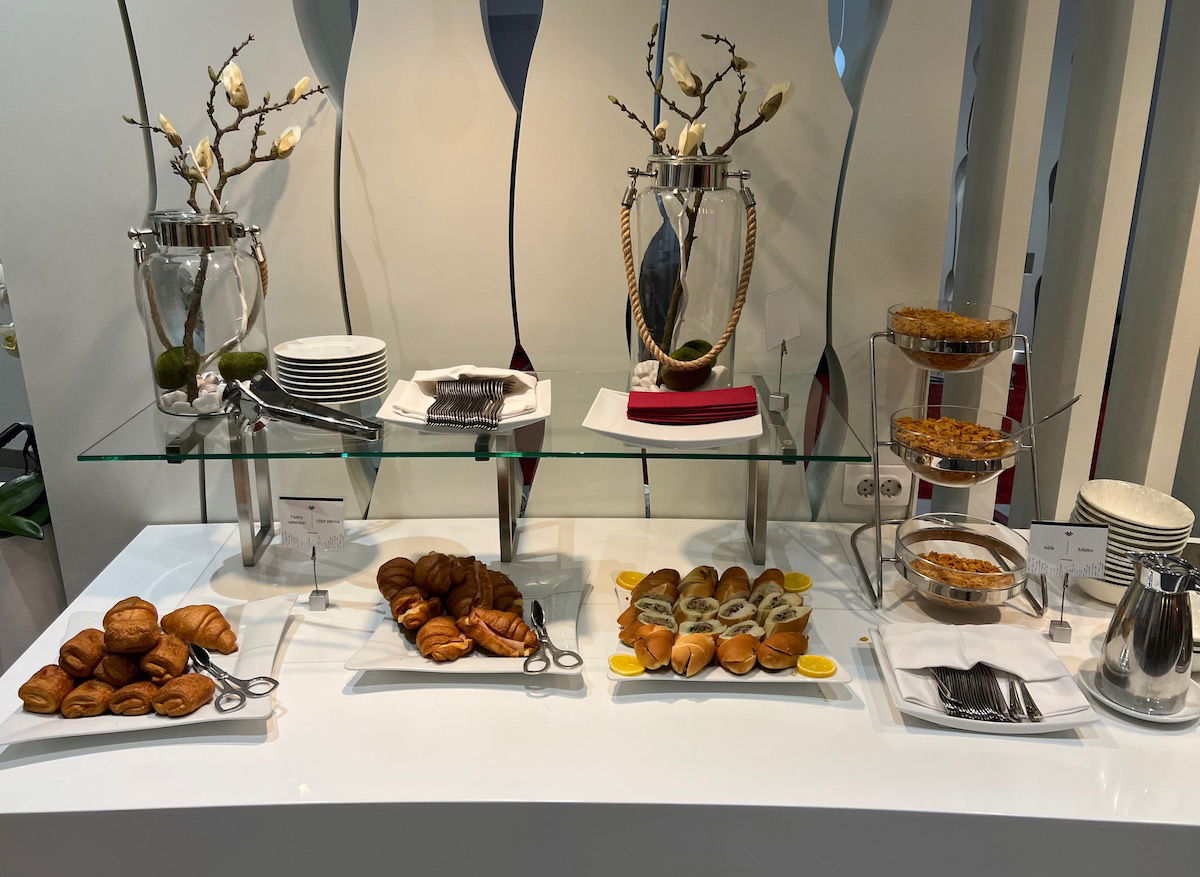 By the way, don't you think that out of self respect, Air Serbia would remove its Etihad Airways Partners sign from Belgrade Airport? The concept doesn't exist anymore, as three of those airlines liquidated, and three went through bankruptcy or underwent radical transformations, and have new owners.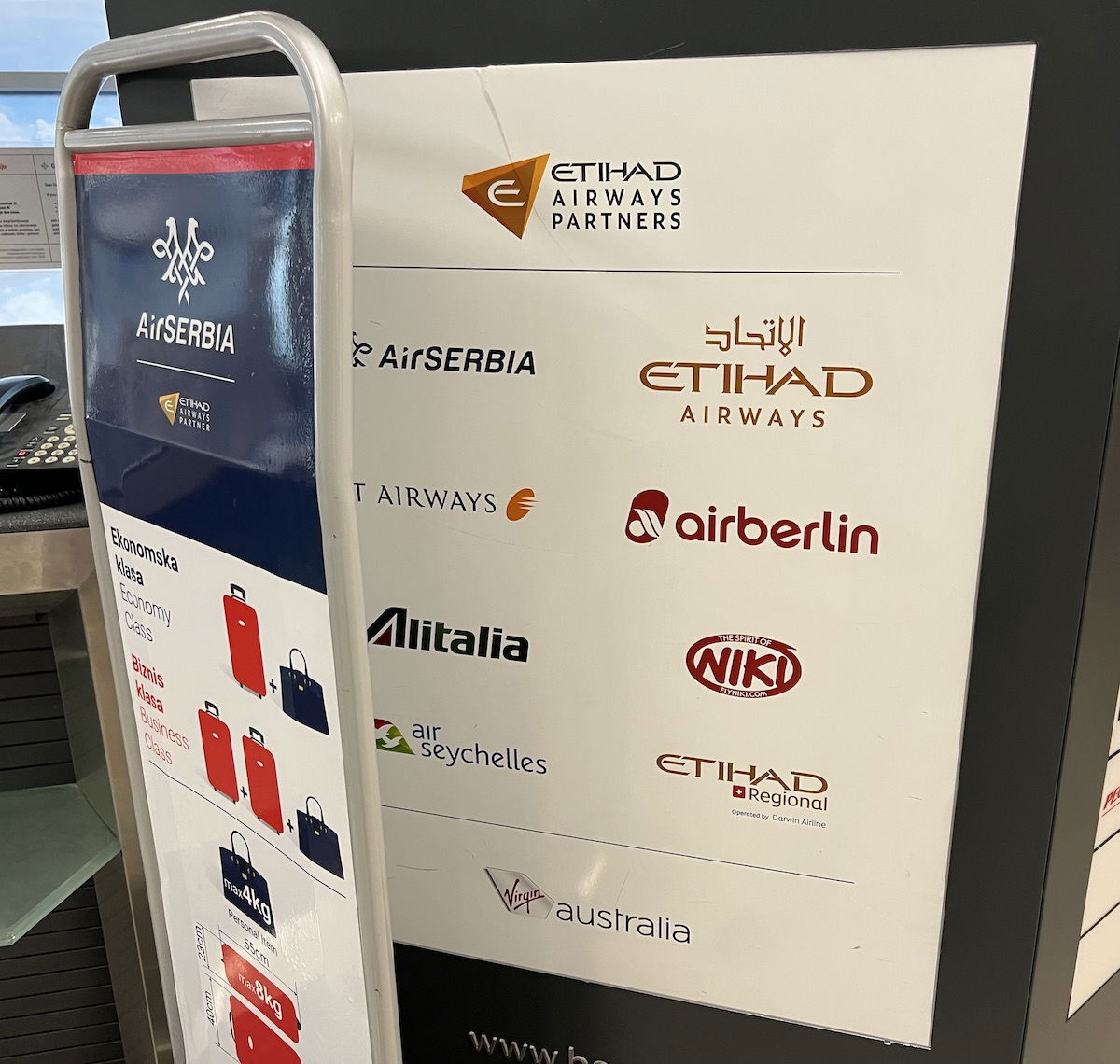 Let's start with the positives — Air Serbia's new business class cabin is perfectly nice. It's a pretty standard staggered configuration, which you'll find on quite a few airlines. Furthermore, the crew was friendly and well intentioned.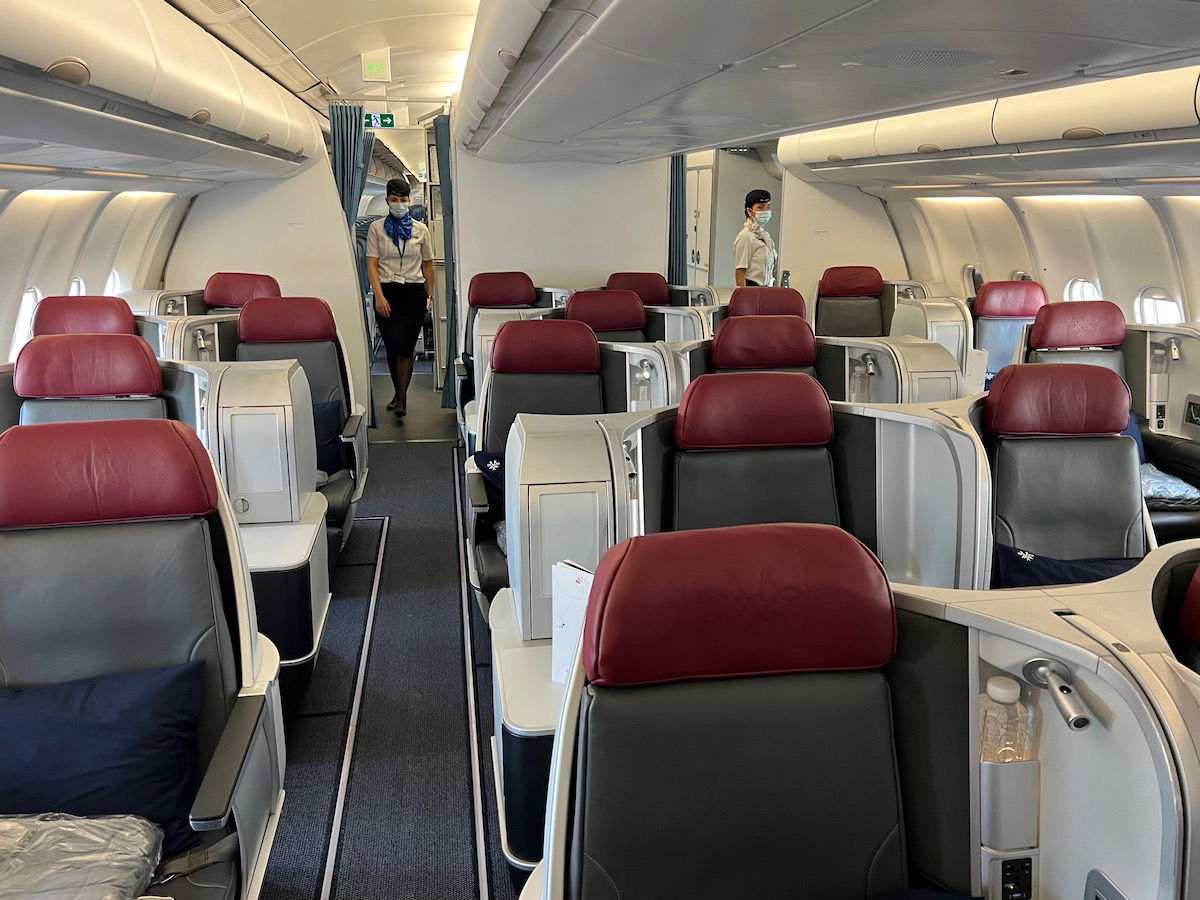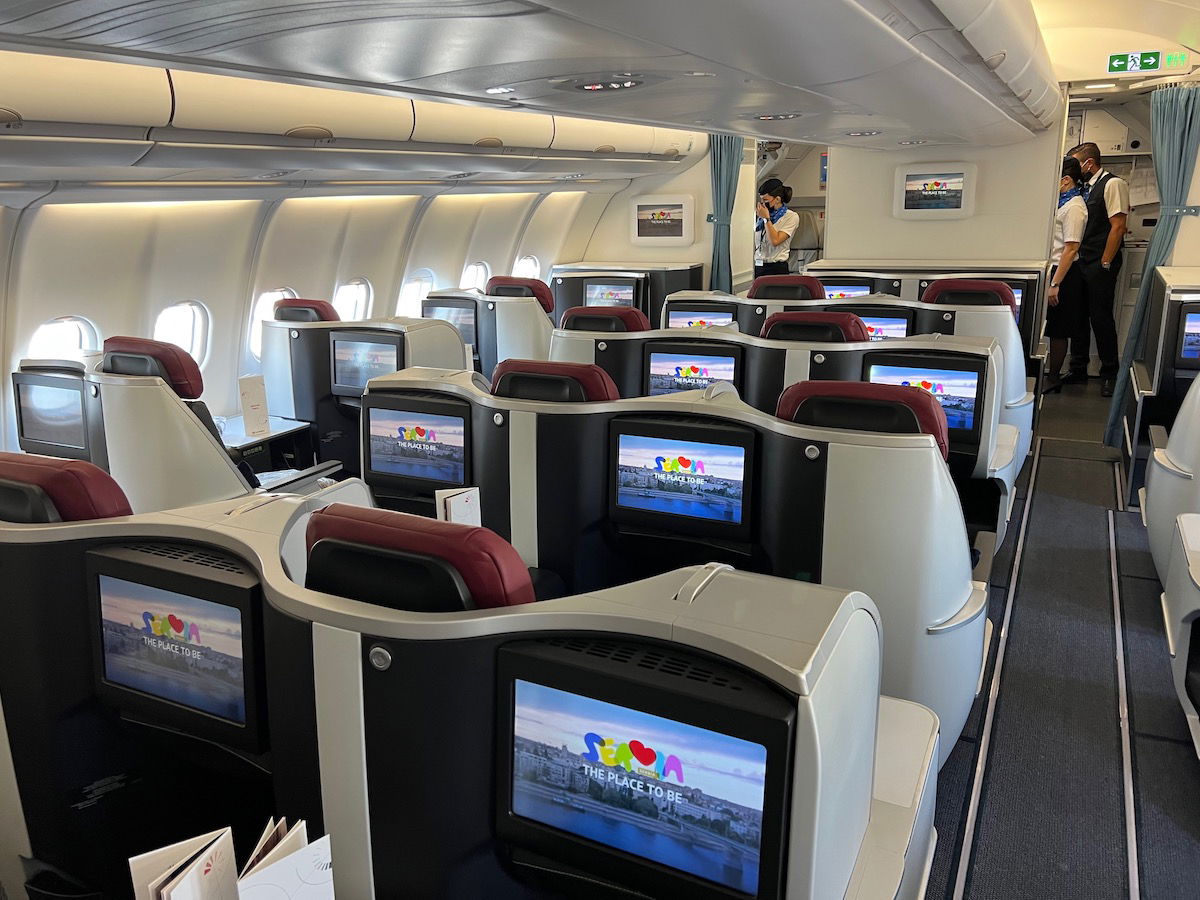 However, it's all downhill from there, at least based on the experience on my flight:
Air Serbia used to offer pajamas, but those aren't available anymore
Air Serbia doesn't even have amenity kits anymore
There used to be a mattress pad, while that's not available anymore
Air Serbia used to have great espresso and cappuccino based drinks; now Air Serbia just has disgusting powdered instant coffee (the menu listed espresso but not cappuccino, but I was told the machine has been broken for some time)
Air Serbia used to have Wi-Fi, but the "new" A330 doesn't have Wi-Fi; it has been quite some time since I've had a 10 hour daytime flight without Wi-Fi
With the lack of Wi-Fi it would be nice if there were at least a great entertainment selection, but the library was pretty lackluster
Now let's talk about the meal service. The flight departed from Belgrade shortly before 8AM and arrived in New York shortly before 12PM. Air Serbia continues to have a dine on demand menu, but in practice everyone had breakfast after takeoff and a second meal before landing.
The breakfast was okay. Oddly everyone was served nuts before breakfast, so I switched my drink order from coffee to white wine (lol?).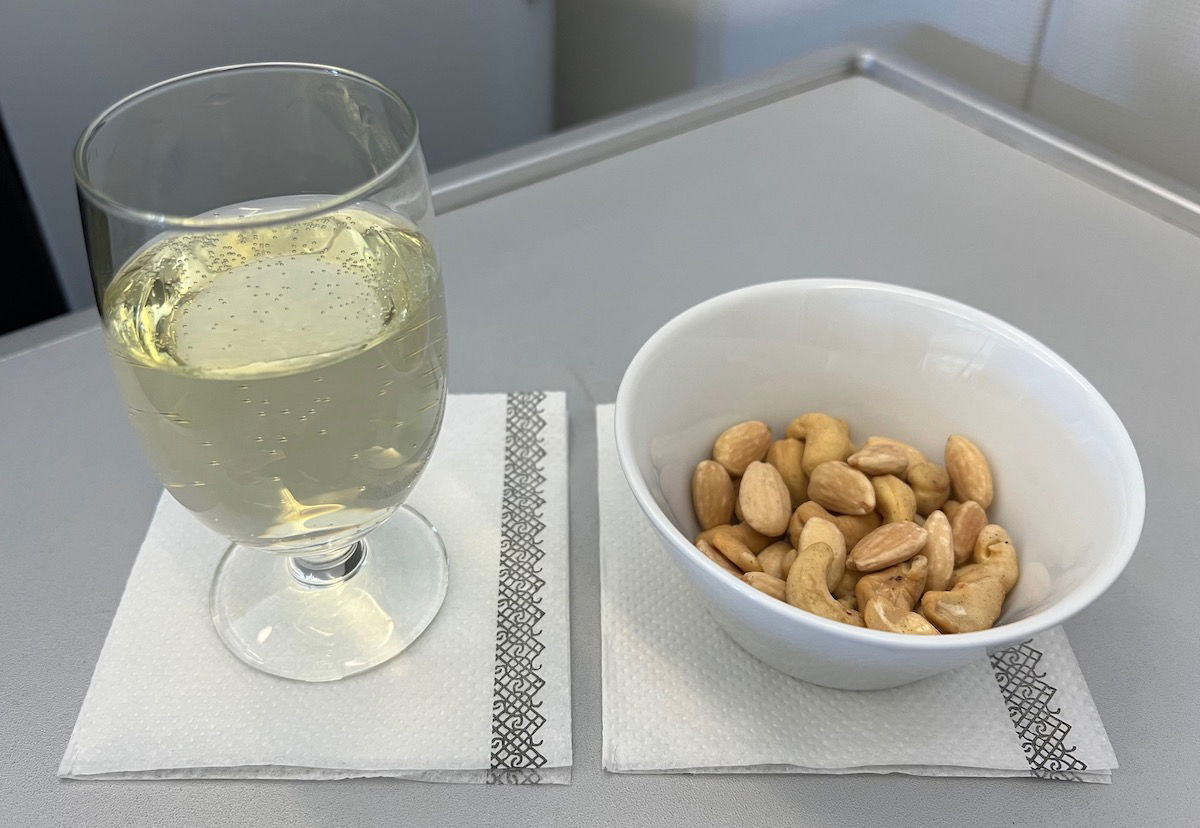 Breakfast started with a greek yogurt with walnuts and strawberry sauce.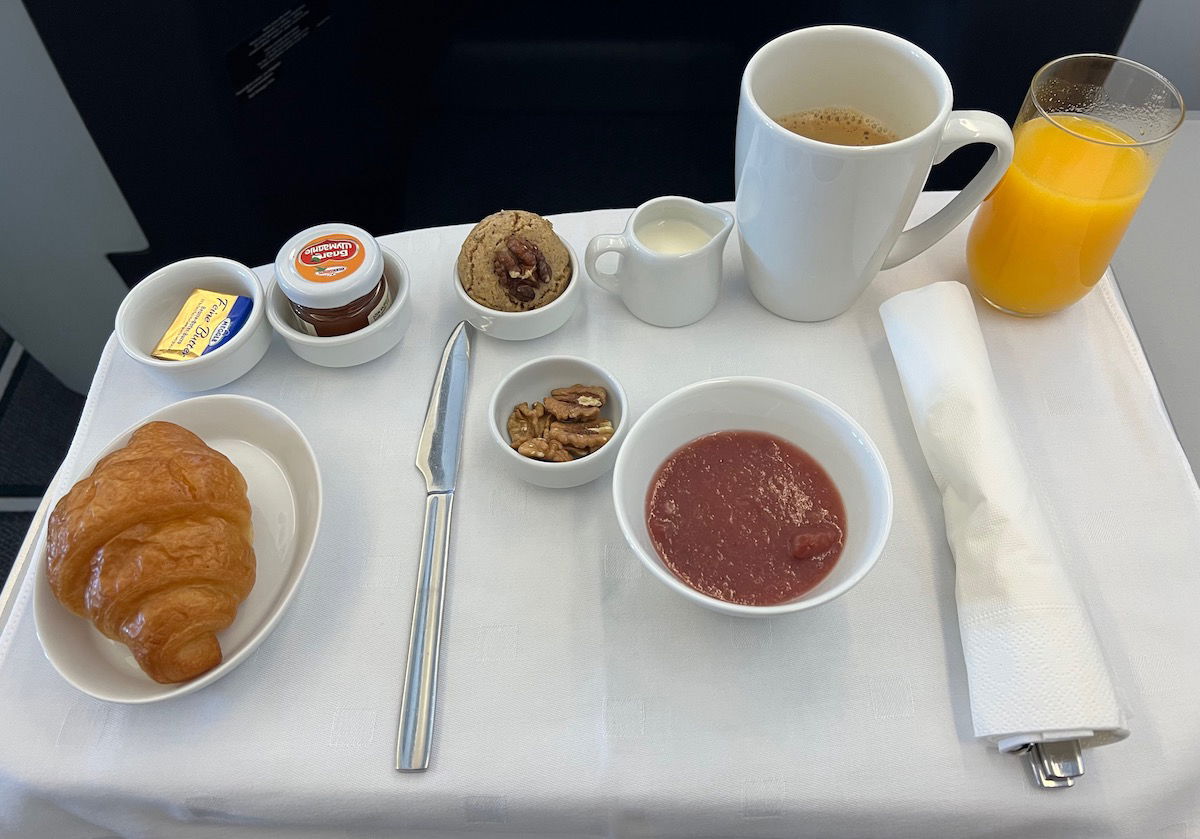 Then for the main course I selected the Spanish pie with potatoes and vegetables, grilled tomatoes, and grilled mushrooms.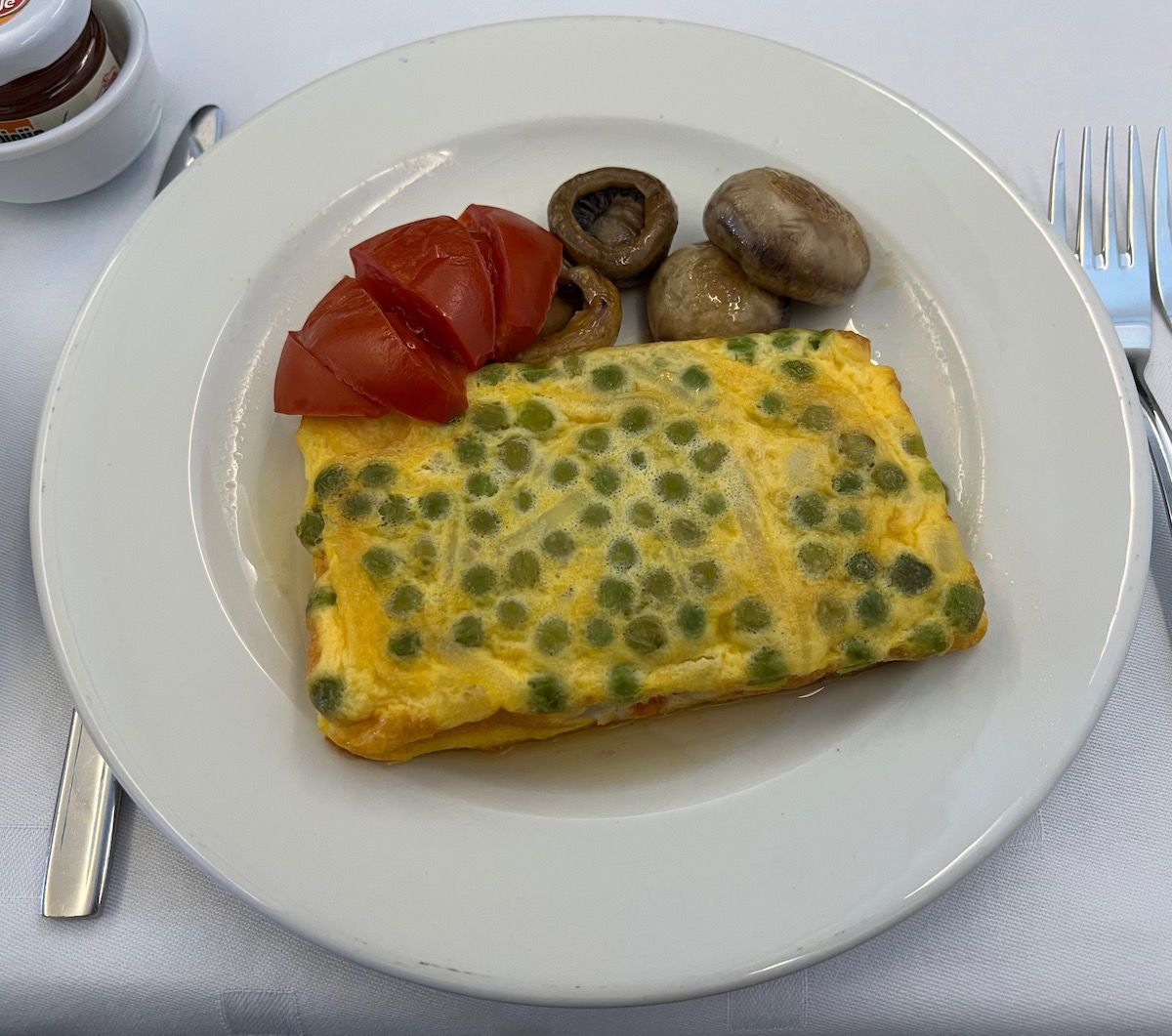 Then for dessert there was a fruit plate.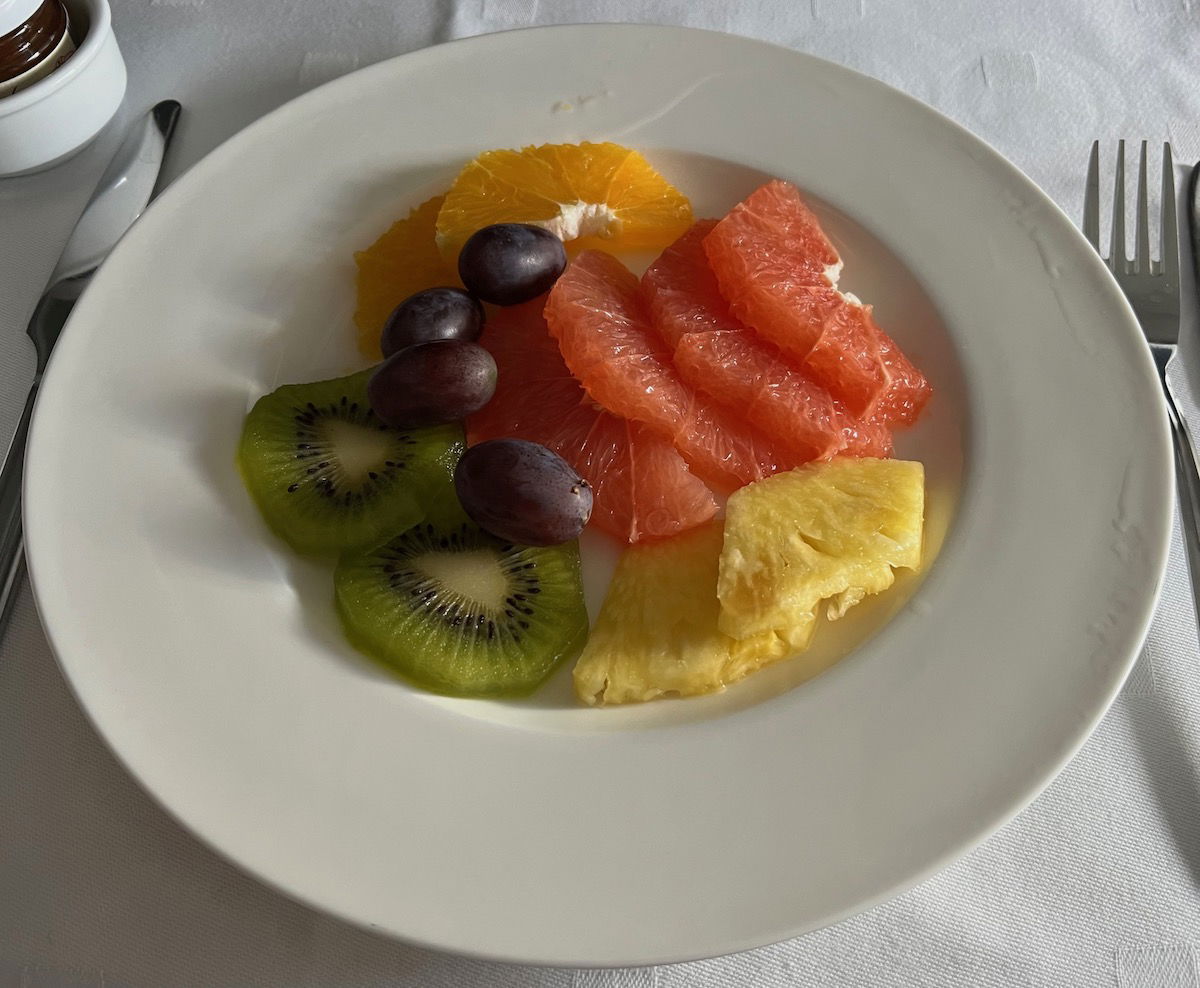 That was a perfectly decent breakfast, but let's talk about the pre-arrival meal. Like everyone else, I ate around two hours before landing. Well, I should say that I tried to eat.
There were four things on the dine on demand menu that weren't breakfast.
"Could I have the Greek salad with grilled chicken?"
"We are out, I'm sorry."
"Okay, then the ravioli with cheese and spinach and cream sauce?"
"I'm so sorry, we don't have any of those left either."
"Umm, okay, then I guess I'll take a cheese plate?"
"We're out of those. Would you like the sweet omelet?"
"Is there another option?"
"We have some fruit plates left from breakfast."
"Okay, I'll take the omelet then."
Air Serbia's menu states that "all the dishes on the menu are available at any time during the flight." Well, so much for that. I can appreciate sometimes running out of a couple of things, but something isn't being done right in terms of catering if you run out of just about everything.
Then again, running out of food is the most Etihad thing ever, so I guess Air Serbia has maintained that element of the Etihad experience.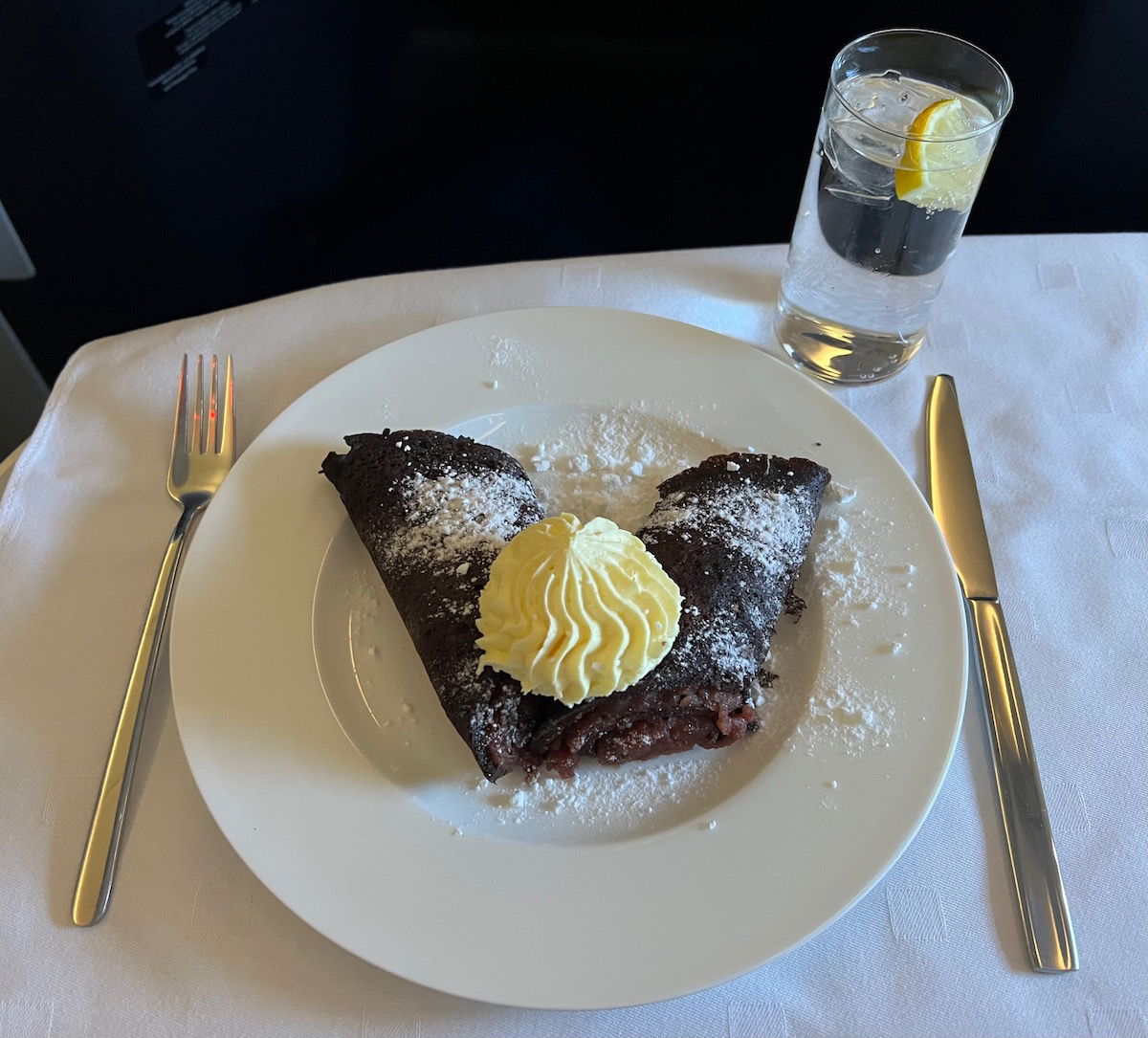 Bottom line
I flew Air Serbia business class from Belgrade to New York for the first time in recent years, and was disappointed to see how the experience has gotten worse. Air Serbia used to offer one of the best soft products across the Atlantic, while nowadays I'd say it's slightly below average.
While in the past I thought Air Serbia was worth seeking out even if connecting beyond Belgrade, based on my experience that's not the case anymore. Don't get me wrong, it's not worth avoiding Air Serbia either, though — if Belgrade is your final destination, you find a good business class fare, or Air Serbia is one of the only options with award availability, flying with the carrier could still make sense.
What do you make of the changes to the Air Serbia business class experience?