I'm presently taking my dad on a surprise round the world trip to celebrate his "round" birthday. Even now the trip remains a surprise, as he's just finding out what we're doing and where we're going on a day-by-day basis.
Here are the previous posts about the trip:
---
"If you have never flown Emirates first class you have never flown first class."
At least that's what my dad said to my mom when we were FaceTiming her this morning.
I remember my first time on Emirates, which was possibly the most excited I've ever been about a flight. That's because I didn't actually book Emirates, but rather for reasons I couldn't figure out, British Airways rebooked me on them after a small delay, despite having a really long connection. The element of surprise on that trip was amazing, as I never thought I'd have the opportunity to fly with Emirates in first class.
And I think my excitement was reflected in that trip report.
Well, I think my flight on Emirates from Los Angeles to Dubai with my dad on Thursday was even more fun. I had a front row seat to a level of excitement that I don't think I've ever witnessed before.
Emirates uses the Korean Air Lounge at LAX, so we got there at around 11:30AM.
"Benny, when does zha Emirates ay zhree aity get here?"
"Let me check. Hmmm, it looks like it lands at 12:30PM."
12:25PM rolls around…
"Benny, zha ay zhree aity is almost here. Can we take a look?"
I've never been one to turn down the opportunity to look at planes, so naturally I agreed. And we walked through the terminal for about 30 minutes, as my dad wanted to look at every one of zha ay zhree aities in zha airport.
When we got up to the Emirates A380 his reaction was simply "VOW!"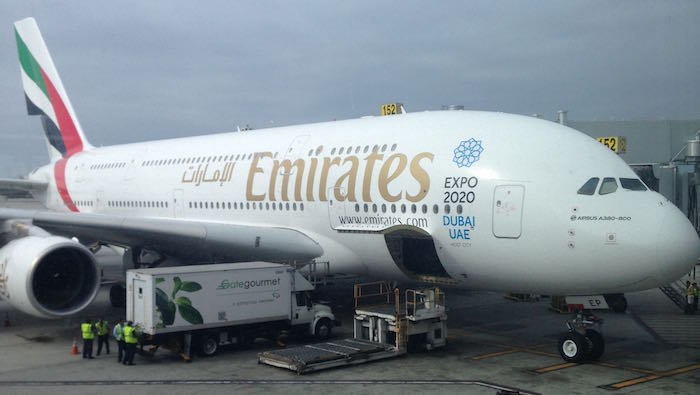 Emirates A380 at LAX
Of course that was nothing compared to his reaction when we boarded. I wish he had some great one liner quotes, but he didn't. He was literally speechless.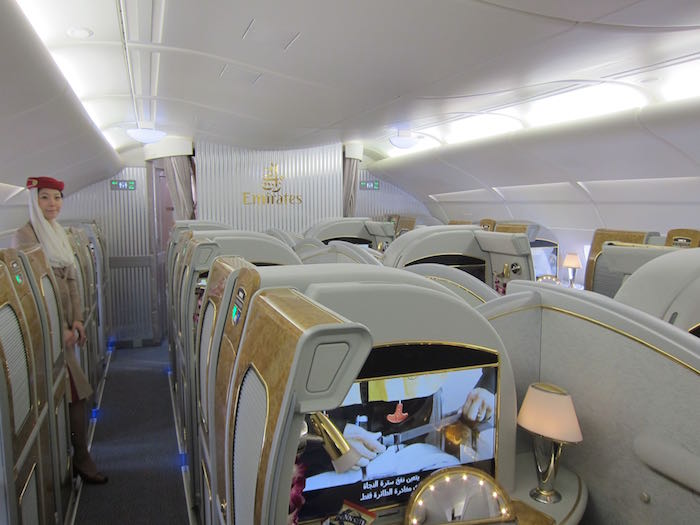 Emirates A380 first class cabin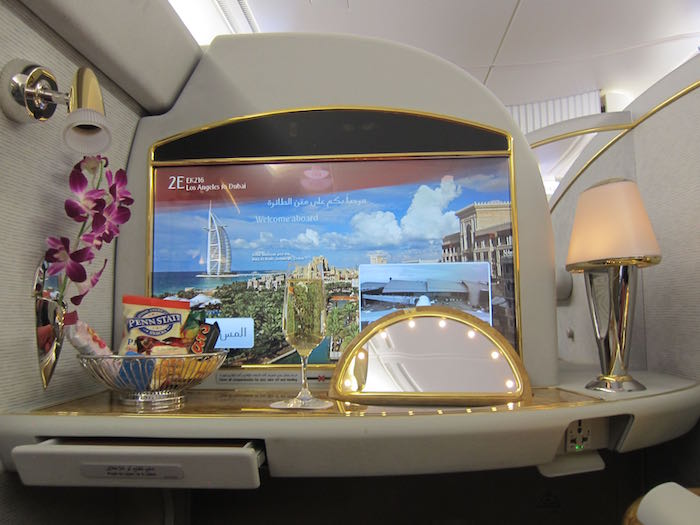 Emirates A380 first class suite
After a glass of champagne…
"Dad, do you want to look at the shower?"
"Vhat do you mean?"
"Do you want to see the shower at the front of first class?"
"You mean zha bassroom?"
"No, the shower suite. They have two showers in the front of the cabin so you can shower at 39,000 feet."
"Zhis can not be."
So I showed him, and he was even more speechless.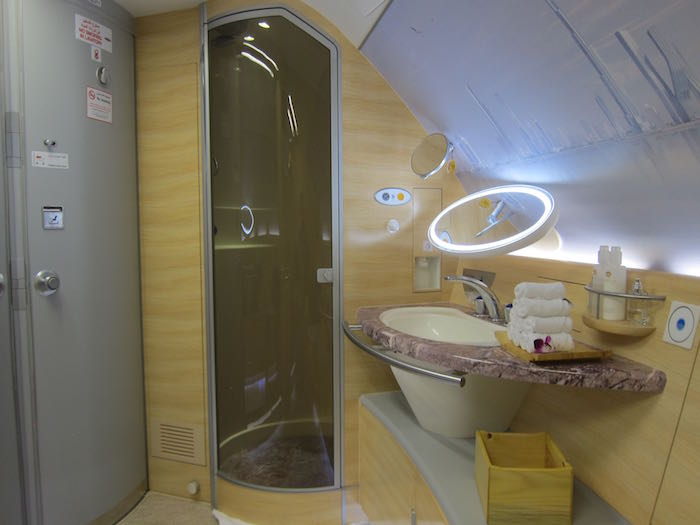 Emirates A380 first class shower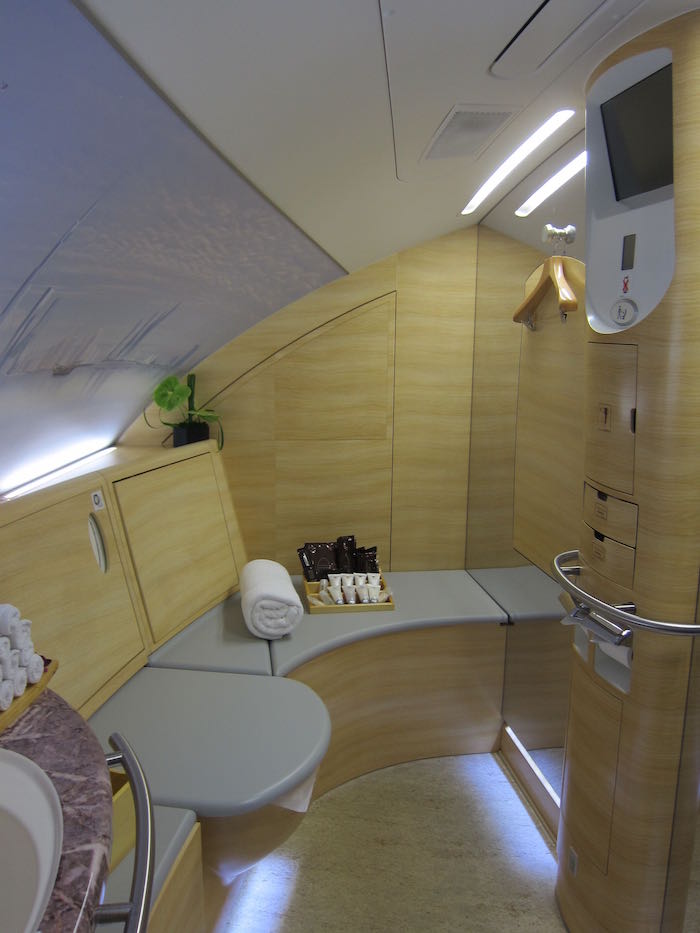 Emirates A380 first class shower
Then the crew brought out all the goodies — pajamas, slippers, eyeshades, a Bulgari amenity kit, etc. He changed into his pajamas faster than you can say "more Dom, please."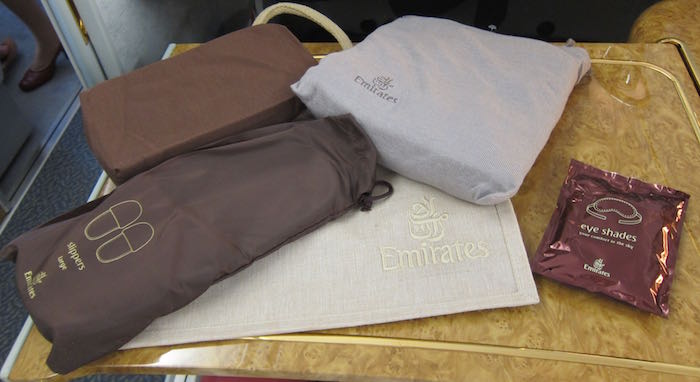 Emirates A380 first class amenities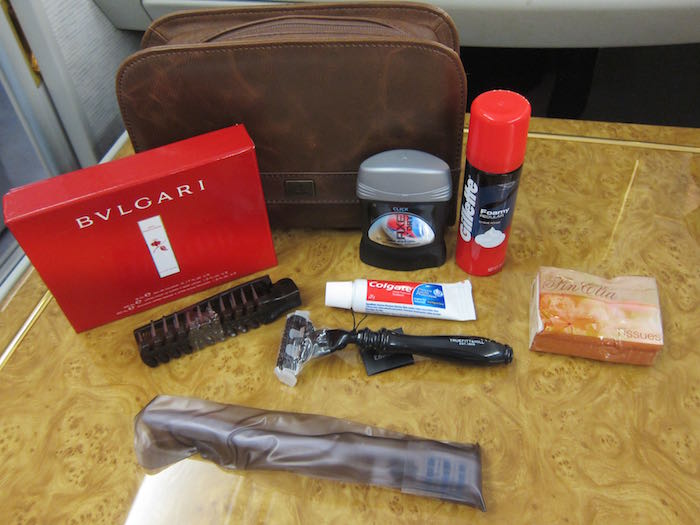 Emirates A380 first class amenity kit

I've sometimes been a tough critic of service on Emirates, but this crew was just beyond fabulous. I think they were great to begin with, and they did such an awesome job playing off my dad's excitement, which I really appreciated.
Working first class was Tina from Canada, German from Argentina (must've sucked to be him during the World Cup!), and Cheryl from India. Together with the purser Hatam from Egypt, they were fantastic. Fantastic, fantastic, fantastic. They were friendly, attentive, and took amazing care of my dad (well, and me).
My dad loved the dinner service. We each had a handful of glasses of Dom, followed by caviar and Arabic mezze. At that point we were so full that we had to take a break and go to the bar for a while. 😉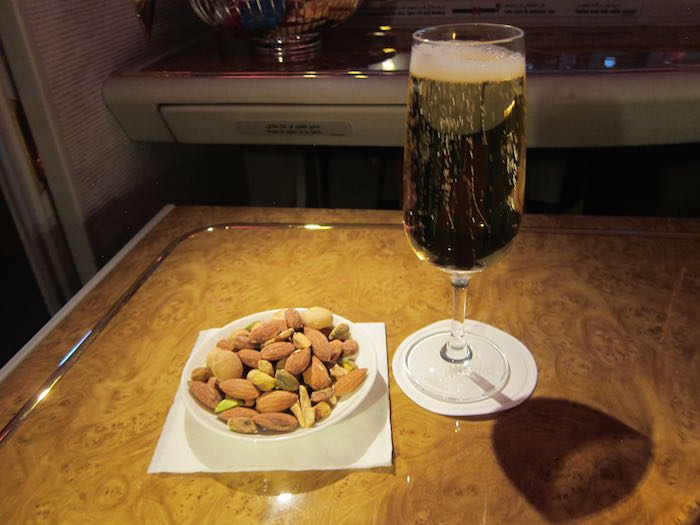 Emirates A380 first class Dom and nuts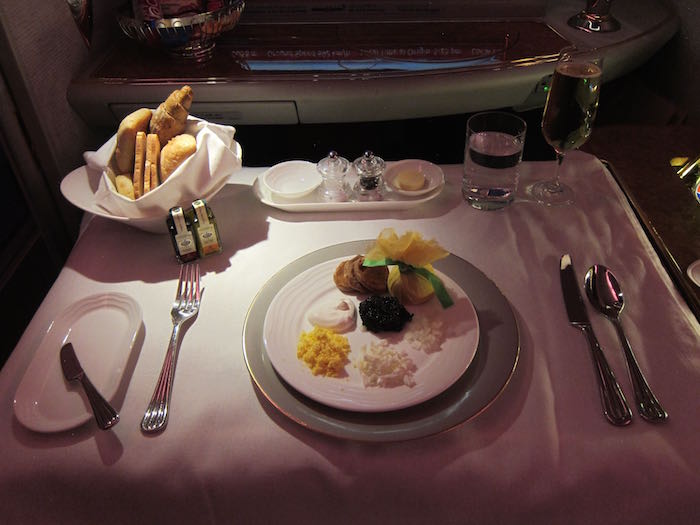 Emirates A380 first class caviar service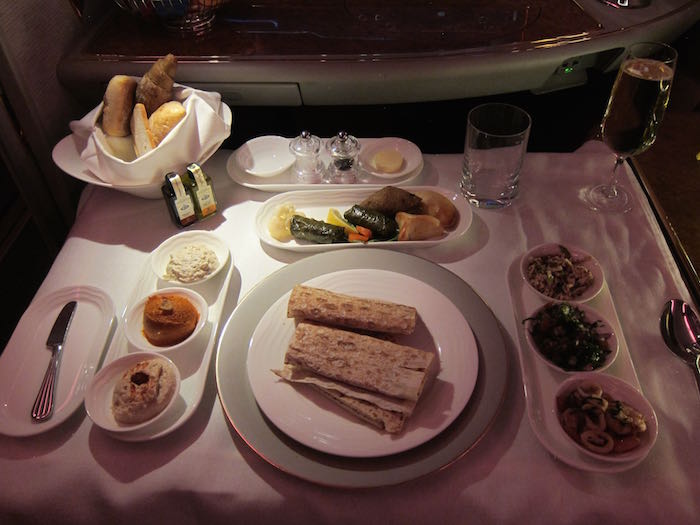 Emirates A380 first class Arabic mezze

I first showed him the first class bar display, and specifically the Hennessy Paradis they have on offer.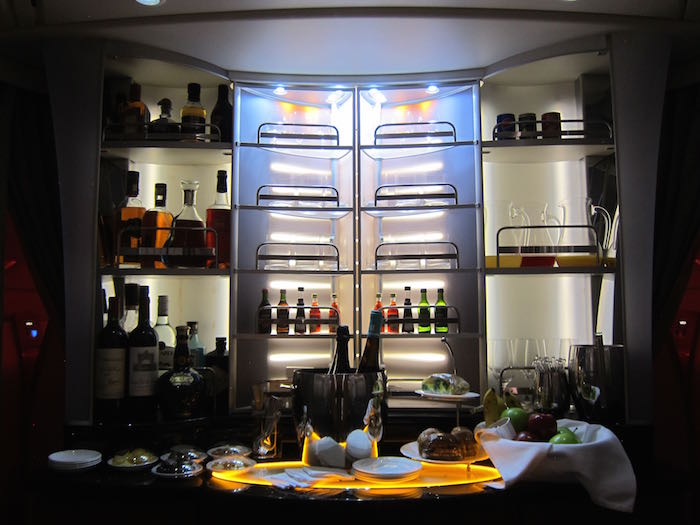 Emirates A380 first class bar
I think it's the most expensive beverage available on a commercial airline, at ~$750 per bottle.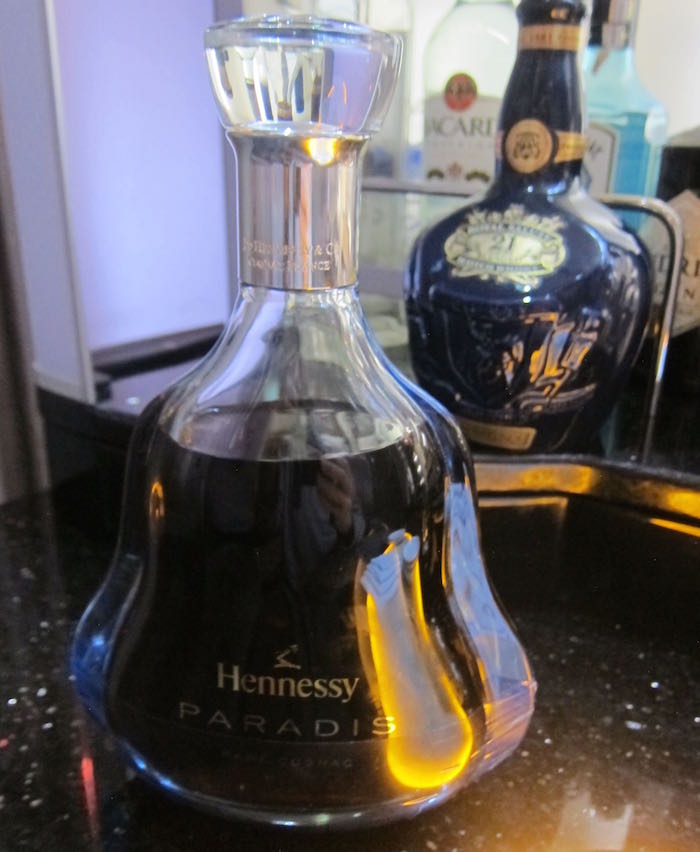 Emirates A380 first class bar Hennessy Paradis
We had a couple of glasses of that, and my dad had a lot to say about it…
My dad loved zha ambiance of zha bar. SFS (Senior Flight Steward) John was manning the bar, and he was amazing as well.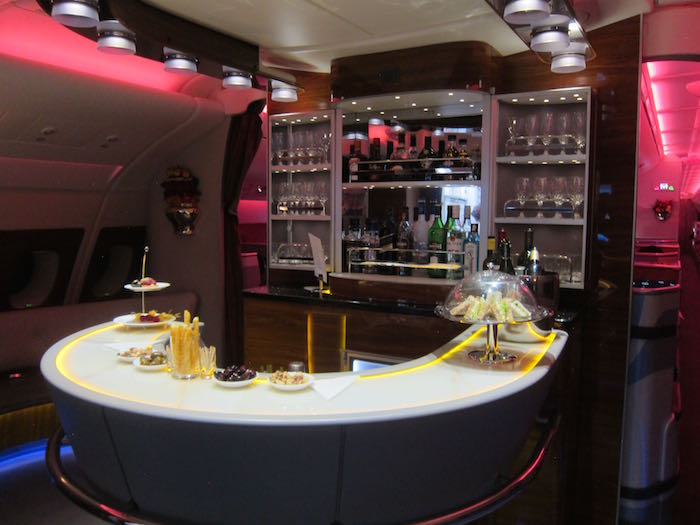 Emirates A380 business class bar

As a matter of fact, I think my dad enjoyed the bar so much that he wants to come out of semi-retirement and be a volunteer bartender on Emirates. 😉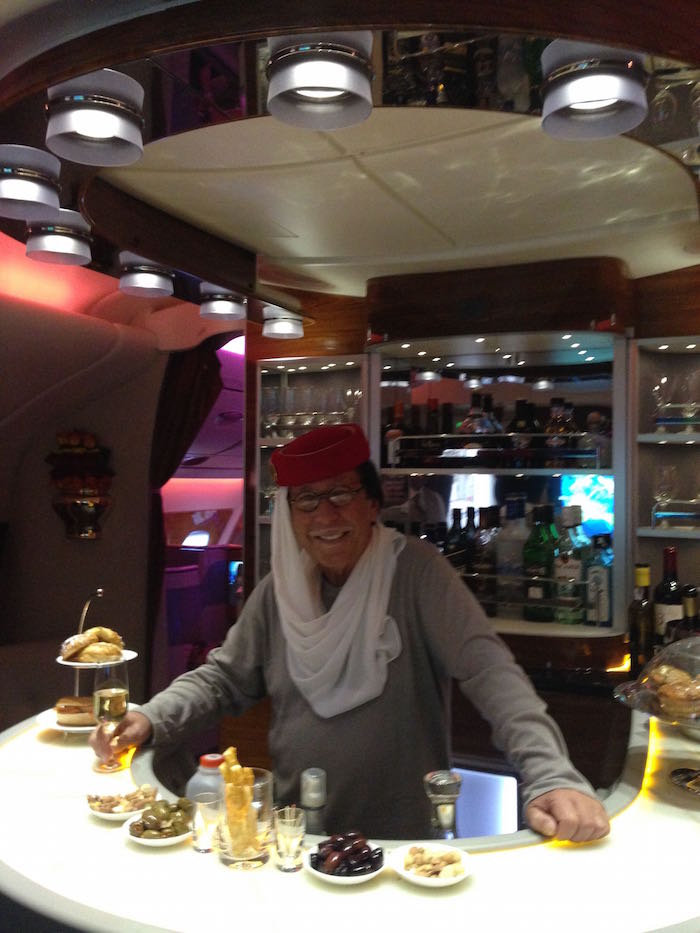 Dad at Emirates A380 bar
My dad showered about halfway through the flight, and then told me "vow Benny, I feel like a million bucks. I feel like I'm on top of zha world."
Little did he know, he actually was. 😉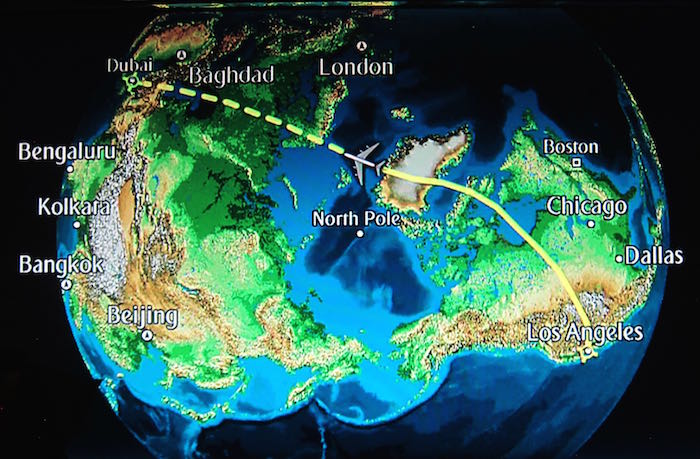 Emirates Los Angeles to Dubai airshow
Oh, and did I mention my dad's entertainment system was having issues for much of the flight? Hatam was absolutely relentless in trying to get it fixed, and every time we said "it's okay, don't worry about it," he'd say "no, I want to, it's my duty."
At the end of the flight he gave the below to my dad as an apology for the entertainment system problems, noting how much my dad was enjoying the Dom during the flight. That will certainly enhance our time in the UAE! 😉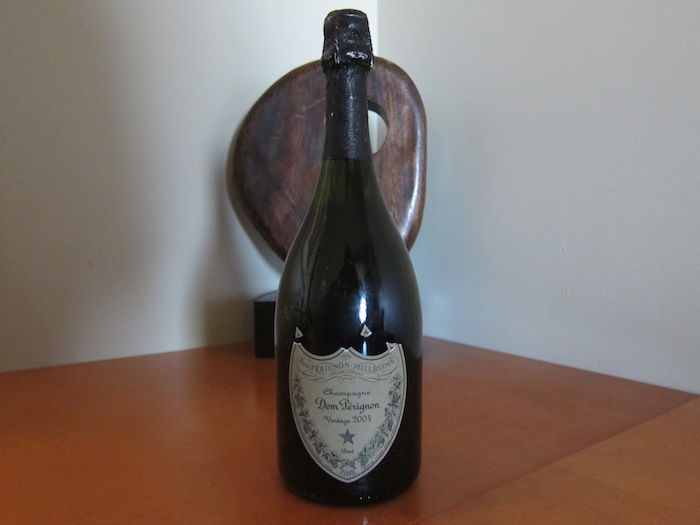 You can give me an inop entertainment system any day!
In addition to the videos, my dad's trip report will be posted soon as well. When he woke up this morning at 4AM (in his Emirates pajamas, no less) I was already sitting at the desk on my laptop, and he pulled up a chair and said "can I write my trip report now?"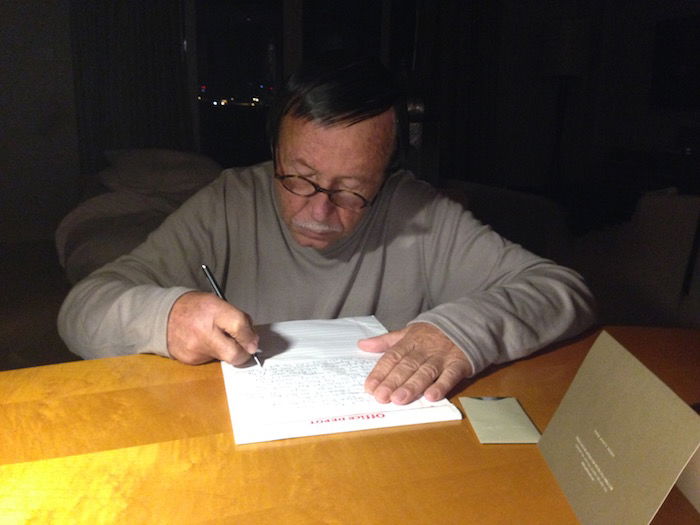 I really appreciate the comments you guys have left, you have no clue how much they mean. I read some of them to my dad, and they made his face light up. Thanks for being awesome, guys!
And I have to say, so far this has probably been the best trip of my life. Going new places is great. Flying amazing first class products and staying at five star hotels is great. But seeing a loved one have the time of their life is the greatest.