---
We made it to our departure gate at around 6:45PM, 25 minutes before departure, where boarding was well under way. We headed straight for the priority boarding lane, where our passports were checked and we were wished a pleasant flight.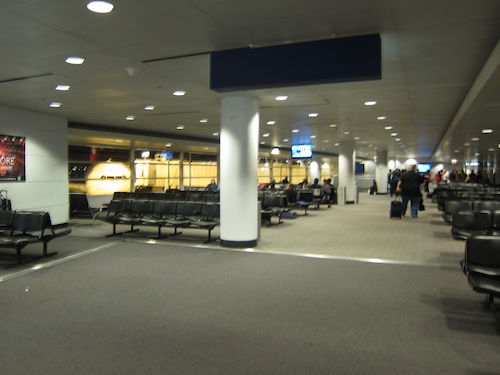 Departure gate
Swiss 9
Chicago (ORD) – Zurich (ZRH)
Monday, December 26
Depart: 7:10PM
Arrive: 10:55AM (+1 day)
Duration: 8hr45min
Aircraft: Airbus A330-300
Seat: 1D (First Class)
At the door we were greeted by the purser, who directed us to our seats in row one. There was only one other passenger in the cabin today, so it was a light load. Last time I flew this route I had the cabin to myself, so while it wasn't quite as empty, I'm not complaining!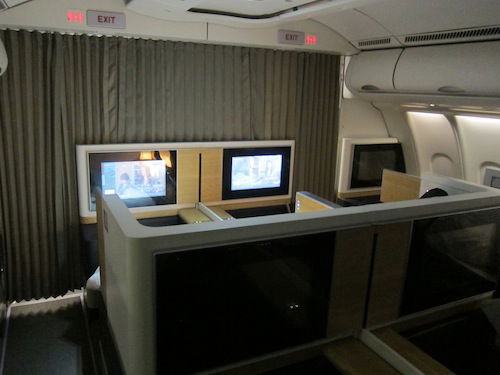 First class cabin
Within moments of settling in we were greeted by our two flight attendants. The one working the galley was super-friendly, while the one working the aisle was a bit less enthused to be there.
We were offered an amenity kit along with some Christmas cookies, and also asked what size pajamas we wanted. Swiss has my favorite airline pajamas. I find it funny that they very clearly state "SWISS FIRST" where a logo would normally appear on a polo, just to make sure everyone's aware of where you're seated. 😉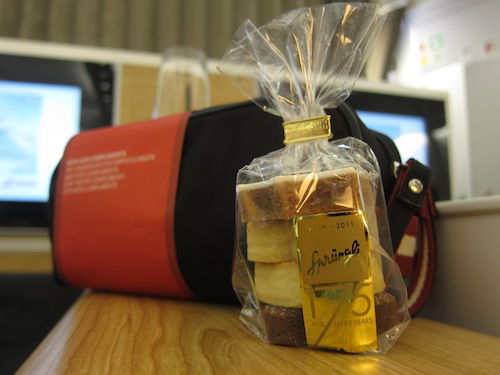 Amenity kit and cookies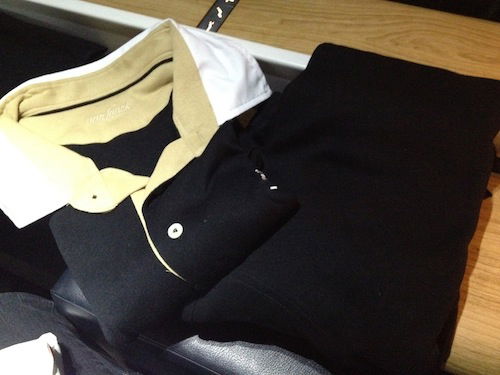 Pajamas
This was quickly followed by a glass of champagne and small starter, consisting of some sort of crab dish, which was delicious.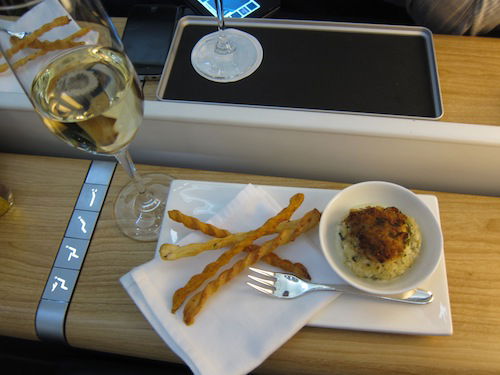 Pre-departure service
Swiss has one of the classiest first class cabins, in my opinion. I especially love the world map on the wall at the back of the cabin.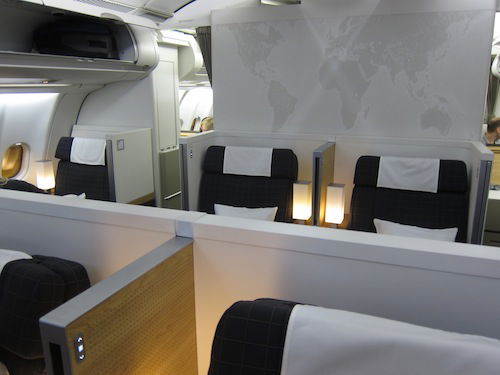 First class cabin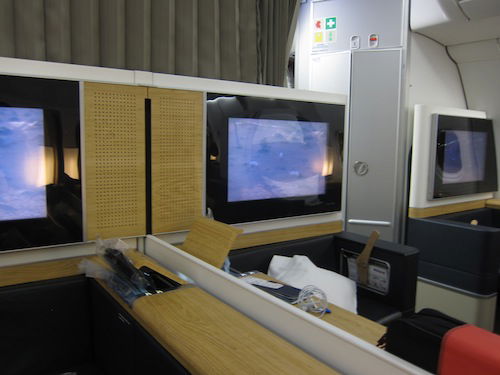 Our seats
After the drinks and snack were cleared, we were offered hot towels.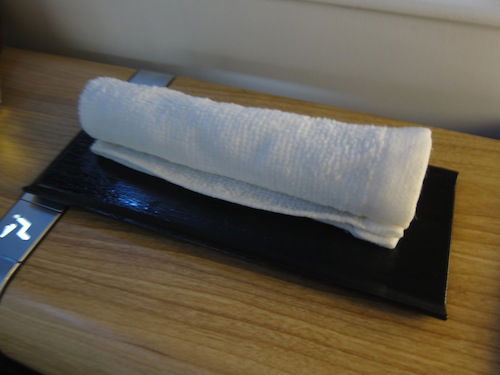 Hot towel
As departure time approached the captain came on the PA to welcome us aboard and advise us of our flight time of eight hours, anticipating an on time arrival in Zurich.
The flight attendant working the aisle took our dinner orders before takeoff. I ordered the fillet of beef, while my friend ordered the sea bass.
She then asked which appetizers we wanted. My friend had never flown Swiss before, and I wanted to make sure he had the full experience. Last time I flew Swiss the appetizers were brought around on a cart and I could pick and choose what I wanted, and it was plated at my seat. I asked the flight attendant if we could see the appetizers on a cart, and she somewhat begrudgingly agreed, stating she doesn't usually do it on overnight flights, but since the load was so light it wouldn't be an issue.
After a rather long taxi to the runway we were number one for takeoff, and moments later airborne. About 15 minutes after takeoff the seatbelt sign was turned off and flight attendants sprung into action, starting immediately with the meal service.
This started with the purser coming around to welcome us aboard. She was charming, engaging, and had a great sense of humor, and joked that we could practice our "proper" German together in the galley later on if I couldn't sleep.
The dinner menu read as follows: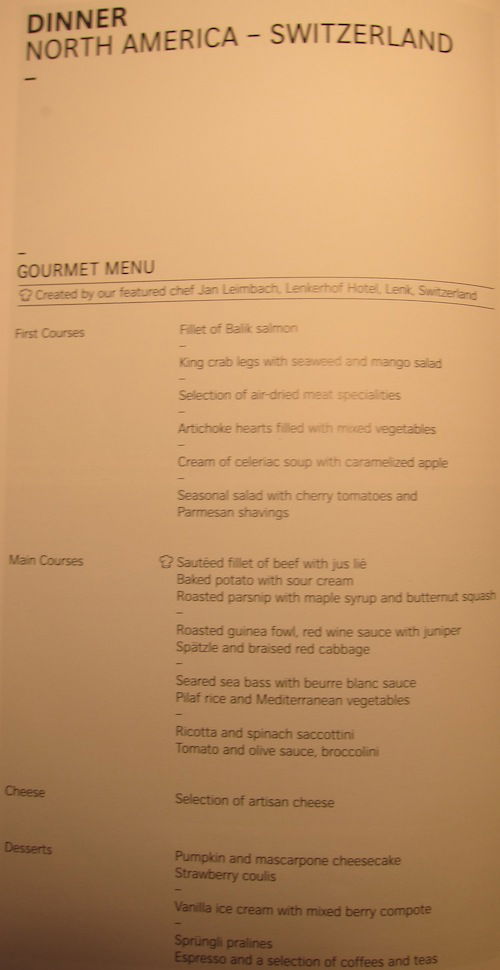 And for those of you that are interested, the wine list read as follows: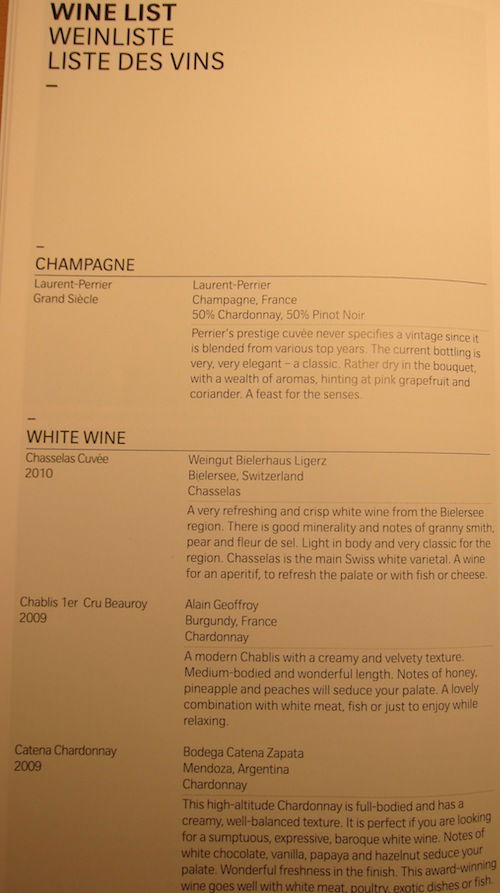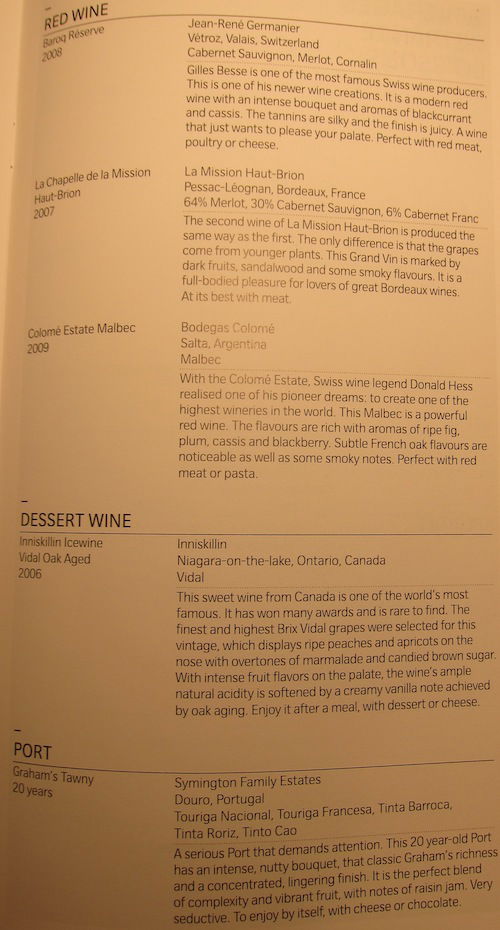 There are no two ways about it — Swiss has the best in-flight food of any airline I've flown. Asiana is perhaps a very close second, but Swiss still has the edge. To say their meals are spectacular would be an insult. And keep in mind that this flight is catered at an outstation — their food is even better departing Switzerland.
Service started with a glass of champagne and peanuts, follows quickly by the flight attendant setting our tables. Swiss has massive tray tables in first class, which can comfortably accommodate meals for two passengers. Swiss also has full sized salt and pepper mills they place on each table, which I love.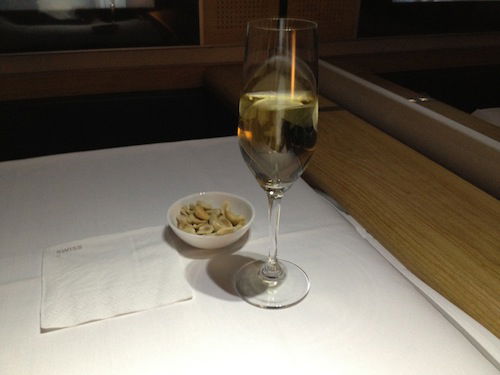 Champagne with nuts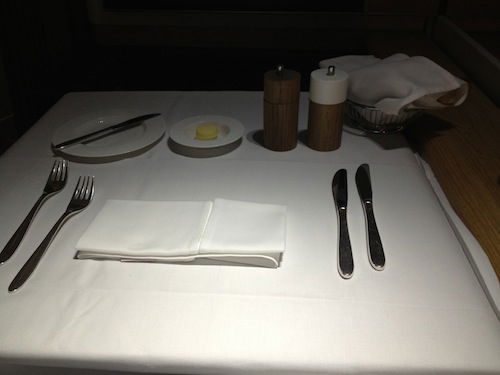 Table setup
Since we had asked for the appetizers to be put on a cart it took a bit longer than usual for them to be brought out. Just about everything looked good, and since there was a ton of food, I requested a little bit of everything. The flight attendant happily obliged, and her attention to detail with plating was phenomenal.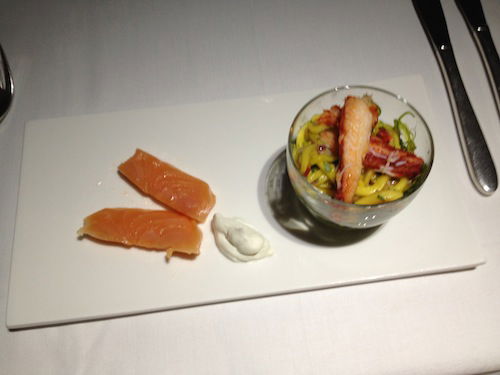 Salmon and king crab legs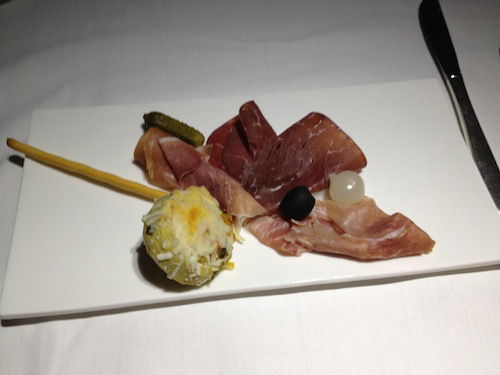 Air-dried meats and artichoke hearts
Once those plates were cleared the salad was served, which was equally delicious.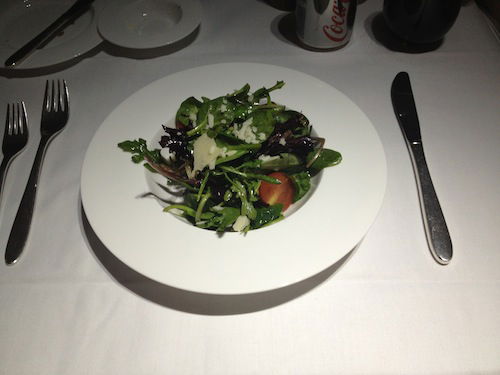 Salad
The fillet of beef was served next, accompanied by a baked potato, butternut squash, and roasted parsnip. I'm pretty sure this is the first time I've had a baked potato in-flight, and it was excellent.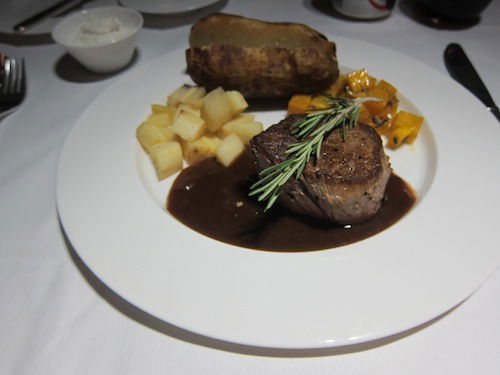 Fillet of beef
My friend ordered the sea bass, which he enjoyed.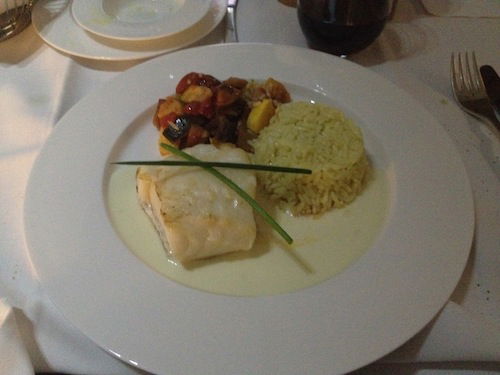 Sea bass
For dessert the flight attendant brought around a cheese cart, and I once again ordered a little bit of everything, though was stuffed at this point so barely even nibbled.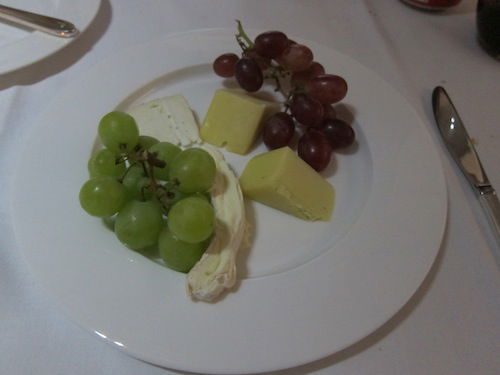 Selection of cheeses
For dessert I had the ice cream with mixed berry compote, which was simple and delicious.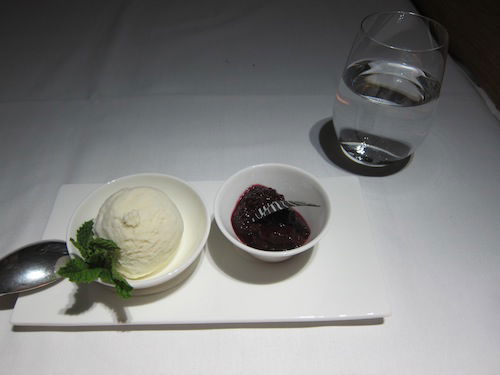 Vanilla ice cream with mixed berry compote
Given that I was flying Swiss, I had to order an espresso after dessert, which was served with a praline.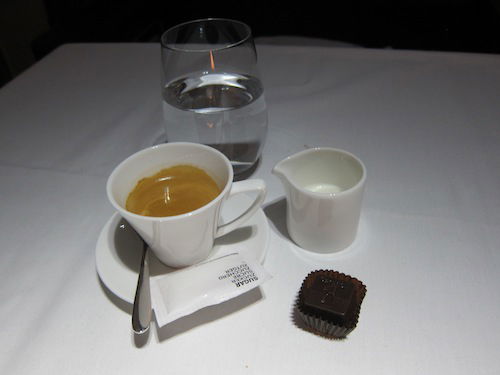 Espresso
The whole meal service took a bit over two hours, and at this point we had about 5.5 hours till landing in Zurich. We both requested that our beds be turned down, which was taken care of promptly.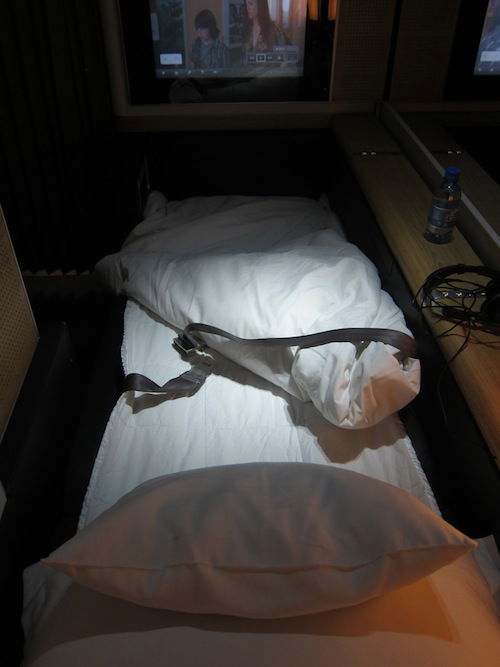 Turndown service
Swiss has excellent bedding, and I got a solid three hours of sleep (about as much as I'll ever get on a transatlantic flight).
When I woke up the flight attendant quickly appeared to offer me something to drink. I ordered a glass of apple juice, and moved over to seat 1A to enjoy the sunrise.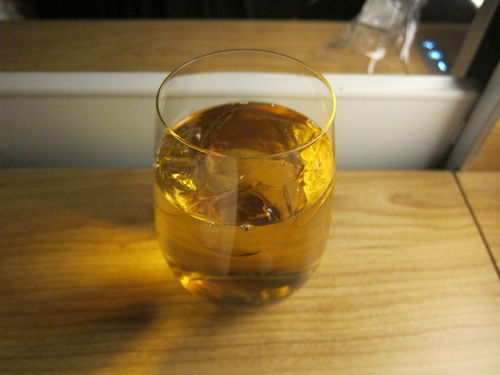 Apple juice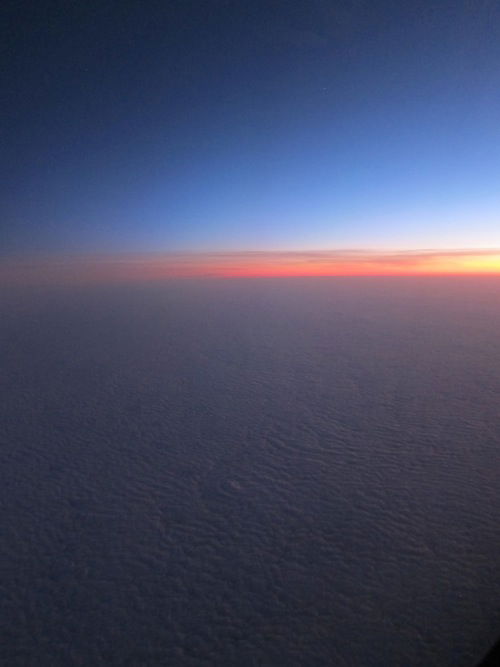 Sunrise
I watched a couple of sitcoms on the entertainment system, and about 1.5 hours out of Zurich breakfast service started with a berry smoothie.
The menu read as follows: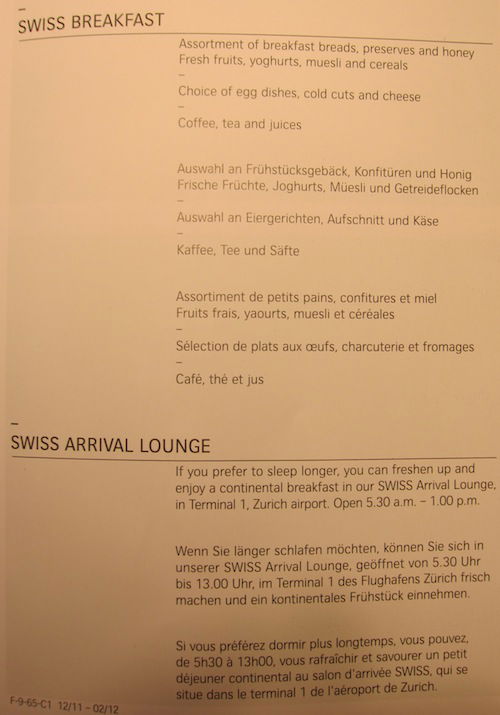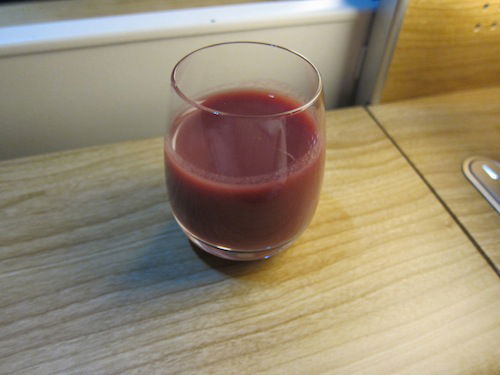 Berry smoothie
The flight attendant first set my table, including the bread basket, and then came around with a cart consisting of several cold options. I ordered some berry yogurt and fruit, and had a mimosa to drink.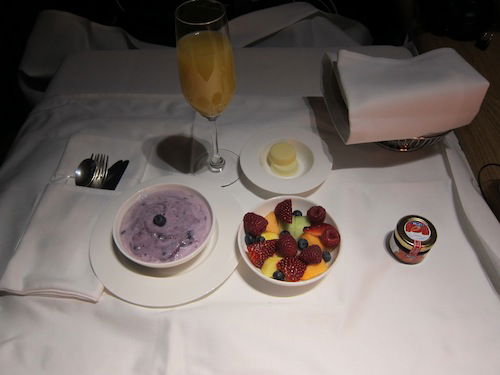 Breakfast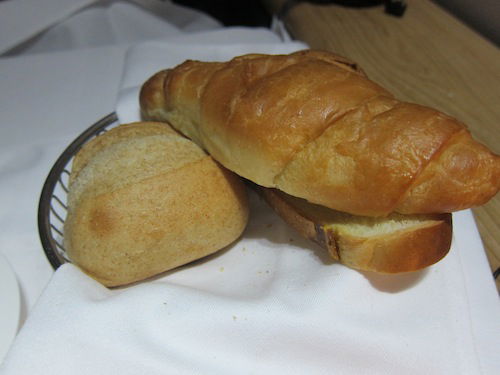 Bread basket
For the main course I ordered an omelet, which was delicious. They even had Tabasco sauce in a full size bottle!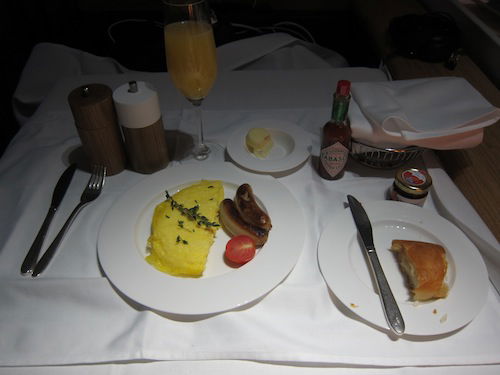 Breakfast
To finish off the meal I ordered another espresso, which the flight attendant served (unsolicited) with a cinnamon roll, the same ones Continental has.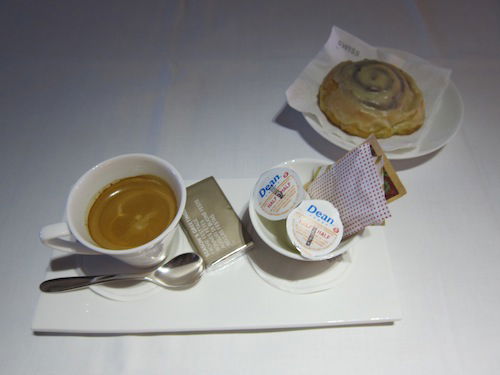 Espresso and cinnamon roll
At this point the cabin was bright so I snapped another quick picture before landing.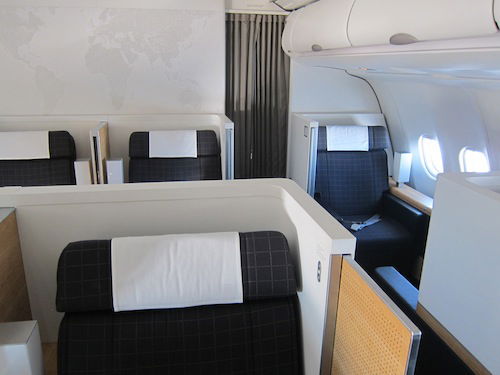 First class cabin
As we began our descent I changed out of my pajamas and stored my carry-ons.
It's no surprise that the views on approach were spectacular, as they always are in Switzerland.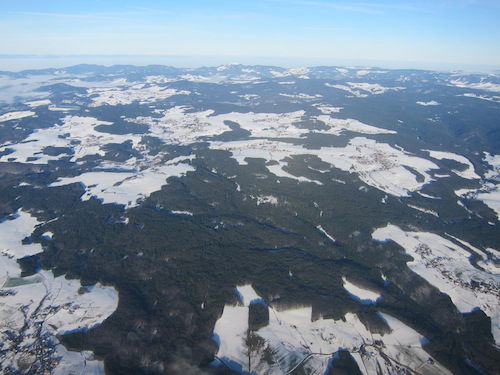 View on approach
As we continued our descent the visibility was very limited, and we didn't break out of the clouds until about 500 feet above the ground. After a smooth landing and quick taxi we parked at our gate next to a United and Thai plane.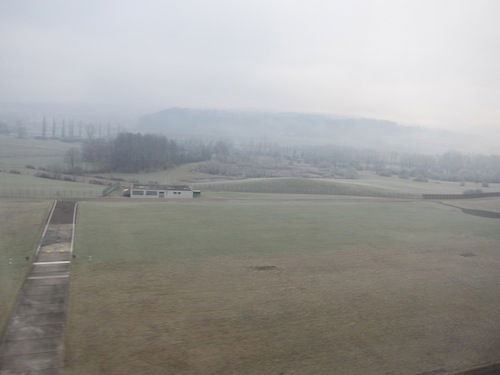 Foggy weather on final approach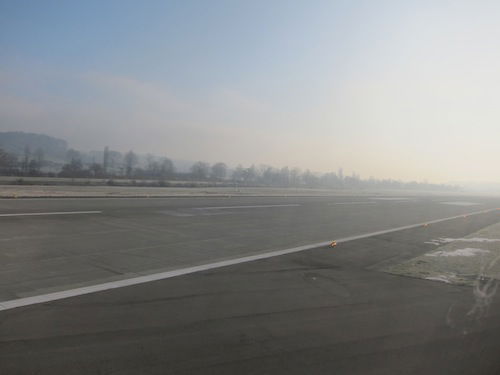 Turning off runway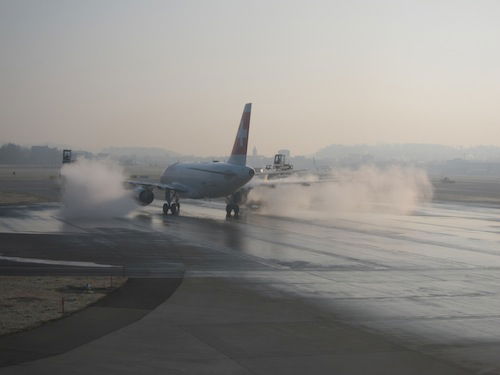 Plane being deiced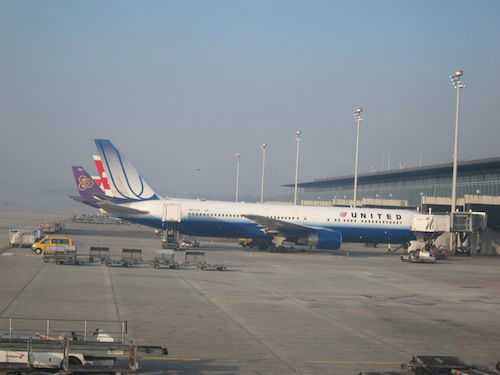 Reaching our gate
As usual, my Swiss experience was spectacular. The food is always the highlight with Swiss. I have to be honest and say that the service wasn't great. It was acceptable and by most airlines' standards on par, but by Swiss standard sub-par. The flight attendant was perfectly happy to fulfill any request we had, though at the same time didn't go above and beyond in any way.
Nonetheless, Swiss remains one of my favorite airlines, if not my favorite.