To start off I should mention that I've stayed at the Andaz Wall Street twice before. The review from my first stay can be found here, should you be interested.
Much like everyone else, I hate traveling through JFK, though for different reasons than most. No, it's not the delays, the crappy terminal layout, the long lines, etc. I actually enjoy those (fine, not really). Instead, I'm frustrated by the lack of decent airport hotels that align with my preferred programs. There used to be a Holiday Inn, which, while by no means luxurious, was acceptable and earned me points. Besides, Dwayne, the elite recognition superstar, worked there. Unfortunately the Holiday Inn has since been rebranded.
So as of late I've done something a bit different. I've stay at the Andaz Wall Street. Since my New York transit is almost always over the weekends, the rates are incredibly reasonable (by New York standards). In this case, I paid a rate of $175, and I was able to use my last Hyatt Gold Passport Diamond confirmed suite upgrade that would have otherwise expired. $175 for a great suite with free internet, free minibar, an amazing breakfast, and Hyatt points and stay credit? I'm in!
While I almost always take the subway, I was feeling more tired than cheap, so I decided to take a cab for the $45 flat rate. While it's contradictory to my whole frugal travel attitude, the rest of my trip was so cheap that I figured I'd at least splurge on a cab. That ended up being an awful decision since traffic sucked, even on a Saturday afternoon.
I arrived at the Andaz in the early evening and was promptly helped by one of the "hosts." For those of you not familiar with the Andaz "concept," instead of having front desk agents, they instead have "hosts" that roam the lobby with portable computers from which they can check you in. I have to say, they've gotten much, much better since my first stay in terms of not being overly talkative or inquisitive, or I guess in my case sensing that I was exhausted and really didn't want to talk. He confirmed that I had been upgraded to a suite on the top floor, asked which Diamond amenity I wanted (I chose 1,000 points), and explained that internet and breakfast were free.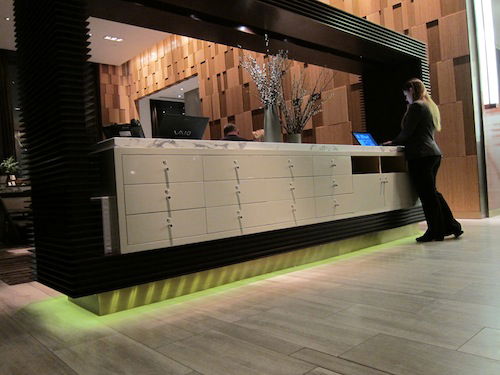 Lobby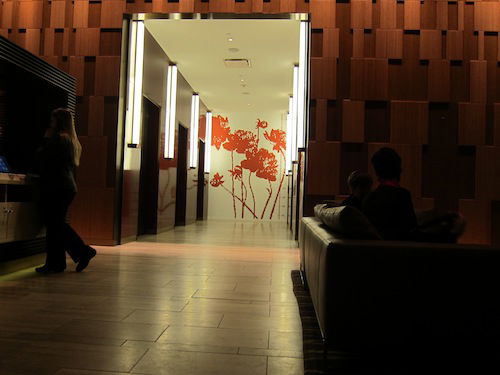 Lobby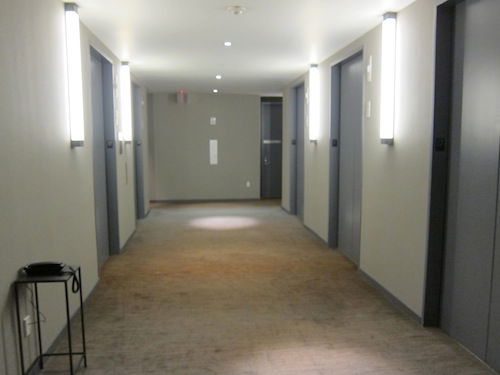 Elevators
This was my first time in a suite at the Andaz Wall Street, and I was impressed both by the layout and the decor. The suite was about 800 square feet. At the entrance was a half bathroom, and then a big table with eight chairs. In the same area was the minibar, snacks, and a sink. One of the nice things about Andaz hotels is that all the snacks (in this case a Cliff Bar, Dagoba Chocolate, and Terra Chips) and soft drinks (in this case Coke, Diet Coke, Sprite, still water, sparkling water, orange juice, tea, and tonic water) are complimentary. Best of all, if you're on a multi-day stay they restock the minibar every day.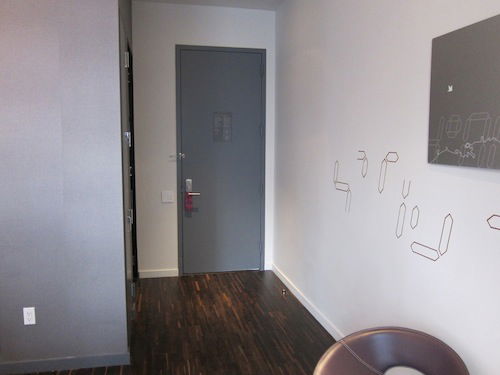 Entrance to suite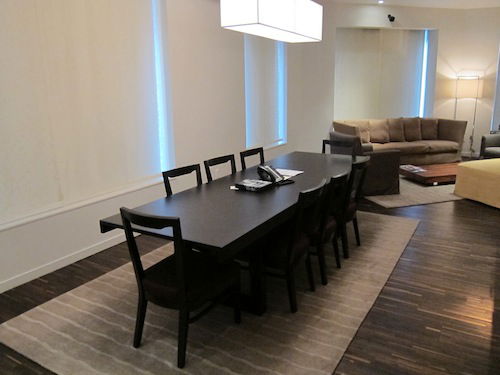 Dining room table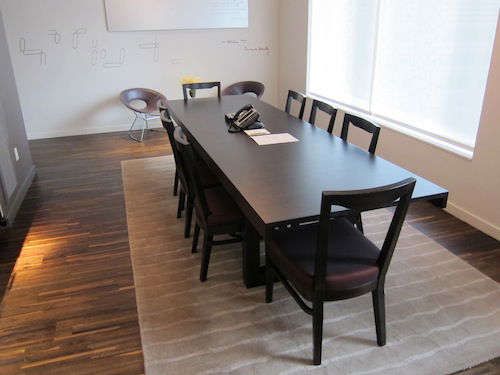 Dining room table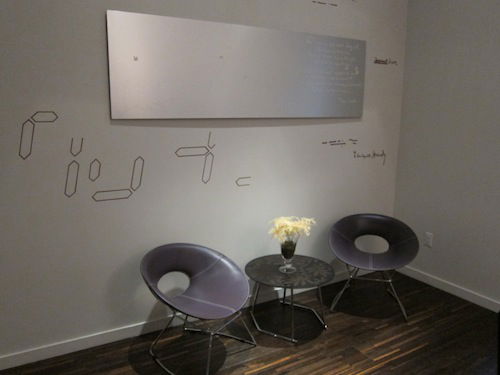 Chairs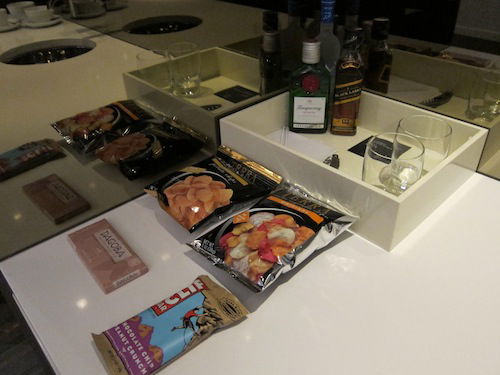 Complimentary snacks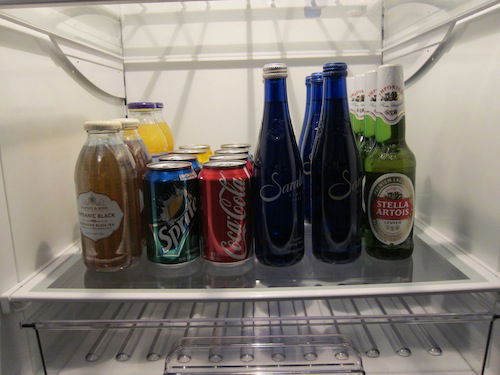 Complimentary drinks
Anyway, back to the room. Beyond the big table was the "living room," featuring a couch and a couple of comfortable seats, facing a large flat-screen TV.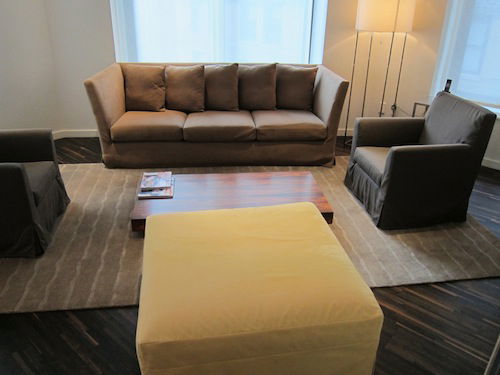 Living room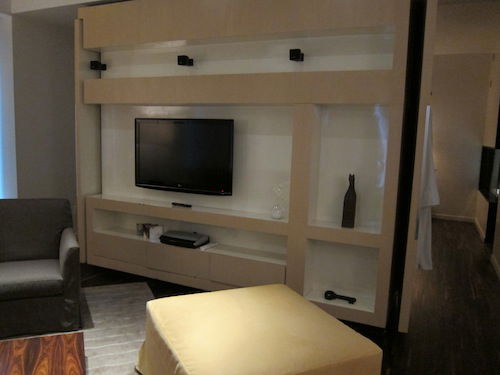 Flat screen TV in living room
That area led into the bedroom, which had a king bed facing yet another large flat-screen TV. The beds at this hotel are extremely comfortable.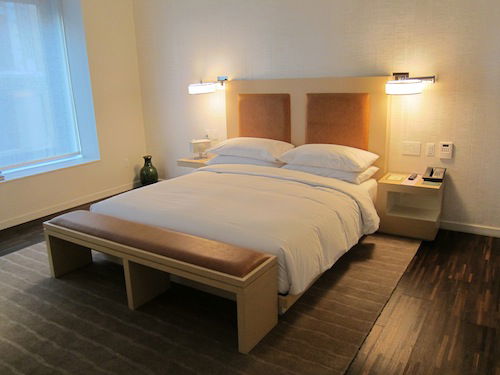 Bedroom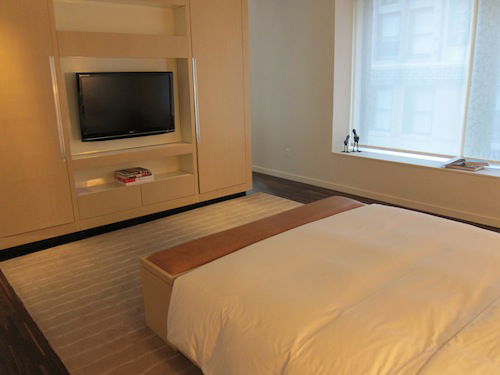 Flat screen TV in bedroom
The curtains are electronic and can be controlled from a switch next to the bed, as is the case with all the lighting.
My one frustration about the hotel is the bathrooms. They're all black, which I suppose is stylish, though I have the hardest time seeing anything in there, even with the lights on. The other frustration, if you're traveling with someone you're not intimate with, is that the shower has a glass shield separating it from the bedroom, and there's no privacy shield or anything. So plan accordingly, if traveling with a friend. That being said, I believe the rooms with two beds have a privacy shield.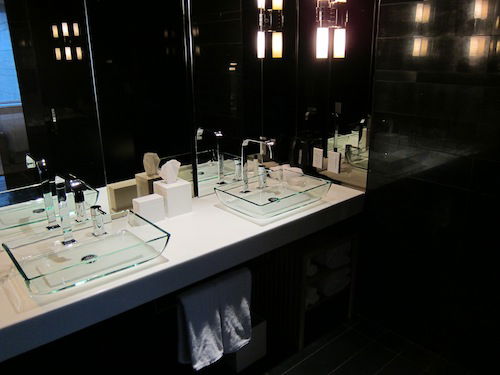 Bathroom
The huge shower, which has great water pressure and excellent bath amenities, leads into the tub.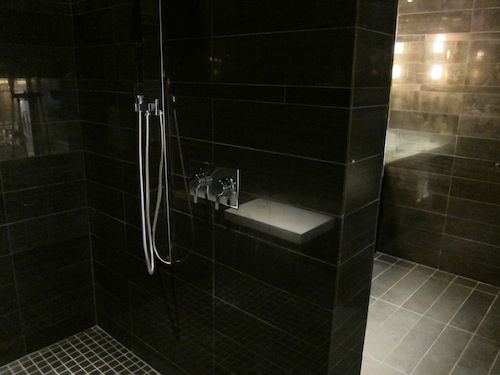 Shower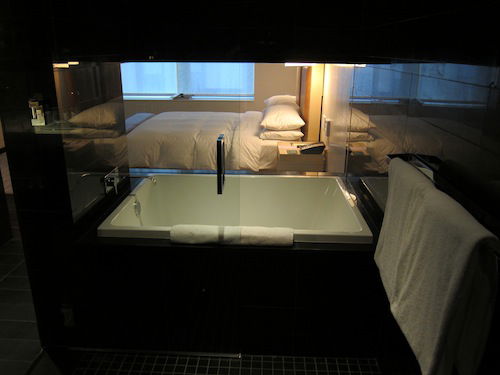 Bathtub and shower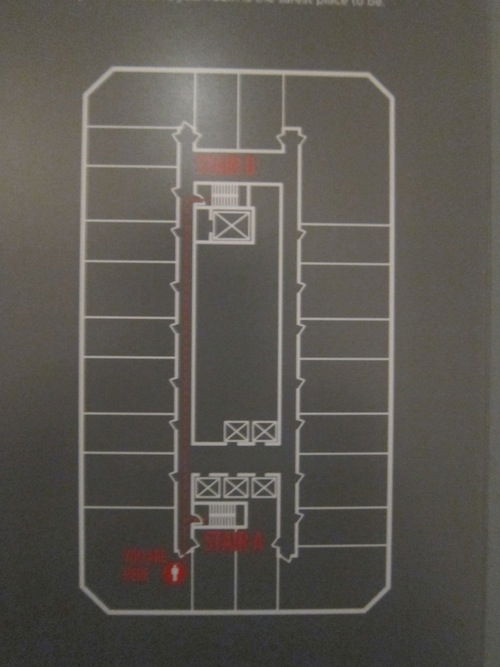 Floor layout
One of the unique aspects of Andaz is that they have a wine reception in the evening from 7PM till 9PM. Given that my brother lives in New York, he came over for happy hour (and before someone yells at me over this, I had two guests registered in the room, so technically he was a registered guest… he just didn't actually spend the night), and more importantly to see me… I hope.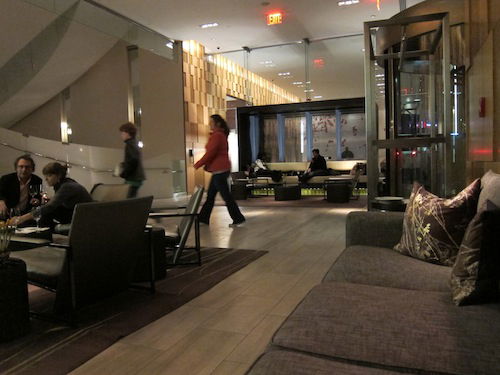 Lobby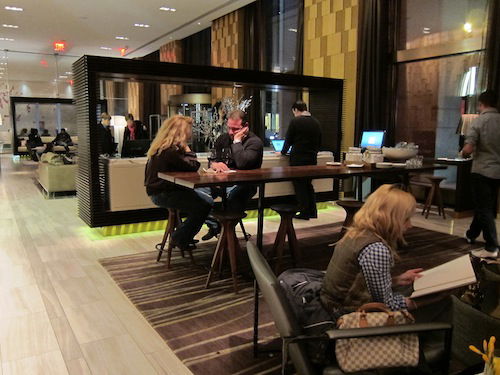 Lobby

Lobby
The following morning I met my brother for breakfast at Wall & Water, which is the restaurant at the Andaz. As a Diamond member, you typically get a $50 breakfast credit at the restaurant. As luck would have it they have a Sunday brunch, which is truly phenomenal. That kind of amazes me, because who the hell goes to Wall Street for brunch on a Sunday morning?
For brunch, they have all the cold options on display, and you can add on a cooked-to-order hot entree. The buffet is truly one of the best I've seen in any hotel in the US.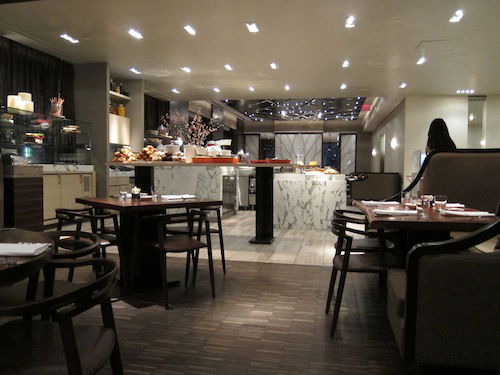 Wall & Water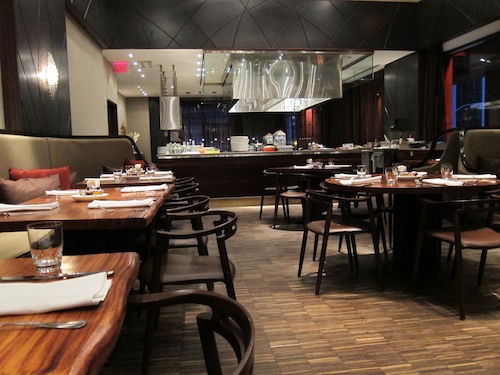 Wall & Water
After breakfast it was already time to head to the airport for my flight back home, finishing off a great trip.
The host that helped me at check-out was exceptionally nice. While I had service problems at this hotel during my first stay, this place has really improved. This is a top-notch property and probably the best value in NYC. The rooms are great, the people are great, and the restaurant is great.