---
At around 10AM I headed to gate 6, from which my flight to Doha would be departing.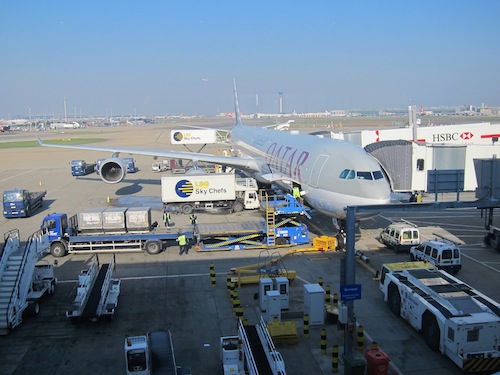 Qatar Airways A340-600
The gate area was empty, though there were probably a dozen gate agents. The captain and first officer were leaving the aircraft, I believe to get something to eat. It's interesting to note that they were both Middle Eastern. I only note that because I know a majority of the pilots at Etihad, Emirates, etc., are ex-pats, often British, Australian, etc. When I was younger I always wanted to be a pilot for a foreign airline, so I always like noting what nationality pilots are.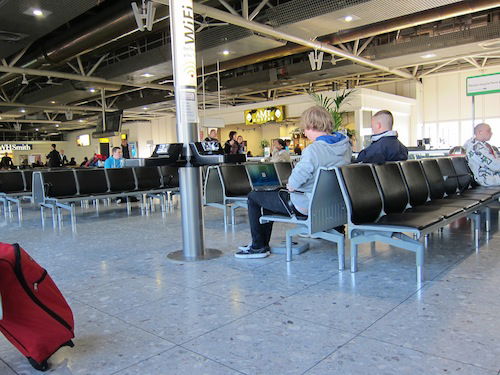 Gate area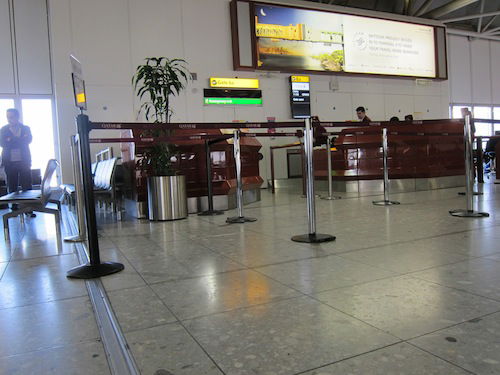 Gate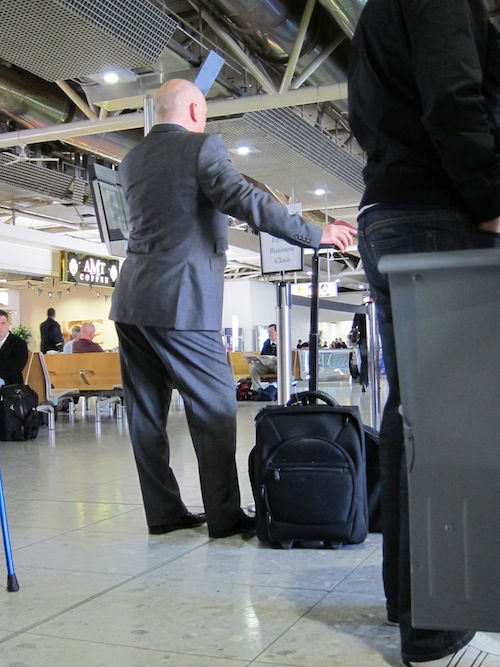 Premium cabin gate lice!
Anyway, at around 10:15AM boarding began, and I was among the first aboard, taking the first and business class jet bridge which let out at door 1L.
Qatar Airways 8
London (LHR) – Doha (DOH)
Tuesday, March 8
Depart: 11:00AM
Arrive: 8:30PM
Duration: 6hr30min
Aircraft: A340-600
Seat: 1A (First Class)
Once aboard I was welcomed by the cabin service manager and one of the other lovely first class flight attendants that escorted me to my seat, 1A.
The cabin had a total of eight first class seats in a 1-2-1 configuration. While the color scheme was retro, the seats were very comfortable and offered quite a bit of privacy and personal space.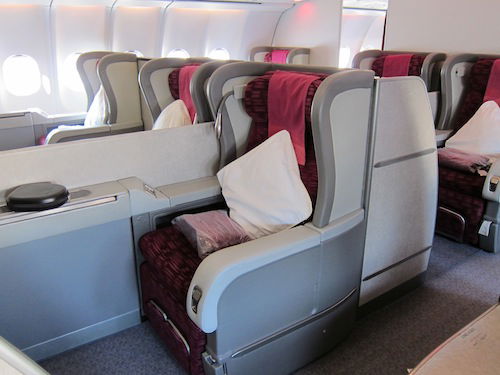 First class cabin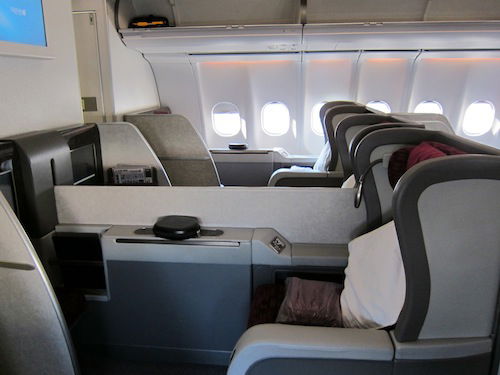 Row 1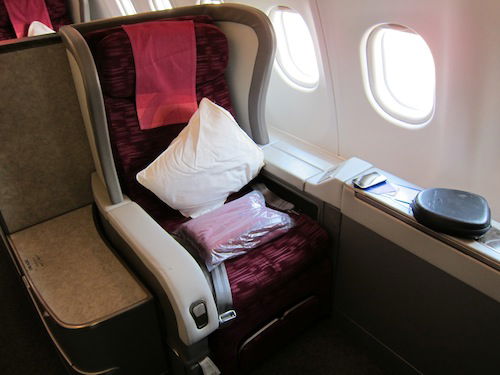 My seat, 1A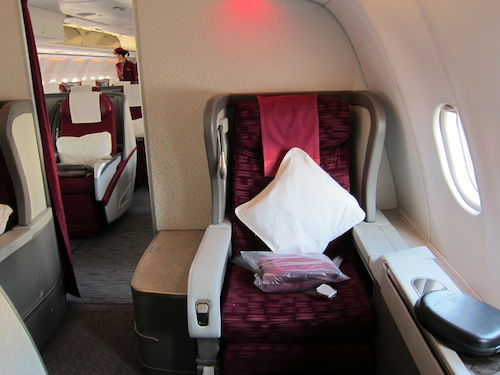 Looking back at 2A and business class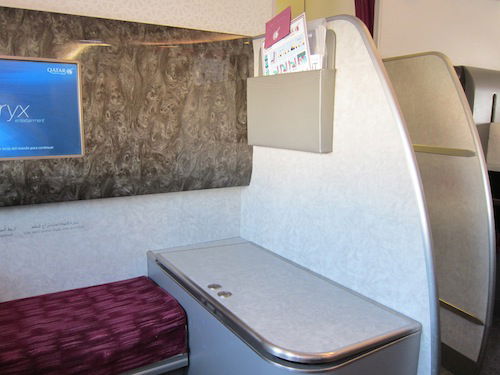 Ottoman and entertainment system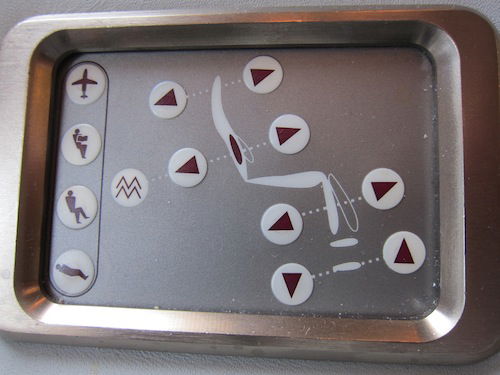 Seat controls
Waiting for me at my seat were a set of noise canceling headsets, an amenity kit, a pillow, a blanket, and the menu in a leather binder.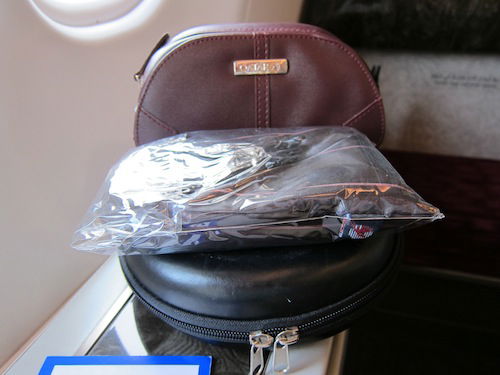 Noise canceling headphones and amenity kit
As soon as I settled in the flight attendant offered me newspapers and magazines, followed by a beverage and hot towel. She suggested that perhaps a glass of champagne would be a good way to start. Fair enough, Krug will just have to do. 😉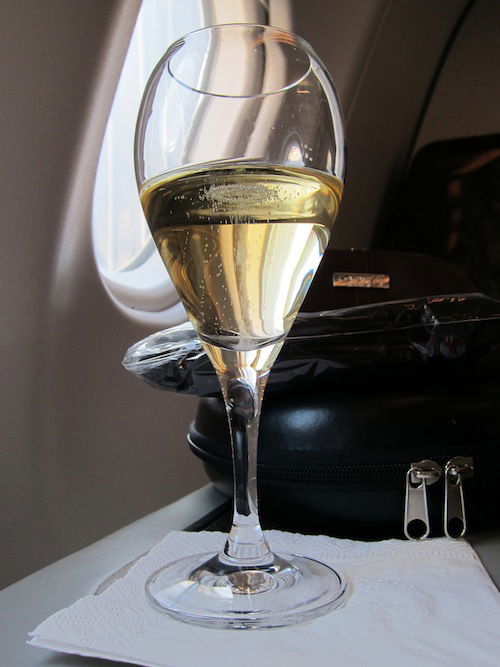 Krug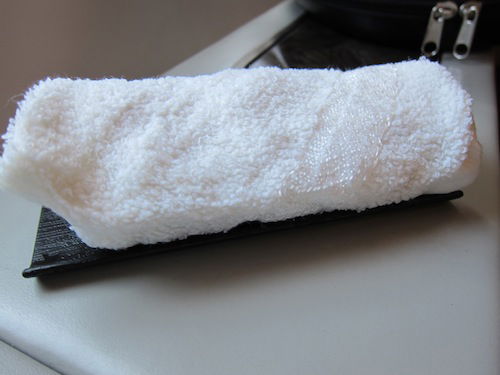 Hot towel
The flight attendant noticed I was taking a picture while standing in the other aisle, and immediately ran over to me to ask if she could take a picture of me in my seat, which was a nice gesture.
I started perusing the in-flight magazine, though it wasn't especially interesting.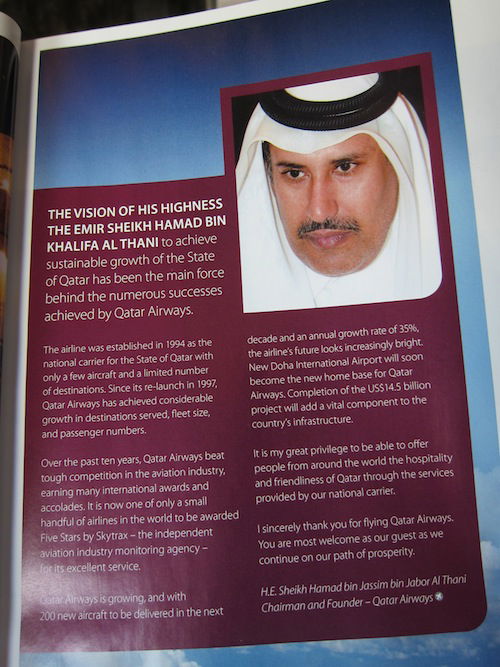 I guess this is their equivalent of the United "Voices" page?
A few glasses of champagne later (I lost count, what can I say, the flight attendant was a good pourer), I heard the "would all ground personnel please leave the aircraft announcement." Woah, there was no one else in the cabin, could it really be that I have the first class cabin to myself?!
Sure enough, just a few seconds after a mental victory dance, a family of five joins me in the cabin, consisting of three daughters, a mother, and a father. Then a minute later another gentlemen was escorted onto the plane. From one seat taken to only one seat empty in about a minute!
Shortly before pushback the captain came on the PA and gave probably one of the most impressive pre-flight announcements I've ever heard. I'm not meaning to stereotype here, but I wasn't expecting so much enthusiasm from a pilot that seemed to be from Qatar. It's not the amount of information he gave that surprised me, but instead the enthusiasm with which he shared it all. He gave us just about every detail about the flight, including our taxi time of 25 minutes, takeoff speed of 330km/h, and just about every city we would be passing over enroute. We had a slight departure delay, and with the fairly long flight time of 6hr20min, he forecasted a slightly late arrival.
Nonetheless his attitude was awesome – "Ladies and gentlemen, on behalf of myself and my most excellent colleges (yes, he said colleges, not colleagues) in the cabin, we are absolutely delighted to have you flying with us, and will do everything in our power to make this flight pleasant."
The safety video started playing, though it was quite possibly the most boring safety video I've ever seen… and there's a lot of competition for that title. I'm used to safety videos that aren't exciting, but I'm pretty sure this video takes the cake. Heck, I think they should add it to the in-flight entertainment as a sleep aid.
Clearly the flight attendants found the safety video boring as well, as they served Arabian coffee and dates during it, and then started taking meal orders as well.
One of the nice things about Qatar Airways is that they start the entertainment system on the ground, so you can start watching a movie while taxiing out. That's awesome, especially compared to my Virgin Atlantic flight, where it took nearly 30 minutes for them to turn on the entertainment system.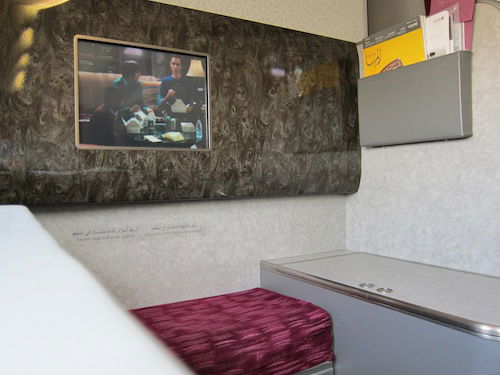 A bit of Sheldon Cooper while on the ground… does it get better than that?
Sure enough we pushed back a few minutes late and taxied out to the west runway, where we waited for a handful of British Airways Airbus aircraft to take off. Just before us a Malaysia 747 rocketed down the runway, then we taxied into position, and about two minutes later we were airborne.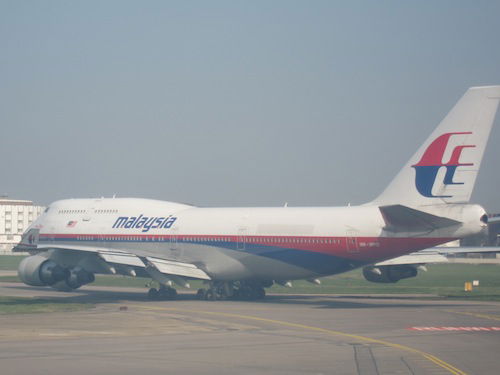 Malaysia 747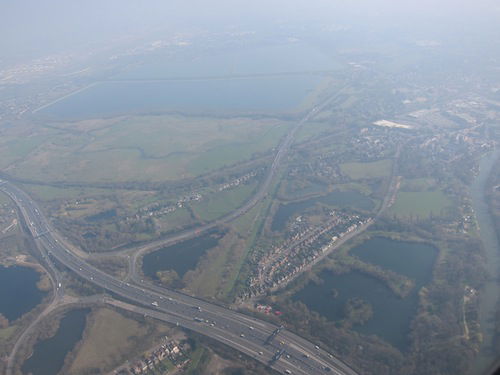 Views after takeoff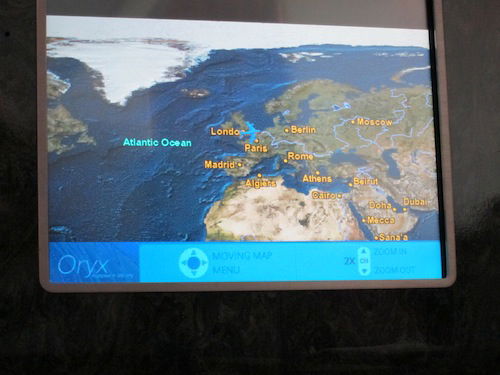 Airshow
About five minutes later the seatbelt sign was turned off and the flight attendants sprung into action, starting by closing the curtains between the galley and first class and the curtains between first class and business class. I started watching an episode of "The Big Bang Theory," and about half way through it the meal service started.
The menu read as follows:
palate pleaser
duo of minced lamb and spinach barouque
pistachio and coriander dip

to commence
oscietra caviar
sour cream and blinis

carrot ras al hanut soup with garlic and herb mini croutons

mediterranean buffet
balik salmon, foie gras and peppered beef pastrami crown

classic mezze

blue swimming crab caper croquettes in sesame dill mayonnaise

to follow
parmesan crusted chicken breast stuffed with pesto ricotta
slow roasted baby tomato sauce, roasted rustic cut potatoes
snow peas and baby carrots

marinated baked halibut with tomato and herb veloute
porcini mushroom risotto with grilled baby courgettes

panfried veal medallions with chestnut mushroom cream sauce
colcannon potatoes with roasted fennel and grilled zucchini ribbons

paneer makhani with nizami handi and green pea pulao

main course are accompanied by your choice of steamed aromatic rice or mesclun salad leaves

cheese plate
an individual plate of cornish double cream brie, vale of bevoir stilton and mull of kintyre cheddar

sweet finale
warm triple chocolate fondant with vanilla crème anglaise

vanilla and rhubarb cheesecake with physalis and berry ragout

sliced fresh fruit

forest berries with vanilla ice cream and rosewater pomegranate sorbet

tea and coffee with fine chocolate
coffee: cappuccino, espresso, café latte, macchiato, american
tea: earl grey, english breakfast, green, roasted japanese, moroccan mint, camomile, sencha green, green jasmine
For those of you more interested in liquid nutrition (I'm looking at your, JRL), the wine list read as follows:
Champagne Krug
Brut Grande Cuvee

Chardonnay
2007 Chassagne Montrachet

Sauvignon Blanc
2008 Saint Clair Pioneer Block 3

Riesling, Fritz Haag
Brauneberger Juffer Sonnenuhr

Domaine Weinbach
2005 Vendange Tardive Gewurtzraminer Grand Cru

Chateau Ducru Beaucaillou
2004 St Julien AC – 2nd Grand Cru Classe

Pinot Noir
Morton Estate 2007

Shiraz
2005 Dorrien Estate, Shiraz Bin 1

Taylor's
20 Year Old Tawny Port

Beverages
Martini Rosso
Martini Dry
Campari
Bombay Sapphire
Bacardi
Smirnoff Red
JW Black
Glenfiddich Single Malt Solera 15-yrs. old
Chivas Regal 18-yrs. old
Jack Daniel's
Bailey's
Tia Maria
Cointreau
Drambuie
Camus XO Superieur
I ordered a Diet Coke, which was served with the "palate pleaser," which was tasty and well presented.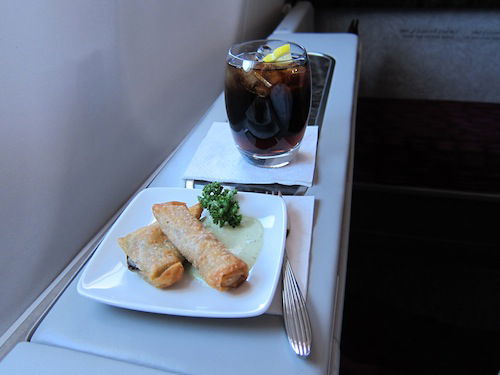 Palate pleaser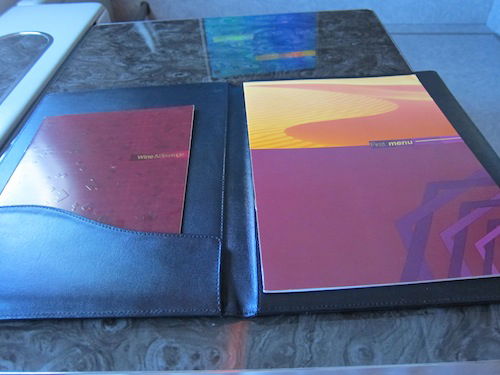 Menu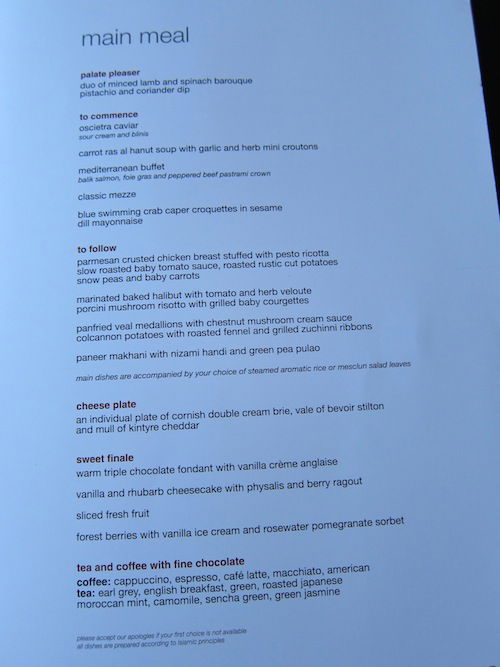 Menu
As that finished up the tablecloths, silverware, and breadbasket were distributed. I was asked what kind of oil I wanted with my bread, which was a first. I seemed to be the only one eating for now, so the service was very much at my pace.
The first course was caviar, which was served in the tin. It was tasty, though a few more condiments would have been nice.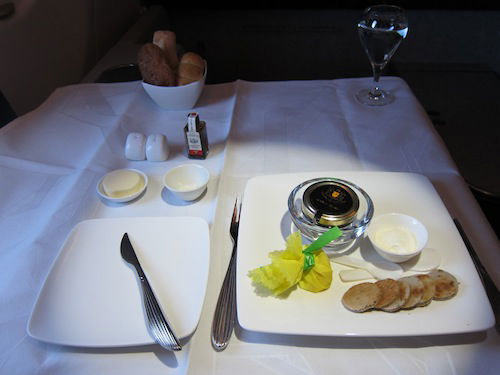 The next course was the soup, which was also tasty and the perfect temperature.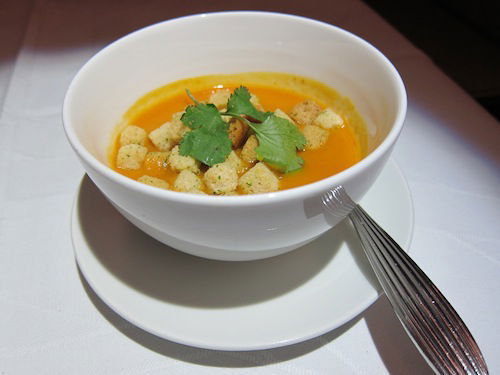 Soup
Next it was time for the Mediterranean buffet and classic mezze, which was presented on a cart, where I could pick and choose what I wanted. I wasn't especially hungry, though still went with some salmon, salad, and peppered beef.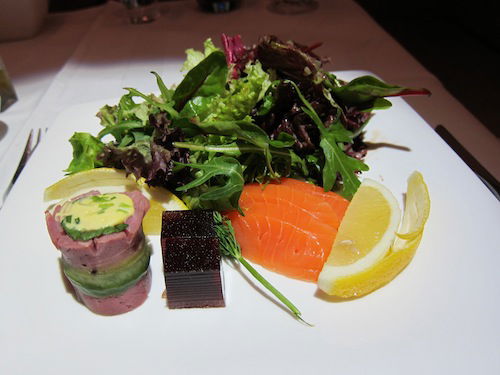 Meditteranean buffet
I wasn't especially hungry by the time the main course was served, which was probably a good thing, since I really didn't like the chicken. On paper the dish sounded like something that could be my favorite dish, though it just wasn't well executed. I was a vegetarian for eight years and always hate "wasting" meat, though didn't take more than a bite out of it in this case, which I felt bad about.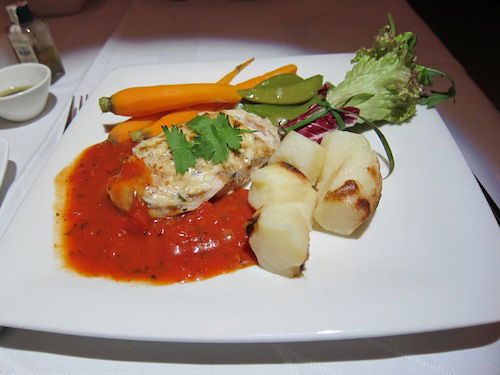 Main course
I was stuffed from the breakfast I had in the lounge and the lunch I had aboard, so asked to postpone dessert by about an hour. I was nonetheless given a bottle of water and small box of Godiva chocolates, which was a nice touch.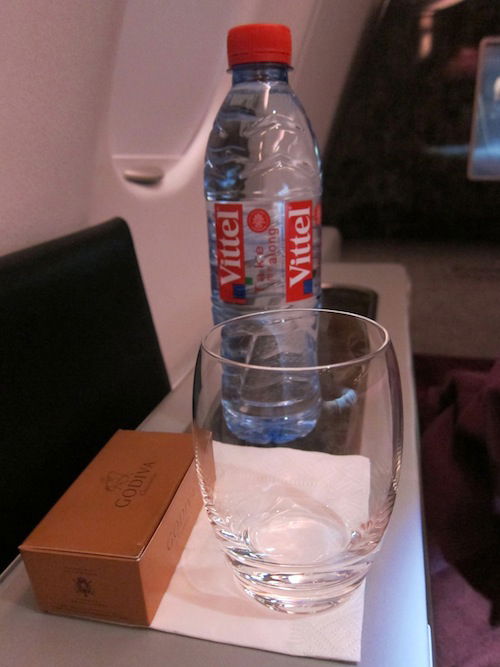 Water and Godiva chocolates
So, a bit about the flight attendants. First of all, both of the first class flight attendants were of Thai descent. It seems that most of Qatar's flight attendants are either Asian or Eastern European, but I guess that's a trend among Middle Eastern airlines. Second, they referred to me as "Mr. Benjamin" throughout the service. I'm not sure if this is a Middle Eastern thing or what, because it's also what I was often referred to as in Doha. The flight attendants were friendly and professional. At the same time, they weren't "Singapore Girls." That's to say that they didn't focus on placing all the utensils and glasses so the logos face me, or for that matter I didn't get a whole lot of "my pleasure" or "certainly" in response to my "thank yous." That being said, they were perfectly friendly. It's just that I've had better.
I decided to play Alpine Crawler on my new Macbook Air, which is far too addictive. About an hour later I asked for dessert, and went with the chocolate fondant. It was quite possibly the best dessert I've ever had, be in the ground or in the air.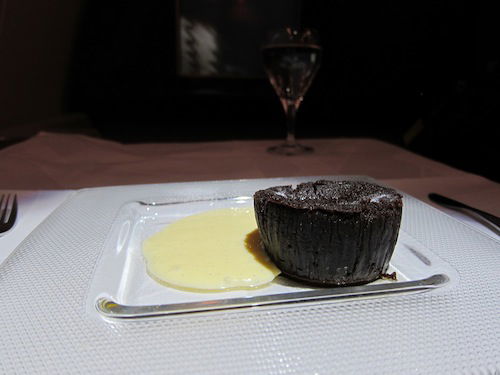 Chocolate fondant
To round off the meal, I ordered some Baileys.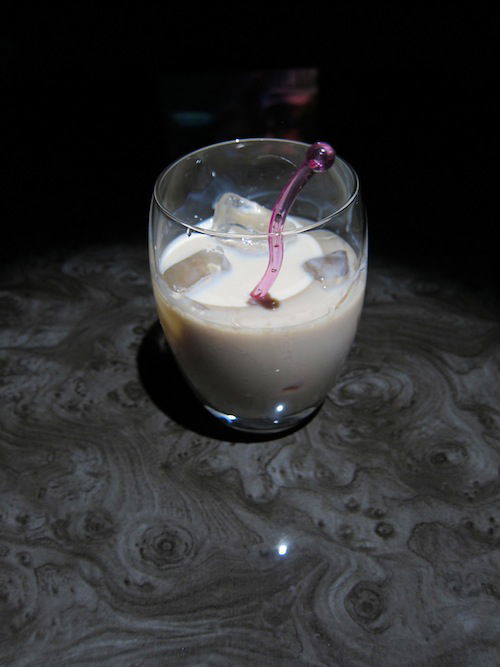 Baileys
After that I decided to take a nap. I requested turndown service, which was promptly done, and managed to get a solid two hours of sleep.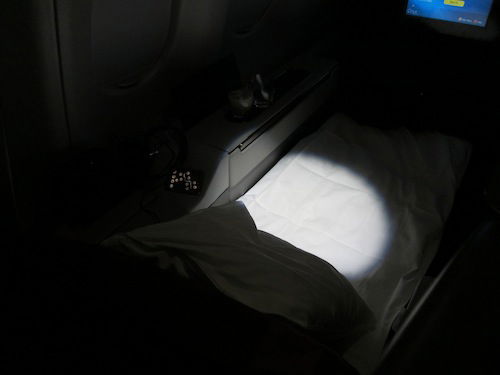 Bed with turndown service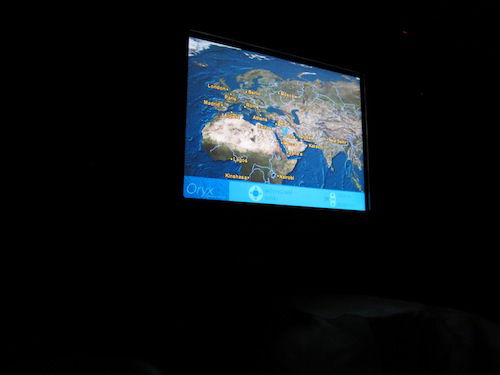 Airshow
As short of a flight as it is, I was asked whether I wanted the pre-arrival snack as soon as I woke up, as we were about 90 minutes from landing in Doha.
The pre-arrival menu read as follows:
indulgence
reception sandwiches
petit sundried tomato and spinach pie
plain and fruit scones with clotted cream and strawberry preserve
forest berries

tea and coffee with fine chocolate
coffee: cappuccino, espresso, café latte, macchiato, american
tea: earl grey, english breakfast, green, roasted japanese, moroccan mint, camomile, sencha green, green jasmine
The snack was perfect for a flight like this, not to mention a colorful work of art the way it was presented. After the meal I was offered a hot towel and landing card for Qatar.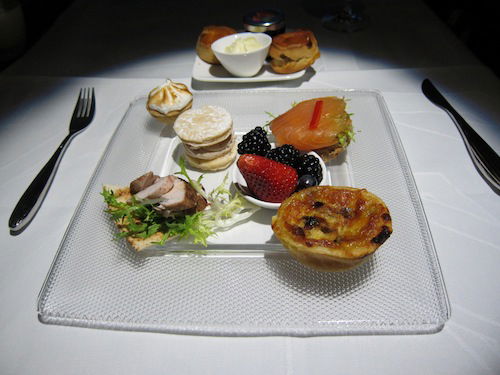 Pre-arrival snack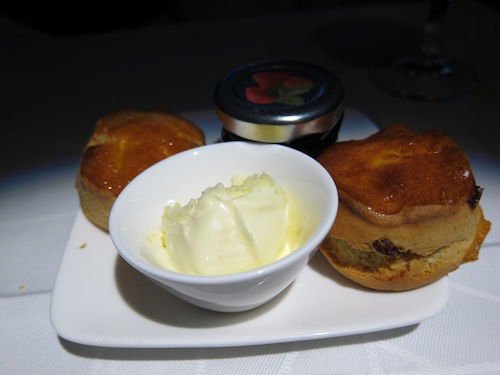 Scones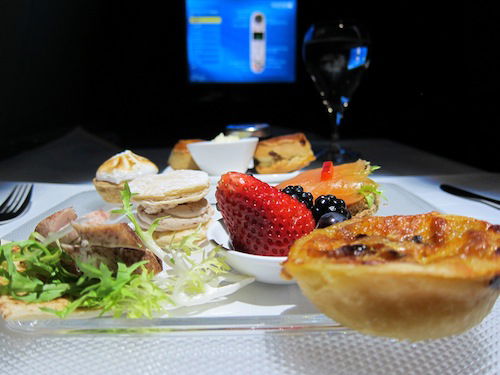 From a different angle
About 45 minutes before landing the captain made his pre-arrival announcement, advising us we would be arriving a few minutes late.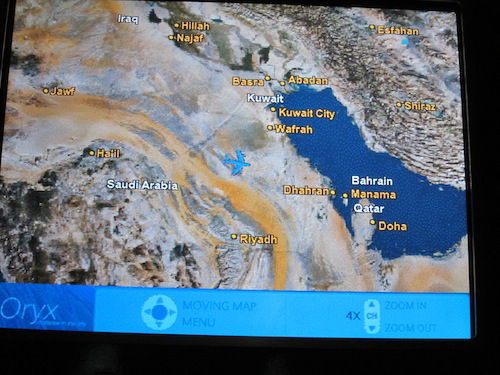 Airshow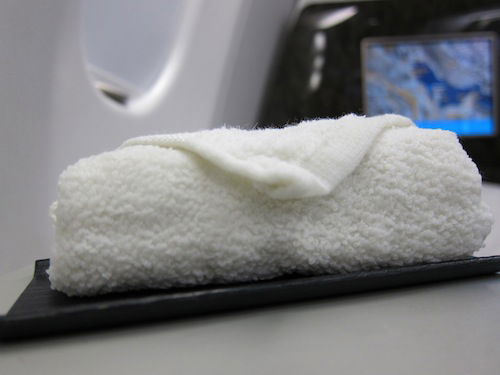 Hot towel
Now, I haven't focused on the other passengers in the cabin yet, though I made a post about that earlier during my trip. The guy seated behind me was a Sheik, who boarded in very "trendy" clothes. The same goes for the family of five. As a matter of fact, the daughter seated across from me was very fashion savvy, clearly loving western culture. She asked for fashion magazines, was wearing tight jeans, and had big sunglasses. But what was fascinating to me (given that this was my first time in Qatar, let alone the Middle East, so it's a new culture to me) was that as we began our approach everyone changed into the long black and white "robes" (I believe it's called "hijab?") with the females covering their heads with scarves. It was fascinating to me that I went from being the least trendily dressed person in the cabin to standing out, almost uncomfortably so, with the jeans and collared shirt I was wearing.
While it was dark outside, the views were fascinating, with mostly desert landscape. The seatbelt sign came on about 15 minutes before landing, at which point the flight attendants prepared the cabin for landing.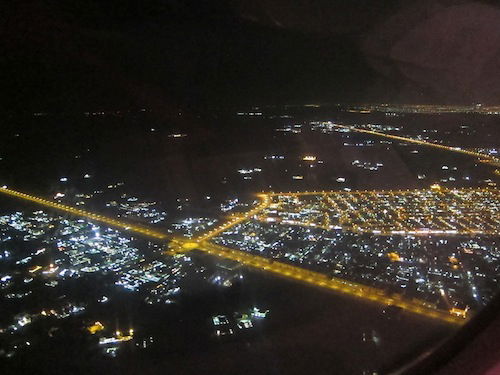 View on approach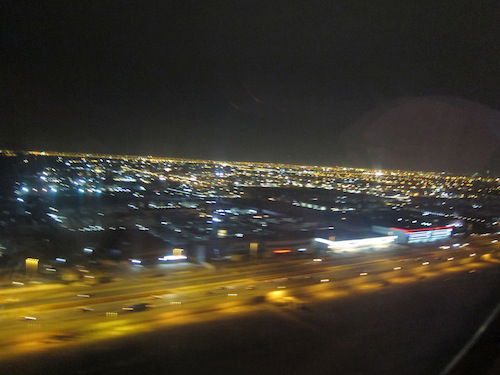 View on approach
Once we landed it was a very quick taxi to our remote stand. It amazes me that despite being such a wealthy country and wanting to expand and become a truly global city, Doha's airport doesn't have any gates. Now, they are building a new airport, though it'll be years before it's finished. In the meantime, they're stuck at an airport that looks more like a bus terminal.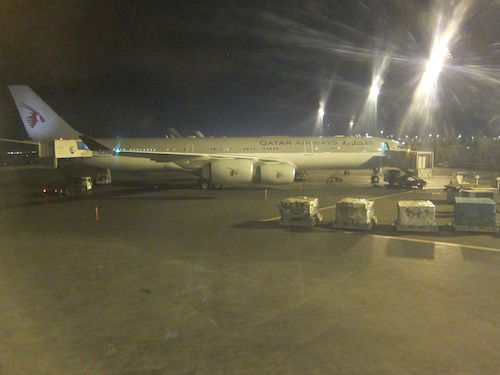 Plane next to us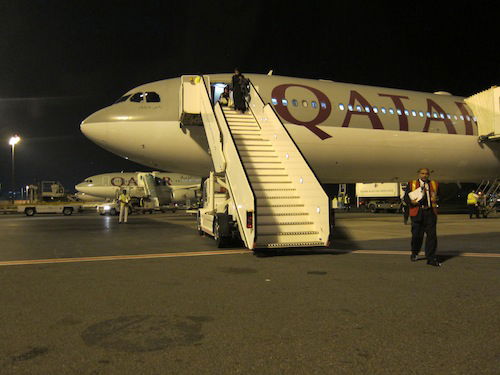 Our plane
One of the aspects of Qatar Airways' service that I was looking forward to is the private BMW transfer they provide first class passengers traveling to and from Europe. Not surprisingly, as we pulled in, there were a handful of BMW 7-series waiting, even sporting the Qatar Airways livery.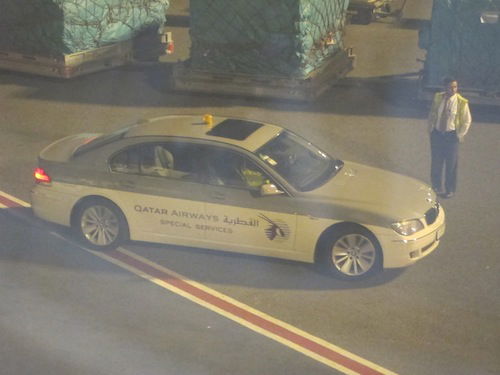 BMW waiting for first class passengers
Interestingly enough the Sheik seated behind me had his own transportation waiting right at the side of the plane, with three or four people there to greet him.
I was directed to one of the BMWs, though we didn't drive for about five minutes, as they were trying to figure out if they wanted to put another passenger in my car (since it's not always a private transfer). Eventually they decided it would be just me, and we began the maybe three minute ride to the immigration hall, driving basically under the noses of a dozen heavy jets.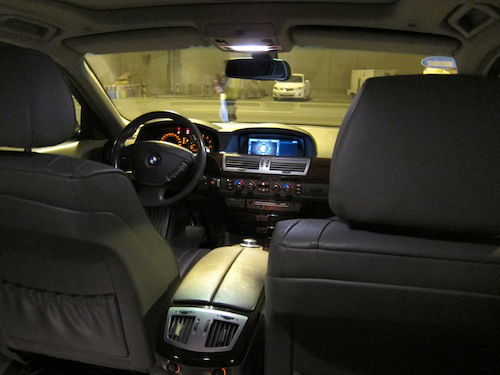 BMW interior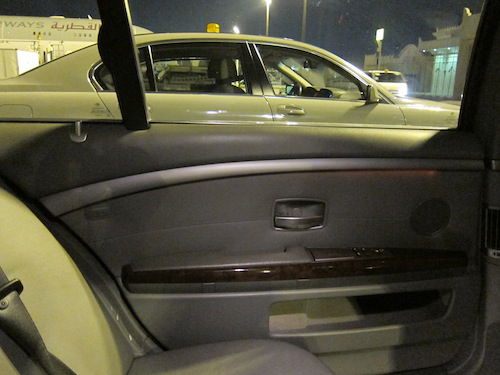 BMW interior
At immigration I was left to fend for myself, though fortunately I still managed to beat everyone else there, so lines weren't bad. Qatar requires a visa upon arrival, which of course is the biggest scam on earth. The "visa" consists of them scanning, your, well, Visa, for about $30USD. C'mon Qatar, nobody wants to come to your country to begin with, why do more to discourage tourism? It's not like you need the money. To add insult to injury, the immigration agents couldn't have been ruder (and I was using my German passport!). At least say "thanks" when you rob me, please!
Once in the arrivals area I exchanged money (at a surprisingly reasonably exchange rate) and headed outside to try and find a cab for the InterContinental. Not surprisingly I was swarmed by at least 100 people that wanted to offer me a "special deal" because I was their "friend." Eventually I got a legitimate taxi, and the ride to the InterContinental wasn't more than $10USD or so.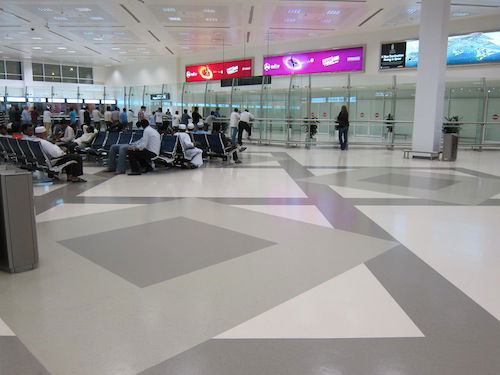 Arrivals hall
So, based on my outbound flight, what did I think of Qatar Airways? Well, they were good. However, they aren't the best airline I've flown. The food and entertainment are excellent (I'll assume my main course was a one off). The flight attendants were good, though not quite as good as on ANA and Singapore. The seat was very comfortable, though as aesthetically pleasing as the sweater my grandma made me a decade ago.
But there was just some "touch" missing. Qatar Airways is very good, but they could be great. I think the distinguishing factor for airlines nowadays is what they do for premium passengers on the ground. In London, couldn't they escort first class passengers to the lounge or from the lounge to the gate? Maybe that's asking too much. But, at least in Qatar, I felt like the arrival service was pretty half-a$$ed. It's great to be driven to immigration in a BMW, though then you're dropped off and left in the "standard" Fast Track line, which all business class passengers have access to. At the very least, I think it would be nice to escort the passenger to a special line where there's never a wait, or at the very least help the passenger with their bags.
Anyway, I'm not meaning to complain, but just providing a few constructive suggestions for what Qatar Airways could do to truly be "the world's 5-star airline."
But that's just based on my outbound. Stay tuned for the return segment, where I had a different experience.