—————————————————————————————–
I was anticipating the Qatar Airways Premium Terminal more than anything else airline-wise on this trip, so when the morning to visit finally arrived I was up early and ready to go. I took the 7AM complimentary shuttle from the hotel to the airport, and made it there at around 7:30AM. While I was dropped off at the main terminal, the Premium Terminal was immediately to the right of the main one, and only a three-minute walk.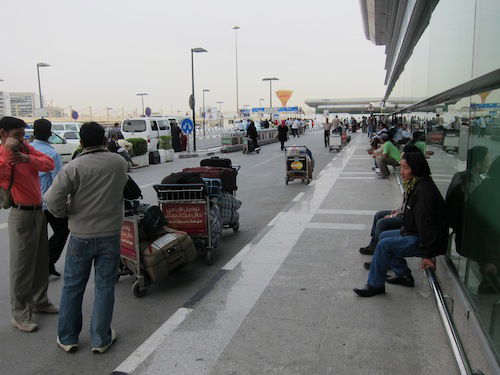 Main terminal
At the door were several guys with hotel-style carts to help with bags, though I only had a carry-on.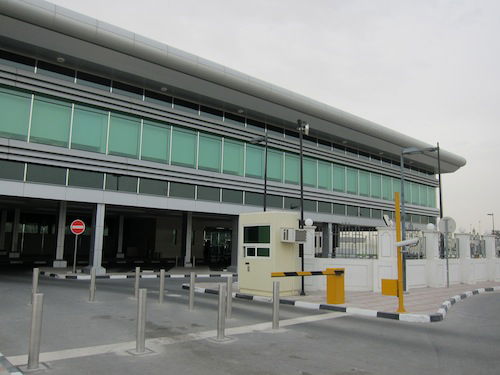 Premium Terminal
The entrance to the terminal itself doesn't feel all that exclusive. After all, Qatar Airways has pretty big premium cabins, and all first and business class passengers use this terminal.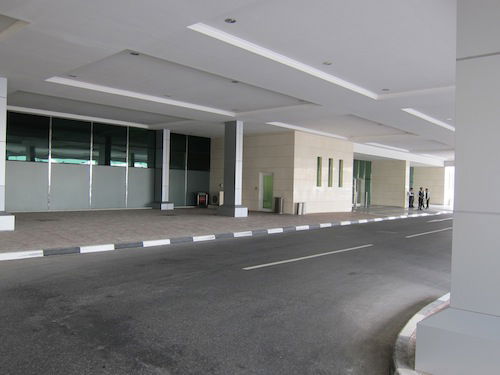 Entrance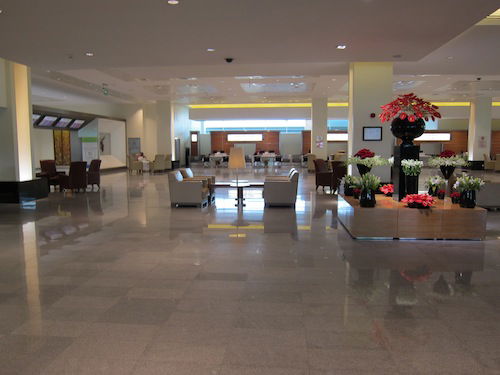 Premium Terminal check-in
First class check-in was at the far end of the room, where I was immediately helped. I took a seat and within a couple of minutes the agent printed my boarding pass and sent me on my way. I then made my own way towards security, which was efficient (though I got the feeling not especially thorough).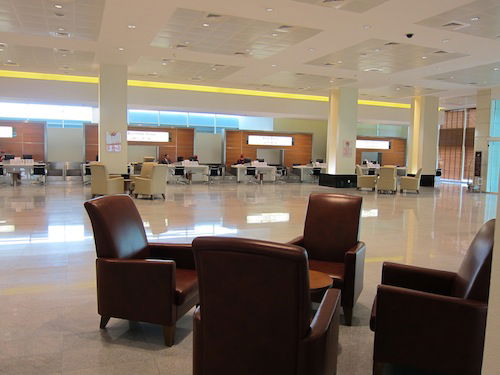 Premium Terminal check-in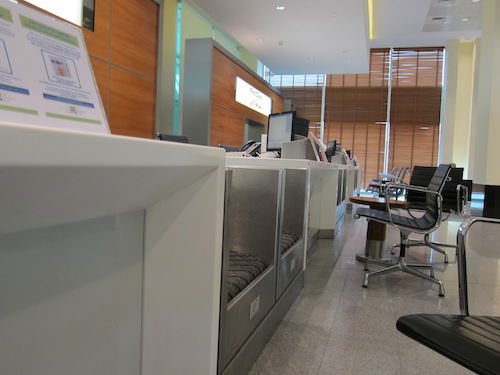 First class check-in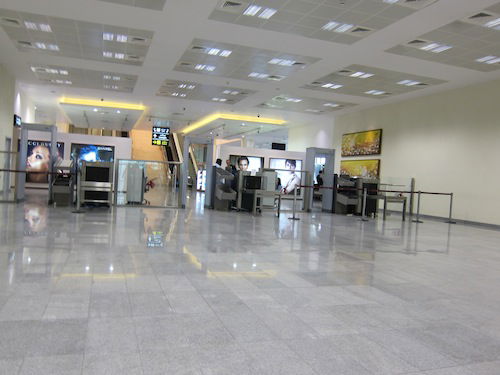 Security
On the first floor of the Premium Terminal are a couple of duty free shops and also the "gates." Given that Doha doesn't actually have "gates," these are really bus gates for them to drive you to the plane.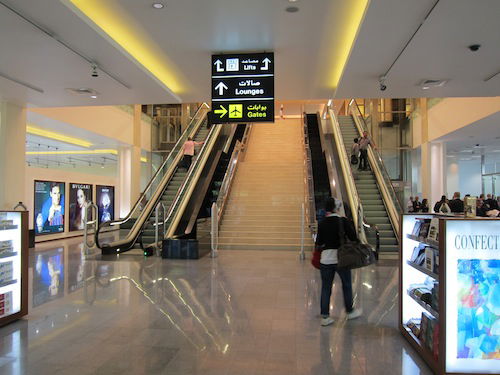 First floor
The lounges are located on the second level. There's a business class lounge, first class lounge, media center, and even cloak room (that's a first for me).
Strangely, there didn't seem to be any controls as to which lounge you enter, so as far as I could tell, a business class passenger could really have tried to use the first class lounge.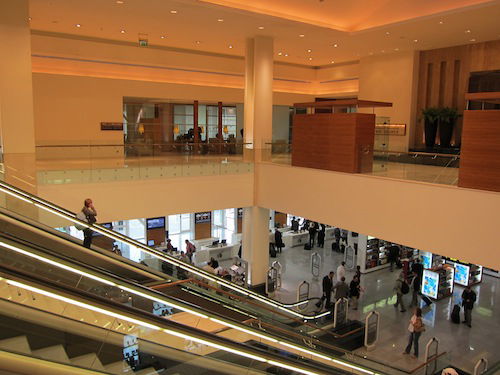 Premium Terminal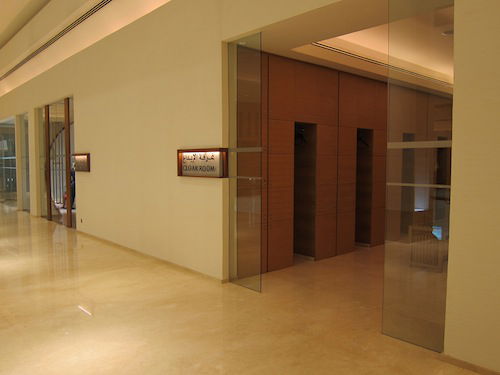 Cloak Room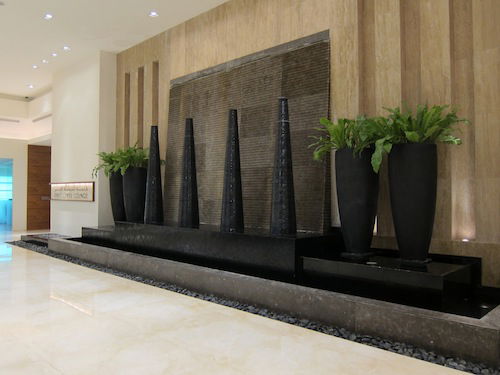 Area between first and business class lounge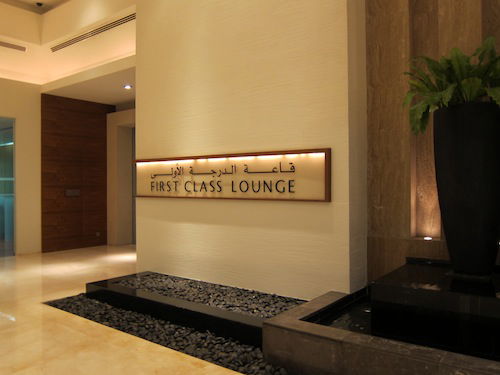 First class lounge
Once inside the first class lounge, the Premium Terminal isn't much different than any other nice airport lounge. I'd say in terms of quality, the lounge itself can most closely be compared to maybe Cathay Pacific's "The Wing" first class lounge in Hong Kong.
There were comfortable seating areas and there was a sit down restaurant area, which served meals all hours of the day.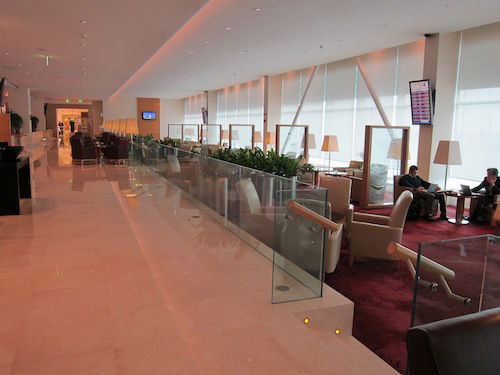 First class lounge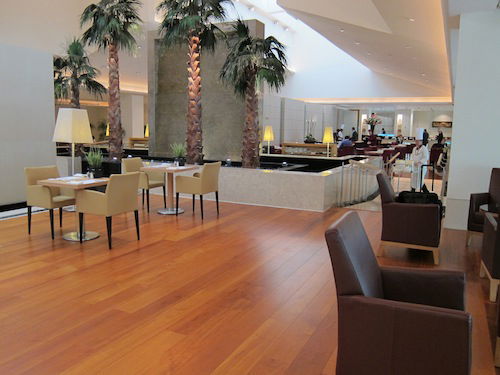 First class lounge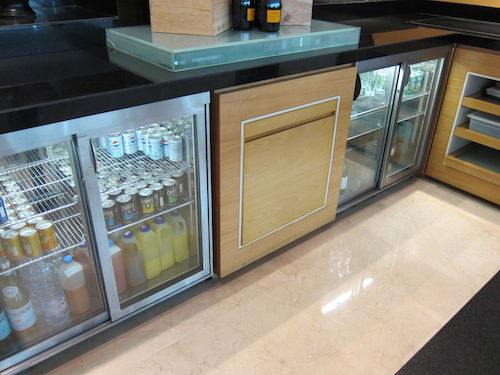 Refreshment area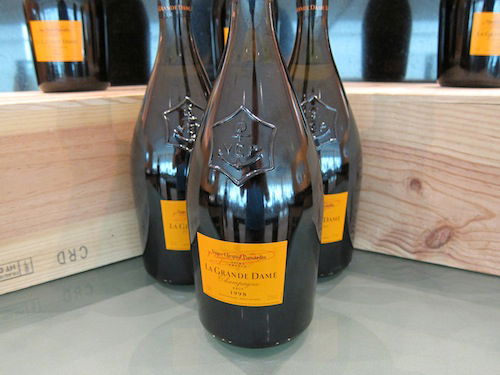 Champagne
I hadn't had breakfast, so decided to go with that first. The table setup in the lounge is quite nice with excellent service. The spread was similar to what you would expect in a high-end hotel club lounge in Asia. There was even an omelet station. For breakfast I had an omelet, followed by a couple of pancakes and waffles with fruit. My glass of freshly squeezed orange juice stayed topped off throughout.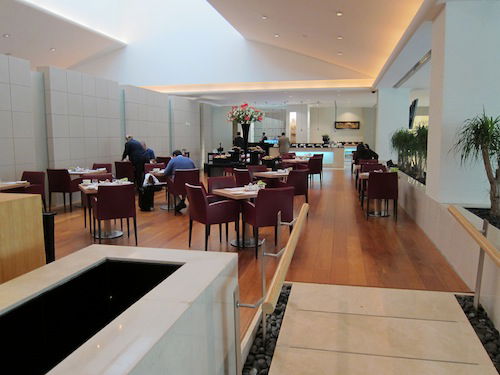 Dining area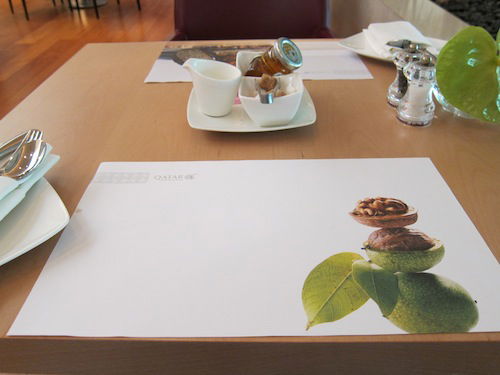 Table setup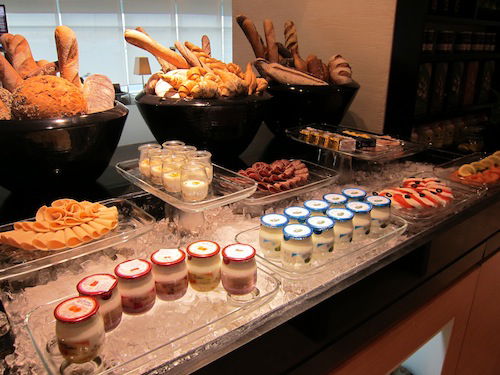 Breakfast spread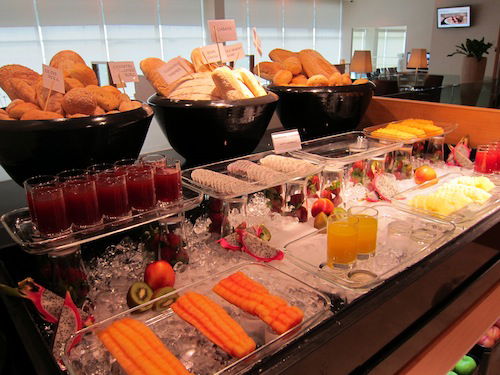 Breakfast spread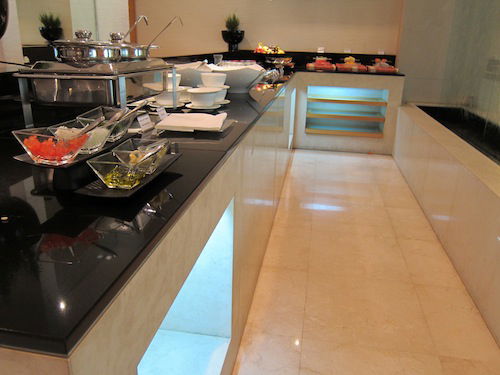 Breakfast spread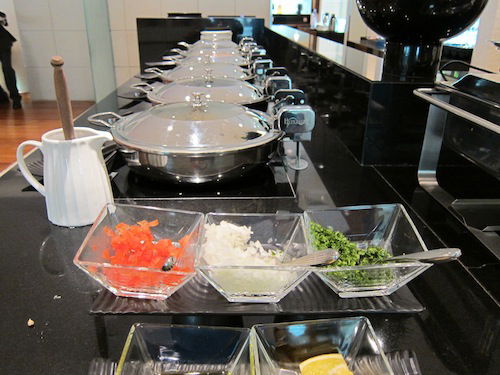 Breakfast spread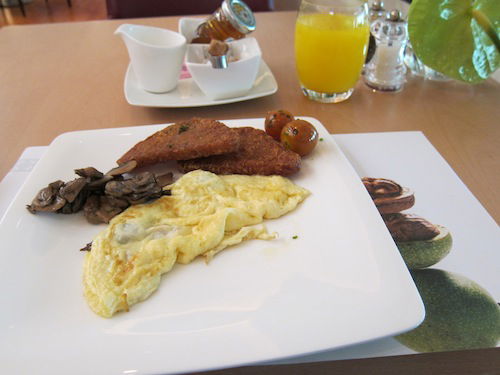 My breakfast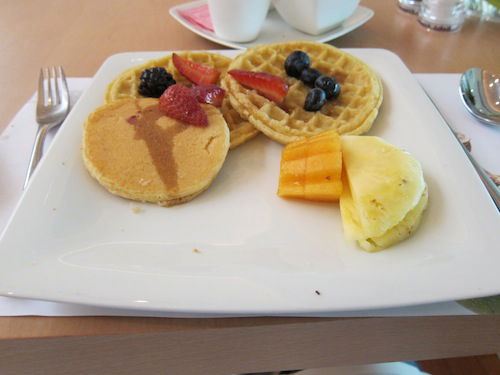 My breakfast
After breakfast I decided to see what else the lounge had to offer. There was a relaxation area featuring a massage chair, so I endured that for about 20 minutes (you know how those massage chairs are).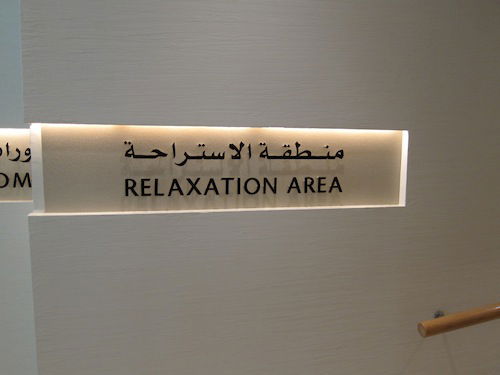 To the relaxation area…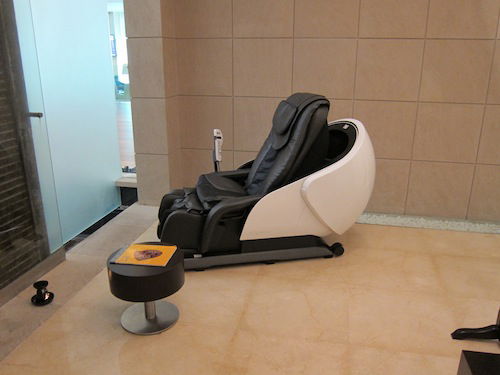 The chair of doom
After that I went into the shower room and bathrooms, where I saw there was a hot tub. Now, except for a bathtub I've never actually been in water in an airport, so for the novelty factor I figured I better do it. It was a bit awkward nonetheless, because the hot tub is in the same area as the restroom, so you had a bunch of people fully covered in robes passing me, as I sat there in my Speedos (okay, maybe not quite). Anyway, I splashed around like a platypus for about 20 minutes, trying to isolate all the bubbles to one side of the hot tub with no success, and then went for a shower. Yes, as you can tell I'm a very sophisticated first class passenger. 😉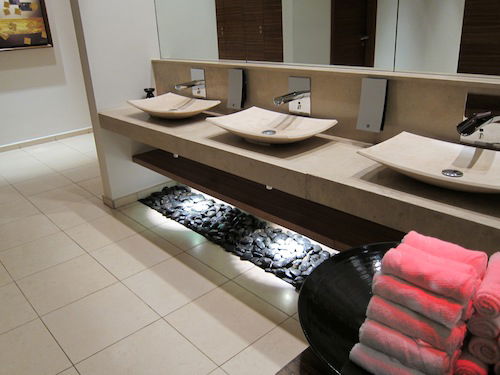 Bathroom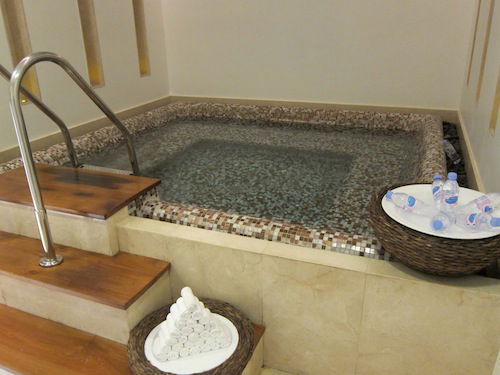 Hot tub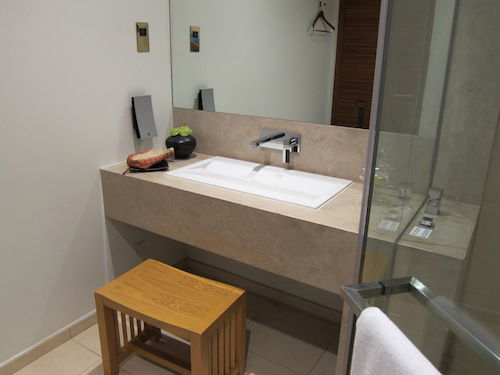 Shower room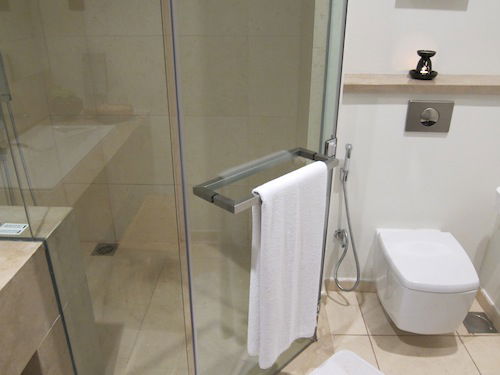 Shower room
With about 90 minutes to go till the flight I decided to have lunch, given that I could postpone my dining once aboard the flight.
The lunch buffet was spectacular, with filet mignon, lox, tomato and mozzarella, etc.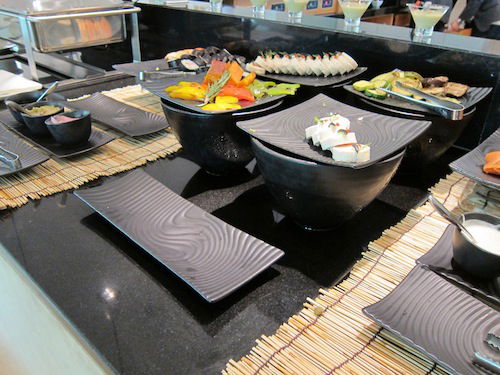 Lunch spread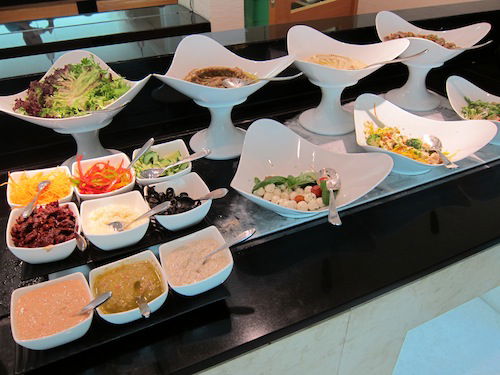 Lunch spread
Especially impressive was the dessert spread.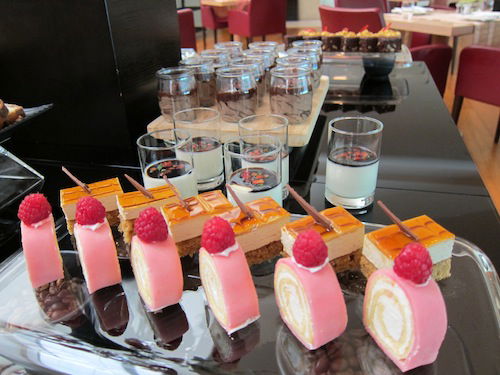 Dessert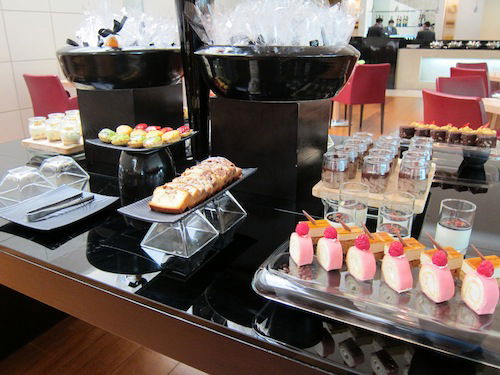 Dessert spread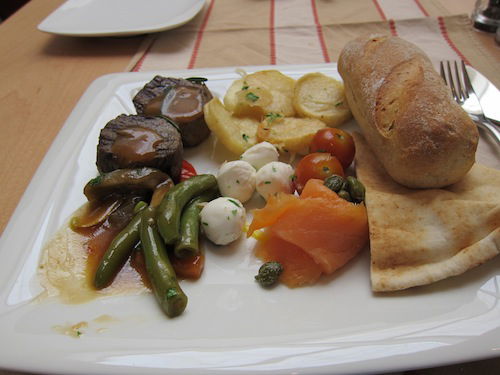 Lunch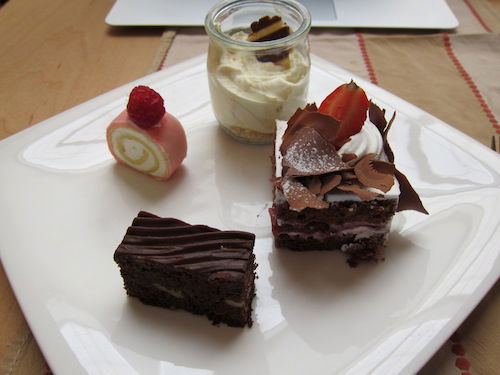 Dessert
With about 45 minutes to go until departure the agent approached me (how she knows who I was is beyond me) and informed me that the flight to London was boarding business class now, and that first class would board in about 10 minutes. Sure enough, 10 minutes later she advised me to head downstairs to board.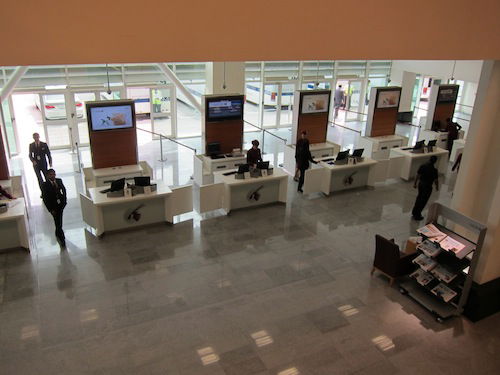 Boarding area
Downstairs I was loaded into a BMW 7 series, though had to wait for a few minutes, as another first class passenger (who was referred to as "Sheikh" for the entirety of the flight) was going to ride with me. As he sat down he said "what's up man?" which I thought was pretty funny. Good thing I didn't respond with my usual "what's shakin'?" Yeah, don't worry, folks, I'll be here all week.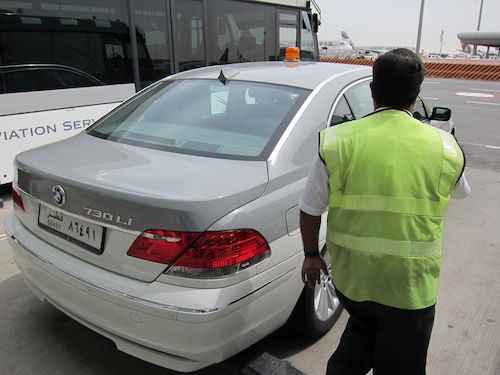 Car transfer to the airplane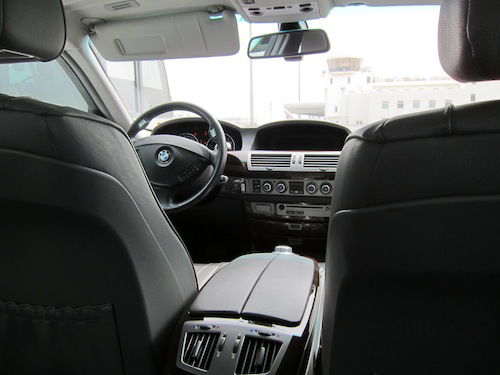 Car interior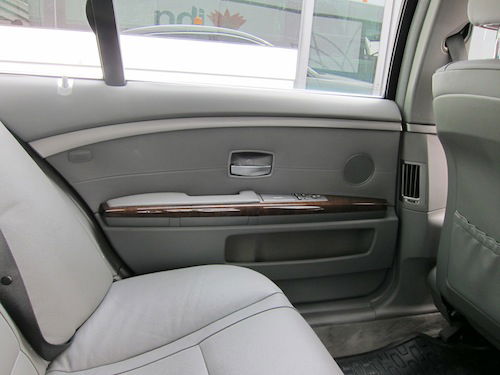 Car interior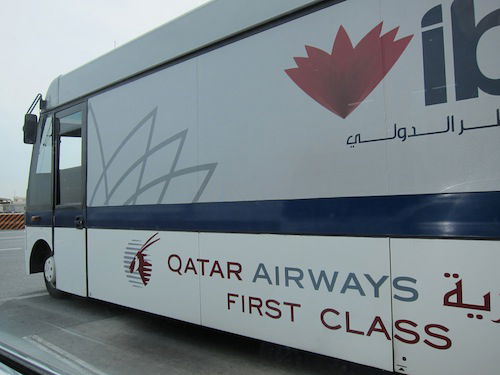 First class bus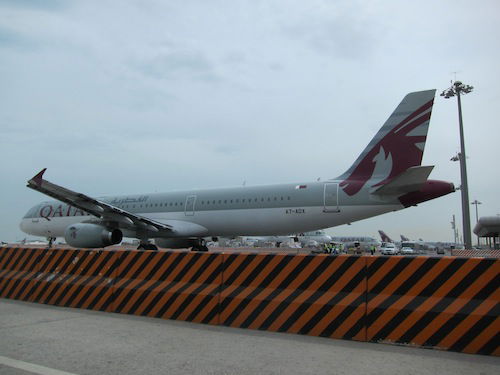 Tarmac views
After a quick ride we were dropped off at the airstairs of our otherwise fully boarded A340-600 bound for London.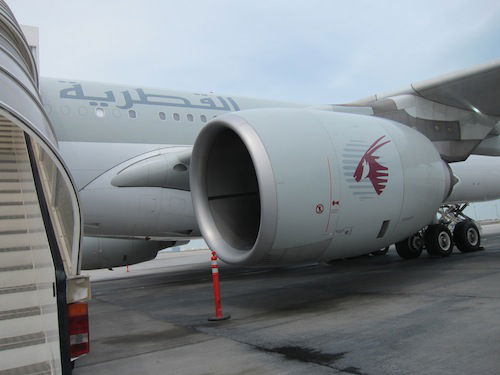 Our plane
All in all, the Premium Terminal was great, but not spectacular. I still prefer Lufthansa's First Class Terminal in Frankfurt and the Thai first class lounge in Bangkok. It's the little touches that make all the difference. If Qatar Airways really wanted to make the first class terminal a "WOW" experience, I think it would make a lot of sense if they had agents waiting at the door of the terminal when you arrive, greeting you and escorting you to their desk to check you in, much like Cathay Pacific does in Hong Kong. I think it would also be great if they escorted you through security and to the lounge, until you're comfortably seated. Similarly, it would be great if they picked you up when your flight was ready to board and escorted you to your car. It's the little things that make all the difference. The beauty of first class travel on the world's best airlines is that it's hassle free. In the Premium Terminal I felt like I still had to watch the clock about when my flight was leaving, to make sure I went to the right gate, etc. It's all basic stuff, but it's what makes the Lufthansa and Thai ground experiences the best in the world, in my opinion.