---
I've stayed at the Hyatt Regency San Francisco Airport many times, though don't think I've ever written a review of it. It's definitely one of the nicer airport hotels in the US, so if I have to have an overnight at an airport on the west coast, I try to make it SFO.
My flight arrived from Washington Dulles shortly after 1AM, and I proceeded straight to the curbside for the Hyatt Regency shuttle, which is shared with Marriott. It was a nice evening so I didn't mind waiting, despite still having a cold and being exhausted. The shuttle arrived within about five minutes. The ride to the hotel is only about ten minutes, and for once I tipped the shuttle bus driver (don't get me started on shuttle bus drivers that try to force you to let them lift your bags up the stairs) because he was nice and not pushy.
Despite being late, the agent at check-in was very professional. I was thanked for being a Diamond member, asked whether I wanted the 1,000 bonus points or food and beverage amenity for being a Diamond (I went with the points), and informed that I had been upgraded to the Regency Club level and would receive free wireless internet.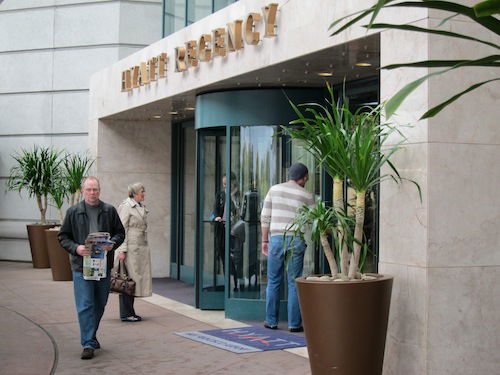 Hotel exterior (taken the following morning)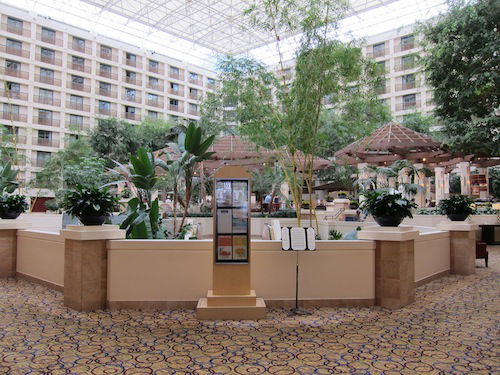 Hotel atrium (taken the following morning)
My room was on the 9th floor and inwards facing the atrium, which believe it or not is my preference. I know it sounds crazy, but I quite like atrium views.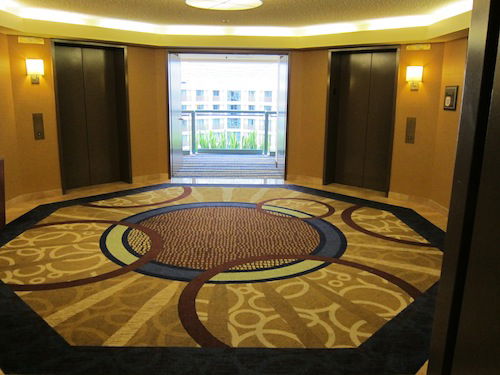 Elevators
The rooms here are "standard" Hyatt Regency rooms, with a king bed, flat screen TV, desk, and fairly large bathroom with Portico bath amenities.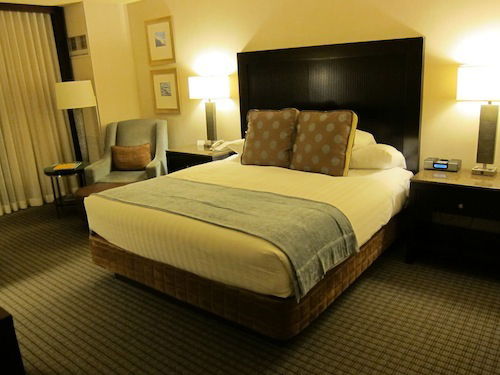 Regency Club room

Regency Club room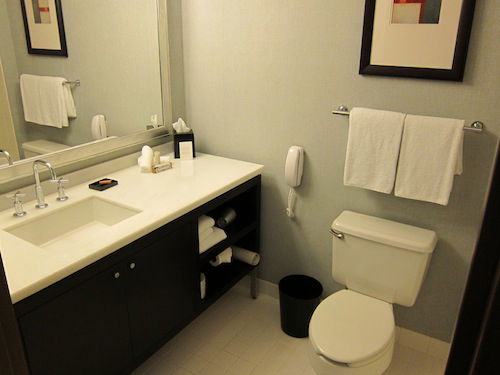 Bathroom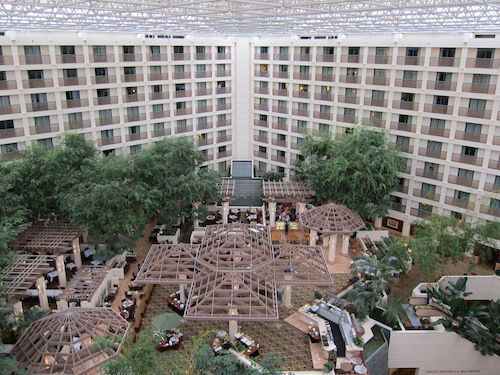 View from my room
While I arrived too late to partake in the evening reception at the Regency Club, I did have breakfast there at around 9AM. The lounge itself is quite nice and usually not too crowded. Best of of all for us airplane geeks, there's a patio that boasts good views of runway 28L/R, weather permitting (which is a big "if" in San Francisco).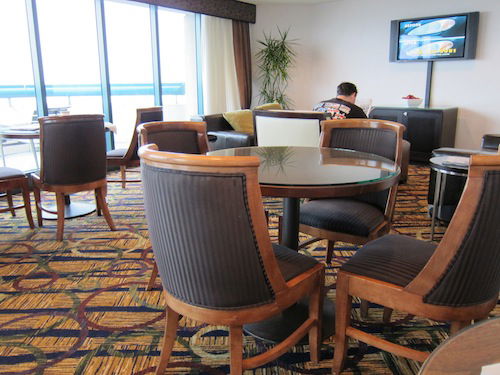 Regency Club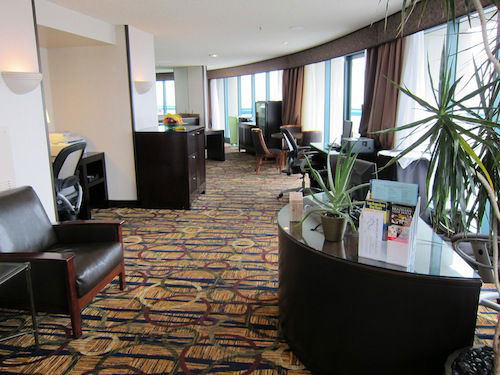 Regency Club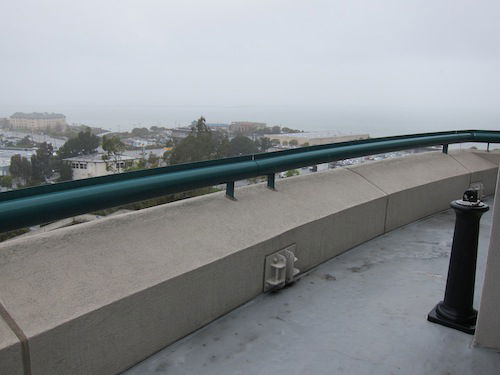 Patio
The breakfast spread is okay, with pastries, yogurt, cereal, etc., though lacks any hot options. It would be a big food day, so I was happy to just have some cereal and fruit.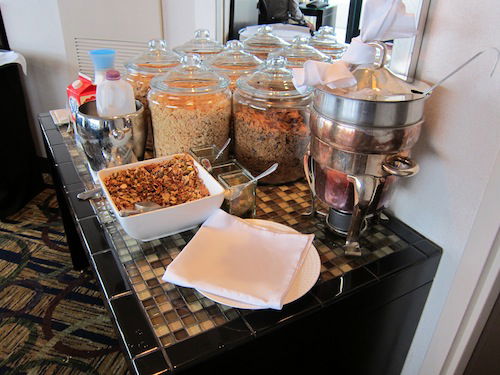 Breakfast cereals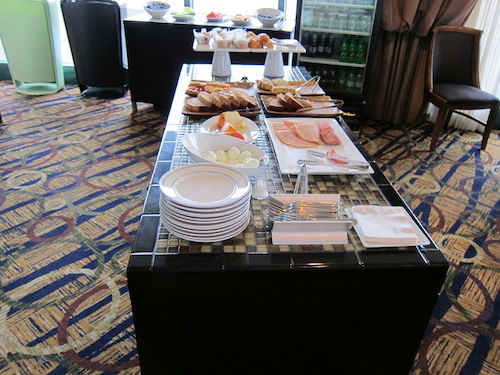 Pastries, breads, meats, etc.
The one thing that does bother me in the Regency Club at this hotel is the sign on the fridge which reads "two bottles of water and two bottles of non-alcoholic beverages per guest." What does that even mean? Does it mean we can get two bottles to take with us? Two bottles per visit to the Regency Club? Two bottles per day? Two bottles per stay? I mean, how much does a small bottle of water cost? Ten cents maybe? I can understand saying that all beverages must be consumed in the lounge (which is standard lounge verbiage), but the phrasing here makes no sense to me. The way I look at it, if I can be the force behind getting that sign removed (or at least clarified), I can die happy. 😉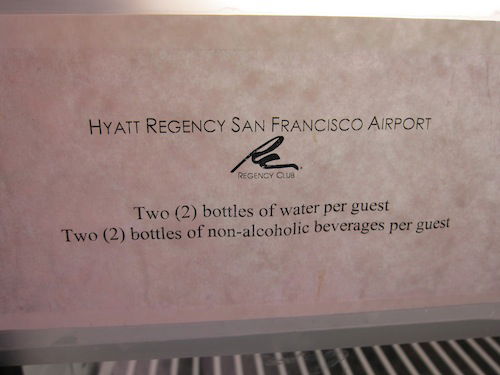 Say what?
I requested and was granted late check-out at 2PM, at which point I took the shuttle back to the airport.
Like I said, the Hyatt Regency San Francisco Airport is a perfectly nice airport hotel. Given the rate of under $100 per night, I'll definitely be back again soon (I actually have another booking there for next week).