---
Upon arrival at the international terminal I proceeded to check-in, where I queued in the Upper Class line. Both of the Upper Class agents were helping others, so an agent from the economy line called me over, which I appreciated. Check-in was prompt and I was given my boarding pass and lounge invitation for the Clubhouse.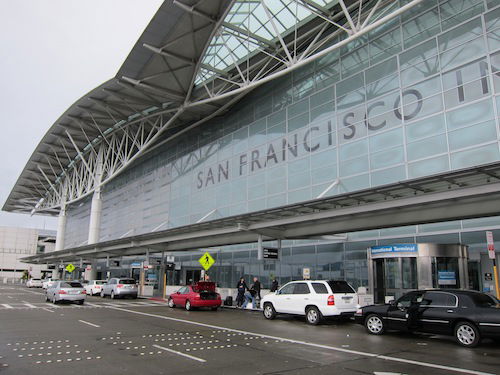 SFO International Terminal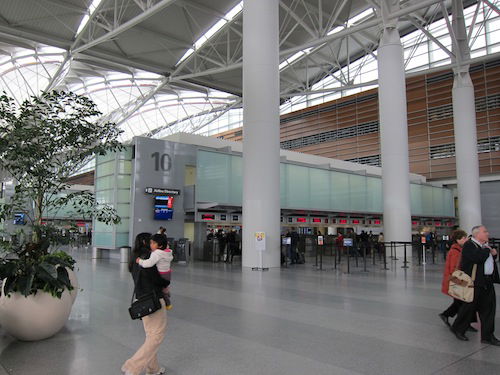 Check-in area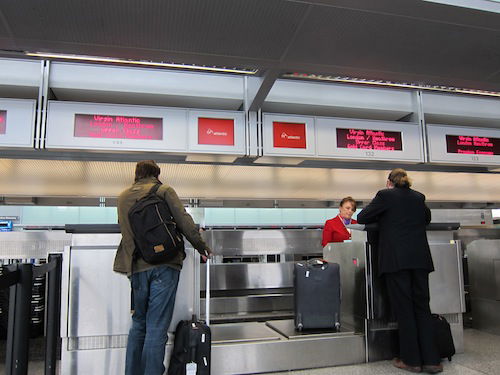 Upper Class check-in counters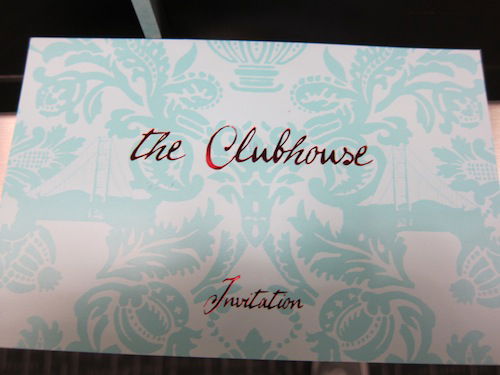 Clubhouse invitation
I proceeded to the Clubhouse, which is located landside, just next to the museum display area near the security checkpoint. I took the elevator up a floor to the level with lounges, and to the right was the Virgin Clubhouse. I presented my invitation and was welcomed and asked if I wanted to use the Revivals lounge in London. I said I would, and was presented with an invitation.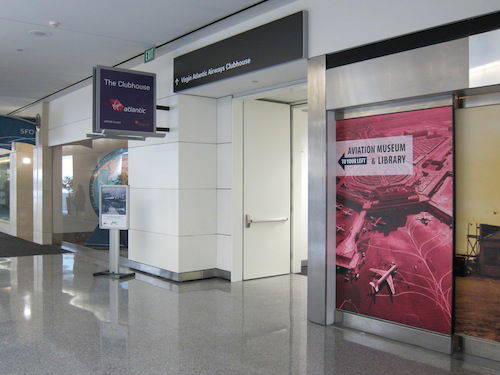 Elevator to Virgin Clubhouse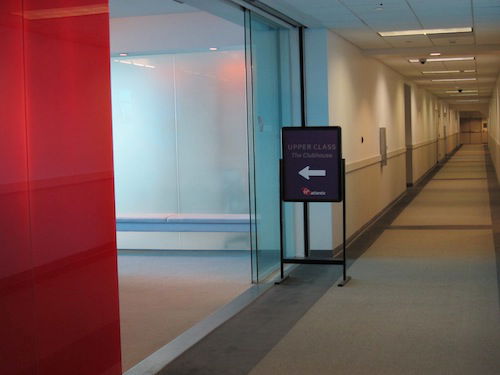 Entrance to the Clubhouse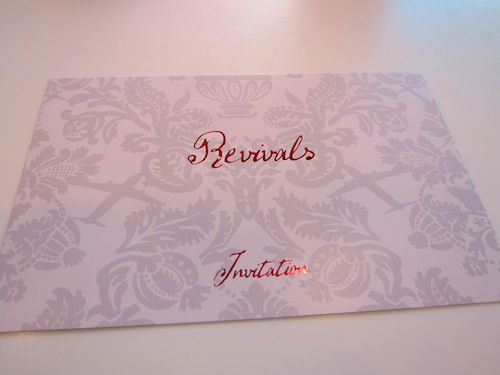 Revivals Lounge invitation
I've been to a lot of the world's best lounges, including the Lufthansa First Class Terminal in Frankfurt, Thai First Class lounge in Bangkok, and most recently the Qatar Airways Premium Terminal in Doha, and I've gotta say, I was truly blown away by the Clubhouse. Keeping in mind that Upper Class is really business class, I have to say that this was by far the nicest business class lounge I have ever been to, and even superior to most first class lounges I've been to.
The design of the lounge was sleek, with a bar area, lots of seats to lounge in, and even tables for enjoying a meal. To top it all off, they had some really relaxing music playing.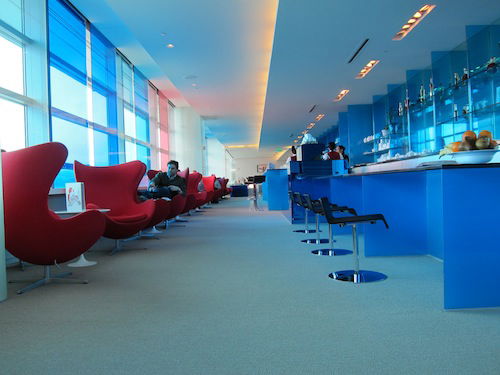 Virgin Clubhouse SFO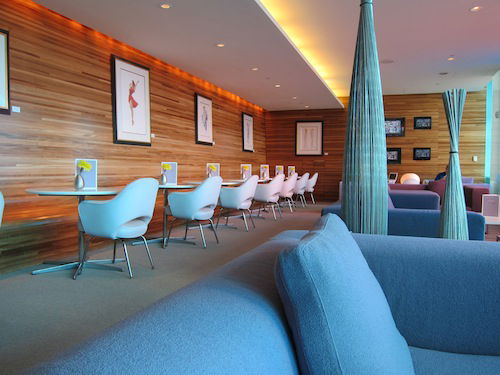 Virgin Clubhouse SFO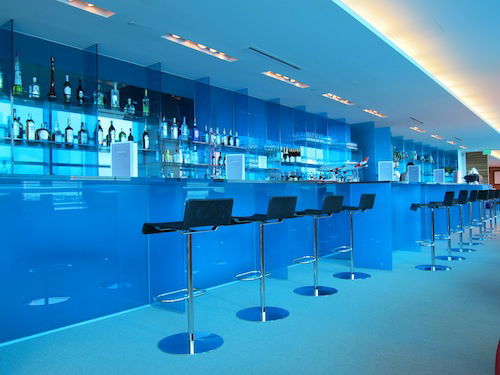 Virgin Clubhouse SFO bar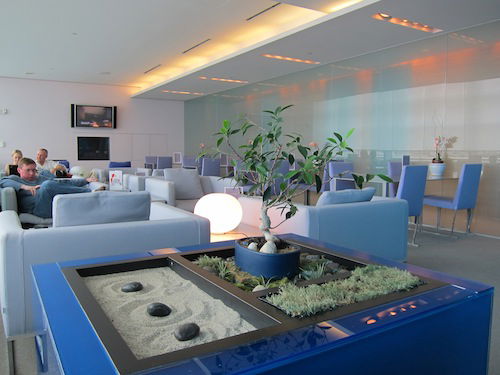 Virgin Clubhouse SFO
The lounge features free Wi-Fi (of course) along with two PCs.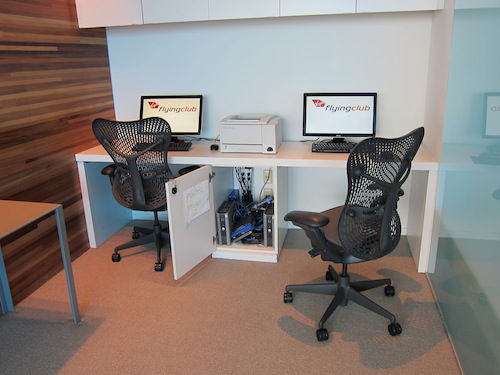 PCs with printer
The lounge also had several shower rooms, featuring Bumble & Bumble bath products.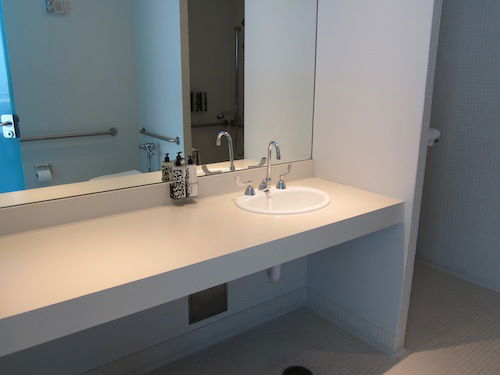 Shower room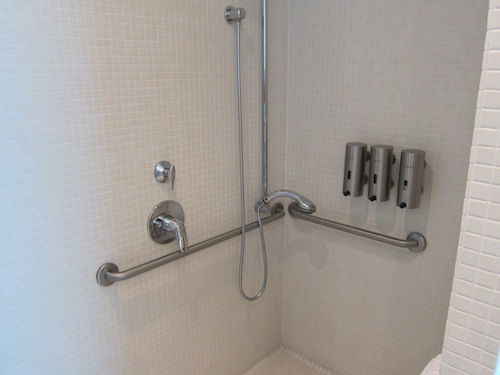 Shower
I decided to sit down at a table to get a bit of work done, and was immediately approached by a charming waitress that introduced herself as Kat and asked me if I wanted anything. I asked for a Diet Coke with lime, which was promptly served, and she also explained the menu to me. Since it would be another four or five hours until I got a meal aboard the plane, I figured I might as well eat something, though did so in phases.
The Clubhouse menu read as follows:
Dinner

Starters
Portobello Mushroom Soup
Roast Portobello mushrooms with barley, in a creamy vegetable broth and truffle oil.

Charred Ricotta and Roast Beets
Marinated ricotta cheese tossed with frisee leaves, roast beets, and a red wine vinaigrette.

Crispy Crab Cakes
Pan fried crab cakes served with a red pepper mayonnaise.

Main Courses
Sweet Italian Sausage and San Marzanno Tomato Pasta
With fresh basil, shaved parmesan and toasted bread crumbs.

Maple Glazed Salmon
On wilted kale with autumn squash.

Zucchini Frittata
Individual, baked frittata with topped with a salad of dressed rocket and roasted tomatoes.

Flying Club Sandwich
A traditional club sandwich of roast chicken, lettuce, tomato and bacon, served with a side of crisps.

If you require something a little lighter, we'll happily create a tuna mayonnaise club sandwich for you.

Desserts
West Coast Apple Cobbler
Warm apples, cinnamon crumble topping and vanilla bean ice cream.

Fresh Fruit Salad
Local and far fetched fruit chopped for easy eating.

Artisan Cheeses
Aged Cheddar, Humbolt Fog Goats Cheese and City Line Brie with biscuits and baked chutnie.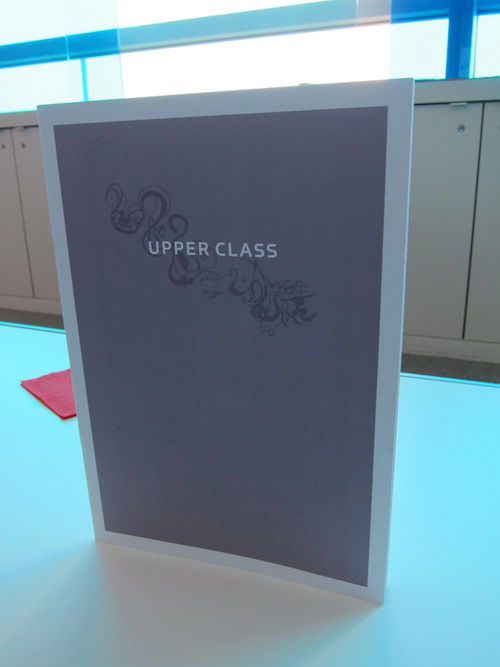 Clubhouse menu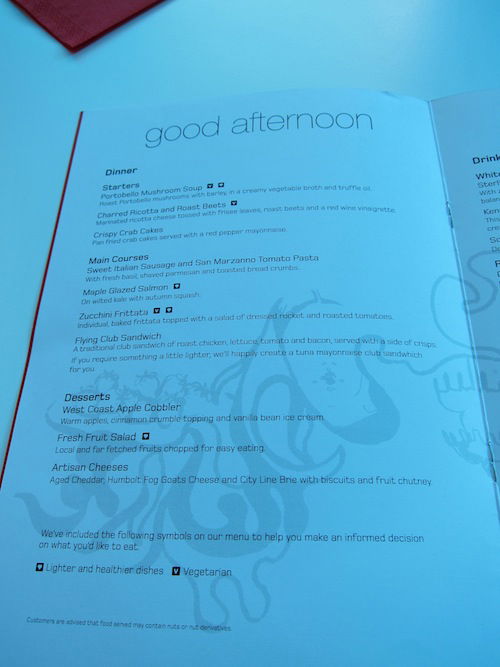 Clubhouse menu
First I ordered some crab cakes, and by Kat's suggestion went with a double order, since she said they were very small. They were served about 15 minutes later, and delicious.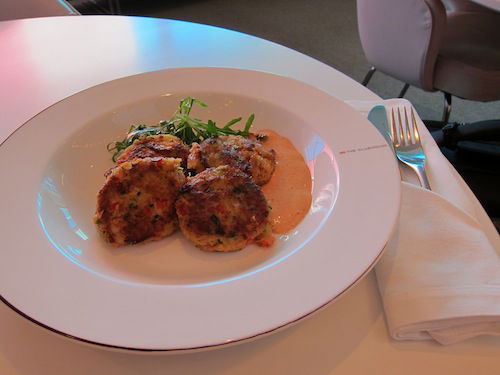 Crab cakes
The lounge slowly began to fill up as more people checked in for the flight to London. About an hour later Kat asked if I wanted anything else to eat, so I went with some mushroom soup, which was also delicious.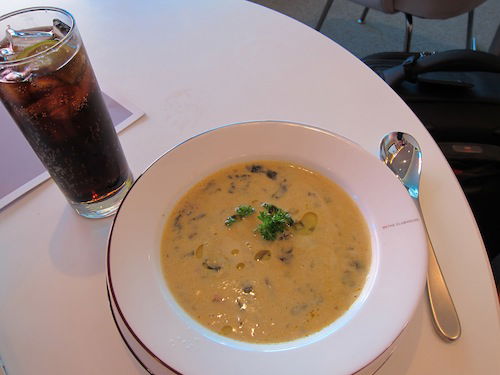 Mushroom soup
About 90 minutes before my flight, Kat came by again and asked if I wanted some dessert. I was hesitant, though she said the apple cobbler was especially good, so I went with that.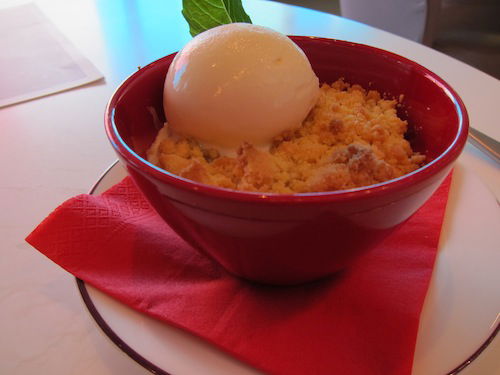 Apple cobbler
The lounge was probably the best I've been to in the US, possibly along with the Lufthansa first class lounge at New York JFK.
The lounge is amazing in every way. The food and drinks are great and the lounge is sleek and comfortable, but what impressed me most were the employees. Let's face it, it's tough to get good help nowadays in the US, especially if you don't work for tips. Hell, look at the United Red Carpet Club bartenders at Washington Dulles, who do count on tips, yet have the attitudes of prison guards. The ladies working at the Clubhouse were genuinely friendly, proactive, and wanting to please, and their positive attitude shined through to make the lounge spectacular, in my opinion.