---
After a lovely visit to the Clubhouse, which is located landside, I made my way airside about 70 minutes before departure, since I also wanted to walk around a bit before the flight. I headed for security, which was fairly quiet. While I was able to use the premium security line, I wasn't able to "self select" whether I wanted the full body scanner or metal detector. Sure enough they were sending everyone through the full body scanner, and as usual I opted out. I requested a private pat down. I'm always annoyed at the agents that quizzically ask why I choose to opt out, so I simply respond with "because I like to get my money's worth."
A couple of minutes of fondling later, I was good to go. The international terminal is quite nice, so I was happy to walk around for a bit, before heading to gate A11, which is at the very end of the pier.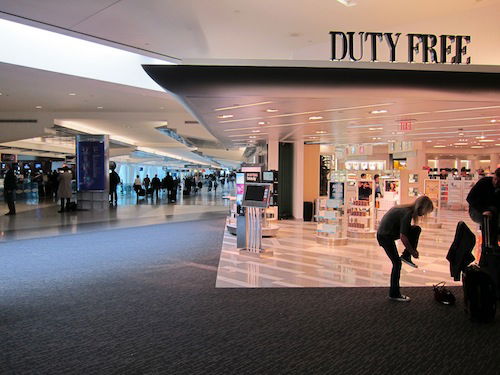 International terminal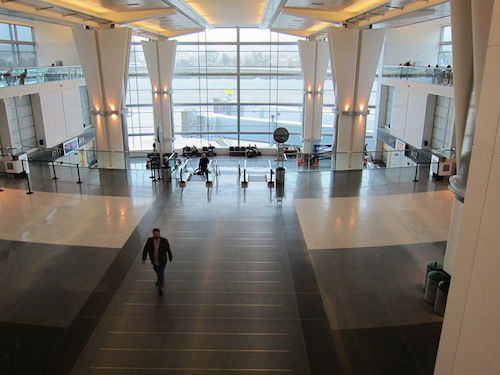 International terminal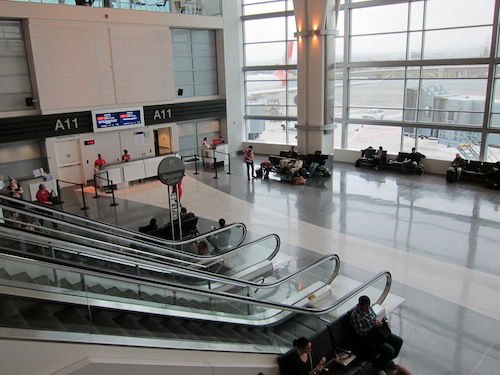 Gate A11

A340-600 taking me to London
About 45 minutes before departure boarding began with Upper Class, and the real fun began.
Virgin Atlantic 20
San Francisco (SFO) – London (LHR)
Sunday, March 6
Depart: 5:50PM
Arrive: 12:25PM (+1 day)
Duration: 10hr35min
Aircraft: A340-600
Seat: 11A (Upper Class)
Based on pictures that I had seen of the A340-600 cabin, I had assumed Upper Class would feel especially crowded, given that there are 17 rows of Upper Class seats in a single cabin, in a 1-1-1 configuration. I was hoping to fly the 747 because of that, given that there are several separate Upper Class cabins – in the nose, then a main cabin, and even some Upper Class seats on the upper deck.
My impression couldn't have been further from the truth. Yes, there were a lot of seats, but the cabin was sleek and each seat felt quite private. The flight attendant at the door welcomed me aboard and directed me to my seat, which was a little more than halfway back in the Upper Class cabin on the left side of the aircraft.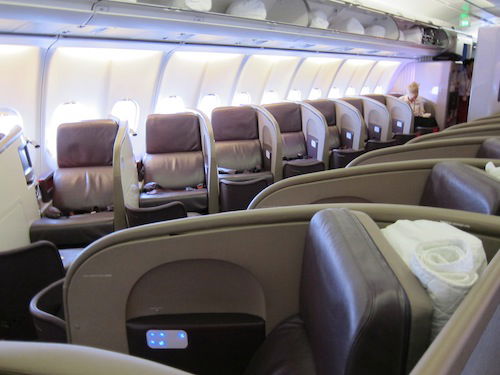 Upper Class cabin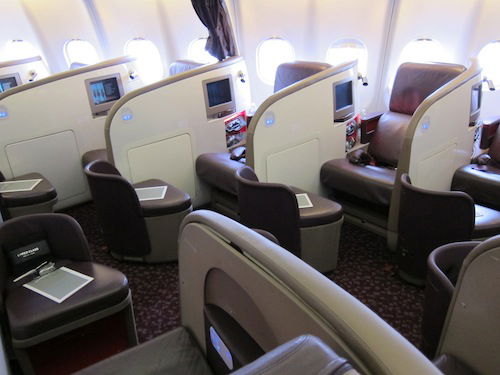 Upper Class cabin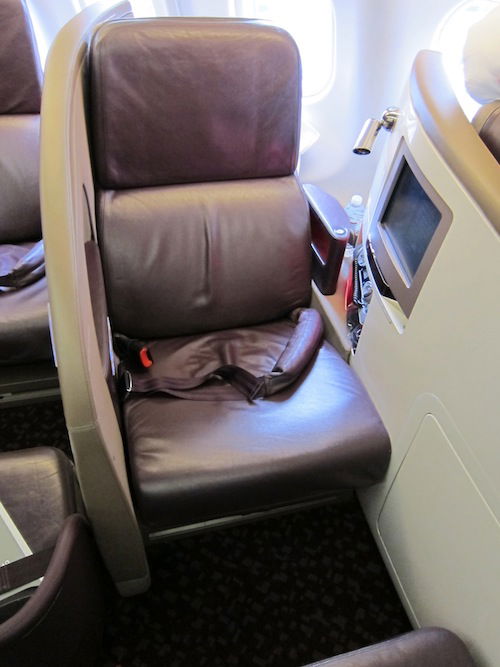 My seat, 11A
It's worth noting that while the cabin is in a 1-1-1 configuration, the center section seats face the left side of the aircraft for the first half of the cabin, and the right side of the aircraft for the second half of the cabin. In other words, I was actually happy to be sitting more than halfway back, since I was facing a wall instead of other passengers. So for those flying Upper Class on the A340-600, I suggest either sitting on the right hand side if you're in the front of the cabin or left hand side if you're in the back of the cabin.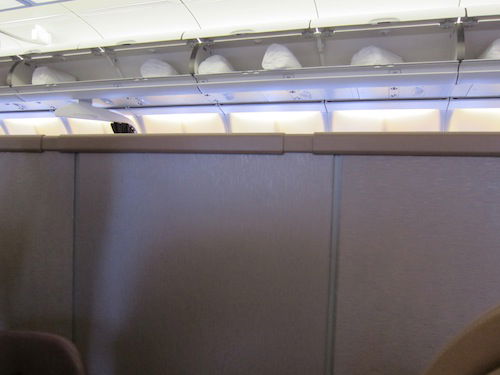 My favorite view, given how social I am!
Anyway, back to the flight. The mood lighting was on, the music was relaxing, and the cabin felt remarkably "fresh" despite having been around for quite a while now. On my ottoman was the menu and "snooze pack," and next to my seat was a bottle of water and noise canceling headphones.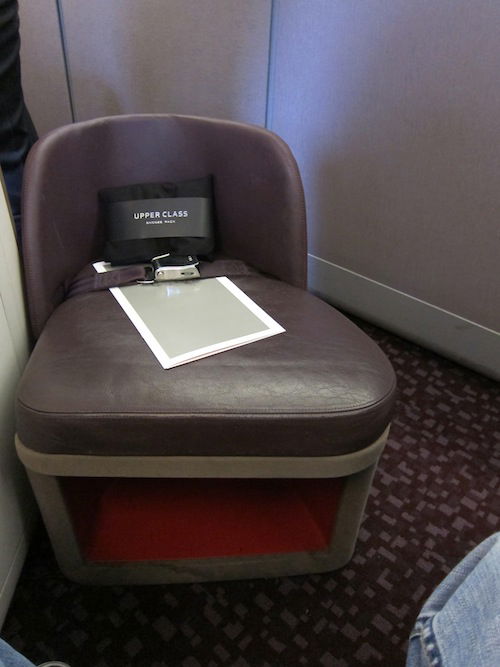 Ottoman, menu, and amenity kit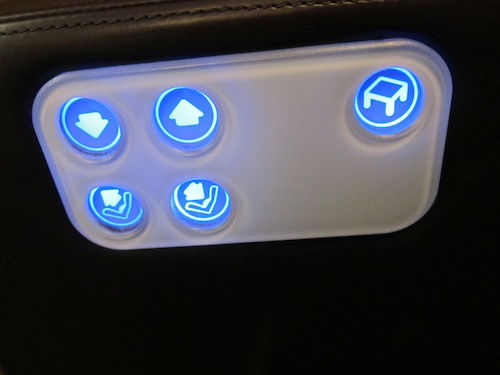 Seat controls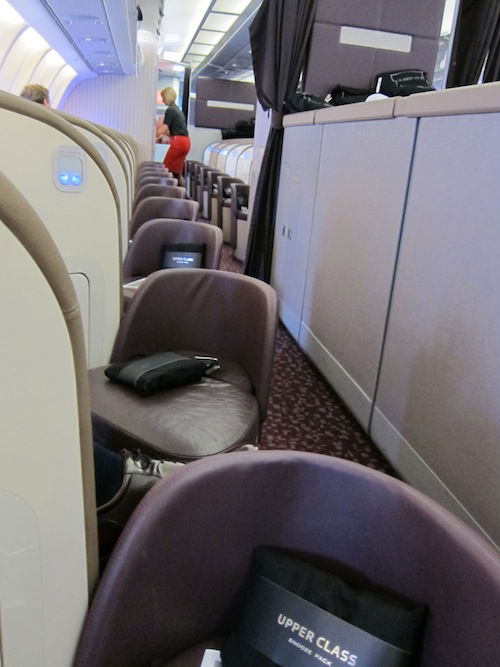 Cabin view from my seat
As soon as I settled into my seat a flight attendant came by to introduce herself and ask me if I wanted anything to drink. I went with ice water. She then told me about the flight and asked me if I was familiar with the seat, to which I responded that the seat looked awfully similar to that of Air New Zealand and Air Canada. She described the "lovely turndown service" they provide (her words), urging me to take advantage of it when I was tired. She also explained that I could have my seat in any position I wanted for takeoff and landing (which is awesome), given that it's a herringbone style seat. Lastly, she offered me a set of pajamas. A big thumbs up to Virgin for offering pajamas in business class — they're the first airline I've flown that offers pajamas in business class.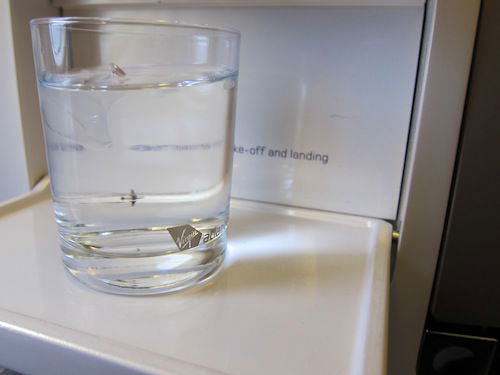 Pre-departure water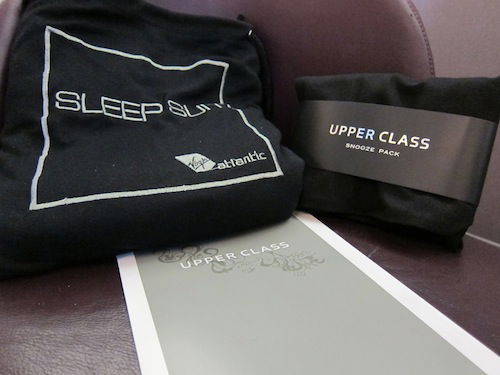 Pajamas, amenity kit, menu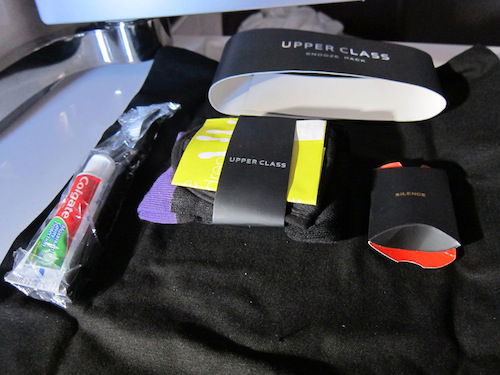 Amenity kit contents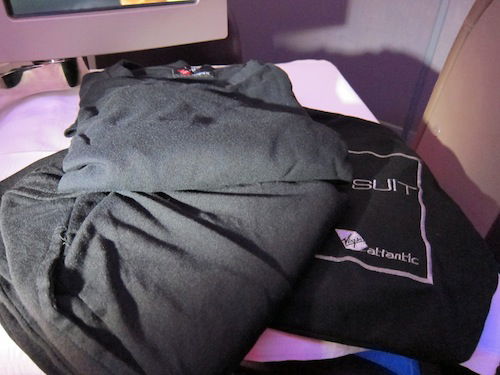 Pajamas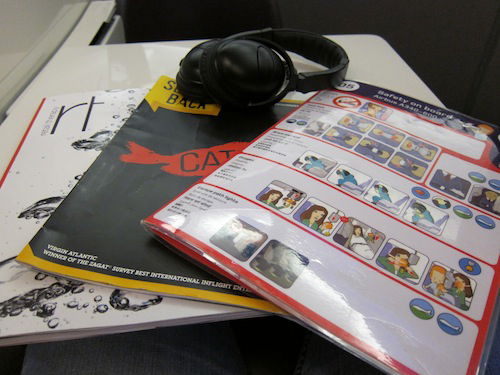 Headphones, safety card, duty free magazine, and in-flight magazine
As the cabin continued to fill up, I saw the flight attendants do the same for every Upper Class passenger, which I thought was impressive.
So before we go any further, let's bust myth number one about Virgin Atlantic. All the flight attendants aren't smoking hot, 20-something year old supermodels. In fact, they're perhaps marginally more attractive than average flight attendants, but just do a bit more to "maintain" their appearance and have confidence, which goes a long way. Don't get me wrong, they were attractive, but I was happy to see they were actually professional as well. Besides, I really don't like being fed by supermodels.
About 10 minutes before departure time the flight service manager asked all ground personnel to leave the aircraft, advising us of the flight time of 9hr30min. She informed us that there were 292 passengers and 16 crew on the flight as well (only two Upper Class seats were empty). The safety video began to play, which was quirky. I'm all for creative safety videos, as it's the best way to make passengers actually pay attention to what they're saying.
Here's the safety video:
https://www.youtube.com/watch?v=YoR5Unk7oGA
Despite the weather not being especially nice and there being flow control, we pushed back early and started our quick taxi to runway 10L. Now, I'm a seasoned traveler through SFO, given that I connect there probably 50 times a year, but never have I taken off from runway 10L.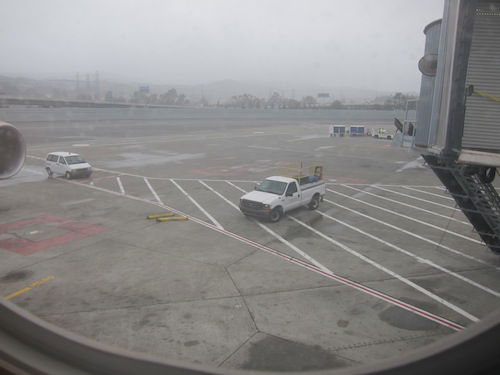 Pushing back from the gate
Sure enough we were quickly airborne with a bit of turbulence on the climb out, though after about ten minutes the ride smoothed out and the seatbelt sign was turned off.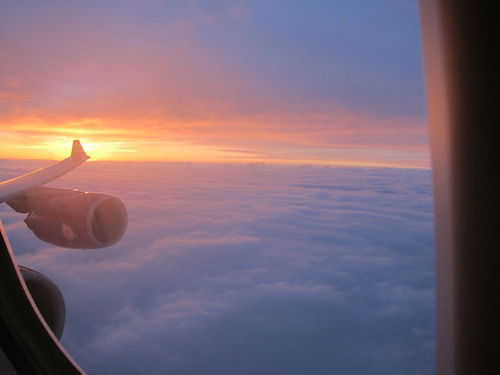 View on climb out
As we leveled off hot towels were distributed. Not that it's surprising given that Virgin Atlantic flies exclusively longhaul, but the flight attendants have the overnight service down to a "T" in terms of efficiency.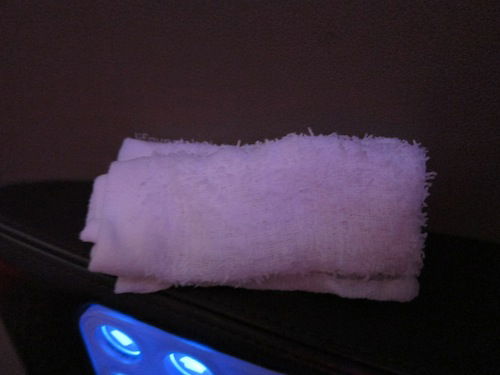 Hot towel
About 30 minutes into the flight the entertainment system was turned on. It's beyond me why they can't turn it on earlier, as many airlines even turn the system on while on the ground. It would be nice to at least be able to see the airshow while climbing out. I found the entertainment system controls to be a bit counter intuitive and slow to respond, so I spent quite a bit of time getting used to it.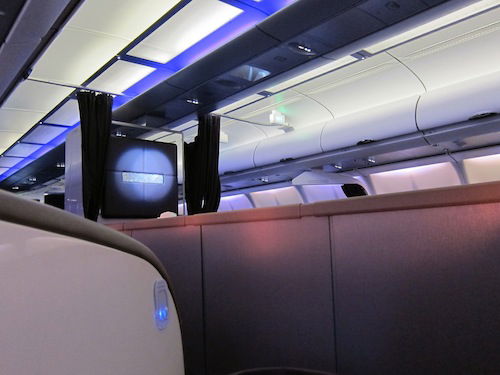 Mood lighting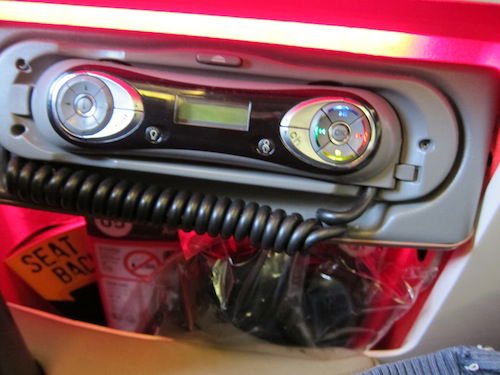 IFE controls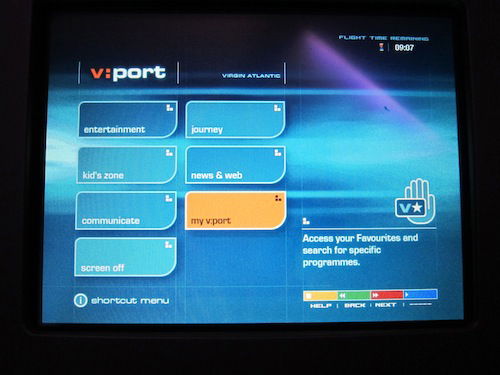 IFE
The flight attendants began setting up the bar, which is located behind the Upper Class cabin, which is also where they prepare drinks during the meal service. The flight attendants came around taking beverage orders, and I went with a Diet Pepsi, which was served with the choice of olives or snack mix (I went with olives).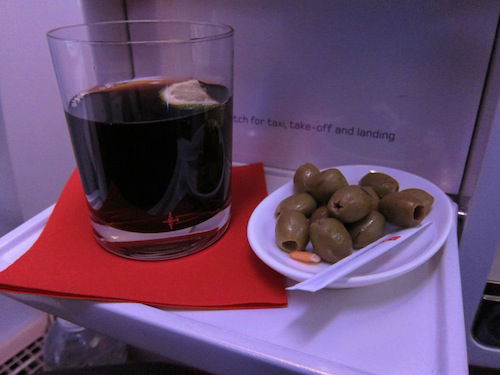 Diet Coke and olives
Then dinner orders were taken, and passengers were asked whether they wanted to be woken up for breakfast and whether they wanted to make a duty free purchase.
The dinner menu read as follows:
Dinner

Starters
Grilled chicken take-out style salad with tandoori Caesar dressing

Butternut squash soup with a swirl of spiced crème fraiche

Warm Breads
Your choice of warm breads – Pretzel Roll, French pistolet, sourdough or wholewheat roll

Main Courses
Steak and mushroom pie with mashed potato, green beans and pear tomatoes

Wild Alaskan whitefish and langoustine lobster with sherry cream sauce and spinach fettuccini

Cheese filled tortellini pasta with minted pea cream sauce and a drizzle of chilli oil

Dessert
Saigon cinnamon cake with crème anglaise

Caramel flan with crème anglaise
And the wine list read as follows:
Wine

Champagne
Champagne Pannier Brut Selection nv

White
Pinot Gris 2010 Spinsanti, Argentina
Falerio 2009 Saladini Pilastri, Italy
Chardonnay 2009 Domaine d'Antugnac, France

Red
Minervois 2007 L'Ostal Cazes, France
Pinot Noir Coastal Reserve 2010, Clava, Chile
Chateau Blanquine 2007, Bergerac, France
I ordered the salad and then pasta, and indicated I wanted to buy an adapter from duty free (since I had loaned mine to my mom, only to find out that she loaned it to someone else… gar!).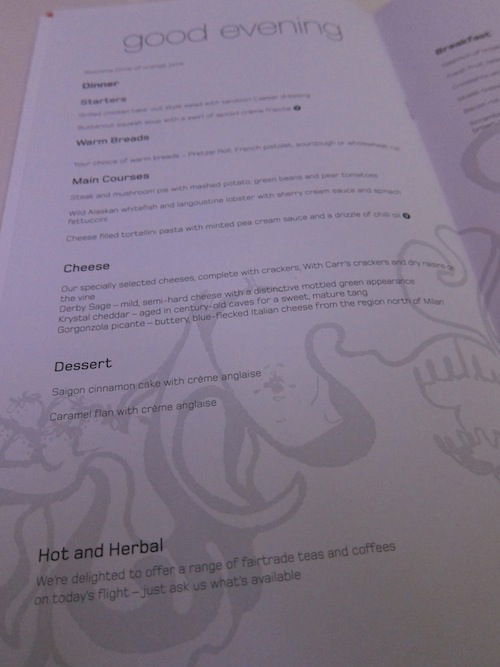 Dinner menu
Once meal orders were taken, tablecloths were distributed, followed quickly by tableware and bread. I do love the little airplane salt and pepper shakers! I went with garlic bread and a pretzel roll.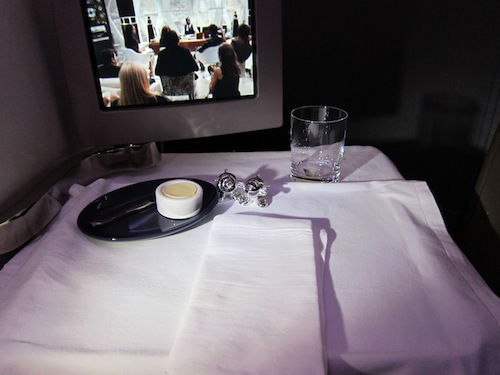 Setup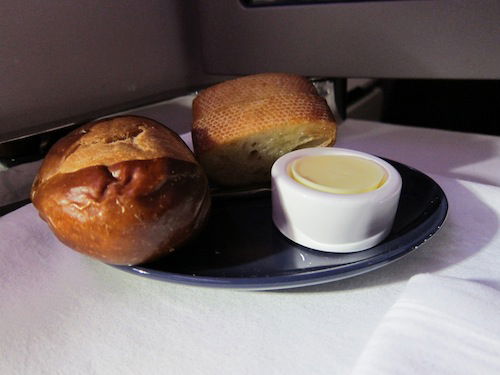 Bread
While I can see it as being "trendy," I suppose, it cracks me up that they serve "take-out style" chicken salad. Since when is take-out desirable? Anyway, I felt like it actually "worked," though it cracks me up nonetheless.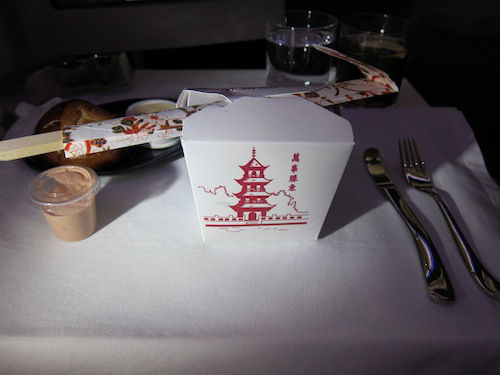 Chicken salad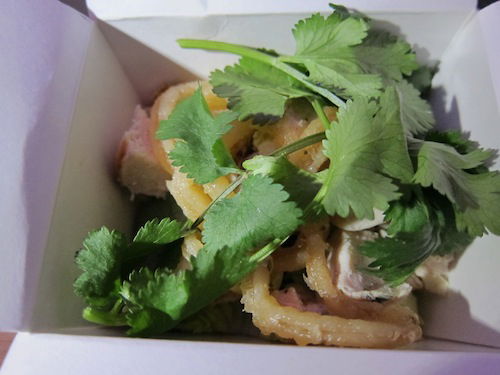 Chicken salad
Anyway, the chicken salad was quite good, and I also decided on a movie, "Get Him To The Greek," starring Russell Brand and Jonah Hill.
Once the appetizer was cleared the main course was served. In this case I wasn't a fan. Not only was it tasteless, but it was a small portion (which I'm fine with on an airplane, since I have a tendency to eat whatever the heck I'm served).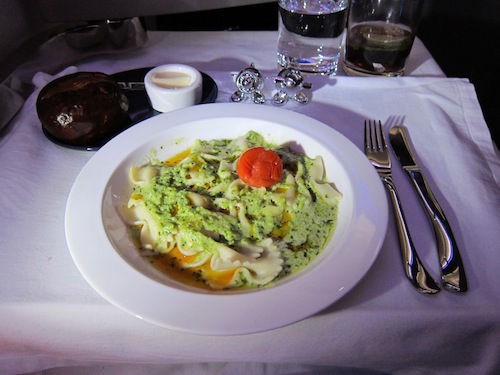 Main course
After the main course I went with the cake for dessert, which more than made up for the bad main course.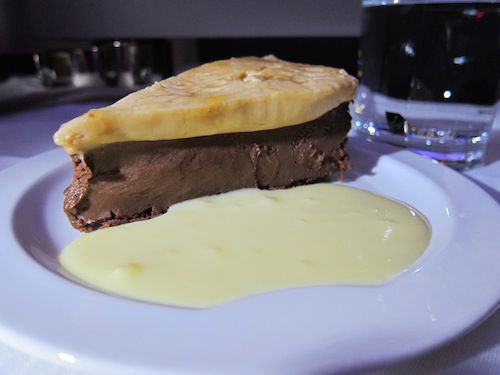 Dessert
Given that I had previously heard that the food on Virgin Atlantic is inedible, I was very pleasantly surprised. Not only was the food better than I expected, but the service exceeded my expectations. The flight attendants were genuinely engaging, friendly, and always smiling.
After dinner the cabin lights were dimmed and I finished up "Get Him To The Greek," which was pretty funny. The flight attendant came back to finish my duty free purchase, so I gave her my credit card and passport for the £10 adapter. She delivered it about 20 minutes later in a bag, though as I later found out, unfortunately she had given me the wrong thing (which I blogged about here). Too bad I only found out when I made it to my hotel room in London!
This is probably a good time to talk a bit about the onboard bar, which is located at the back of Upper Class. It's definitely one of those gimmicks that everyone thinks is cool, though I find it to be rather impractical for a few reasons. First of all, on my flight the same three or four people were at the bar for five hours, literally from right after takeoff till more than halfway through the flight. This makes it fairly difficult to get to the lavatories, because people standing at the bar block the aisle leading to the lavatories. They were also quite loud, so I would hate to be in the last couple of rows of Upper Class, as they could easily keep anyone up.
The bigger issue, though, is that the bar takes up a disproportionate amount of crew resources. Between dinner and breakfast the flight attendants alternate between taking a break and being on duty, and the two Upper Class flight attendants were both manning the bar for almost the whole time.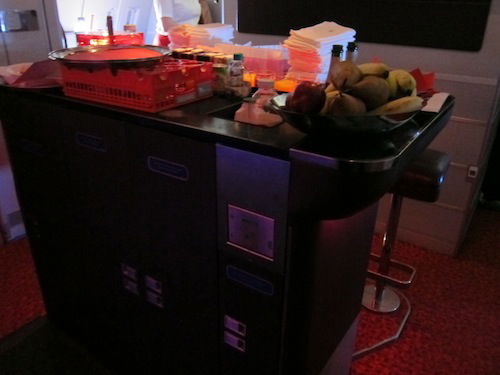 Onboard bar
When I wanted turndown service I pushed the flight attendant call button (since I couldn't find a flight attendant at that point), and it went unanswered for five minutes. I pushed it again and it still went unanswered. So while I don't blame that entirely on the bar, the crew did seem to be very, very busy.
Once the turndown service was complete I decided to get some shuteye, and slept for about four hours, till we were about two hours out of London. This might sound insignificant to some, but for me it's massively important – Virgin Atlantic has individual air nozzles, which is much appreciated, especially after experiencing the "sauna cabins" of some other European airlines that don't have individual air nozzles.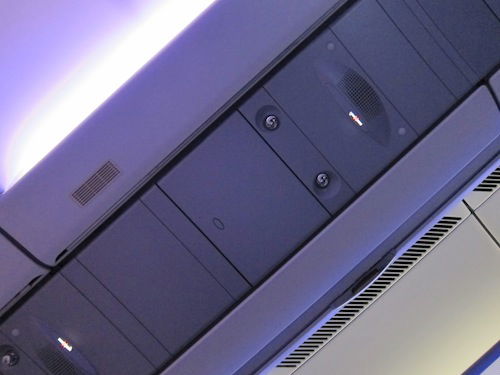 Air nozzles!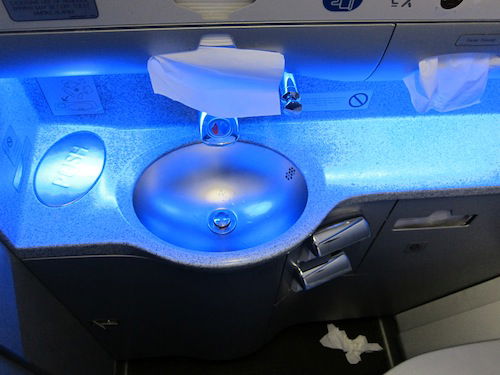 Lavatory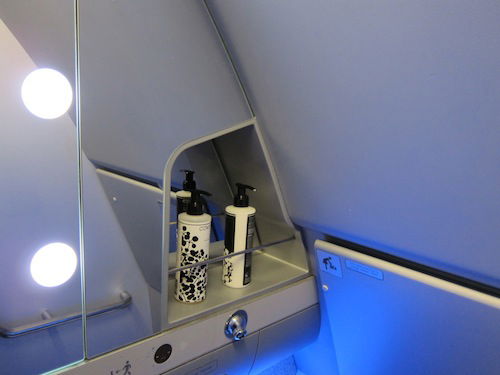 Lavatory with Bumble & Bumble products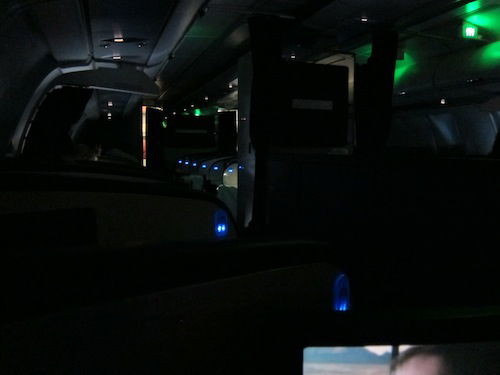 Dimmed cabin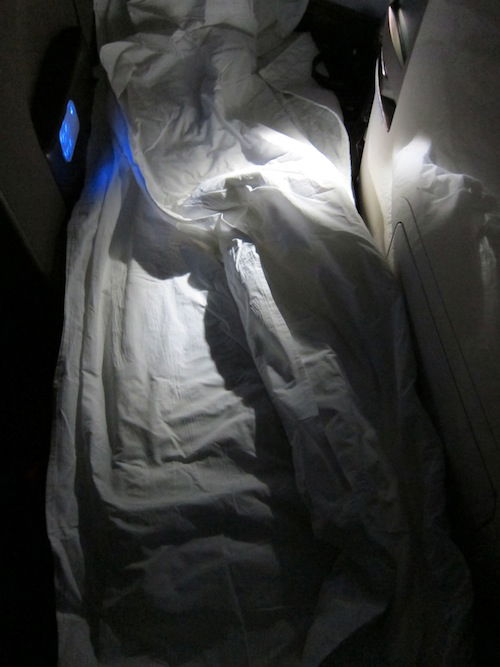 Bed with turndown service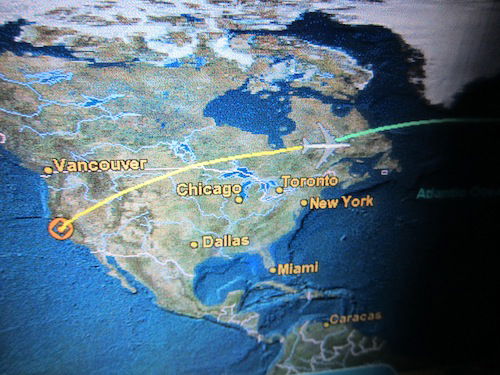 Airshow
At that point I decided to watch another movie, and went with "Due Date," which was laugh out loud funny. I'm still laughing my rear off about the dog in the movie.
About 90 minutes out of London the crew began breakfast service for those that were awake. The breakfast menu read as follows:
Breakfast
Selection of breakfast cereals – choose from Cornflakes, Weetabix, Rude Muesli, or Special K

Fresh fruit salad with plain yoghurt

Croissants with butter and your choice of jams

Muesli-topped apple muffin

Bacon roll made on soft white bread with ketchup or brown sauce

Scrambled eggs with cream cheese, grilled Irish bacon, banger sausage, potato hash brown, button mushrooms and cherry tomato
I went with the fruit salad, a croissant, and the scrambled eggs minus the meat. I had an orange juice with breakfast. The scrambled eggs were tasty (not runny), the croissant was fresh, as was the fruit.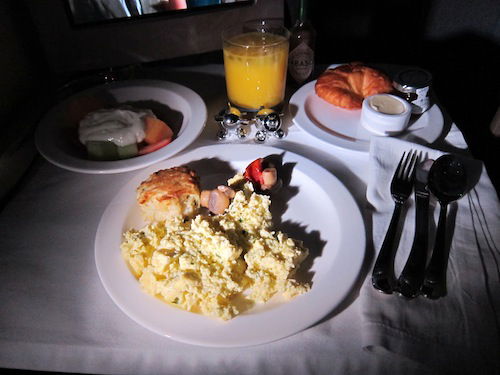 Breakfast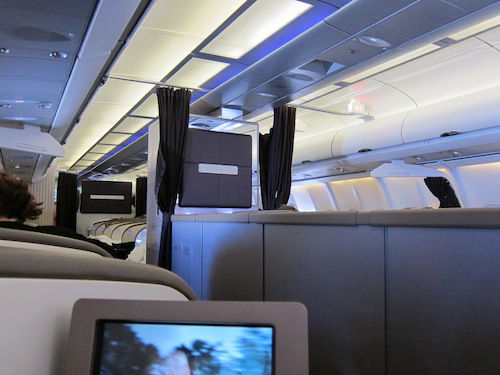 Cabin in the morning
About 40 minutes out of Heathrow the captain came on the PA for the first time to advise us that we would be arriving in London about 40 minutes early, and thanked us for flying Virgin Atlantic. As we began our descent the seatbelt sign was turned on, and it looked like a beautiful day in London. The flight attendants came around with arrival forms and "Fast Track" passes for immigration.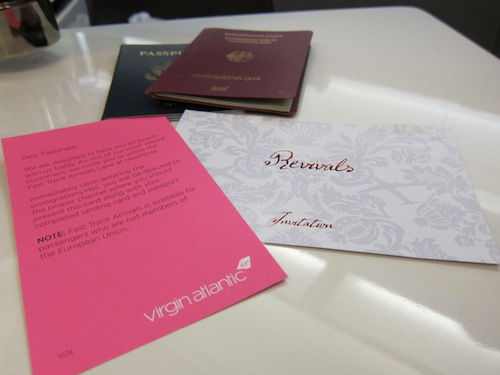 Fast Track pass and Revivals invitation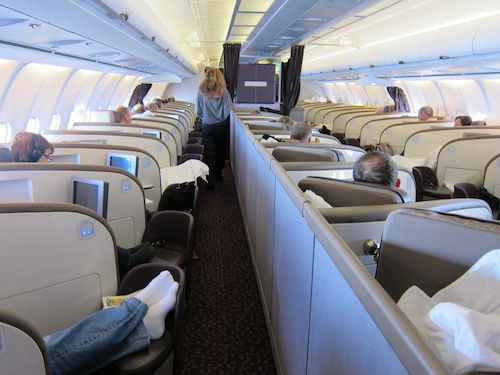 Cabin before landing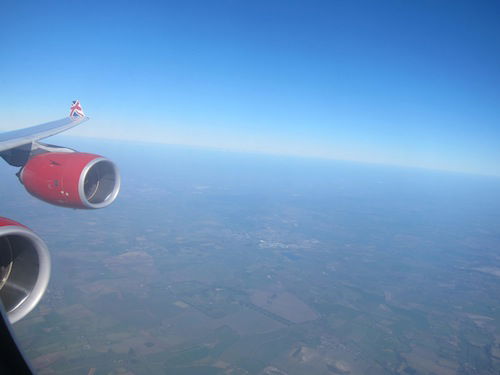 View outside
Surprisingly enough we didn't have to enter a holding pattern, though after a smooth touchdown we had a long taxi to the gate. Upon arrival we deplaned through 1L as the very friendly crew bid everyone farewell.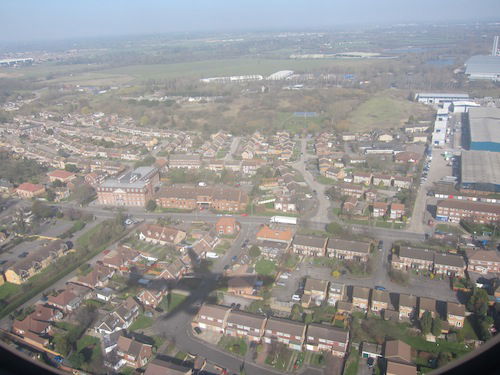 Final approach
While the immigration line was quite short, it was probably a mile walk to get there. So about 20 minutes after landing I was in the arrivals hall ready to freshen up in the Revivals Lounge.