—————————————————————————————–
Note: This post is very similar to my Mega Trip #1: Awards in Qatar Airways First Class & Virgin Atlantic Upper Class post
In late December I realized I didn't have anything planned for spring break yet, so it was time to change that. I had no clue where I wanted to go, but I did know that I wanted to visit a new destination and try a new airline. That narrows it down quite a bit, given that I've flown almost all of the "major" alliance airlines.
I've always been fascinated by Qatar Airways, mainly because they're one of the few top notch airlines that have truly unattainable premium cabins for award passengers… or so I thought. They advertise themselves as "the world's 5-star airline," so how could I not be hooked? While Singapore Airlines, Cathay Pacific, Swiss, Lufthansa, British Airways, Emirates, etc., all have top notch cabins and are highly regarded, up until now their premium cabins have been fairly attainable. Perhaps adding to the mystique is that there's no practical way to search Qatar Airways award availability online. Besides, other than Lufthansa, Qatar Airways is the only other airline I know of that drives their first class passengers on the tarmac in luxury sports cars to the plane.
Now, there were two trends I noticed around the time I started planning. First of all, there were rumors of Qatar Airways eliminating their first class product entirely. As of now they don't offer a first class product to the US, but rather only to a few European gateways. Furthermore, there were constant rumors of British Midland's Diamond Club program being merged into Lufthansa's Miles & More program, which would have meant a huge devaluation in the value of Diamond Club miles.
I had always noticed Qatar Airways listed as one of British Midland's partners for award redemptions, and at 80,000 miles roundtrip in first class between Europe and Doha, it sounded like quite a deal. Like many, I had assumed that even though they're listed as a partner, first class awards are next to impossible. I mean, they must be, because I don't remember the last trip report I read about Qatar Airways where someone talks about redeeming miles for first class.
So I mustered up the courage to call up Diamond Club. I say "mustered up the courage" for a few reasons. First of all, they only have a UK phone number, and my computer's mic was broken, so I had to find a landline. More importantly, though, British Midland has one of the worst outsourced call centers out there, and that's if you can even get through. In the past, I simply got a busy signal 90% of the time.
So then I did call Diamond Club, and sheepishly asked about Qatar Airways first class award availability between London and Doha. I fully expected to be laughed at, maybe with the agent throwing in something along the lines of "and did you want a seat on the next space shuttle to the moon too?"
But that's not the response I got. Instead, after putting me on hold for a few minutes, I was told "not a problem, did you want the flight at 8AM, 11AM, or 8:30PM?" I simply responded with "whichever is available," to which the agent responded with "they're all available in first class, sir." I was convinced that the agent saw the availability for a revenue ticket, but hadn't actually "requested" the award space yet. So after a bit of back and forth I figured "what the heck, I'll play his game." With no plans to actually take the trip, I still decided to try and ticket the reservation, just to make sure it would actually go through. After all, it would be an incredibly valuable data point, and at the end of the day, their reasonable cancellation fee wasn't much of a deterrent. Sure enough, for the return, he gave me three options as well, exactly on my preferred date. Literally every flight that day had availability.
Three days, 80,000 miles, and $388USD in taxes/fees later I had an e-ticket receipt for Qatar Airways first class in my inbox that I really didn't know what to do with.
Well, the rest is history. I wasn't going go turn down the opportunity to fly Qatar Airways first class, let alone the opportunity to experience their premium terminal. Even though I've heard Doha is a bit of a dump, seeing a new country in a new region for two days sounded like fun as well. Besides, with the unrest the Middle East right now, who knows for how much longer I'll have the opportunity!
The next challenge proved to be figuring out how to get to London. There were so many options: British Airways, US Airways' new Envoy product, Air New Zealand, Lufthansa via Germany, etc. In the end I decided on Virgin Atlantic, an airline I haven't flown yet.
Like any smart consumer, I booked my tickets on Virgin Atlantic not via Virgin Atlantic Flying Club directly or even Continental OnePass, but rather via All Nippon Airways Mileage Club (a transfer partner of Membership Rewards and SPG). Based on the award availability I found on virginatlantic.com, I decided to fly from San Francisco to London on the outbound, since it's one of the longer transatlantic flights out there, and San Francisco is one of only two airports in the US with a "Clubhouse" lounge. I hate transatlantic flights leaving from the east coast because they don't allow for any proper sleep, so I was happy to fly from the west coast. For the return, I decided to fly from London to New York JFK on Virgin Atlantic, since for a daytime flight I really couldn't care less how long it is. Total cost? 68,000 miles (since ANA has a distance based award chart and the roundtrip distance of this ticket is just under 9,000 miles).
Then I had to figure out hotels. I had one night in London each way and three nights in Doha that I needed to book a room for. I started with Doha, where I initially booked all three nights at the Grand Hyatt using points. 15,000 points per night was a bit steep, but the revenue rate was pretty high too. Eventually I decided to look at the possibility of using some of my "Sweet Dilemma" nights from Priority Club's recent promotion for the InterContinental Doha. I was hesitant, since after reading many reviews, the InterContinental Doha doesn't give Royal Ambassador members club access, so I'd likely be stuck paying for internet and quite a bit in food, bottled water, etc. Well, sure enough I searched for "Sweet Dilemma" space, and not only did they have rooms available, but they were offering club rooms available using the promotional nights! So that gets me a club suite using my promotional nights, which is an unbeatable deal.
Then it came time to book hotels in London. My first layover was 22 hours, while my second one was a bit shorter, not to mention I wanted to arrive way early at Heathrow to experience the Clubhouse. So after a lot of back-and-forth, I decided on the Hotel Indigo Paddington in London for my first stay. I redeemed a "Sweet Dilemma" night for the stay, which booked right into one of their larger, executive rooms. The hotel is right next to Paddington Station, which is less than 20 minutes from Heathrow. Yes, the Heathrow Express is crazy expensive, though I did manage to find a 50% off code, which made it a bit more reasonable. This would allow me to see London for a few hours, and best of all, the hotel offers free wireless internet (where the heck else do you get that in London?). A generous blog reader sending me first class upgrade coupons for the Heathrow Express was the icing on the cake.
I then booked separate United flights from Tampa to San Francisco (via Washington) and New York to Tampa (via Washington), though I won't cover those here because they were just boring domestic flights. In the end, my award flight itinerary looked like this:
March 6, Virgin Atlantic 20, San Francisco to London, 5:50PM-12:25PM (+1 day)
March 8, Qatar Airways 8, London to Doha, 11:00AM-8:30PM
March 11, Qatar Airways 1, Doha to London, 12:50PM-5:30PM
March 12, Virgin Atlantic 45, London to New York, 12:00PM-3:05PM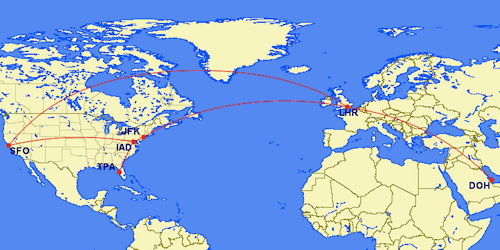 Sit back, relax, and enjoy the report. I'll be picking up at the Hyatt Regency San Francisco Airport shortly.