---
At around 10:45AM I headed for gate 19, where my flight to New York was to depart from. The corridors leading to the gates (and the gates themselves) are narrow and almost like a prison facility, so I probably should have spent a bit more time in the lounge. Before you enter the "secure" gate area they check your passports and already rip off your boarding pass stub. While the line was long, there was an Upper Class line where there was no wait.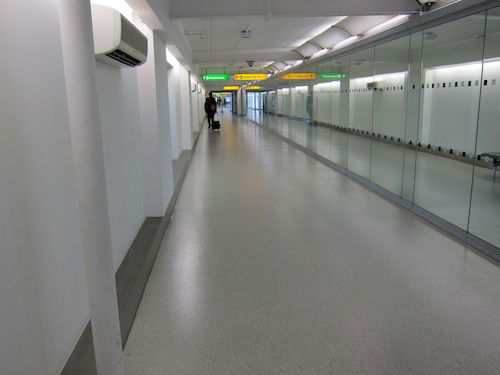 Corridor to gate
Now, my flight was scheduled to be a 747, though I noticed an A340-600 at the gate. I wasn't sure if maybe the jet bridge from the gate we were at led to a different plane, as it was hard to tell, so I asked the gate agent if there was an aircraft substitution. She said there was not. I responded with "but this was supposed to be a 747 and that's an Airbus 340, isn't it?" She responded with "no, that's a 747."
Sure enough there was an aircraft substitution, which now explains why they were looking for volunteers to take another flight at check-in, since the 747 has about a dozen additional Upper Class seats.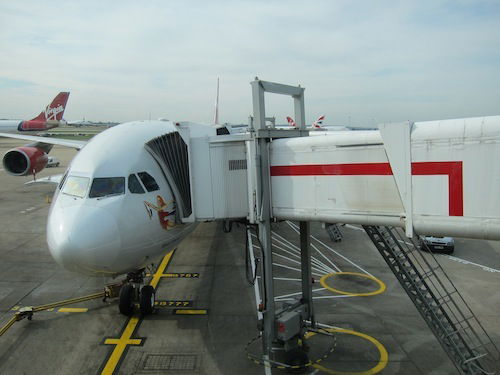 A340-600 at gate
The A340-600 is a great plane, so I didn't mind the swap one bit, other than the fact that I was in 15A, which is three rows from the back, and I was concerned about noise from the bar.
At about 11:15AM boarding was announced, and on I went.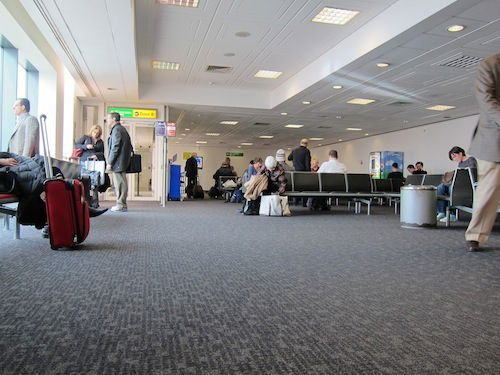 Gate area
Virgin Atlantic 45
London (LHR) – New York (JFK)
Saturday, March 12
Depart: 12:00PM
Arrive: 3:05PM
Duration: 8hr5min
Aircraft: A340-600 (substituted for B747-400)
Seat: 15A (Upper Class)
After the long trek to seat 15A I settled in and was almost immediately offered a drink. The crew on this segment was equally excellent as on the outbound. I went with orange juice, and as it was served the flight attendant offered to describe the features of the seat again.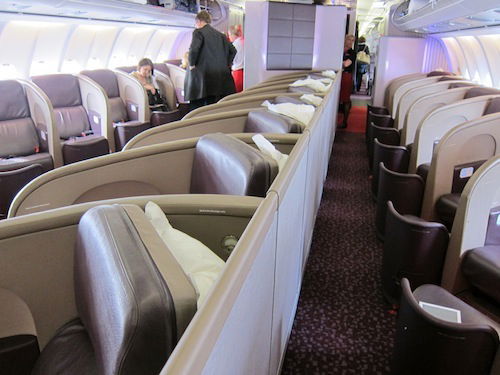 Upper Class cabin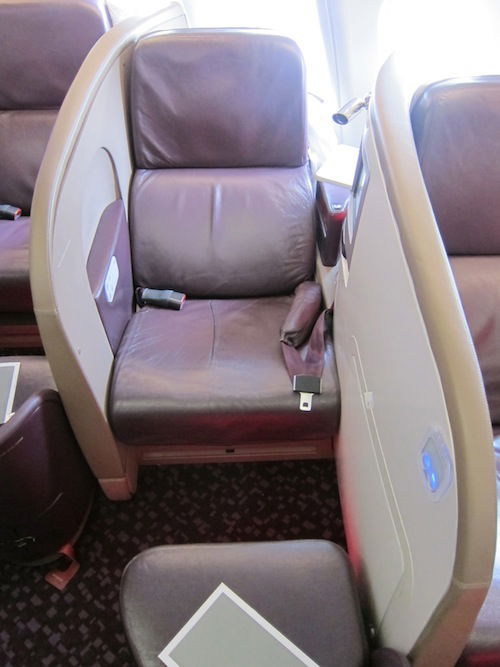 Seat 15A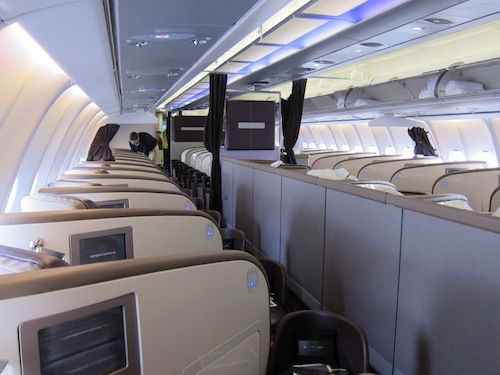 Upper Class cabin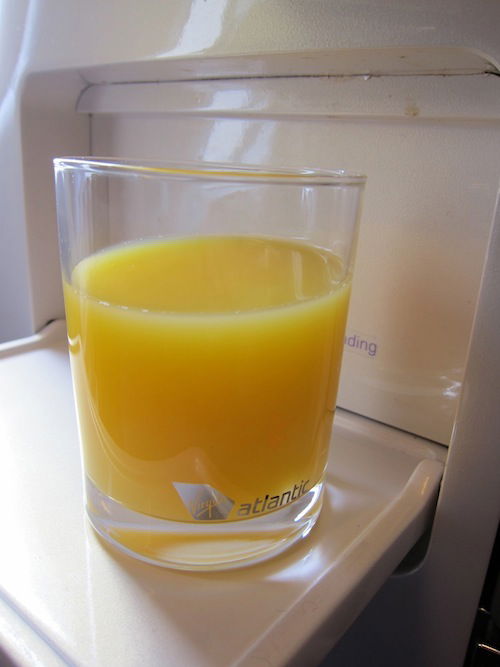 Orange juice
The cabin slowly began to fill up, with a lot of dazed looks on peoples' faces as they tried to figure out where they were sitting due to the aircraft swap. Most entertaining had to be the lady seated immediately behind me. She was an uppity, over-caffeinated New Yorker type, and outraged that they changed "her" plane. She said she always chooses 16A, which is in the nose of the 747, and didn't like sitting so far back. We ended up talking for a bit, though she had me tired after about three minutes. Put down the caffeine, lady!
On my seat once again were the snooze pack and menu for this segment.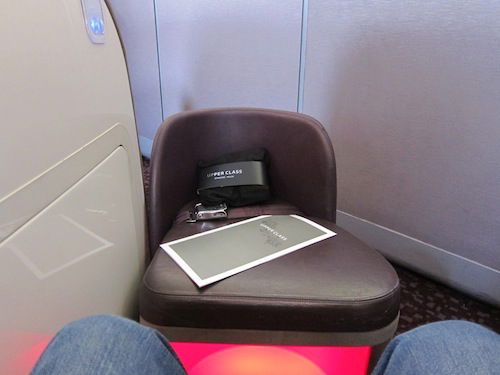 Menu and Snooze Pack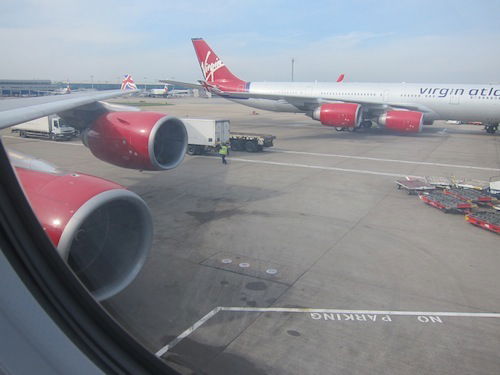 View out the window
I also love Virgin Atlantic's boarding music, in particular "Rolling in the Deep," which has been stuck in my head since the flight:
As boarding finished up Captain Simon (don't expect that name in the UK, do ya?) informed us of our flying time of 7hr23min, apologizing for the aircraft change and any confusion that came with it. He also mentioned that there were departure delays, so it would be 10-15 minutes before we pushed back.
Shortly thereafter the departure announcement was made, saying that there were 307 passengers and 17 crew aboard the aircraft. The safety video then began to play.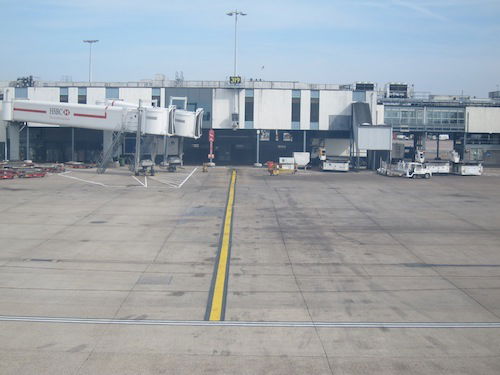 Gate after pushback
Soon enough we were taxiing to runway 9R, where we took off after a US Airways A330-200.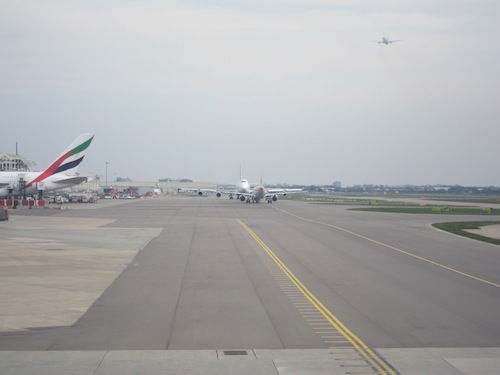 Wonder who's gonna win that battle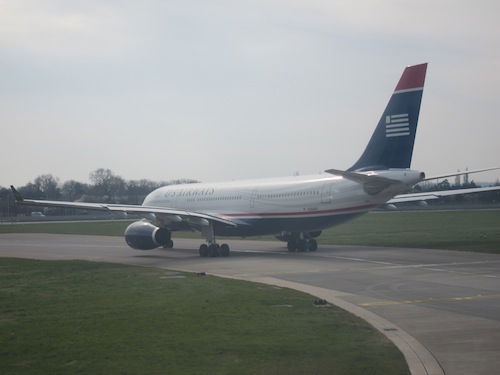 Number two for takeoff
The seatbelt sign was turned off a few minutes after takeoff and the flight attendants started setting up the galley and bar area, while one of the flight attendants offered scorching hot towels.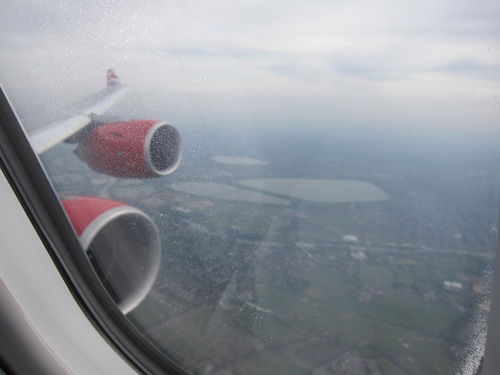 View after takeoff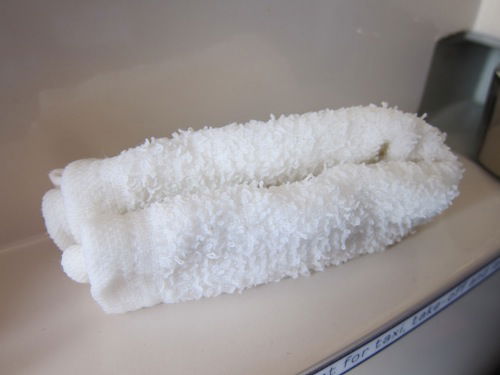 Hot towel
The actual drink service started maybe 30 minutes after takeoff, at which point the entertainment system still wasn't turned on. Not only that, but my electronic seat controls were broken, so I couldn't adjust my seat. Apparently more passengers were having problems, so the purser announced she would reset the system, which she said could take up to an hour. Seriously?!?
Once drink orders were taken I ordered a Diet Coke with lime, though as is the norm outside the US, they took the liberty of swapping in a lemon. Drinks were served with crisps or some sort of ham dish with olives. I went with the ham dish and was later offered crisps, which I accepted as well.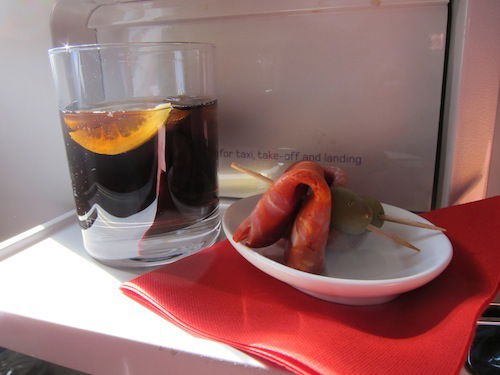 Diet Coke and ham with olives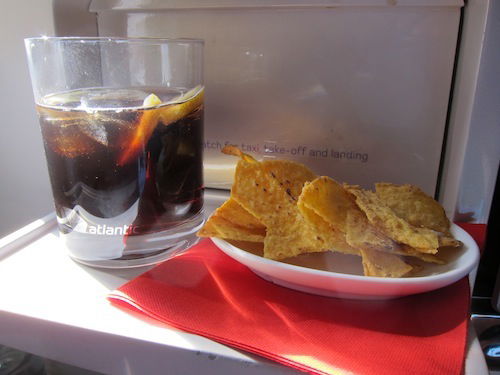 Diet Coke with crisps
Fortunately about an hour after takeoff the seat controls were working again, and 20 minutes after that the entertainment system was operational.
At that point meal orders were taken. The lunch menu read as follows:
Lunch

Starters
Oak Smoked Scottish salmon fillet with Tabouleh, tomato and herb dressing topped with pea shoots and shiso cress

Watercress and potato soup with a swirl of spring onion creme fraiche

Warm Breads
Your choice of warm bread rolls

Main Courses
Pork loin topped with glazed apple and Somerset cider sauce, course grain mustard mashed potatoes and sauteed cabbage and red onion

Pan-seared cod fillet with salsa Verde, buttered new potatoes, carrot ribbons and fresh asparagus

Fresh Macaroni, sauteed wild mushrooms and baby spinach bound in mascarpone sauce with cashew nut, feta and breadcrumb top

Dessert
Apple and Blackberry steamed sponge pudding with cinnamon crème analgise

New York style baked chocolate marble cheesecake with cherry compote
And the wine list read as follows:
Wine

Champagne
Champagne Pannier Brut Selection nv

White
Pinot Gris 2010 Spinsanti, Argentina
Falerio 2009 Saladini Pilastri, Italy
Chardonnay 2009 Domaine d'Antugnac, France

Red
Minervois 2007 L'Ostal Cazes, France
Pinot Noir Coastal Reserve 2010, Clava, Chile
Chateau Blanquine 2007, Bergerac, France
I went with the potato soup, salmon filet starter, and cod.
As usual, the table setup was pretty cool, with the little airplane salt and pepper shakers.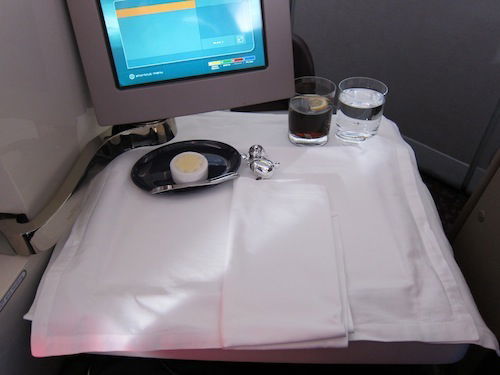 Table setup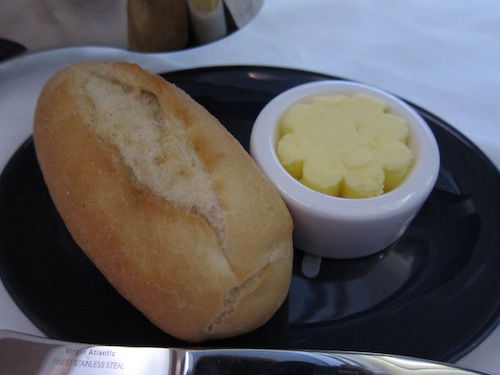 Bread
The first course was the soup, which was quite good, despite not looking especially appetizing.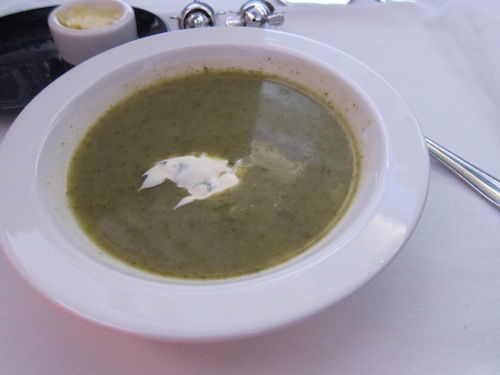 Soup
The next course was the salmon filet, which was excellent.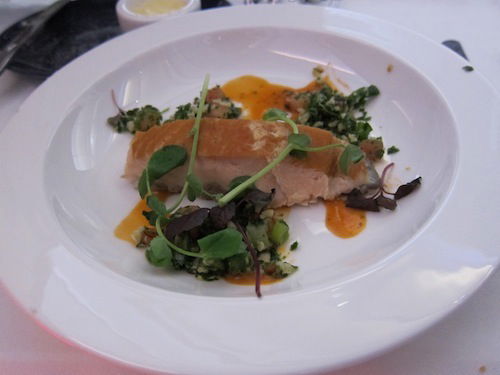 Salmon
The cod was somewhat dry, though the salsa made up for that.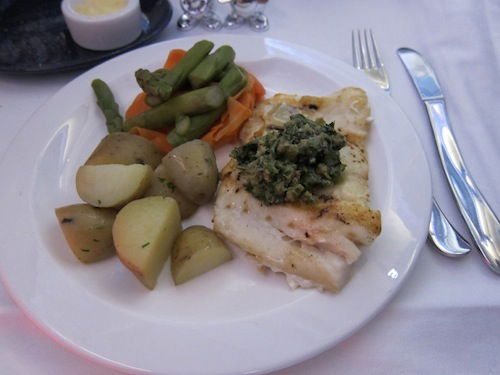 Cod
After the main course I was offered dessert, and went with the marble cheesecake, which was excellent. I feel like I should start eating nothing but dessert on airplanes, as it rarely disappoints. Okay, maybe that's not the best idea in the world.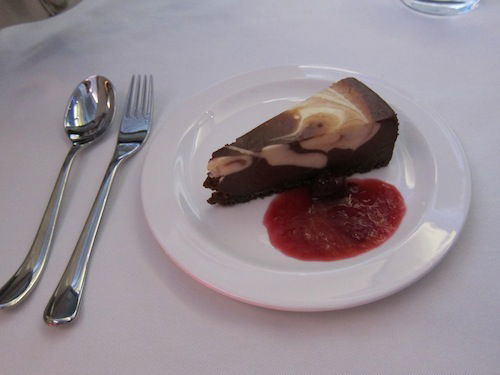 Cheesecake
Once lunch was done I decided to watch a movie, and went with "It's Kind of a Funny Story." It was pretty funny, though not especially memorable.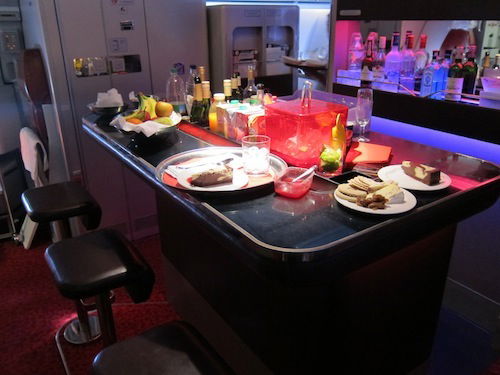 Bar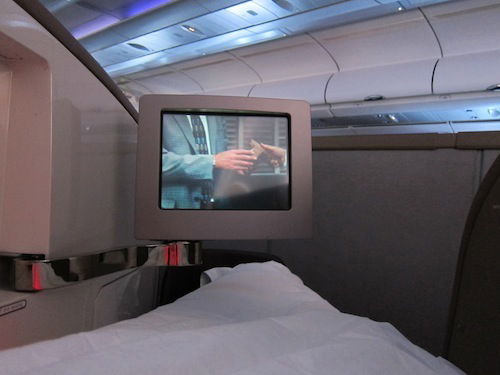 Bed position
About halfway through the movie the flight attendants came around with vanilla and strawberry ice cream. I went with strawberry ice cream.
With about three hours to go to New York, I decided to take a nap. The flight attendants were pretty busy, so I did my own turndown service, which was easy enough.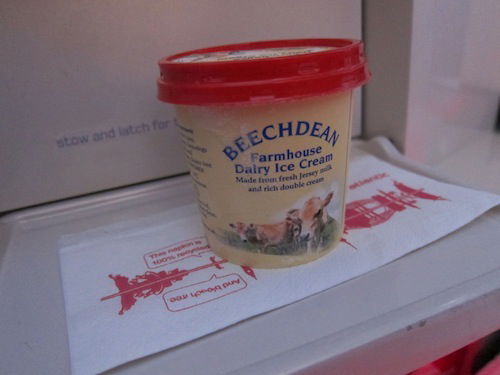 Ice cream
I napped for about 90 minutes, at which point the flight attendants did their pre-arrival service. The afternoon tea menu read as follows:
Afternoon Tea
A selection of freshly prepared sandwiches — Chicken and salad, egg and cress or bacon, lettuce and tomato

Warm sultana scones with clotted cream and strawberry jam

Your choice of cakes from our cake stand — Chocolate brownie, Cranberry and orange woopie or lemon cupcake
I went with the scones with clotted cream, and ordered a tea to accompany them. I then ordered the mini cupcakes from the menu.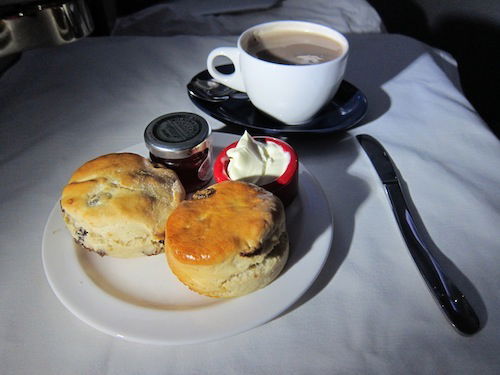 Scones, jam, and clotted cream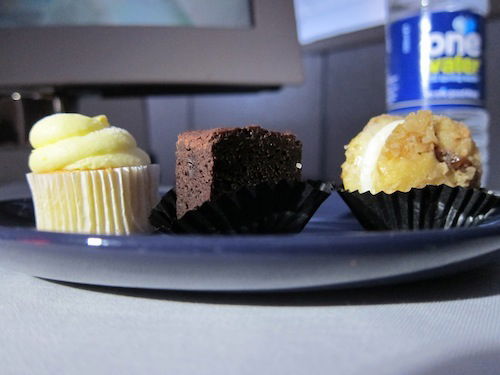 Cupcakes
About 45 minutes before arrival the captain came on the PA to give us updated arrival information. We started our descent about 30 minutes out, and the seatbelt sign was turned on a few minutes after that.
With nice views of the coastline we began our descent for an almost on-time arrival in New York. After a smooth touch down and quick taxi to the gate we were able to deplane, though sadly the Pakistan International Airlines flight beat us to the gate by a few minutes. The saving grace was that most of them were non-Americans, so the lines for US citizens were still quite short.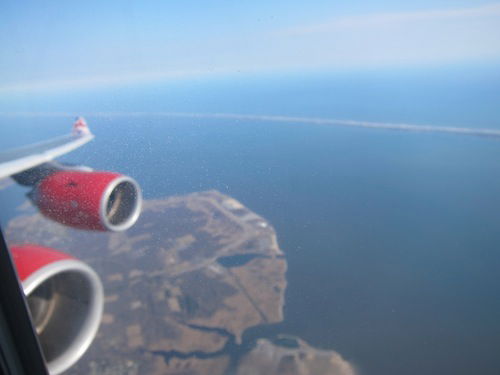 On approach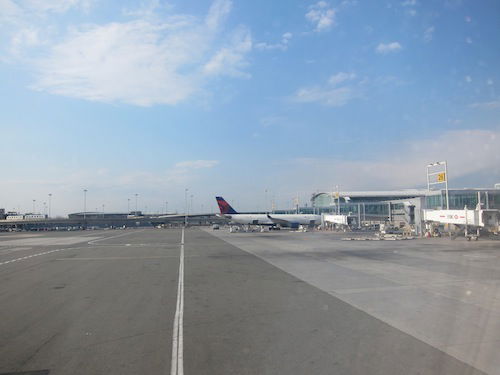 Pulling into the gate
Not surprisingly I got a couple of questions at immigration regarding my trip to Qatar, though I suppose it's understandable, since it's not exactly the most normal spring break destination. After the normal "who, what, where, when, why" questions, I was on my way.
Once through immigration I hopped in a cab to the Andaz Wall Street.