—————————————————————————————–
Admittedly Doha isn't the most exciting city in the world, and in fairness I wasn't expecting it to be either. That being said, I made the most of my two days there.
The first morning I paid the concierge a visit in hopes that he could make some suggestions for what I should do during my stay, and I think he did quite a good job.
The first morning I decided to take the hotel shuttle to the Islamic Museum. Before going into the museum I decided to walk around the area for a bit, and was actually surprised by how beautiful the Doha skyline is. The city is actually quite picturesque, clean, and has some really modern buildings. I walked up and down the bay for an hour, and eventually visited the museum. The museum is beautiful from the outside, though as interesting as any other from the inside (yes, I'm not much of a museum person).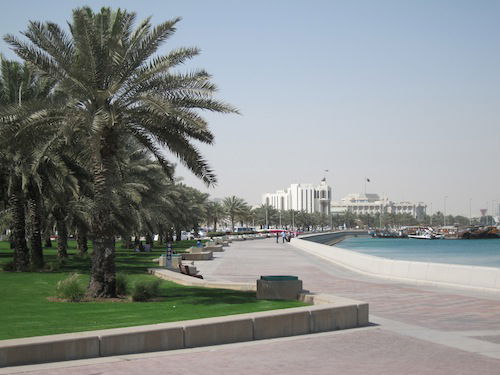 Waterfront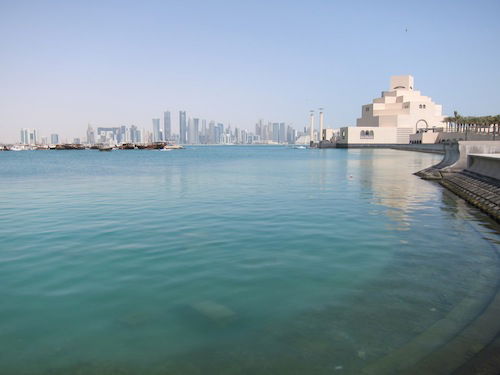 Islamic Museum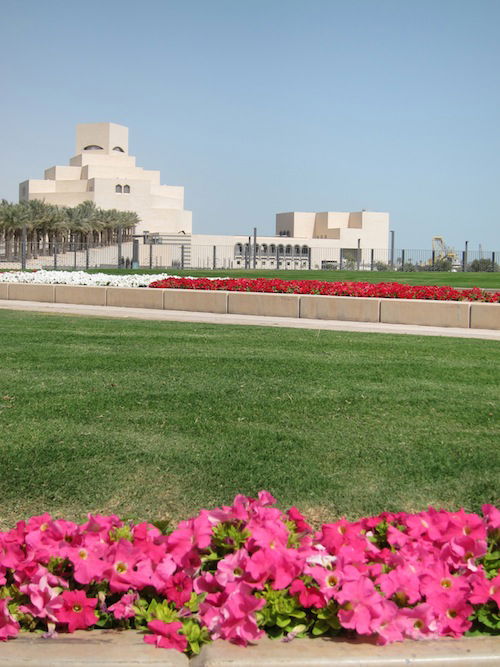 Islamic Museum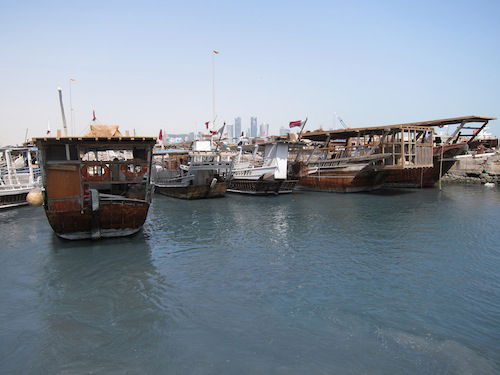 Bay
After spending some time there I decided to head to Souq Waqif, which is a market just across the street.
Unfortunately the concept of crossing the street in Doha is entirely unheard of, because there are very few traffic lights, and beyond that, the few traffic lights that do exist don't have crosswalks. So I literally spent over half an hour trying to cross the street, which was only complicated by someone important trying to drive through town. I'm not sure who it was, but he had a fleet of about 20 Mercedes, several police cars, and an ambulance. I wasn't even allowed to stand near the street as he drove by, which turned into a pretty big ordeal as the cop trying to tell me to bugger off didn't speak a word of English, and I had no clue what he was trying to tell me to do.
Souq Waqif was actually the highlight of the trip, and for me what set the tone of Doha's "culture." The market was traditional, selling things like bags of rice and carpets. There was a bird market, which was interesting (and mildly annoying based on the amount of chirping). And there was also quite a bit of "new world" mixed in, like Dunkin Donuts, Baskin Robbins and Haagen Dazs. I sat down at one of the restaurants for lunch, and the food was quite decent, though I felt like I was getting evil glares from everyone, maybe because I was the only one not fully "covered." The joys of sticking out like a sore thumb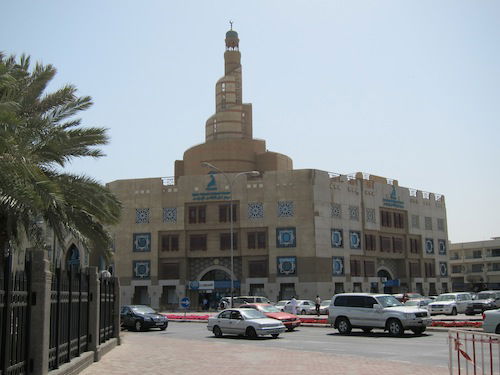 Trying to cross the street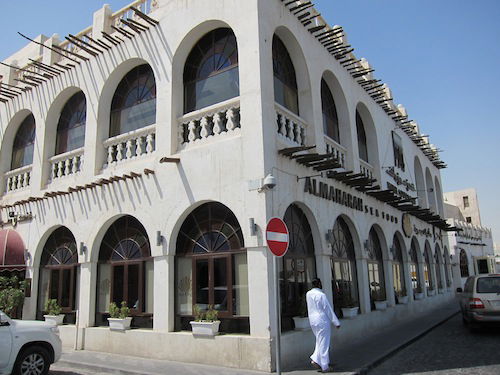 Souq Waqif

Traditional store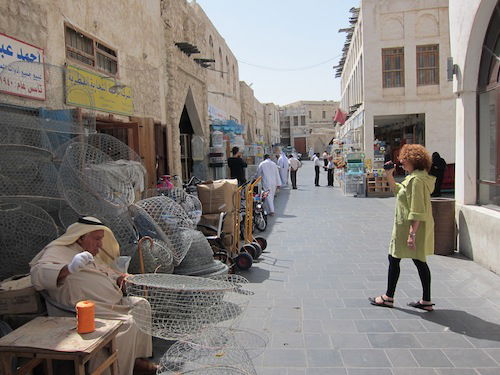 Sellin' stuff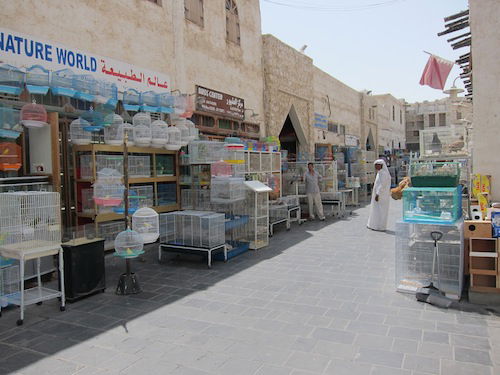 Bird market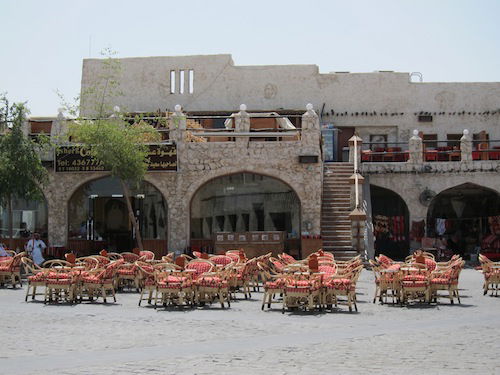 Restaurant
On the second day I went to Porto Arabia, which was described to me by the concierge as "the Beverly Hills of Doha." It was fascinating, yet left me utterly confused.
Yes, the place was indeed the Beverly Hills of Doha. Every high-end brand had a presence there, from Gucci to Ferrari. The bay it lined was filled almost exclusively with multi-million dollar yachts. The area itself was also meticulously landscaped and had a beautiful backdrop, if not a bit sterile. But what shocked me was that there was literally no one there. You know when you have one of those dreams (or nightmares) where you're walking through a city and you're the only one? Well, it was kind of like that. I didn't pass more than a handful of people in the several hours I spent there, despite every store being open and manned. While it was a weekday, I was there during lunchtime, so I figured there would at least be some traffic. As several of you asked in the comments section of my InterContinental Doha review, "where are all the people?" Sadly, that's the question I don't have an answer to.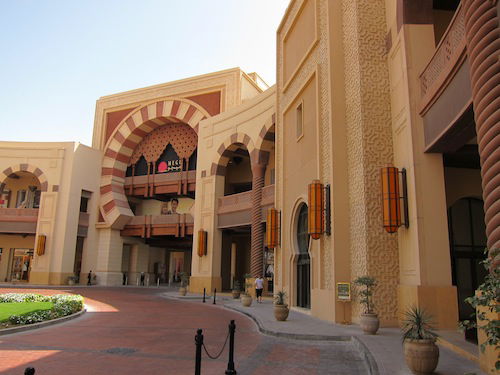 Porto Arabia shops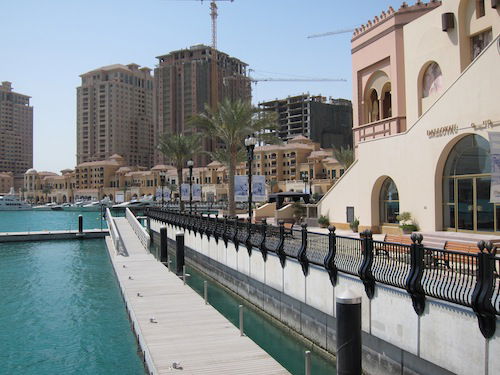 Porto Arabia

Porto Arabia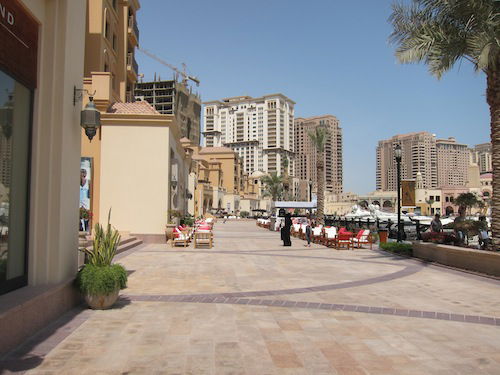 Shops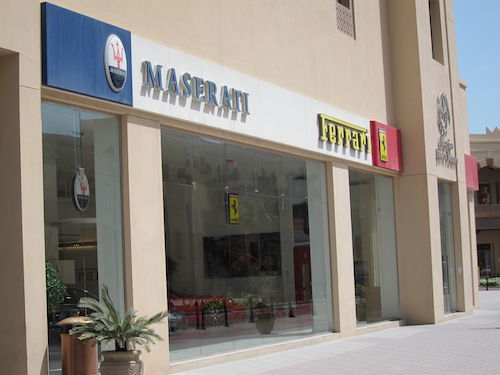 Oh yeah…
After a few hours there in the morning, I headed back to the hotel to get some work done, and then later in the afternoon went to the city center of Doha, where a huge shopping mall is located. The mall was far from glamorous, despite the impressive entrance, though was interesting nonetheless, given that there was actually some people watching to do, unlike in Porto Arabia.
From there I tried to walk around the city center, though that proved to be a real challenge. Doha gets the award for being the most pedestrian unfriendly city, in my opinion, even more so than Ho Chi Minh City (which I didn't think was possible). Everything is under construction so whenever I tried to walk anywhere I was told I needed to take the sidewalk on the other side of the street. Only problem was that there were eight lanes of traffic between me and the other sidewalk, with no way of crossing.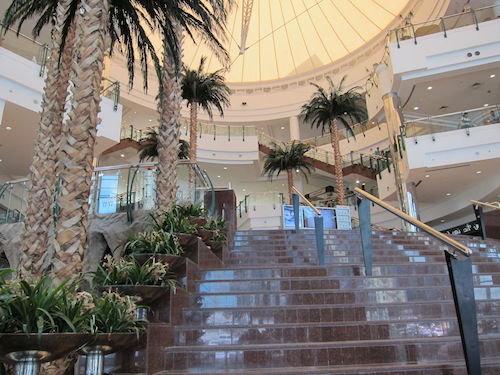 Shopping mall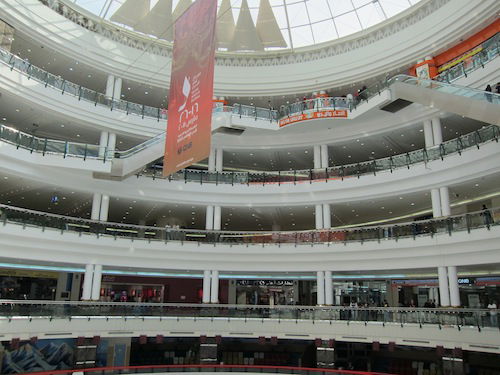 Mall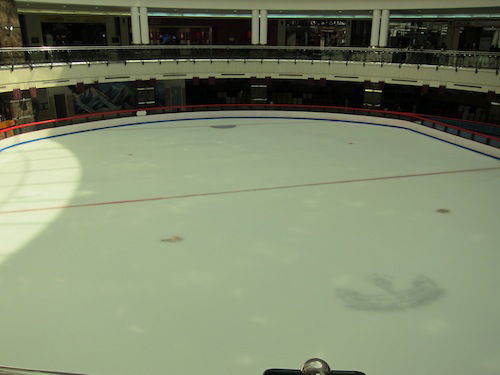 Ice skating rink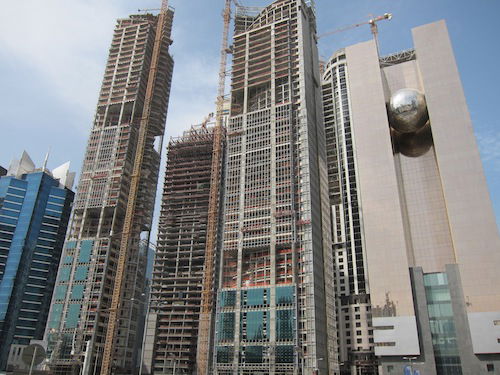 Everything under construction
I really wanted to do a desert safari, though unfortunately couldn't find a reasonable price for one with my short notice. The pricing for the safari is based on how many people are in each car, and each of the tour companies tried to charge me for a full car, which was crazy expensive, if I recall correctly over $300USD for a four hour tour. It looked like fun, though after seeing a desert safari SUV accident on YouTube before my trip, I was a bit freaked out.