---
Qatar Airways 1
Doha (DOH) – London (LHR)
Friday, March 11
Depart: 12:50PM
Arrive: 5:30PM
Duration: 7hr40min
Aircraft: A340-600
Seat: 1A (First Class)
We boarded through door 2L, and were escorted to first class. You've gotta love how seriously non-US airlines take their curtains separating cabins, even on the ground.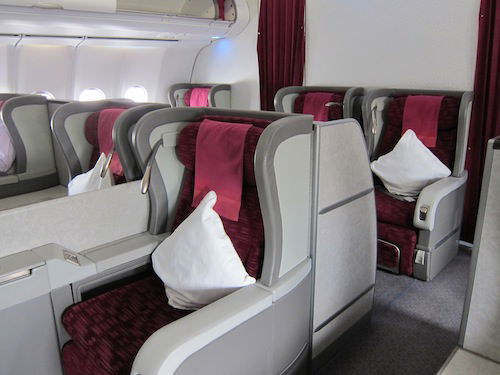 First class cabin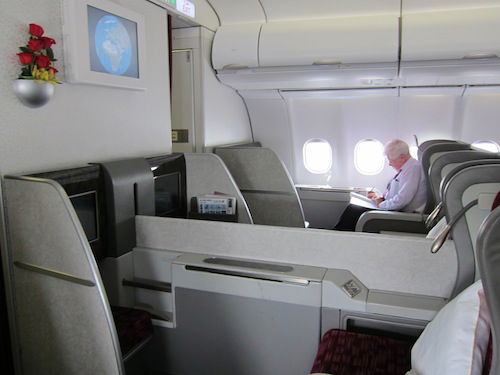 Row one
Waiting for me at seat 1A were a pair of noise canceling headphones, an amenity kit, and the menu.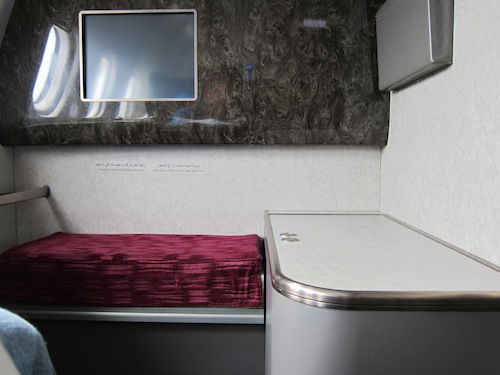 My seat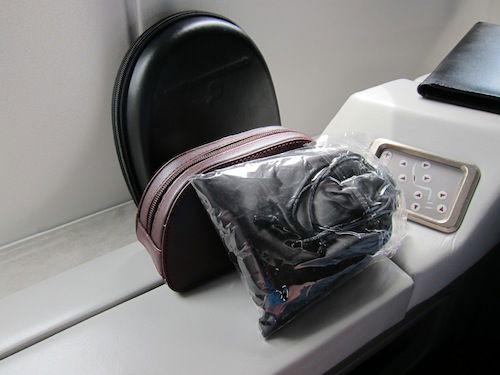 Headphones and amenity kit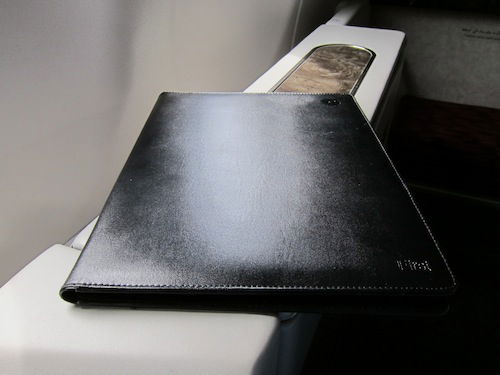 Menu
The two tall, blonde Eastern European flight attendants introduced themselves and offered me a beverage. I went with Krug, which was served with a hot towel.
I was also offered newspapers and magazines, and went with the Daily Mail.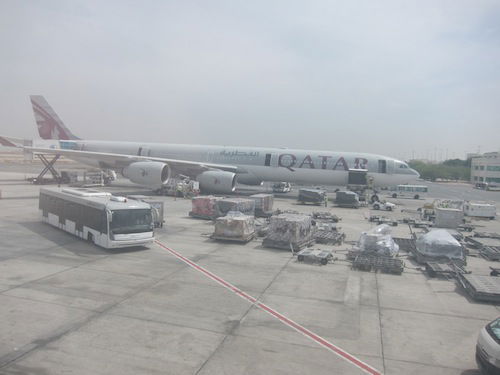 Plane next to us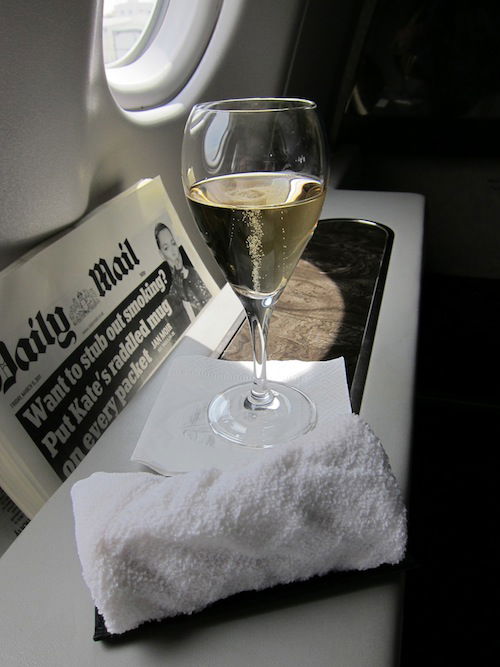 Krug, Daily Mail and hot towel
Within a few minutes the captain made his welcome aboard announcement, informing us of our flight time of 6hr40min, with an expected on-time arrival in London. The door closed with the first class cabin half full.
We pushed back right on time, and during our taxi out I quite enjoyed looking at the other traffic, much of which we don't see a lot of in the States.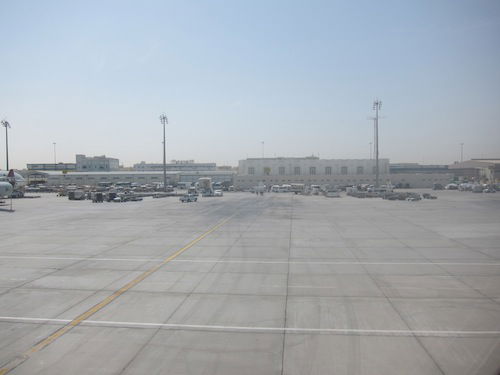 Remote stand we pushed back from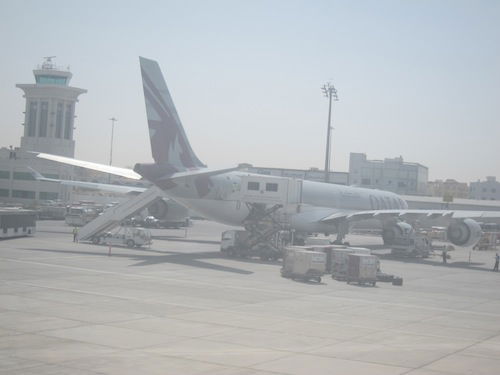 Another A340-600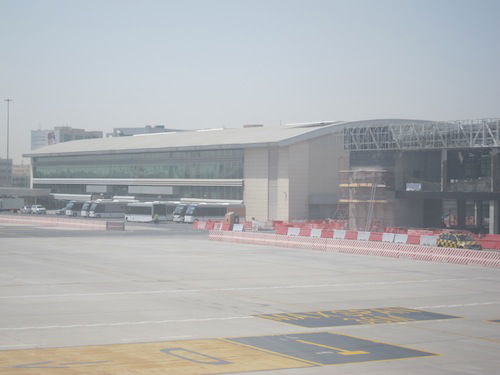 The terminal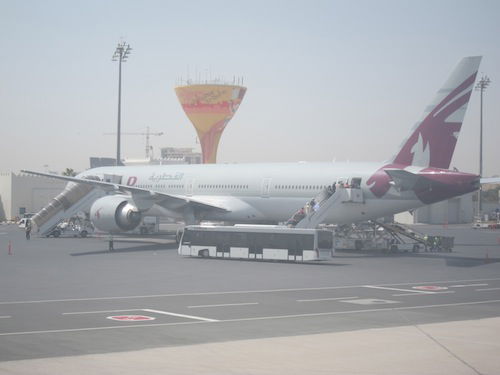 Boeing 777-300ER
As we taxied out the safety video began playing, during which the flight attendants decided to take meal orders and offer Arabic coffee and dates.
The views on the climb out were great, and I believe right after takeoff were views of the new airport Doha is building, which looked much nicer than the bus terminal they use now.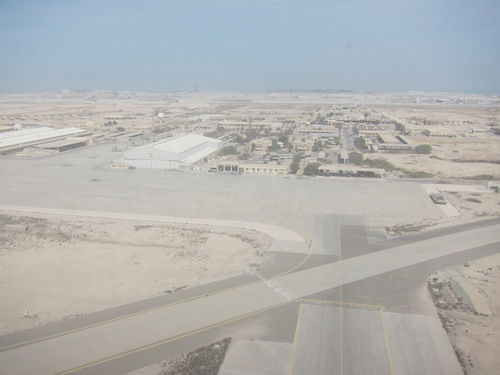 Shortly after takeoff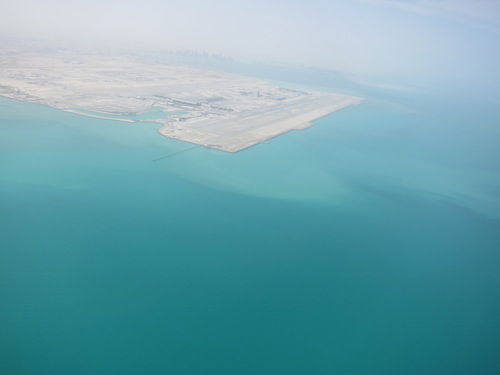 The new Doha airport
As soon as we were airborne the flight attendants drew the curtains and the seatbelt sign was turned off. While the flight attendants were going to begin the meal service right away, I requested to wait about an hour before having lunch, since I was still full from the meal I had in the lounge.
I decided to watch a movie, and went with "Something's Gotta Give."
About halfway through the movie I asked to start with the meal. My table was setup nicely as last time, and I ordered a Diet Coke with lunch, along with still water.
The menu read as follows: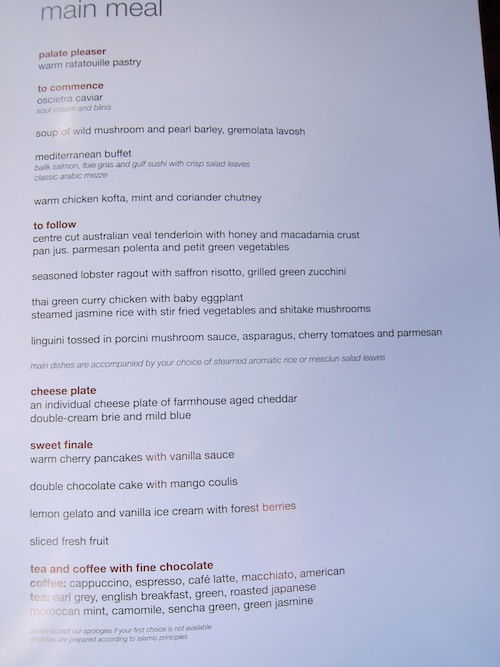 Menu
The service started with the palate pleaser.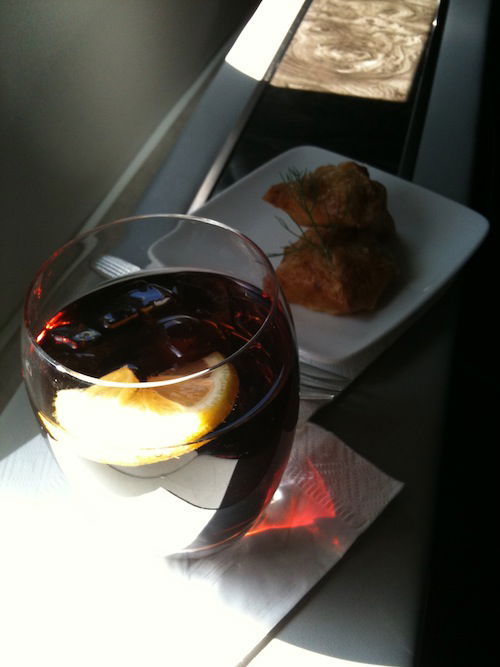 Palate pleaser
Next the caviar was served, much in the same way as on the outbound flight.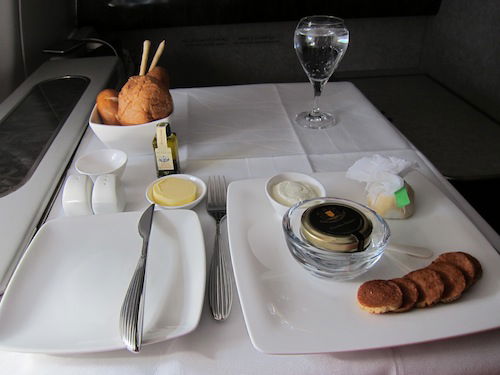 Caviar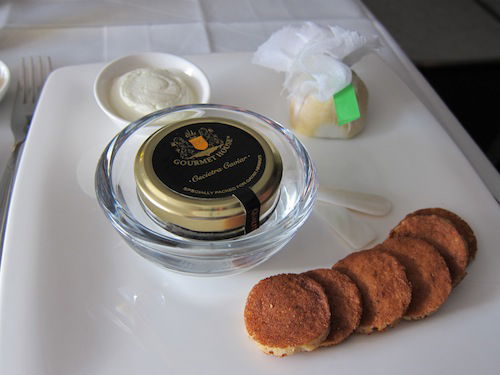 Caviar
Once I was finished with that course the flight attendant brought out the Mediterranean buffet cart, off of which I hand picked a few things, including salmon and sushi.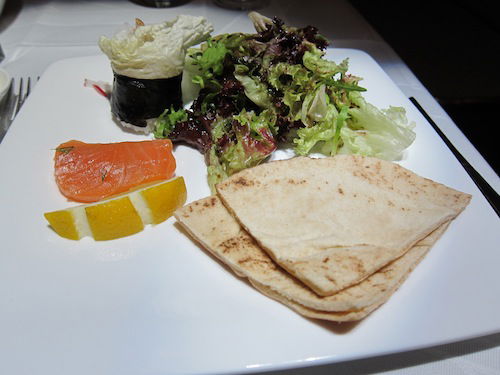 Mediterranean buffet
The main course was lobster risotto, which was also quite tasty.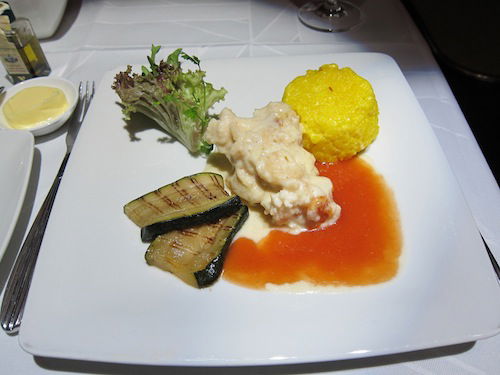 Risotto
At that point I was too full to have dessert, so just asked for turndown service so I could take a nap. Yeah, as you can see, my time schedule was a bit off throughout the trip. With turndown service I was also offered a bottle of water and box of Godiva chocolates.
I slept for a solid three hours, at which point I got a bit of work done on my laptop.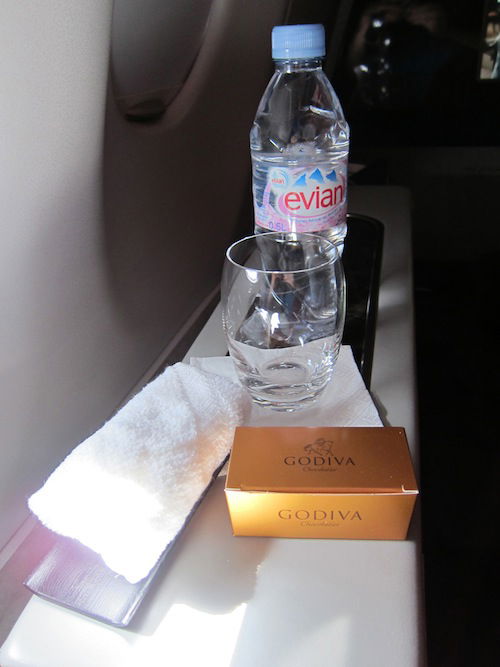 Evian and Godiva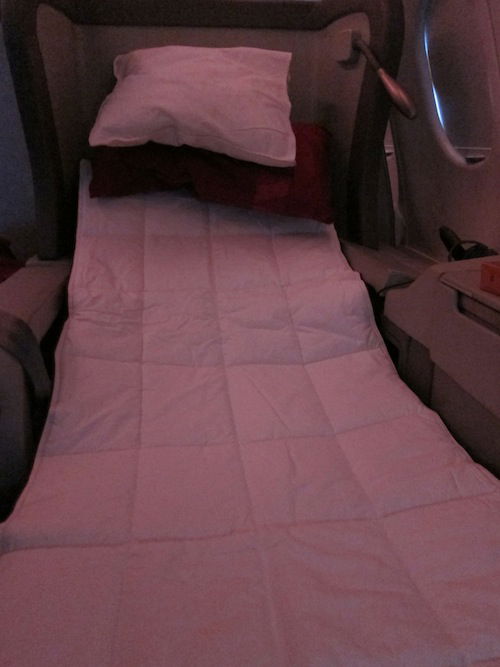 Bedding
About 90 minutes before arrival the flight attendants offered the pre-arrival snack, which is similar to what it was on the way out. What annoyed me slightly is that the flight attendants already collected the menu while I was asleep. I really like to see what I'm eating, so it's quite frustrating when the flight attendants decide that them getting their work done early is more important than the customer being able to see what they're going to eat – after all, isn't that the purpose of the menu?
Once again, the pre-arrival snack was delicious and a work of art.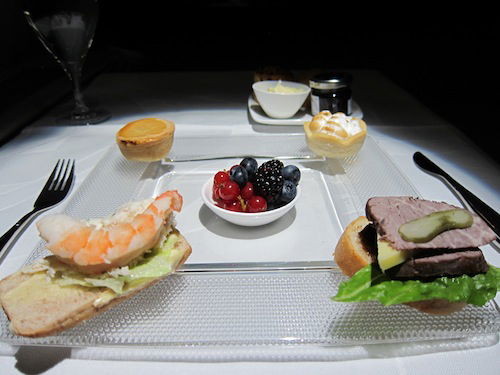 Pre-arrival snack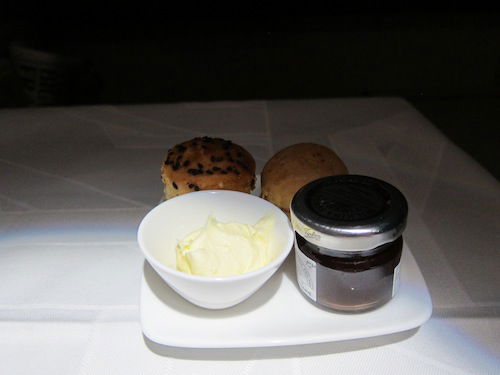 Scones, jam, and clotted cream
As we began our descent I asked for a cup of coffee, which was served with Walkers Shortbread.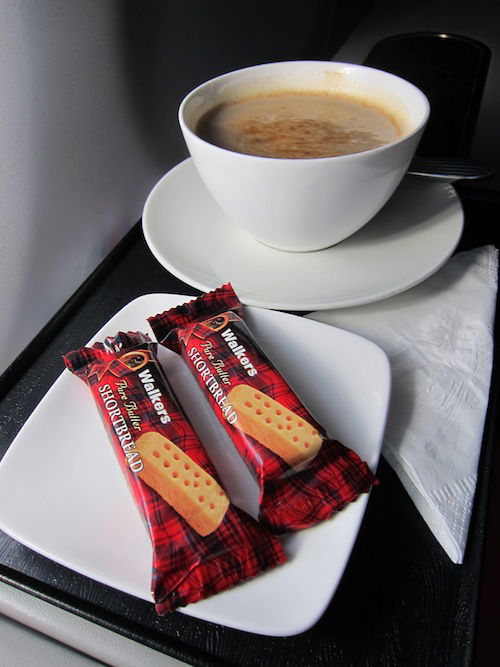 Coffee and shortbread
While it was looking good that we would be arriving early, about halfway through our descent the captain announced we would be entering a holding pattern. Darn! We circled for about 30 minutes, but then again, that's not the end of the world when you're in first class.
During this time flight attendants distributed Fast Track landing cards and hot towels.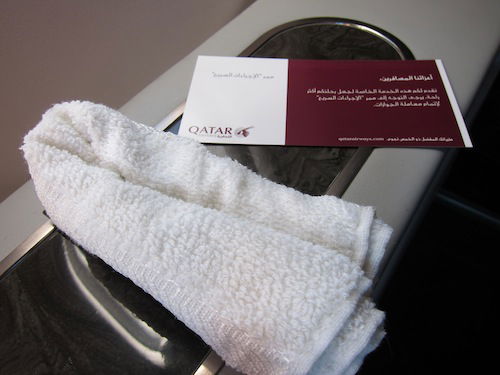 Hot towel and Fast Track card
Eventually we were cleared for approach, though London was pretty cloudy, so the views weren't exactly great.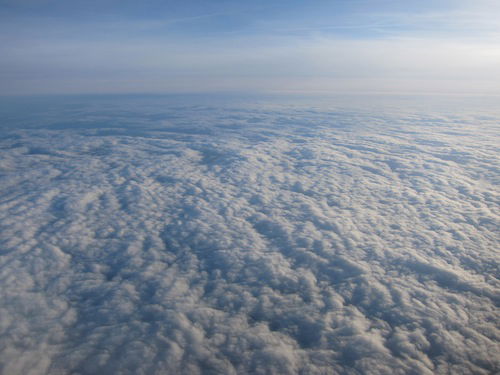 On the descent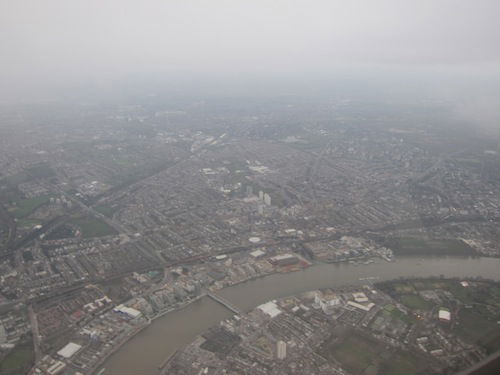 Cloudy afternoon
We had a fairly long taxi and eventually pulled into a gate next to a Korean Air 747.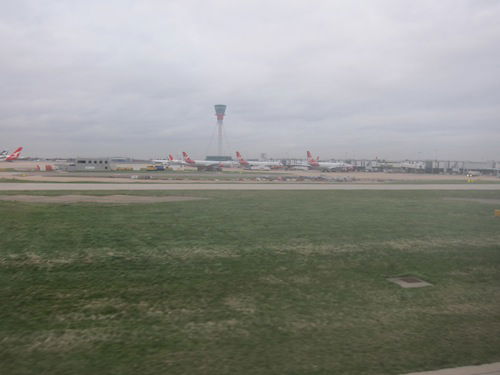 Upon landing
They were having issues opening door 1L, so everyone had to deplane through 2L. There goes the first class deplaning advantage! Fortunately it allowed me to snap a couple more pictures of the first and business class cabins.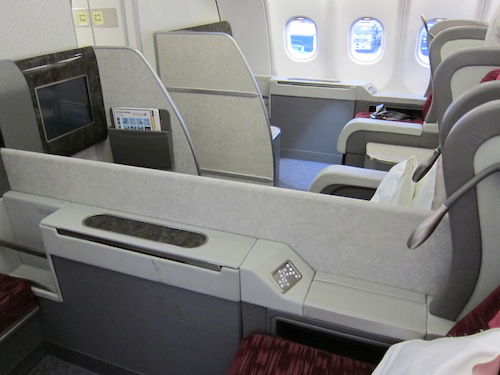 Row one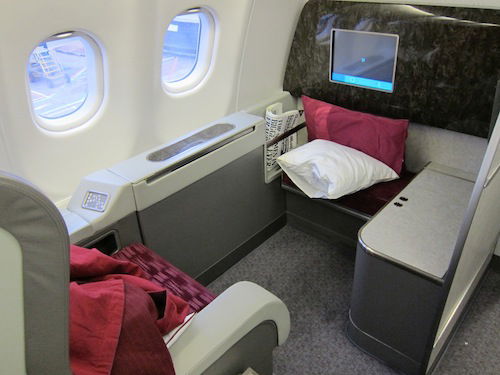 1A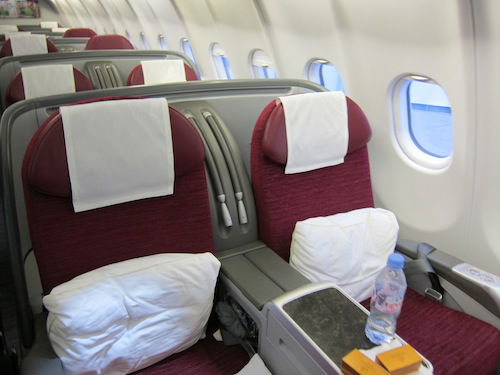 Business class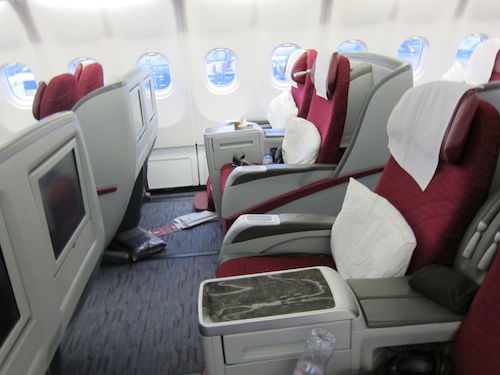 Business class cabin
Immigration lines were quite hellish, and the Fast Track line was the longest of all, because there was only one agent working the Fast Track line and he decided to question one person for over ten minutes. Unfortunately I didn't realize it till I was in line, as it appeared to be shorter at first.
Once outside of immigration I followed the signs towards the Hotel Hoppa bus for my transfer to the Crowne Plaza London Heathrow.