---
The first (extremely logical) question you're probably asking yourself is why the hell did we stay at a hotel on Wall Street when we were just laying over on our way to Asia. Well, originally I was going to book the Holiday Inn JFK, which is the one reasonably priced airport hotel that's decent (not to mention my good friend Dwayne works there), but it seems that they've just rebranded it to the "International JFK Airport Hotel."
Given that I'm a new Hyatt Diamond, I decided it would make sense to put my status to the test. Besides, why not take advantage of the opportunity to experience a new hotel "concept," Andaz. While the rate at the Andaz Wall Street was a steep $250 (given the purpose of our stay), they currently have a promotion (code is "ANDAZ5") whereby you earn 5,000 bonus Gold Passport points per stay, and also get a $50 hotel credit. That's in addition to the "G2" bonus they have, which nets an extra 2,000 points. So add that to the base points, and assuming Hyatt points are valued at two cents each, and we're looking at a very reasonable deal.
We made it to the relatively unmarked Andaz shortly after midnight after about four transfers on the subway, where we encountered our first struggle – they had the tiniest revolving doors that weren't automatic. Wrestling with bags and a revolving door is not easy, as I learned the hard way.
Once inside we were greeted (not sure if that's an appropriate term or not, more like acknowledged) by the two front desk agents sitting there. With a rather lame attempt at small talk (the male agent asked a question to start a conversation, but didn't seem to pay attention or ask any follow up question) we were handed our keys within minutes and directed to the elevators.
My Hyatt Diamond status wasn't acknowledged in any way, so I inquired whether we would receive complimentary breakfast. The male agent looked over at the other agent with a look of confusion and said "do we do free breakfast for Diamonds?" After a moment the agent said "yeah, I guess you could have breakfast in the restaurant or in your room." That really is totally unacceptable. At the very least they should know the rules, not to mention they should have proactively explained our benefits.
We made it to our room on the 15th floor, which was very nice, except for one little hiccup – the room only had one bed, and we reserved a room with two double beds. So we went back down to the reception and mentioned this to the agent. His initial reaction was one of confusion – while I wasn't in the guy's head, based on his facial expressions I would imagine he was thinking something like "huh, you're not shacking up?" After clicking around on his computer for a moment, he says "yeah, we don't have any of those available." I mentioned that availability of preferred bed type was a guaranteed Diamond benefit, although he really just seemed out of it. I asked whether they at least had a larger room available with one bed, so he upgraded us to a deluxe room. This makes me wonder why we weren't upgraded to that room to begin with, as a Diamond should be. No apology of any sort was offered.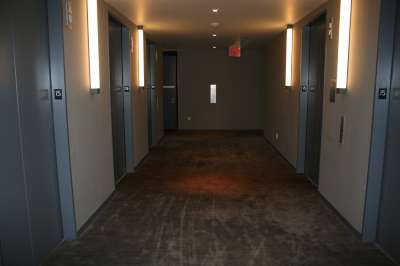 Elevator
The whole check-in experience was just beyond frustrating and shows a lack of training on the part of the hotel, though the rest of the stay really was quite good. Our room was large and very nicely decorated with modern furnishings. The floors were all wood, the ceilings were high, and the bed was very comfortable. There was a huge flat screen TV, there were plenty of plugs, and most things were quite easy to operate. The chair at the desk wasn't exactly very good for anyone trying to get work done (an office chair would be nice), but oh well.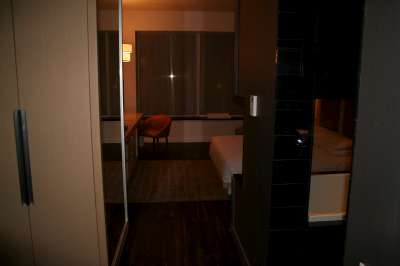 Room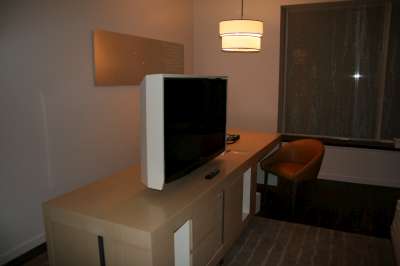 Desk and massive TV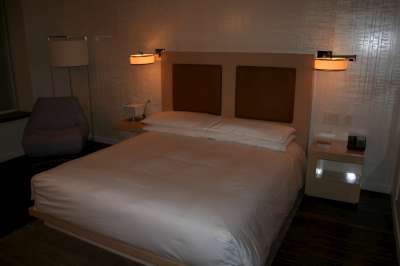 Comfortable bed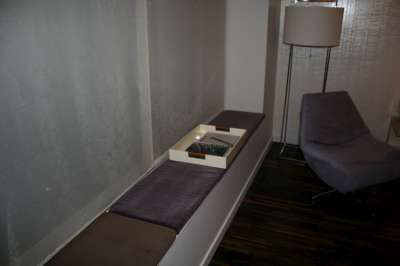 By the window
The shower was massive (you could have a party in there), but this brings up another frustration. Like a lot of newer hotels, the bedroom and shower are separated by a glass shield. It's a nice option to have, as there's usually some sort of blind that can be pulled down for privacy, should it be desired. Unfortunately the Andaz didn't have that. There was a glass shield, so you better wanna make showering a spectator's sport, or you're staying at the wrong place.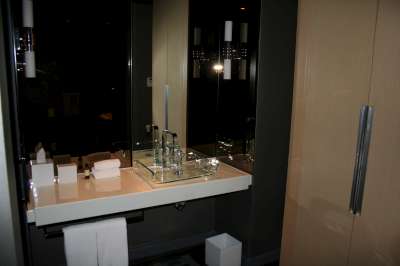 Sink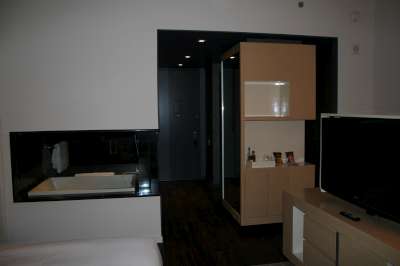 View of shower from room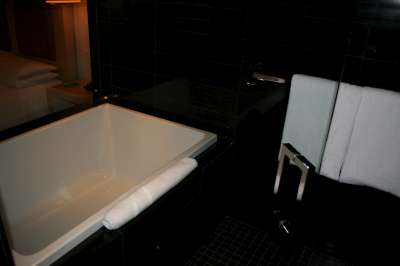 Bathtub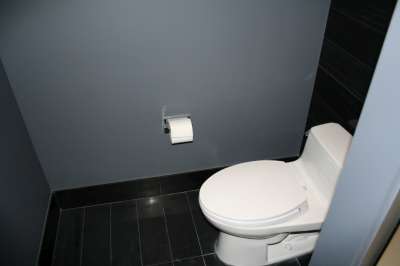 Bathroom
Another thing that makes Andaz unique is that the soft drinks and snacks in the minibar are free. This includes four bottles of VOSS water (two still and two sparkling), two bottles of Diet Coke, one bottle of Coke, one bottle of Sprite, one bottle of orange juice, and two bottles of tonic water. As far as the snacks go, there's a Cliff bar, Dagoba chocolate bar, and two bags of Terra chips. This is just brilliant, in my opinion. Those snacks and drinks cost next to nothing (and chances are people wouldn't otherwise pay an arm and a leg for them), yet it really adds to the experience. Furthermore, I'm betting it increases sales of the alcohol in the minibar.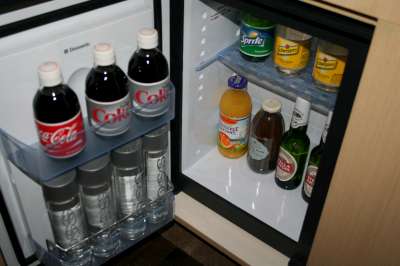 Minibar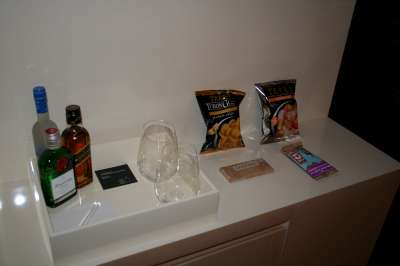 Snacks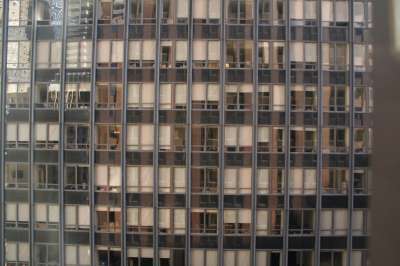 View from room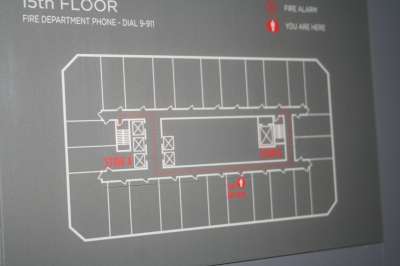 Floor layout
The morning of our flight we had breakfast at Wall & Water, the hotel restaurant. As a Diamond I had a $50 breakfast credit (which I knew through FlyerTalk, not the front desk agent, sadly), and we also had a $50 credit through the "ANDAZ5" promotion. So basically we had $100 to spend on breakfast. Suffice it to say we had a very, very nice breakfast. The food was delicious and the service was good.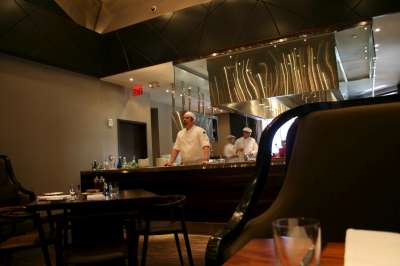 Wall & Water kitchen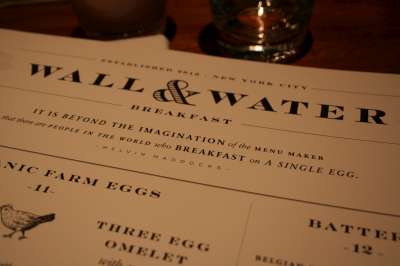 Menu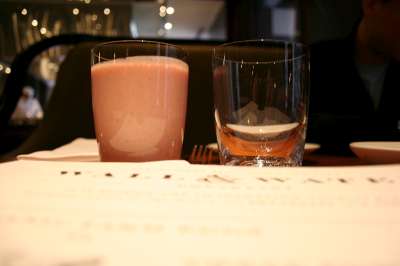 Delicious strawberry banana smoothie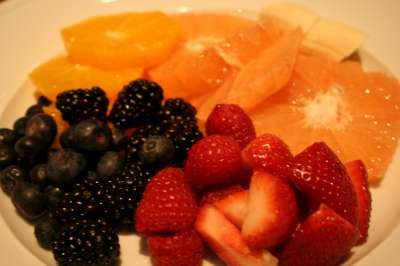 Fresh fruit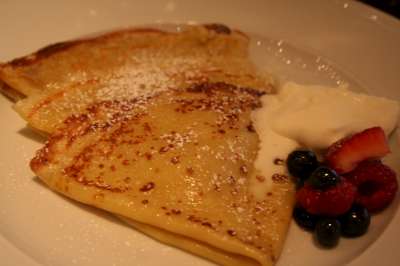 Crepes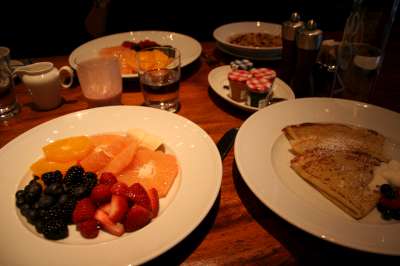 Breakfast
Breakfast came out to about $85 with tip, well within our "budget." After packing it was time to head to the airport for our evening flight to San Francisco, connecting onwards to Hong Kong and Bali.
The check out process was certainly more "professional" than the check-in process, though still took forever. First I was shown the folio by the agent on his portable computer, which still included the $85 breakfast charge. I reminded him that I was a Diamond and that I had booked through the ANDAZ5 promotion, at which point he took $50 off. He insisted that I really had "lunch," since that's what the restaurant tagged it as (guess we were done with breakfast shortly after 10AM). After explaining we had breakfast, he took everything off the bill and we were on our merry way.
Since I didn't really get to "experience" the lobby the night before, I took a quick peak around. There were several agents standing around with their portable computers, which is usually how they check people in, and they also had a buffet set up with free snacks, which are apparently there in the mornings and evenings. They're basically just samples, with larger versions available for a charge.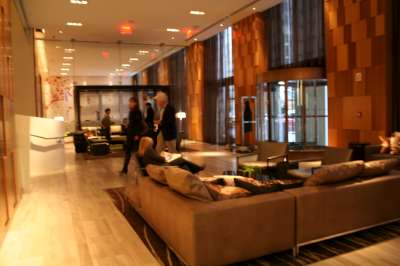 Lobby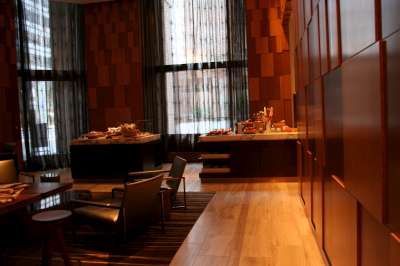 Snack area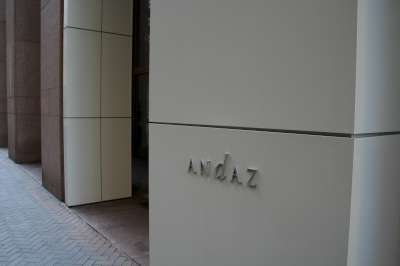 Exterior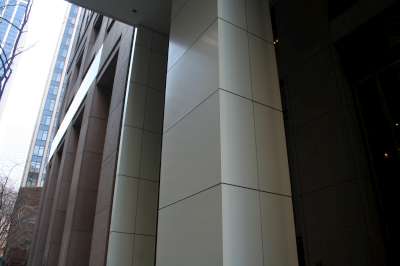 Exterior
So, would I return? I'm not sure. I really like the hotel as such, from the hardwood floors to the huge TV to the comfortable bed to the rather large size of the room to the free minibar. But they have a lot of work to do when it comes to service. For one, the agents need to be informed better and know benefits they offer, and they also need to take a better "customer service" approach. When you screw something up you should apologize for it. Not offering an apology of any sort, other than a sigh and "oh," is awful customer service.
Given that this is a new hotel I'm hoping they can improve the soft product a bit, in which case I'll be back for sure.
The really bright spot in all this? I earned nearly 16,000 points for my one night stay. One night at a top Hyatt costs 18,000 points.