---
While I've flown Emirates first class on the A380 a half-dozen times (oof that's an obnoxious sentence, sorry), my husband hadn't. He had flown Emirates first on the 777 a few years back, and even had the cabin to himself, so he had a general idea of what to expect, but we were still excited to fly together.
Ben has reviewed Emirates first class on the A380 at least a dozen times, and I've reviewed it myself as well, so check those out if you're looking for a comparison in terms of the service and soft product, but I'm going to primarily focus on the updates and changes to the service.
In the year or so since I've flown them, Emirates has been engaging in cost-cutting measures, which while they haven't been advertised as necessarily impacting long-haul premium cabin flights (other than birthday cakes), were noticeable in the catering.
Our flight boarded from gate A9, which was just a short walk and escalator ride from the lounge.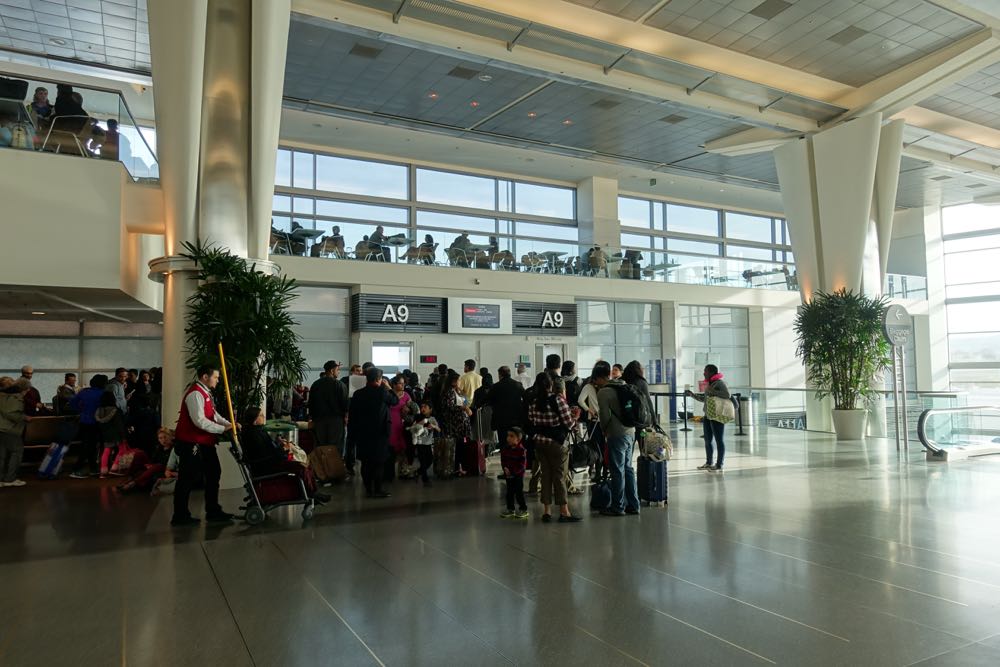 Emirates A380 gate San Francisco
We boarded directly to the upper deck, and the bling-tastic first class cabin.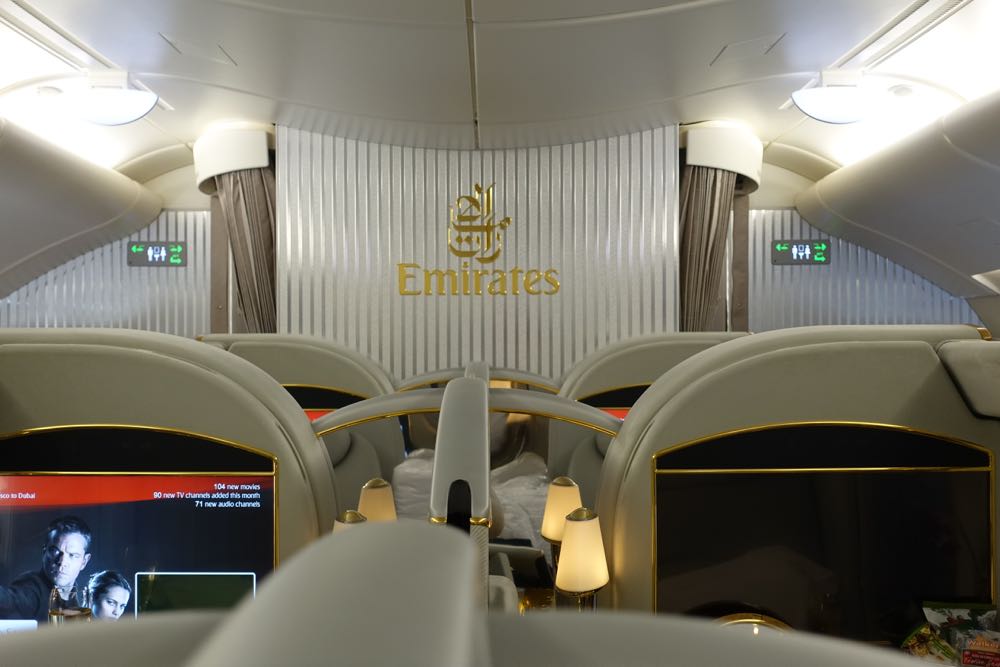 Emirates A380 first class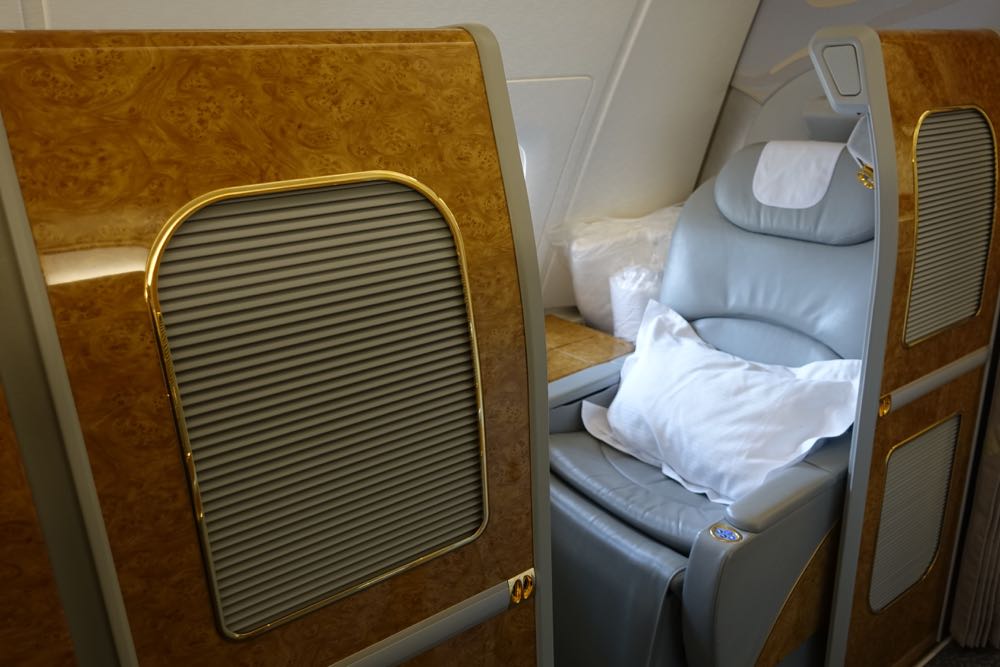 Emirates A380 first class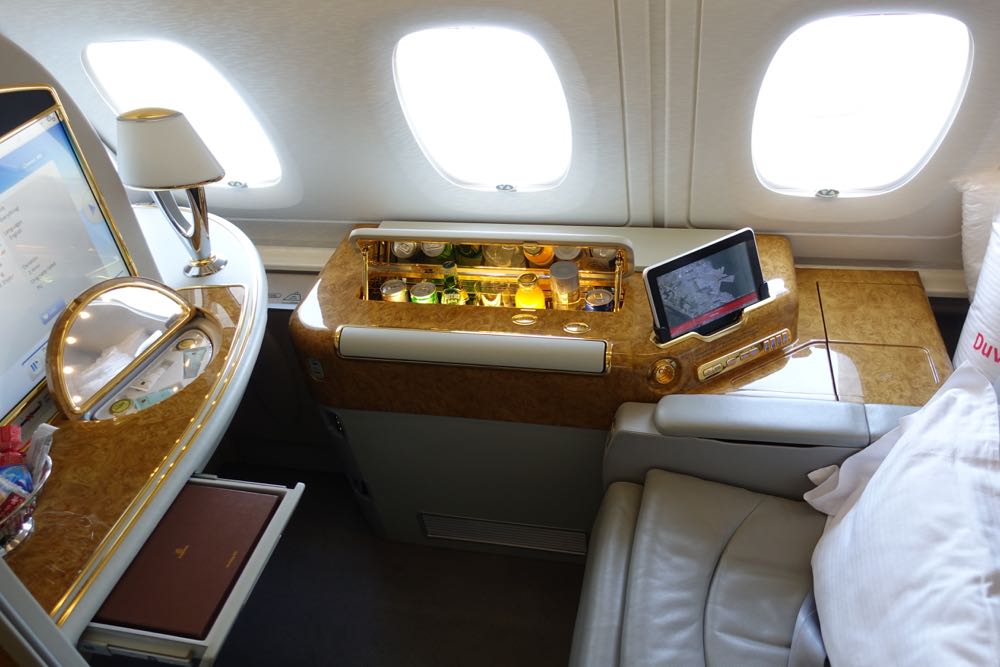 Emirates A380 first class
Emirates 226
San Francisco (SFO) – Dubai (DXB)
Tuesday, December 27
Depart: 3:40PM
Arrive: 7:25PM (+1 day)
Duration: 15hr 45min
Aircraft: Airbus A380
Seat: 3F (First Class)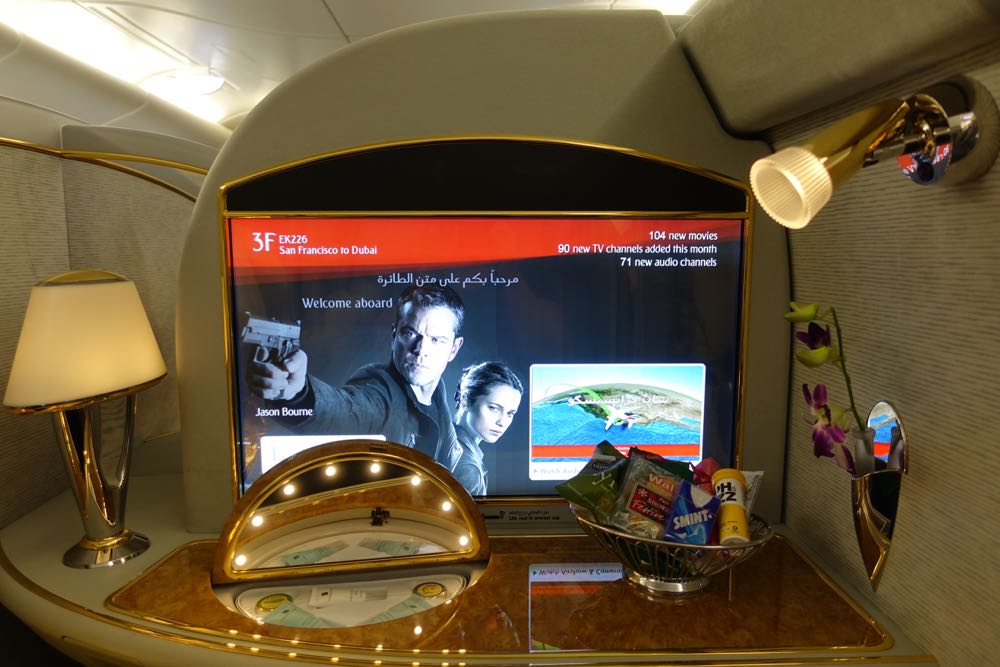 Emirates A380 first class
We were promptly offered champagne — I enquired as to whether they were serving the first or business class offering on the ground, and with a laugh the crew opened a 2006 Dom Pérignon for us. Arabic coffee and dates followed soon after.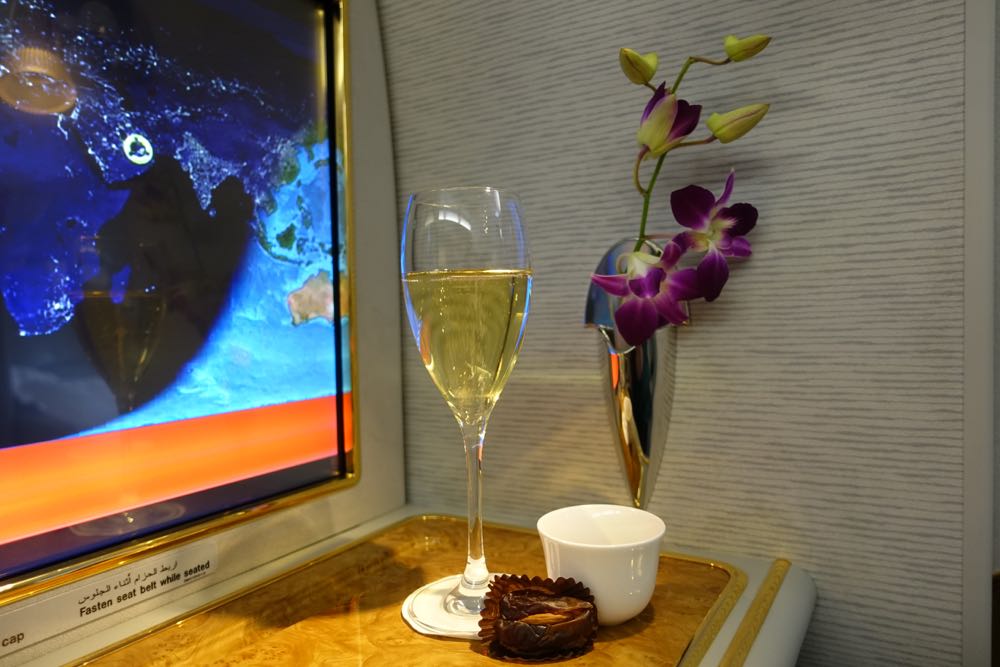 Emirates first class champagne
One of the first changes I noticed to the catering was to the snack basket contents, and it's a welcome improvement. Last time I flew Emirates the basket was full of junk food — cookies and candies and pretzels, with a couple of fruit bars thrown in to make you feel better about it: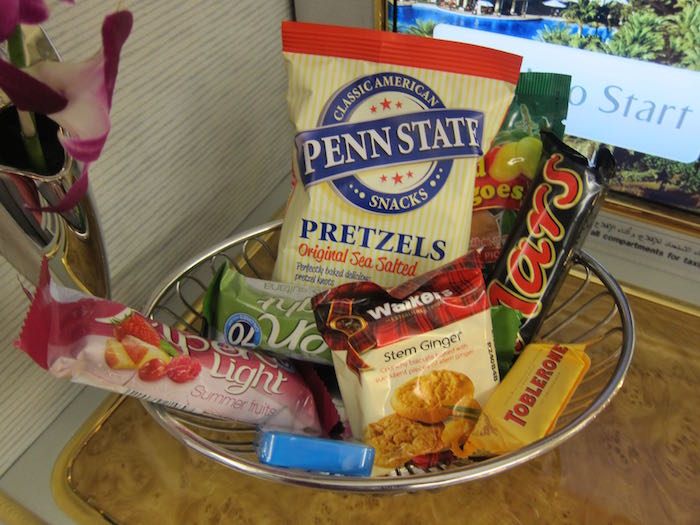 Emirates first class snack basket 2015
I'm not sure if we had a "holiday mix" or if this is the new standard, but I liked seeing a mix of veggie chips, dried fruits, nut and seed bars, and even rehydration tablets (along with cookies, of course). There are plenty of high-calorie foods available on the flight as it is, so this assortment seemed to actually add something to the service versus just being there for the sake of having a snack basket.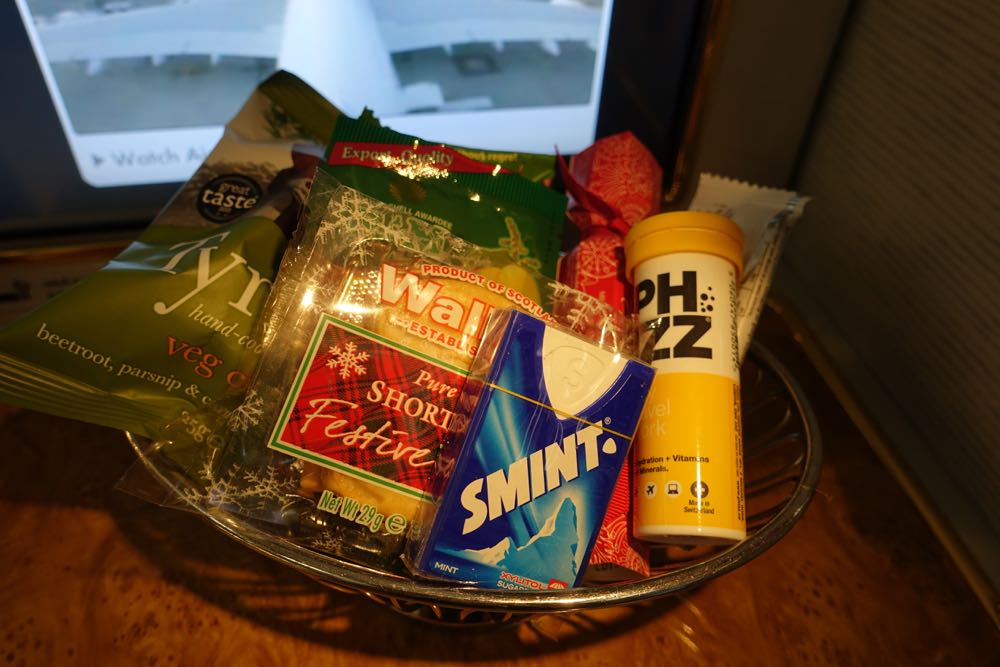 Emirates first class snack basket 2016
The tail cam has to be one of the best inventions ever, and I really enjoyed the views of the bay on our climb out.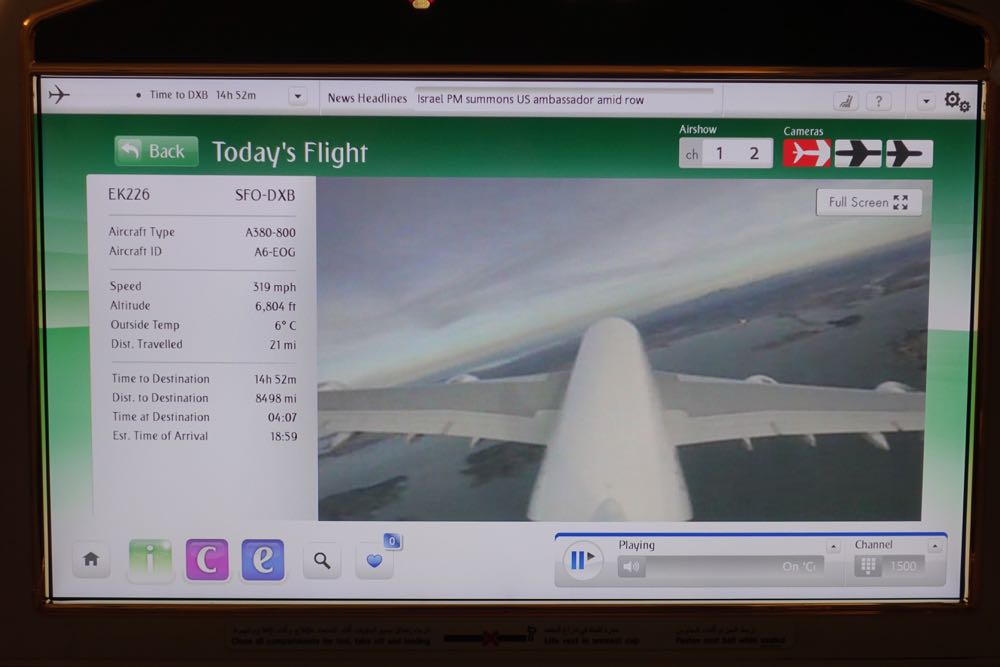 Emirates A380 first class
Sadly for my husband, his camera wasn't working — in fact his entire IFE system was stuck on the data for the inbound flight, despite being reset several times.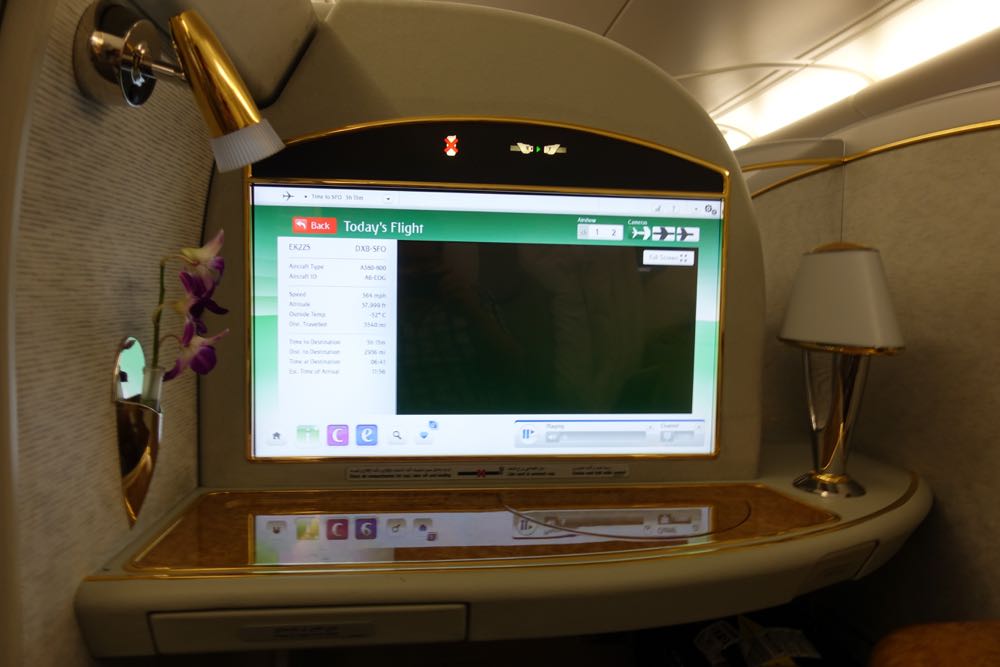 Emirates A380 first class
It wasn't a big deal, as there were only three other passengers in first, so he could have easily moved to another seat to watch a movie. He was mainly bummed about missing the take-off views.
Emirates has been touting their new pajamas, which are supposedly moisturizing. They were certainly stylish, and I think the grey tones are an improvement over the old beige pajamas.
I have far too many sets of airline pajamas, so didn't try these on. I will be giving away both pairs during FTU this weekend though, so maybe the winner will try them out and report back.
The slippers though, were excellent, and are my new favorite pair.
The amenity kits are also new, though still made and provisioned by Bulgari. The ladies' kit is a pebbled cream leather, and featured both face and body lotion in addition to the more common hand cream and lip balm.
The kit also included a makeup mirror and large bottle of fragrance, along with a smaller travel vial.
The men's kit was similar, but came in a dark grey leather. The contents were generally the same, though a razor and shaving cream replaced the makeup mirror, and the perfume was traded for cologne.
The menus were presented, which as usual for Emirates were extensive (sorry about the pictures, I didn't realize these were so blurry until we were off the plane):
For those interested, the wine list for the flight was as follows:
Emirates has a dine-on-demand concept in first class, which is nice for those who like to taste a smattering of things. As per my usual, we started with the caviar service.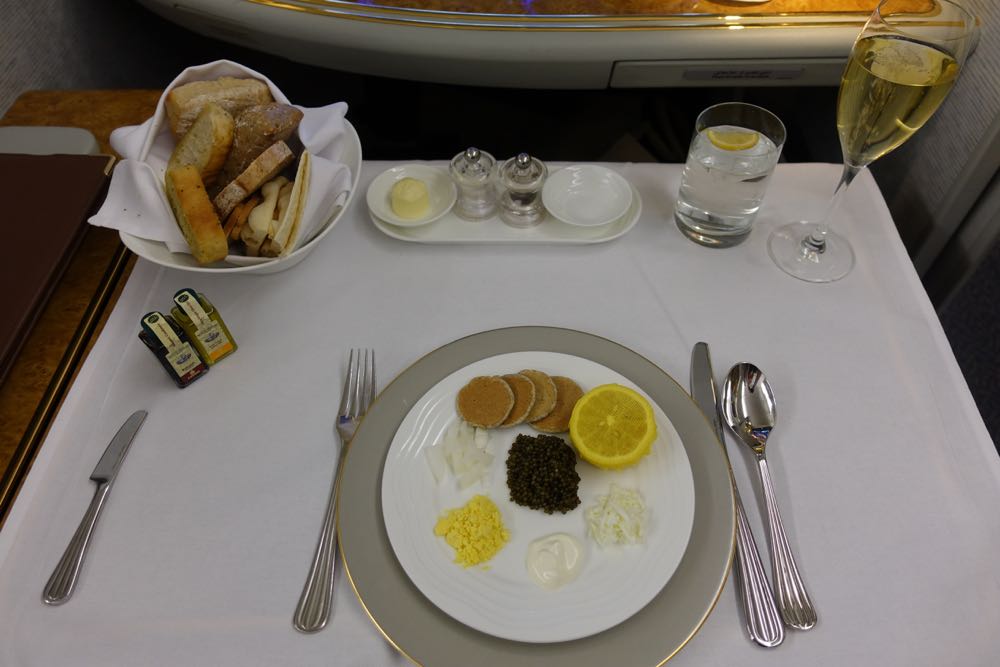 Emirates first class caviar
The presentation was beautiful, and the accompanying bread basket has been updated with some additional selections.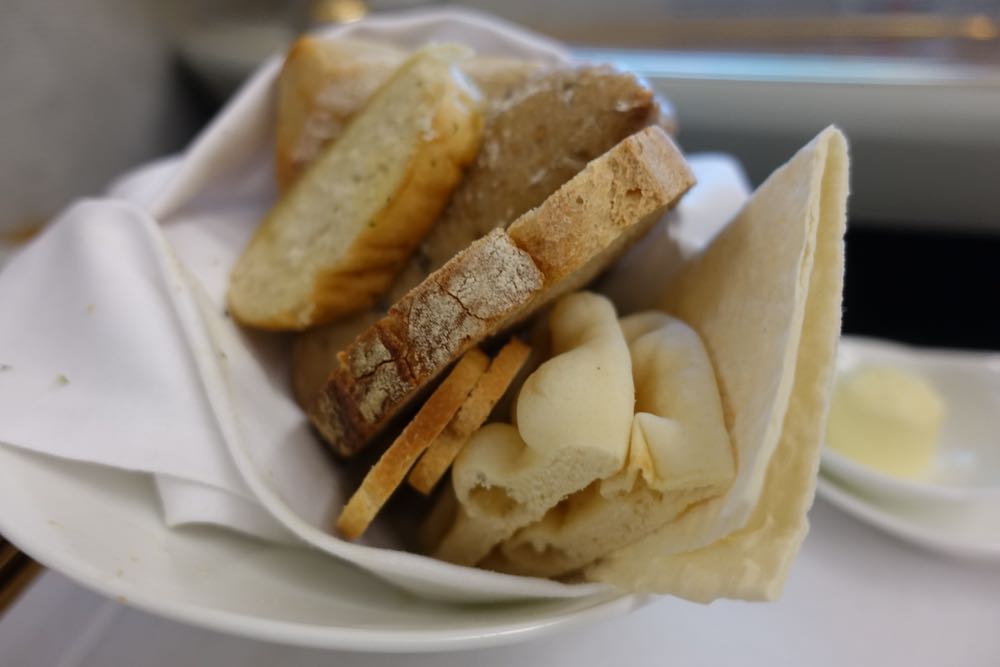 The caviar itself, however, was decidedly meh. I realize there is probably nothing on the planet more obnoxious than complaining about a caviar service, but the texture wasn't quite right and flavor just wasn't there.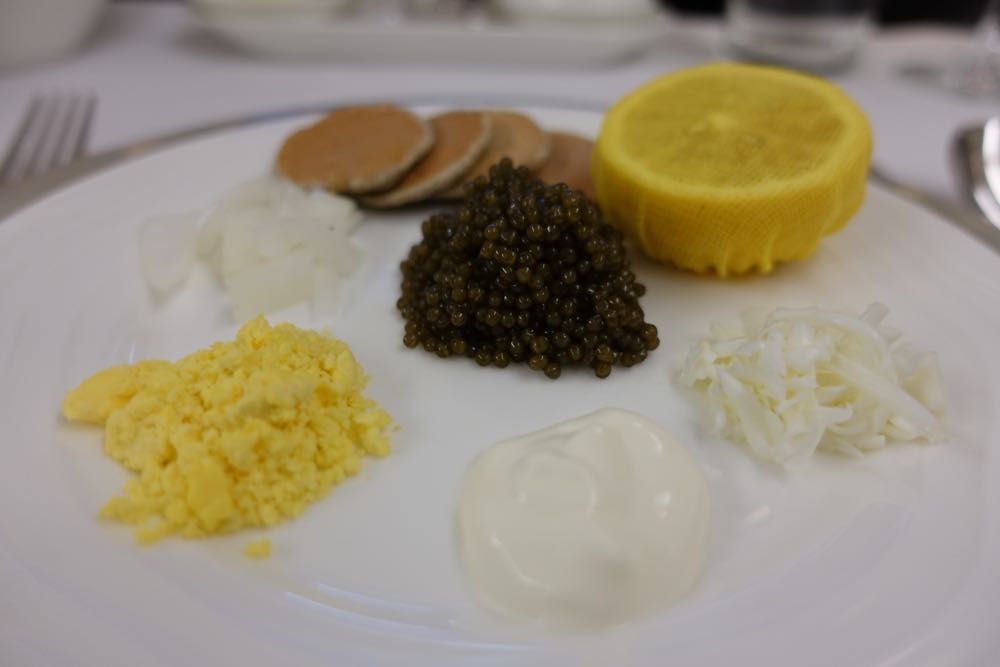 Emirates first class caviar
Emirates uses a Chinese caviar nowadays, which isn't necessarily a bad thing — many premium caviars are farmed in China. I asked to see the tin, which was generic from Gourmet House.
It seems that Gourmet House typically labels the specific type of caviar on their retail products, so I'm not sure if this is a lower-grade product for airline consumption or what. It wasn't great, is the main takeaway.
One of my favorite parts of flying Middle Eastern airlines (and of visiting the region) is the mezze course, so we decided to have that next. My husband ordered the mezze for both of us, though a few minutes later the flight attendant came around to me to tell me they were out of mezze.
I was shocked, as I've never had a problem with selections not being available on Emirates, and with only 5 people in the first class cabin you'd think they'd have enough of a staple item like the mezze.
Eventually the purser came by and explained that they only cater two mezze portions for first class nowadays, and that while they had one available, the second had already been ordered. I said it was fine to just bring one for my husband, and it was presented beautifully.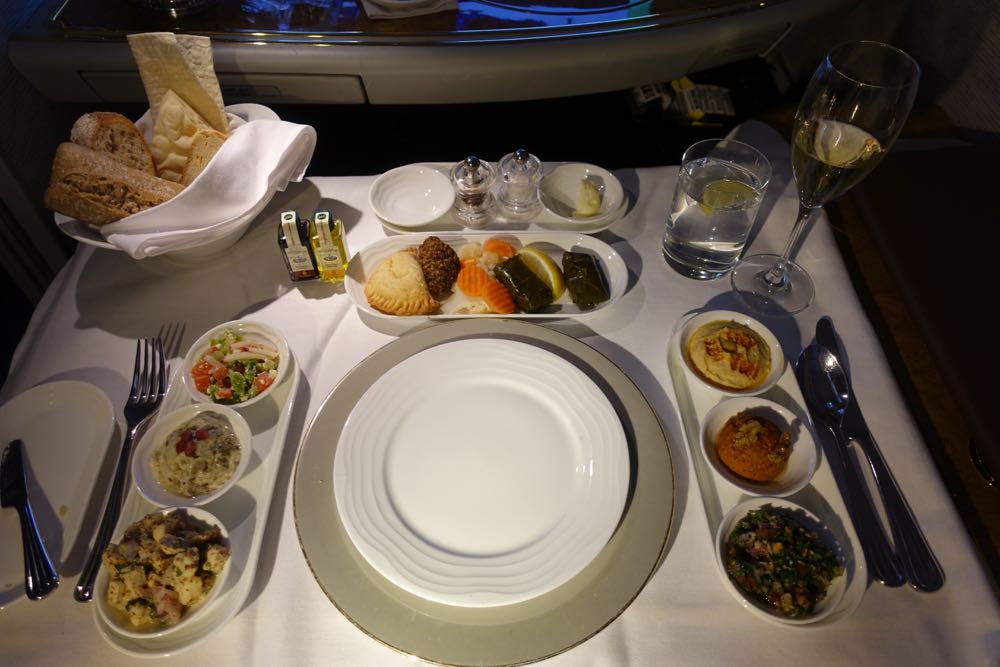 Emirates first class Arabic mezze
Oddly, it wasn't served with additional pita bread, though that could be a side-effect of the heftier bread basket.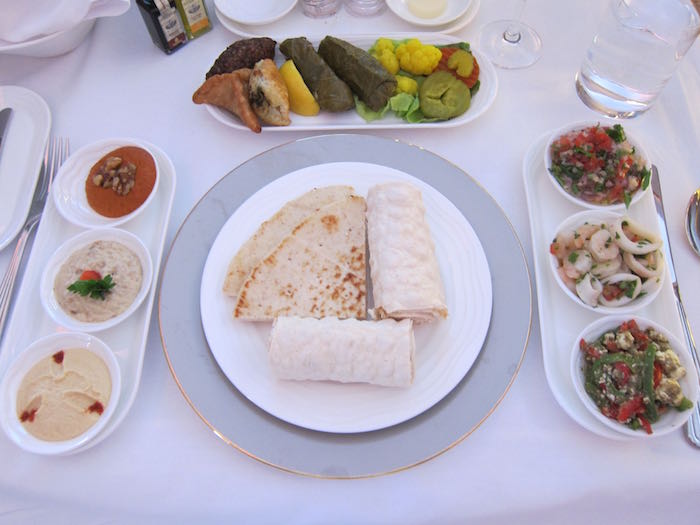 Emirates first class Arabic mezze 2015
A few minutes later it occurred to someone to check and see if business class had any mezze. They had spares, so delivered one to me, and it was actually a much more reasonable portion, though I could tell the crew was embarrassed about the presentation.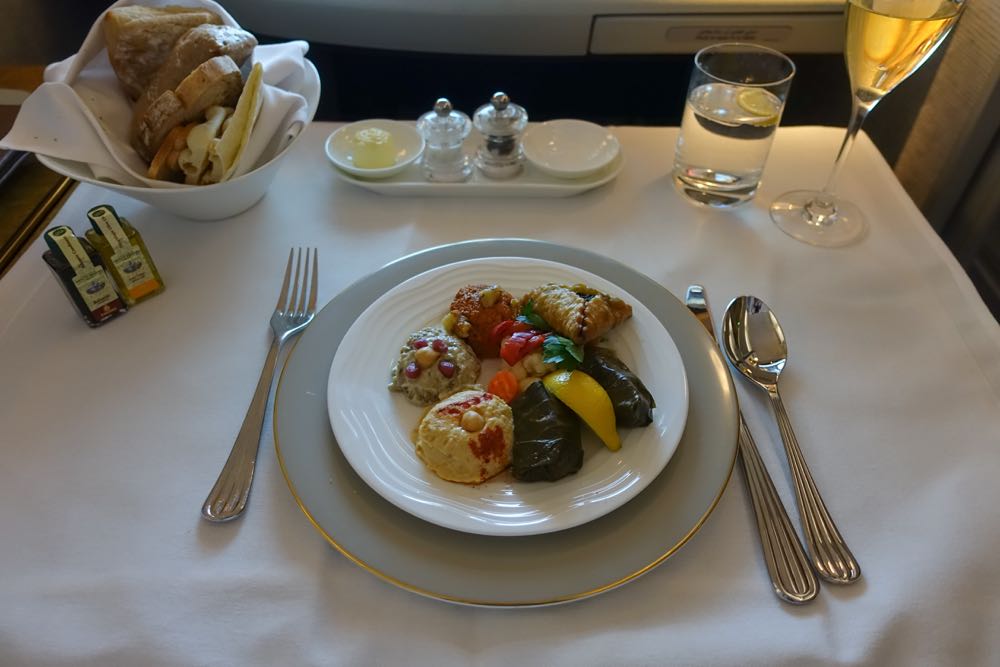 Emirates business class Arabic mezze
I told them it was still more attractive than what Etihad offered for their first class mezze, which made them laugh. 😉
I think this is a real miss on the part of Emirates catering. It's understandable that not every entree choice would be catered for every passenger, but I think a signature dish (particularly one you're going to talk up in the monthly menu blurb), should be fully catered.
Against my better judgement, we decided to order main courses as well. I selected the lamb, while my husband asked for the beef filet.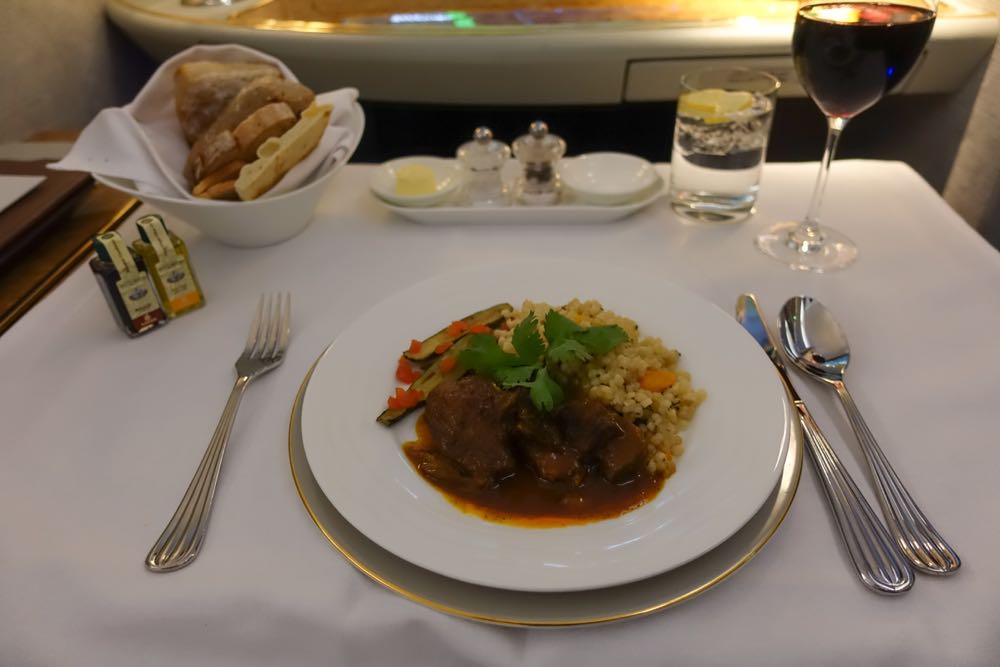 Emirates first class main course
My lamb was lovely, especially paired with the Saint-Julien Bordeaux.
Somehow, my husband received a mango and chocolate terrine rather than the filet.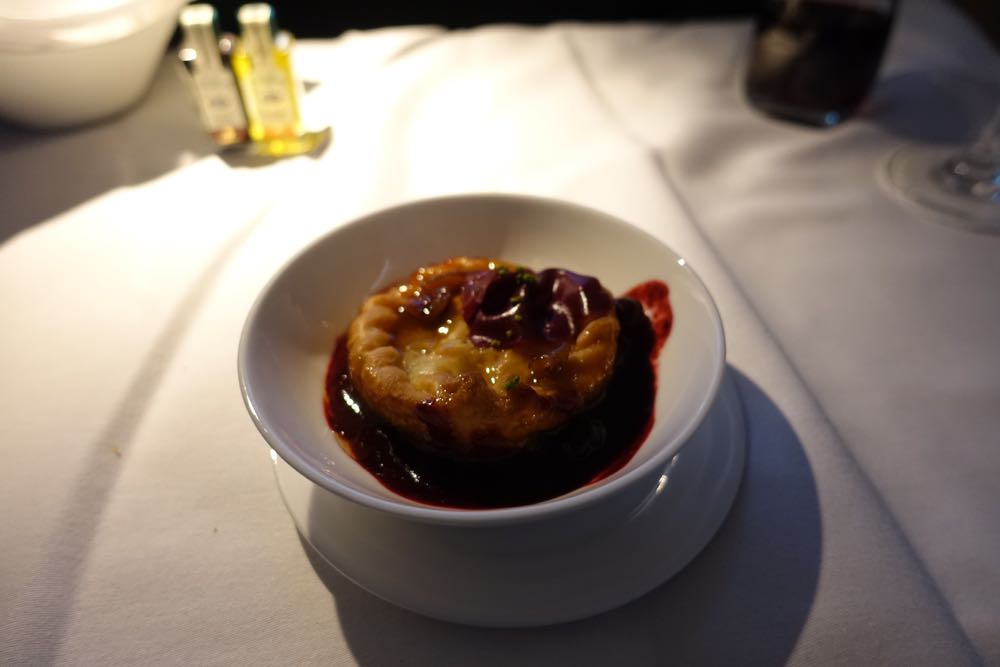 Emirates first class dessert
The crew was again embarrassed, but he assured them it wasn't a big deal, and asked them to just save a filet for him for later on.
I skipped dessert, though the crew brought a small box of chocolates out to enjoy with the rest of my wine, which was thoughtful.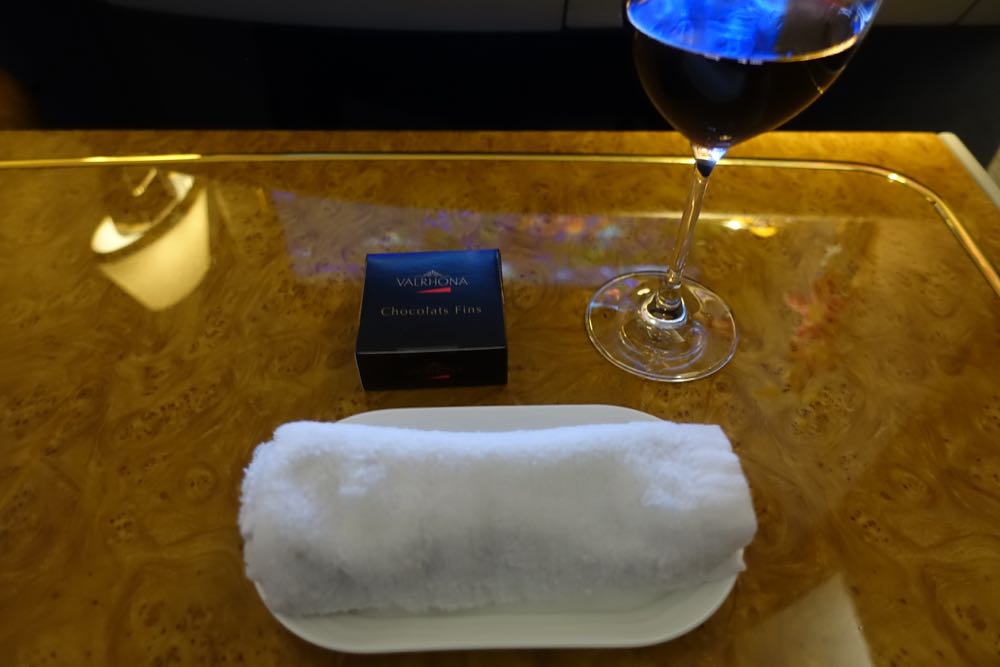 Emirates first class
At this point we were somewhere over Northern Canada, and while it was just after 6PM in California, it was the middle of the night in Jordan, so I decided to head to bed.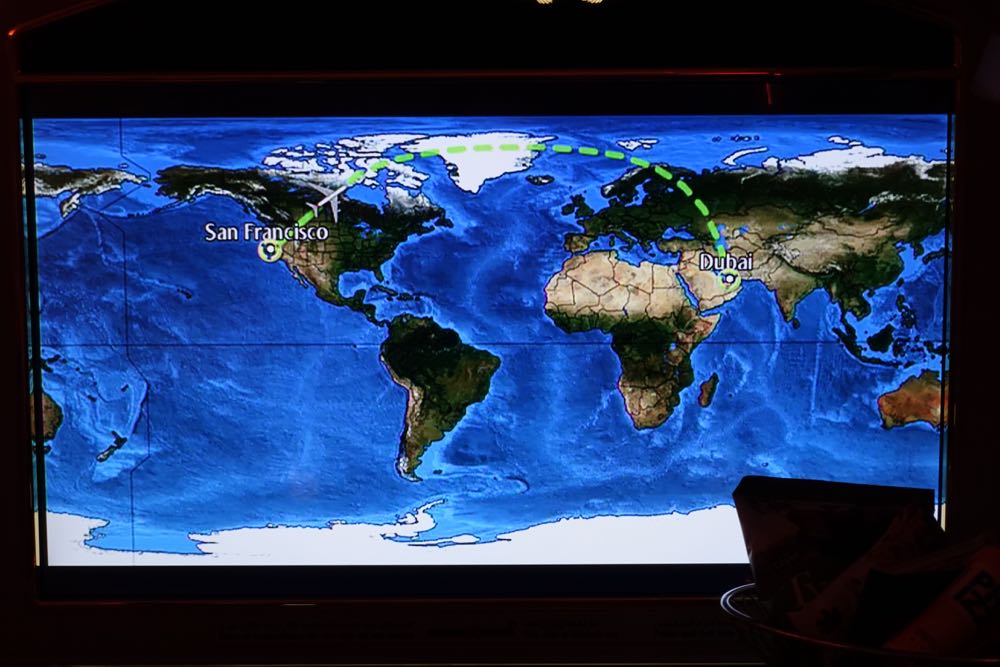 Airshow
The crew offered to make up our beds in the window seats, which is always a nice gesture. I sleep much better in the cocoon of the window than I do in the center seats!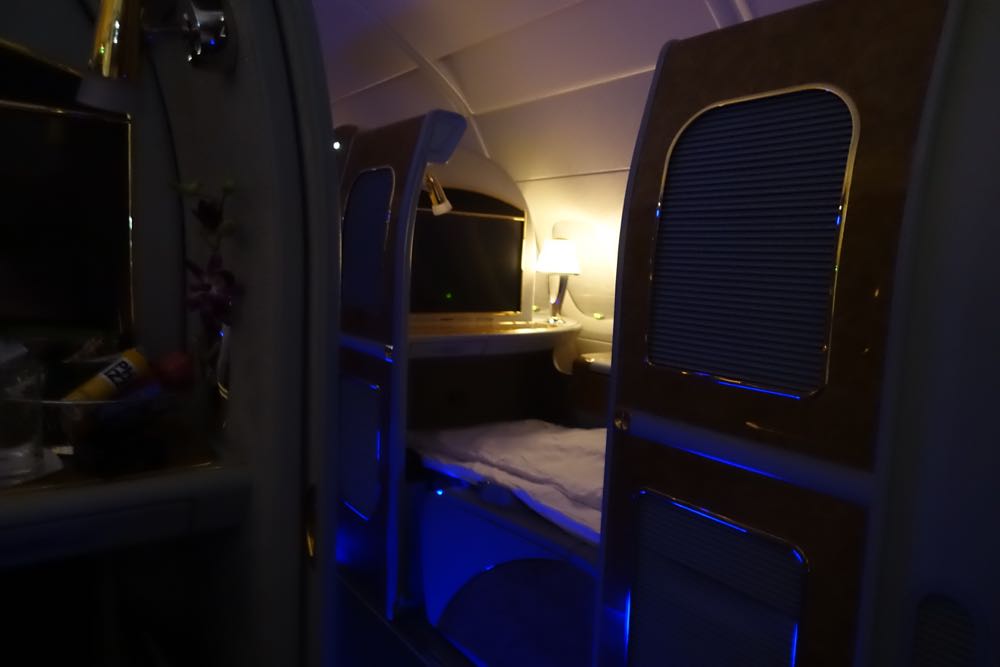 Emirates first class suite
While the bed was being made I went forward to check out the bar area at the top of the stairs. The only major change I noticed was the shift from Voss water to Evian.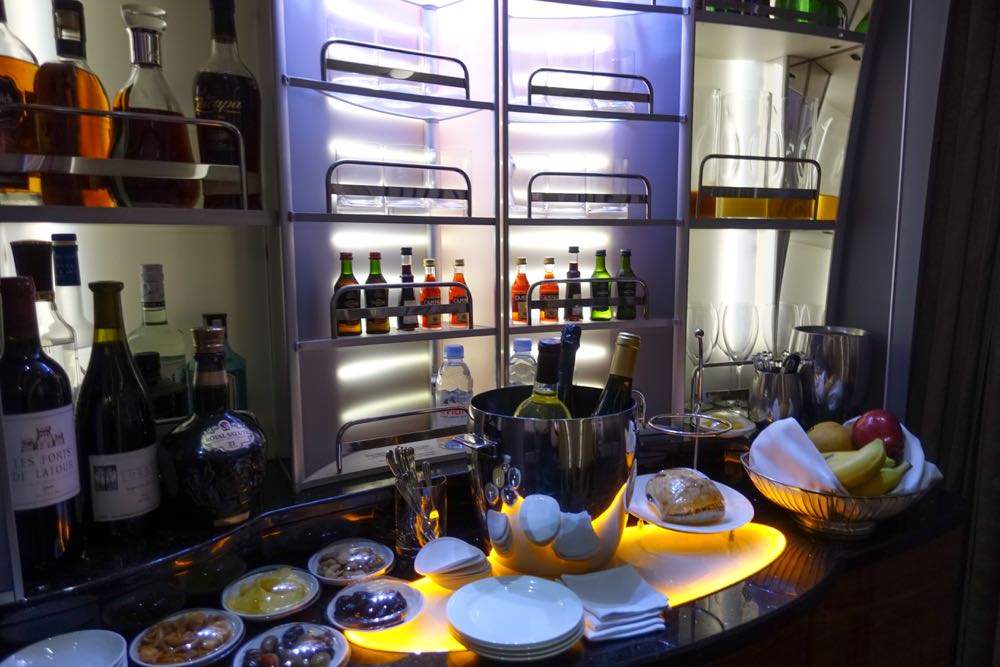 Emirates first class bar
Having learned on previous Emirates flights to turn off the lamps and displays in the vacant suites, I made a quick pass through the cabin and then fell right asleep.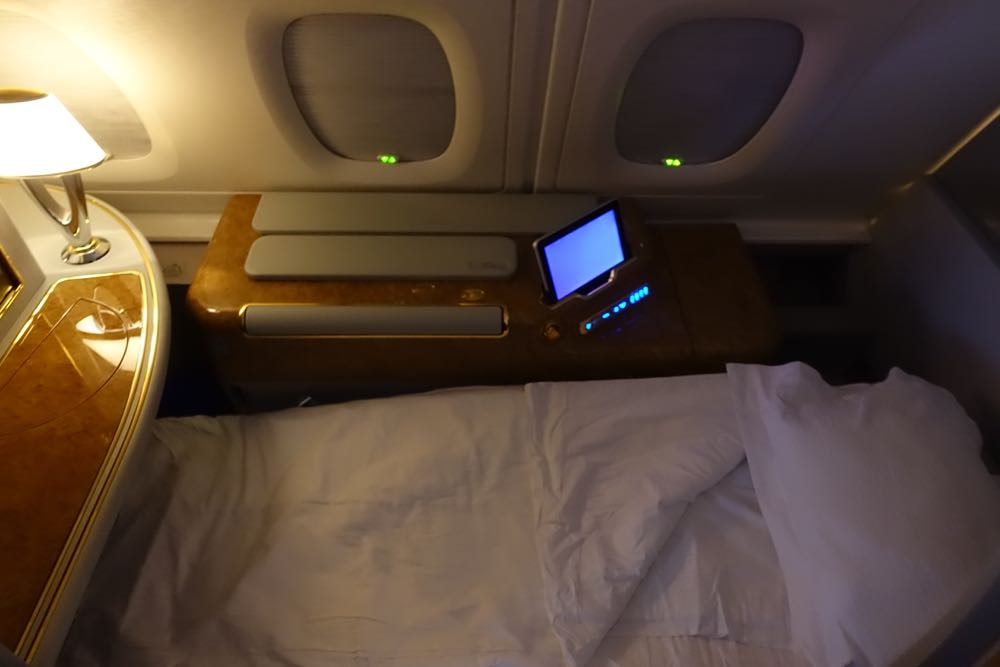 Emirates first class turndown service
The cabin was cool and quiet, so I slept for a solid six or so hours, which is about as long as I ever sleep anywhere. We had about five hours left in the flight, which seemed perfect.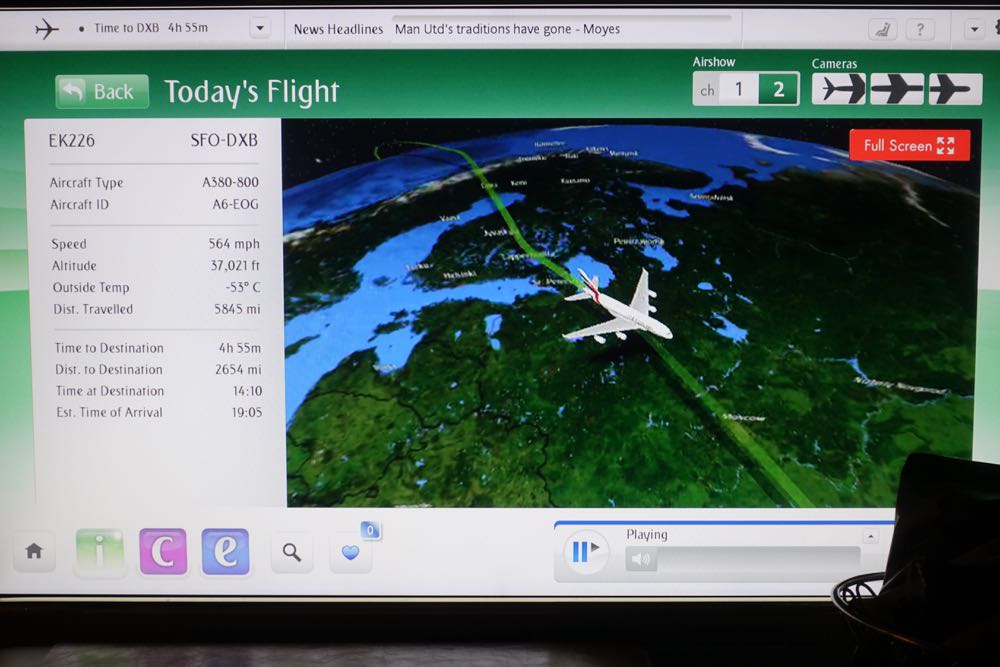 Airshow
I realize I'm starting to sound shrill about the catering, but the cappuccino I ordered was either very poorly made and in the wrong mug, or was actually a latte.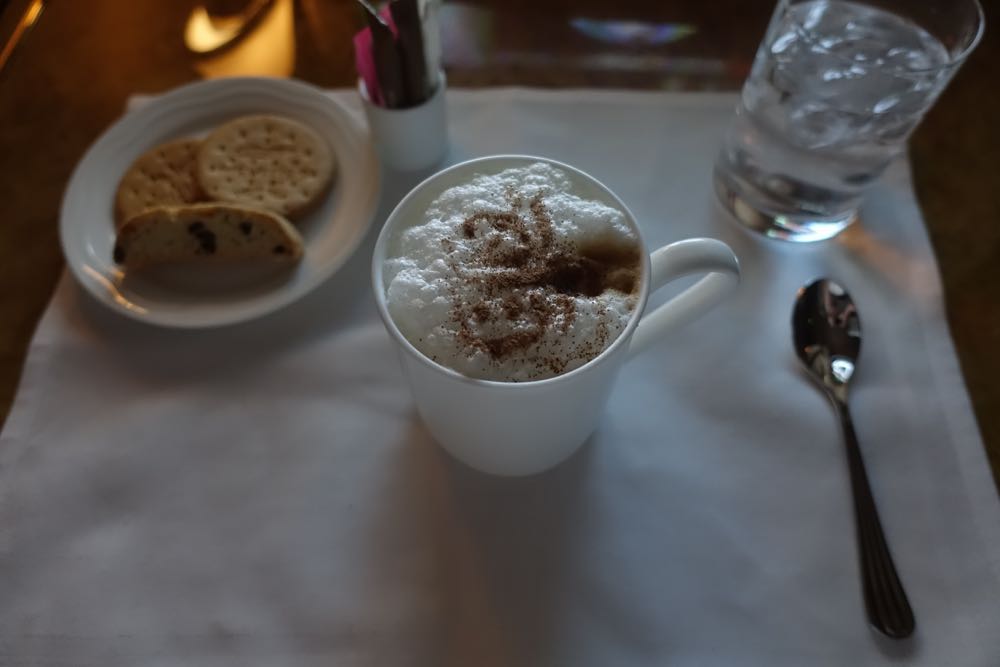 Emirates first class cappuccino or maybe a latte?

Emirates first class cappuccino 2015
I'd requested to shower four hours prior to arrival, but as I was awake the shower attendant invited me in a bit early. The shower experience was, as always, ridiculously fun.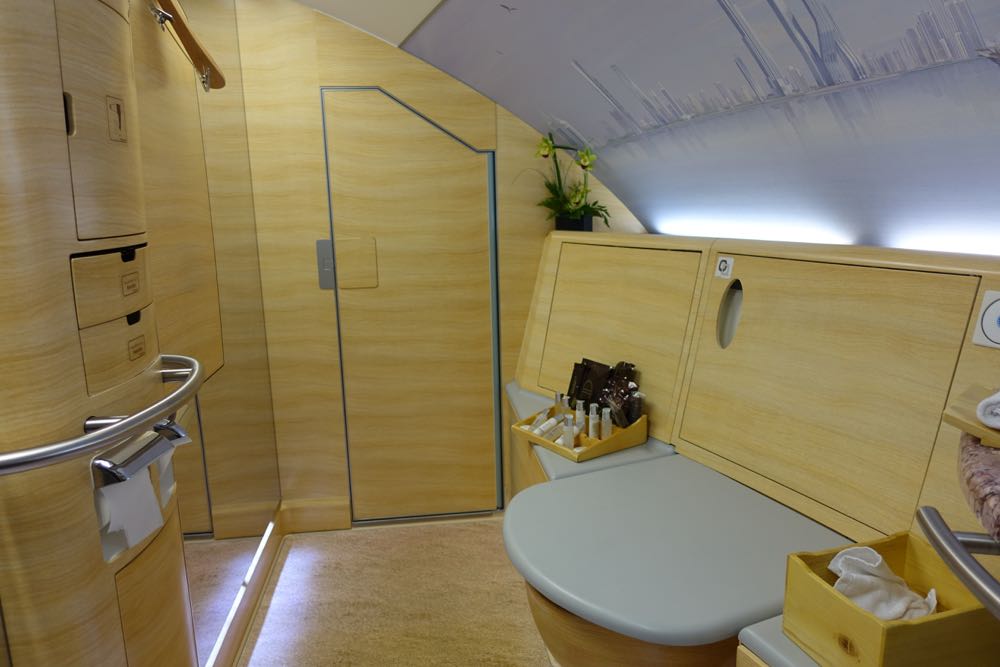 Emirates A380 first class shower suite
The Timeless Spa shower amenities have been replaced by Voya, but there was still an abundant selection, and two different scents to choose from.
When I returned from my shower, an updated version of the post-shower fruit plate was waiting at my seat, along with a Voss water.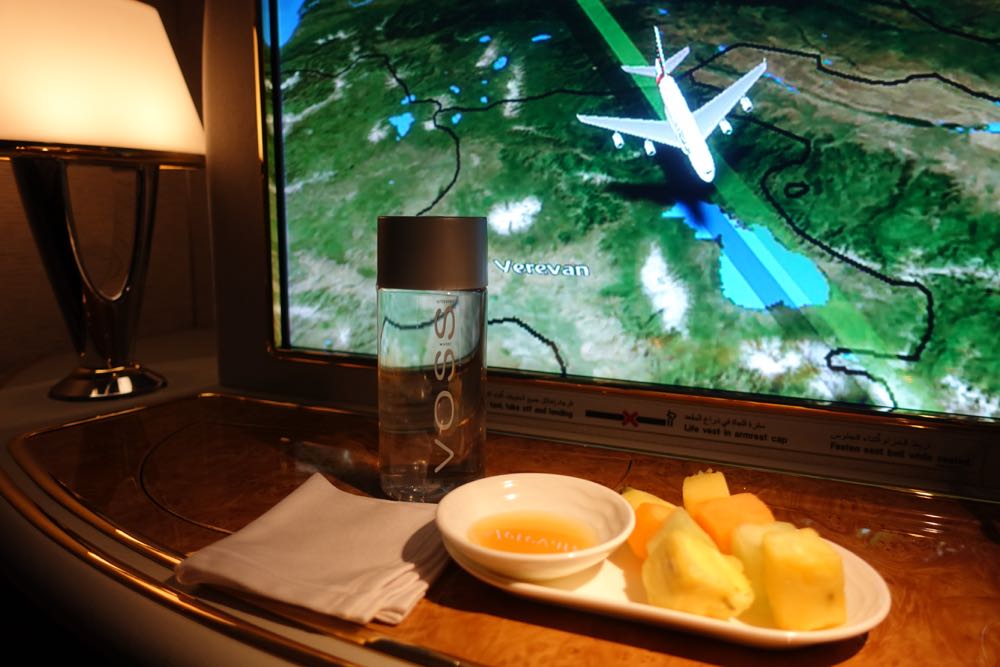 Emirates first class post-shower snack
My husband reluctantly took a shower as well (he'd been properly unimpressed with Etihad's A380 shower, so didn't feel the shower was worth the hype). He changed his mind once he realized the floors in the Emirates shower suite are heated. 😉
The timing of this flight — especially combined with a connection — can make deciding on meals tricky. Do you have breakfast, since you just woke up? Or lunch, since that's what would be appropriate for your destination? I'm aggressive in my approach to jet lag, so decided to consider the earlier coffee and fruit "breakfast" and have "lunch" about two hours prior to arrival.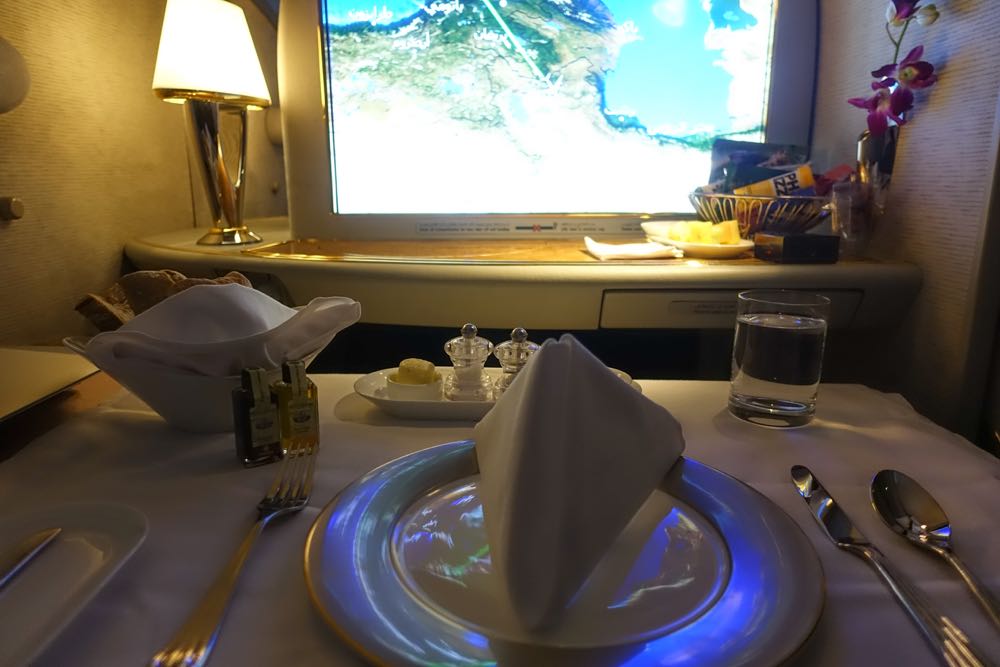 Emirates first class
I've had great soups on Emirates in the past, so we both ordered the soup course. I had the watercress soup, which was heartier than I would have anticipated, but quite tasty.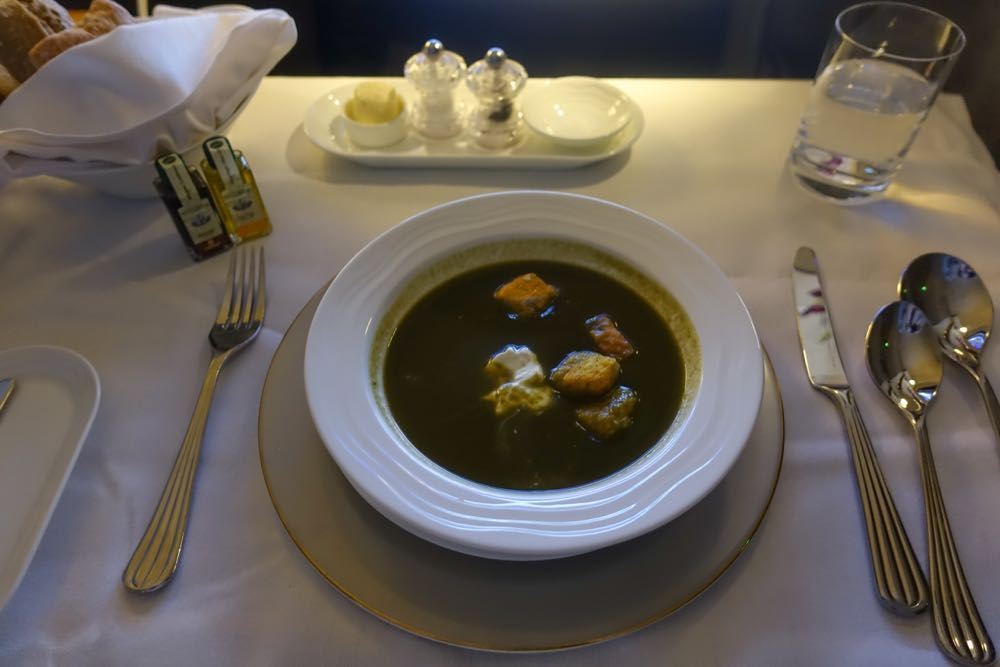 Emirates first class soup
My husband ordered the chicken consommè, which was in his words "unforgettably bad" and "like a bowl of tepid mucus."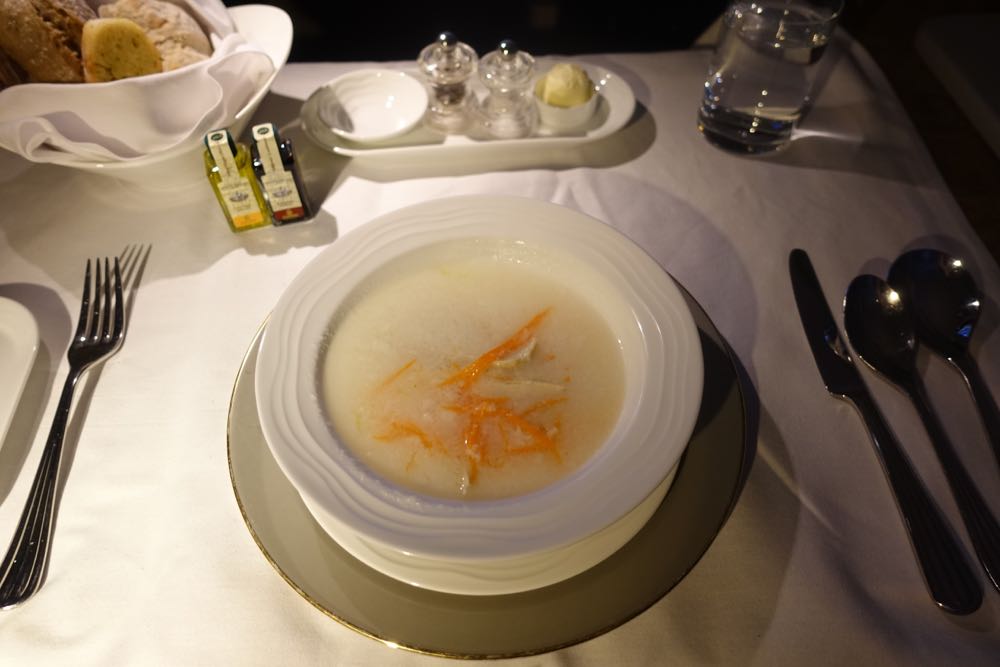 Emirates first class soup
A salad course followed, which was fresh with a nice combination of flavors.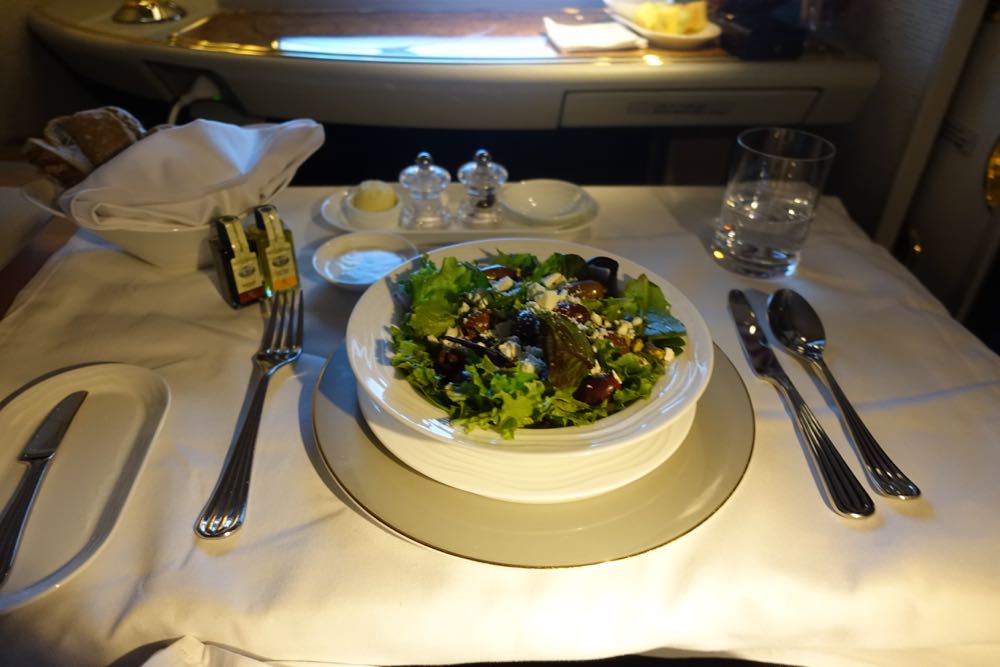 Emirates first class salad
My husband then had his filet, which was "mediocre given all the anticipation."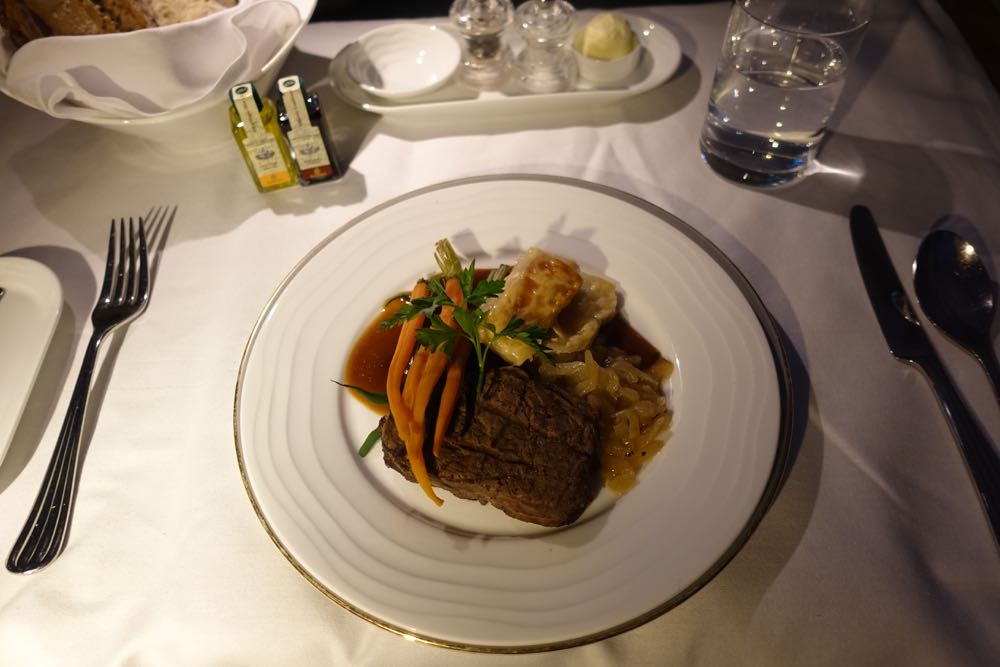 Emirates first class main course
I had the sweet and sour seafood off the "light bites" menu, which was perfectly prepared, and the exact right portion size.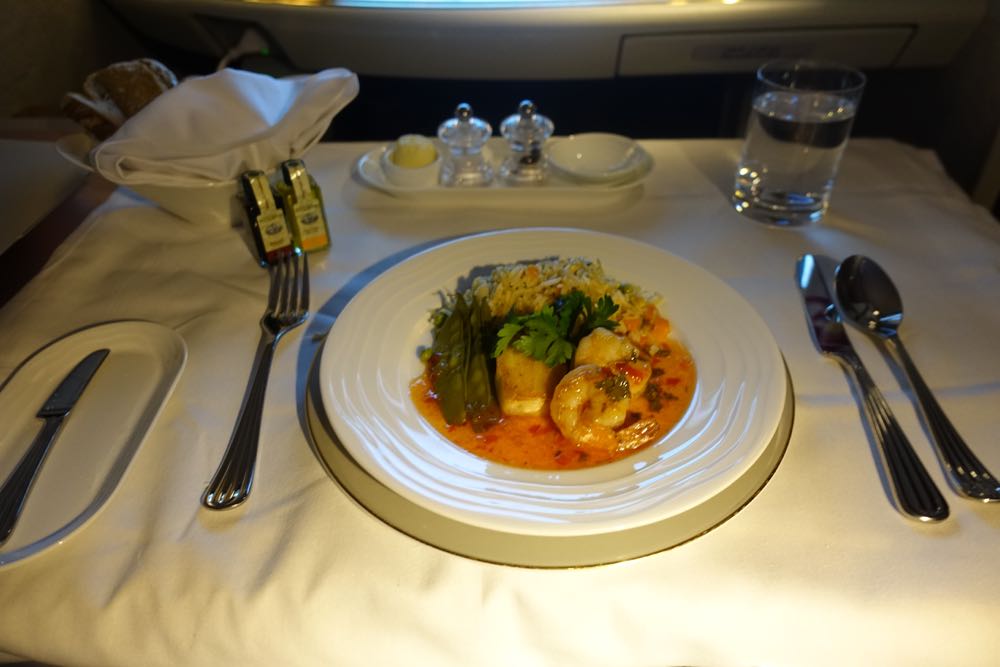 Emirates first class "light bite"
We landed in Dubai pretty much right on schedule, deplaned through the lower door, then headed through the terminal for our connection.
Bottom line
I always enjoy Emirates first class, and despite the minor service mishaps this was a great and fun flight.
The catering downgrades are a bit disappointing, though I suppose are to be expected given how light first class loads seem to be on Emirates' long hauls. But I of course still wouldn't hesitate to fly them again (just next time on a JAL award rather than Alaska)!