---
One of the things we wanted to do in Jordan was explore the natural landscapes. Jordan is a beautiful country, with several diverse protected areas. The largest is the Dana Biosphere Reserve, which has a variety of archaeological sites in addition to stunning landscapes.
Feynan Ecolodge is owned by the Royal Society for the Conservation of Nature, but everything is run and managed through Ecohotels, with a very strong emphasis on sustainability. Nearly all the staff comes from the local Bedouin community in Dana, which makes for a unique experience, and a nice way to support people directly.
Getting to Feynan Ecolodge
There are a few ways to get to the ecolodge. If you aren't self-driving, a great choice would be to start in Dana Village to the East of the Reserve. You could even spend the night there (the Dana Guesthouse would be my recommendation), and then hike through Wadi Dana to Feynan. You can easily arrange for your luggage to be driven to Feynan by the locals, which makes this a convenient option.
If you have your own vehicle, the best option is to approach the Reserve from the Southwest. There's a welcome center in the village of Feynan, which is well-signed.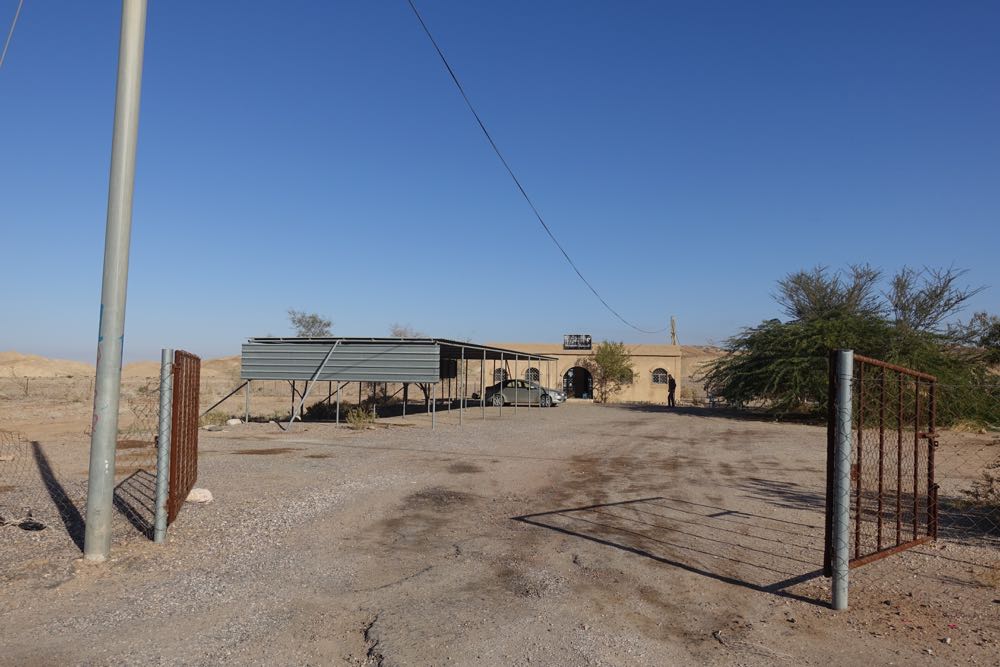 Most guests will leave their vehicles at the welcome center, and a local will take you the rest of the way to the lodge in a truck.
If you have a high-clearance 4×4, however, and a bit of experience driving in rough terrain, you can drive yourself all the way to the ecolodge. We chose to drive ourselves, so were directed to the end of the village, and told to follow the track through the desert.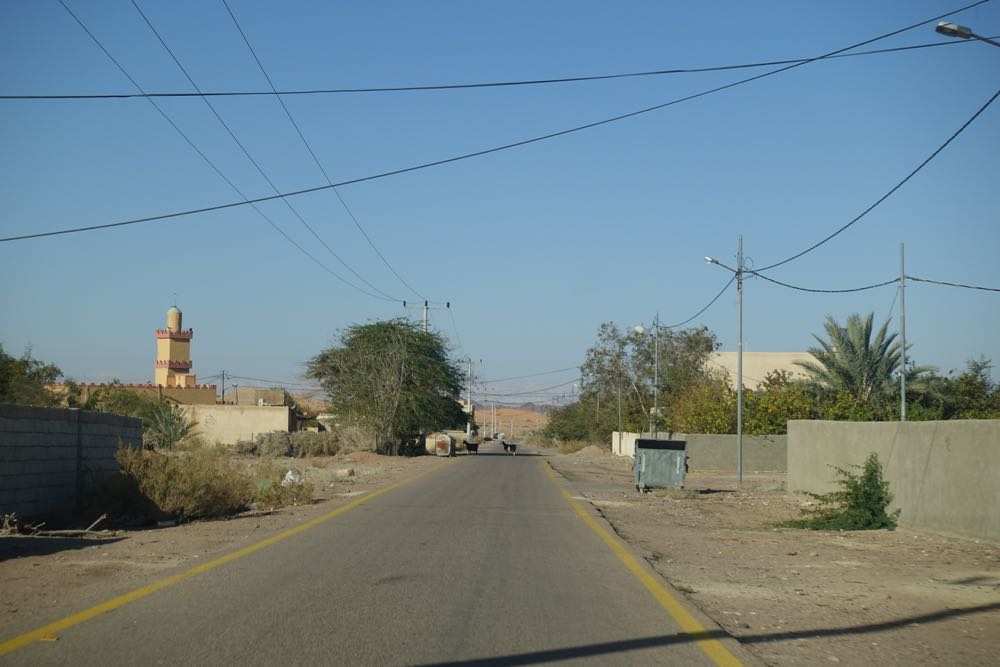 The drive was easy in parts —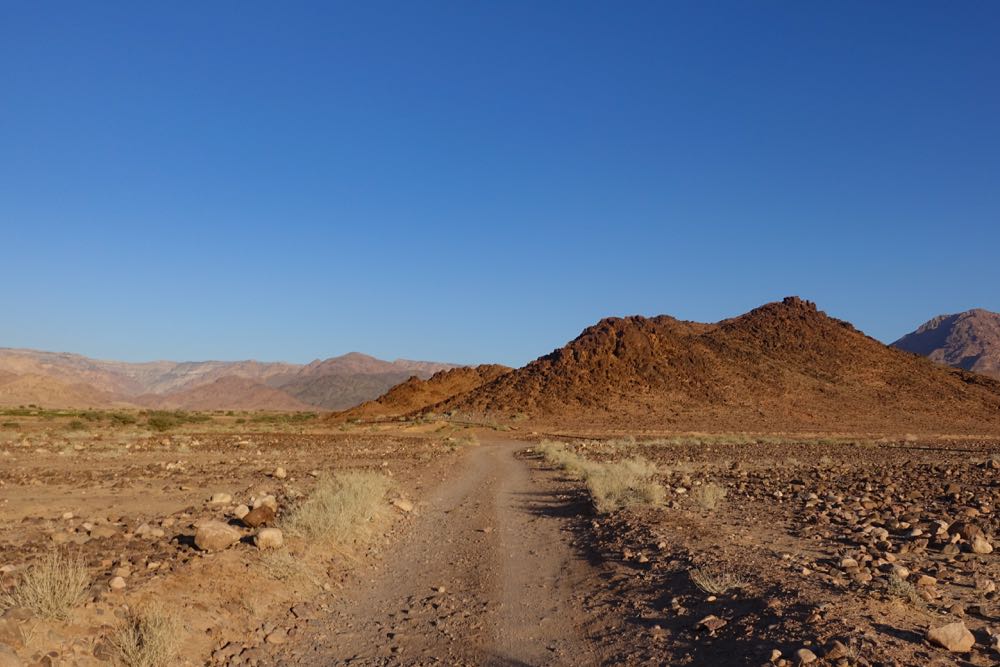 And a bit more complicated in others —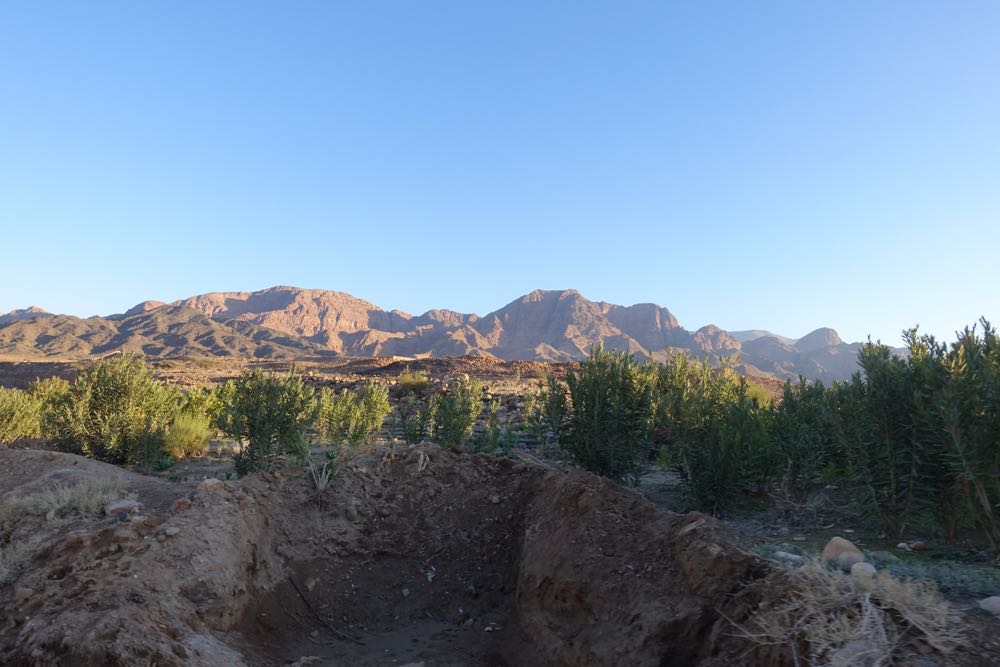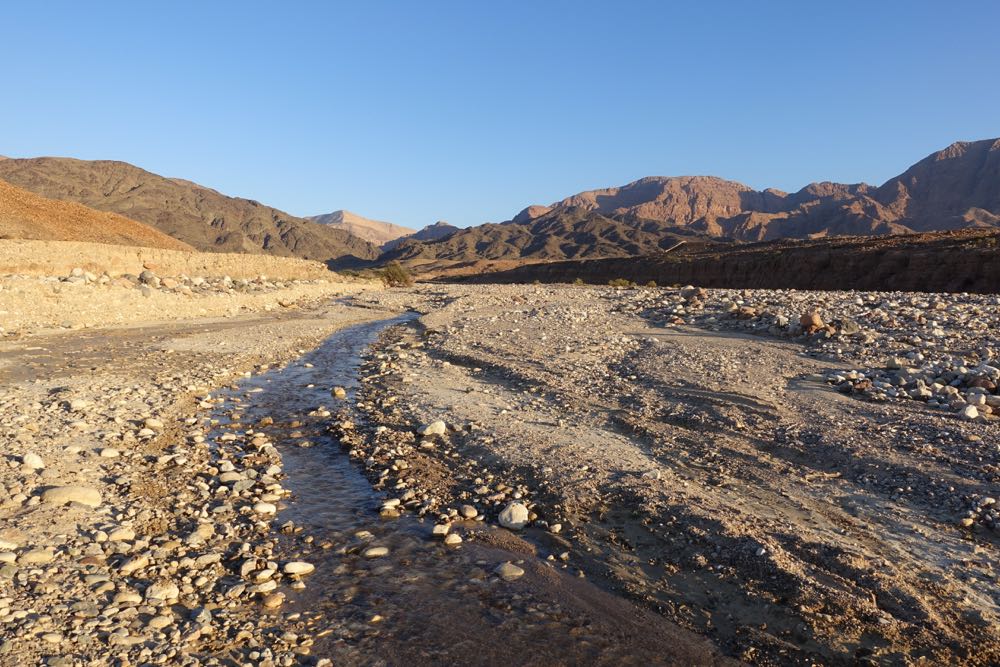 There hadn't been any rain recently, so the track was relatively dry, and we didn't need to use the four-wheel drive. The higher clearance was absolutely mandatory, however, as was the experience in off-road driving. So not too hard, but not necessarily easy.
The drive took ~30 minutes, and we passed several Bedouin encampments along the way.
Eventually we got our first peek of Feynan Ecolodge, nestled in a valley at the mouth of the wadi.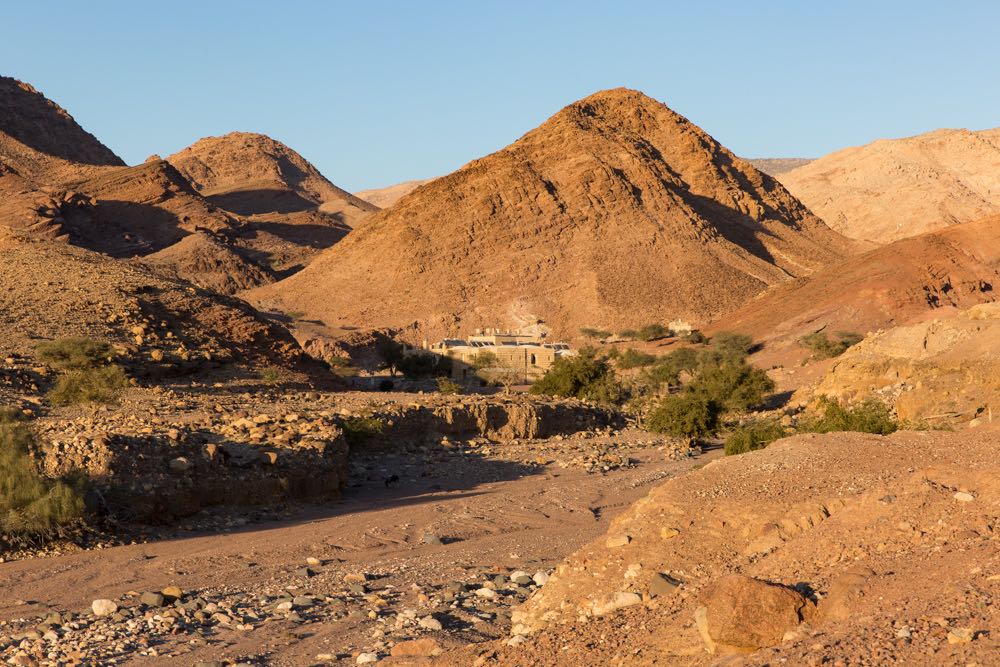 Feynan Ecolodge
The lodge blends perfectly with the landscape, and also feels a bit like a Star Wars set.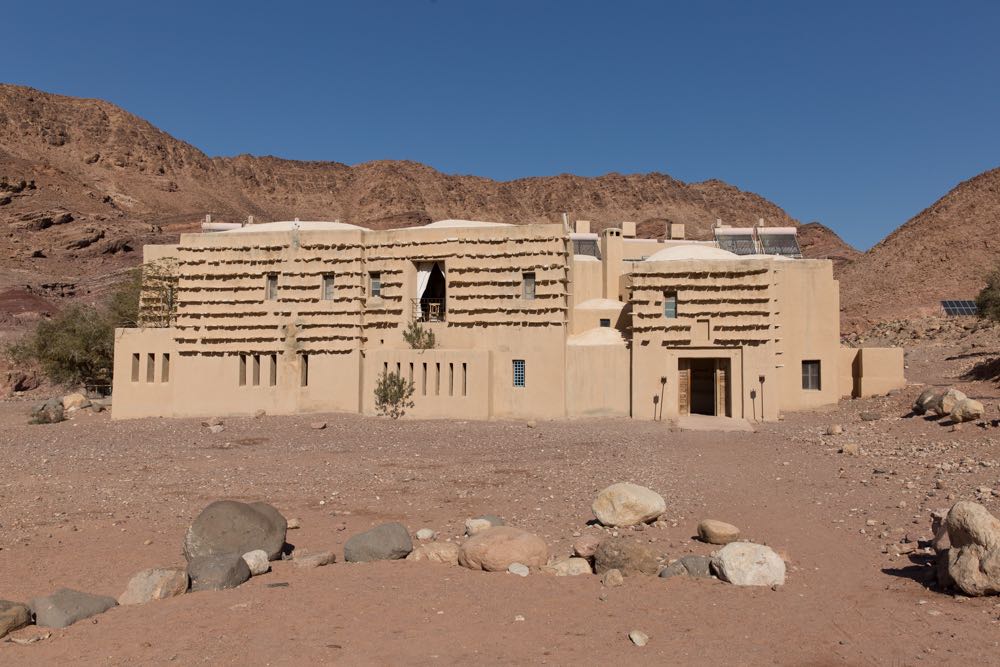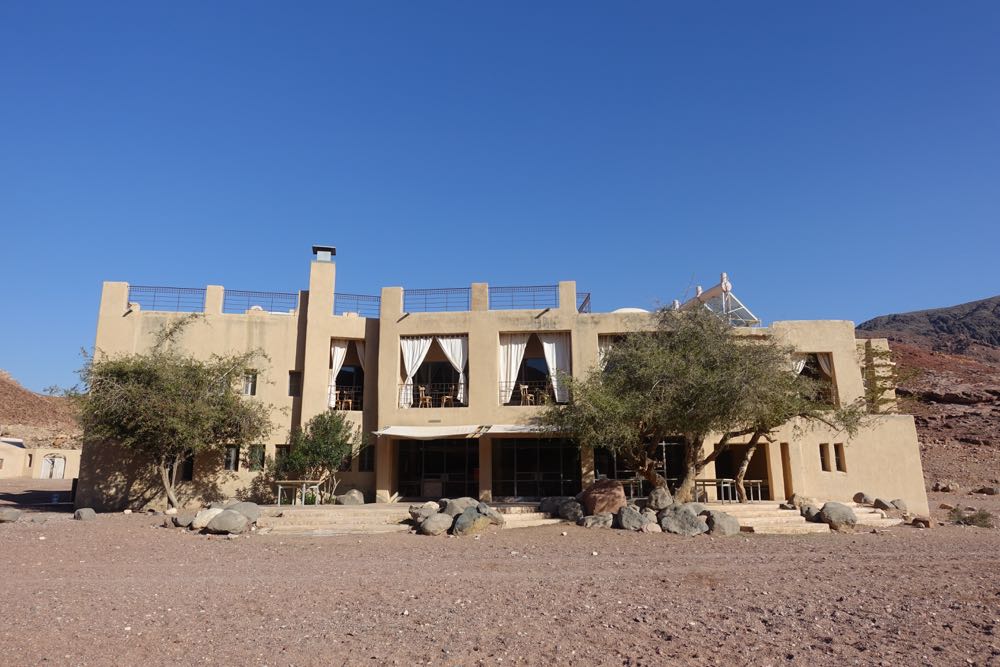 As soon as we parked the car we were met by a few staff members who welcomed us by name and gathered our bags.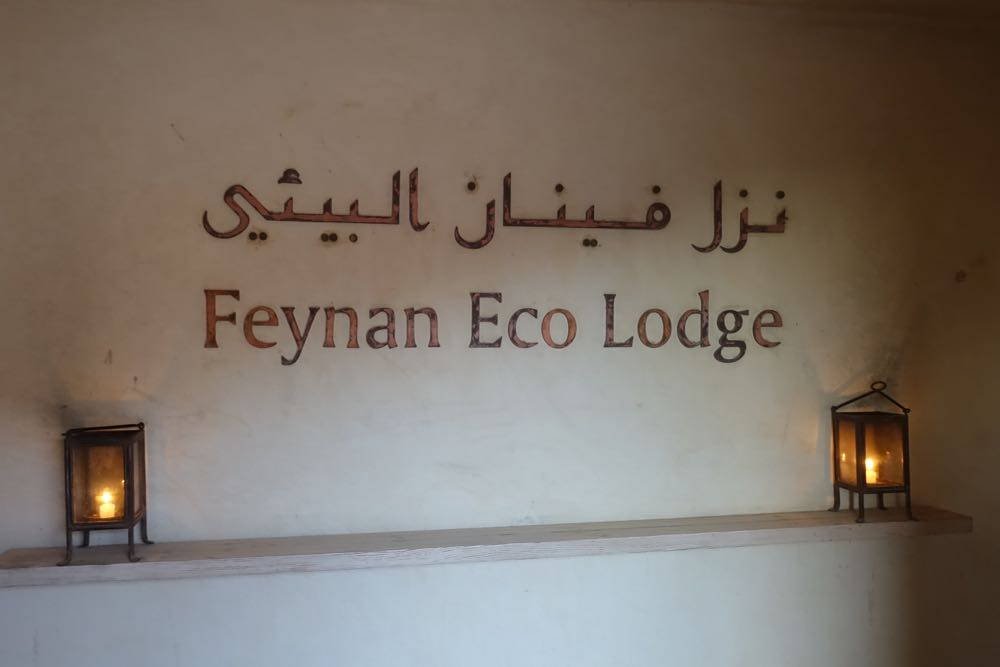 The ecolodge is designed to stay cool, with thick stone walls and floors. The effect is intimate and perfect for the desert without feeling too cave-like.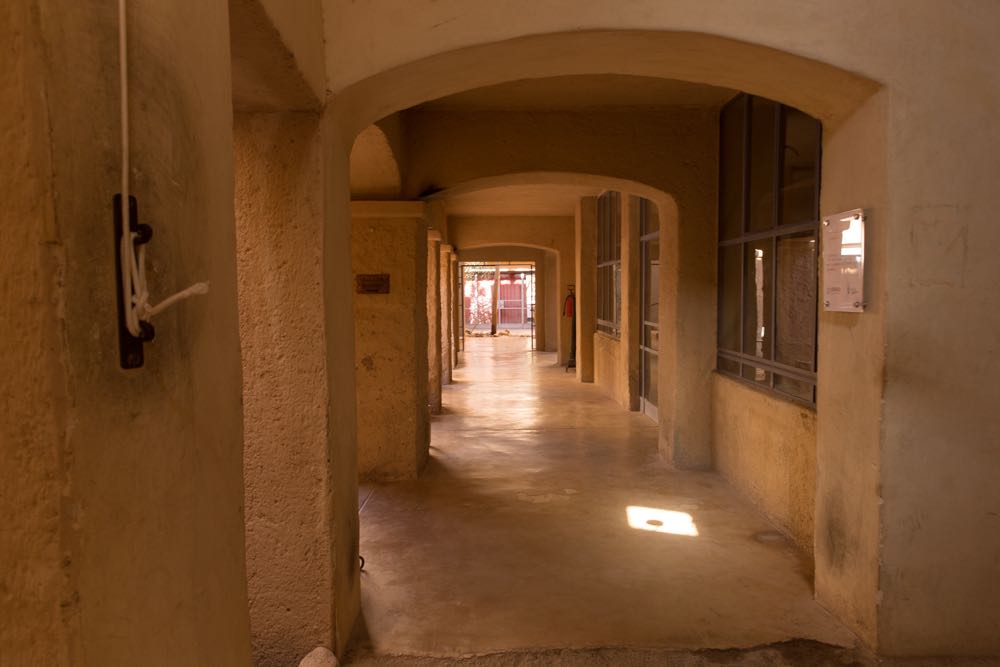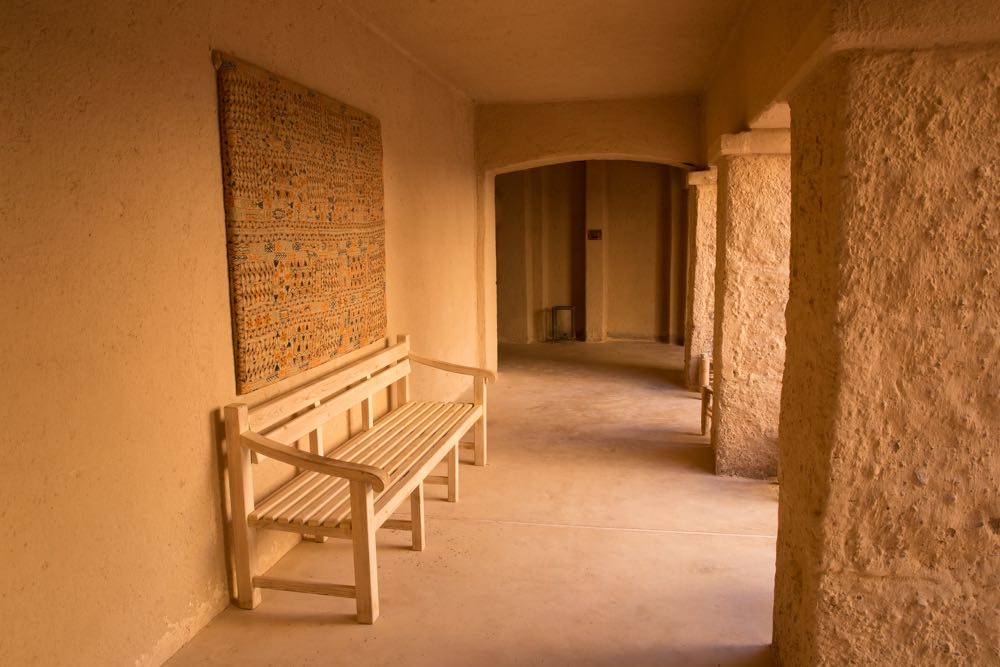 The check-in area has a fireplace and a few seating areas.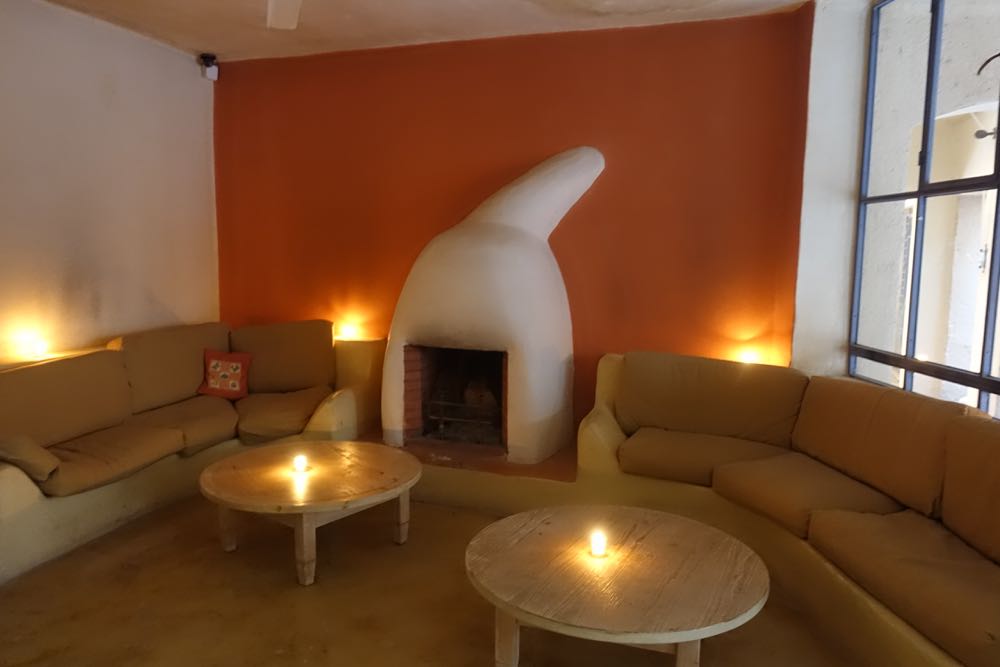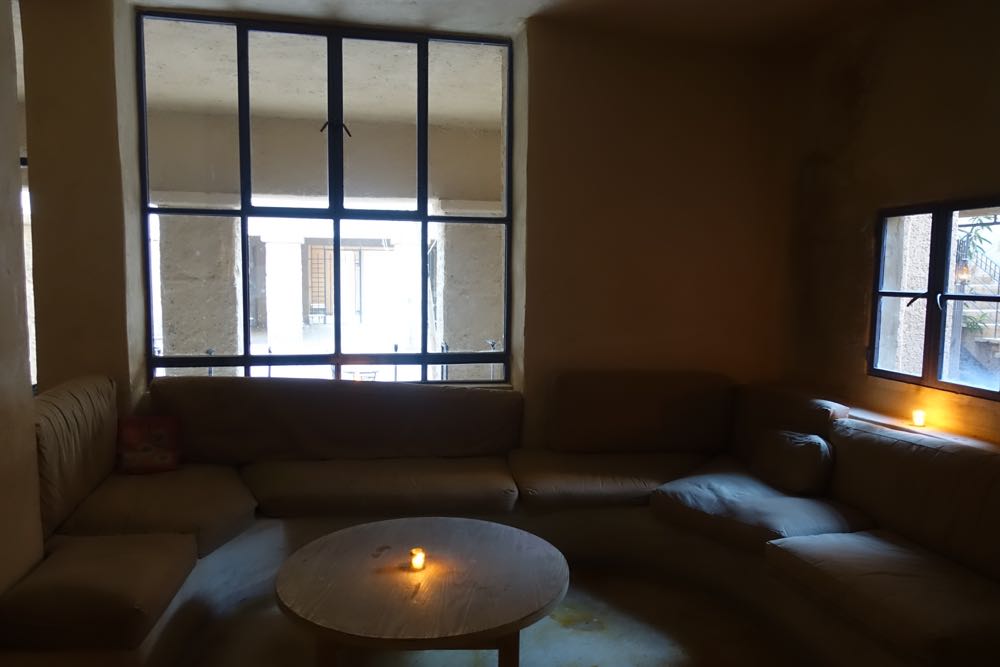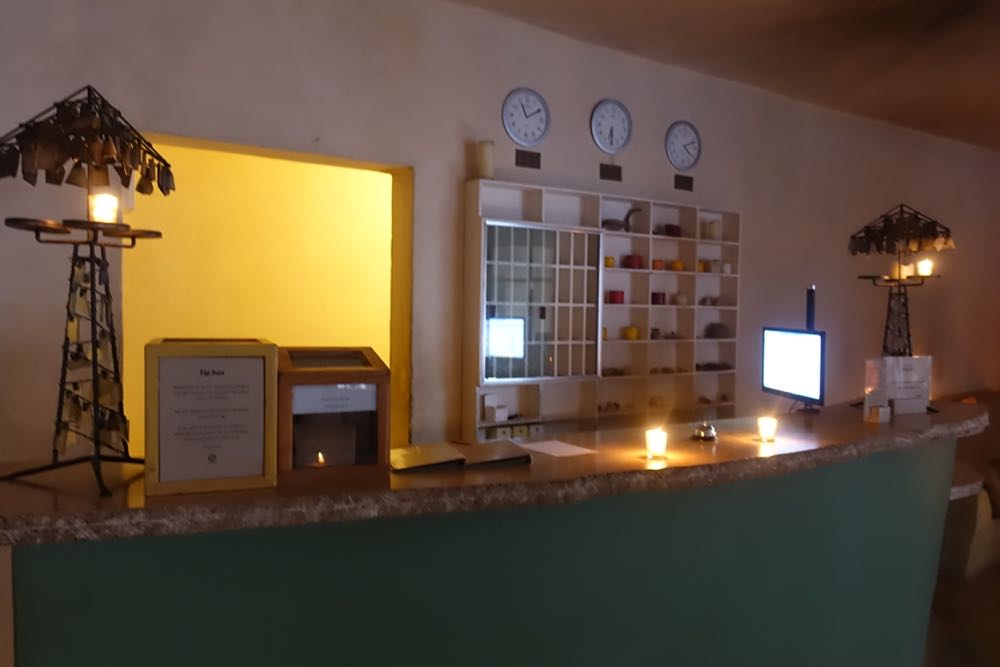 Cold sweet tea was brought out on a tray while we processed the check-in.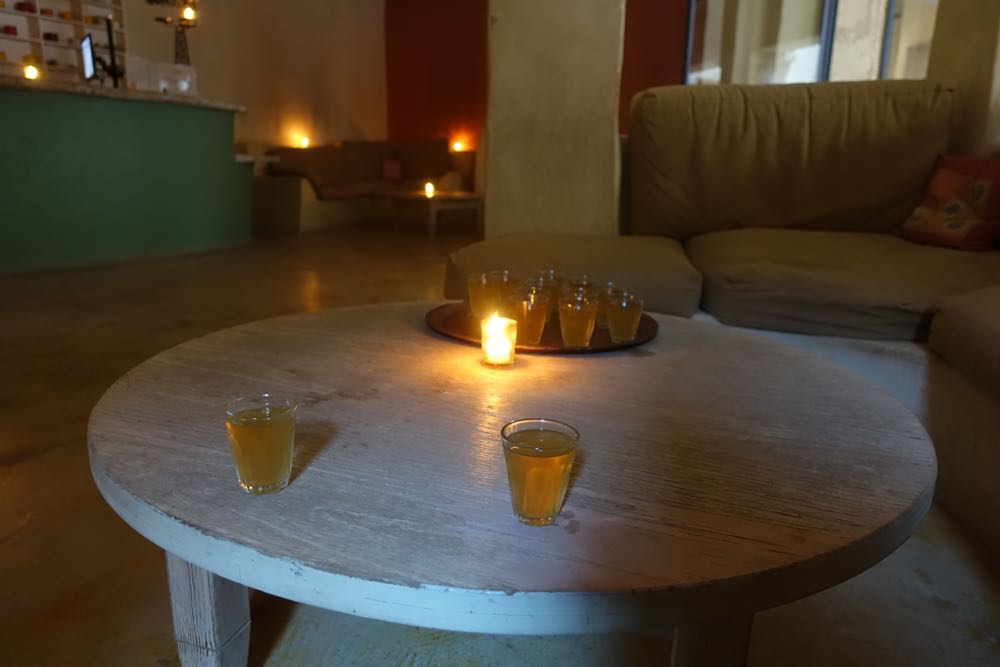 The check-in process was quick — almost too quick. We were given a general overview of the lodge, told the time for dinner, and then taken up to our room. There are a ton of activities you can participate in while at the ecolodge, so I expected to go over those on arrival. Instead, there's a "meeting" after dinner each day where the staff outlines the options for the following day.
But we missed the instructions about the meeting time on our first night, which made the next morning a little complicated, so that's something to be aware of.
Feynan Ecolodge rooms
Feynan Ecolodge has just 26 rooms, so as long as you're not there the same time as a tour group it's a lovely, intimate experience. Our first night there were two tour groups there, which was actively miserable for us (as we were the only people not in a massive group). I would suggest asking about any large group reservations when you book your stay — the property and concept really isn't set up for groups, so the cacophony really detracted from our enjoyment of the property.
The second night, which had nearly as many people, but all couples or small families, was a completely different experience, which we really enjoyed.
All the guest rooms are on the upper floor of the lodge, with a series of walkways surrounding the courtyards and connecting the structures. The idea, given the "eco" focus is to maximize both light and the desert breezes.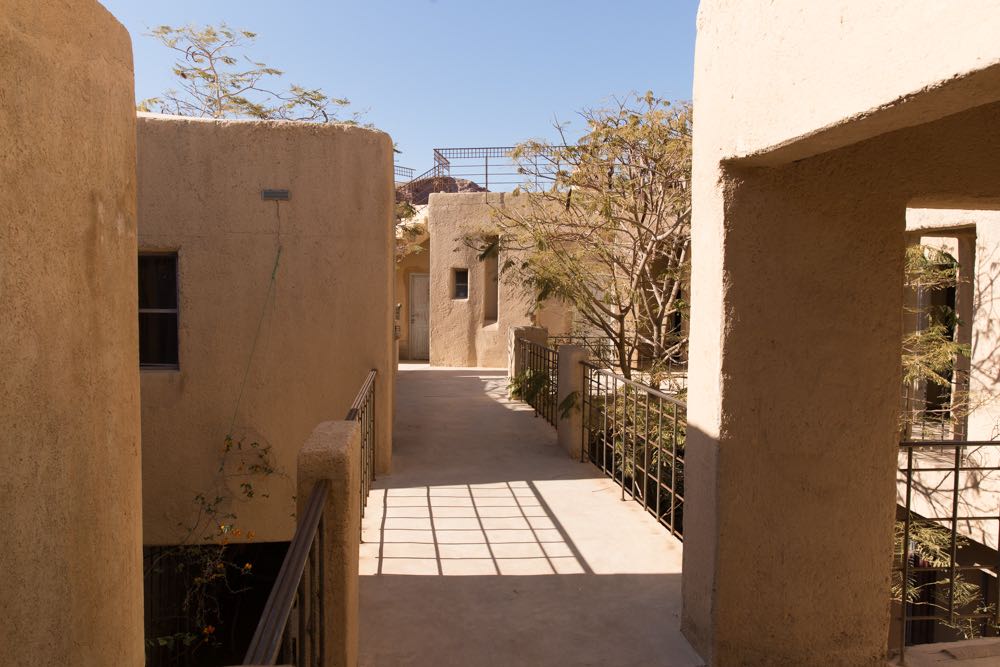 We were assigned room #8, a deluxe room with a private balcony. How fantastic is this door?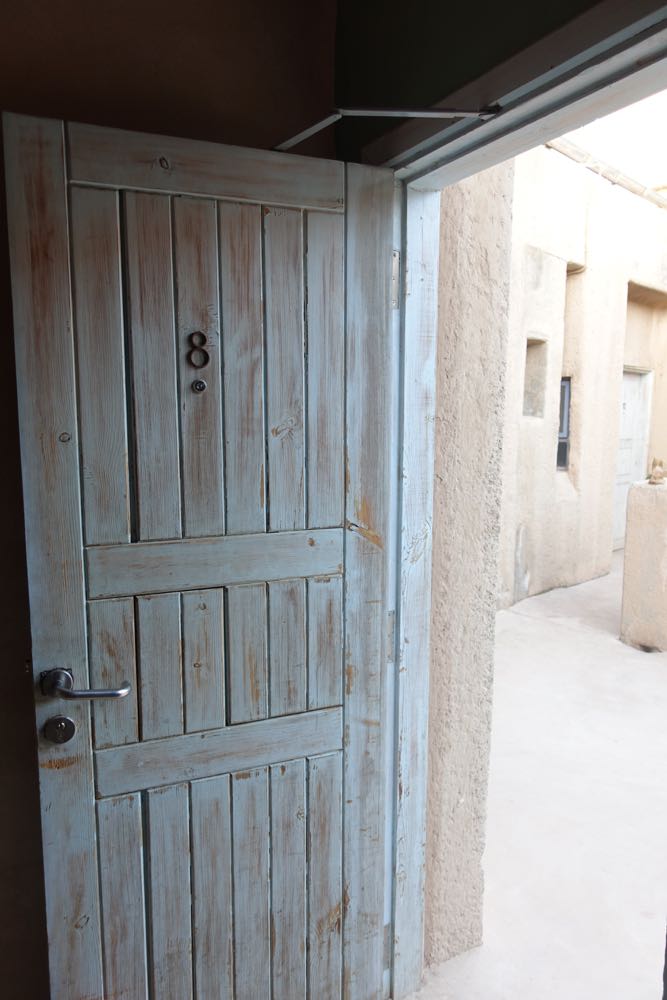 Describing the rooms is a bit tricky. They were super nice for what they were — environmentally-friendly accommodations in a very poor country. So if you're expecting camping/glamping, everything was awesome. But that's of course a completely different category than we'd typically cover on OMAAT.
The room was large, and again all concrete. A fabric closet/wardrobe was placed at the entry, facing the bathroom door and a vanity area.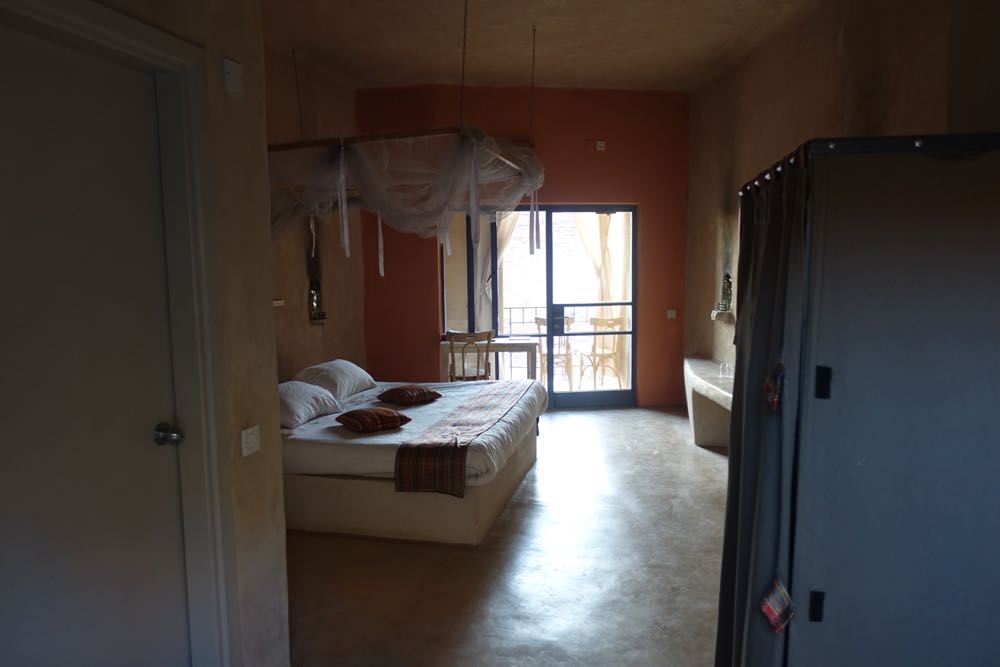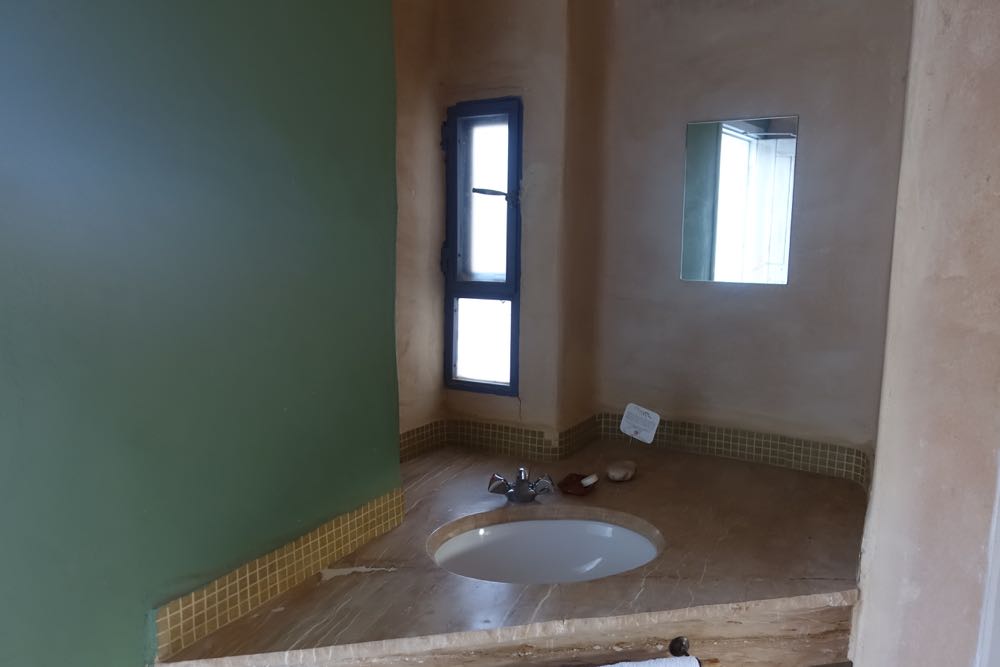 The bathroom was basic for a hotel, but fancy for camping, with a toilet, shower, and sink. And an electric light — the rooms don't have electricity other than the bathroom light.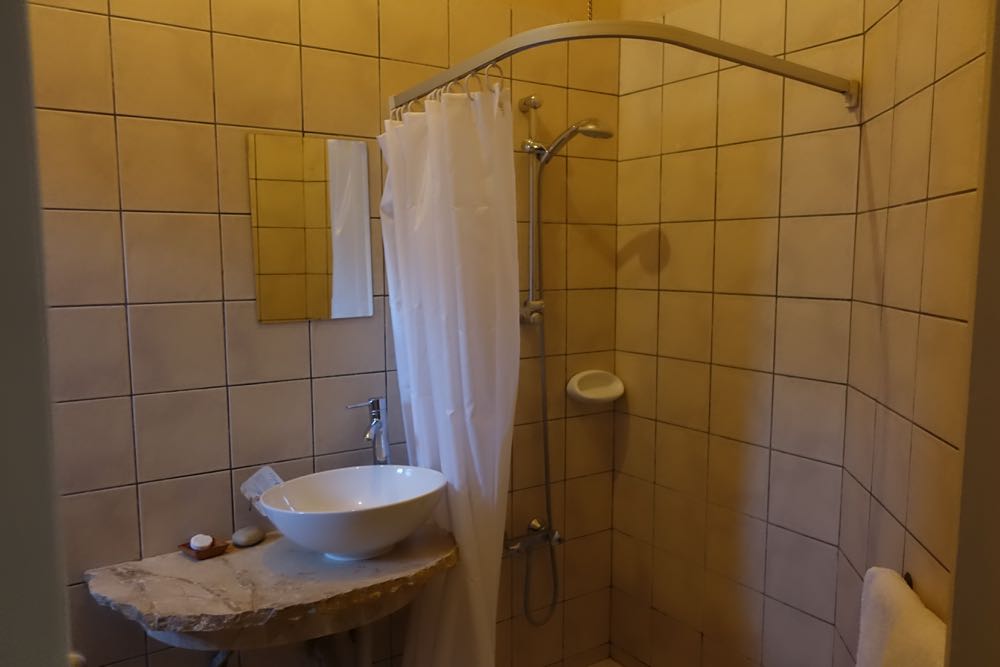 The bath amenities consisted of two bars of handmade soap, one for each sink. It's an ecolodge, so…
The bed was large, and very firm (even for me). Let's call it Japan-firm, which is hardly surprising for what is literally a futon on top of a concrete slab.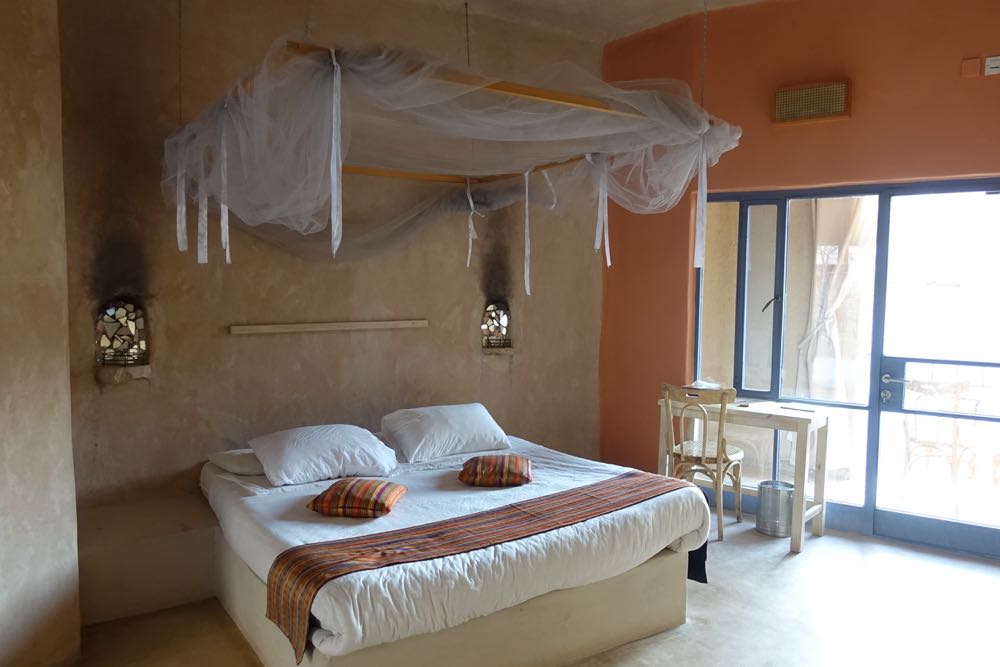 The mosquito netting was necessary for us even in winter — we only had one intrepid insect, but it was voracious, and I am a mosquito beacon.
Each room had a water jug that was refilled daily. The design allowed the clay to sweat, which somehow also kept the water cool. I loved it, and was devastated that they didn't have any available for sale in the little hotel shop.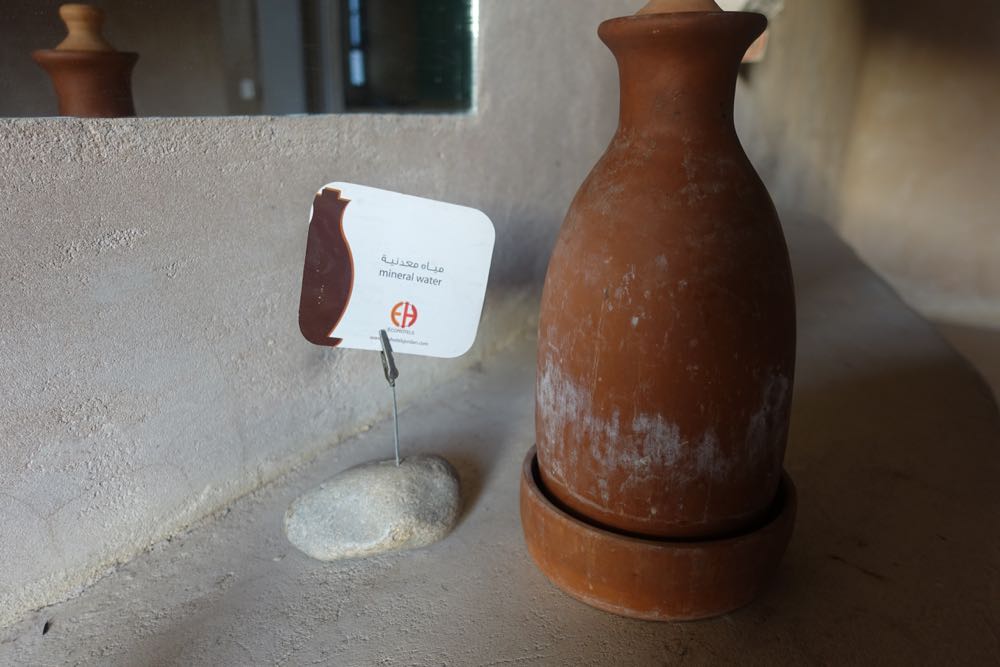 We also had a small desk near the window.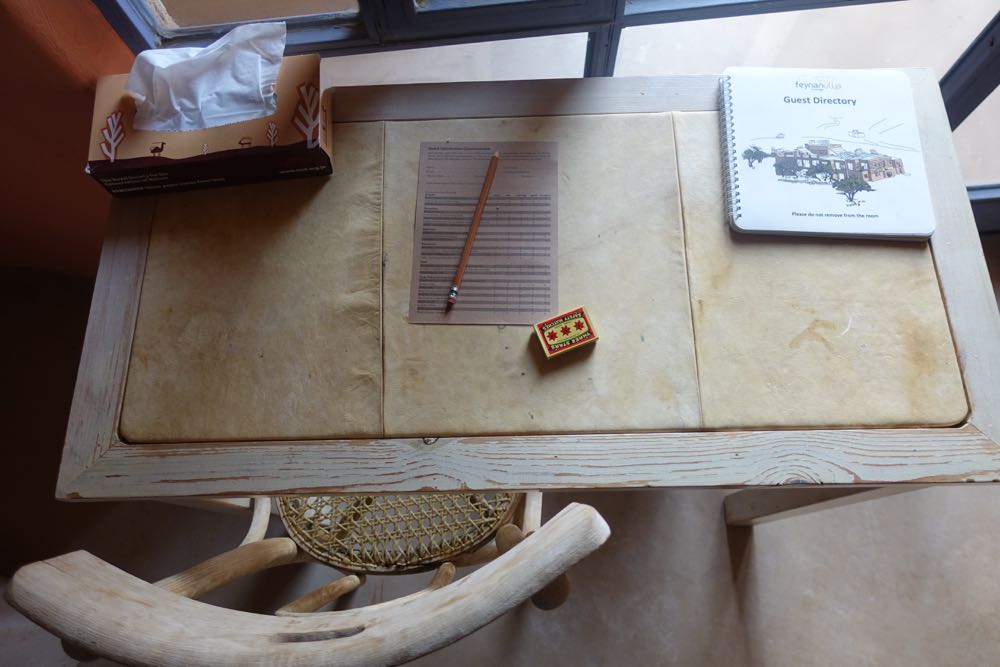 The balcony was a nice feature, and I think if it had ever been more than 40°F when we'd been there we would have really enjoyed it. I think it would be lovely to sit out here on a Spring morning.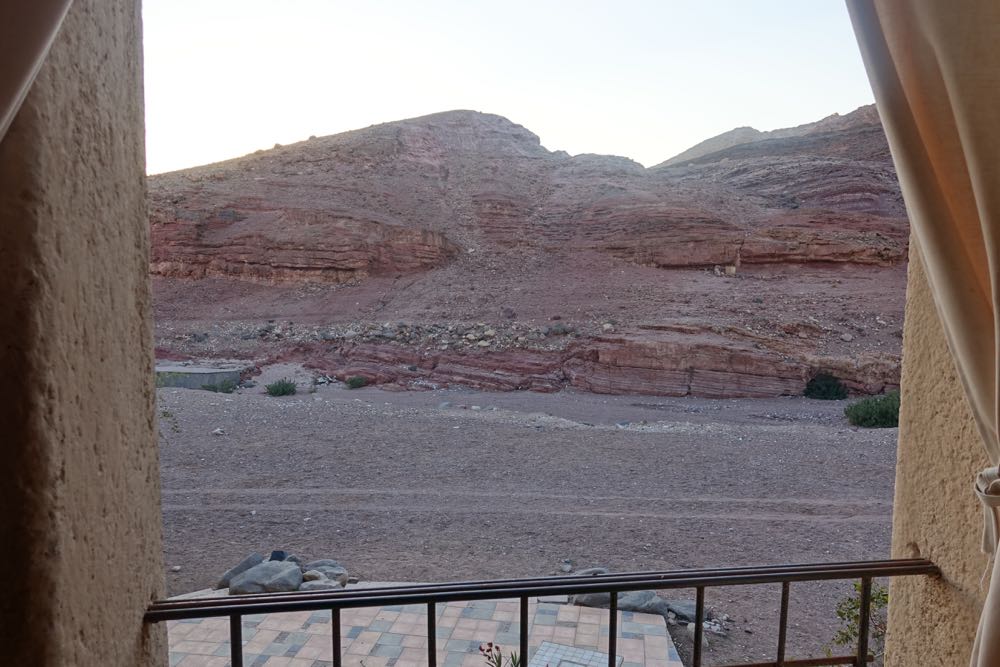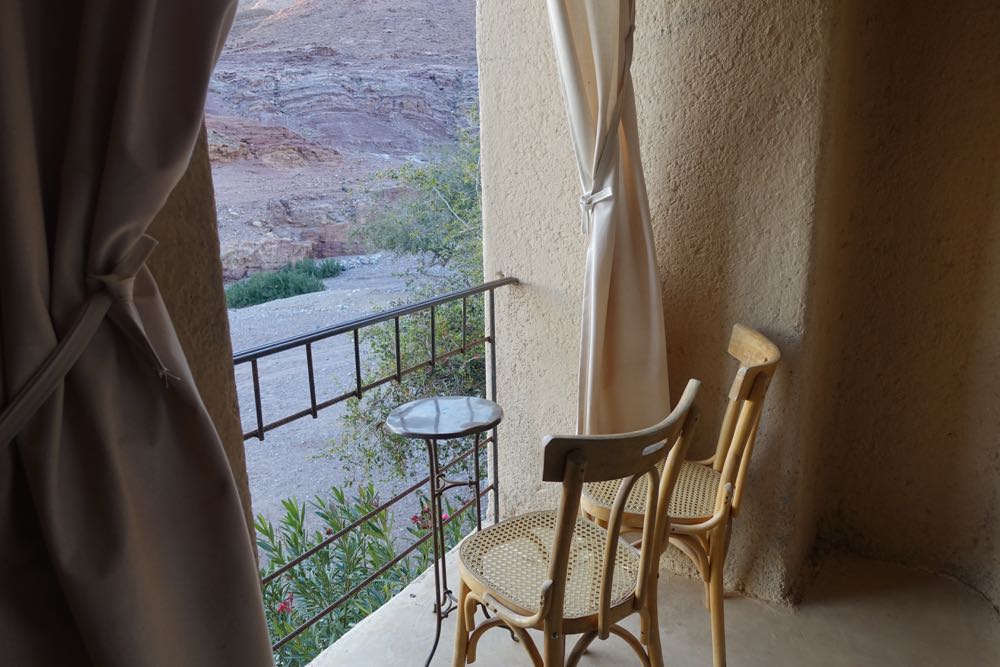 Feynan Ecolodge is entirely solar-powered (hey Travis, look at all the solar panels!), which means you want to plan your shower appropriately.
Afternoon and evening showers were SUPER hot, morning showers were pretty much frigid unless you timed it such that the other guests hadn't drained the hot water supply yet.
As the rooms don't have electricity, each room has four sconces, with candles that are replenished each day.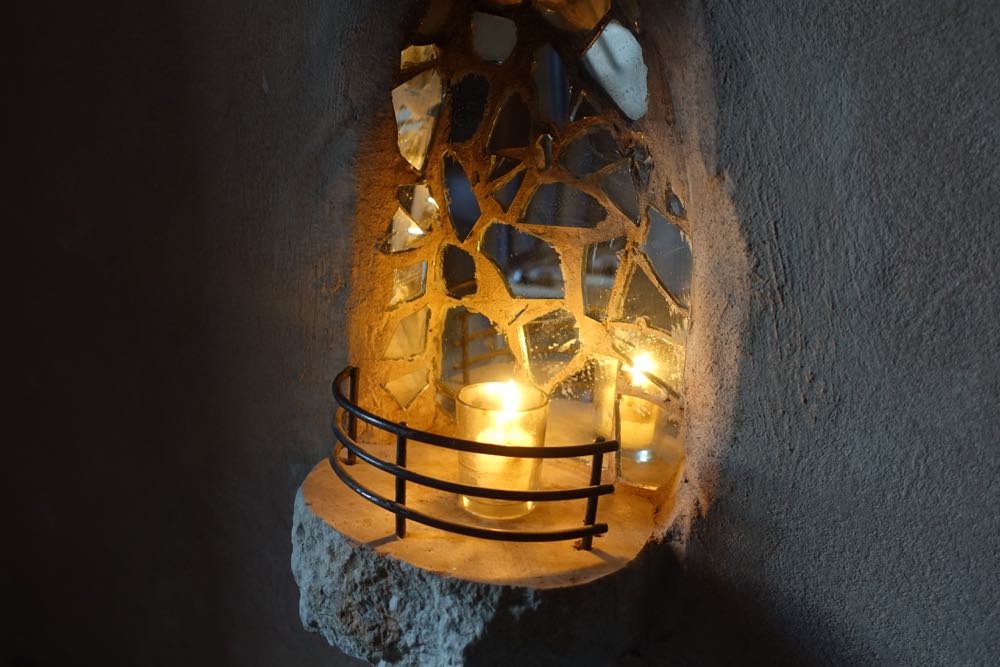 The mirrored niches actually worked decently well at illuminating the room!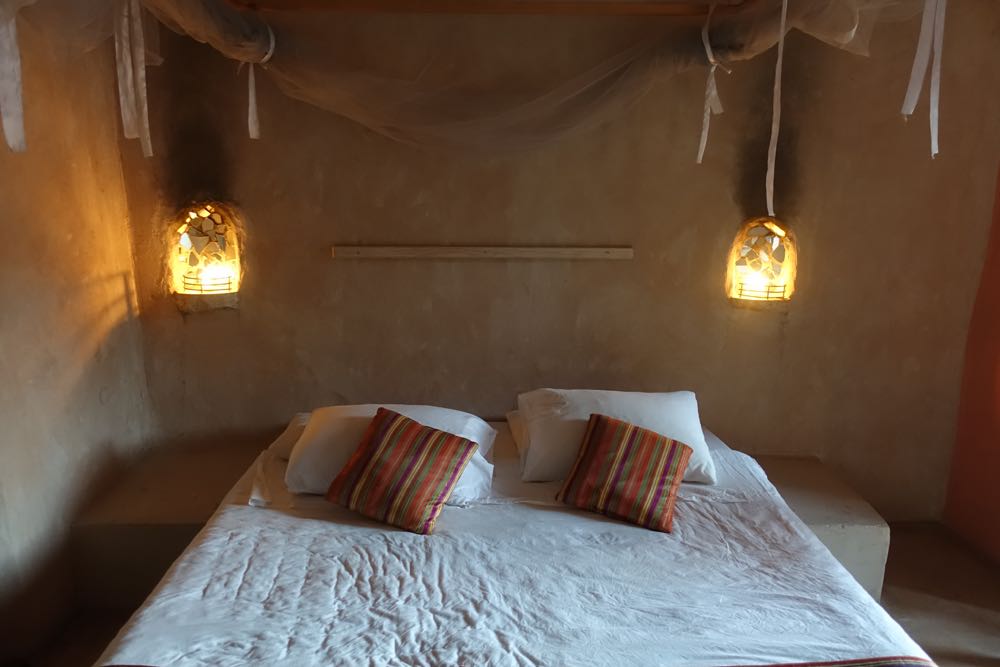 As there is very little electricity at Feynan, the entire lodge is lit by candles each night, to beautiful effect.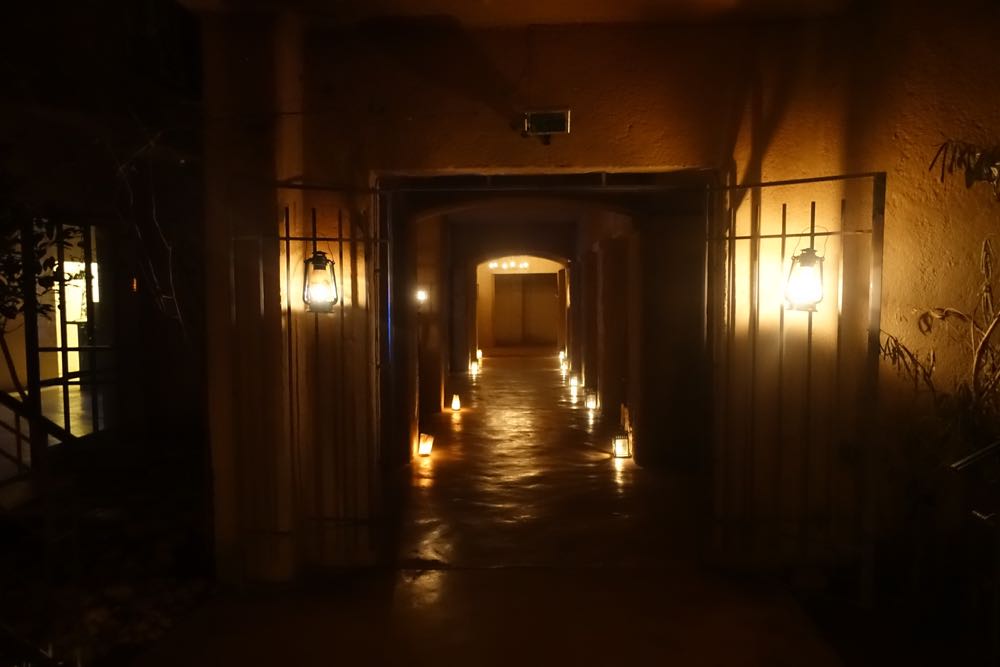 The rest of the lodge consisted of a few courtyards, and a lounge area that hosted a fire in the evening.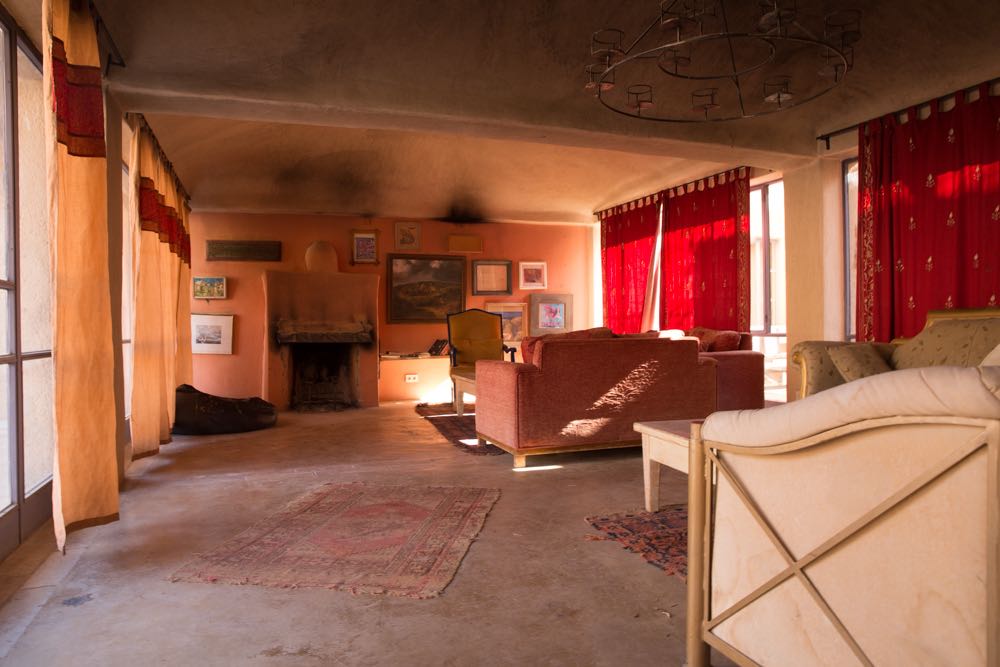 There was also roof access, which provided some fun views during the day, and incredible stargazing opportunities at night.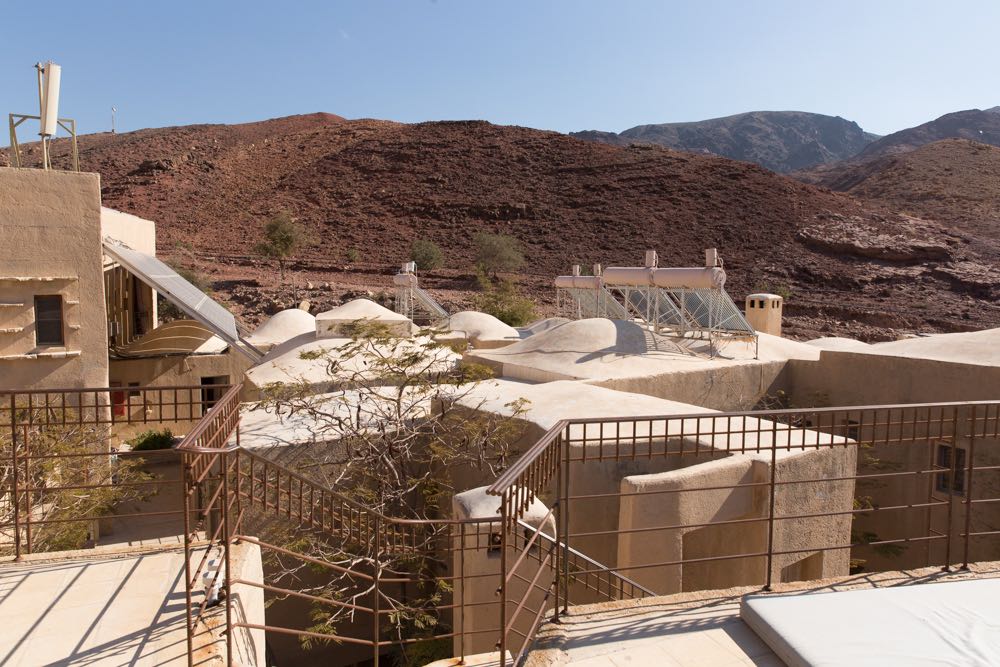 Dining at Feynan Ecolodge
For the most part it seems rooms at Feynan are sold as full-board, which makes sense — there's nowhere else to go.
The meals are described as follows:
Breakfast: A traditional Arabic breakfast buffet is served on our terrace (weather permitting) including local bread and homemade jams and falafel. Dining in the early morning light of the valley is a pleasure as you watch the wadi come to life and the local shepherds taking their goats out for the day's grazing.

Light lunch or lunchbox: A selection of Arabic mezze-style plates including fresh salads, handmade bread and local dishes with a daily changing menu. If you are out on an excursion we will arrange for a lunchbox to take with you with a choice of sandwiches to be enjoyed in the wilderness as part of your eco-experience. Lunchboxes should be arranged the night before with our staff.

Dinner: A three-course vegetarian buffet dinner of locally-inspired dishes is served on our terrace under the stars or in our dining room by flickering candle light. Our local chefs prepare a daily selection of vegetarian dishes adapted from traditional Arabic and Bedouin cuisine.

Morning and afternoon refreshments: including filter coffee, locally made speciality teas and fresh fruit juices.
Those descriptions pretty much match our experiences, and I was impressed with the variety of salads and vegetables. Hot soup was also served at dinner each night, which was much appreciated given how absolutely miserably frigid it was, along with several types of roasted vegetables and cold salads. Breakfast included some amazing yogurt, local honey, molasses, along with cucumbers, fresh tomatoes, and hard-boiled eggs. The food was plentiful, and anything that ran low was quickly replenished by the staff.
I don't have pictures of the buffets, as having everything lit by candlelight made photographs tricky, and with a full compliment of guests there wasn't an opportunity for slow and careful photography. We had lunch in the lodge one day though, which I think gives a good sense of the options.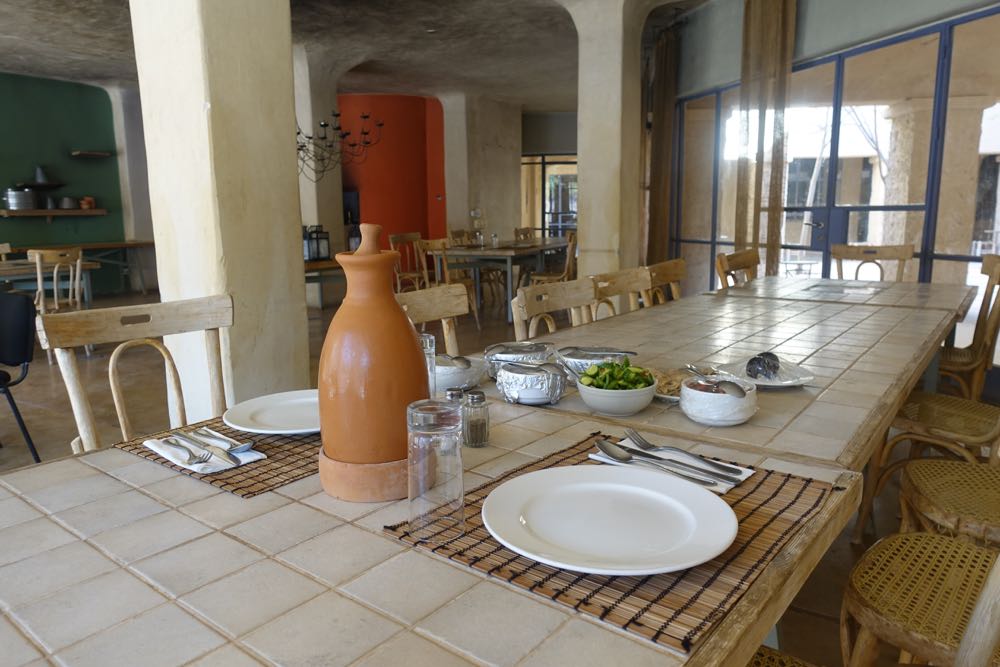 The covered dishes included ful medames, a roasted eggplant dish, and some mixed root vegetables. These were accompanied by hummus, roasted peppers, a cucumber salad, freshly baked local bread, and whole fruit.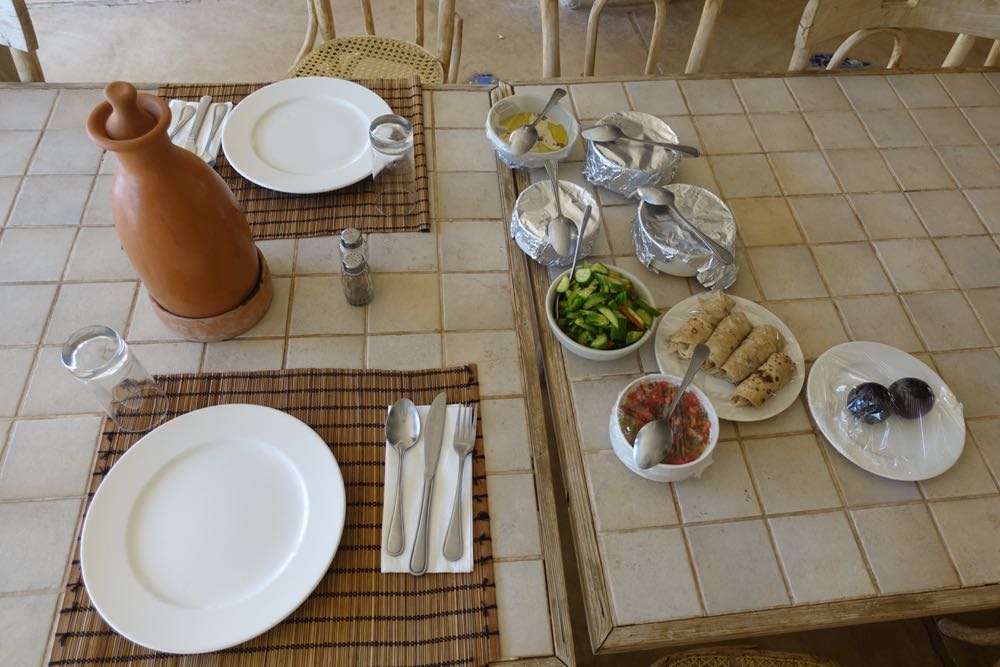 Everything was tasty, and the flavors were really interesting. I would have liked to join in a cooking class, as I always enjoy those, and there were many ingredients and tastes I didn't recognize. The staff took great care with the meals in general, and their pride in the service was obvious.
Let's talk about the temperature
This is based on my experience on being at Feynan when it was bone-chillingly cold, so keep that in mind.
The ecolodge structure is not climate-controlled or able to be temperature-moderated in any way. It was cold. Really, unpleasantly, humidly, cold. The fact that the lodge seems to retain cool air (and humidity) is probably wonderful in the spring and fall, but was actively miserable in winter. It was warmer outside than in our room both nights.
Hot water bottles were provided in each guest room, but as an American under the age of 40 I was not at all familiar with how to actually use one. I'm not sure I'd even seen one outside of a movie prior to this. The first night we fell asleep before the "planning meeting," so I can't speak to if the staff would have explained the process to us at that point. I had asked for an extra blanket earlier though, and was told they didn't have any because the property was fully booked, which seems like it could have been a good time to go over alternative warming methods.
The second night two lovely British couples were visiting the lodge, and one of the husbands casually remarked that he was going to go see about getting boiling water from the kitchen to warm the beds up. He came back and reported that it would be about 30 minutes while the water boiled, then we could fill our hot water bottles. Snuggling the bottle between the sheets was super effective (who knew?!), so the bed was warm even though the room was frigid.
Fellow Millennials — if you ever find yourself somewhere super cold, with a weird-looking rubber bottle, go find some boiling water to fill it, then put it under the covers. You'll be toasty! I might get one for my apartment, actually, since San Diego has decided winter is going to be a thing this year.
Nothing could be done about the temperature in the rest of the lodge though. There was a small fireplace in the lounge area, which was toasty if you sat right next to it, but everyone was wearing sweaters, coats, and gloves in the dining room at mealtimes.
Obviously if you're visiting during a more temperate time of the year you won't have to worry as much about the cold. It could even be a perk during some seasons! I can see the humidity being a challenge in the summer as well, as there aren't fans or much opportunity for airflow in the guest rooms, so I can see the accommodations quickly becoming stifling.
Activities at Feynan
In theory, one of the interesting aspects of the Feynan experience is the opportunity to join the local Bedouin community for things like roasting coffee, making kohl, or herding goats. There is only one Bedouin experience each day though, and the various guided hikes and activities are similarly regulated.
Here's the schedule from our stay, for example. We arrived Thursday at dusk (around 4:15PM) and left Saturday morning (check-out time is 10AM).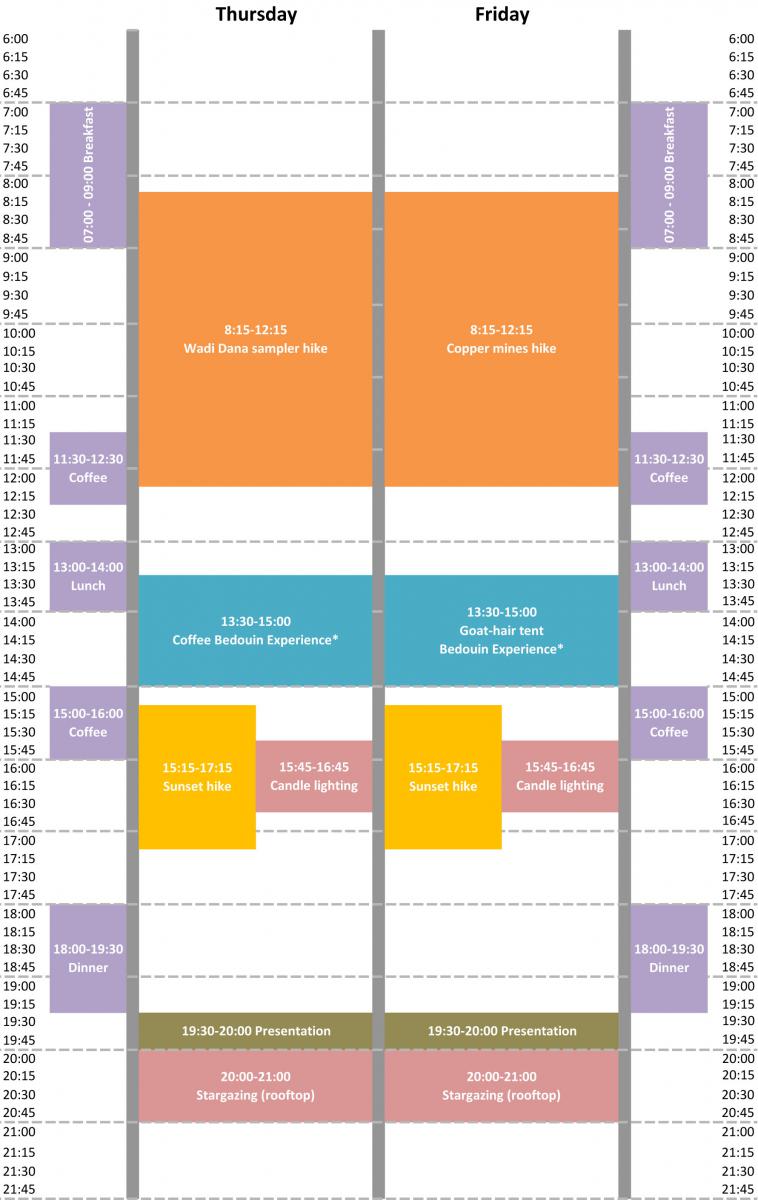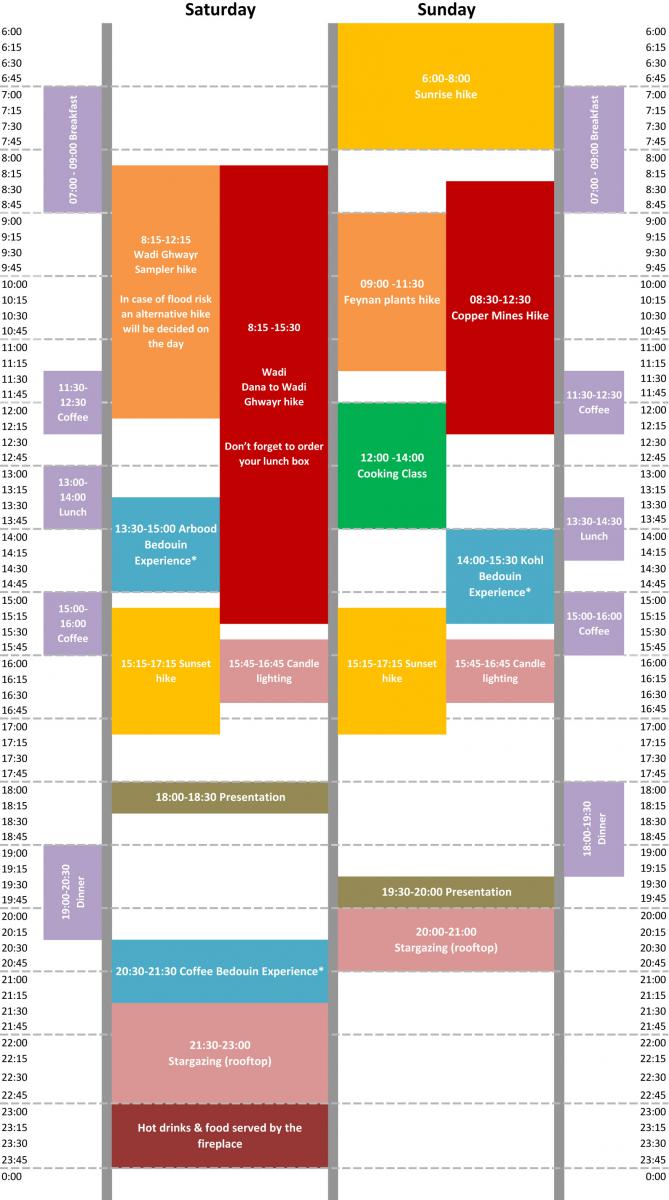 So if you can stick to a regimented schedule the planned activities could be great. We ended up spending most of our time hiking on our own, which works better anyway when one of you is a hobbyist photographer and the other is a committed introvert.
One hike took us through a river wash to some Roman-ruins: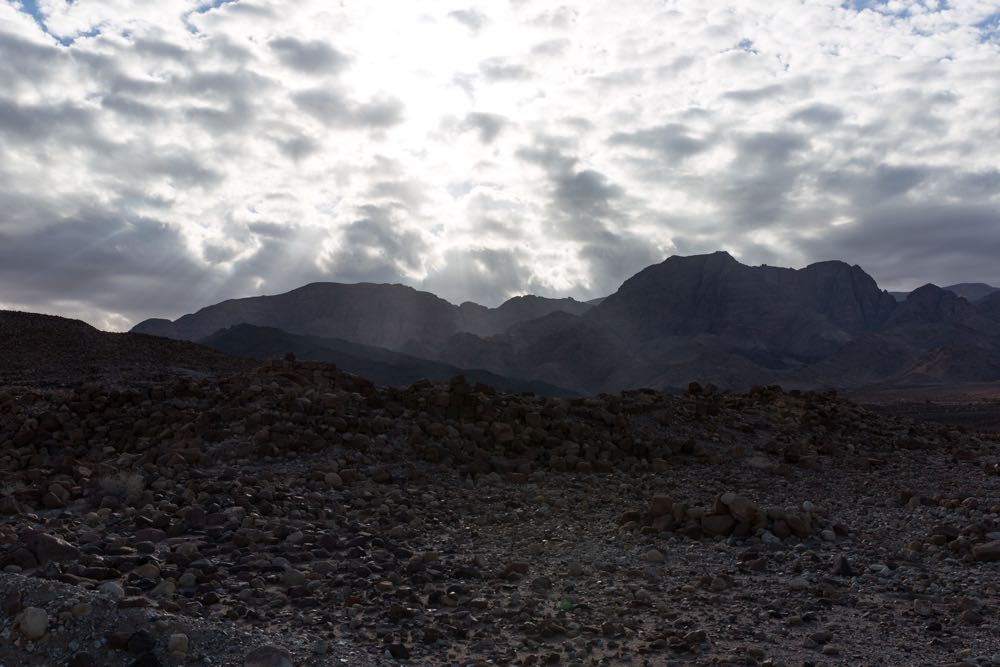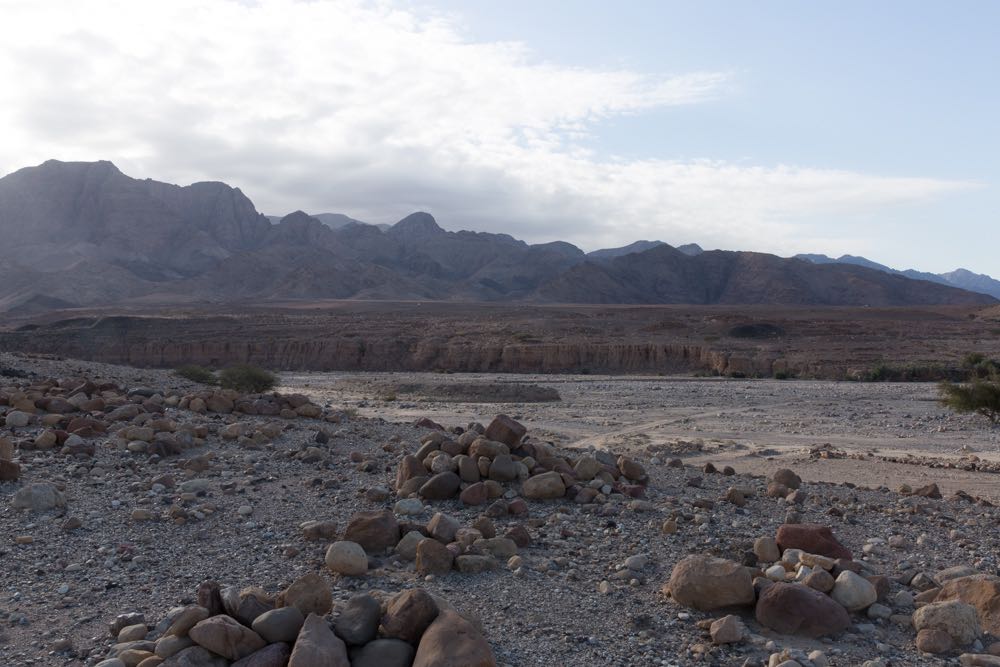 We also found incredible views of the valley up a short ridge: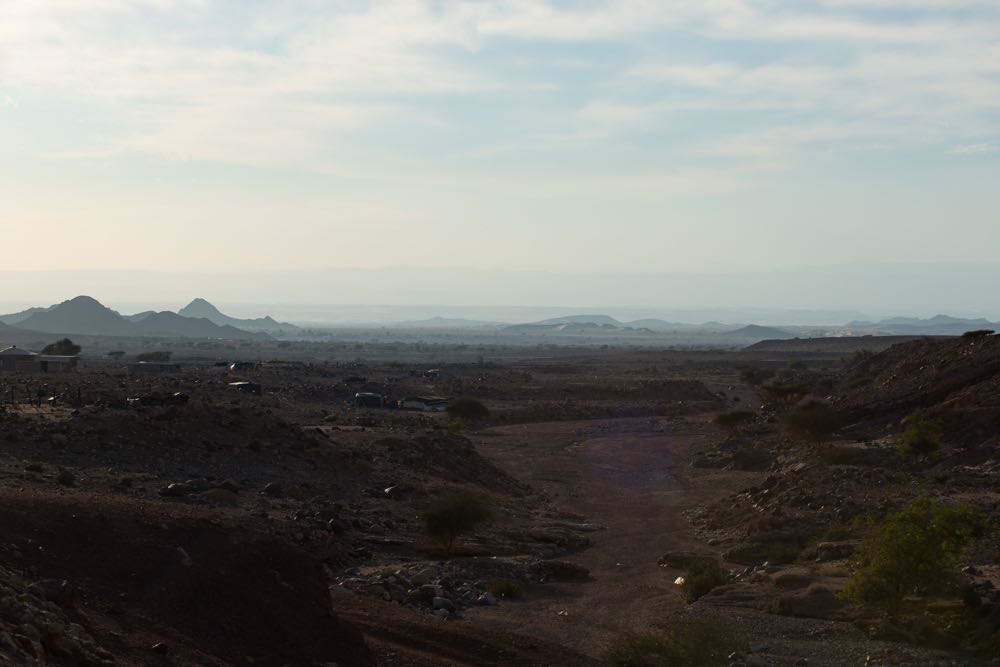 Another hike took us through the start (or end, depending on which way you think of it) of Wadi Dana. The entrance is just behind the hotel, but has a completely different landscape and geographical composition than the valley on the other side.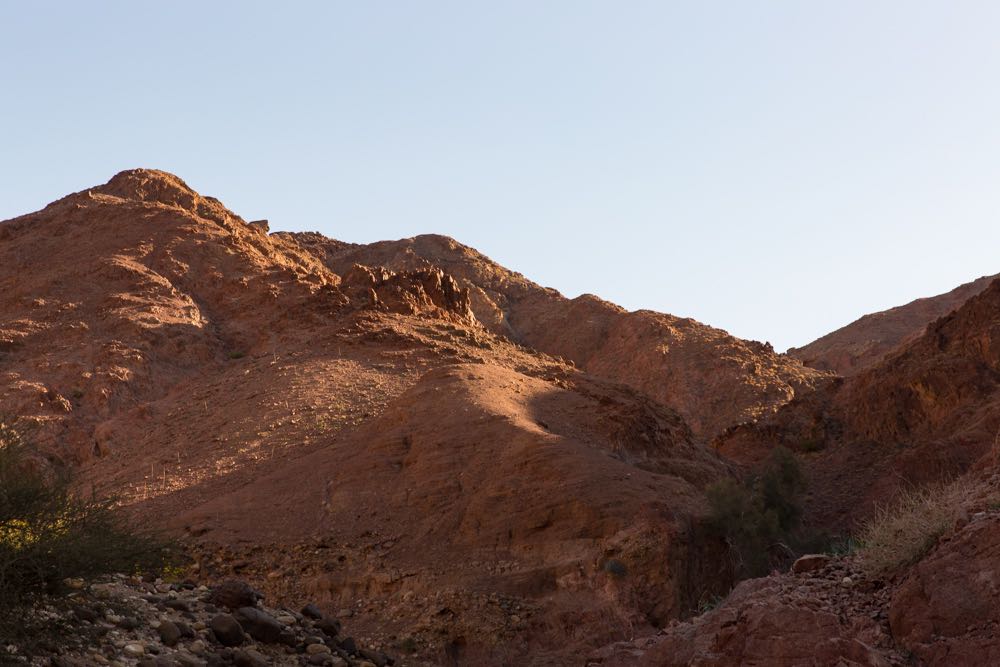 A wadi is essentially a sometimes (or mostly) dry riverbed, so the trail was basically a wide gradual grade. The terrain was softer than you'd expect though, as you're basically walking on pebbles and soft sand.
Several Bedouin families had made their camps on the ridges above the wadi, so there were lots of goats being herded or just moseying about.
And some super-cute kids who followed above us with giggling "Hellos!" and had their ringleader demand my husband "make our photo!!"
So that made for some fun days, especially as we mostly had the place to ourselves during the day given that the large groups left in the morning, and the other couples didn't arrive until nearly sunset.
We did join all the other guests for the guided sunset hike, which was more of a brisk walk with one of the staff members. He pointed out his family tent complex as we walked, then guided us to a nice plateau with incredible views of the mountains and surrounding valley.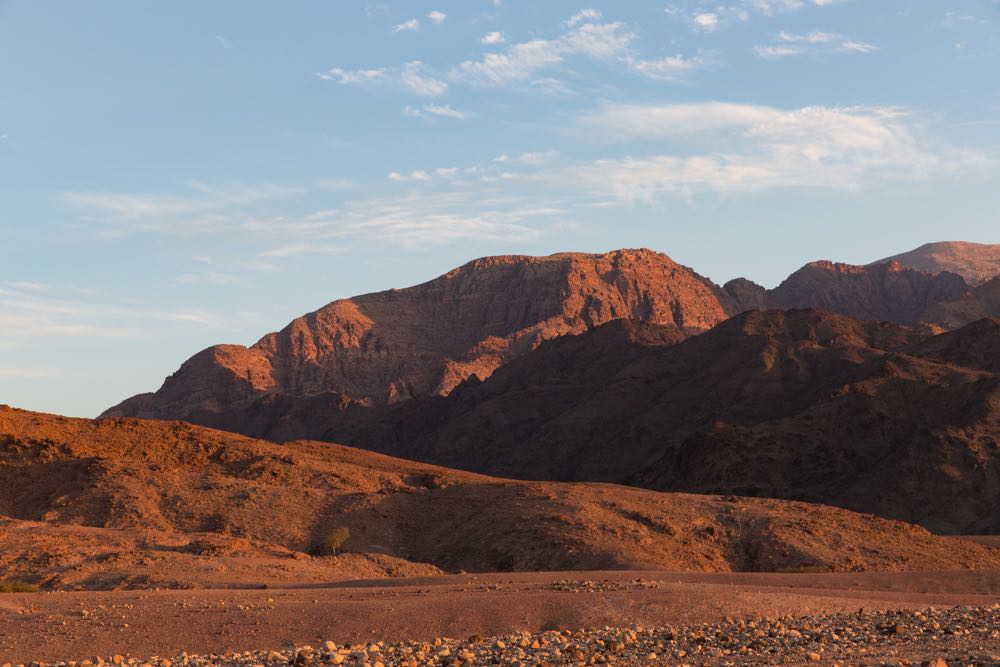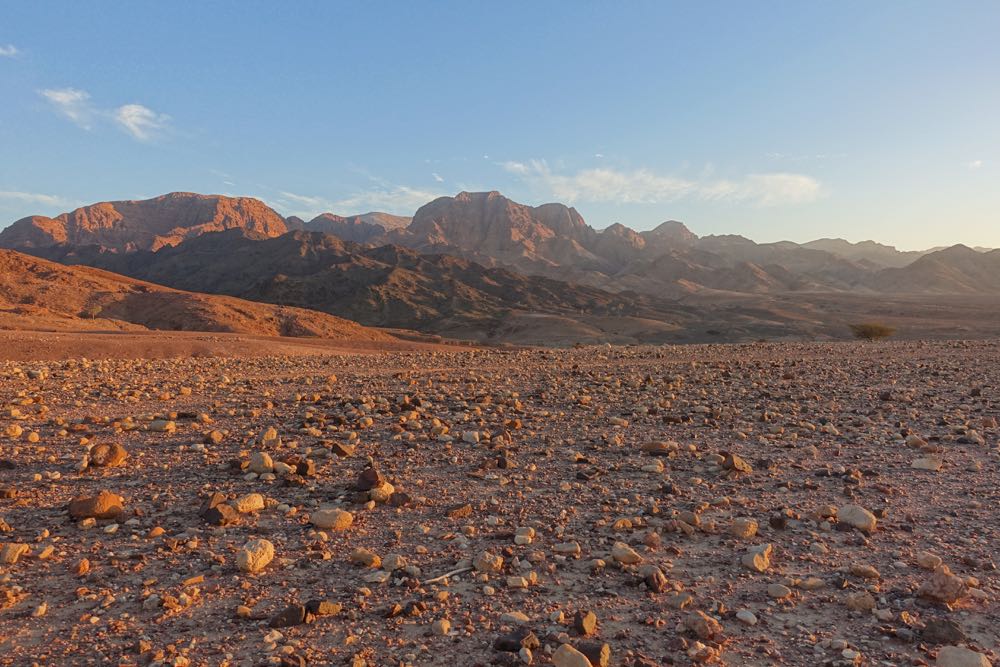 He made a small fire and served sweet Bedouin tea for the group while we enjoyed an incredible desert sunset.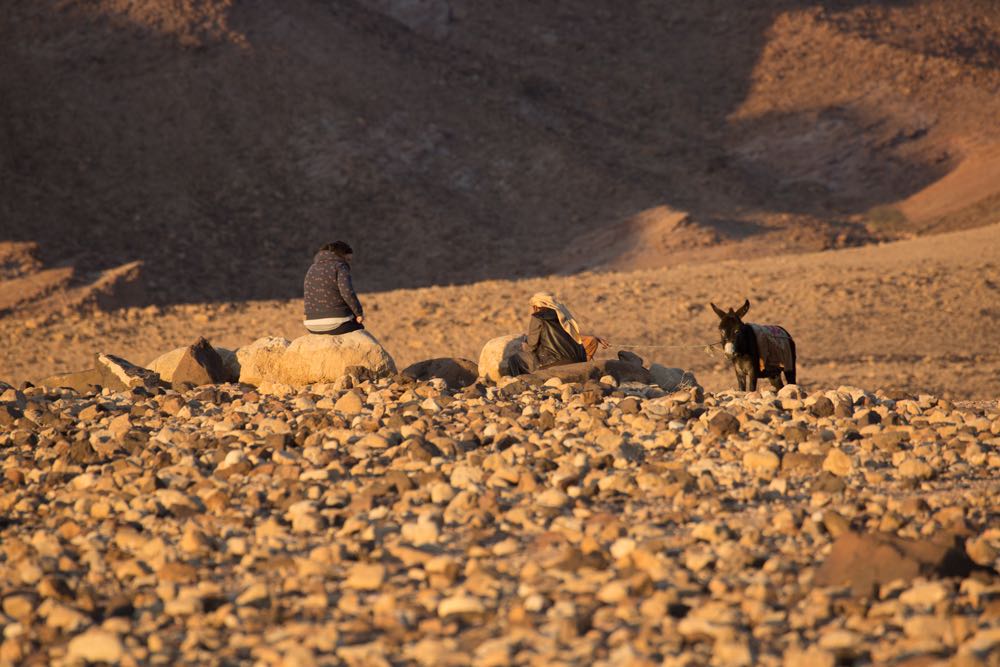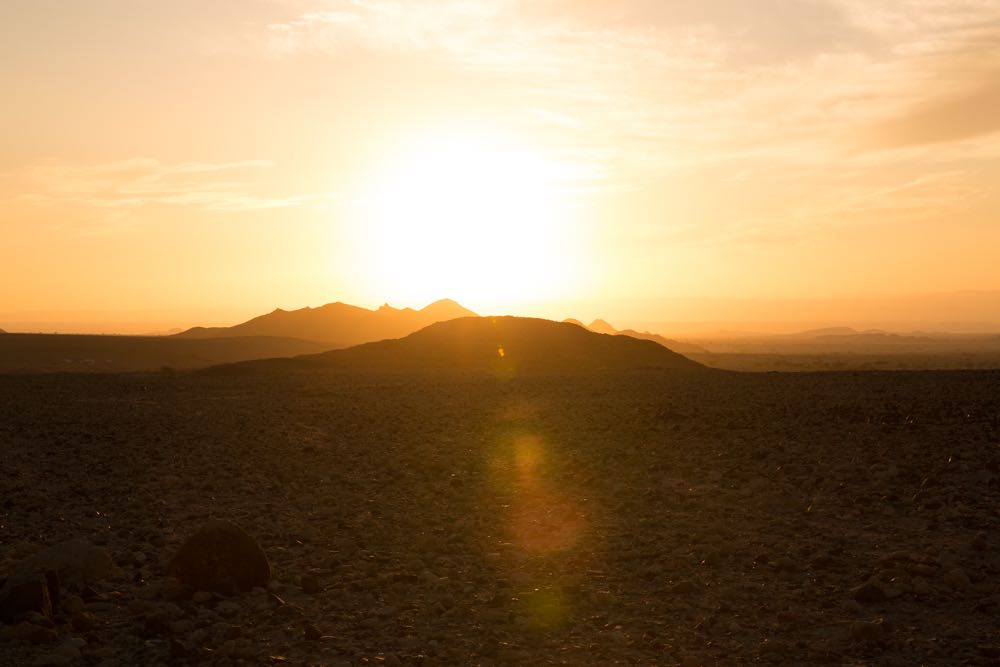 That seems like a view that can't possibly get better, right?
But then it did:
(Photo credit to my husband for the incredible sunset pics. Shot freehand with his Canon 5Dmk3 and way too many lenses, for those who have been asking)
The walk back in the twilight was nice as well, as the local families started lighting their cooking fires and amazing smells started wafting through the valley. Just an amazing and special experience overall.
Bottom line
We enjoyed our visit, and I'm glad we chose to stay here. The time spent hiking, stargazing, and even conversing with the staff was wonderful, and a truly unique experience.
At times the green/sustainable/ethical focus felt a bit precious. I'm not sure how necessary the vegetarian-only cuisine is, for example. But they're doing their thing, and doing it fairly well, and I certainly can't fault their commitment.
Most of the challenges I had with the property had to do with the strictness of the schedule, which just isn't my jam. If I wake up at 5AM, I'd like to be able to get or make something resembling a cup of coffee, even if it's instant. Despite the calendar listing coffee and tea being available mid-morning and mid-afternoon, it was only upon request, and the staff seemed to struggle a bit with the idea. I asked for coffee in the afternoon (during the posted time) when we came back from a chilly hike, but it was a 30-minute process including waiting for prayers. A thermos and some packets in the lobby would make this much easier for everyone.
Similarly, given the price points being charged (more than double anywhere else we stayed in Jordan), I think the hotelier aspects could be improved upon a bit. An investment in extra blankets for winter seems wise, and while I understand the challenge of providing multiple activities when you're relying on family members to host guests, it would be nice to have more diversity in the schedule. I'm not sure how many people can plan their stay based on the activities schedule, and being able to enjoy some of the Bedouin experiences is a major point of difference for this property.
But all in all, I'd still recommend visiting. Feynan Ecolodge is a unique place, and the hiking opportunities throughout Dana Reserve were beautiful.
Has anyone else stayed here? How was your experience?