---
After a quick breakfast at the Marriott we jumped in the car and headed to Wadi Musa. The drive only took ~10 minutes, and we didn't have any issue finding street parking across from the Movenpick.
To give you a sense of how the town and the historical site are oriented, here's a picture taken from a hill above Petra, which I've added labels to.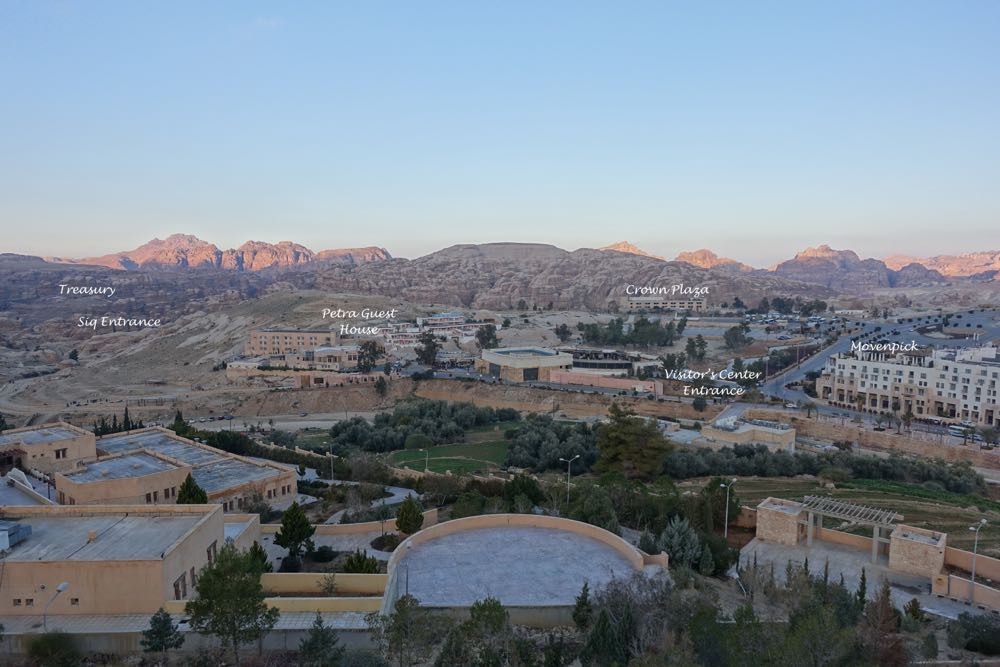 It's about 2 kilometers from the Petra Visitor's Center to the Treasury, to give you a sense of the distances. The Treasury itself is only about halfway down the main road into Petra — you'll go another 2 kilometers to the end of the main road where you can see some of the other key sites.
You're looking at a minimum of 5 miles of walking if you stay on the main road and don't explore any of the side trails, so keep that in mind when choosing your footwear!
Tickets to Petra
If you stupidly haven't purchased a Jordan Pass (more on that later), ticket prices are as follows:
One Day 50 JOD / ~$70 USD
Two Days 55 JOD / ~$78 USD
Three days 60 JOD / ~$85 USD
If you think there's even a chance of going for more than one day you might as well purchase a two-day pass, as I'm not sure it's possible to change it later.
Tickets can be purchased by credit card in theory (it was broken when we were there), or with local currency. If you need cash at the last-minute like we did, there are several ATMs in Wadi Musa, including in the lobby of the Movenpick (no ATM at the Marriott).
Exploring Petra
By the time we were done with the ruckus of getting cash and buying tickets it was about 7:15AM, which was still plenty early. There was hardly anyone there as we started walking (the fact that it was barely above freezing may have helped).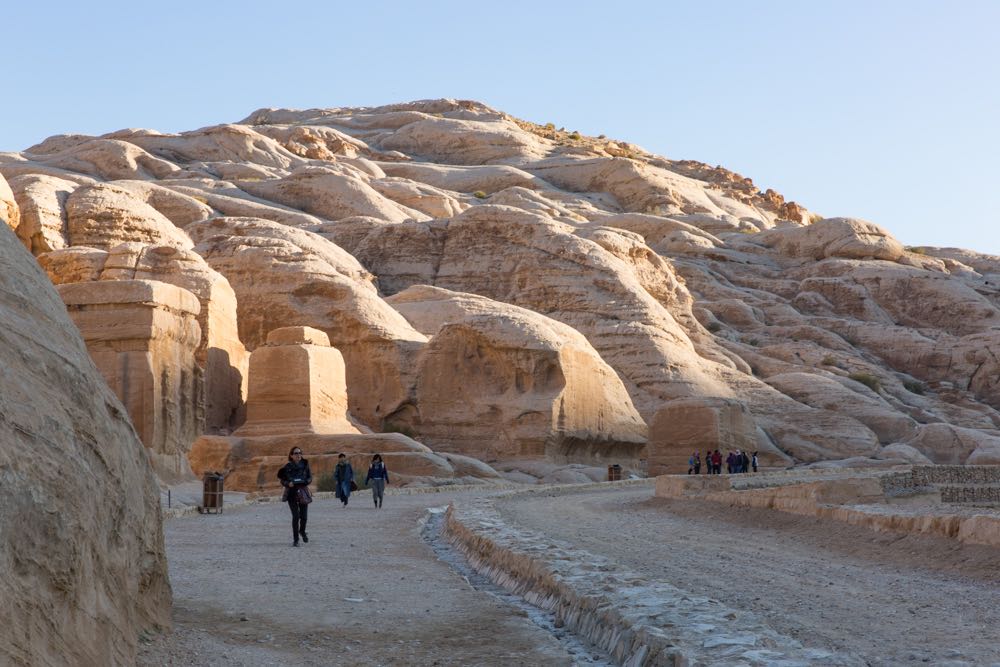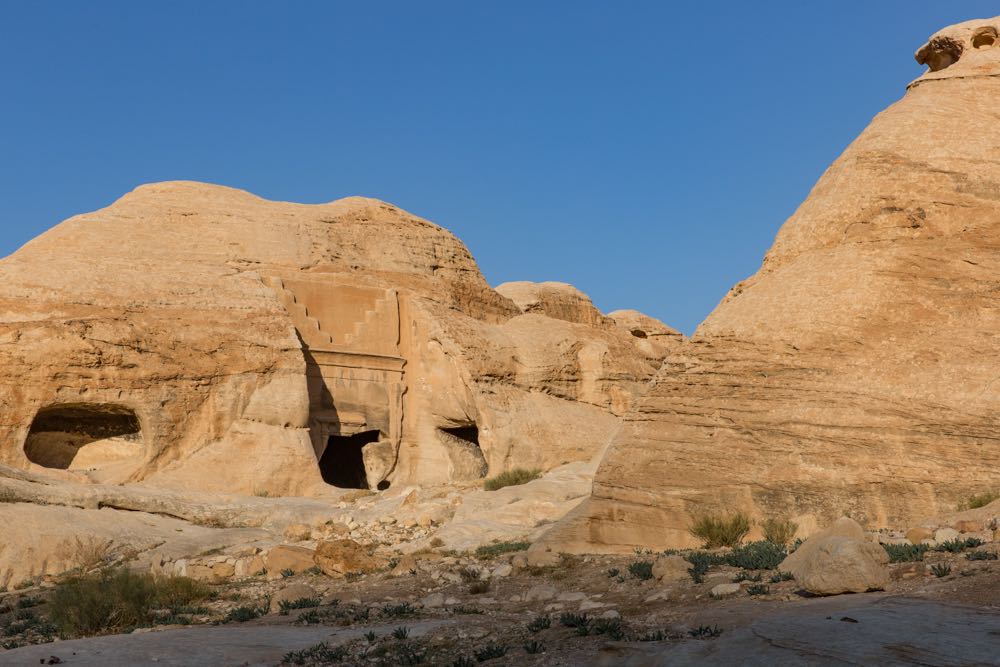 After about a kilometer we reached the entrance to the Siq, which is every bit as impressive as you'd think.
I especially loved how the canyon narrowed in places and widened in others.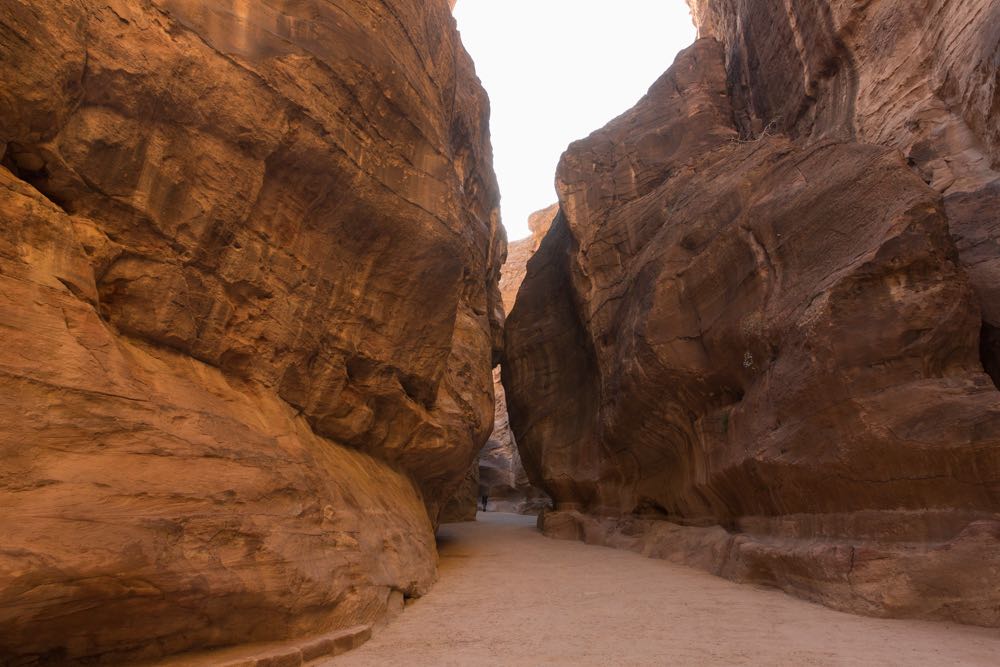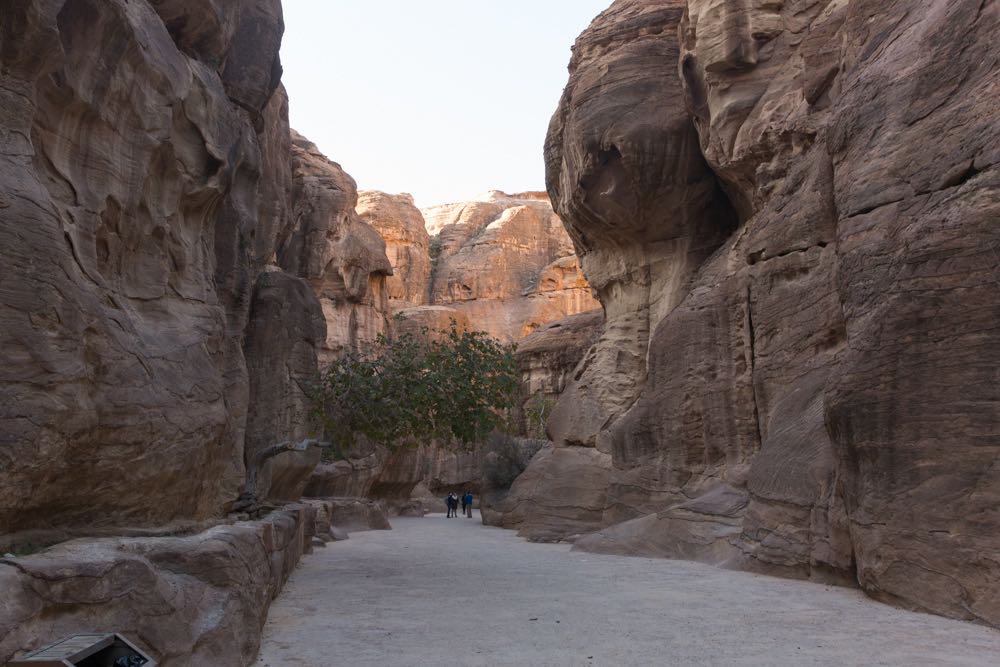 The Siq was chaos later in the day, but in the early morning we had plenty of space to ourselves.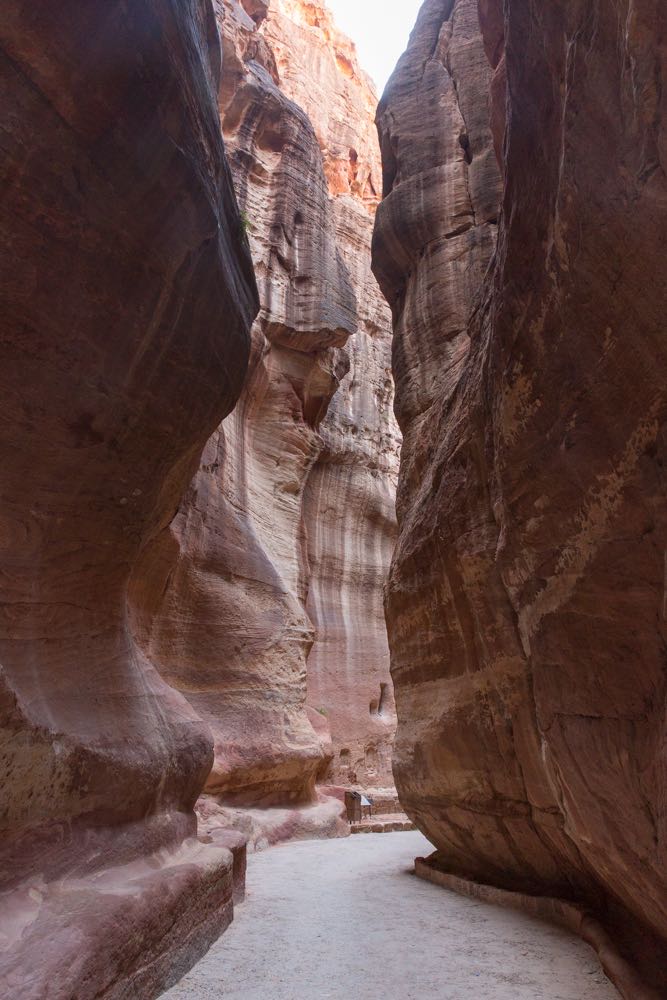 While it's a pretty walk, there's of course more than just the landscape to enjoy. Nabatean relics dot the pathway:
Eventually you get that famous glimpse of the Treasury: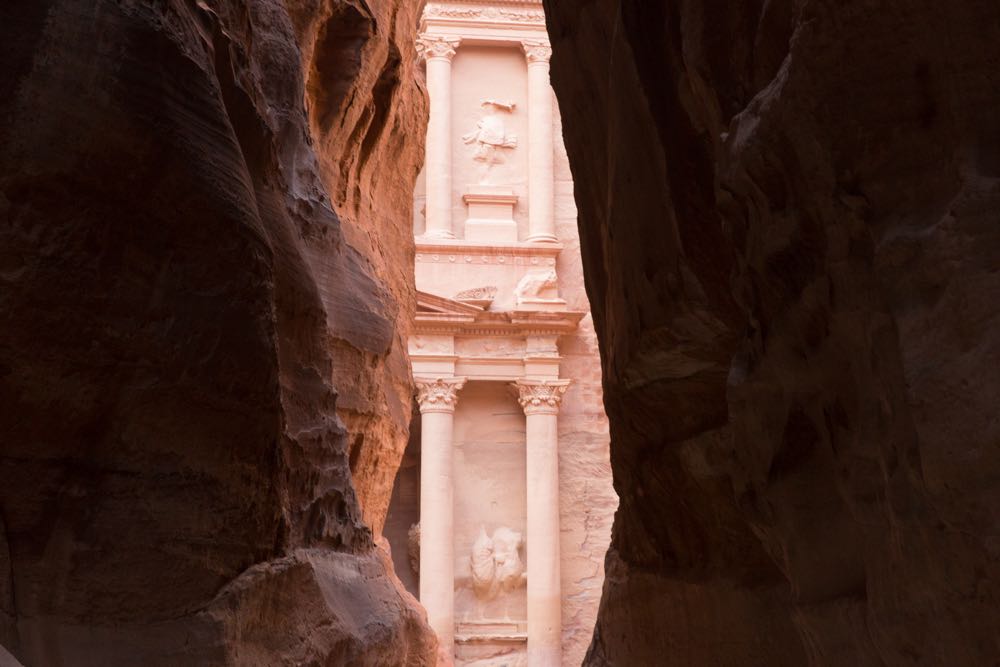 And then the Treasury itself: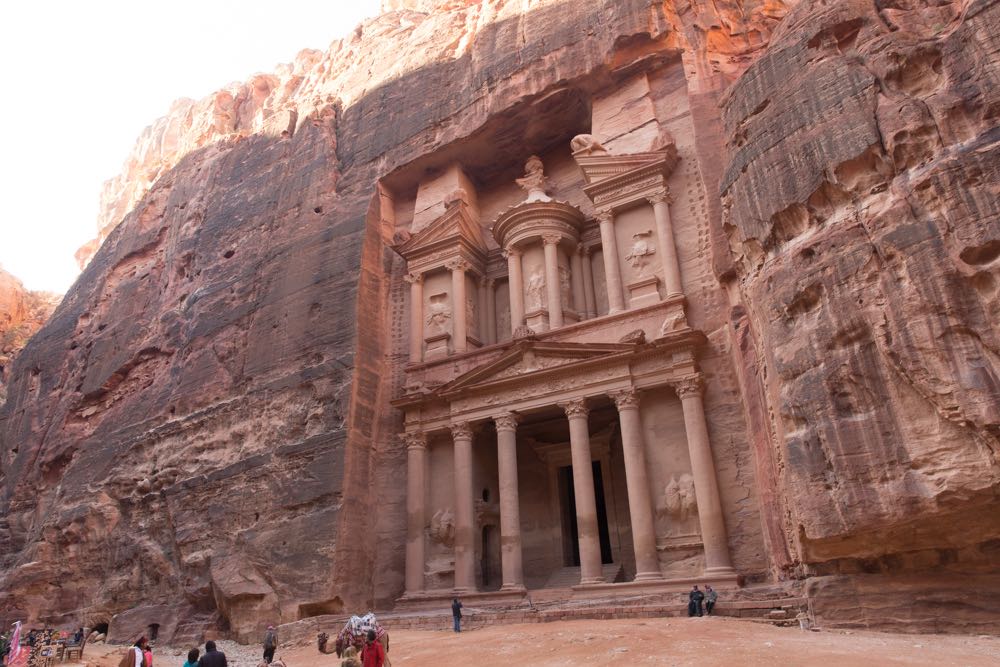 Even in the early morning, this is Tout Central. If you want to hire a camel, donkey, carriage, guide, or possibly anything else, these gentlemen are up early and ready for you!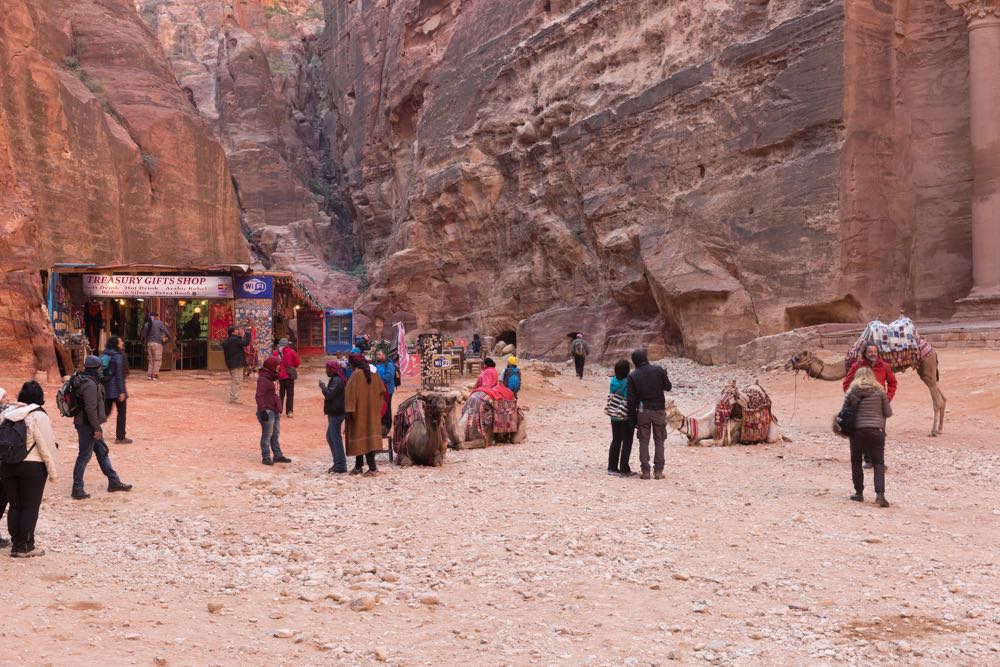 Moving on then.
There are several facades along the main road, and myriad trails branching in every direction. You could spend a lot of time exploring the various temples and tombs.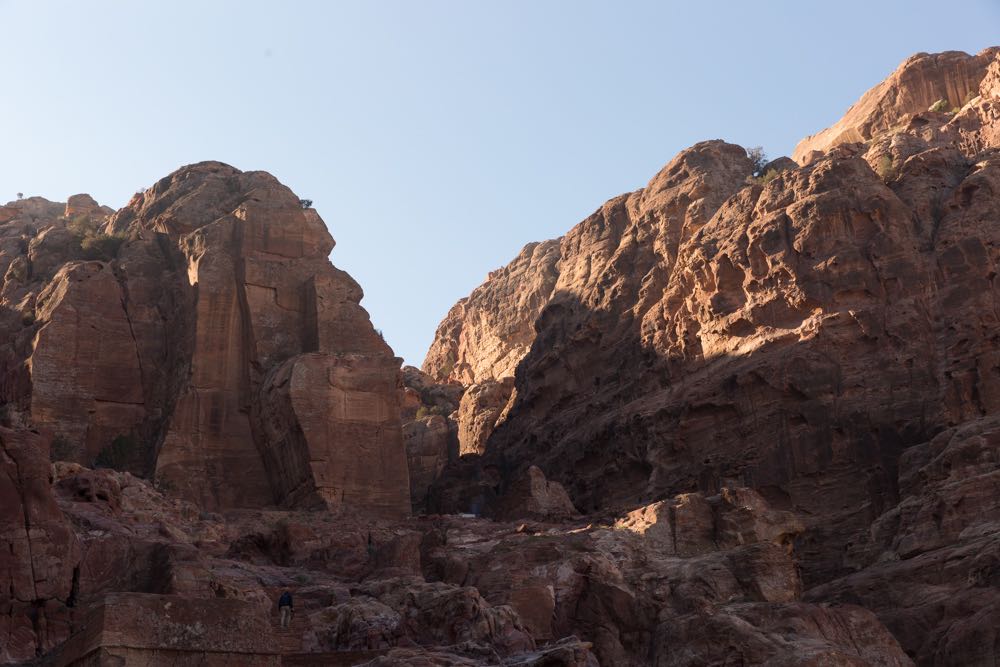 Or take a break at what is possibly the best-named souvenir shop of all time: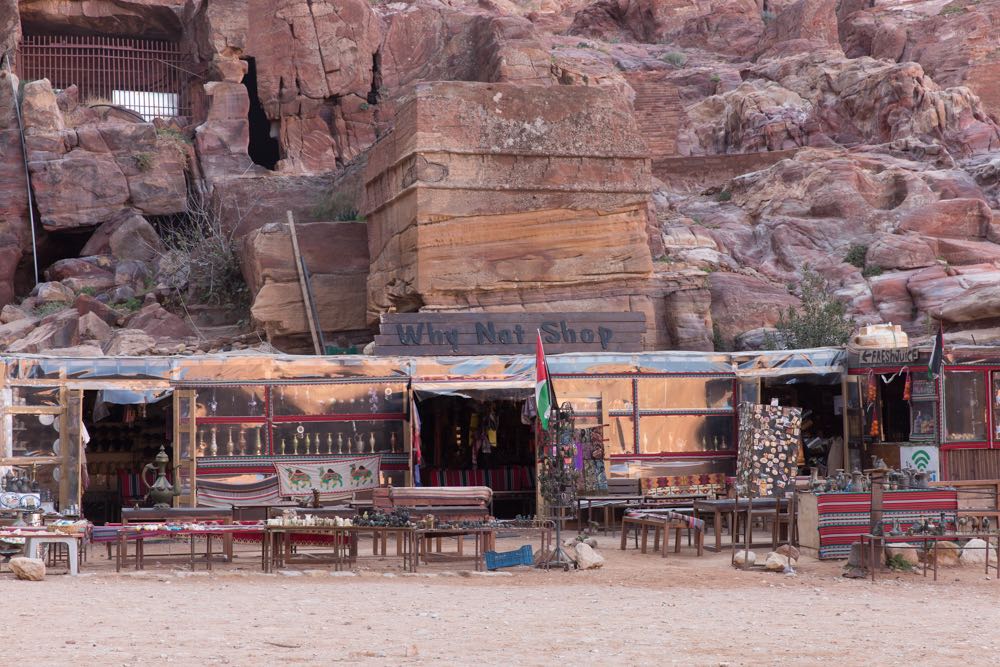 The nice thing about Petra is that the desire to serve tourists makes it very approachable. You can stay on the main road and have a perfectly decent time.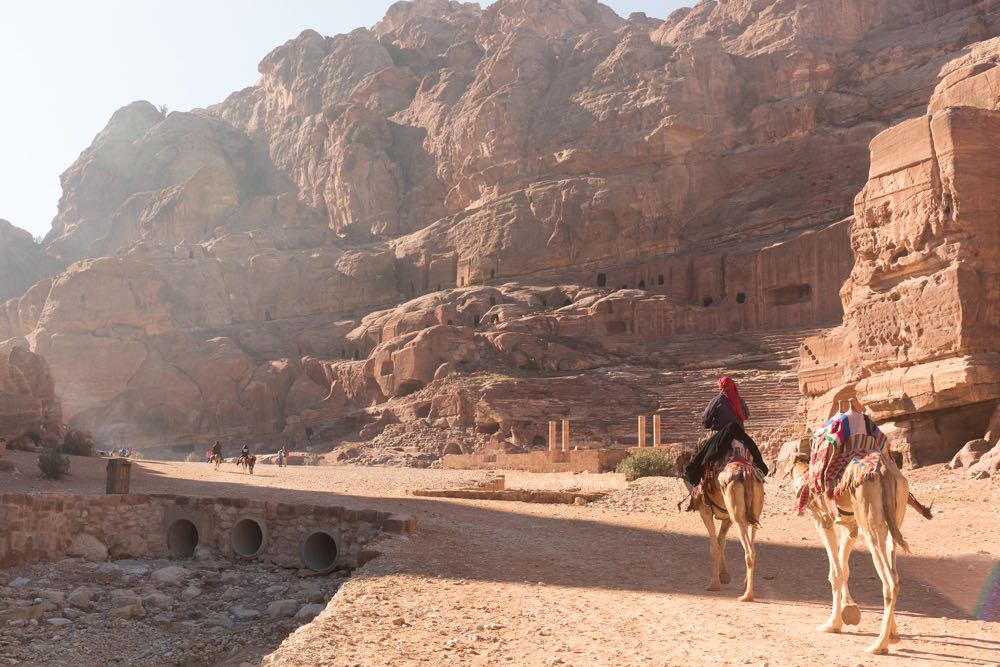 There are plenty of ruins, tombs, temples, and even an amphitheater, so there won't be a shortage of things to see.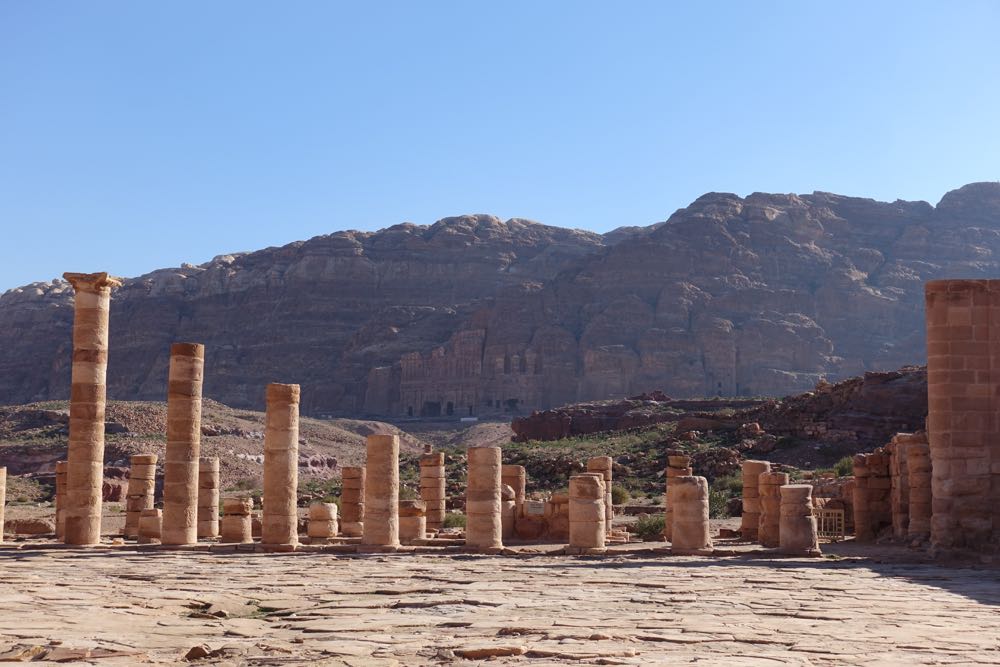 The road eventually takes you down to a bit of a plaza heralded by a large gate. A pair of enterprising Jordanians had dressed up as Nabatean guards and were taking photos with tourists.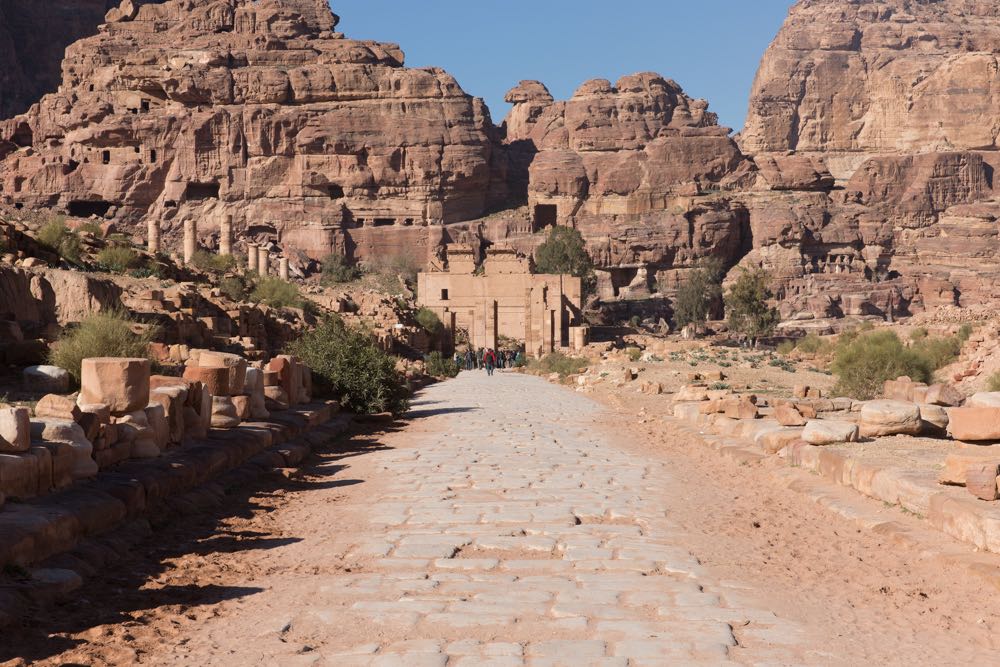 There are washrooms in this area, along with a decent cafe (managed by the nearby Crowne Plaza, they take credit cards with an attitude). And there several structures to explore as well.
It is worth noting that despite what the maps and signs say, there isn't a museum down here. That's back up at the Visitor's Center these days, but the literature hasn't been updated.
Climbing to the Monastery
If you start early enough in the day, you can climb up to the Monastery before it gets too warm and/or crowded.
And I do mean climb. There are stairs, but they are carved into the rock, and are very steep in spots.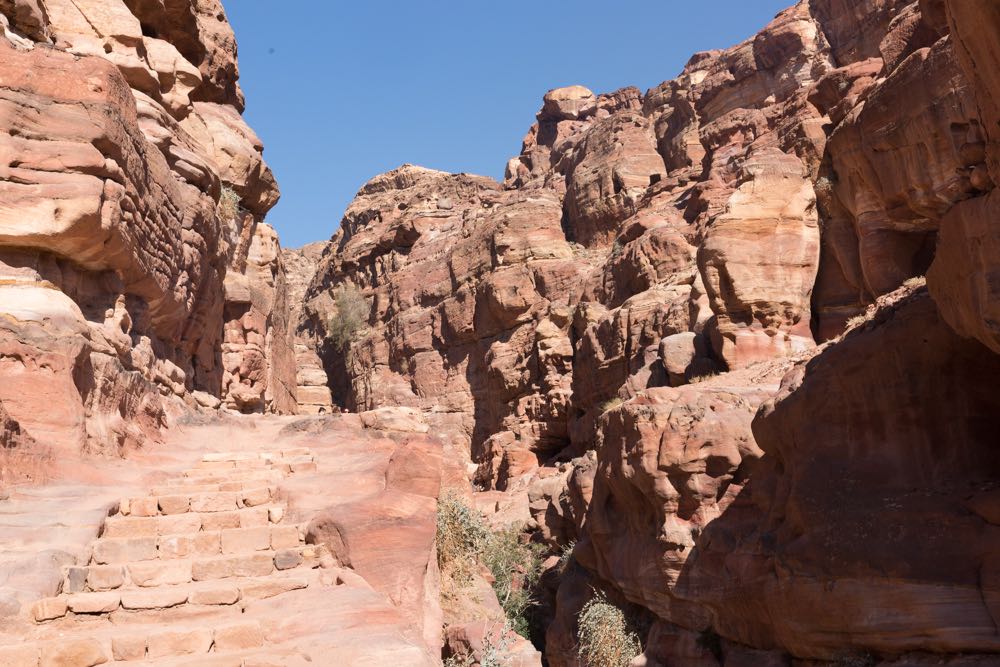 And there are over 900 of them.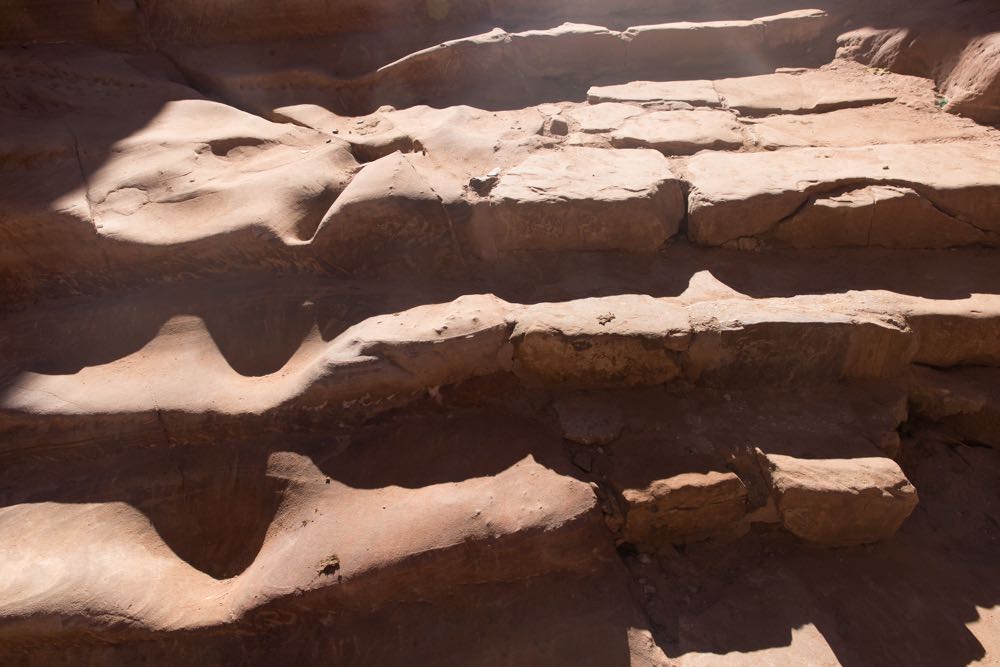 The views on the way up are beautiful though!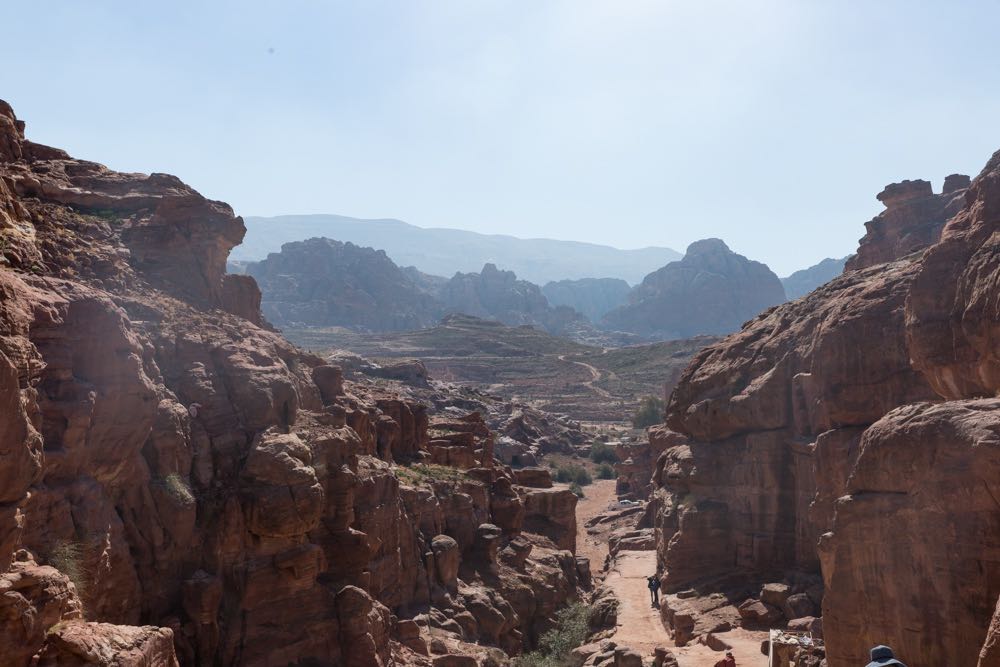 There are also plenty of vendors cheering you on as you make the climb (or offering to sell you things on the way back down).
Did I mention there are a lot of stairs?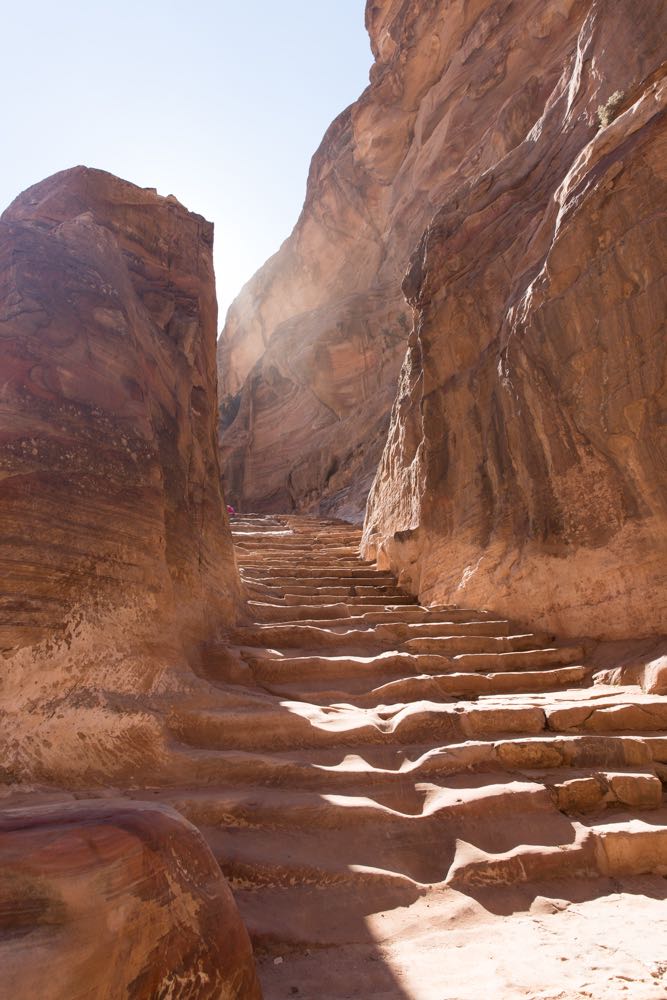 The climb took about an hour to cover ~1.5km, with the reward being the incredible facade of the Monastery: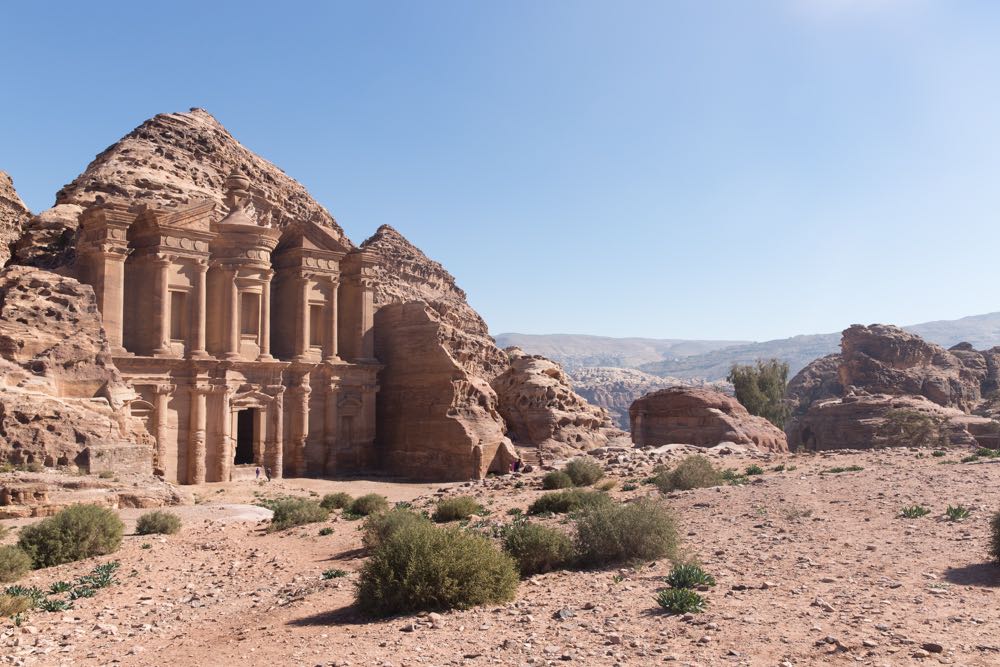 And lovely views of the surrounding mountains: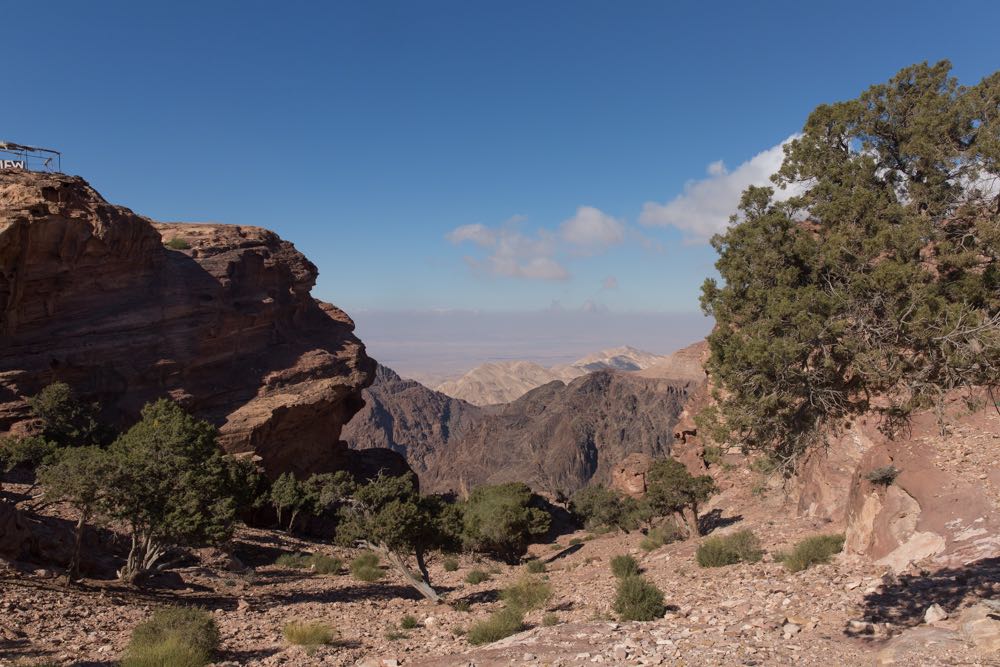 That shop on the upper left was advertising the "best view in all of Petra," and some of the other vendors pointed it out, assuring the "BEST view."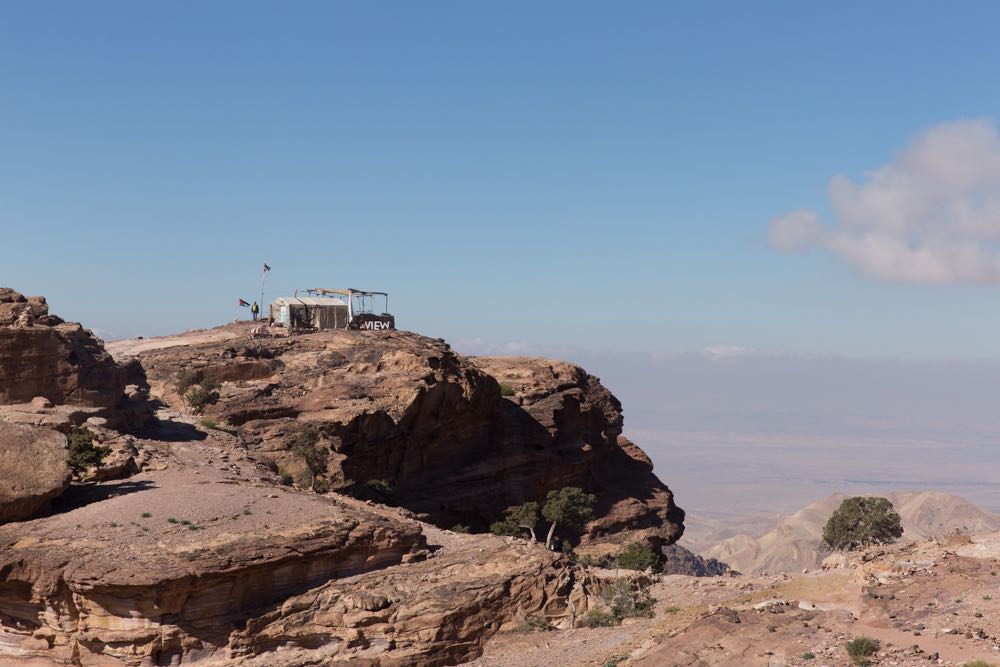 I think the view was far better from our hotel, so this last stretch probably isn't worth the extra wear and tear on the toes 😉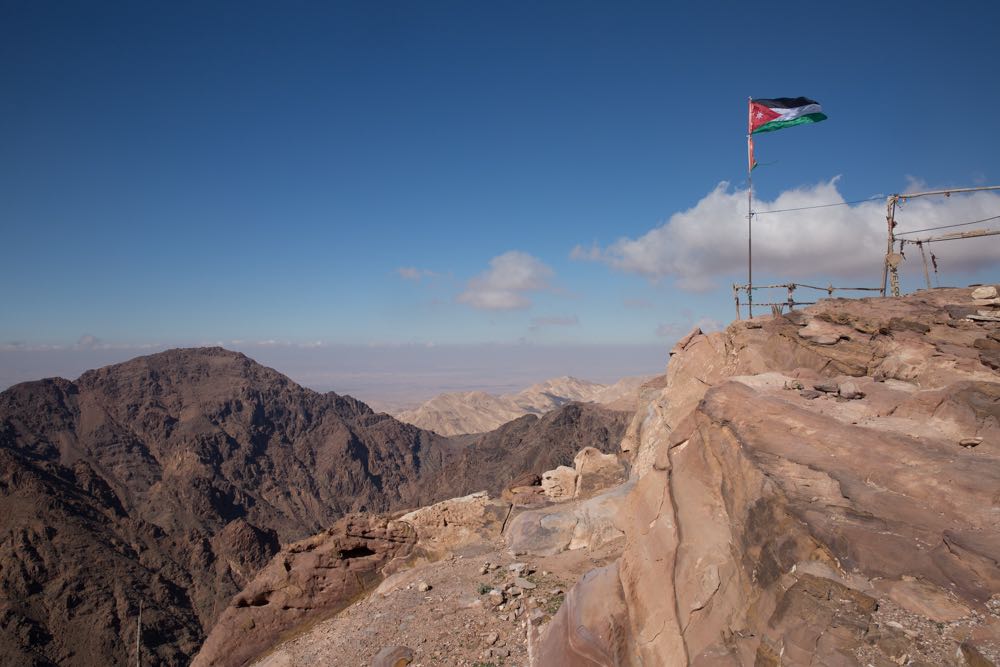 The climb back down only took ~15 minutes, but was quite a bit more treacherous due to the influx of people (and donkeys!) on the narrow path. I can't imagine this being a pleasant hike during peak season, but I think regardless of the time of year you'll want to get an early start.
Petra by Night
So here's the thing about Petra by Night — it's a real-life Prisoner's Dilemma. On the one hand, it's a once in a lifetime experience, so if you're there, you should go based on that alone.
On the other, it's terribly obnoxious, poorly organized, and generally overpriced, and something I hesitate to recommend. But your experience could be better, and I don't want you to miss out on something that on paper sounds delightful just because I didn't have a great group. So I struggle.
Petra by Night is offered three times a week, on Monday, Wednesday, and Thursday. Tickets are 17 JOD (~$24 USD), with children under 10 being free.
The idea is to enjoy a quiet walk under the stars, with the pathway through the Siq illuminated only by candlelight. There's a small musical performance, the Treasury is illuminated nicely, and then you can meander back through the Siq and up the hill.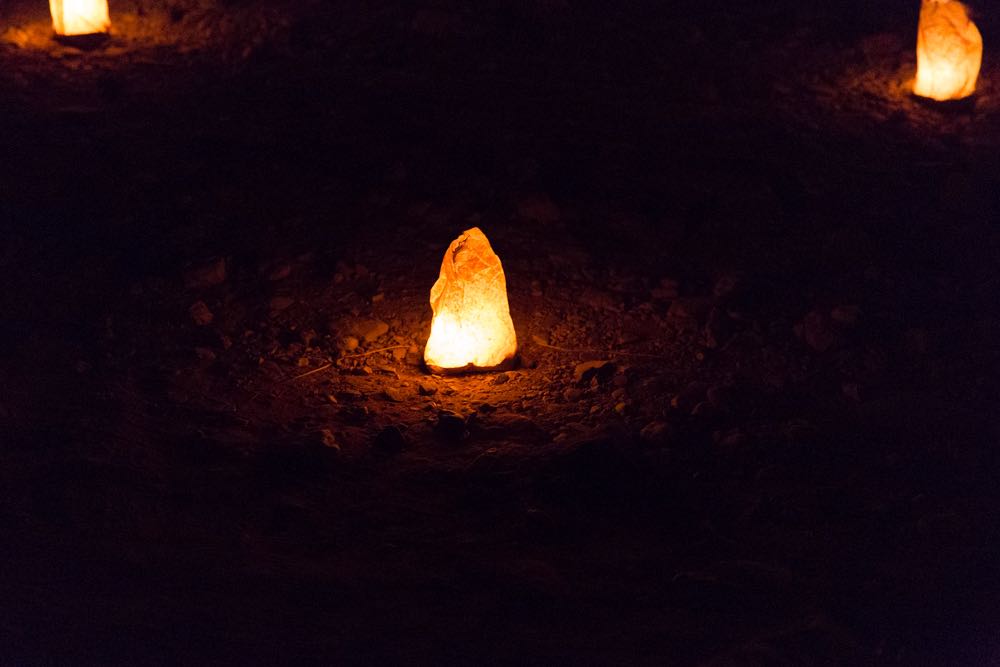 That all sounds nice in practice, but the execution is stunningly poor. We've been discussing this since we got back, and I think the problem lies in the multiple points of sale for this experience.
If you buy your tickets directly, like we did, you are sold on "the candlelit walk" as the main purpose of the event. So you're encouraged to take your time and reflect on the history. Tickets are also sold through hotels and as part of tour packages, and all these groups seem to sell "a concert at night."
If you're told you're going to an 8:30PM concert at the Treasury, and gates open at 8:15PM, and it's a 1.2 mile walk from the gate to the concert, you don't take a leisurely stroll. You bomb the hill!
So that's pretty much exactly what happened. It was a loud, boisterous, rush down the canyon, an excruciating 30 minutes where everyone tried to get seated on the ground while taking flash photos with their phones and lighting luminarias on fire, followed by two musical numbers, a brief (5 minute?) narration, and a rush back up the hill.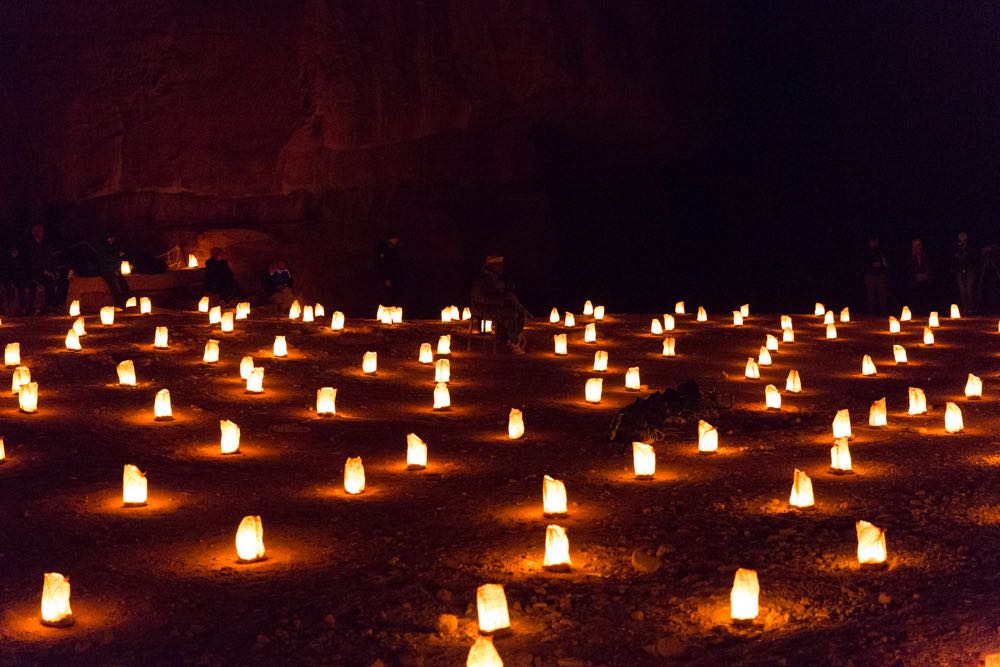 But if you can pace things so that you have space from the crowd, it is quite lovely.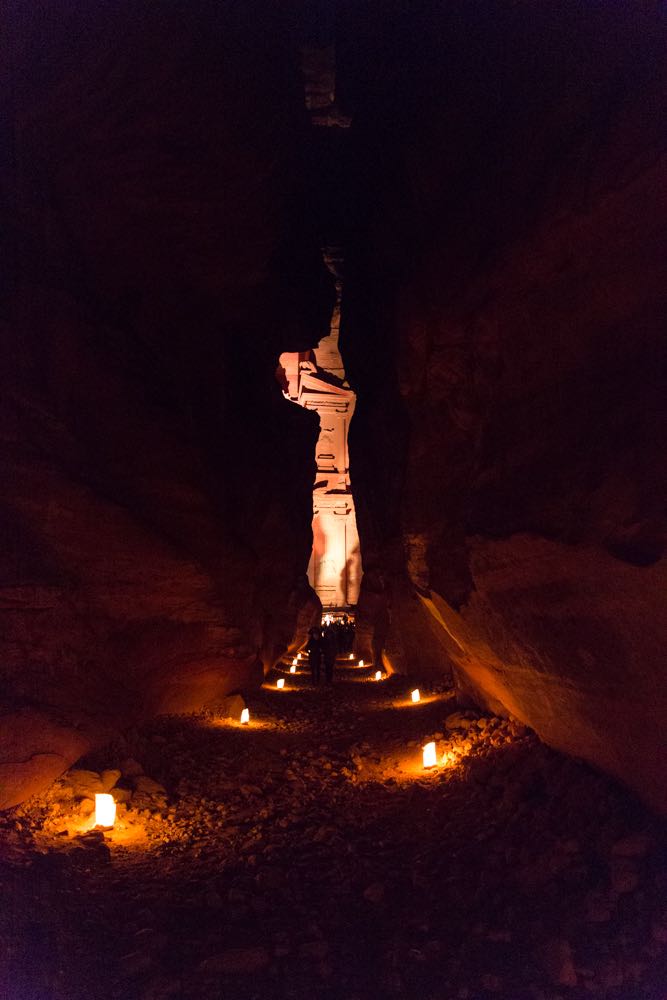 If you decide to go to Petra by Night, here are my top tips:
Know going in that you can't control for other people, and that they will likely be horrible
If you are confident walking quickly in dim light on uneven ground, be waiting at the gate when it opens for the night (no need to wait in the courtyard for the guide)
If you're intimidated by the idea of rushing down a hill in a crowd, arrive late — a 9PM or even 9:15PM walk should be less crowded
When you arrive at the Treasury, you want to sit on either the far left (on benches at the coffee shop), or in the back on the slight right (better for photography if you're bringing a tripod)
Be prepared for other people to be annoying — I can't emphasize this enough
When it's time to leave, you again want to be one of the first up the Siq, or one of the last, otherwise you'll be getting pushed around by the crowd
Regardless of where you sit, you realistically have two opportunities to take a picture without having the exposure ruined by a phone flash or a silhouette.
When the narrator says "close your eyes and make a wish" you have your best shot at an image with a darker Treasury lit by candles. Three seconds later he'll ask everyone to open their eyes, and the Treasury will be illuminated. If you are ready and have adjusted your camera you have about one second before everyone picks up their phones again. We were about half a second late and with the focus not quite right.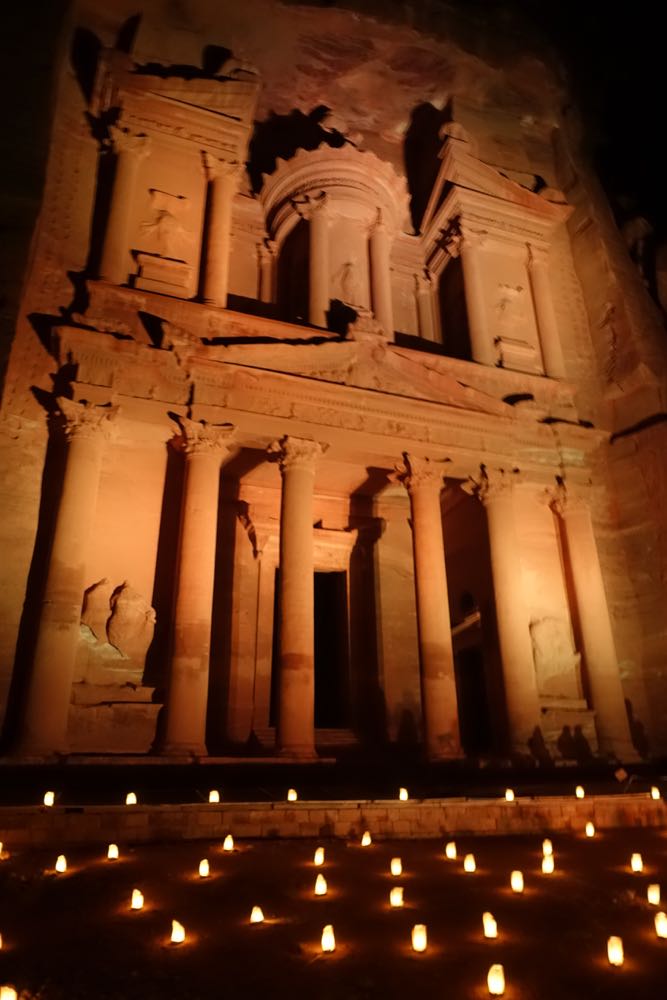 Like I said — it's a wonderful idea that is really diminished by all the obnoxious behaviors. But you should still go, because I'd feel badly if someone missed out on a nice moment based on the rough crowd we had.
How much time do you need?
We had budgeted one full day for Petra, with the option to expand a half-day on either side. With our early start and the evening return for Petra by Night, that was more than plenty for us.
You certainly could spend more time — possibly endless amounts of time — exploring the site and surrounding areas. There are some great hiking trails, and plenty to discover beyond the main site.
But one day was plenty for us. I enjoyed the hiking in Dana and Wadi Rum more than in Petra (partly due to having so few people around in both places). If you are pressed for time I think you can get a good taste of Petra in a day, and if that opens up a day for another part of Jordan that's even better.
It's also worth noting that there isn't much information on-site. A guide could certainly be useful, or just be prepared with a book (I loaded a basic guidebook onto my Kindle, which was perfect). There's a lot to explore and digest.
Bottom line
Petra is incredible, and is obviously something most people will make time for when visiting Jordan, if not the impetus for an entire trip.
Because of that, it is very touristy, and that can't really be avoided. It is what it is, basically, so the best approach is to try and embrace all the nonsense that goes along with a single site providing the bulk of a country's tourism revenue. Jordan needs the money.
But Petra is an incredible place, and definitely somewhere you should make time to visit.
Any other tips for visiting Petra?