---
After a full day in Wadi Rum we headed north to the town of Wadi Musa, where Petra is located.
It was an easy drive along highways we'd traversed the day prior (how was it only a day?!), so even with a brief maintenance stop it only took ~90 minutes from leaving Wadi Rum to arriving at the Marriott.
https://www.instagram.com/p/BOymsdBgbfz/?taken-by=tebfunk
As I mentioned in the introduction, I'd booked the Marriott Hotel Petra during the Black Friday sale. We paid $95 + tax for each of our two nights. This is a Category 4 hotel though, so you could also use:
20,000 Marriott Rewards points (15,000 on PointSavers)
6,667 Starwood Preferred Guest points
The Marriott is conveniently located on the main road between Petra and Wadi Rum. A security guard checked our names (and checked under our car) before lifting the gates to the parking lot. Parking is free for all guests.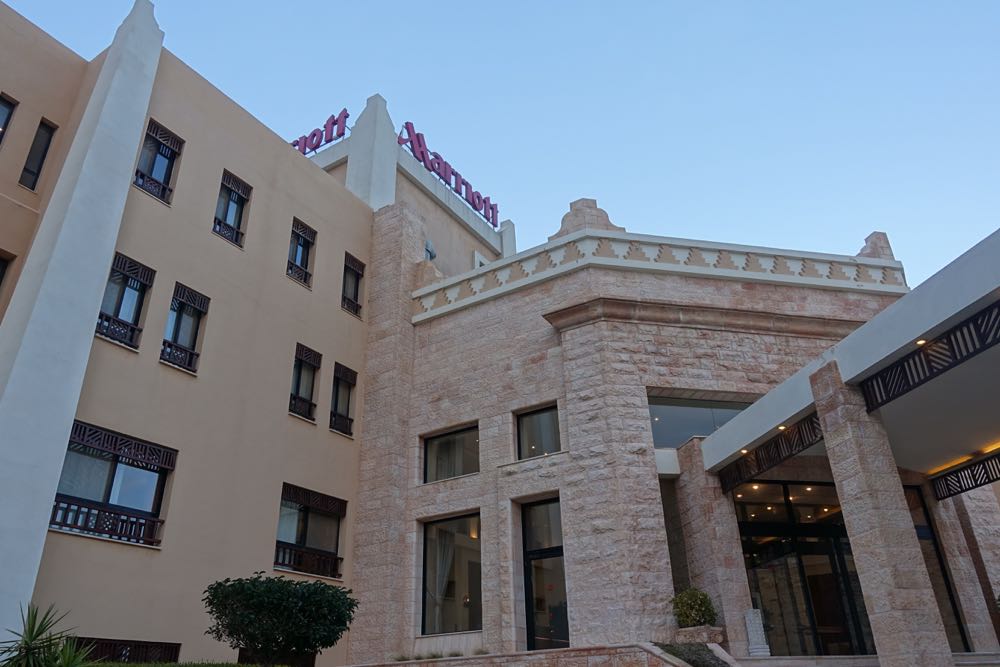 Petra Marriott Hotel
As seems common at the higher-end hotels in Jordan, we also had to pass through security before entering the main lobby.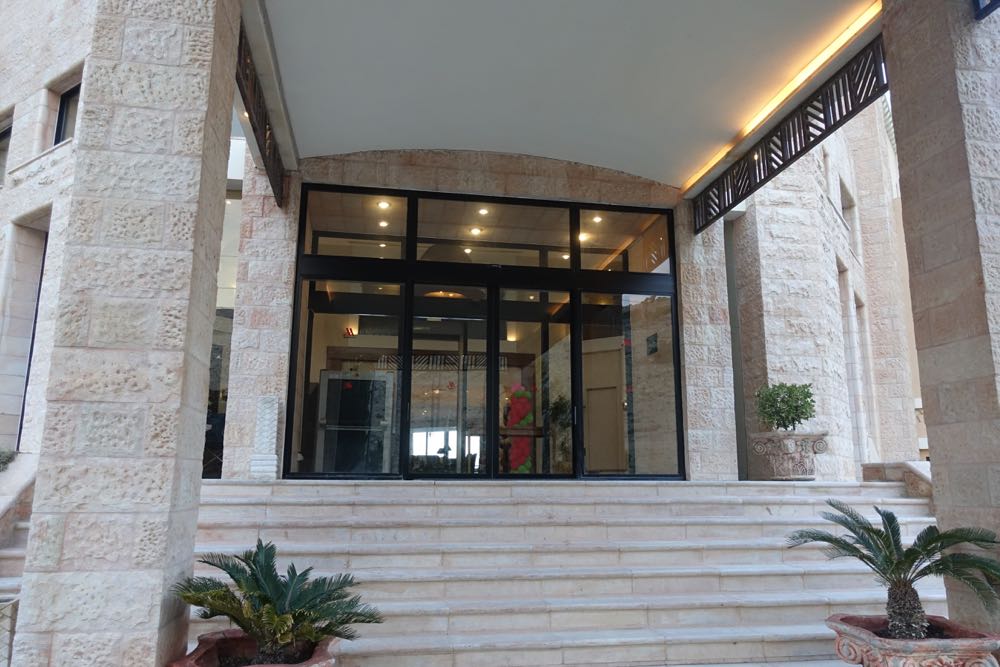 Petra Marriott Hotel
The lobby was simple but architecturally interesting, with high ceilings and large windows. After our previous four nights of lodging, it felt like a palace!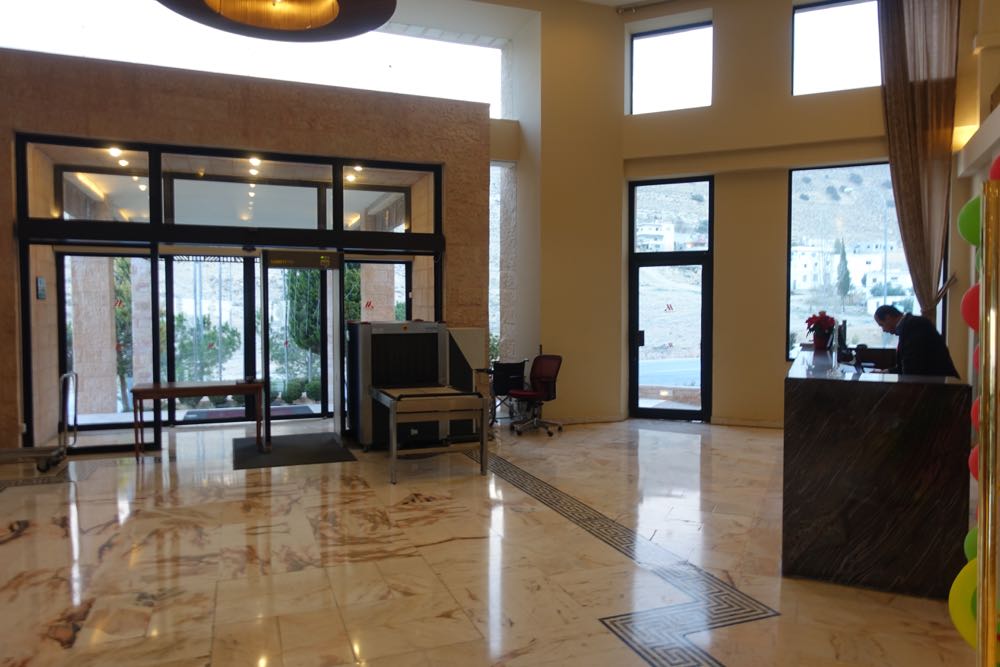 Petra Marriott Hotel
The lobby also had several shops for souvenirs, jewelry, postcards, snacks, etc. We did our shopping elsewhere, but if you didn't have a car I can see this being convenient.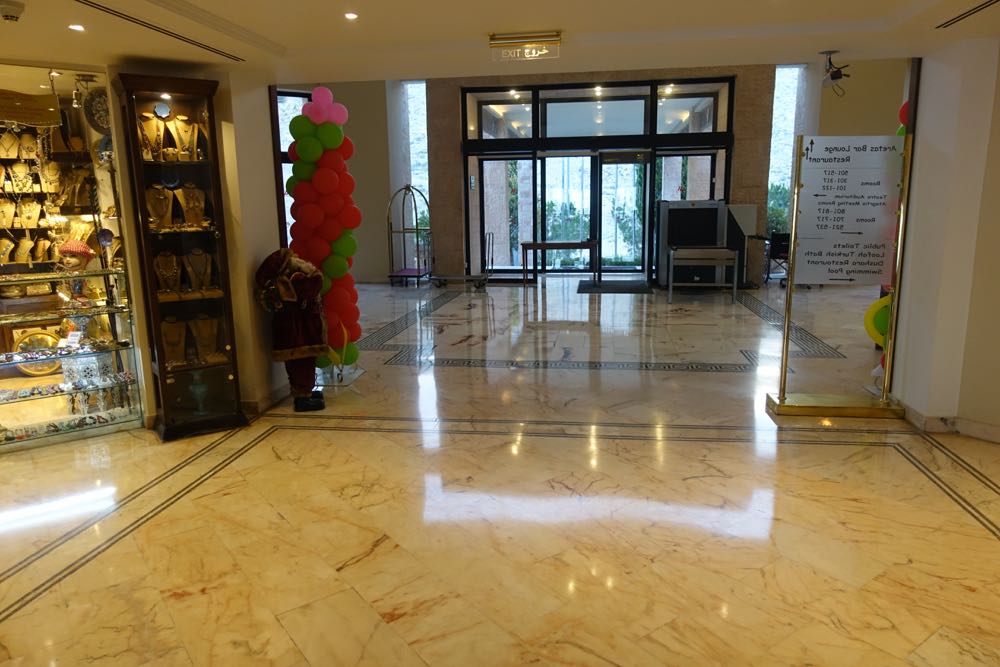 Petra Marriott Hotel
We were assigned a room on the top floor, which was accessed via a very narrow lift. The rooms were centered around an atrium with arabesque arches.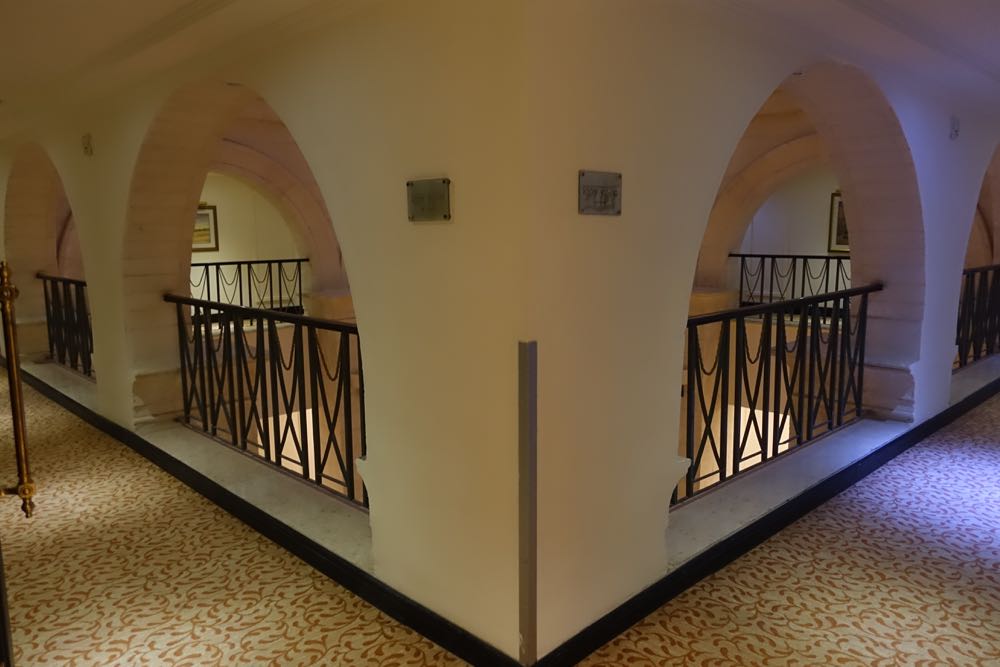 Petra Marriott Hotel
I had asked if any Platinum Suite upgrades were available, but there was a large group there our first night, and I'm not one to fight if the hotel says it's full.
Our standard room was decently-sized at ~325 square feet, though certainly not large.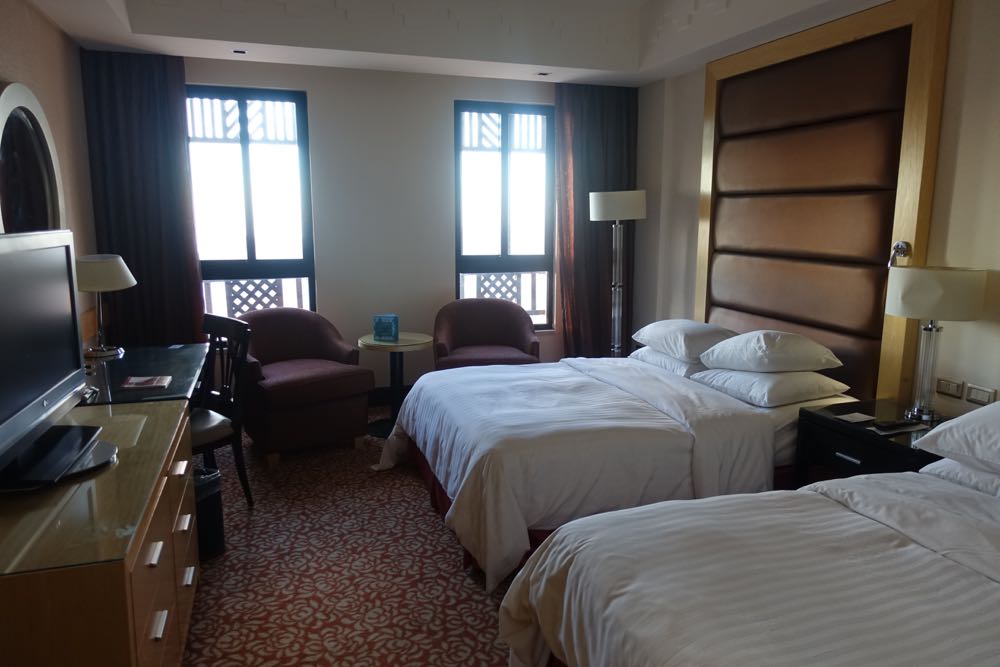 Petra Marriott Hotel guest room
The furnishings were somewhat updated, though I get the sense that this hotel gets a lot of one-night guests, as there seemed to be quite a bit of wear and tear. Everything was clean though.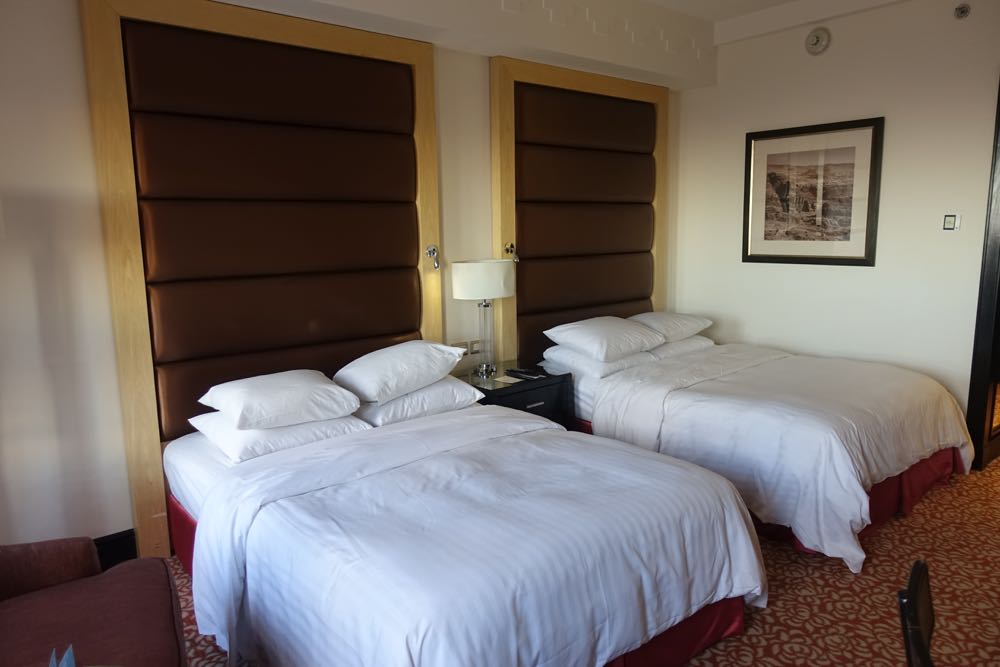 Petra Marriott Hotel guest room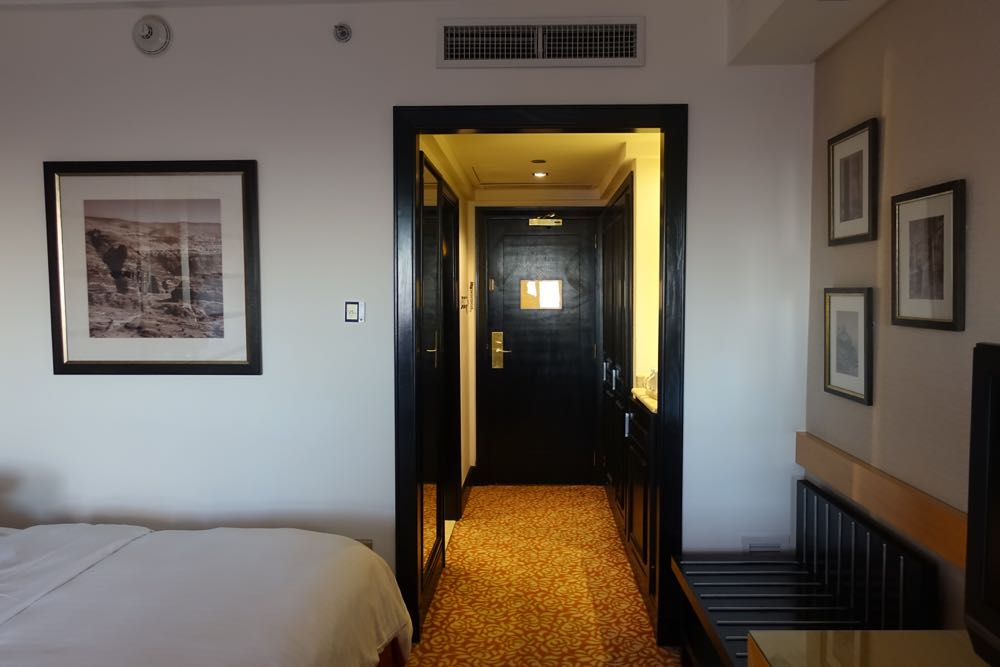 Petra Marriott Hotel guest room
The entry had a small alcove with coffee/tea equipment, and a minibar.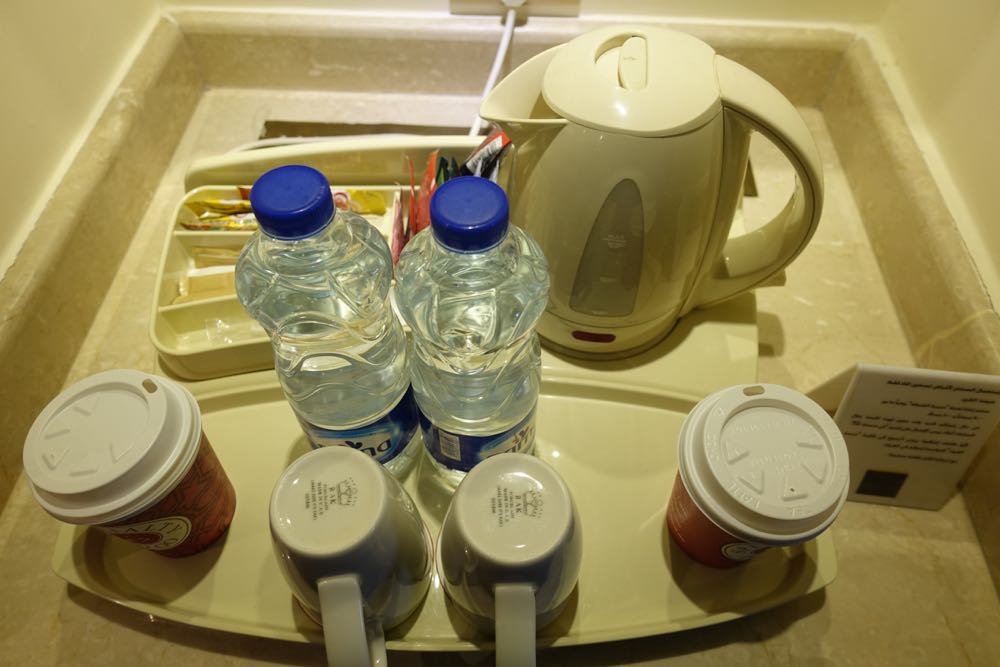 Petra Marriott Hotel guest room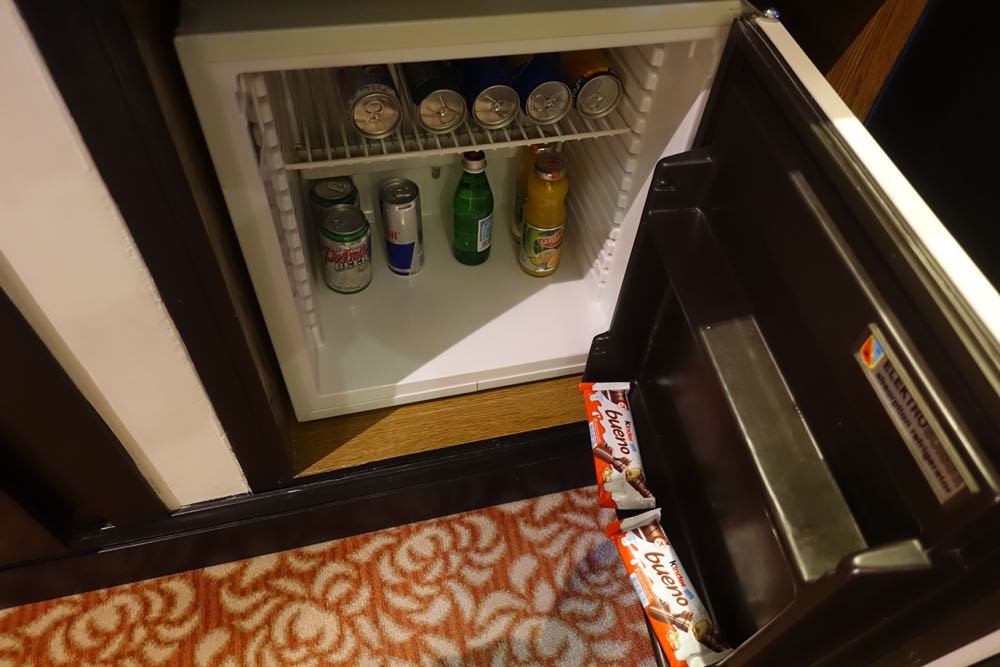 Petra Marriott Hotel minibar
There was also a desk and chair — though if ever there was a Marriott location that warranted eliminating desks I'd think Petra would qualify!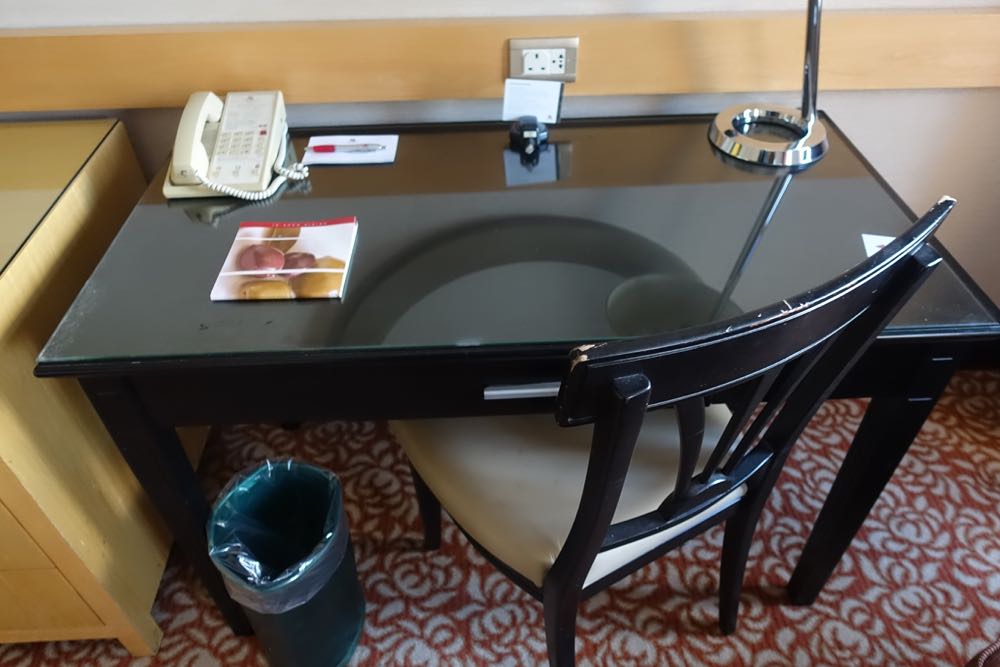 Petra Marriott Hotel guest room
Later in the evening, the saddest-looking (but still appreciated) welcome amenity ever was delivered: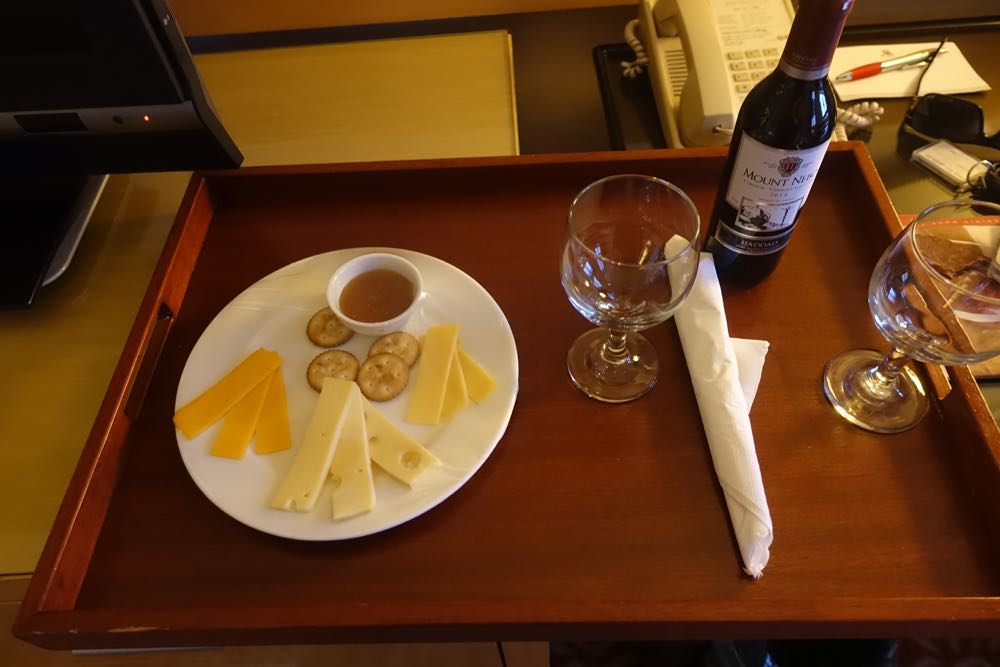 Petra Marriott Hotel Platinum amenity
The bathroom was off the hallway, and was immaculately clean.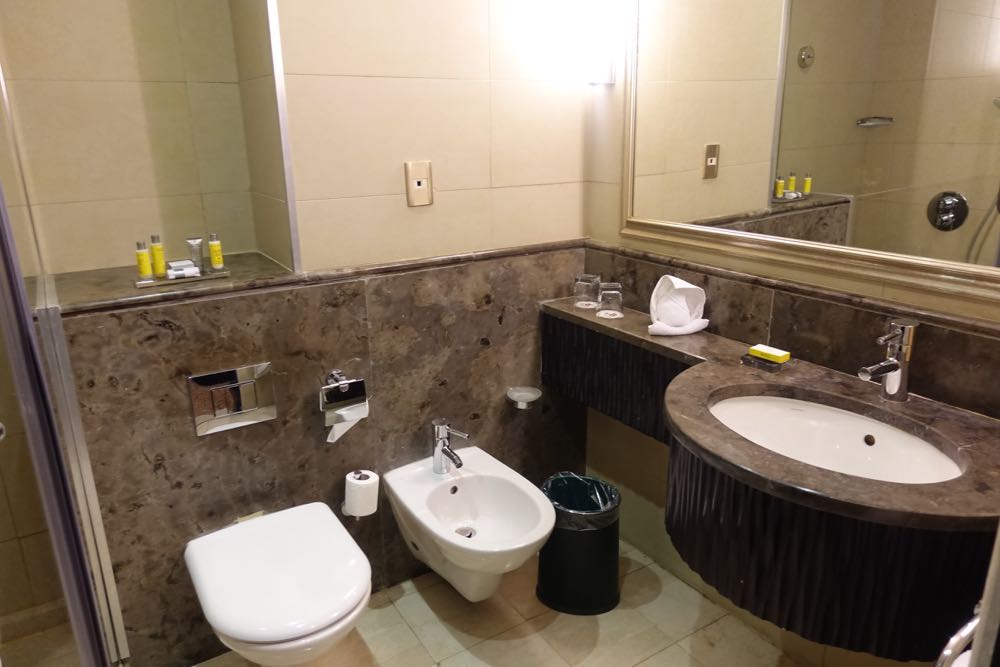 Petra Marriott Hotel bathroom
There was a nice assortment of bath amenities: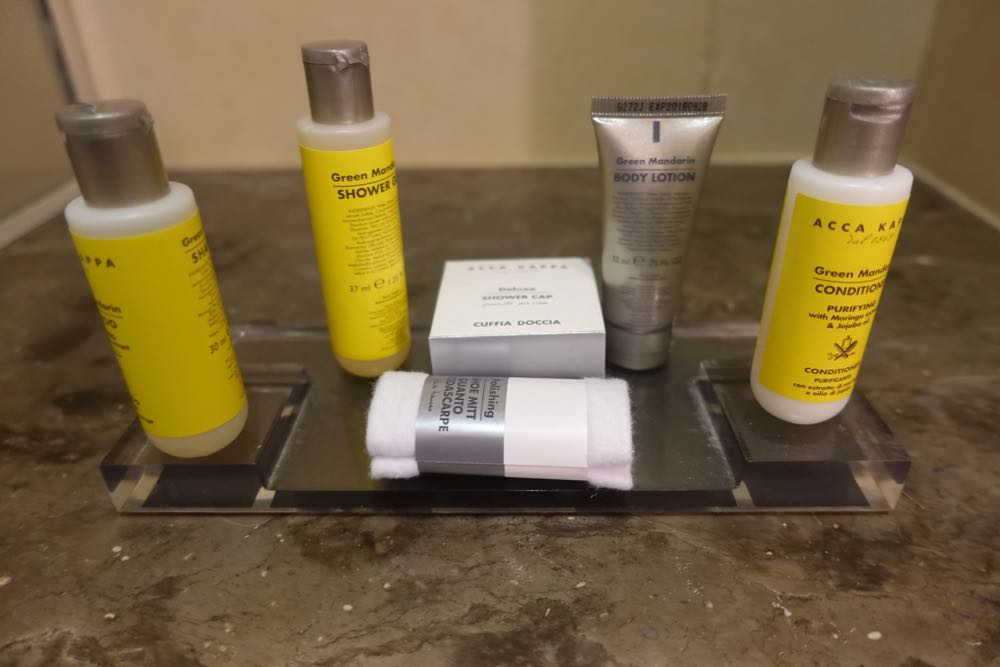 Petra Marriott Hotel bathroom
The shower was on the smaller side, but still received FULL MARKS on my shower scale.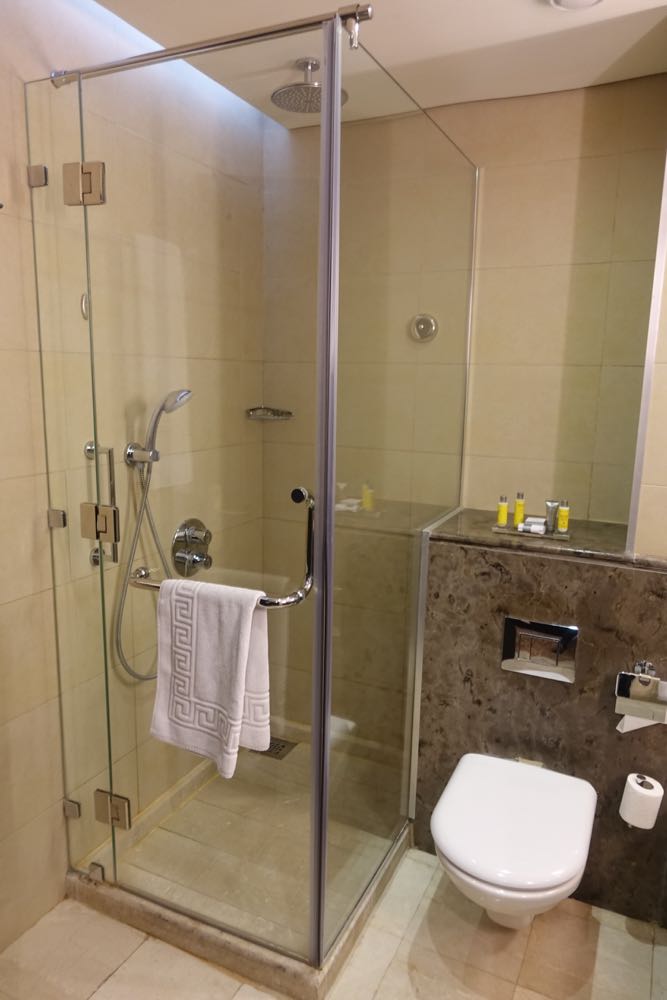 Petra Marriott Hotel shower
Though honestly, we were so excited about the existence of a functional shower with endless hot water that we didn't even care.
Nothing makes a low-category chain hotel seem luxurious quite like spending the previous three days camping.

— Tiffany Funk (@tebfunk) January 2, 2017
The most functional shower we'd had on this trip otherwise was onboard Emirates, so it's no exaggeration to say that this was one of the top ten most gratifying showers of my life. Maybe top five.
The best part of the room, however, were the windows that opened to absolutely ridiculously stunning views of the surrounding mountains.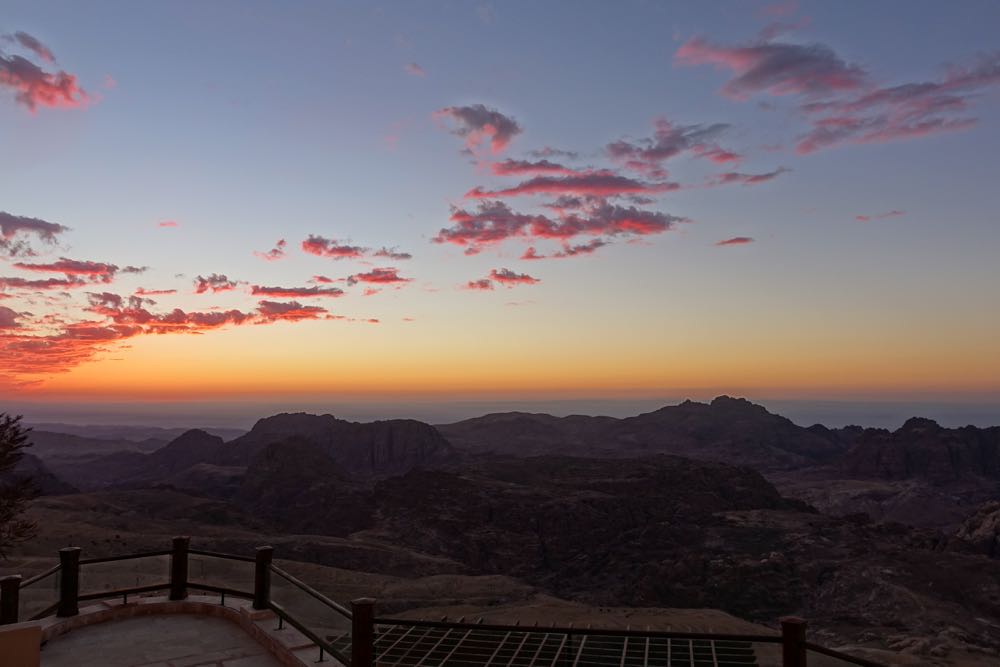 Petra Marriott Hotel views
The Marriott Petra is not one of the umpteen properties that doesn't offer breakfast benefits to elites, so the full buffet was included based on my Platinum status.
Breakfast started at 6AM, so we decided to have a quick breakfast before heading to Petra on the first day, and then had a more leisurely meal on the second day.
Breakfast is served downstairs from the lobby, in a restaurant that also hosts a dinner buffet.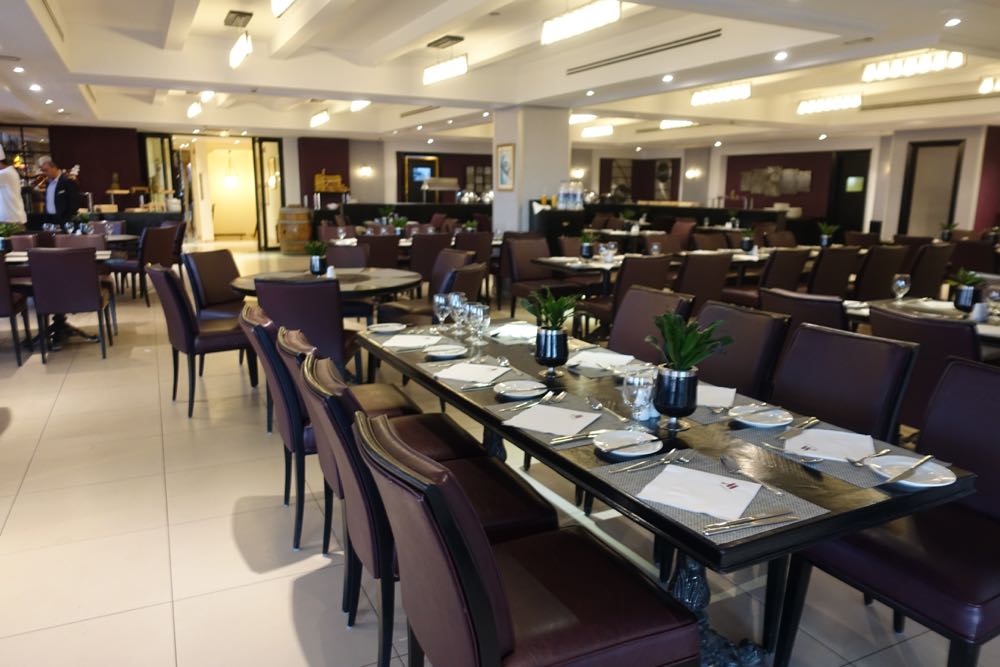 Petra Marriott Hotel restaurant
The selection was really impressive for a mid-range chain hotel. There were over two dozen types of breads and pastries: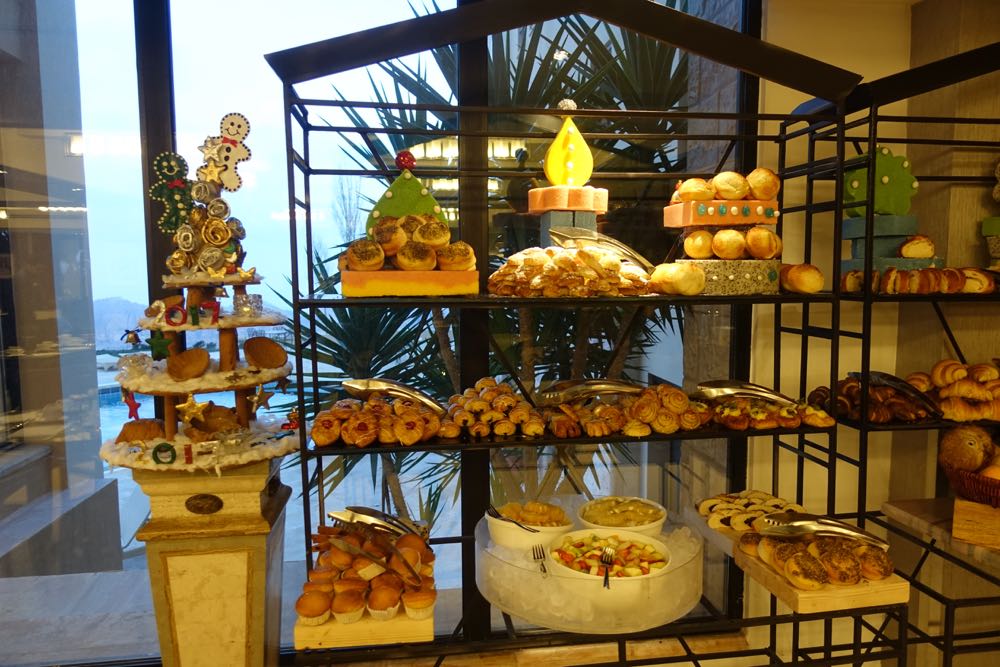 Petra Marriott Hotel breakfast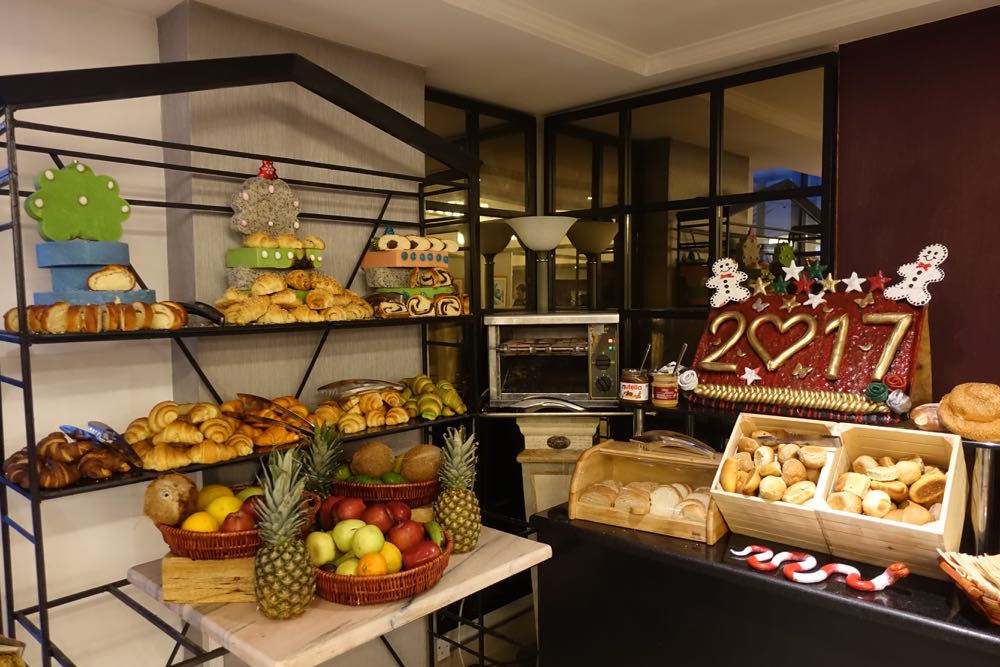 Petra Marriott Hotel breakfast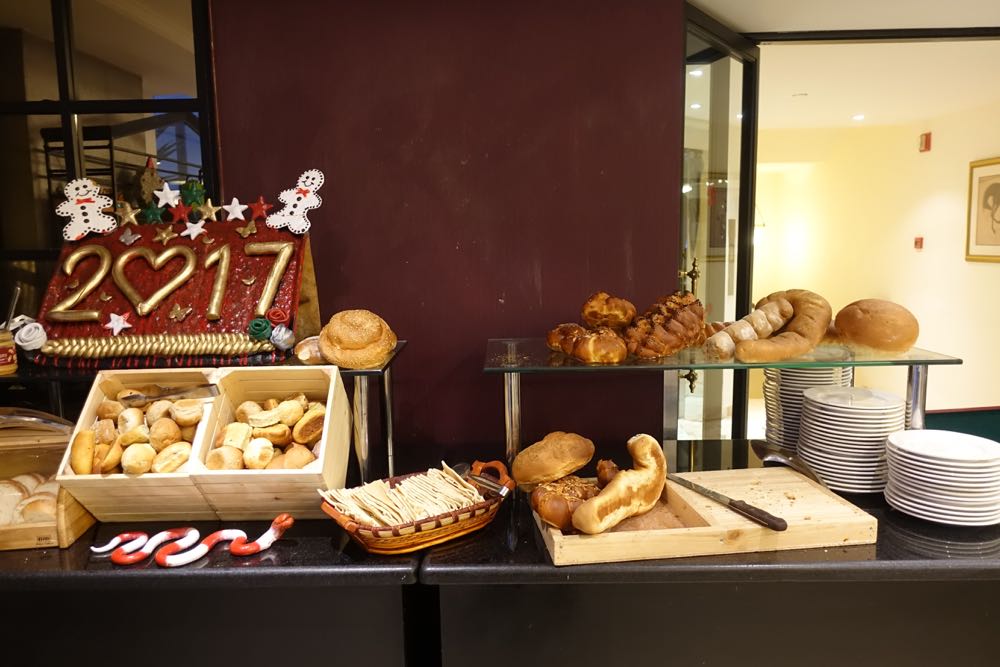 Petra Marriott Hotel breakfast
An assortment of cold cuts, cheeses, and grilled vegetables: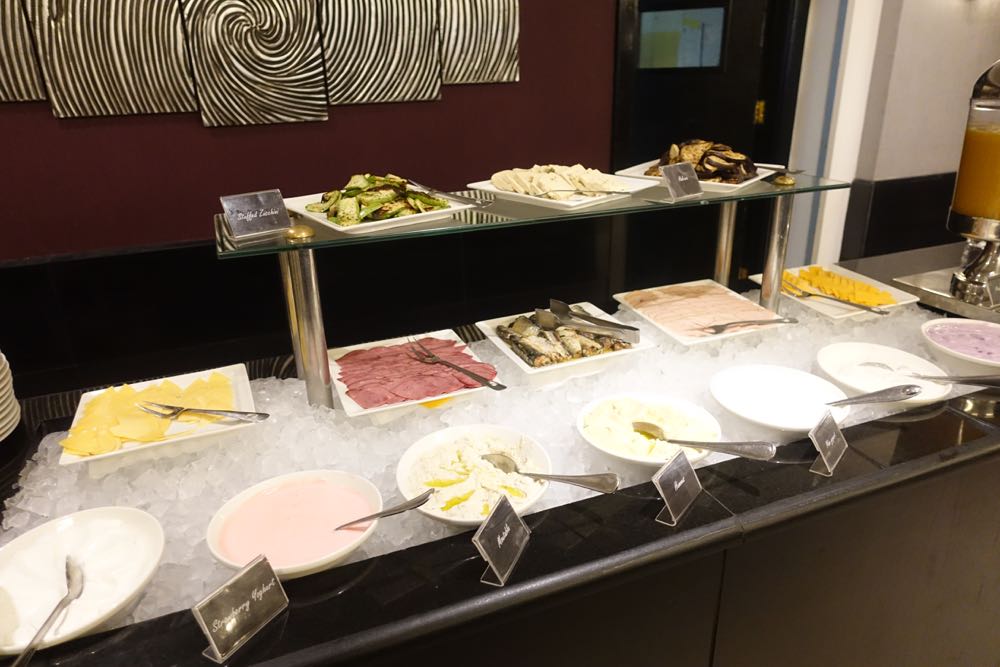 Petra Marriott Hotel breakfast
Some interesting salad fixings: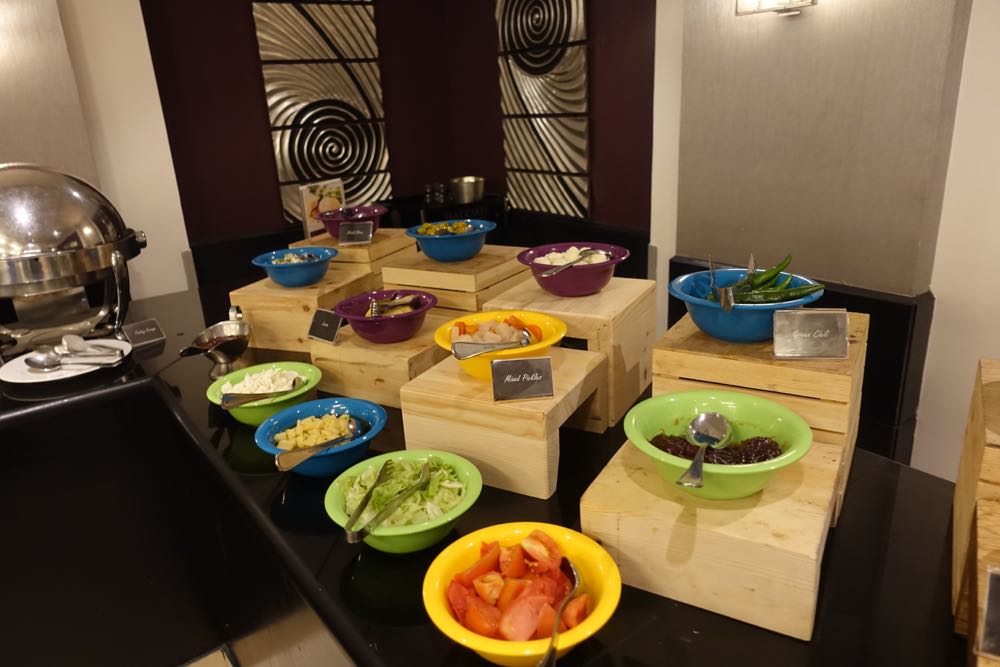 Petra Marriott Hotel breakfast
Several types of cereal, along with oatmeal and all the "fixings":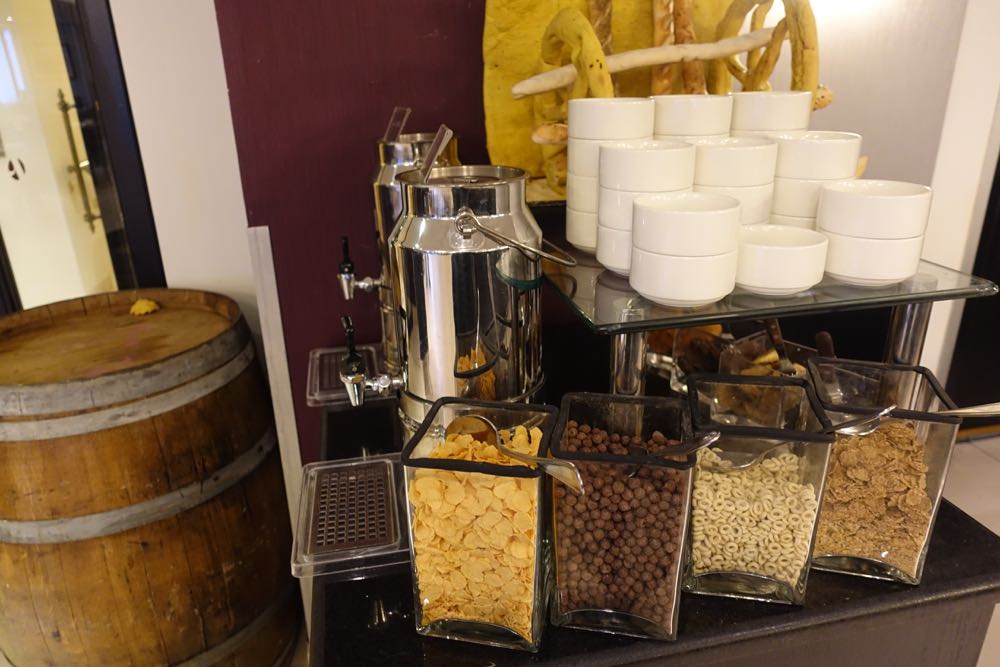 Petra Marriott Hotel breakfast
Hot items included made-to-order eggs, turkey bacon, ful medames, falafel, and roasted potatoes. The chef manning the hot items was also making the most carefully and precisely prepared pancakes I've ever seen. I don't even like pancakes and his detail work compelled me to try them, that's how seriously he was taking it.
Overall, I thought the breakfast spread was amazing, particularly for the location and price point. The service in the restaurant, however, was somewhat lousy. Getting the first, much less second, cup of coffee was an ordeal each day, which was disappointing as the hotel wasn't even that busy.
The restaurant level also has a lovely terrace with a pool, which would be wonderful if you're traveling in the summer or with kids (it wasn't terribly usable in our 35°F weather).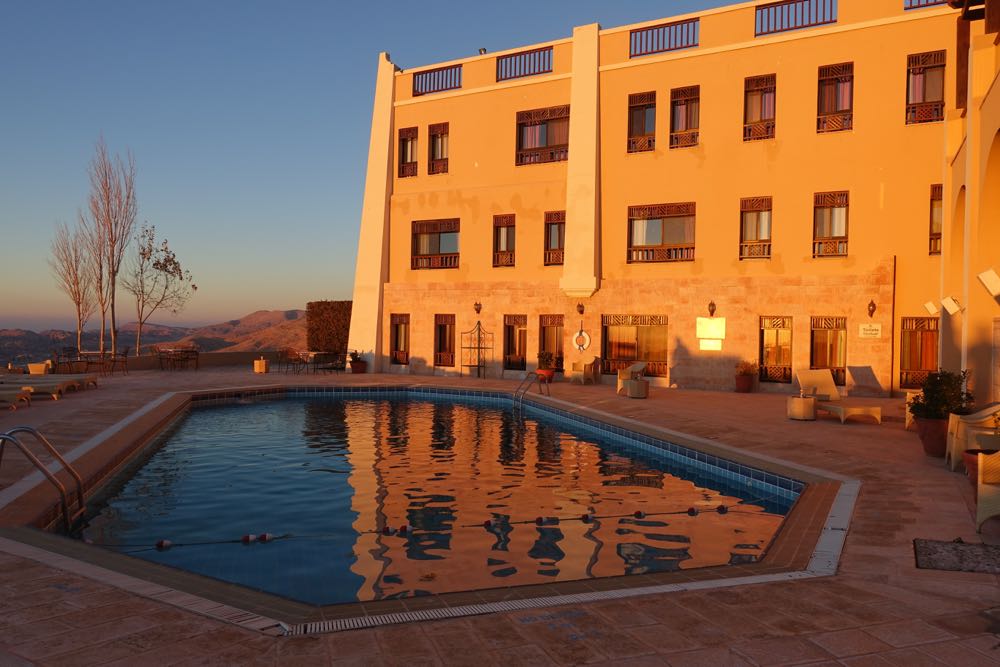 Petra Marriott Hotel pool
There's a spa as well, that we didn't have time to take advantage of, and a gym that I can't imagine is well-frequented.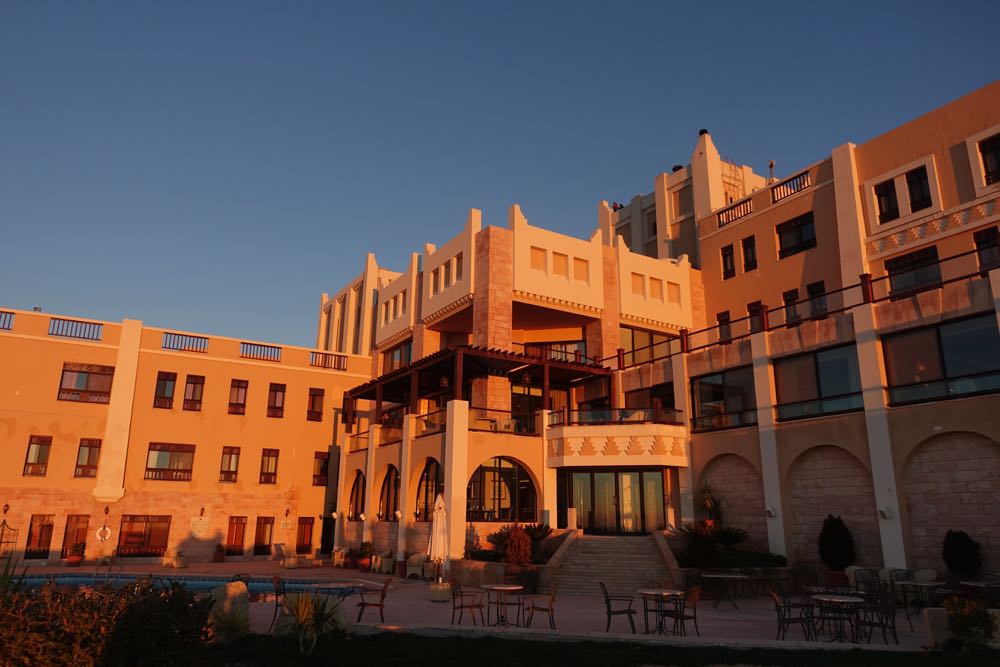 Petra Marriott Hotel terrace
The main lobby level also had a large lounge with great windows and views of the mountains surrounding Petra: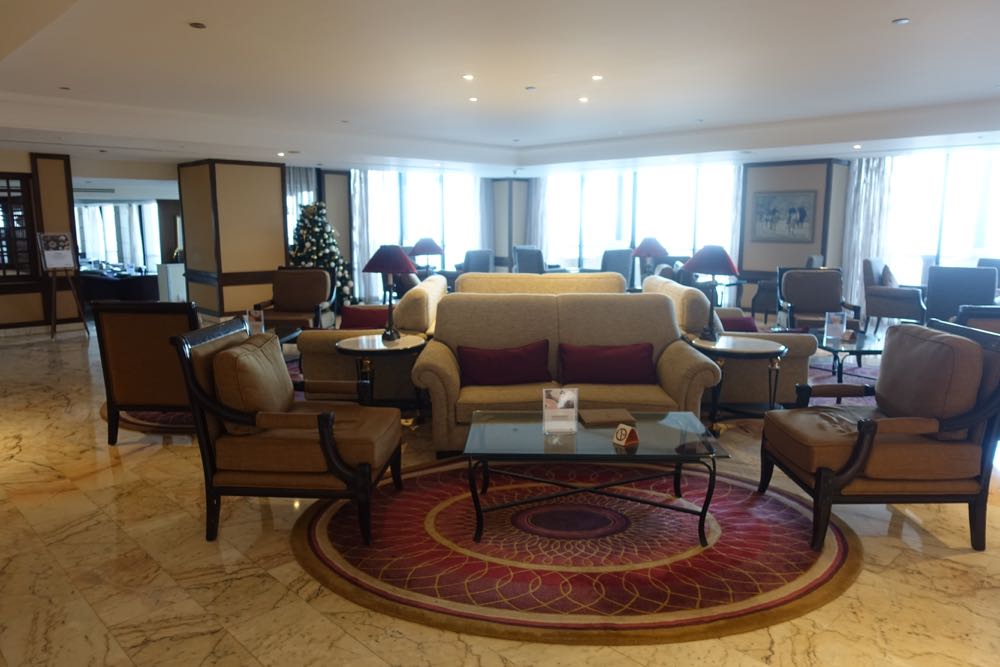 Petra Marriott Hotel lounge
There was also a nice bar with a terrace, and a Middle Eastern restaurant.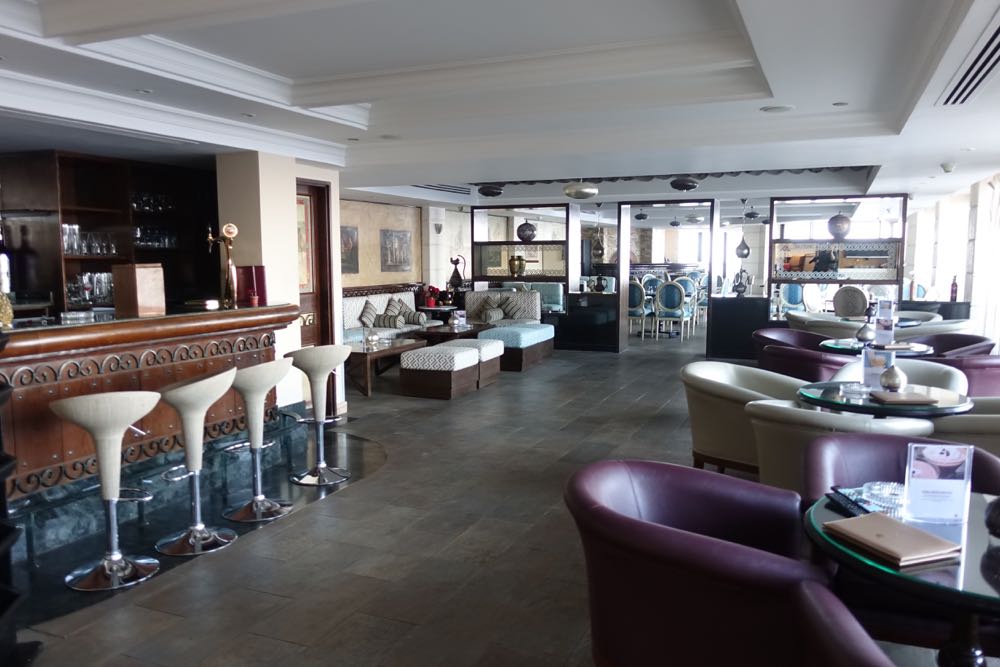 Petra Marriott Hotel bar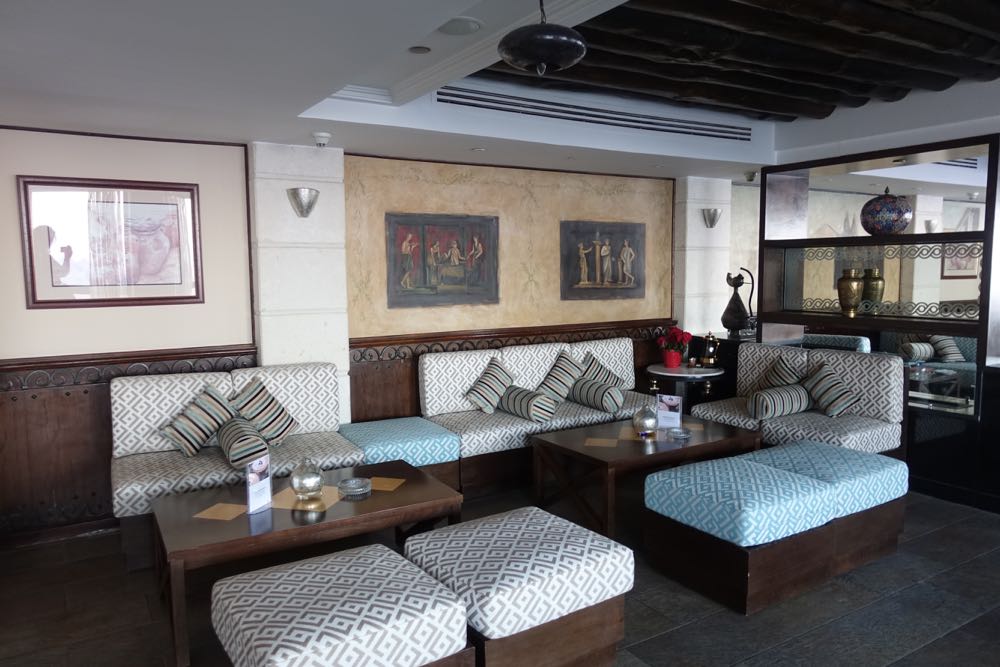 Petra Marriott Hotel bar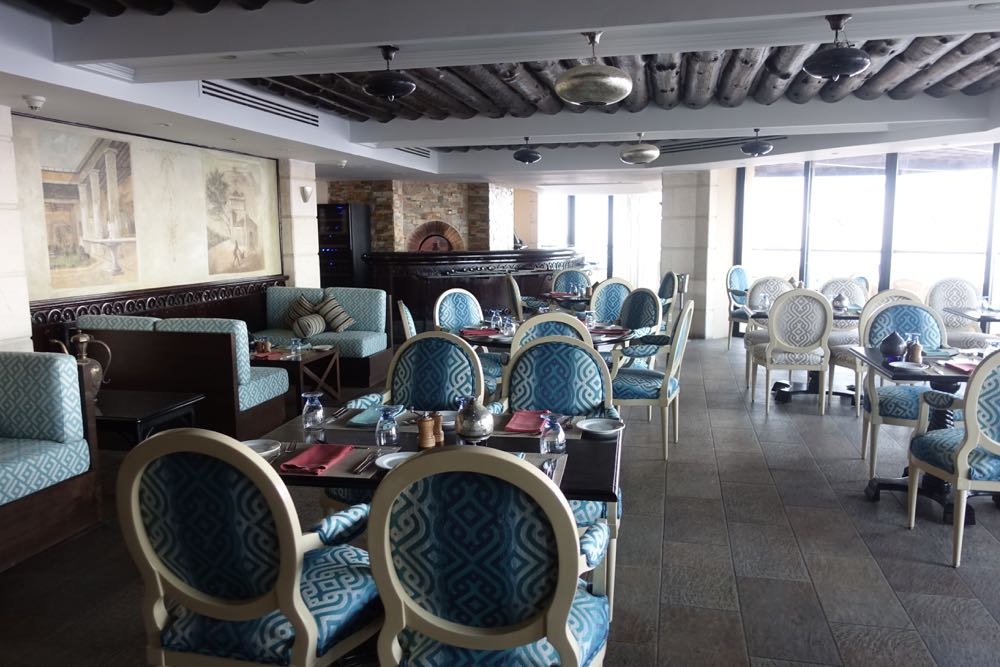 Petra Marriott Hotel restaurant
We didn't eat in the restaurants (other than breakfast), so I can't really speak to those, but we did have coffees and snacks in the bar one afternoon. They were a little pricey for Jordan, but everything within 10 miles of Petra is just outrageously expensive anyway (more about that later).
Here, at least, you have a view. So even if you aren't staying at the Marriott it could be a nice place to escape to for sunset cocktails.
Bottom line
We really liked this Marriott, and I didn't feel at all hindered by being on the outskirts of town. Wadi Musa is one of those places where the culture has been totally eclipsed by the tourism needs of the adjacent UNESCO site (think Aguas Calientes or Siem Reap), so other than proximity to Petra I'm not sure you're missing much by staying elsewhere.
It was an easy ~10 minute drive to and from town, but taxis were also plentiful. We never had any issues with parking. Being able to retreat away from the bustle of tourists was perfect for us.
And the views weren't horrible.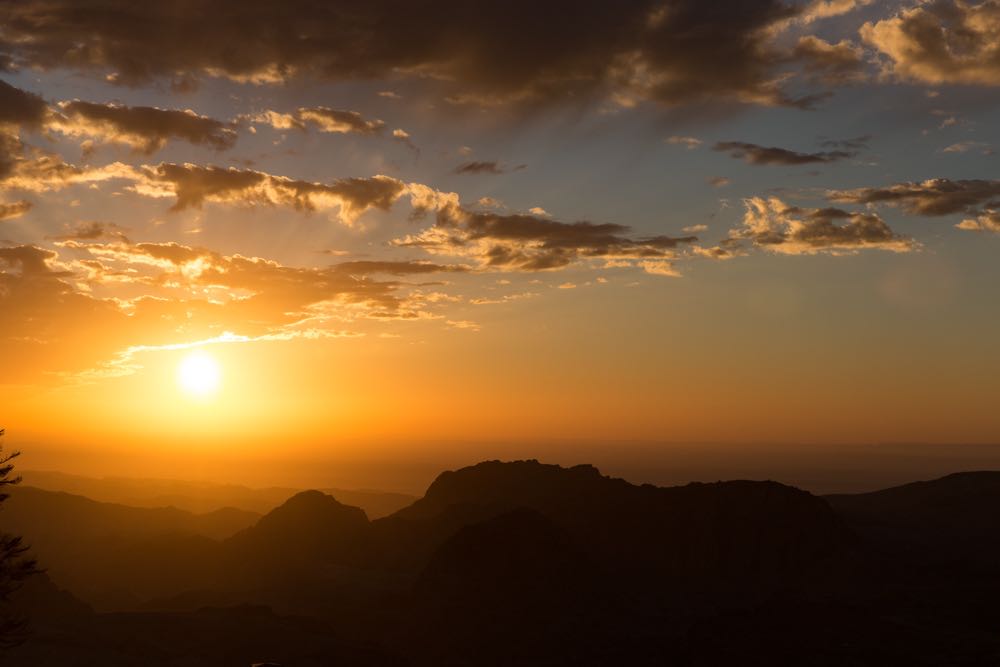 Petra Marriott Hotel sunset
Any other hotel recommendations near Petra?