---
Our connecting flight arrived in San Francisco about three and a half hours before our flight to Dubai. As we had plenty of time, and my husband still didn't feel great, we popped into the Delta SkyClub for some soup and downtime before heading over to the international terminal, which we were able to enter thanks to a credit card with lounge access.
The Emirates check-in desk opens three hours before departure, and online check-in isn't possible from San Francisco. Fortunately, there wasn't a queue for First Class passengers, so we had our boarding passes in minutes.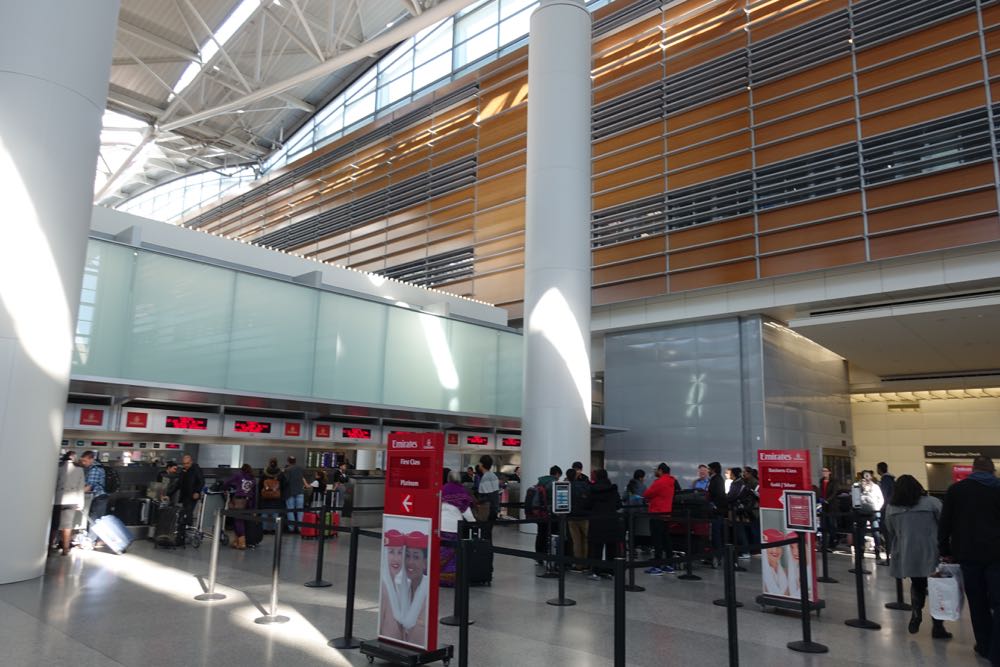 Emirates check-in counter SFO
Then began the most ridiculous "TSA" experience of my life. San Francisco doesn't actually use TSA as such — rather they use Covenant Aviation Security as private contractors. While I would tend to support the idea of privatizing as a way to reduce government bloat, my experiences with CAS employees are always far worse than any TSA employee. So who knows.
I realize holiday travel period is a busy time, but the queue management and wait time was absolutely unacceptable. Wheelchair passengers, crew, and CLEAR customers were all being fed into the same ID check as premium passengers. All these people then fed into one lane, which was staffed by the surliest and most inefficient group of people I've ever encountered in any industry.
To give you an idea, from entering the Priority lane to the ID check took 11 minutes, by which point the people who had entered the non-Priority lane after us were already through the screening process. After our IDs were checked it took an additional 27 minutes to complete screening, without any secondary checks. The small child in front of us even had an accident due to the extra-long wait, so it was a frustrating experience for everyone.
Absolutely ridiculous.
With that out of the way, we headed towards the lounge, which is about half-way down the pier, across from the British Airways lounge.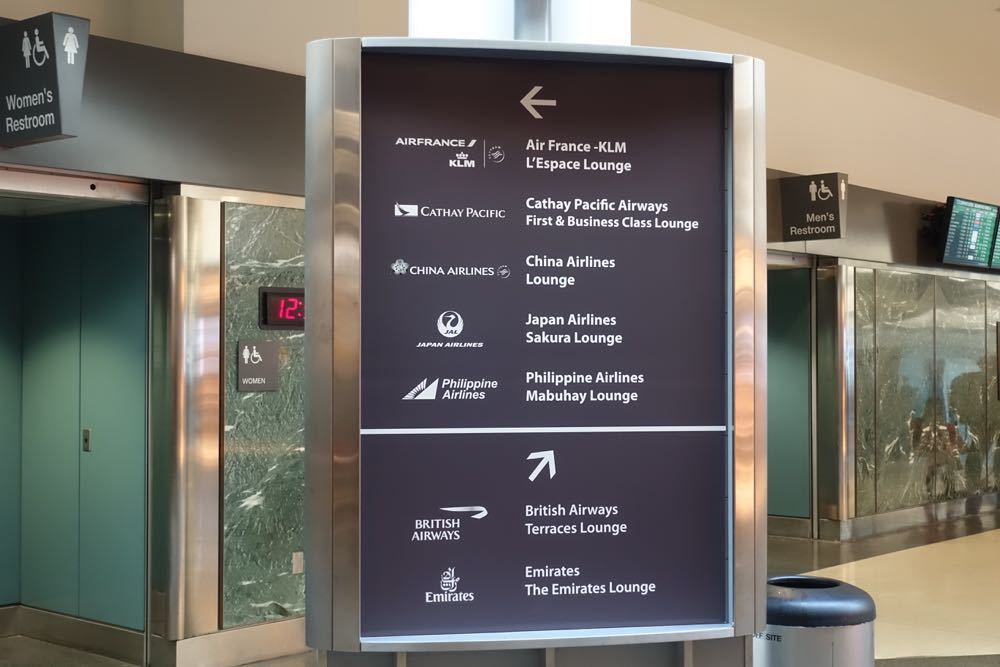 SFO lounge signage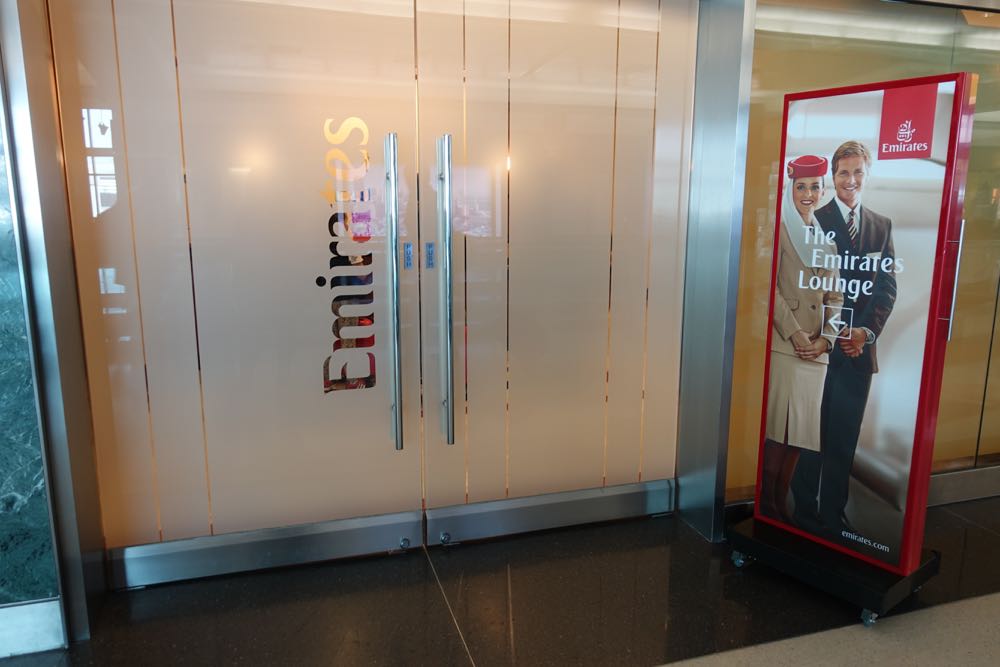 Emirates lounge entrance
Emirates has a combined lounge for first and business class passengers in San Francisco, though given they only have one flight a day it's great they have a lounge at all.
The agent was friendly, and directed us to an elevator off the vestibule.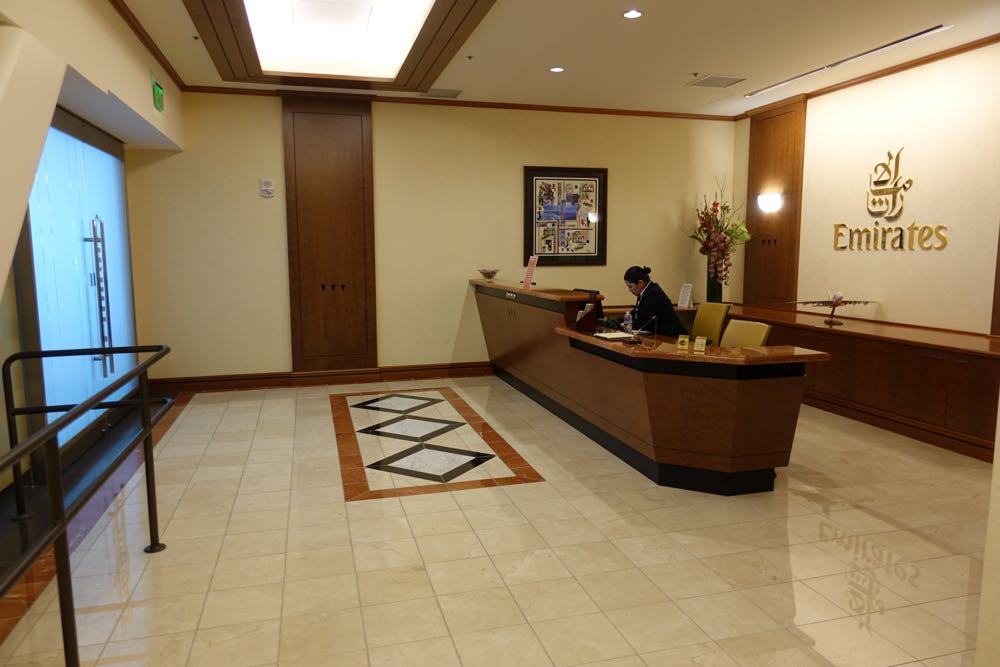 Emirates lounge entrance
The lounge itself is on the smaller side, but perfectly adequate for Emirates premium passenger load out of San Francisco. It basically consisted of one large room, with several seating areas, two TVs, and a water feature, then a separate room that served as a dining area.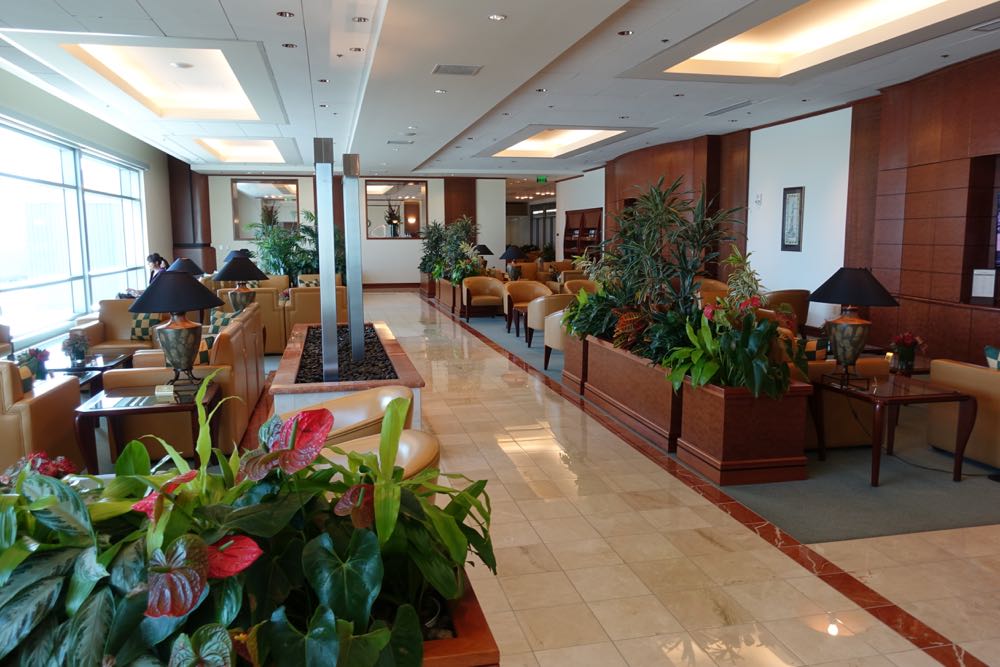 Emirates lounge SFO seating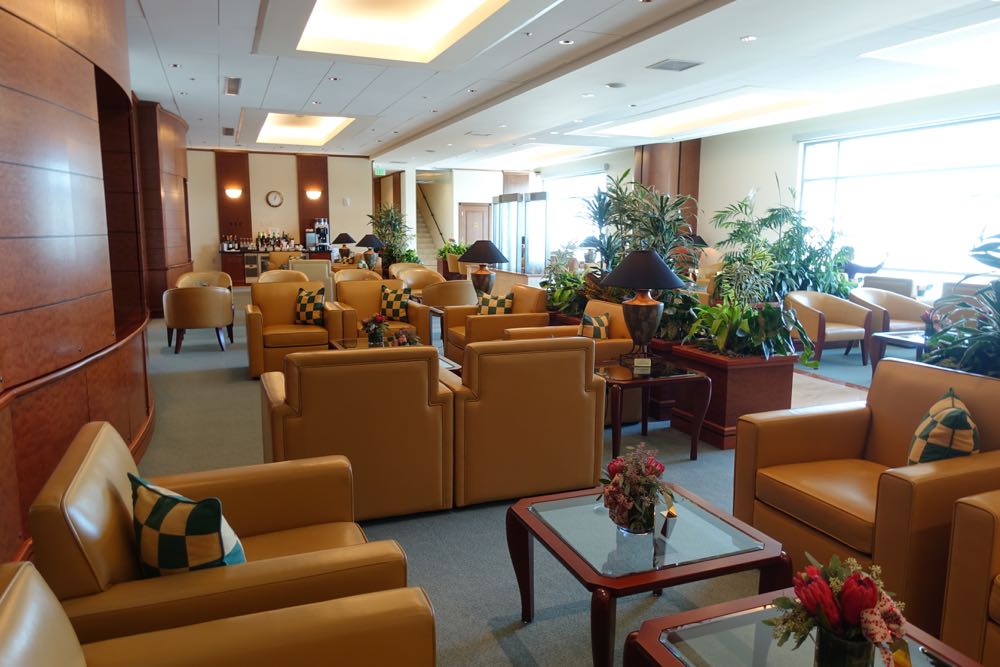 Emirates lounge SFO seating
I personally find the color scheme Emirates uses for their lounge to be a bit sickly-looking, and this one was no exception. The furniture was comfortable enough, but the colors!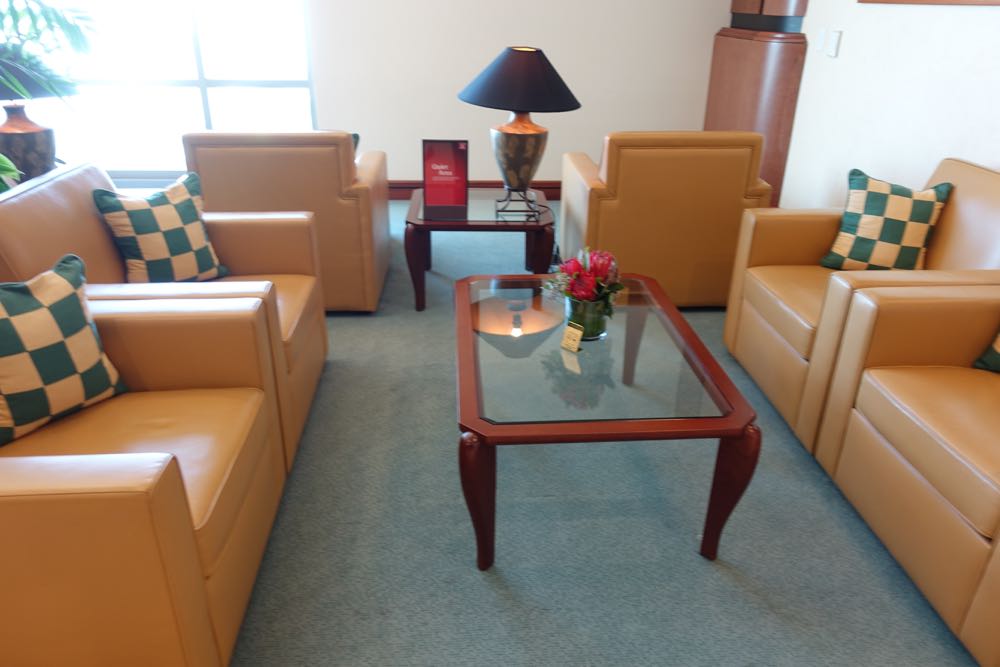 Emirates lounge SFO seating
The relaxation area of the lounge had a self-serve beverage station, featuring a coffee machine, sodas, several varieties of booze, and a few bottles of wine.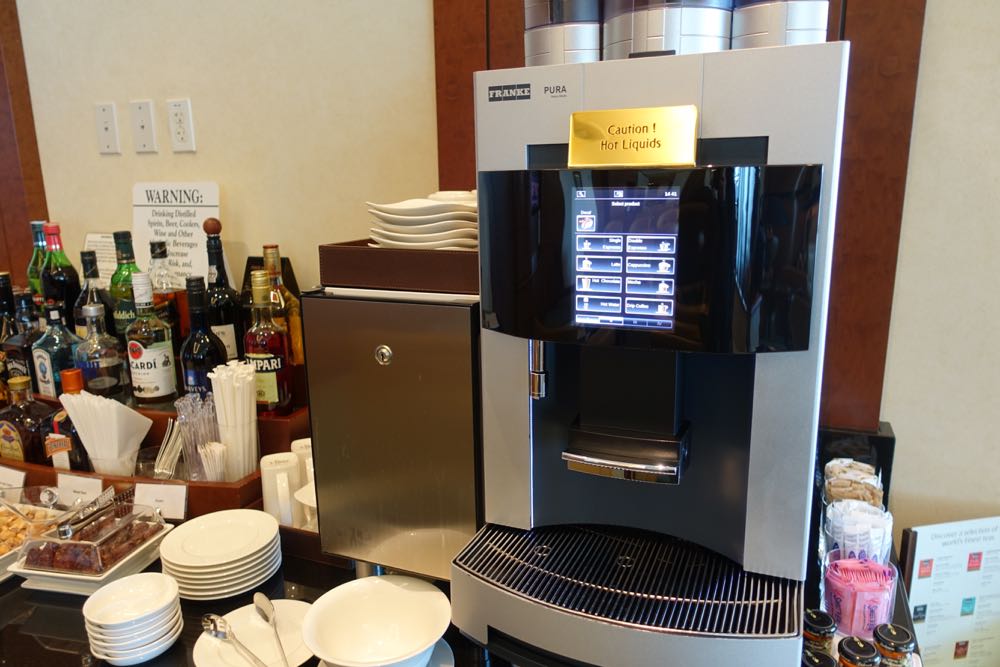 Emirates lounge SFO drink selection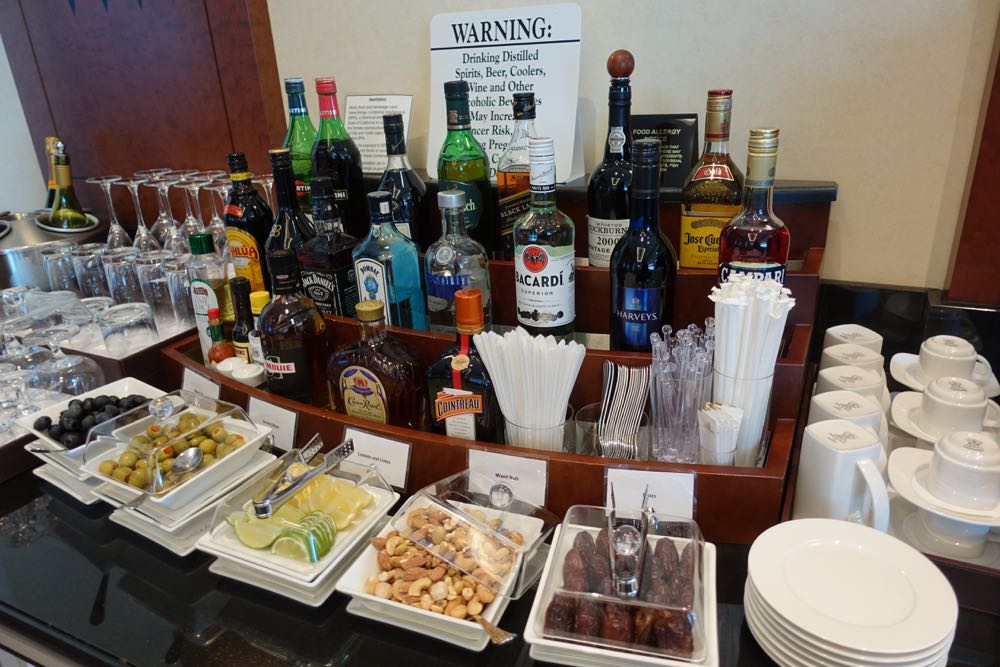 Emirates lounge SFO drink selection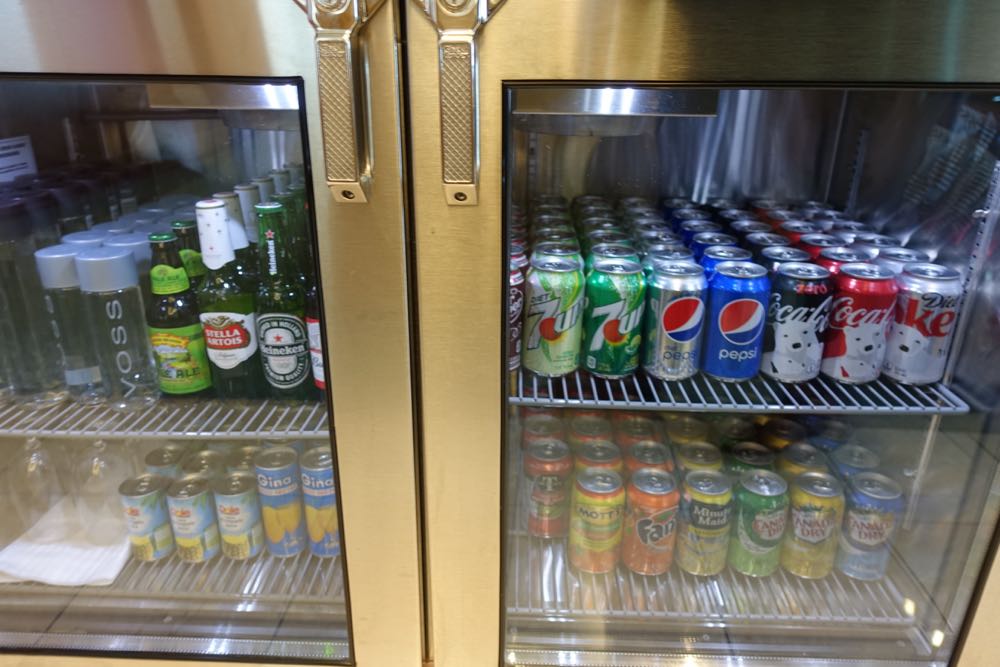 Emirates lounge SFO drink selection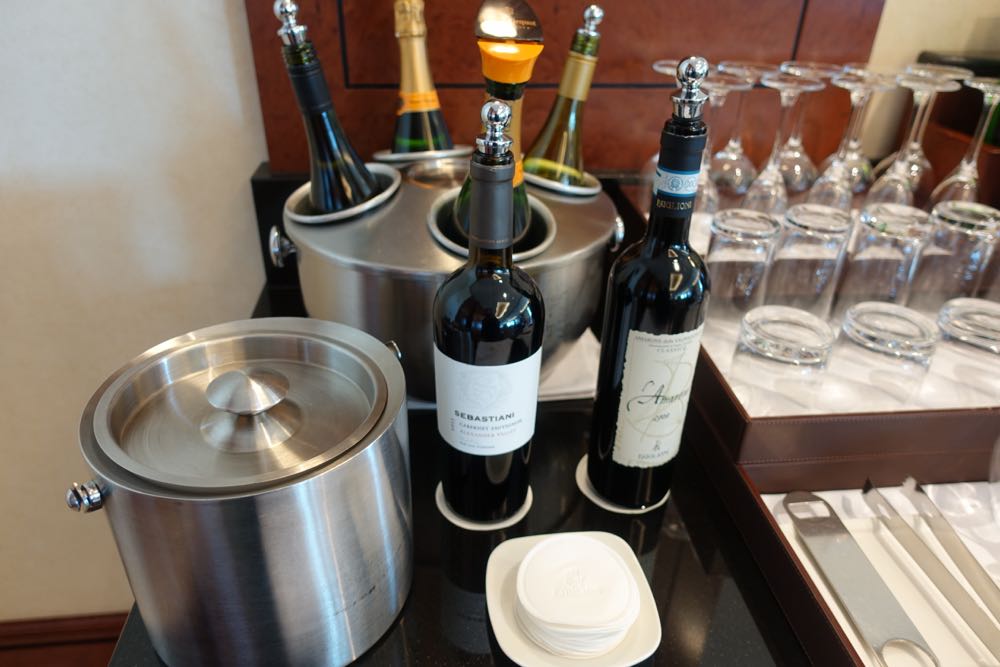 Emirates lounge SFO drink selection
I didn't take pictures of the seating arrangements in the dining room because there were two families with small children present, and that always weirds me out, but the options basically consisted of a short wall with banquette seating, and a few additional tables and chairs.
The food options consisted of a lovely cold display, with fruit plates, small salads, cheeses, and some tasty-looking desserts: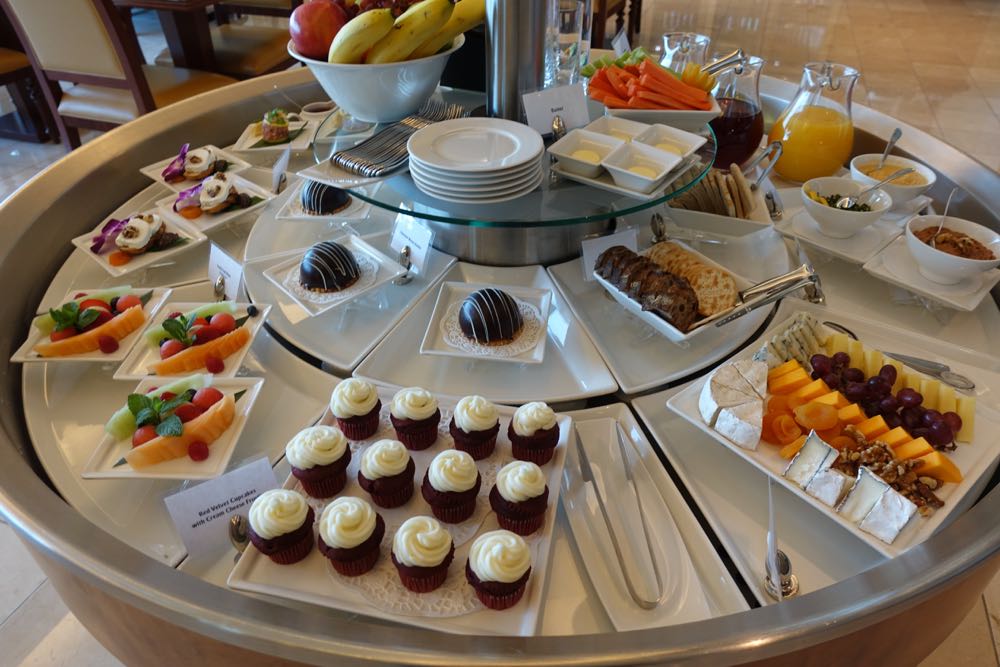 Emirates lounge SFO cold buffet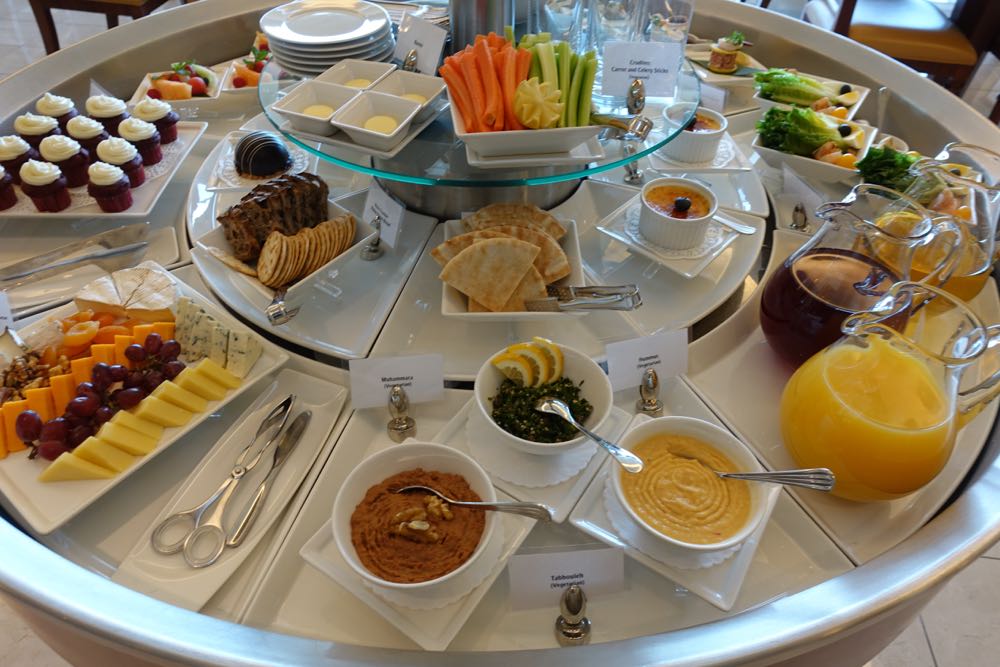 Emirates lounge SFO cold buffet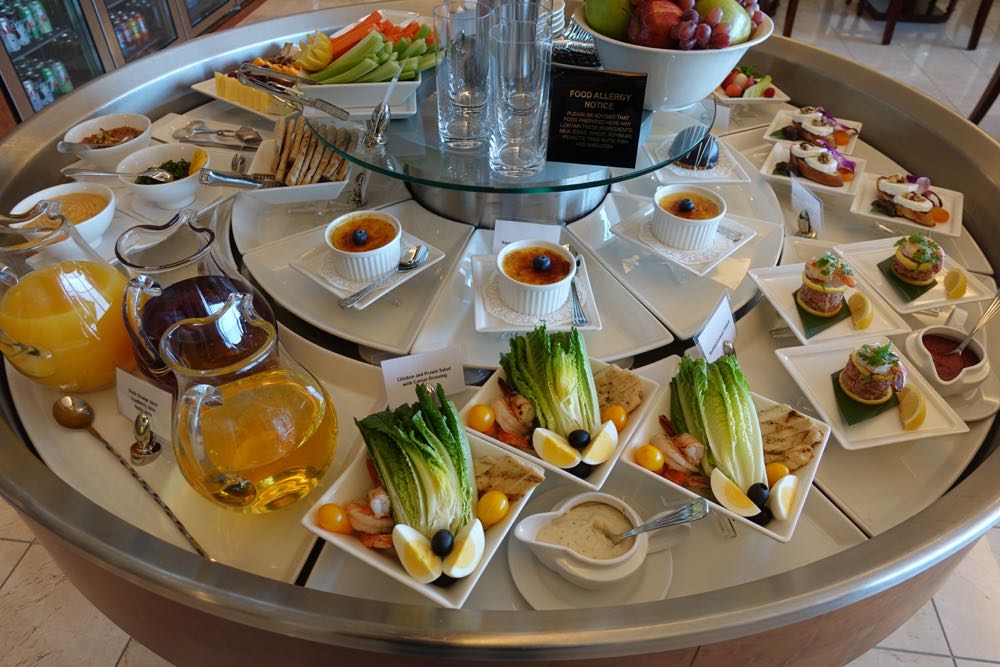 Emirates lounge SFO cold buffet
There was a hot buffet as well, with some tasty-looking Indian options, a nice cauliflower soup, a pasta, roasted veggies, and so forth.
I was actually quite impressed by the variety, and this seems like an especially nice benefit for business class passengers.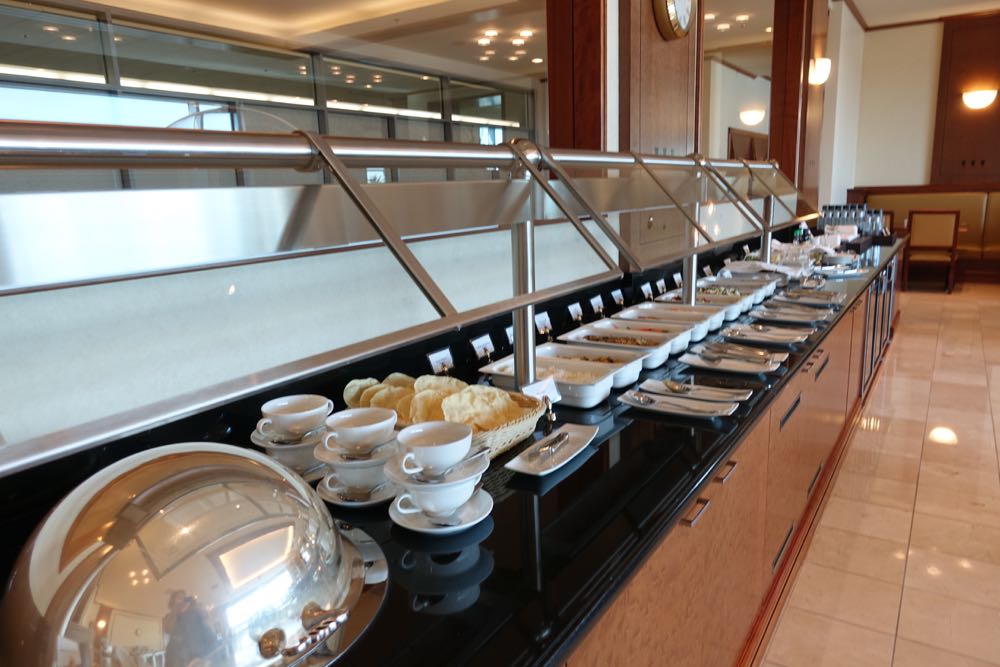 Emirates lounge SFO hot buffet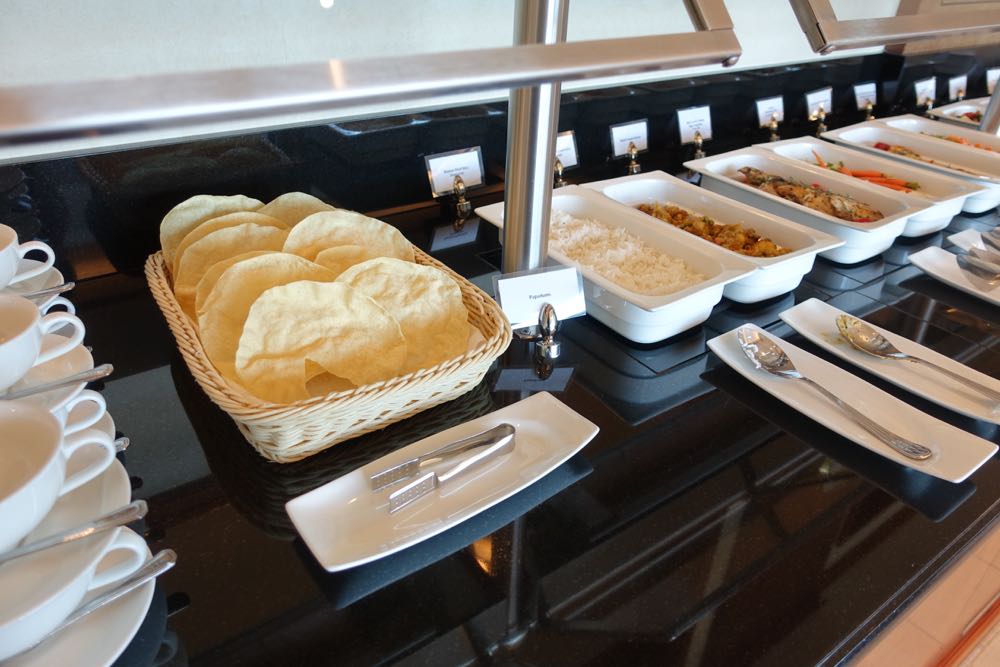 Emirates lounge SFO hot buffet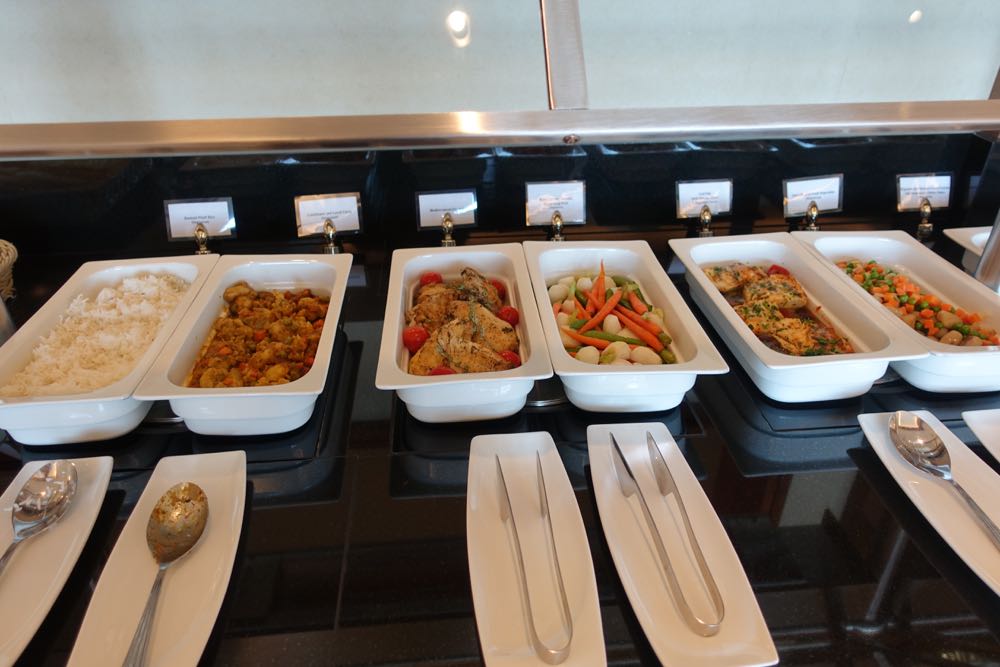 Emirates lounge SFO hot buffet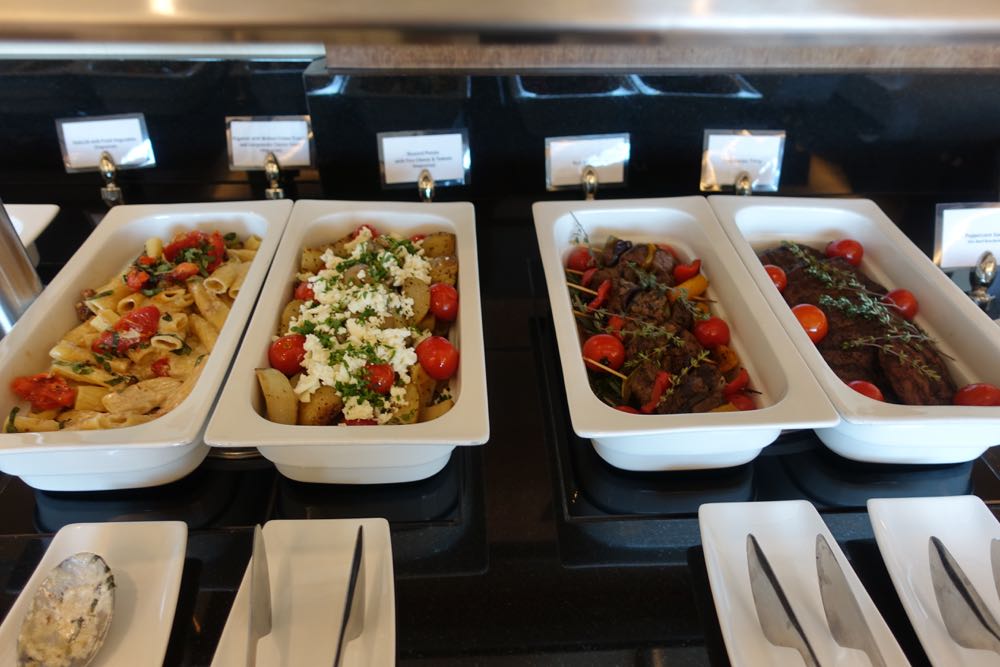 Emirates lounge SFO hot buffet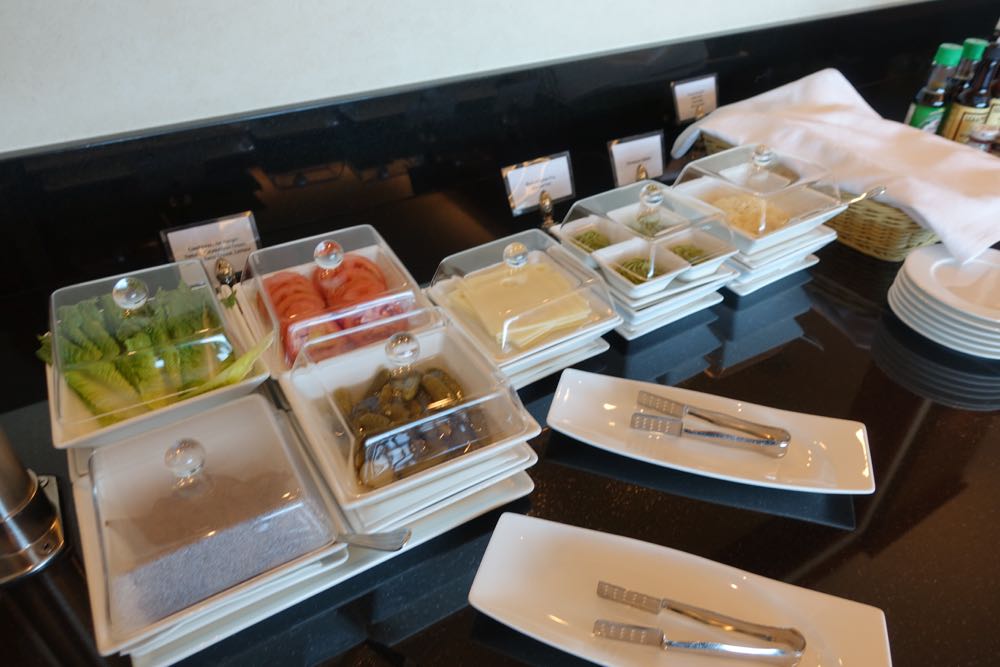 Emirates lounge SFO hot buffet
On the other side of the lounge, near the elevator, was a small business center.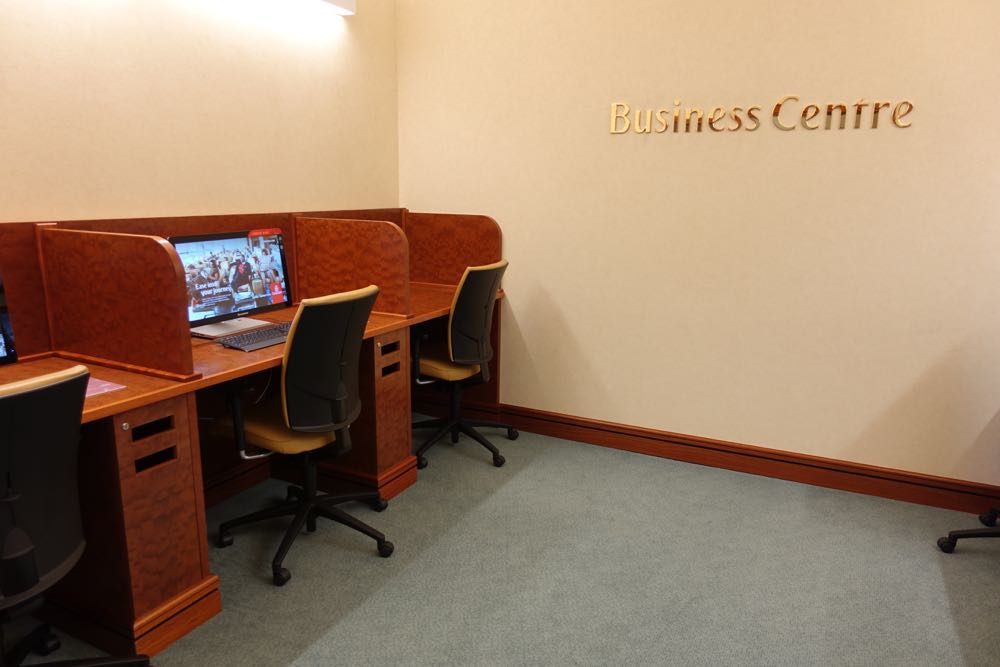 Emirates lounge SFO business center
Beyond that were the restrooms, which were divided into Men's, Women's, and an accessible room.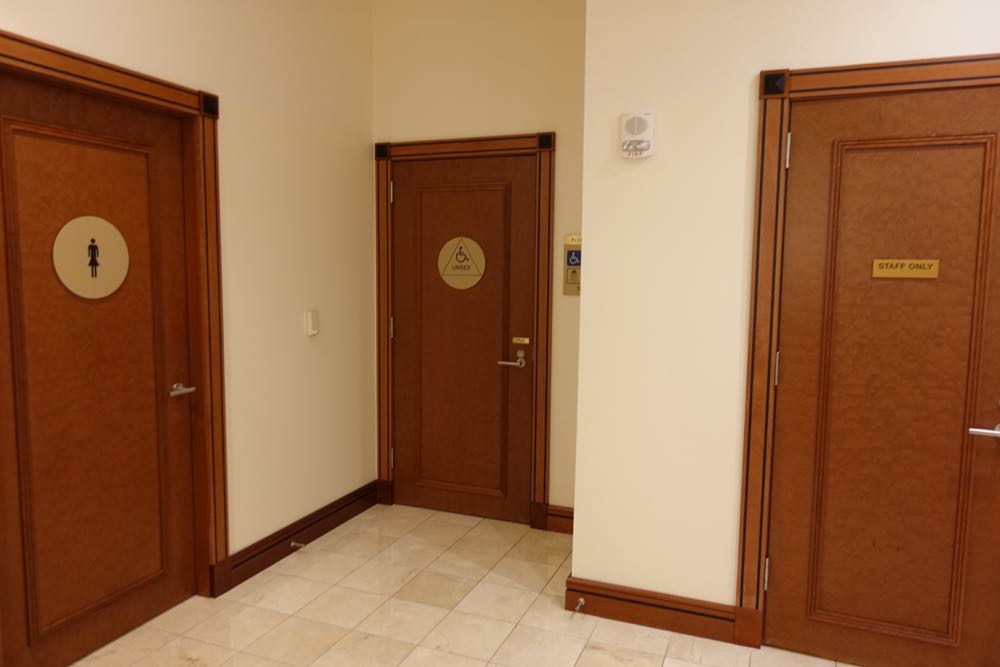 Emirates lounge SFO restrooms
The bathrooms themselves were fairly standard, with Emirates' signature hand-towel pyramid.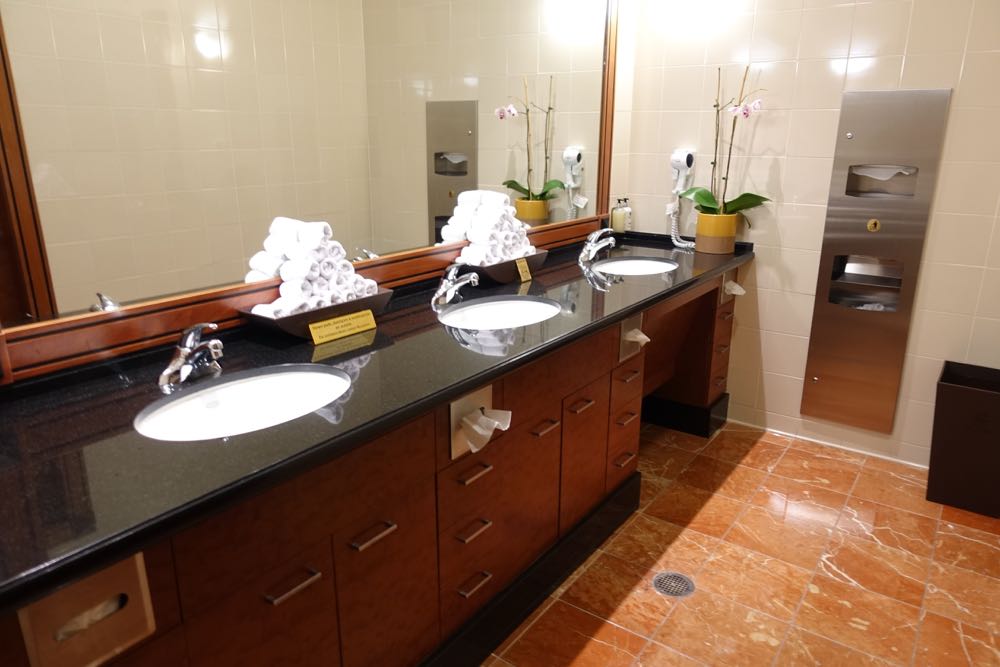 Emirates lounge SFO restrooms
Each had a shower room as well, which isn't my favorite setup. I much prefer when the shower rooms are separate from the bathrooms, but it's certainly better than nothing.
The shower rooms were decently-sized, with a shower and a sink, along with a luggage stand, but no toilet or vanity. I don't think it would be a great place to try and get ready, but again — better than nothing.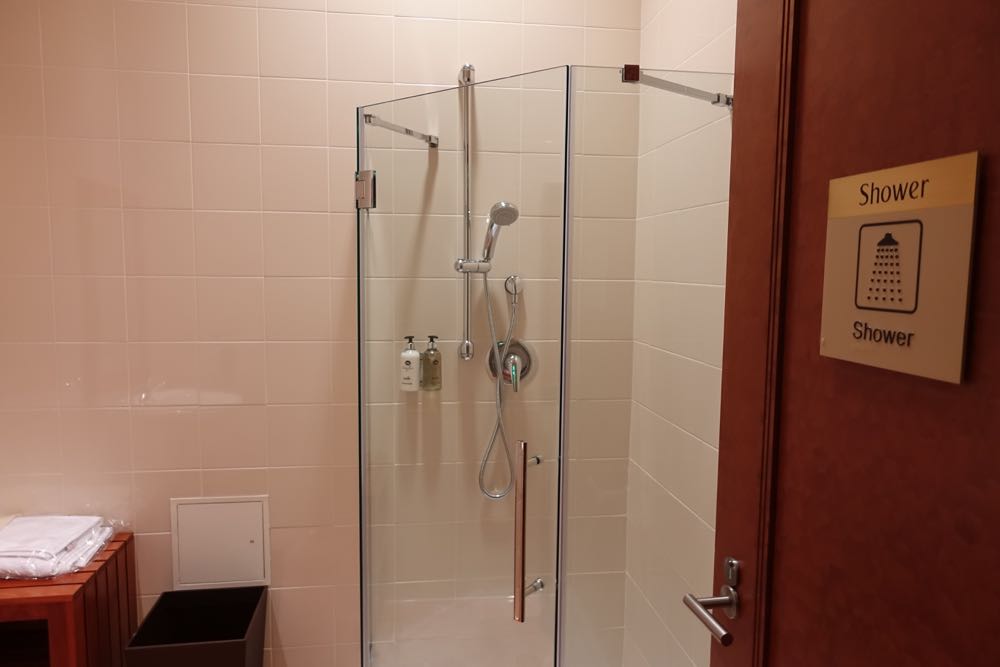 Emirates lounge SFO shower room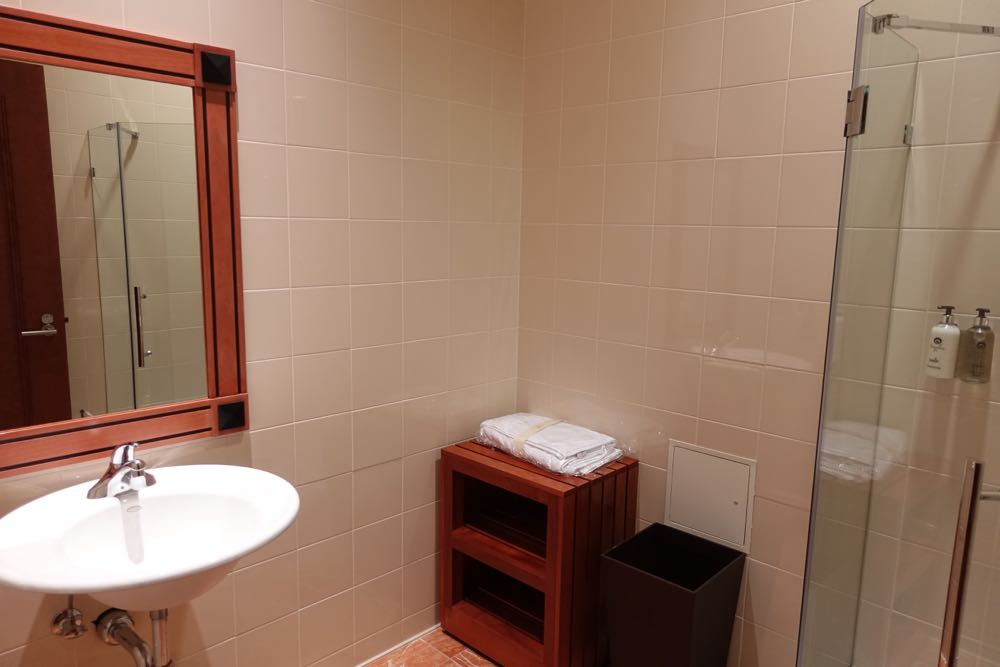 Emirates lounge SFO shower room
By the time we got to the lounge we only had about an hour prior to boarding, so we had tea, finished up some work things, and enjoyed the view out the windows. San Francisco has a beautiful airport, and the Emirates lounge has a great position for watching other planes.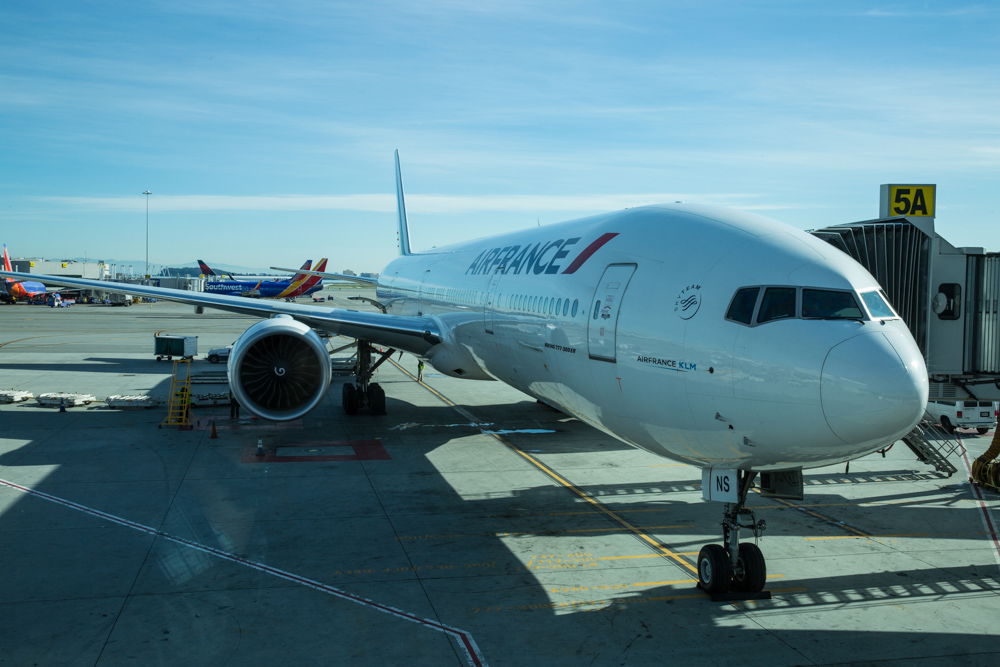 Emirates lounge SFO views
Bottom line
Honestly, I don't think Emirates is great at lounges in general. The lounges in Dubai are massive, but they're not particularly stylish, the showers aren't comparable to what you'd expect from a First Class lounge, and the food is typically mediocre.
Certainly a lounge is better than no lounge, particularly at an outstation, but there's nothing that feels particularly unique or special about them.
So the Emirates lounge at San Francisco is sufficient, and the buffet options will likely be appreciated by business class travelers, but I don't think you need to go out of your way to arrive early for the purpose of enjoying the lounge. Just give yourself plenty of time to get through security!