---
Now you'd think, given that we were just up the hill in Little Petra, that Petra itself would be our next stop. Instead, we stopped for lunch in Wadi Musa (and worked for a few hours, I couldn't help it!), before continuing south to Wadi Rum.
We arrived in Wadi Rum as the sun was starting to set, which made for a beautiful drive in.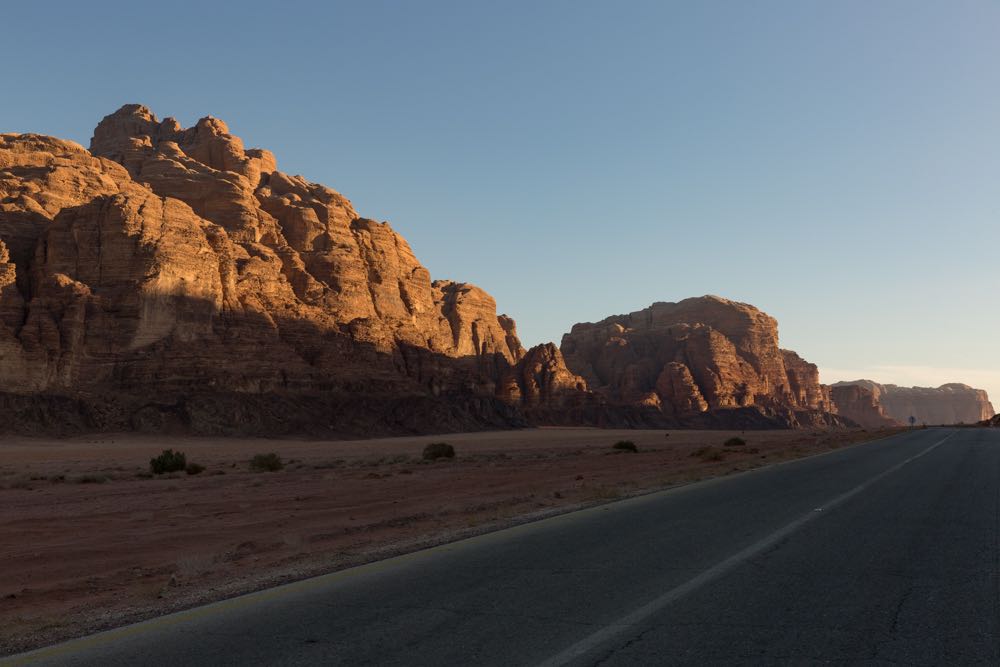 I've already detailed the adventures of getting walked from our previously-booked Airbnb in Wadi Rum, so won't go into that here, but you'll want to read it if you haven't yet voiced your opinion on the scam/no scam question. Instead, I'll review the camp we actually stayed at — the Teva Milky Way camp.
We met our guide at the Wadi Rum guesthouse, and then followed him into the desert. This isn't typical — tourists are supposed to leave their cars outside of the protected area, but as you're learning, my husband loves to drive, so 4-Wheeling through the desert ended up being a highlight of the trip.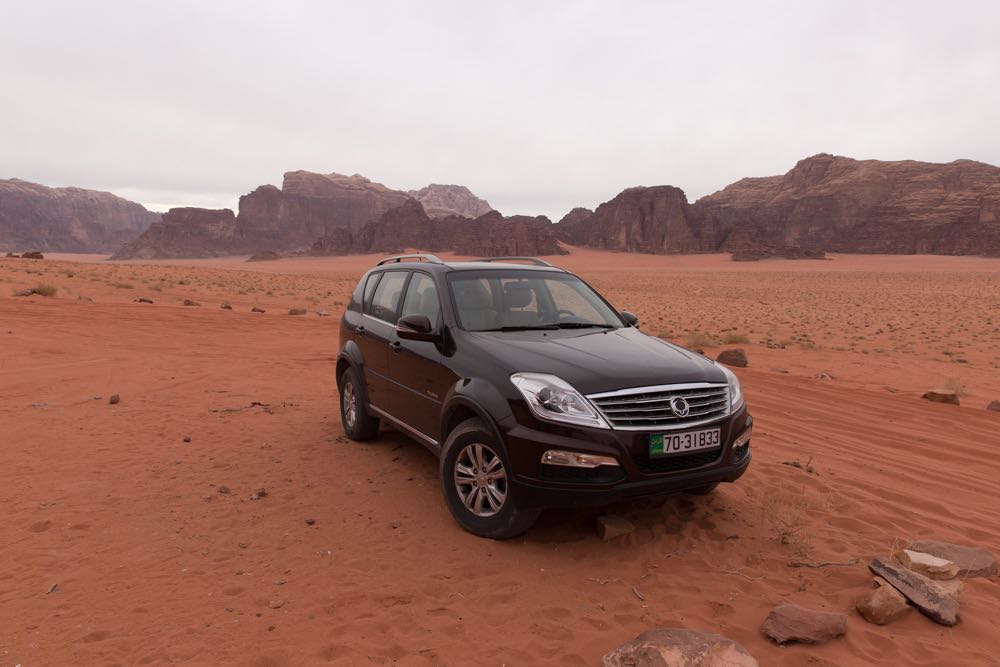 I'm still not sure why we were allowed to do this, other than being experienced drivers and enthusiastic about the opportunity. We didn't see anyone else self-driving.
We stopped to watch the sunset and let air out of the tires before we got into the serious sand.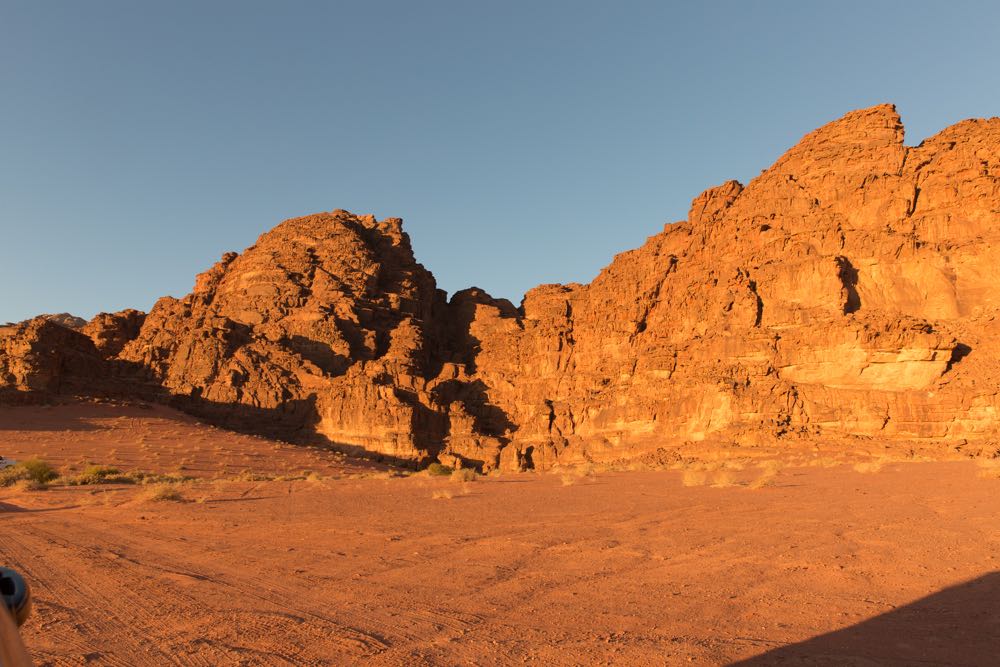 While we'd been spoiled by the sunsets in Dana Reserve, there was nothing to complain about in Wadi Rum!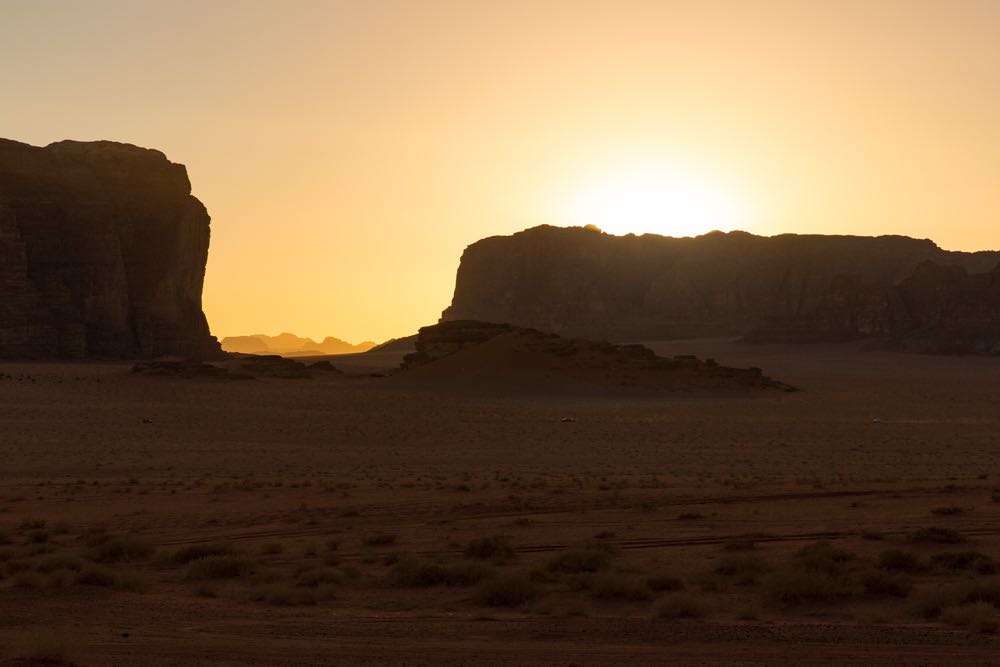 As the sun drifted behind a ridge we drove deeper into the desert, and to our camp for the night.
Milky Way Camp
To start, we really could see the Milky Way at night, given the complete lack of light pollution. So points for truth in advertising.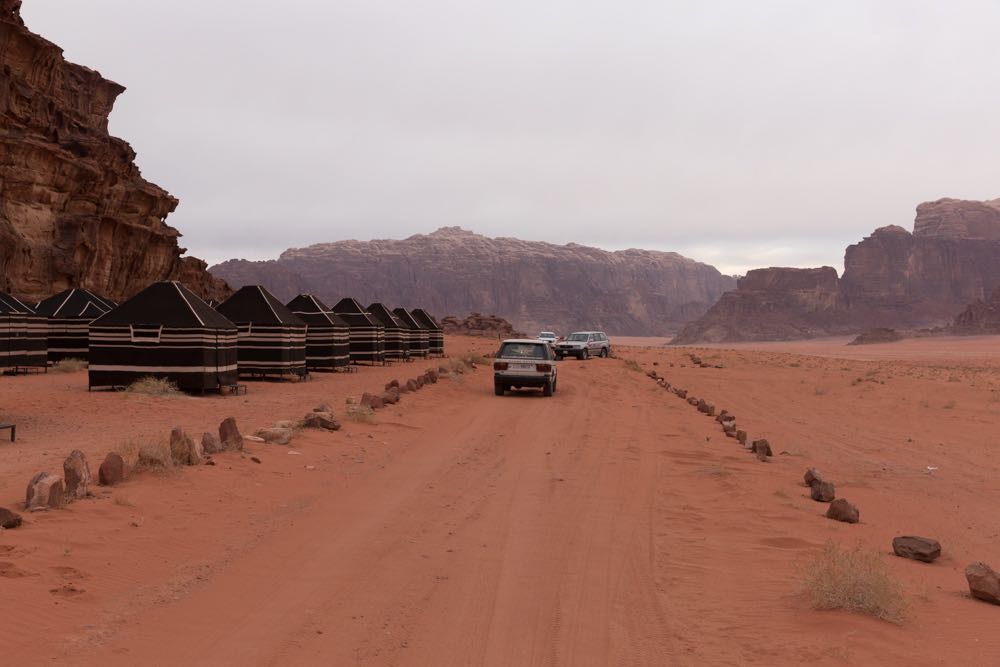 The camp consisted of a double row of tents facing out towards the desert, a "bathroom" tent along the ridge wall, and a main tent for socializing and meals.
We were assigned tent number 12, which was located about half-way down the row. No emergency-exit schematics to share here!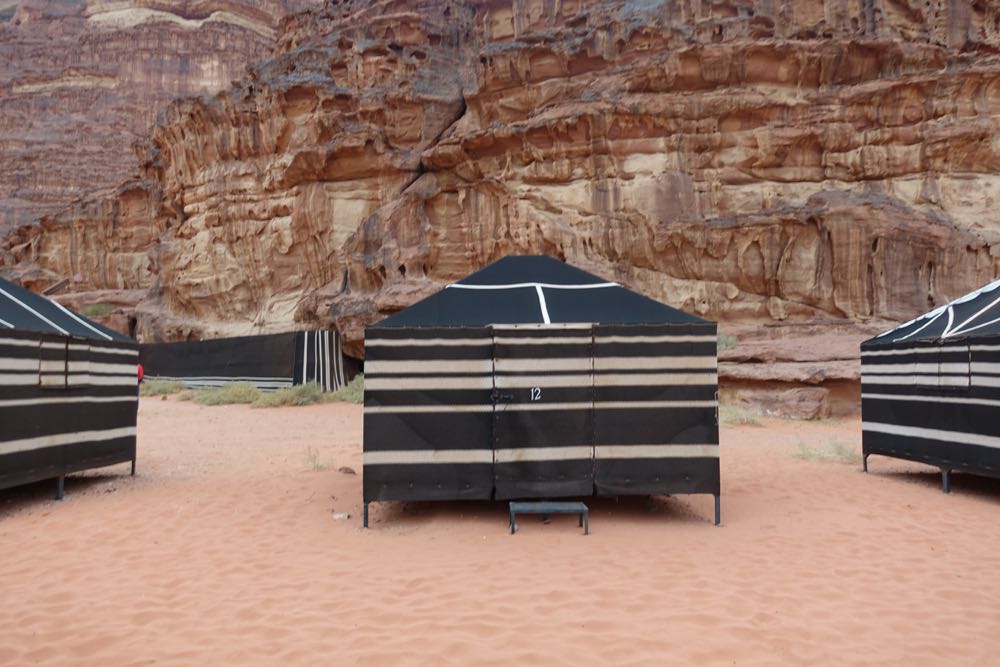 The tent itself was, well… I'll just show you the picture.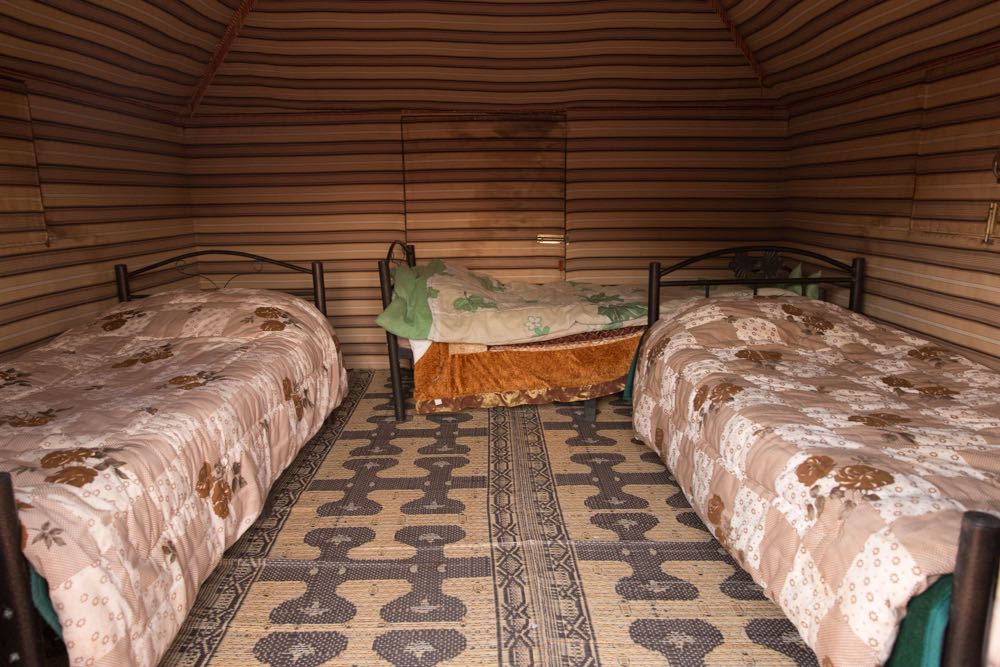 So that's that.
To be fair though, those blankets were really warm. It was 11°F overnight when we were in Wadi Rum (-12°C for non-Americans), and while we initially thought we were going to have to go to bed in all our clothes and gloves, the tent got quite warm. You're not going to sit around in swimwear by any means, but it wasn't actively unpleasant at least.
The bathroom tent was a shared facility, with two showers, four toilets (half Western, half Arabic), and three sinks.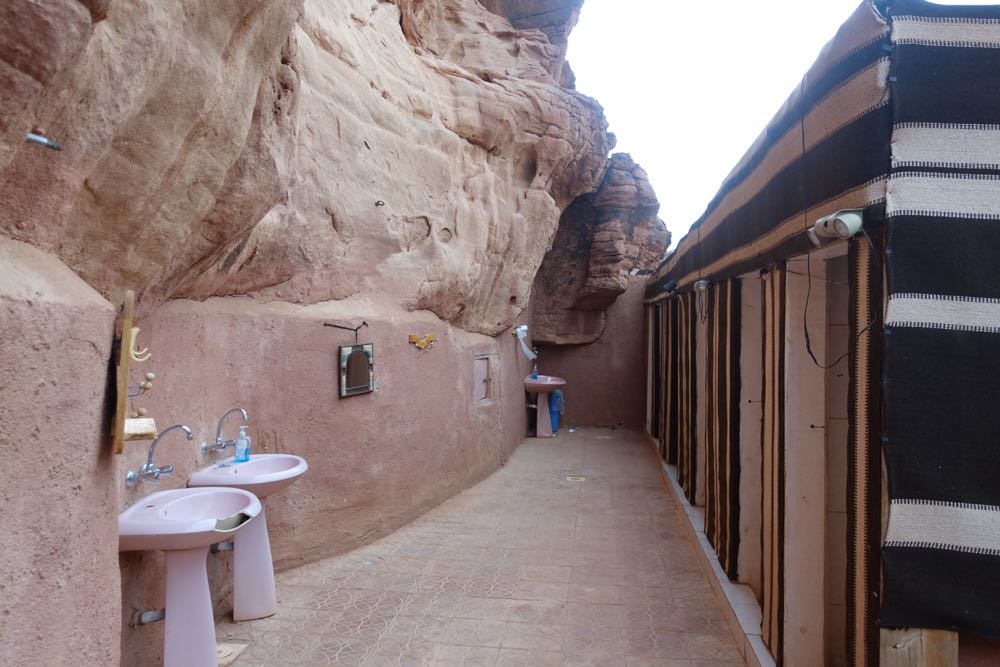 There was a motion-activated light that illuminated the general area, but the stalls didn't have their own lights. Even in the daytime they were a bit dark, so I'd recommend bringing headlamps (those are on my suggested packing list for Jordan anyway, more on that at the end of the series).
Basically, it might be "glamping," but that still shares a lot of letters with "camping," and you'll want to plan accordingly.
The solar situation was a bit more primitive than at Feynan, but apparently still resulted in hot showers during the day. We didn't make the attempt (tip: many of these camps don't provide towels), so I can't confirm how well that worked.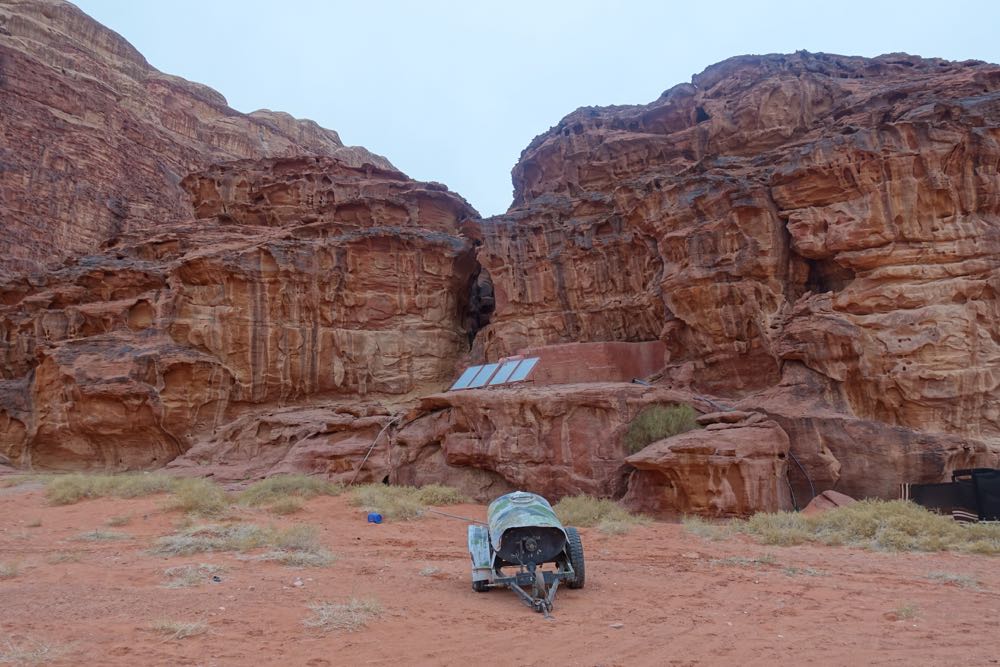 The main tent was large, and could easily hold 50 people.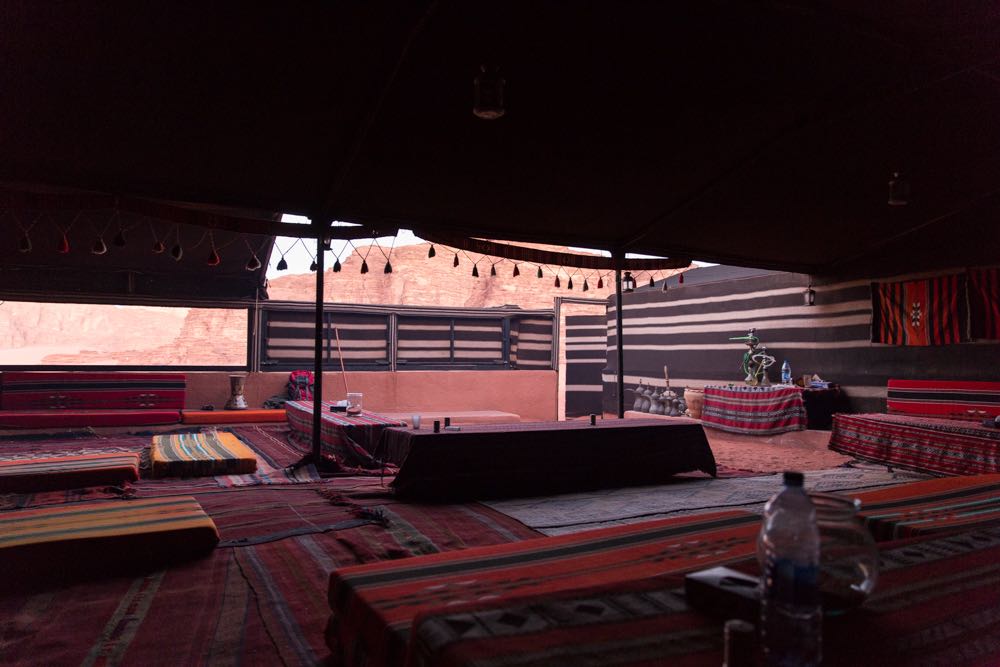 There was a main fire with a chimney, and a backup fire pit, which I think is only used when it's exceptionally cold or crowded. There was always a kettle on for tea.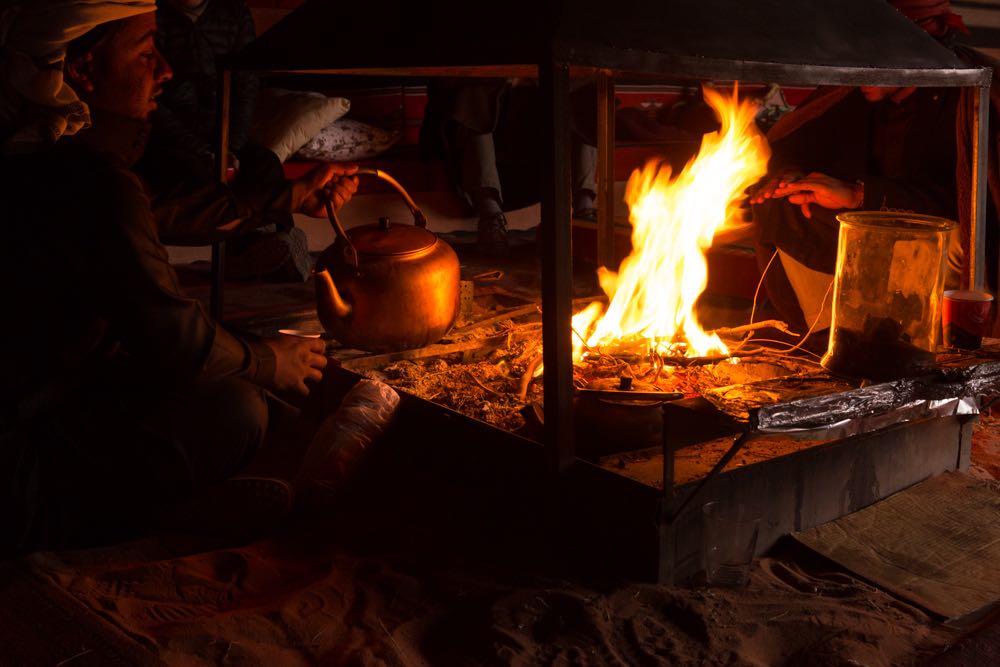 Dinner was cooked underground on hot coals. The unearthing was quite a production!
The meal was served buffet-style (no pictures of the buffet because it was dark, effing freezing, and there were 40 other people in the queue), and consisted of the baked chicken, several types of roasted vegetables, rice, and pita bread. Everything was tasty.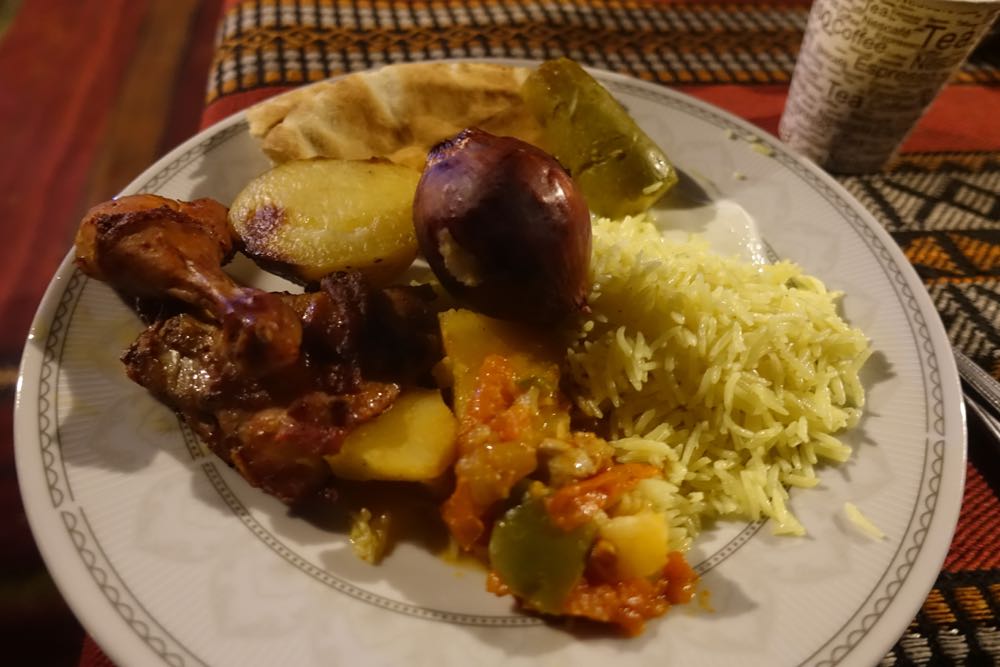 The mixture of guests was interesting. Nearly all of the guests were expats from Commonwealth countries who were taking holidays in Jordan from their teaching or marketing jobs in Gulf Coast countries. There was one aid worker from France who lived in Amman and had brought his family to Wadi Rum for the weekend, and one other couple on vacation from Germany. We were the only Americans, which now that I think about it was consistent nearly everywhere we went in Jordan.
Hey other Americans! Go to Jordan! And not just to Petra! It's safe there, and everyone will be happy to see you!
We happened to be in Wadi Rum over New Years, so the conversations and dancing went late into the evening. I'm not sure how much of the music and dancing is typical, or if this was a special occasion.
As y'all know, I'm an early-riser, so to the chagrin of our hosts we awoke as the first hints of dawn started creeping across the desert. We had more tea, along with a breakfast of yogurt, cucumbers, tomatoes, ful medames, and hummus. It was all much more basic than what we'd had at Feynan (again, camping), but was filling, and kept us sated for several hours of hiking.
Exploring Wadi Rum
Wadi Rum is gorgeous in an almost-alien way. While some features seemed similar to Monument Valley or the Utah National Parks, there was certainly a unique aura to Wadi Rum. It may have been all the Bedouin tea. 😉
The petroglyphs etched into some of the canyon walls certainly didn't hurt either.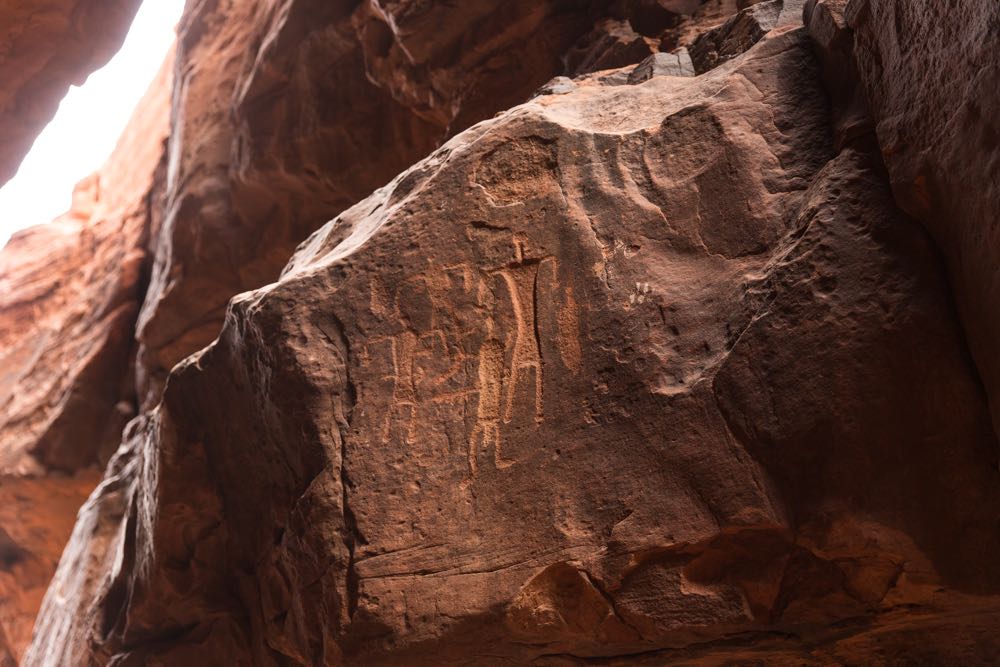 When it comes to interest levels in hearing about our time in Wadi Rum, my sense is that there are going to be two groups:
Rocks are rocks are rocks, and the only thing less interesting than other people's dreams are other people's hiking trips
ZOMG GEOLOGY PORN!
So we're going to split the difference. For those who are really here for the airplanes, and are just reading about hiking in a frigid desert to be polite (Hi Ben!), here's a very mediocre selfie taken by some very cold travelers who hadn't really slept or showered for a few days, with the landscape of Wadi Rum looking like a matte painting: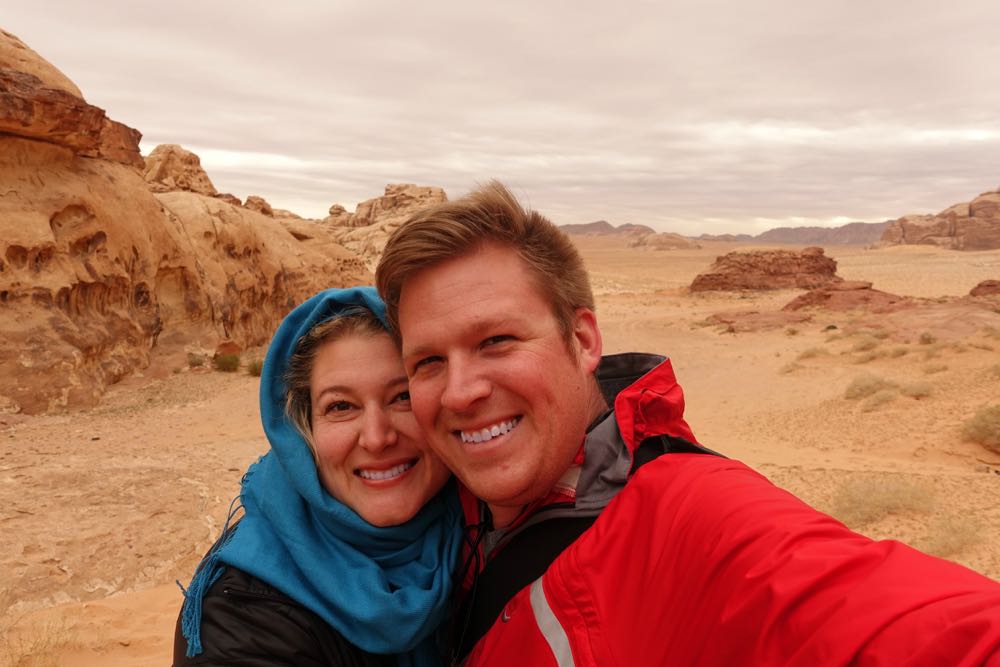 Note for the concerned: my hair is covered because it was damn cold and windy AF, not because there's any requirement to do so. I had a knit headband on too for warmth, but that of course didn't help with keeping sand off my face. So, pashmina.
For those who love outdoorsy destinations, appreciate vistas, or want to help us justify schlepping ~20 lbs of camera equipment, here's a gallery with more photos (click to make them bigger):
Pretty, yeah?
Bottom line
Wadi Rum is stunningly ethereal, and I absolutely recommend making time to explore the desert while you're in Jordan. Staying overnight in the Bedouin camps may not be for everyone — accommodations are certainly basic.
If you decide to camp in Wadi Rum, I highly recommend reading lots of reviews before booking. Based on what we saw as we were hiking around, most of the camps have a similar setup, and use the same general tents. The variance will come from the furnishings, the bathroom facilities, and possibly the meals. There's a variety of price points (including an inexplicable $900-a-night option), but most of the camps we saw really looked quite similar. Before I found the Airbnb option I'd been planning on booking the "Night Luxury Camp," which looks a little less basic, though of course there's no way to really know.
Regardless, I would make sure to choose accommodations inside the protected area. There are several "resort-style" camps just outside the park, which don't seem like a great trade-off versus just staying in Aqaba or Wadi Musa.
The Milky Way Camp was a fine option for what it was, and I think if we'd been expecting to stay there we would have had a bit better of a time. The hosts were welcoming, but as we didn't know what was going on and weren't well-prepared it was all a bit awkward.
Does anyone have a camp they recommend in Wadi Rum?