It's amazing to think how far aviation has come in just a bit over a century. 111 years ago the Wright Brothers set a record by flying 852 feet in just under a minute, and today we have double decker planes that can fly virtually anywhere in the world nonstop with some really awesome amenities.
So I figured I'd make a post with some of those amenities that I like the most. This list is by no means comprehensive, but I figured I'd share eight of my favorite airplane amenities… or perhaps some of them are "gimmicks," more accurately.  These are features that some airlines have which aren't necessarily the most practical, but are damn cool!
In no particular order:
1) Singapore Airlines A380 Suites Class Double Bed
It's really just over the past decade or so that flat beds on planes became popular. Singapore took it to the next level by adding double beds. This is great if you're traveling with someone else, or even if you're traveling alone, the crew will be happy to make the double bed for you if the cabin isn't full.
I know I quite enjoyed having a double bed all to myself for the 14+ hour flight from San Francisco to Hong Kong last year.
Keep in mind that Singapore now even releases two saver level Suites Class seats on their US routes.
2) Emirates A380 First Class Shower Suite
I've flown millions of miles, but I don't think I've ever been as giddy in my life as I was the first time I turned on an Emirates shower. They have two of these shower suites on the A380, and they can be reserved at the beginning of each flight. While you only get five minutes of water per shower, you can turn the water on and off to elongate the experience, if you'd like to.
I've showered on the Emirates A380 a few times now, and the excitement hasn't worn off yet.
3) ANA 777-300ER First Class Bidet-Style Toilet
ANA's 777 first class lavatory looks pretty normal, though I randomly noticed a bunch of buttons on the side of it during my last flight on them from Chicago to Tokyo. That's right, they have bidet-style toilets on an airplane!
4) Korean Air A380 Business Class Celestial Bar
While several airlines have onboard bars, including Emirates and Virgin Atlantic, Korean Air takes it to a new level with their Celestial Bar. It's a massive bar with quite a bit of seating, lots of bright lights, and several signature cocktails thanks to Korean Air's partnership with Absolut.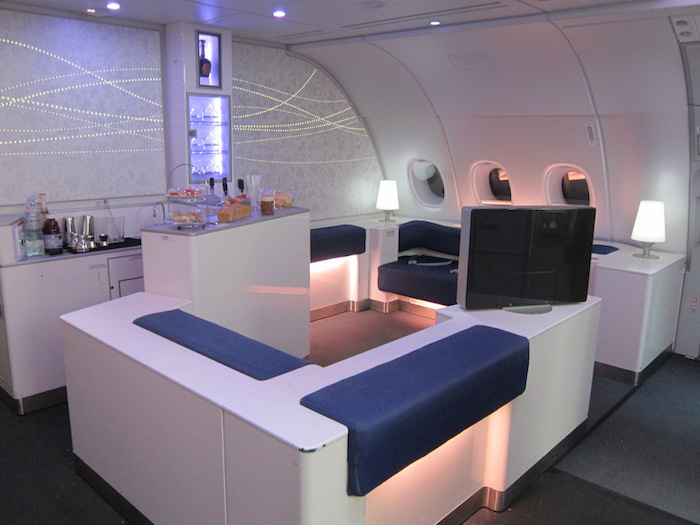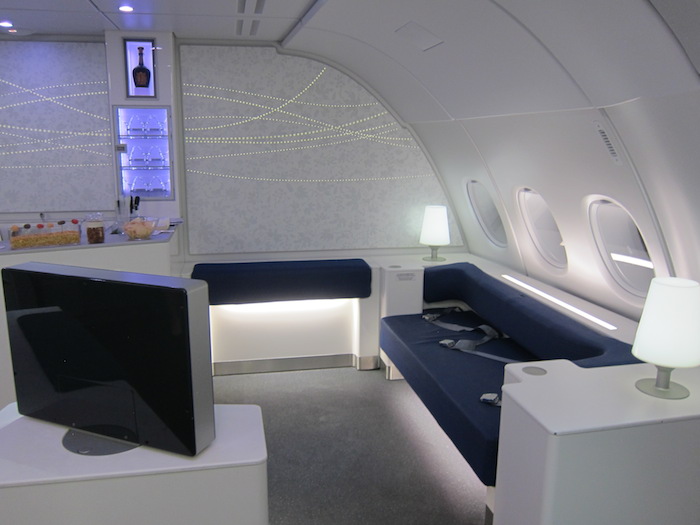 5) EVA Air Hello Kitty Flights
When it comes to bizarrely awesome airline branding partnerships, I think EVA Air and Hello Kitty take the cake. They operate select flights using Hello Kitty planes, and they go all out.
There are plenty of airlines with branding partnerships. For example, Air Asia has a Taylor Swift plane, though I knew they were trouble when I realized that it was only the outside of the plane that featured Taylor Swift — there's no TSwizzle music blaring over the PA, teardrops throughout the cabin, etc.
EVA Air's Hello Kitty flights are kittified inside and out.
The outside of the planes are painted with Hello Kitty "characters."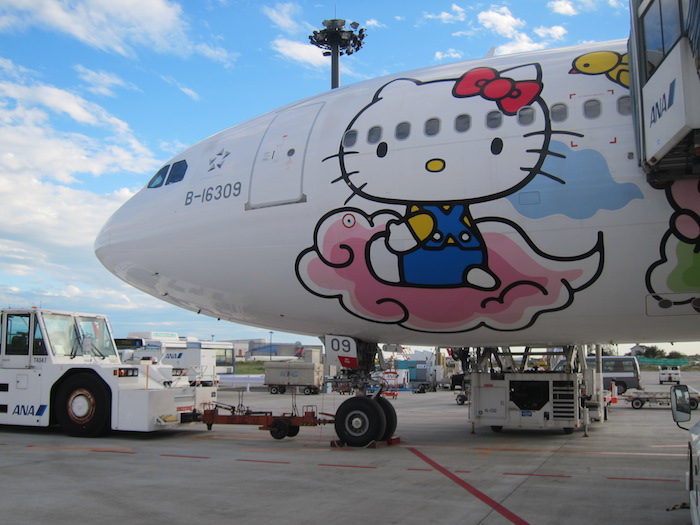 And the food, pillows, etc., are all Hello Kitty as well. Because let's be honest, dessert just tastes better when you're sharing it with Hello Kitty and her friends.
6) Air France A380 First Class Powder Room
I'm a germaphobe. But I'll be the first to admit that I'm a selectively ignorant germaphobe. I mean, I live in hotels full time, how much of a germaphobe can I really be?
Anyway, I almost always change into pajamas on longhaul flights, and it can be a bit of a dance routing to change into pajamas without touching the lavatory floors. You have to take off your shoes, then step "on" your shoes while changing, and then put them back on without touching the floor.
On the A380, Air France has a solution to that with their powder room. Very smart idea!
7) Lufthansa A380 First Class Urinal
Lufthansa has two very nice bathrooms on their A380s. Almost wastefully nice, since they have benches large enough to take naps. But possibly my favorite feature is the urinal they have in the lavatory.
8) Emirates In-Seat Room Service
There are certain aspects of maximizing the premium cabin air travel experience that don't go well together. For example, there's a real struggle between maximizing Dom and Hennessy Paradis consumption in Emirates A380 first class while also being in a state to shower.
Another one of those amenities that gets all the more fun the more you've had to drink is the Emirates phone. Each first suite has a phone which you can use to either phone the crew for "room service," or you can use to phone another passenger.
A bottle or two in, is there anything more fun that starting a conversation with a fellow passenger… by phone?
Those are a few of my favorite airplane amenities.
Do you have any favorite airplane amenities which I've left out?