---
We landed in Colombo from Doha at 10:20AM, while our connection to Jeddah was at 5:35PM. This was one of those connections that seemed good on paper, while in practice I have to wonder what we were thinking, especially since this long layover was after already having flown from Casablanca to Doha to Colombo. We were tired!
Anyway, we headed to the Araliya Lounge Colombo, which we could access using Priority Pass. Gosh, the people in that lounge were poorly behaved. Several people were yelling loudly on their phones and watching stuff on their computers and phones without headphones, and kids were screaming and running around unsupervised.
We did online check-in for our Saudia itinerary, which was an interesting experience. First we had to confirm that we weren't Hajj passengers.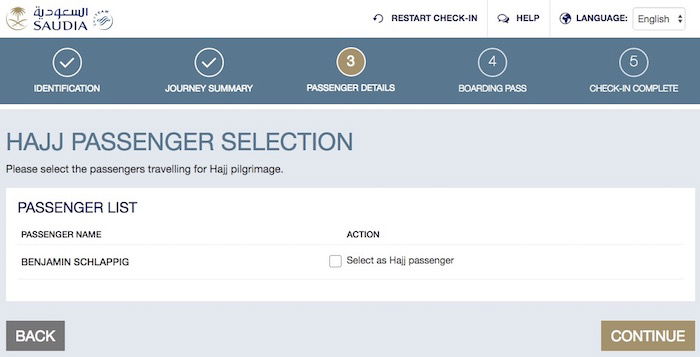 I was thrilled when I saw the seatmap for our flight. Our flight was supposed to be operated by a 777-200 with just 14 business class seats spread across two rows in a 2-3-2 configuration, while our flight now showed as being operated by a 777-300 with five rows of business class in a 2-2-2 configuration.
Initially Matthew and I weren't even able to select seats together (we were the last two passengers to book), so this was great news, since it meant we could at least sit together. I still didn't know what it meant in terms of seat comfort, though at least having only six seats per row rather than seven is a good thing.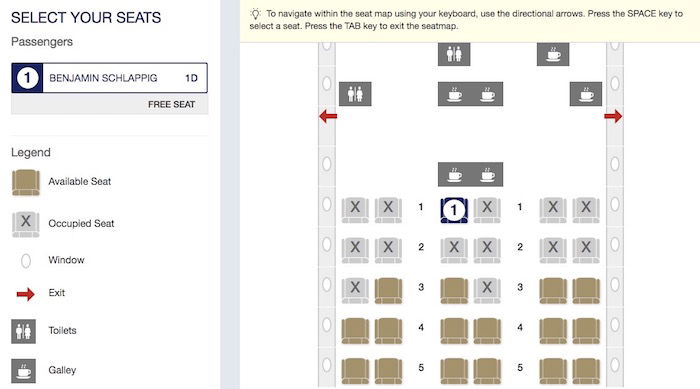 Our flight was scheduled to board at 4:50PM, so at around 4:30PM we headed to our departure gate (#9), very excited to board. At Colombo Airport security is done at each individual gate, so we cleared security there, and then had our boarding passes scanned.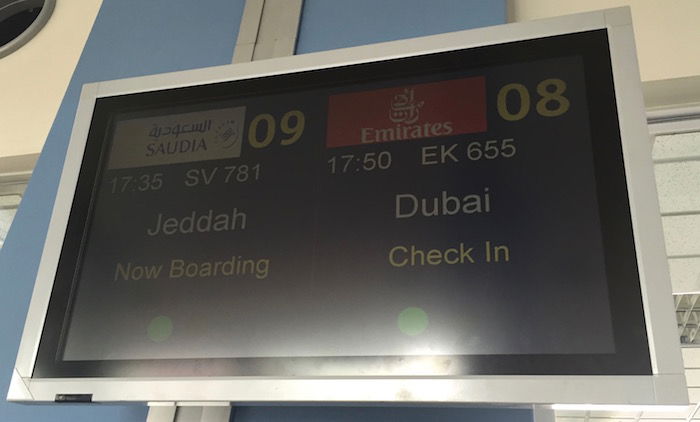 Saudia departure board Colombo Airport
We were then in the "holding pen" waiting for boarding, where we had a nice view of our Saudia 777-300ER (a plane I've often seen and have always been intrigued by — I was so excited about finally having the opportunity to fly it).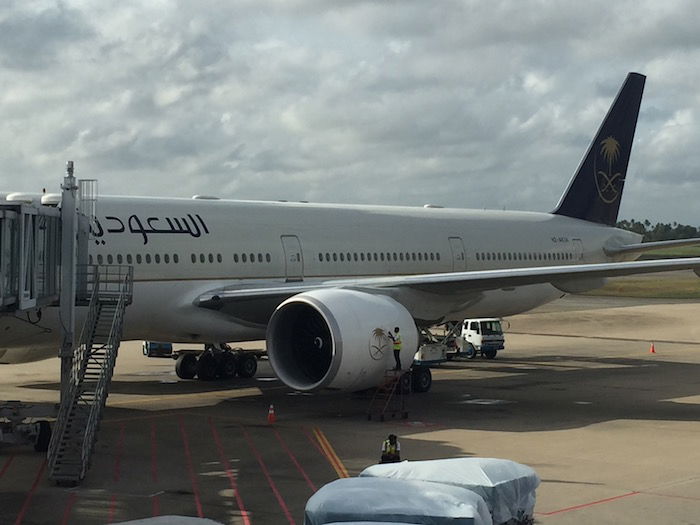 Saudia 777-300ER Colombo Airport
At 4:55PM boarding was announced, though there was no special call for business class, so it was a free for all.
This is where stuff gets very strange. We got about halfway down the jet bridge, where we were told to wait by two guys in uniform, who each had trolleys on which you're clearly supposed to place your bags for an inspection. At first I thought they were some sort of airport security staff and that there's additional gate screening as there is on some US-bound flights.
But then I noticed that they were wearing Saudia uniforms, had "wings," and their Saudi passports were even visible in their shirt pockets. They motioned for us to wait, and eventually the female (foreign) cabin crew came onto the jet bridge as well, and were handed the "wands" with which they search people at security checkpoints.
There was a bunch of talking and then yelling and then disagreement, and eventually they agreed to instead move the trolleys onboard, and do their search there instead. So after standing there for about 10 minutes we were instructed to board the plane.
Saudia 781
Colombo (CMB) – Jeddah (JED)
Monday, August 2
Depart: 5:35PM
Arrive: 8:50PM
Duration: 5hr45min
Aircraft: Boeing 777-300ER
Seat: 4A (Business Class)
Rather than being greeted by the flight attendants with a "welcome aboard" or "let me show you to your seat," we were greeted by a security screening. The male (Saudi) flight attendants requested that we place our bags on the trolley so they could thoroughly search them.
After that I got a full body pat down from another flight attendant, and after that my passport and boarding pass were checked by yet another flight attendant.
I apologize for some of the pictures from this flight, as we were a bit freaked out at this point. Not actually freaked out, but rather we wanted to err on the side of caution with taking pictures. With the level of security they were applying, I didn't want to be told I couldn't take pictures, since that would ruin this entire trip report. So I tried to be subtle at first and take fewer pictures than usual.
The business class cabin on the 777-300ER consisted of a total of 30 seats, spread across five rows in a 2-2-2 configuration.
I was shocked to find that this plane featured fully flat seats. While I knew Saudia's 787s have reverse herringbone seats, I was under the impression that all their other planes just had angled seats in business class.
Instead this Saudia 777 featured B/E Aerospace Diamond seats, which are the same you'll find in Aeromexico's 787 business class, American's A321 business class, Qatar Airways' A320 business class, Air China's 777 business class, United's 787 business class, etc.
What's even more puzzling is that this is a two cabin 777, which Saudia generally doesn't use for longhaul flights. So they have angled seats in business class on their longhaul 777s, while they have fully flat seats on some of their more regional 777s.
Anyway, we quickly settled into our seats, specifically the aisle and window seats in the fourth row.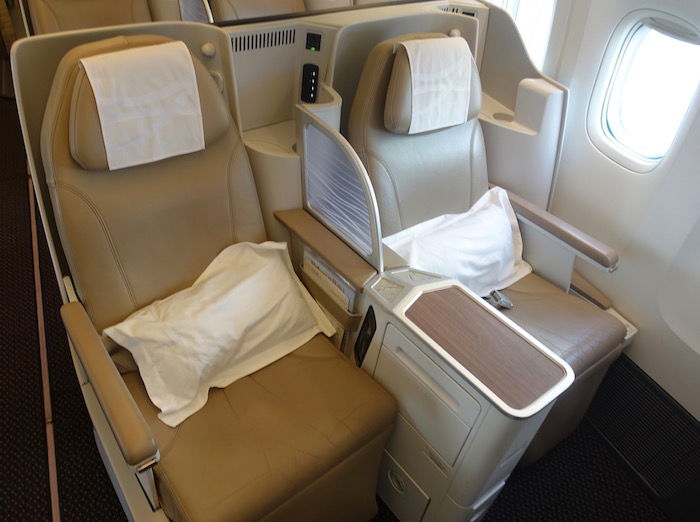 Saudia 777 business class seats
I liked the finishes Saudia used in the cabin, and everything still felt fresh.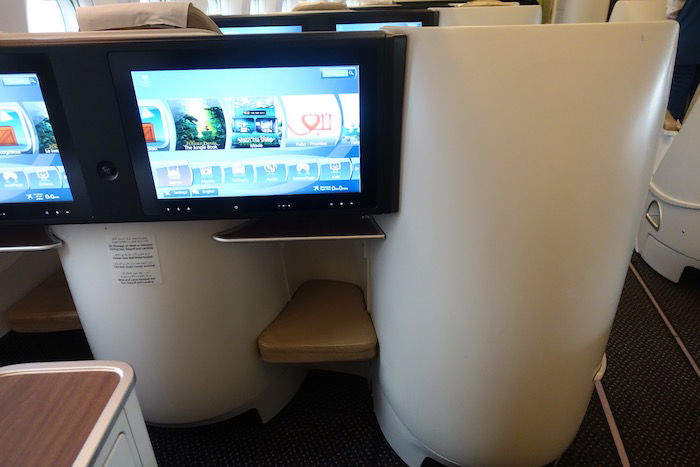 Saudia 777 business class seats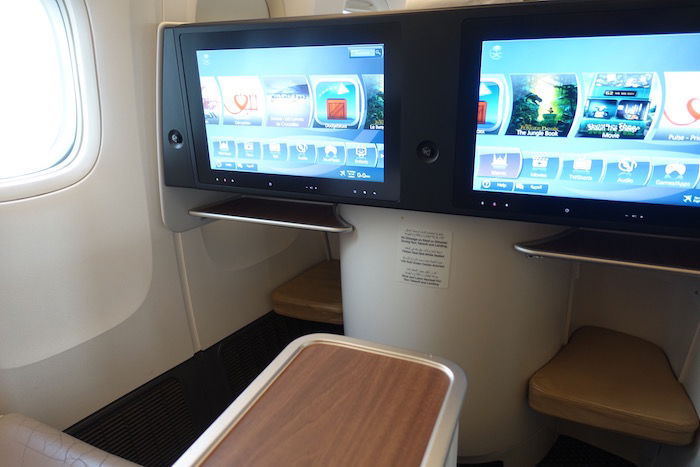 Saudia 777 business class seats
The entertainment controller was located under the center armrest.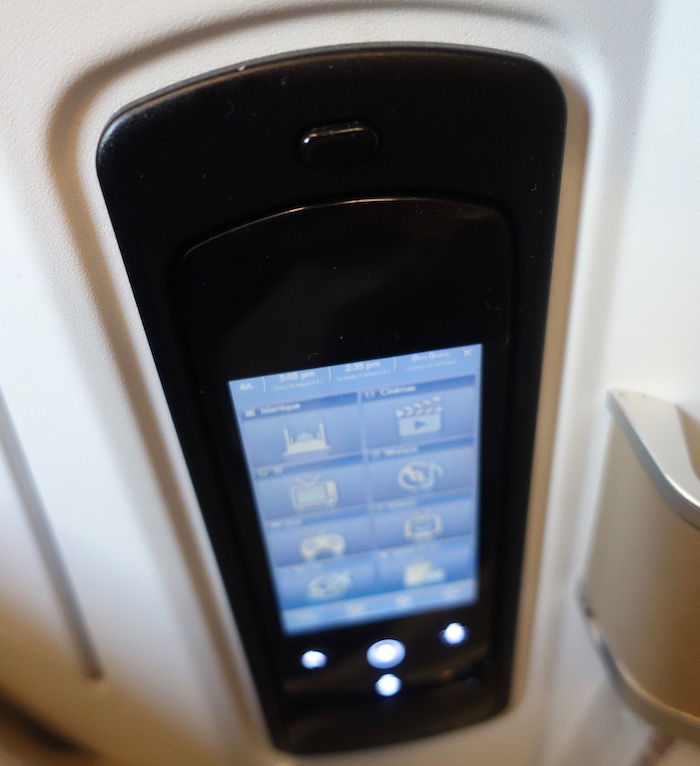 Saudia 777 business class entertainment controls
Then in the back corner of the seat was an exposed storage compartment, as well as a power outlet, USB outlet, etc.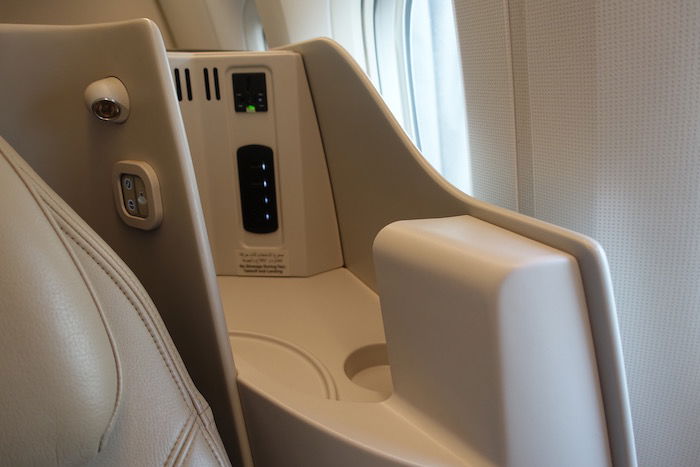 Saudia 777 business class seat storage
There was an armrest by the window, which could be lowered inflight to create a wider space.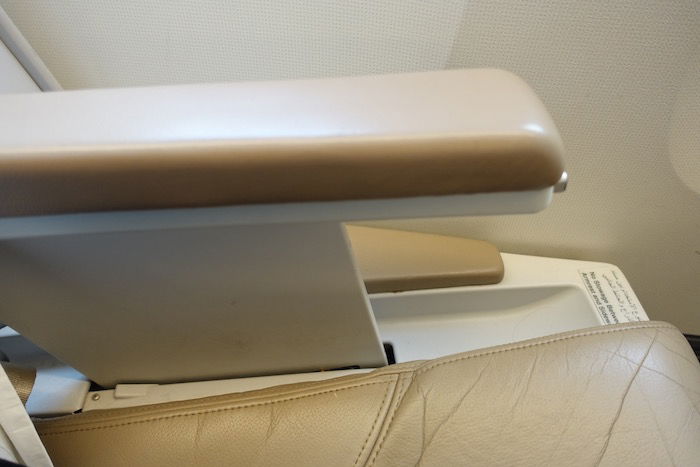 Saudia 777 business class armrest
The seat controls were located on the center armrest, and were easy to use.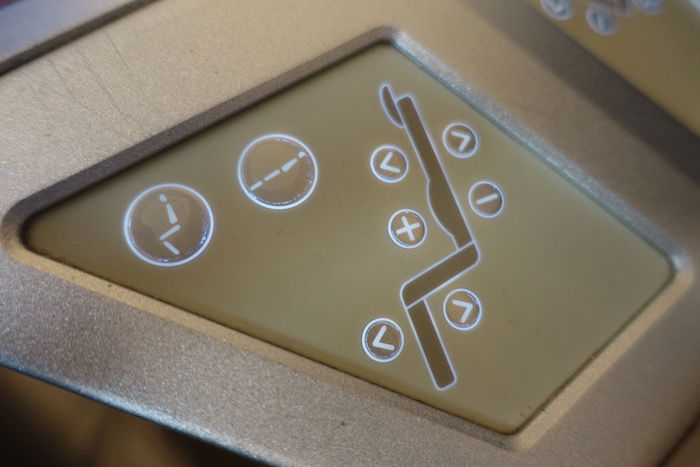 Saudia 777 business class seat controls
The tray table folded over out of the center console, and was quite large. I also liked the faux wood finish.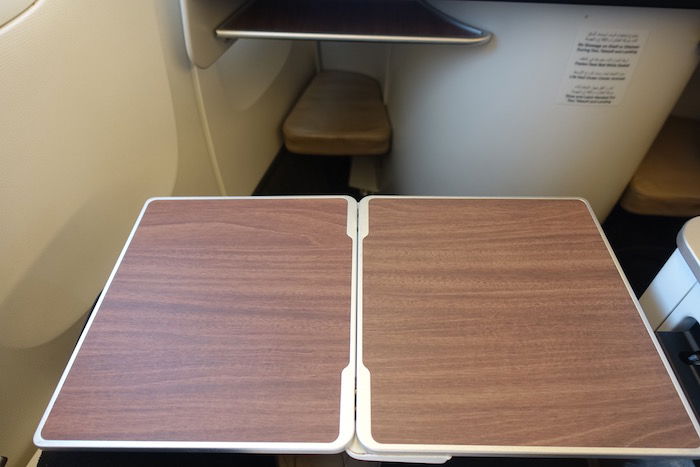 Saudia 777 business class tray table
For these type of seats the foot cubby is generally larger for window seats, though I didn't really find that to be the case by very much in these seats.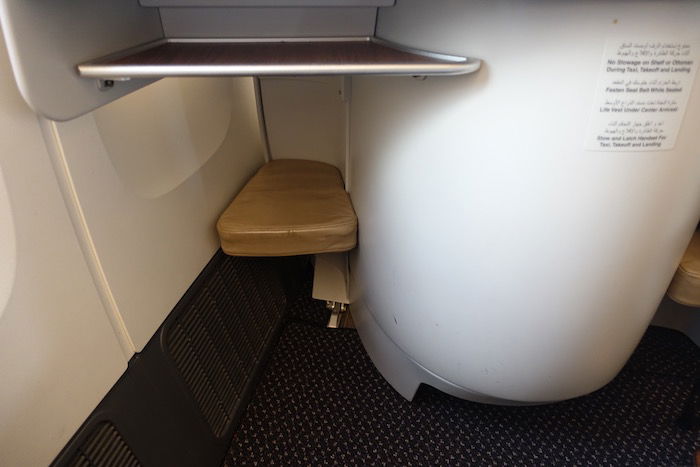 Saudia 777 business class legroom
The boarding process was rather chaotic. As you can imagine, boarding is already usually a stressful time, so add in the fact that the crew was doing a security screening on every single passenger, and it was a bit of a mess.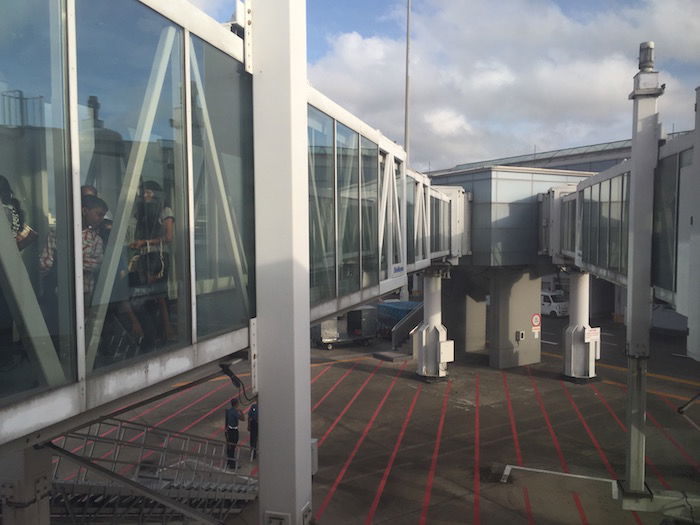 Colombo Airport jet bridge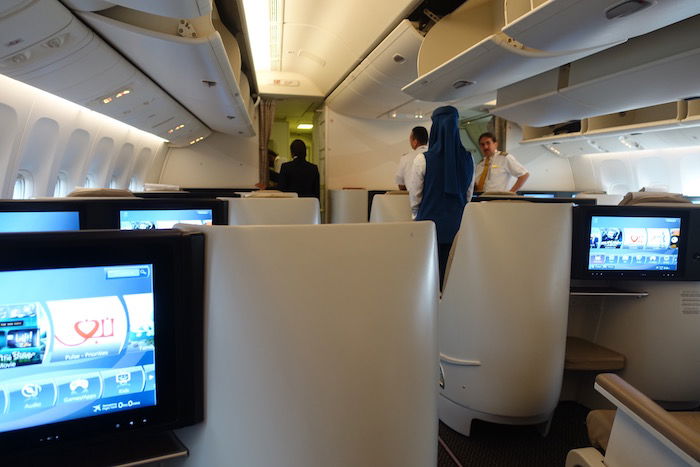 Saudia 777 business class cabin
While the first two rows were completely full (since it's where people had their seats assigned), the back couple of rows of the cabin initially stayed empty.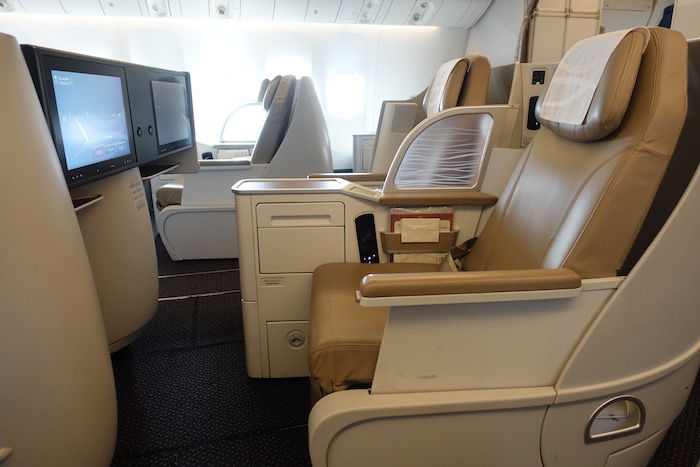 Saudia business class seats 777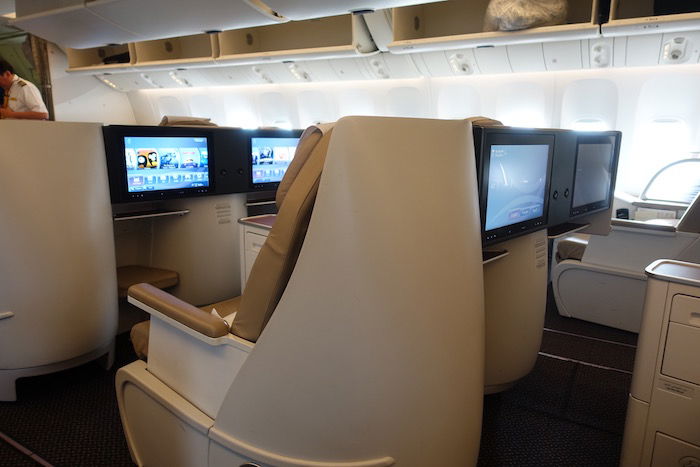 Saudia business class seats 777
By 5:40PM the boarding process was complete, at which point the female flight attendants came around the cabin with hot towels, and then Arabic coffee and dates.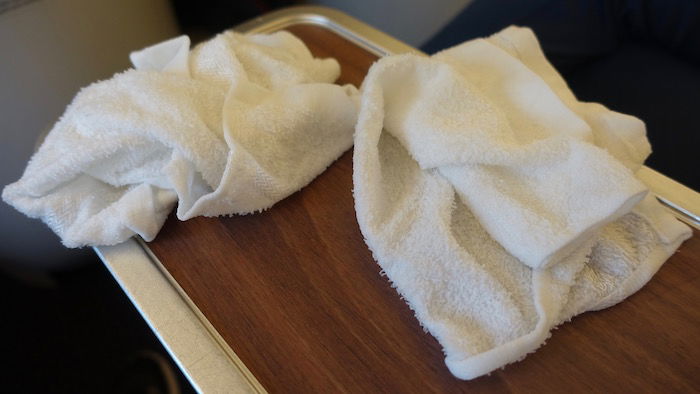 Saudia business class pre-departure hot towels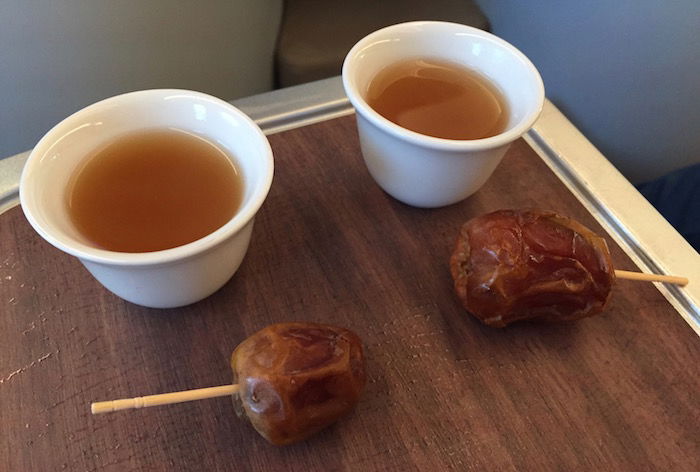 Saudia business class Arabic coffee & dates
The flight attendant on our aisle had zero personality. She had no expression on her face, and I don't think she ever spoke to us in a complete sentence. I'm sort of conflicted as to what to make of that. On one hand I feel horribly for any foreign female worker in Saudi Arabia, though at the same time she had a job to do, and she just had a horrible attitude. Should I be excusing bad service because of the conditions?
After hot towels and Arabic coffee were served, the flight attendant also distributed menus and amenity kits.
The menu was beautiful, and was made of a very nice glossy material.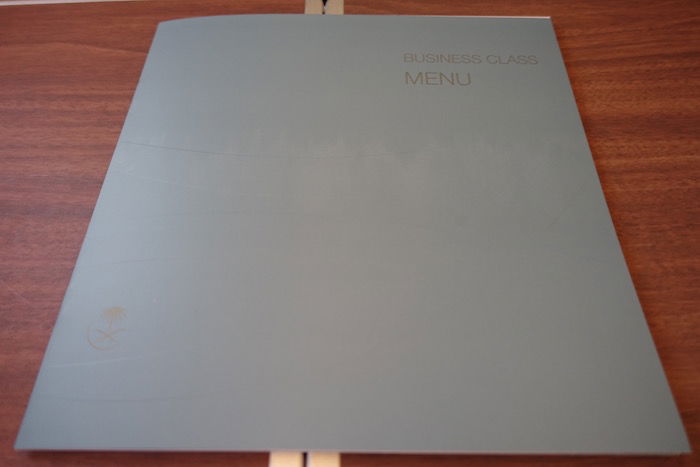 Saudia business class menu
Meanwhile the amenity kit was by Salvatore Ferragamo, and was one of the nicest kits I've seen in business class in a long time.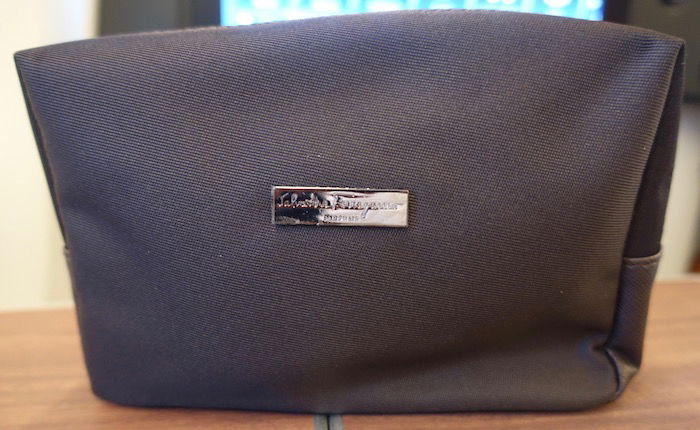 Saudia business class Salvatore Ferragamo amenity kit
The amenity kit had a toothbrush and toothpaste, eyeshades, earplugs, socks, a razor, a comb, and some Salvatore Ferragamo toiletries.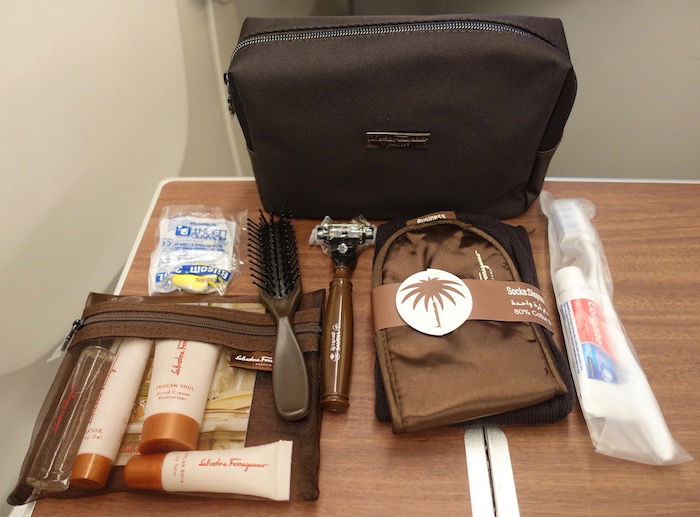 Saudia business class Salvatore Ferragamo amenity kit contents
These included hand cream, shaving gel, lip balm, and cologne.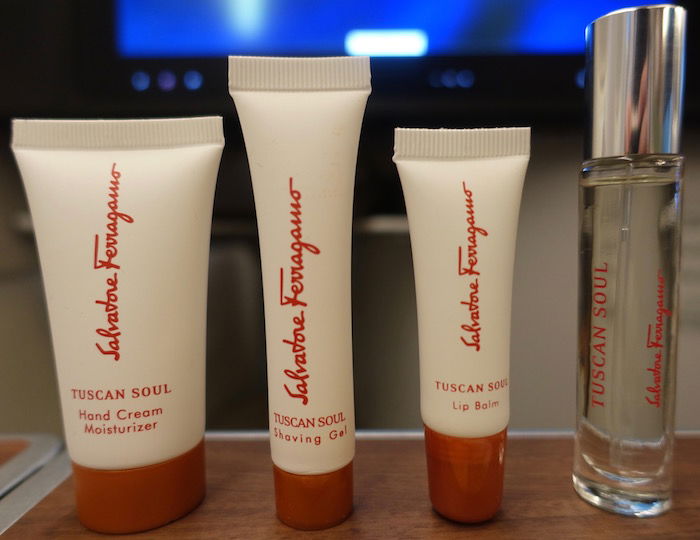 Saudia business class Salvatore Ferragamo amenity kit contents
We were also presented with headphones.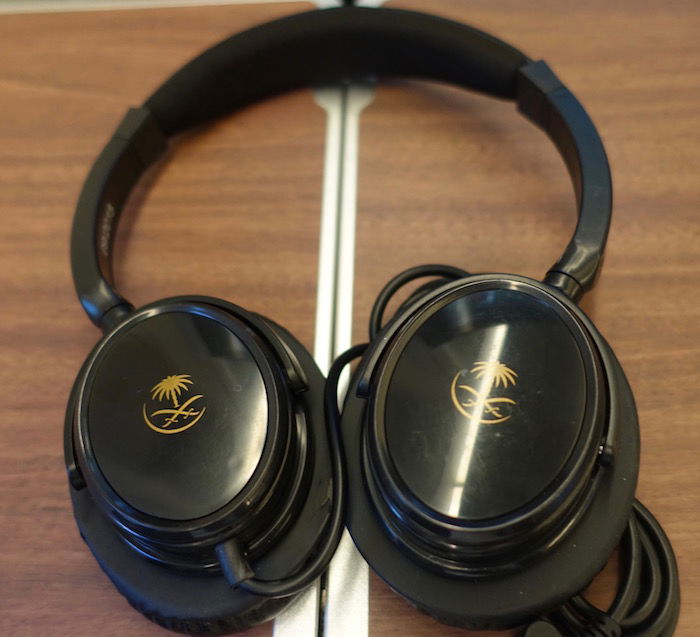 Saudia business class headphones
At 5:45PM we pushed back next to an Emirates 777 and began our taxi.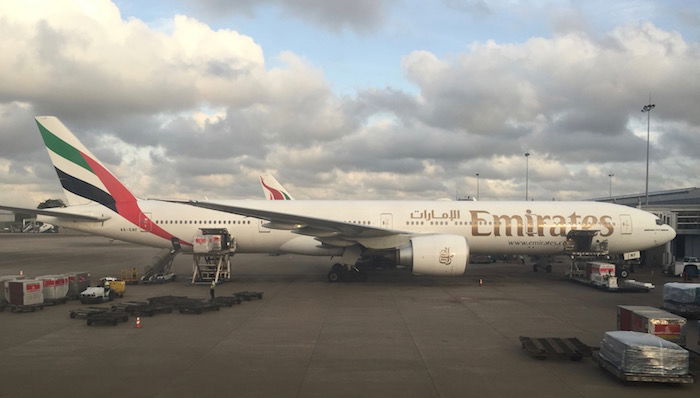 Emirates 777 Colombo Airport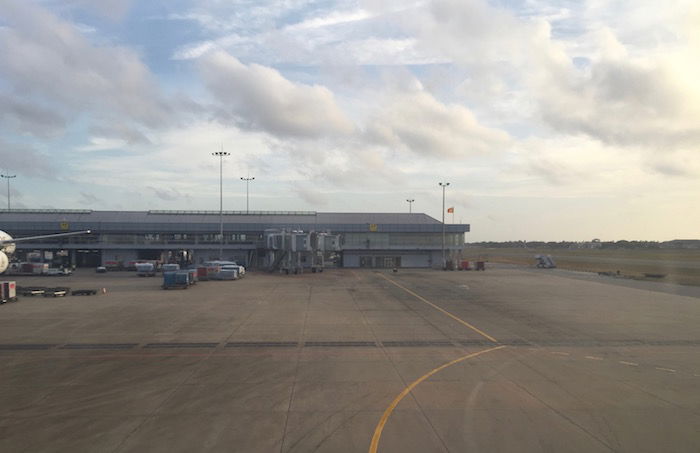 View after pushback from Colombo Airport
The senior supervisor added his welcome aboard on behalf of captain Khalid and first officer Mohammed (there was no announcement from the cockpit during the flight), and he informed us of our flight time of 5hr15min to Jeddah, and cruising altitude of 38,000 feet.
At this point the very long safety video was screened.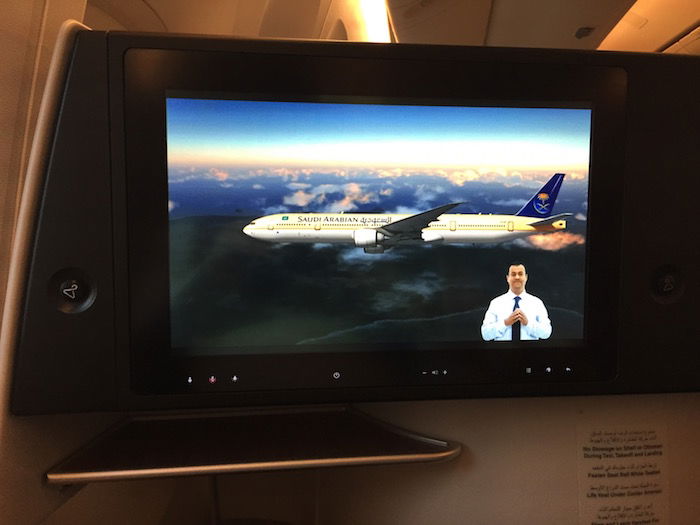 Saudia safety video
Here's the video, for anyone who is interested:
After that the travel prayer was screened, which is a bit longer and more involved than the ones on Etihad, for example.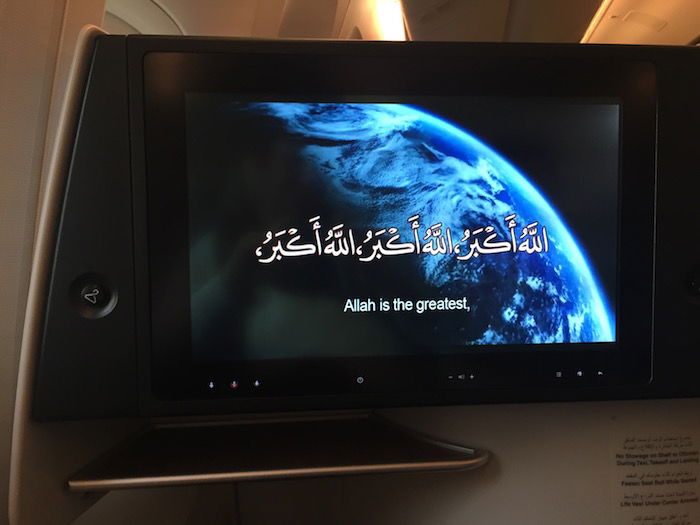 Saudia pre-flight prayer
For anyone curious, here's the travel prayer:
As if the boarding process of the flight wasn't strange enough, here's where things get truly strange. While the two (non-Saudi) female flight attendants were in the galley, the four (Saudi) male flight attendants proceeded to sit down in business class seats and talk loudly.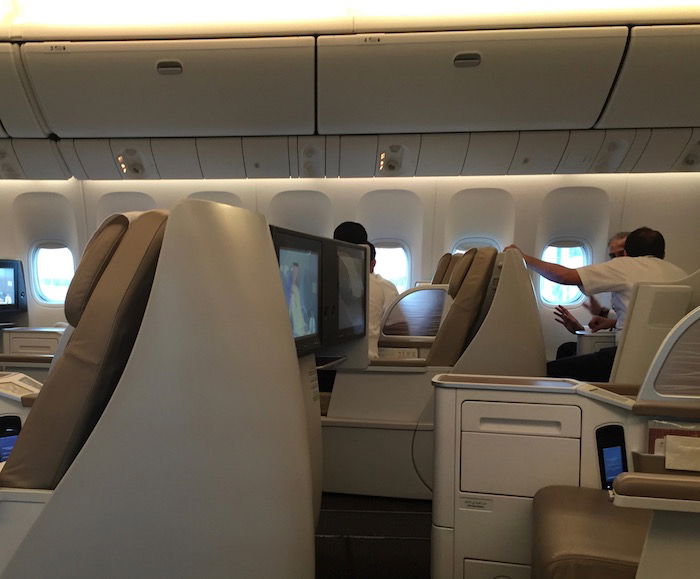 Our top notch crew
As we taxied out, the female flight attendants brought newspapers and drinks to the male flight attendants. Shortly before takeoff the senior supervisor switched from a business class seat to the jumpseat.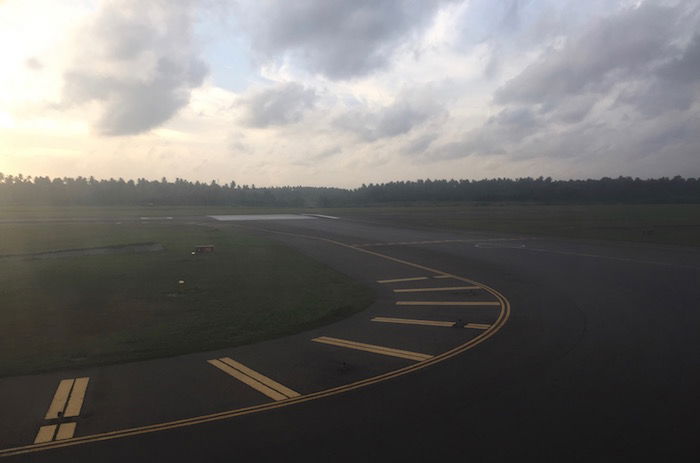 Taxiing to departure runway Colombo Airport
At 6PM we were cleared for takeoff on runway 22.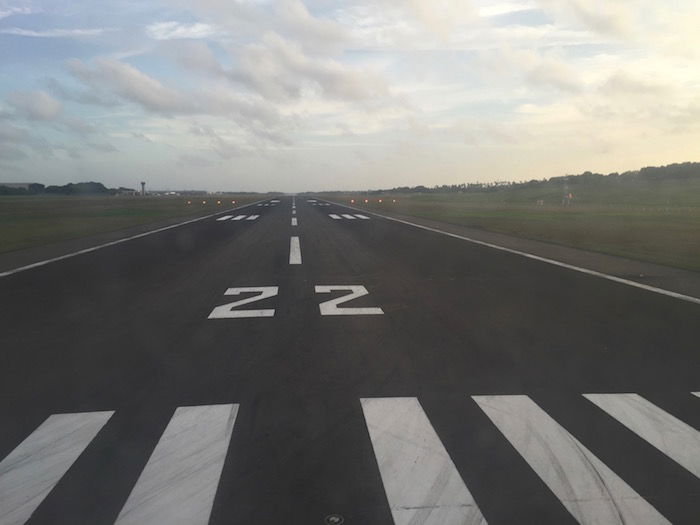 Taking off Colombo Airport
Our takeoff roll was fairly quick, so we still had some great views of the airport on our climb out.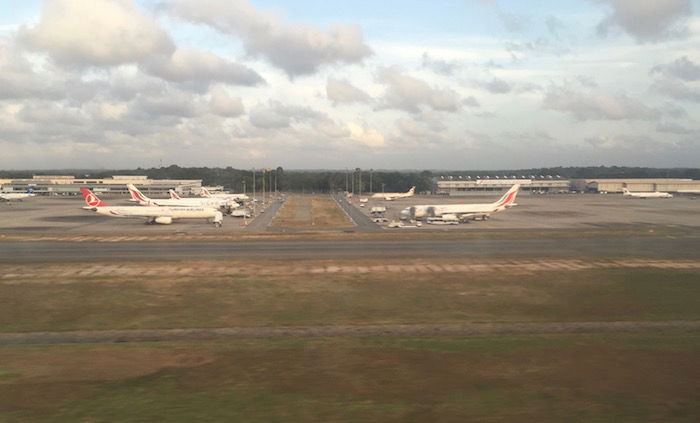 View after takeoff from Colombo Airport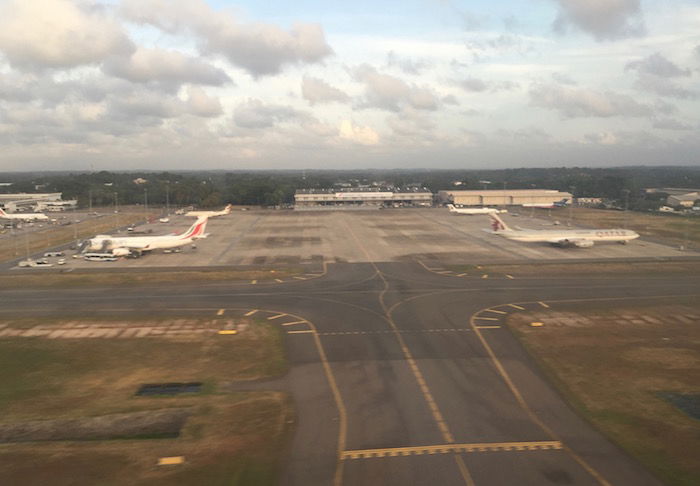 View after takeoff from Colombo Airport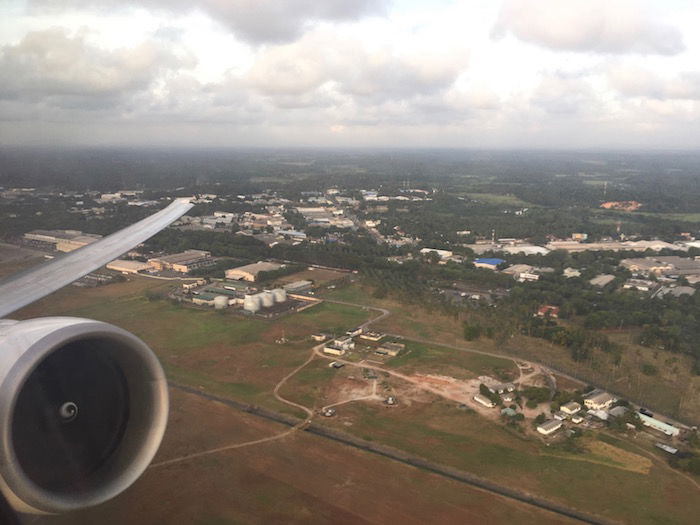 View after takeoff from Colombo Airport
It was a beautiful evening as we climbed out, and about 10 minutes after takeoff the seatbelt sign was turned off.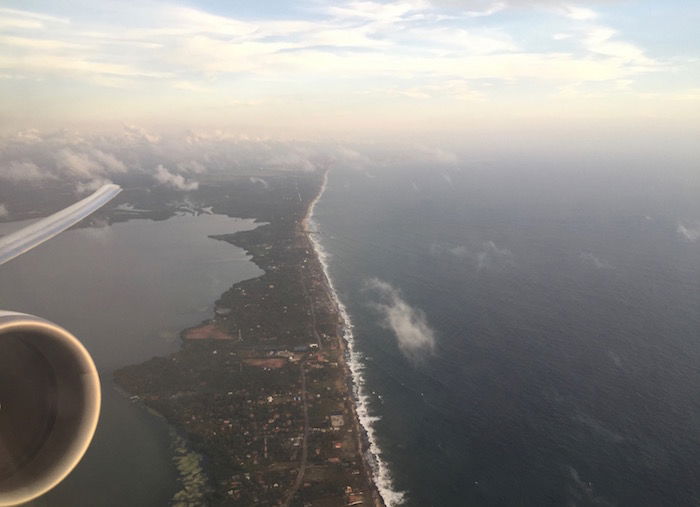 View after takeoff from Colombo Airport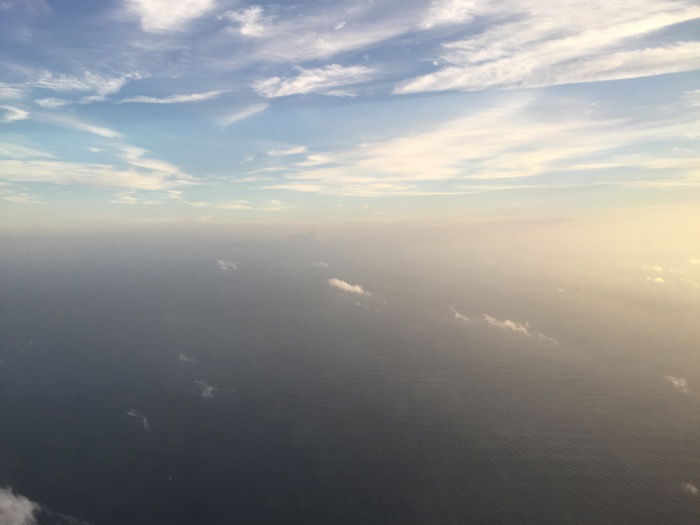 Climbing out of Colombo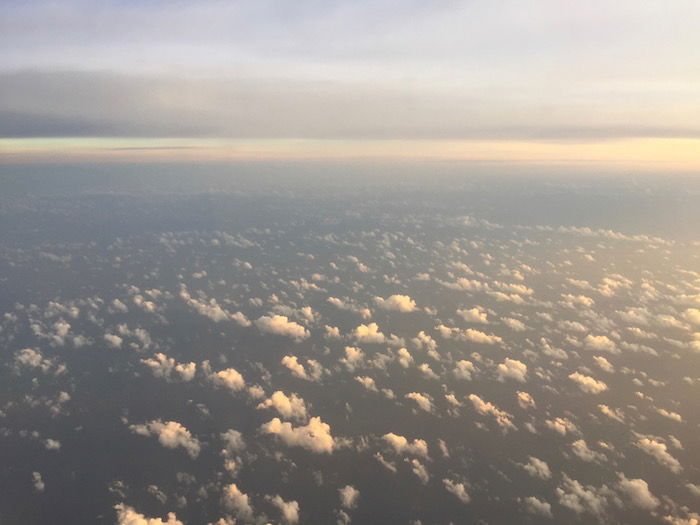 View enroute to Jeddah
Once the seatbelt sign was turned off, the crew closed the curtains between the galley and the cabin, though that didn't help with the noise from the flight attendants seated across from us in business class.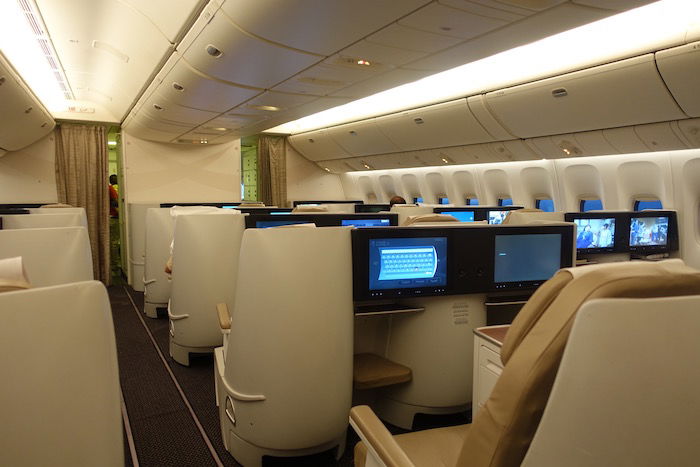 Saudia 777 business class cabin view
After takeoff I connected to the inflight Wi-Fi. Interestingly there were no signs in the cabin indicating that the flight had Wi-Fi, and when I asked the flight attendant earlier on, she said the plane didn't have Wi-Fi. However, it did actually have Wi-Fi.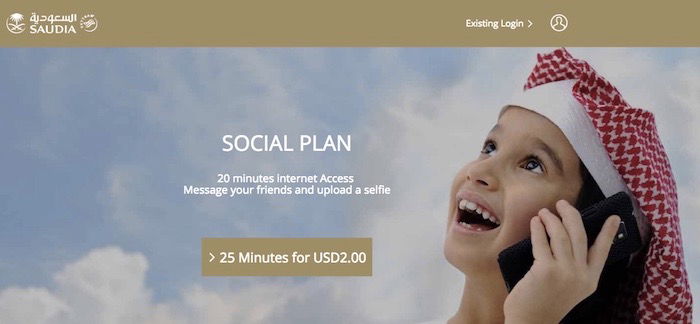 Saudia inflight Wi-Fi
Saudia has a few different Wi-Fi pricing plans, all of which are based on duration of use rather than data usage. Since I knew my connecting flight would have Wi-Fi as well, I decided to buy 24 hours of Wi-Fi for $30.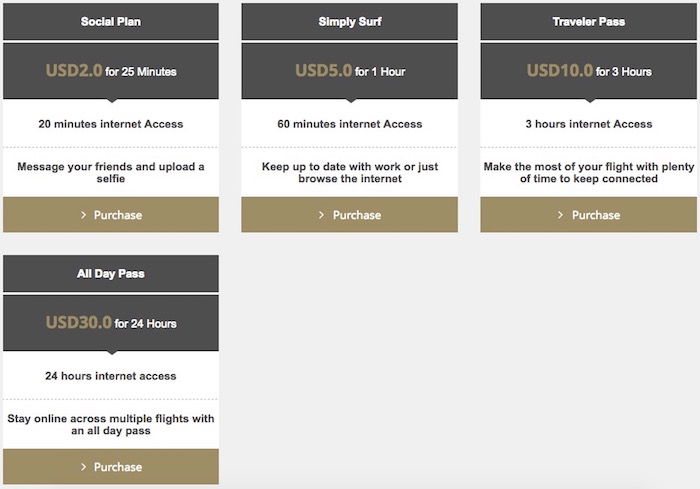 Saudia inflight Wi-Fi
Unfortunately the Wi-Fi was really slow, much slower than on most other airlines. Furthermore, the log-in process is a pain, as you have to remember the code you're given on the initial page in order to log-in again, rather than being able to create a username and password. I thought that was pretty annoying.
After that I browsed the entertainment selection, which wasn't too bad.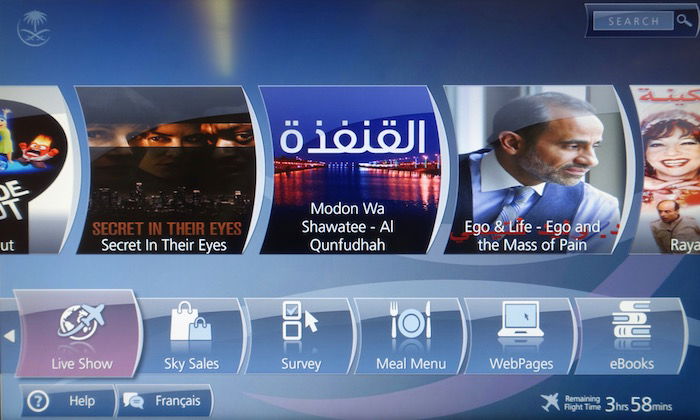 Saudia inflight entertainment
Ultimately the number of western sitcoms was fairly limited, though the movie selection was okay.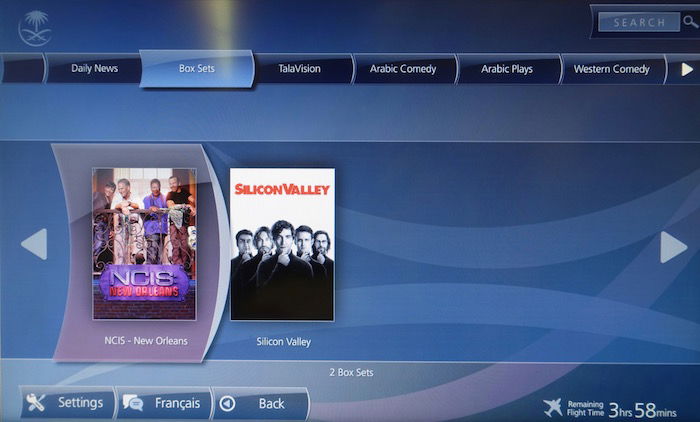 Saudia inflight entertainment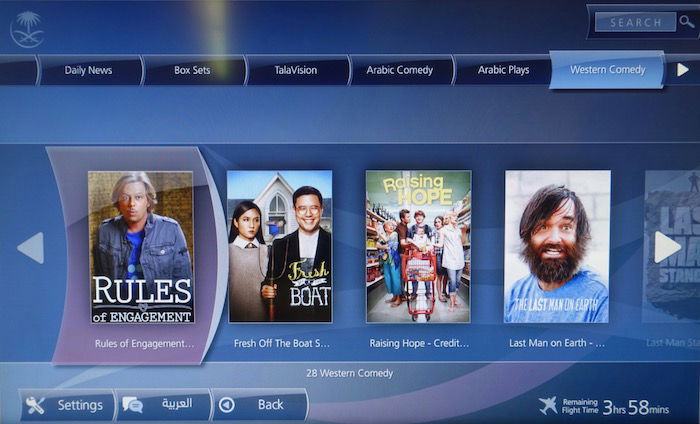 Saudia inflight entertainment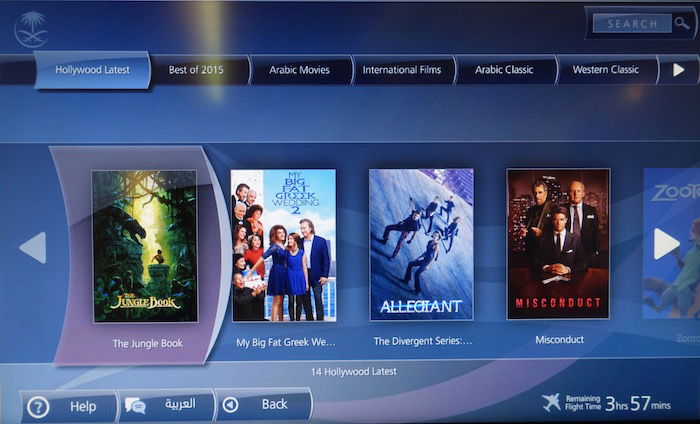 Saudia inflight entertainment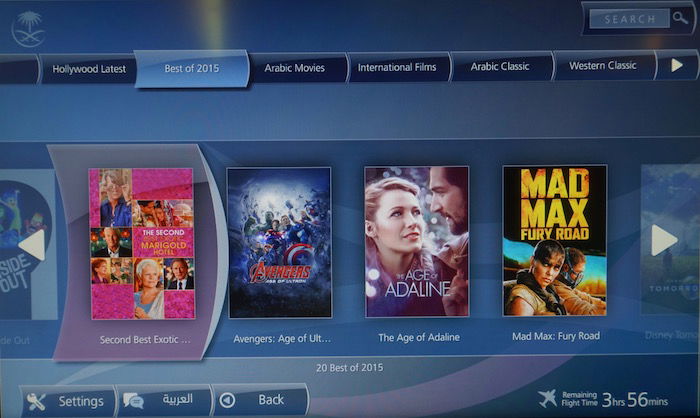 Saudia inflight entertainment
The description on the below Egyptian movie almost made me want to watch it.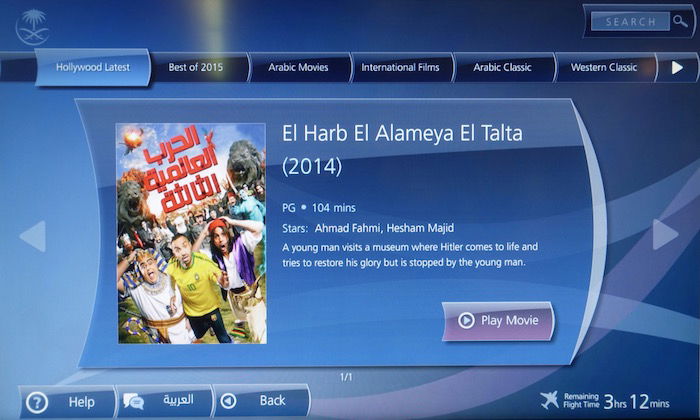 Saudia inflight entertainment
The inflight entertainment also had a survey function, which I filled out later in the flight. Spoiler alert regarding my satisfaction with the flight. 😉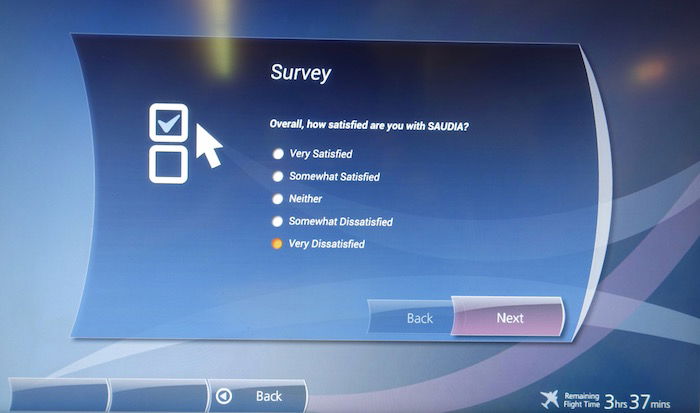 Saudia inflight survey
About 20 minutes after takeoff the cabin service began.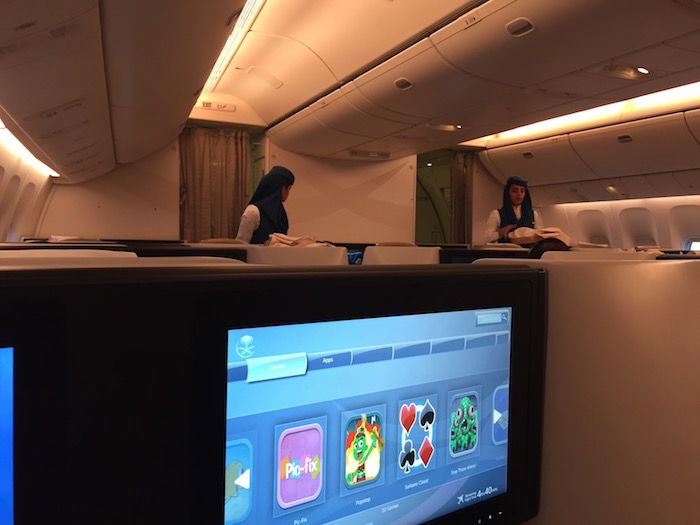 Saudia inflight service
The menu read as follows: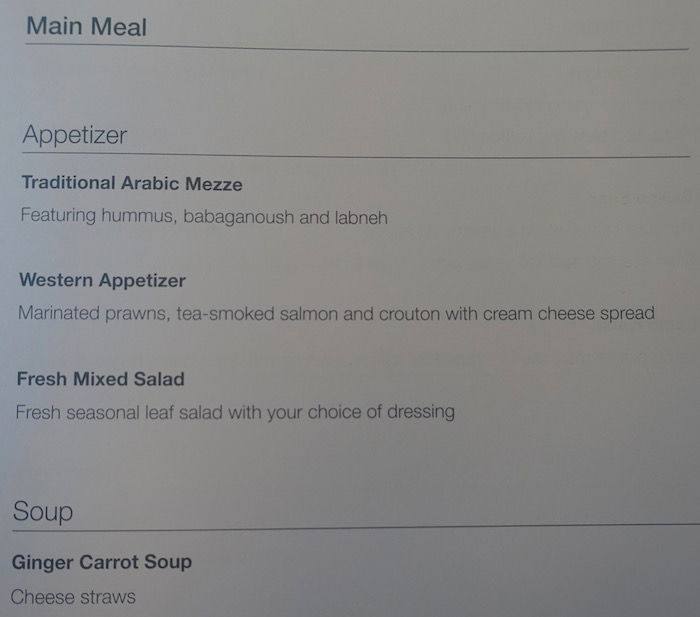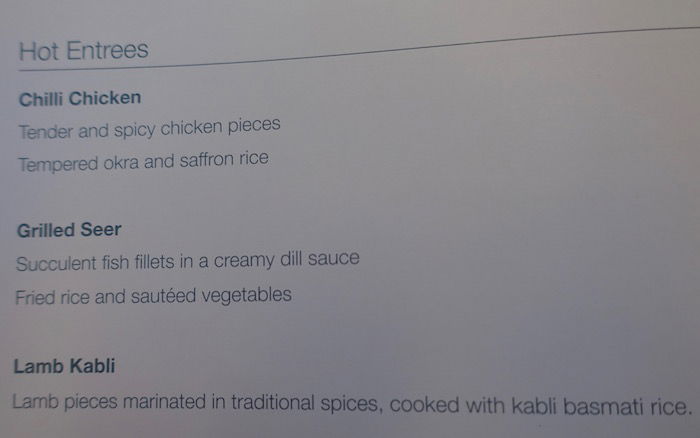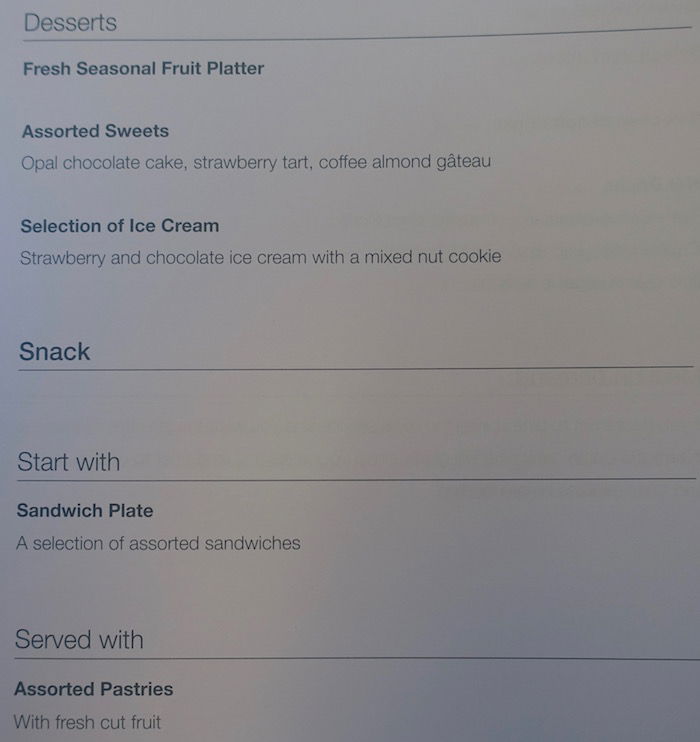 The beverage list read as follows: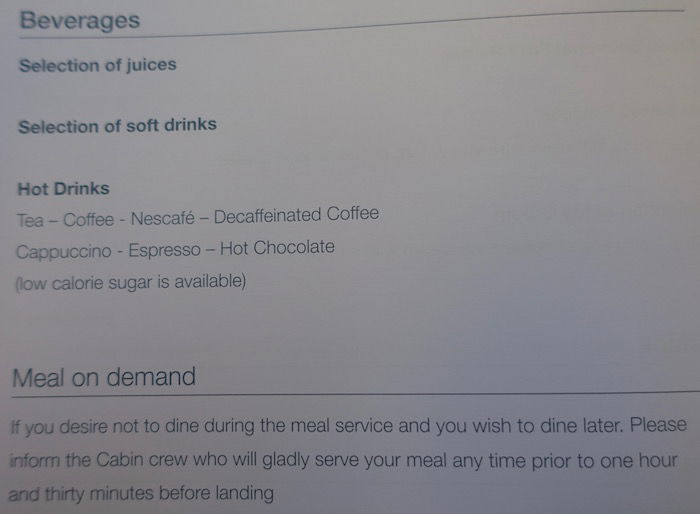 The flight attendants first came around with a selection of juice, with the choice between lemon, orange, or mixed juice. The juice was quite good.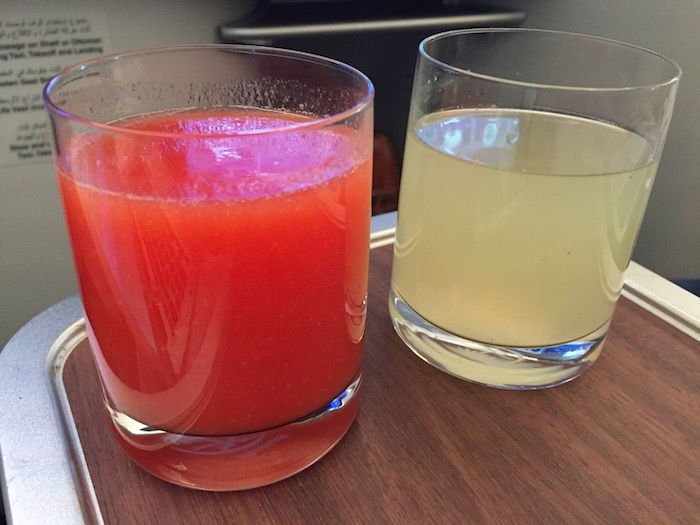 Saudia business class dinner service — juice
Minutes later our flight attendant brought out trays. With the exception of dessert, the entire meal was served on a single tray.
To ask for our starter preference, the flight attendant simply said "Arabic or Western?" She didn't even specify it was for the appetizer. Matthew ordered the Arabic, which I wanted as well. She said "sorry, only one left."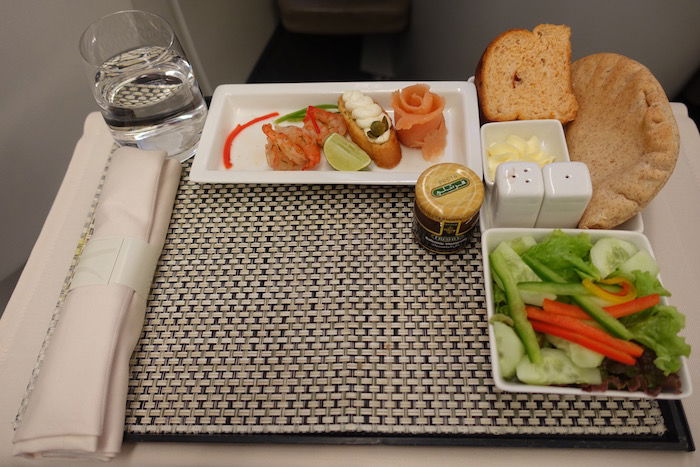 Saudia business class dinner service — starter & salad
So the western appetizer consisted of salmon, shrimp, and croutons with cream cheese.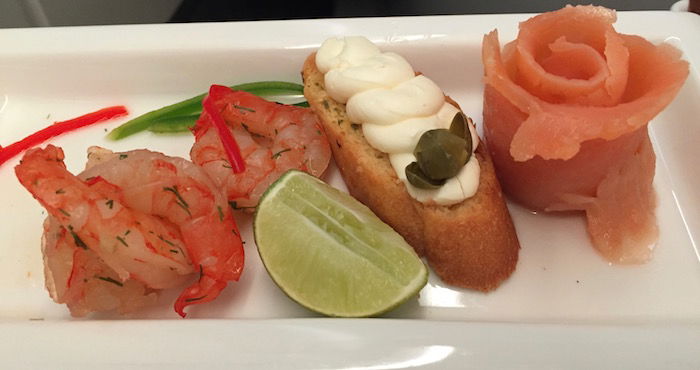 Saudia business class dinner starter — western appetizer
Meanwhile the mezze was small but looked pretty tasty.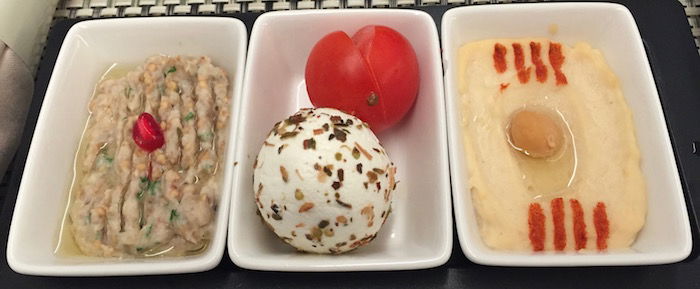 Saudia business class dinner starter — traditional mezze
There was also a decent side salad with balsamic dressing.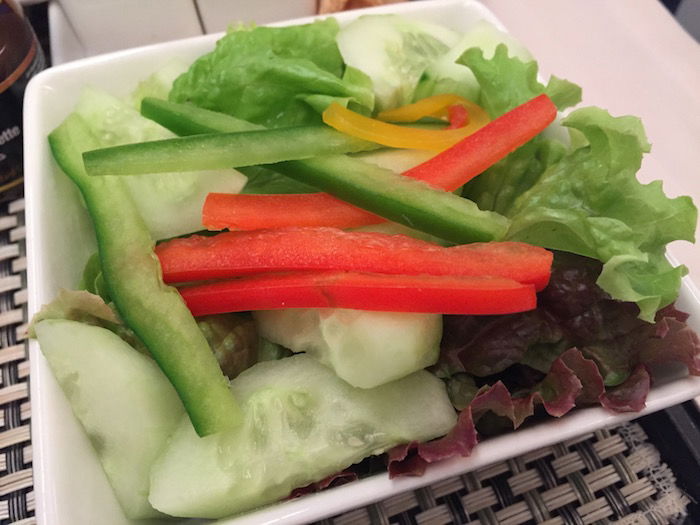 Saudia business class dinner — fresh mixed salad
We were also offered a selection of bread.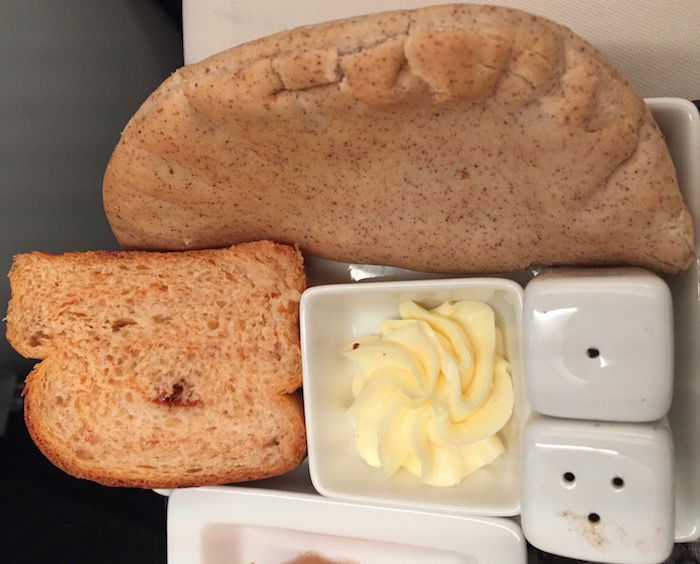 Saudia business class dinner service — bread
At the same time our main courses were served. Matthew wanted the fish, but they were already out of it, apparently (which seemed suspicious). So he selected the lamb.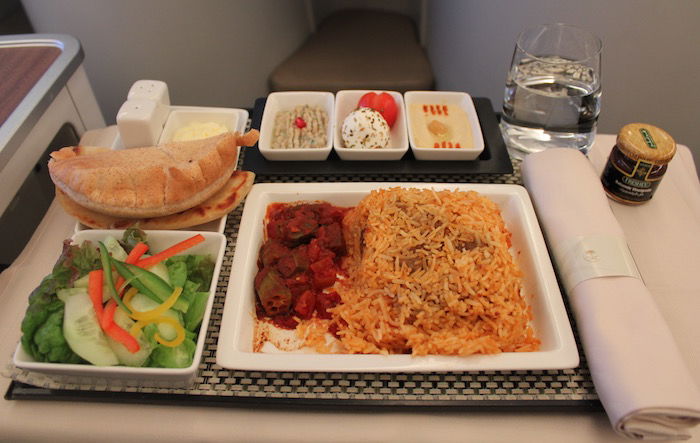 Saudia business class dinner main course — lamb kabli
I had the chilli chicken, on the other hand.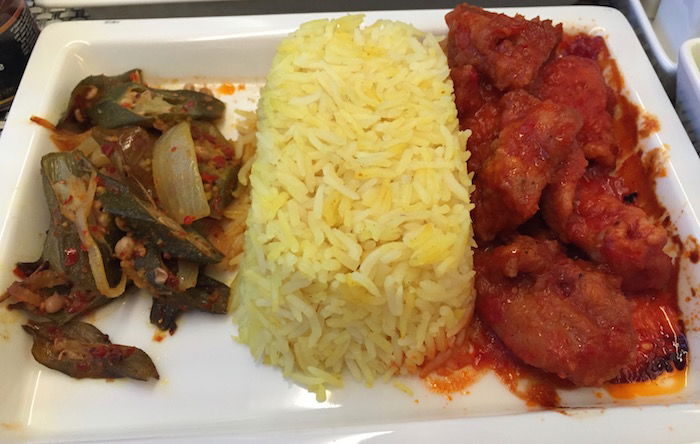 Saudia business class dinner main course — chilli chicken
Around the same time the male flight attendants seated across from us were also eating (they seemed to mostly be served by the two female flight attendants, though sometimes would go to the galley to get something themselves as well). I spotted at least one of them eating the mezze and fish. Nice to see they get preferential meal selection over paying passengers.
Once the main courses were cleared, the desert cart was rolled around, and we were offered fresh fruit and sweets.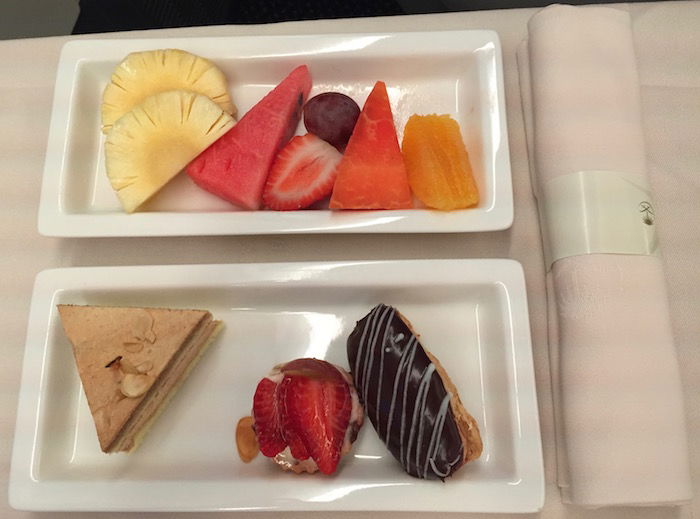 Saudia business class dinner dessert — fresh seasonal fruit platter and assorted desserts
After that we ordered cappuccino, which tasted powdered.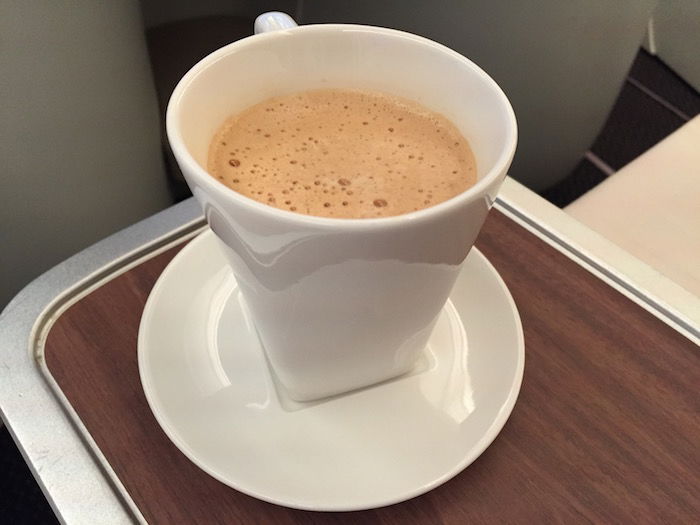 Saudia business class cappuccino
The meal service was done less than an hour after takeoff.
Here's the thing I don't get. The food itself was very good, as was the presentation. Why does every other aspect of the experience have to suck?
For one, the service was terrible. Terrible. We were offered some juice before dinner, but then with dinner were only offered still water. There was no offer of any other beverage. At first I wanted to assume the flight attendant serving us was indifferent, but she was actually sort of rude. It's not just that she didn't smile, but she was lazy and unapologetic about them running out of meals, etc.
Furthermore, I respect that Saudia is a dry airline, but that doesn't mean they have to completely give up on their soft product. A dry airline has all the more reason to offer kick-ass non-alcoholic beverages. They should have all kinds of fresh juice, smoothies, freshly made cappuccinos, etc. Somehow to them being a dry airline seems to mean you should just drink still water with your meal. Aside from a glass of juice before each meal, we were never proactively offered anything else to drink. C'mon…
As stated above, the meal service was done pretty quickly, so we still had over four hours to go to Jeddah.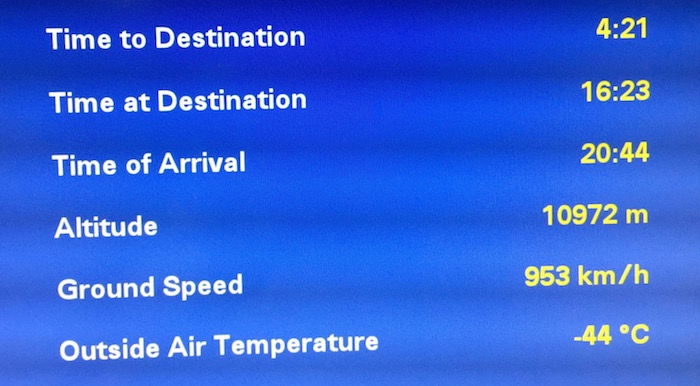 Airshow enroute to Jeddah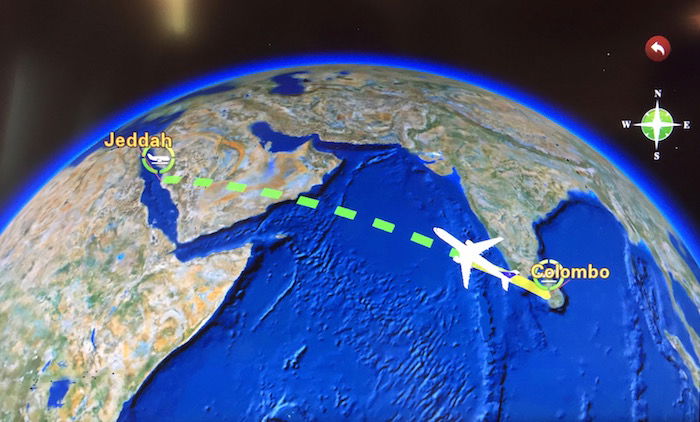 Airshow enroute to Jeddah
Since the male flight attendants were in the galley chatting at this point, I was able to snag some pictures of the other seats in the cabin.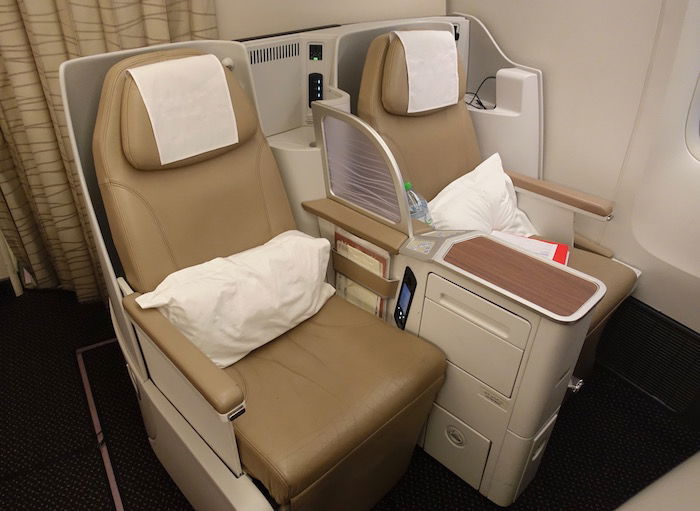 Saudia business class seats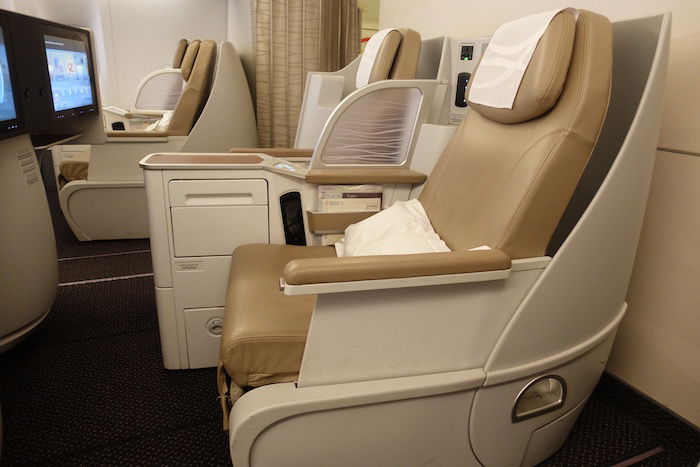 Saudia business class seats
I checked out the lavatory at the front of the cabin, which was in decent condition.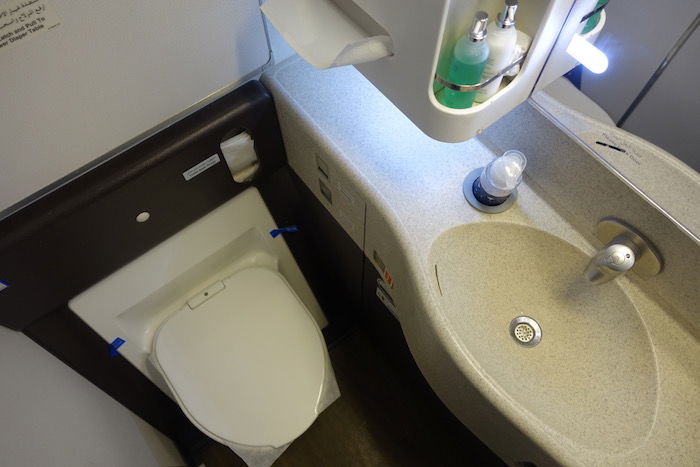 Saudia business class lavatory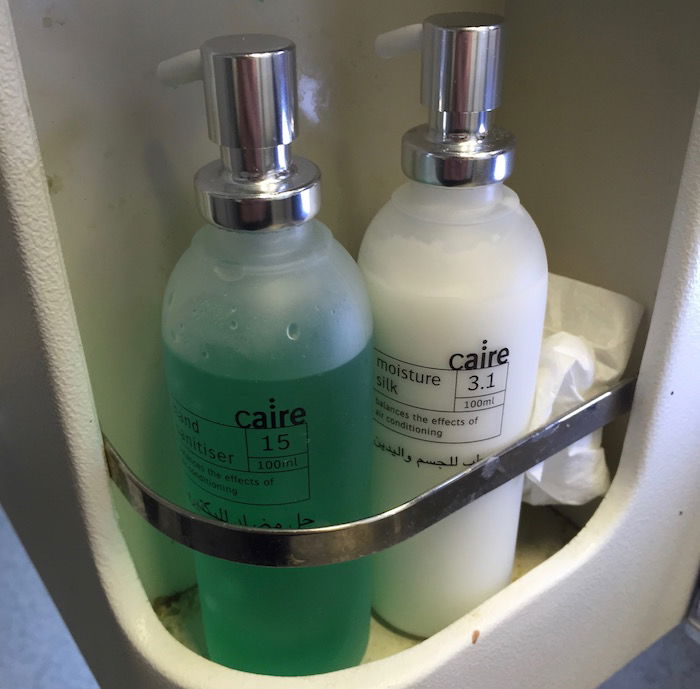 Saudia business class lavatory amenities
After that I figured I'd check out the economy cabin. The cabin actually looked very comfortable, with just nine seats per row. This is a bit puzzling, because the 777-300 two cabin seatmap on Seatguru shows 10 seats per row, which makes me wonder just how many different configurations Saudia has.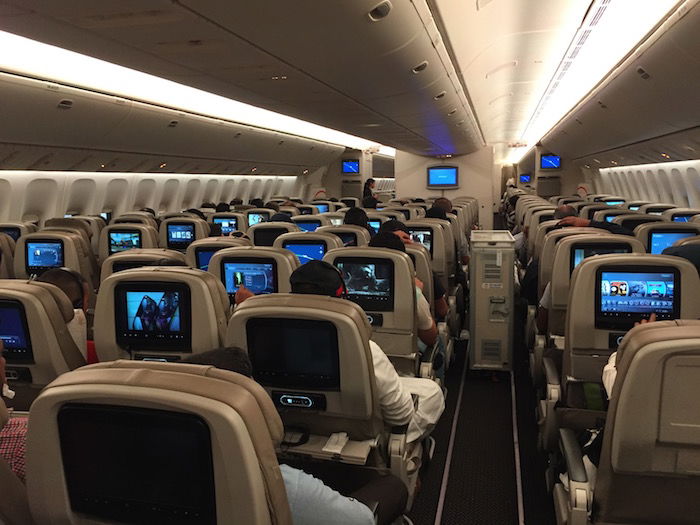 Saudia 777 economy cabin
At the very back of the economy cabin was the prayer room, which is unique to Saudia. It didn't seem to be utilized all that much.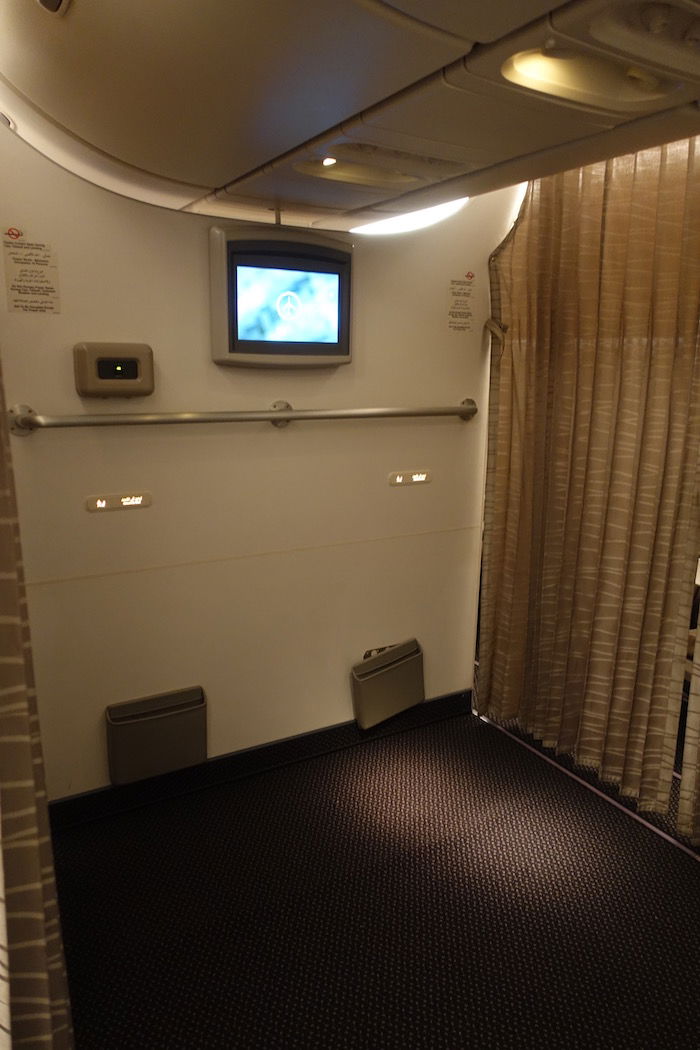 Saudia prayer room 777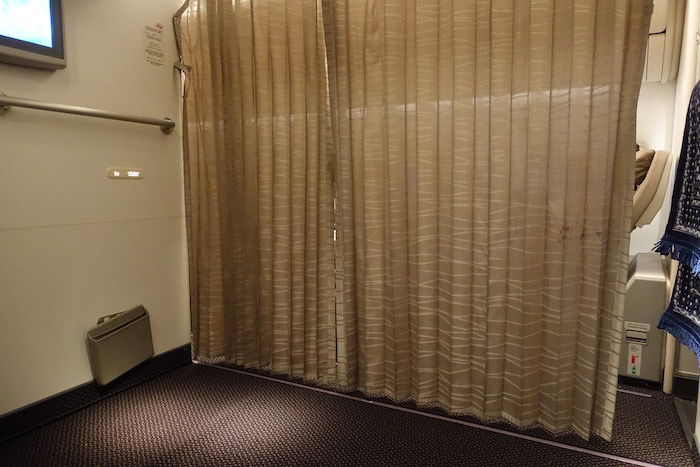 Saudia prayer room 777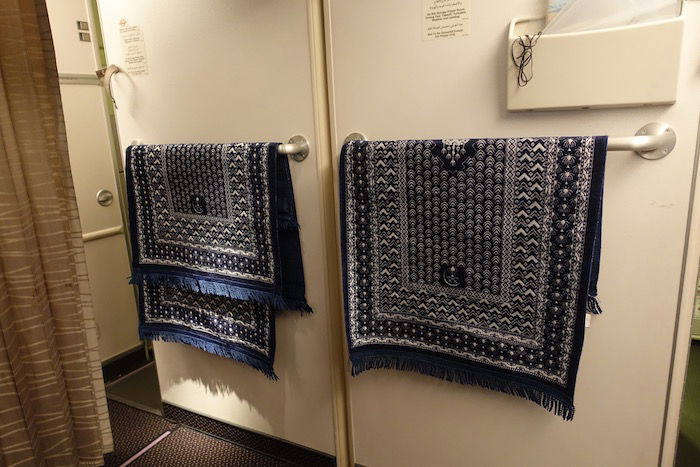 Saudia prayer room 777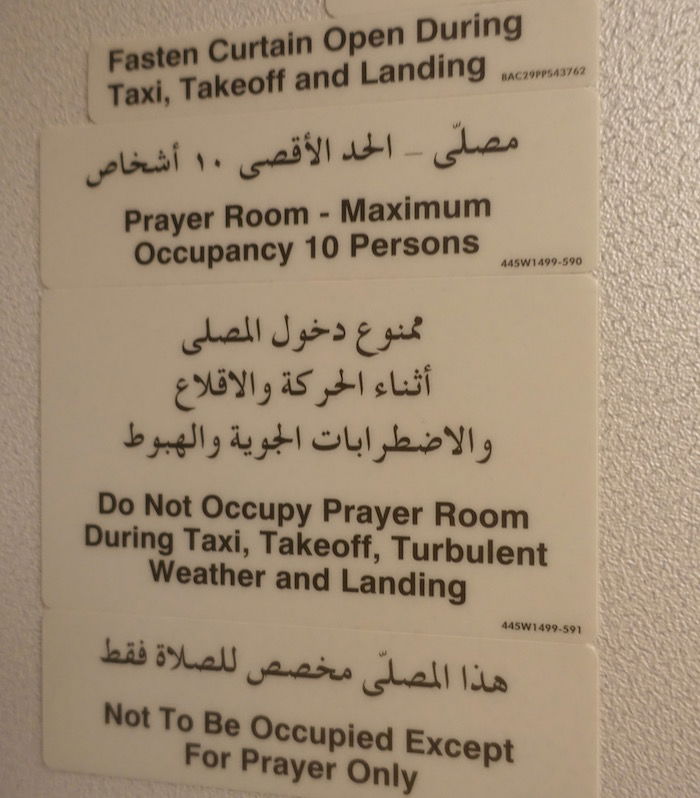 Saudia prayer room signage 777
Once back at my seat I enjoyed watching the sunset as we continued our trek towards Jeddah.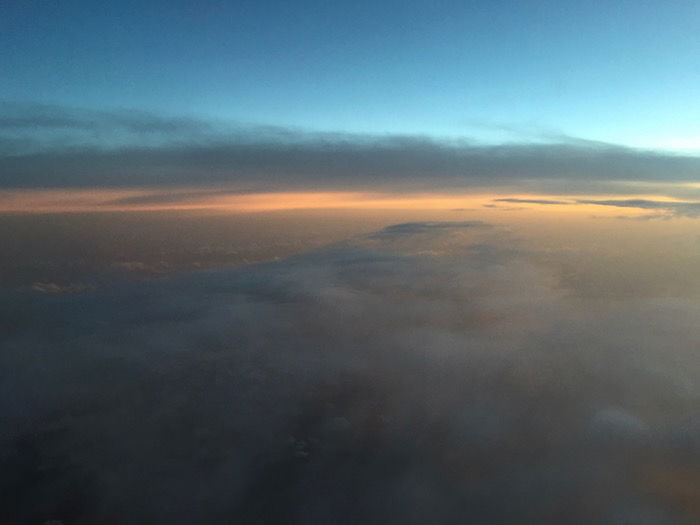 Sunset enroute to Jeddah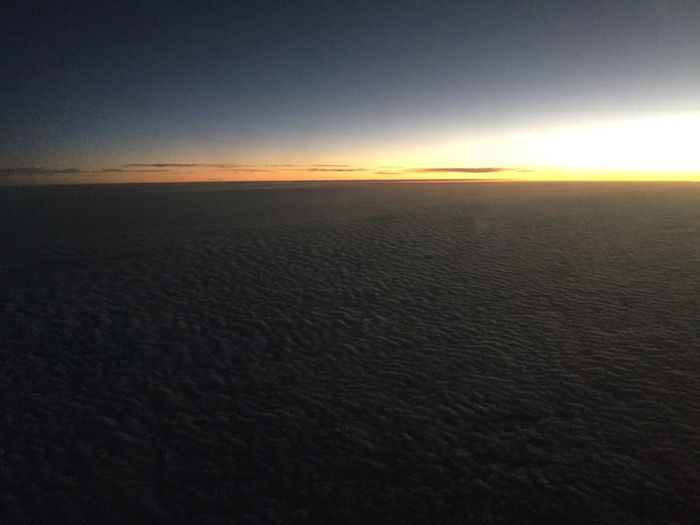 Sunset enroute to Jeddah
Back at my seat I pushed the call button because I wanted a coffee. The call button went ignored. I pushed it again, and it went ignored again.
30 minutes later I pushed the call button again, and this time the flight attendant turned it off on her end without checking on me. Eventually I had to walk up to the galley and said "I think my call button is broken."
The behavior of the male flight attendants on this flight was just disgusting, at least by my standards. They were talking loudly, watching stuff on their phones without headphones, etc. They'd boss the female flight attendants around and have them serve them, and only occasionally get up to go around the cabin.
Matthew and I were curious if we were missing something, and maybe giving them an unnecessarily hard time. Maybe they were off duty or something. The thing is, they all seemed like nice enough guys in the sense that they were laughing a lot and generally friendly, but that doesn't excuse their behavior.
The senior supervisor stopped by our seat a couple of hours before landing. He saw us taking pictures throughout the flight, so I think he was curious to find out more. We ended up talking to him and asking him about Saudia. We asked him about the three and a half stripes he had on his shoulders, and what that meant. He explained that meant he was a senior supervisor, and had been at Saudia for 30 years.
We asked about his colleague who had three stripes, and he explained that he was a "normal" supervisor. We subtly asked how many crew members there were, and did indeed confirm that the guys seated across from us were "on duty."
While the senior supervisor was nice, his attitude wasn't surprising. We asked if he ever flew to the US. He explained he avoids it because it's so long, and because when there are issues he doesn't like apologizing for an entertainment screen being broken on a 17 hour flight. Alrighty then.
About 90 minutes before landing there was a small snack service. Again, service began with juice being served.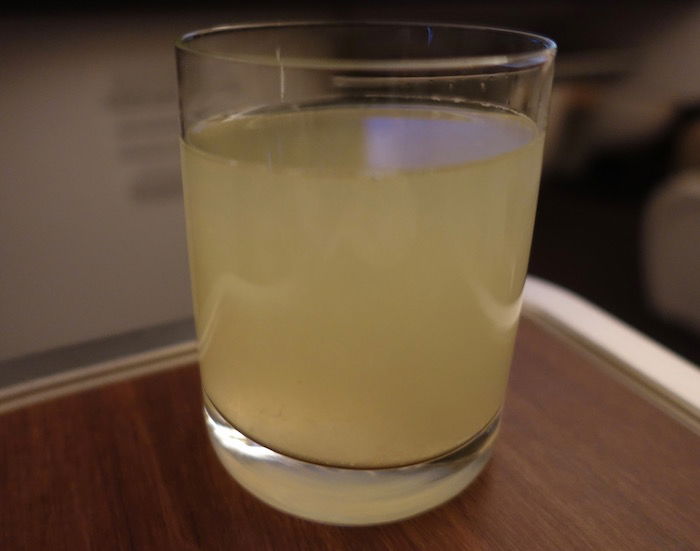 Saudia business class — juice
After that a plate with some small (stale) sandwiches and tasty dessert was served, along with still water, as usual.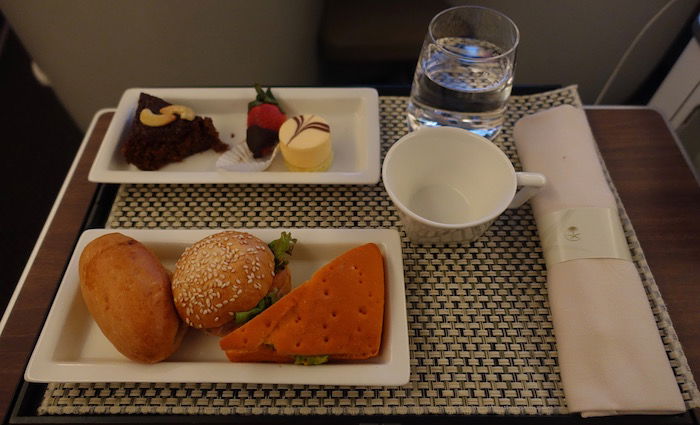 Saudia business class pre-landing snack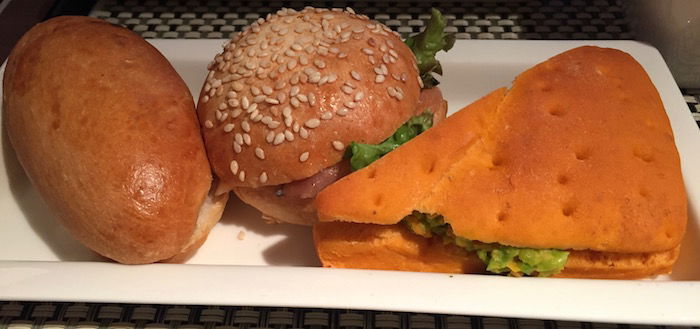 Saudia business class pre-landing snack — assorted sandwiches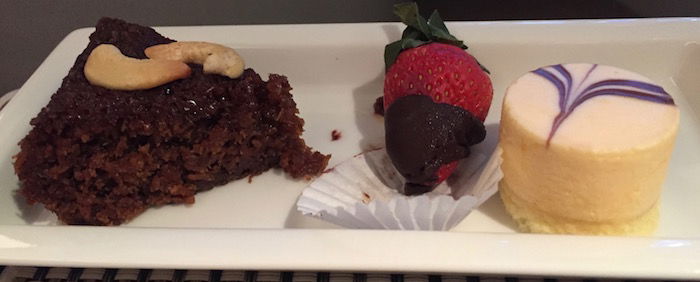 Saudia business class pre-landing snack — assorted sweets
After that mints were offered.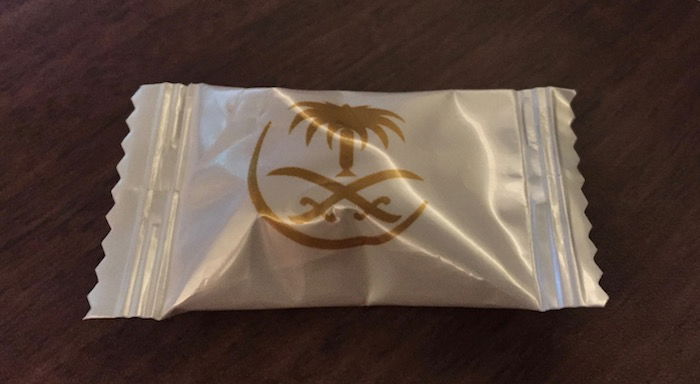 Saudia business class mints
I reclined my seat for a bit to try and get some rest, and just as I was starting to doze off, the flight attendant came by my seat and said "get upright, we are landing." We were still 35 minutes out and hadn't even begun our descent. Seriously?!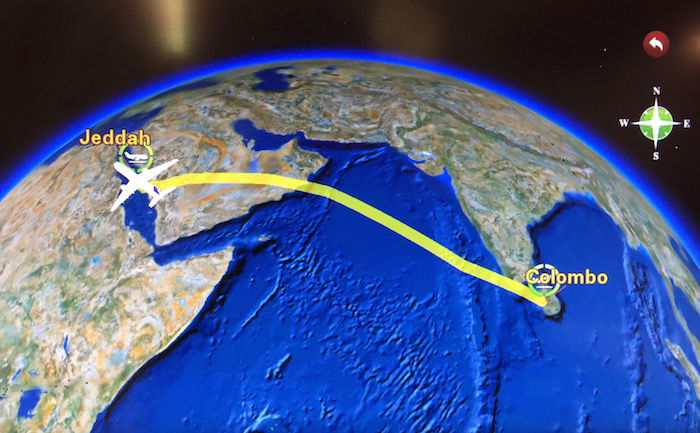 Airshow enroute to Jeddah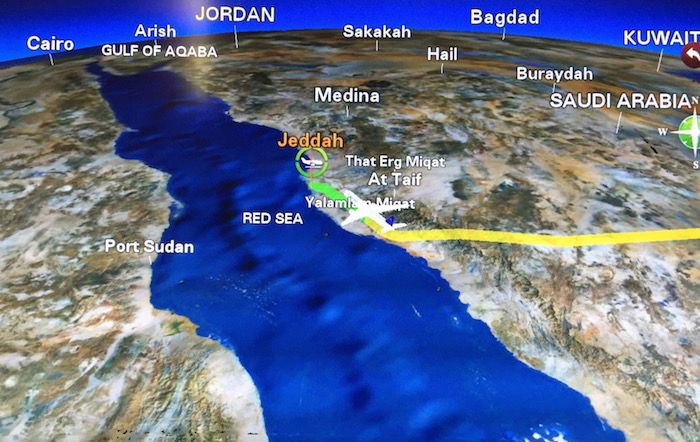 Airshow enroute to Jeddah
As we flew past Mecca an announcement was made through the cabin indicating where we were, and saying "let Allah accept all our good deeds."
At around 8:15PM Jeddah time we began our descent, which was fairly smooth. While I wouldn't actually get to enter Saudi Arabia, flying over it was fascinating, and it sort of made me want to visit.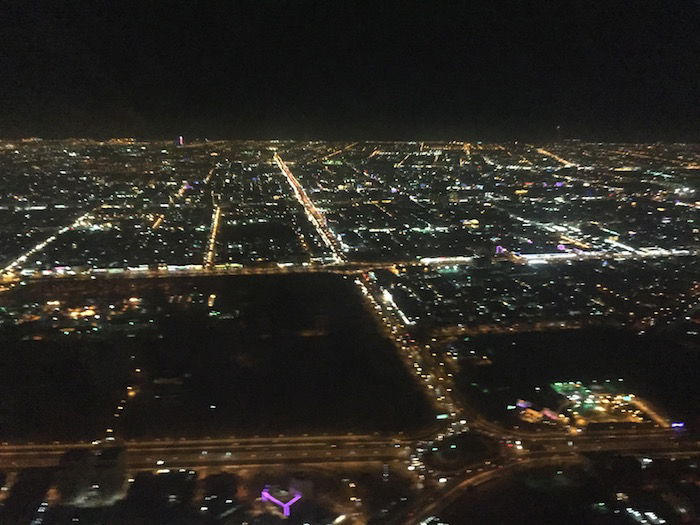 Approaching Jeddah Airport
We had a smooth touchdown in Jeddah at 8:40PM. From there it was a short five minute taxi to our arrival stand. It wasn't until then that I realized just how much of a dump Jeddah Airport was. They don't have any gates, so it's just a bunch of planes at remote stands.
The seatbelt sign was turned off around 8:45PM.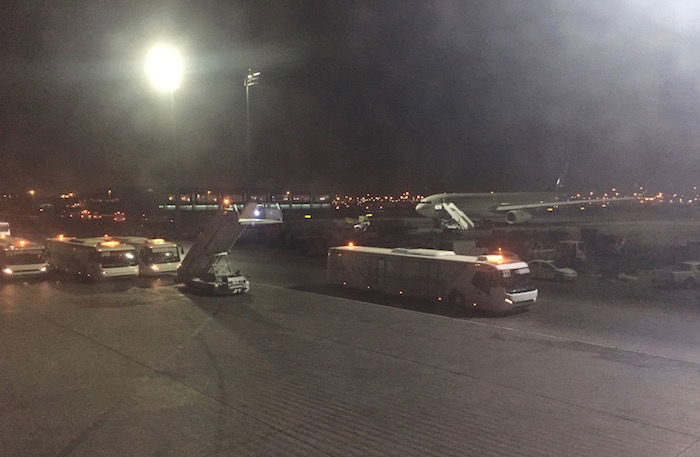 Arriving at stand in Jeddah
Suffice to say the fun didn't stop there!
Saudia 777 business class bottom line
Let's start with the good things. The plane itself felt new and had a solid business class hard product, especially for a daytime flight. The amenity kit on the flight was great. The food quality and presentation were excellent. The plane had Wi-Fi.
Unfortunately those are all the nice things I can say about the flight.
The service was horrible, both from the "imported" female flight attendants, and from the "local" male flight attendants (though I'm not sure the service from them was horrible as much as non-existent). They weren't just unfriendly, but call buttons intentionally went ignored, and they put no effort into the service.
I also think it's ridiculous how bad their beverage selection is. It's totally fine to be a dry airline, but then put some effort into the non-alcoholic drink selection. Serving just still water with meals is ridiculous. And powdered cappuccino? C'mon!
Stay tuned, because this was only the start of our Saudia adventure.