Introduction
Domestic (Including Hawaii)
Europe
Asia
Australia & New Zealand
Middle East & India
Africa
South America
Caribbean, Central America, & Mexico
---
Admittedly, I generally use miles and points to travel internationally but there are a number of circumstances when it can make sense to use them for domestic travel. If you're flying to Hawaii and have seen some of the cash fares floating around, it can really make sense!
With Chase Ultimate Rewards points, you'll have several options across all three major airline alliances — oneworld, SkyTeam and Star Alliance — and region-based and distance-based award charts. You might even find that booking with Southwest's revenue-based pricing could make sense.
As a reminder, there are many options to accrue Ultimate Rewards.
Now, let's get into the good stuff!
Air France-KLM Flying Blue
With Flying Blue's shift to a more Delta-like approach to award bookings, it's not always clear how many miles you will need to book domestic awards or award flights to Hawaii. While you can use Flying Blue's Miles Price Estimator to see saver level award rates, it does not include rates for flights within the U.S. and it has recently removed Hawaii flights.
While this is still the go-to program for one-way awards on Delta within the continental U.S. and to Hawaii if you have a connection, it's not because it's a great program. It's mostly because it's the only Ultimate Rewards partner that allows one-way SkyTeam awards with connections.
Flying Blue award rates
While the Miles Prices Estimator does not currently show saver rates for awards to Hawaii, I was able to confirm that the saver rate has not changed since Flying Blue removed the route from the Estimator.
These are the rates you want to find for economy and business class when flying from the U.S. to Hawaii:
Economy: 17,500 Flying Blue miles
Business: 43,000 Flying Blue miles
Honestly, though, good luck finding business class award to Hawaii on Delta.
For domestic flights, the award rate will vary a bit. A transcontinental flight will have the following rates:
Economy: 14,500 Flying Blue miles
Business: 36,000 Flying Blue miles
Shorter routes will require fewer miles:
Economy: 11,500 Flying Blue miles
Business: 28,000 Flying Blue miles
How to book with Flying Blue miles
Both Air France and KLM's sites allow you to search and book online.
You can transfer Ultimate Rewards (1:1) to Flying Blue and points transfer almost instantly. I've been able to put awards on hold for 48 hours but you'll need to find a friendly phone agent. You can reach Flying Blue at (1-800-375-8723).
At times, people have had issues with the U.S. call center and have found one of the European centers — open 24/7 for English speakers — have been more helpful.
In the past, Flying Blue has had plenty of issues with "fraud prevention." As a result, we'd recommend calling to put your award on hold and then transferring points. Once you've done that, you can pay over the phone with a credit card in the account holder's name.
British Airways Executive Club
With British Airways, we dive into a distance-based award chart that can provide some solid value on short-haul flights and from the west coast to Hawaii. It also has the added benefit of partnering with both Alaska Airlines and American Airlines which means you'll have access to even more flight options.
Unlike many awards booked with British Airways Avios, these domestic awards won't hit you with massive surcharges.
British Airways Avios award rates — short-haul
Unfortunately, British Airways treats flights of fewer than 651 miles differently in the U.S. than in other parts of the world. While you can book these short flights for 4,500 Avios in places like Australia or throughout Asia, you will need 7,500 Avios to fly Alaska Airlines or American Airlines.
Fortunately, if your flight is no more than 1,150 flight miles, you can book at this 7,500 Avios rate which gives you a number of options. Just keep in mind that British Airways prices each segment individually so connections will add to the number of Avios required.
British Airways Avios award rates to Hawaii
Using British Airways Avios to book awards from the west coast — and Phoenix (PHX) — to Hawaii has long been a favorite in the miles and points world thanks to a competitive rate of 12,500 Avios. Business class awards on American will be double the economy rate at 25,000 Avios one-way. Unfortunately, sitting up front on Alaska Airlines will cost 37,500 Avios as it codes as a first class redemption.
If you're booking from other parts of the U.S., you'll want to be careful as awards get pricier. For example, booking from Dallas (DFW) will require 20,000 Avios for a non-stop — more with a connection — and 22,500 Avios from Chicago (ORD) for one-way awards.
How to book with British Airways Avios
Booking awards on American with British Airways is pretty simple — if its website is working properly — thanks to the ability to search and book online. If you're booking a flight on Alaska Airlines, you'll need to search on American's site and call British Airways (1-800-452-1201). If the site isn't working, you might have to call to book American.
You can transfer Ultimate Rewards at a 1:1 ratio and expect these transfers to process almost instantly.
Singapore Airlines KrisFlyer
Singapore KrisFlyer will often provide the best way to book awards on both Alaska Airlines (non-stop) and United Airlines. This makes it one of the more versatile programs for domestic awards and award flights to Hawaii.
KrisFlyer economy awards on Alaska Airlines
Flights to Hawaii on Alaska Airlines start at just 12,000 KrisFlyer miles depending on the zone from which you depart. Additionally, you can find domestic awards for as low as 7,500 KrisFlyer miles.
The toughest part about Singapore's award chart for Alaska Airlines is that it doesn't allow connections which means you'll have to use more miles to connect. This means flying to Hawaii with a connection will cost at least 19,500 miles.
KrisFlyer award rates on United Airlines
Using KrisFlyer miles on United flights isn't quite as complicated. Other than economy awards within the continental U.S. KrisFlyer provides better redemption rates than United MileagePlus. Even then, MileagePlus and KrisFlyer both require 12,500 miles for domestic awards.
Here are the one-way award rates you can expect when booking with KrisFlyer miles:
| | | |
| --- | --- | --- |
| Class of Service | United (domestic) | United (to Hawaii) |
| Economy | 12,500 miles | 17,500 miles |
| Business | 20,000 miles | 30,000 miles |
While you can book United flights with its own MileagePlus program, I'd much rather save the Ultimate Rewards points for later.
How to book with KrisFlyer miles
While you can find and book United award space on Singapore's site, you'll need to search for Alaska space on American's site or ExpertFlyer. Once you've found space on Alaska, you can call Singapore Airlines (1-800-742-3333) to complete the booking.
Transfers from Ultimate Rewards (1:1) can take 12 to 24 hours.
Southwest Airlines Rapid Rewards
Unlike our other options, Southwest uses a revenue-based award program and only provides an economy class. Additionally, it doesn't have any partner airlines so if you want to book an award flight on Southwest, you need Rapid Rewards points.
Southwest is expected to launch flights to Hawaii within the next year which could open up some interesting possibilities depending on how the flights are priced.
Southwest Rapid Rewards award rates
With a revenue-based award program, Southwest doesn't really have an award chart. Rather, you can expect to need a certain number of Rapid Rewards points per dollar regardless of the route. These are the rates you can expect for each fare type:
Business select: ~78 Rapid Rewards points per dollar
Anytime: ~78 Rapid Rewards points per dollar
Wanna Get Away: ~76-78 Rapid Rewards points per dollar
If you have the Southwest Companion Pass, you'll be able to bring a designated companion for no extra points.
How to book with Rapid Rewards points
Booking with Southwest is quite simple. Transfers from Ultimate Rewards (1:1) process almost instantly and you can book online.
The one tough part of about searching with Southwest is that you are limited to searching for flights to/from a single airport. So, if you live somewhere like the DC area with multiple airports — Baltimore (BWI), Washington Dulles (IAD) and Washington Reagan National (DCA), you'll have to search each separately.
Other options with Ultimate Rewards
The Ultimate Rewards program offers a couple other options that might come in handy for some specific redemption situations.
Iberia Plus — use fewer miles when you have connections on American Airlines
Iberia Plus, like British Airways, is part of the Avios program and thus uses a distance-based chart. However, it has its own award chart and redemption rules. Where this can really help you save some Ultimate Rewards points is with awards on American Airlines that require connections.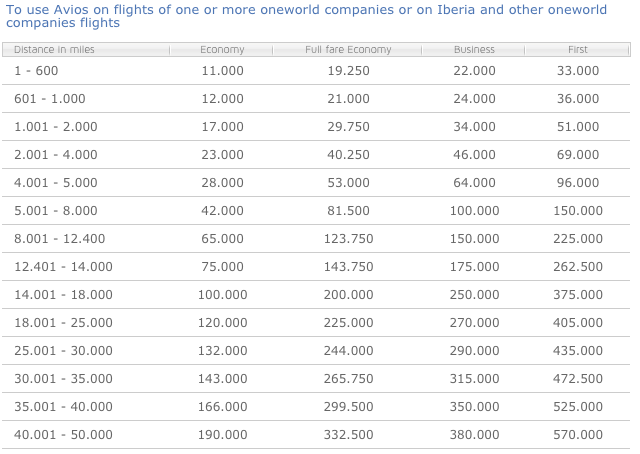 While British Airways will require you to pay for each segment, Iberia Plus will calculate the number of Avios for a booking based on the total flight miles. Depending on your route, this could help you save a nice chunk of points.
You can search and book on Iberia's site but I find it to be very slow and clunky. I prefer to start my search on American Airlines' site as it allows me to see multiple dates that have saver space. With those dates in hand, I can narrow my search on Iberia. Keep in mind that round-trip bookings are required when using Iberia Avios to book partner awards so you'll need to search round-trip on Iberia's site.
You can transfer Ultimate Rewards points at a 1:1 ratio and expect the transfer to process almost instantly.
Virgin Atlantic Flying Club — non-stop Delta flights
With the changes to the Flying Blue program, Virgin Atlantic Flying Club could be your best bet for one-way awards on Delta if you have Ultimate Rewards points. These are the one-way award rates you can expect from Flying Club:
| | | |
| --- | --- | --- |
| Class of Service | Delta (domestic) | Delta (to Hawaii) |
| Economy | 20,000 miles | 17,500 miles |
| Business | 22,500 miles | 37,500 miles |
Air France-KLM Flying Blue will still be a better option for non-stop economy awards to Hawaii and shorter domestic awards, but Virgin Atlantic Flying Club will get you better rates on non-stop transcontinental awards and business class awards to Hawaii.
To take advantage of Flying Club's award rates, you'll need to book non-stop awards as Virgin Atlantic requires more miles for connections.
To search for award space, you can use Virgin's site but you will probably have to click the teardrop pin in the destination field to get a drop-down menu so you can select a U.S. airport.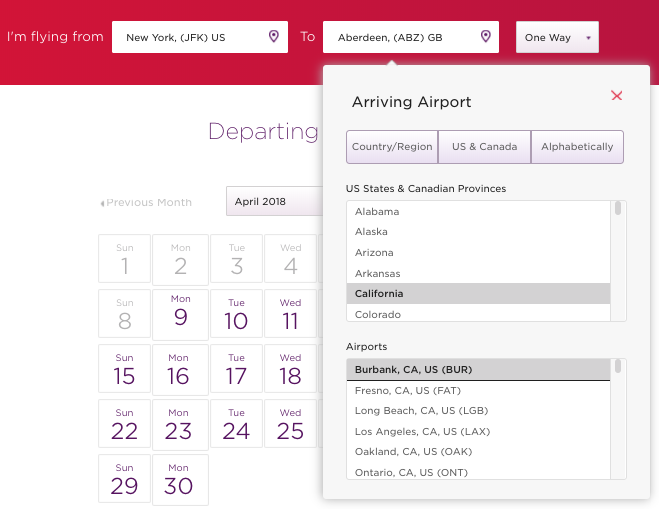 Transfers from Ultimate Rewards (1:1) are often instant but, if you prefer to lock in space before transferring, you can call Virgin Atlantic (1-800-365-9500) to hold an award for 48 hours. Virgin's phone agents are some of the best so the process should be pretty painless.
Bottom line
Clearly, you have a lot of award booking options with Chase Ultimate Rewards points and once Southwest starts flying to Hawaii, you'll have even more. Before you book your next award, make sure you're using the program that allows you to use the fewest number of Ultimate Rewards points.
With different award program rules, the program you should use might not be the most obvious but you'll be glad you did a little work upfront to save your hard-earned points. The points you save just might help you get an award flight for your next adventure or even a night (or more) at Hyatt.
Keep in mind as well that the best values domestically can be found through booking economy fares through the Ultimate Rewards portal, so be sure to check those prices as well.
How have you used Ultimate Rewards points domestically?