Introduction
Domestic (Including Hawaii)
Europe
Asia
Australia & New Zealand
Middle East & India
Africa
South America
Caribbean, Central America, & Mexico
---
I know we spend a lot of time talking about the amazing premium cabin experiences that you can fly across the world, but South America is all about the destination if you're flying from the U.S. Don't get me wrong, you can still get a comfortable business class flight with a lie-flat seat to some destinations, but it won't be anything like Emirates first class.
That being said, with Argentine wines to try, Patagonia to explore and tons of food to enjoy, does that really matter that much? With Chase Ultimate Rewards points, you'll have some great options to book awards to the region across all major airline alliances — Oneworld, SkyTeam and Star Alliance. Of course, you won't want to forget about Virgin Atlantic's partnership with Delta either.
As a reminder, there are many options to accrue Ultimate Rewards.
One final thing before we dive into it. There are tons of flights to South America that don't have lie-flats but instead have a domestic first class layout. If you're considering a premium cabin award, please make sure you check before booking so you're not disappointed.
With that, let's get into it!
Air France-KLM Flying Blue
Flying Blue's newly reconfigured award program no longer uses a simple a region-based award chart. As a result, awards often differ based on your origin and destination. It's annoyingly more like Delta now but its calendar search option makes it easier to find dates near your desired date of departure.
It won't always provide the best rates on SkyTeam partners Aerolineas Argentinas, Delta and GOL, but it's often your best option for a one-way award, especially if you need a connection.
Flying Blue award rates
While Flying Blue has a Miles Price Estimator that lets you see saver level rates, it won't show you options from flights from the U.S. to South America. I ran a ton of searches with the program and found some pretty consistent redemption rates with some variability for awards to southern South America. While Flying Blue could change these rates at any time, here's what I found for one-way awards:
| Class of Service | Northern South America | Southern South America |
| --- | --- | --- |
| Economy | 19,000 Miles | 20,000 – 29,000 Miles |
| Business | 47,000 Miles | 50,500 Miles – 72,000 Miles |
FlyingBlue Award Chart for South America
You'll often find that non-stop saver space listed at one price while a connection will require 500 more miles or even something as silly as 1 more miles — don't laugh, I've seen it. Just take the example below. A non-stop economy award on Delta from Orlando (MCO) to Sao Paulo (GRU) requires 28,500 miles.
On this same date, I also found economy space on GOL that connected in Brasilia (BSB) that required 29,000 miles. While this isn't exorbitant, it's the same kind of nickel and dime nonsense Delta pulls.
How to book with Flying Blue miles
With either Air France or KLM, you can run a calendar search which will provide you a month of possible travel dates. This will make it much easier to find award space near your desired date. While you can book online, keep in mind that Flying Blue has had "fraud prevention" issues so its advisable to take call (1 800 375 8723) and take advantage of a 48-hour hold — it might take a couple calls to find a friend phone agent.
Once you have held space, you can transfer Ultimate Rewards points (1:1) almost instantly. With the miles in your account, you can then call back and pay the taxes and fees with a credit card in the account holder's name.
British Airways Executive Club
If there's a weak spot in the Ultimate Rewards program, it's with Oneworld. With that in mind, using British Airways Avios is often your best bet to get decent economy award rates to South America. You can include stopovers but it won't save you any Avios as British Airways charges by segment.
Fortunately, you won't get hit with any surcharges when flying American Airlines or LATAM to the region as you would with flights to Europe.
Avios award rates
With British Airways' distance-based award chart, you'll want to keep an eye on the total flight miles per segment to determine your redemption rate. If you're booking non-stop award, the British Airways chart will be your best Ultimate Rewards partner for Oneworld flights.
One major complicating factor when using Avios is that British Airways uses two award charts. Ther first is a standard award chart that governs award rates on itineraries that include a flight on British Airways and/or one partner — the former won't matter for this region. The chart below is this standard award chart. Keep in mind that all partner awards use "peak" rates:
Zone // Distance

Economy Off Peak // Peak

Premium Economy Off Peak // Peak

Business Off Peak // Peak

First Off Peak // Peak

Zone 1
1-650 miles*
*Not available in North America

4,000 // 4,500

5.750 // 6,750

7,750 // 9,000

15,500 // 18,000

Zone 2
651-1150 miles

6,500 // 7,500

9,500 // 11,250

12,750 // 15,000

25,500 // 30,000

Zone 3
1151-2000 miles

8,500 // 10,000

12,750 // 15,000

17,000 // 20,000

34,000 // 40,000

Zone 4
2001-3000 miles

10,000 // 12,500

20,000 // 25,000

31,250 // 37,500

42,500 // 50,000

Zone 5
3001-4000 miles

13,000 // 20,000

26,000 // 40,000

50,000 // 60,000

68,000 // 80,000

Zone 6
4001-5500 miles

16,250 // 25,000

32,500 // 50,000

62,500 // 75,000

85,000 // 100,000

Zone 7
5501-6500 miles

19,500 // 30,000

39,000 // 60,000

75,000 // 90,000

102,000 // 120,000

Zone 8
6501-7000 miles

22,750 // 35,000

45,500 // 75,000

87,500 // 105,000

119,000 // 140,000

Zone 9
7001+ miles

32,500 // 50,000

65,000 // 100,000

125,000 // 150,000

170,000 // 200,000
British Airways Executive Club Award Chart
If your award to South America will include flights on both American and LATAM — technically, it could also include a flight on Qatar Airways' fifth-freedom route between Sao Paulo (GRU) and Buenos Aires (EZE) — then you'll need to check out the multi-carrier chart. The rates listed are for economy awards.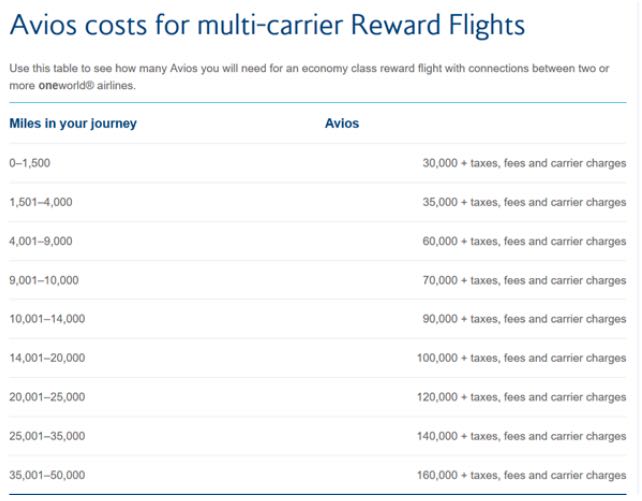 If you want to book other classes of service, you'll need to increase the Avios required by the following percentages:
Premium economy: 50%
Business class: 100%
First class: 150%
If your itinerary will include a connection and only one Oneworld partner, I'd suggest using Iberia Plus to book. Its also part of the Avios program but calculates flight distance based on the total distance traveled rather than by segment. This is the award chart you'll need:
How to book with Avios
Assuming the online search goes smoothly, you can complete your booking online with British Airways. Unfortunately, the site often has technical issues which will require you to restart searches or even switch browsers. If all goes well, you can transfer Ultimate Rewards points (1:1) almost instantly.
If you're booking with Iberia Avios, you can search and book online with Iberia but its site can be a nightmare. If it doesn't show space, check British Airways and call Iberia if you find space (1-800-772-4642). I wish I could tell you Iberia's call center is much better than the site but, let's not kid ourselves, it's often a pain. At least transfers from your Ultimate Rewards account are 1:1 and almost instant.
Singapore KrisFlyer – biz class to southern South America
Unlike fellow Ultimate Rewards partner United Airlines, Singapore Airlines does not divide South America into two regions. While Singapore KrisFlyer does pass on surcharges with award bookings, Avianca, Copa and United do not have any surcharges that can be passed on to you, and both Copa and Avianca have good availability to many destinations.
Air Canada is another option, but you'll be on the hook for surcharges.
KrisFlyer award rates
While you could book an economy award with 30,000 KrisFlyer miles to southern South America it only matches United's rate and you don't have to worry about surcharges with United even when connecting on United.
However, you can beat the United business class rate to southern South America by 10,000 points by using 50,000 KrisFlyer miles — but, remember, awards on Air Canada will come with surcharges.
We'll talk more about using United miles in just a minute.
How to book with KrisFlyer miles
You can use Singapore Airlines' online search tool to find space and complete your booking online. However, it might be easier to use United's calendar search option to find dates more easily then search with Singapore.
If United shows partner space you but don't see the same space on Singapore's site, you can call to book (1-800-742-3333) — make sure they waive the phone booking fee if this is the case. If it's United space you want, it's not a bad idea to double check with Aeroplan to ensure United has released space for partners. Again, this is only necessary if Singapore's own search fails.
Transfers of Ultimate Rewards points (1:1 ratio) generally take about 12 to 24 hours. This is another reason why United might be a better option.
United MileagePlus
I like to look at United MileagePlus as a kind of simple option for simple awards since you don't have to worry about surcharges on awards and you have several airline options to fly to South America. You can even include a stopover on a round-trip award or what United calls the Excursionist Perk.
The trouble with United is that it splits South America into northern and southern regions. Since the Excursionist Perk only allows a free one-way within a region, you won't be able to cross from northern to southern South America.
United award rates
When it comes to redemptions, United is the best overall for Star Alliance awards to South America. Not tacking on surcharges to flights on Air Canada helps, but it usually has the best award rates. These are the one-way award rates:
| | | |
| --- | --- | --- |
| Class of Service | Northern South America | Southern South America |
| Economy | 20,000 miles | 35,000 miles |
| Business | 30,000 miles | 60,000 miles |
While Singapore KrisFlyer has better award rates for business class awards to southern South America, United MileagePlus is better for economy as well as all awards to northern South America.
If you want to fly Air Canada to southern South America, you'll have to decide whether saving 10,000 Ultimate Rewards points is worth paying the surcharges.
How to book with United miles
United has a very good online search which allows you to search for flexible dates. These searches will show you economy and premium cabin availability for two months. The biggest downside to booking with United miles is that it will only allow you to book what the online search shows so you can't piece together an award by segment.
United has at times shown phantom award space, so clicking through the entire booking process is a good idea. Finally, another big advantage United has over Singapore KrisFlyer is that Ultimate Rewards transfer at a 1:1 ratio almost instantly.
Virgin Atlantic Flying Club – non-stop business class Delta awards
For non-stop business class awards on Delta to South America, Virgin Atlantic Flying Club is your best option. Unfortunately, connecting flights will require more miles so you'd be better off with Flying Blue in that case. You won't even get hit with the usual surcharges that often come with Flying Club awards.
Flying Club award rates
While the non-stop economy award rate of 22,500 miles is sometimes better than Flying Blue's rate to southern South America, business class is where it shines. For 45,000 miles, you can book a non-stop one-way business class award. This could easily save you 5,000 to 10,000 Ultimate Rewards points.
How to book with Flying Club miles
You can expect Chase Ultimate Rewards points to transfer (1:1 ratio) within 24 hours. However, you can put awards on hold for 48 hours by calling 1-800-365-9500 before transferring. Finding Delta award space can be a hassle on Virgin Atlantic's site especially to South America. You might actually find it's easiest to use Air France or KLM to run a calendar search. Just remember that you're looking for non-stop award space on Delta.
Bottom line
What makes South America an interesting region to visit with Ultimate Rewards points is that none of its airline partners greatly outshines the others across the board. Each program has some pros and cons but, if you put in a little effort, you should be able to figure out an itinerary that works for you.
How have you used Ultimate Rewards points to fly to South America?