Introduction
Domestic (Including Hawaii)
Europe
Asia
Australia & New Zealand
Middle East & India
Africa
South America
Caribbean, Central America, & Mexico
---
While booking awards to Africa isn't quite as easy as many other regions, you will have a few solid opportunities with Chase Ultimate Rewards points. Your best bets will be on SkyTeam and Star Alliance partners — or a special case via Virgin Atlantic's individual partnerships.
You'll notice we don't have a Oneworld option listed but when you consider how many Avios awards would require with British Airways and Iberia's distance-based award charts, it makes sense. However, I think you'll find some interesting options within a few region-based charts and Virgin Atlantic's partner charts.
As a reminder, there are many options to accrue Ultimate Rewards.
Now, let's dive into your best options!
Air France-KLM Flying Blue
Flying Blue's update on June 1, 2018 has made things a bit more difficult when booking awards. Rather than having a simple region-based award chart, we've found quite a bit of variability within regions.
While it's annoying to see a program slide toward Delta's variable award chart (and lack of transparency) nonsense, you can still use Flying Blue miles to get some solid awards to Africa. Of course, you'll want to keep an eye on surcharges.
If you're ever curious about a particular route, check out Flying Blue's Miles Price Estimator to see what saver level should be. While it won't have every route, you should be able to find quite a few. If not, you'll just have to run some searches.
Flying Blue award rates
If you have a large group traveling together, Flying Blue has been known to release more award space on Air France and KLM flights. Even with the surcharges on these awards, getting everyone on the same flight can easily make it worth it.
Since award prices often vary by city pairs, I thought we'd take a look at some examples of one-way award rates from the east coast, midwest and west coast.
| Route | Economy Class | Business Class |
| --- | --- | --- |
| New York (JFK) to Johannesburg (JNB) | 34,000 miles | 85,000 miles |
| New York (JFK) to Windhoek (WDH) | 34,500 miles | 96,500 miles |
| New York (JFK) to Cairo (CAI) | 34,000 miles | 85,000 miles |
| Chicago (ORD) to Johannesburg (JNB) | 34,000 miles | 85,000 miles |
| Chicago (ORD) to Windhoek (WDH) | 40,000 miles | 96,500 miles |
| Chicago (ORD) to Cairo (CAI) | 34,000 miles | 85,000 miles |
| Los Angeles (LAX) to Johannesburg (JNB) | 34,000 miles | 85,000 miles |
| Los Angeles (LAX) to Windhoek (WDH) | 38,500 miles | 85,000 miles |
| Los Angeles (LAX) to Cairo (CAI) | 34,000 miles | 85,000 miles |
FlyingBlue Award Chart to Africa
On top of that, those on the west coast might even find awards that are cheaper than those from the east coast. Personally, I wasn't expecting to find that a one-way business class award from LAX to WDH would be 11,500 miles cheaper than JFK-WDH.
How to book with Flying Blue miles
When the award program changed on June 1, 2018, Flying blue originally removed the calendar search option. Fortunately, they seem to have seen the error of their ways and you can again run a flexible date search for awards.
Once you find award space, you can easily book online since Chase Ultimate Rewards points transfer almost instantly at a 1:1 ratio. However, you can also put awards on hold just in case if you find a friendly phone agent (1-800-375-8723).
Flying Blue has a reputation for having some annoying "fraud prevention" issues too. This makes putting an award on hold a smart move, especially if you have just recently created your account. Having your ticket issued over the phone and paying with a credit card in the Flying Blue account holder's name can also help prevent these issues.
United MileagePlus
With United MileagePlus, we have our best option for most Star Alliance awards to Africa. While it won't have the best redemption rates across the board, it will most of the time and it has a huge advantage over Singapore KrisFlyer as it doesn't impose surcharges.
If there's one difficult part to using United MileagePlus miles it's the fact that you can only book options that the online search provides. This means you won't be able to piece together an itinerary that would suit you better.
United award rates
United doesn't operate any flights to Africa so its award rates for its own flights is pointless at this point. However, its Star Alliance/partner chart can provide some solid value when booking awards. Just keep in mind that United divides Africa into two regions: North Africa and Central/Southern Africa.
These are the one-way award rates to each region:
| | | |
| --- | --- | --- |
| Class of Service | North Africa | Central/Southern Africa |
| Economy | 40,000 miles | 40,000 miles |
| Business | 80,000 miles | 80,000 miles |
| First | 130,000 miles | 130,000 miles |
If you're like me, your first thought on seeing these award rates was about it being silly that the rates are the same for two different regions on the same continent. I don't make the rules, I just have to follow them — unfortunately.
While it might seem like this won't have an impact, it actually has a significant impact for those who want to take advantage of the Excursionist Perk — United's version of a stopover which allows a free one-way award within one region.
If you want to visit Morocco then pop over to Ethiopia, you would have to book a one-way award to Morroco and a one-way return from Ethiopia with a separate award or cash flight in between. Oddly enough, Egypt is considered part of the Middle East so you can't even stopover in Egypt on your way to Morocco or vice versa.
How to book with United miles
United MileagePlus provides a solid option for searching awards thanks to a flexible search option which will show you economy and premium cabin availability across two months of dates. All you have to do is select the flights you want and complete the booking online.
If you want to book a flight on Ethiopian, be aware that United has had issues with showing phantom award space AND not showing space that is actually available. For this reason, it's best to double-check with a search on Aeroplan so you don't get stuck transferring Ultimate Rewards points to United for no reason.
Additionally, United has been known to show phantom award space on EgyptAir. Do you really want to fly EgyptAir, though? But, I digress.
Once you've found the award space you want, you can transfer Ultimate Rewards points to your United account almost instantly at a 1:1 ratio.
Other options for special cases
The options we've discussed above will be useful across the board if you have Ultimate Rewards points. However, there are a couple other options I want to touch on that can be quite useful for some of you.
Singapore KrisFlyer
There are two scenarios in which booking with Singapore KrisFlyer might make sense for you. First, if you don't care about surcharges, KrisFlyer has better award rates for business and first class awards to North Africa — which it lumps in with the Middle East. You can book one-way awards for the following rates:
Economy: 45,000 miles
Business: 69,000 miles
First: 90,000 miles
You can save a decent chunk of Ultimate Rewards points when booking business class awards and a ton of points when booking first class awards. Of course, the surcharges will be quite steep.
The other scenario in which you might want to book with KrisFlyer miles is if you want to fly Singapore Airlines business or first class from the west coast to South Africa — you can't book this award from the east coast.
From the west coast, one-way awards on Singapore Airlines are set at the following rates:
Economy: 52,000 miles
Business: 102,000 miles
First: 143,000 miles
You can also include a stopover in Singapore for about $100 on a one-way saver level award. Singapore does not impose surcharges on its own award flight so the cash cost of these tickets won't be too bad.
To book, you can search on Singapore's site and complete the booking. Sometimes, it won't show all of your Star Alliance options so searching with United to double check is a good idea. If United shows award space, you can call Singapore Airlines to book (1-800-742-3333) — make sure the phone agent doesn't charge you a phone booking fee since it wasn't bookable online.
You might even prefer to use United's flexible search option to narrow down dates then search with Singapore once you've found what you want.
You can transfer Ultimate Rewards points at a 1:1 ratio. Transfers usually process within 12 to 24 hours.
Virgin Atlantic Flying Club
Virgin Atlantic is kind of a wild card in that it's not part of an airline alliance. Flying Club does, however, partner with both Delta and South African Airways which each provide a couple of interesting options.
South African Airways flies out of JFK and Washington Dulles (IAD) so the partnership has limited usefulness. However, you can fly one-way non-stop from IAD to Dakar (DSS) for 25,000 miles in business class — 20,000 miles for economy. The surcharges on a round-trip business class award are respectable at about $150.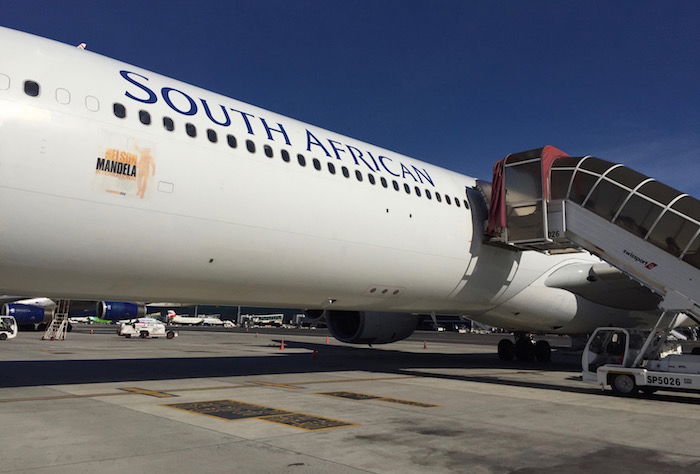 If you want to fly to Johannesburg (JNB), you can fly out of either JFK or IAD. Business class will run you 75,000 miles for a one-way business class award or 50,000 miles in economy. South African's IAD-Accra (ACC) route will cost 55,000 miles one-way in business class and 35,000 miles in economy.
You could even fly Delta non-stop one-way between JFK and ACC for 60,00 miles in business class or 40,000 miles in economy. Delta also operates a flight from Atlanta (ATL) to JNB which can be booked for the same rates — finding business class award space can be tough.
Some searches will require you to start the search by selecting a destination Virgin Atlantic serves, selecting to Pay with Miles then clicking the teardrop pin in the destination box and changing the destination to DSS (or your desired airport). If you are unable to select an airport when searching for Delta space, start your search on Delta then call Virgin Atlantic (1-800-365-9500).
Similarly, if you're trying to find South African Airways space and the airport is not an option, search United then call.
I'd suggest calling Virgin Atlantic to put your desired award on hold then transferring the necessary Ultimate Rewards points to your Flying Club account. Transfers are 1:1 and often process almost instantly if not within 24 hours.
Bottom line
Is Africa an easy destination for booking awards? Not usually. However, if you plan ahead, it can certainly be easier. With Ultimate Rewards, you'll have plenty of options with SkyTeam, Star Alliance and Virgin Atlantic's individual partnerships. Now, you just have to decide when and how you want to get there.
How have you used Ultimate Rewards points to fly to Africa?