Since United announced their award chart massacre late last week, the question I've been asked more than any other is whether the sky is falling as far as Chase Ultimate Rewards points go.
I think a lot of people in the US have been switching their credit card spend to Chase cards that accrue Ultimate Rewards points, and for good reason. After all, it's tough to argue with the variety of bonus categories across the portfolio of cards.
That has translated to cardholders earning bonus points on the bulk of their spend, which has been incredibly compelling.
Last time I valued Ultimate Rewards points I set my valuation at 1.8 cents each. So after United's award chart devaluation, what do I value them at? I probably now value Ultimate Rewards points at 1.6 cents each.
It's worth remembering that while United was generally the best Ultimate Rewards transfer partner, they weren't the only "efficient" one. So in this post I'll cover what I consider to be the best Chase Ultimate Rewards redemption options after February 1, 2014 (when United has devalued their award chart), and then will write a follow up post with how this devaluation would change my credit card spend strategy.
Chase Ultimate Rewards has 10 transfer partners, though ultimately I think United and Hyatt are the first that come to mind for most of us.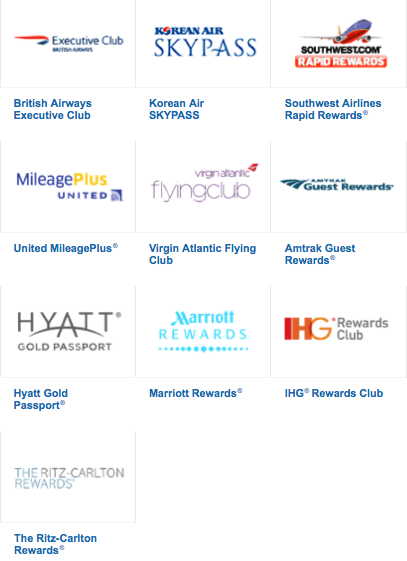 Chase Ultimate Rewards transfer partners that generally aren't worth considering:
Now, in select circumstances transferring to any partner program can make sense. For example, if you're topping off an account for an award or a program is running a promotion (like IHG Rewards Club PointBreaks) then transferring points can make sense.
But generally speaking it doesn't make sense to transfer points to Marriott Rewards, IHG Rewards Club, or Ritz-Carlton Rewards. I don't think anyone could reasonably value those points at over a penny each, so that's simply not a good use of Ultimate Rewards points.
Virgin Atlantic Flying Club miles are quite possibly the single least valuable mileage currency, so I don't generally think of them as a worthwhile transfer partner either.
Amtrak could make sense, though to be honest train transportation isn't really my area of expertise, so I won't cover that too much out of fear of embarrassing myself.
In terms of the other transfer partners, though:
Hyatt Gold Passport
There's no doubt Hyatt is the most useful Ultimate Rewards hotel transfer partner. Hyatt has the most reasonable redemption rates of any program for high end hotels, charging just 22,000 points per night for hotels that often retail for upwards of $1,000 per night. Here's their redemption chart:

It's tough to beat redeeming 22,000 Gold Passport points for properties like the Park Hyatts in Milan, Paris, Tokyo, Sydney, Zurich, etc.
They even have the most reasonable redemption rates for suites, charging just a ~50% premium over the cost of standard rooms:

I value Hyatt Gold Passport points at 1.6 cents each, and this remains one of the best uses of Ultimate Rewards points.
Korean Air SkyPass
Korean Air's SkyPass program is probably one of the most undervalued frequent flyer programs there is. That's because when redeeming SkyPass miles you have access to SkyTeam first class award space. If you've ever tried redeeming Delta SkyMiles for international travel you're probably aware that they don't let you redeem for international first class.
So for SkyTeam first class awards there's so much less competition than in OneWorld or Star Alliance.
It's not unusual to see 2-4 first class award seats per flight at the saver level — there are very few other airlines out there with that kind of award space.

Korean Air is making some slight adjustments to their award chart as of April 1, 2014, but even so, they charge just 160,000 miles for roundtrip first class between the US and Asia when there's probably better first class award space than with any other program.
Southwest Rapid Rewards
Ultimate Rewards partners with Southwest Rapid Rewards, and they have a revenue based redemption program. At the moment 60 points are required per dollar on a "Wanna Get Away" fare. While a redemption on Southwest perhaps isn't aspirational, that is a redemption value of ~1.67 cents per point, which is pretty darn good.
It's worth noting that redemption is being devalued as of March 31, 2014, as they'll go from requiring 60 points per dollar to 70 points per dollar on "Wanna Get Away" fares, meaning each point will then be worth ~1.43 cents. Still not half bad for a currency that's "good as cash."
British Airways Executive Club
As I've written about many times before, I find British Airways Avios to be one of the most practical points currencies. Crunching the numbers on my own redemptions, I've actually redeemed more British Airways Avios for travel this year than any other points currency. Since they have a distance based award chart and no close-in ticketing fees, they're extremely useful for last minute redemptions within North America, for example.
That being said, generally accruing British Airways Avios through American Express Membership Rewards is a more compelling option. That's because they frequently have transfer bonuses, while Chase has a transfer ratio of 1:1 and hasn't offered any transfer bonuses since they were added as an Ultimate Rewards partner.
United MileagePlus
So United's new award chart sucks and it's easy to write them off, but we're unfortunately faced with a simple realization — there aren't really any great programs for redeeming in Star Alliance premium cabins:
US Airways blocks Lufthansa first class award space and some ANA first class award space (though is otherwise probably the best, but they're out the door soon)
Aeroplan imposes massive fuel surcharges for travel on Lufthansa, and most of their other partners
AviancaTaca Lifemiles has some of the most archaic award rules imaginable and is known for making devaluations without any advance notice whatsoever
United's hard product on most of their longhaul fleet is fully flat, so it's not actually an unpleasant way to fly. The MileagePlus redemption rates for travel on United aren't bad either.
If the longhaul segment is on United, we're looking at one-way business class redemption rates like:
57,500 miles between the US and Europe
67,500 miles between the US and Japan
70,000 miles between the US and the Middle East, Africa, Australia, and most of Asia
Those are perfectly reasonable redemption rates. The only challenge is that United controls award pricing and now controls award availability (since previously you could book partner airlines, and United has no control over how much award space they release), so actually finding that space will be difficult.
But still, I'd be hard pressed to value United miles at under 1.4-1.5 cents, given that they don't impose fuel surcharges and for the most part have pretty generous award rules.
Even flexible points currencies fluctuate in value:
Even when you accrue points in a "flexible" points currency, you're still not entirely safe from devaluation. For that matter, the value of points fluctuates pretty regularly, both up and down.
Take American Express Membership Rewards, for example, which is probably Chase Ultimate Rewards' most direct competitor. I valued Membership Rewards points at 2.0 cents in 2010, at 1.6 cents in 2012, and at 1.8 cents this year.
Why the fluctuation? A few years back, Membership Rewards lost Continental OnePass as a transfer partner, Aeroplan hugely devalued their award chart and added fuel surcharges, and British Airways devalued their award chart, all within a few months. Those were the three best uses of Membership Rewards points at the time, and easily decreased their value by 20%.
But similarly, some redemptions using Membership Rewards points have gone up in value in the meantime. For example, they also partner with Singapore KrisFlyer, and it's now possible to redeem KrisFlyer miles for Suites Class on the A380 at the saver level, which wasn't previously possible.
Similarly, the airline that releases the most award space between the US and Australia is Virgin Australia, and the best program through which to book that is Delta SkyMiles. Back in 2011 Delta still imposed fuel surcharges for redemptions on Virgin Australia, so in addition to the miles you'd pay ~$900 for a roundtrip redemption. They've since dropped those fuel surcharges, which has greatly increased the value of such a redemption.
But is it worth continuing to focus your spend on a Chase Ultimate Rewards card, or should you look elsewhere? Stay tuned!