Over the years I've had the opportunity to fly a lot of the world's best airlines, and I'd argue visit all of the world's top airline lounges. Last year I shared what I consider to be the world's six best first class products, so today I'm going to share what I consider to be the world's seven best first class airline lounges.
Most people dread waiting at airports, though with access to the right lounges, waiting at the airport can be one of the most enjoyable aspects of the flying experience. From hour-long full body massages, to restaurants with Michelin star chefs, to being driven to the plane in a Porsche, some of these lounges have it all.
While I shared my six favorite first class products in no particular order, I'm going to do it differently with lounges — I'm going to rank them in order, from my seventh favorite to my absolute favorite airline lounge.
Before I do so, let me share what's important to me in airline lounges, so you guys have some sense of what I'm basing my rankings on:
A comfortable environment: this one is the least specific and the most obvious, but the lounge has to look nice and be comfortable, with a variety of seating options, whether you want to relax, dine, or work; lounges score bonus points for cool design as well
Service beyond the lounge: at many lounges, service begins before you even get to the lounge; some airlines provide escorts from the moment you check-in till the moment you board your plane, which can save you a ton of time
Great food and drinks: While you'll typically be able to enjoy a great meal in first class on the top airlines, there are some lounges with even better food
Complimentary spa treatments: who doesn't love a massage before a longhaul flight?
With that in mind, let's jump right into it. Here's my countdown of the top seven first class lounges in the world:
"There's too much space."
That's not a term people often associate with air travel, though it certainly rings true in the Emirates first class lounge Dubai. This is the world's largest first class lounge, as it spans the entire length of Dubai's purpose-built A380 terminal. Walking around the lounge at a brisk pace can take about 20 minutes. The lounge has dozens of seating areas, a couple of restaurants, a cigar bar, nap rooms, a spa, duty free shops, and more. It actually looks more like a really nice terminal than anything else, given how huge it is.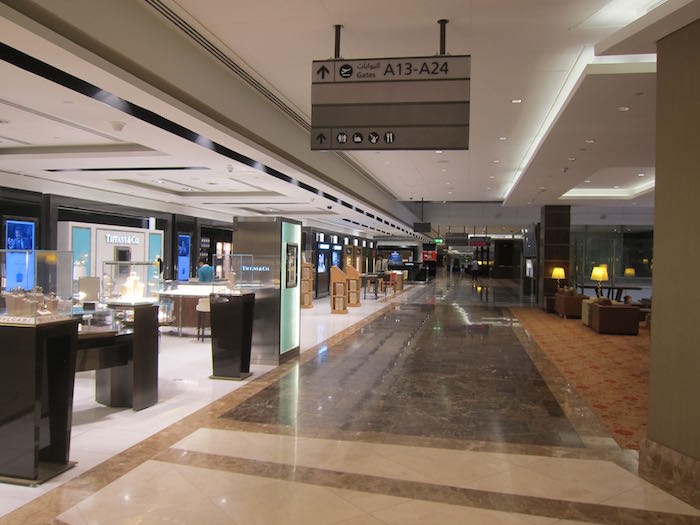 The lounge is so large that it almost feels uninviting, if that's a thing. There's just so much space.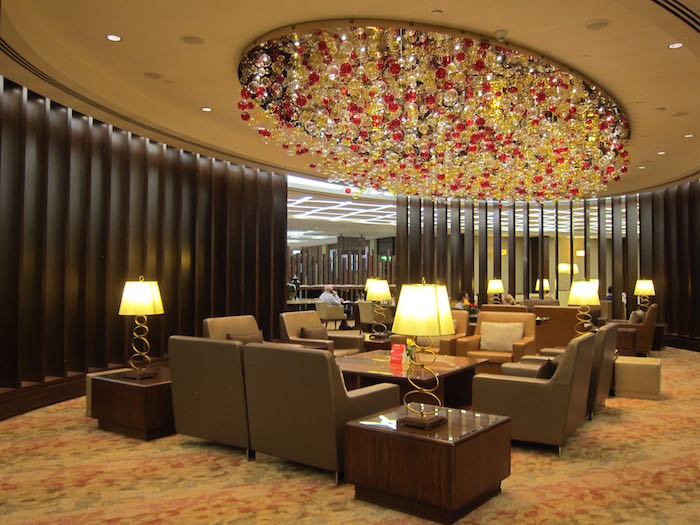 In addition to dozens of self service food areas, the lounge has a great restaurant with a la carte dining, as well as a buffet.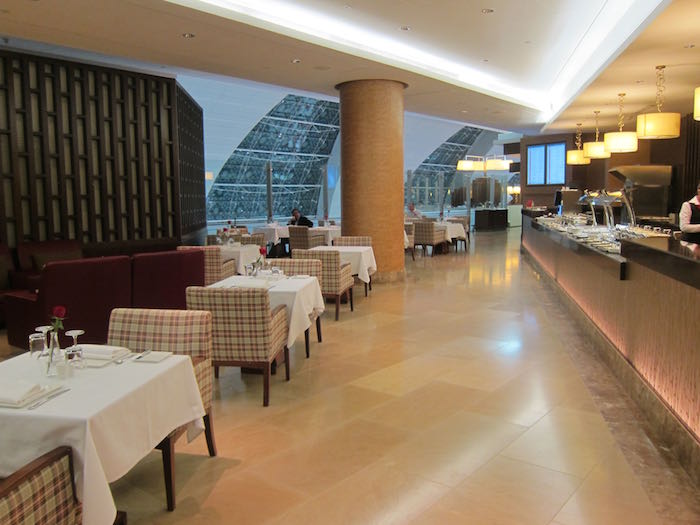 Given that lots of Emirates' flights leave in the middle of the night, it's also nice to get a complimentary 15 minute spa treatment in their Timeless Spa.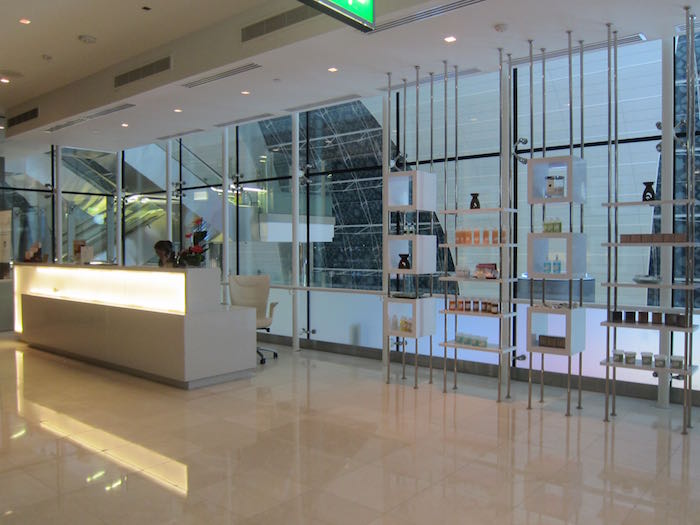 Perhaps the coolest feature is that you can board your flight directly from the lounge. Because of how big the lounge is, it has a dedicated gate for each flight. But be warned, you may still have to walk 10 minutes inside the lounge to get to your gate, given how big the lounge is. 😉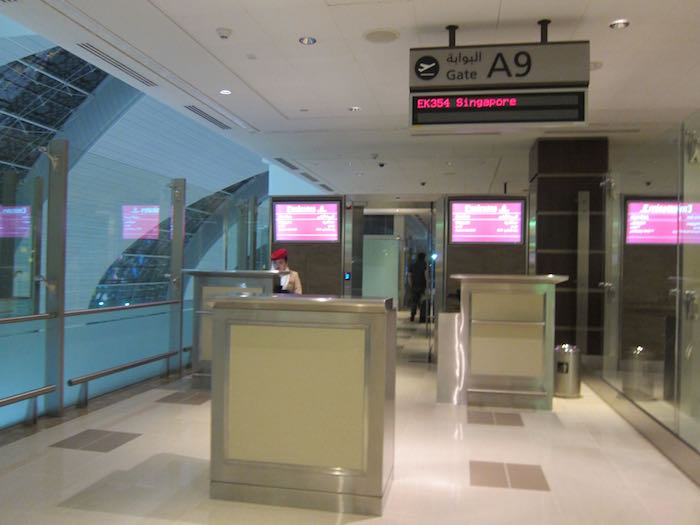 What sets this lounge apart: the overall impressive scale, the amenities, and the ability to board your flight directly from the lounge
This is also the newest first class lounge on the list, as it opened just a few months ago. Qatar Airways is known for being one of the most over the top airlines, and this lounge is no exception. It's a stunning lounge with high ceilings, more marble than you'll know what to do with, and finishes where it's obvious that no expenses were spared.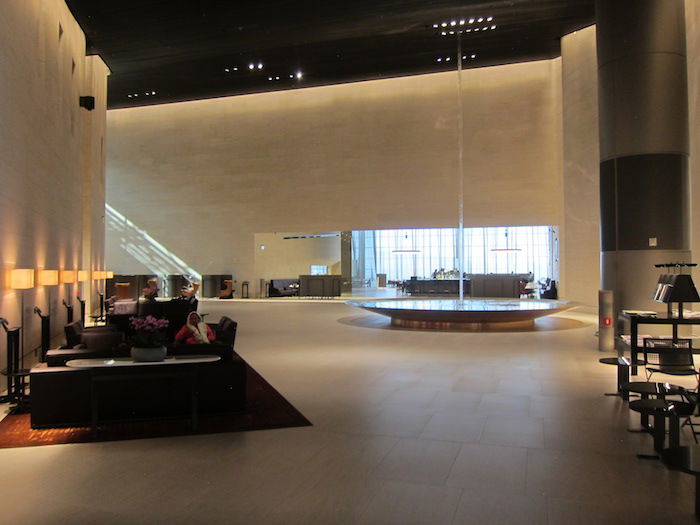 Much like the Emirates lounge, this lounge is so huge that it's almost uninviting… uninvitingly gorgeous, if there is such a thing.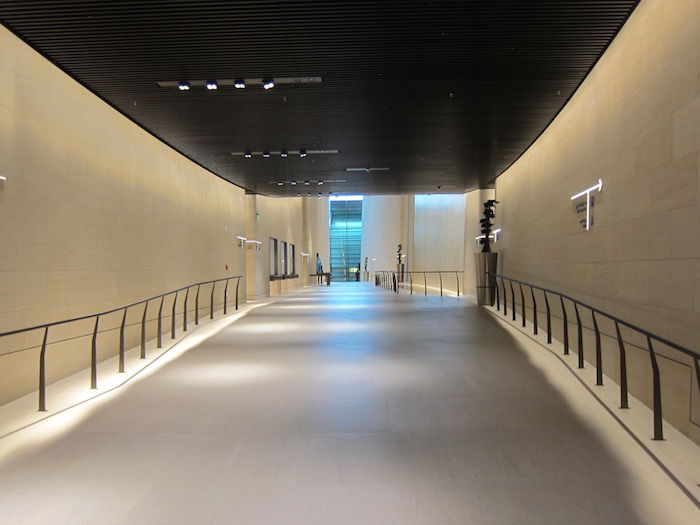 If you're thirsty, they serve my favorite champagne offered by any airline — Krug.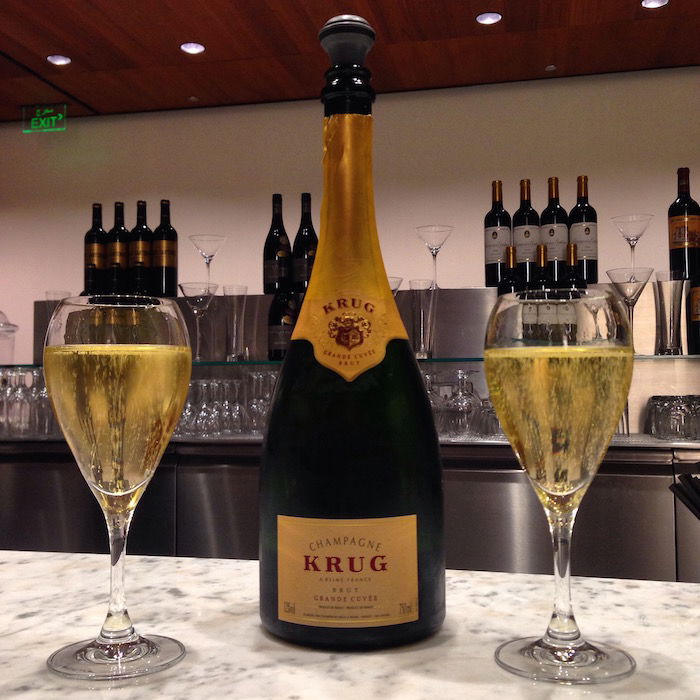 There's also a great restaurant with an a la carte menu, and super attentive service, which may largely be a function of there usually being as many staff as guests in the lounge.
This lounge also has the best nap rooms of any airline. If you have a long layover, you can use one of their amazing nap rooms, which consist of real beds. I'd argue these rooms are even nicer than the ones at The Airport Hotel.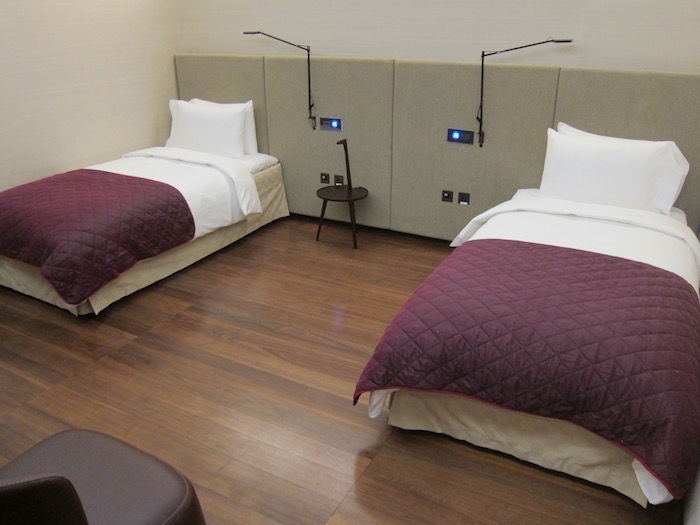 The lounge has a spa, though you have to pay to use it. It's almost worth it, given that they have an awesome jacuzzi. Who wouldn't want to soak in a hot tub with a glass of champagne before a longhaul flight?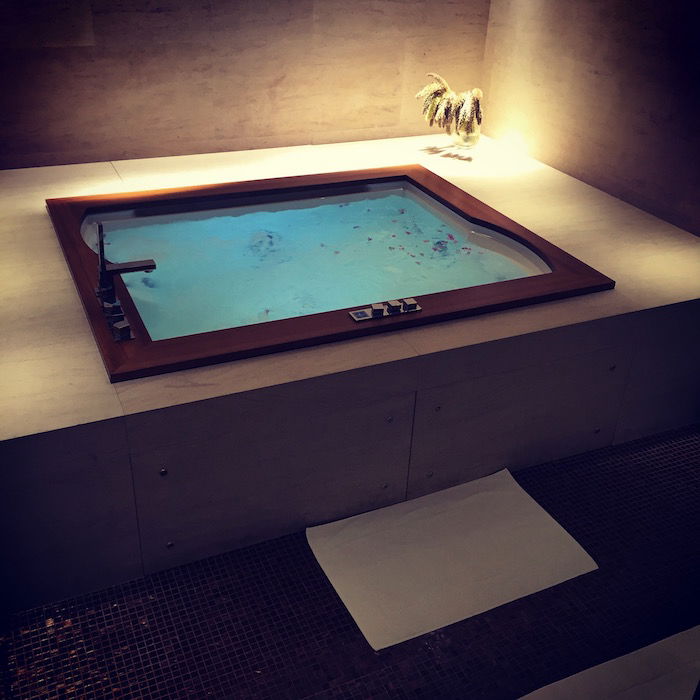 What sets this lounge apart: gorgeous, grand design, the best nap rooms available in any lounge, and a great food and drink selection
This Marc Newson designed lounge is one of the most stunning out there, with comfortable, private seating, and an open and airy design. The fantastic tarmac views are the icing on the cake.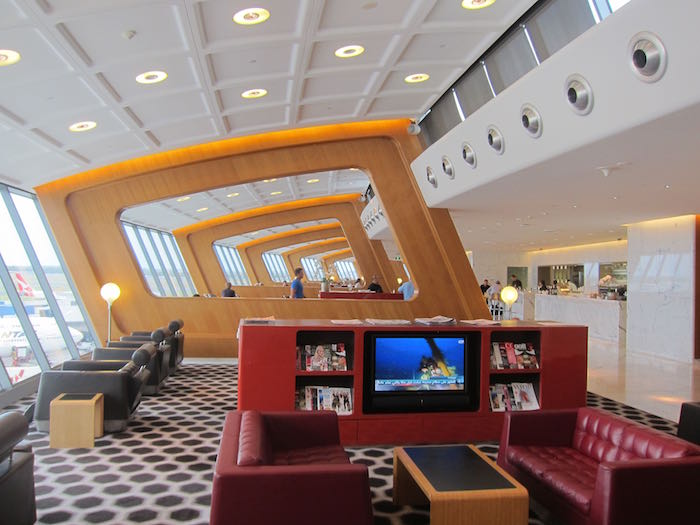 Marc Newson isn't the only celebrity associated with the lounge. There's also a Neil Perry inspired restaurant, with some of the best casual dining of any lounge. The salt and pepper squid are a must-have.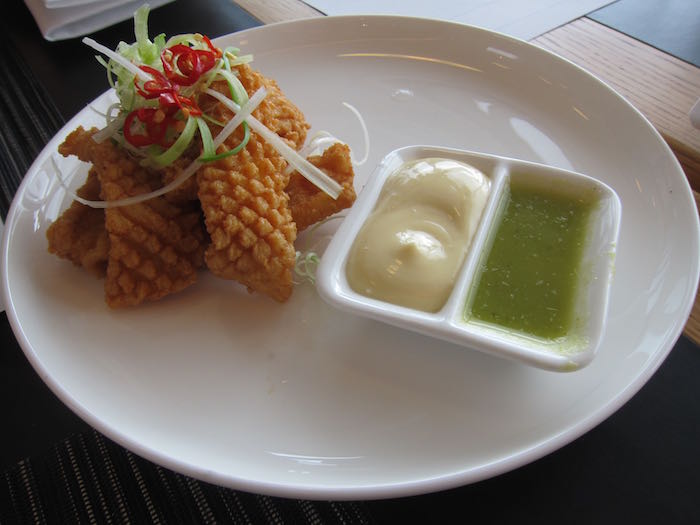 The lounge also has a spa, so passengers can enjoy either a 20 minute facial or massage. The spa rooms are probably the most gorgeous of any lounge as well.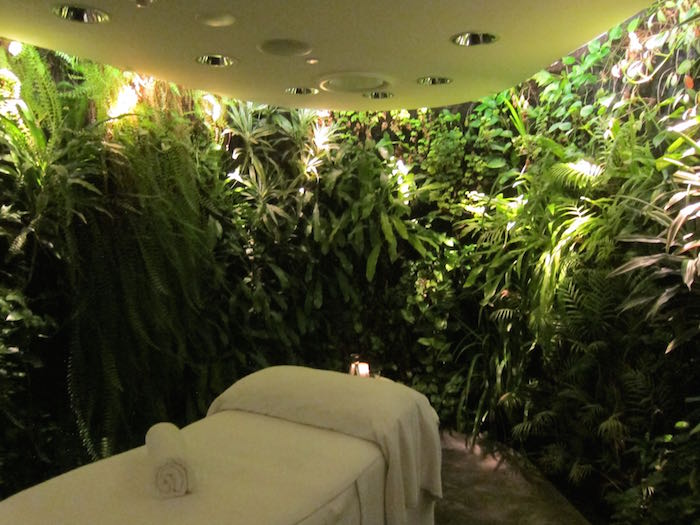 What sets this lounge apart: amazing food, a comfortable and inviting design, and the nicest spa rooms of any lounge
Thai Airways knows how to provide a seamless experience for their first class passengers in Bangkok. If you're originating in Bangkok, they'll drive you from check-in to the lounge in a golf cart, and then once your flight is ready for boarding, they'll drive you from the lounge to your gate. If you're connecting, they'll pick you up at your connecting gate to bring you to the lounge.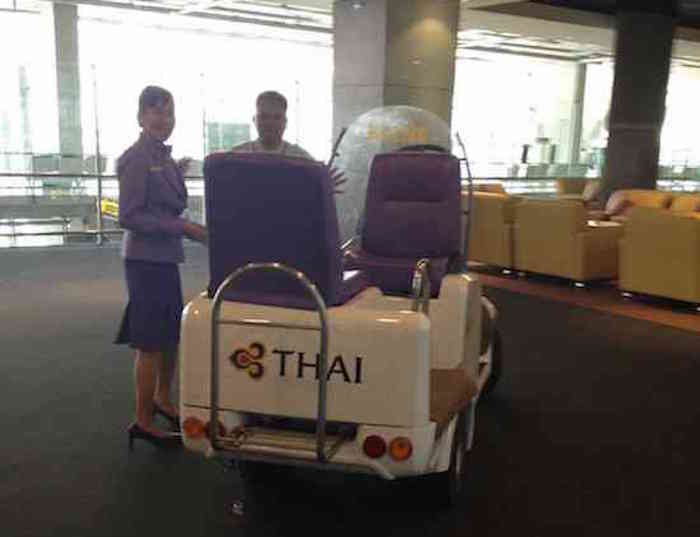 The Thai first class lounge consists of some semi-private living rooms; each passenger gets one, pending availability. Each living room has a couch, seat, and TV. Service is also extremely attentive — they won't let your glass get more than half empty.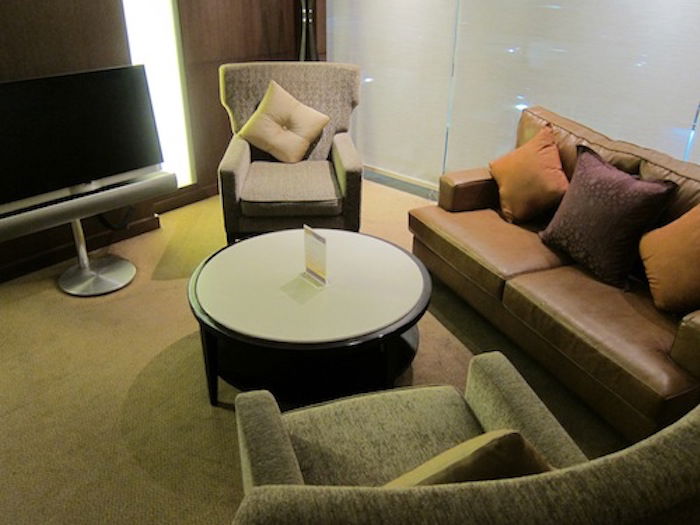 While the food isn't quite as gourmet as at some other lounges, there's a fantastic selection of Thai food on offer. And really, good pad thai is good pad thai.
Perhaps the highlight of the lounge is the spa. First class passengers receive an hour-long fully body massage.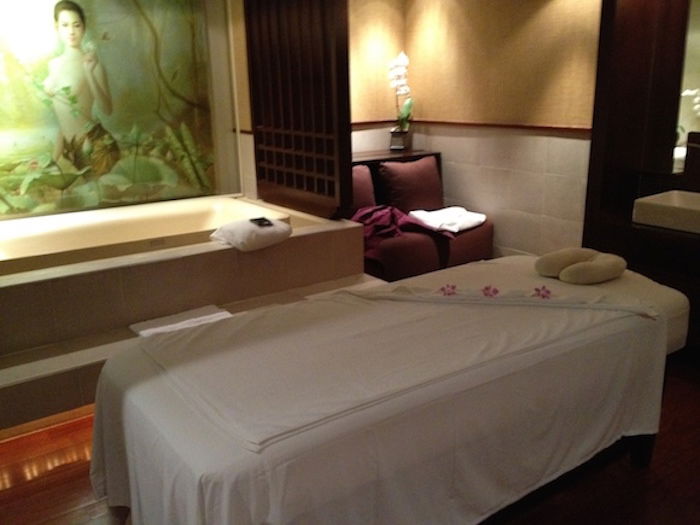 What sets this lounge apart: hour-long full body massages, and being taken care of every step of the way, from the moment you check-in to the moment you board your flight
If I could design my home like any first class lounge in the world, I'd model it after Cathay Pacific's The Pier First Class Lounge Hong Kong. The lounge brings the comforts of home to the airport, with an extremely warm and inviting design.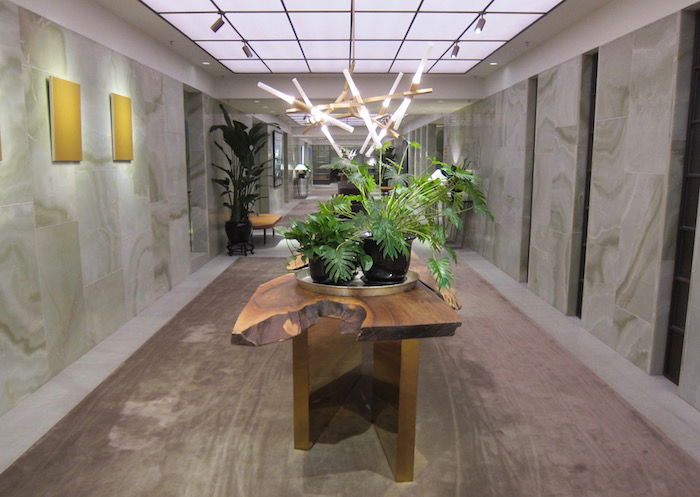 There's something indescribably soothing about the lounge, which really makes you feel like you're not at an airport.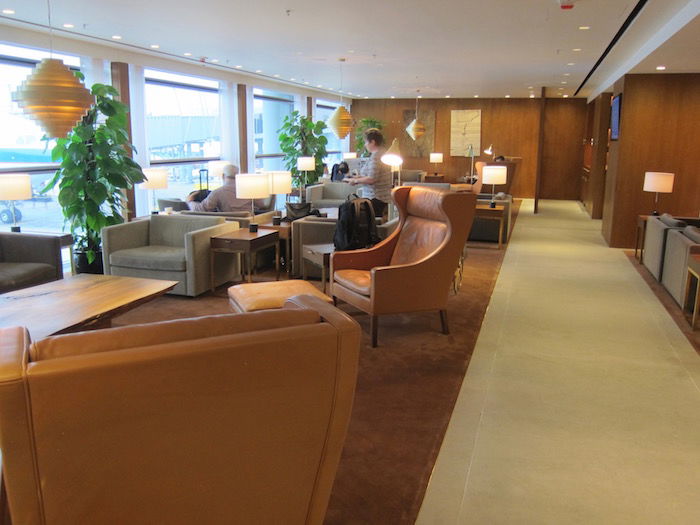 The lounge has a fantastic restaurant with an extensive a la carte menu of both Asian and western options.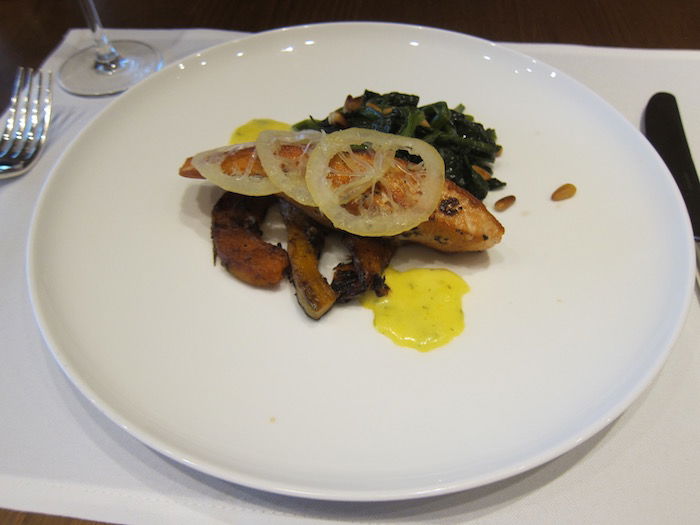 The lounge also has about a dozen relaxation rooms, with amazing views of the tarmac and runway. Who wouldn't want to relax, read, or catch up on work with this kind of a view?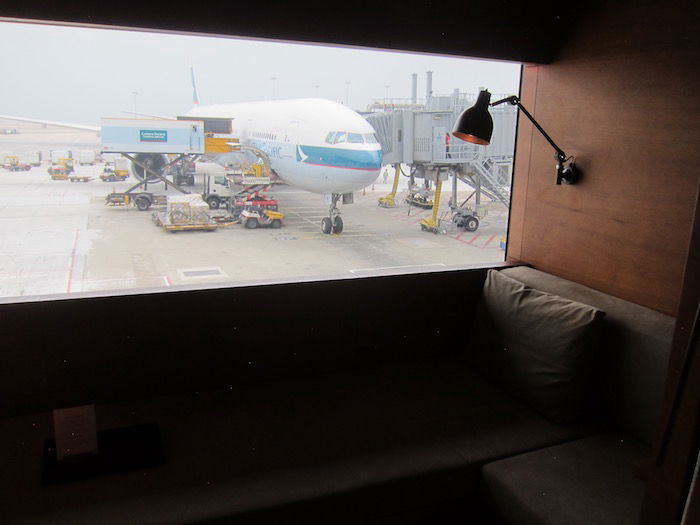 And while perhaps not as great as the massages in some other lounges, guests get a 10 minute foot massage and scrub.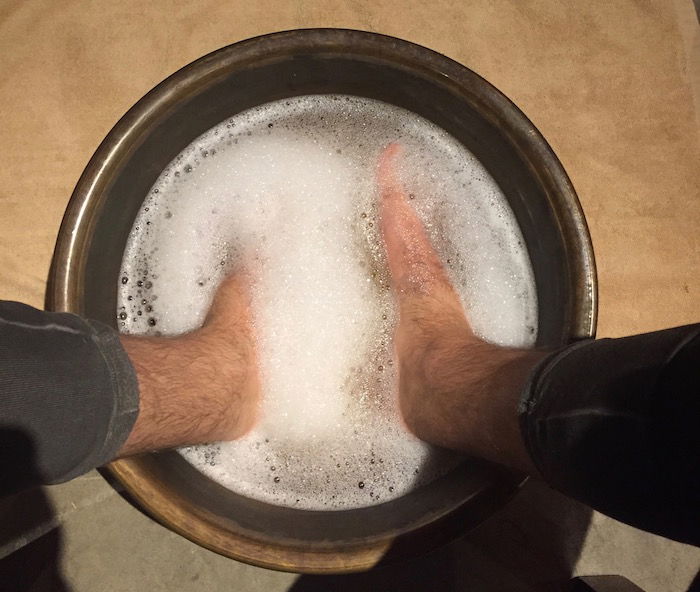 What sets this lounge apart: the most soothing design of any lounge, great food, and some creative spaces, like the day rooms overlooking the runway
This is perhaps the gold standard of first class lounges, and also among the most well known; even many of my non-aviation geek friends are familiar with this lounge.
Lufthansa took first class ground services to a new level by not just offering a first class lounge at their hub in Frankfurt, but rather by offering a first class terminal. That's right, Lufthansa has a separate terminal exclusively for first class passengers.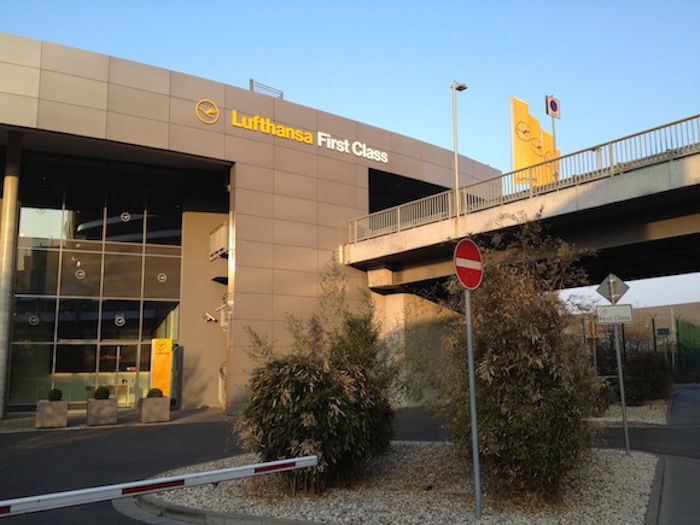 You get to skip the airport terminal entirely.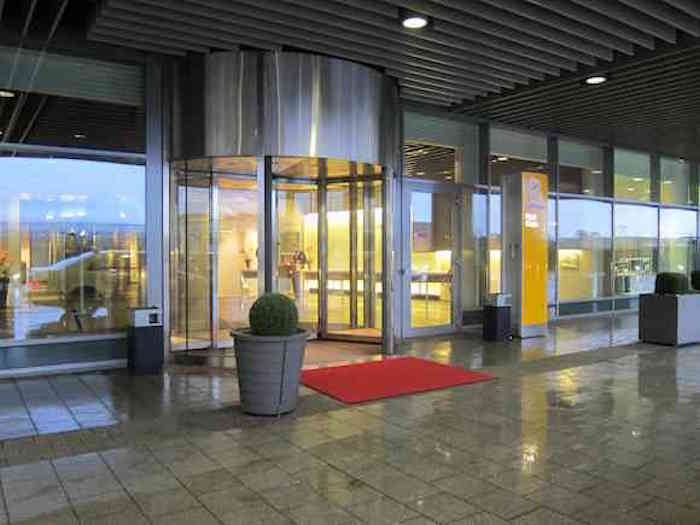 As you pull up to the lounge you'll be greeted by a personal assistant, who will escort you through security, a process which takes less than a minute. At what other airport in the world can you get from your car to the "waiting area" for your flight in about a minute?
Once in the lounge you'll have no worries, as the personal assistant will advise you when your flight is ready for boarding.
The lounge has a minimalistic German design, which is one I'm generally quite fond of.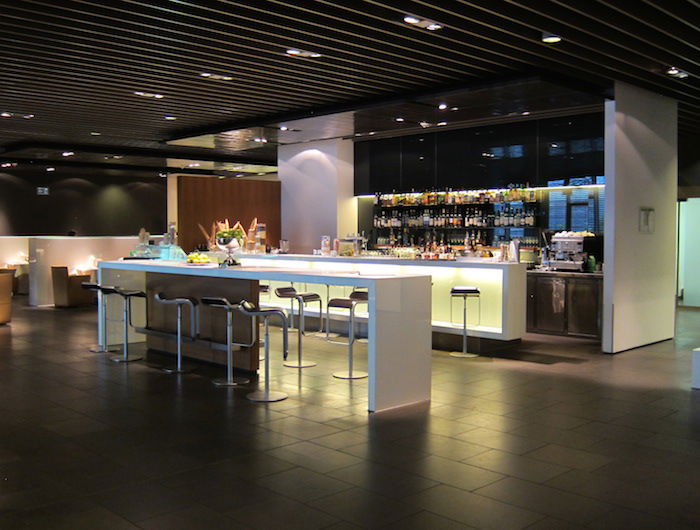 The First Class Terminal has a restaurant and bar catered by gourmet entertainment company DO & CO, with fantastic food on offer. The selection is so over the top that they even have a water bar, with dozens of types of water on offer.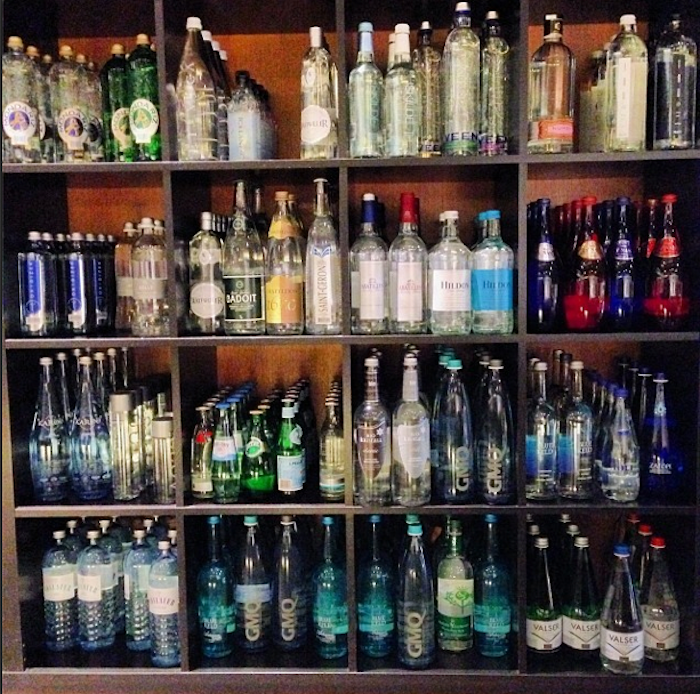 The lounge also has nap rooms and great shower rooms. They even have rotating Lufthansa-branded ducks, which many of us who frequent the First Class Terminal collect.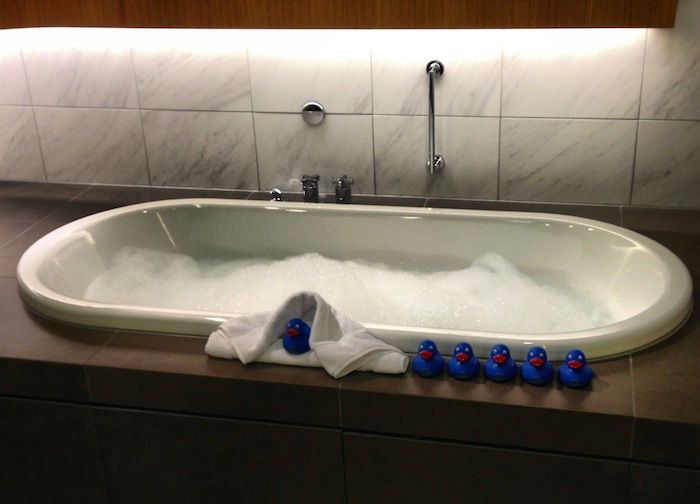 The best part of the lounge experience isn't even in the lounge, though. The fact that the First Class Terminal is completely disconnected from the main terminal makes getting to the plane difficult, since you don't have access to the gates. That's good news in the end, though, since it means you'll be driven to your plane in a Mercedes or Porsche. Who wouldn't want to be driven across the tarmac and to their plane in that kind of way?!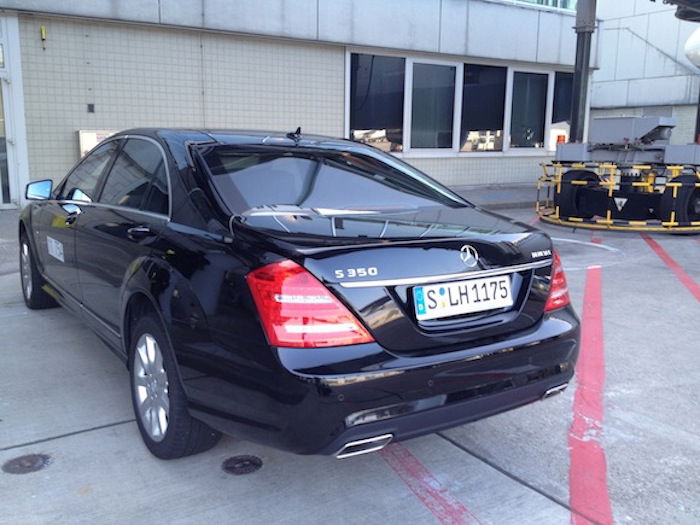 What sets this lounge apart: the only dedicated terminal for first class passengers in the world, truly making the travel experience seamless
While all of the above first class products are fairly easy to redeem miles for, Air France's is perhaps the most elusive. You can only redeem miles for Air France first class if you're an elite member in their frequent flyer program, and even then the cost of such a redemption is exorbitant.
The Air France First Class Lounge Paris checks all the boxes, though, and therefore I think it's the world's best first class lounge.
Where do we begin?
For one, you're picked up at your arriving flight and driven to your connecting flight directly on the tarmac (while Lufthansa drives you to your plane from the First Class Terminal, they won't pick you up from your arriving flight unless you arrive at a remote stand).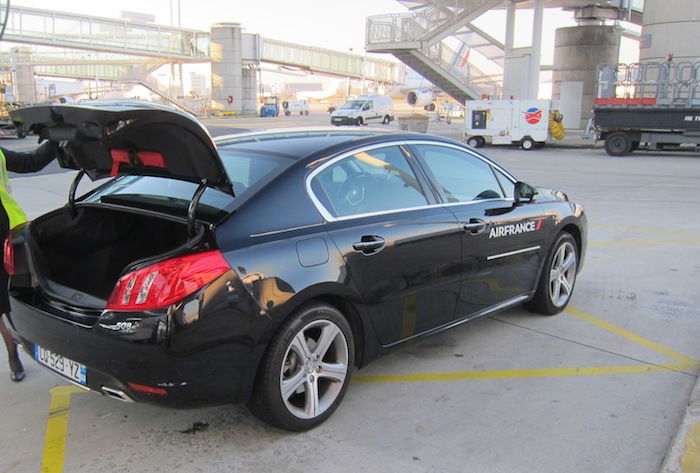 The lounge is beautiful and typically not very crowded, given how few first class passengers Air France seems to have. The lounge is beautifully designed, with plenty of different seating options, from lounge chairs to day beds to a restaurant.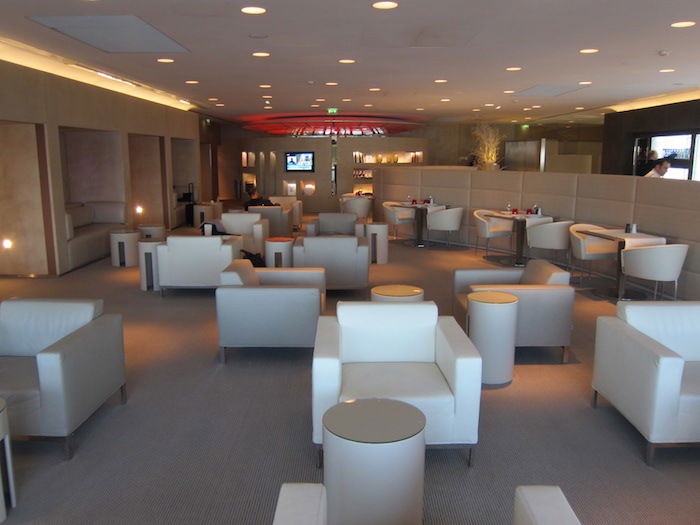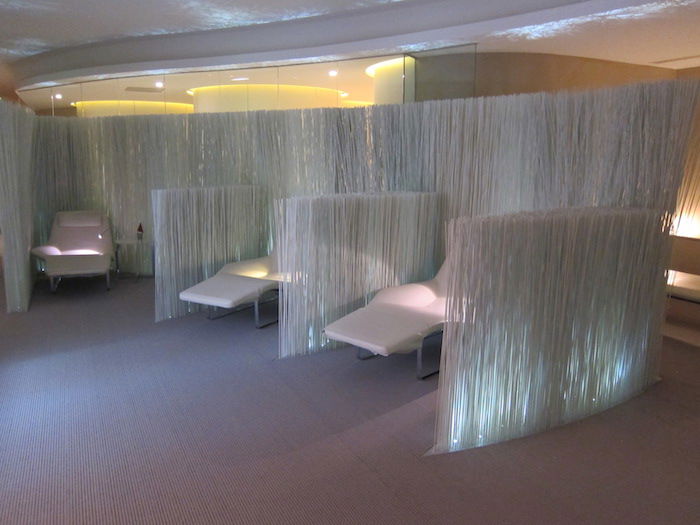 The restaurant in this lounge is incredible, I'd argue by far the best restaurant in any lounge or airport. The lounge catering is inspired by Michelin Star chef Alain Ducasse, and I still remember the scallops I had for lunch in the lounge. They were the best I've ever had, anywhere.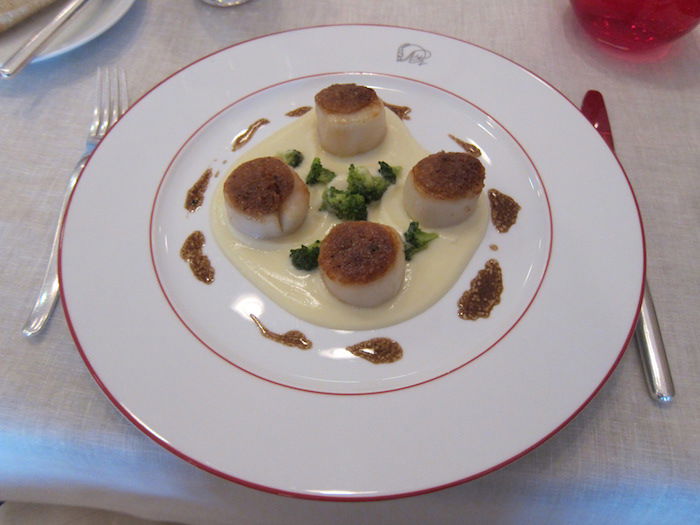 As a first class passenger you also receive a complimentary 30 minute spa treatment, which could range from a facial to a massage.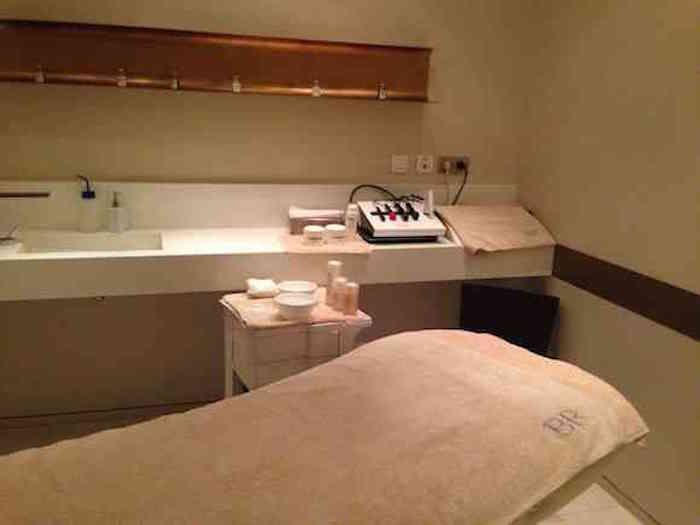 The service in this lounge is also the most refined of any lounge I've visited. You're assigned someone who looks after you for the duration of your stay in the lounge, and they constantly check on you to see how you're doing.
What sets this lounge apart: checking all the boxes, and in particular the warm, thorough care provided to each passenger from the moment they land to the moment they take off; this is the world's most seamless first class ground experience
Bottom line
See, waiting at airports doesn't have to suck. The above seven lounge are my personal favorites, though there are a lot of other incredible lounges out there. As far as I'm concerned, the ground experience is where airlines can do most to innovate the experience, given how good the onboard experience already is on so many airlines. I can't wait to see what airlines come up with next.
Keep in mind that you don't have to be wealthy to experience these amazing first class products, as they can mostly be booked using points. While some of these lounges are exclusive to those flying first class, there are a number of phenomenal lounges available to those with a premium credit card with lounge benefits. To learn more, check out the Beginner's Guide To Miles & Points, along with the credit cards that can help you fly for pennies on the dollar.
What's your favorite airline lounge that you've visited?