In the interest of full disclosure, OMAAT earns a referral bonus for anyone that's approved through some of the below links. Citi is an advertising partner of OMAAT. These are the best publicly available offers (terms apply) that we have found for each product or service. Opinions expressed here are the author's alone, not those of the bank, credit card issuer, airline, hotel chain, or product manufacturer/service provider, and have not been reviewed, approved or otherwise endorsed by any of these entities. Please check out
our advertiser policy
for further details about our partners, and thanks for your support!
I had quite a long layover at JFK, as I arrived from Miami at around 10AM, and was continuing to Tokyo on All Nippon Airways at around 5PM.
So I headed over to Terminal 7 right away, where I'll be reviewing two lounges — the Alaska Lounge (which I could access with Priority Pass) and the British Airways Lounge (which is the lounge that ANA uses for their premium passengers).
Let's start by taking a look at the Alaska Lounge.
Alaska Lounge New York JFK Location
The Alaska Lounge is located in JFK's Terminal 7. Terminals at JFK aren't connected airside, so it's only going to be practical to use this lounge when departing from this terminal.
Once you clear security, head up the escalator, hang a sharp right, and then go up another escalator, which will bring you to the lounges.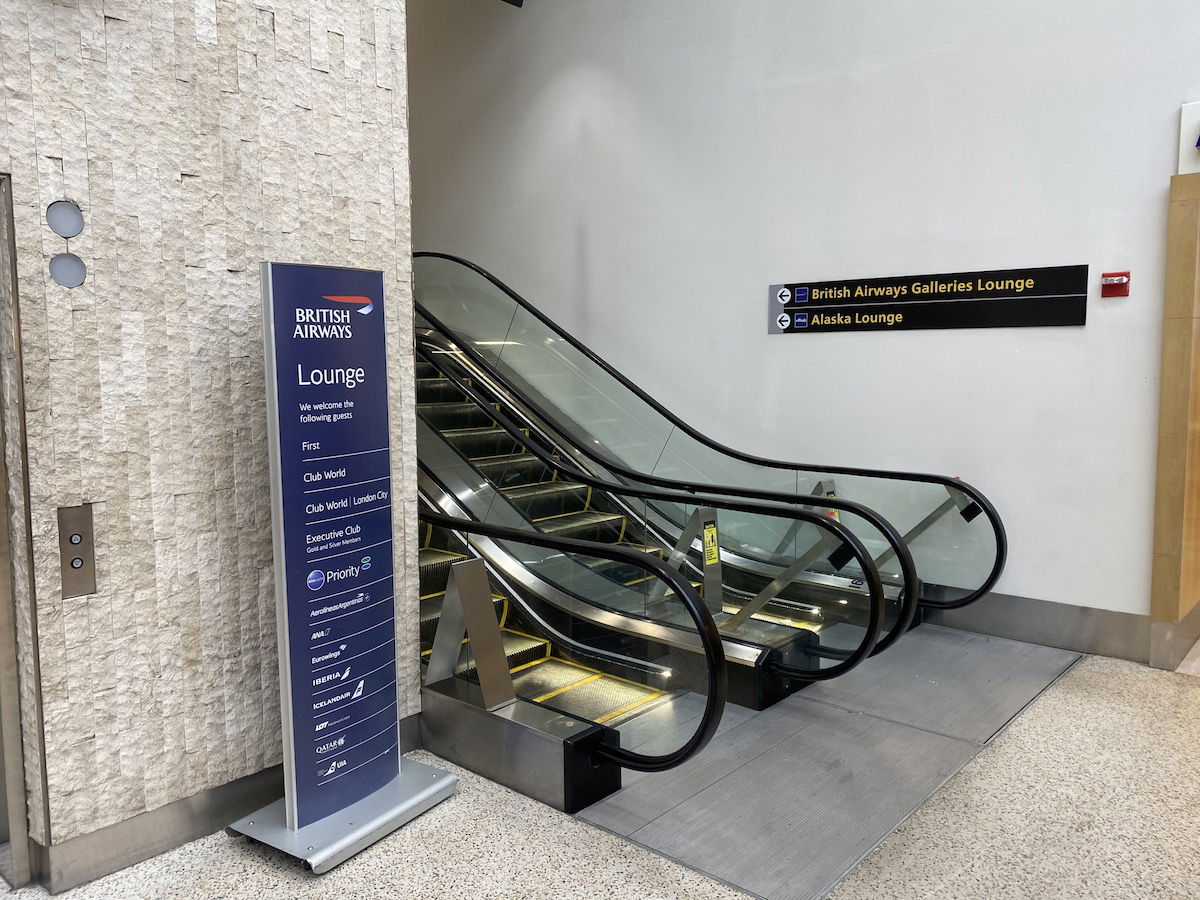 Escalator to Alaska Lounge JFK
Just walk past the British Airways Lounge, and you'll see the Alaska Lounge straight ahead.
Alaska and British Airways are the main airlines flying out of Terminal 7, though there are also flights on Aerolineas Argentinas, All Nippon Airways, Icelandair, Interjet, LOT Polish, Ukraine International, and more.
Alaska Lounge New York JFK Hours
The Alaska Lounge JFK is open daily from 5AM until 9PM, with the exception of Saturdays, when the lounge closes at 5PM.
How To Access Alaska Lounges
The Alaska Lounge JFK belongs to Priority Pass, which is one of the most popular ways to visit the lounge. if you are visiting with Priority Pass, there are some restrictions to be aware of:
You can only access the lounge at most three hours before your departing flight (so it's not like some other Priority Pass lounges where there's a limit of staying in the lounge for three hours, but here they simply won't admit you if your boarding pass is for a flight in more than three hours)
You can bring at most two guests into the lounge
There are periods where they'll restrict access to Priority Pass members, especially in the afternoons (so don't count on being able to use the lounge then with Priority Pass)
In addition to Priority Pass, the following passengers can access Alaska Lounges:
All paid first-class tickets on Alaska come with lounge access, whether redeeming miles or paying cash; just upgrades don't qualify
You can buy an Alaska Lounge membership
An Admirals Club membership gets you access when flying Alaska or American same day; the Citi® / AAdvantage® Executive World Elite Mastercard® (review) is the best card for getting an Admirals Club membership
If you're MVP Gold 75K, you get four guest passes per year
Alaska Lounge New York JFK Review
The Alaska Lounge opened in April 2018, and I've been wanting to check it out ever since. This is their first lounge on the east coast, and it also features their new design aesthetic, which can now also be found in the new flagship Alaska Lounge in Seattle.
By the way, for those who are into the history of the lounge, Alaska took over the lounge space from United. United used to operate their Premier Service flights from New York JFK to Los Angeles and San Francisco, and they had a United Club there. In late 2015 they moved these flights to Newark.
Alaska Lounge JFK Layout & Seating
The reception desk is just outside the lounge, and then once admitted you'll walk down a long hallway, with floor-to-ceiling windows (with views of nothing) on the left, and a cool wooden wall with some plants on the right.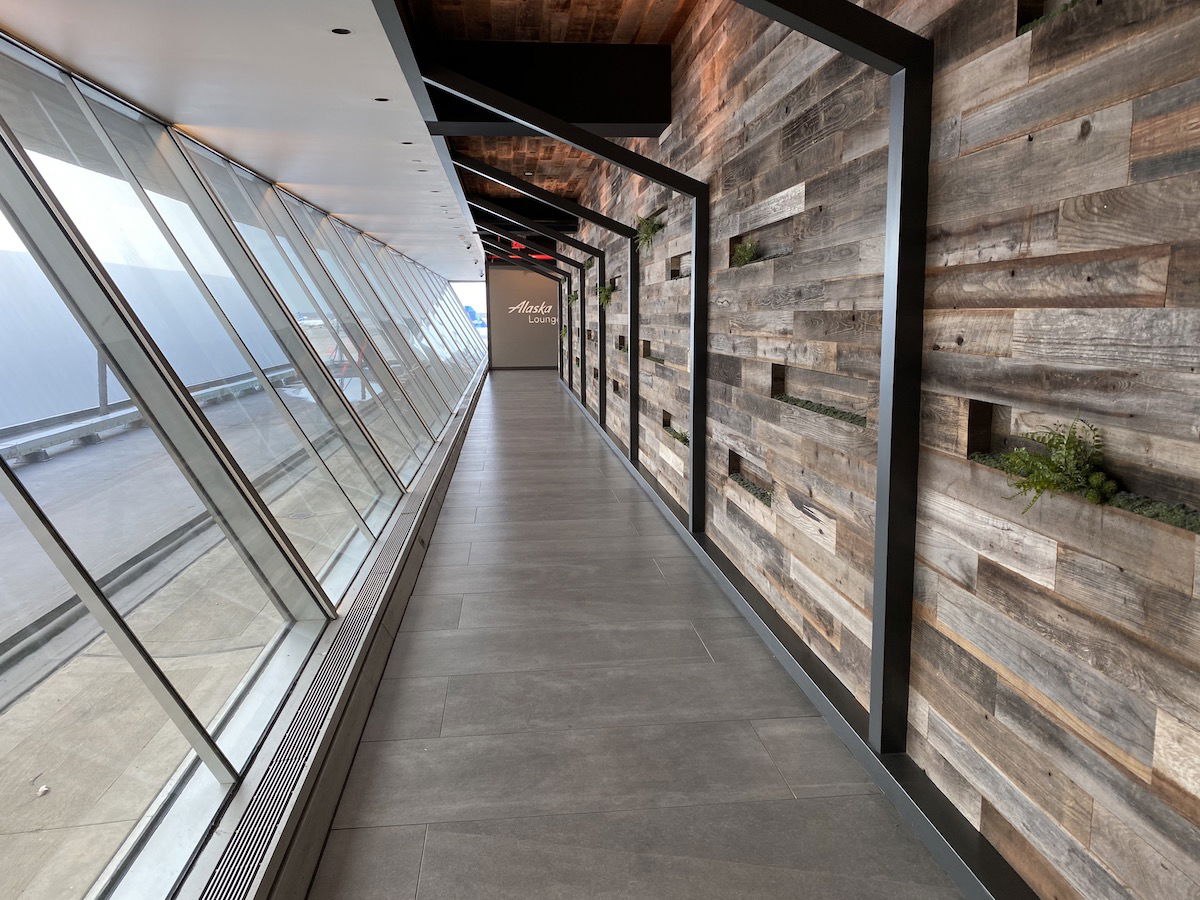 Alaska Lounge JFK entrance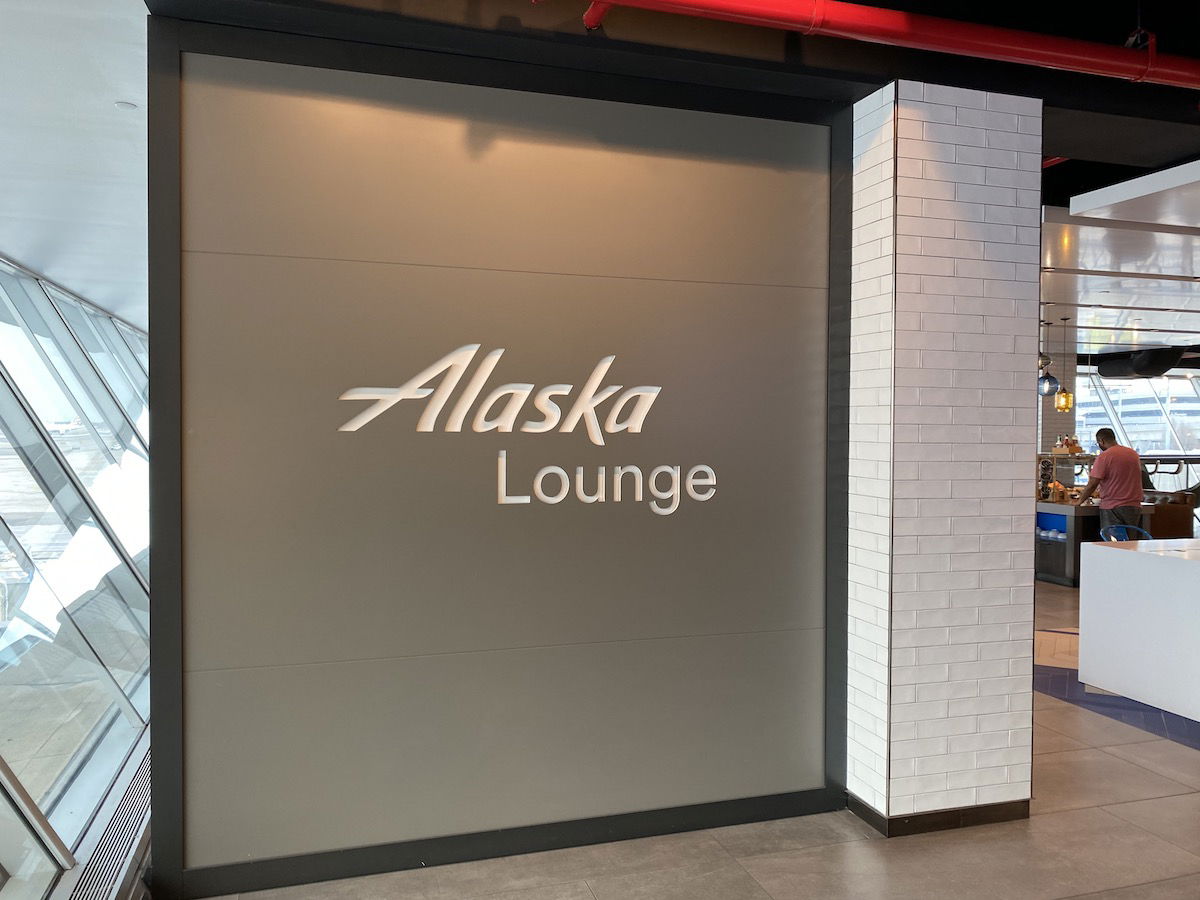 Alaska Lounge JFK entryway
The Alaska Lounge JFK consists of one main room. The lounge is under 5,000 square feet, and has the capacity for just over 100 guests, so it's on the small side, though at least it's not over-furnished.
So it's not a huge lounge, but then again, JFK isn't that big of a station for Alaska (they just have flights to Los Angeles, Portland, San Francisco, and Seattle).
The decor in the lounge is eclectic, with parts of it feeling quite elegant and cozy, and other parts feeling like the lobby of an Aloft (which isn't intended as an insult, by the way).
Once you enter the lounge there's a communal table with a handful of chairs straight ahead.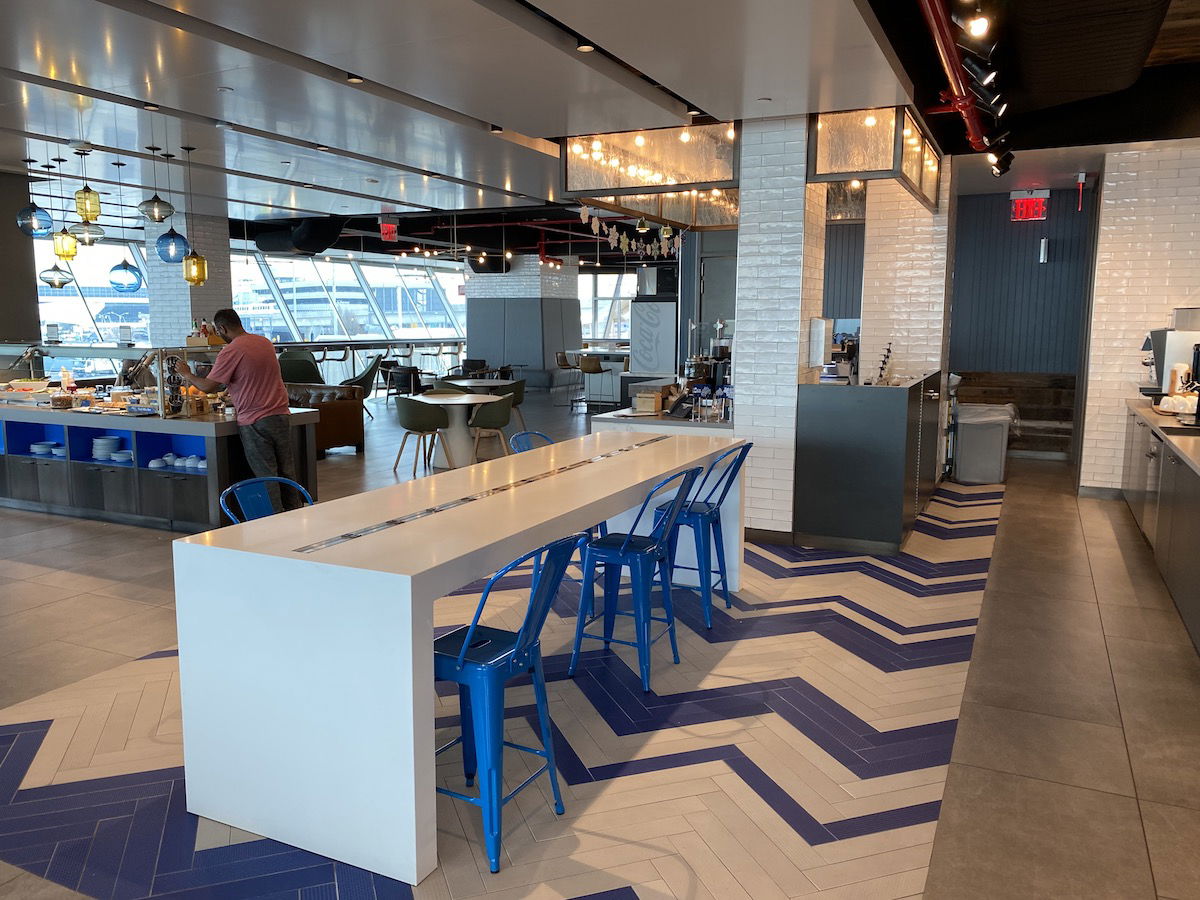 Alaska Lounge JFK seating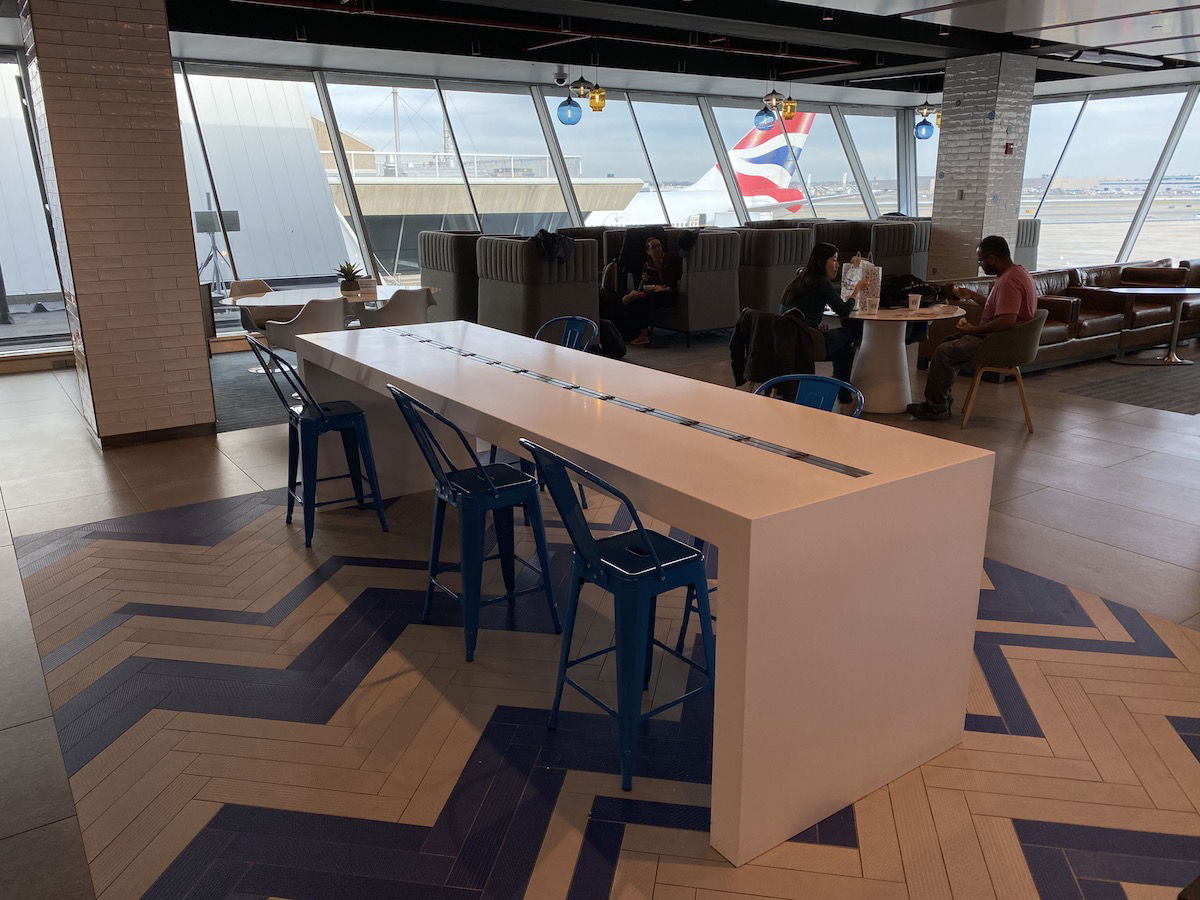 Alaska Lounge JFK seating
Inside and to the left is a table with four chairs.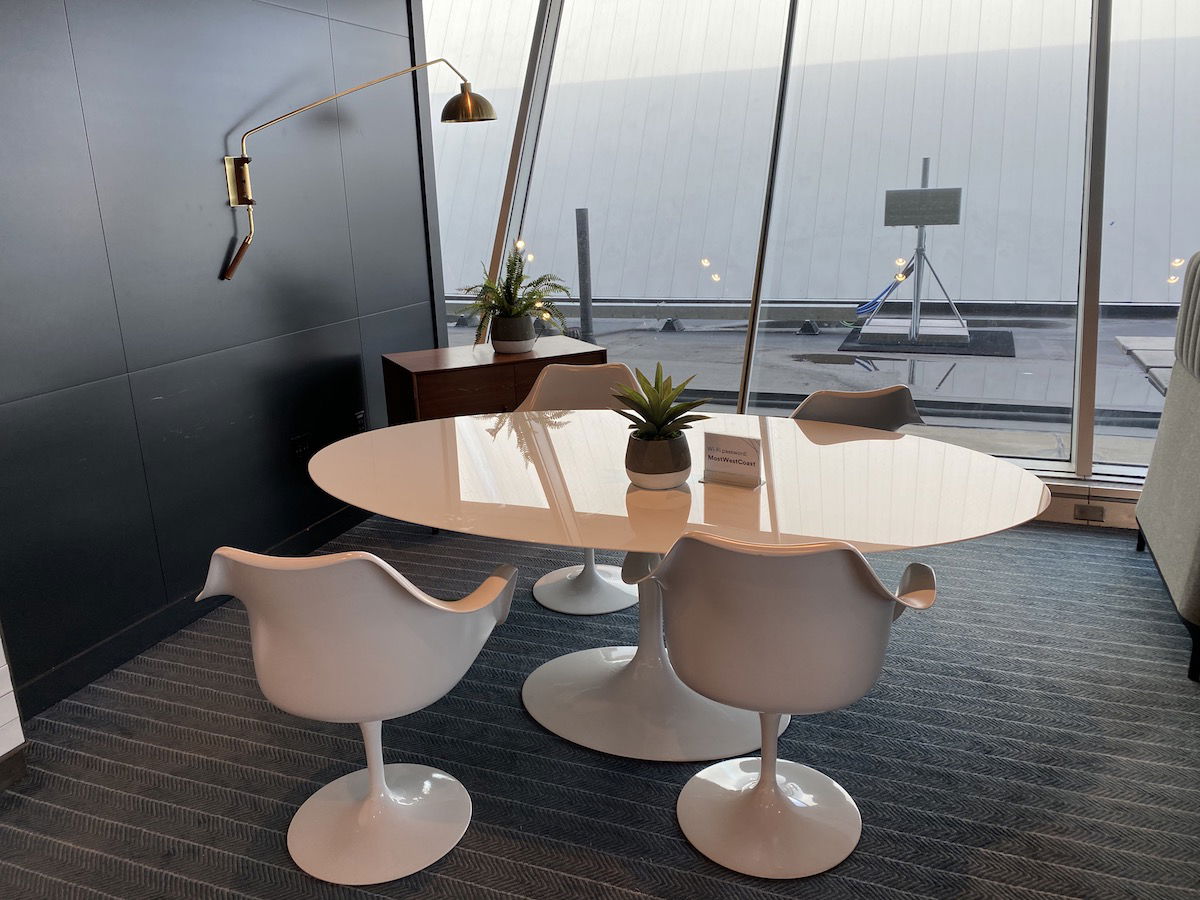 Alaska Lounge JFK seating
Then there were about a dozen comfy semi-private chairs, where I chose to sit. There are outlets underneath the seats, which can be easy to overlook.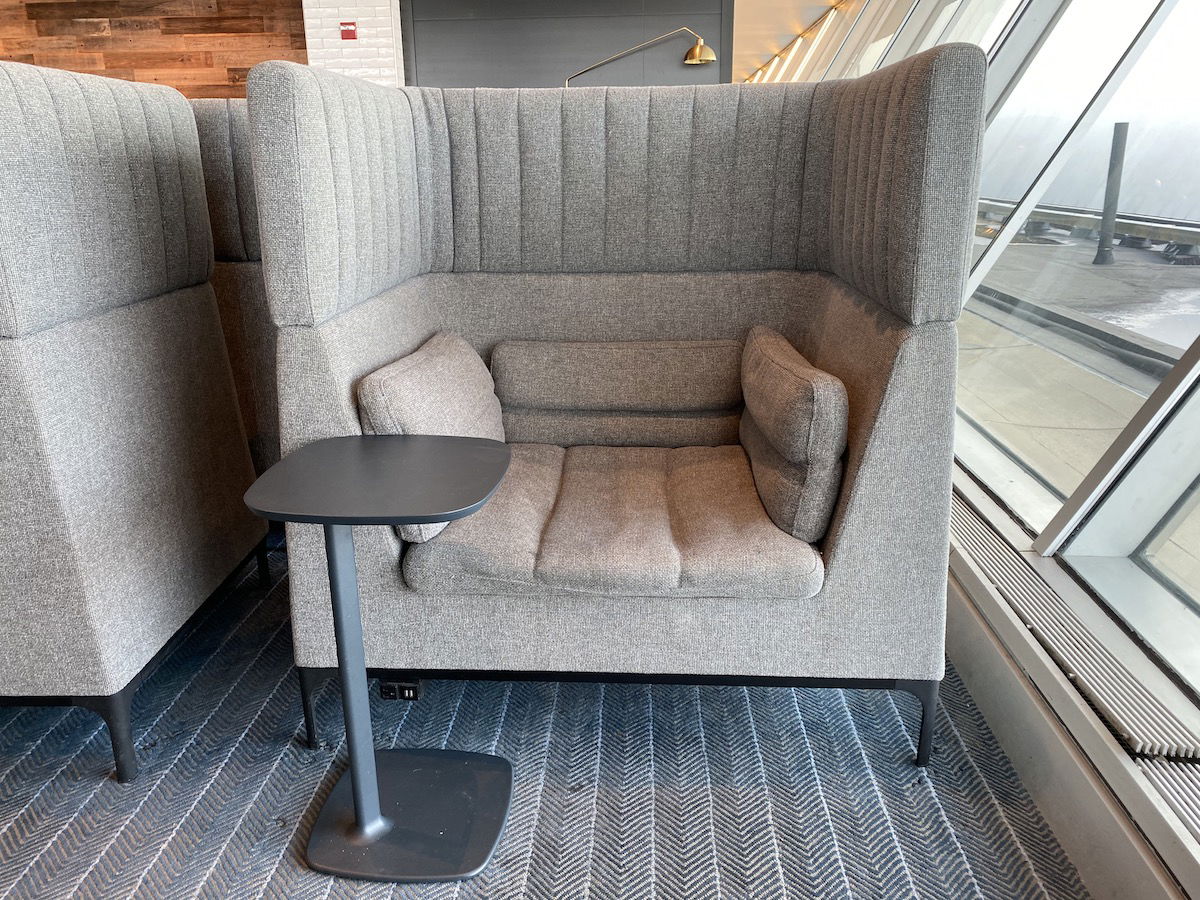 Alaska Lounge New York JFK seating
There are two couches near the center of the lounge.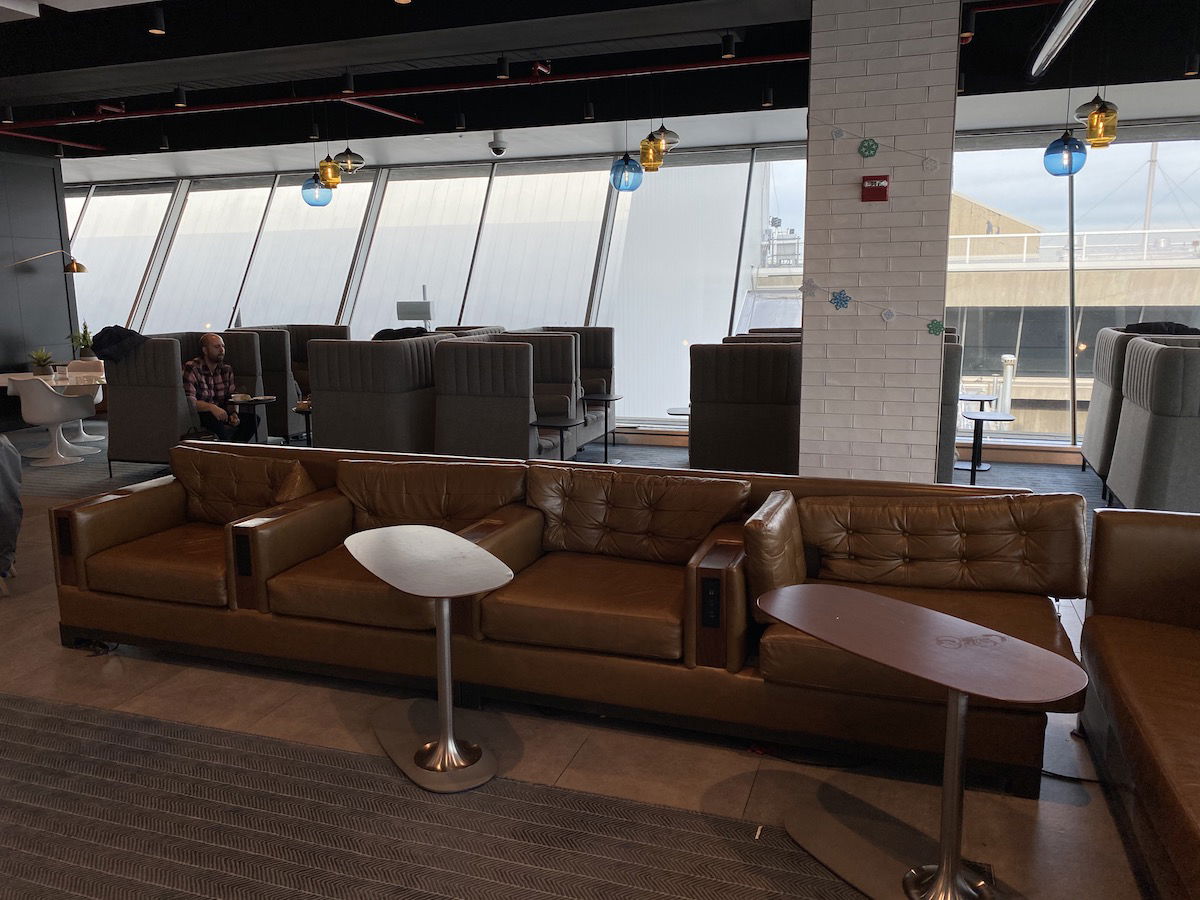 Alaska Lounge JFK seating
There are also a few tables with four seats each, and then there's some high-top seating facing the windows.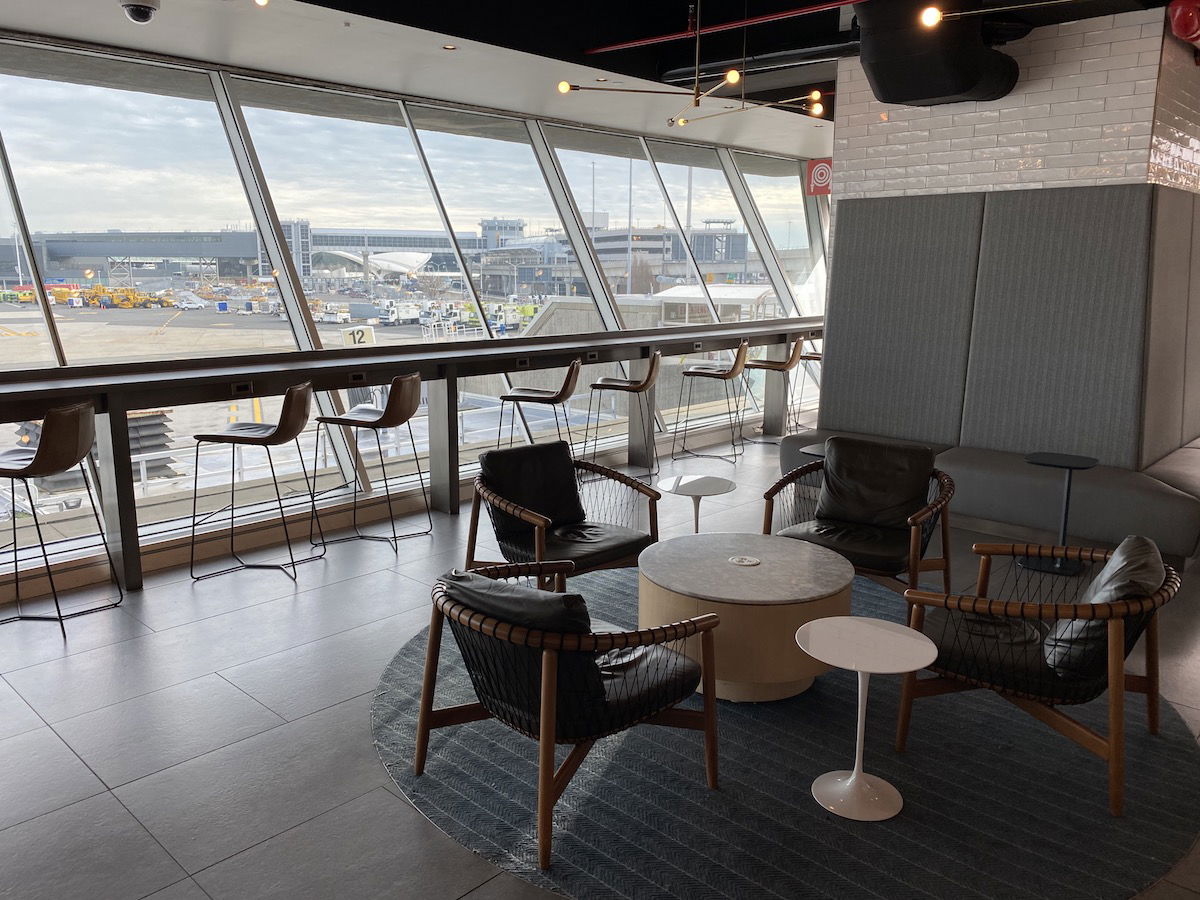 Alaska Lounge New York JFK seating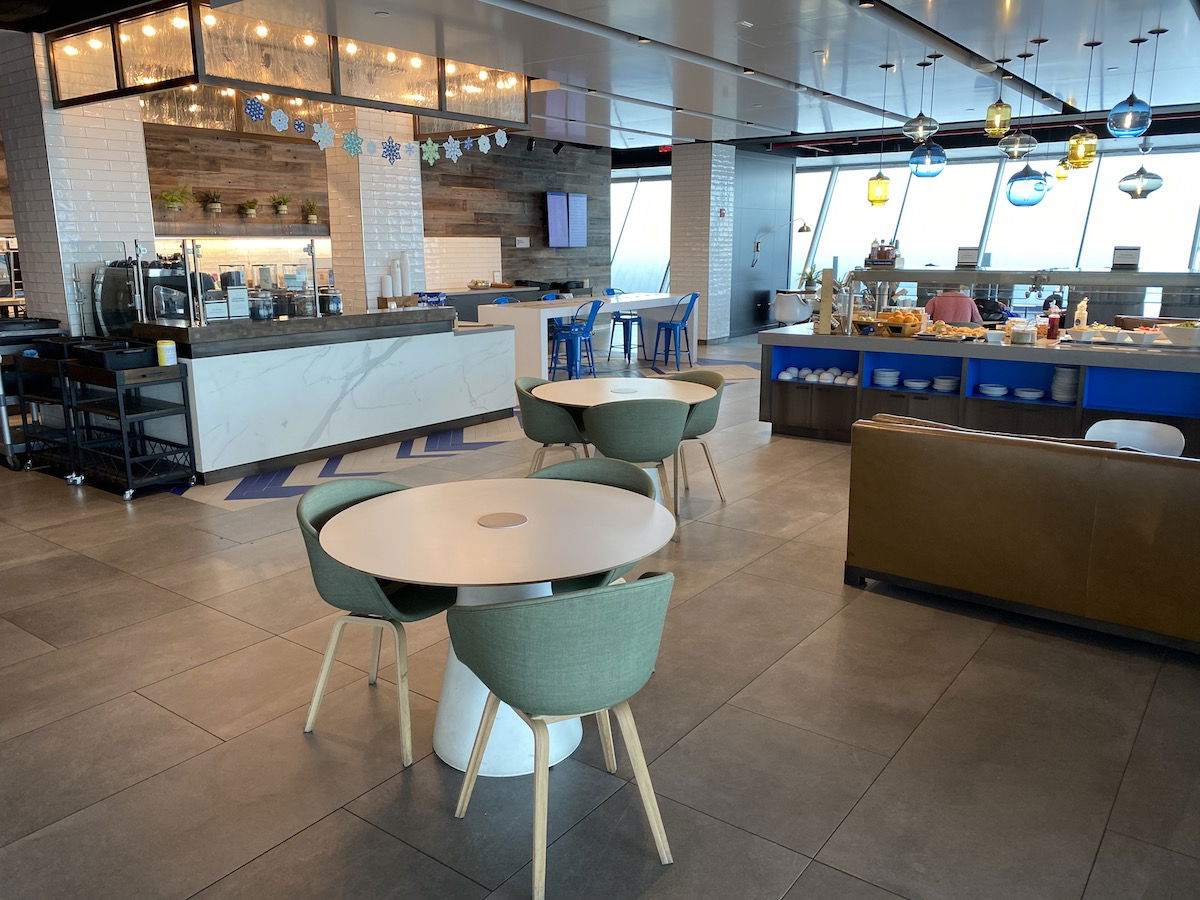 Alaska Lounge New York JFK seating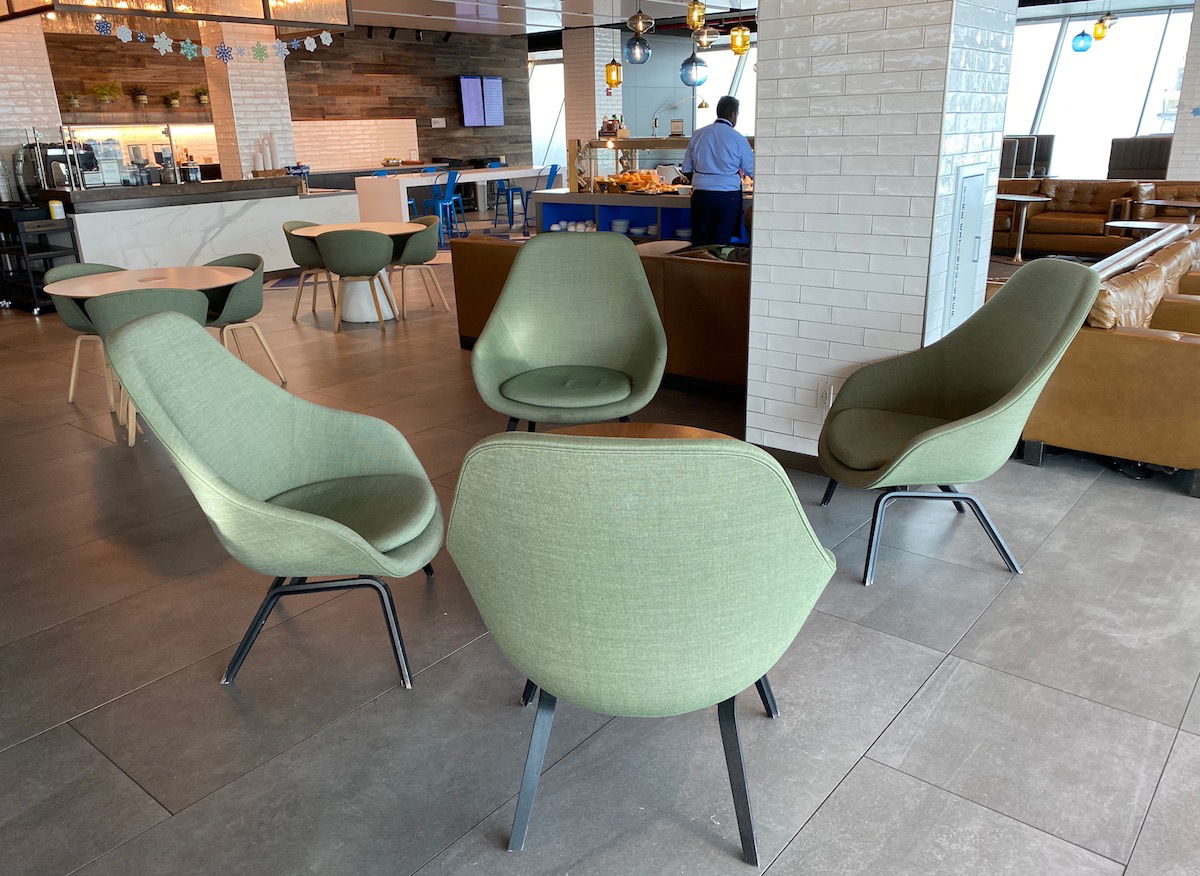 Alaska Lounge New York JFK seating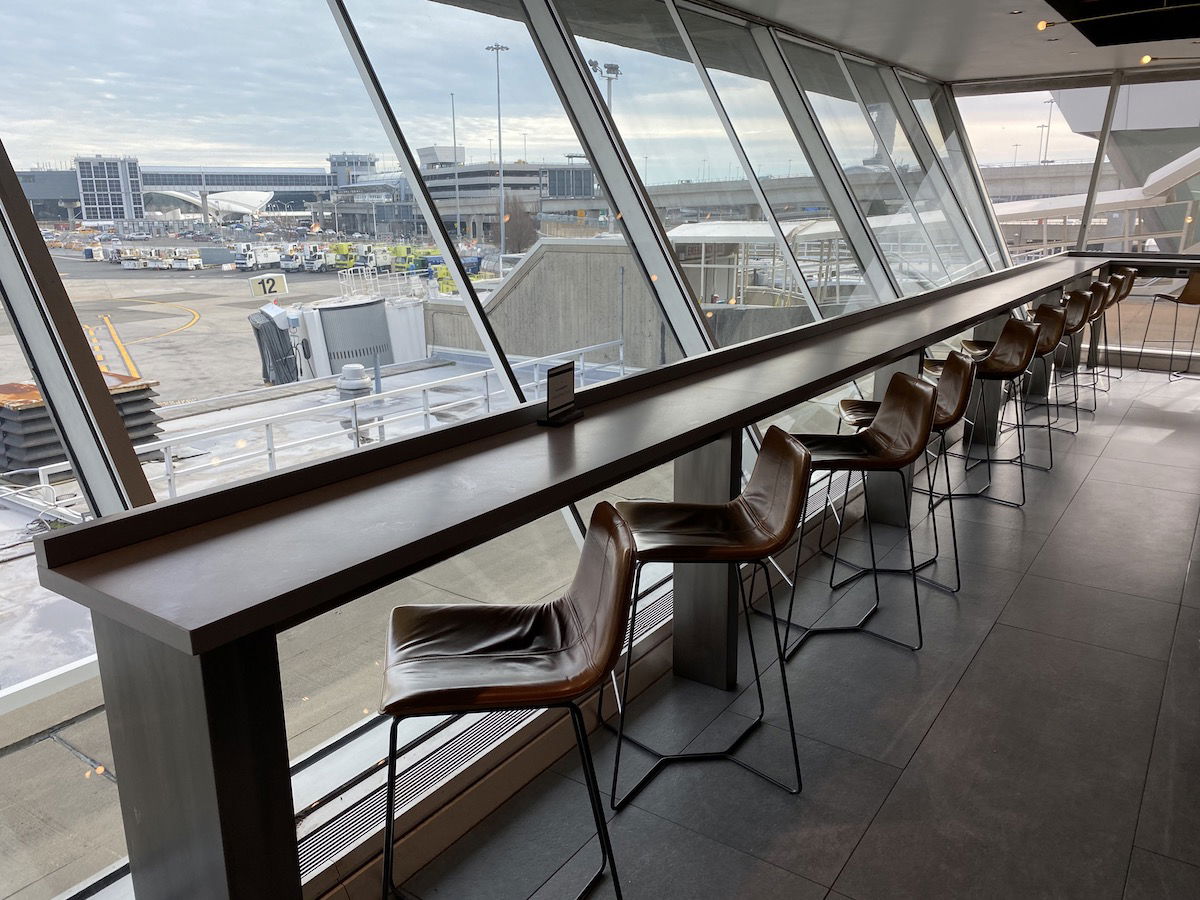 Alaska Lounge New York JFK seating
The lounge has pretty nice views of Terminal 5 in the distance, so the views are much better than from the British Airways Lounge next door.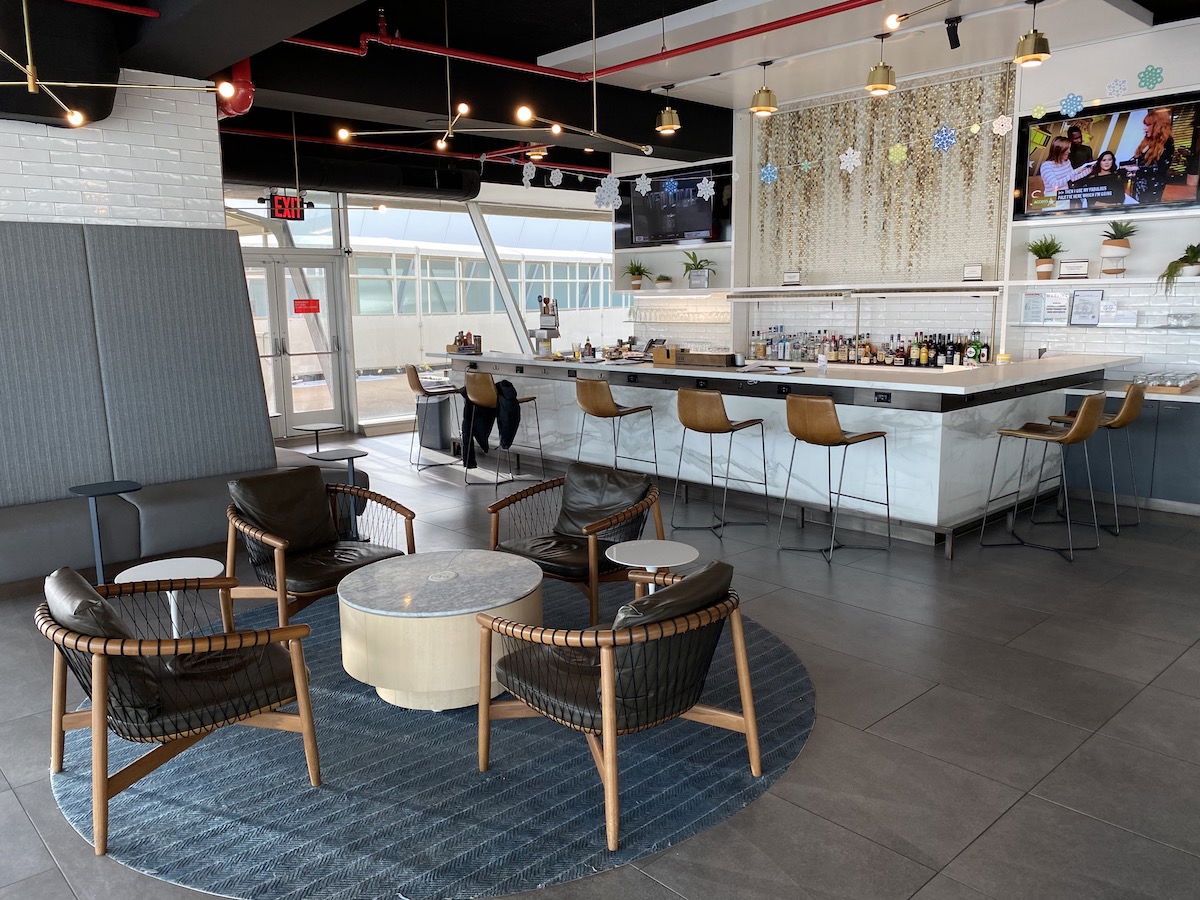 Alaska Lounge New York JFK bar area
The bar is in the back corner of the lounge, and has more high-top seating.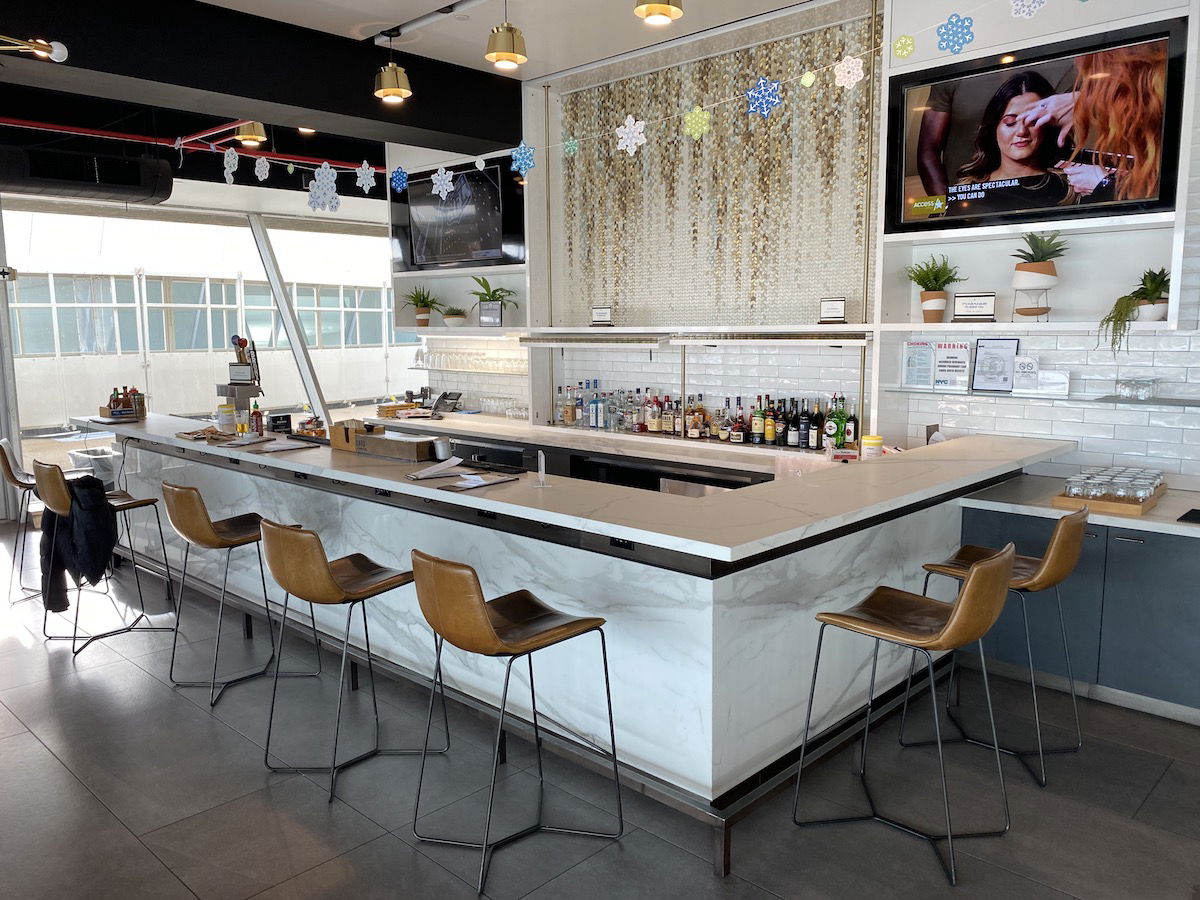 Alaska Lounge New York JFK bar area
I visited the lounge at around 2PM, when it was reasonably quiet. That's probably because Alaska doesn't have many flights between 12PM and 4PM, and Priority Pass members on transatlantic flights typically don't arrive until around 5PM or so, at the earliest.
Overall I thought the lounge was nice, and in many ways I preferred it to the British Airways Lounge next door, thanks to the amount of natural light it has, which is in short supply in Terminal 7.
Alaska Lounge JFK Food & Drinks
The food and drink selection was rather lackluster, with one exception.
The main food spread was on an island in the middle of the lounge, and seemed watered down compared to what Alaska used to offer (or maybe it's just in New York where the selection isn't as good?). The buffet had whole fruit, bread, cookies, trail mix, and a basic salad buffet.
While other US airline lounges have improved their food selection, it seems Alaska hasn't.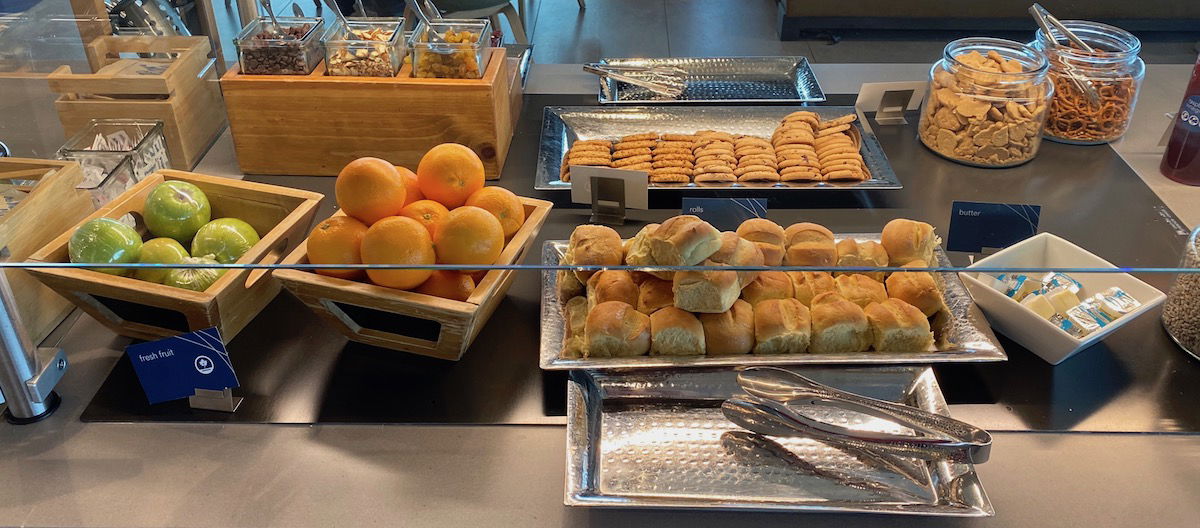 Alaska Lounge buffet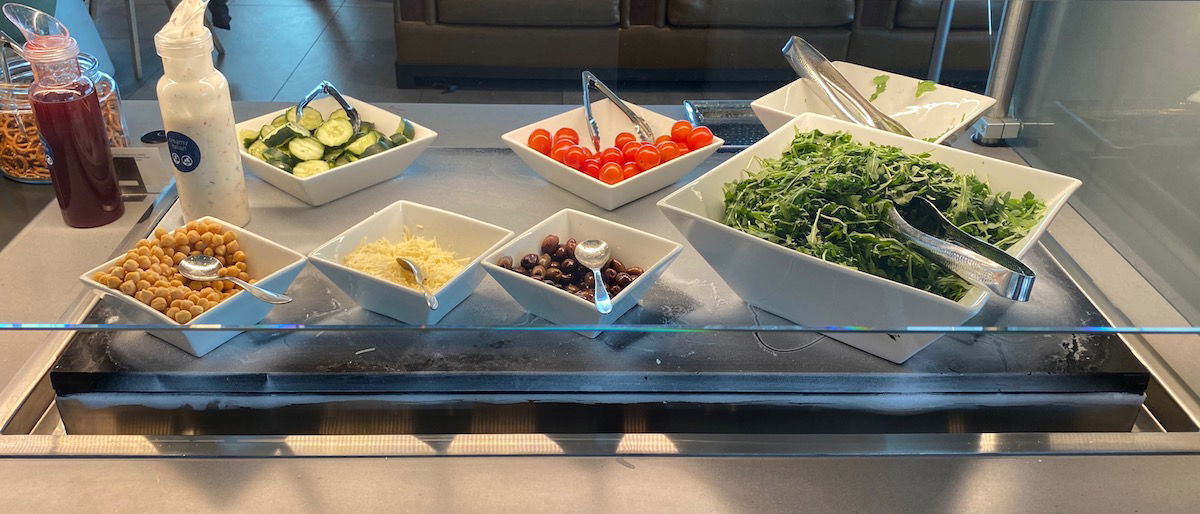 Alaska Lounge buffet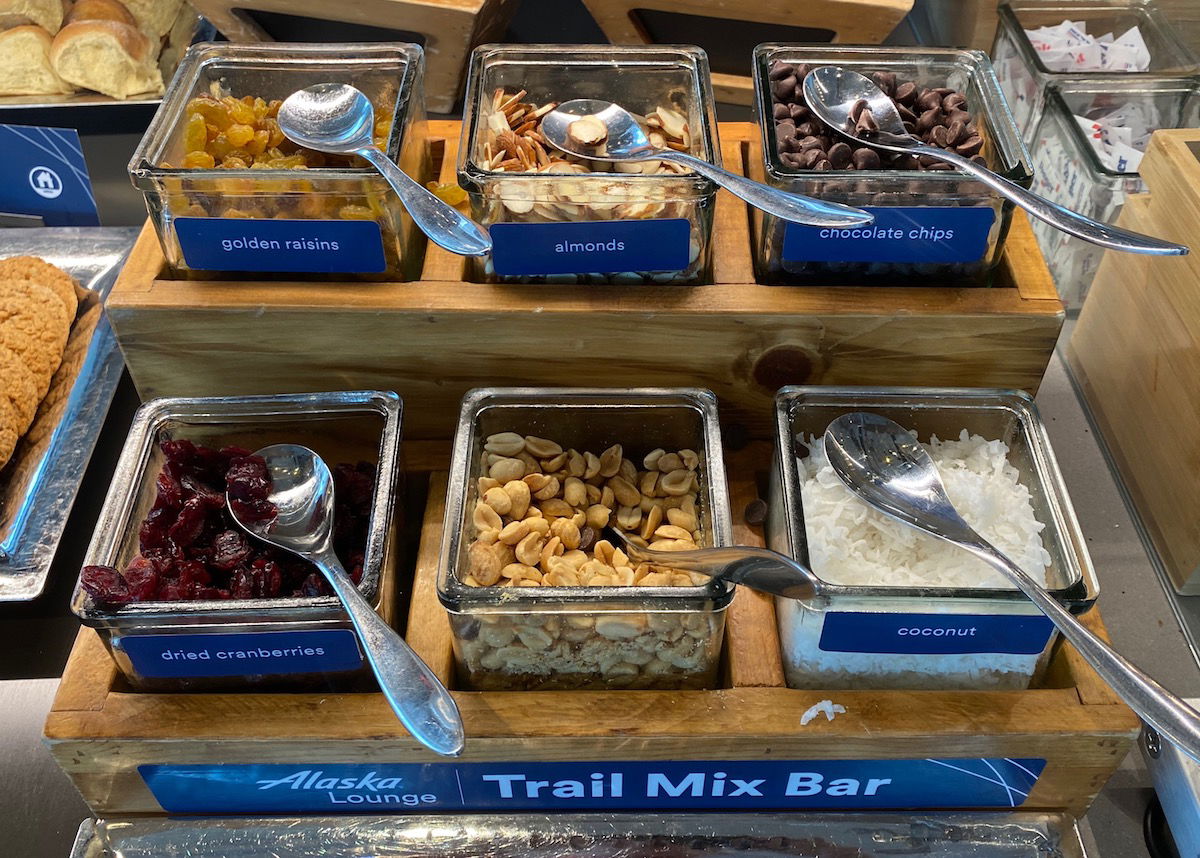 Alaska Lounge buffet
Then along the counter in the back of the lounge was a pancake machine, which is a staple for any Alaska Lounge.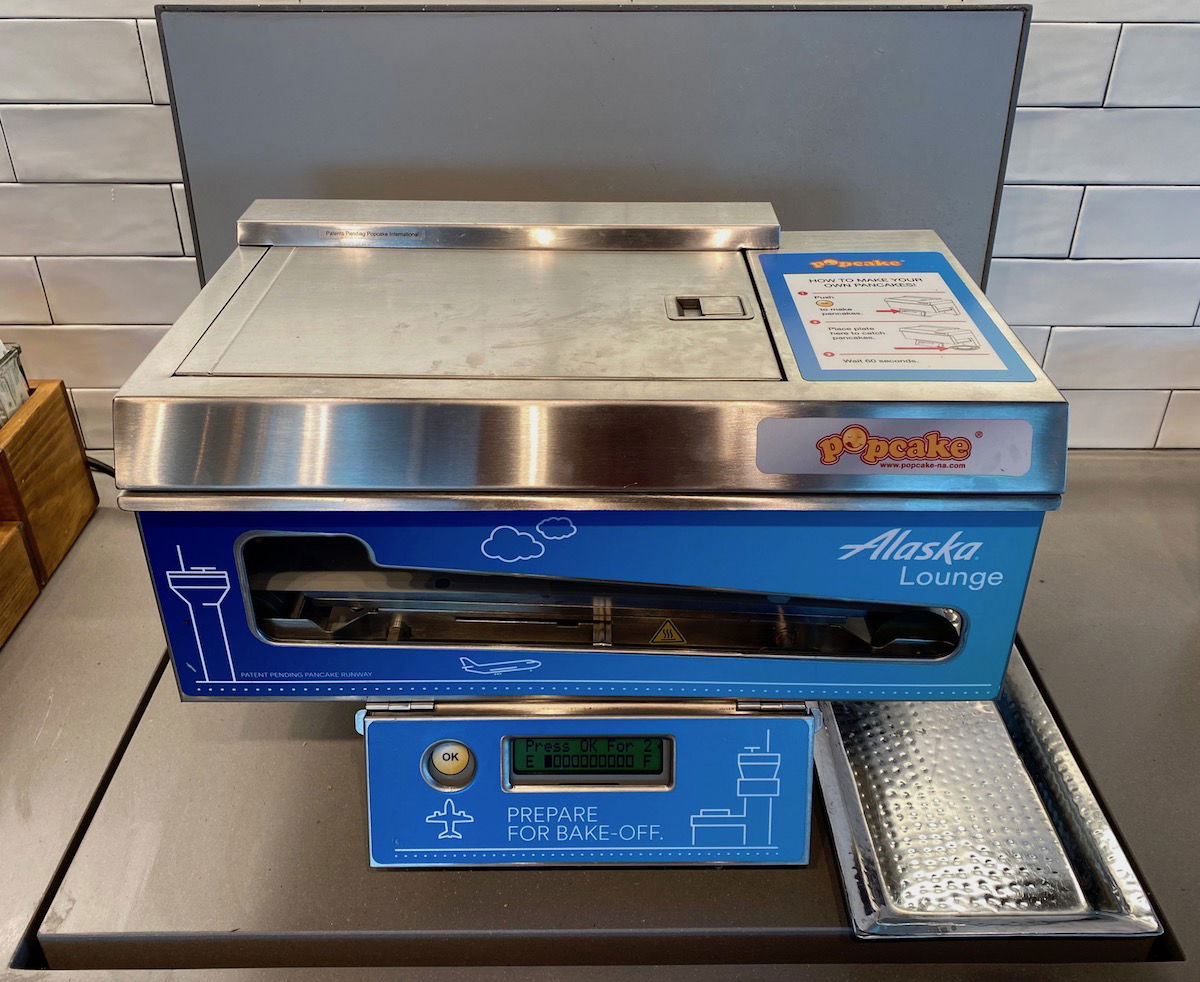 Alaska Lounge pancake machine
There was also filtered Starbucks coffee, as well as a Starbucks espresso machine.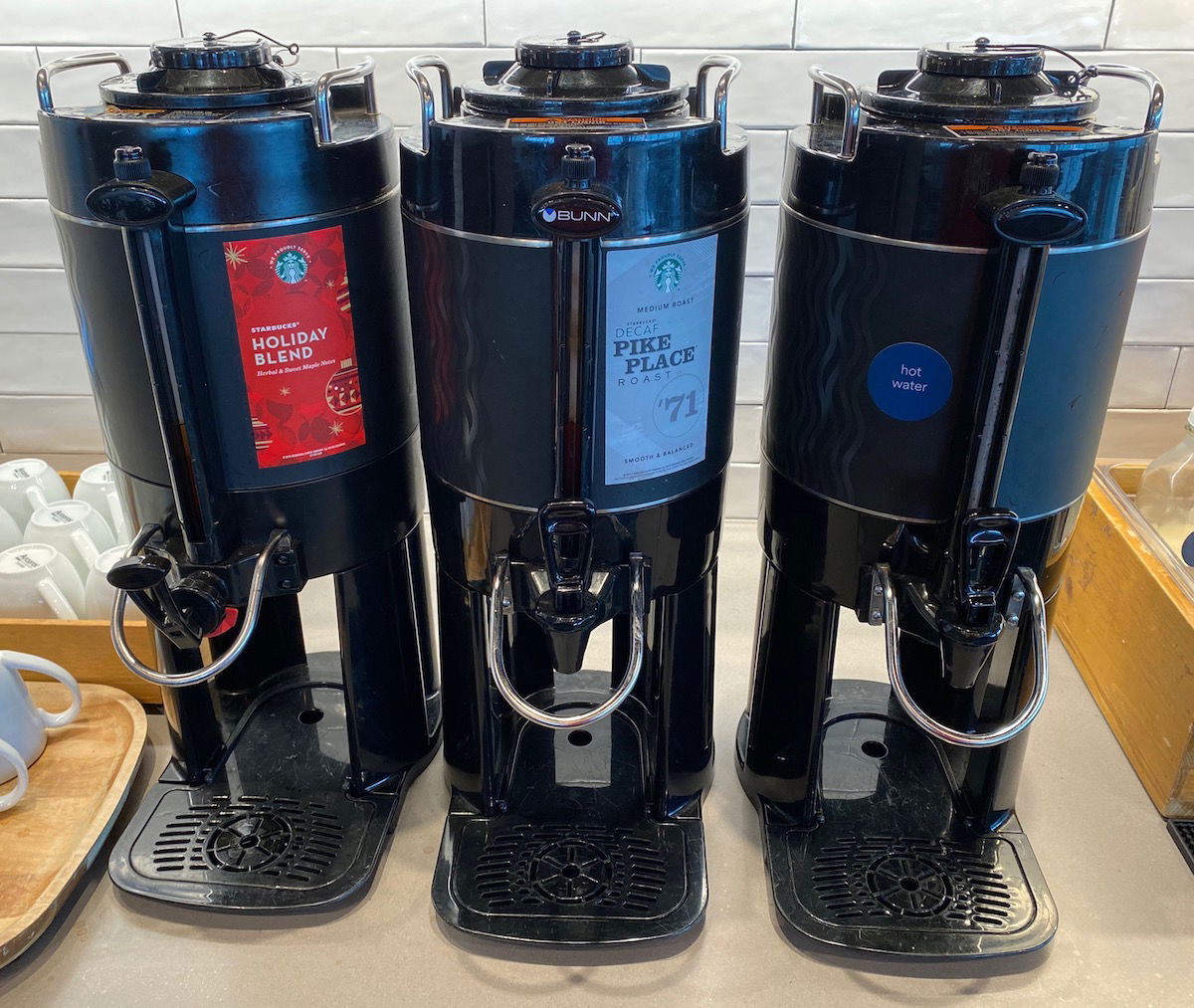 Alaska Lounge coffee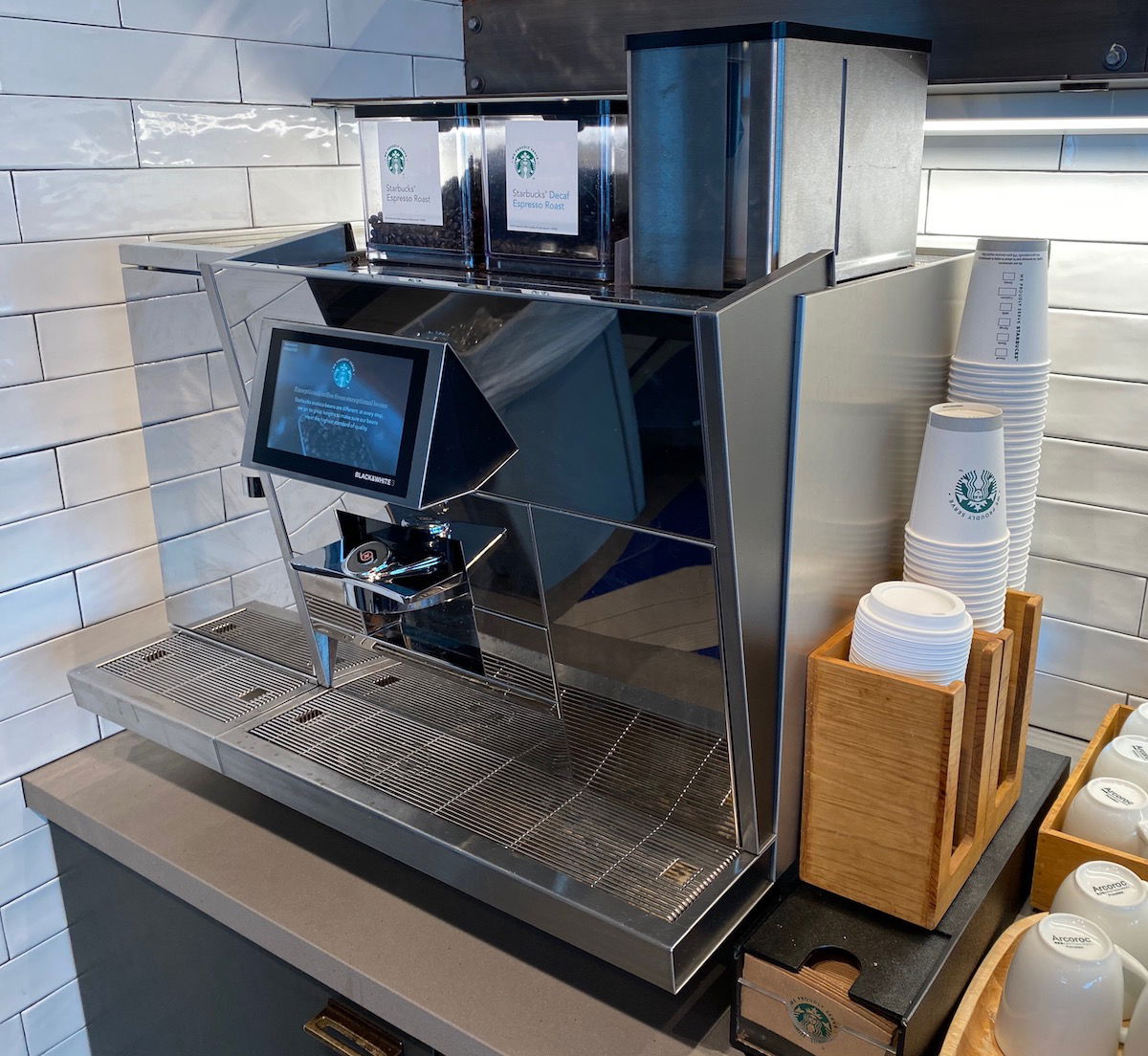 Alaska Lounge Starbucks espresso machine
There were plenty of sweeteners and syrups to choose from.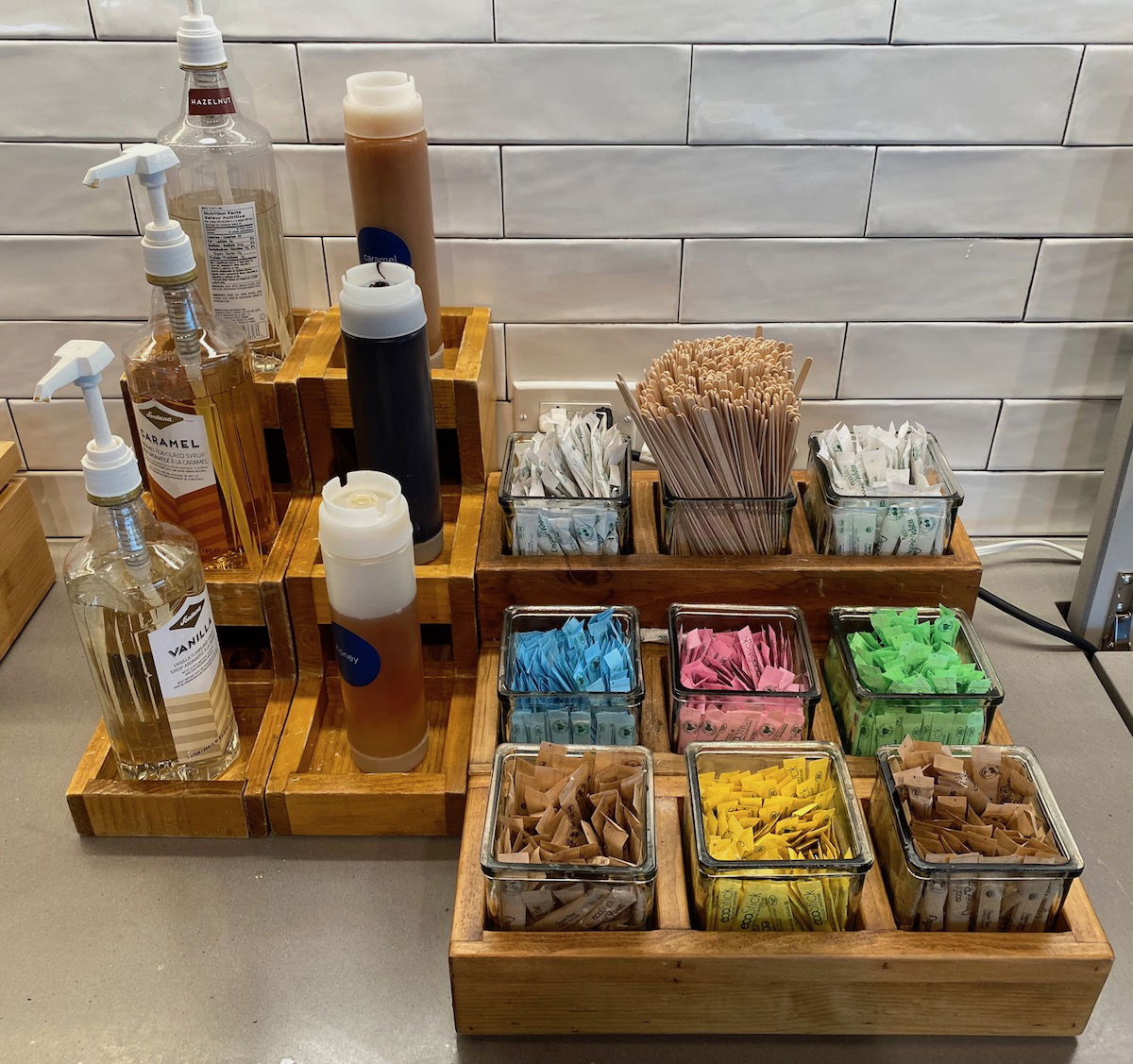 Alaska Lounge sweetener & syrup
What delighted me most is that they had barista made coffee. Yay Alaska! They're the only US airline to offer that, with the exception of United's Polaris Lounges.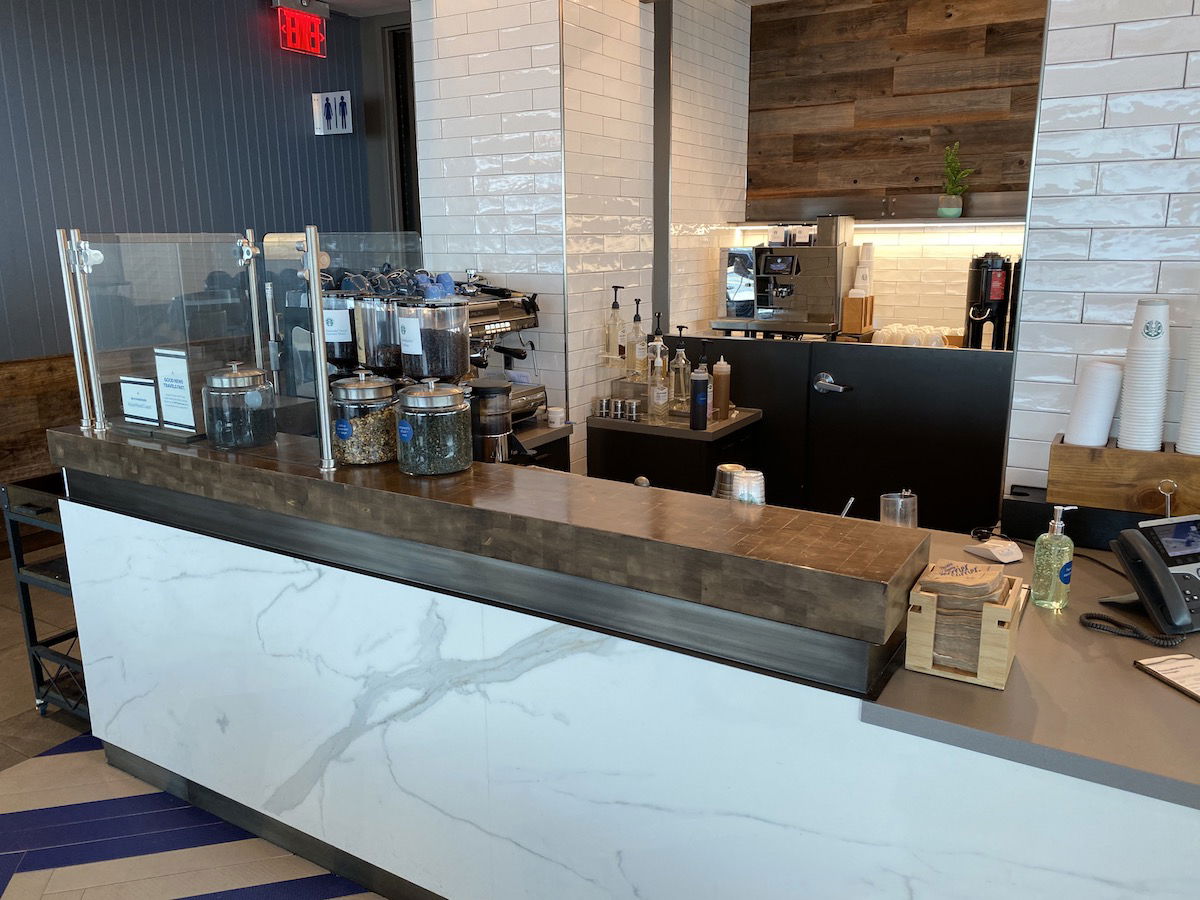 Alaska Lounge barista station
The barista menu reads as follows: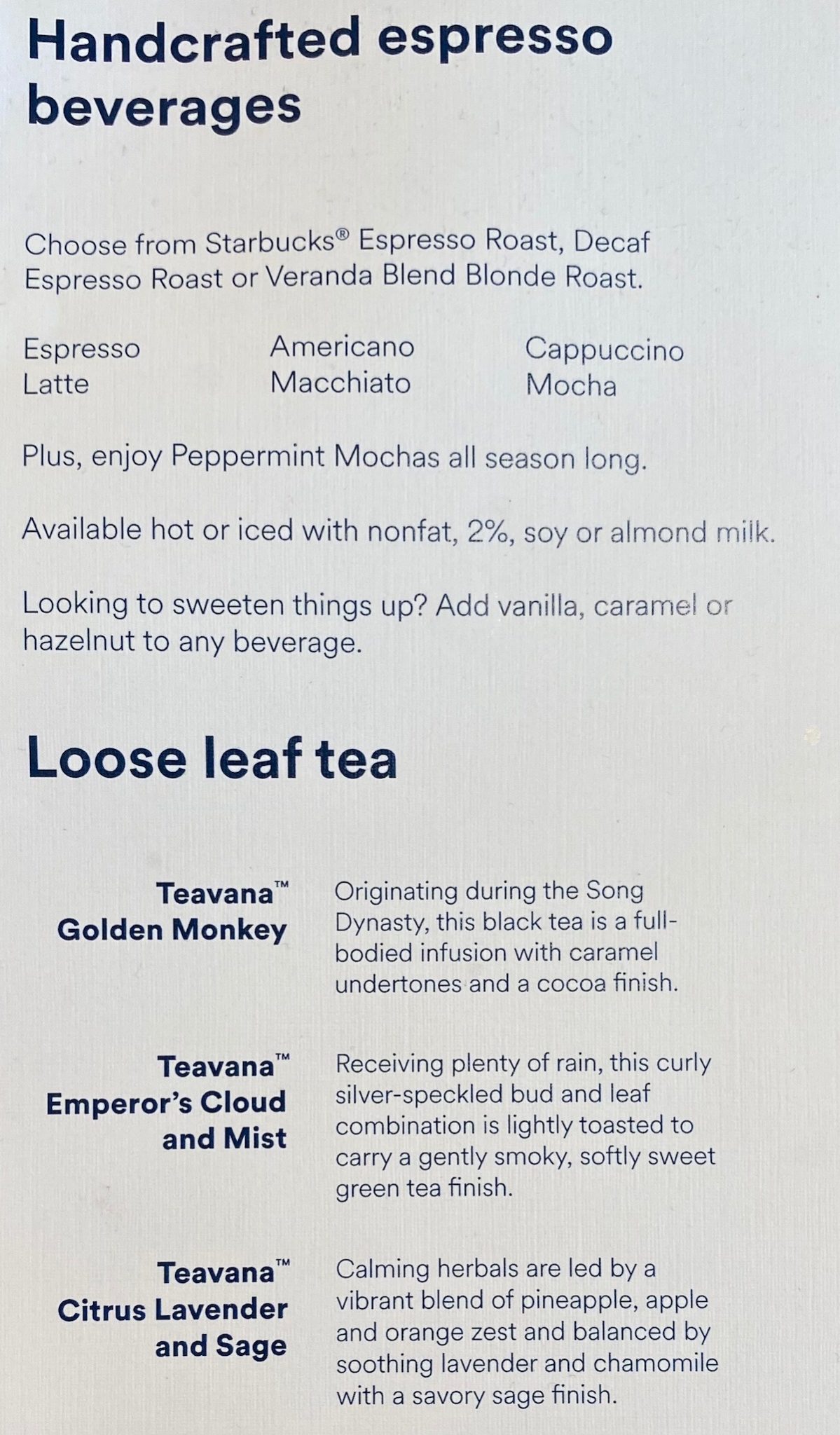 I had a latte to drink. Frankly it wasn't the most beautiful or tastiest latte I've had, but it was significantly better than anything you'll get out of a machine.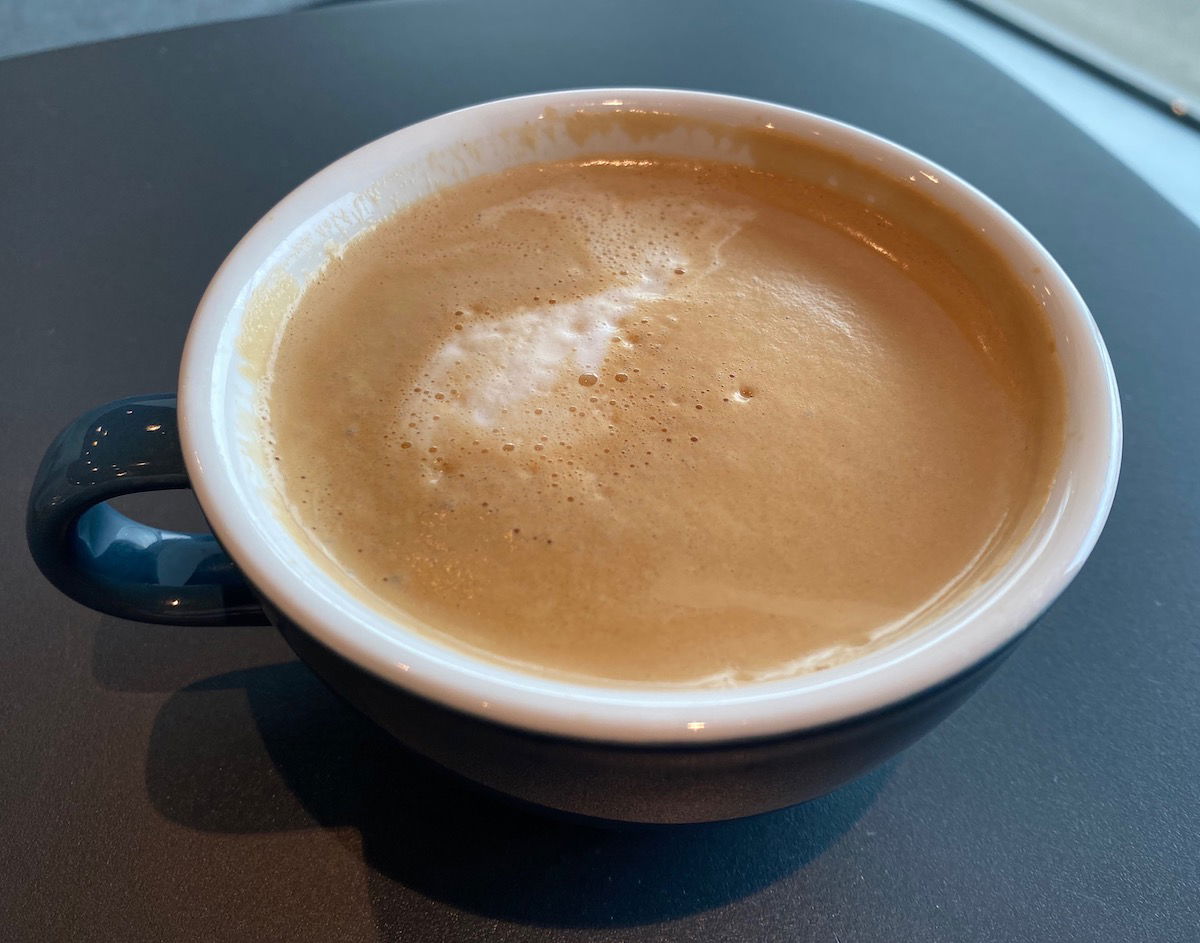 Alaska Lounge latte
Next to the bar was a self serve Coca Cola soda fountain.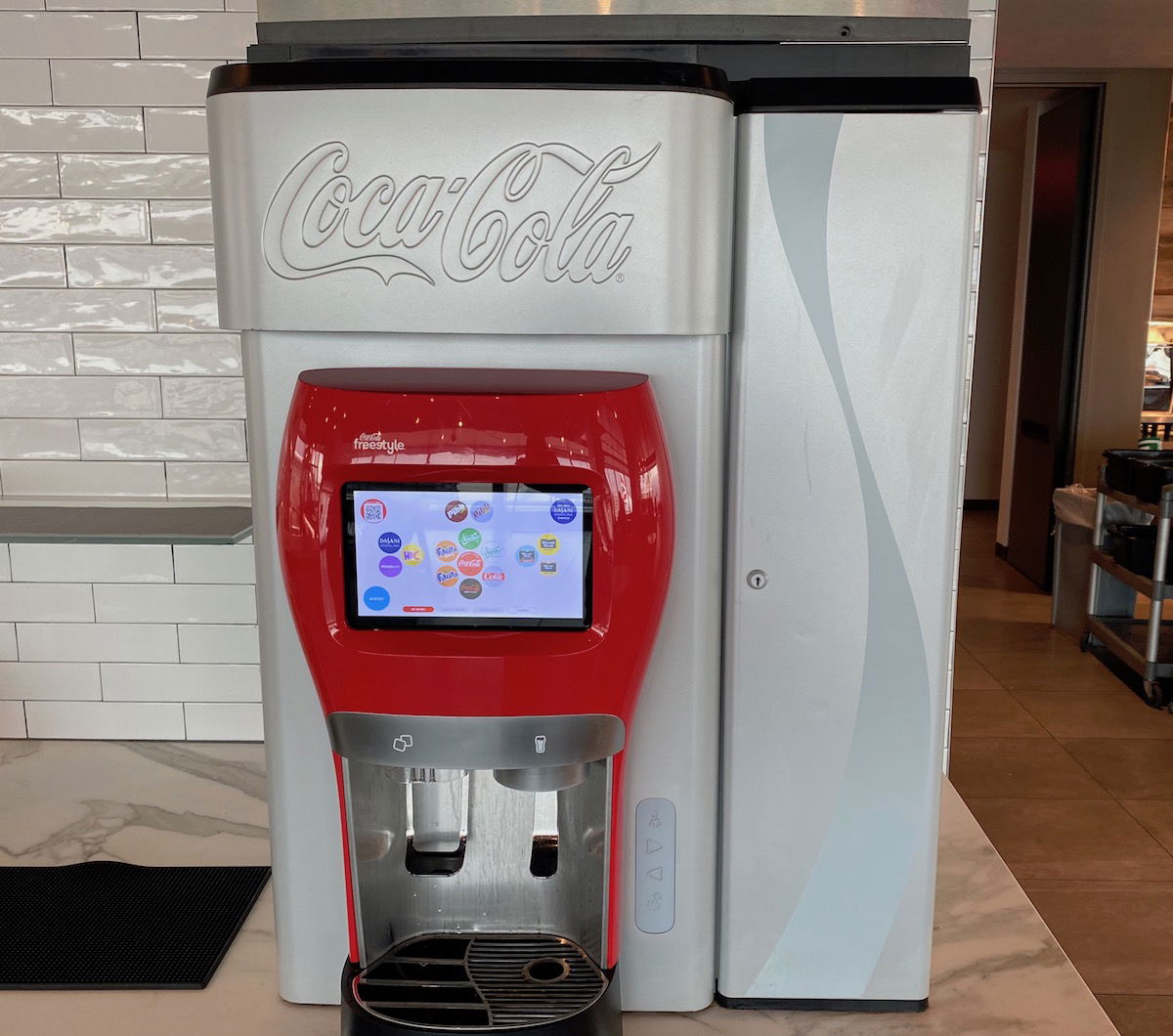 Alaska Lounge Coca Cola machine
Then all alcoholic drinks were available at the bar. There was a selection of complimentary, beer, wine, and liquor, as follows: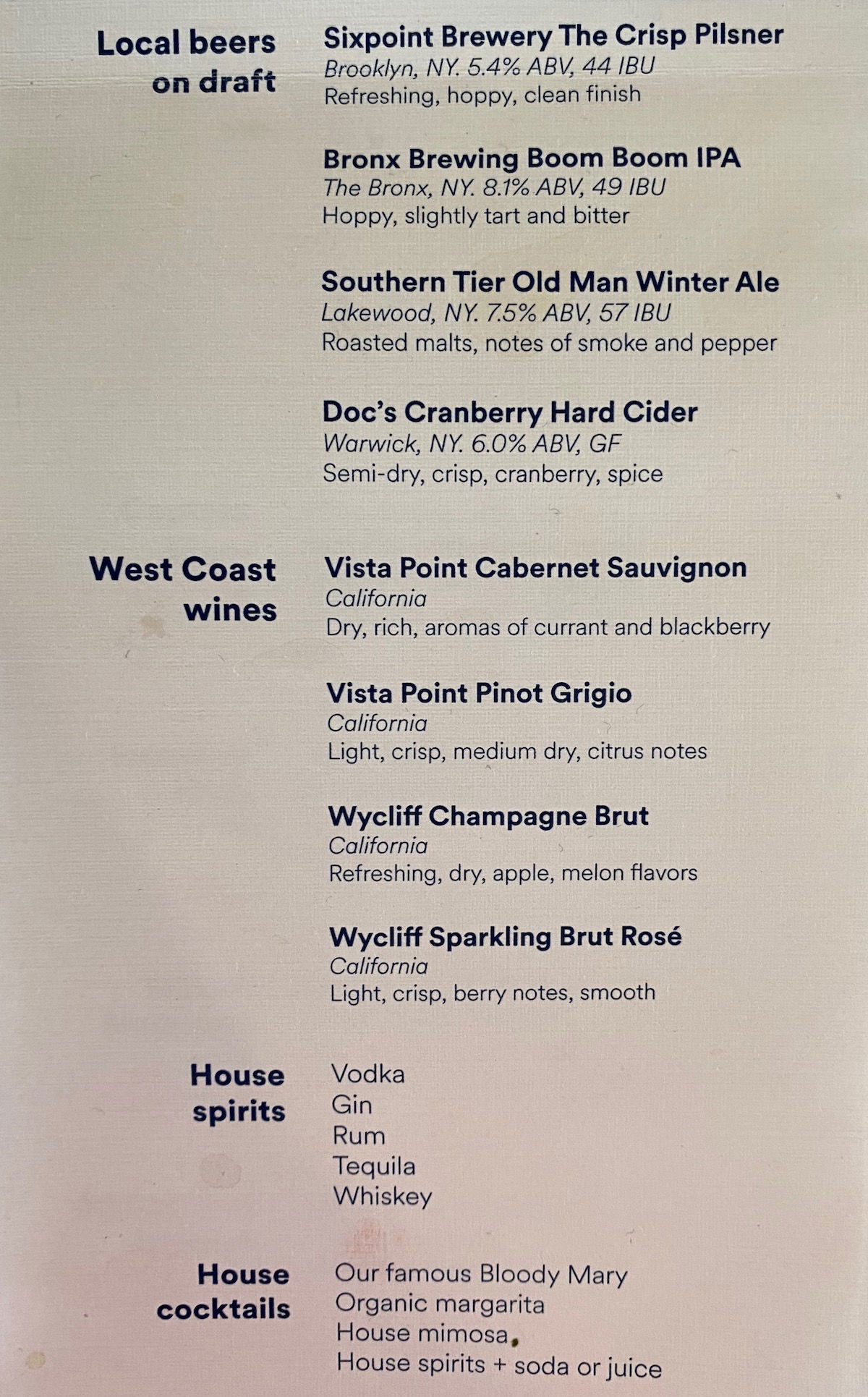 Then there were premium drinks available for purchase: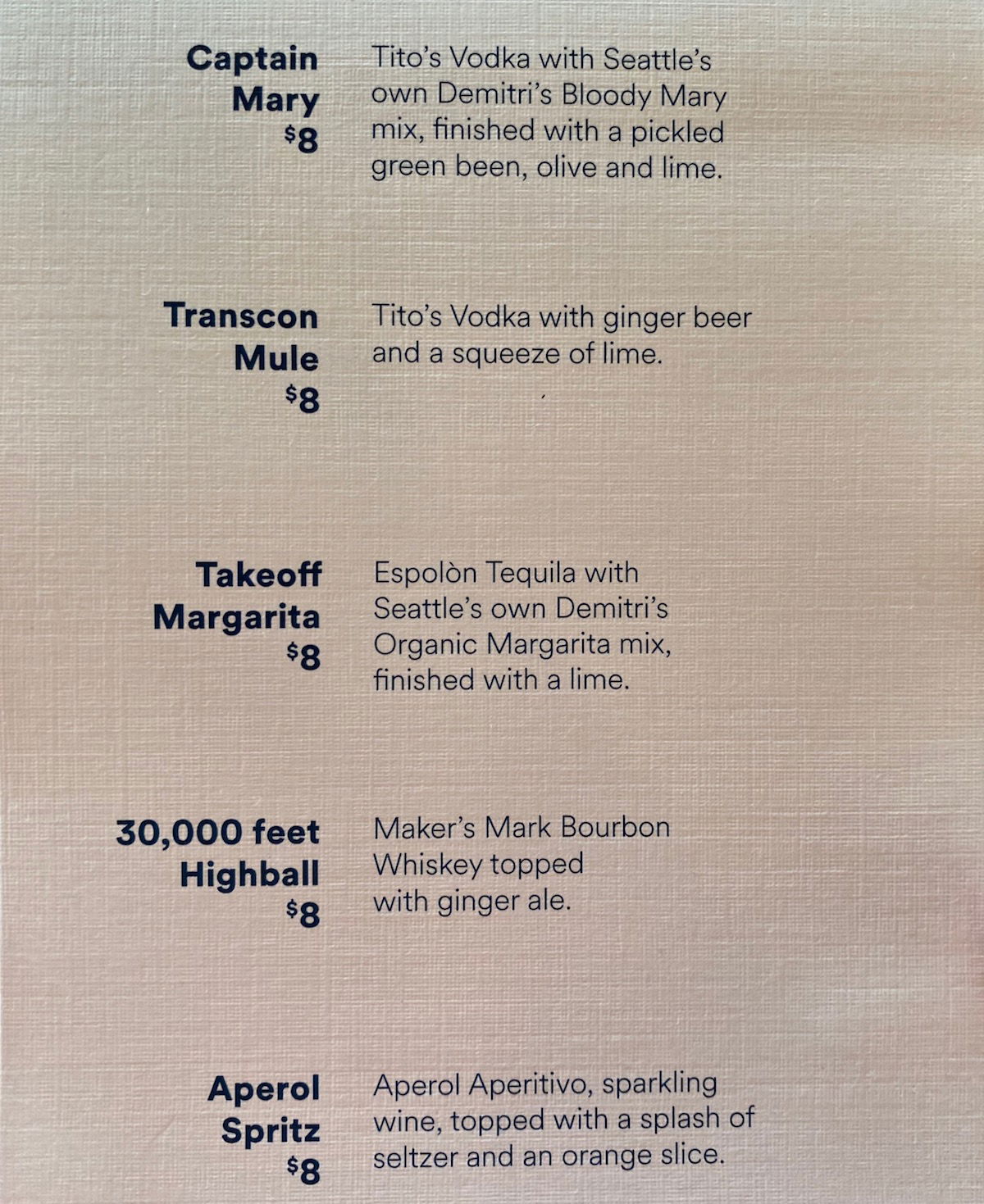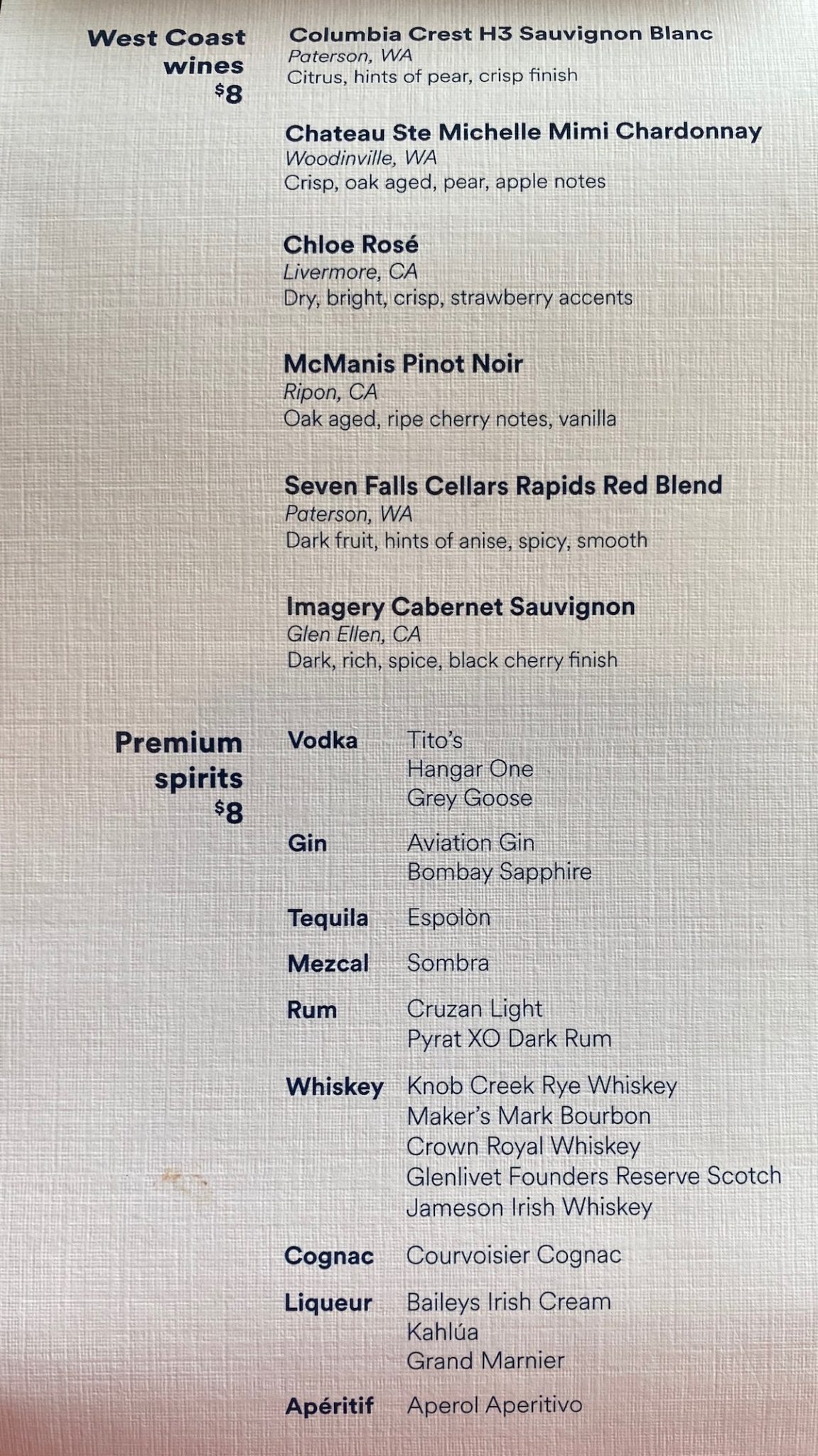 And there was also food available for purchase: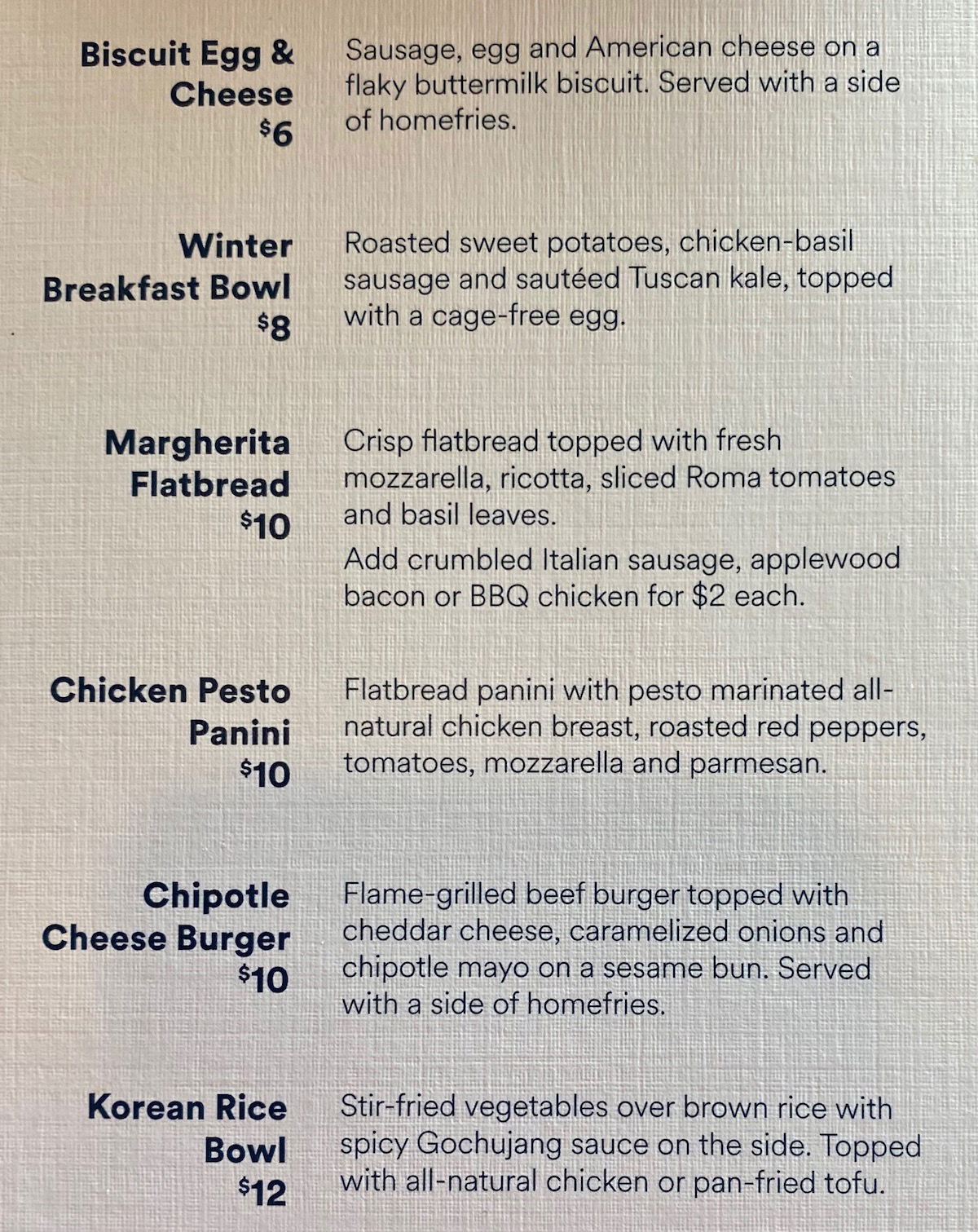 Alaska Lounge JFK Bathrooms
The Alaska Lounge doesn't have showers, but it does have reasonably decent bathrooms.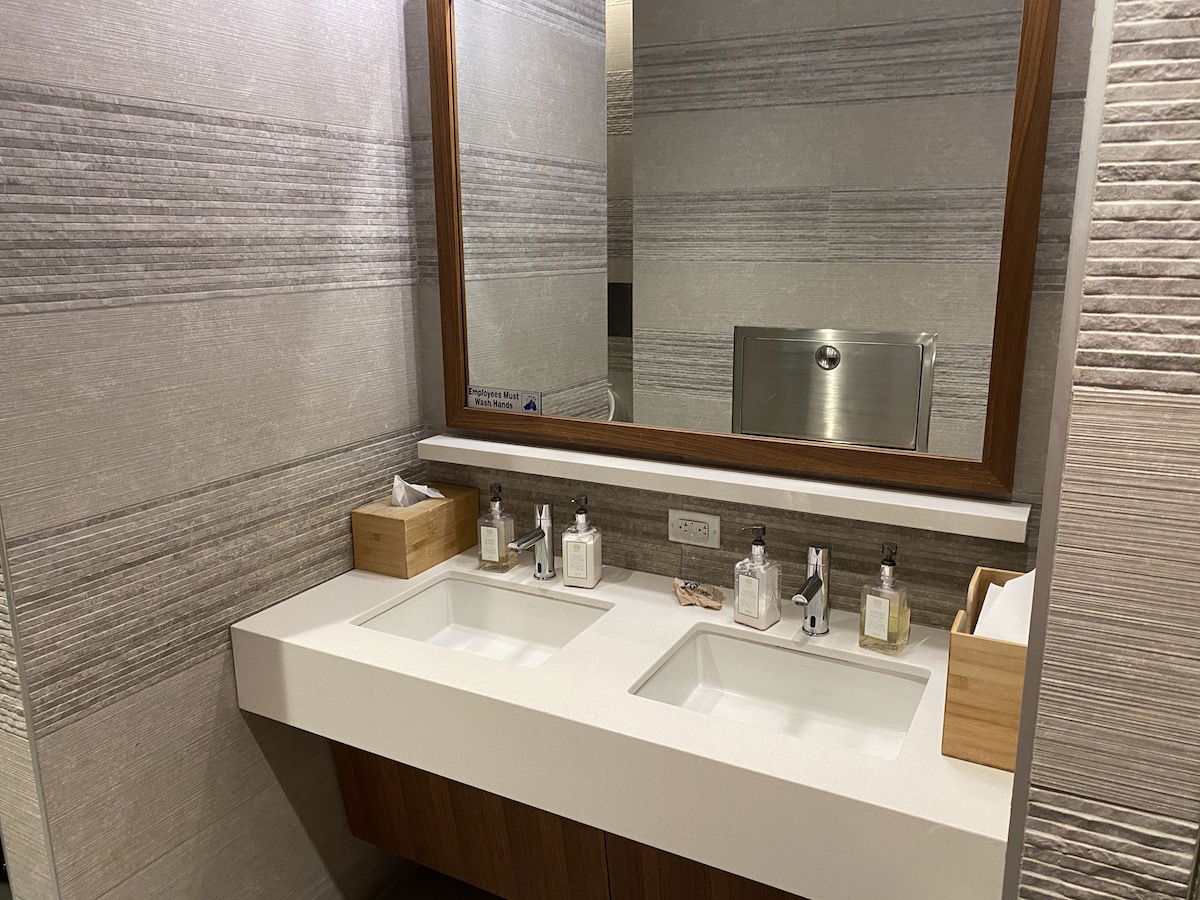 Alaska Lounge bathroom
Alaska Lounge JFK Service
Service in the lounge was… strange.
There were people talking really loudly in the lounge while just standing around on the "customer" side of the barista station and I wasn't sure who they were. To be perfectly honest, I initially thought they might be airport maintenance people, or something, fixing something.
I figured they couldn't be working in the lounge, because they were talking so loudly, and literally having conversations across the room with one another.
So I went up the barista station to order a coffee, and just sort of stood next to them, since I didn't think they worked there, and was waiting for one of the lounge staff to come help. They looked at me strange, so I said "do you guys work here?"
"Yep, what can we do for you?"
Very strange…
On the plus side, they were friendly once I interacted with them, and one said "let me know if we can get you anything else."
But seriously, if you work in a lounge you shouldn't be having conversations with one another that someone can hear from the other side of the lounge.
Alaska Lounge JFK Bottom Line
All things considered, the Alaska Lounge JFK is quite nice. It features great views and lots of natural light, and it has proper espresso-based drinks.
The food selection is more limited than I remember in Alaska Lounges, but on balance I prefer this to the "standard" part of the British Airways Lounge that's next door.
If you've visited the Alaska Lounge JFK, what was your experience like?