---
While domestic flight reviews might not be as exciting as some international ones, I figure they're still useful. In this post I wanted to review my Miami to New York JFK flight in Delta Air Lines' A321 first class, which helped me position for my review trip.
When it comes to domestic and short haul flights on Delta, I've already reviewed their first class experience on the 737-800, A320, and CRJ-900. Let's take a look at how the A321 compares.
The A321 is still fairly new for Delta, as they only got their first such plane in 2016. They already have nearly 100 of them in their fleet, with many more to come (including the A321neo in the future).
Booking Delta First Class
I outright paid for first class on Delta. In my experience Delta prices first class quite reasonably, and the one-way first class ticket cost about $400, compared to the cost of about $250 for an economy ticket.
I figured it was worth the extra $150 to confirm first class, since I figured I had no shot at an upgrade. I'm only a Delta Silver Medallion, and upgrades are very tough to come by if you don't have higher status.
So while I didn't mind paying, I should note my absolute shock that everyone ended up clearing the upgrade on this flight, so I guess I would have gotten it as well… wow!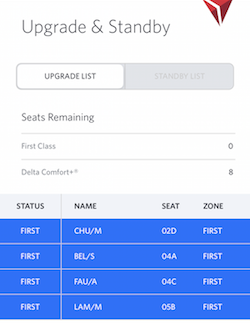 Delta First Class A321 Review
After a visit to the SkyClub, I headed to gate H9, just a short walk way. Boarding for the flight was scheduled to start at 6:55AM.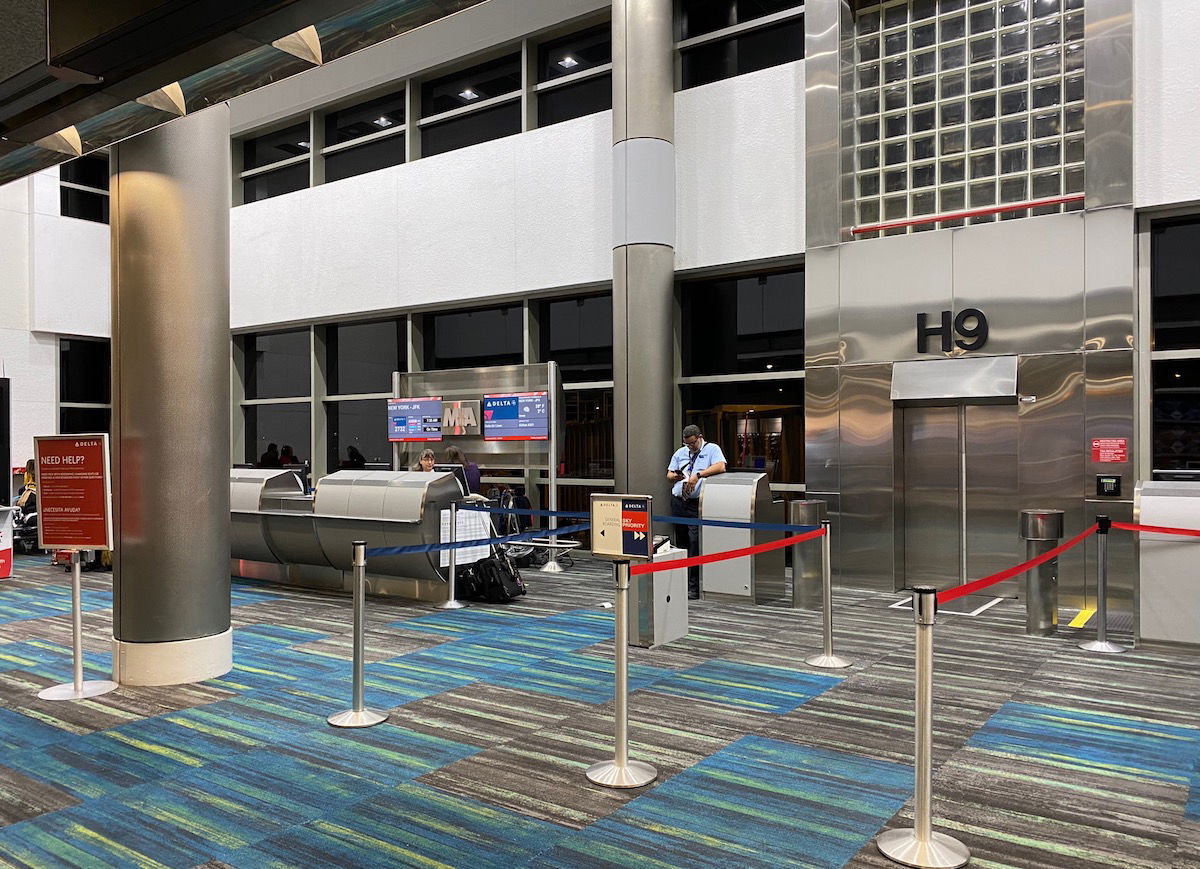 Delta departure gate Miami
Those needing extra time were invited to board first, followed by active duty military, followed by first class (unlike at American and United, Delta doesn't pre-board select elite members before first class).
Delta 2732
Miami (MIA) – New York (JFK)
Tuesday, January 7
Depart: 7:35AM
Arrive: 10:24AM
Duration: 2hr49min
Aircraft: Airbus A321
Seat: 5A (First Class)
Delta's A321 first class consists of a total of 20 seats, spread across five rows in a 2-2 configuration (note that Delta will be introducing a new first class product on their A321neos). That's a nice size first class cabin — as a point of comparison, American only has 16 first class seats on their A321s.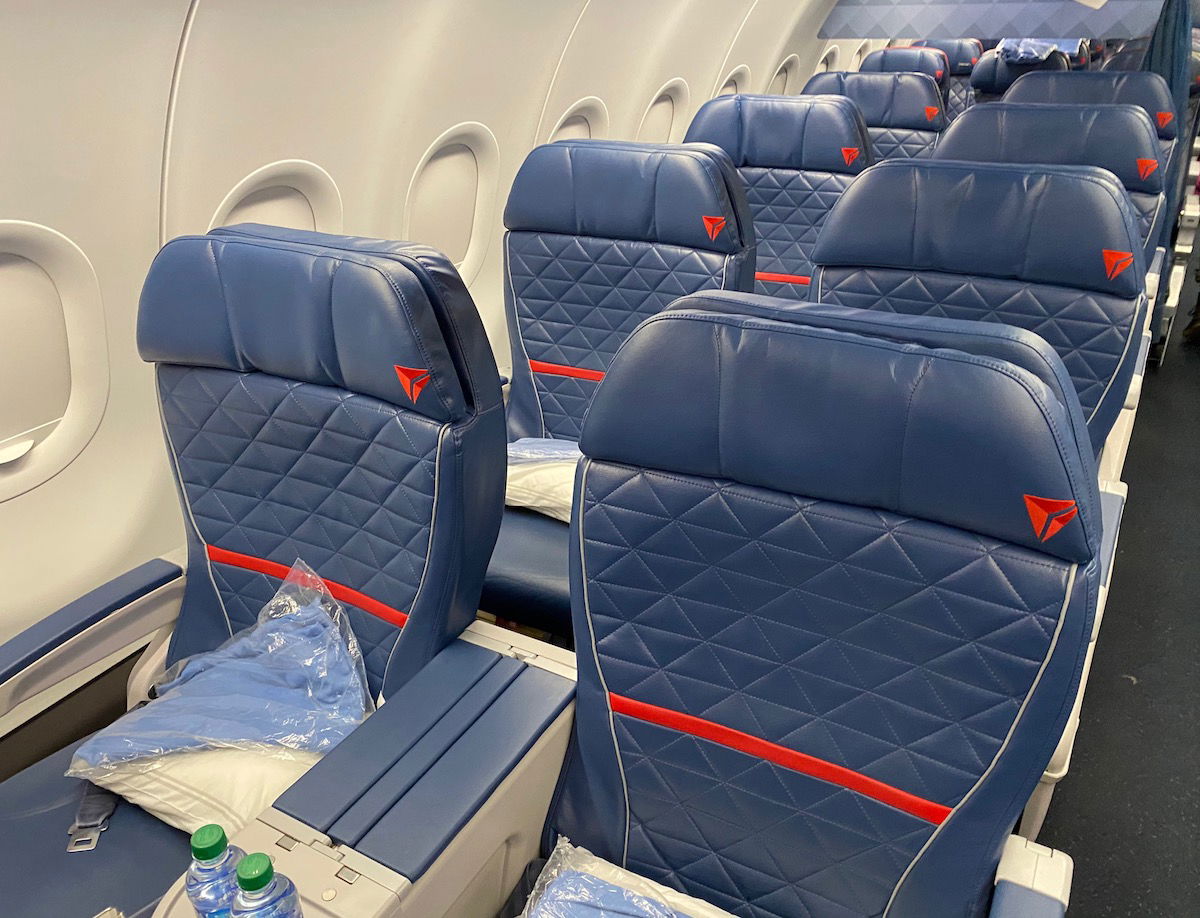 Delta A321 first class cabin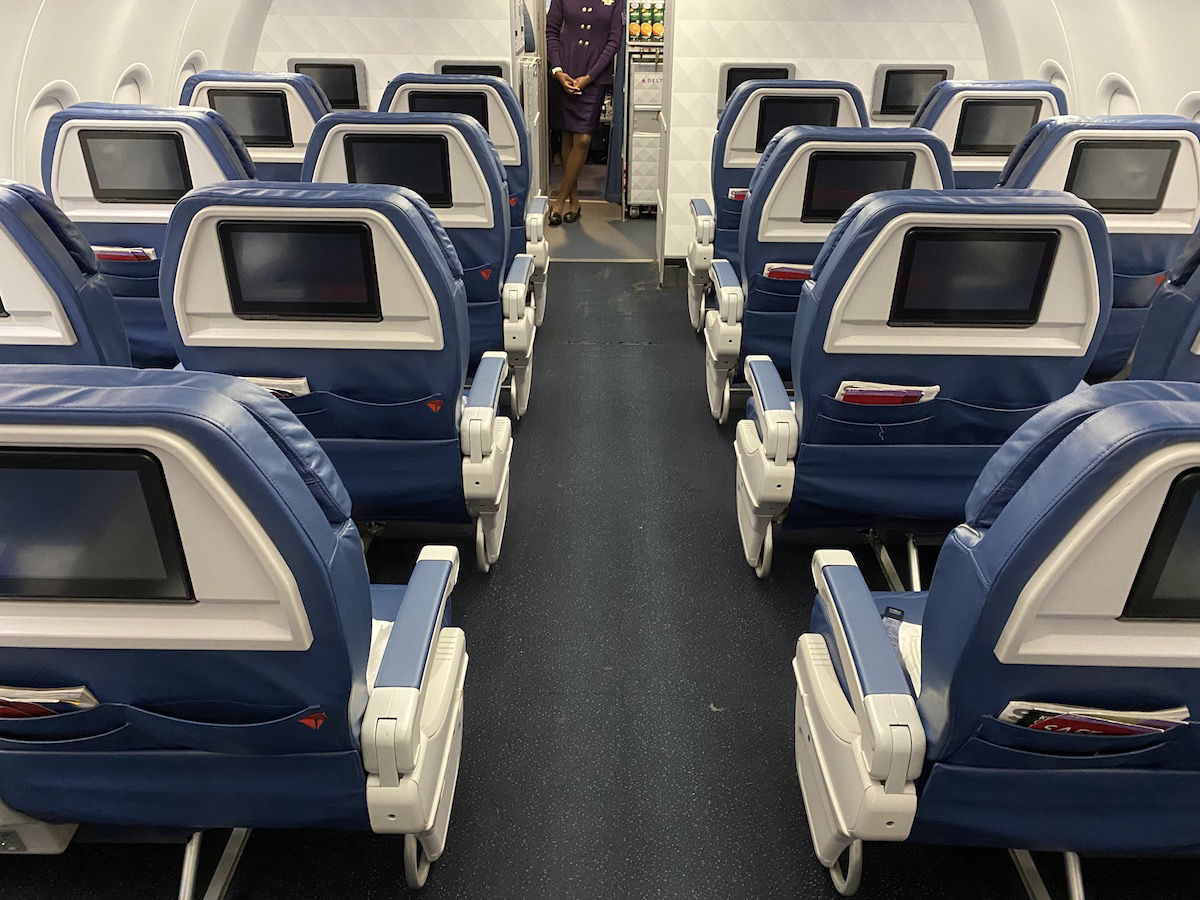 Delta A321 first class cabin
While Delta has nice cabins overall, they also have an "efficient" way of going about it. There's no real bulkhead between cabins, but rather they just have a small divider between first class and economy.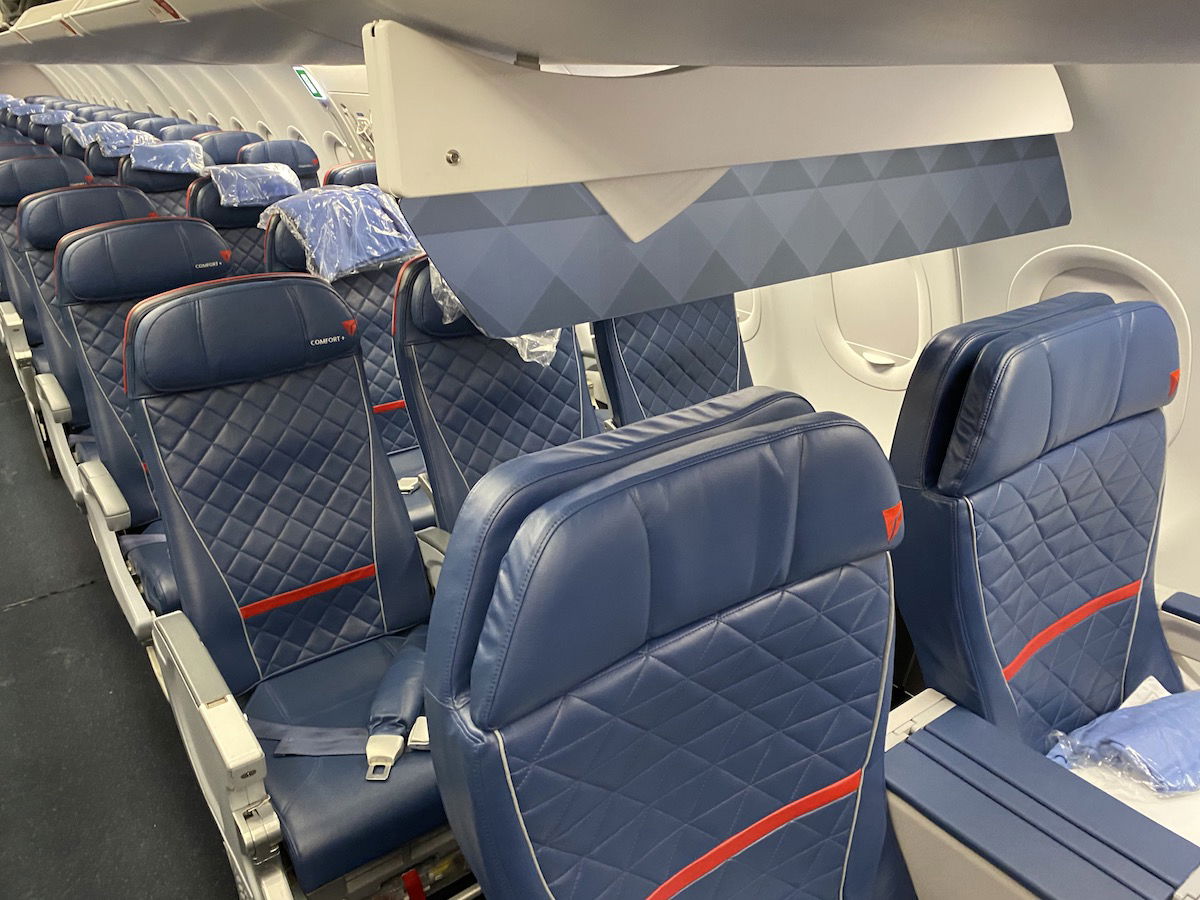 Delta A321 divider between first class & economy
Legroom in first class on Delta's A321s is on the tight side (as it is on many Delta planes), and the seat pitch is allegedly 36″. While the space is plentiful when seats are in the upright position, the seats also recline more than they should (in my opinion), and it can feel downright tight when the person in front of you reclines and you're trying to use your laptop.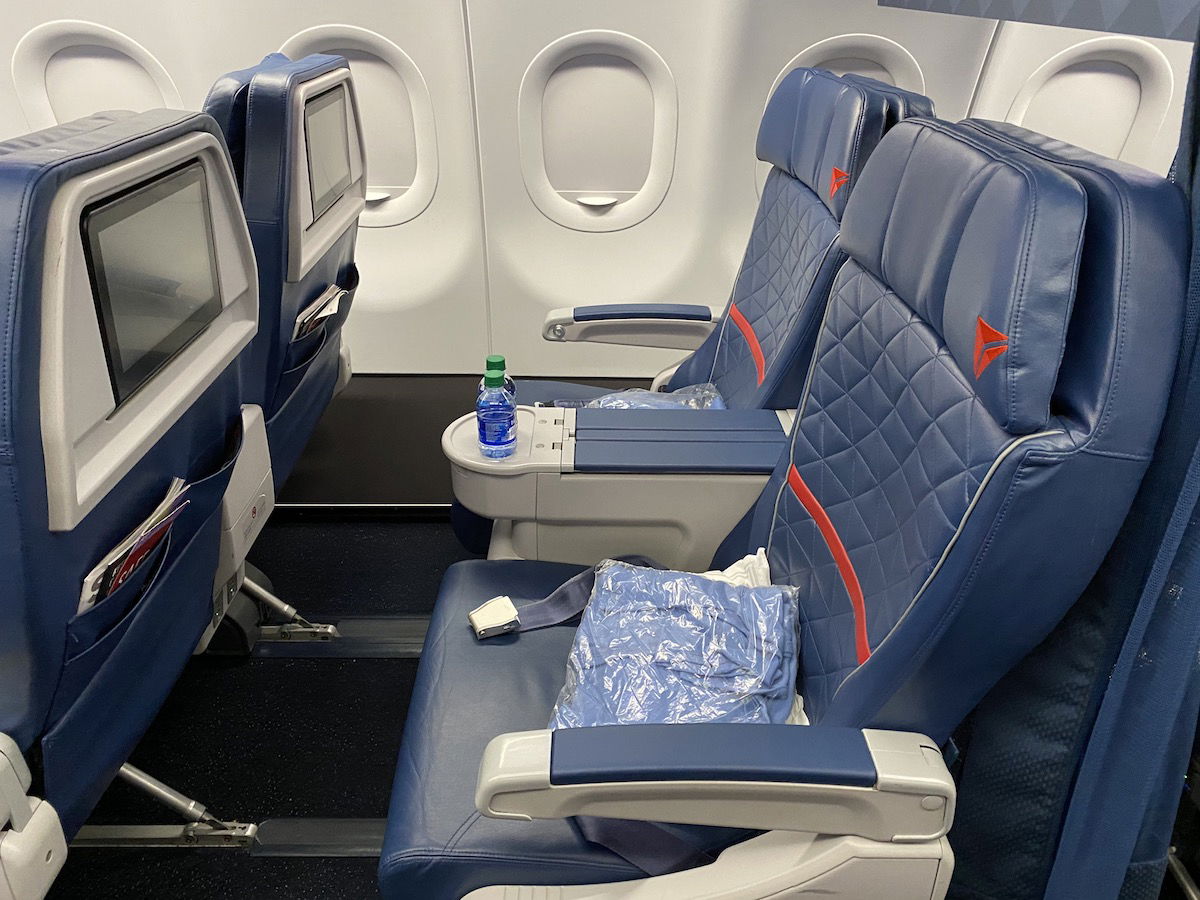 Delta first class seats A321
I selected seat 5A, the window seat on the left side in the last row.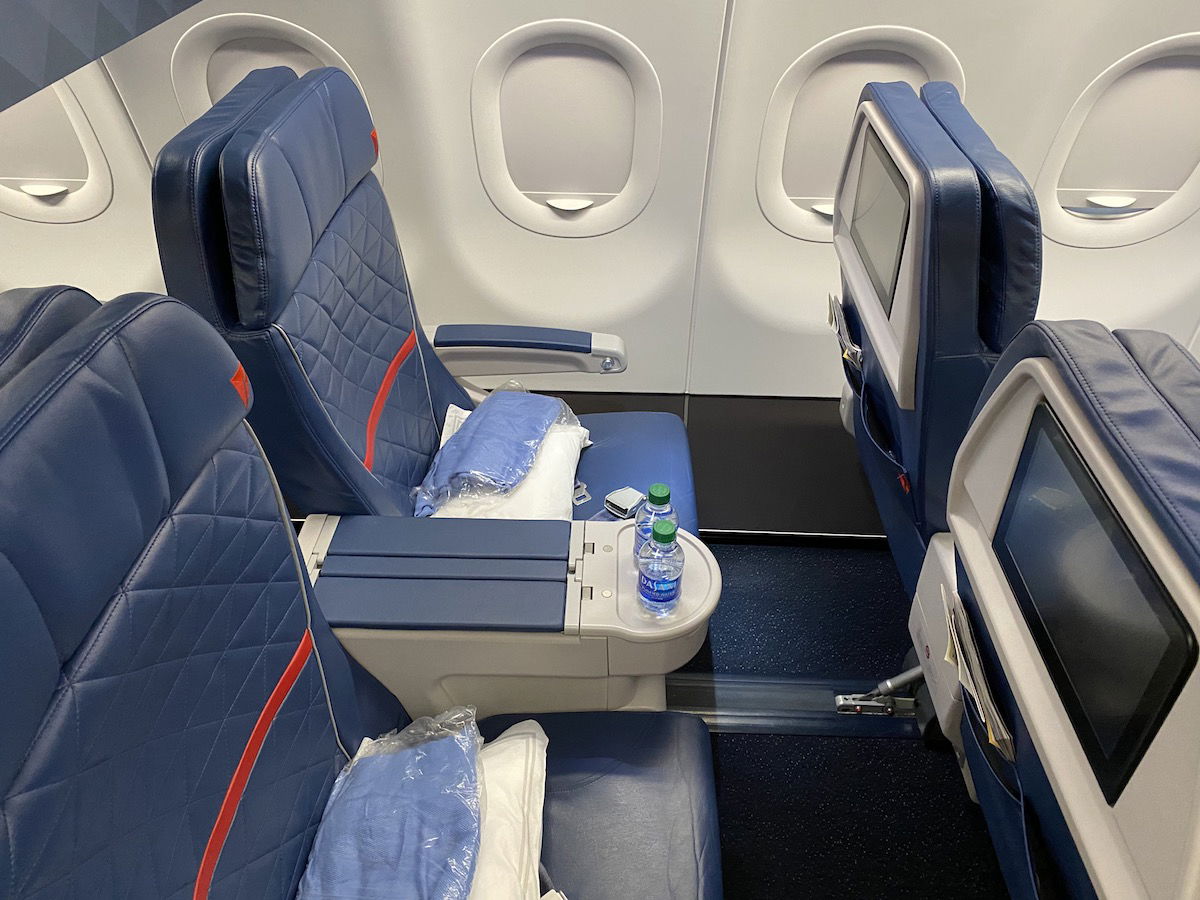 Delta A321 first class seats
As is the norm on Delta mainline planes (with the exception of MD-80s and 717s), each seat had a personal television, which is a nice touch.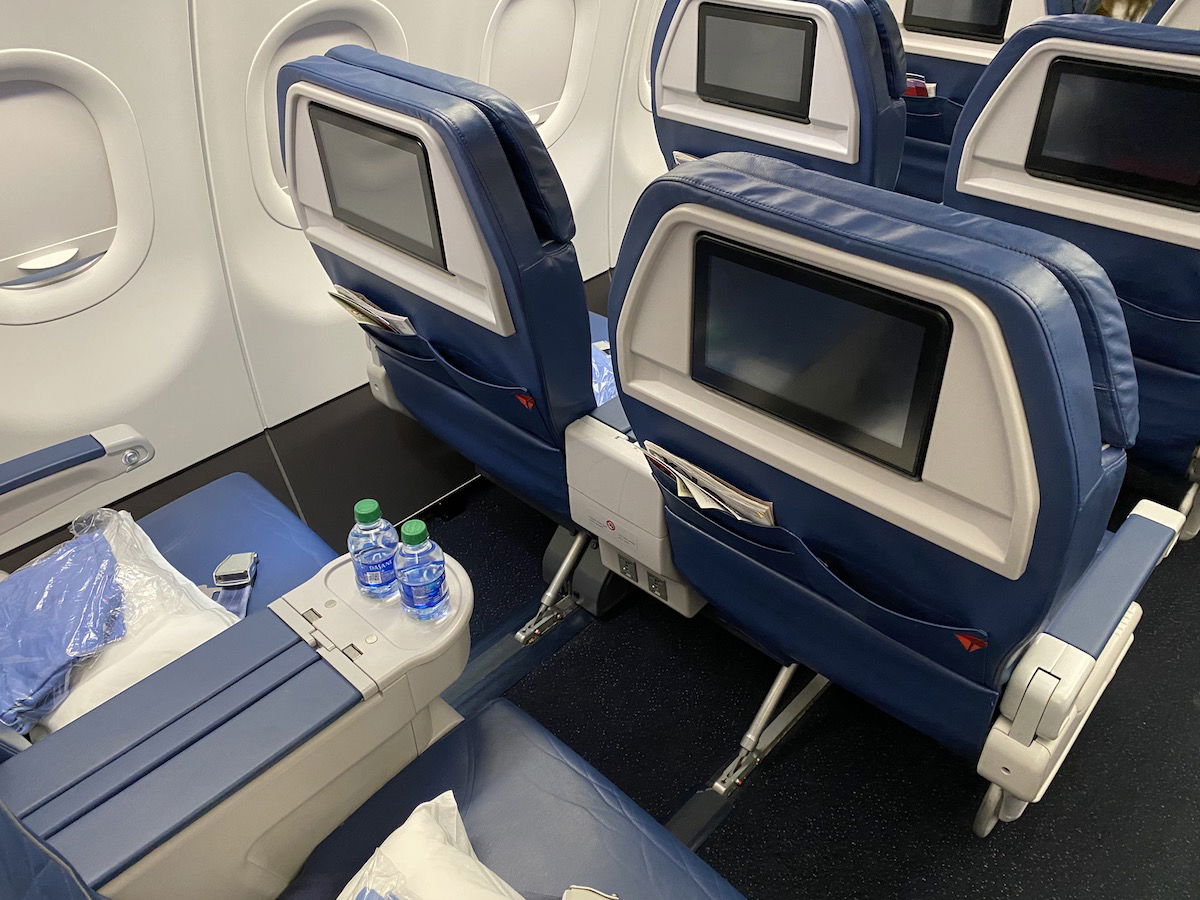 Delta A321 first class seats
Power outlets (110v and USB) were in front of seats, in the center.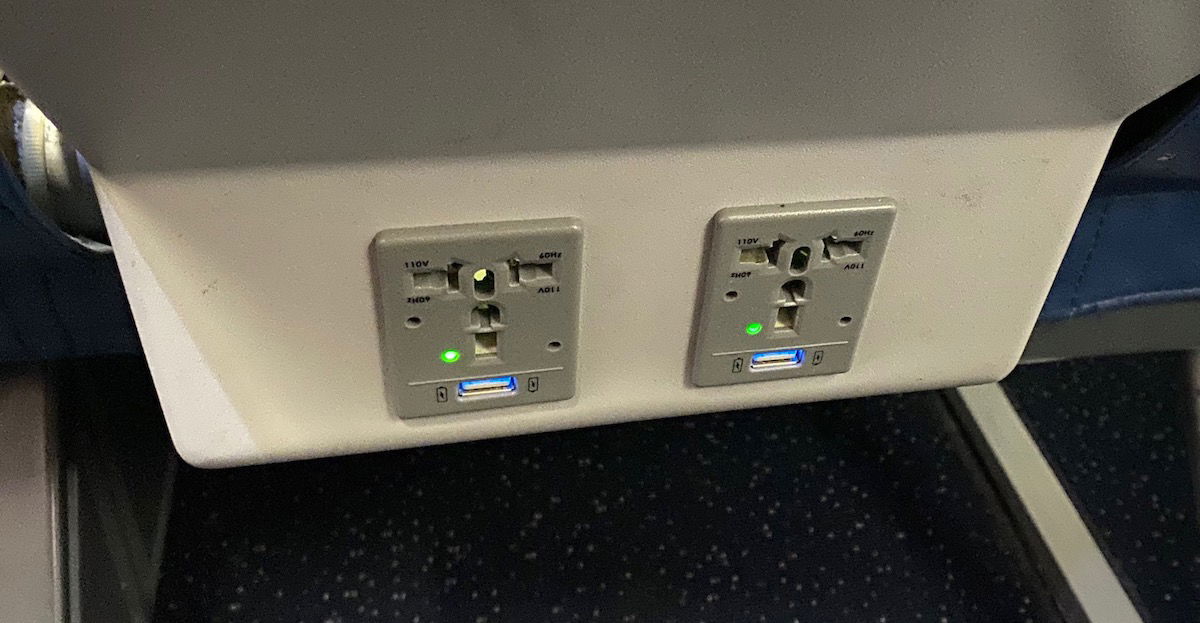 Delta first class power ports
The tray table extended from the center armrest, and could be folded over in half. The seatback also had four different pouches, which is nice for being able to store things.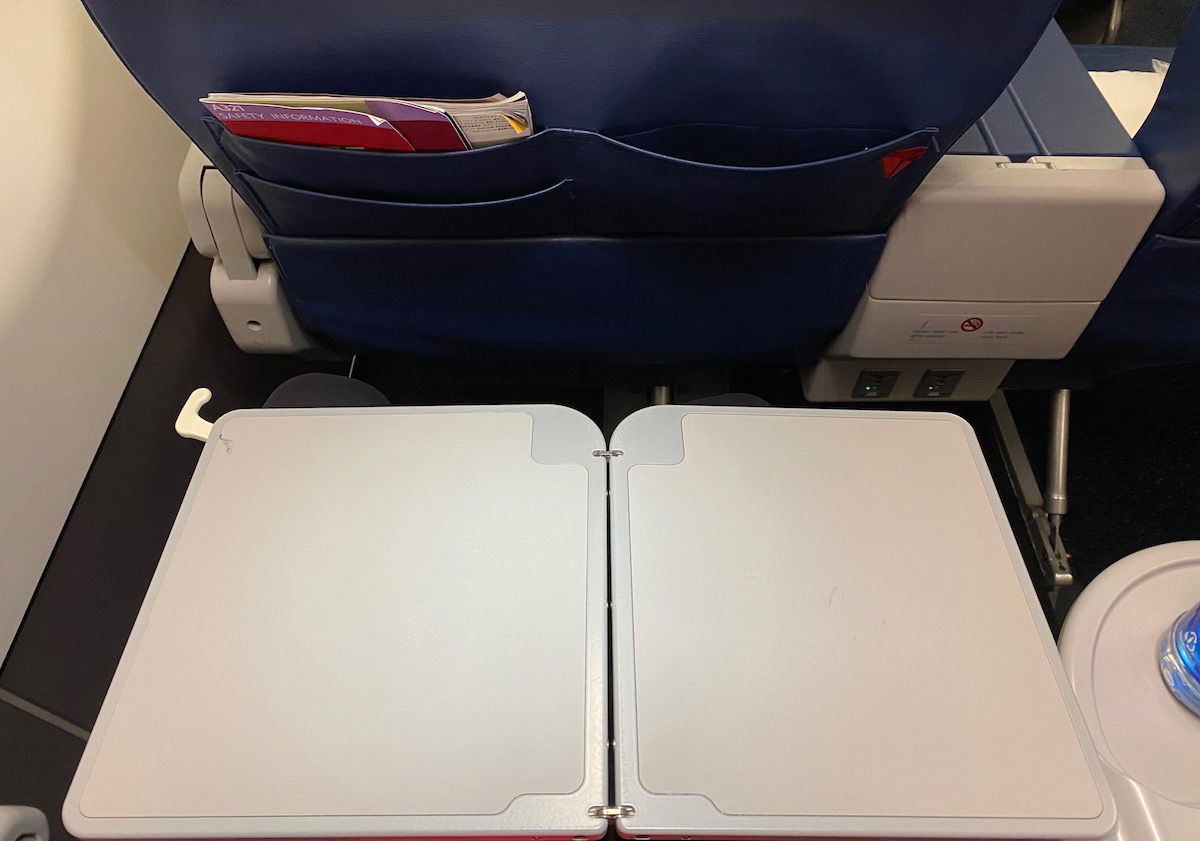 Delta first class tray table
Each seat also had a reading light and individual air nozzle.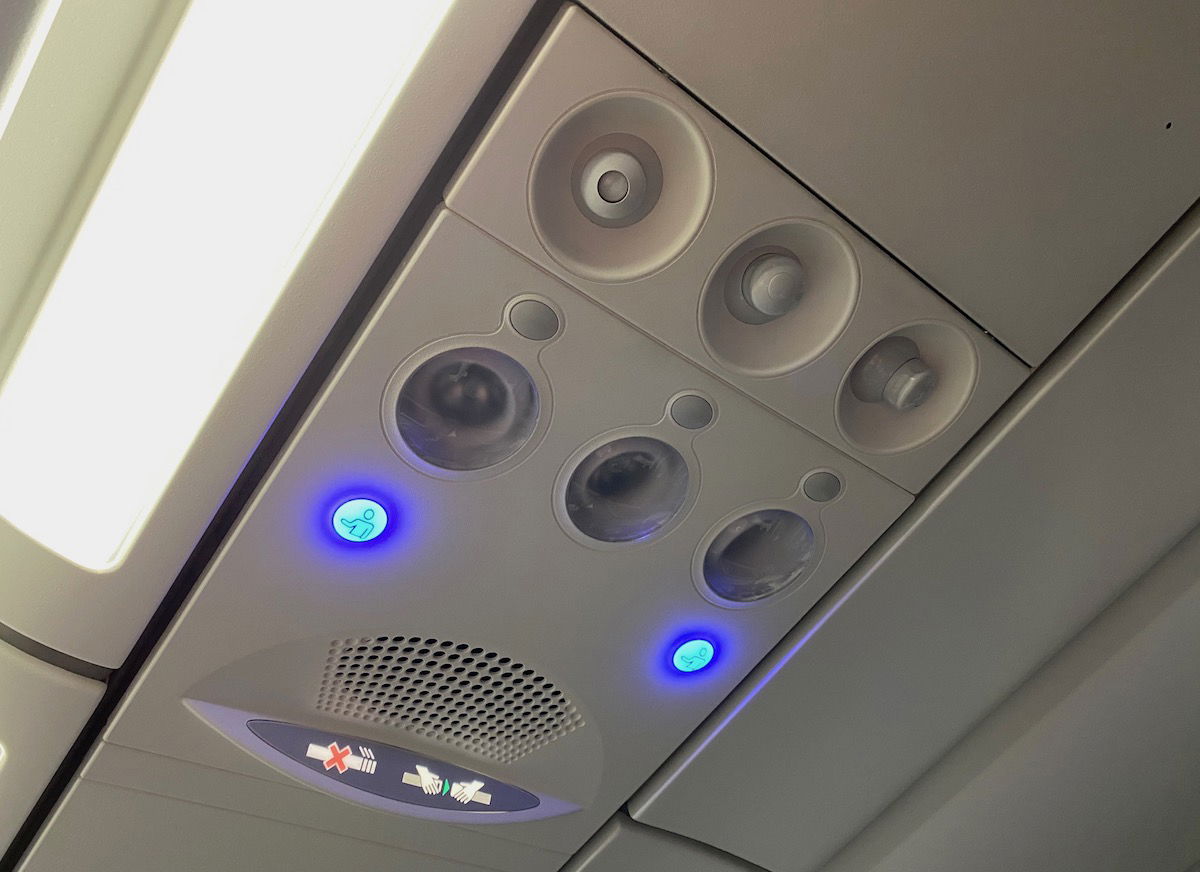 Delta first class air nozzles & reading lights
Delta has larger overhead bins on the A321, though passengers never seem to really grasp how these work, so they rarely end up being used efficiently.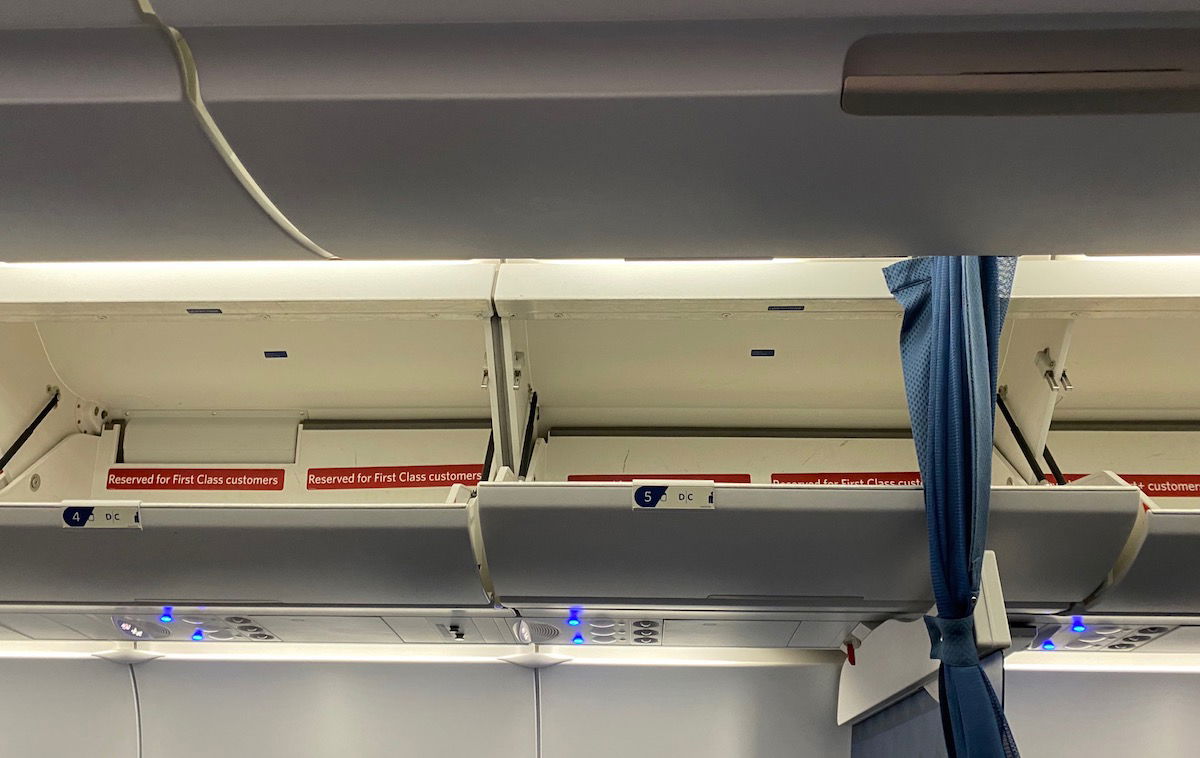 Delta A321 overhead bins
Waiting at each first class seat was a pillow and blanket — American and United don't have pillows in "standard" domestic first class, so I appreciate that Delta does.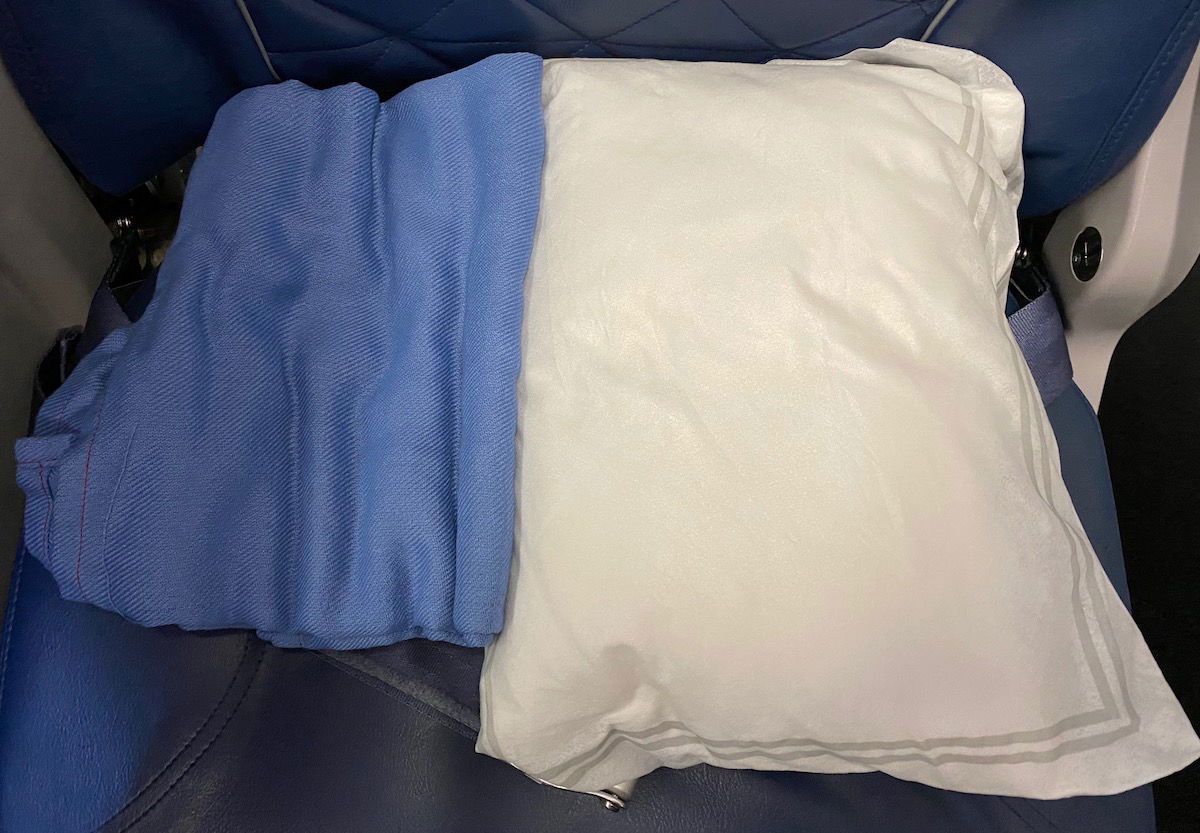 Delta first class pillow & blanket
There was also a small bottle of Dasani water at each seat.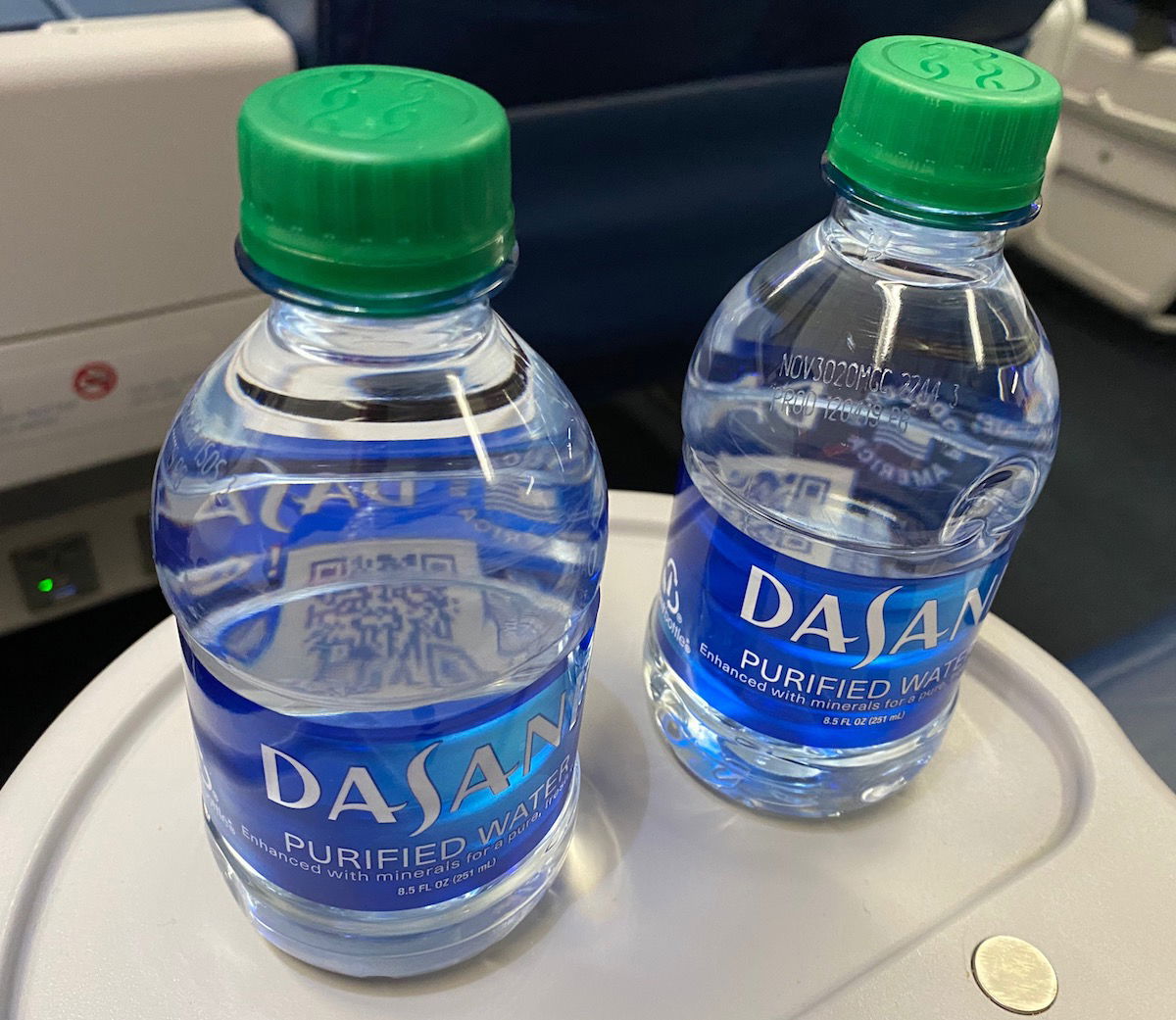 Delta first class bottled water
Despite the flight being full, the crew did a full round of pre-departure drinks of choice. I had a coffee with milk.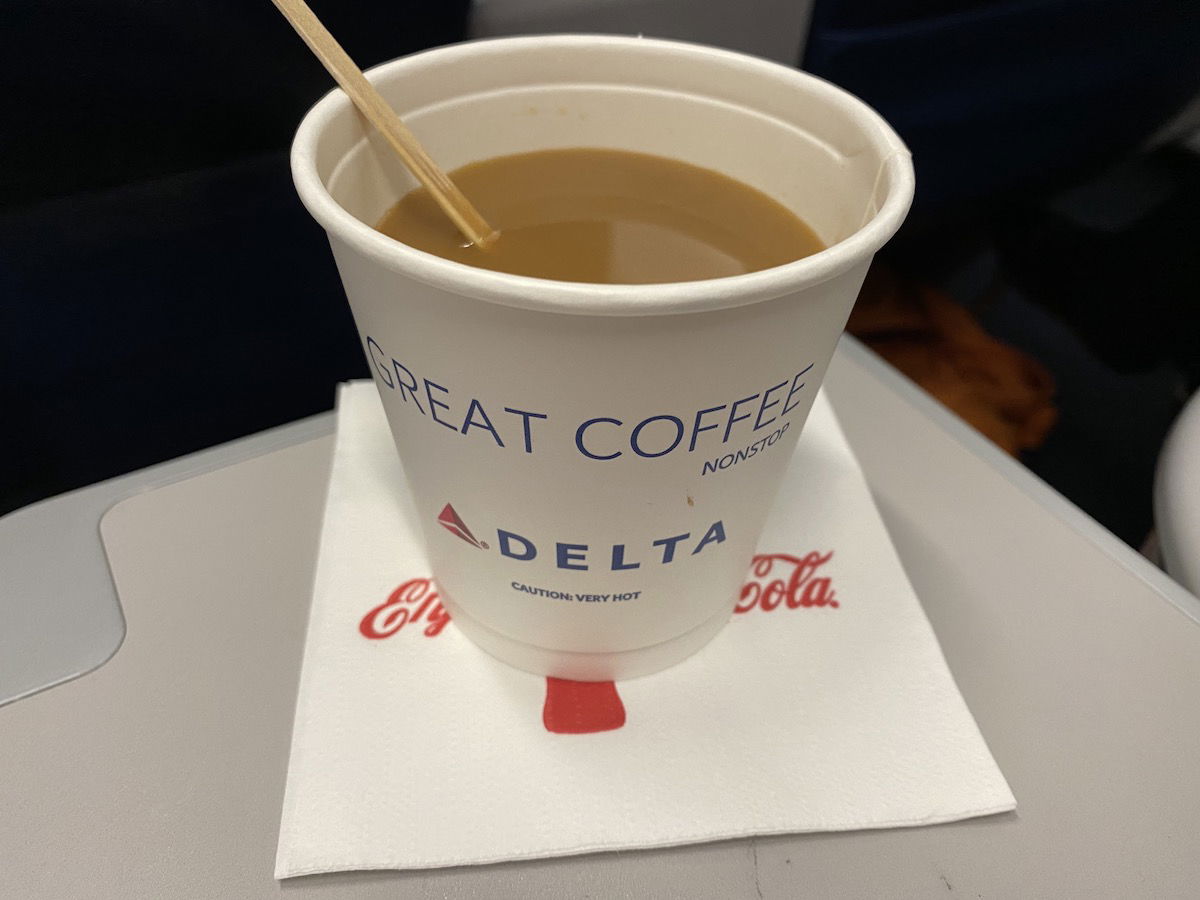 Delta first class pre-departure coffee
We were also offered complimentary earbuds.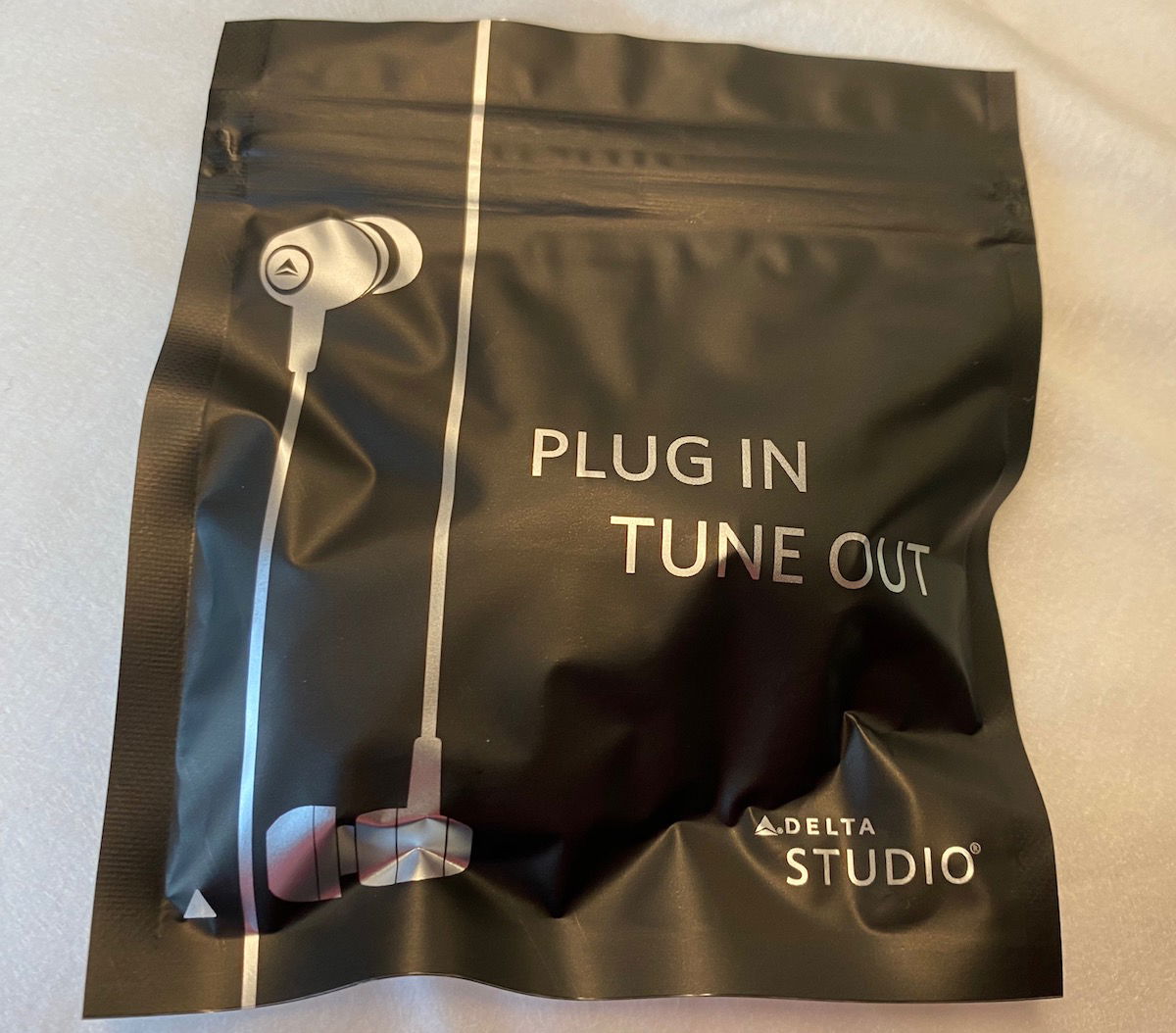 Delta earbuds
I found it interesting that the flight attendants were based in Miami, as I didn't even realize Delta had a base there.
While the flight attendants were friendly, I wasn't sure what to make of the "flight leader." He was super nice during the service, but his announcements were endless.
He made a total of nine announcements before the door closed, all telling people how to store their bags, to move out of the aisle, etc. It was almost like he was providing commentary of the boarding process. "I see people putting coats in the overhead bin, please don't do that."
I can appreciate an announcement once or twice, but listening to him talk for so much of the boarding process was tiresome.
Next, he definitely had some Southwest Airlines style humor, for better or worse. He made the following PA shortly before the door closed, while urging people to sit down:
"We're going to play a game… who wants to go to New York? Everyone has to be a participant."
He also announced that passengers shouldn't put their feet on video screens. 2020 is a sad time to be alive, eh?
https://twitter.com/OneMileataTime/status/1214526994131623939
Anyway, at 7:25AM the captain made his welcome aboard announcement, informing us of our flight time of 2hr9min, and our cruising altitude of 35,000 feet.
The door ended up closing ahead of schedule, and we pushed back at 7:30AM, at which point the safety video was screened. The crew turned on the mood lighting at this point as well.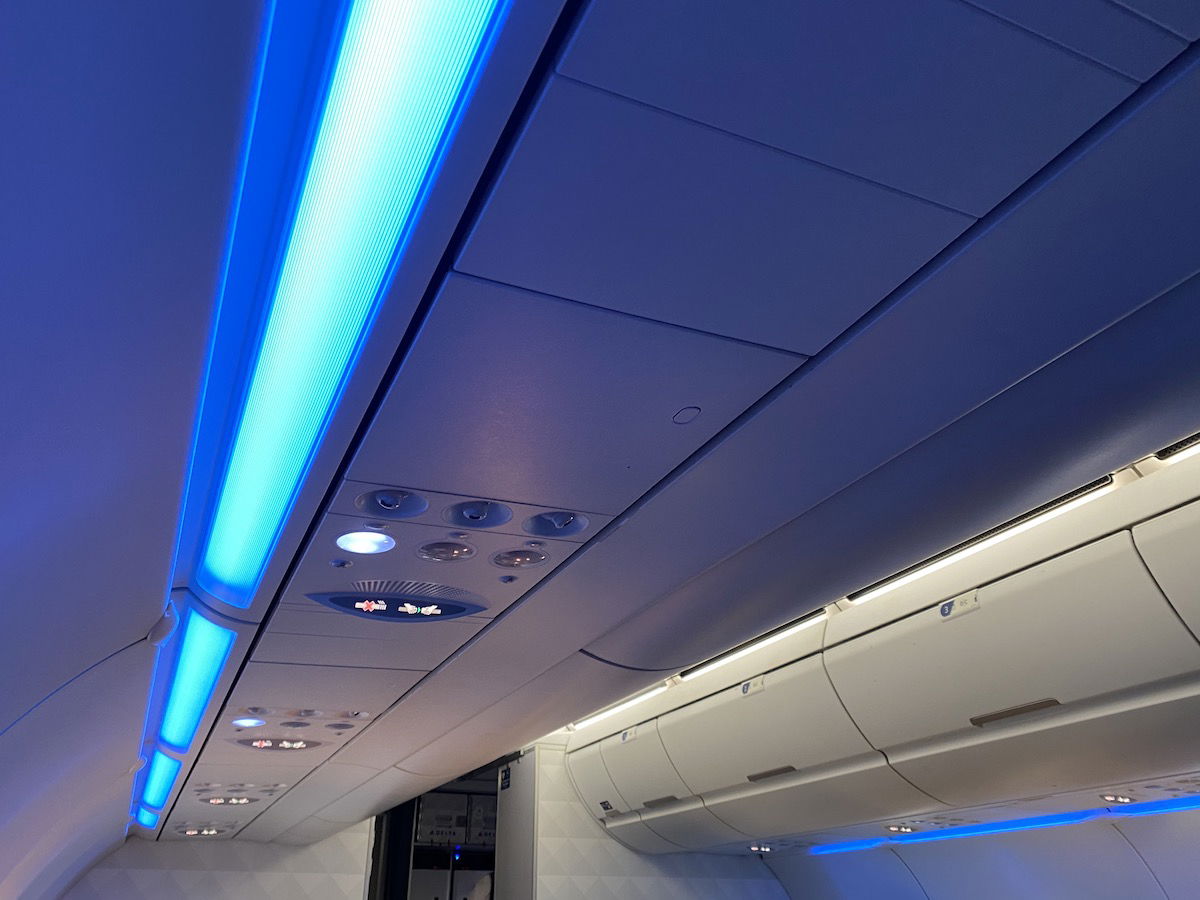 Delta A321 mood lighting
As we taxied out, the flight leader took breakfast orders. We had a short taxi to the runway, and were airborne by 7:45AM. Unfortunately we didn't take off in the direction of the water, so the views weren't that great.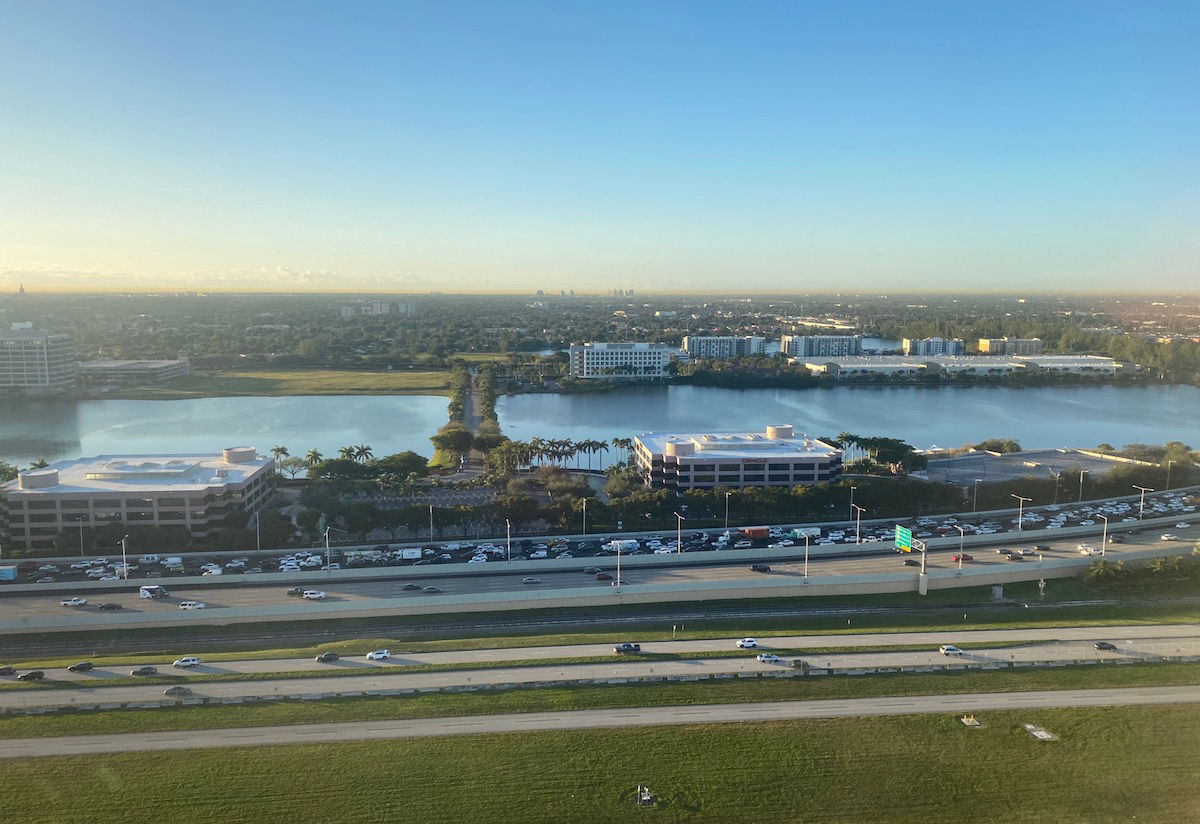 View after takeoff from Miami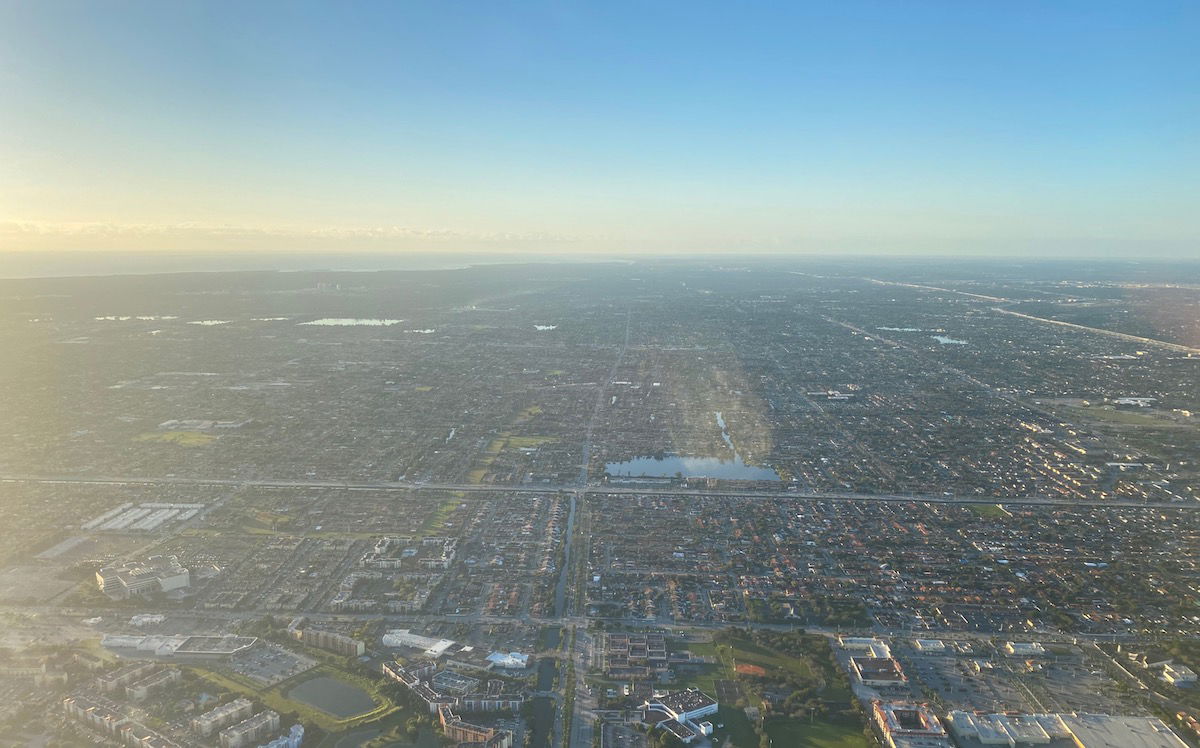 View after takeoff from Miami
As we climbed out I browsed the entertainment selection — you've gotta love that Delta has personal televisions on most of their planes.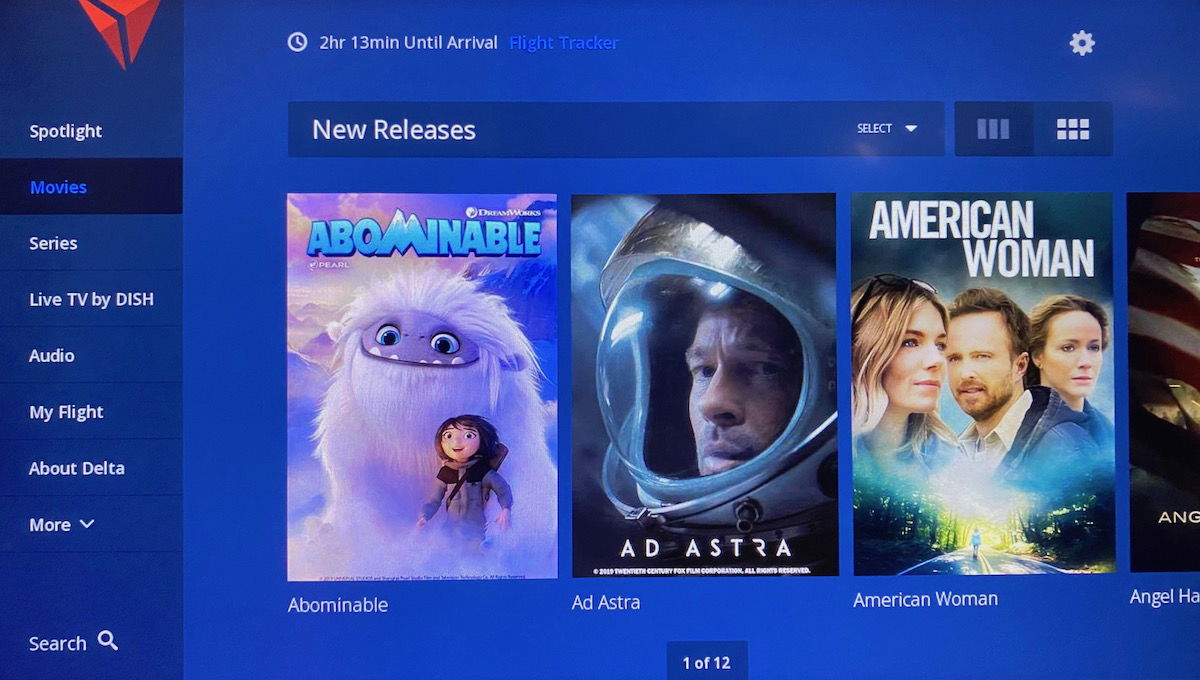 Delta entertainment system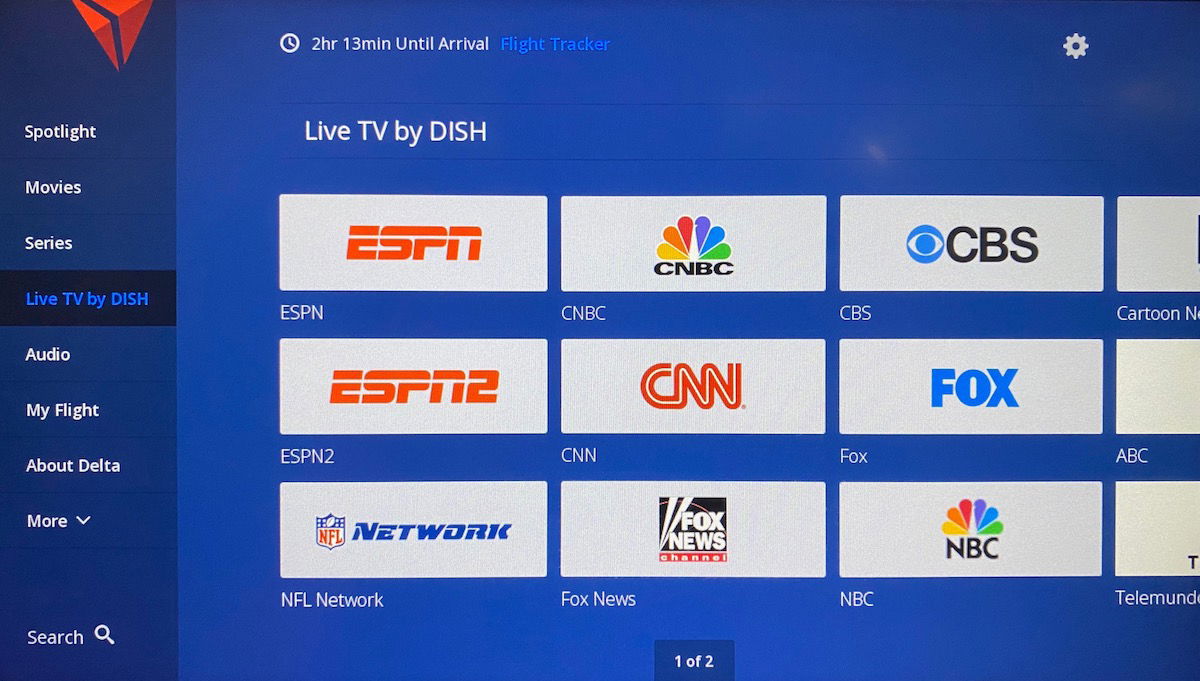 Delta entertainment system
I was planning on working, so I just kept the flight tracker on for the entire flight.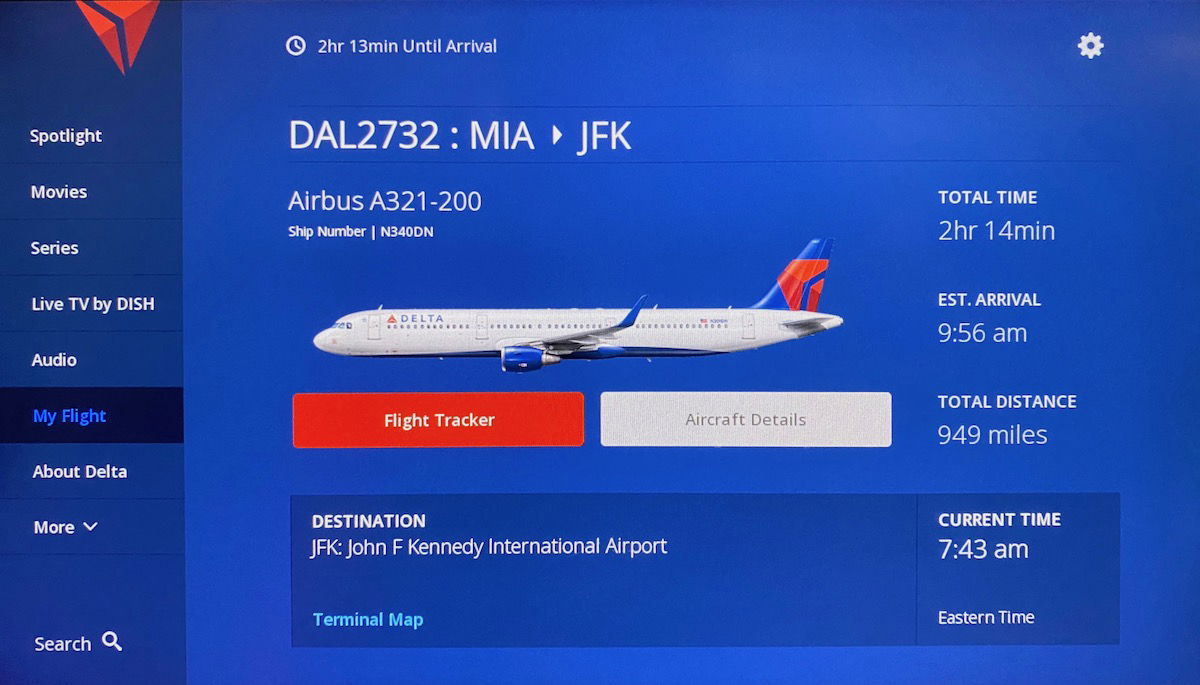 Delta entertainment system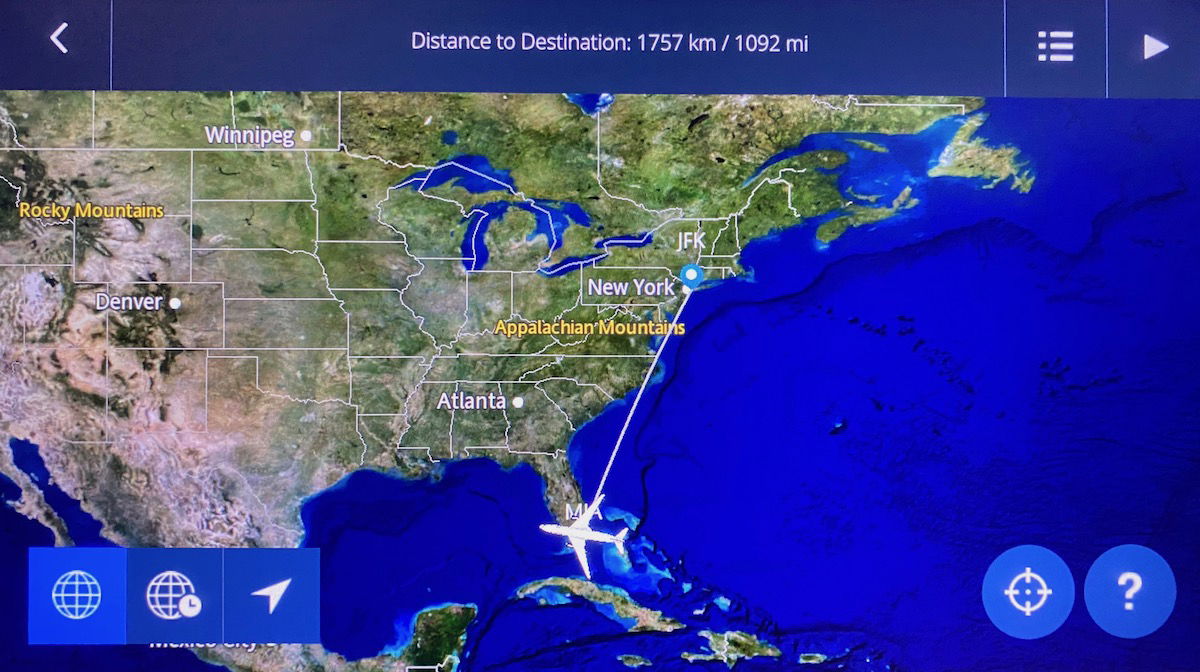 Map enroute to New York
Delta has Gogo 2Ku high speed Wi-Fi on their A321s, which is quite good, though I still strongly prefer Viasat.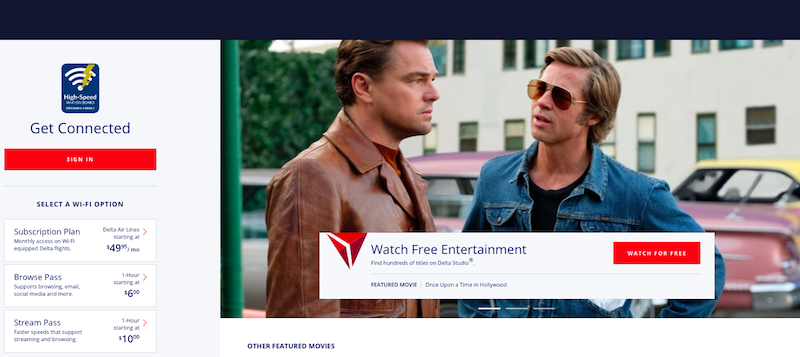 Delta Wi-Fi
I have a Gogo subscription so don't have to pay extra, but for what it's worth, the "streaming" pass cost $10 for one hour, or $25 for the entire flight. If you don't have a Gogo membership, you can save by buying a Wi-Fi pass in advance.


Delta Wi-Fi
Service began about 20 minutes after takeoff, with warm towels being distributed.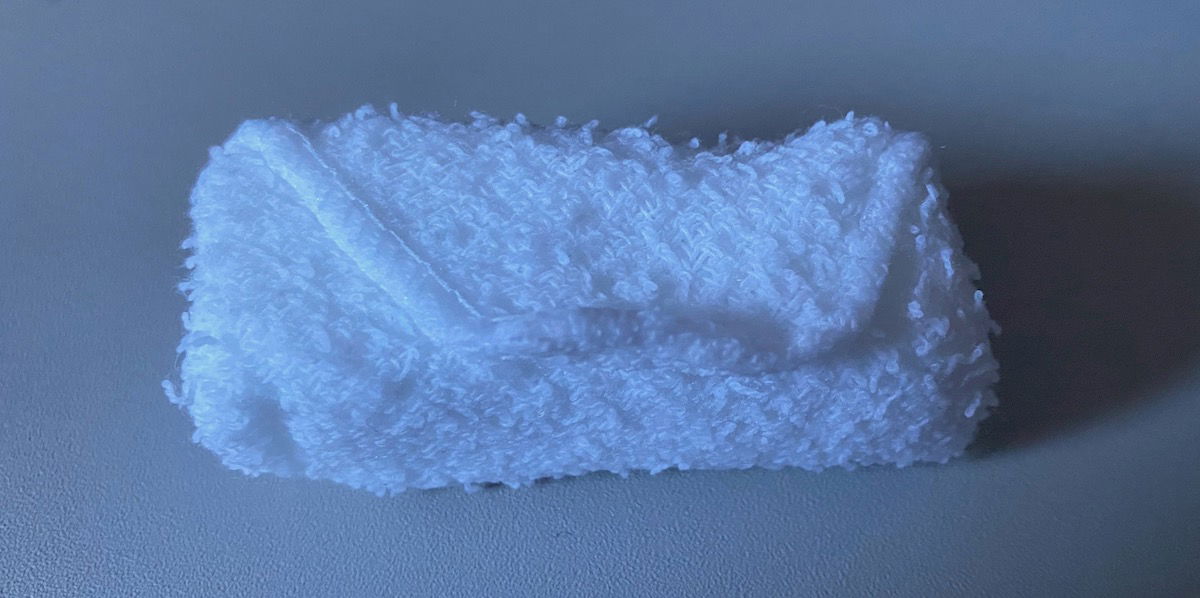 Delta first class warm towel
Delta now lets you select meals in advance. The choices for this flight were as follows:
Oats n honey granola cereal with Chobani Greek yogurt, fresh fruit, and a croissant
Scrambled egg sandwich on a pretzel roll with Swiss cheese and turkey bacon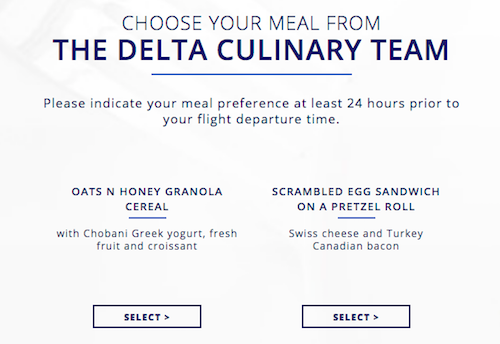 Delta breakfast options
Ordinarily I would have gone with the cereal and yogurt, but I figured I should order the other option because it would be more interesting to share my thoughts on.
While there are many things I commend Delta for, their domestic catering isn't among them. In my experience they're no better than American in that regard, which is saying a lot.
The breakfast came with a side of fresh fruit and some Chobani Greek yogurt.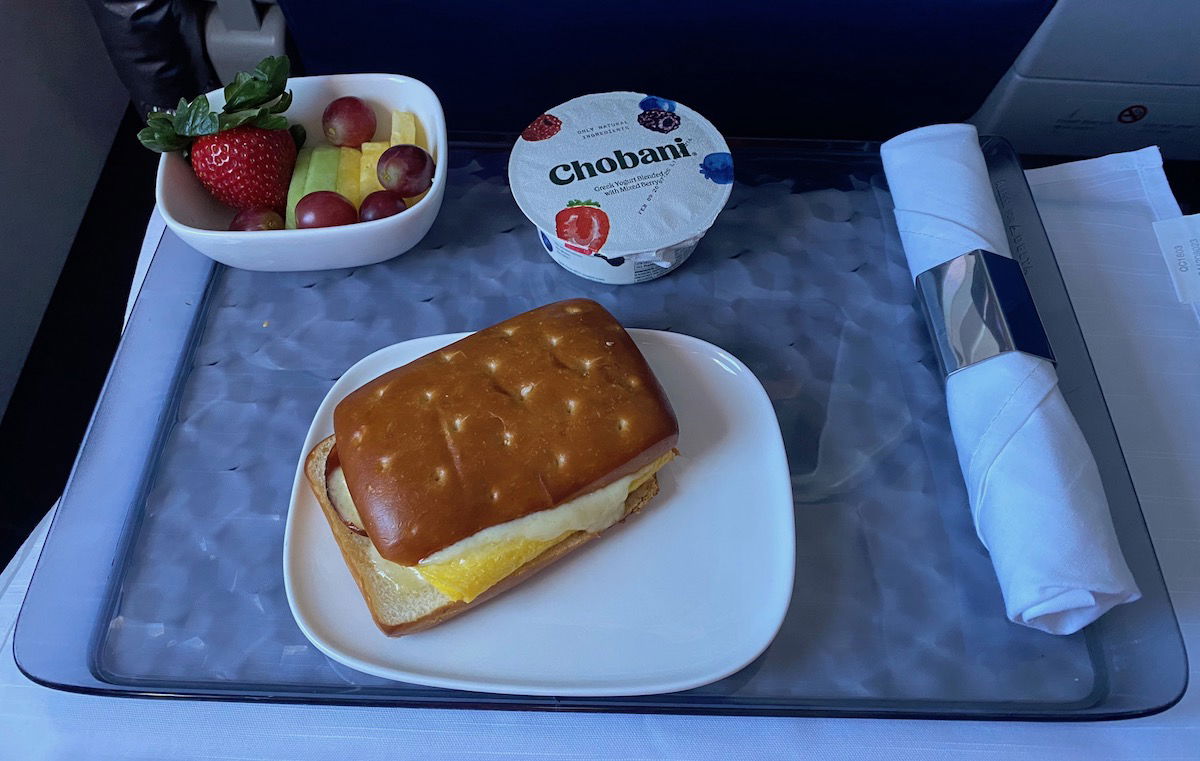 Delta first class breakfast
The sandwich itself was… very bad. The "pretzel roll" was hard and tasteless, and clearly Delta defines "scrambled eggs" differently than I do.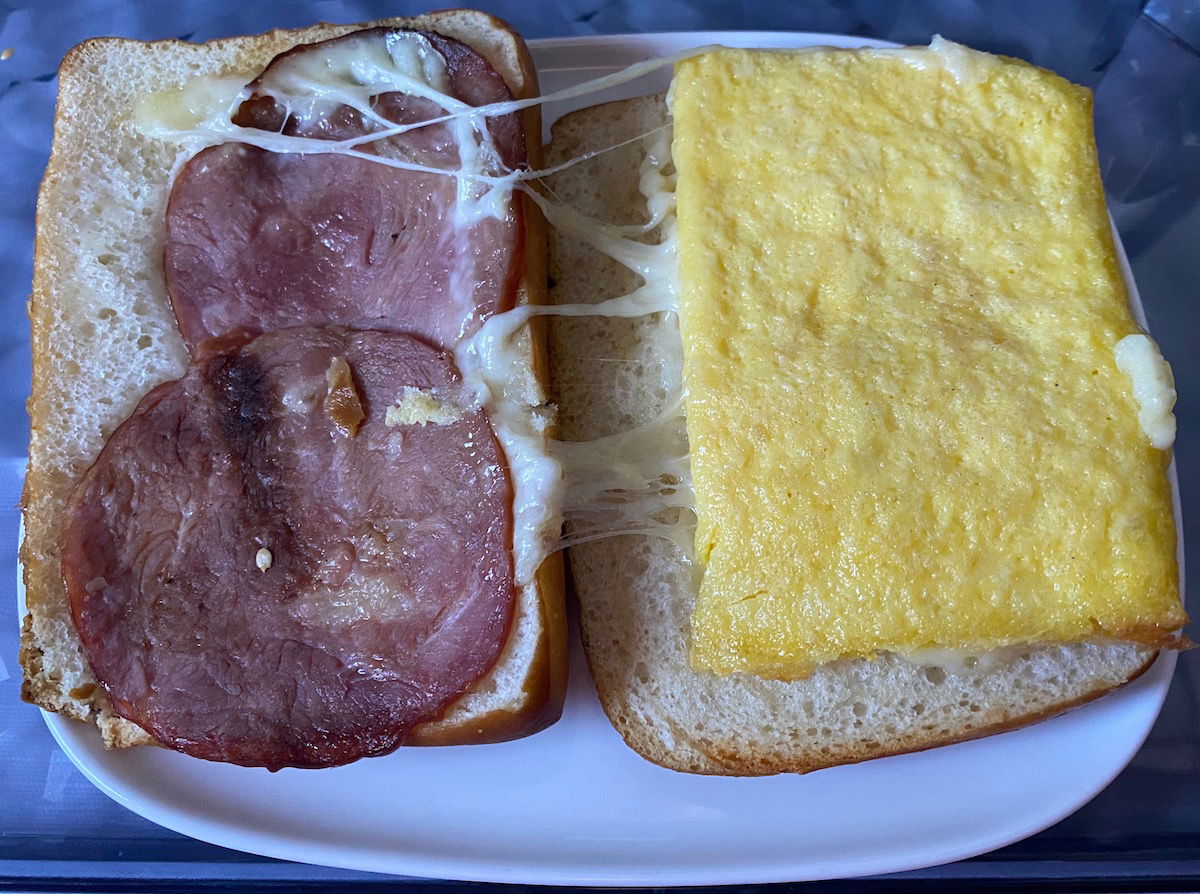 Delta first class breakfast
I worked for most of the flight, and shortly before the descent started I visited the lavatory.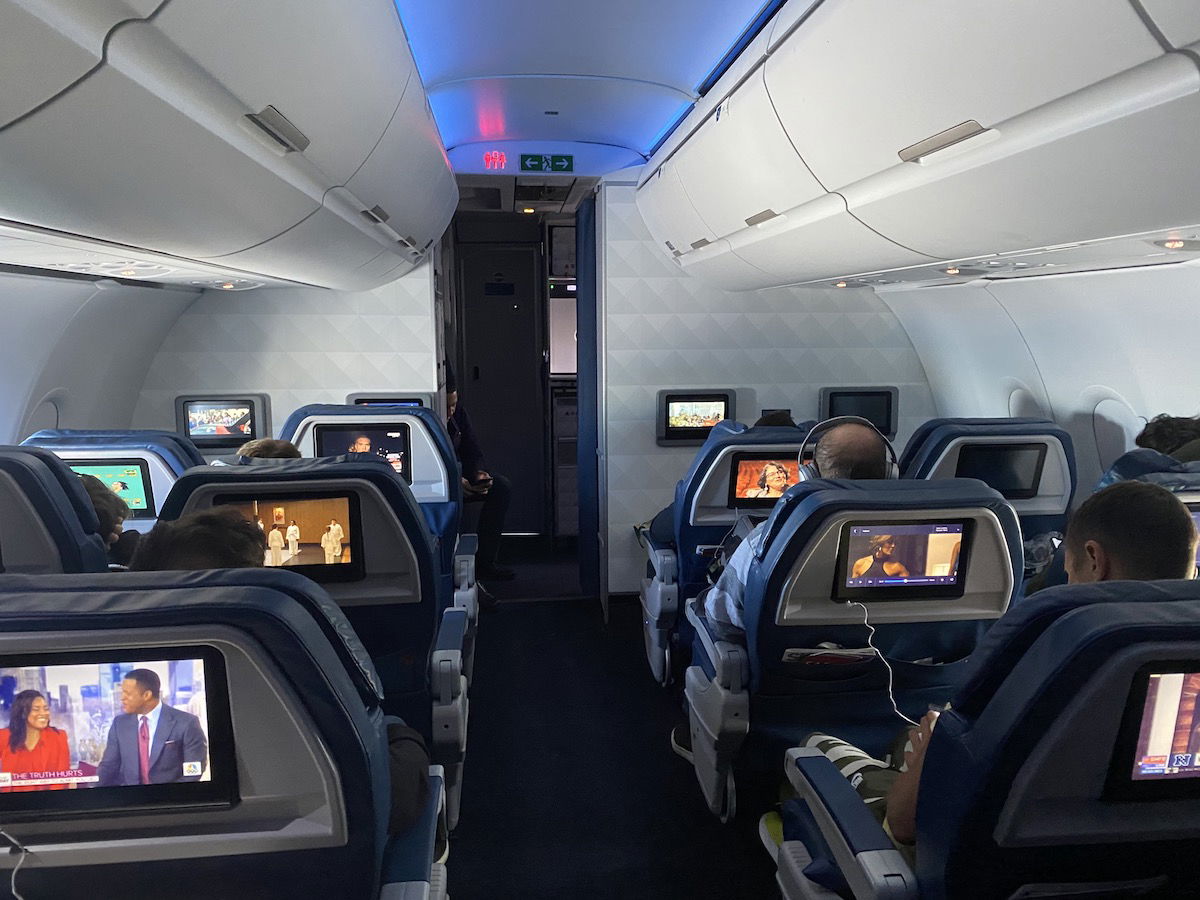 Delta A321 first class cabin
The lavatory was at the front of the cabin, and the only notable thing was the Malin+Goetz soap and body lotion, which I like.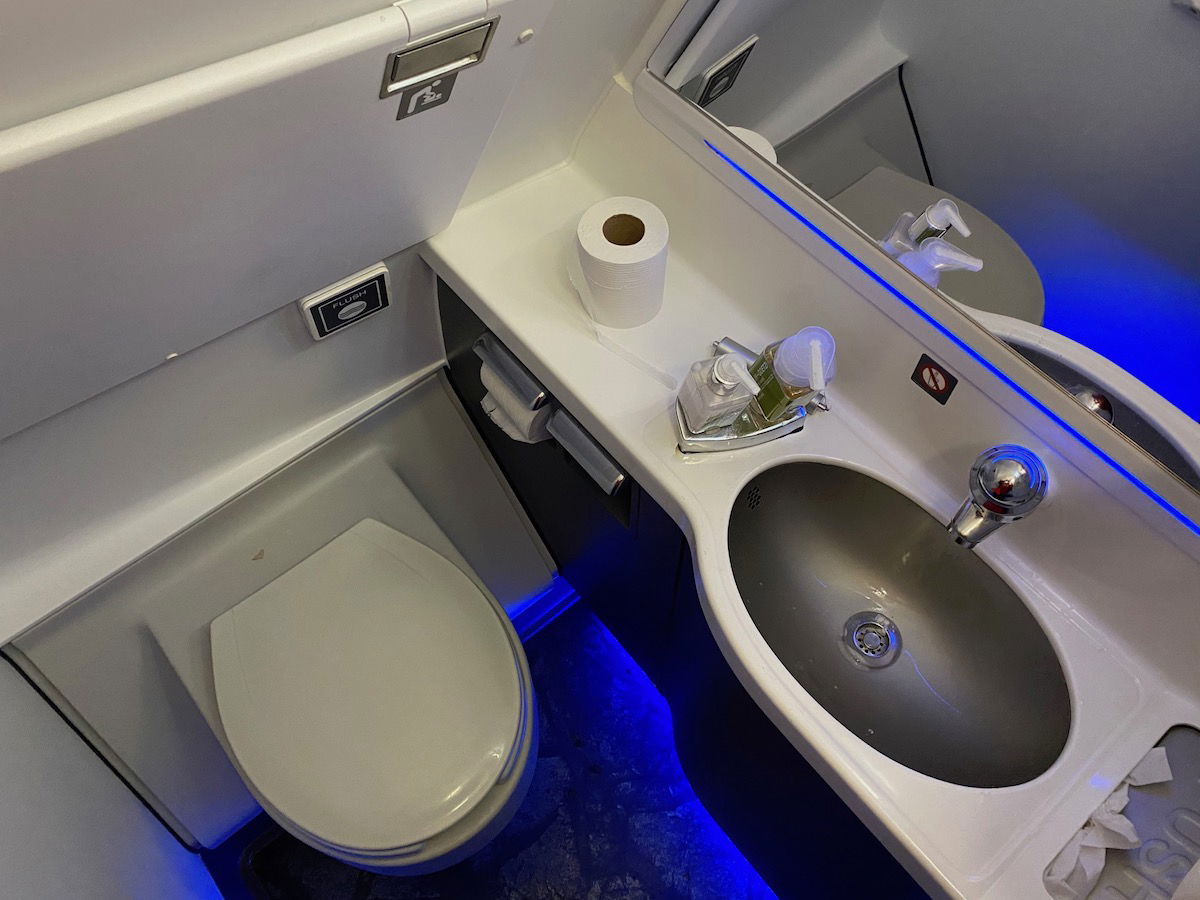 Delta A321 lavatory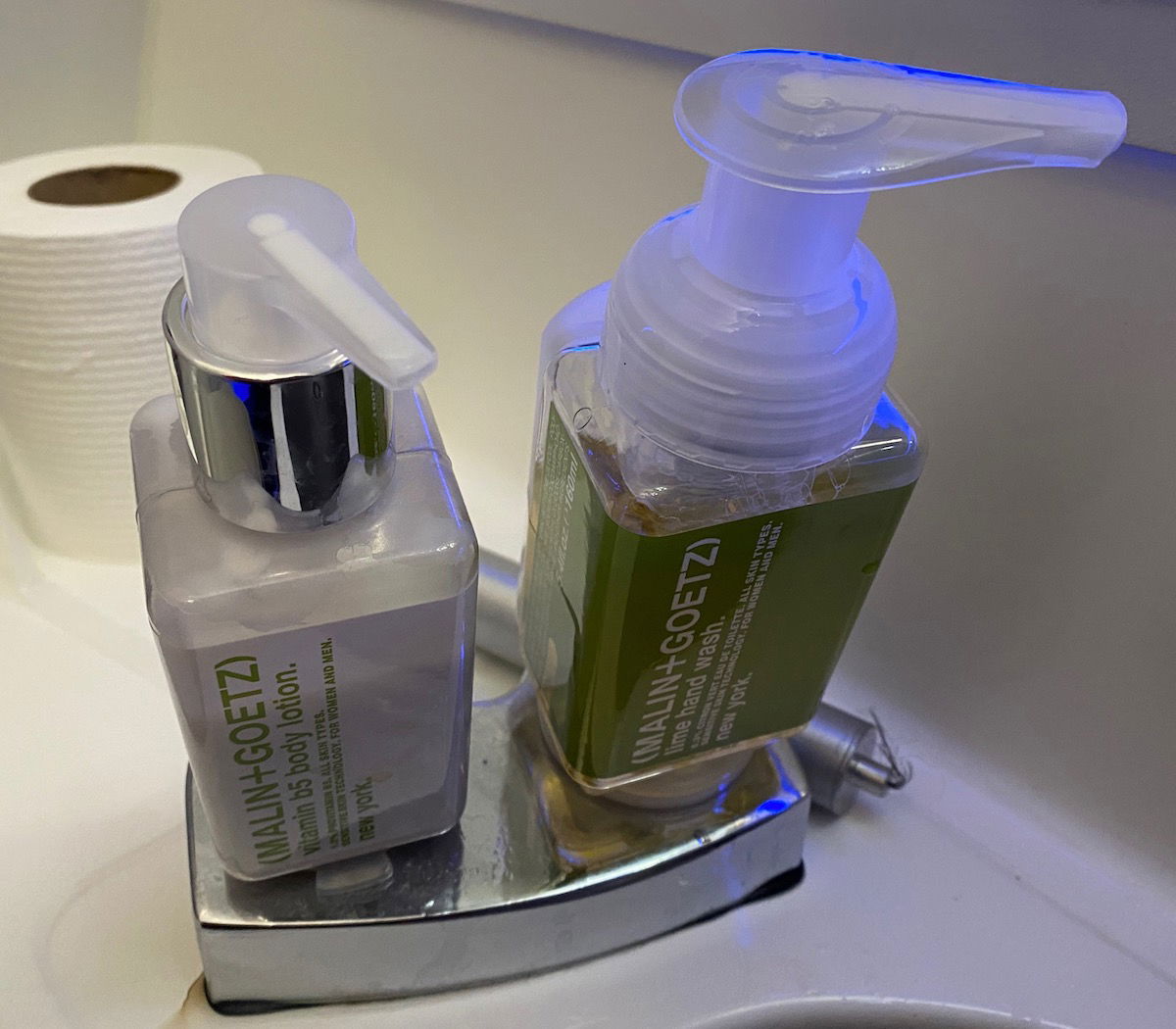 Delta Malin+Goetz toiletries
At 9:30AM the captain announced that we should be landing at 9:55AM, and would be at the gate 10 minutes after that.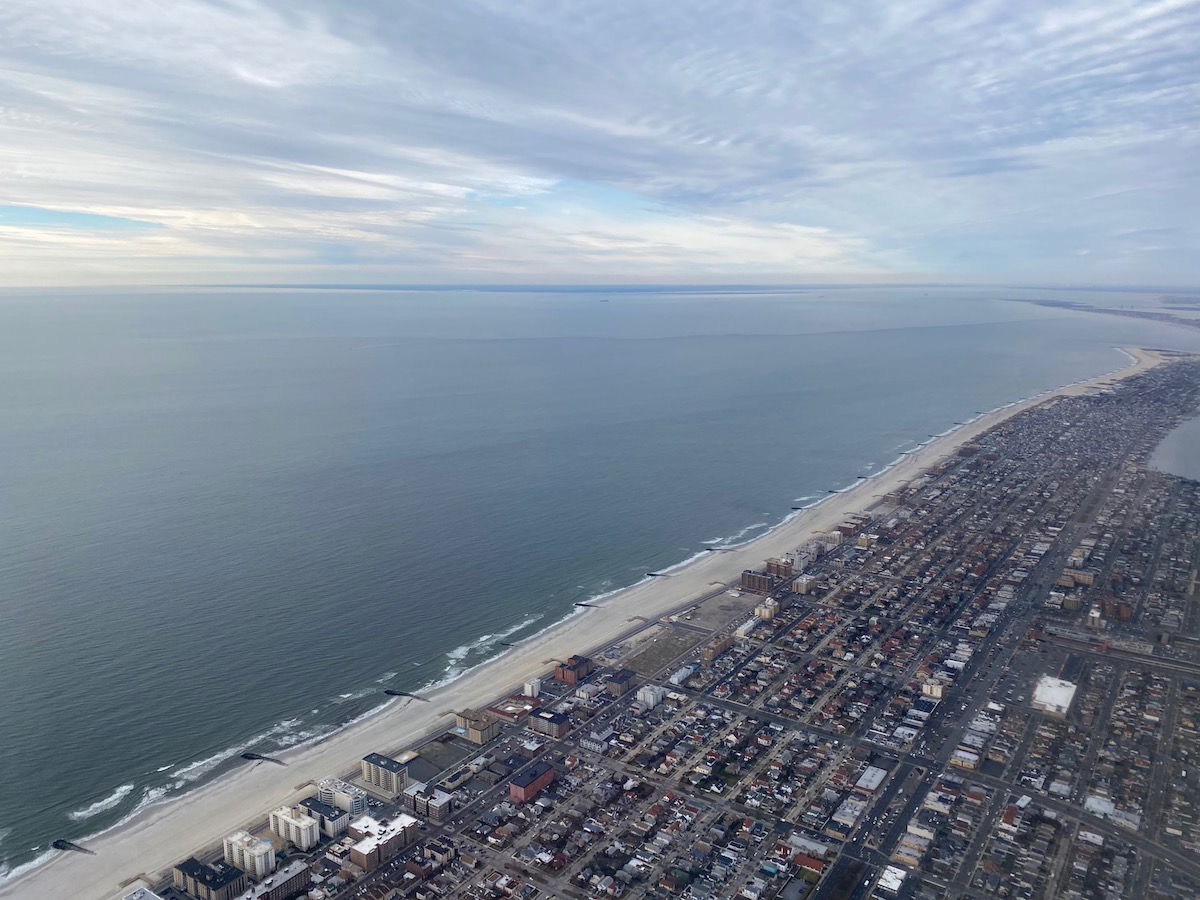 View approaching New York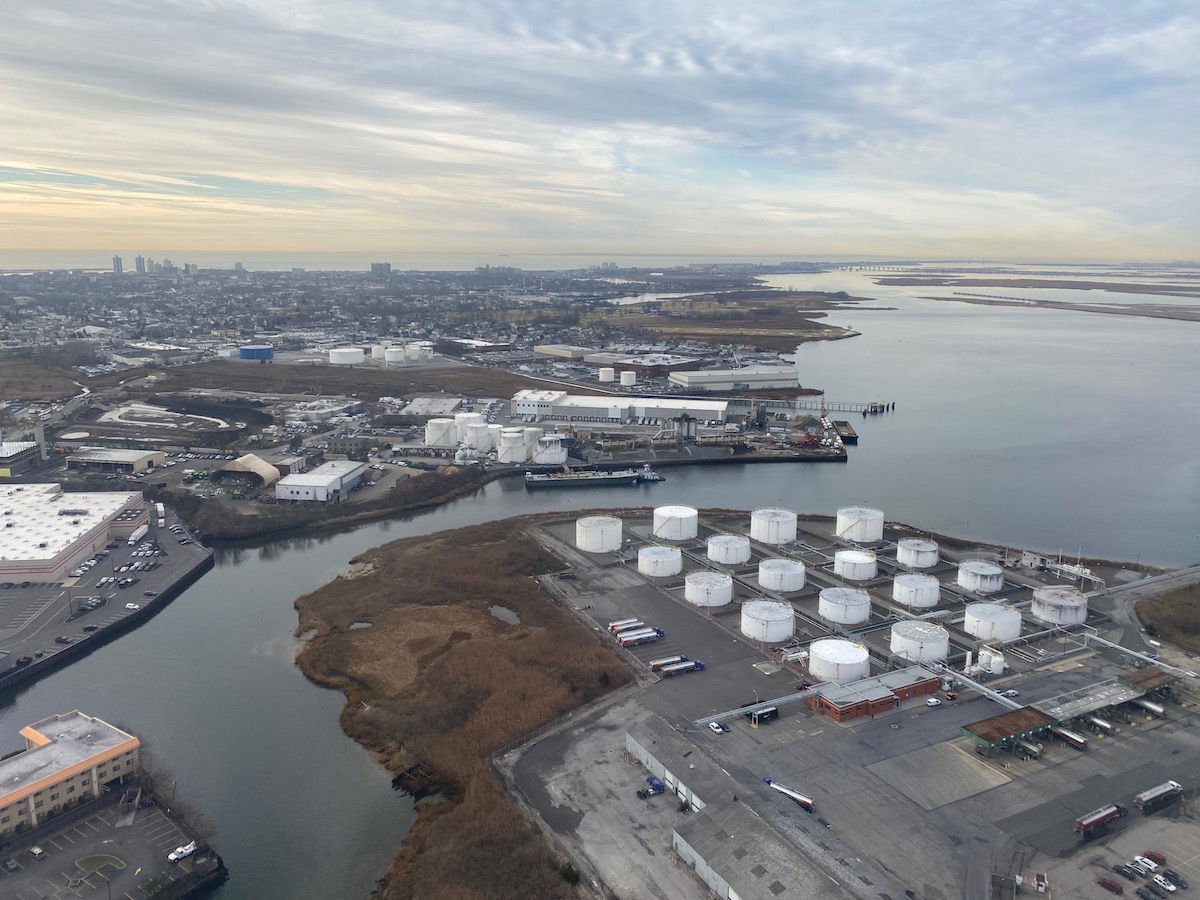 View approaching New York
Sure enough we landed on runway 13L at 9:55AM.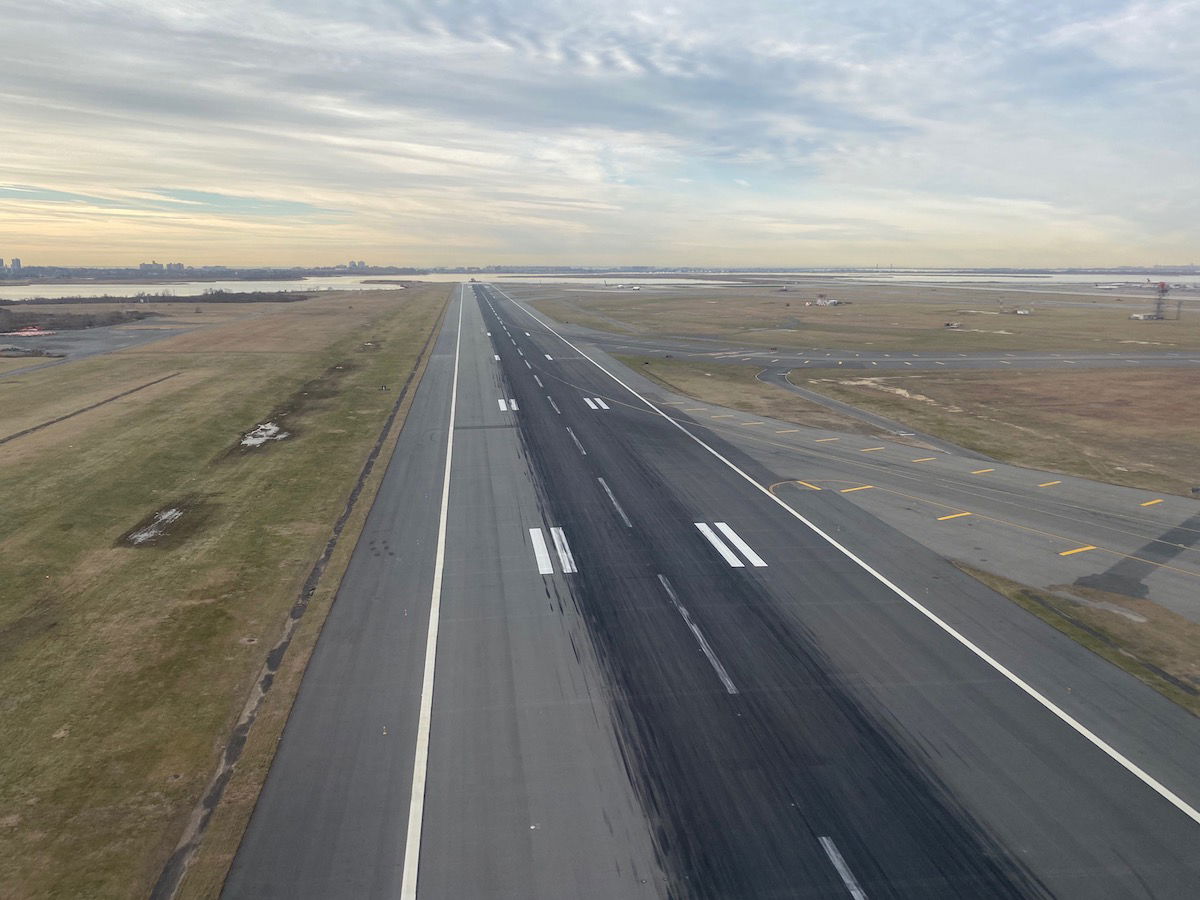 View approaching JFK
We ended up arriving at our gate at Terminal 2 at 10AM, well ahead of schedule.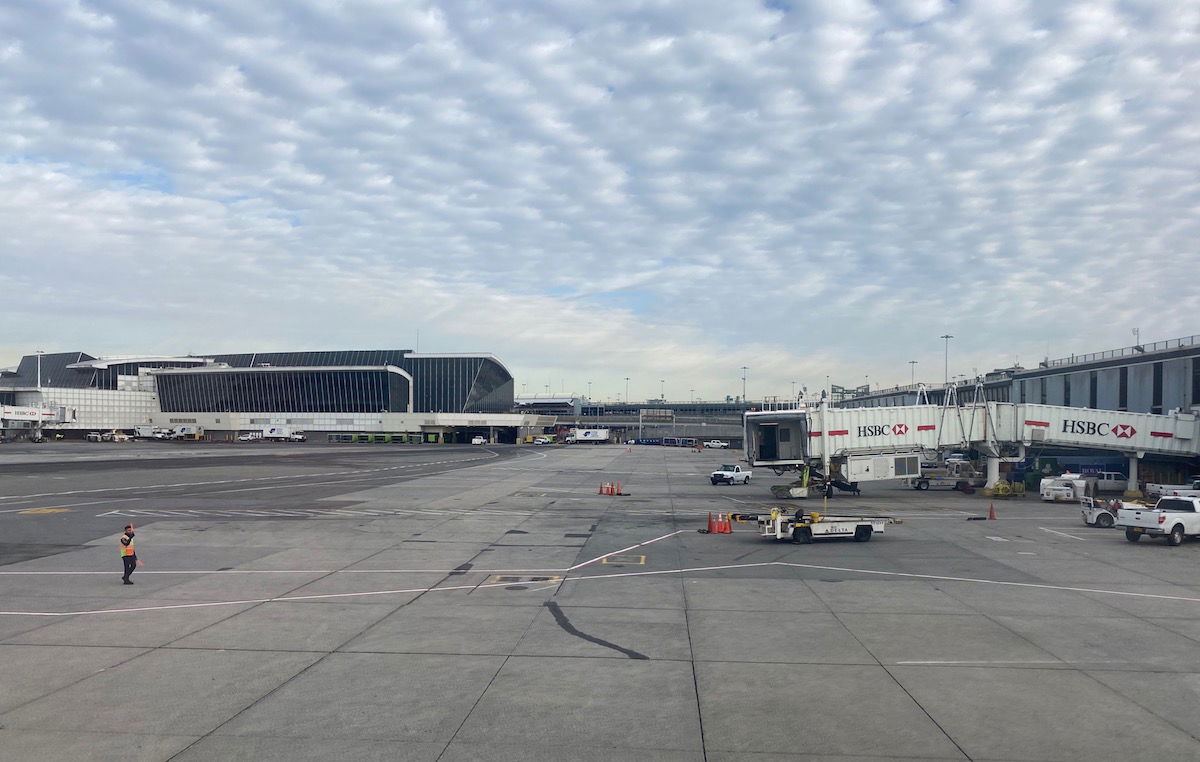 Arrival gate JFK
Delta First Class Bottom Line
Of the "big three" US carriers, Delta offers the most consistently pleasant domestic first class experience, in my opinion — service is consistently friendly, all seats have outlets and most have personal televisions, they have pillows, blankets, and bottled water at each seat, etc.
Their food continues to be a low point of the experience, in my opinion, but then again, that's the case with most meals on domestic flights.
If you've flown Delta's A321 first class, what was your experience like?