---
Air France 1318
Paris (CDG) – Frankfurt (FRA)
Wednesday, December 11
Depart: 3:30PM
Arrive: 4:50PM
Duration: 1hr20min
Aircraft: Airbus A318
Seat: 2F (Business Class)
After being introduced to the purser I took my seat in row two. As is the norm for intra-Europe flights, business class is simply economy seating with the middle seat blocked and improved food and drink service. Row one was only on the right side of the aircraft, and there were two guys seated there. Then in row two I had the window seat, and the other seats were all empty. Interestingly the business class partition was only behind row four, though business class only went through row two, meaning it was just the three of us.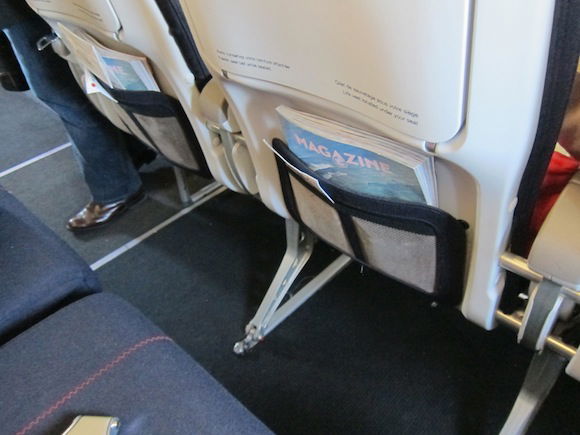 Air France A318 business class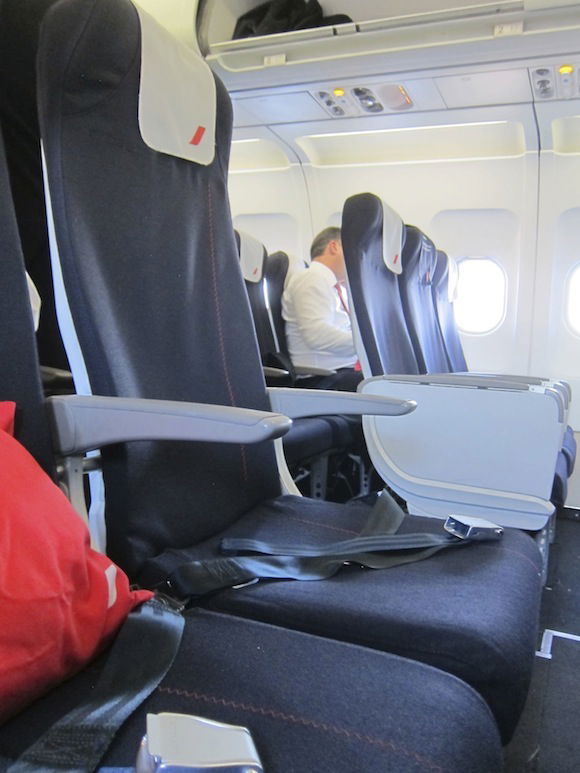 Air France A318 business class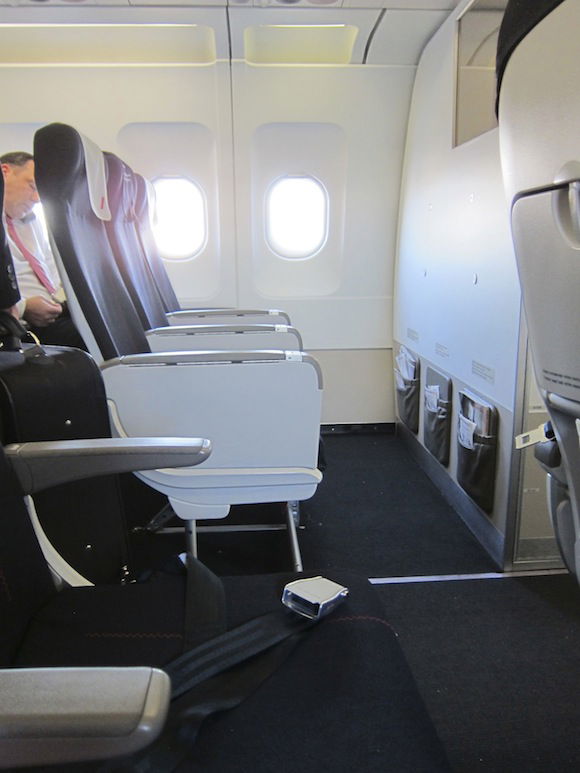 Air France A318 business class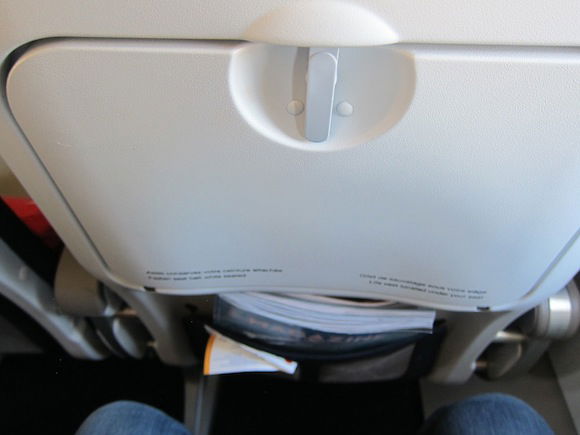 Air France A318 business class legroom
Shortly before the door closed the purser distributed refreshing towels to business class passengers.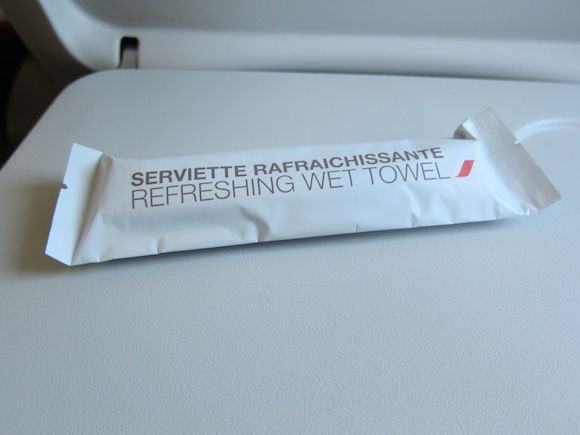 Air France business class refreshing towels
A few minutes behind schedule the door closed and the captain came on the PA to advise us of our flight time of 65 minutes, anticipating an on-time arrival in Frankfurt. He also advised us that we'd be delayed about 10 minutes for departure as the two planes next to us were pushing back at the same time and would be ahead of us.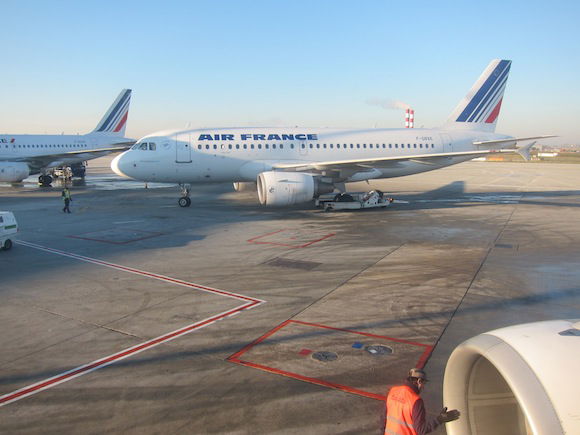 View prior to pushback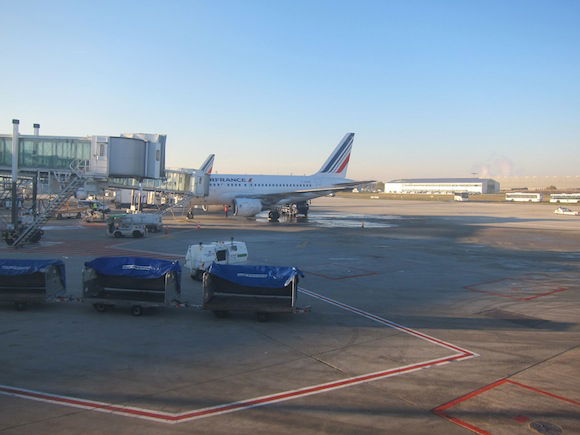 View prior to pushback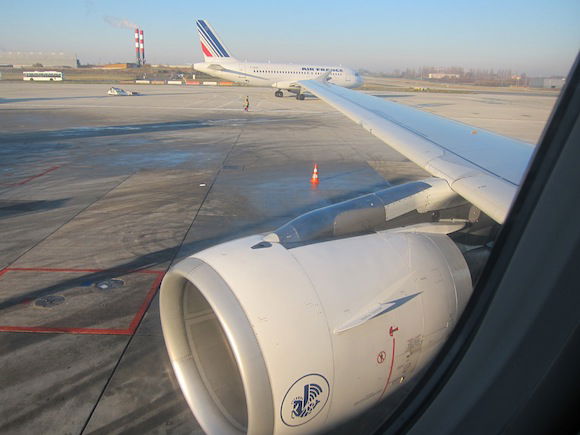 View prior to pushback
While still at the gate the flight attendants did a manual safety demonstration, which was completed within a few minutes.
Now I'm in no way judging the piloting skills of the cockpit crew, but my gosh were they rough on the controls. I don't think I've ever been thrown around so much even before takeoff. We had a super long taxi to runway 9R, but we taxied there in a matter of minutes, and I don't think they slowed down one bit for any corner.
As we taxied out to the runway I saw an ANA 777 landing, which was pretty cool.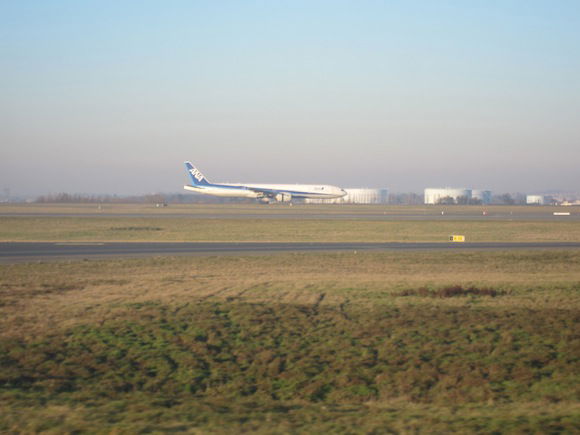 ANA 777 landing
I also saw an Air France A318 taking off.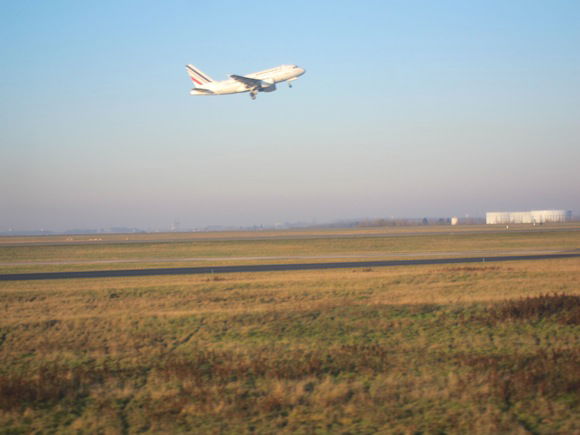 Air France A318 taking off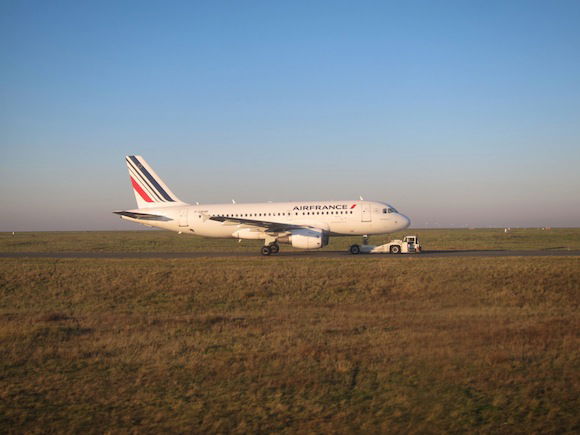 Air France A318 taxiing
By the time we made it to runway 9R we were number one for takeoff, and were airborne in a matter of seconds. There were some great views of the airport as we climbed out, given the beautiful weather.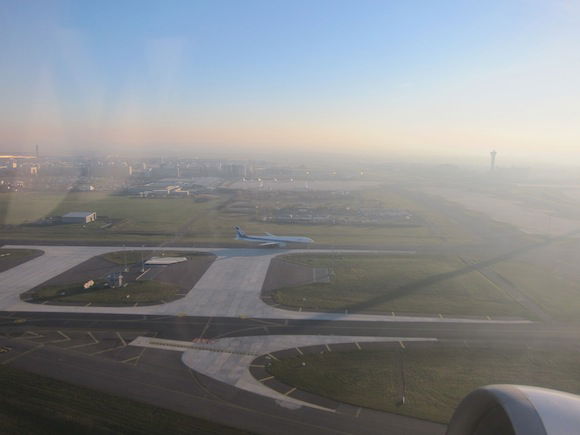 View after takeoff
About 10 minutes after takeoff the service began. I don't actually know what the food was — and for that matter wasn't at all hungry — but below is a picture of it.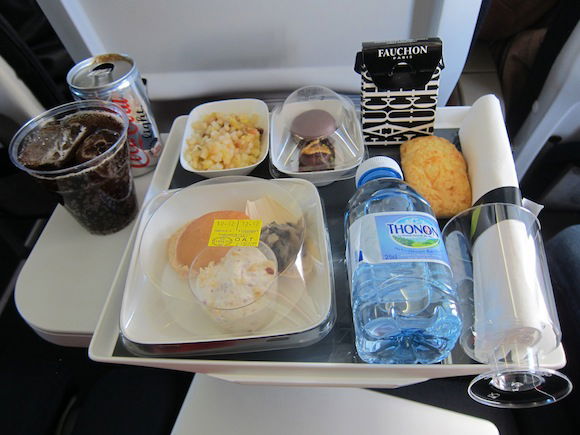 Air France business class catering
I spent the rest of the short flight marveling out the window given the stunning sunset views.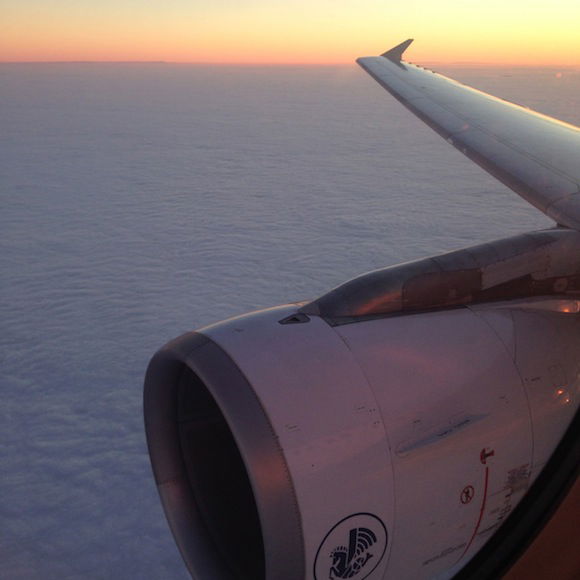 Sunset views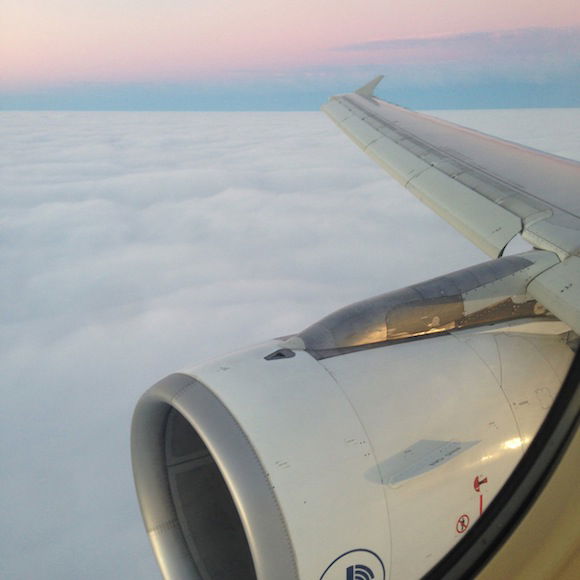 Sunset views
It was extremely foggy/cloudy on our final approach into Frankfurt, and I could only see land maybe 1,000 feet above the ground. We landed on runway 25L and had a quick taxi to our remote stand, which we reached right on schedule.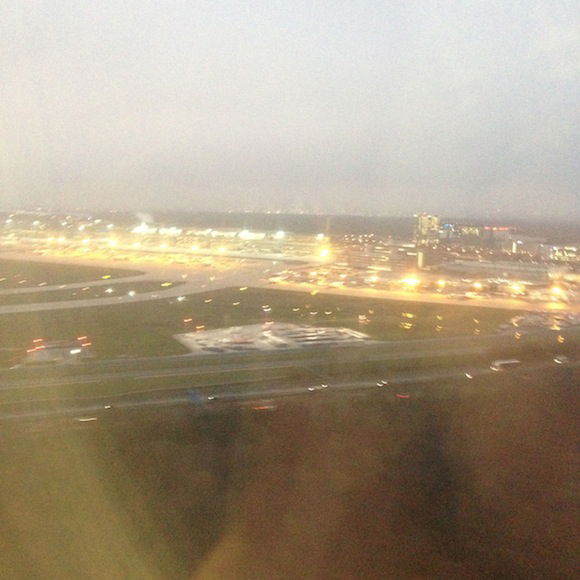 View on approach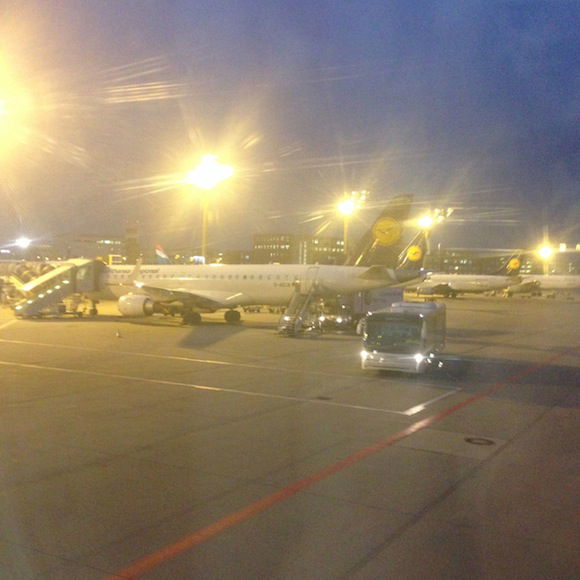 View after landing
When we got to our remote stand it took forever for the stairs to be pulled up to the plane. The purser went into the cockpit to see what was taking so long, and when he emerged he told me that a Mercedes was waiting to take me to the arrivals area, separate from the bus. I nearly crapped myself out of excitement, since I found it ridiculously amazing that Air France offers such services for first class passengers in cities other than Paris.
So once the stairs were pulled up I walked to the tarmac only to find the two guys seated in front of me hugging the driver and getting in the Mercedes. I still walked up to the driver based on the purser's instructions — and at this point felt really embarrassed about it — though he dismissed me and told me to take the bus. Guess it wasn't for me after all!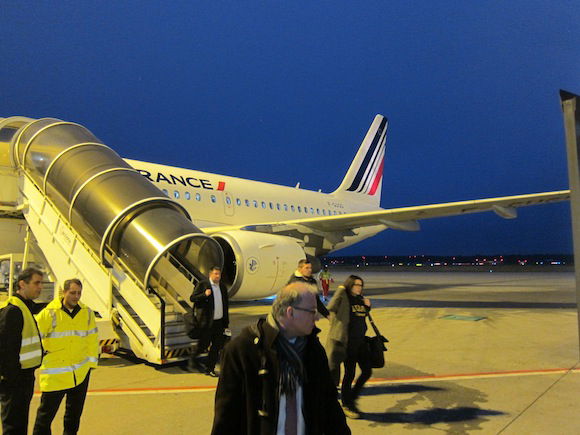 Air France A318 upon deplaning
The bus ride was perfectly pleasant, and within a few minutes I was on the train into the city.