---
I got to the departure gate, D1, at around 10:15AM, shortly before boarding was scheduled to begin. Unfortunately the inbound aircraft had just arrived and there was a crew change, so we were nowhere close to starting boarding. At around 10:30AM the gate agent made an announcement informing us of the delay, saying that boarding would began at around 11AM. So I took a seat, while the 200+ other people on the plane all seemed to take that as a hint to swarm the boarding door.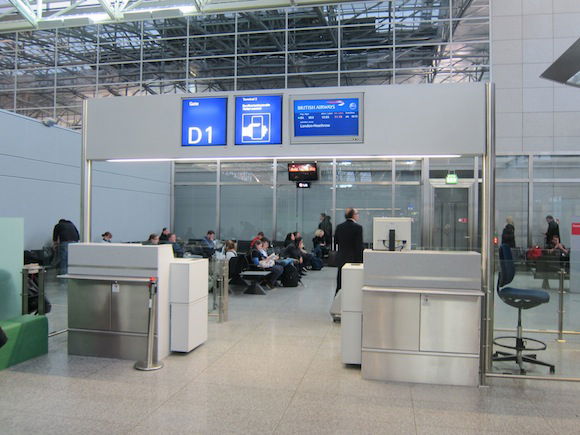 British Airways departures gate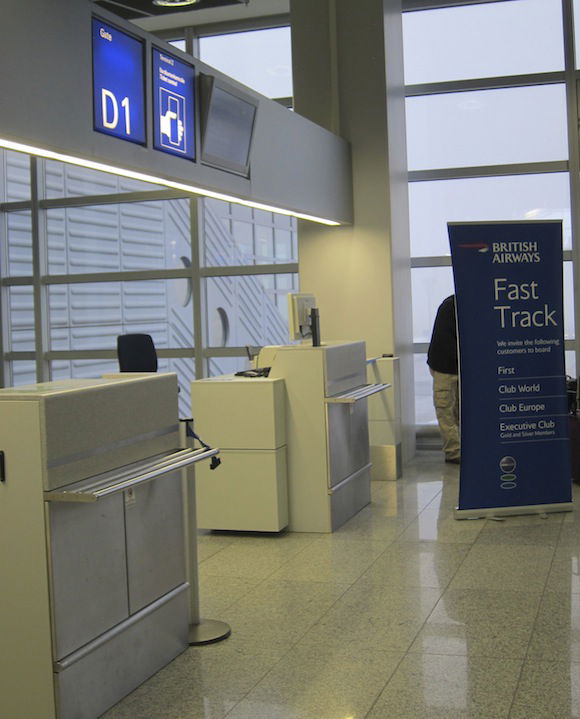 British Airways departures gate
At roughly 11AM Fast Track boarding began, which included Club Europe and elite passengers. I proceeded aboard at that point, and after my boarding pass was scanned I had to take the escalator down to the lower level, where the jet bridge is.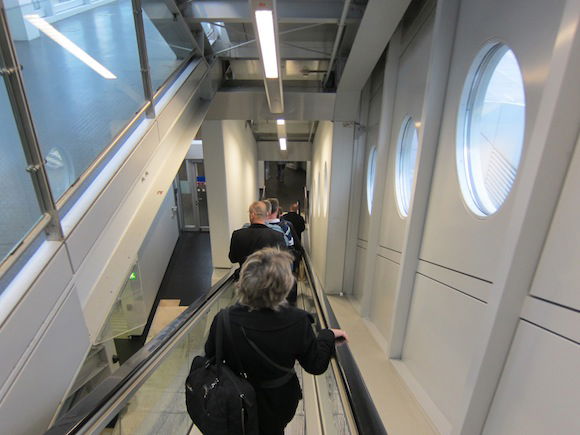 Gate D1 escalator to jet bridge
British Airways 903
Frankfurt (FRA) – London (LHR)
Friday, December 13
Depart: 10:55AM
Arrive: 11:50AM
Duration: 1hr55min
Aircraft: Boeing 767-300
Seat: 5A (Club Europe/Business Class)
Intra-Europe business class is embarrassing enough, as it's usually just an economy class seat with a blocked middle. It's even worse on the 767, which is usually configured 2-3-2. For their intra-Europe planes, however, British Airways only blocks the center seat in the "middle" section, so if you're sitting by the windows you'd still have a seatmate as you would in economy. Fortunately on today's flight Club Europe wasn't totally full, so despite having a window seat I had an empty seat next to me.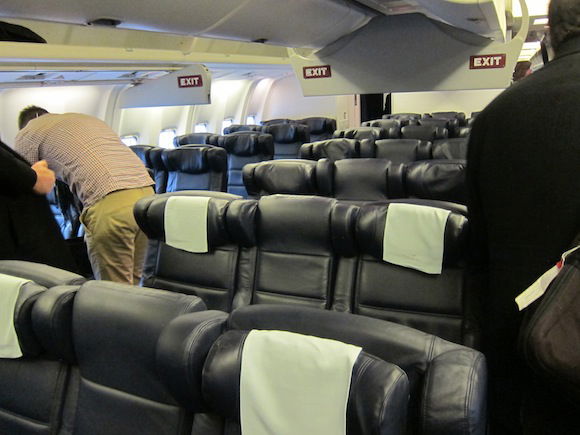 British Airways 767-300 Club Europe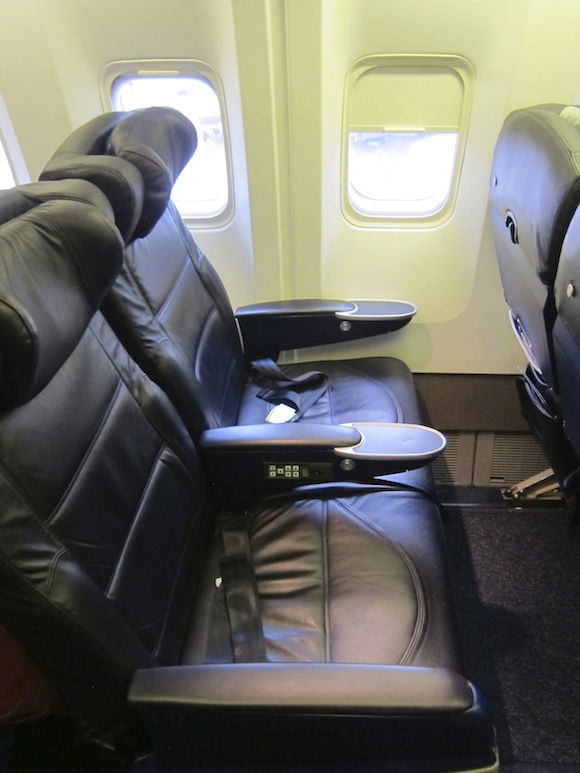 British Airways 767-300 Club Europe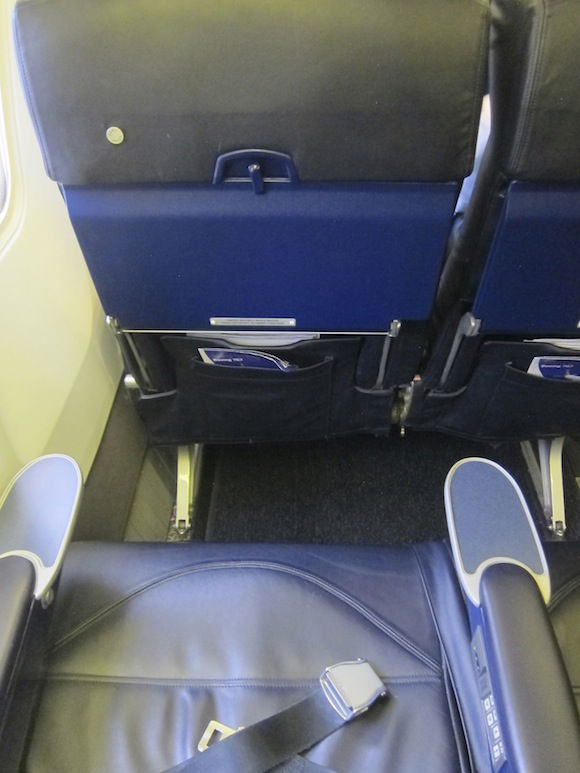 British Airways 767-300 Club Europe
The legroom on the 767 was fine for coach or a short flight.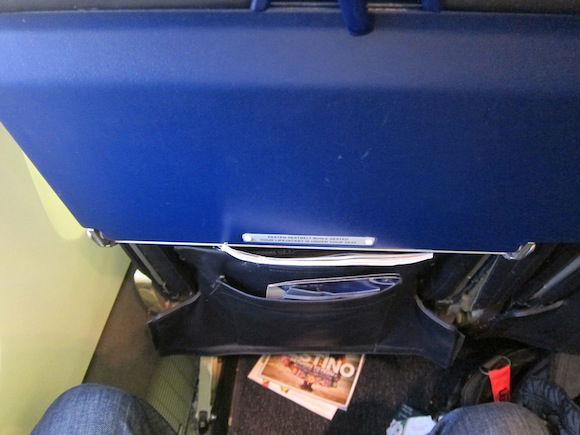 British Airways 767-300 Club Europe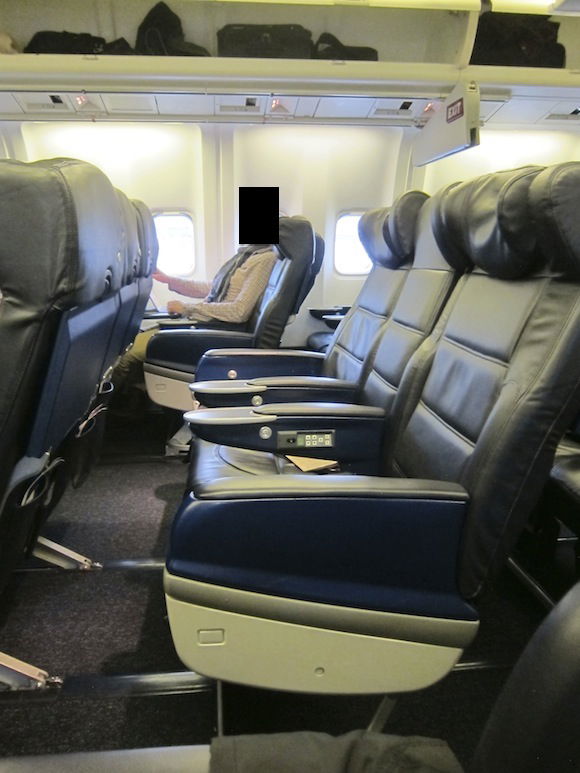 British Airways 767-300 Club Europe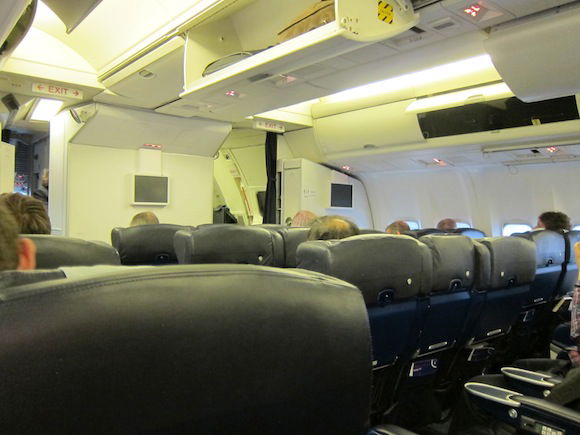 British Airways 767-300 Club Europe
Boarding was fairly efficient, and I overheard the CSD (customer service director) say "brilliant" 252 times as each passenger boarded. "I just need to take a quick peak at your boarding card, please." And then once it was presented she'd say "brilliant" each time.
The crew was really attentive about hanging everyone's coat, to the point that they asked some passengers a handful of times, though they never offered to hang mine, even though I put it on the coat "hook" on the seat. No big deal, of course, but just pointing out the details!
Shortly before pushback the other business class flight attendant came around with hot towels.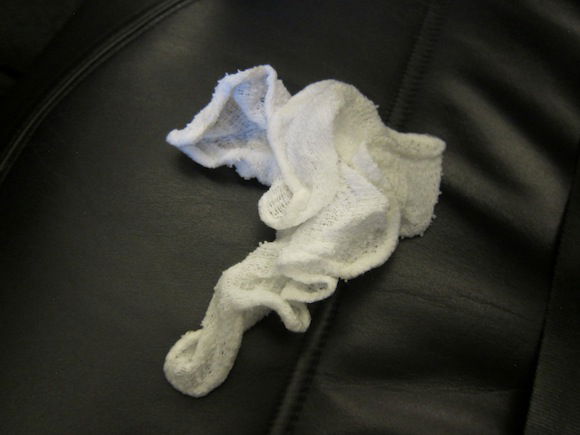 British Airways Club Europe hot towel
At about 11:20AM the jet bridge retracted and we slowly began our taxi to the runway. The captain came on the PA to apologize for the departure delay, explaining that it was due to a technical problem with the aircraft on the inbound flight. He went on to explain that the schedule was heavily padded, given that the flight was blocked for 1hr55min, but the flight time was only scheduled to be 1hr5min.
British Airways is one of the few airlines where I enjoy a flight that deviates from the "schedule," thanks solely to the way Brits pronounce the word. I'm not even kidding, I get giddy every time, there's just something that excites me about the term "shed-jewel." It has gotten to the point that I use it as well, though that's usually returned with blank stares. Lucky for me, the captain must have used the term about a dozen times before we even pushed back.
He got back on the PA a few minutes later to inform us we'd be delayed further as we only had a wheels up time of 12PM.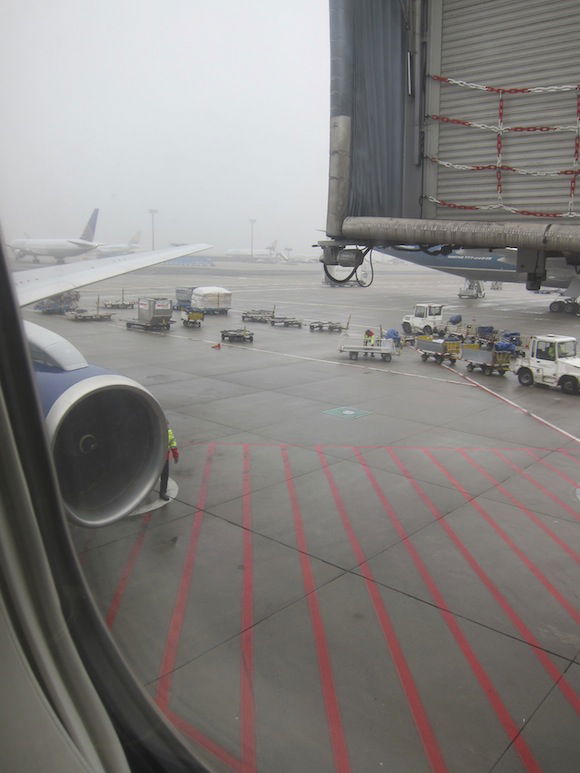 British Airways 767-300 pushback
In the meantime the safety briefing started, and at around 11:45AM we finally began our pushback.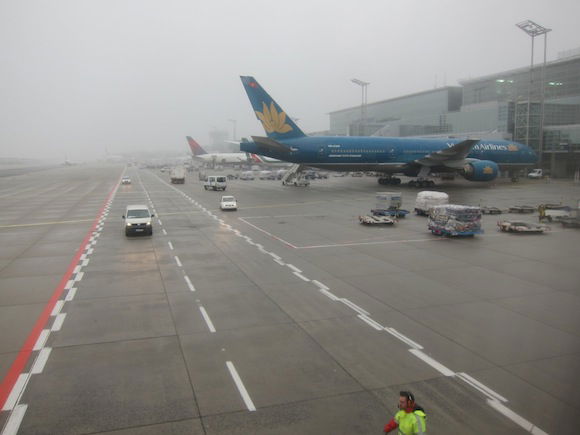 Vietnam Airlines 777
As usual the traffic on the taxi to the runway was quite exciting. I love Lufthansa (shocker, I know), and there's just something about seeing so many Lufthansa heavies that gets me almost as excited as the word "shed-jewel."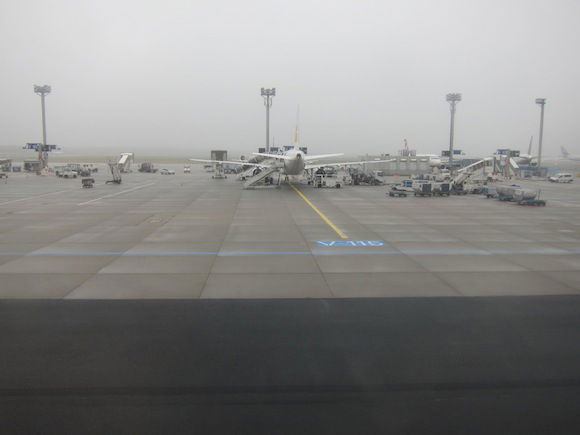 Taxiing to runway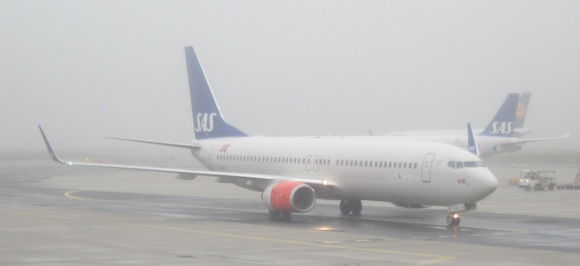 SAS 737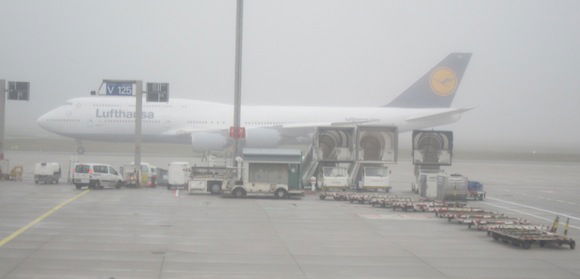 Lufthansa 747-8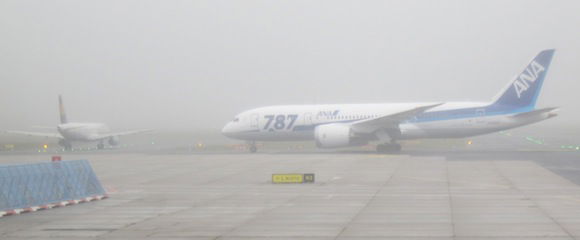 ANA 787


Lufthansa A340-600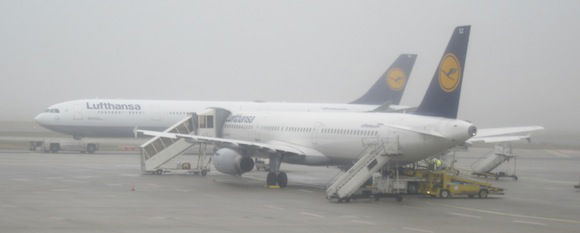 Lufthansa Airbus siblings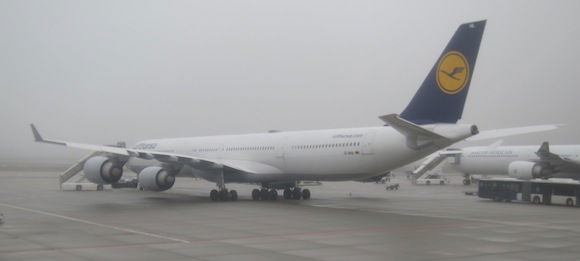 Lufthansa A340-600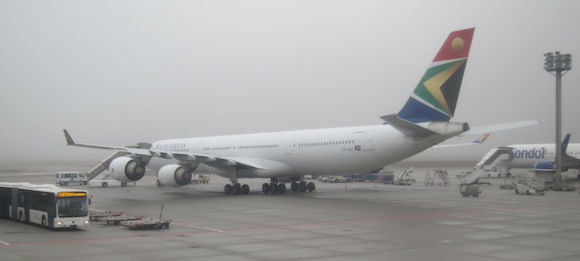 South African Airways A340-600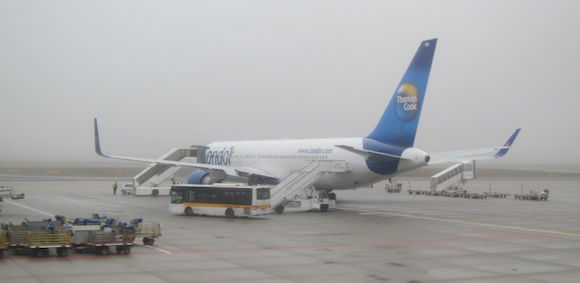 Thomas Cook 767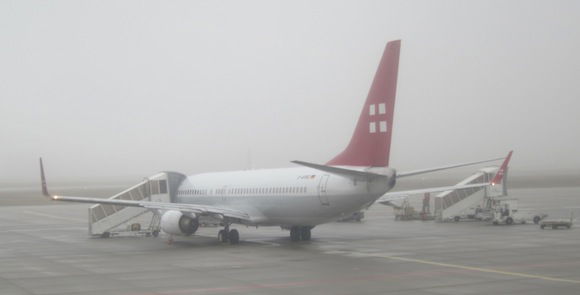 Privatair 737
While most other planes were queuing for takeoff on runway 25, we were assigned runway 18. This is a substantially longer taxi, though once at the runway we were also immediately cleared for takeoff, right behind a United 777.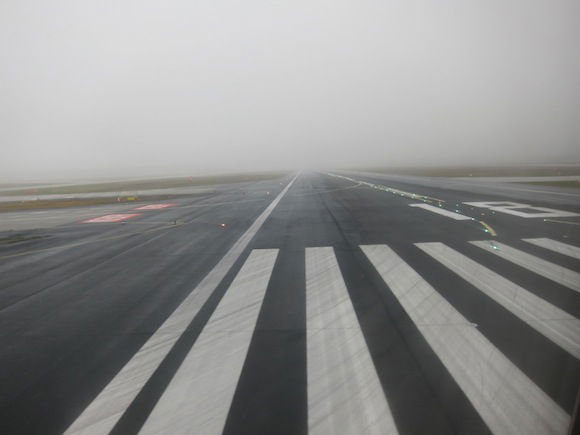 Lining up runway 18
Our climb out was smooth, and despite the fog at low altitudes, it was a beautiful day above the clouds.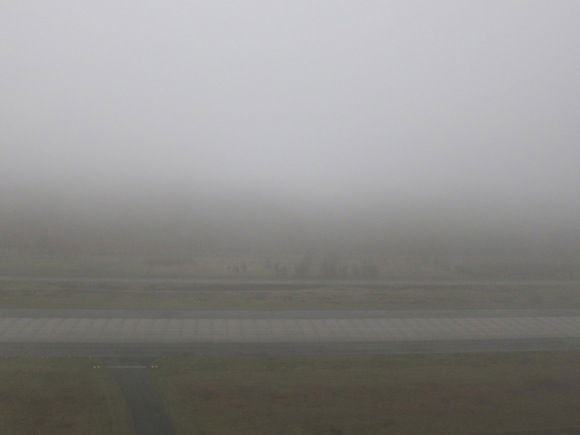 View after departure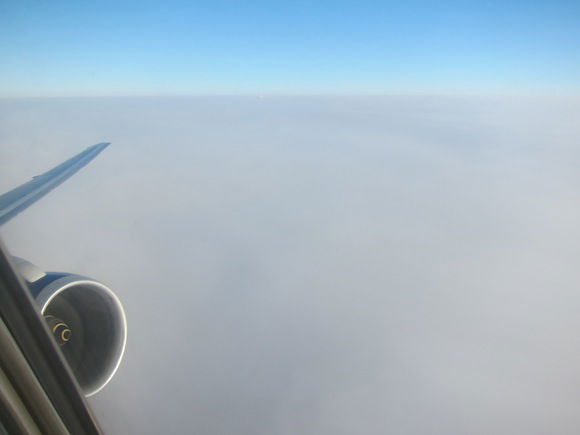 View after departure
About 20 minutes after takeoff the inflight service began. The CSD and other business class flight attendant informed us they were serving brunch, and offered us the choice of either a warm ham and cheese croissant with fruit or a cold plate. Both were served with either a croissant or apple danish.
I ordered the cold plate, which consisted of cheese, salami, prosciutto, and some tomato and mozzarella.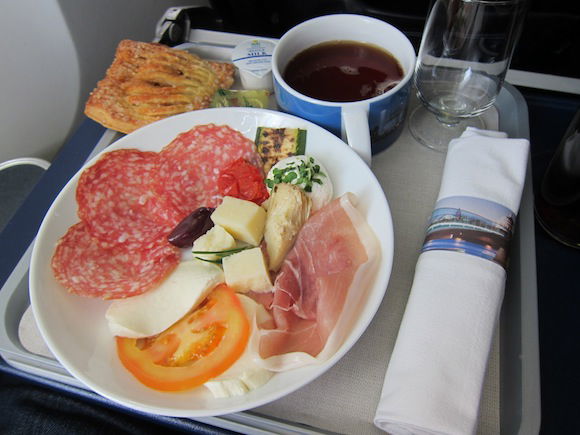 British Airways Club Europe brunch
Both of the flight attendants working business class were friendly and attentive. We began our descent into London at around 11:40AM GMT, though unfortunately due to heavy traffic then got put in a holding pattern for about 20 minutes.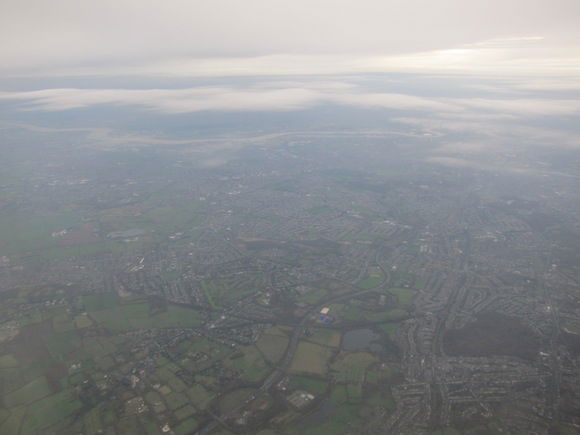 View on approach
During our hold the CSD came by to comfort some passengers with tight connections, though I think that kind of backfired. There were a handful of passengers connecting to Seoul Incheon on British Airways, a flight that departs at 1PM. The CSD came around to tell most of those passengers that they would make their connections, while their bags wouldn't. The problem was that most of the passengers connecting to Seoul Incheon were Korean and didn't speak English very well, so it almost turned into a game of "Who's on first?" The CSD would very matter-of-factly say "I just want to let you know that you should make your connection but your bag will not." The passenger across from me responded "yeah yeah, my bag make connection, yes?" She responded "no, your bag will not make the connection, but you will." He responded "yes, you make my bag make connection, yes?" And so on…
At around 12:20PM we began our final descent into Heathrow, and touched down at 12:30PM GMT.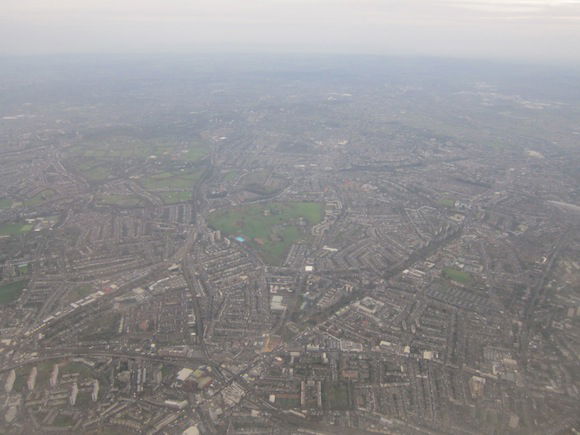 View on approach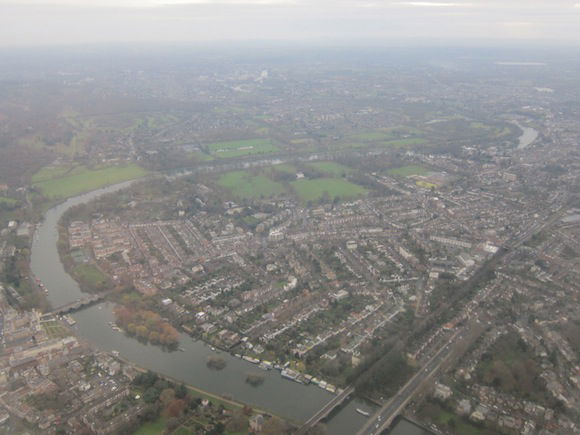 View on approach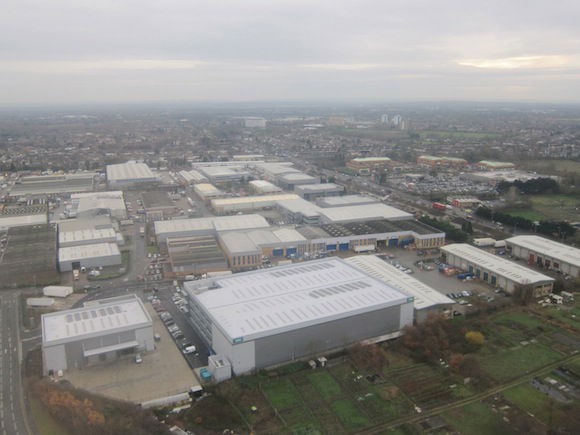 View on approach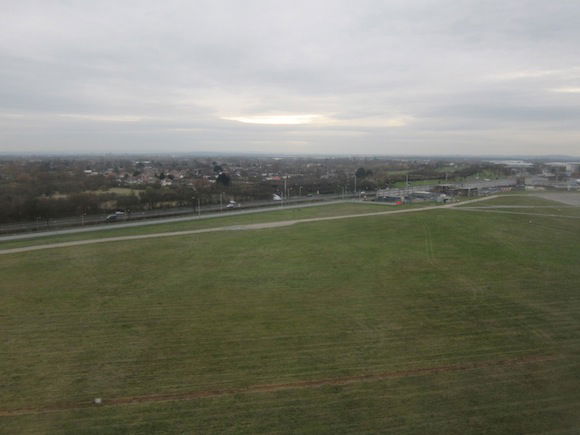 View on approach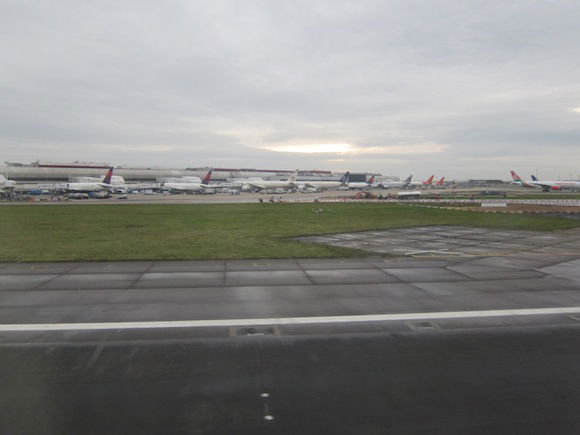 Touchdown London Heathrow
From there it was another 10 minute taxi to terminal five, so in the end we were about 45 minutes late.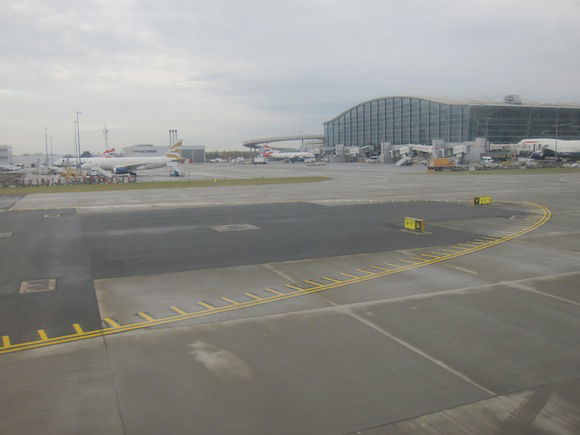 London Heathrow Terminal 5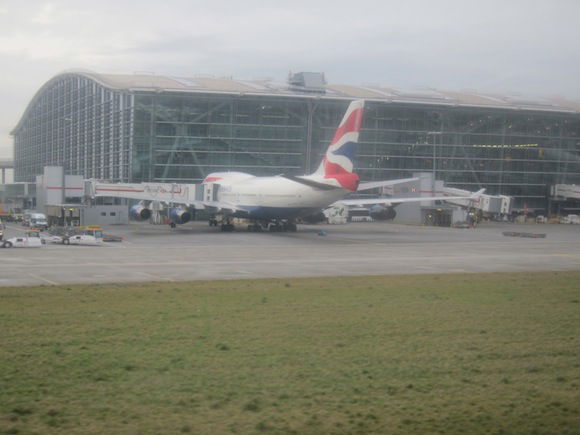 London Heathrow Terminal 5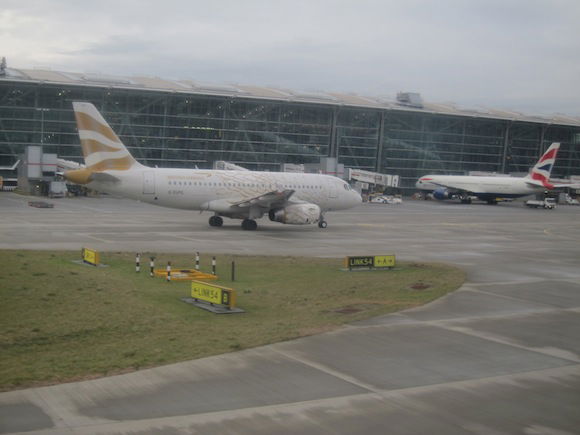 London Heathrow Terminal 5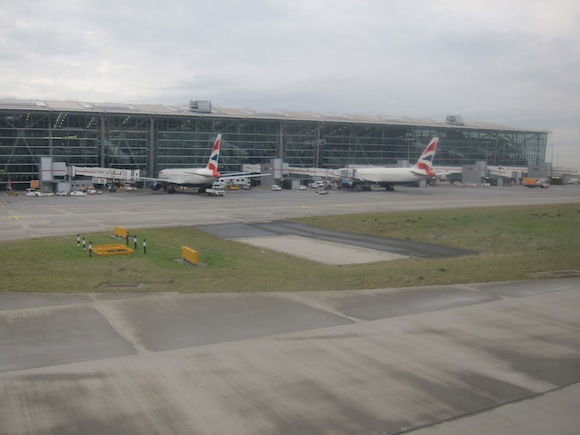 London Heathrow Terminal 5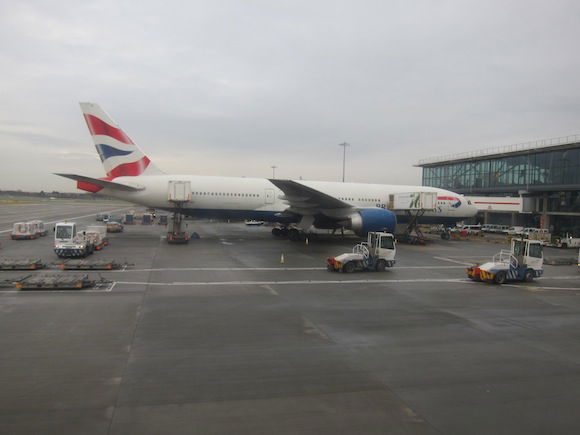 London Heathrow Terminal 5
Anyway, the crew was reasonably friendly and food moderately edible, though intra-Europe flying is about as no frills as it gets, even in a "premium" cabin.