As we were expecting, today it was announced that some major changes are being made to Flying Blue as of April 1, 2018. As they're describing it, this is "Flying Blue reinvented." For those of you not familiar, Flying Blue is the frequent flyer program of Air France & KLM, and is a popular mileage currency for earning and redeeming miles on SkyTeam airlines.
The changes being made to the program are huge, and most notably, the way members earn miles and earn status are changing. Let's look at the details:
Flying Blue will award miles based on spend rather than distance flown
The single biggest change that's happening is that Flying Blue will begin awarding redeemable miles based on how much you spend rather than how much you fly. You'll earn miles based on spend for travel on Air France, KLM, HOP, and JOON. You'll earn miles not just based on airfare (minus government imposed taxes and fees), but also for ancillary fees, like paying for premium seats, baggage, etc.
Under the new Flying Blue program, you'll earn miles at the following rates:
Ivory: 4 miles per EUR spent
Silver: 6 miles per EUR spent
Gold: 7 miles per EUR spent
Platinum: 8 miles per EUR spent

These are pretty lousy mileage earning rates, and are significantly worse than the rates at which the major US airlines award miles. However, that's not surprising, given that European frequent flyer programs have long been less generous. Prior to going revenue based, Flying Blue only awards 25% miles for discounted economy fares, while US airlines used to award at least 100% miles.
For travel on partner airlines you'll continue to earn miles based on distance flown, though over time you can expect some of those mileage earning rates to be modified.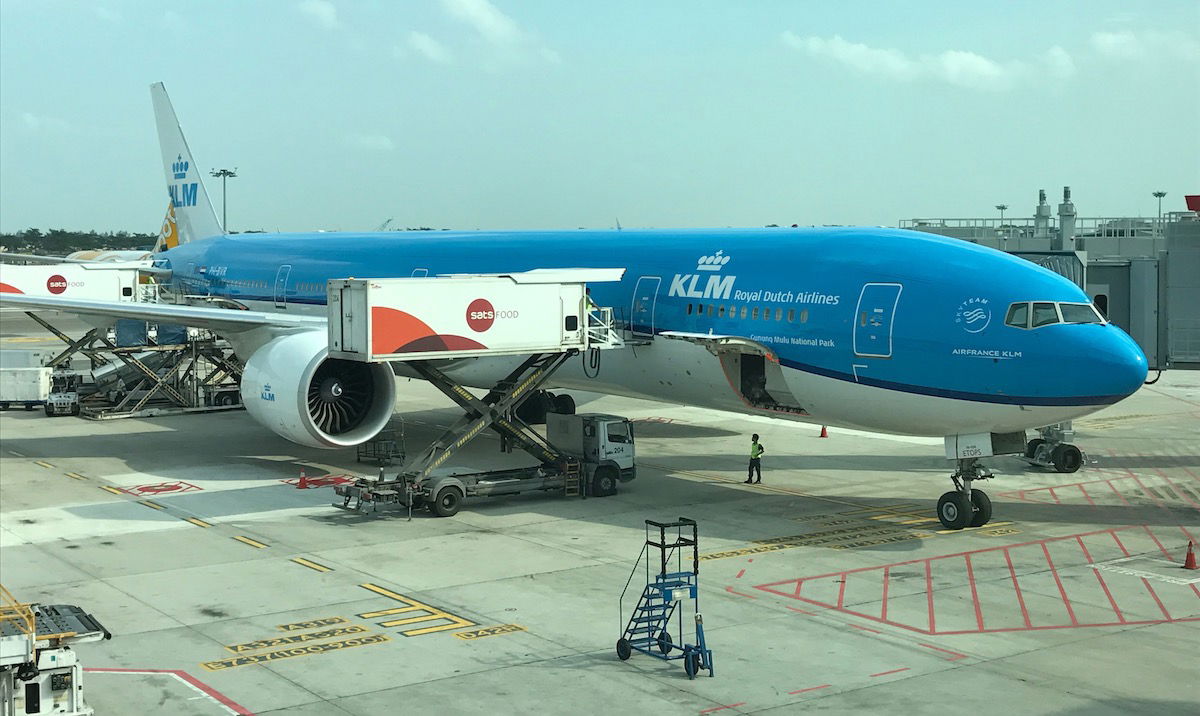 KLM 777
Flying Blue is changing how status qualification works
Presently you can earn Flying Blue status based on earning a certain number of elite qualifying miles or segments. Here are the requirements for each tier: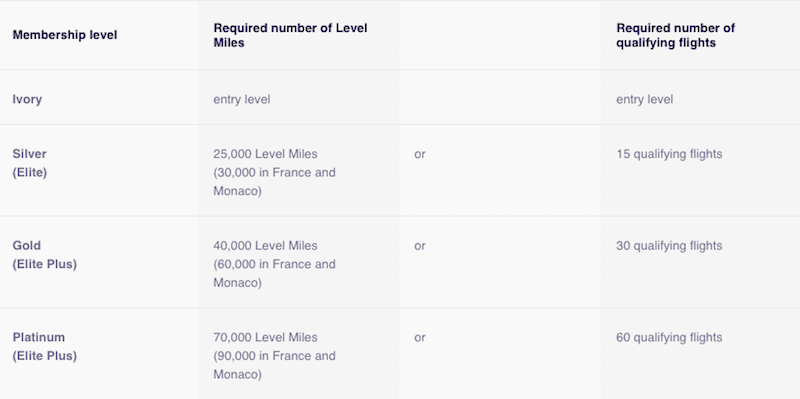 Qualification requirements are higher for those living in France and Monaco, and up until now qualification has been based on the traditional calendar year.
Flying Blue is changing how status qualification works, and is switching to a system similar to what you'll find at British Airways, Cathay Pacific, etc., which requires you to earn a certain number of status credits or tier points to earn status.
Flying Blue status will be based on how many Experience Points ("XP" for short) you earn. Oh my, they're really targeting millennials with that name, eh?
You'll earn anywhere from two to 60 XPs per flight (including on SkyTeam partner airlines), depending on the length of the flight and the cabin you're traveling in, as follows:

One thing I find bizarre is that with this system they're not differentiating between fare classes within a cabin. So someone traveling on the cheapest economy fare earns just as many XPs as someone traveling in full fare economy. That makes no sense.
Then earning status will require anywhere between 100 and 580 XPs, depending on the level you're going for, as follows:

You'll need 100 XPs to qualify for Silver, 180 XPs to qualify for Gold, and 300 XPs to qualify for Platinum. Those are incremental requirements, though. That means if you presently have no status you'd need to earn 100 plus 180 plus 300 XPs to earn Platinum. Meanwhile if you're already Platinum and just looking to requalify, you'd just need to earn a total of 300 XPs.
Members registered in France and Monaco are no longer at a disadvantage, and you can qualify based on a rolling 12 month membership year, rather than just the calendar year.
Since the new structure only kicks in as of April 1, 2018, elite qualifying miles earned between January 1 and March 31, 2018, will be converted as follows:

So they're suggesting that 1,000 elite miles equals five XPs, though I wouldn't read too much into that, given the number of variables between the two qualification systems.
Most interesting of all is that Flying Blue isn't introducing a revenue requirement for earning status, as US airlines have done. Then again, given how limited elite benefits are with European frequent flyer programs…
Flying Blue will let you redeem miles for any seat
As of now, Flying Blue has a traditional mileage redemption chart, where you can redeem at either the saver or flex level depending on availability.
As of June 2018, you'll be able to redeem Flying Blue miles for any seat on an Air France, KLM, HOP, JOON, or Transavia flight. The number of miles required will be calculated based on the origin, destination, and date of your flight. In other words, you can expect the number of miles required to be closely correlated to the cost of a ticket.
It's not entirely clear to me whether this is fully replacing their traditional award chart, or is in addition to it. It's also not entirely clear if there will be caps on award costs. Of course switching to an entirely revenue based program would be very bad for booking aspirational awards, since business class is usually disproportionately expensive when paying cash, while often only marginally more when redeeming miles.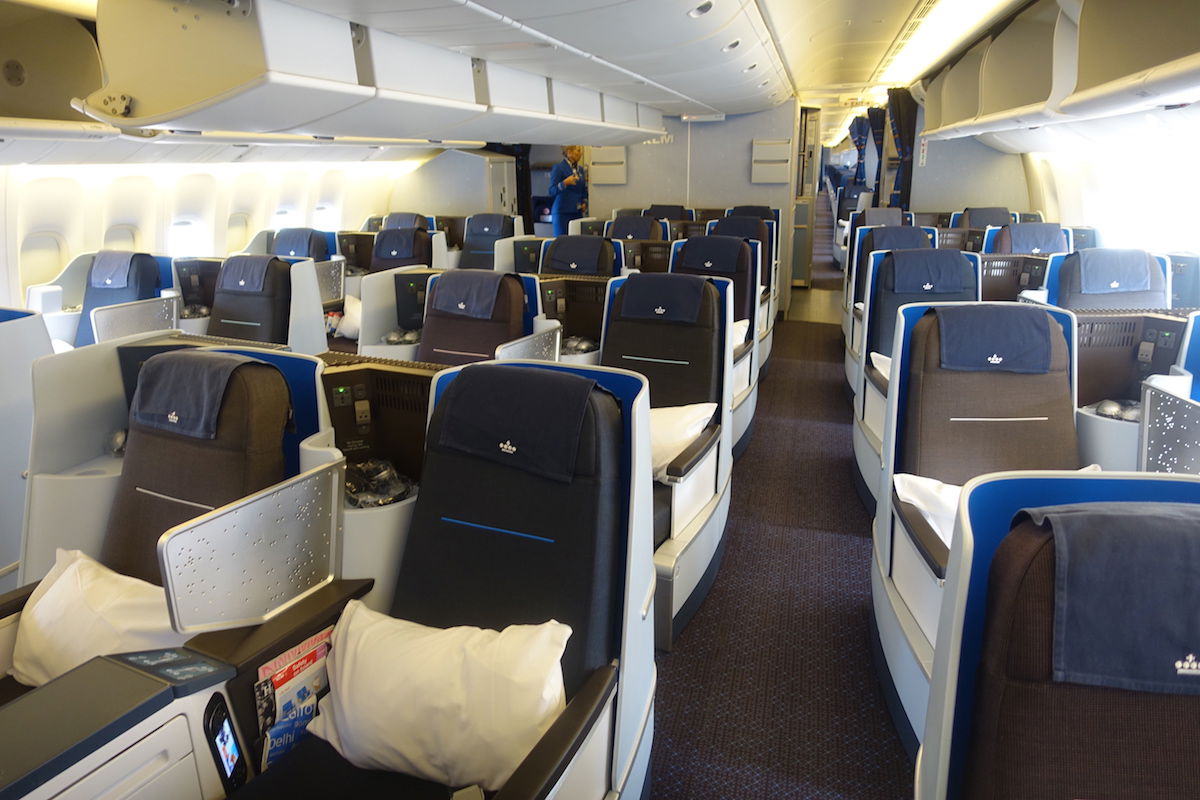 The cost of many premium cabin awards could increase significantly
So I'm not looking forward to this, though at the same time we'll have to mark this as "developing" for now, since we don't know the full details yet. At first glance this seems similar to Delta's "Pay With Miles" scheme, where you can redeem miles for a penny each towards the cost of a ticket. Flying Blue hasn't actually revealed the rate at which miles can be redeemed towards tickets, so that's just a guess on my part.
Furthermore, as of June 2018 Flying Blue will introduce Miles & Cash, which will let you redeem a combination of miles and cash towards the cost of a ticket. You'll be able to pay for up to 25% of your ticket with cash.
My thoughts on the Flying Blue changes
In summary:
Flying Blue will go revenue based, and members will earn 4-8x redeemable miles per EUR spent
Qualification for Flying Blue status will be based on a new "points" system rather than miles
Flying Blue is changing how mileage redemptions work, with the cost of a redemption more closely correlated to the cost of a ticket
Overall I'd say these are pretty negative changes. As I've explained before, I don't really get why Flying Blue is awarding miles based on spend. The current Flying Blue program already addresses many of the "problems" that US airlines had that caused them to introduce revenue based earnings structures. Specifically, Flying Blue only awards 25% miles for discounted economy tickets, which has the same effect as a revenue based program does.
So while I think the revenue based program is bad news, I'm not actually convinced that mileage earning will be that much worse for members, given that cheap fares already only earn 25% miles.
The changes to how qualifying for status works are more different than bad. On the plus side, status will be based on a rolling 12 month period, and members based in France and Monaco are no longer at a disadvantage. Whether the new system is better or not depends on whether you're requalifying for status or not, what type of flights you usually take, etc. I find it strange that they award the same number of XPs no matter what fare class you're booked in within a specific class of service, though.
Flying Blue miles will also be changing up the way redeeming miles works, though we'll have to wait for the full details to see what that looks like.
What do you make of the changes that Flying Blue has just announced?