---
Cathay Pacific 889
New York (JFK) – Vancouver (YVR)
Thursday, December 20
Depart: 10:00PM
Arrive: 12:55AM (+1 day)
Duration: 5hr55min
Aircraft: Boeing 777-300ER
Seat: 2D (First Class)
Boarding was through door 2L, and at the door we were greeted by one of the first class flight attendants, who escorted us to our seats in row two. I'm a huge fan of Cathay Pacific's first class on both the 777 and 747. I love the 777 since it only has six seats, so is one of the smallest first class cabins out there. But I also love the 747 for the fact that first class is in the nose, so it's extremely private and I love sitting in row one on the 747.
In this case I selected seat 2D, the center seat in row two, while my friend was in 2K.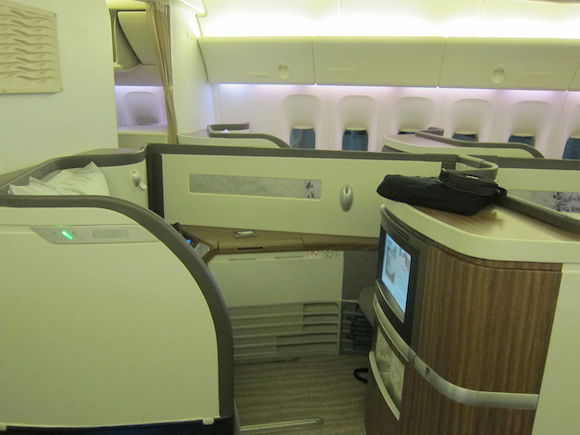 Seat 2D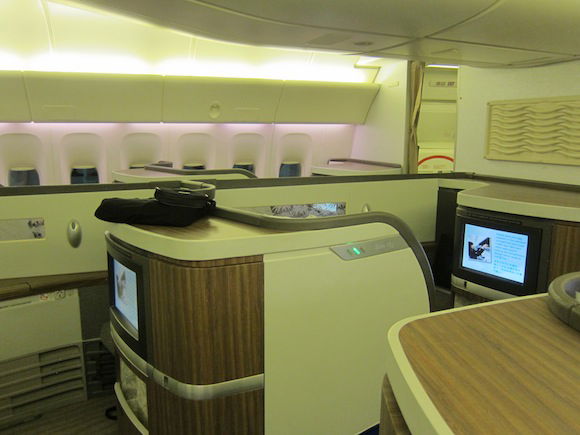 First class cabin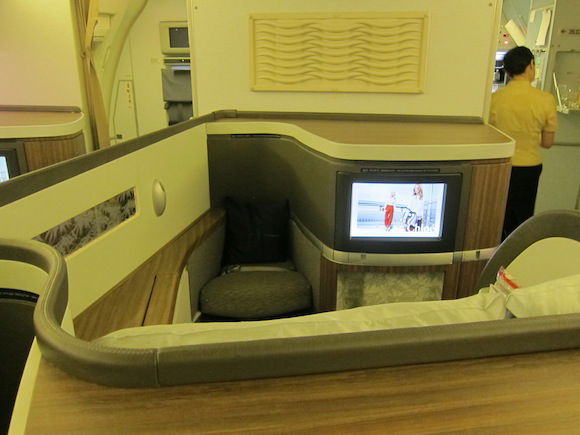 Seat 1D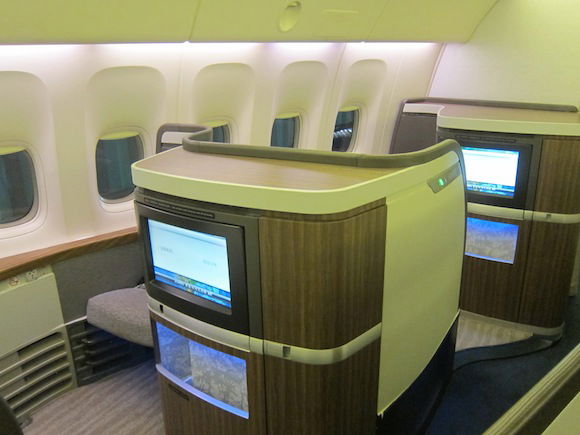 Seats 1A & 2A
Anyway, this is where my flight turned from a typical Cathay Pacific flight to an out of the ordinary one. There were two flight attendants — one male and one female — working first class, both in their 20s. The female was probably the most chipper, enthusiastic, and informal flight attendant I've ever had. And as much as it felt totally uncharacteristic for Cathay Pacific, I loved it.
She started with "hi hun, let's make this a good flight. What can I get you to drink?" I ordered a glass of Krug, which was promptly refilled several times, each time with a "there ya go hun."
Most of the time I wouldn't be thrilled about being called "hun," but she said it in such an endearing and genuine way that I loved her. And it was obvious that she loved her job, so that made it all even more fun. The crew was Vancouver based and they were doing a same day turn to New York, meaning they worked the redeye from Vancouver to New York, had 15 hours in New York, and then worked the flight back to Vancouver.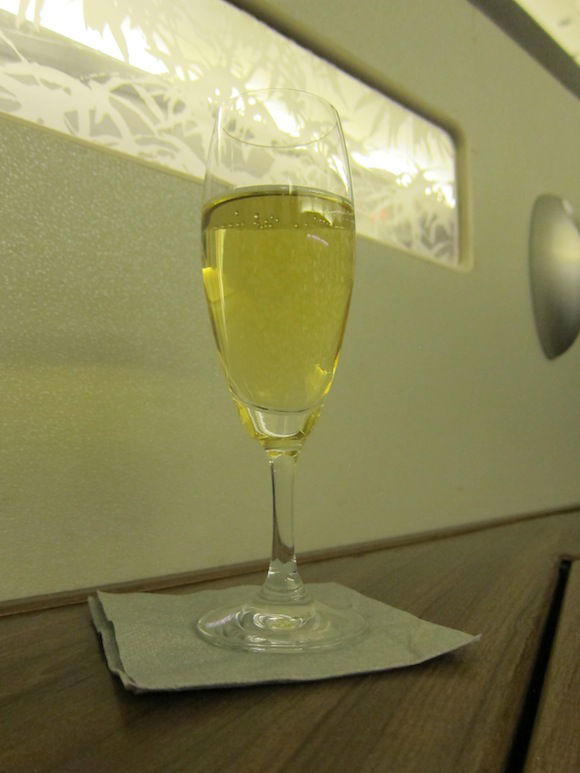 Pre-departure champagne
"Hun, you want some Shanghai Tangs? What size?"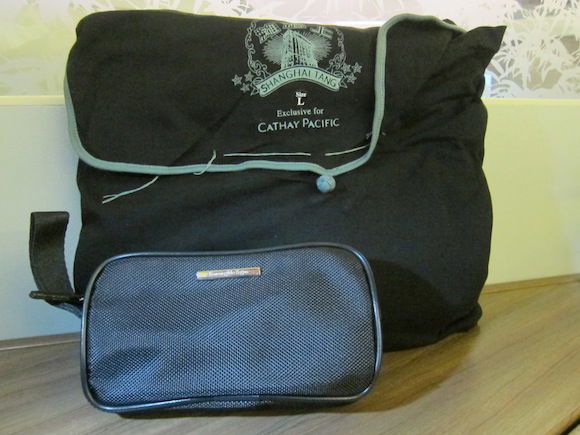 Shanghai Tang pajamas
That was followed by a hot towel and then the menu.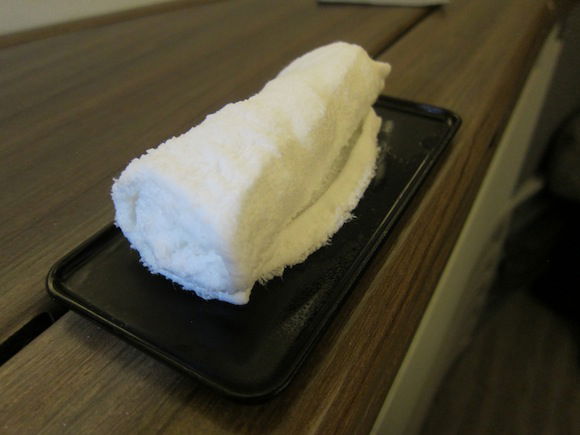 Hot towel
By the time the door closed all first class seats were taken. in 1D and 1K were an older married couple continuing on to Hong Kong. My first impression was that they were snobby New Yorkers that couldn't be pleased, though I quickly realized my gut was wrong as soon as they were offered pajamas. The wife turned to the husband and said "oh my God honey, do you see they have PAJAMAS? These are fancy!" Love it!
Then in 2A was a young guy and in 1A a fairly young girl, both also just traveling to Vancouver.
The captain made his welcome aboard announcement shortly before pushback, advising us of our flight time of 5hr13min. The entire crew was Vancouver based, including the pilots. It reminded me a bit of what I had originally wanted to do with my life, which was to become a pilot for Cathay Pacific. While you see lots of expats working for them, rarely have I had American/Canadian pilots, so it's always somewhat refreshing to have them, just so I can be reminded of what I didn't end up pursuing! 😉
Anyway, we taxied to runway 13R, which didn't take very long, and were airborne within about 20 minutes of our departure time. I watched the nose camera view for the entire departure.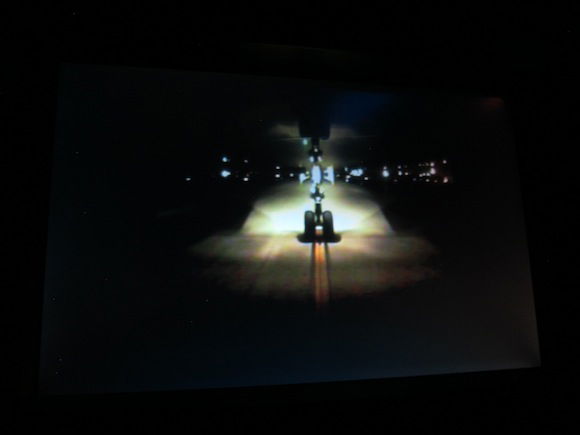 Nose camera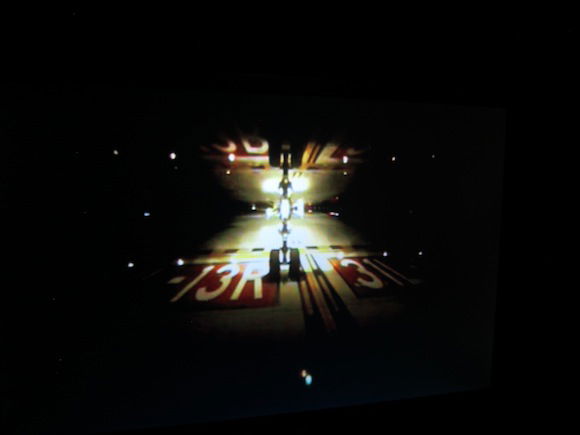 Nose camera
After a quick takeoff roll we were airborne and encountered some pretty major turbulence on the climb out, definitely one of the bumpiest climb outs I've had in a while. As a result the crew had to remain seated for a while, and it was about 30 minutes into the flight before they could get up.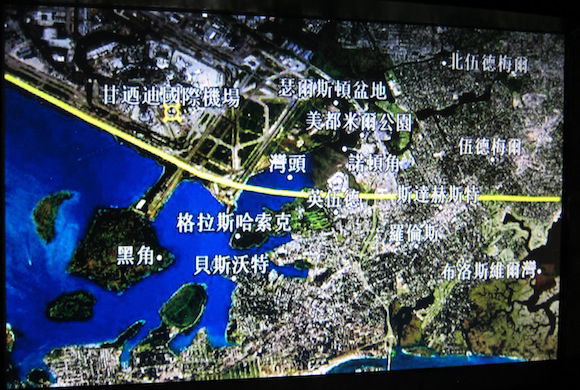 Map view on departure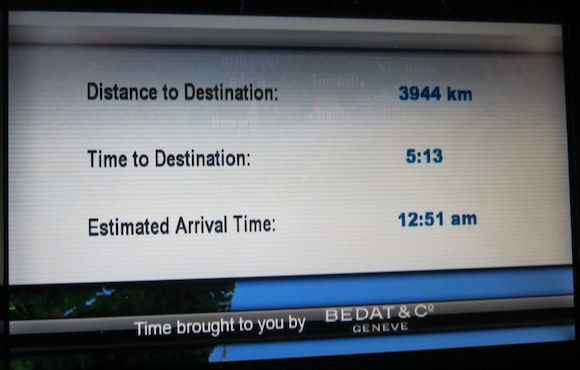 Flight time remaining shortly after departure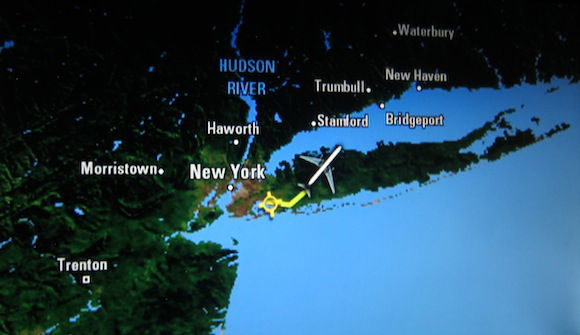 Map view after departure
Since the service wouldn't begin for a while I decided to browse the StudioCX entertainment selection. I didn't have the attention span to watch a movie and had already seen just about all the sitcoms, so decided on "Undercover Boss."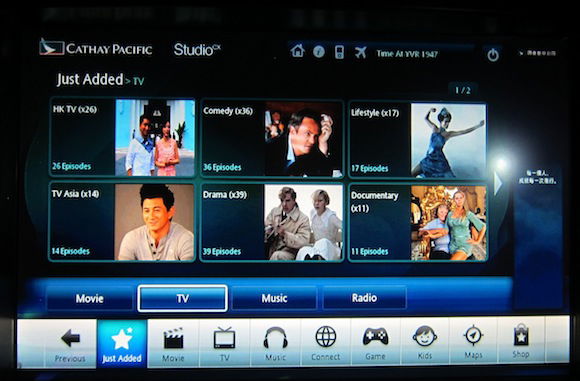 StudioCX
I first watched an episode featuring the CEO of Oriental Trading, who must be one of the most disillusioned people I've ever seen, and then watched an episode about the CEO of Yankee Candle.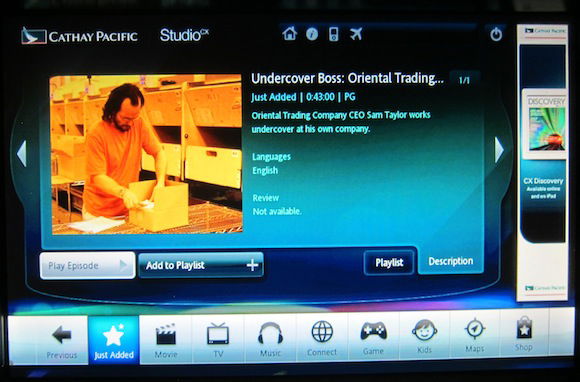 Undercover Boss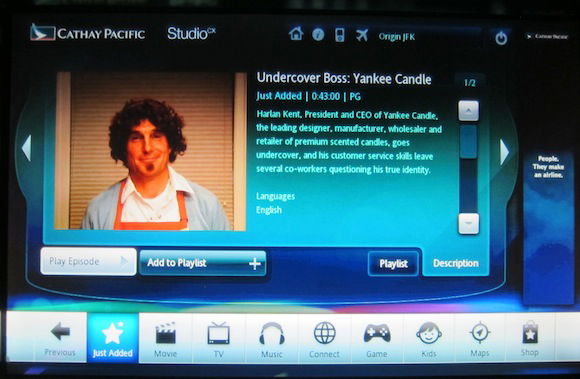 Undercover Boss
About 30 minutes into the flight the meal service began.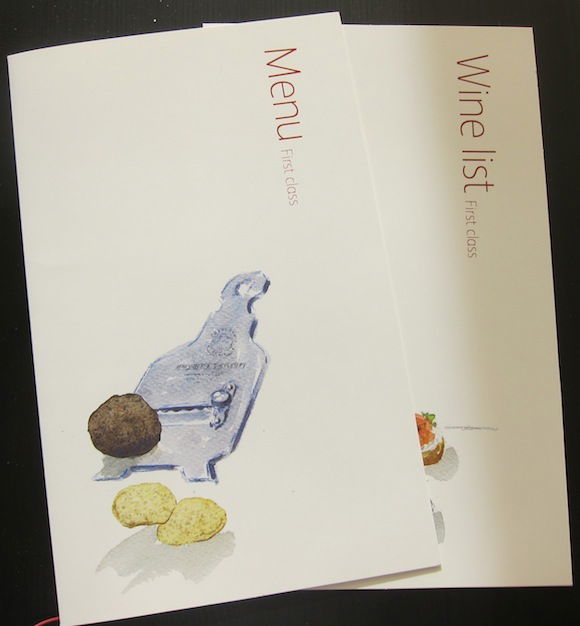 Menu
The menu read as follows: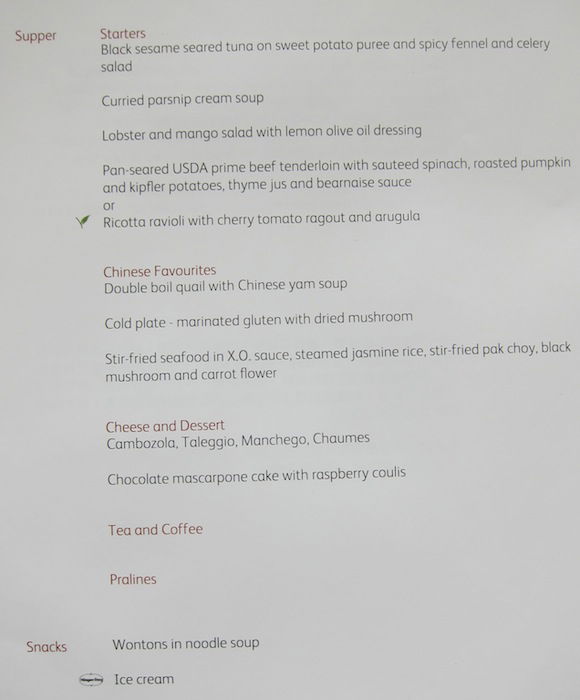 And the wine list read as follows: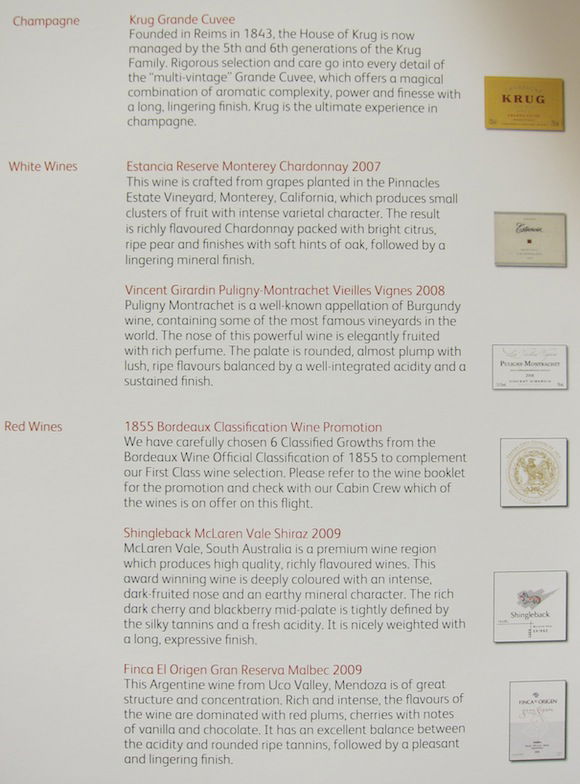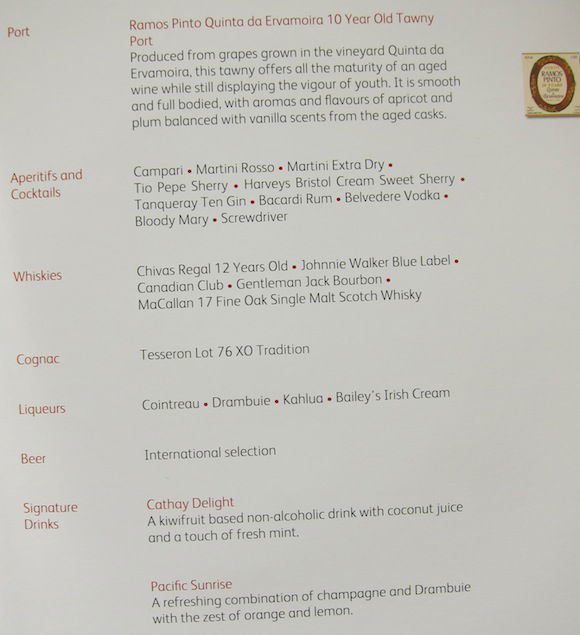 To drink I had a Diet Coke, which was served with mixed nuts.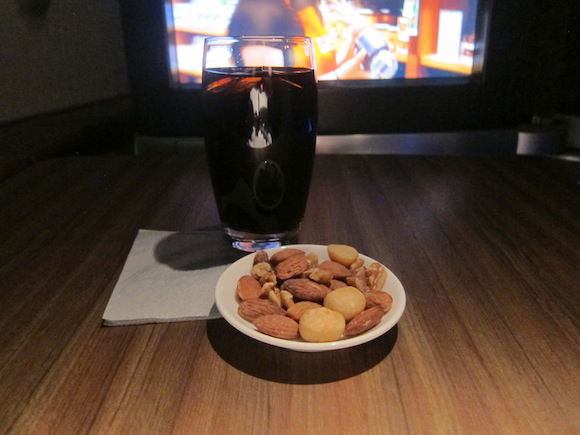 Diet Coke and mixed nuts
For the starter I had the lobster and mango salad, which was phenomenal.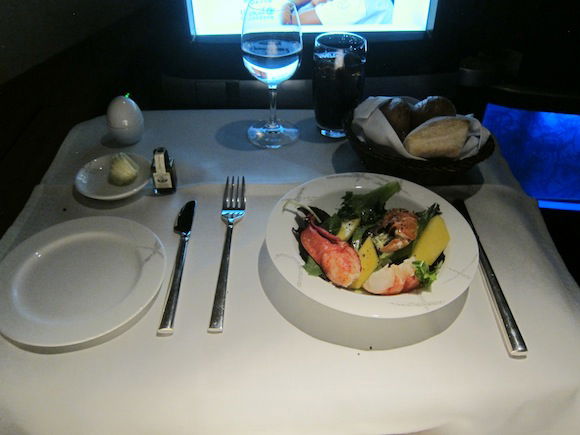 Lobster and mango salad with lemon and olive oil dressing
I had way too much beef on my previous flight, so decided on the ravioli for the main. It was fine, though I've certainly had better pasta dishes on a plane.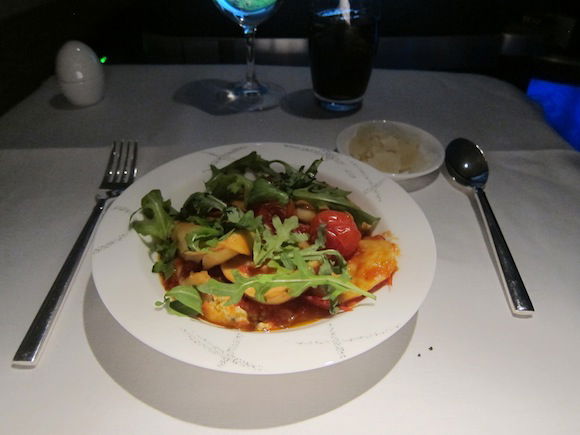 Ricotta ravioli with cherry tomato ragout and arugula
For dessert I had the chocolate mascarpone cake.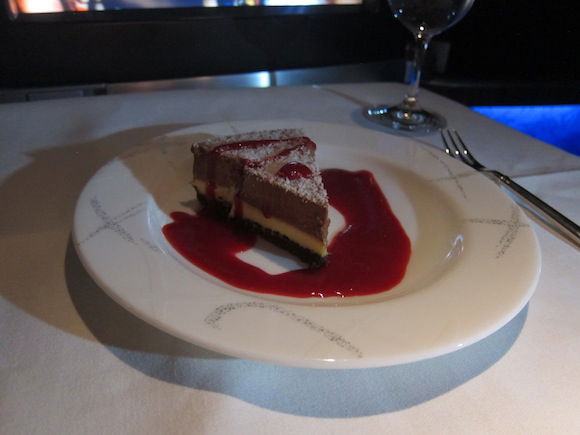 Chocolate mascarpone cake with raspberry coulis
Then to finish off the meal I had the best hot beverage served on any airline, in my opinion, which is Hong Kong milk tea. It was served with a bowl of pralines. Mmmm…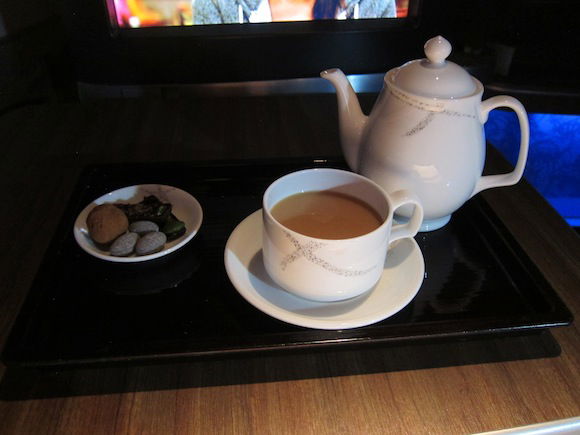 Hong Kong milk tea and pralines
After dinner I asked the crew for turndown service, which they gladly took care of. I slept like a baby for a few hours, thanks to Cathay Pacific's excellent bedding. While they might not have the most private suites in the world, I do still find that I sleep among the best on Cathay Pacific. I woke up about 15 minutes out of Vancouver, as were initiating our final descent.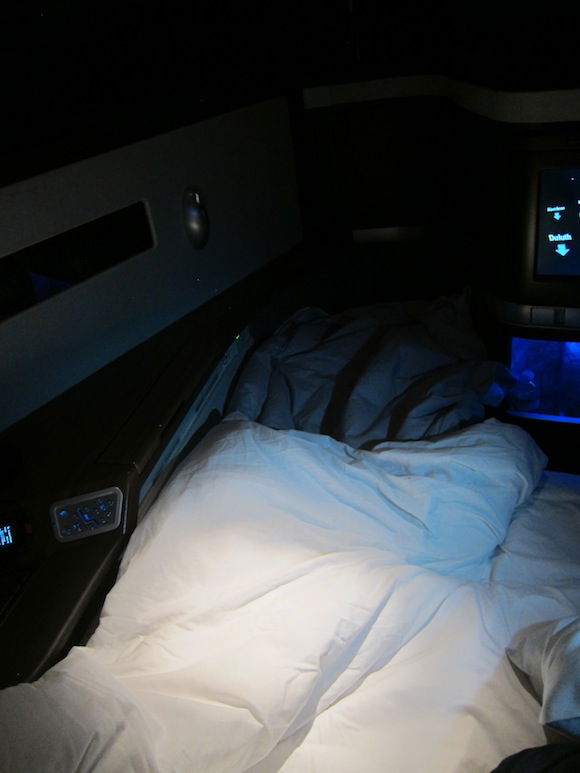 Turndown service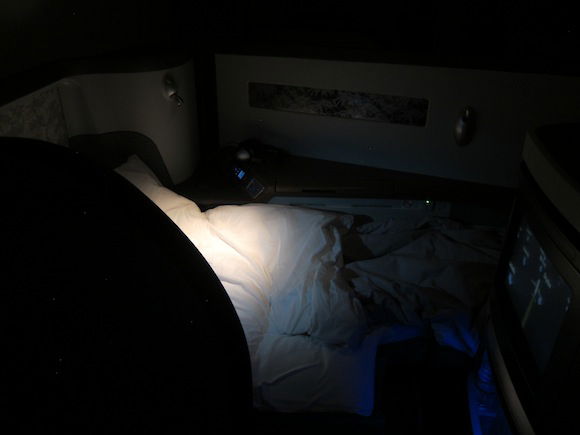 Turndown service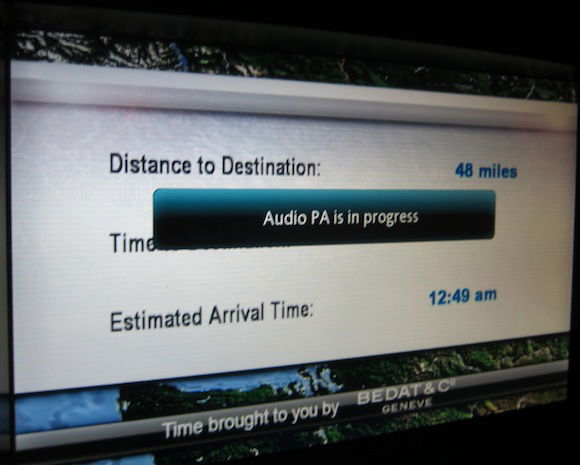 On descent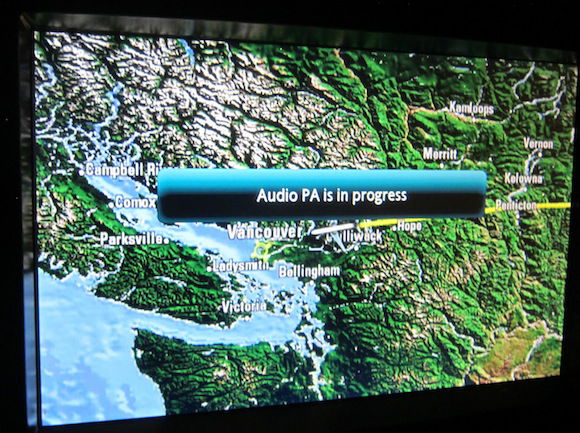 On descent
After bidding the crew farewell it was off to clear customs. Interestingly they requested that all passengers continuing to Hong Kong stay on the plane, which I've found to be pretty rare on "direct" flights in the past few years.
Thanks to the super late arrival time there were virtually no queues at immigration, though in Canada my issue with immigration isn't ever the queues, but the terrorist-like questioning, as if you're simultaneously trying to smuggle bombs, meth, and child porn into the country.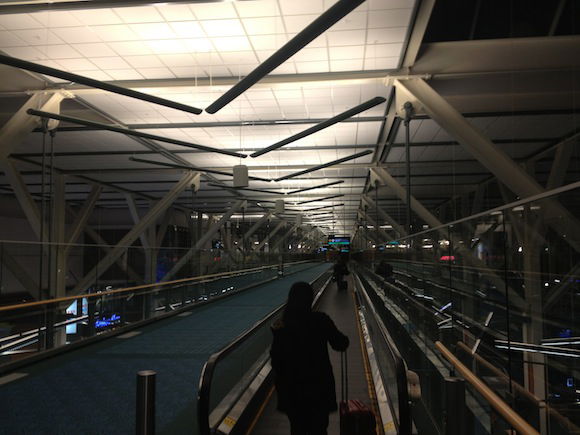 Hallway towards immigration hall
Once through customs began the (mis)adventures of a 90 minute hotel stay, which you can read about here.
On the whole Cathay Pacific is an unbeatable way to fly on a coast-to-coast flight. Their meal service is somewhat watered down on the transcontinental flight in that they don't serve Balik salmon and caviar, but for a transcon it's still an unbeatable way to fly.
Thanks for following along on this little adventure. Fortunately I finished this report just in time, as very shortly I'll be jetting off on my Airbus 380 extravaganza, so there will be lots more coming shortly!