---
After walking through an endless number of corridors I found myself at the transfer center, where I boarded a bus bound for terminal 5. While I usually do everything I can to avoid a connection involving a terminal transfer at Heathrow, I was quite excited to see the infamous terminal 5 firsthand.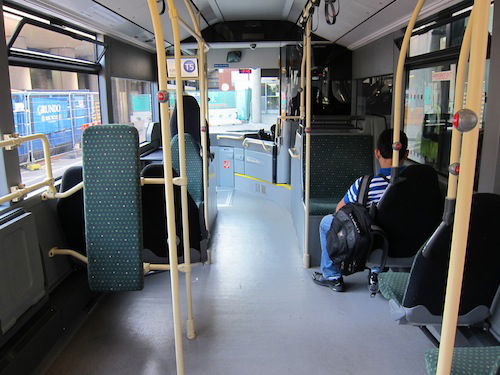 Terminal transfer bus
The bus ride was quite enjoyable, much like the car ride from Lufthansa's first class terminal… minus the luxury sports car and person that carries your luggage for you.
I got to see quite a bit of cool traffic, including a Cathay Pacific 747 and Qantas A380, which I had flown just a week prior from Melbourne to London.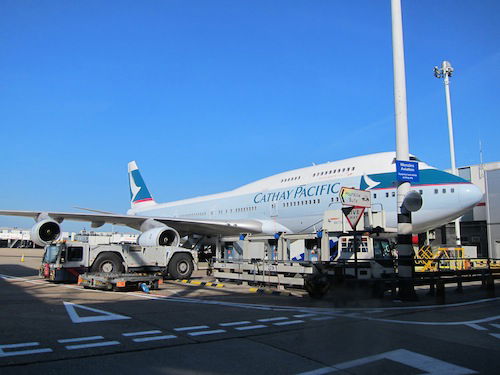 Cathay Pacific 747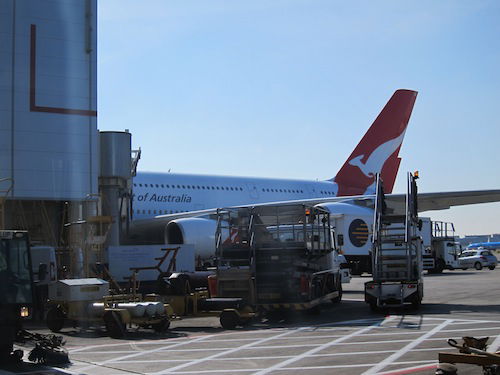 Qantas A380
Once at terminal 5 I followed the "flight connections" sign for what must have been a mile until I reached the security checkpoint.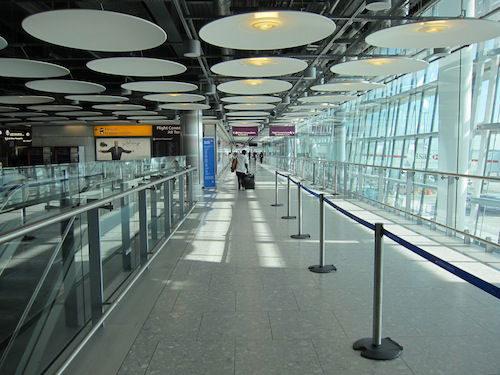 Heading to security…
Security was surprisingly quick, so I found myself in terminal 5 with plenty of time to spare.
The terminal itself is quite grand, almost similar to Hong Kong Airport.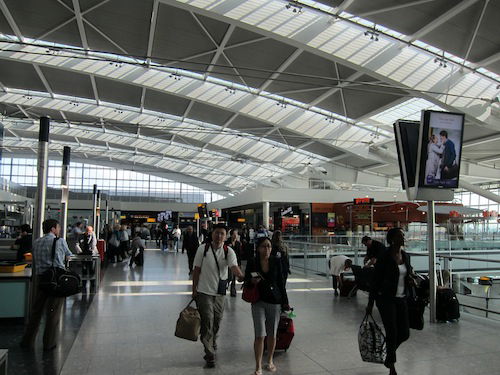 Terminal 5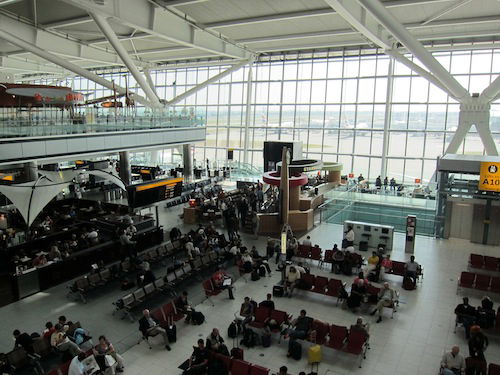 Terminal 5
I headed to the South side of the terminal to visit the first class lounge, where I was admitted by a cheery agent after presenting my inbound American Airlines first class boarding pass.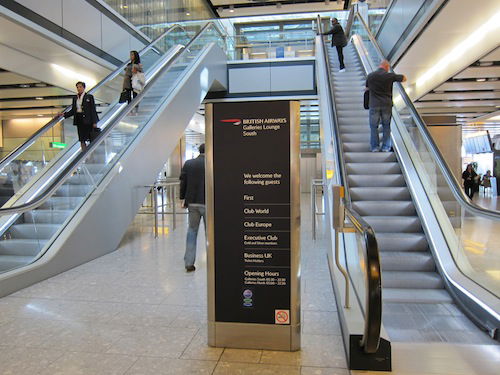 Escalator to the lounges
The lounge itself was huge and with plenty of seating, though lacked the first class "feeling" if for no other reason than how full it was. The lounge is a nice business class lounge at best. Not a nice first class lounge, and not even a really nice business class lounge.
Admittedly this probably has something to do with the fact that OneWorld Emeralds are permitted access to the first class lounge, which really doesn't make it all that much of a first class lounge. Instead, British Airways first class passengers have access to the Concorde Room, which is the "real" first class lounge.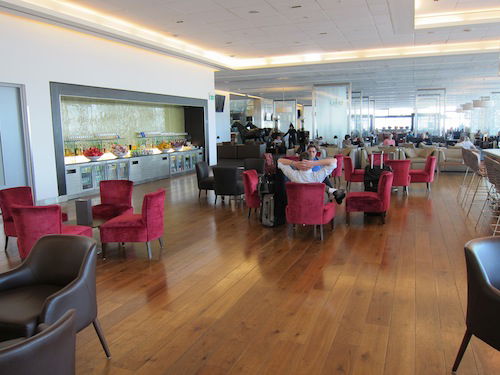 First class lounge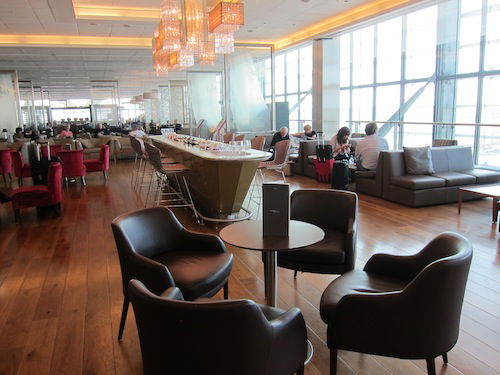 First class lounge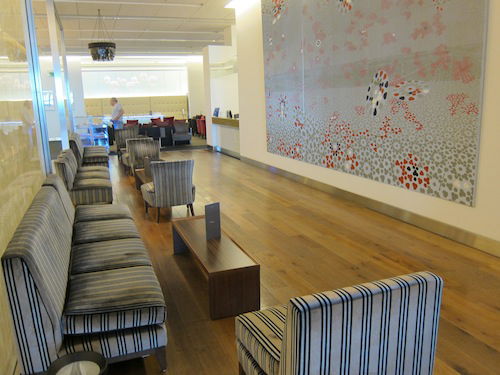 First class lounge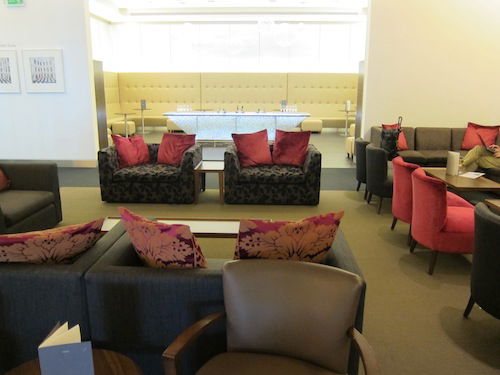 First class lounge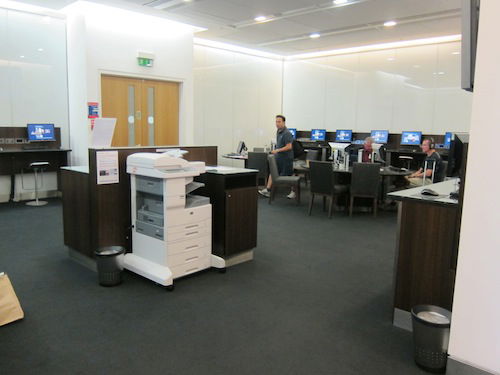 Business center
The food selection was really lacking. They had crisps and cookies, but that was the extent of the self serve selection. They also had a menu with more substantial dishes, though not once did I see a server roaming around to take orders.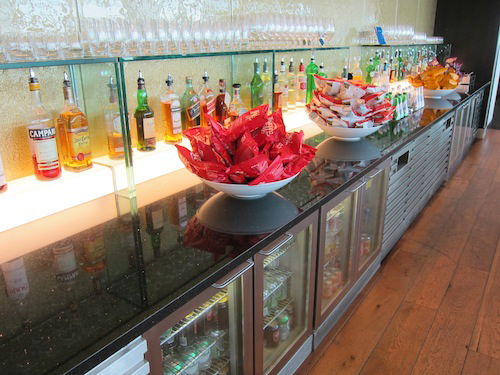 Self serve bar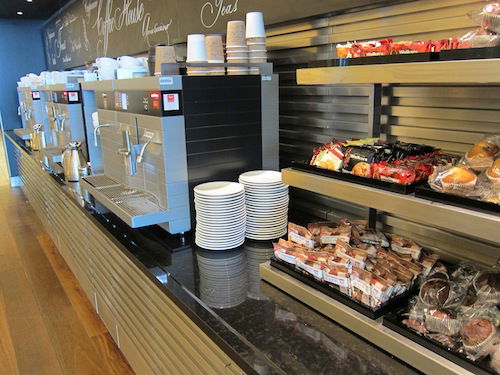 Self serve bar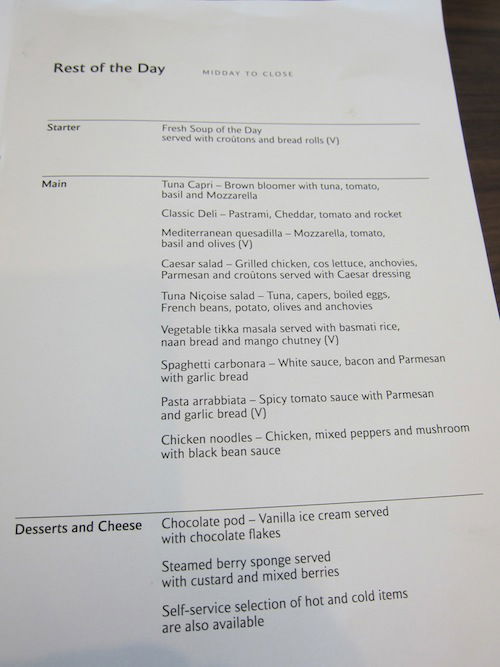 Menu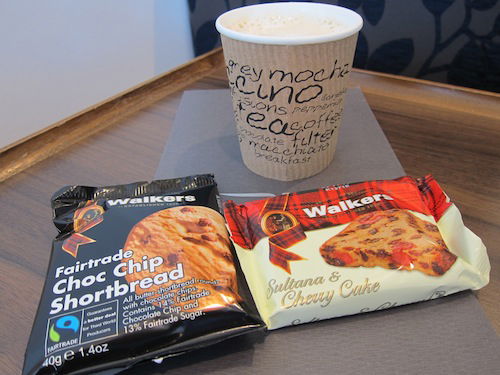 My selection
After spending some time catching up on email I left the lounge at around 10AM. My departure gate was A11, which was only a few minutes away, so I got there before boarding started.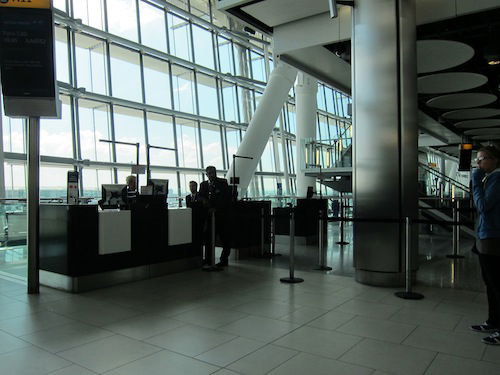 Departure gate
I was happy to see they had a dedicated fast track boarding lane, which made for a rather easy boarding process. At 10:15AM boarding began.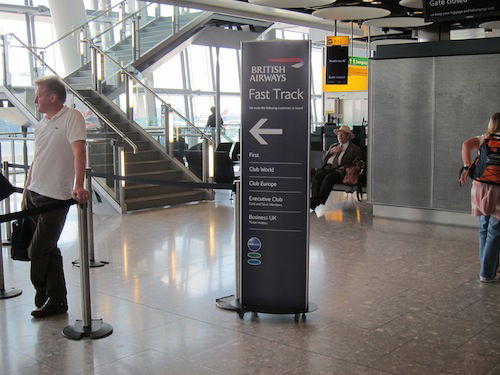 Fast Track lane
British Airways 308
London (LHR) – Paris (CDG)
Friday, June 3
Depart: 10:45AM
Arrive: 1:00PM
Duration: 1hr15min
Aircraft: Airbus 320
Seat: 7A (Club Europe)
At the door I had to show my boarding pass, as usual. I always find it funny how they say "that's lovely" when you show them your boarding pass.
The business class cabin had seven rows, and I ended up in the last row this time around. I had pre-selected 2C, but due to my ticket being canceled the night before my trip, my seat assignment on this segment was wiped out.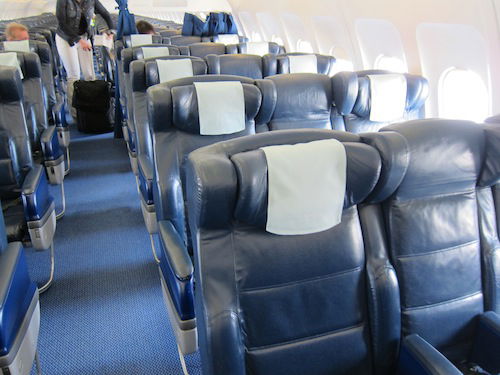 Club Europe cabin
Since I had all three seats to myself I took the window seat. As is usually the case in intra-Europe business class, the seats were really only coach seats with a blocked middle, so not especially comfortable, particularly after coming off a transatlantic flight.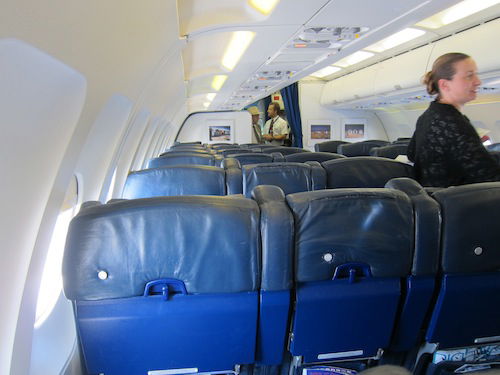 Cabin shot from my seat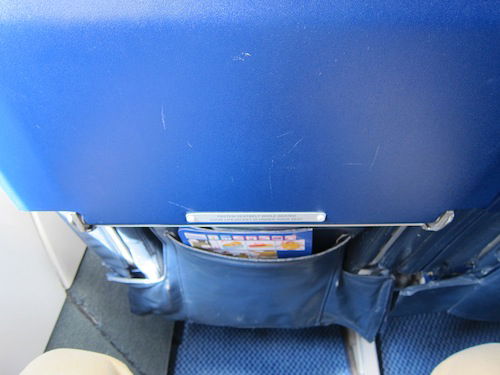 Legroom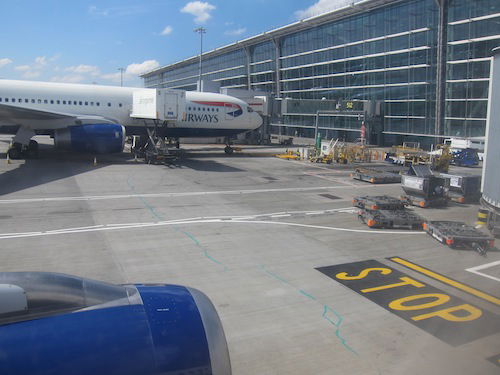 View out the window
Around departure time the captain made an announcement advising us of congestion at Heathrow (there's a shocker!), and saying it would be about 15 minutes before we pushed back. However, she advised us that our flight time was only 40 minutes, so we should still arrive right on schedule (pronounced my favorite way, of course — "shed-jewel").
As expected we pushed back right on the hour. Nothing beats the variety of traffic at Heathrow, so I quite enjoyed the views as we weaseled our way out the alleyway.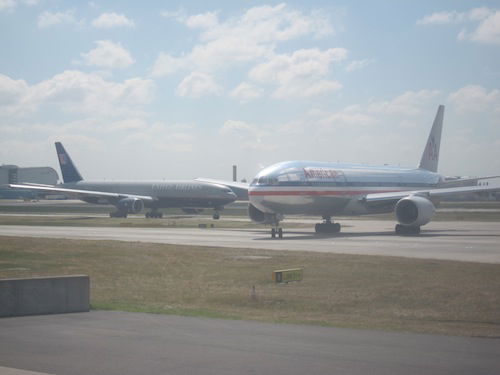 Tough choice between Dallas Debbie and Washington Wilma!
We ended up holding at the end of the alleyway for about 10 minutes, which turned out to be quite an interesting front row seat to some emergency. Something seemed to be going on in the cargo hold of a British Airways 747, as I counted at least nine fire trucks surrounding it.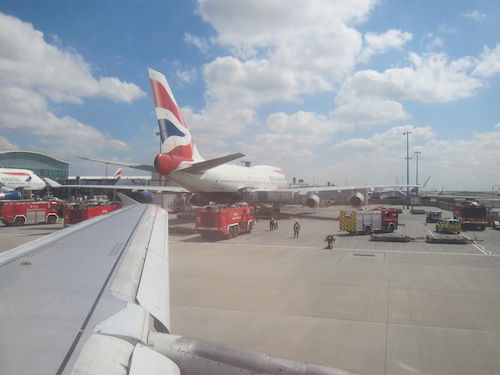 Something's going on!
Once we were out of the alleyway it was just a quick taxi before we were airborne.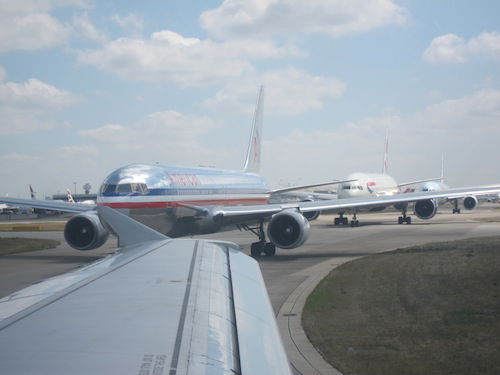 Heavies, heavies, and heavies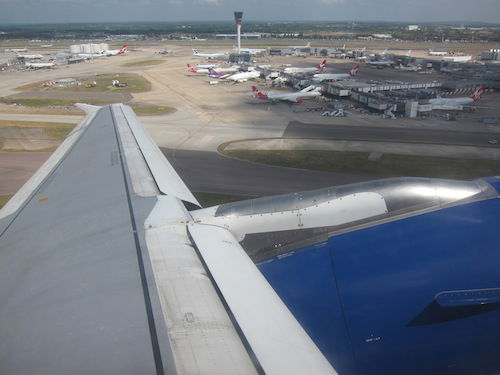 View after takeoff
As soon as we climbed through 10,000 feet the service began. Brunch was being served on this flight, which was a cold plate consisting of cheese, ham, fruit, and Gerber baby food… or something like that. Unlike British Airways' dreadful Club Europe breakfast service, this was actually tasty.
Given how short the flight is, one flight attendant distributed the trays with food on them, while the other flight attendant came around with drinks.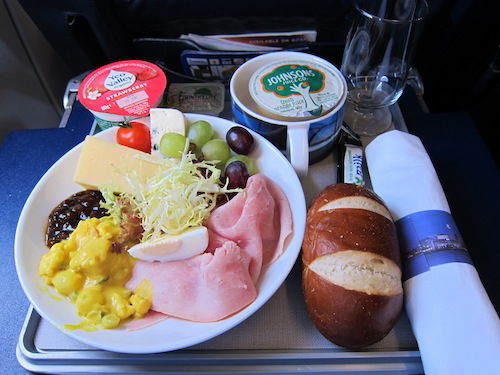 Brunch
We were well into our descent before the flight attendants managed to clear the trays.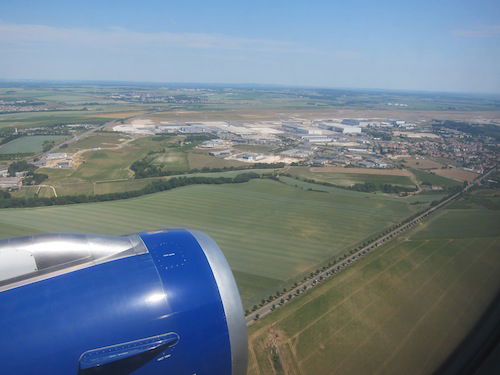 View on approach
After touchdown we officially reached the halfway point in our journey, given that taxiing at Charles de Gaulle can take longer than the actual flight from London to Paris.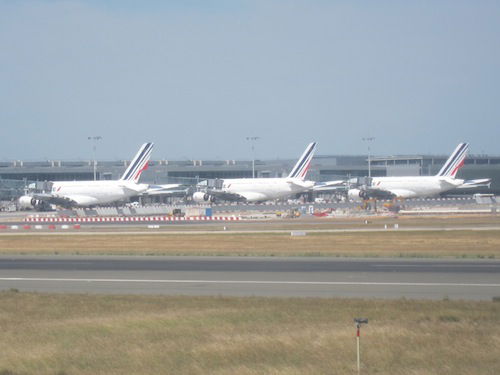 Stop trying to show off, Air France!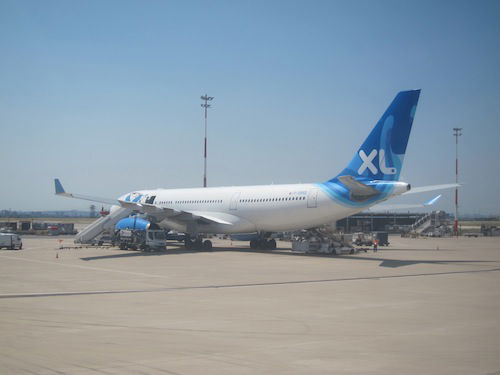 Huh? That's an airline?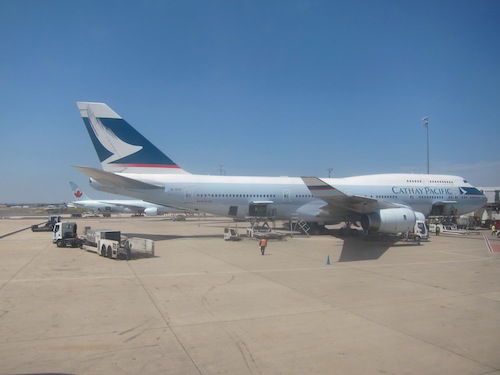 Cathay Pacific 747
After disembarking I followed the signs towards the train I'd be taking to the city, which turned out to be at least a 20 minute walk.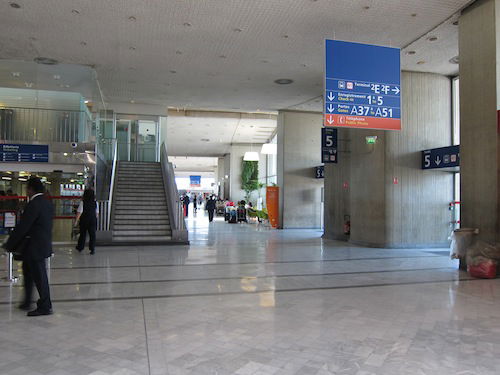 Terminal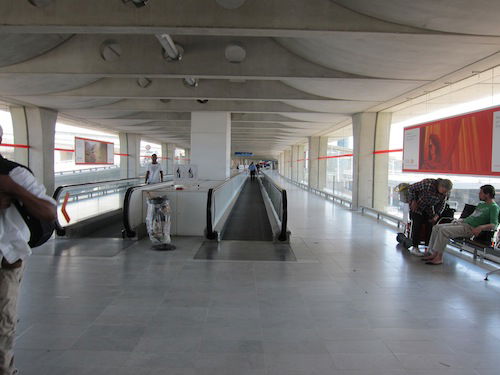 Walkways galore!
While London and Paris are probably my two least favorite airports in the world, the flight was pleasant, and as usual the meal service on a 40 minute flight on a European airline is impressive to see when you're used to US airlines.