---
One of my major frustrations about Terminal 4 at JFK is that all of the lounges are landside, meaning you have to clear security between the time you visit the lounge and when you board the plane. As a result I left the lounge about an hour before departure. The line at the security checkpoint was very long, and the first/business class line kept getting cut by crews, meaning it took even longer.
The TSA was doing their ridiculous questioning this evening, asking "where are you flying to tonight?" and "what's your last name?" Fortunately they skipped asking me that.
Past security Terminal 4 is a complete dump, so I was almost happy that security took forever.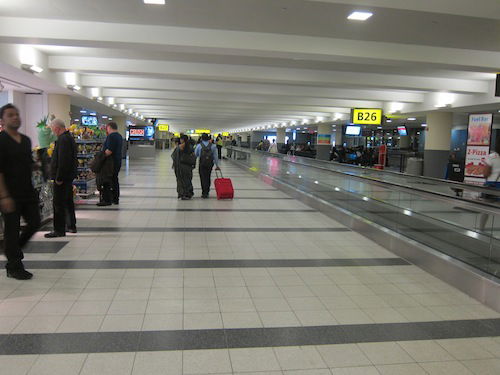 Terminal 4
I got to my departure gate, B29, shortly after boarding was called, and first snapped a quick picture of the Airbus 340-500 that would be taking me to Abu Dhabi. In the background was the Emirates Airbus 380, which would be departing around the same time to Dubai, less than 100 miles away.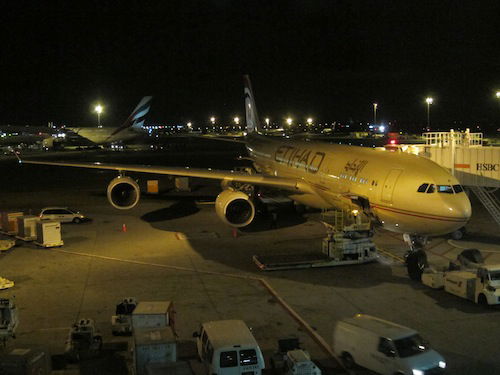 Etihad A340-500
The boarding process could best be described as organized chaos. Everyone immediately lined up to board, though there was no pushing. Fortunately there was a fast track lane, so I was aboard in no time.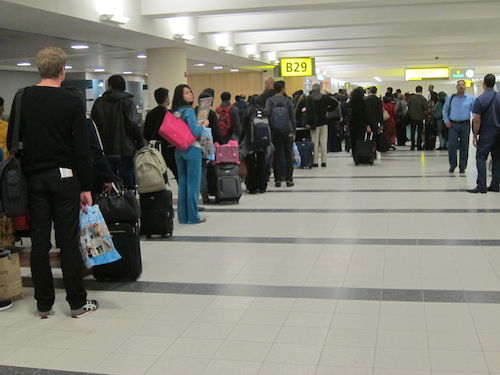 Boarding queue
At the gate my passport was checked and I wished an enjoyable flight.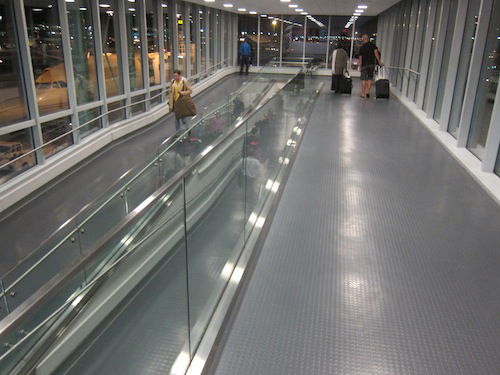 Gate
Etihad 100
New York (JFK) – Abu Dhabi (AUH)
Monday, October 31
Depart: 10:45PM
Arrive: 7:45PM (+1 day)
Duration: 13hr
Aircraft: Airbus A340-500
Seat: 2A (First Class)
At the door I was greeted by the cabin manager, Suman, who had one of her colleagues escort me to my seat. My first shock was that every first class seat was taken. The flight was showing "F8" two hours before departure, meaning there were still eight first class seats for sale at the time (or more accurately, four were taken).
Let's start with the high point of the flight — Etihad's boarding music. It's hands down the best boarding music ever. Heck, I've been playing it on repeat just about every day since I got back. Close your eyes for 15 minutes and listen to this music, and I can promise your mind will be clear as could be. You can listen to it here:
Another high point of the flight is the seat. Etihad has what is hands down one of the best first class suites out there. I loved everything from the colors, to the privacy, to the entertainment system. It's classy without being glitzy (*cough* Emirates *cough*). First class has 12 fully enclosed suites with three rows in a 1-2-1 configuration.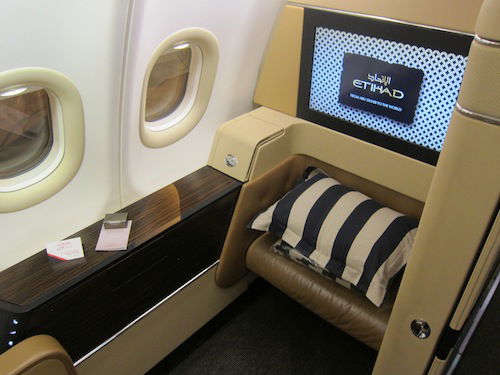 Diamond First Class s uite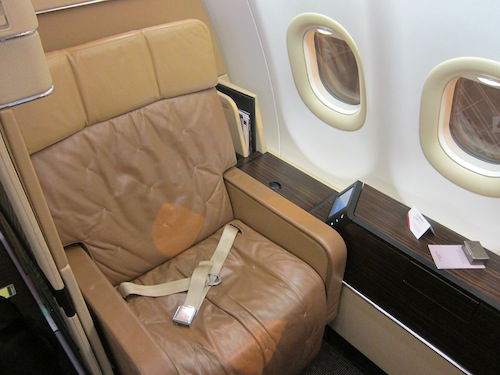 Diamond First Class suite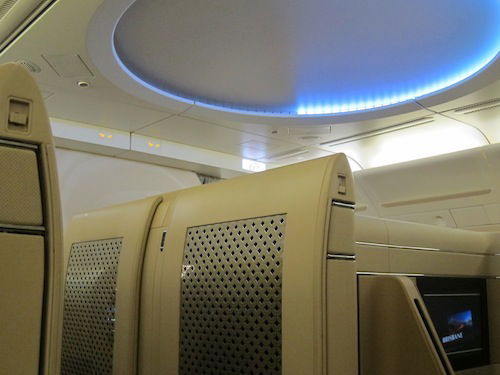 Diamond First Class cabin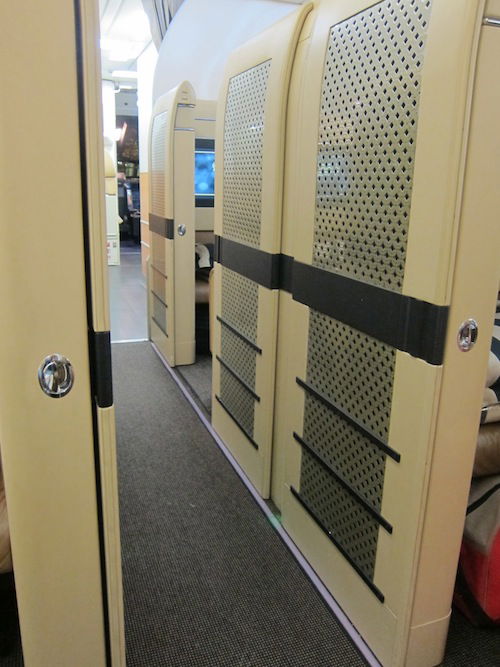 Diamond First Class suite doors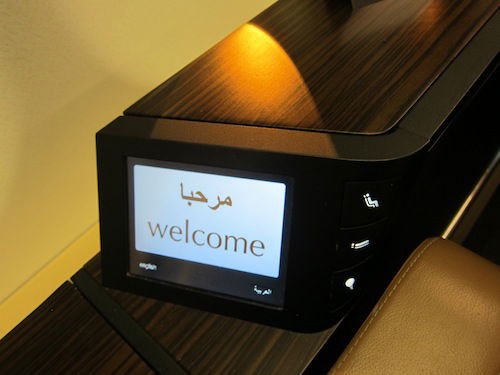 Diamond First Class suite controls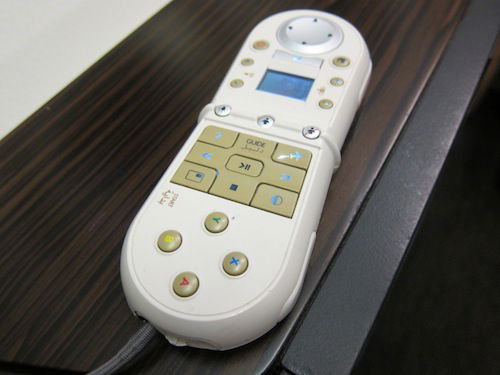 Entertainment controls
The front compartment of the seat featured a bottle of VOSS water and some nuts, too.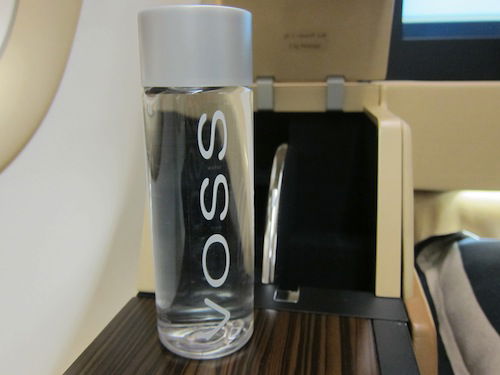 VOSS water
At my seat already was a welcome card from the cabin manager with her business card, a Formula One promotional card, and a box of pralines.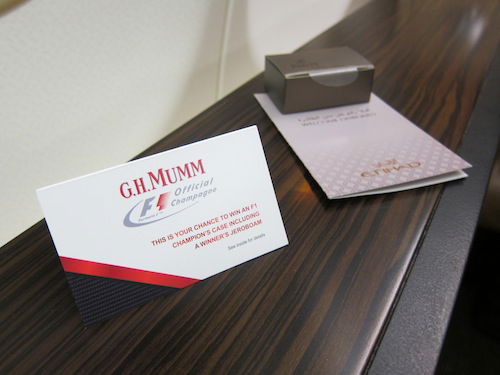 Pralines and welcome card
Also in the side console of the seat was the menu, stationary, a pen, etc.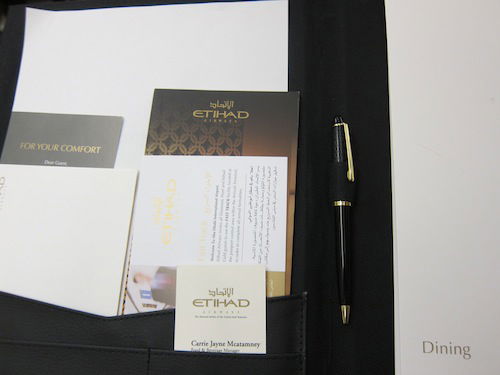 Stationary pack
Etihad doesn't have overheard bins in first class to make the cabin feel more spacious, and my rollaboard didn't quite fit under the seat, so I needed to store it in the closet.
Unfortunately once my bag was stored I wasn't offered anything for about 20 minutes, which is a record for me in international first class. At that point, just shortly before departure, the food and beverage manager Carrie came by to introduce herself. She offered me a beverage, and I went with Mimosa. She also offered me headphones, a hotel towel, an amenity kit, and pajamas.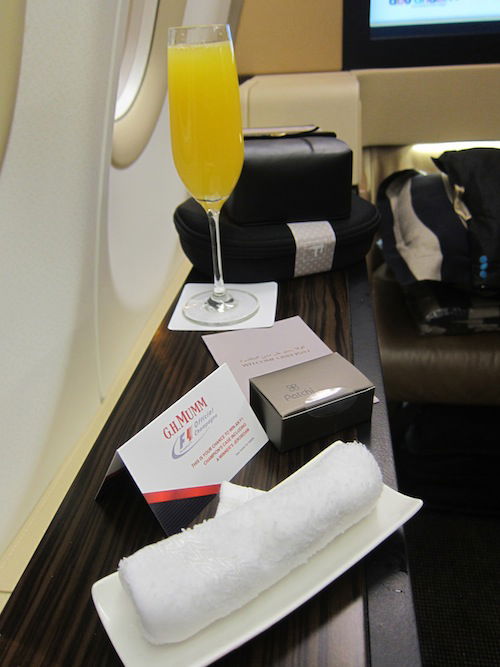 Pre-departure mimosa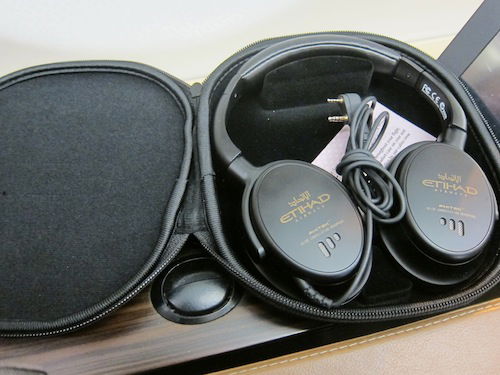 Headphones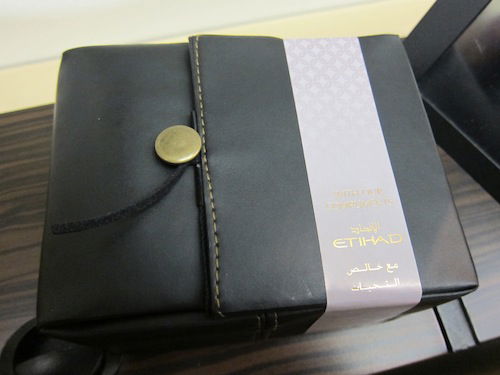 Amenity kit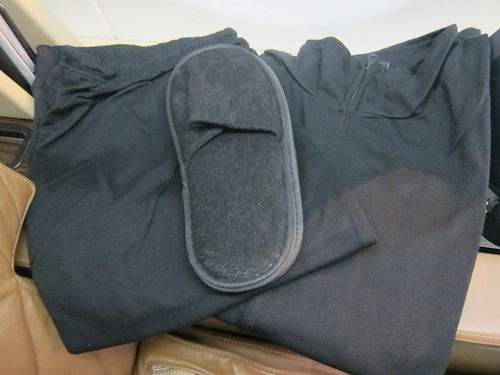 Pajamas
Right around departure time the flight attendants came around with Arabic coffee and dates (I figured their business card with their phone number was plenty on the dates front! Don't worry, I won't quit my day job). 😉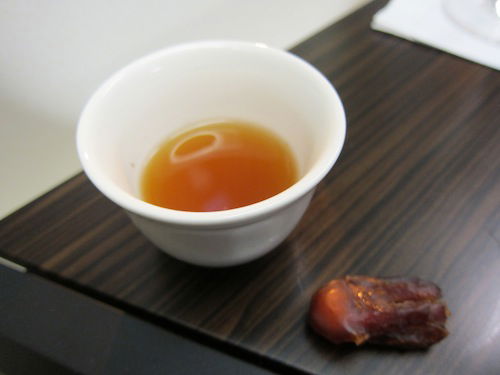 Arabic coffee and dates
Shortly before departure time I made a quick visit to the restroom to change into pajamas. The restroom is really sleek in first class on this plane, though poorly placed. It's over on the right side of the aircraft, so you have to walk all the way through the galley to access it, which is a bit awkward since Etihad flight attendants like "hiding." It's also worth noting that Etihad pajamas run HUGE. Get a size smaller than you think you need.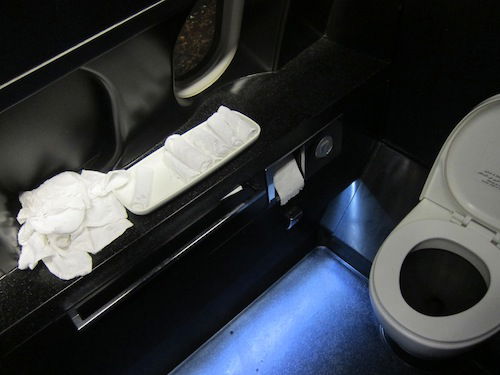 Lavatory
As departure time rolled around the captain came on the PA to welcome us aboard and advise us of our flight time of 12hr30min.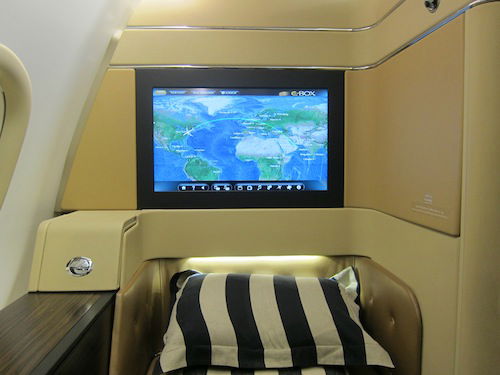 Airshow
We began our quick taxi to the runway and took off to the North after a long takeoff roll.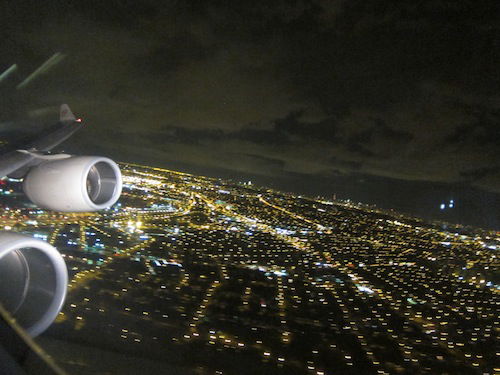 View shortly after takeoff
I decided to watch a movie, and found "Love, Wedding, Marriage," starring Mandy Moore and Kellan Lutz.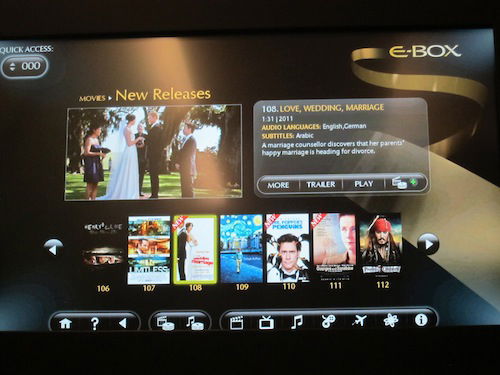 Entertainment system
As we passed through about 10,000 feet the crew started their service. There were three flight attendants working first class — the cabin manager, who was Indian, the food and beverage manager, who was Australian, and the third flight attendant, who was Thai. Etihad sure has some diverse crews!
The dinner menu read as follows: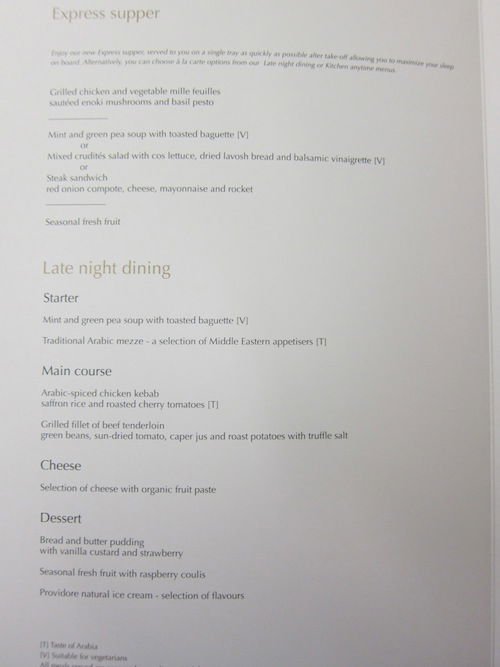 And the wine list read as follows: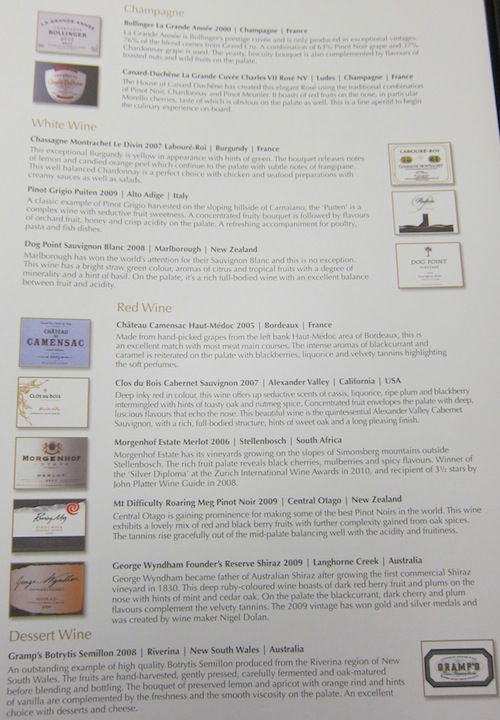 At this point the food and beverage manager took my dinner order. I ordered a Diet Coke to drink, and went with the soup as the starter and chicken kebab as the main course. I had asked the food and beverage manager for a suggestion on the appetizers, and the best she could offer up was that "the soup is hot and the mezze is cold, that's what I like to tell people." I'm not sure why they bother having a food and beverage manager, since I'm pretty sure a Mesa flight attendant serving a snack basket in regional jet first class could be as helpful.
Beyond that, is this seriously the menu for the main meal in international first class on a 12+ hour flight? Only two choices of starters and two choices of entrees? This is hands down the most underwhelming international first class menu of any airline I've ever flown. Ever.
Service started with a rather large ramekin of nuts, which kept me entertained for about 10 minutes.

Nuts
About 10 minutes later I was offered some sort of chicken skewer starter, though there was still no sign of my Diet Coke. I would have asked the flight attendants, but they almost never appeared.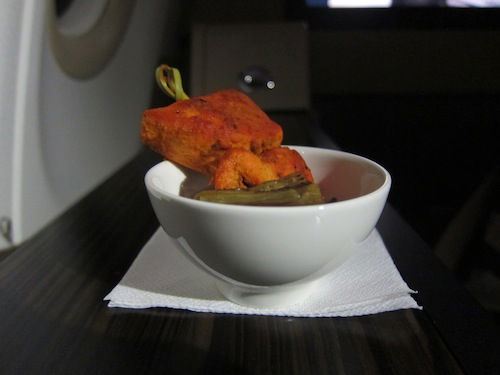 Chicken skewer
It wasn't until about 45 minutes into the flight that I got served my drink, along with the meal. They served the meal on a tray, which is a first for me in international longhaul first class. Part of the enjoyment of international first class over business class is that the meal service is supposed to be an enjoyable experience, and it really isn't when they bring everything out at once and don't check on you for 30 minutes. It's also worth noting that there was no bread.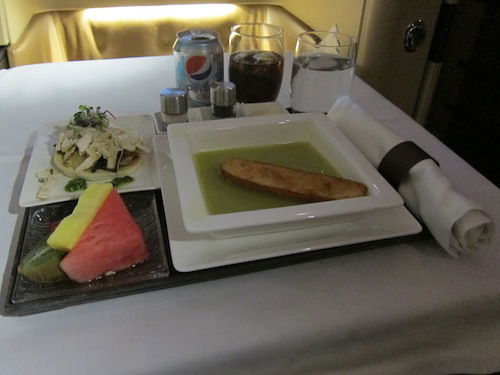 Dinner starter
Then for the main course the chicken kebab was okay at best, and even that is pushing it. It would have been been underwhelming for a business class meal, let alone first class.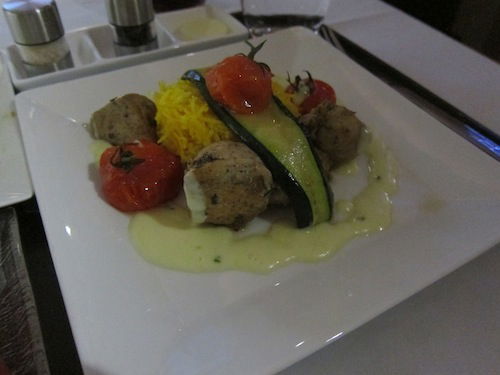 Main course
For dessert I had the bread and butter pudding, which was spectacular. Probably one of the best desserts I've ever had on an airplane.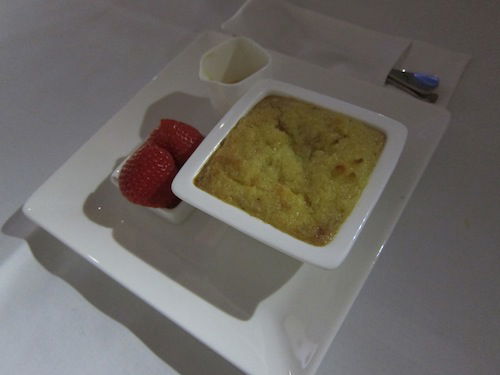 Bread and butter pudding
After dinner service was complete I was offered a hot towel and glass of water.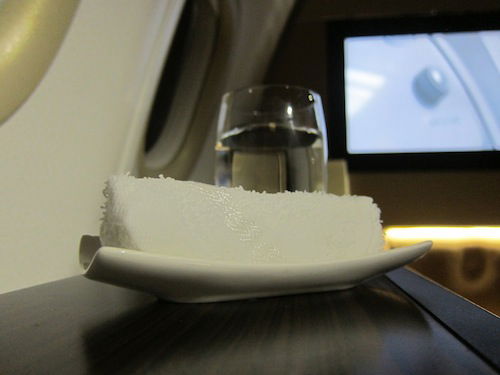 Hot towel and water
On the whole, Etihad has a lot of work to do with their first class service based on this flight, and many of the issues are an easy fix. For example, the food and beverage manager seems to want to interact whenever anything relates to the meal service. That means you basically have one flight attendant taking care of 12 passengers, while the others just roam awkwardly. One time when I asked one of the other flight attendants for something, she said she would let the food and beverage manager know of the request.
Based on this flight the food and beverage manager adds zero value to the "experience," so why not cut the position and instead make the service more efficient? You can't provide a personalized level of service if one flight attendant is looking after 12 passengers. Instead why not put one flight attendant in each aisle so that the service is more personalized, efficient, and accurate, since on several occasions I asked for a refill, only to have to follow up several times.
Beyond that, c'mon Etihad, the meal service is pathetic for international first class. The flight might leave fairly late at night, though it's a 12+ hour flight, so at least giving passengers the option of having a "real" five course meal doesn't seem unreasonable.
I had a bit of a cold during the flight, so actually fell asleep before my tray was cleared or seat was reclined. I woke up just over London as the sun was coming up, and asked the flight attendants to please provide turndown service for my seat.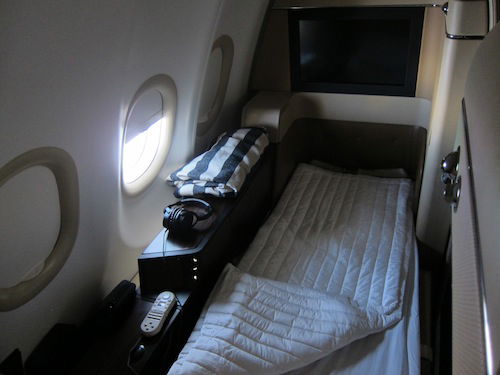 Seat in bed position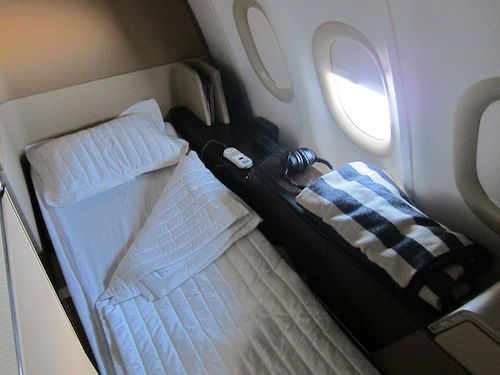 Seat in bed position
Etihad's first class seats are incredibly comfortable and there's something comforting about having a door on your suite, so I slept till we were about two hours out of Abu Dhabi. Hey, you can't beat eight hours of sleep on a plane (well, I once did 12, though who's counting anyway?).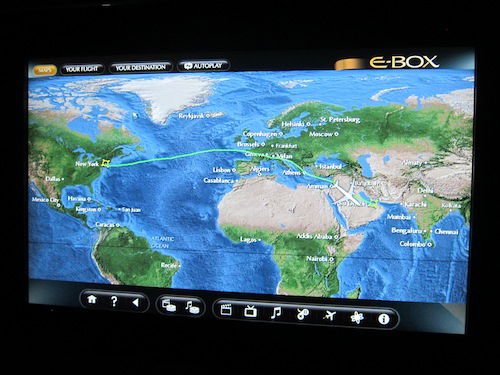 Approaching Abu Dhabi
At that point breakfast was served. While the meal makes sense in terms of my body's clock, it is always a bit weird to have breakfast, only to arrive somewhere during dinnertime. The breakfast menu read as follows: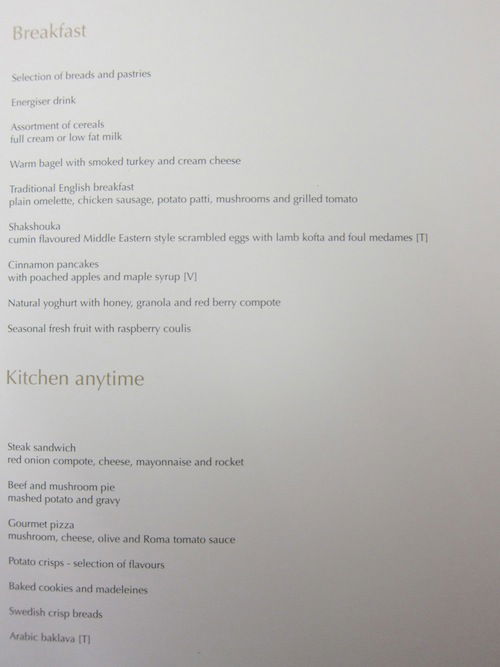 Breakfast menu
To start I had an energiser drink and muesli.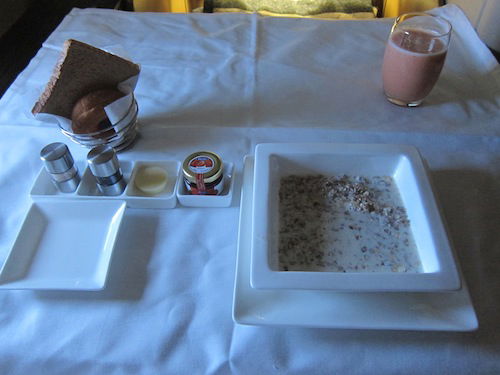 Breakfast
Then for the main course I had cinnamon pancakes, which were rather underwhelming, in terms of both quantity and quality.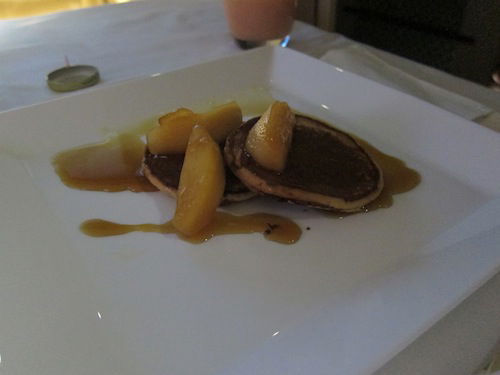 Cinnamon pancakes
About 30 minutes before landing we began our descent into Abu Dhabi, and the captain turned on the seatbelt sign.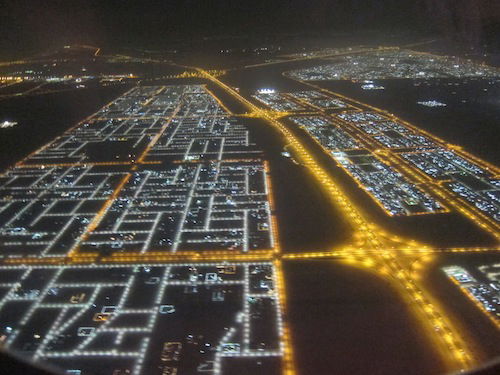 On approach
After a smooth touchdown, quick taxi, and 10 minutes worth of jet bridge malfunctions, I was finally in the UAE.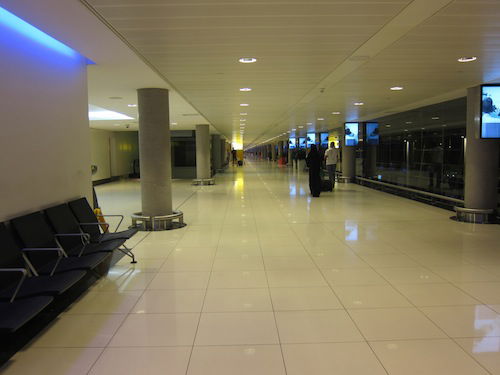 Terminal
There were no lines at immigration, though I was amazed at the fact that most of the immigration officers were yapping away on their cell phones while working. And it's actually a general trend I noticed in the UAE, that workers talked on their cell phones while on duty, regardless of their job.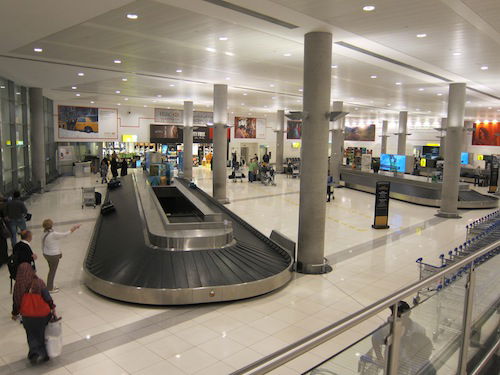 Baggage claim
Once in the arrivals hall I followed the signs towards Etihad chauffeur, since I had set up a complimentary car transfer to the Park Hyatt Dubai, where I would be staying.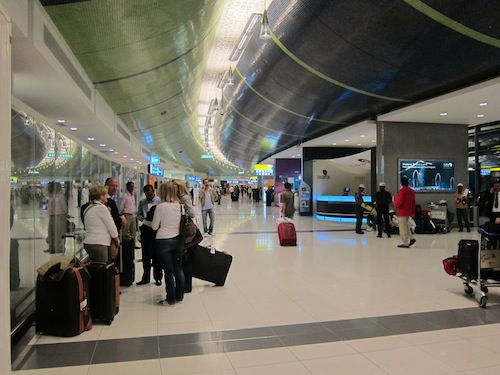 Arrivals hall
At the desk I gave them my boarding pass and was given a slip with my destination on it, to give to the driver.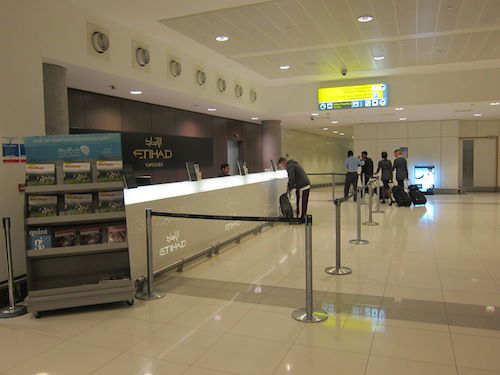 Etihad chauffeur desk
While there's a waiting room, my car was available immediately.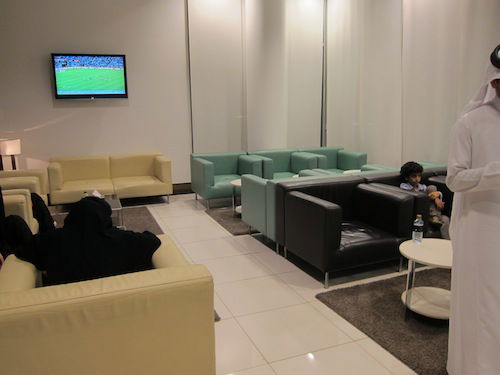 Etihad chauffeur waiting room
Etihad uses mostly Audis for their chauffeur service, and about 75 minutes later we pulled into the Park Hyatt Dubai.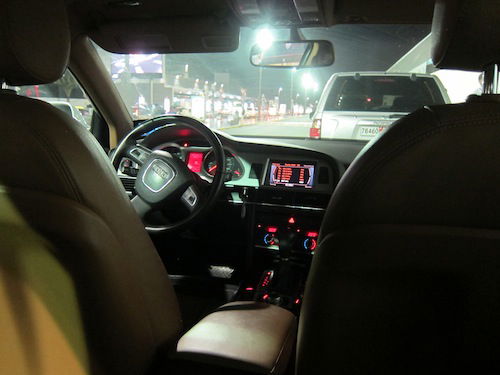 Audi interior
On the whole, my flight on Etihad was disappointing given my high expectations. Their hard product (seat and entertainment) was phenomenal, while their soft product (service and food) was underwhelming. A lot of the issues are easy fixes, and I was hoping they were specific to this flight. Stay tuned for the return!