Introduction
Aman New Delhi
Aman-i-Khas / Safari in Ranthambore National Park
Amanbagh / Activities around Amanbagh
---
I had no clue what to expect with my first Aman stay. I've heard many people say "once you go Aman you never go back," but I just couldn't imagine the hotels could be that special.
The stay started with a greeting at Delhi Airport. Guests at the Aman New Delhi get a complimentary airport transfer. We were welcomed by Aman's airport greeter, who immediately recognized us by name and escorted us to the Q7 waiting to take us to the Aman. He introduced us to the driver, who also spoke perfect English and asked us if we wanted something to drink. They had a cooler in the car with all kinds of cold soft drinks, so I had a Diet Coke and my friend had a Coke.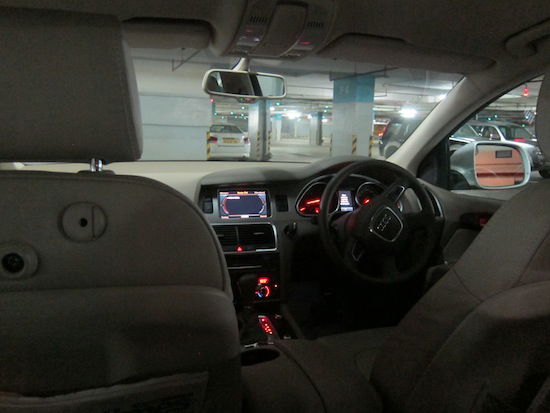 Car transfer
The ride to the hotel took about 20 minutes, and along the way the driver pointed out all the sights (mostly embassies), and told us a bit about India since it was our first time. As we were about five minutes away the driver called the hotel to advise them we were almost there.
Here's where the stay goes from "really good" to "Aman." As we pulled up to the hotel there were no fewer than five people lined up at the entrance to greet us, including the general manager. At first it was almost a bit embarrassing, though as I later found out this is the standard Aman greeting for all guests. Unbelievable.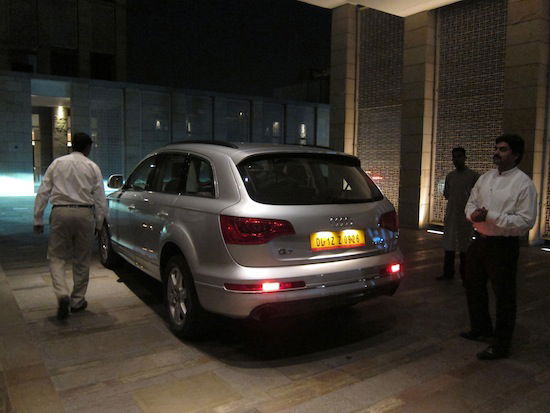 Audi G7 that took us from the airport
The entrance was impressive, and I especially liked the decor.
It goes without saying that the keys to our room were ready, so we were immediately walked to our room without even having to worry about our luggage. Despite the hotel looking massive, there are only a total of 39 rooms.

Entrance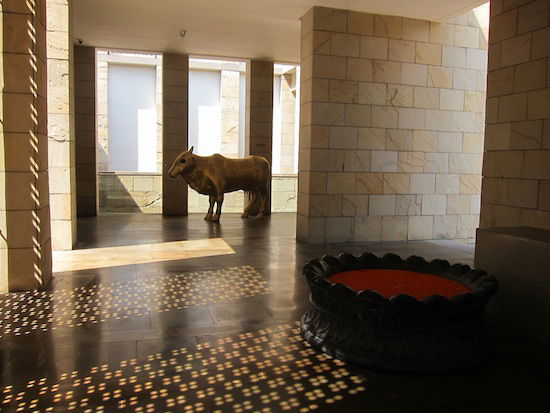 Entrance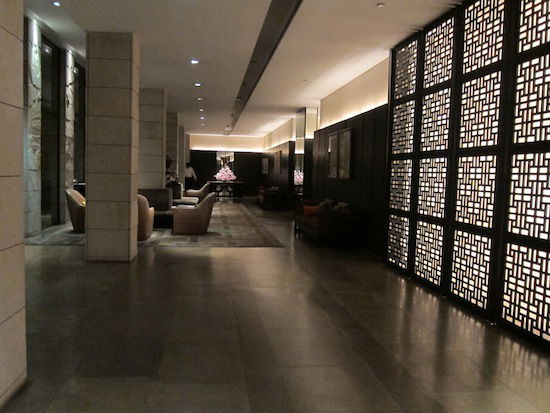 Lobby
We were in room 405, which was the standard "Aman Room" (they have 31 rooms and eight suites) on the fourth floor.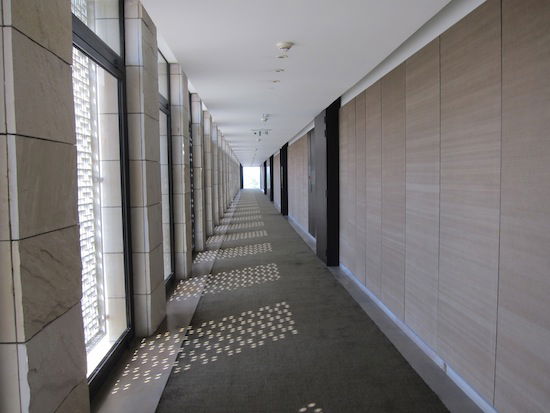 Hallway
I couldn't believe this was a standard room, since it was at least as big as a junior suite at most other hotels. It featured a king bed, table, daybed, and desk. The bed, and especially bedding, were super comfortable. It's also worth noting that Wi-Fi at this hotel is free, and was fast.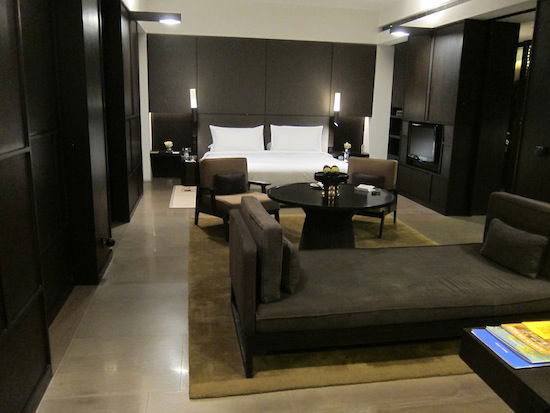 Aman Room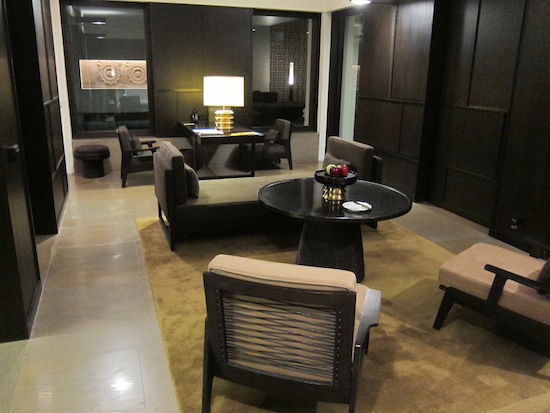 Aman Room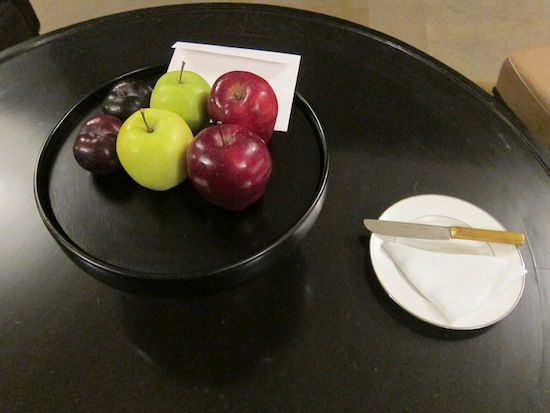 Welcome note and welcome amenity
The bathroom featured double sinks, a tub, and a walk in shower.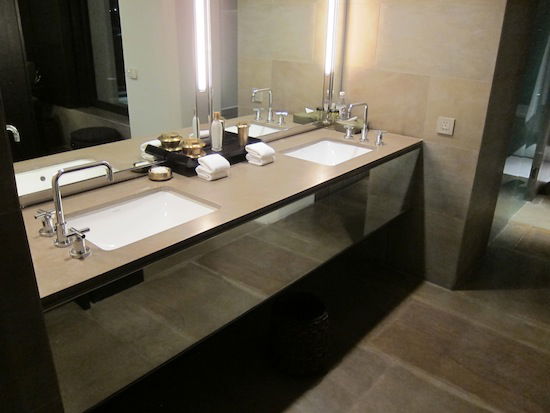 Sinks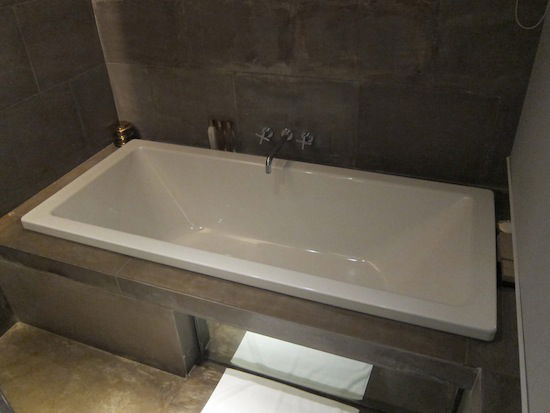 Tub
Literally the only negative I can think of with the stay is that the shower amenities were in dispenser bottles (without a brand name), which seems a bit cheap for a hotel of this caliber.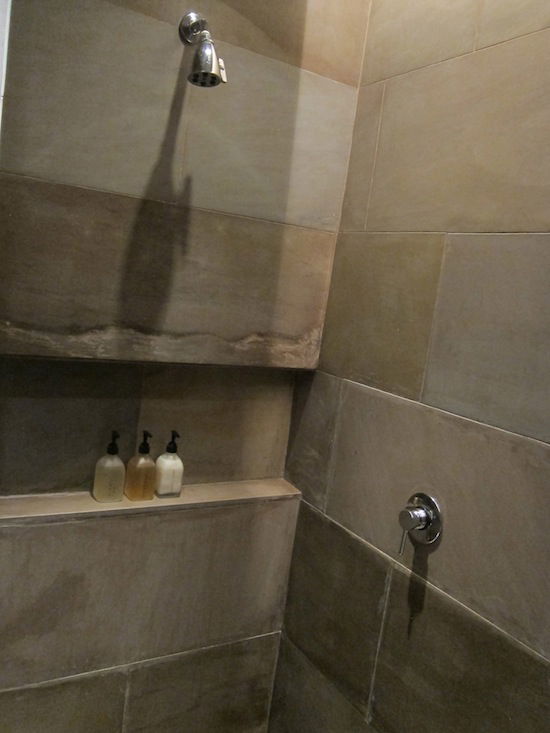 Shower
The towels, however, were the most plush I've ever experienced. I've been meaning to email the hotel for the past couple of months to find out what kind of towels they are (since they didn't have tags), as I definitely want some for home.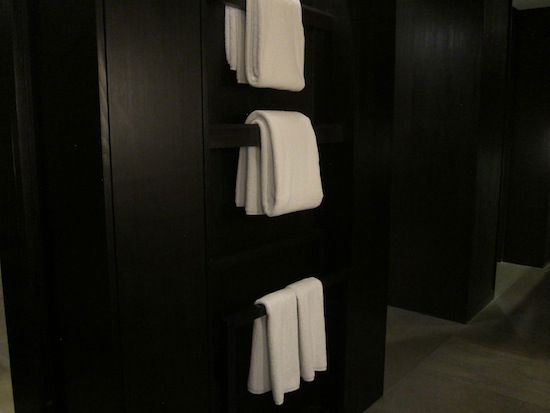 Towels
The minibar featured all kinds of soft drinks (complimentary) as well as some beer. On the table above were snacks, ranging from peanuts to Pringles to pralines to freshly baked cookies, all complimentary.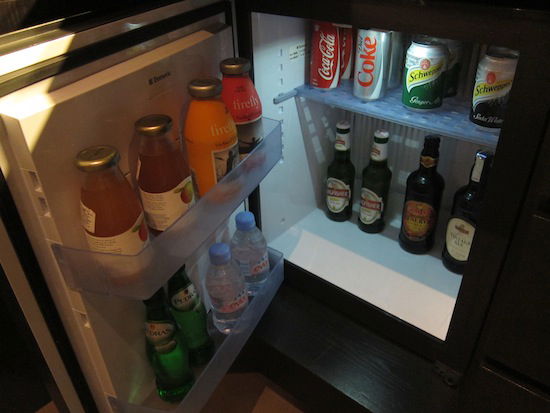 Minibar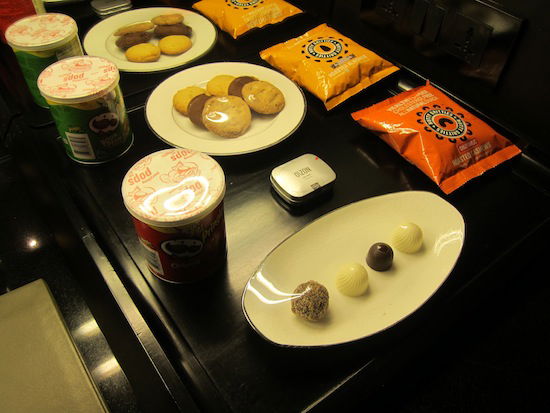 Complimentary snacks
The room also featured a large balcony, including a plunge pool and daybed. The views from the room were of the Aman as well as adjacent condos.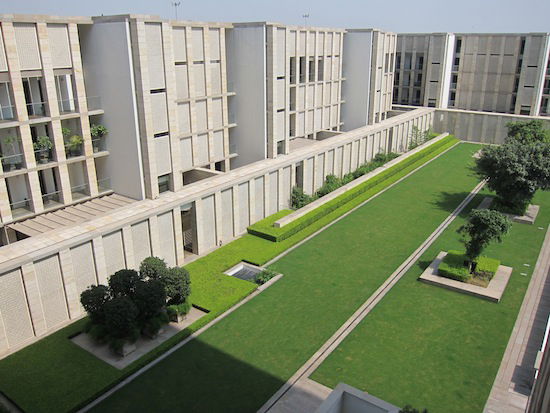 View from the room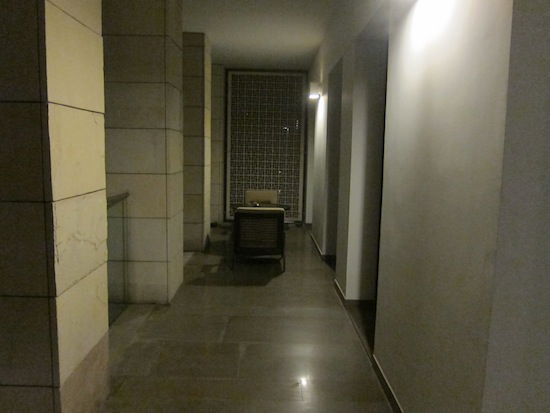 Balcony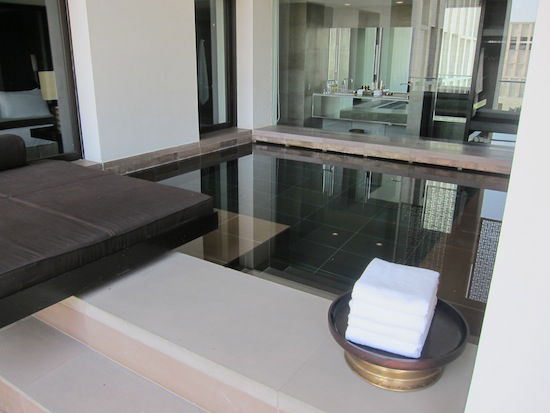 Plunge pool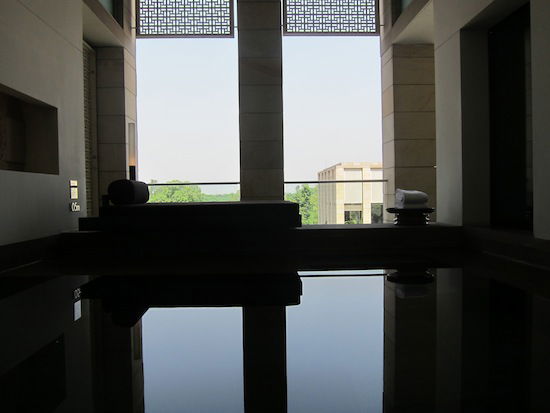 Plunge pool
Like I said, this hotel was actually more or less an overnight stopover for us, since we were arriving in Delhi late at night and leaving for Agra the following morning. As a result we went to bed about an hour after our arrival.
The following morning we had breakfast in the hotel's restaurant, which was fairly empty (though we were eating late).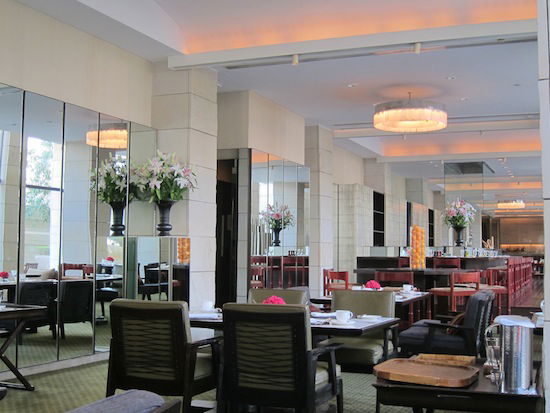 Restaurant
I ordered the American breakfast, while my friend ordered the pancakes. Worry not, I ended up eating Indian food for most of the rest of the trip, though we had a five hour car ride ahead of us and I didn't want to take any chances. 😉
The American breakfast cost a very reasonable 1300INR (~$26USD), and came with freshly squeezed juice, coffee, a bakery basket, cereal, and eggs.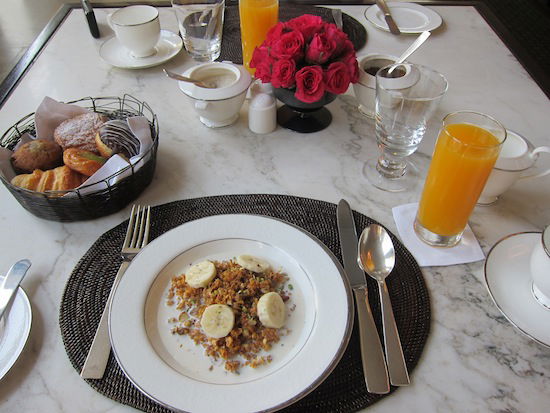 Cereal and bakery basket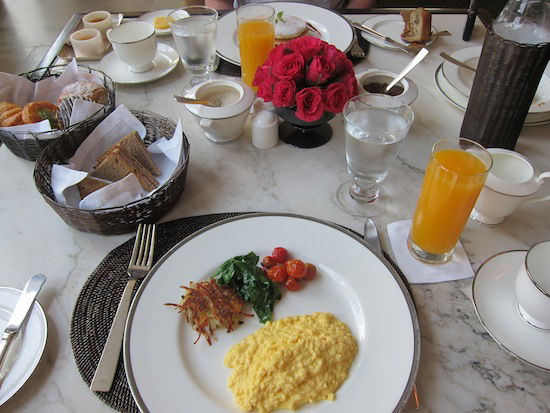 Eggs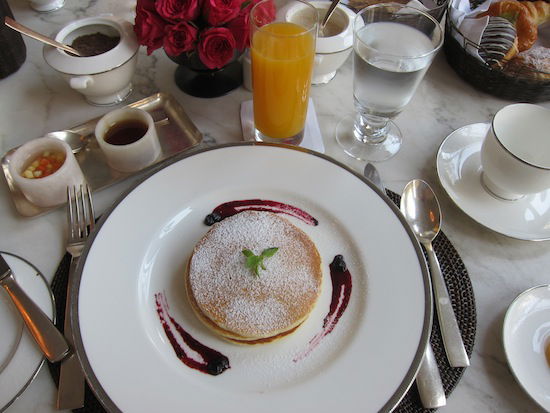 My friend's pancakes
After breakfast we took the opportunity to briefly tour the hotel. We headed outside along the walkway down to the (50 meter) pool.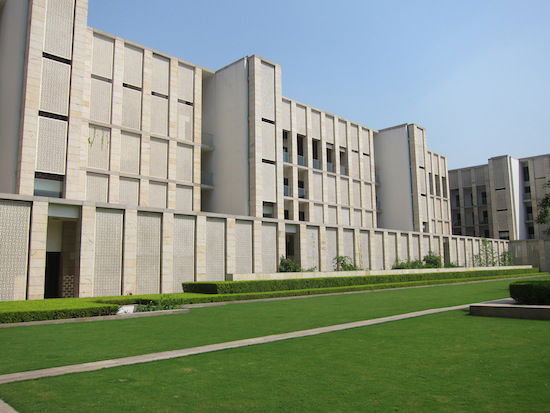 Hotel grounds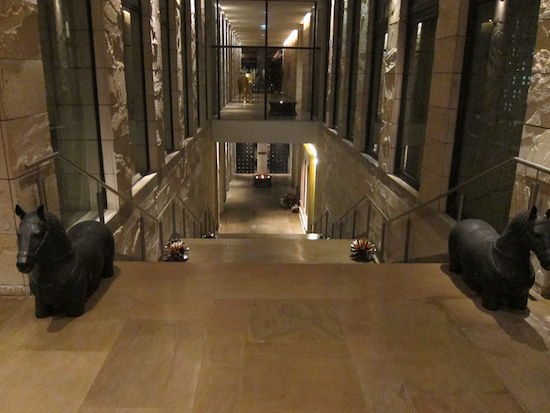 Walkway to lower level
The pool featured plenty of lounge chairs as well as some tables in the shade. Service was very attentive, as we were offered towels and drinks as soon as we approached the pool.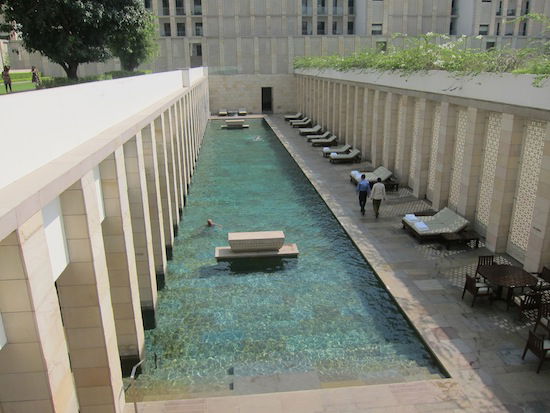 Pool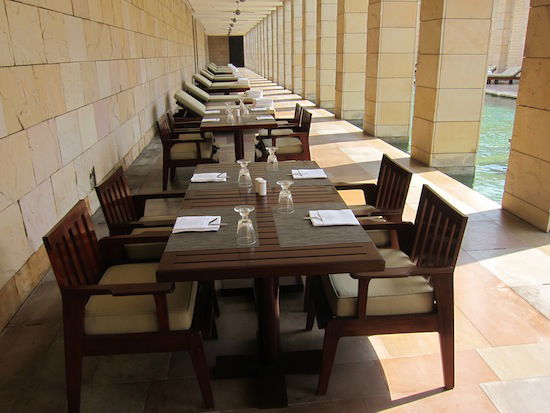 Pool area
The hotel also has three grass tennis courts, squash courts, and a very nice fitness center.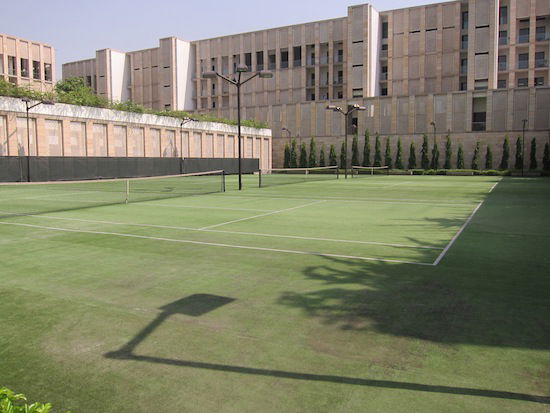 Tennis courts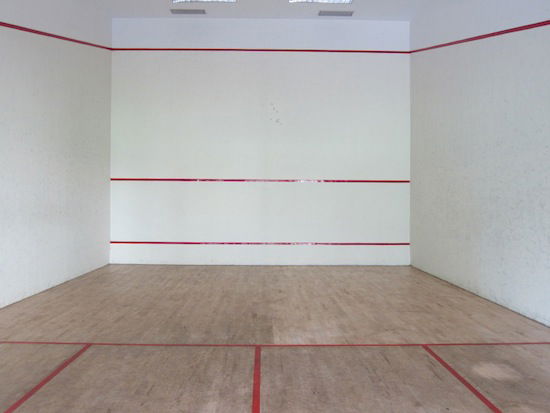 Squash court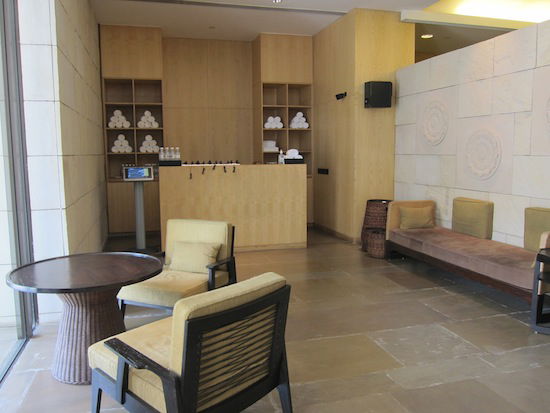 Gym entrance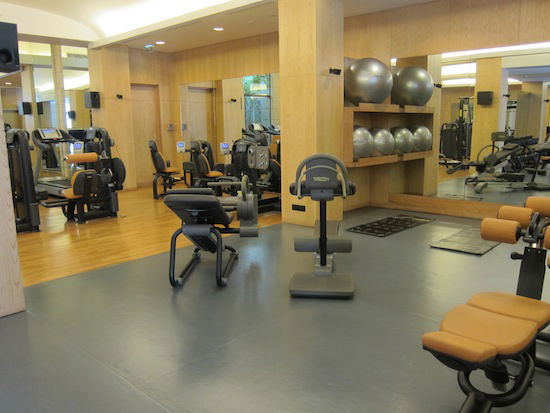 Gym
Lastly we stopped by the spa, where I had a quick look at the menu. The treatment prices were reasonable, in the $60-80USD range for hour-long treatments.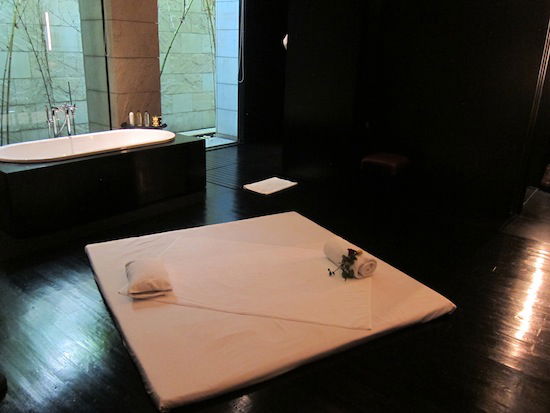 Spa treatment room
The property itself was stunning, though what stood out most to me were the people. They were not only friendly, but also incredibly sincere and polished. The hotel is very well staffed, so you run into an employee at almost every corner, and they're all constantly smiling and eager to help.
As we left the hotel, the departure experience was just as impressive as the arrival experience. Once again about five people (including the GM) lined up to wave goodbye to us.
There's really no way to sum up this hotel other than saying it's in a league of its own. That being said, at the end of the day it's a city hotel, while a majority of Aman properties are in the middle of nowhere. So even this hotel couldn't prepare us for our two subsequent Aman stays.
The rates at the Aman New Delhi for the "Aman Room" are $550 off season (May 1-September 30) and $650 during season (October 1-April 30). If you book through a Virtuoso agent you get a room upgrade based on availability, complimentary breakfast daily, and a complimentary lunch once during your stay. If you book through American Express Fine Hotels & Resorts you get a room upgrade based on availability, complimentary breakfast daily, guaranteed 4PM check-out, and a 50 minute massage once during your stay for up to two in room guests.