---
My connection in Zurich was just over two hours. I was arriving in the E Concourse and departing from the A Concourse, which was a surprisingly long journey. I know Zurich Airport is spread out, but my gosh, the transit took a long time. First I had to take the train, and then from there I had to clear security, go through passport control, and then it was still a haul. In total I walked nearly 1.5 miles during my layover, which is more than usual.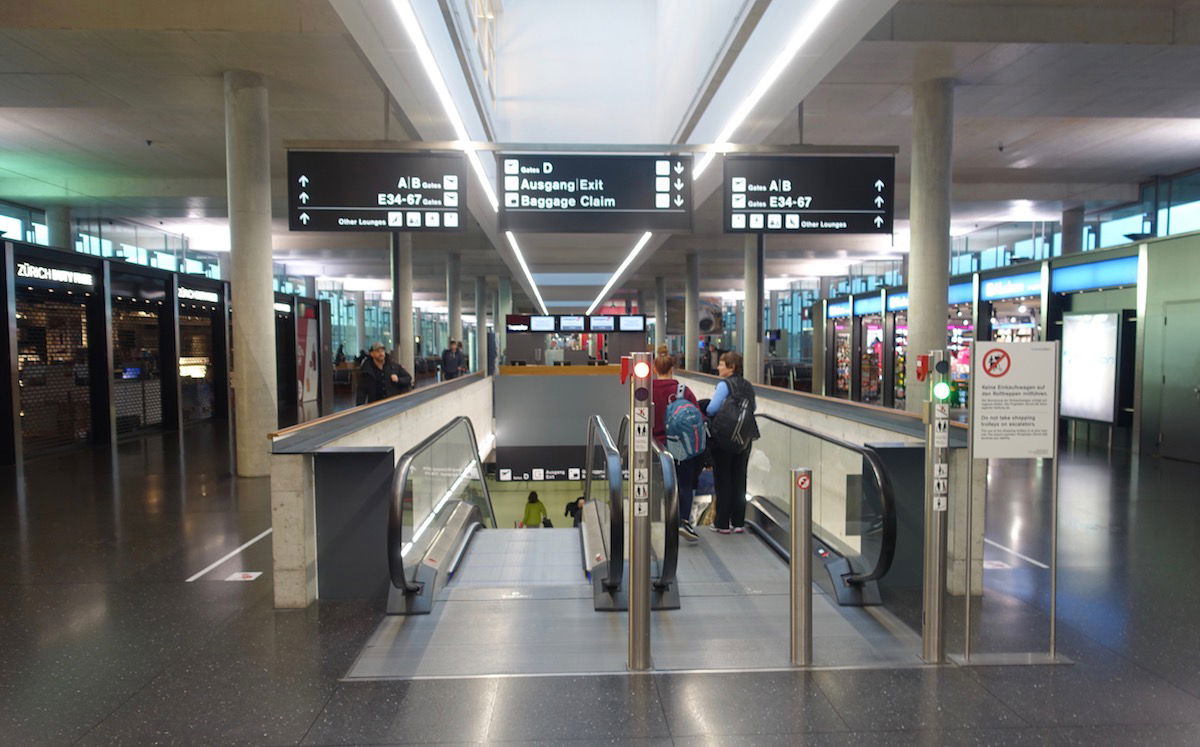 Zurich Airport terminal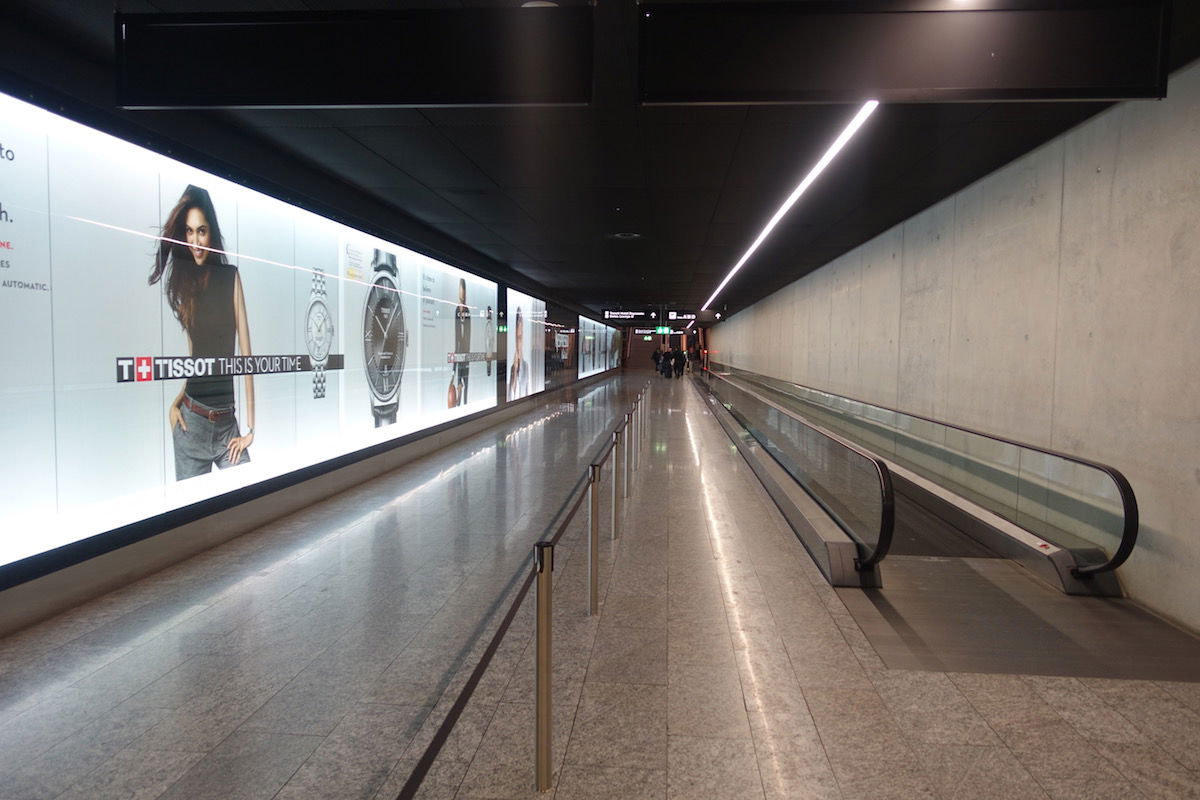 Zurich Airport terminal
Since I had a bit of time I checked out the Swiss Lounge. The lounge was overcrowded and wasn't very nice — apparently one of the lounges is under renovation and that's why this one was so full. It was so full that I didn't really feel comfortable taking pictures, so I won't be reviewing it.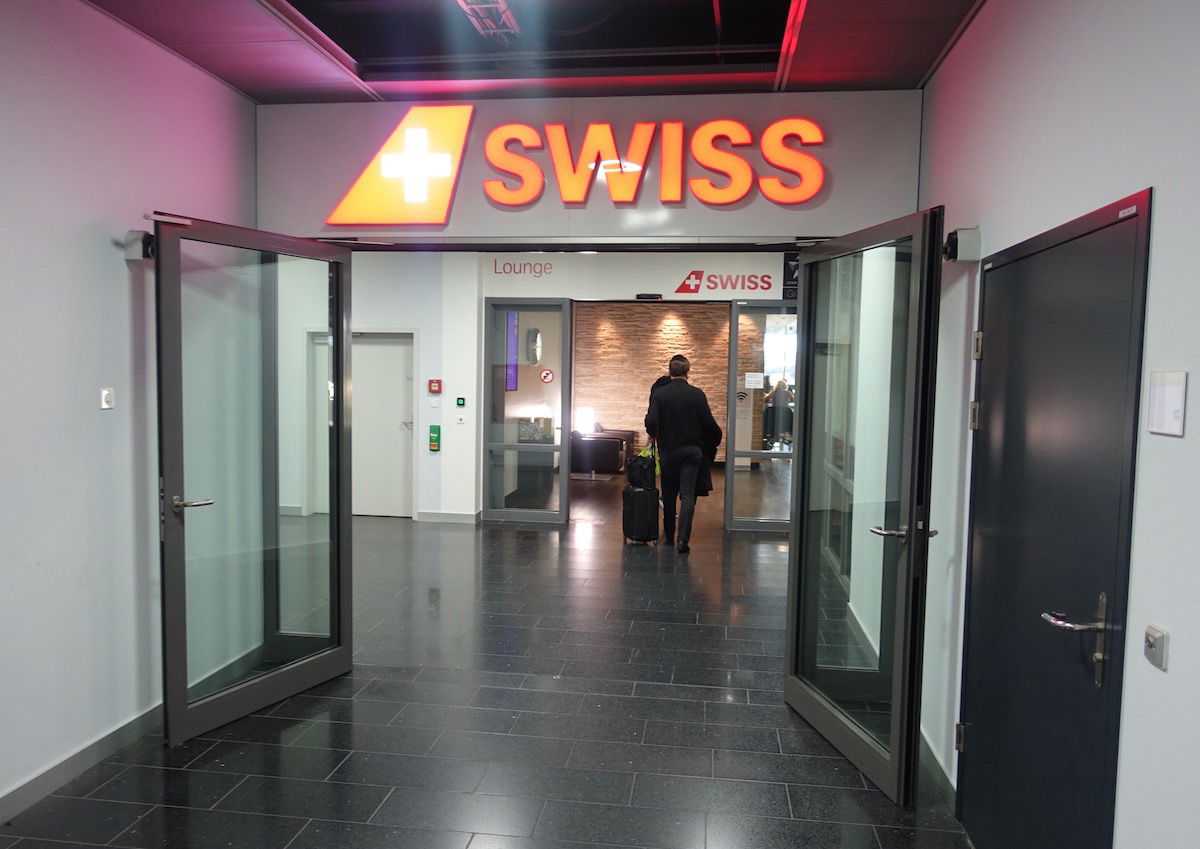 Swiss Lounge Zurich Airport
Given how full the lounge was I just headed to my departure gate, A84, and decided to sit there. Increasingly I'm finding myself just sitting at gates even when I have lounge access, as I'll take a mostly empty gate over an overcrowded lounge most of the time. That's because I'm typically just looking for a quiet place from which to work, rather than wanting something to eat or drink (since I get fed enough on planes).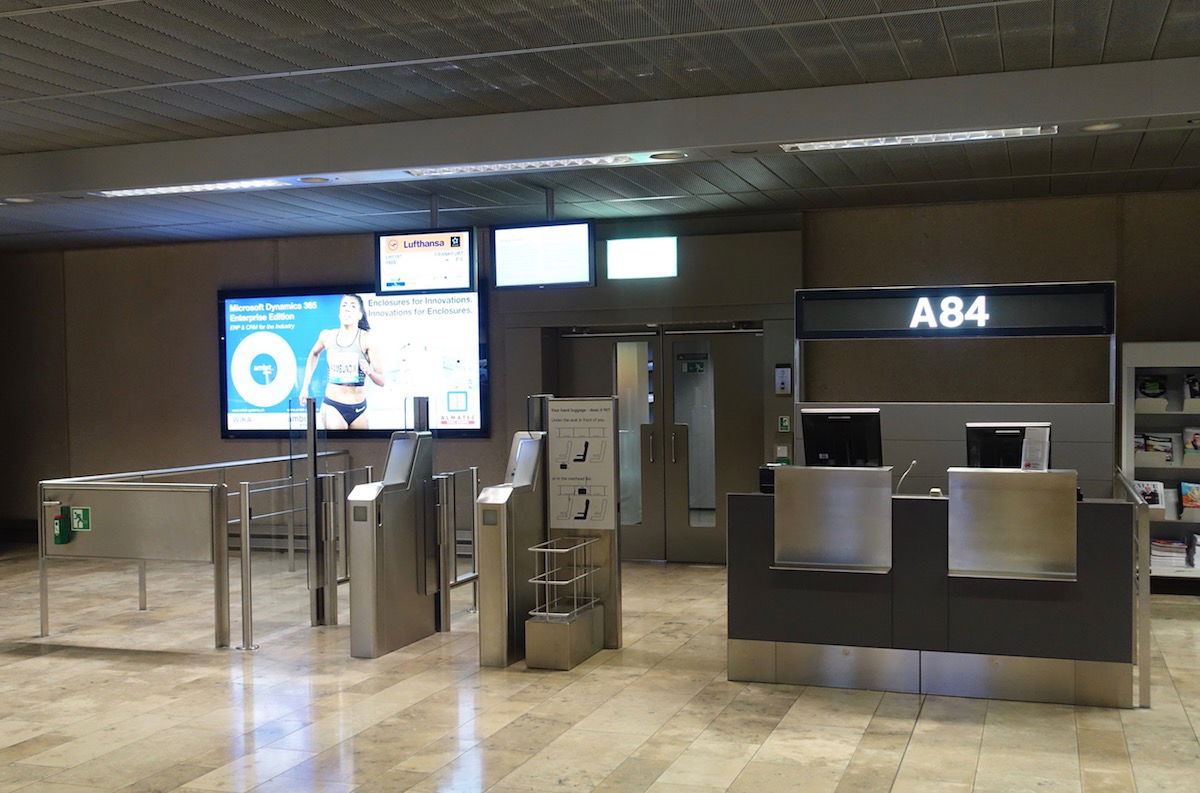 Lufthansa departure gate Zurich Airport
My boarding pass indicated that boarding was scheduled for 5:35PM, though in reality it started 10 minutes after that. This gate had self boarding technology, where you scan your boarding pass and the gate opens.
Lufthansa 1197
Zurich (ZRH) – Frankfurt (FRA)
Friday, January 5
Depart: 6:05PM
Arrive: 7:05PM
Duration: 1hr
Aircraft: Airbus A320
Seat: 4A (Business Class)
I don't review intra-Europe business class often since there's not much to write about, but I figure once in a while it's worth writing a review as a reminder that European airlines even make US airlines look good in this regard.
The business class cabin on this plane consisted of eight rows. On Lufthansa, business class on intra-Europe flights is simply economy with a blocked middle seat, which I find to be such a lousy experience. This gives airlines a lot of flexibility, since they can adjust the size of the cabin with each flight based on demand (it takes them just a minute to move curtains between flights).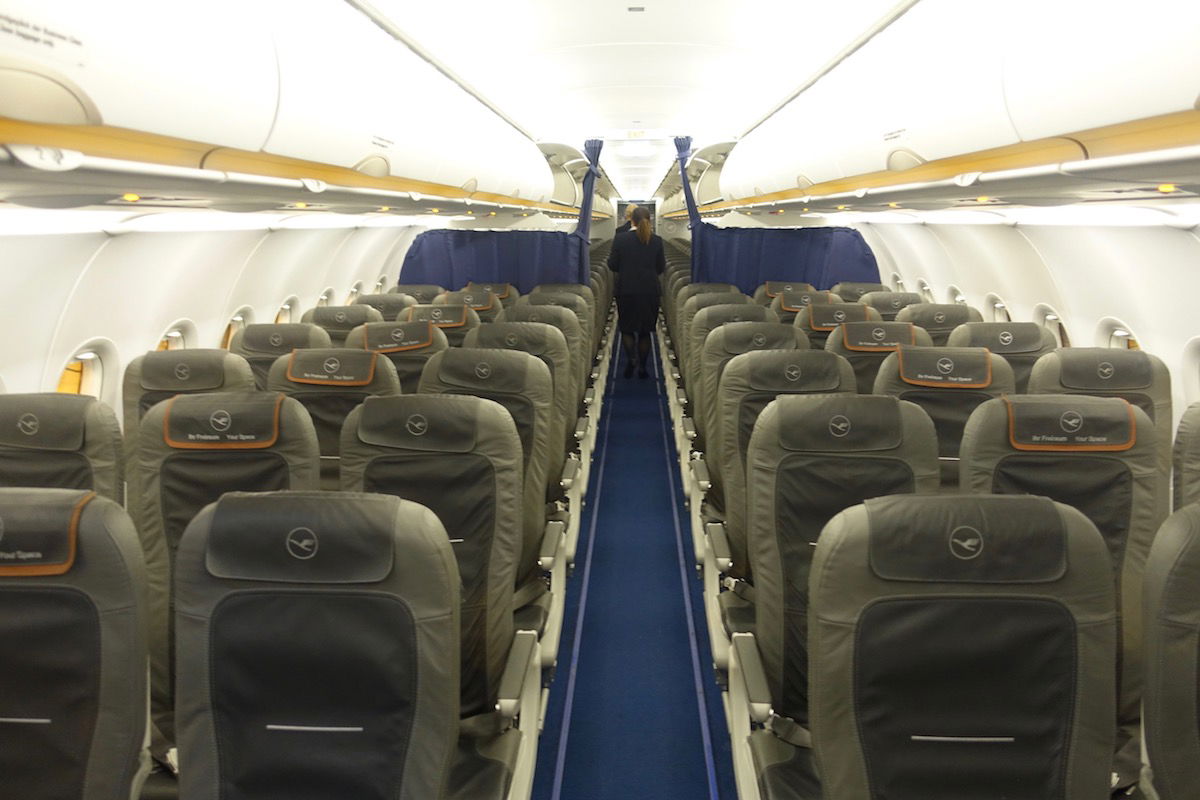 Lufthansa A320 business class cabin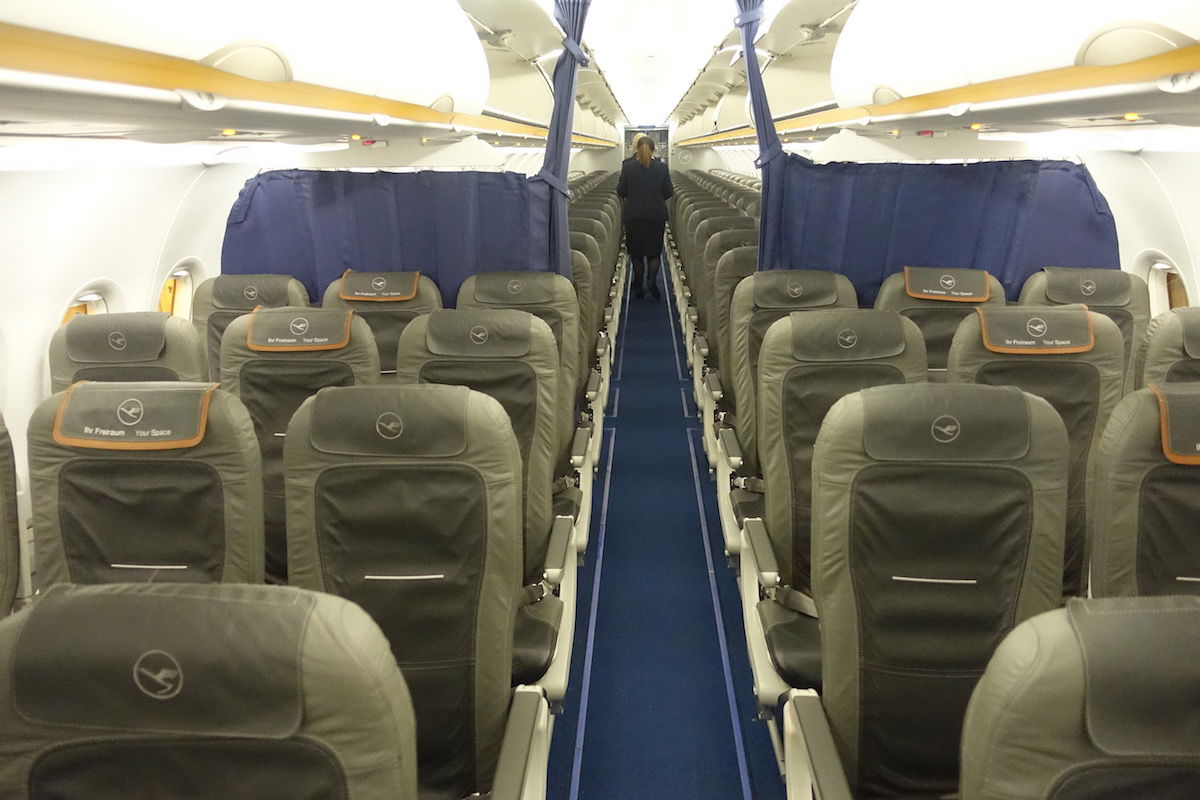 Lufthansa business class cabin A320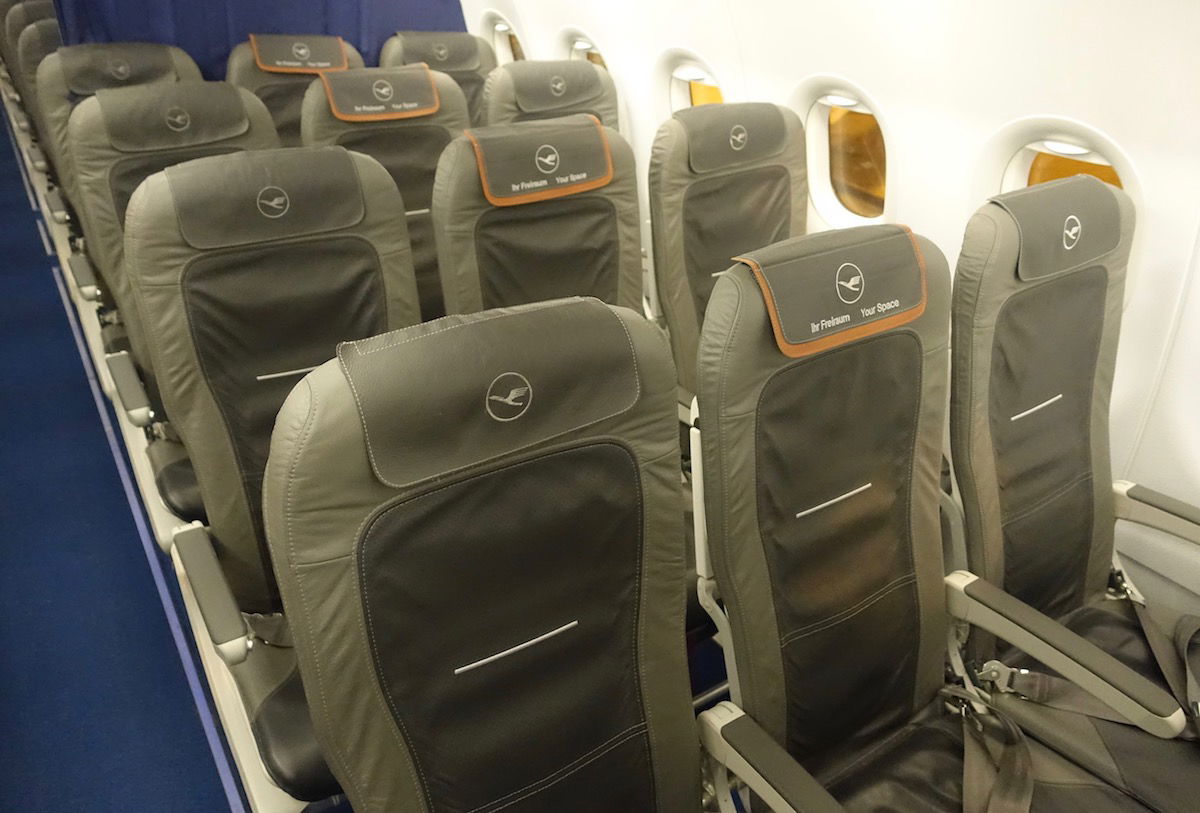 Lufthansa business class seats A320
Not only is business class simply economy with a blocked middle seat, but it's not an especially comfortable economy seat at that — legroom is awful, these are the slimmest Recaro seats out there, etc.

Lufthansa business class seats A320
It used to be that they'd at least have a tray table on the middle seat, but even that isn't the case anymore (I'm not sure if that's consistently the case or not).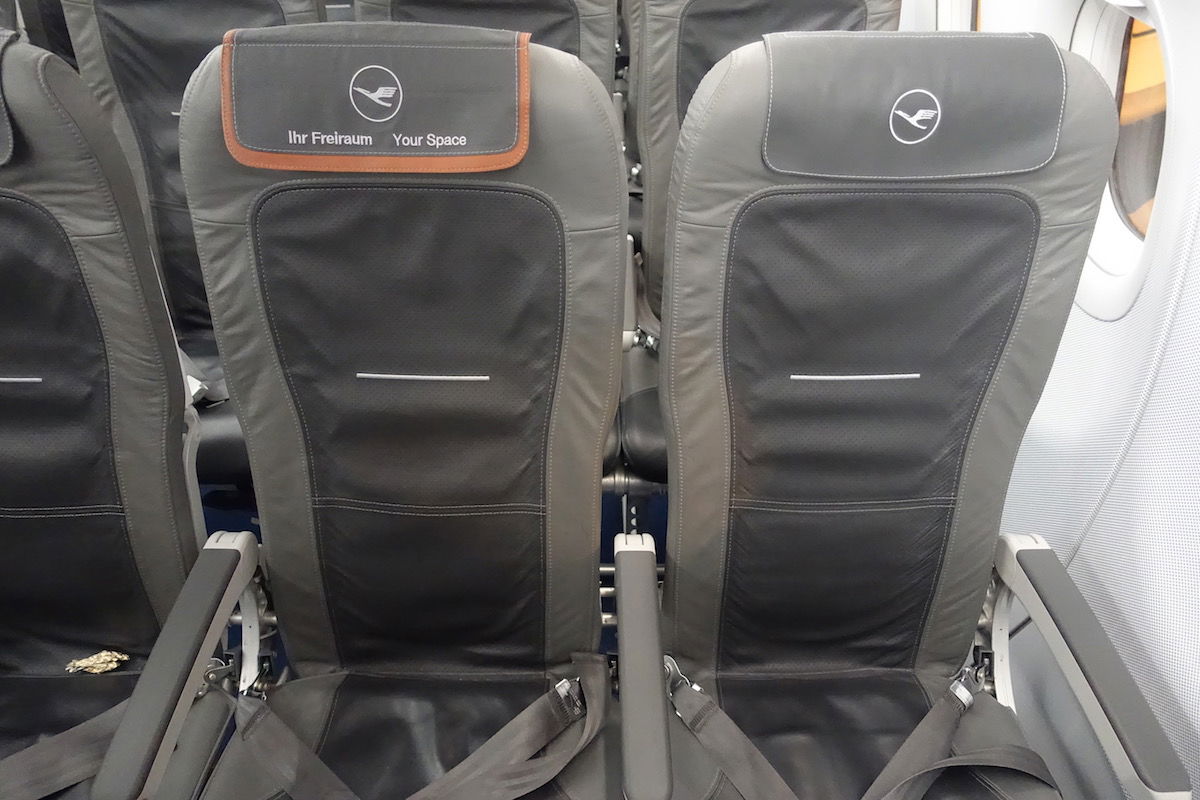 Lufthansa intra-Europe business class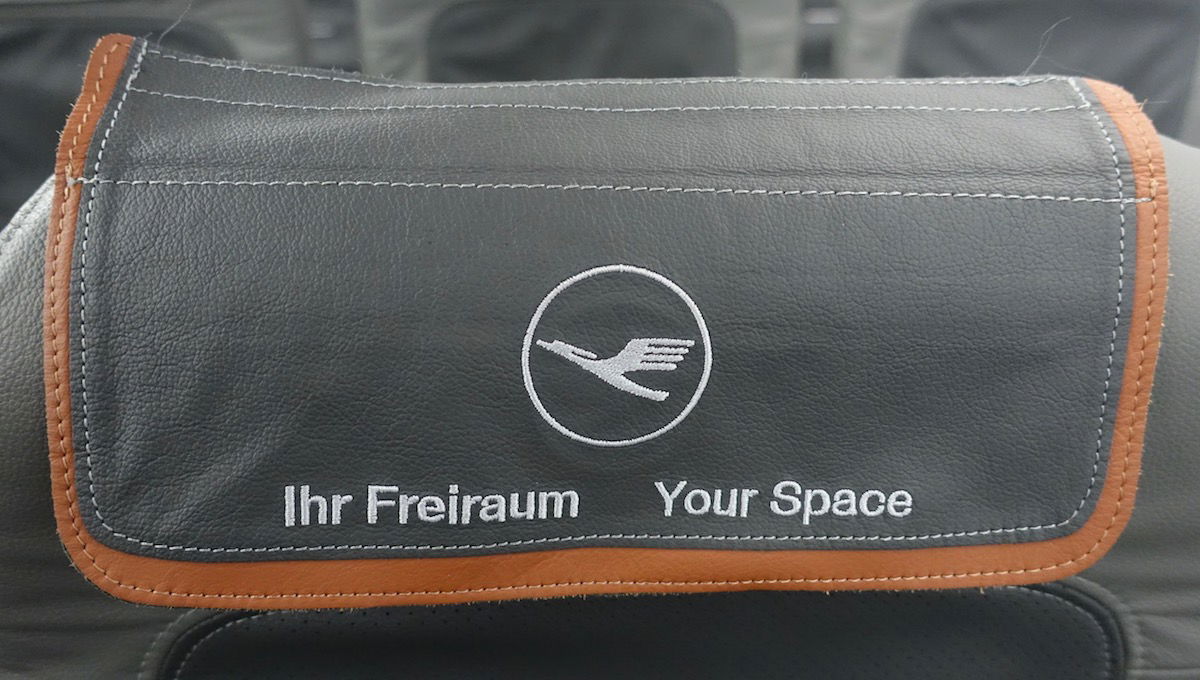 Lufthansa business class empty middle seat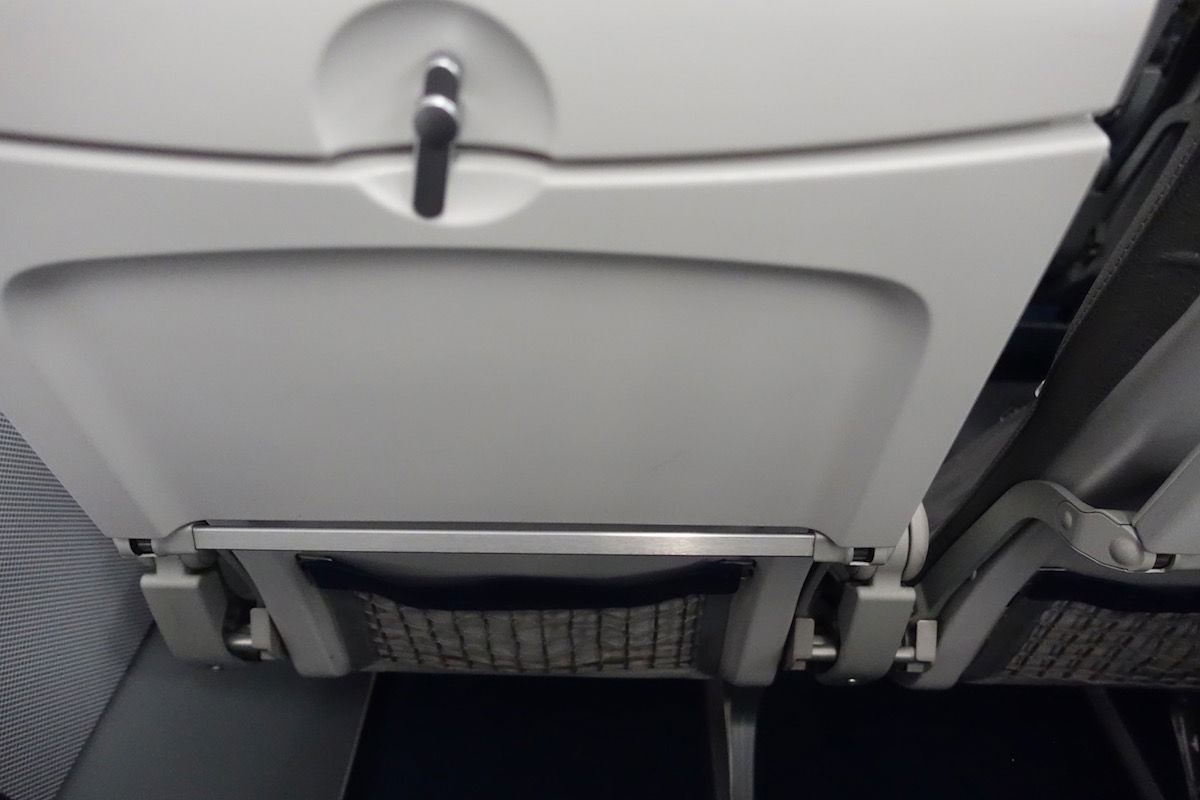 Lufthansa business class legroom A320
While every other aspect of the seat seemed to be shrunk, the tray table was still a normal size.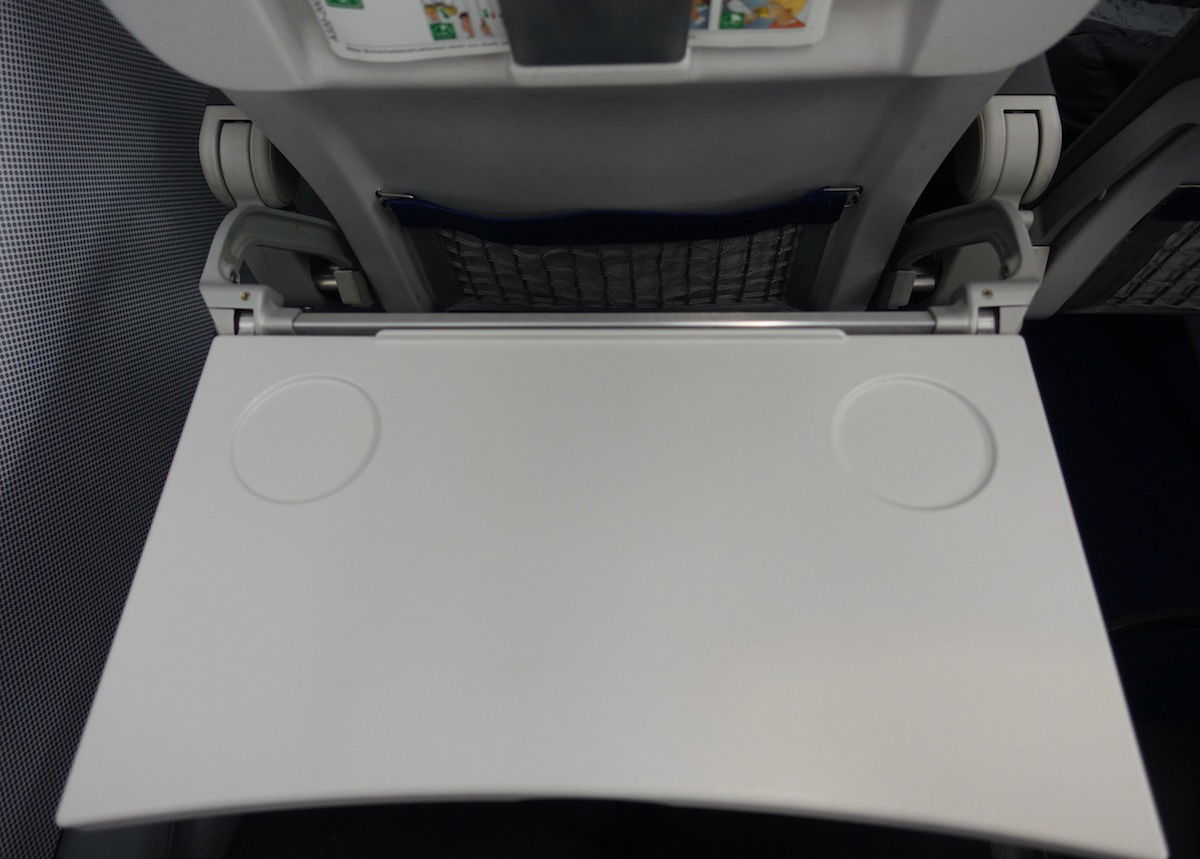 Lufthansa business class tray table A320
While economy was mostly full, business class was less than half full, as there were about a dozen passengers in the 32 seat cabin. As usual, boarding in Europe was efficient, and the door closed at 6:03PM, a couple of minutes ahead of schedule.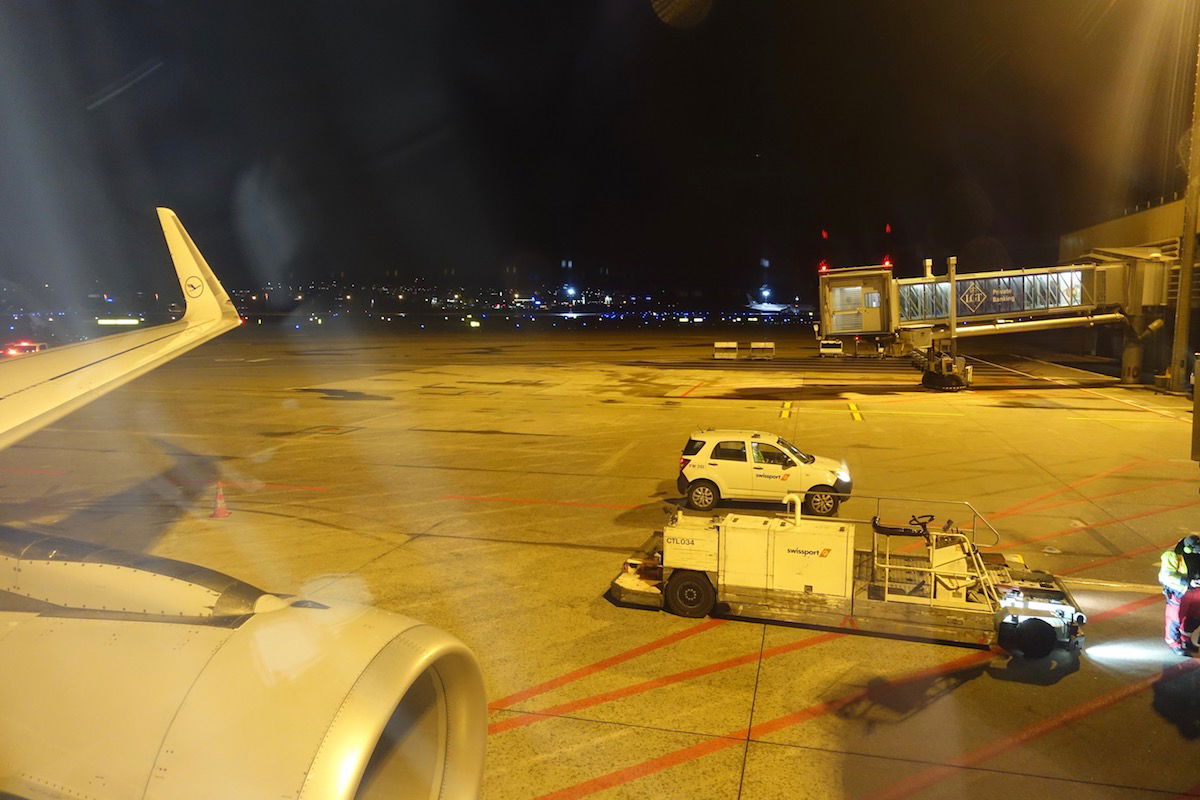 View before pushback Zurich Airport
Two minutes later we began our pushback, at which point the purser made her welcome aboard announcement informing of our flight time of 45 minutes. At that point the crew did a manual safety demonstration. As some of you may remember, this is where drama unfolded, as the crew stopped the safety demonstration to accuse me of secretly recording the crew. I won't rehash that here, so instead just check out my previous post.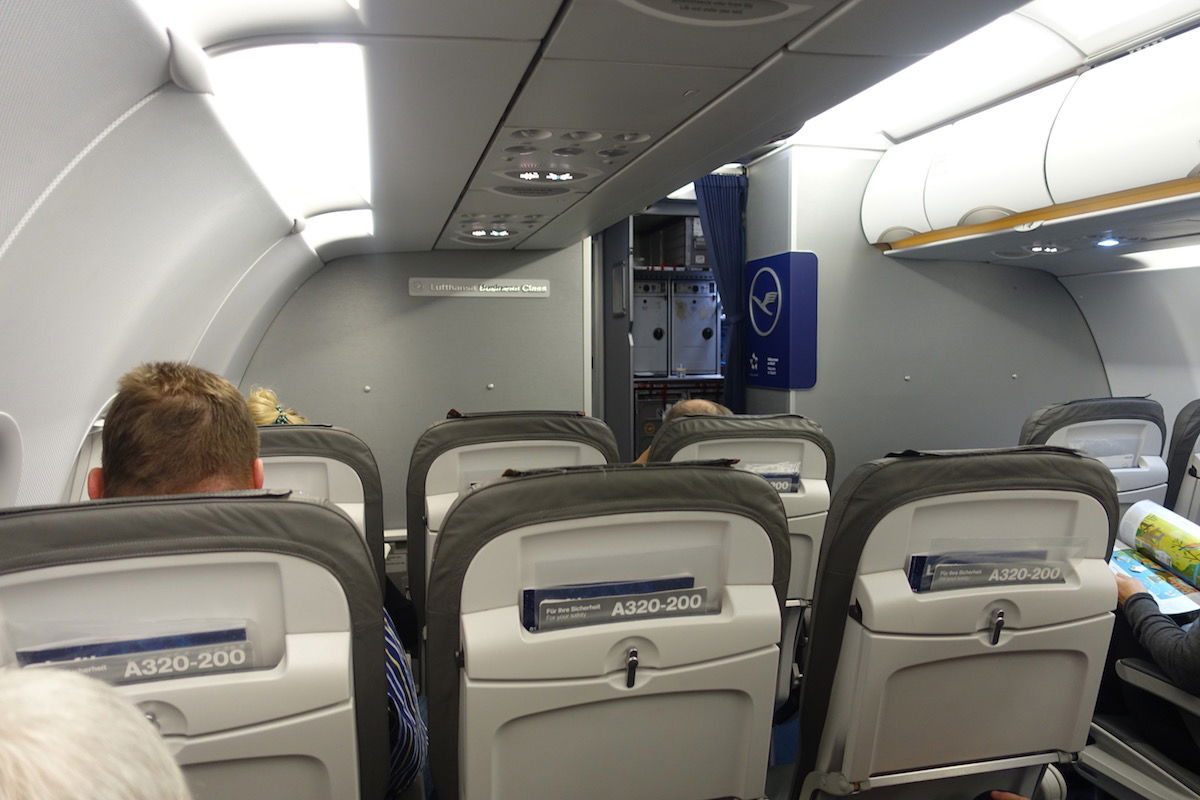 Lufthansa A320 business class cabin
At 6:20PM we were cleared for takeoff on runway 28. The seatbelt sign was turned off five minutes after takeoff, and at that point the purser and the other business class flight attendant passed through the cabin with the snack service. The purser distributed the snack trays, while the other flight attendant served drinks.
Of European airlines I find that Lufthansa has among the worse business class snacks, and this was no exception.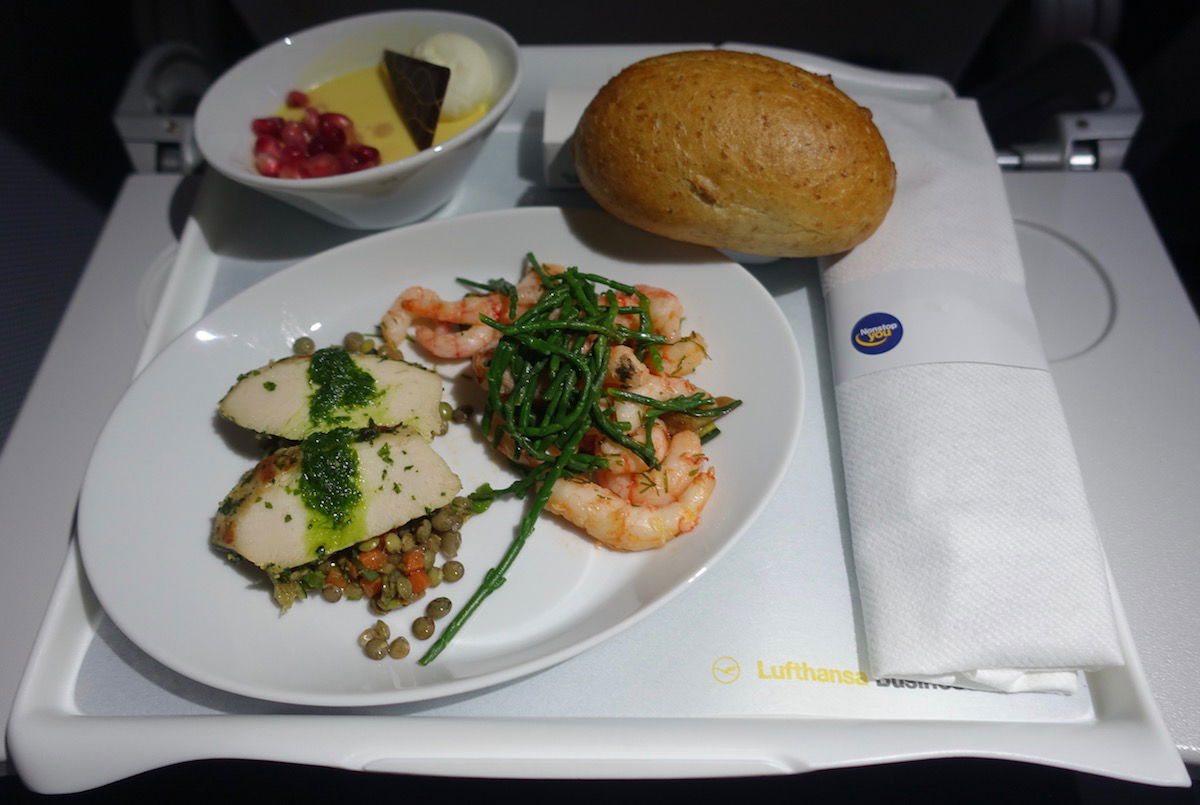 Lufthansa business class snack service
The snack consisted of chicken and some shrimp, both of which were pretty tasteless.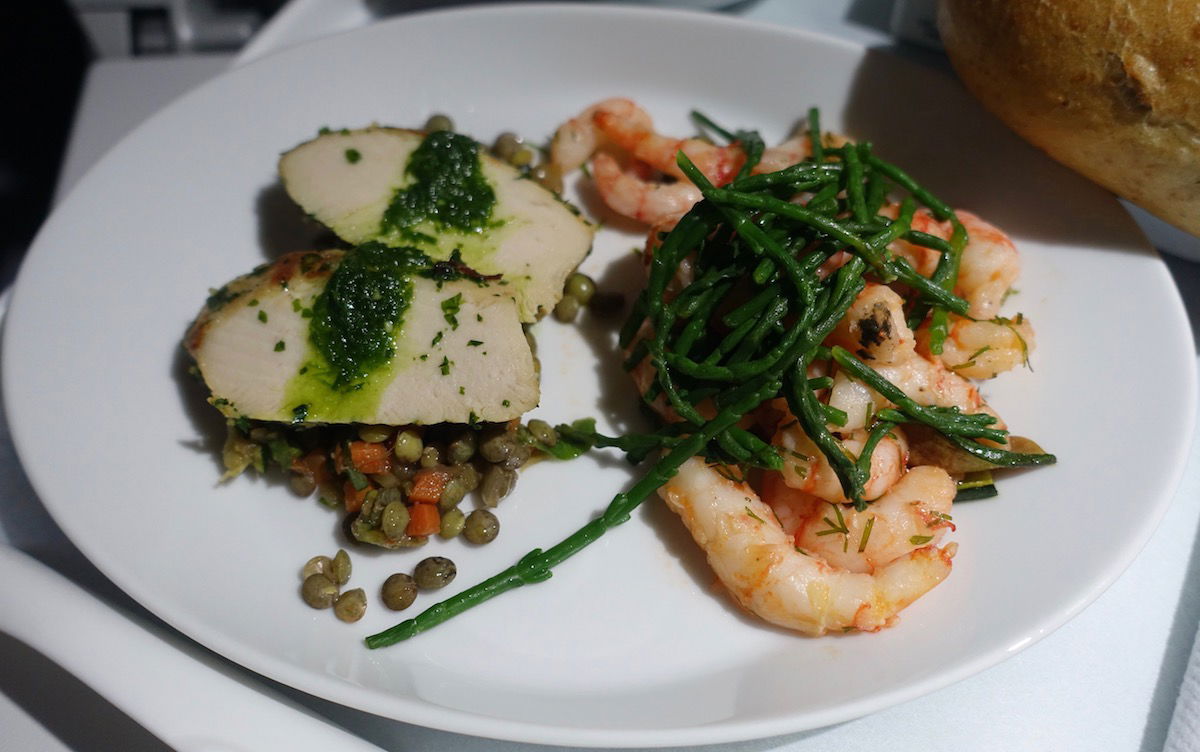 Lufthansa business class snack service
The dessert wasn't even good, and it's not often I say that.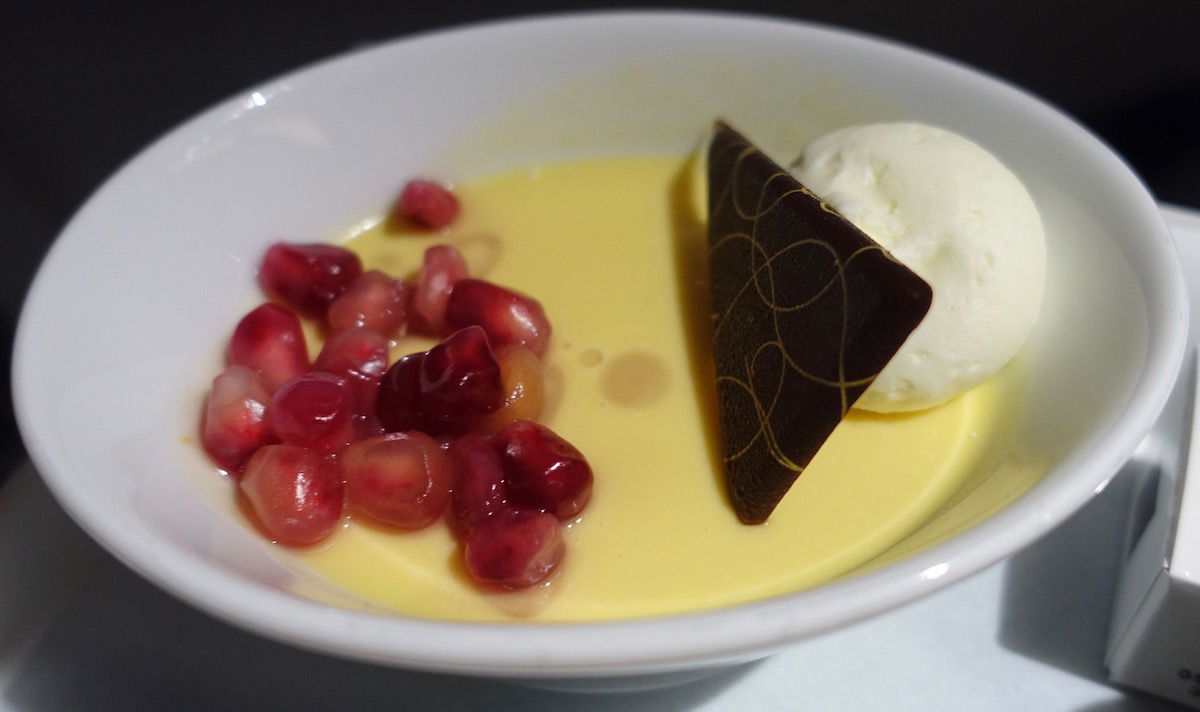 Lufthansa business class snack service
This was such a quick flight that I just gazed out the window after my brief conversation with the purser. We landed in Frankfurt at 7PM, and five minutes later were at the gate, right on schedule. Fortunately we got a gate rather than a remote stand, which is a treat at Frankfurt Airport.
Lufthansa A320 business class bottom line
Business class within Europe is really quite bare bones. It's just economy with a blocked middle seat, and I find that Lufthansa is especially bad — they don't proactively offer pillows or blankets, there are no power ports, the legroom isn't good, the seats are hard, and I find the food to be pretty bad.
Sure, it's nice to get anything on a 40 minute flight so I wouldn't complain about the food, but the whole experience just leaves a lot to be desired. That's not even accounting for the "issue" I had with this particular crew.
I should note that there are some — though not many — airlines that have a "proper" business class within Europe. For example, Aeroflot, Air Serbia, and Turkish all have more spacious seats in business class on at least some flights within Europe.
The more I fly with Lufthansa, the more I think their Skytrax 5-star rating is bogus.