---
I had flown Swiss first class several years ago on their A340 and A330, so was curious to see how their newest first class product on the 777 compared. The 777 features slightly updated first & business class seats, though it seems more like an evolved product rather than a new product altogether.
Swiss 40
Zurich (ZRH) – Los Angeles (LAX)
Monday, November 14
Depart: 1:10PM
Arrive: 4:20PM
Duration: 12hr10min
Aircraft: Boeing 777-300ER
Seat: 2K (First Class)
I boarded through door L2, where I was addressed by name and pointed left towards the first class cabin. That first required walking through two rows of business class, which looked quite nice. It's definitely an improvement over Swiss' other business class product, as the new seats are much more private.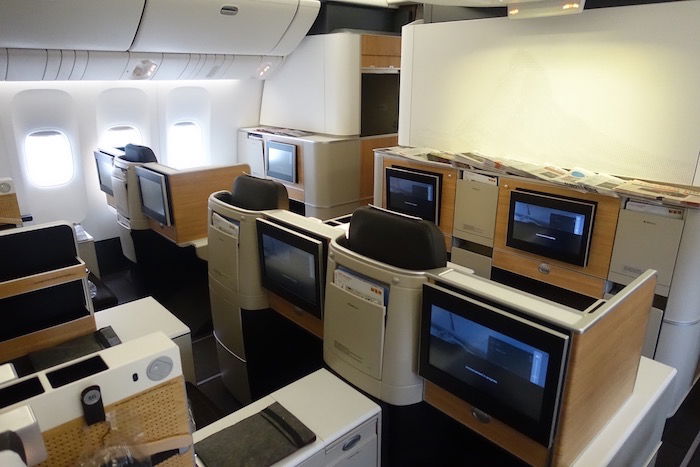 Swiss business class 777
In front of that were the eight Swiss first class seats, spread across two rows in a 1-2-1 configuration.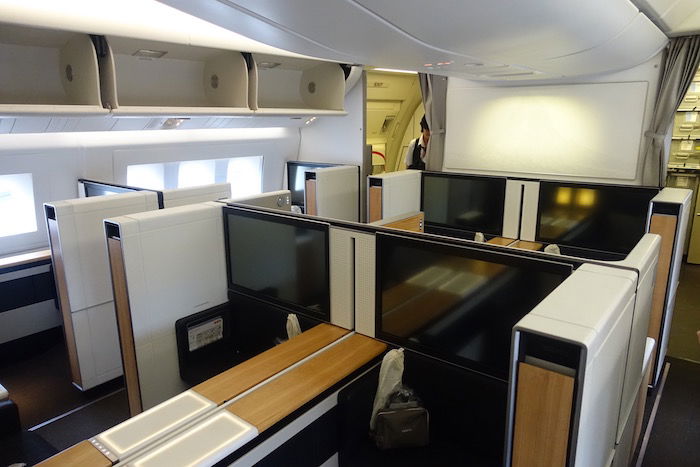 Swiss first class cabin 777
My first impression was that the cabin was sleek. Very, very sleek. This has to be one of the sharpest looking cabins out there.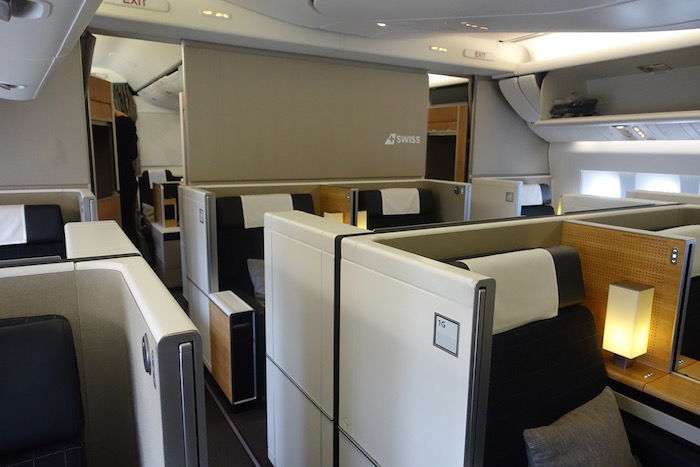 Swiss first class cabin 777
I had assigned myself seat 2K, the window seat in the second row on the right side.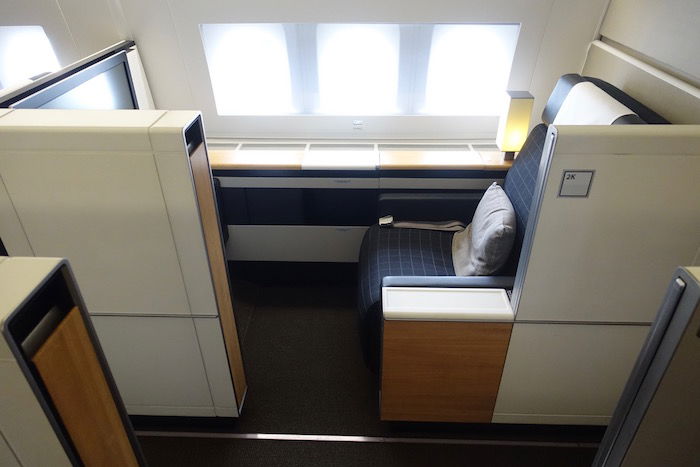 Swiss first class seat 777
The center seats looked great as well, given that there was a partition you could raise for privacy, though at the same time if you're traveling with someone you could easily have a conversation.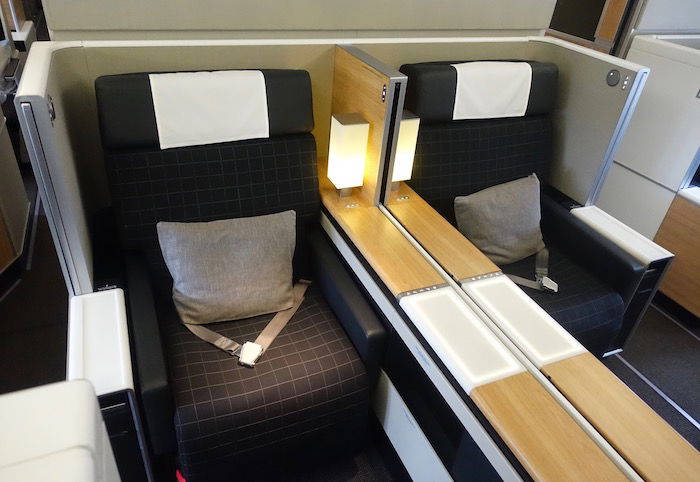 Swiss 777 first class, seats 2D & 2G
My seat was a good width, though also had a lot of wasted space along the window, given that there were probably 8-10″ of paneling by the window.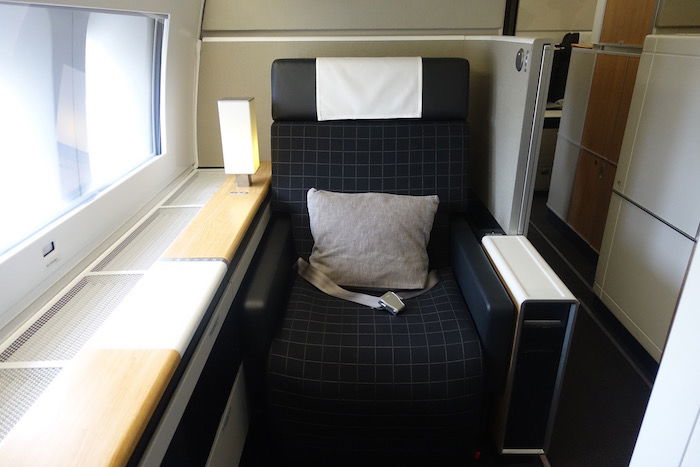 Swiss 777 first class, seat 2K
The seat featured an ottoman and massive personal television, among the biggest I've seen on any airline.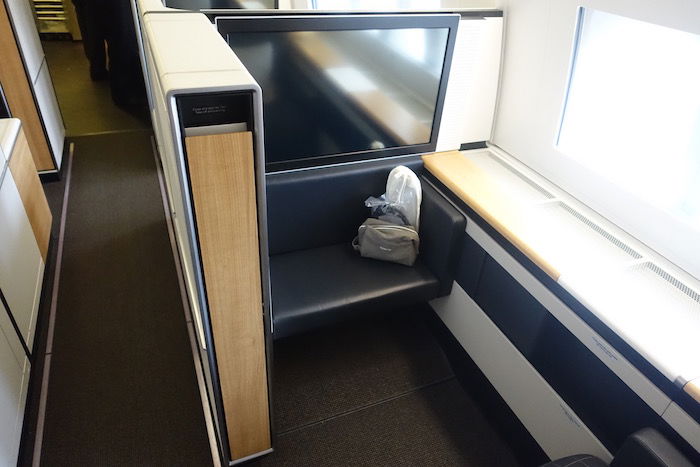 Swiss 777 first class, seat 2K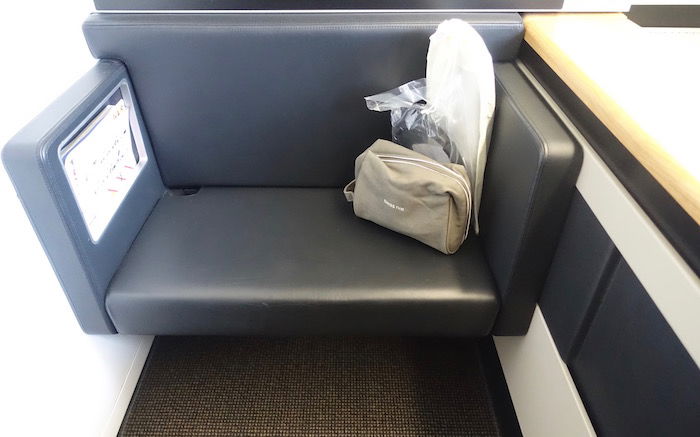 Swiss first class seat ottoman
One of the cool features of Swiss' 777 first class is that rather than having the usual window shades that you manually lower, there's a button that lowers the blinds. There are two settings — you can either just lower the blinds, or actually make it dark by pushing the same button again. The only downside is that this setup adds an extra layover of glass (or plastic), which makes it tougher to take pictures out the window.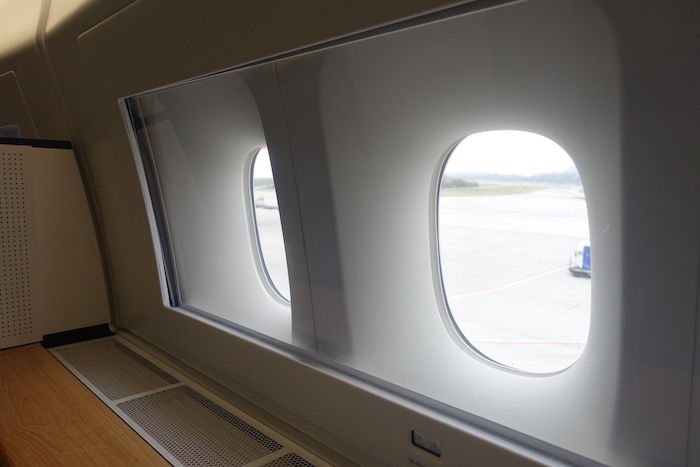 Swiss 777 windows
Still, I thought it was a very stylish setup.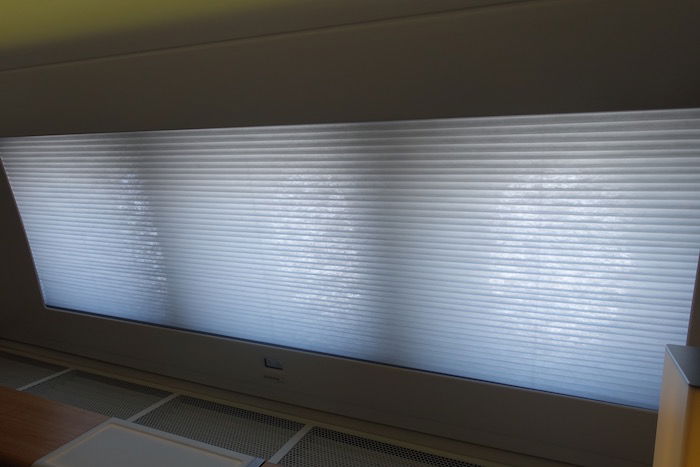 Swiss 777 first class window shades
The seats had privacy partitions, though even without them extended, there was a good amount of privacy between seats.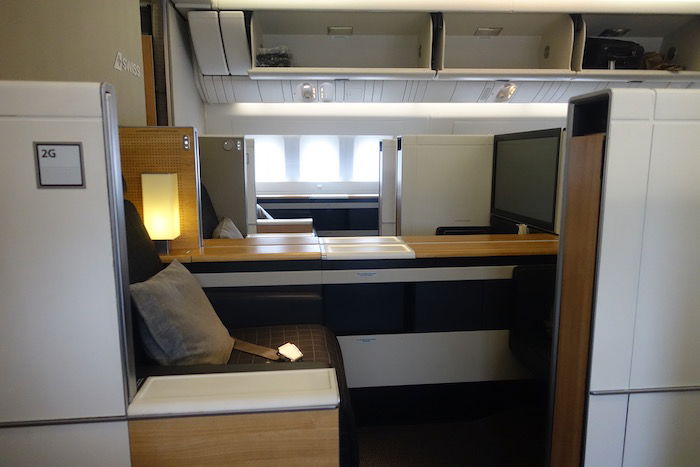 Swiss 777 first class cabin
The seat had a coat closet that extended out of the aisle-side of the seat, which was a good size. However, this feature confused the heck out of me. Apparently the intent is that Swiss' first class seats are supposed to be fully enclosed, and that comes in the form of you extending the coat closet out, which just looks odd. You'd think they would make the coat closet enclosed, so that it looks like you have a door, rather than just a coat closet that's separating you from the rest of the cabin.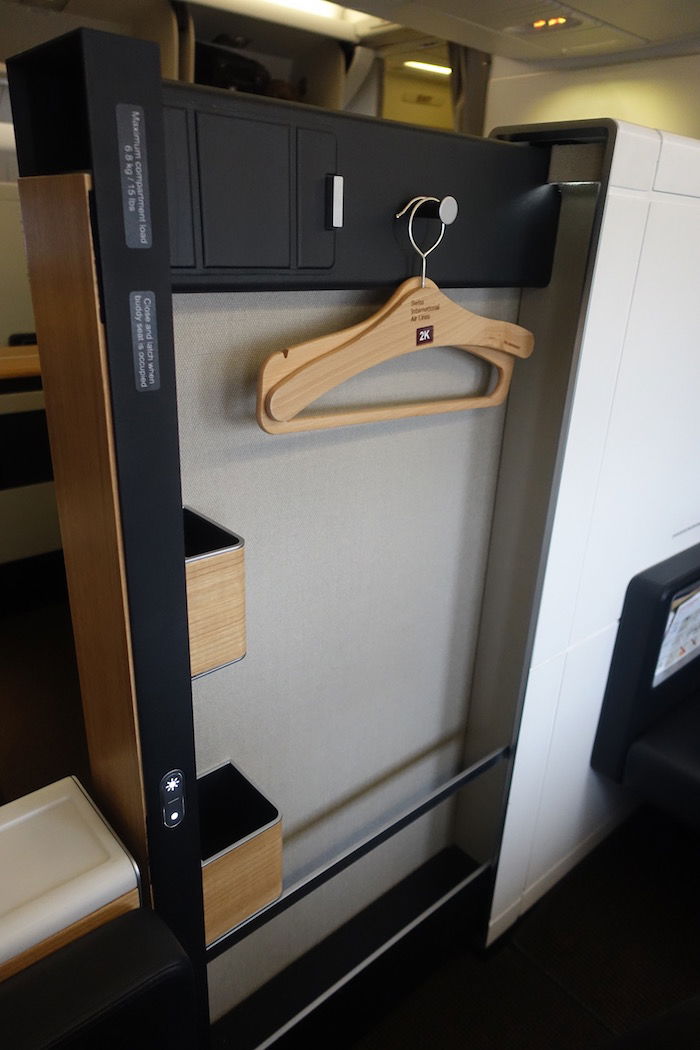 Swiss first class coat closet/door
On the bottom left side of the seat was a large storage compartment, though it was an awkward shape for storing most things.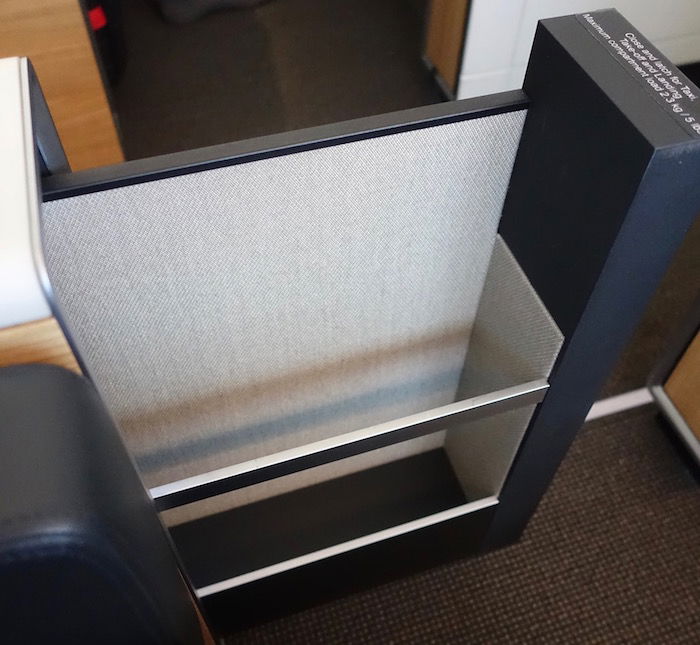 Swiss first class storage compartment
Then on the front right side of the seat was a massive, beautiful tray table.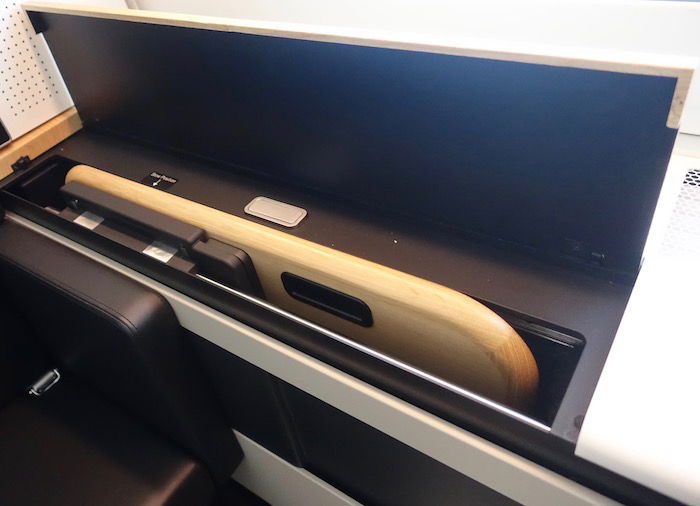 Swiss first class tray table
The Swiss first class seat has a buddy seat, so you could easily dine with a companion on one of these tables.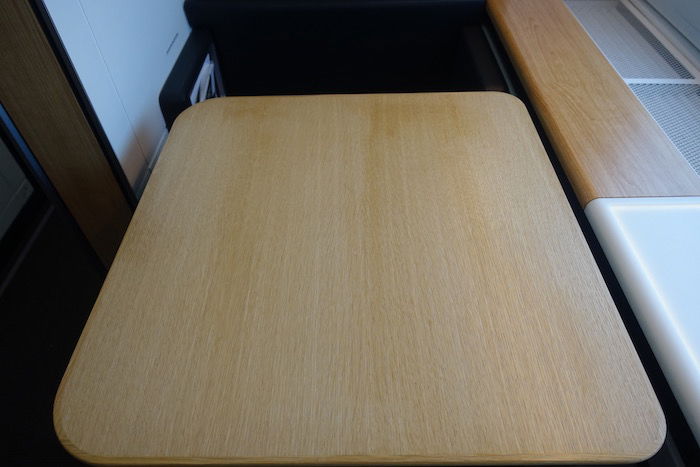 Swiss first class tray table
Underneath that was another exposed storage compartment. This seat has no shortage of storage opportunities!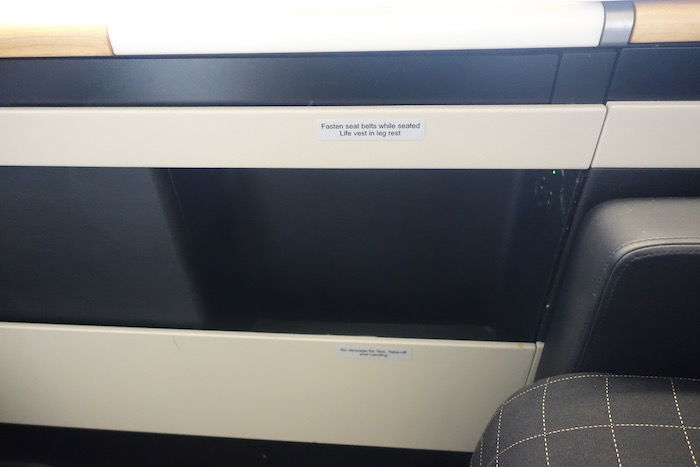 Swiss first class seat storage
Above the storage compartment were the basic seat pre-sets.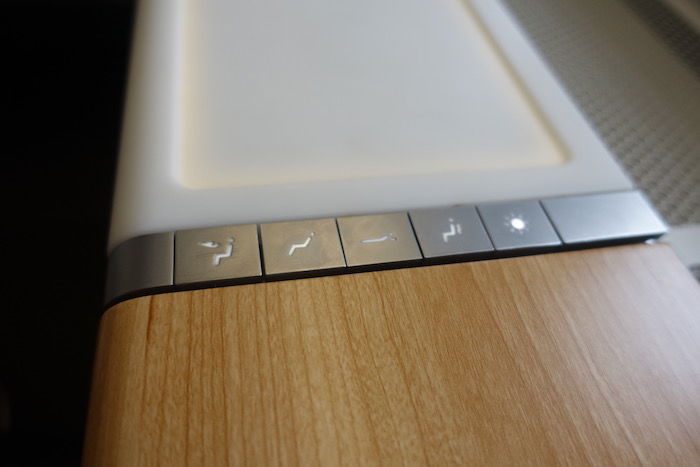 Swiss first class seat controls
Next to that was the compartment with the entertainment controller, more advanced seat controls, as well as a USB and 110v outlet, and headphone jacks.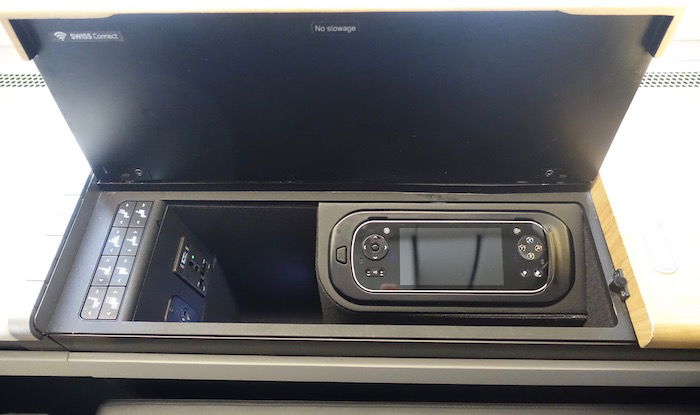 Swiss first class seat & entertainment controls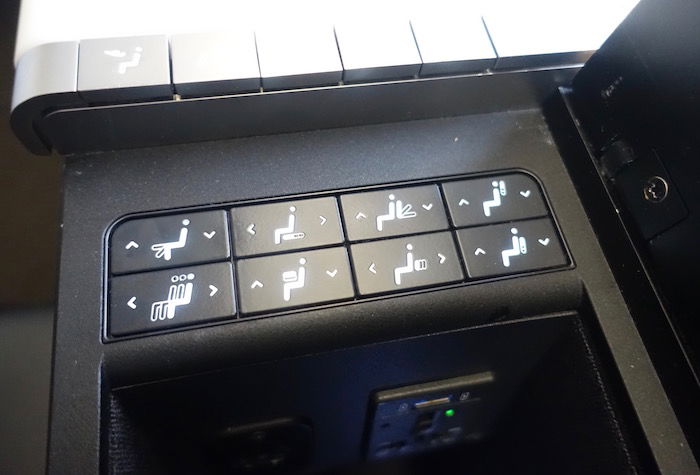 Swiss first class seat controls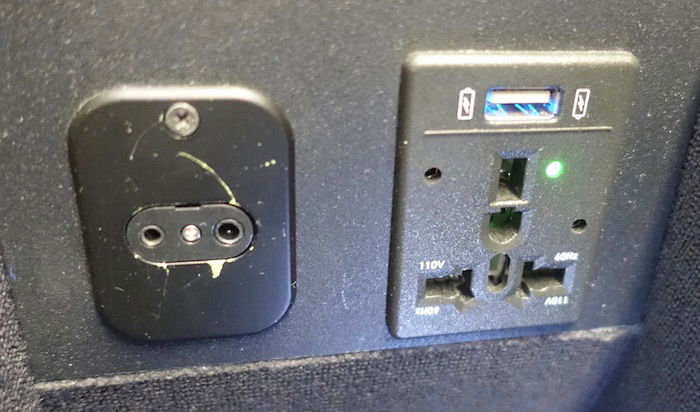 Swiss first class seat headphone jack & power outlet
Moments after settling in, I was greeted by one of the two very friendly first class flight attendants. She welcomed me aboard with a big smile, and asked if she could maybe get me a glass of champagne and the amuse bouche. She read my mind!
Moments later she returned with a warm towel, an empty glass, a bottle of champagne, and the amuse bouche, which consisted of trout with sushi rice. For what it's worth, Swiss serves Laurnet-Perrier Grand Siecle champagne in first class, which is quite good.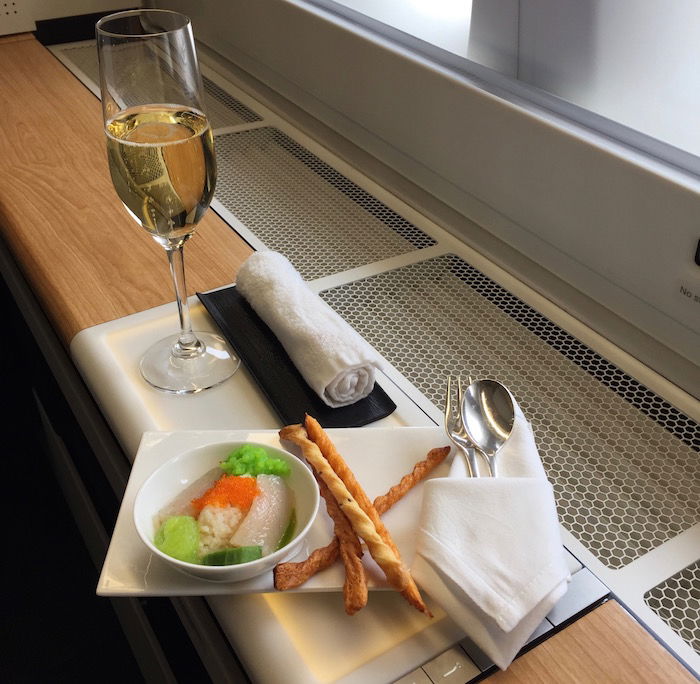 Swiss first class pre-departure champagne & amuse bouche
The pre-takeoff amuse bouche offered by Swiss is a nice offering you don't see on many airlines.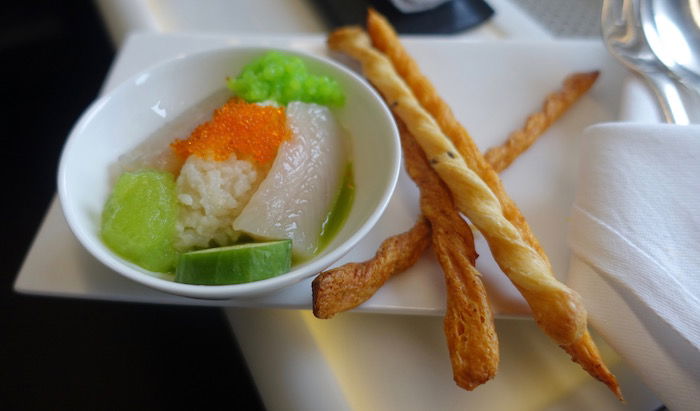 Swiss first class pre-departure amuse bouche
I was also offered a bunch of amenities for the flight.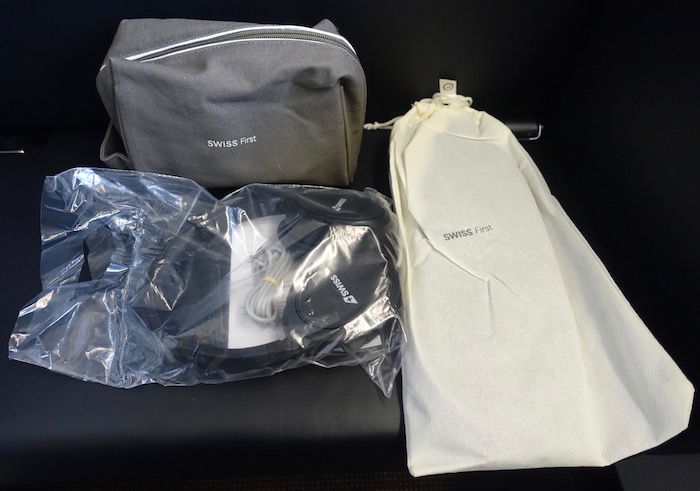 Swiss first class amenities
This included some headphones, which weren't great quality. While they were fine, I wish more airlines would have proper noise canceling headphones in first class. American offers all their longhaul first & business class passengers Bose headphones, so if they can do it… 😉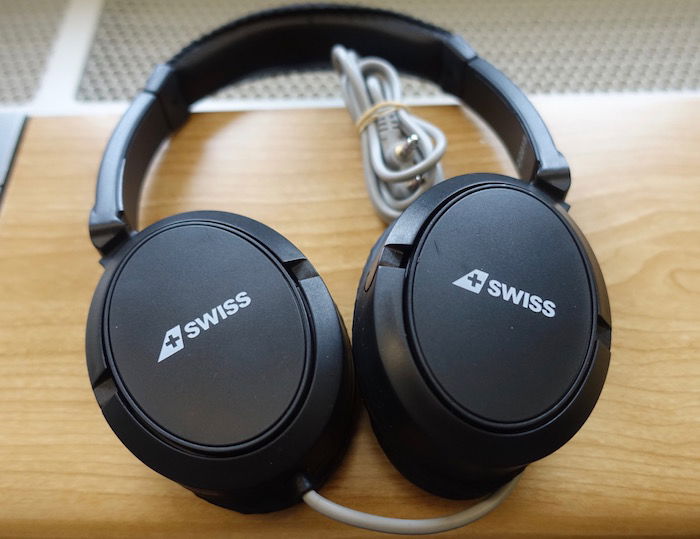 Swiss first class headphones
I was also offered slippers.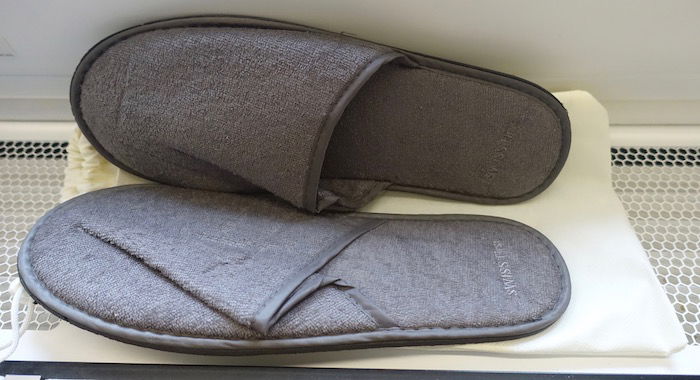 Swiss first class slippers
Then there was Swiss' amenity kit, which was oh-so-Swiss. There was a wooden comb, tissues, socks, eyeshades, earplugs, a toothbrush and toothpaste, Ricola lozenges, and La Prairie amenities. I'm just disappointed they didn't include clogs and a how-to-yodel manual.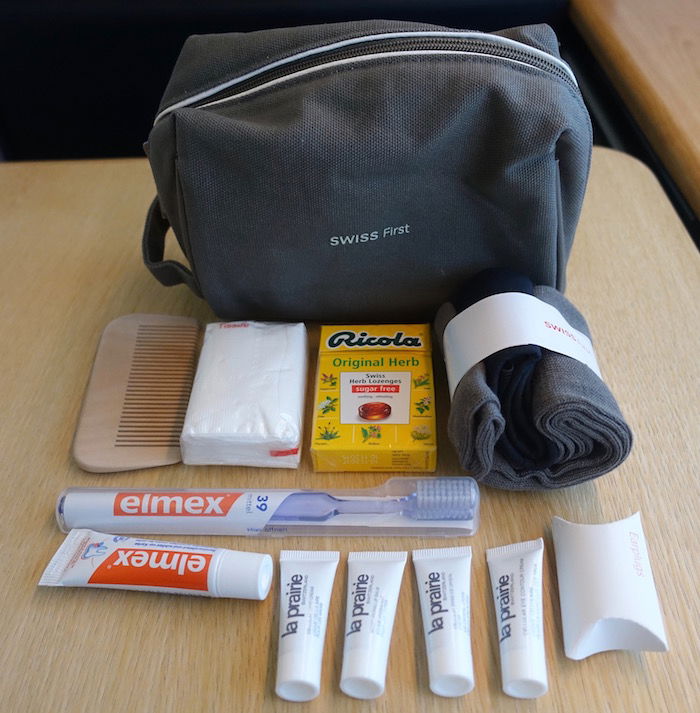 Swiss first class amenity kit
It doesn't get higher quality than La Prairie, so kudos to them for offering hand cream, lip balm, face cream, and eye cream.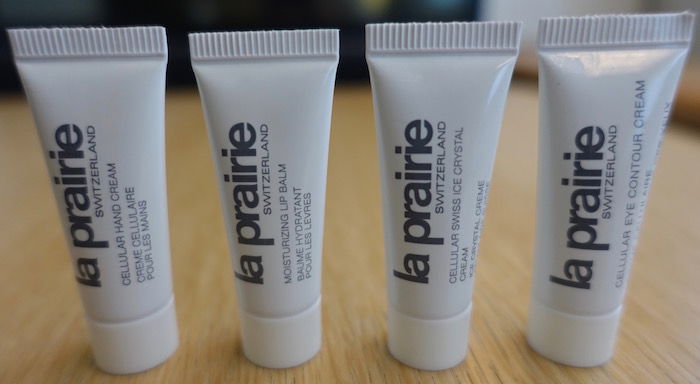 Swiss first class La Prairie amenities
However, Swiss doesn't seem to offer pajamas on daytime flights, which most top airlines have on longhaul flights like this.
I was also presented with the menu for the flight, and as the flight attendant presented it to me, she emphasized how this month's menu has cuisine from Canton of St. Gallen.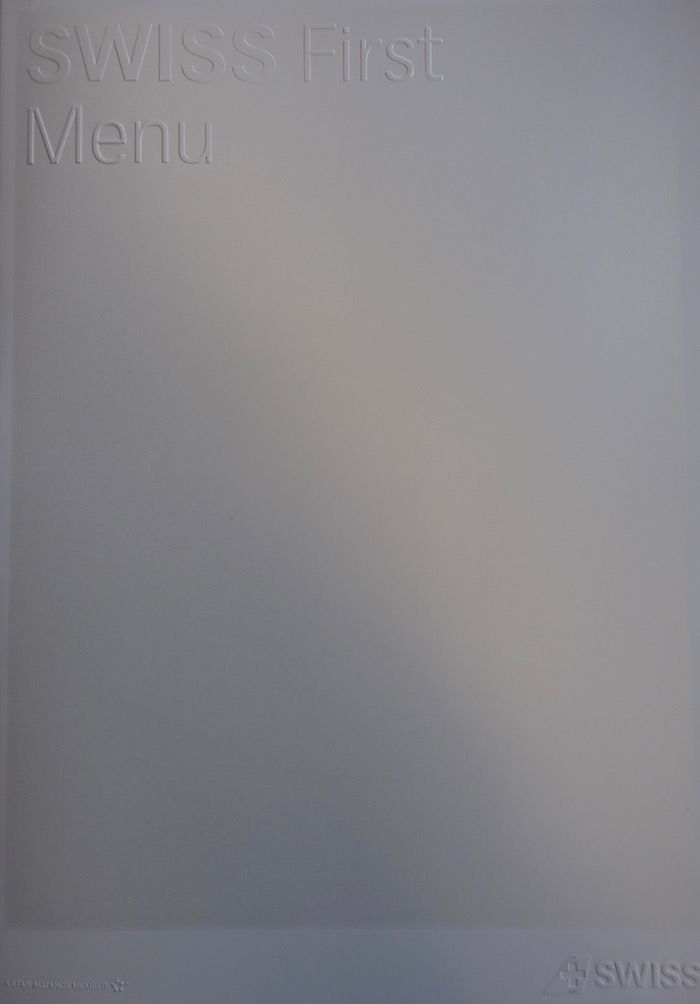 Swiss first class menu
During boarding, the other first class flight attendant came by my seat to introduce herself as well, though she explained she would primarily be working in the galley.
The first class cabin filled up pretty quickly, and within about 15 minutes all eight first class seats were taken. With the exception of one Swiss guy, everyone else in the cabin seemed to be American.
There were two ladies who weren't traveling together in seats 1A & 1D, and they seemed to enjoy chatting for most of the flight. Their conversations couldn't have been any more LA.
Shortly before boarding finished up, Captain Bert came through the cabin to welcome aboard first class passengers, telling us that the flight time would be 11hr35min. This is a nice touch I've often found on Lufthansa and Swiss, though the pilots are generally quite awkward about it, as they just sort of stand there any say "everything okay?"
I was amused when he came up to the lady in 1A, and before he could say anything she said "I'll have more champagne please." He responded with a smile and said "I will have the crew bring that, but I just wanted to introduce myself as I am the captain…"
Once he was back in the flight deck he made an announcement for the entire plane, informing us that we'd be flying over London, Shannon, Greenland, Hudson Bay, and Montana.
At 1:10PM it was announced that boarding was complete, at which point the maitre d'cabin made her welcome aboard announcement.
A few minutes later the safety video was screened.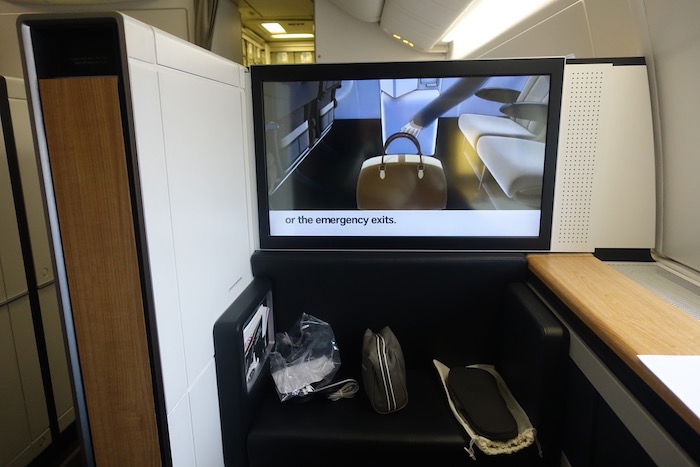 Swiss safety video
At 1:20PM we began our pushback, and minutes later started taxiing to the runway.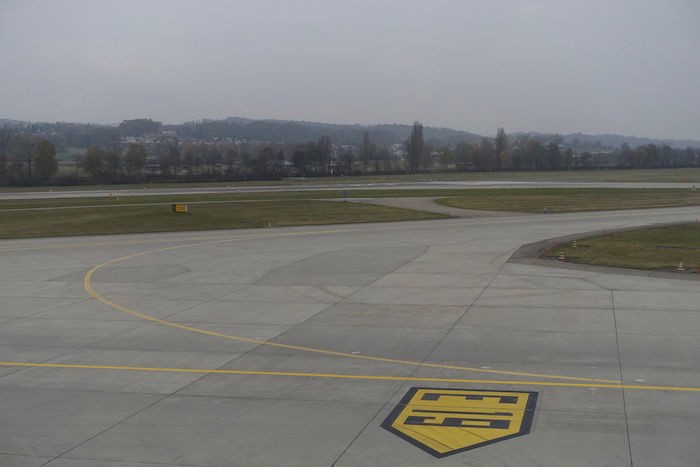 Taxiing Zurich Airport
There were surprisingly few planes taxiing, though we passed a Vueling A320, as well as an Emirates A380.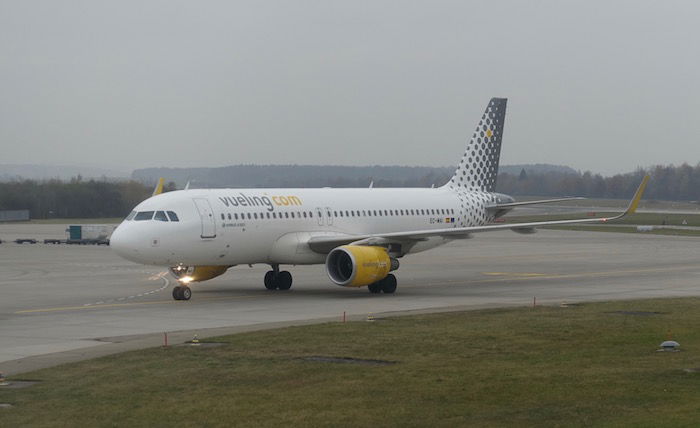 Vueling Airbus Zurich Airport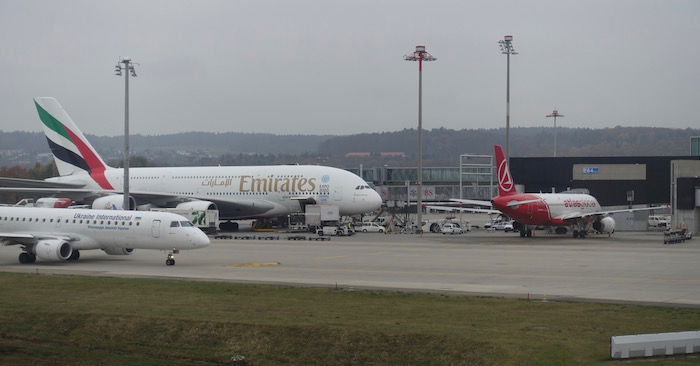 Emirates A380 Zurich Airport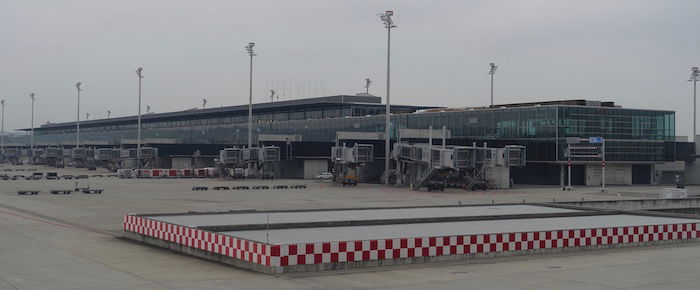 Zurich Airport terminal
At 1:35PM we were cleared for takeoff on runway 16, and had a smooth climb out.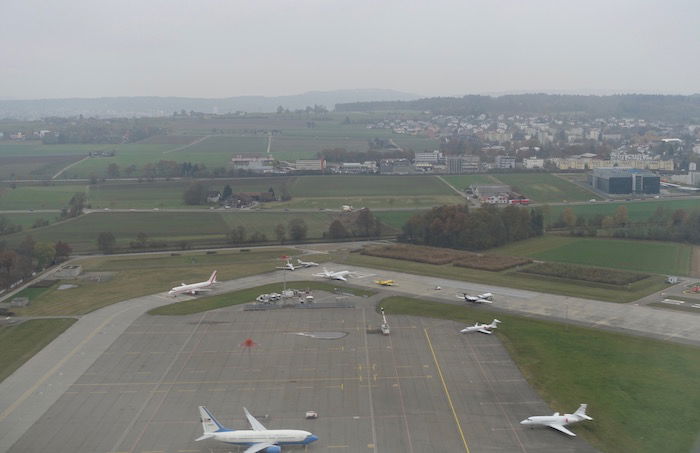 View after takeoff from Zurich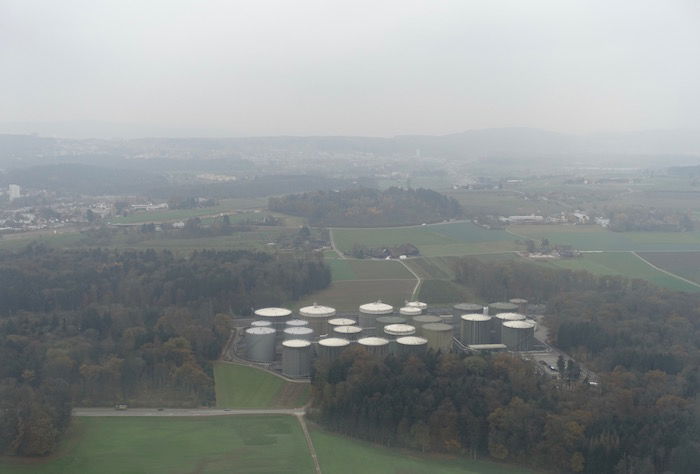 View after takeoff from Zurich
10 minutes after takeoff the seatbelt sign was turned off. I quickly checked out the lavatories, located at the front of the cabin. There were two of them, and the one on the exterior side of the plane was larger.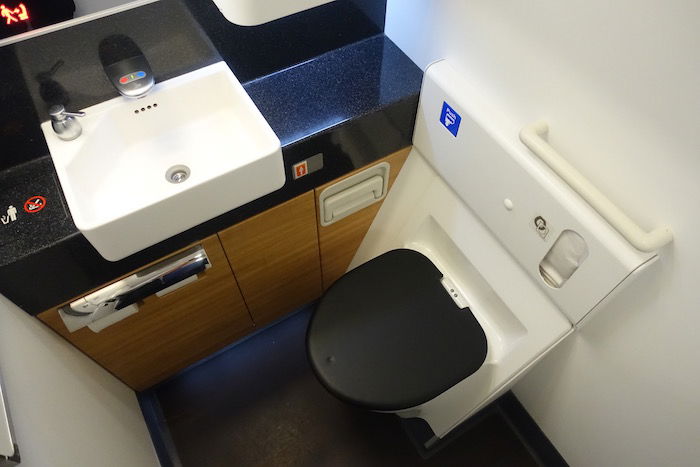 Swiss 777 first class lavatory
While there was some facial spray and lotion, there wasn't much else in the way of amenities.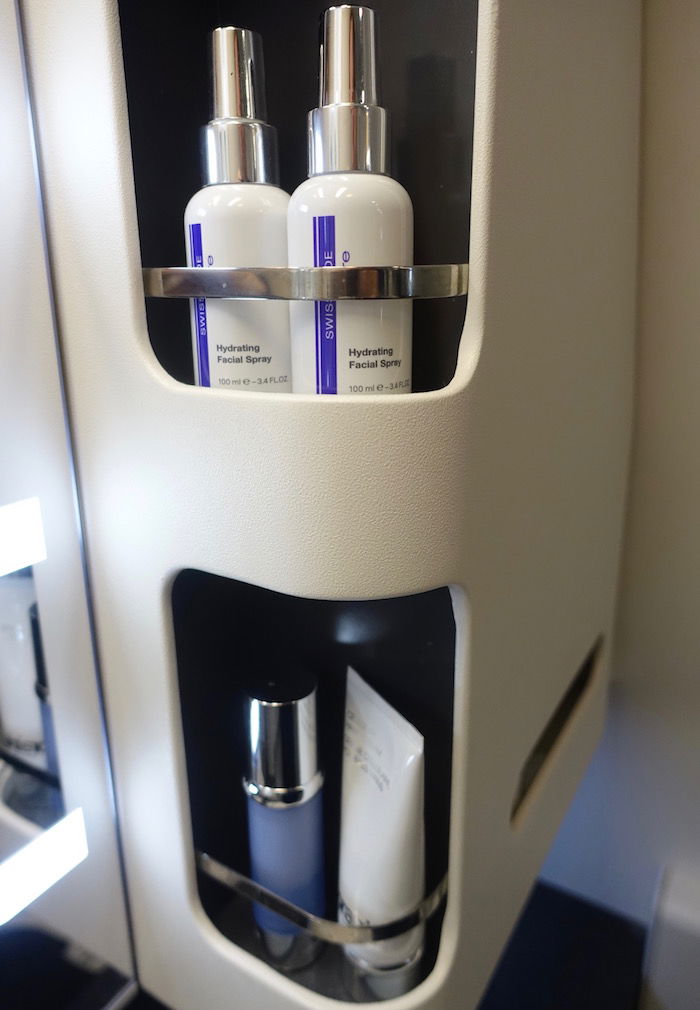 Swiss 777 first class lavatory amenities
About 20 minutes after takeoff the maitre d'cabin came through the first class cabin to personally welcome each passenger. She was extremely sweet, and gave each passenger a free Wi-Fi voucher, valid for 50MB. Unfortunately that lasts me for about 15 minutes of internet use, but it's better than nothing.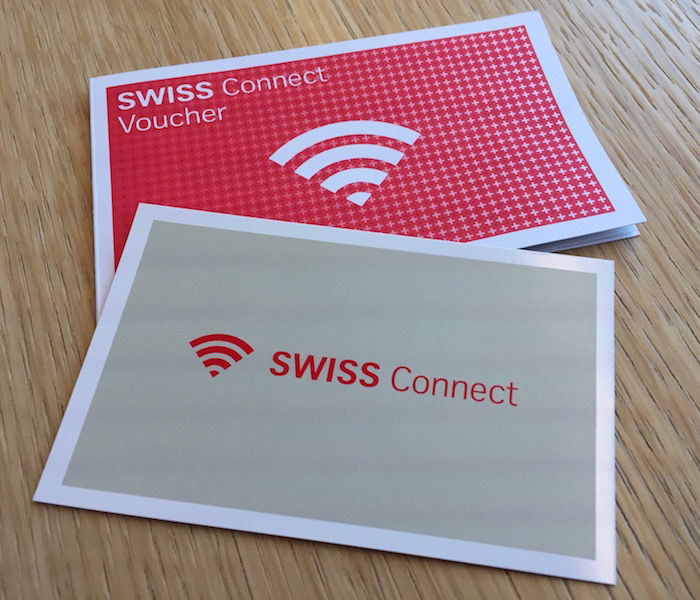 Swiss first class free Wi-Fi code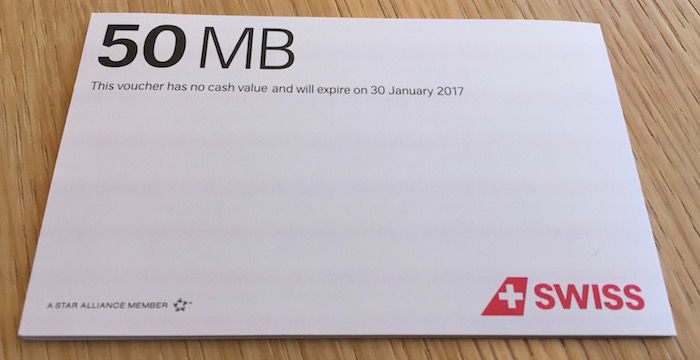 Swiss first class free Wi-Fi code
After that, the aisle flight attendant working first class came through the cabin to take meal orders. She explained I could eat whenever I wanted, and asked if I wanted lunch right away. I was hoping to get some rest later in the flight, so ordered food right away.
Here's the description of their Canton of St. Gallen emphasis: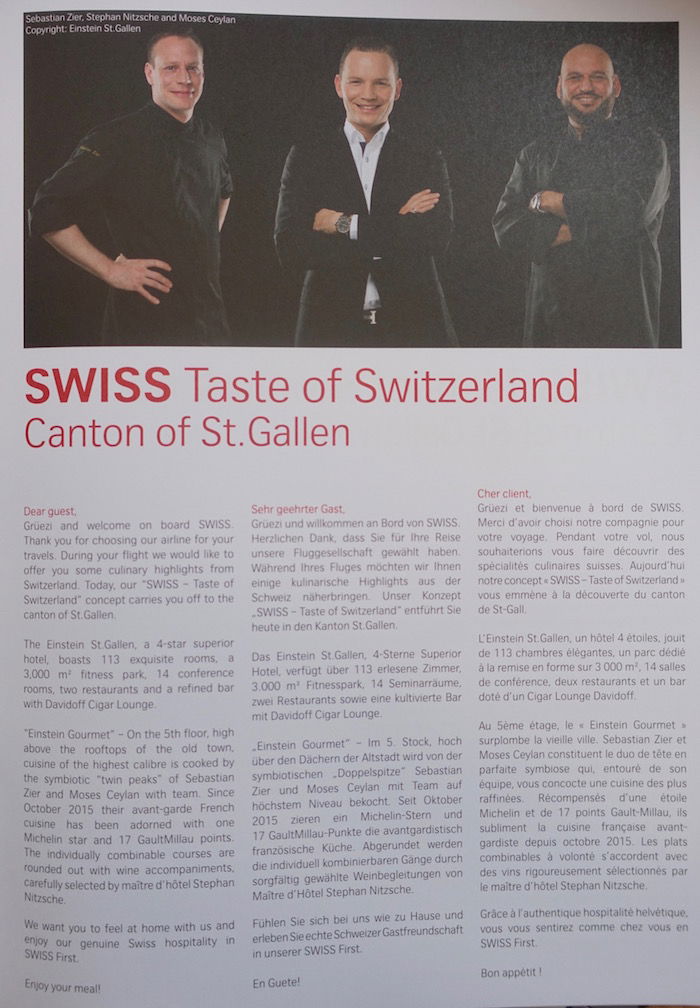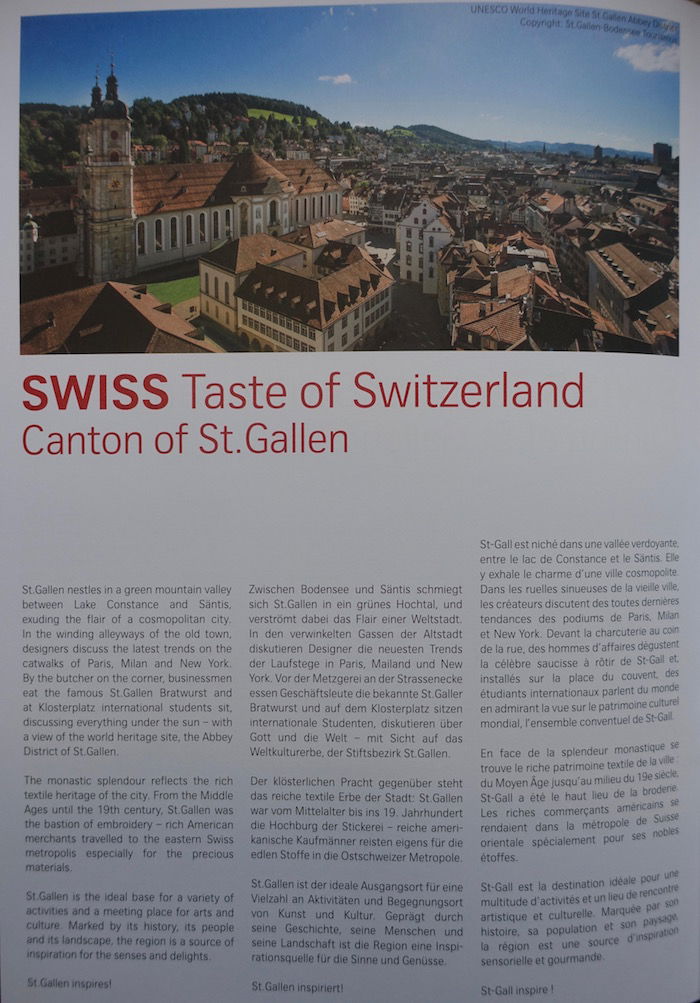 The menu read as follows: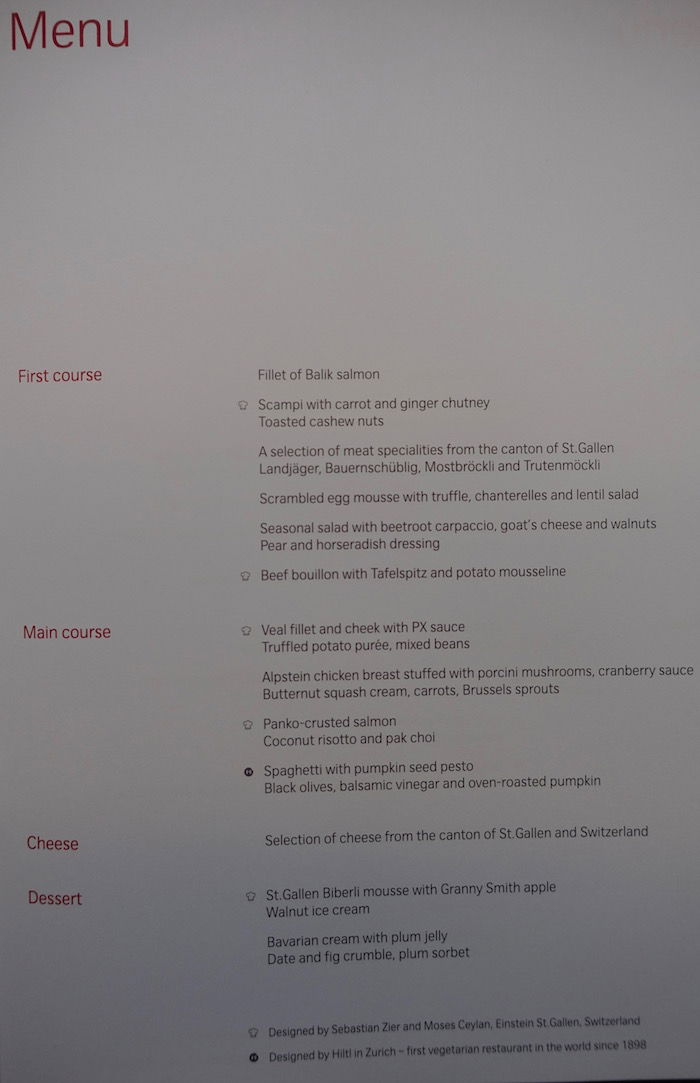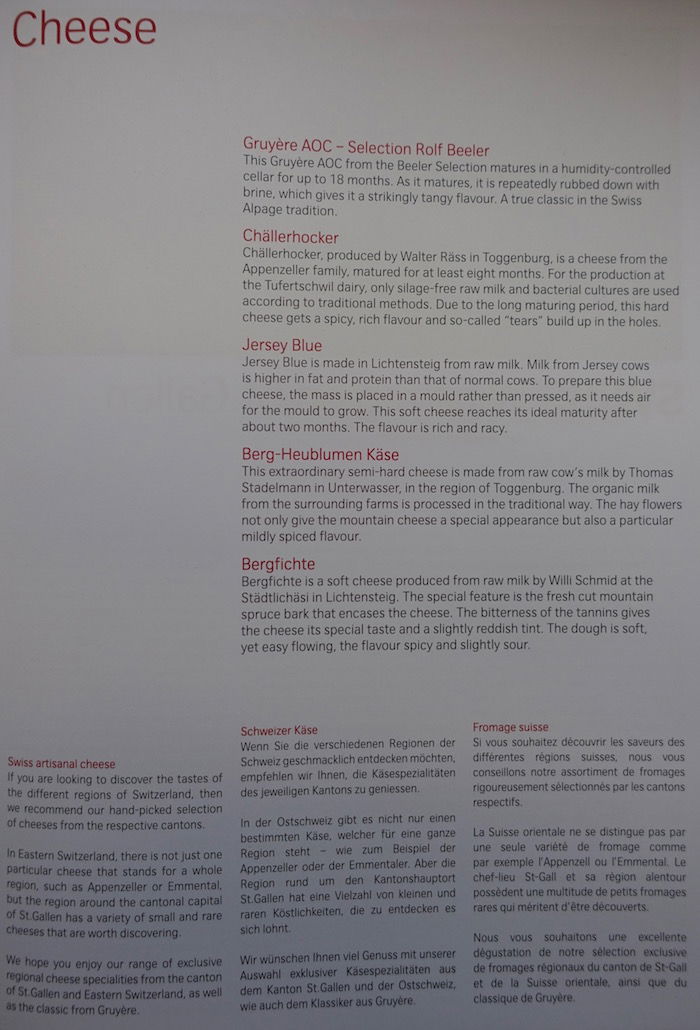 The wine list read as follows: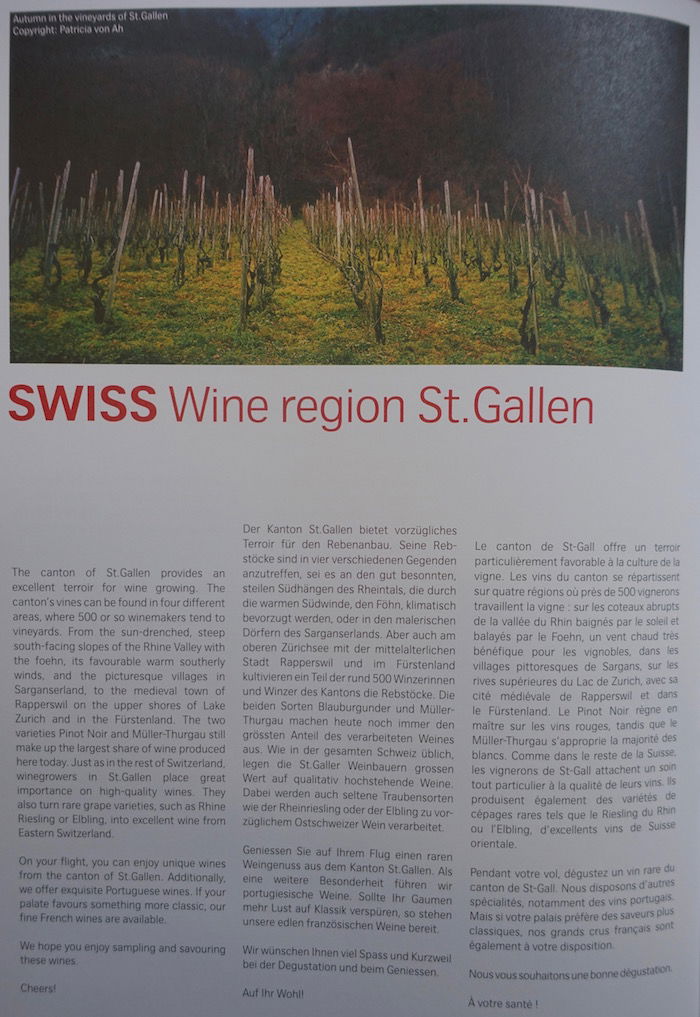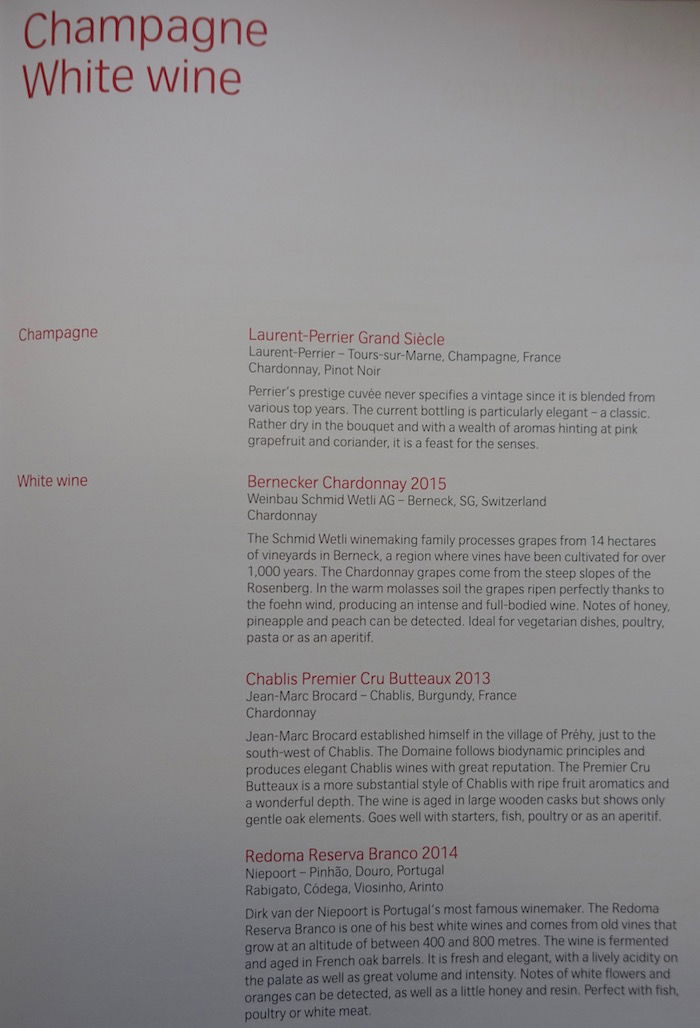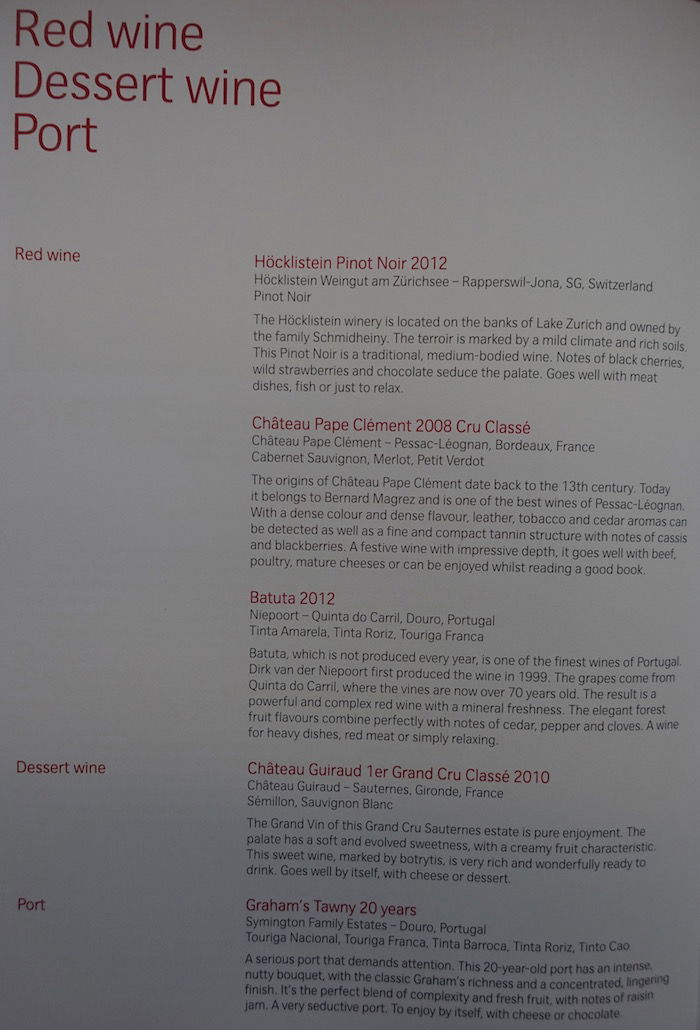 The coffee & tea menu read as follows: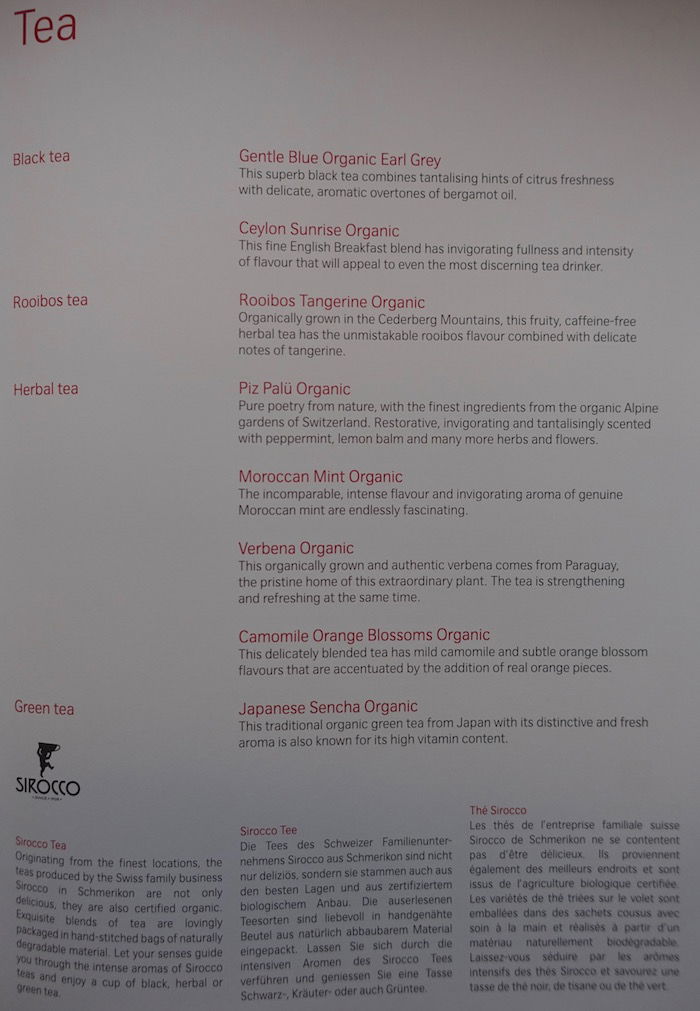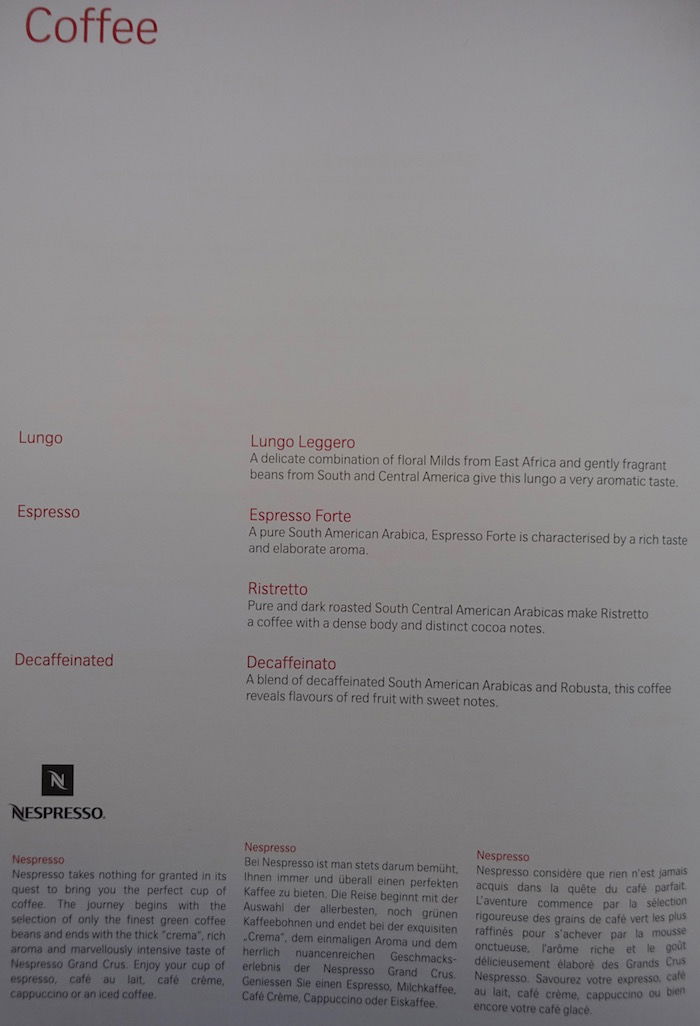 Since they serve an amuse bouche on the ground, they go straight to serving the meal after takeoff. At around 2:20PM my table was set. Swiss' table setting is gorgeous, with a huge tablecloth, big salt & pepper mills, olive oil, etc.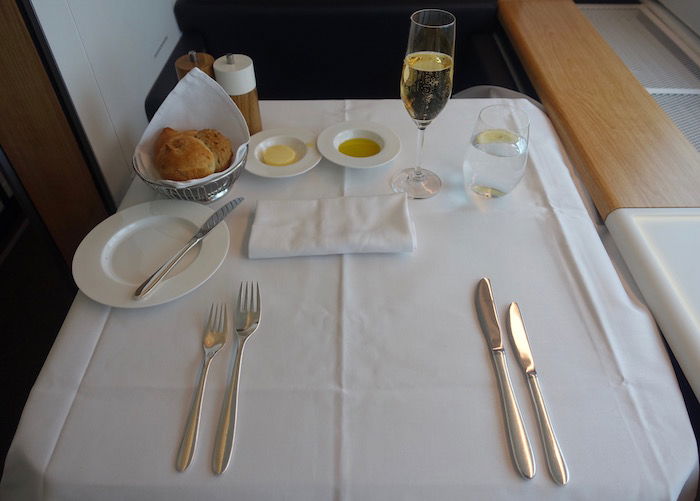 Swiss first class lunch service — table setting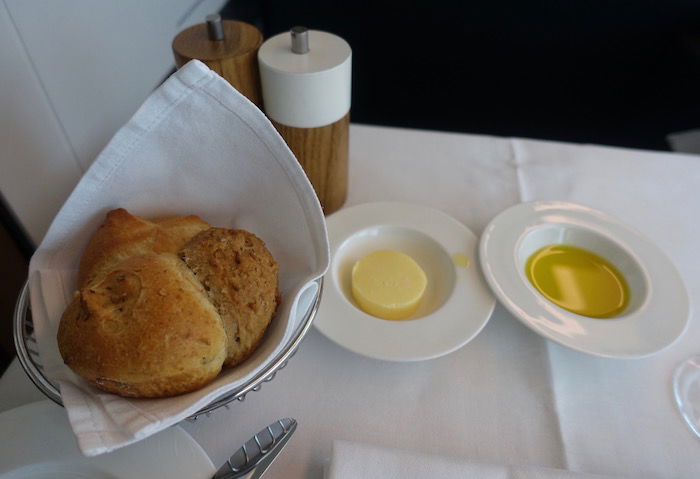 Swiss first class lunch — bread, salt & pepper mills, olive oil, and butter
Even the bread is beautiful, as it's a single loaf with three kinds of bread.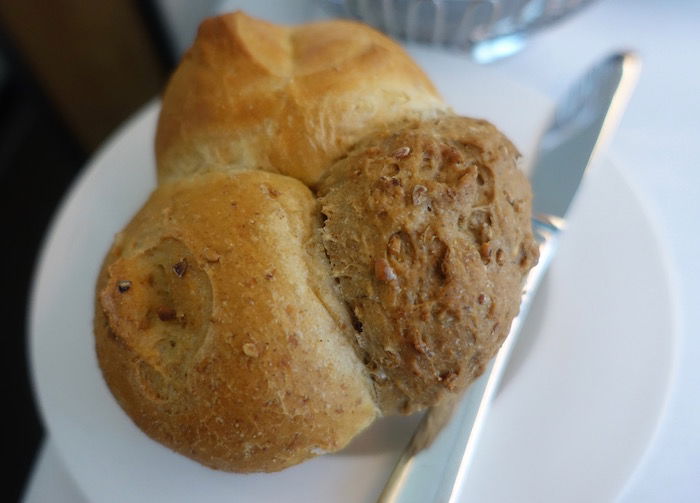 Swiss first class lunch — bread selection
Once all tables were set, the crew rolled around a cart with the appetizer selection. The flight attendant did a fantastic job explaining each option in great detail, and then after I made my selection, she plated it beautifully.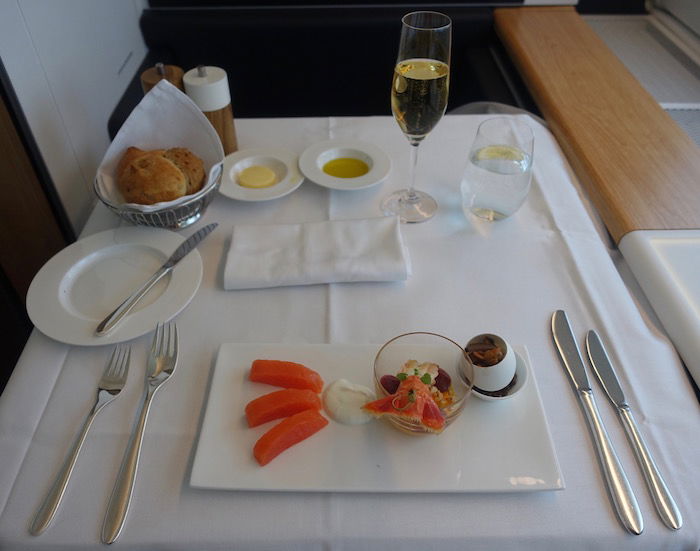 Swiss first class lunch — appetizer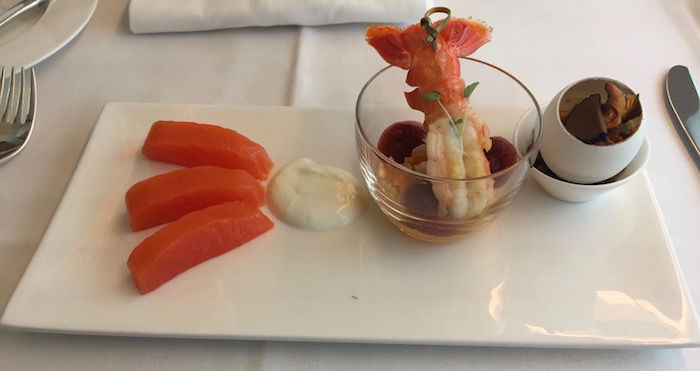 Swiss first class lunch — appetizer
I ordered the balik salmon, which was great.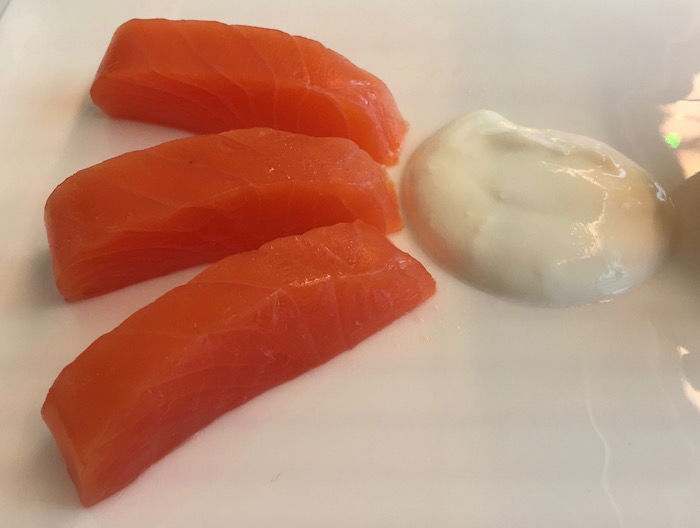 Swiss first class lunch appetizer — balik salmon
I also had the scampi with carrot and ginger chutney and cashew nuts, as well as scrambled egg mousse with truffle, chanterelles, and lentil salad. All three items were really great, and exceeded my expectations. At first I didn't know what I was thinking ordering the scrambled egg with truffle, but it ended up being the highlight, as it was bursting with flavor. It was even served in the actual egg. A+++ for presentation.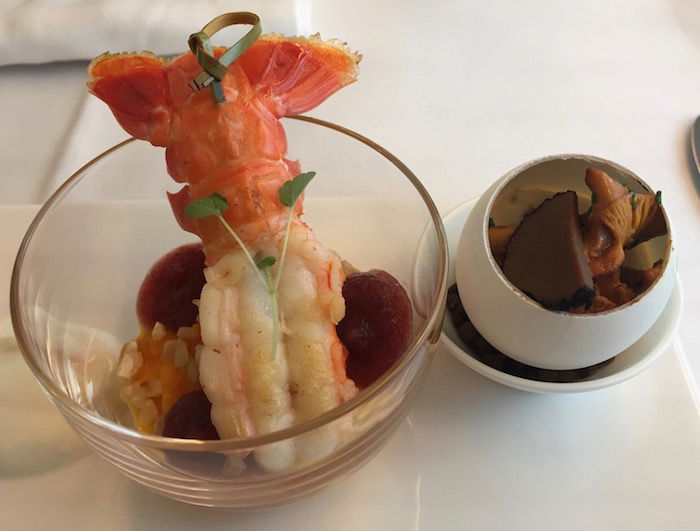 Swiss first class lunch appetizer — scrambled egg mousse and scampi
After that I was offered a soup and/or salad. I decided to order a soup, which was the beef bouillon. It was excellent, including the presentation.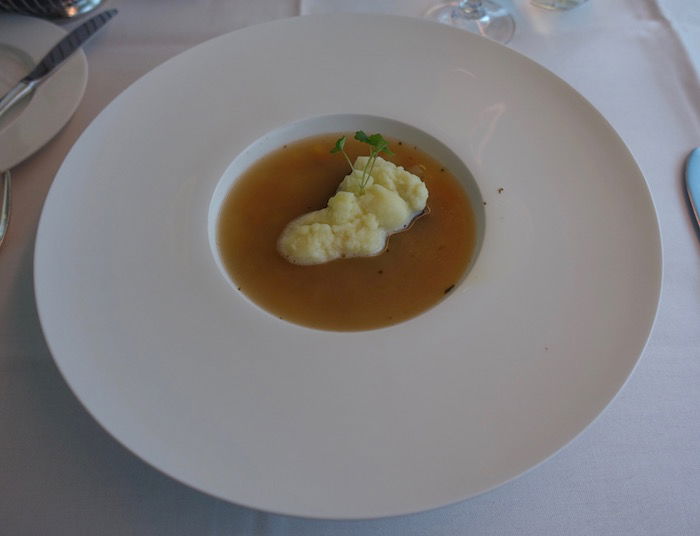 Swiss first class lunch soup — beef bouillon
For the main course I ordered the panko-crusted salmon with coconut risotto, which was again fantastic. The dish couldn't have been more flavorful.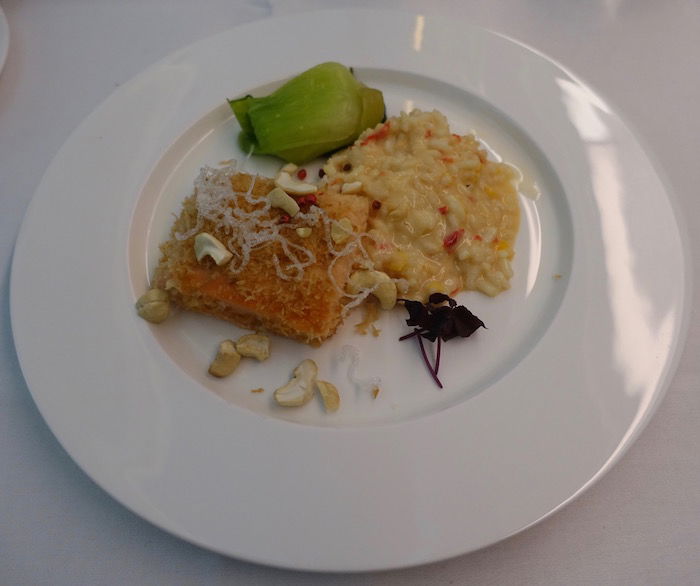 Swiss first class lunch main course — panko-crusted salmon with coconut risotto
After that, a cart was rolled down the aisle with a cheese selection. Once again, the flight attendant described each cheese in great detail. I asked for the tiniest sample of everything, which she plated for me. The cheese and presentation were both top notch.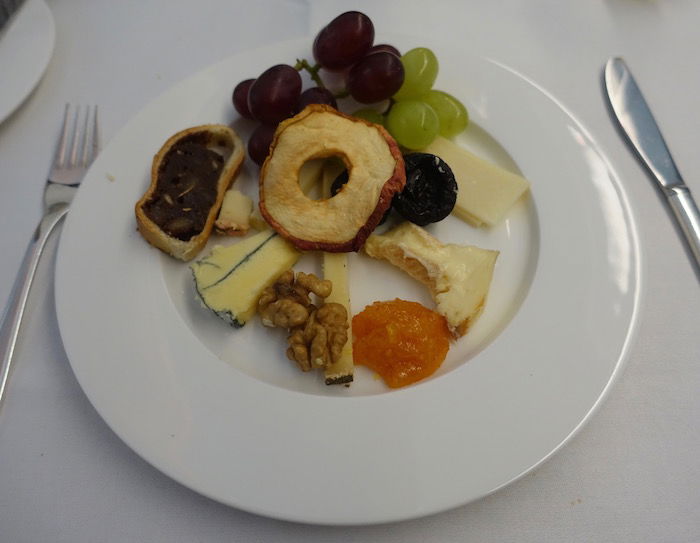 Swiss first class lunch — cheese course
Lastly I was offered dessert. Typically I have a sweet tooth, so I was going to go with the mousse and ice cream, though I asked the flight attendant for her recommendation, and she said that the Bavarian cream with plum jelly, date and fig crumble, and sorbet, was unique. I took her advice, and at first was a bit disappointed when I saw it, since I don't love fruity dessert. But this was really good, and exceeded my expectations.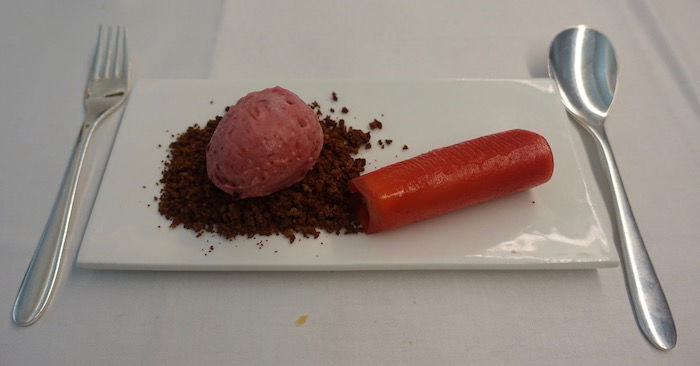 Swiss first class lunch dessert — Bavarian cream with plum jelly, date and fig crumble, sorbet
To finish off the meal I had a foamy cappuccino. Unfortunately the first class cappuccino machine was broken, so the flight attendant apologized for the delay, as she had to go to business class to make it.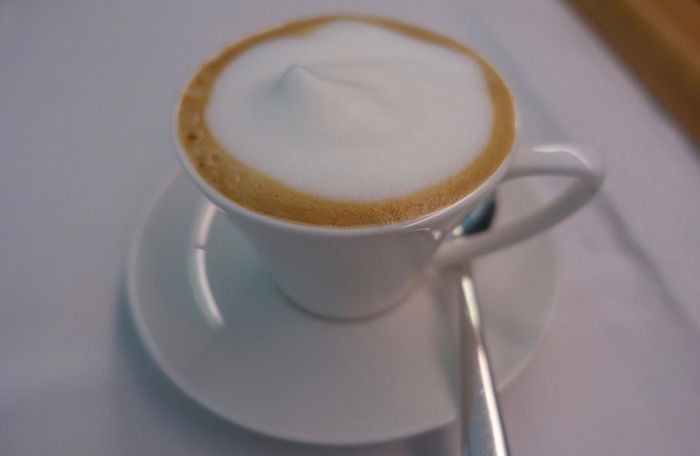 Swiss first class lunch — cappuccino
Overall the meal was fantastic, with incredible service. The meal was served at a leisurely pace, and the entire meal was done about 2hr50min after takeoff. I loved how the appetizer and cheese courses were presented on trolleys, and also loved the attention to detail. For example, between courses they'd come around with one of those things you'll only find at fancy restaurants with which they clean crumbs from the table. It's not often you see that on a plane.
What I haven't mentioned up until now is the struggle I had with my entertainment system. It simply didn't work. The flight attendant tried to reset it multiple times, the maitre d'cabin tried to do a hard reset of the system, and then she tried to "send" a movie to my TV. Nothing worked.
My entertainment controller was broken, as it said "loading" the entire flight, as did the screen itself.


Swiss first class seat entertainment controls
The crew did everything they could to fix this, and were very apologetic. At one point I said "it's alright, it's no big deal," to which the maitre d'cabin responded "no, no, it's not alright."
Ultimately there's nothing they could do, though. Sometimes technology fails, it's just unfortunate when it's on a brand new plane in first class.
After lunch I briefly connected to the Wi-Fi.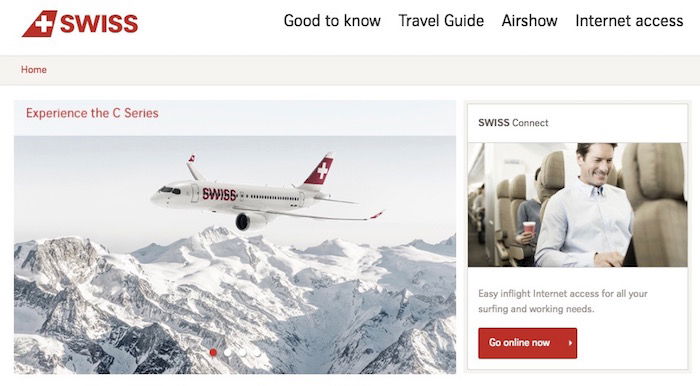 Swiss 777 Wi-Fi
As you can see below, Swiss ordinarily charges for Wi-Fi based on data usage, as follows (keep in mind one CHF is roughly one USD):
20MB costs 9CHF
50MB costs 19CHF
120MB costs 39CHF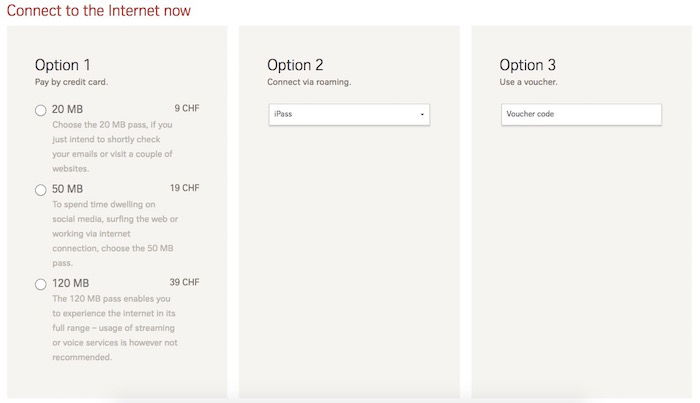 Swiss 777 Wi-Fi
As a first class passenger I had 50MB of free Wi-Fi, which I could access by entering my voucher code.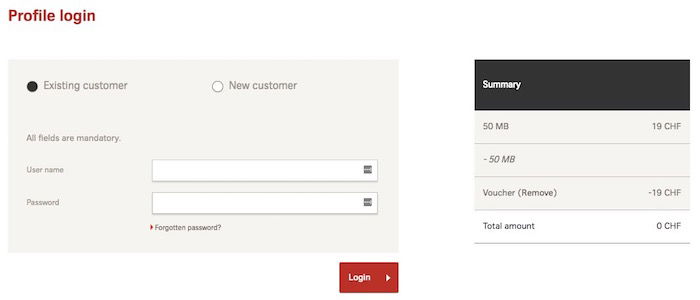 Swiss 777 Wi-Fi
Unfortunately 50MB of data lasts me about 15 minutes with decently fast Wi-Fi, so I burned through that pretty quickly.
It's unfortunate that Swiss decided to charge for Wi-Fi based on usage. Lufthansa, on the other hand, charges a fixed amount per flight, which his much more reasonable. I'd rather have that than to get 50MB of free data on Swiss, which only lasts me a short amount of time.
Eventually I also bought a 120MB data package, which lasted me a bit over 30 minutes. ~$40 for ~30 minutes of Wi-Fi? Ouch! On the plus side, at least the Wi-Fi was pretty fast, I guess because not many people were using it.
After being up for a bit I asked to have my bed made. Swiss' bedding is top notch, with an incredible mattress pad, and a blanket that's both soft and light.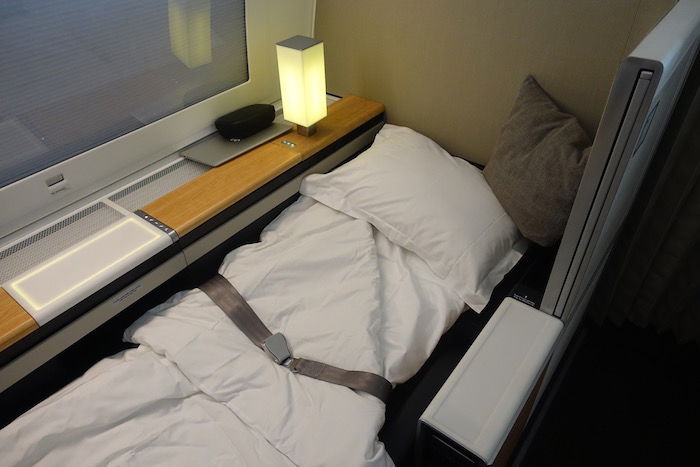 Swiss first class bed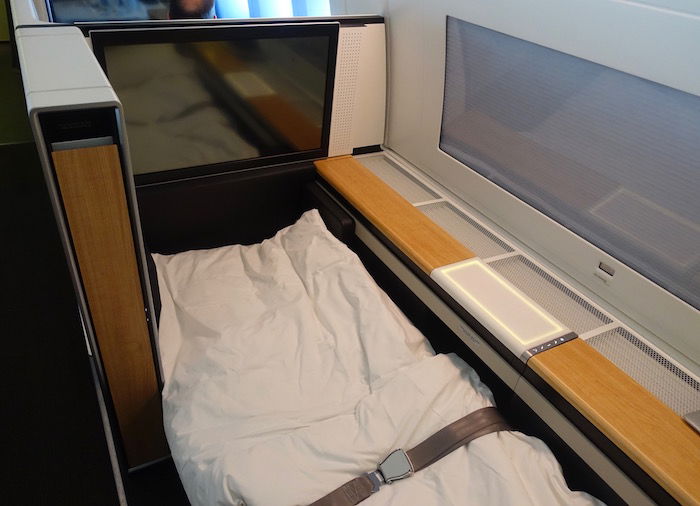 Swiss first class bed
As mentioned above, the seat has a privacy partition.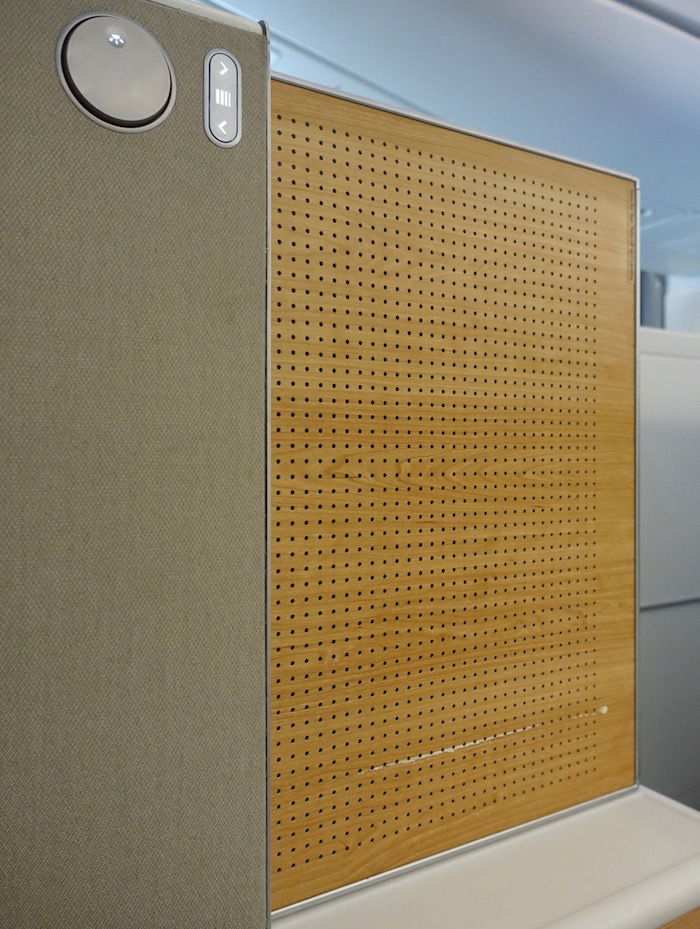 Swiss first class privacy partition
Below you can see what it looks like on the seat across from me. You could also extend the coat closet for more privacy, though that didn't occur to me until the end of the flight.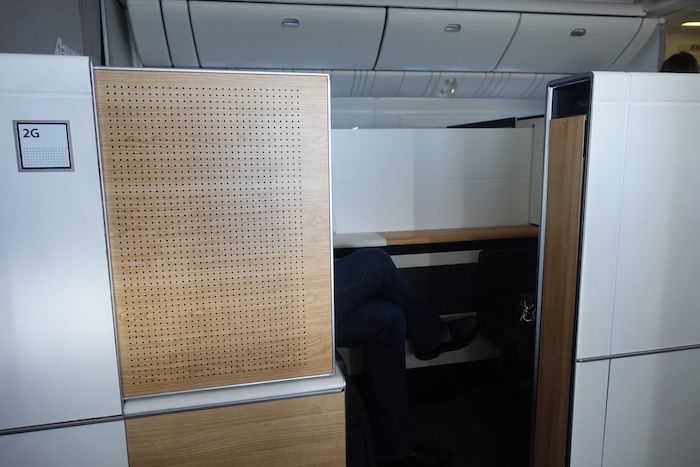 Swiss first class privacy partition
There was also a bottle of water placed at my seat.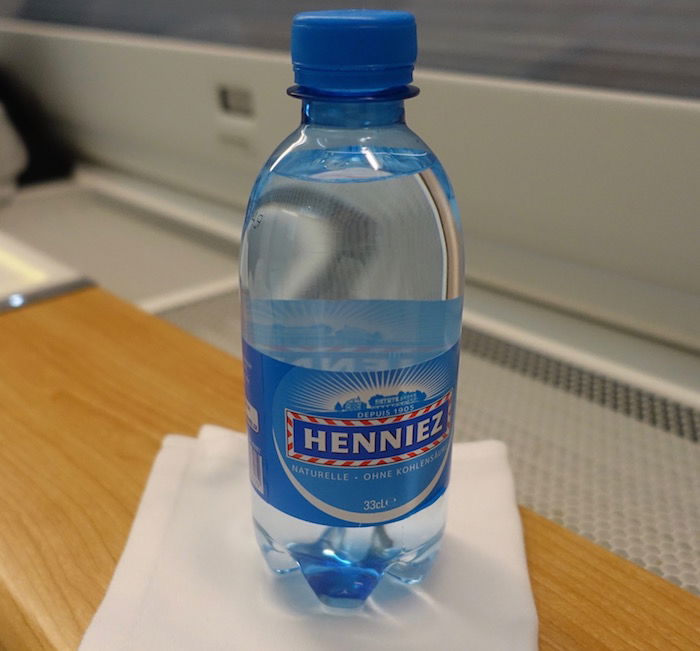 Swiss first class bottled water
After lunch almost all passengers went to sleep, so I found it a bit annoying that the crew left on mood lighting. While I think mood lighting is a great feature in general, most airlines overuse it, in my opinion. I'd much rather have a dark cabin when I'm trying to sleep than mood lighting.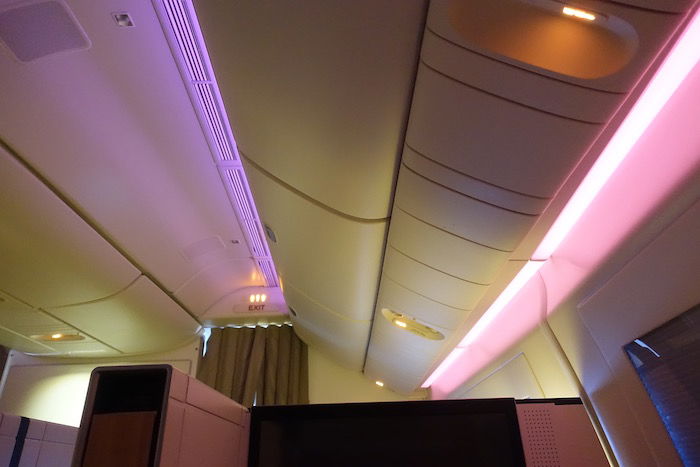 Swiss 777 mood lighting
I ended up sleeping for about four hours, and woke up over halfway into our journey. Unfortunately my flight attendant call button was broken, given that it was connected to the entertainment system so I had to go to the galley to order things (which I don't mind, but I feel bad for the crew, because I feel like I'm invading their privacy). I ordered a coffee, which was good.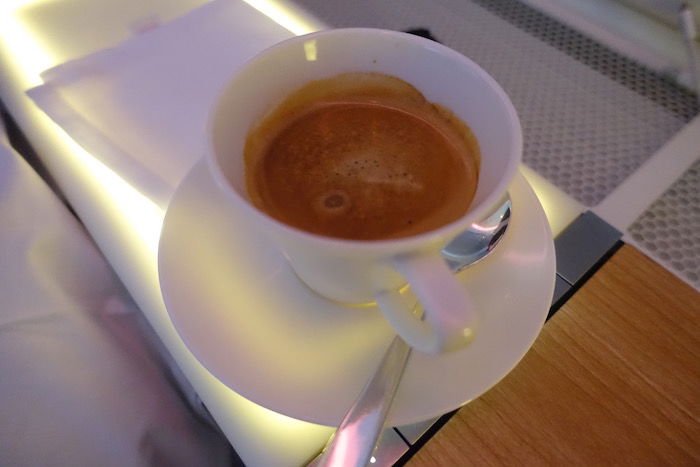 Swiss first class coffee
I got caught up on work for the next couple of hours (mainly in offline mode, given the cost of Wi-Fi). While the service was great during the meal, I was a bit disappointed that the crew didn't come through the cabin more often between meals, as I rarely saw them. I was also a bit surprised by the lack of snacks between meals. I wasn't really hungry, but usually on a flight of almost 12 hours you'd have some snacks set up in the galley, or something. Instead there were just chocolates and whole fruit.
About three hours before landing the maitre d'cabin saw that I was awake, and offered me a box of chocolates and a compensation voucher for the entertainment being broken. The offer was for 10,000 Miles & More miles or a 300CHF travel voucher.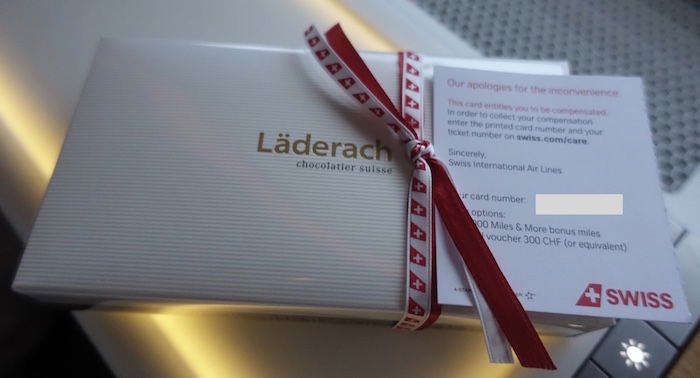 Swiss first class gift for broken entertainment
About two hours before landing the crew came through with the pre-landing snack. Best I could tell there was no printed menu for this, though the flight attendant explained the options, which included a caesar salad, quiche, club sandwich, or burger. I ordered the caesar salad and quiche. Both were very good.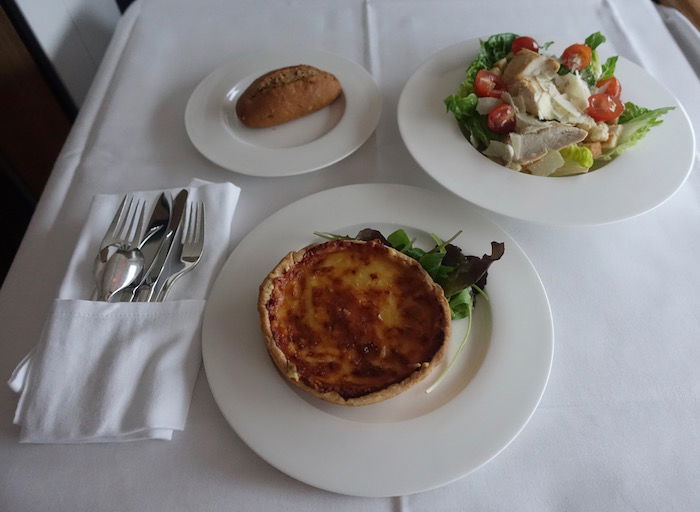 Swiss pre-landing snack
I spent the next 30 minutes working a bit more, and finally about 40 minutes before landing at LAX the captain made an announcement informing us that we had begun our descent into Los Angeles, and that we were just passing Las Vegas, which you can see in the below picture.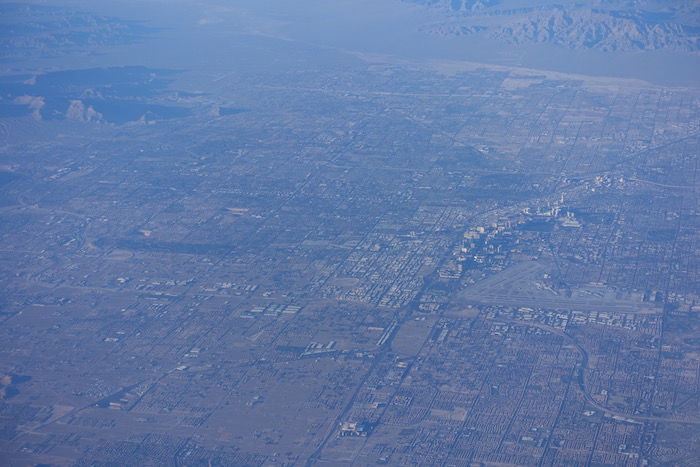 View approaching Los Angeles
As is the norm when descending into LAX, the views were fantastic.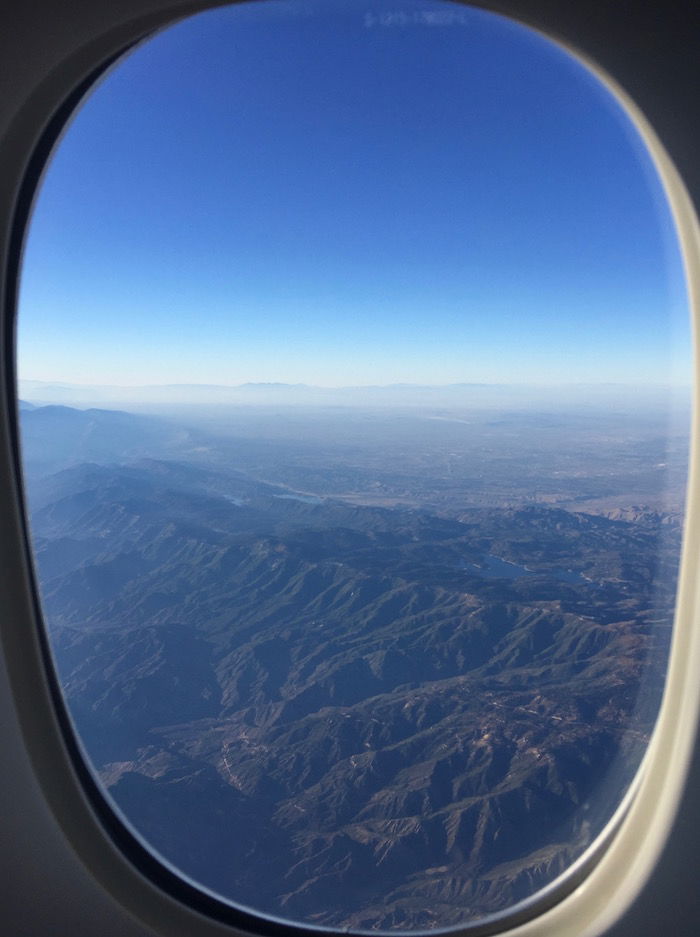 View approaching Los Angeles
We had some great views of the downtown skyline and the Hollywood sign in the distance as we descended.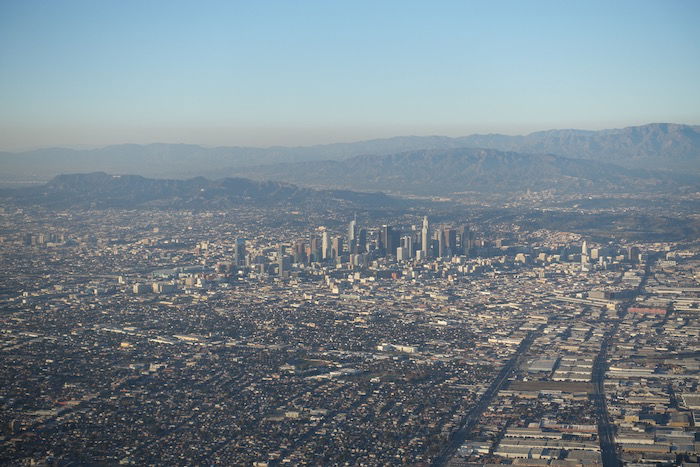 View of downtown Los Angeles
On final approach I even saw the famous LAX In-N-Out.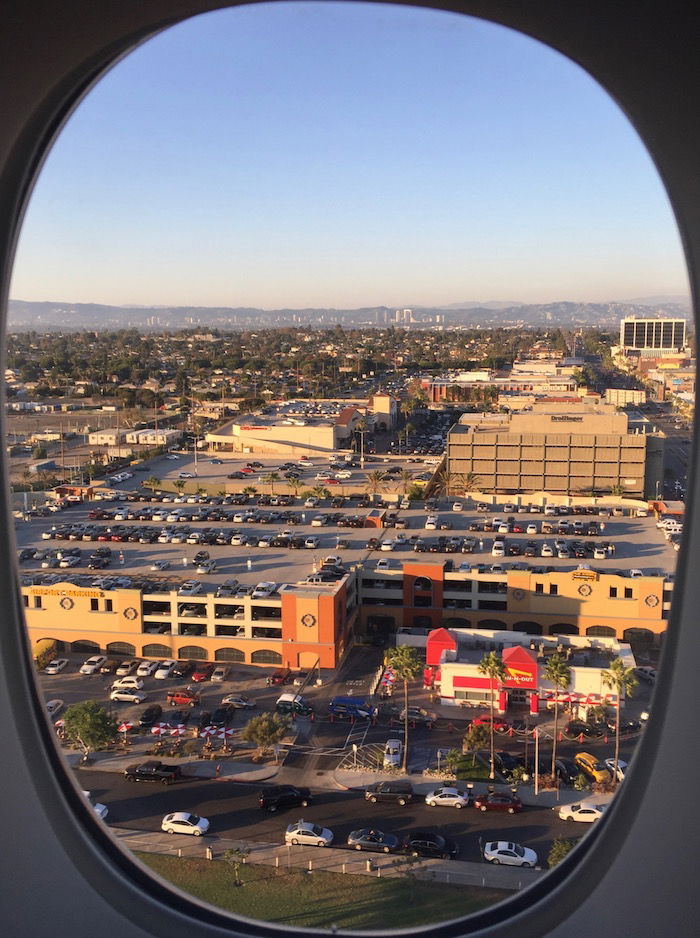 View on final approach to LAX
We had a smooth touchdown on runway 24R at 4:05PM, and from there a 15 minute taxi to our arrival gate. That took a bit longer than usual, given that we taxied from the north of the airport to the south, and then came back around to get to our gate at Tom Bradley International Terminal. That sure is the long way to go.
We taxied behind a Norwegian 787 as we approached our gate.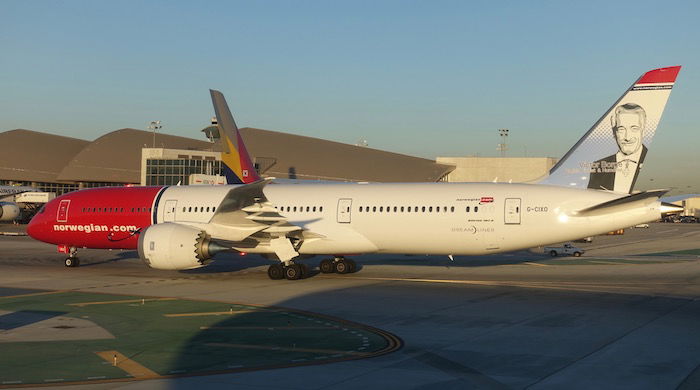 Norwegian 787 LAX
We arrived at our gate at 4:20PM, exactly as scheduled.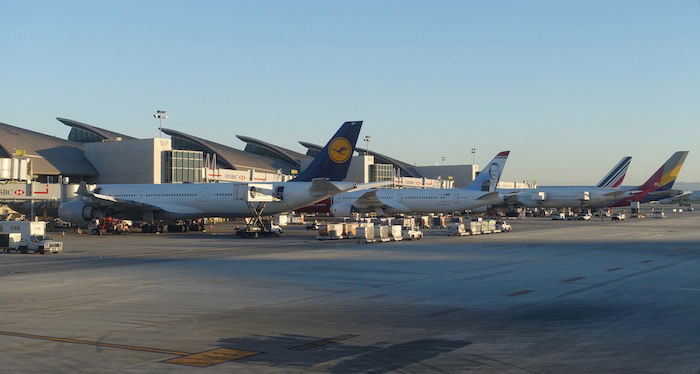 Tom Bradley International Terminal LAX
I bid farewell to the crew and quickly made it through customs and immigration thanks to Global Entry.
Swiss 777 first class bottom line
Overall I was impressed by Swiss first class. The crew, food, amenities, and bed were great.
At the same time, there were also some flaws. My entertainment system was broken, which is a big problem on such a long flight. Furthermore, I found the seat design to be unusual, given that the seats are technically fully enclosed, but only when facing the inside of the coat closet.
There were also some minor things that could have been a bit better about the product. There were no pajamas. While the pre-landing meal tasted great, it could have been a bit more extensive, with an appetizer and dessert. After all, there were no snacks between meals on this flight, and this is a nearly 12 hour daytime flight.
So yes, overall Swiss first class was fantastic, and I'm happy to have had the chance to try it. Is it better than Lufthansa first class, or does it deserve a spot in the world's top first class products? Well, I'll have to put some more thought into that…
If you've flown Swiss first class (or based on this review), where do you think Swiss belongs on the list of the world's best first class products?