I've written in the past about how to maximize value at hotel groups like Aman, Four Seasons, etc. In this post I wanted to talk about the best way to go about booking Rosewood hotels, given that they're an excellent hotel group with several top notch new properties.
Want to receive extra benefits for stays at Rosewood properties, including a space available room upgrade, a hotel credit, and more? Contact [email protected] for more details. He may even be able to help if you already have a stay booked.
Rosewood Hotels basics
For those of you not familiar with Rosewood, they currently have just over two dozen luxury properties. The group was founded in 1979, though they have a lot of new hotels on the horizon.
I'd say Rosewood is probably most comparable to Four Seasons in terms of quality, though like every other hotel group, there's variance when it comes to the quality of hotels. I've only ever stayed at one Rosewood (the property in Abu Dhabi), but there are several that are on my list.
Rosewood has both city hotels and gorgeous resorts. Just to give some examples of the hotels that most interest me:
I've been wanting to visit Bermuda, and the Rosewood Bermuda is a popular option
The Rosewood Mayakoba and Las Ventanas al Paraíso are two of Mexico's best regarded resorts (Ford stayed at Las Ventanas al Paraíso last year, and said it was like an Aman)
The Rosewood Hong Kong just recently opened, and I've heard it's spectacular
Rosewood Hotels locations
Here's a rundown of the current Rosewood locations, though there are many more in the pipeline, opening in the next few years:
Rosewood Hotels in the United States
The Carlyle, A Rosewood Hotel (New York, New York)
Rosewood Mansion on Turtle Creek (Dallas, Texas)
Rosewood Inn of the Anasazi (Santa Fe, New Mexico)
Rosewood CordeValle (San Martin, California)
Rosewood Sand Hill (Menlo Park, California)
Rosewood Washington, D.C.
Rosewood Miramar Beach (Montecito, California)

Rosewood Inn of the Anasazi
Rosewood Hotels in Canada
Rosewood Hotel Georgia (Vancouver, BC)

Rosewood Hotel Georgia
Rosewood Hotels in Mexico
Las Ventanas al Paraíso, A Rosewood Resort (Los Cabo)
Rosewood Mayakoba (Riviera Maya)
Rosewood Puebla
Rosewood San Miguel de Allende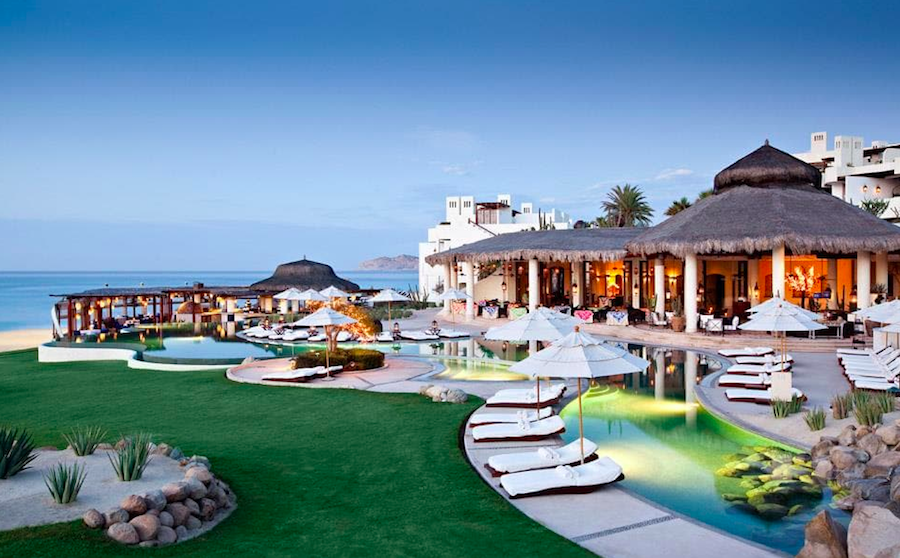 Las Ventanas al Paraíso
Rosewood Hotels in the Caribbean/Atlantic
Rosewood Bermuda
Rosewood Baha Mar (Nassau, Bahamas)
Rosewood Little Dix Bay (Virgin Gorda, BVI)
Rosewood Bermuda
Rosewood Hotels in Europe
Rosewood London
Rosewood Castiglion del Bosco (Tuscany, Italy)
Hôtel de Crillon, A Rosewood Hotel (Paris, France)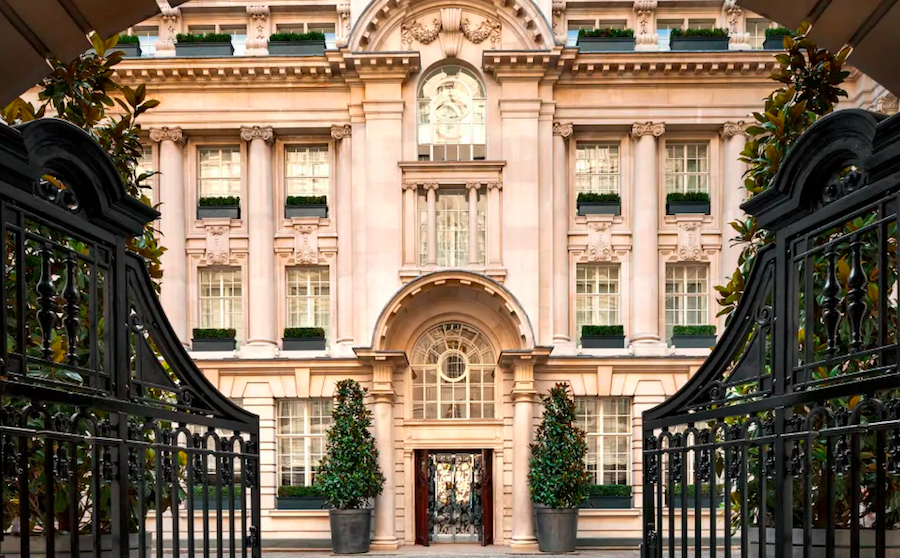 Rosewood London
Rosewood Hotels in Asia
Rosewood Jeddah, Saudi Arabia
Rosewood Abu Dhabi, UAE
Rosewood Phnom Penh, Cambodia
Rosewood Beijing, China
Rosewood Sanya, China
Rosewood Hong Kong
Rosewood Luang Prabang, Laos
Rosewood Bangkok, Thailand
Rosewood Phuket, Thailand
Rosewood Yangon, Myanmar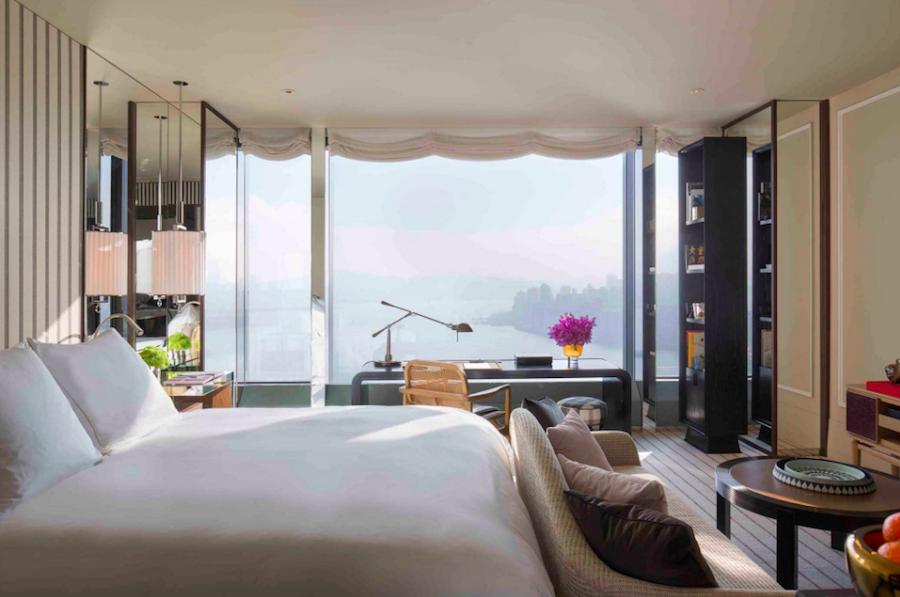 Rosewood Hong Kong
Rosewood Elite: extra perks for booking at Rosewood
Unfortunately Rosewood doesn't have a loyalty program, so there's no way to collect points directly with them for hotel stays (other than what you'd earn through your credit card). The good news is that much like Four Seasons, there's a program that select travel agents have access to, which can get you extra benefits for Rosewood stays.
The program is called Rosewood Elite, and for booking through a Rosewood Elite agent you get the following benefits:
Daily breakfast for up to two people per bedroom
Complimentary one-category upgrade upon arrival (based on availability)
A welcome amenity and note
Additional property specific elite enhanced amenities, which vary by property; these can include a $100 credit per stay, though not all hotels offer that (you'll have to go through a Rosewood Elite agent to determine what the property specific amenity is)
These benefits are only available when booking published rates and featured Elite Exclusive Offers. This includes many of the rates available directly through Rosewood, including a fourth night free offer, for example.
Ford is a Rosewood Elite agent and can be reached at [email protected] He doesn't charge any service fees for Rosewood reservations. In some cases he might even be able to help with existing Rosewood bookings that don't have these benefits added.
Other advisors are also welcome to leave their contact info below.
Virtuoso perks at Rosewood Hotels
We've also written extensively about Virtuoso, which is a network of luxury travel agencies that can offer extra perks at 1,300+ luxury hotels around the world.
Typically for booking through a Virtuoso agent you get the following additional benefits:
Daily breakfast for two
Room upgrade subject to availability
Early check-in and late check-out, subject to availability
A special Virtuoso amenity (usually a $100 property credit, free massage, car transfer, etc.)
Most Rosewood properties belong to Virtuoso, so what's the difference between booking through Rosewood Elite and Virtuoso?
All Rosewood hotels belong to Rosewood Elite, but not all Rosewood hotels belong to Virtuoso, so there are some hotels where you'd only get added benefits through Rosewood Elite
Some Rosewood hotels offer a $100 credit (or equivalent) when booking through Virtuoso, but don't through Rosewood Elite
It's an odd system, but basically there are some stays where you'll get more value through Virtuoso, and others where you'll get more value through Rosewood Elite. The two aren't combinable, so you can choose one or the other.
The good news is that most travel advisors who have access to Rosewood Elite also have access to Virtuoso (and vice versa). Since you need to book through a travel advisor to take advantage of either of these programs, your best bet is to just contact the travel advisor and they can look into what the best option is for your particular stay.
Other ways to get value with Rosewood
There are a couple of other perks worth being aware of.
The Citi Prestige Card offers a fourth night free benefit, though note that this is greatly being scaled back as of September 2019. You'll not only be limited in terms of how many bookings you can make per year, but you'll also be limited to the properties you can book, as you'll only be able to book through Citi's website. My guess is that many Rosewood properties won't show up there anymore.
In the meantime this could represent a very good option. There are a couple of things to be aware of, though:
You can only use the fourth night free benefit when booking the most basic rate, and not when booking one of the Rosewood packages
You can't combine Citi Prestige fourth night free with Virtuoso or Rosewood Elite
One other option is that select Rosewood properties are available through Amex Fine Hotels & Resorts, which offers similar perks to Virtuoso. The benefit is that you get guaranteed 4PM check-out through Amex, while it's only subject to availability through Virtuoso.
Bottom line
Rosewood has some gorgeous hotels, and their portfolio keeps growing. They have some well regarded resorts (especially those in Mexico), and some of their new city hotels are setting a new standard for city luxury.
While Rosewood doesn't have a loyalty program, you can get perks that rival typical elite benefits by booking through a Rosewood Elite or Virtuoso agent. This will get you free breakfast, a room upgrade subject to availability, and some additional perks.
Your best bet is to contact an affiliated travel advisor, and they can help you figure out whether a Rosewood Elite or Virtuoso booking makes the most sense for your Rosewood hotel stay.
Like I said above, Ford is happy to help with any Rosewood bookings, and doesn't charge service fees for such reservations (as is the standard in the travel industry, he gets a commission when you make a booking through him, and that doesn't cost you anything extra). Other travel advisors are also welcome to leave their contact info below.
If you've stayed at a Rosewood hotel before, what was your experience like?