EXTRA PERKS AVAILABLE
Enjoy breakfast, upgrades, & more
Want to take advantage of Rosewood Elite benefits, including a space available room upgrade, complimentary breakfast, a hotel credit, and more? Contact Ford ([email protected]) for more details. He may even be able to help if you already have a stay booked.
Ford and I recently spent a night at the 67-room Rosewood San Miguel de Allende, Mexico. I was excited about this hotel, as it looked charming. I've also been wanting to try more Rosewood properties, as the brand is generally well regarded and growing fast, and is probably the closest major competitor to Four Seasons.
Unfortunately our one night stay didn't exactly go great. Too many things went wrong for me to recommend this place, or to have the desire to return, especially given the rate we were paying.
Why we traveled to San Miguel de Allende
We traveled to San Miguel de Allende for a long weekend to celebrate a family friend's "round" birthday. She was renting a house there, though we all arrived a day early, and decided to check out the Rosewood. This is generally regarded as one of the two best hotels in San Miguel de Allende, along with Casa de Sierra Nevada, which is a Belmond.
I'll share my thoughts on San Miguel de Allende in a separate post, since it seems to be a very "in" destination right now.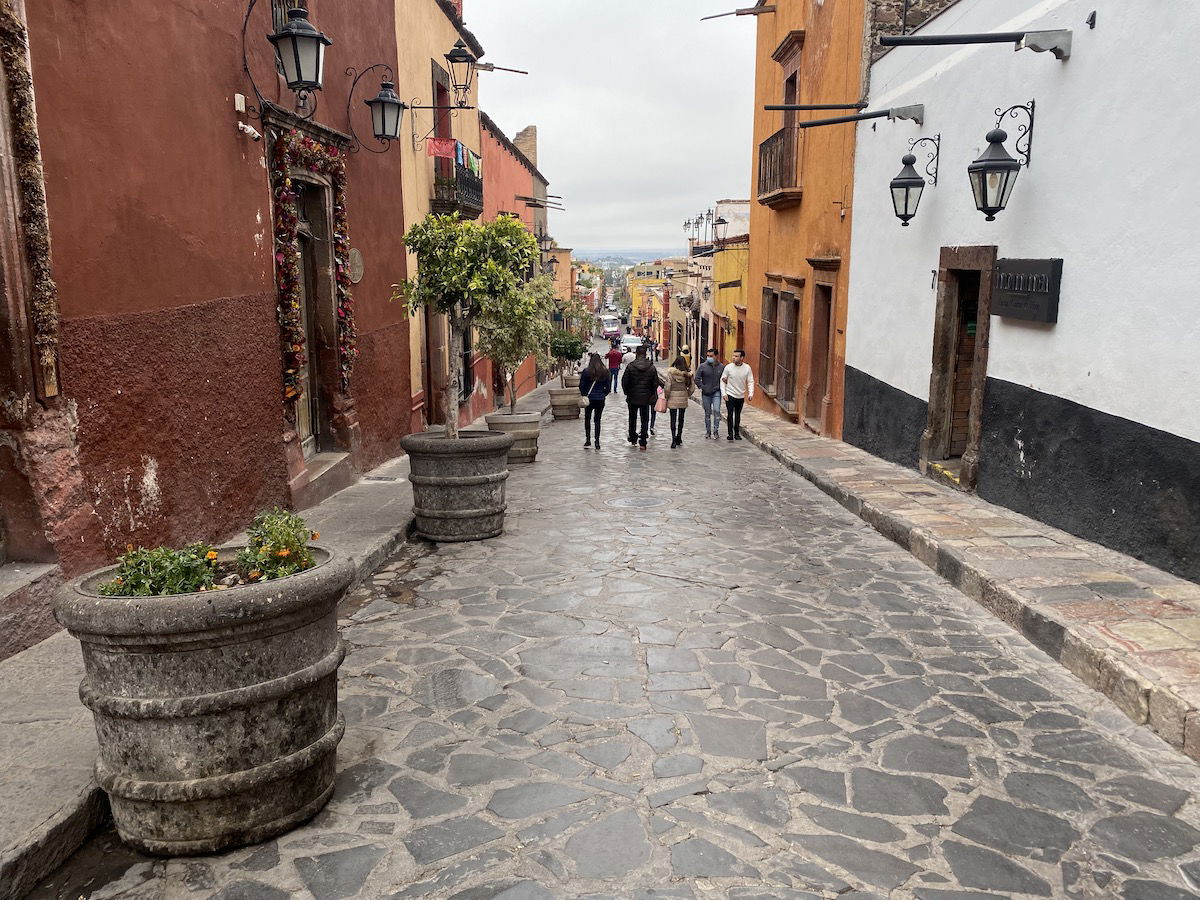 How we booked the Rosewood San Miguel de Allende
We booked our one night stay at the Rosewood San Miguel de Allende through the Rosewood Elite program, which is Rosewood's program for select travel agents, and is also the best way to book any Rosewood stay (Ford is happy to help with these requests, and can be reached at [email protected]).
Rosewood Elite offers a room upgrade subject to availability, a $100 food & beverage credit once per stay, complimentary daily breakfast for two, and more. The rate for our one night stay was $590, not including Mexico's 30% tax and service charge. A few things to note:
The rest of our group was also spending the night at the hotel, so this seemed like the best option, to make things easy
We decided to outright book a Rooftop Colonial King room, since that sounded cool; this is a premium room option, and about $90 more than the entry level room
We had initially booked the hotel at a cheaper rate, but there's a seven day cancelation policy; we had something come up the week before our trip and weren't sure we'd be able to make it, so we canceled our reservation and rebooked last minute, and the rate ended up being higher
Rates here sometimes start as low as $300 or so per night, not including the 30% tax and service charge
Rosewood San Miguel de Allende location
The Rosewood has a pretty good location within San Miguel de Allende, which is a UNESCO World Heritage site, and the oldest town in central Mexico. The hotel is within walking distance of most of the places you'd want to visit (though make sure you have proper footwear, since the city almost exclusively has cobblestone streets).
As far as getting to San Miguel de Allende goes, the city is roughly equidistant from Leon Airport (BJX) and Querétaro Airport (QRO), and both can be reached within 60-90 minutes. Alternatively, you can fly into Mexico City Airport (MEX), which is a roughly 150 minute drive away.
Rosewood San Miguel de Allende lobby & check-in
We arrived at the Rosewood mid-afternoon, and upon arrival we first had our temperatures taken, and had to sanitize our shoes. This a random tangent that has nothing to do with Rosewood, but can someone explain to me why virtually all hotels in Mexico require you to disinfect your shoes prior to entering as part of a coronavirus protocol? I asked a tour guide about this, and his explanation was that it's in case people spit on the street and then you step into it. Unless you have a shoe-licking fetish, I still don't think that's how coronavirus spreads. Can someone enlighten me?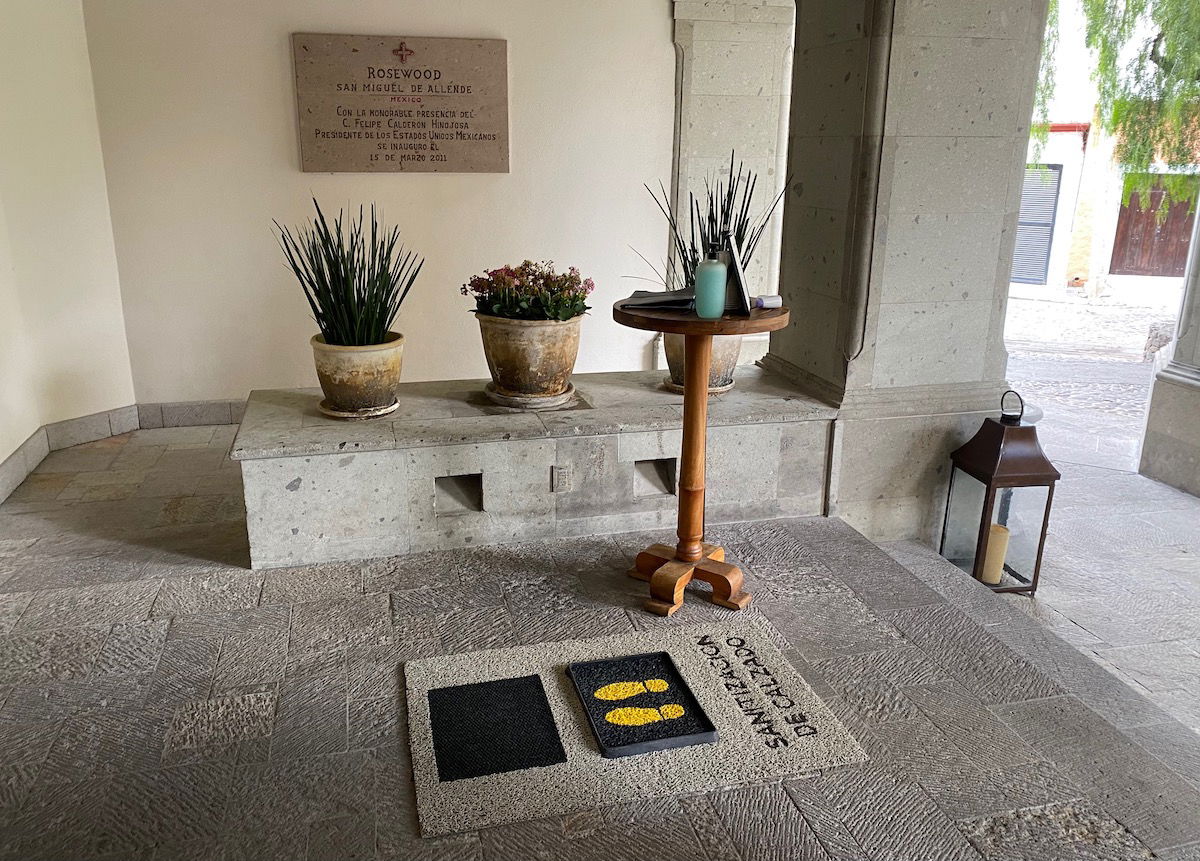 Anyway… reception was inside the entrance and to the right. There were two tables for sit down check-in, and then there was a larger lobby area with plenty of indoor seating.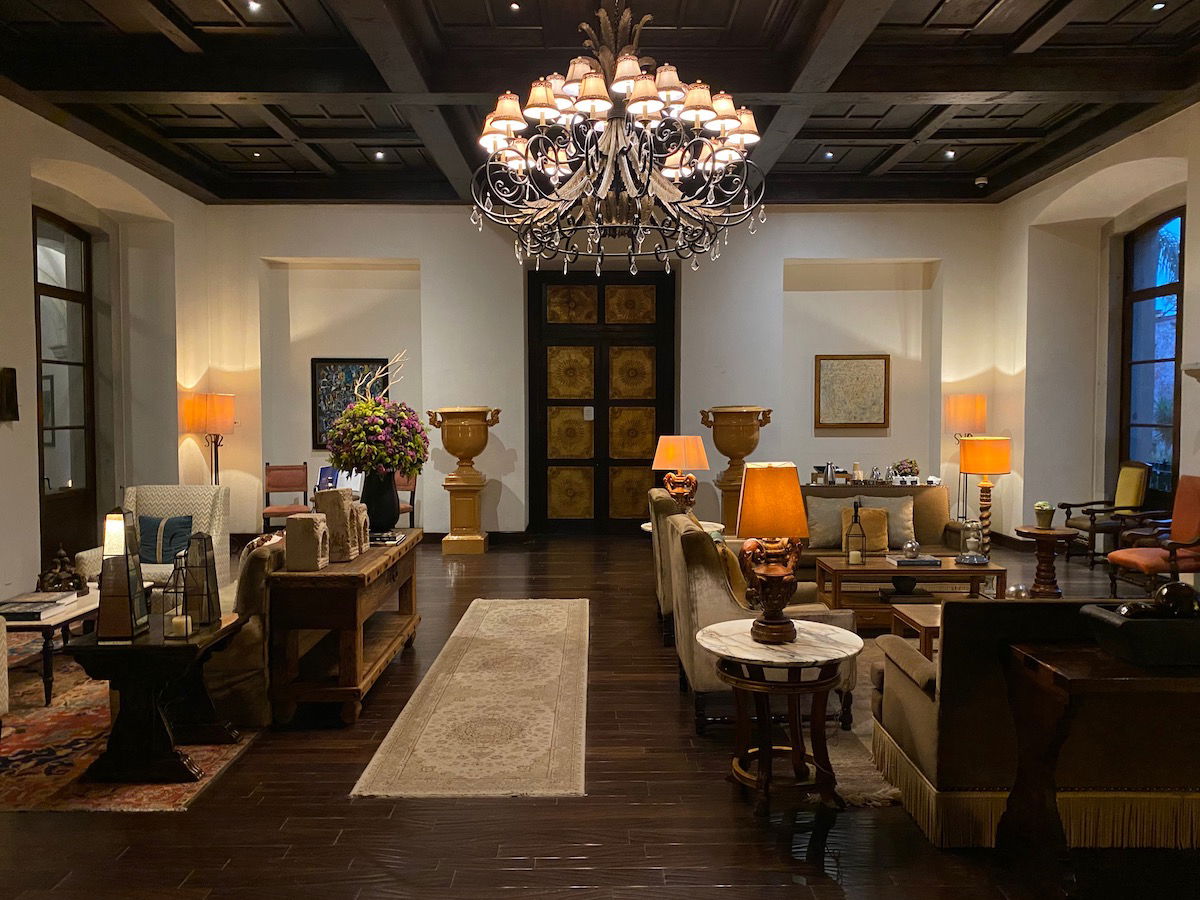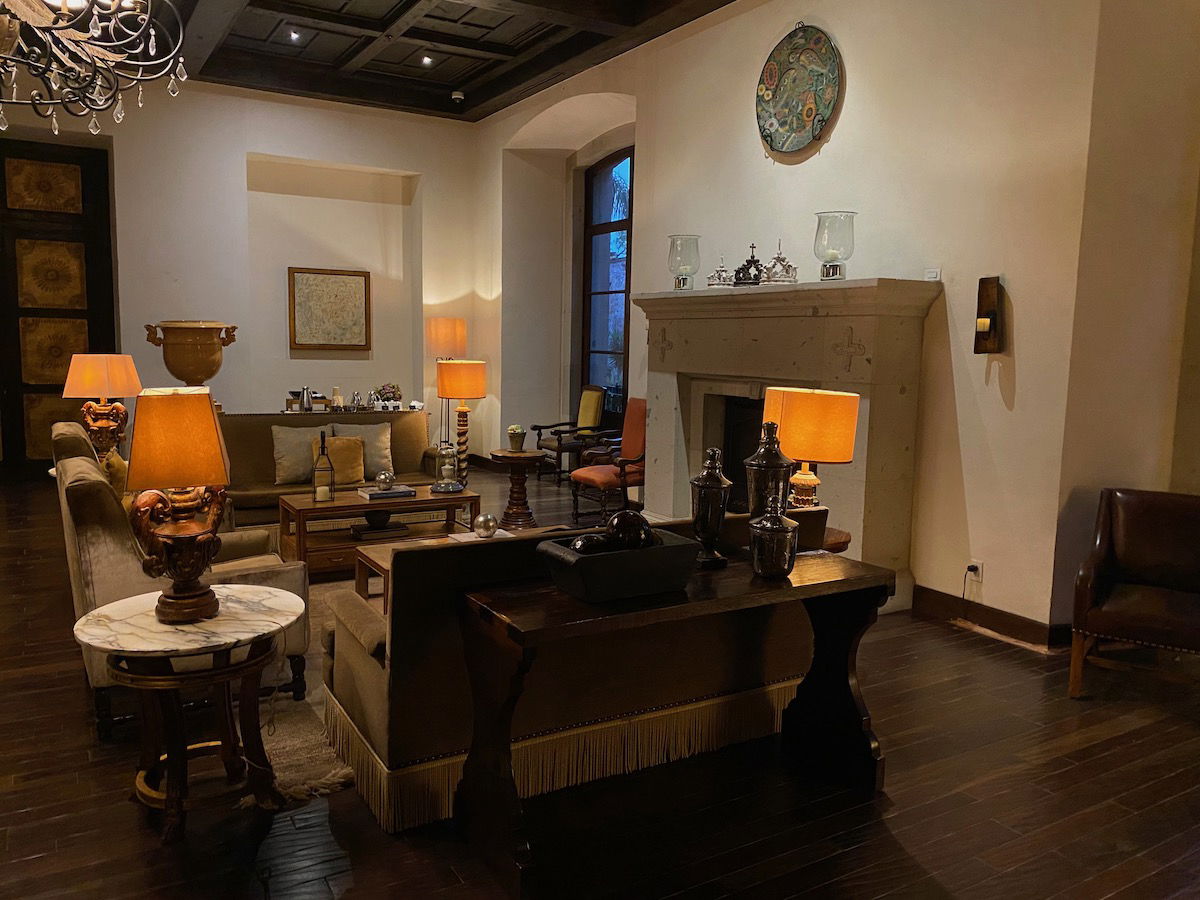 While the front desk agent was friendly, she wasn't very good about recognizing Rosewood Elite perks. She never mentioned the $100 food & beverage credit or an upgrade, and for that matter there was no welcome note in the room recognizing it either.
Our room was ready soon after arriving, and we were escorted there. The Rosewood maximizes outdoor space, with most hallways being outdoors. For the most part I love the hotel's architecture, and it blends nicely into the area.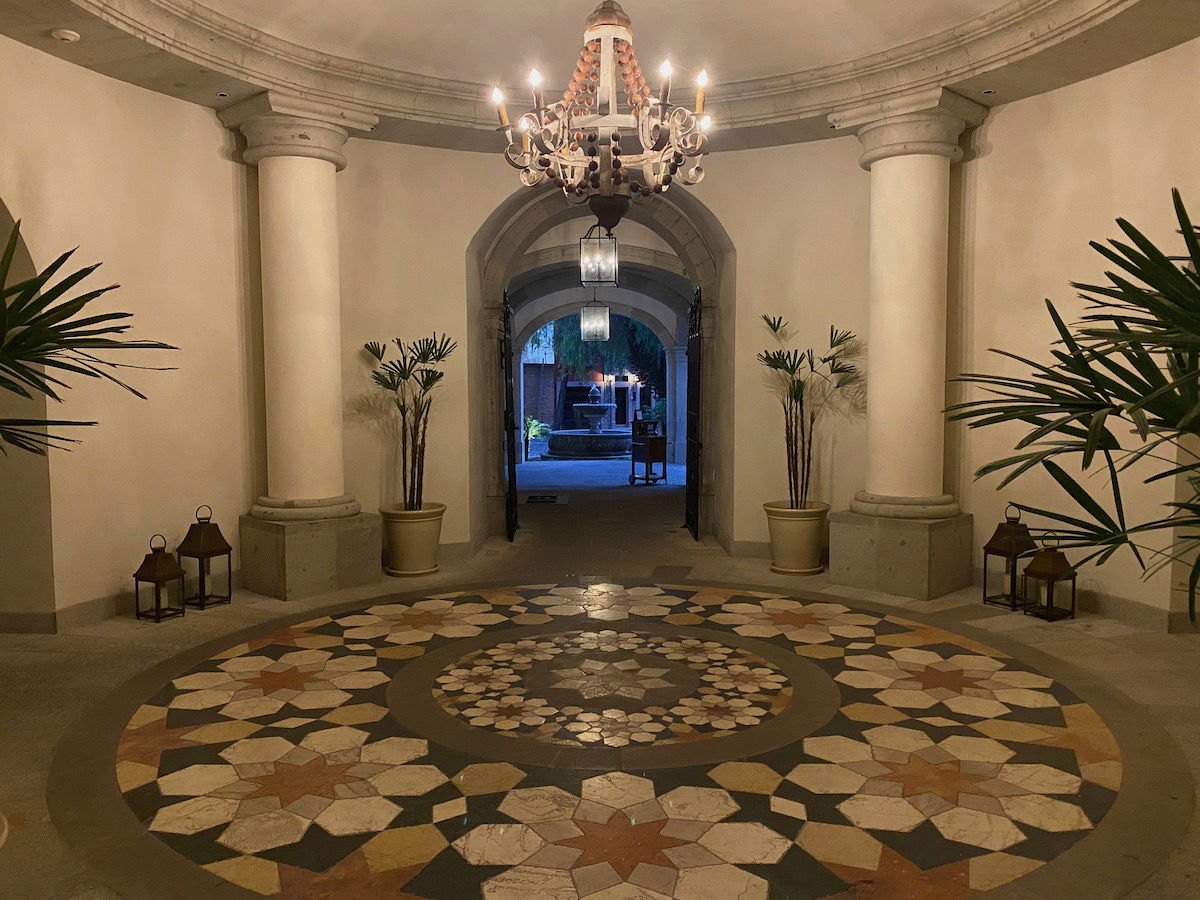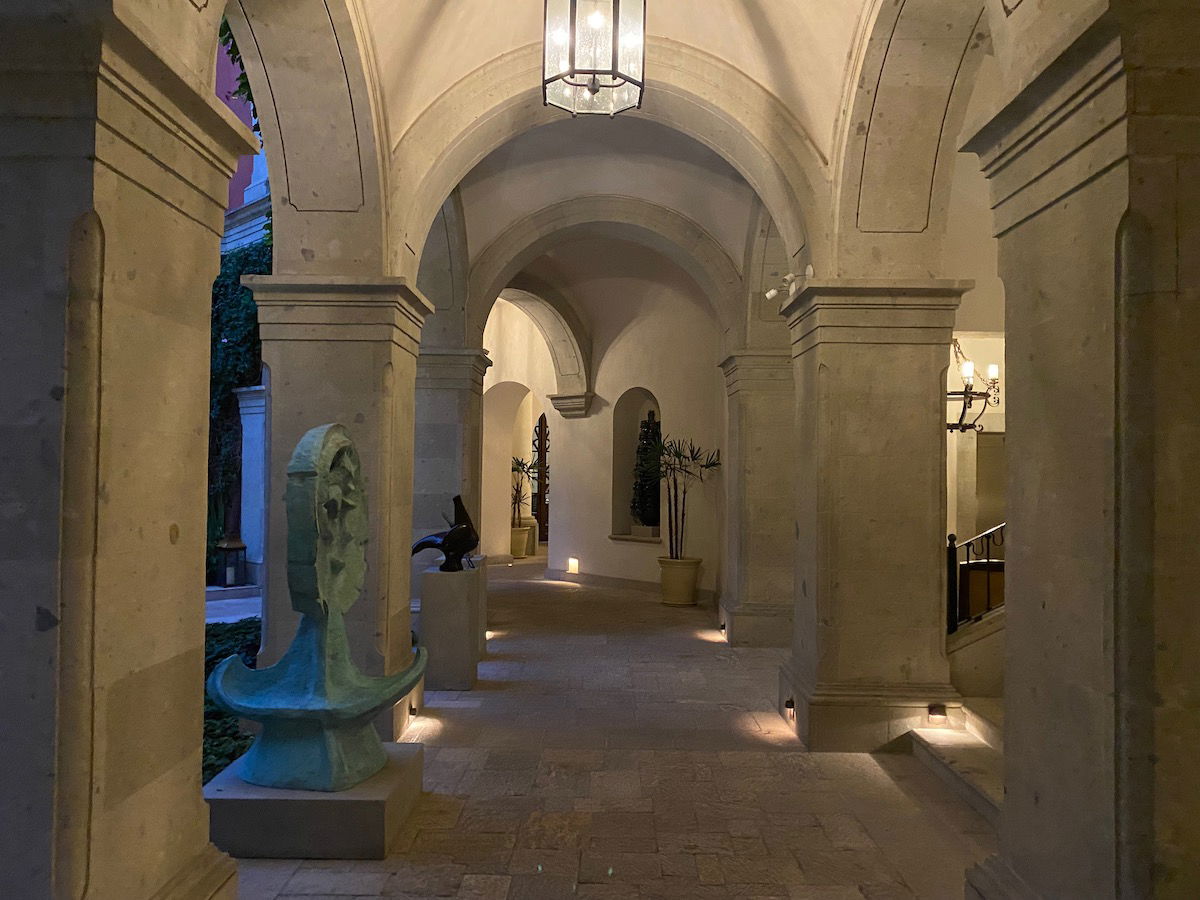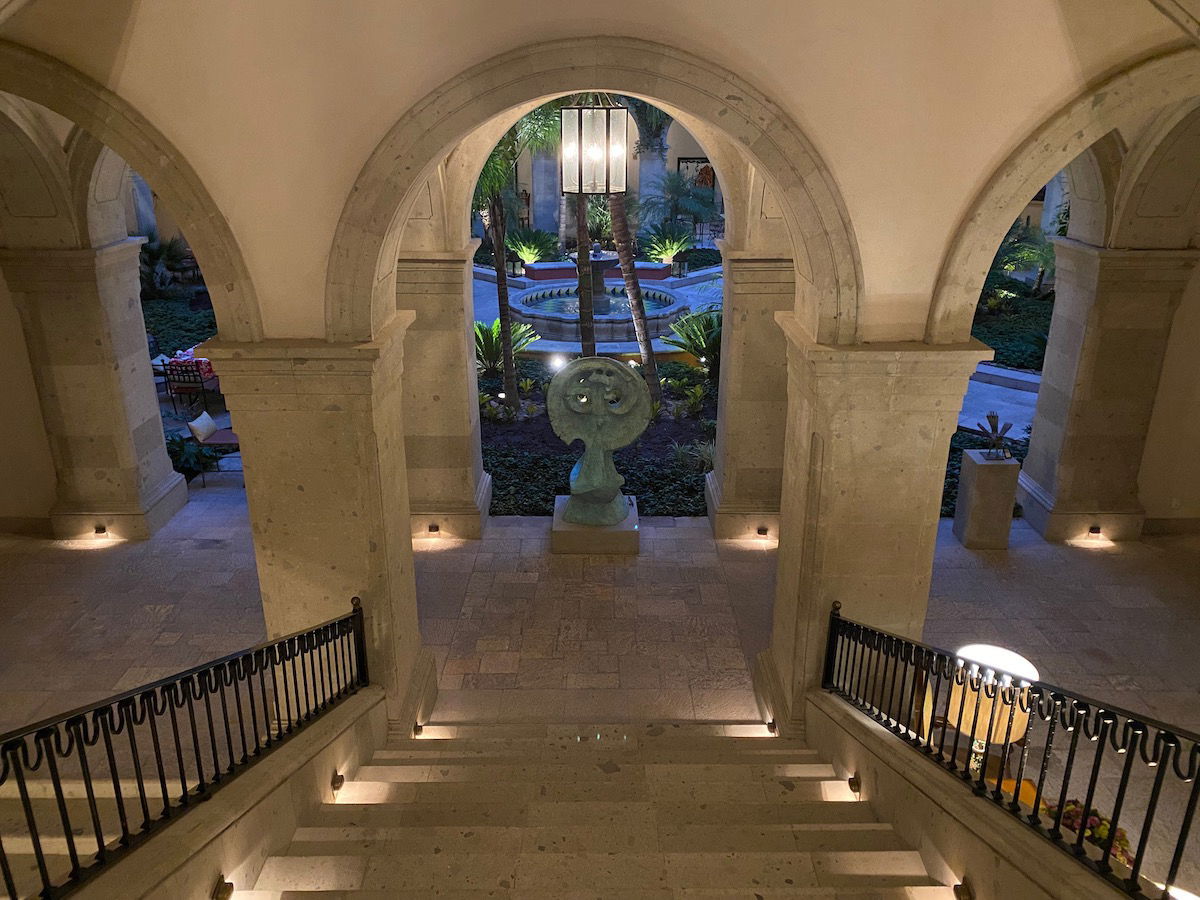 The center of the hotel is a courtyard, though I wish they'd do more to use this space, because it's pretty.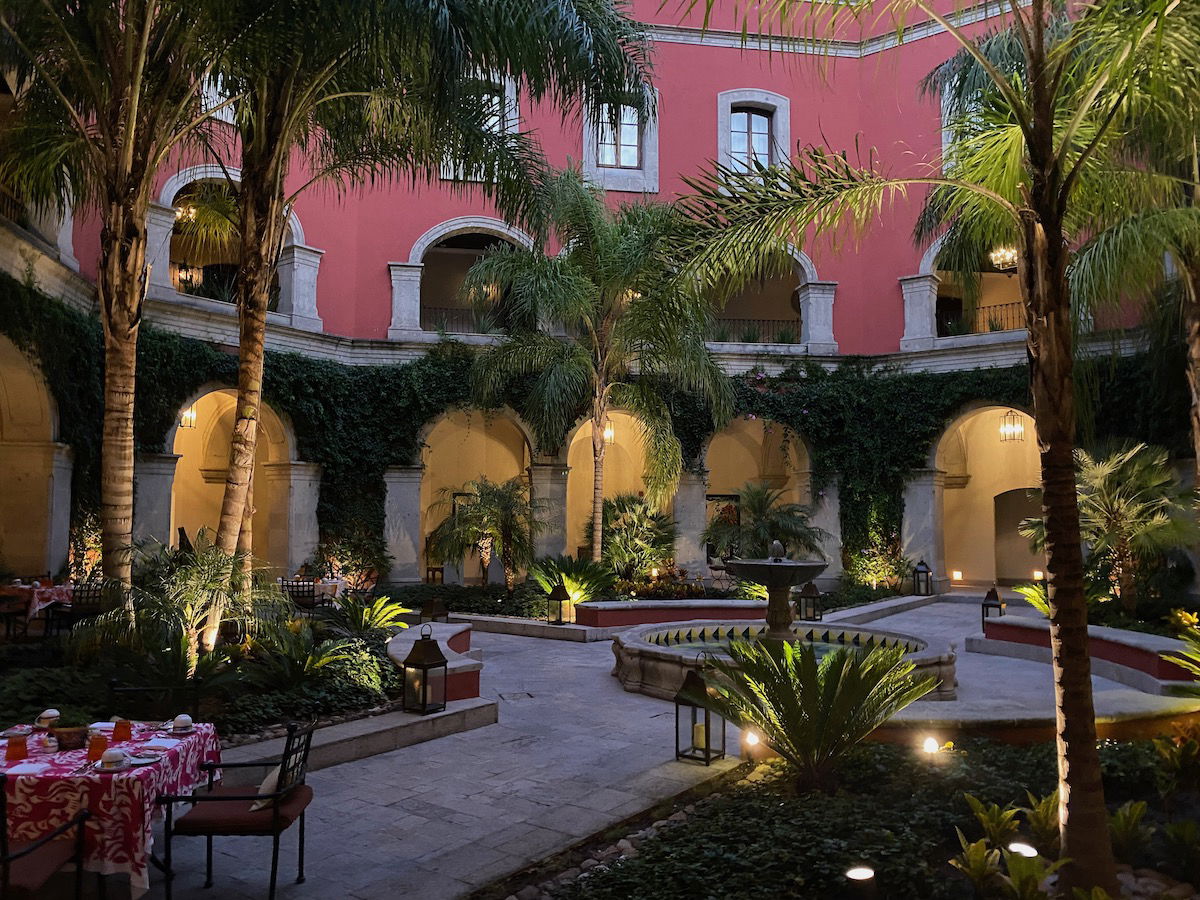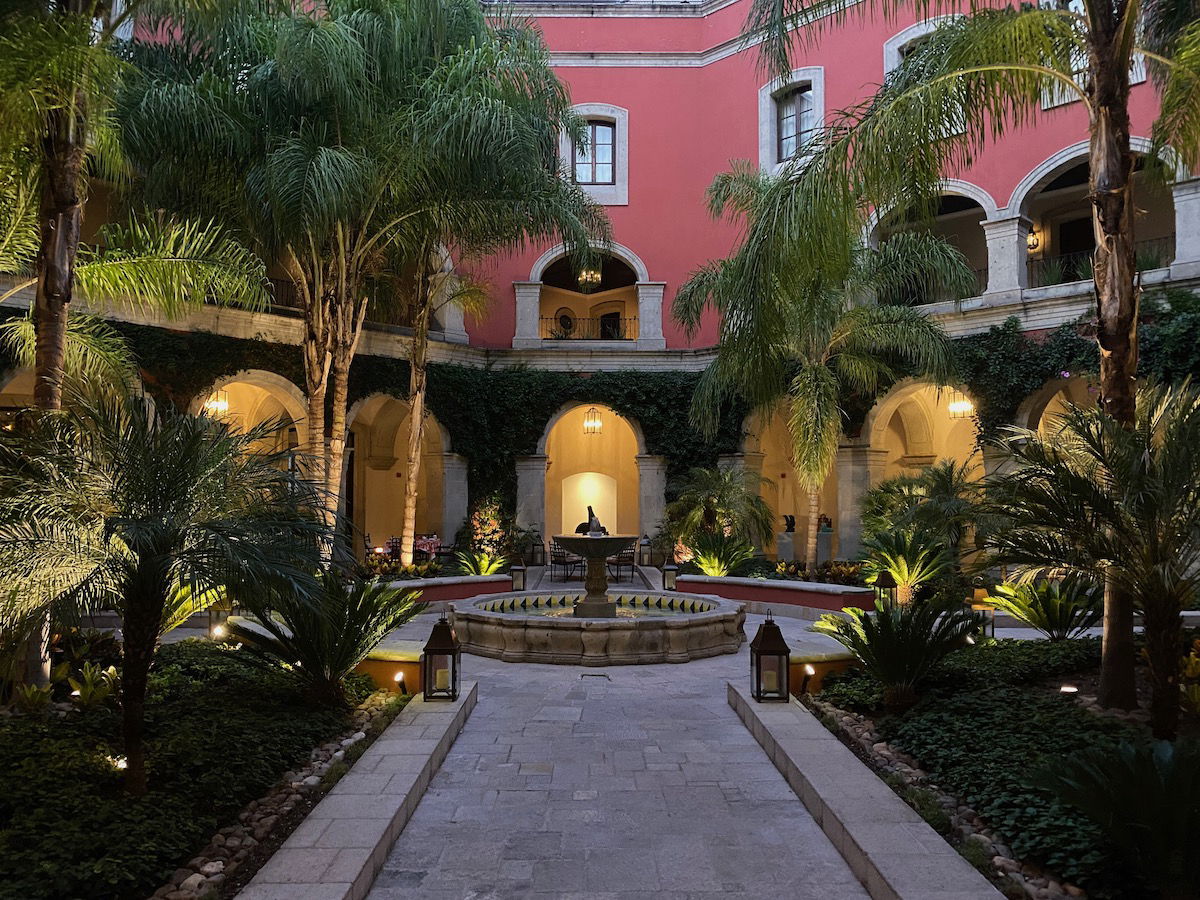 Rosewood San Miguel de Allende Rooftop Colonial King Room
We were assigned room 323, a Rooftop Colonial King Room on the third floor (the hotel has four floors). It can be a bit confusing to get around the hotel, since not all areas of a particular floor connect, so you have to be strategic about which elevator you use. The area where our room was had an exterior hallway facing the interior of the property.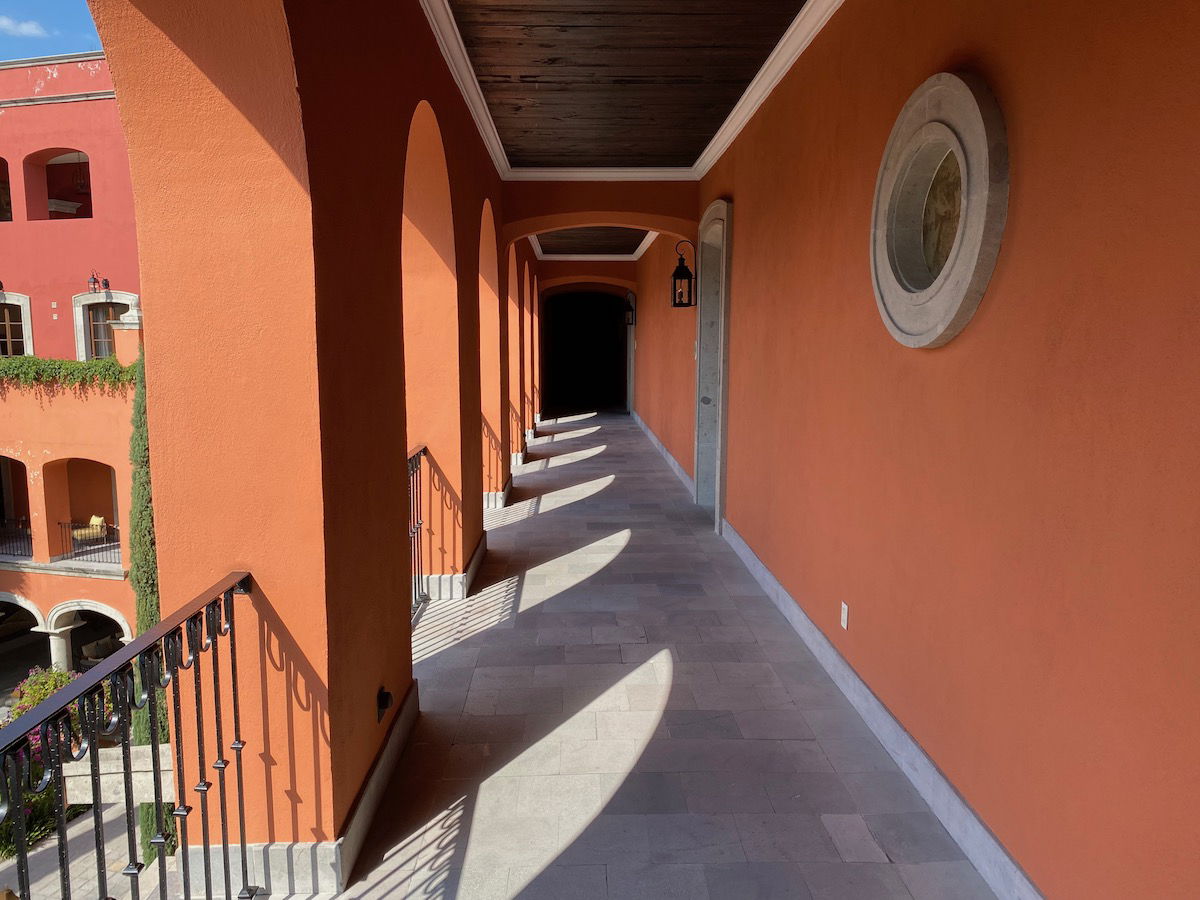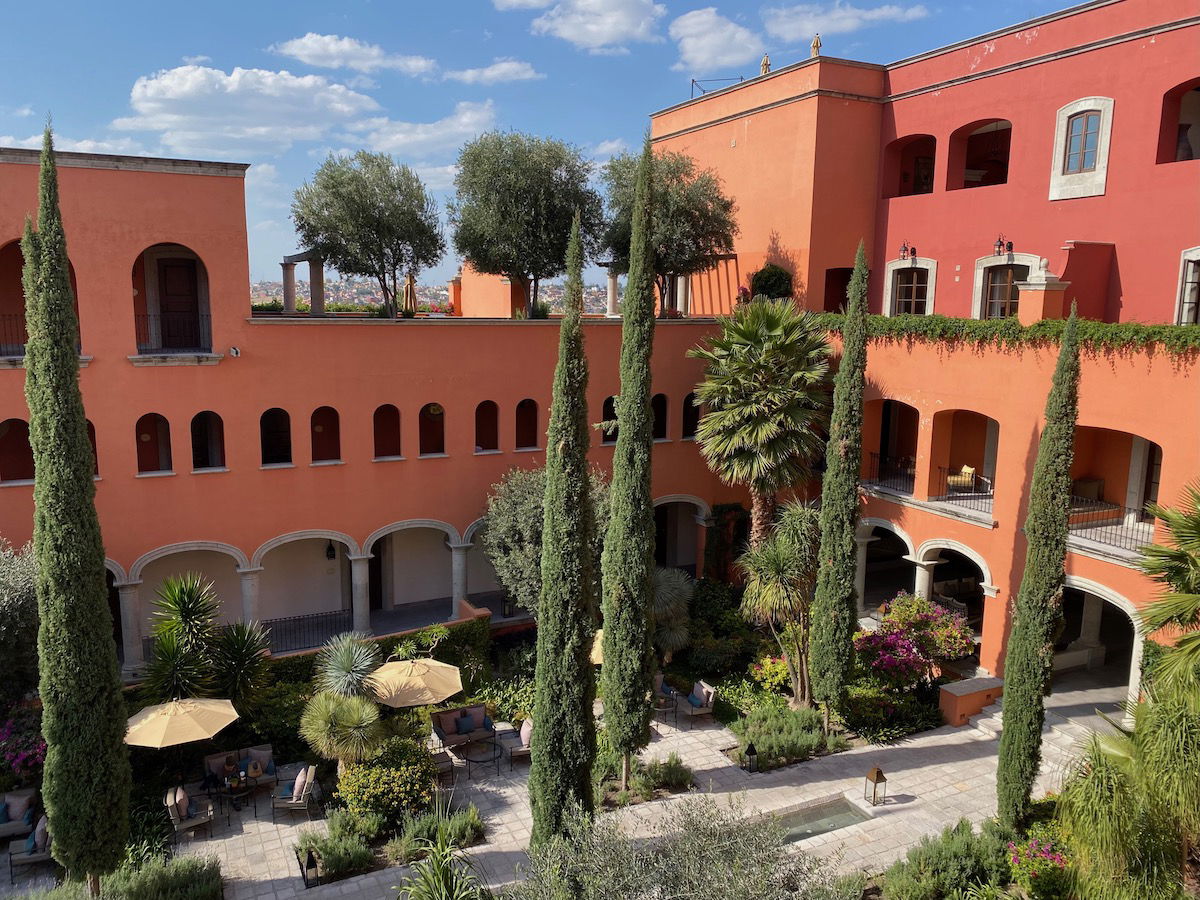 The Rooftop Colonial King Room was marketed as being 675 square feet, so the rooms here are a generous size, especially since standard rooms are basically the same size. The room featured an entryway with most of the room straight ahead, the closet to the right, and the minibar to the left.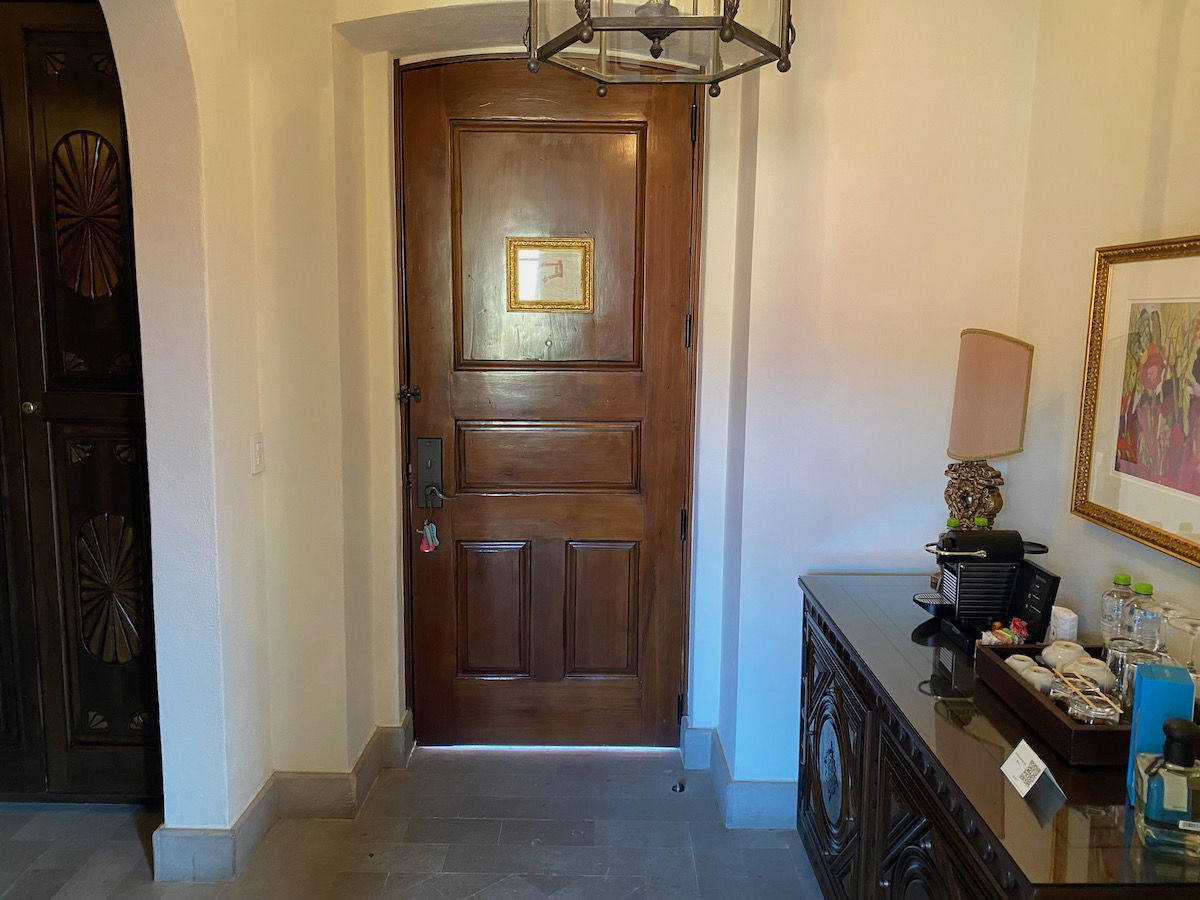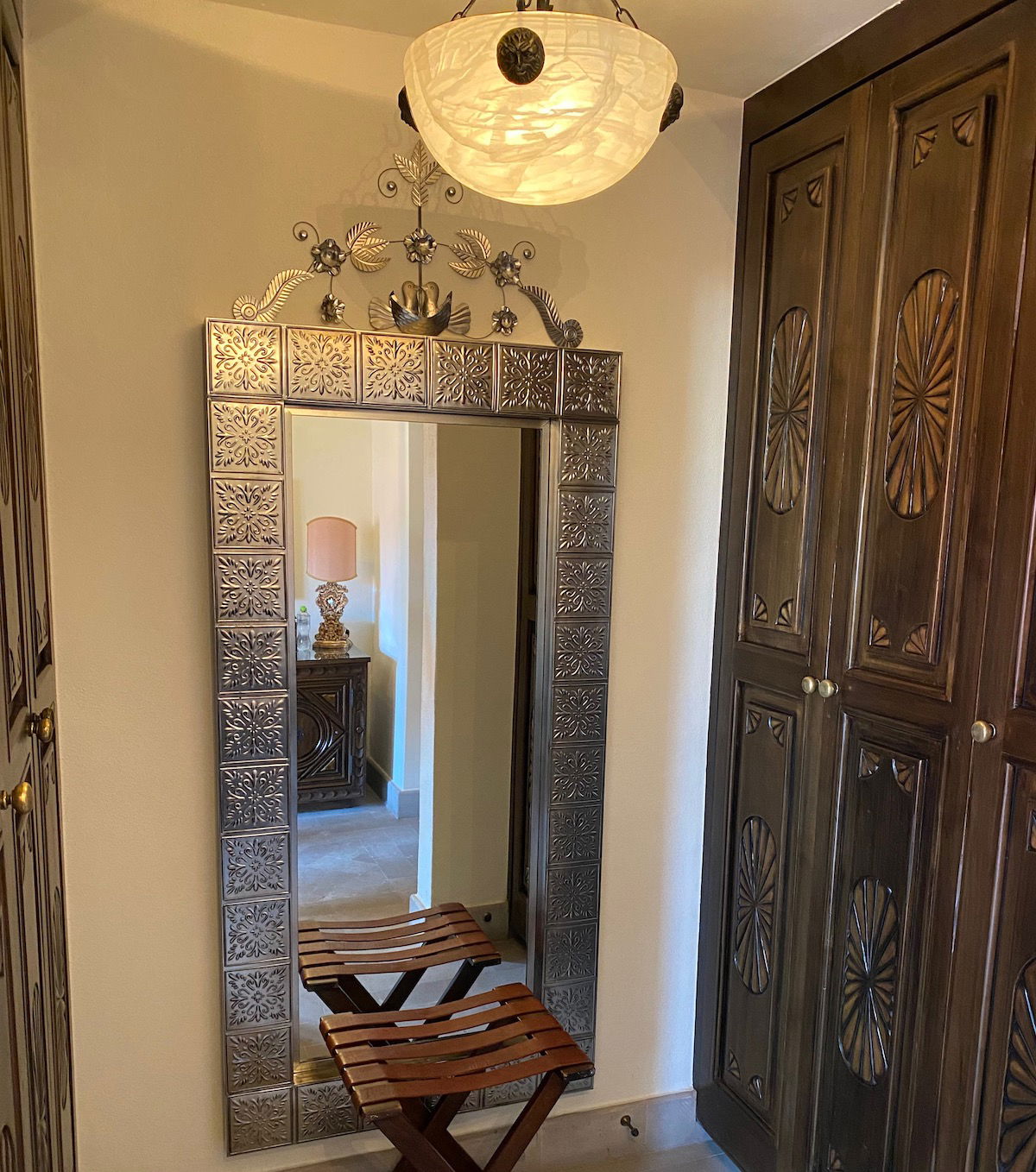 The minibar had a Nespresso coffee machine, plus all kinds of drinks and snacks for purchase.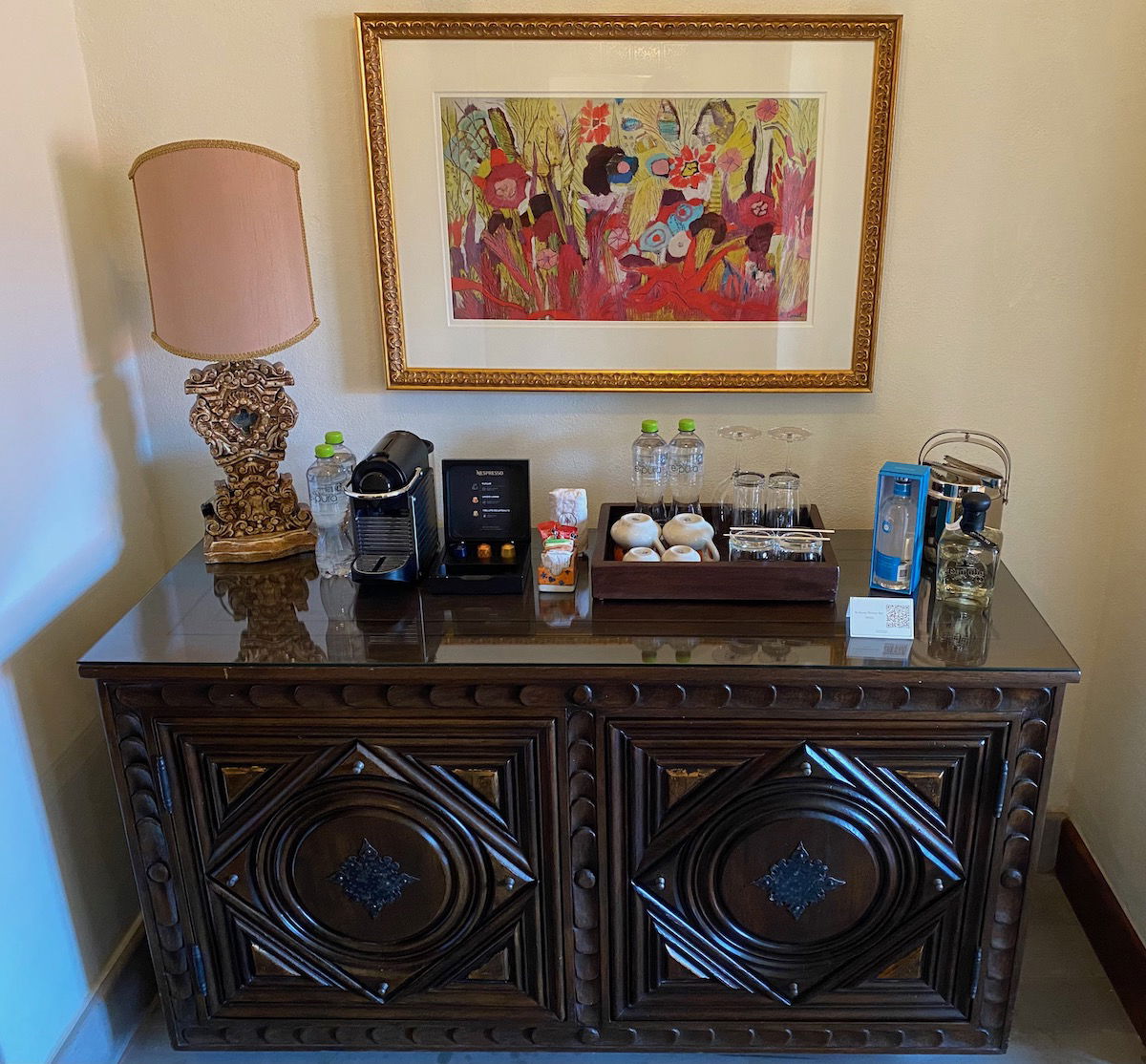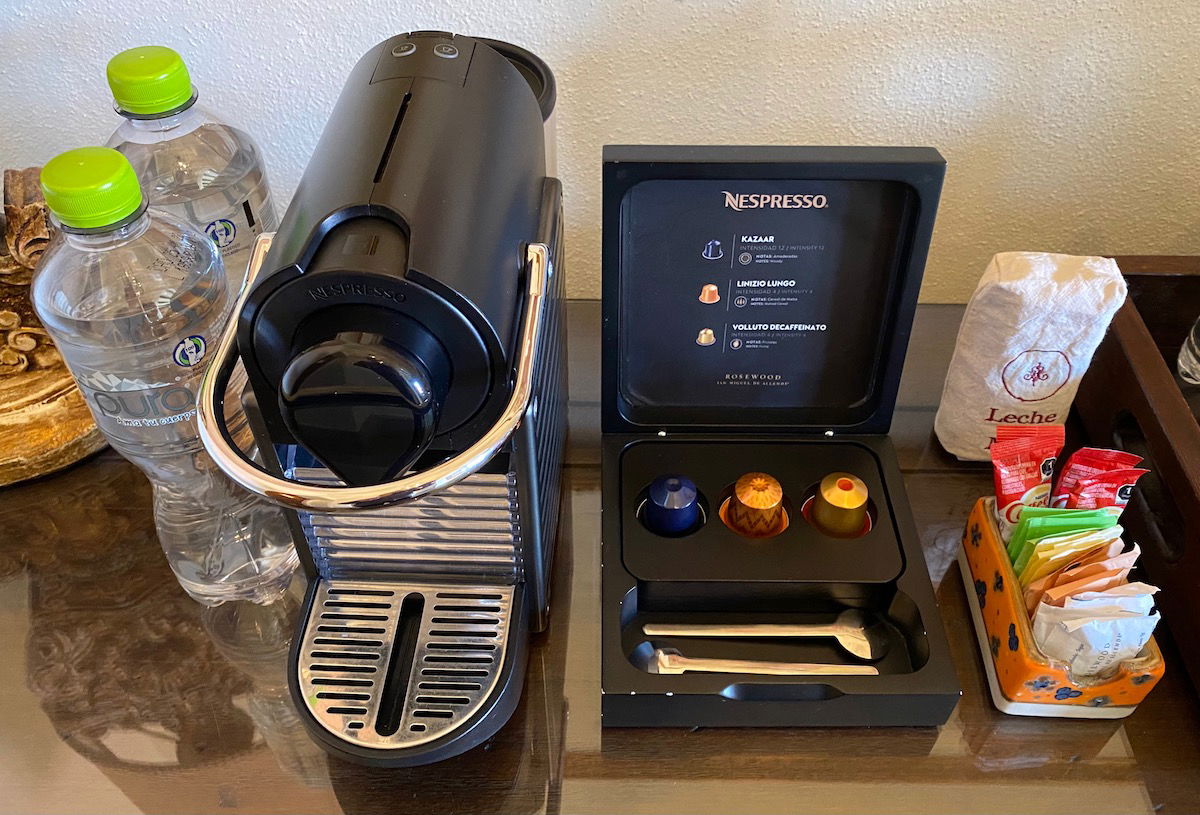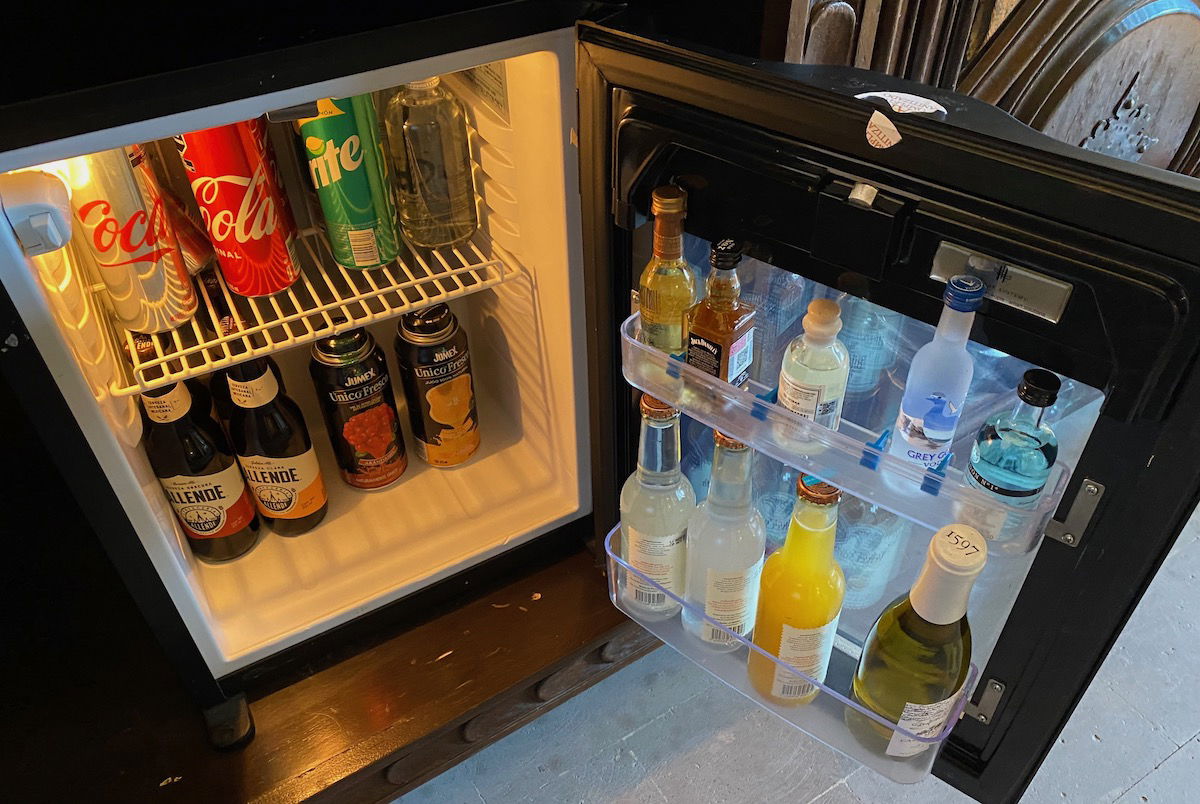 I'd describe the room as being a junior suite, in the sense that it had a dedicated sitting area, but there was no real separation between the living and sleeping areas.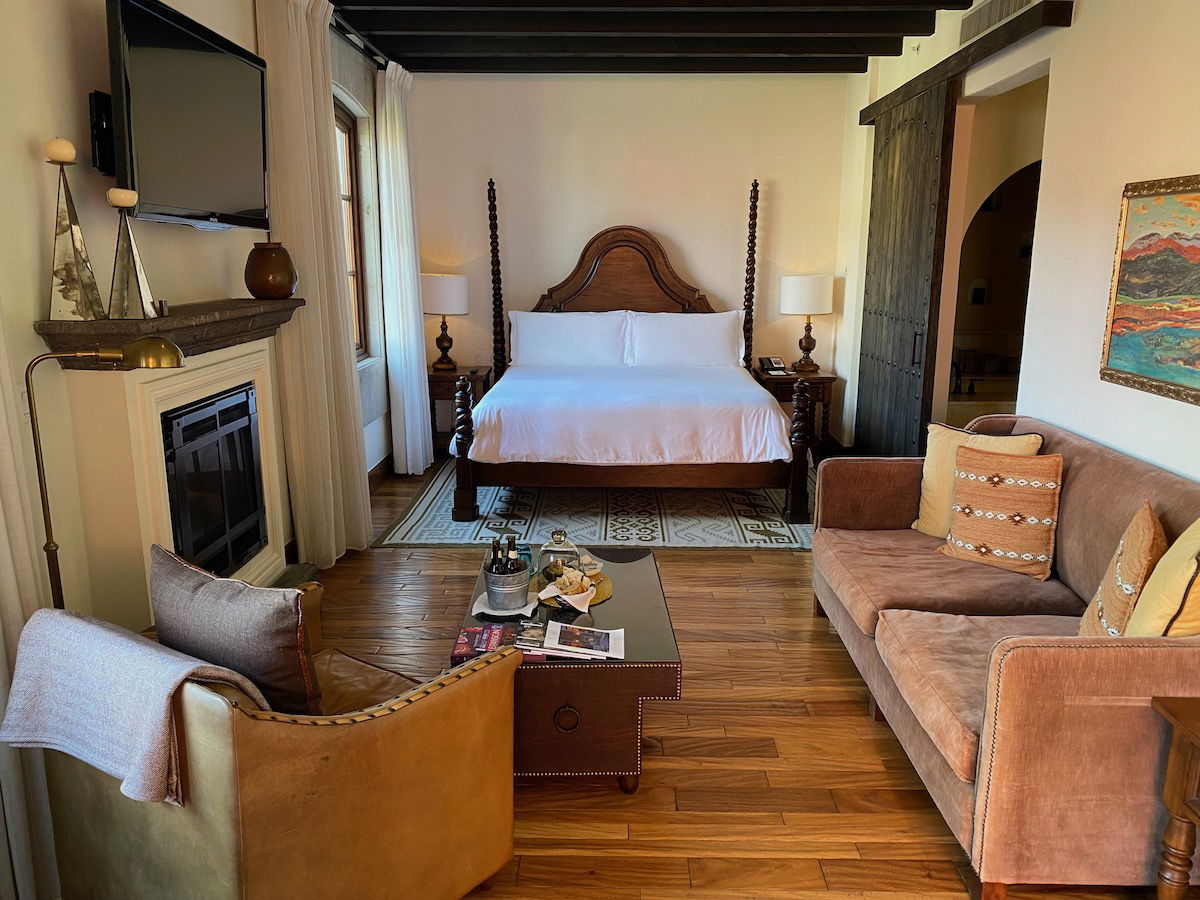 Inside the entrance was a couch with a chair and coffee table, plus a desk with two chairs closer to the door.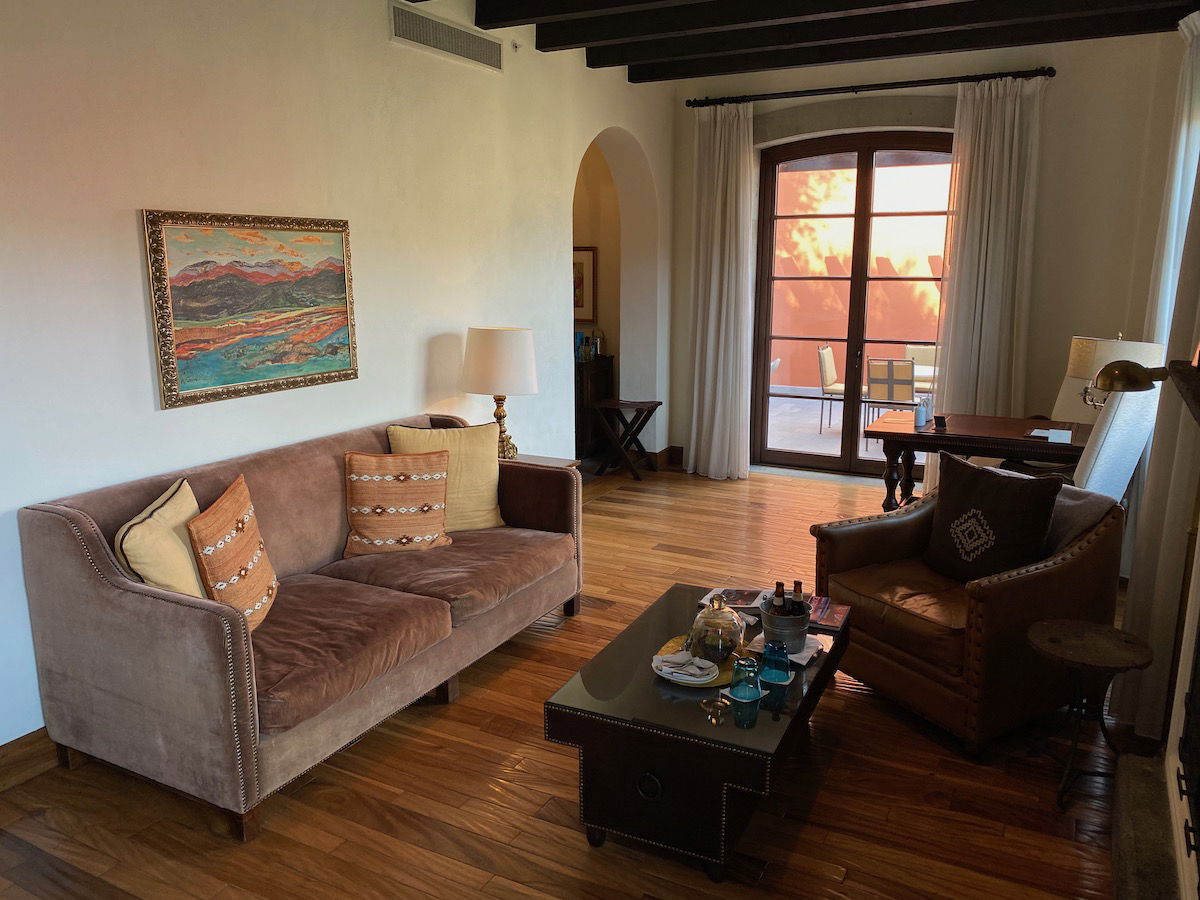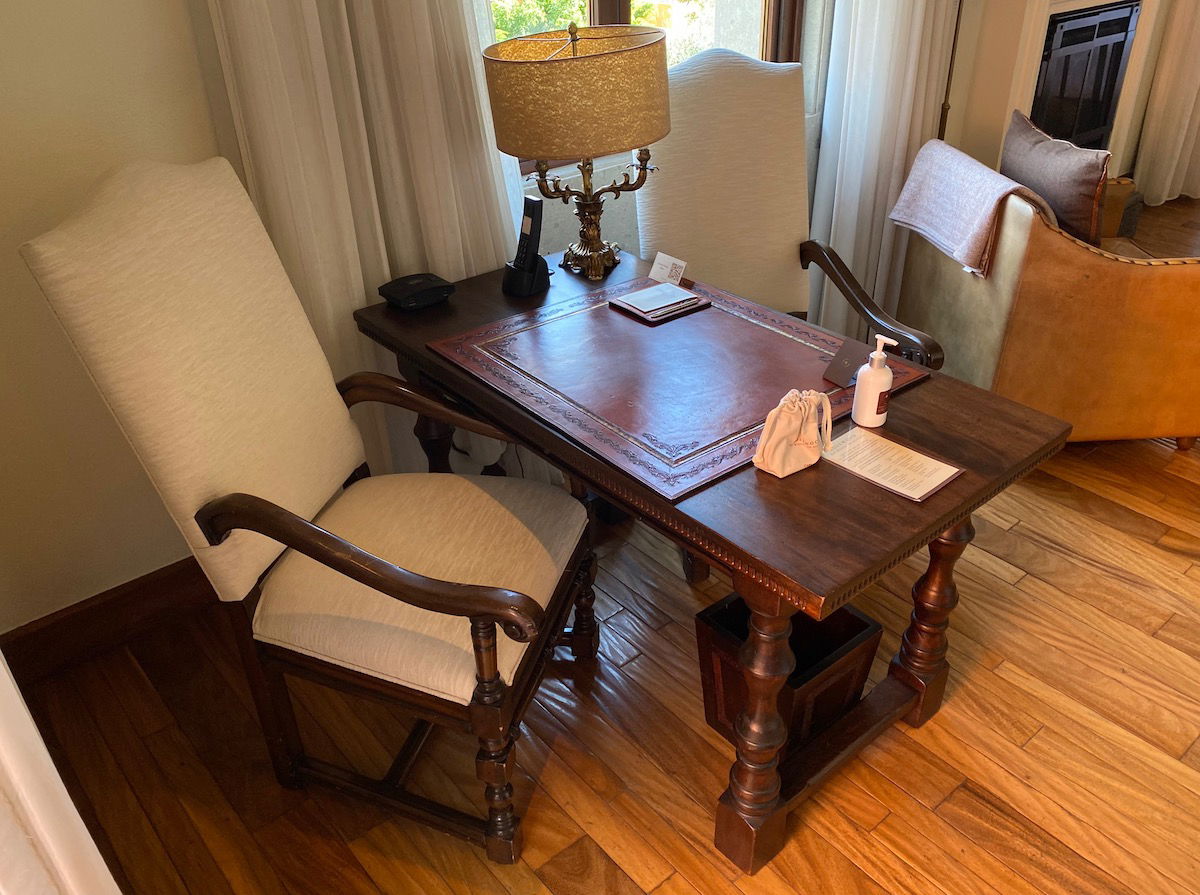 The living area featured a wall-mounted TV, plus a fireplace. I sure do love a room with a fireplace, especially at a destination that experiences as much temperature variation as San Miguel de Allende (the town is at an altitude of over 6,200 feet, so it gets hot during the day and cold at night).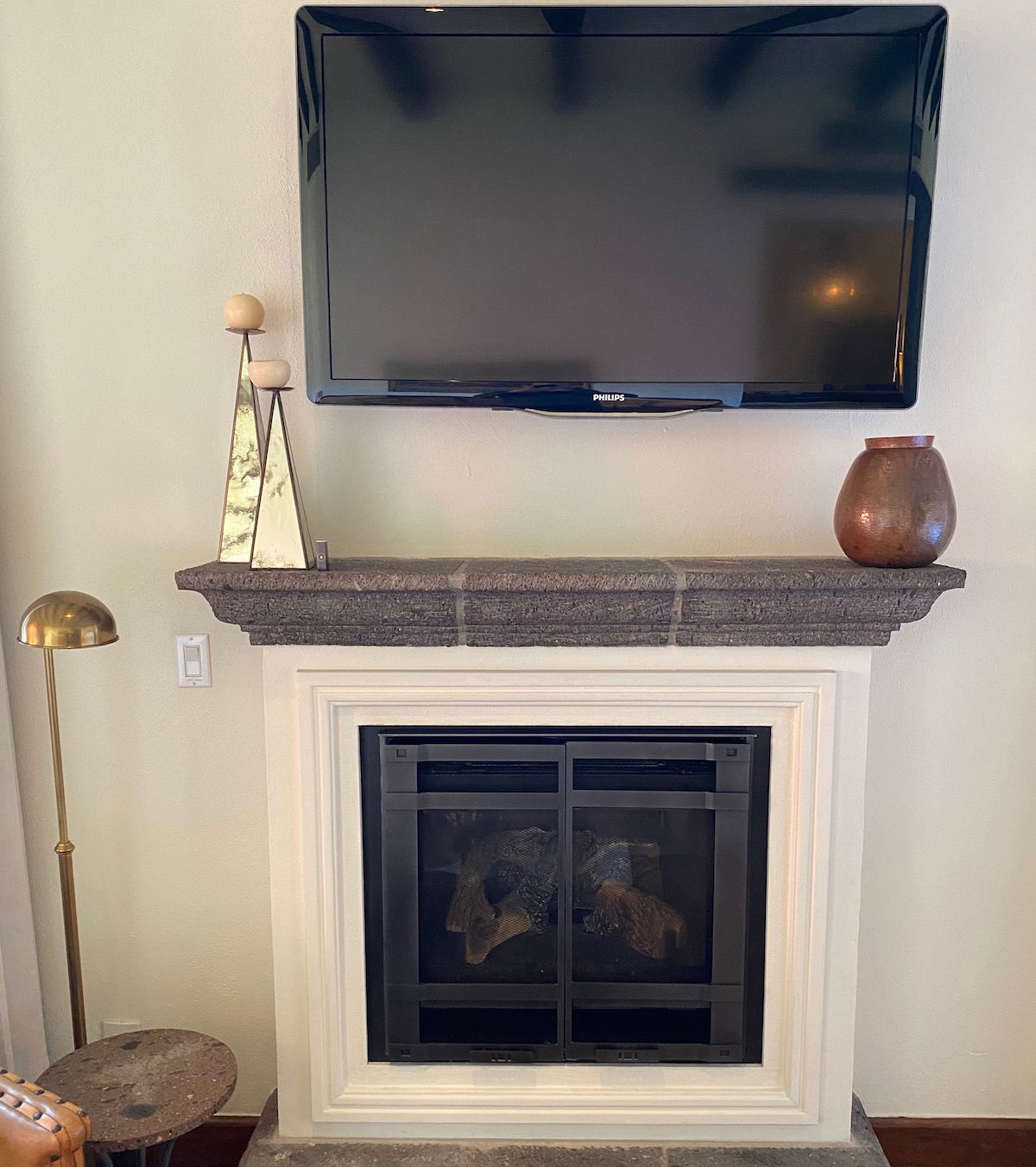 Waiting on the table was a welcome amenity consisting of a couple of beers, plus some fresh guacamole and chips.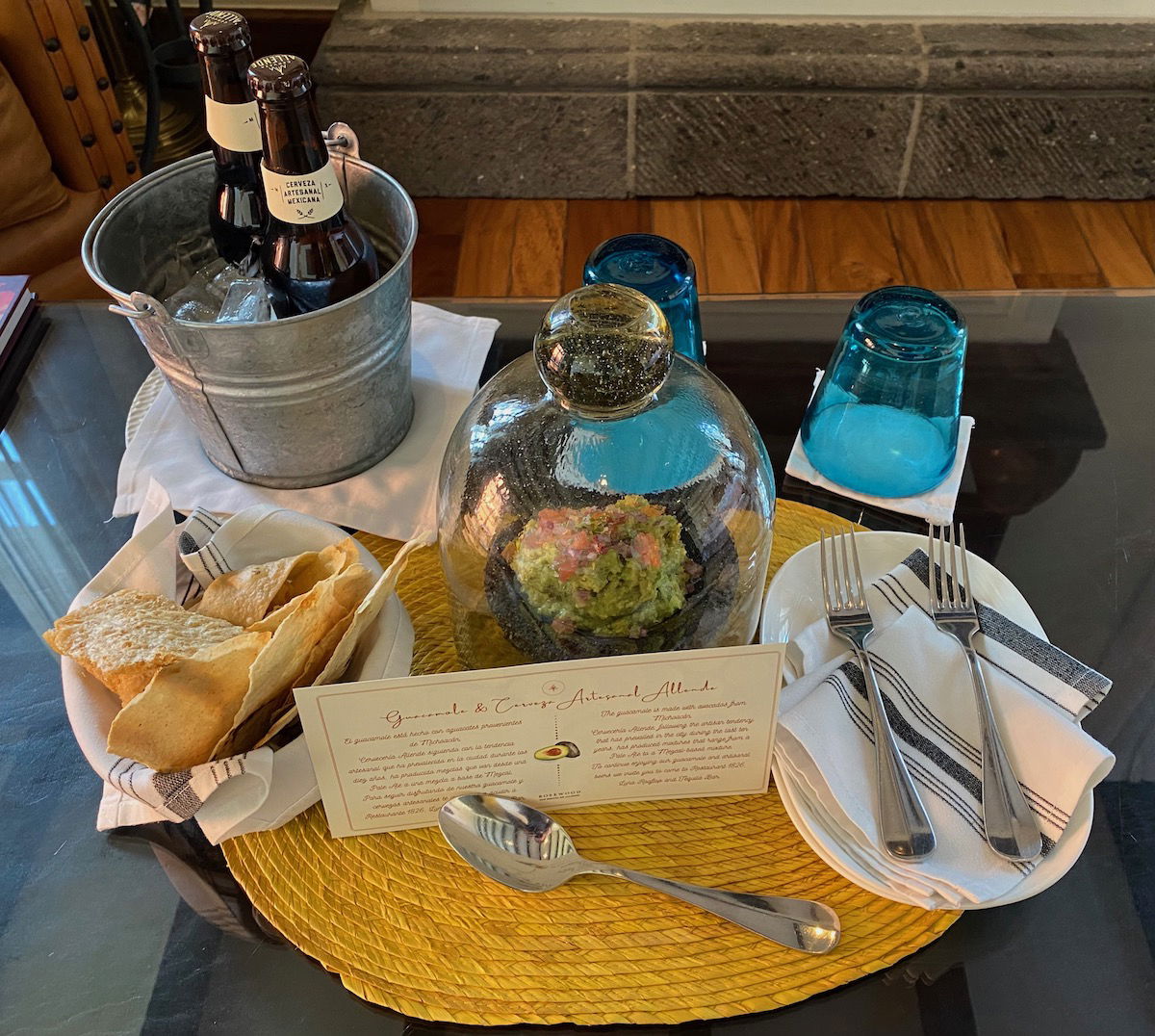 The king size bed was on the firm side, though had comfortable pillows.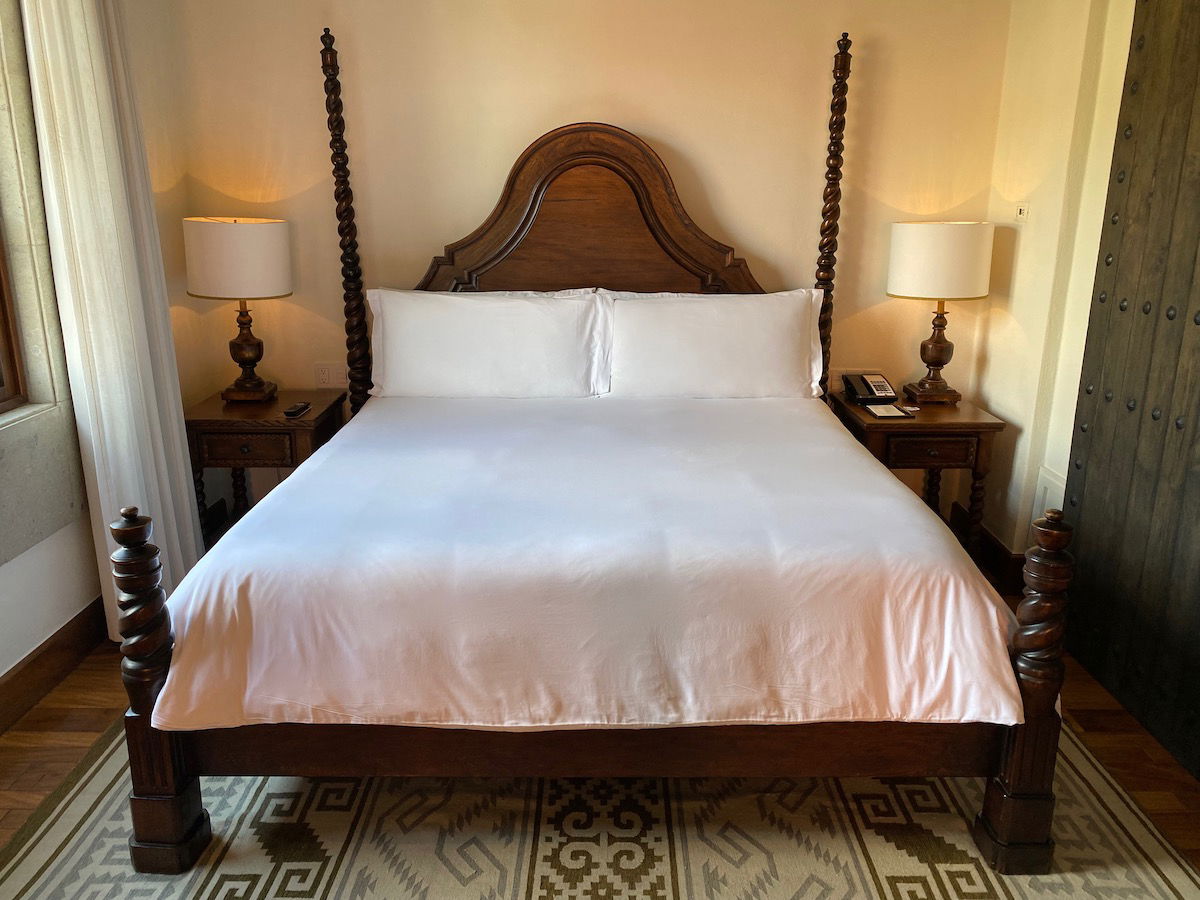 There was a heavy sliding door separating the bedroom from the bathroom. The bathroom had double sinks, a soaking tub, a walk-in shower, and a toilet.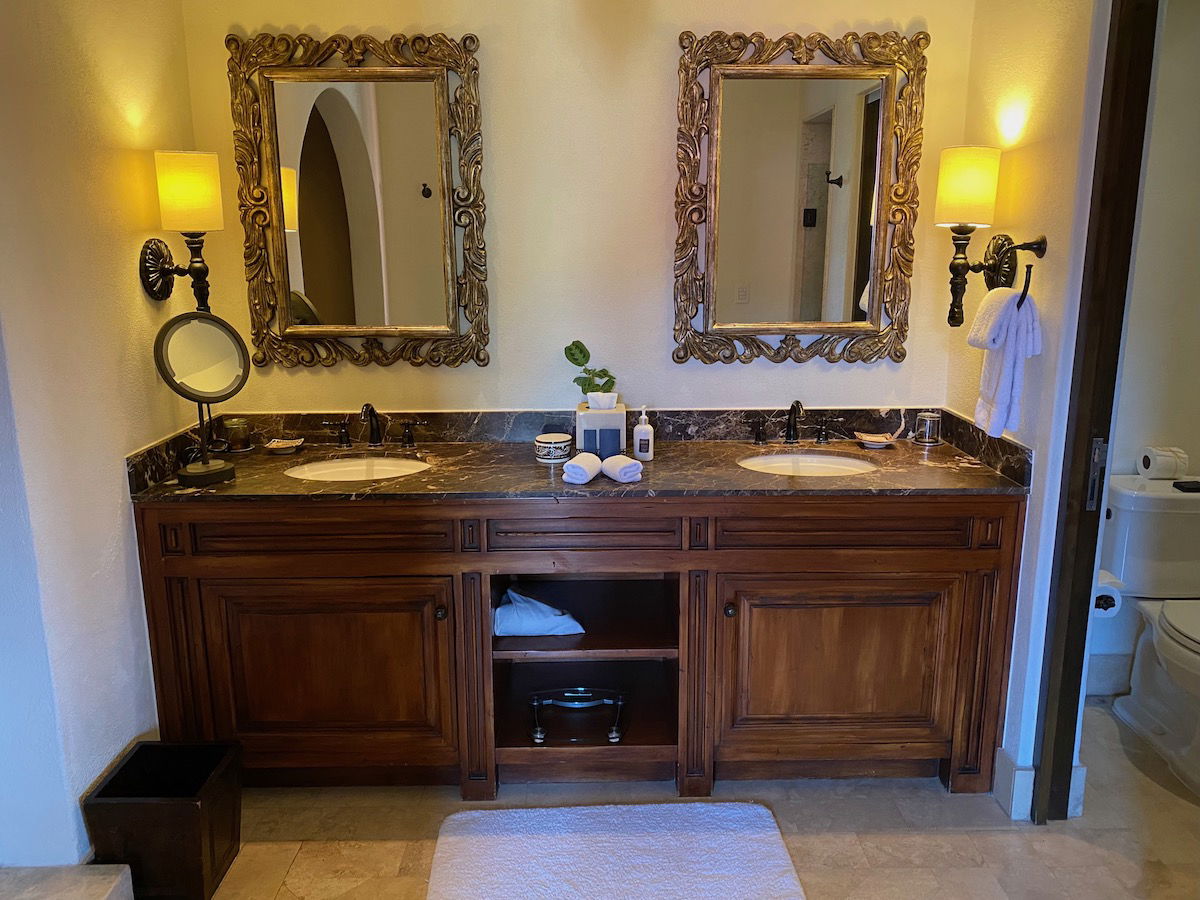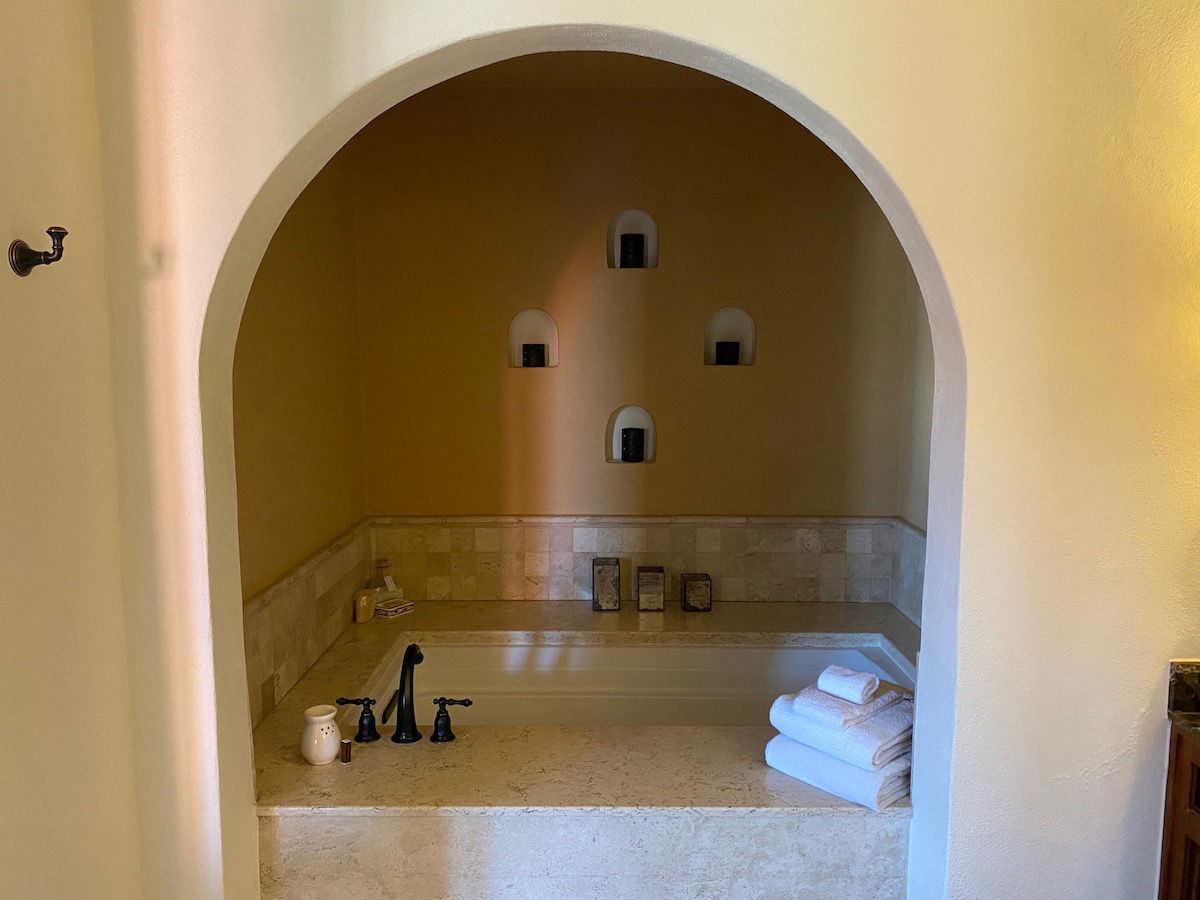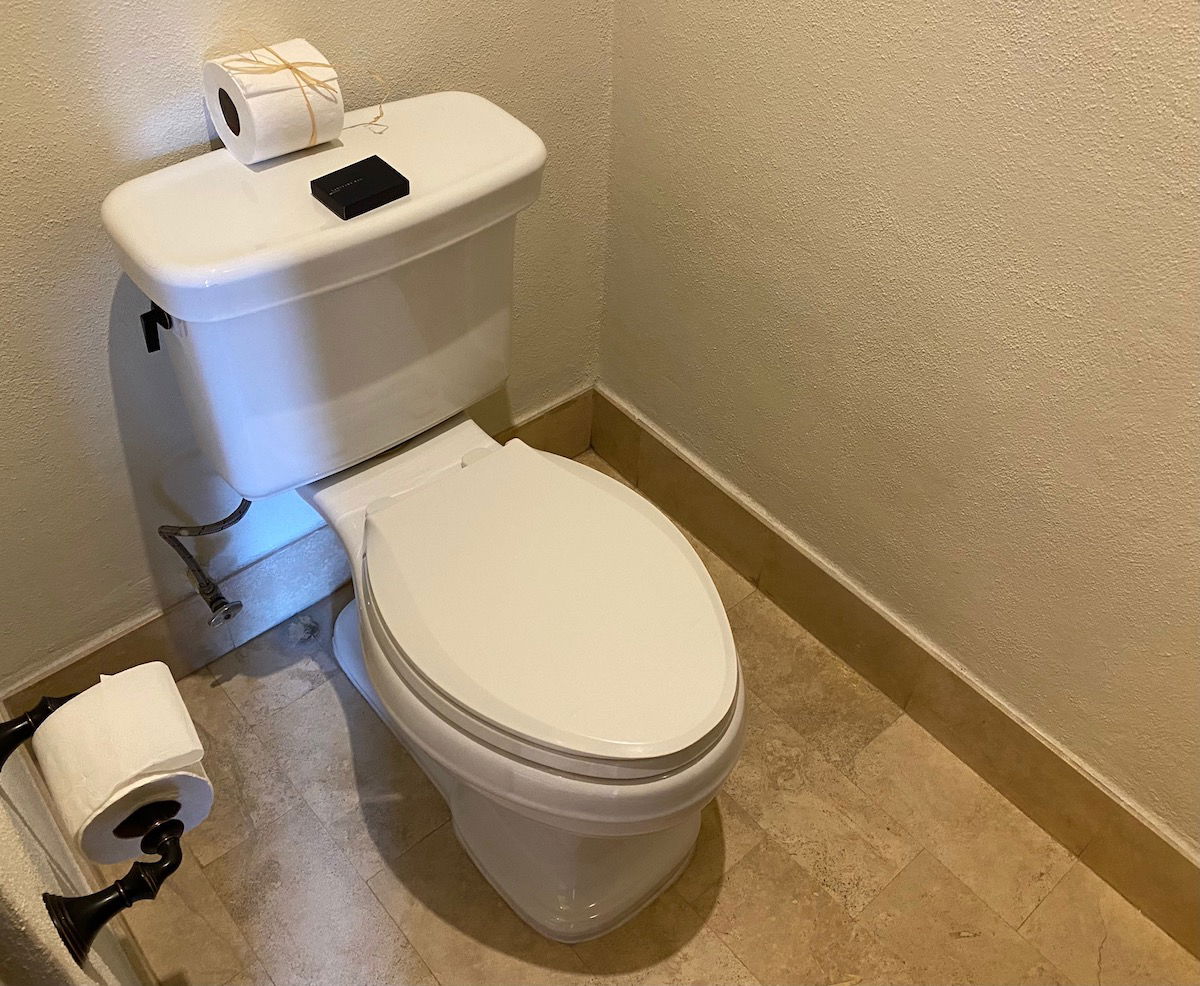 It seems like the hotel could invest in higher end shower heads, especially as the one in our room was spraying water in all directions.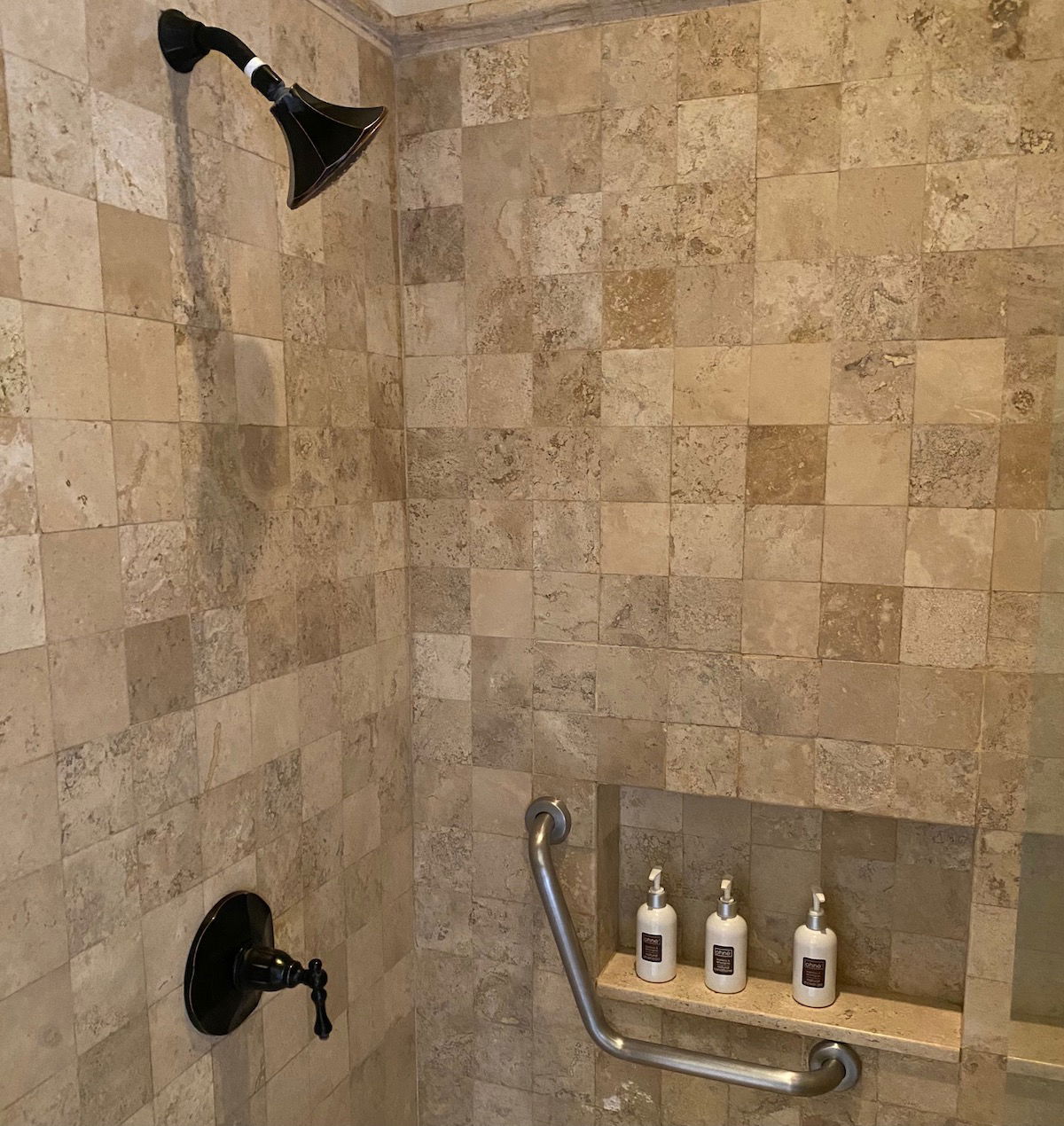 Toiletries were in reusable containers, and featured products from Ohne, a brand I've never used before.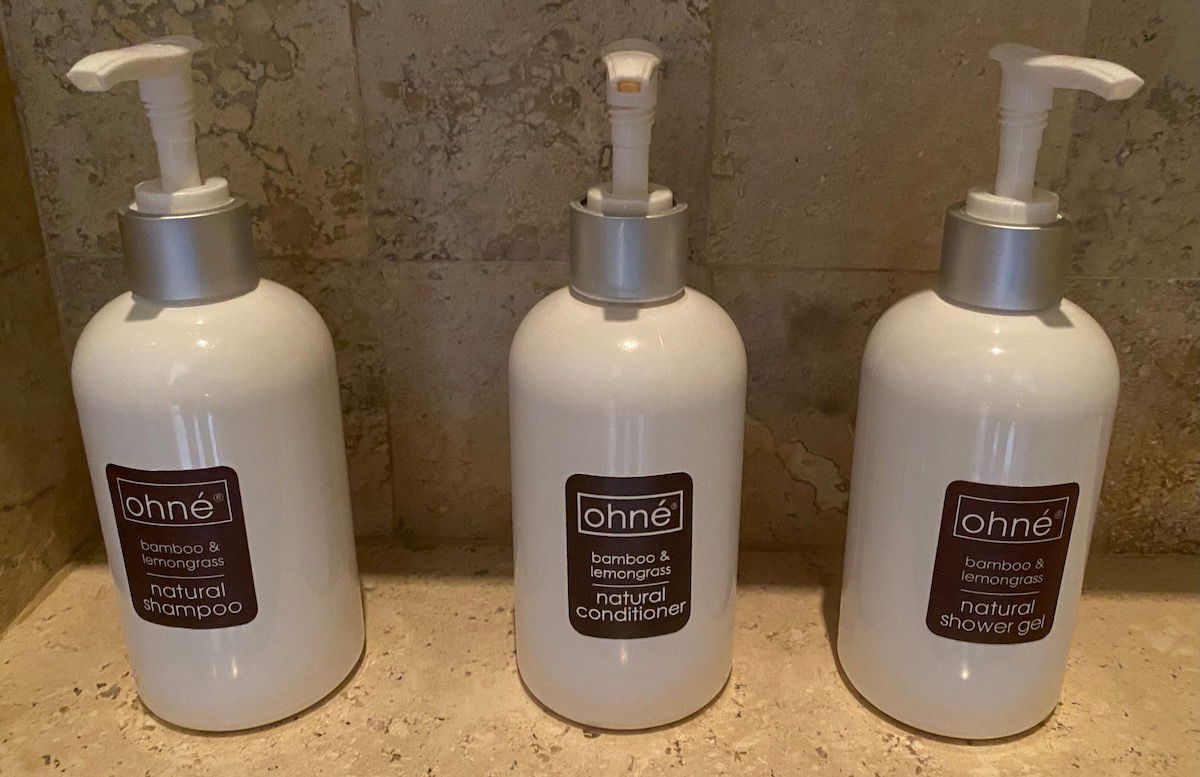 The main thing differentiating our room from others was the rooftop terrace. The terrace featured a table with four chairs, plus two sun loungers. The terrace didn't have much in the way of views of town, as it faced the interior of the property, plus some hills in the background. Furthermore, it lacked sunlight, given the high walls on three sides of the terrace.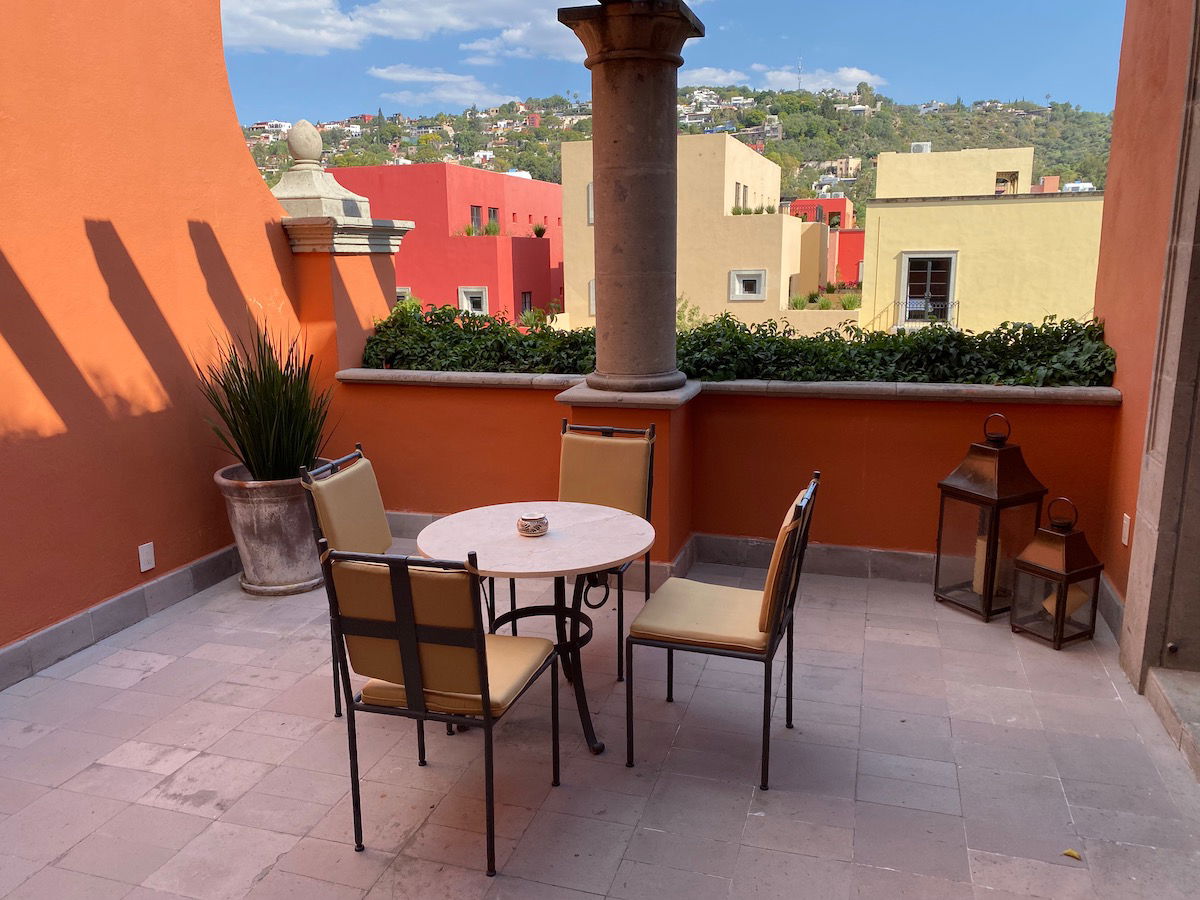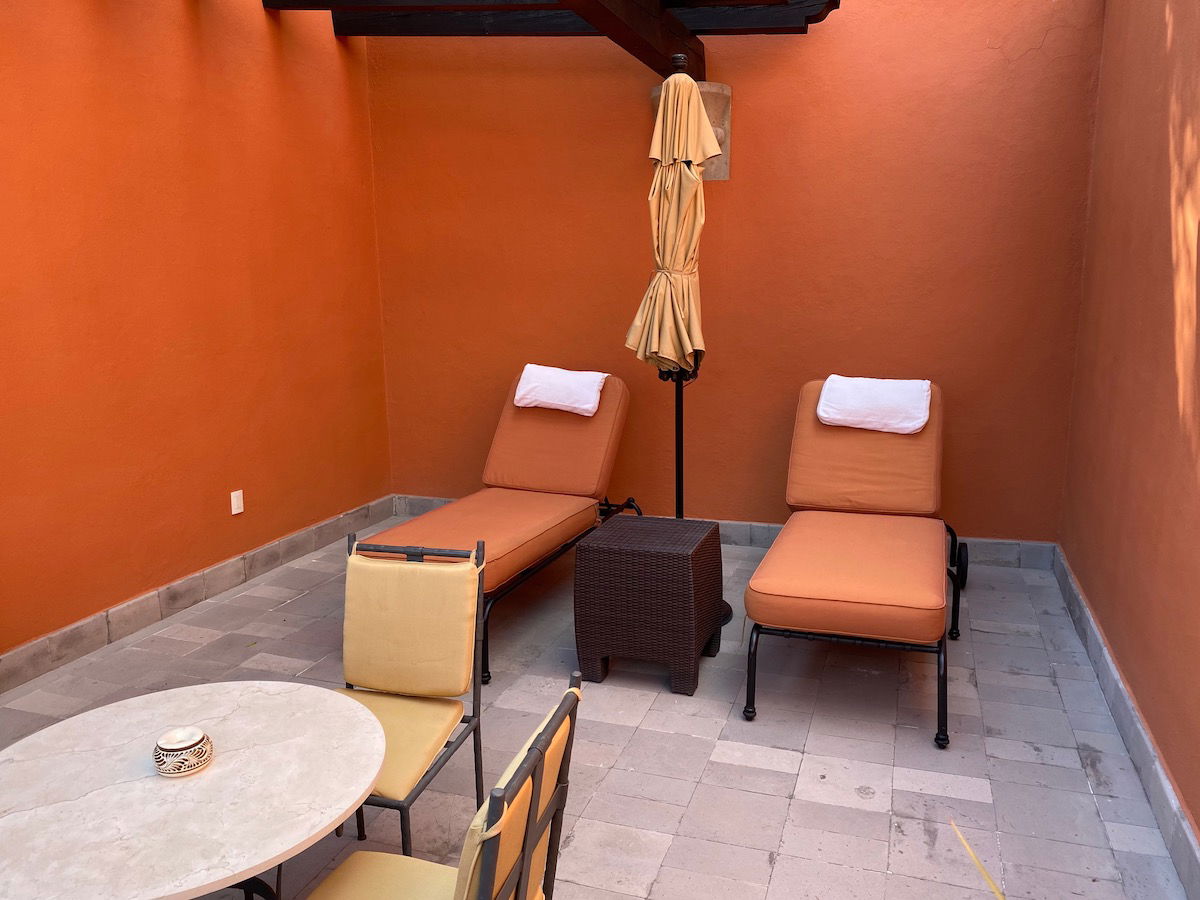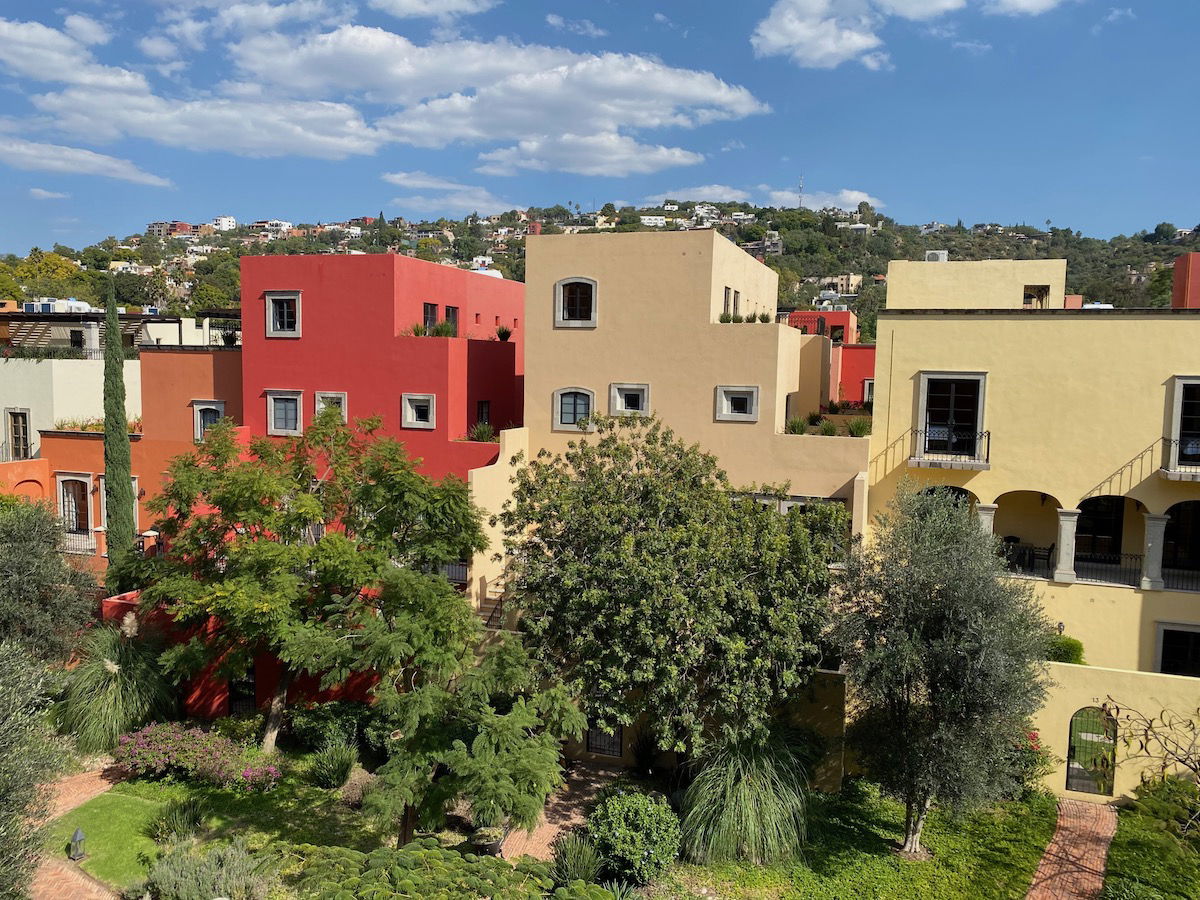 All-in-all I thought the room was spacious and had a great sense of place. I will say that I think the room almost photographs better than it looks in real life. The room was starting to feel slightly past its prime, but I'm not sure that's captured in the pictures. The hotel opened in 2011, and I'm guessing it hasn't been renovated since then, so many things felt a bit worn.
Rosewood San Miguel de Allende room categories make no sense
I wouldn't recommend booking a Rooftop Colonial King at the Rosewood San Miguel de Allende. Why? Because the lower room category is better. Ford's mom was also staying at the hotel, and she booked a standard Colonial King Room, and was upgraded one category to a Deluxe Colonial King Room, on account of having booked through Rosewood Elite. Her room was immediately beneath our room, and the interior was identical.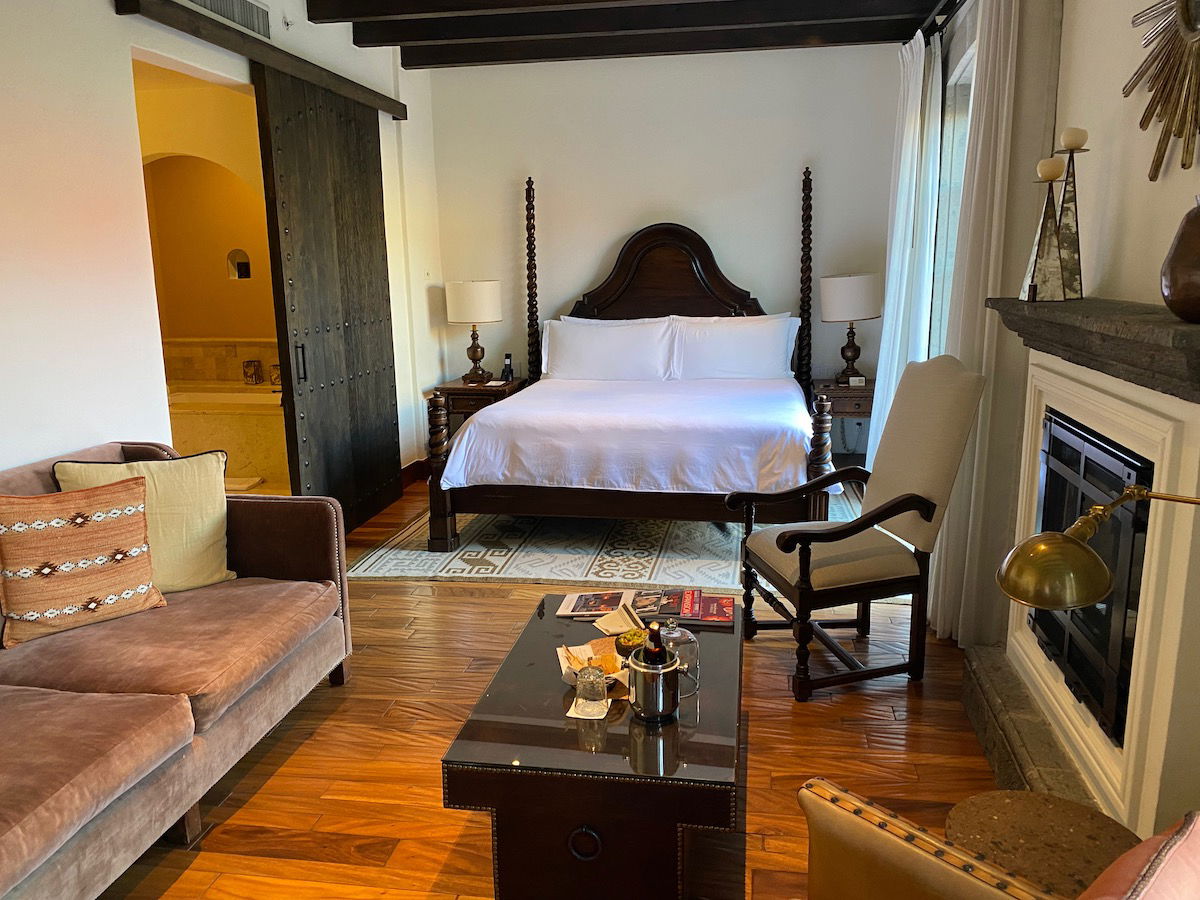 You know that beautiful rooftop terrace we paid extra for? Well, the Deluxe Colonial King Room has a way bigger terrace — probably 3x as big as the terrace our room had — and it had a lot more natural light.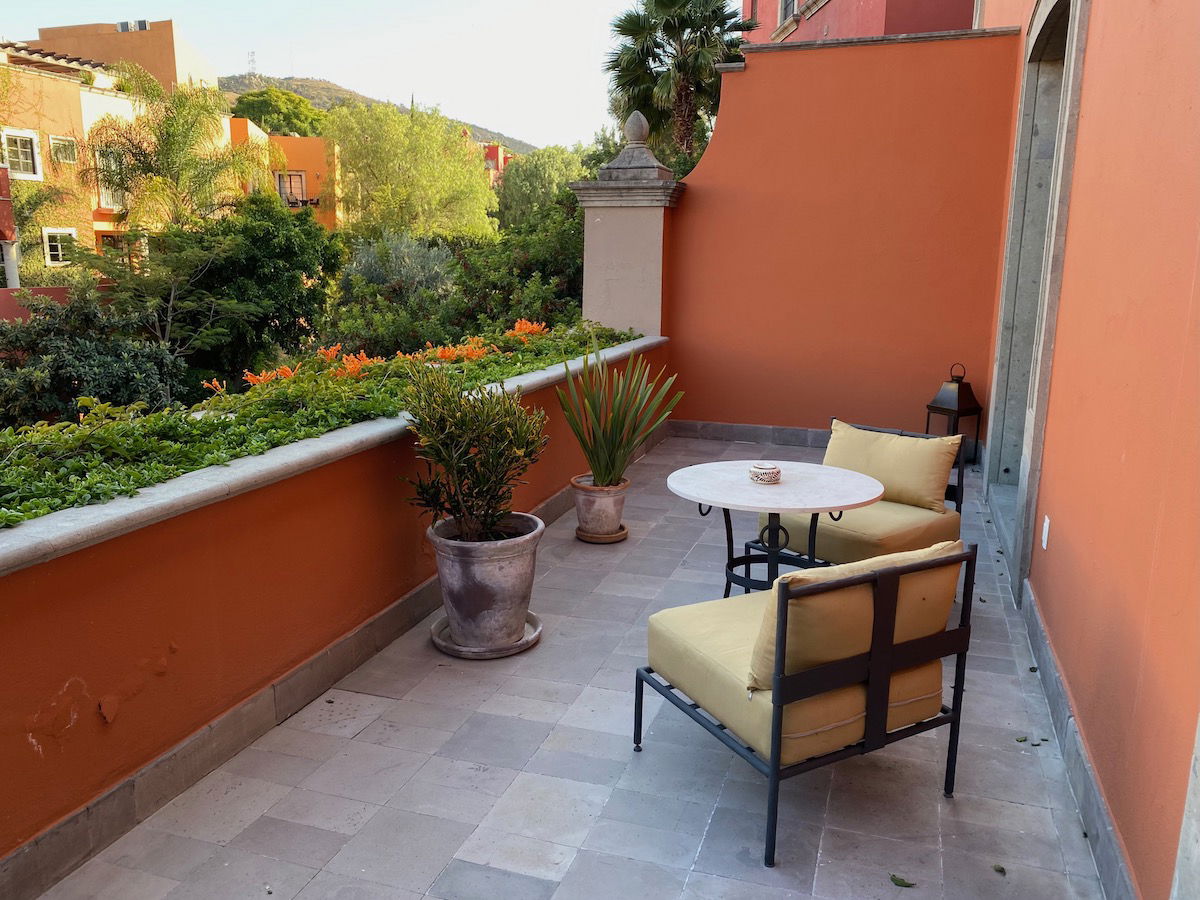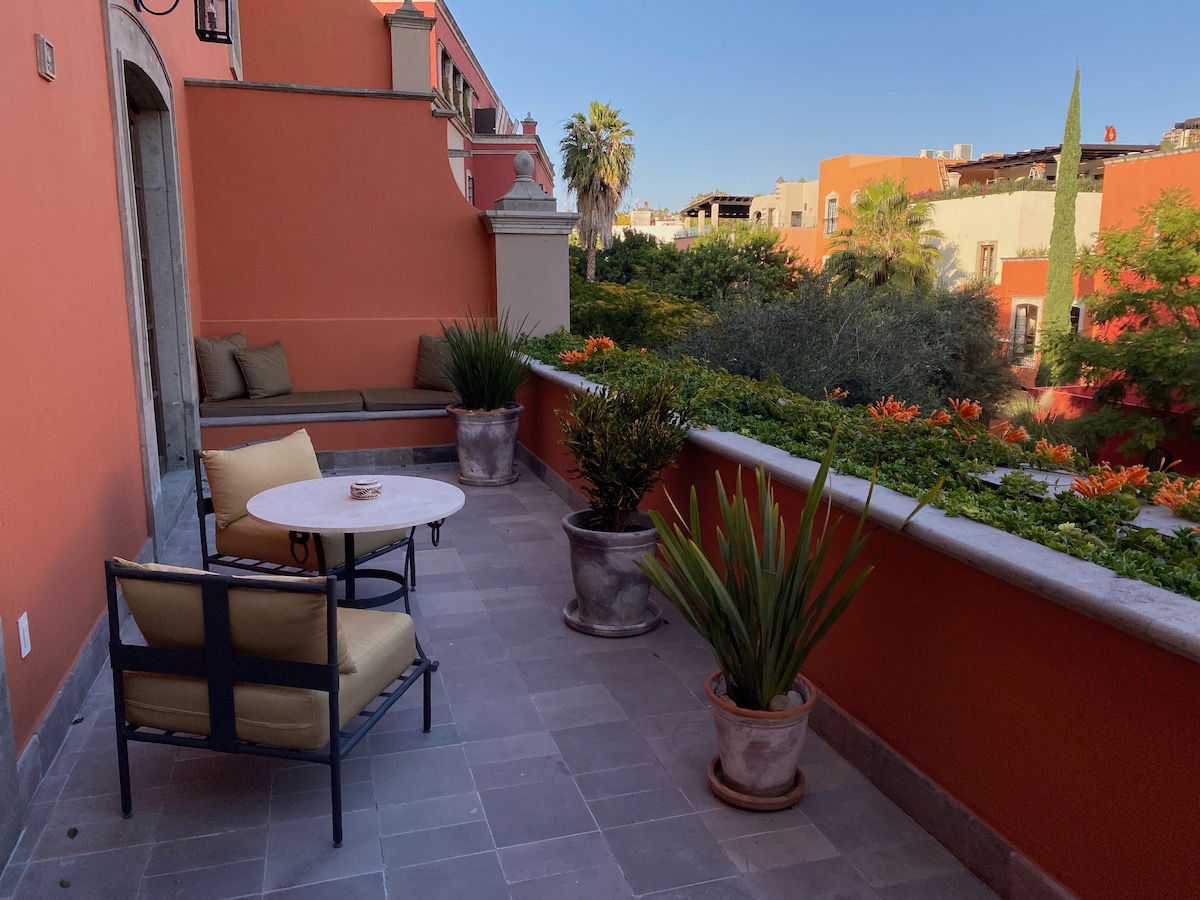 I mean, I suppose some might like being one floor up and getting a slightly more panoramic view, but I'd pay extra for the Deluxe Colonial King over the Rooftop Colonial King any day, even though that's the inverse of how rooms here are priced. Am I the only one?
Rosewood San Miguel de Allende Luna Rooftop Tapas Bar
The Rosewood San Miguel de Allende has several food & beverage outlets, the most popular of which is Luna Rooftop Tapas Bar. As the name suggests, this is located on the rooftop, which is the fourth floor. Luna is open from the early afternoon until late at night, and serves lunch, dinner, snacks, and cocktails. There's even in a DJ in the evenings.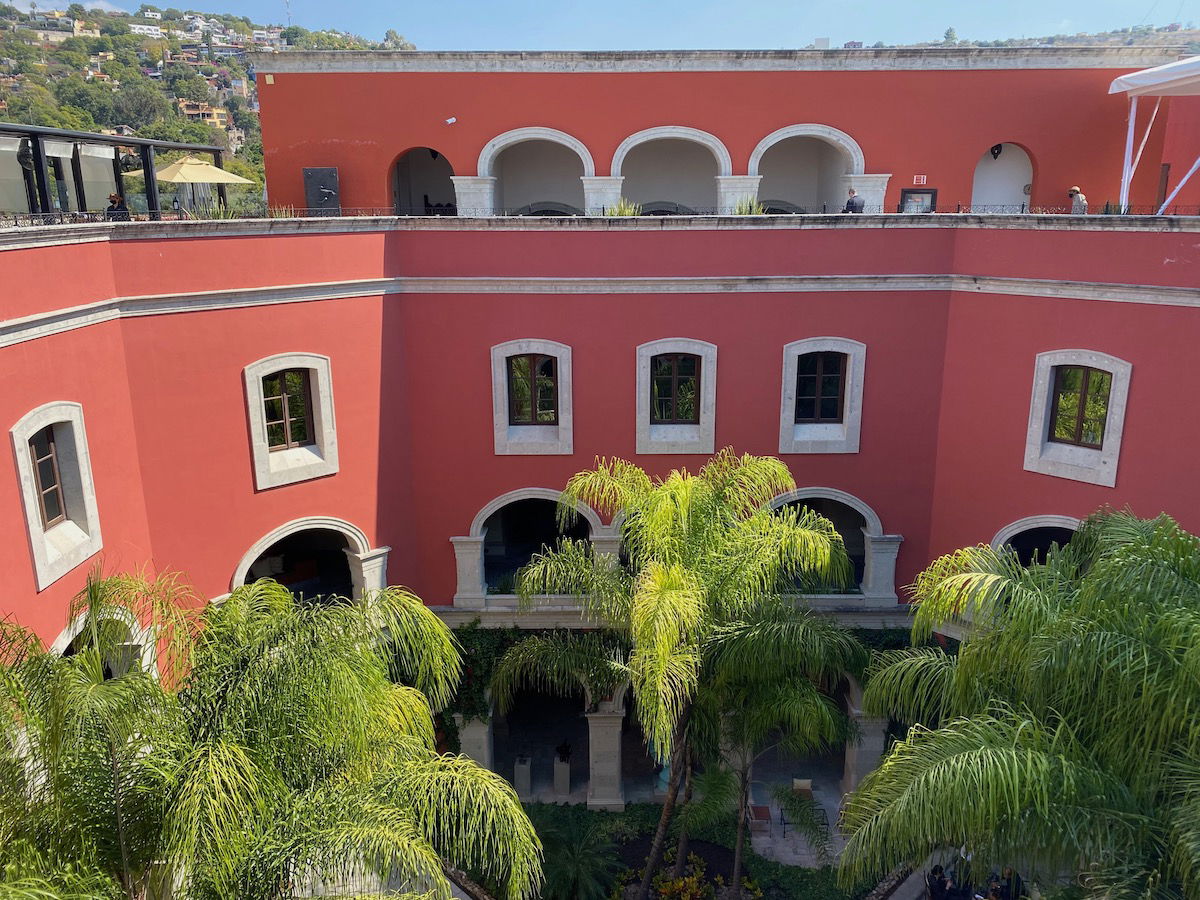 This is an undeniably beautiful setting, especially with the views of the town.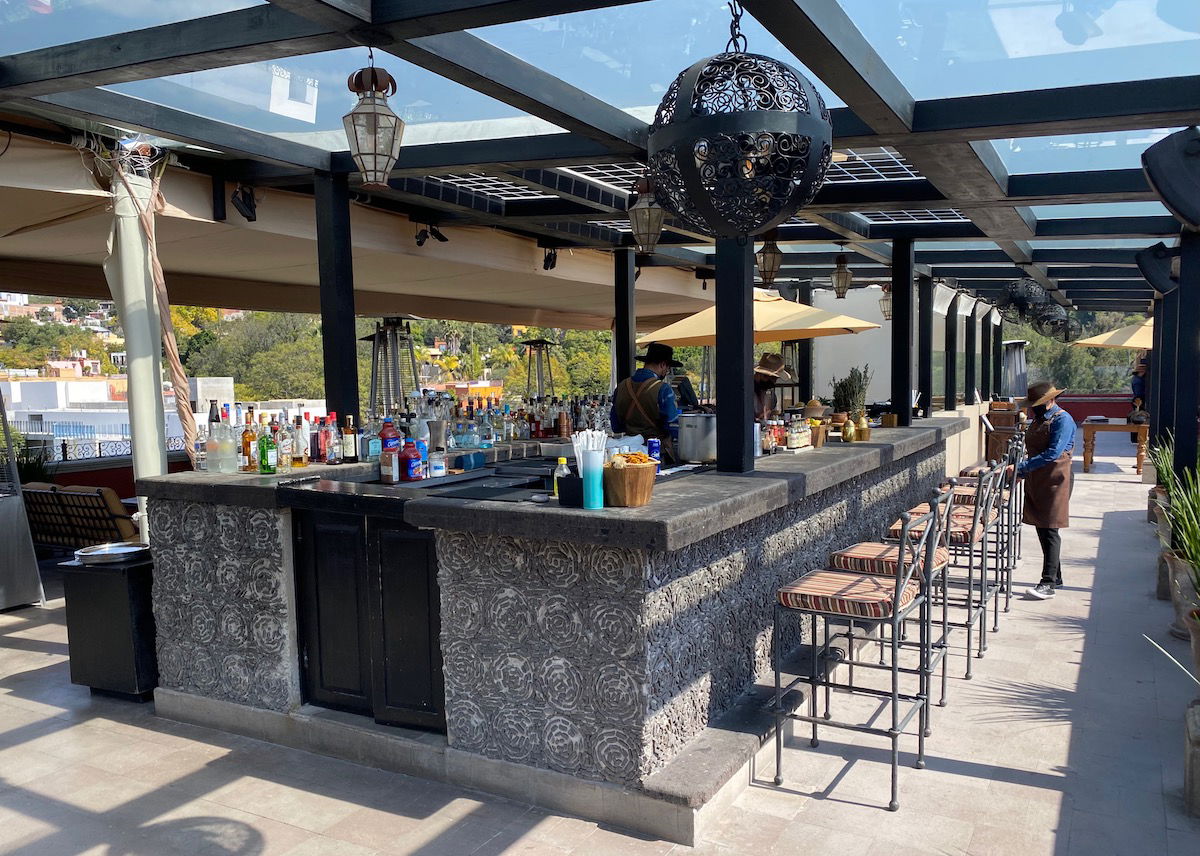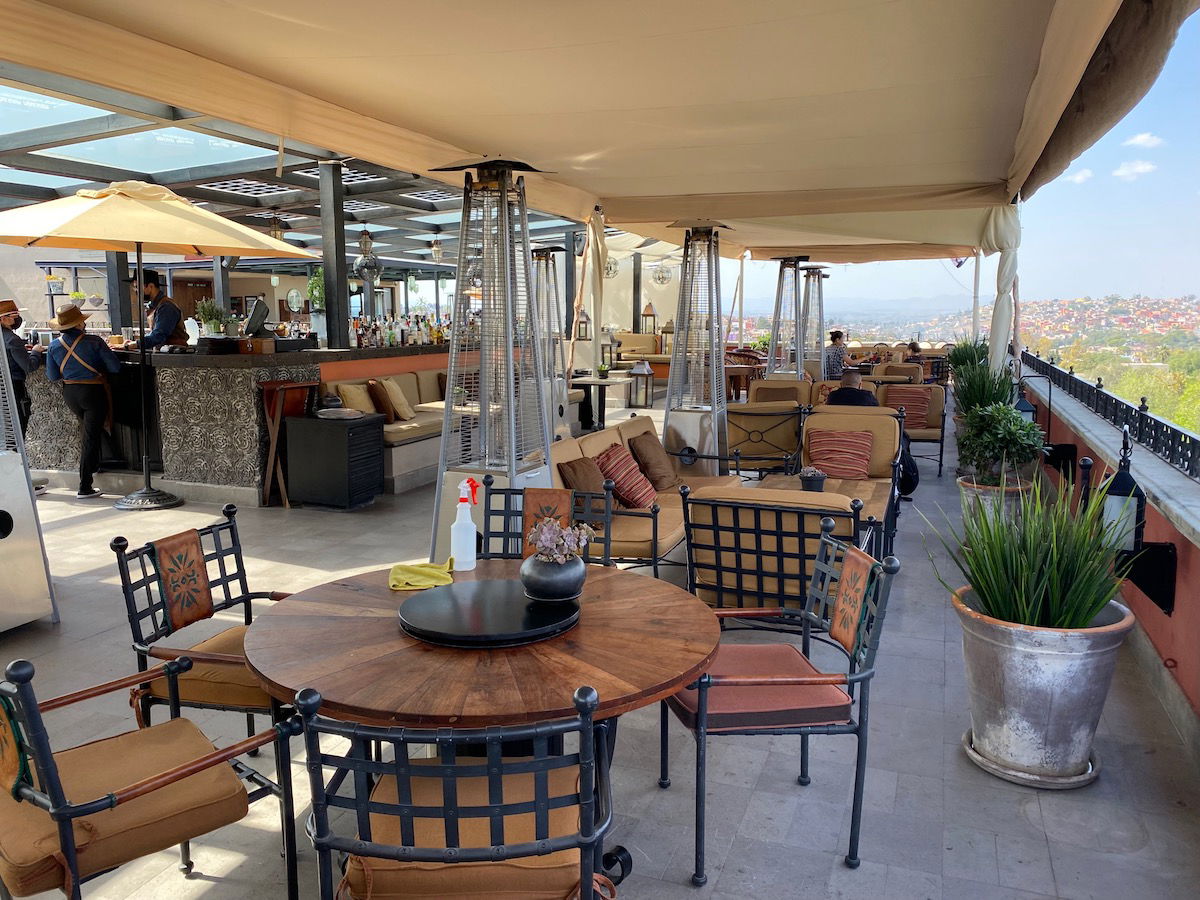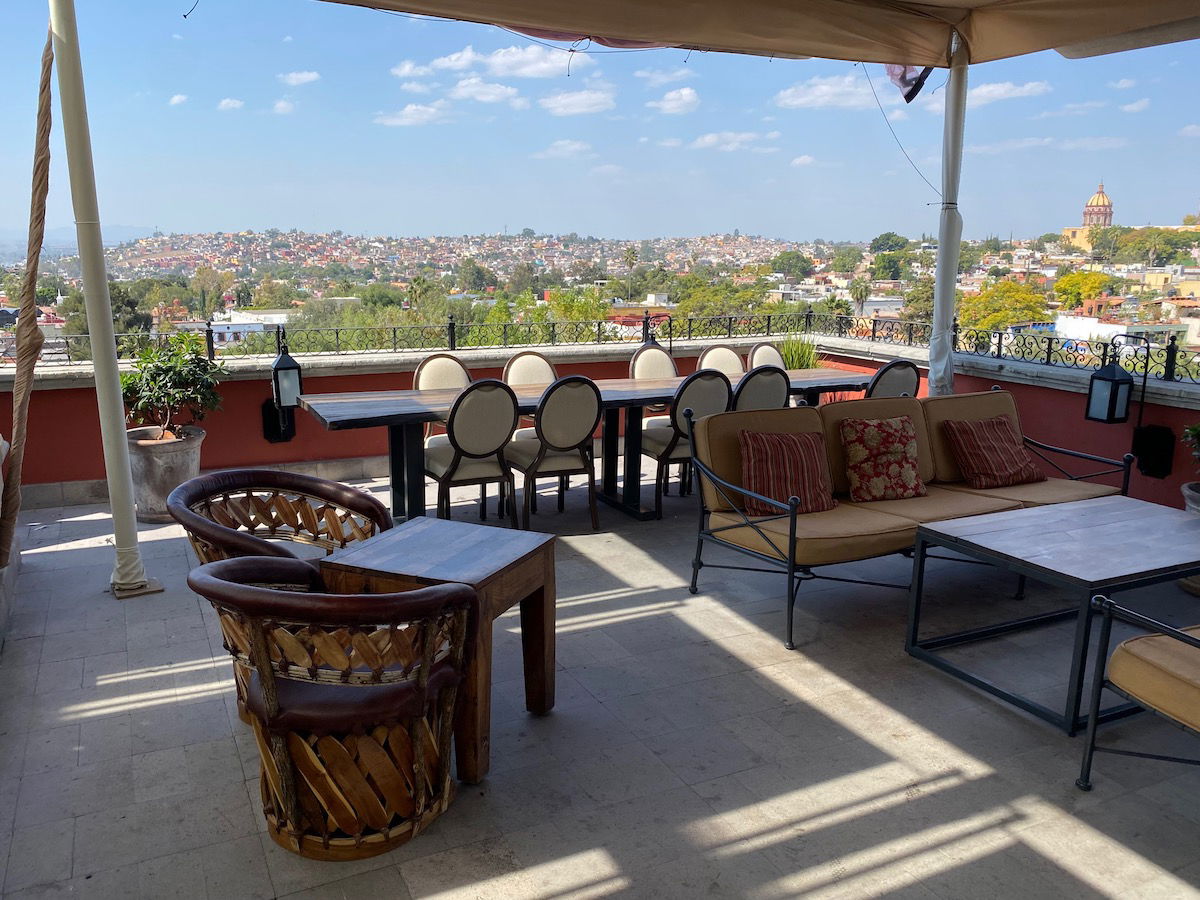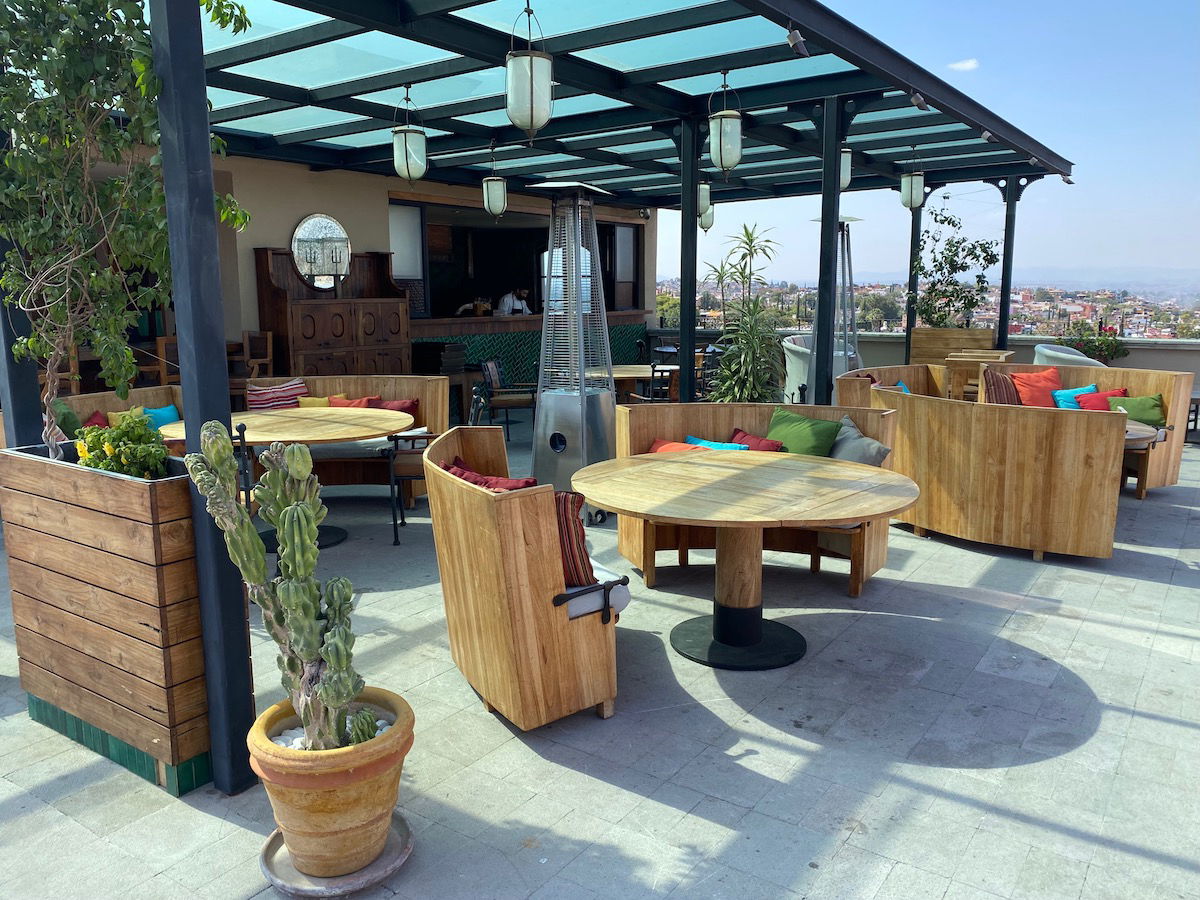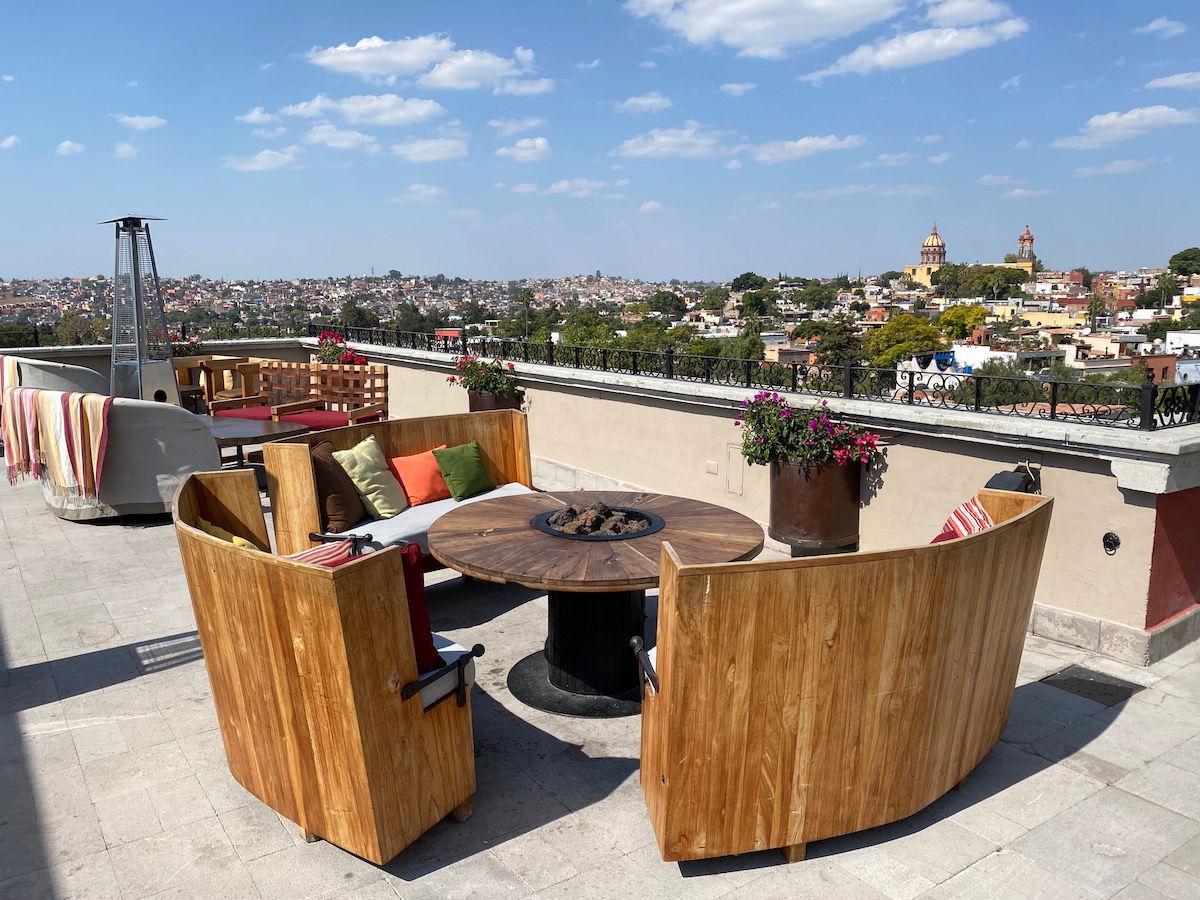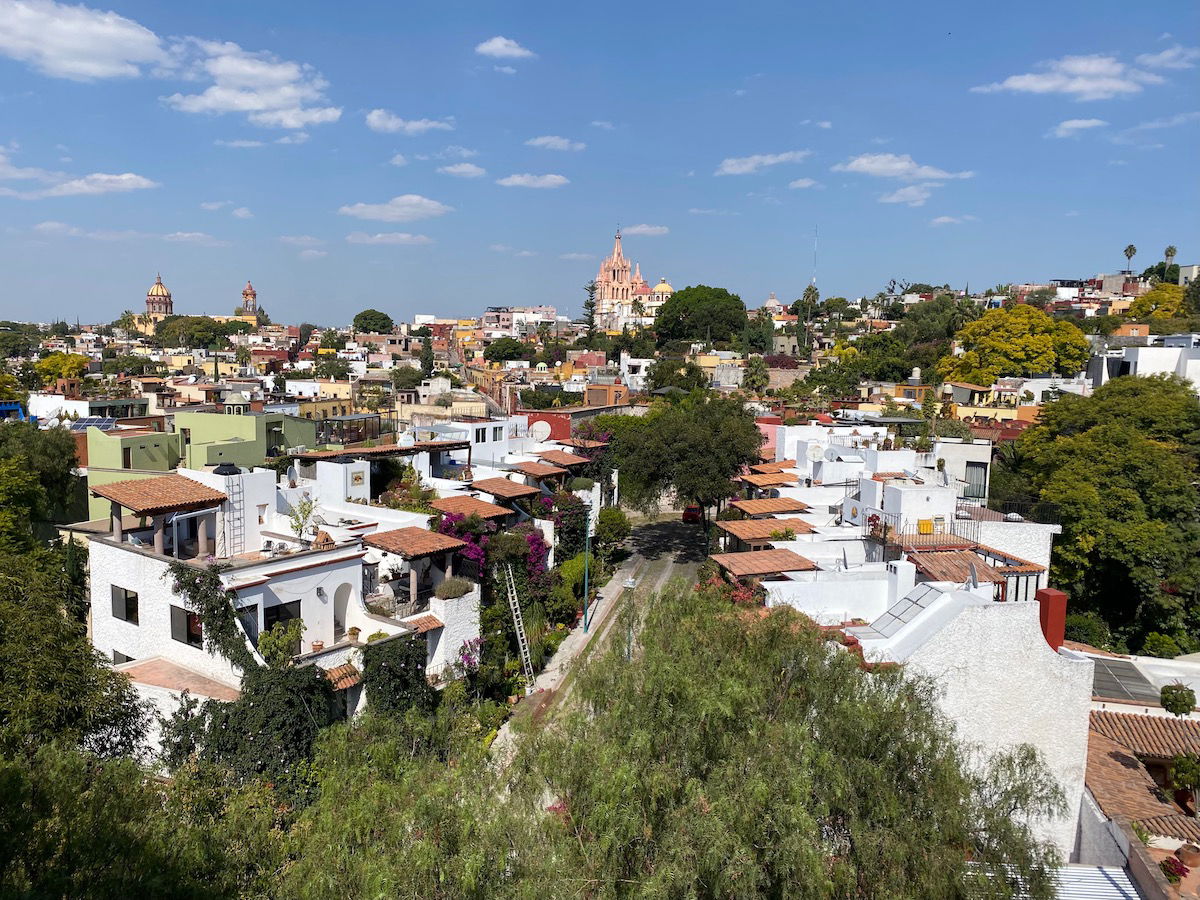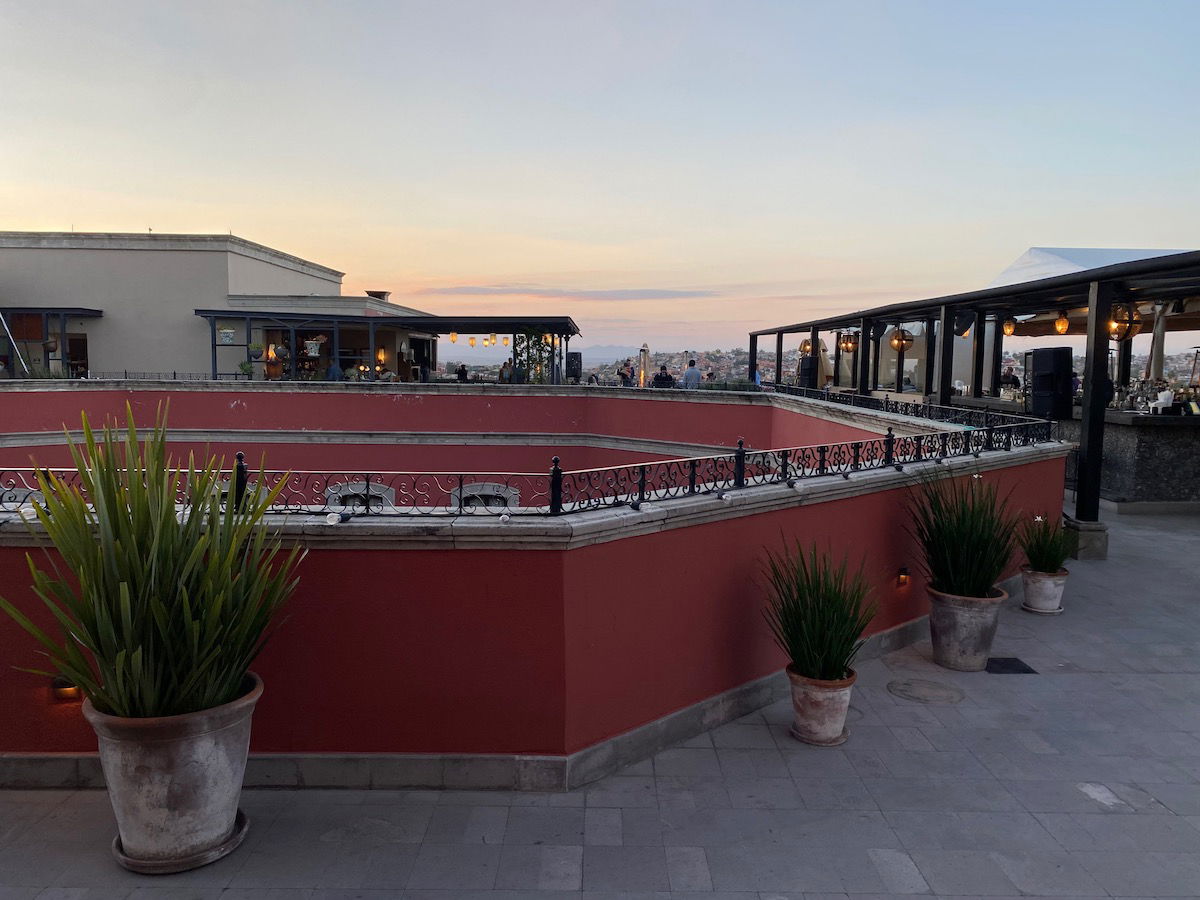 You can find the Luna lunch & dinner menu here, and you can find the Luna cocktail list here. In general everything was pretty reasonably priced, at least compared to what you'd expect at a luxury hotel frequented by Americans. For example, cocktails were $10-15, and many of the tapas options were in a similar price range.
We had a long day of flying when we arrived, so we came here for some iced cappuccinos and chips & guac shortly after checking in.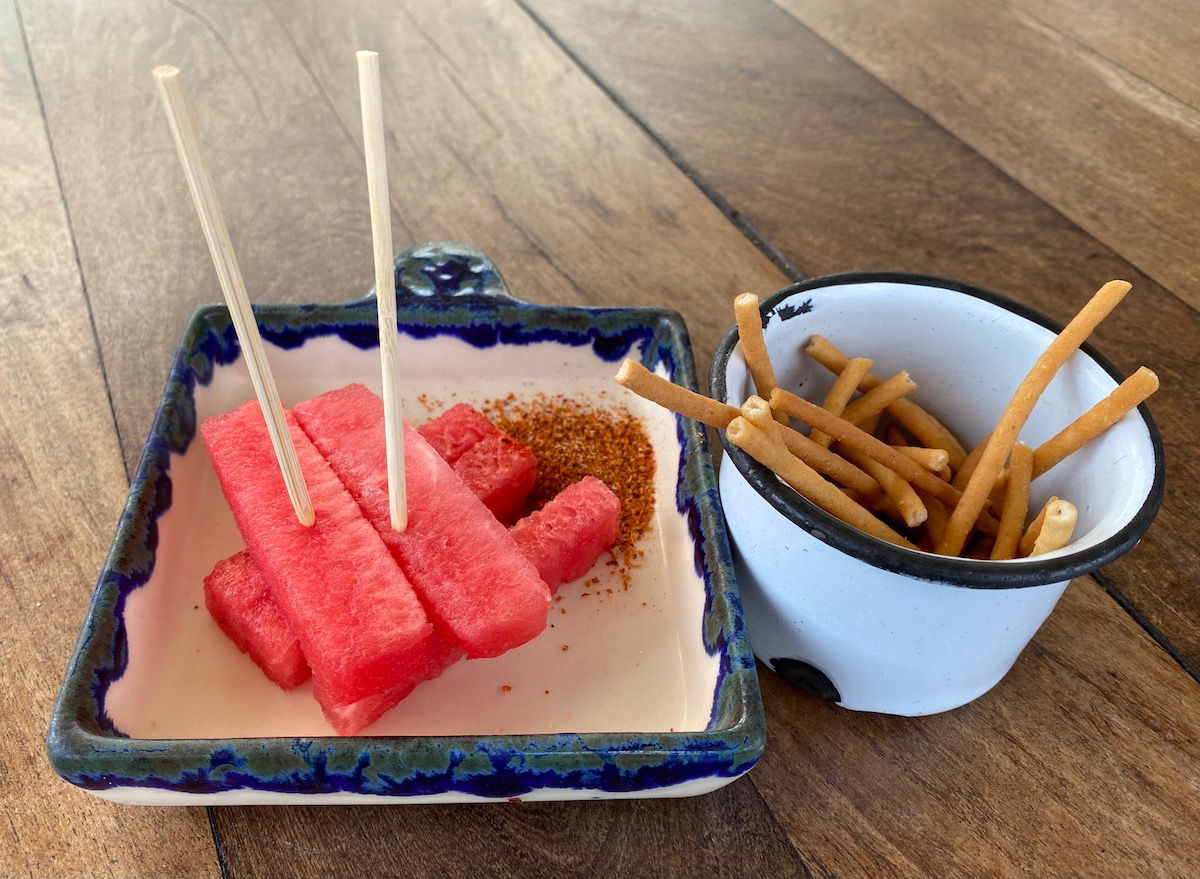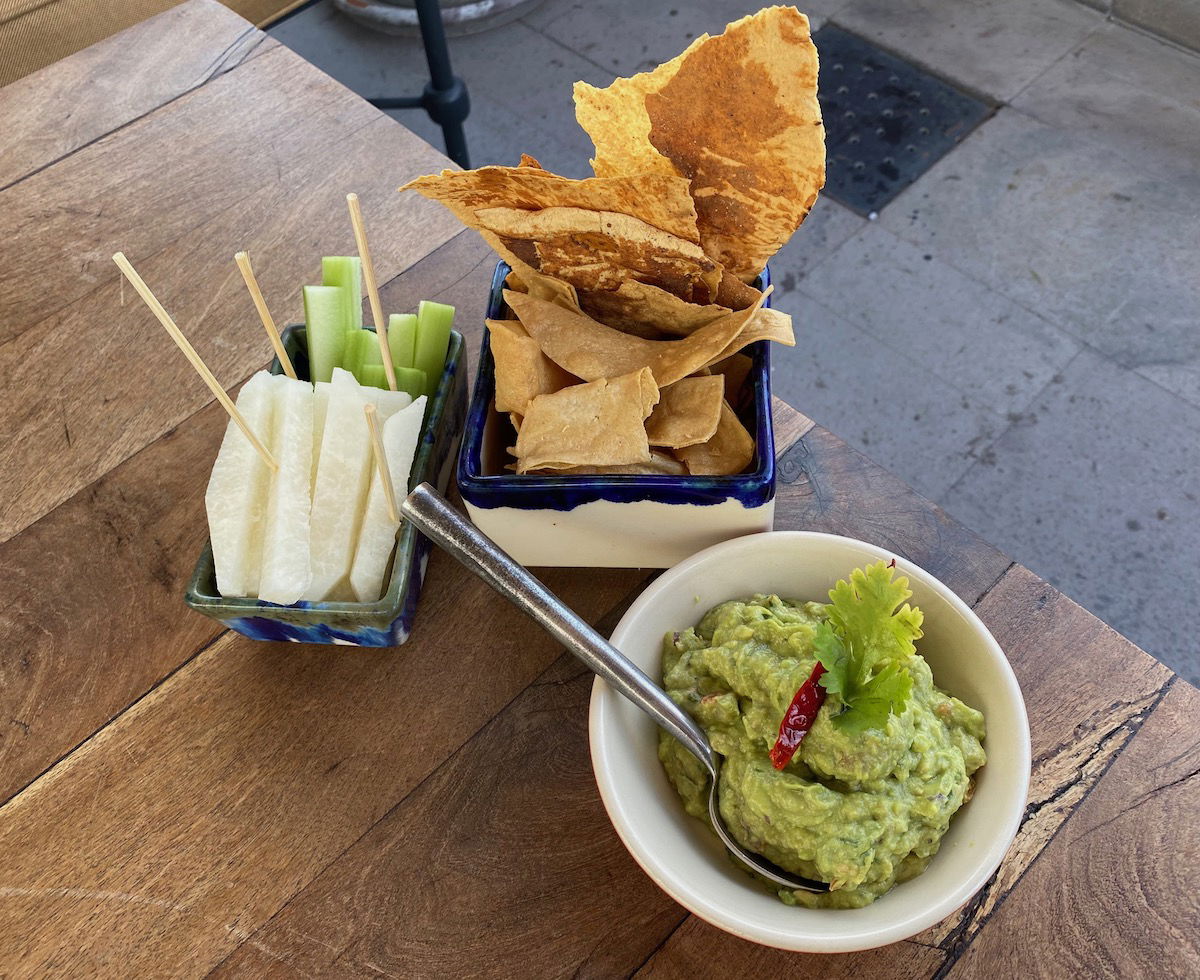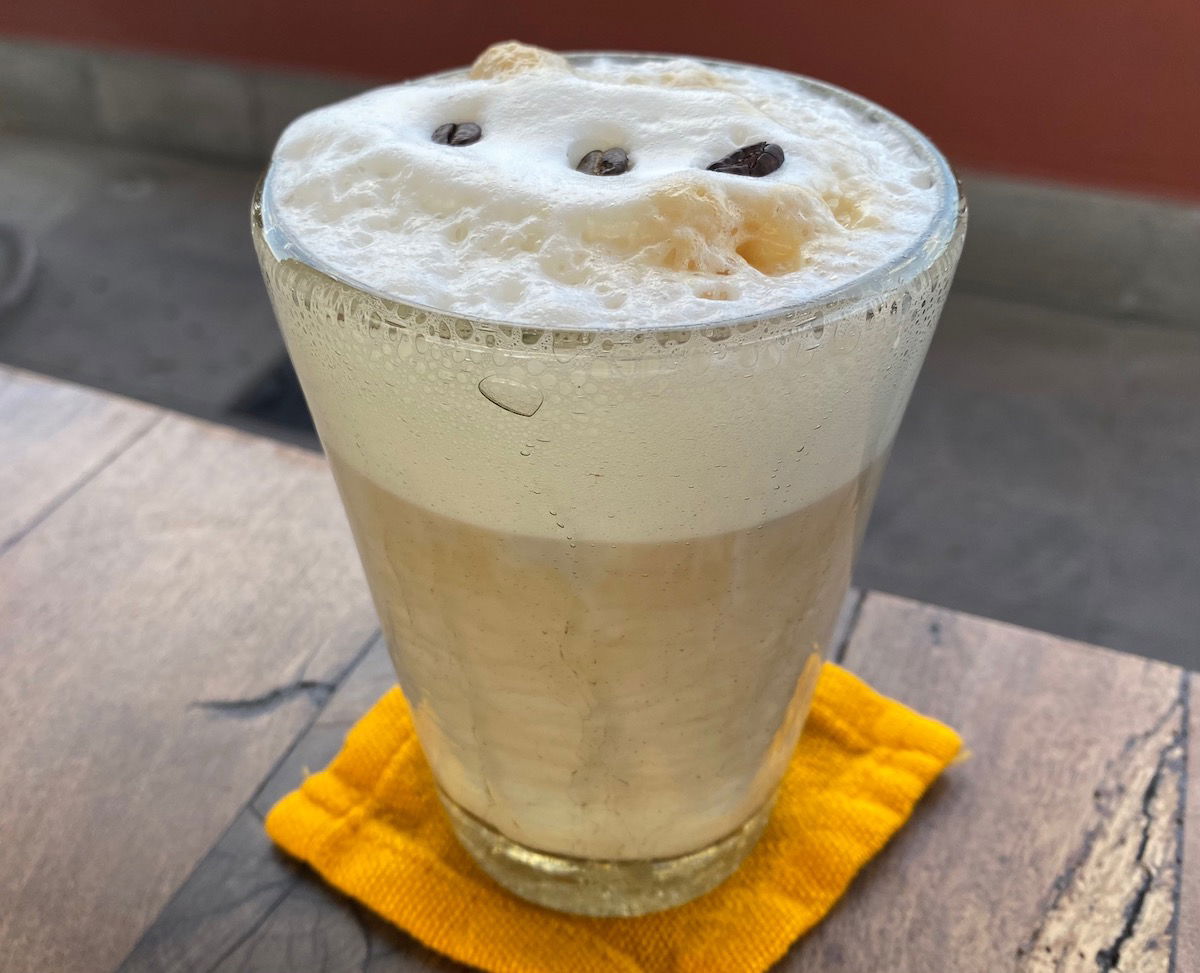 Later in the evening we returned for cocktails, which were tasty.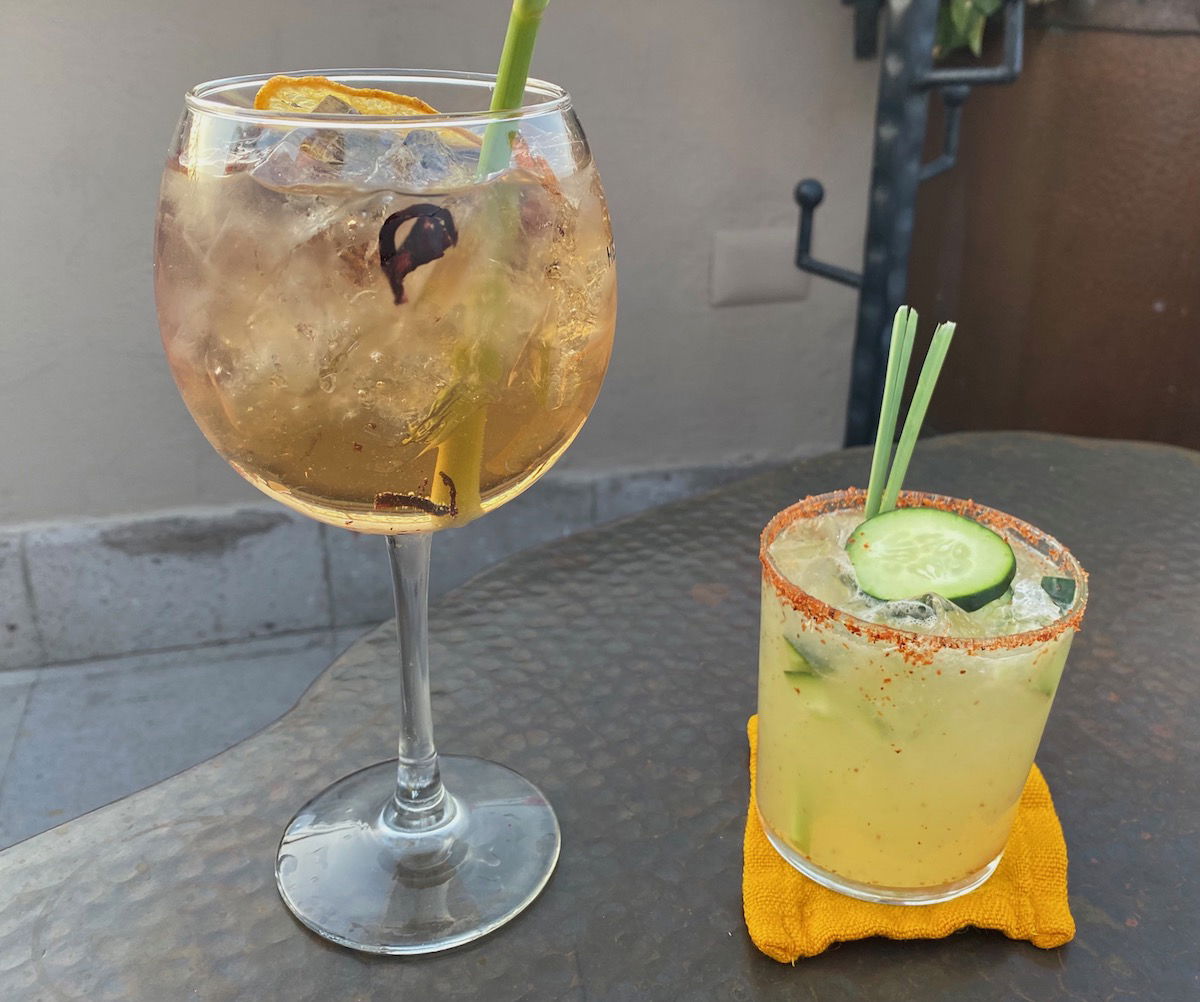 Even if you're not staying at the Rosewood, it could be worth coming to Luna for the views and music, especially at sunset.
Rosewood San Miguel de Allende 1826 Tequila Bar
On the ground floor, the Rosewood has 1826 Tequila Bar, open daily from the early afternoon until at night. In addition to having cocktails (and tequila), the bar also serves sushi. You can find the 1826 Tequila bar drink list here, and you can find the 1826 Tequila Bar sushi menu here.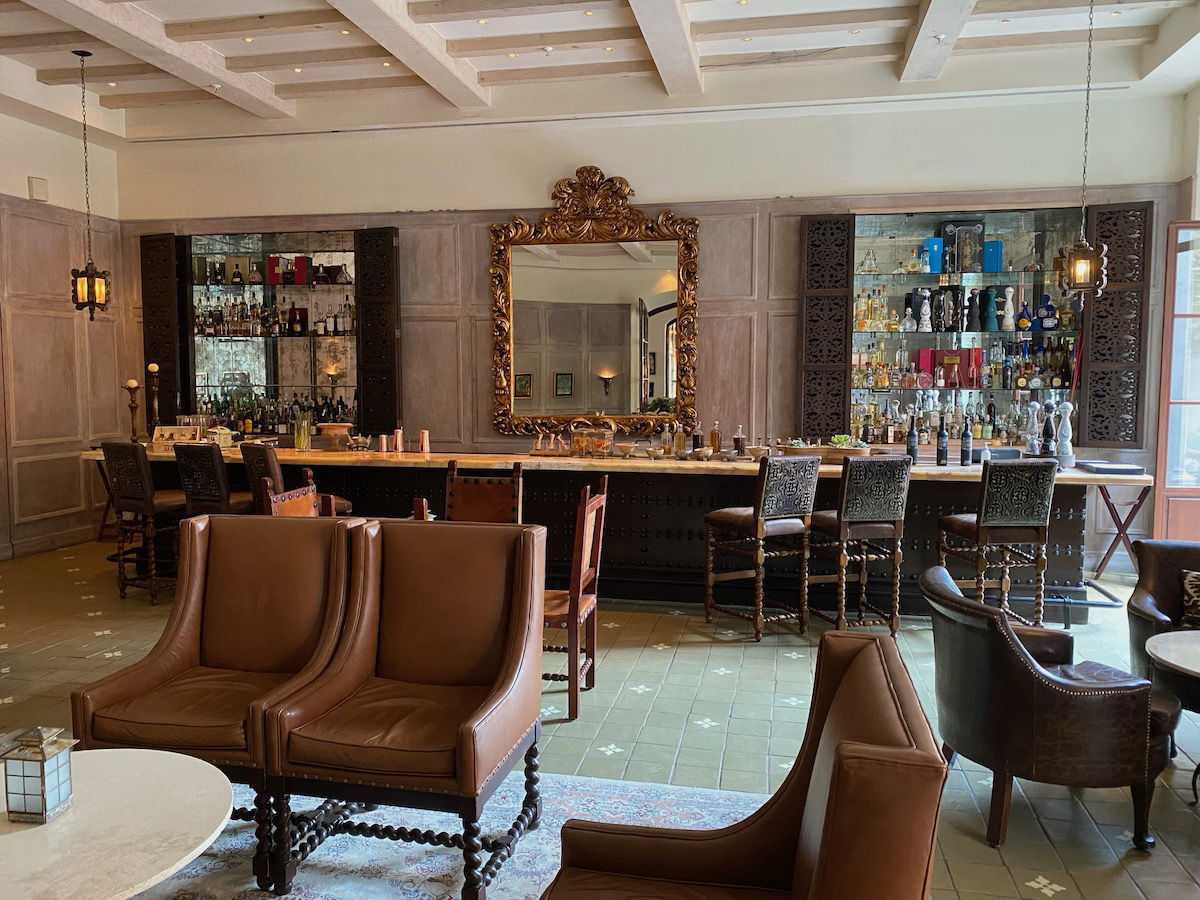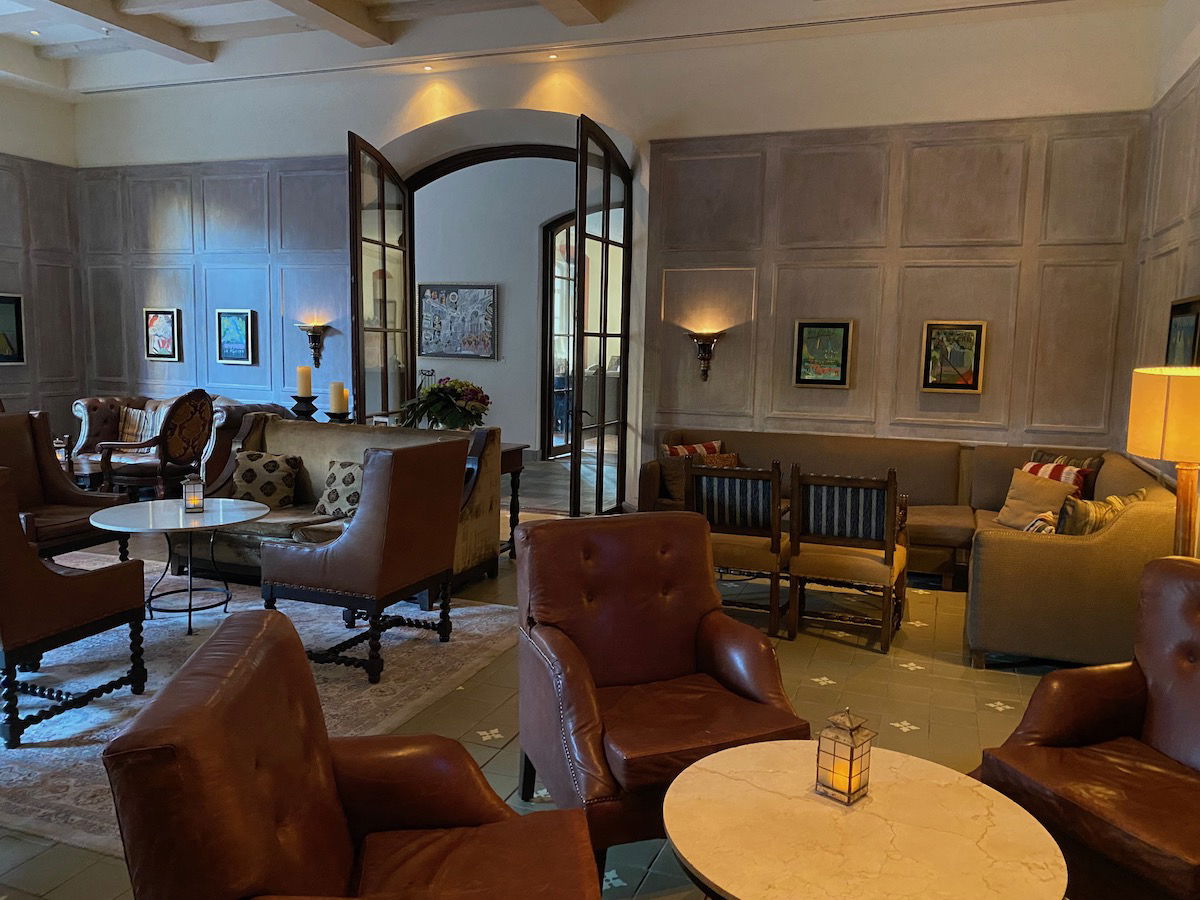 We had some cocktails here in the evening, and they were beautifully presented.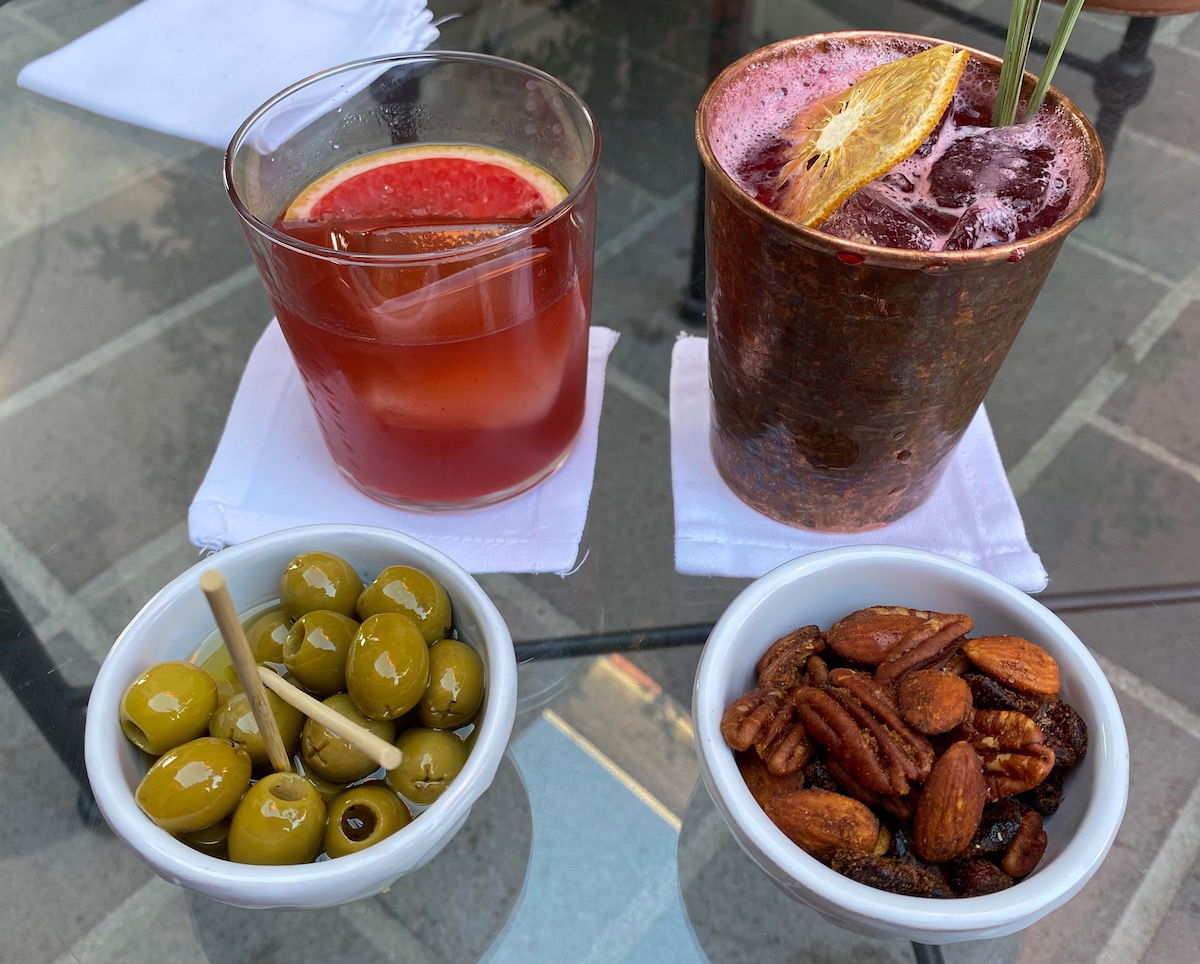 Rosewood San Miguel de Allende 1826 Restaurant
1826 Restaurant is the Rosewood's all-day dining restaurant, so it's where you can have breakfast, lunch, or dinner. The indoor area of the restaurant isn't particularly exciting, though there is beautiful outdoor seating.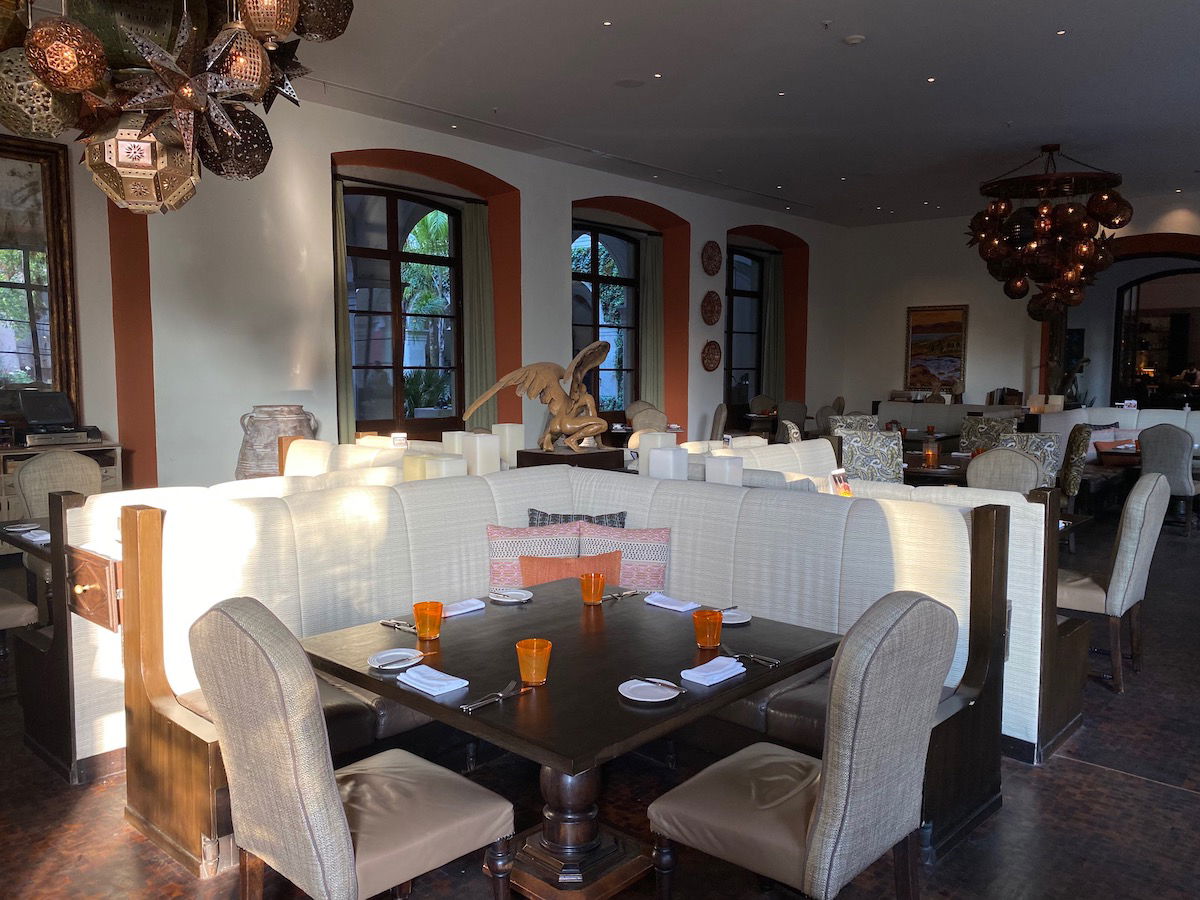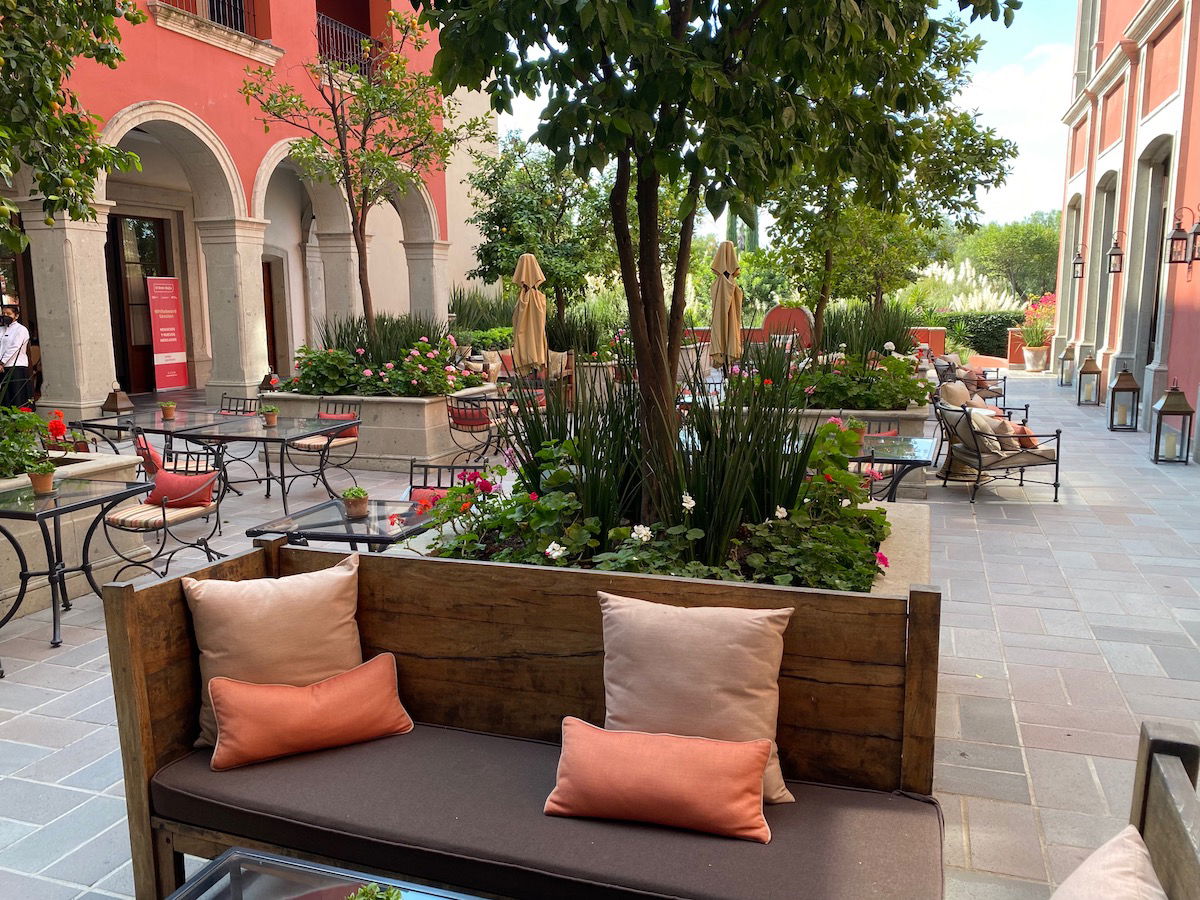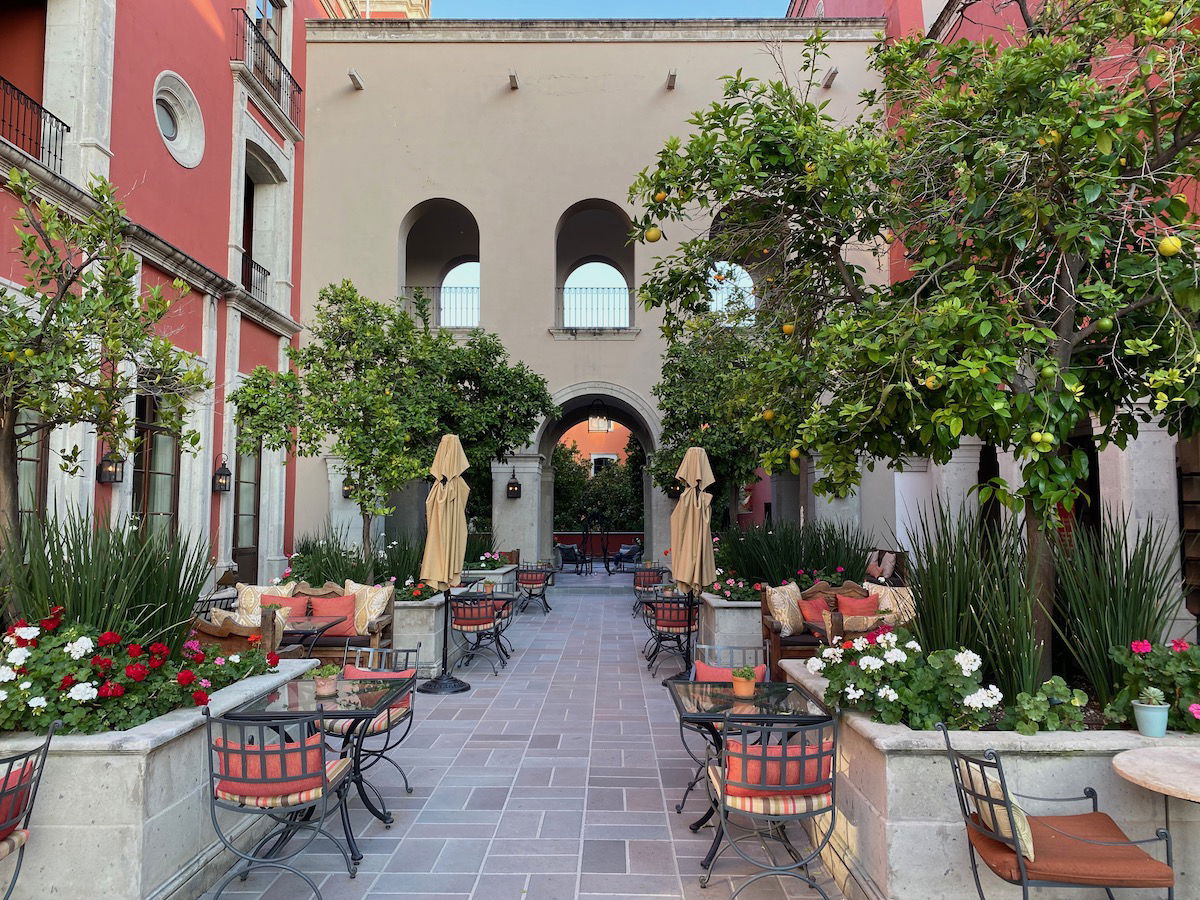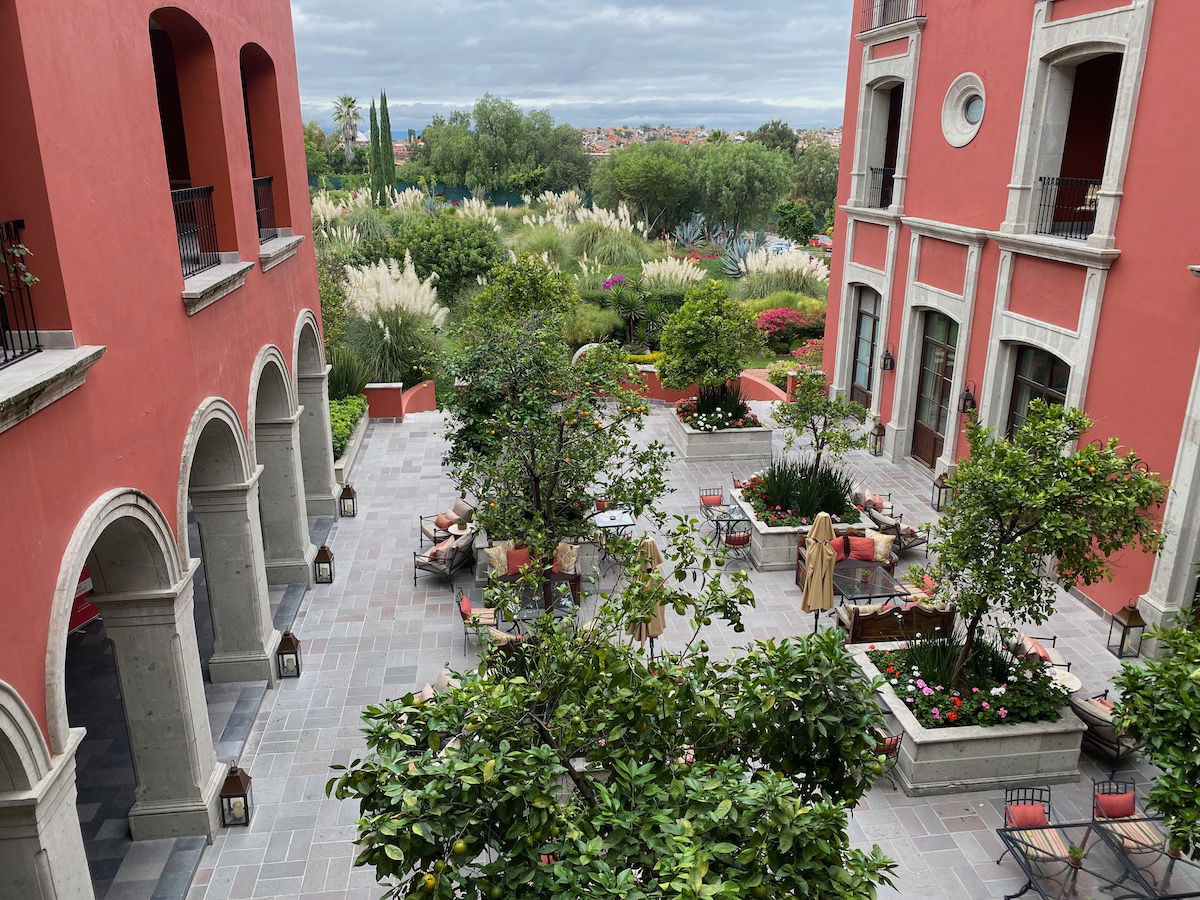 Breakfast is served at the restaurant daily from 7AM until 1PM, and was included with our Rosewood Elite booking. You can find the breakfast menu below.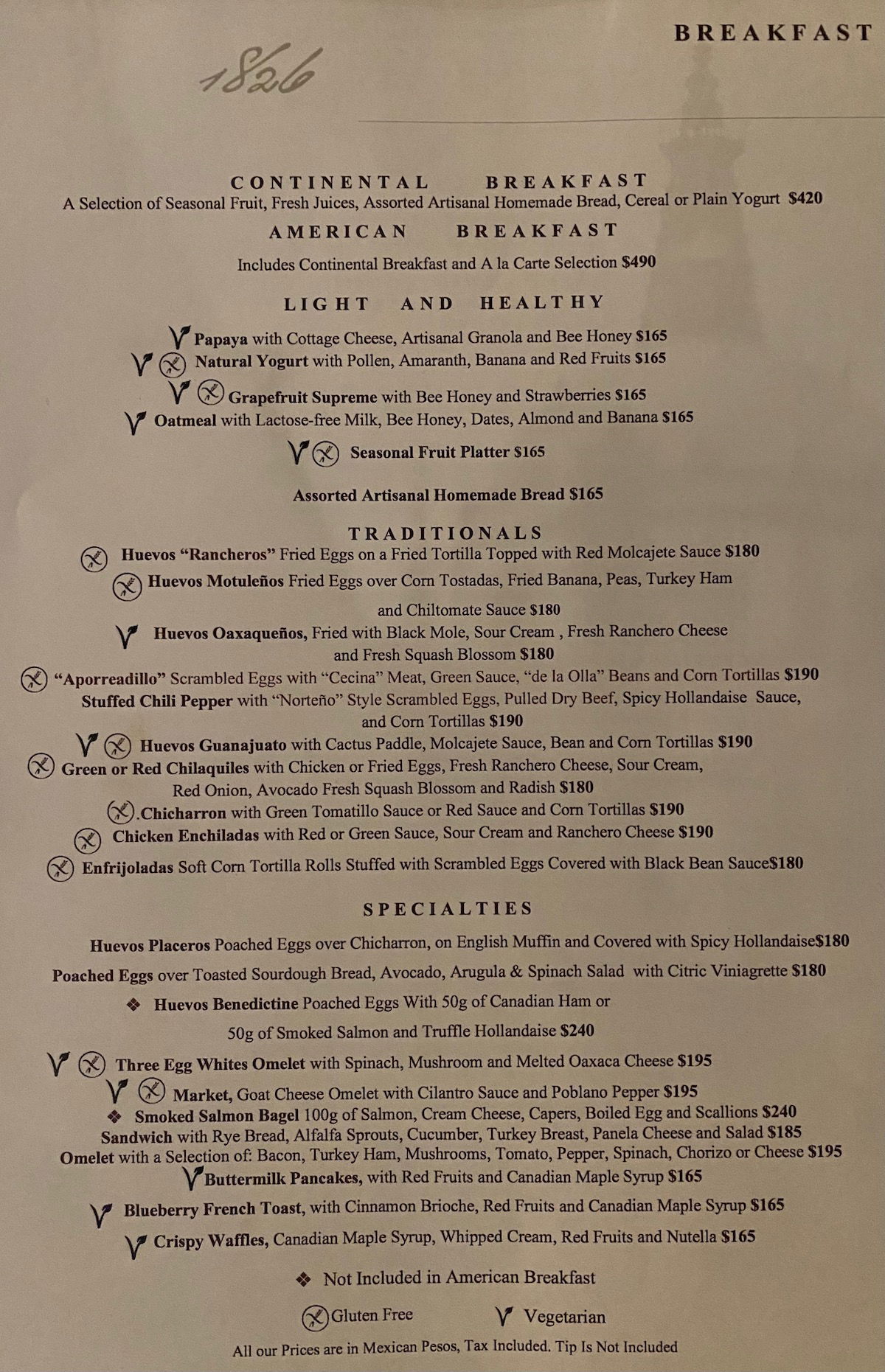 To start I had filtered coffee and freshly squeezed orange juice, while Ford had an iced cappuccino and a green juice. All four drinks were very good.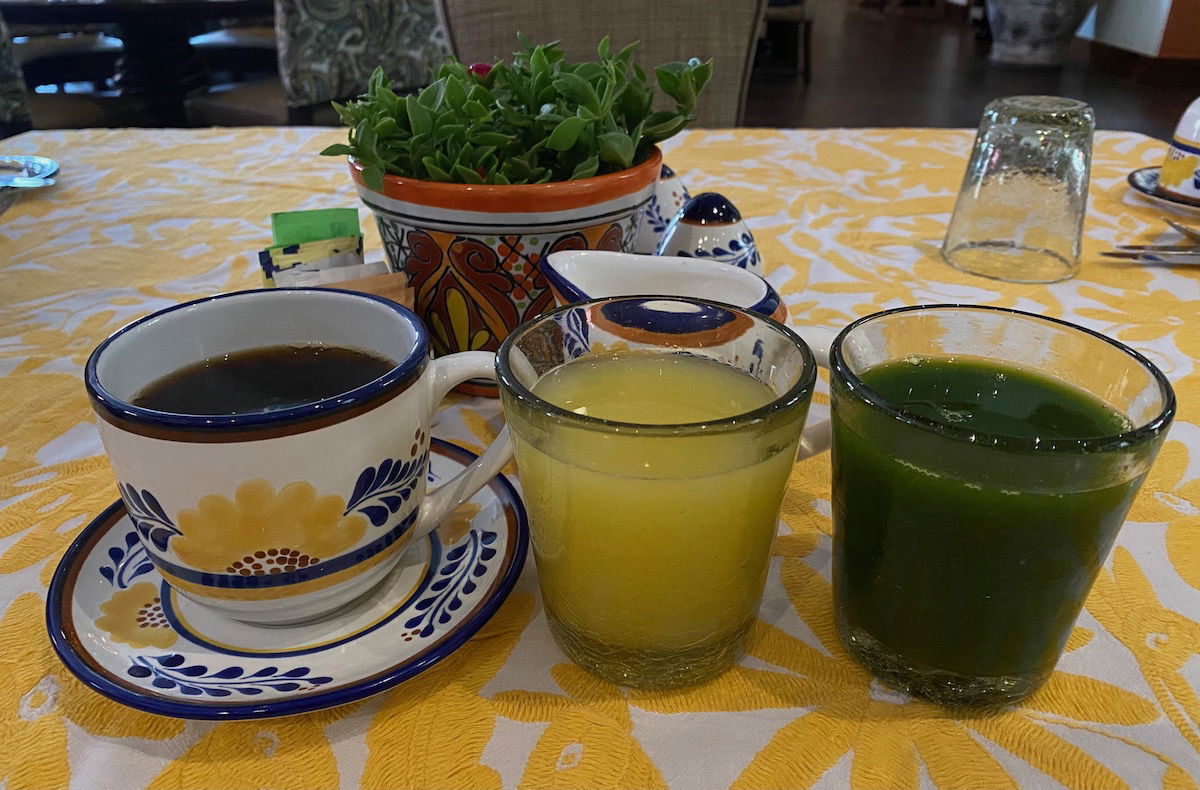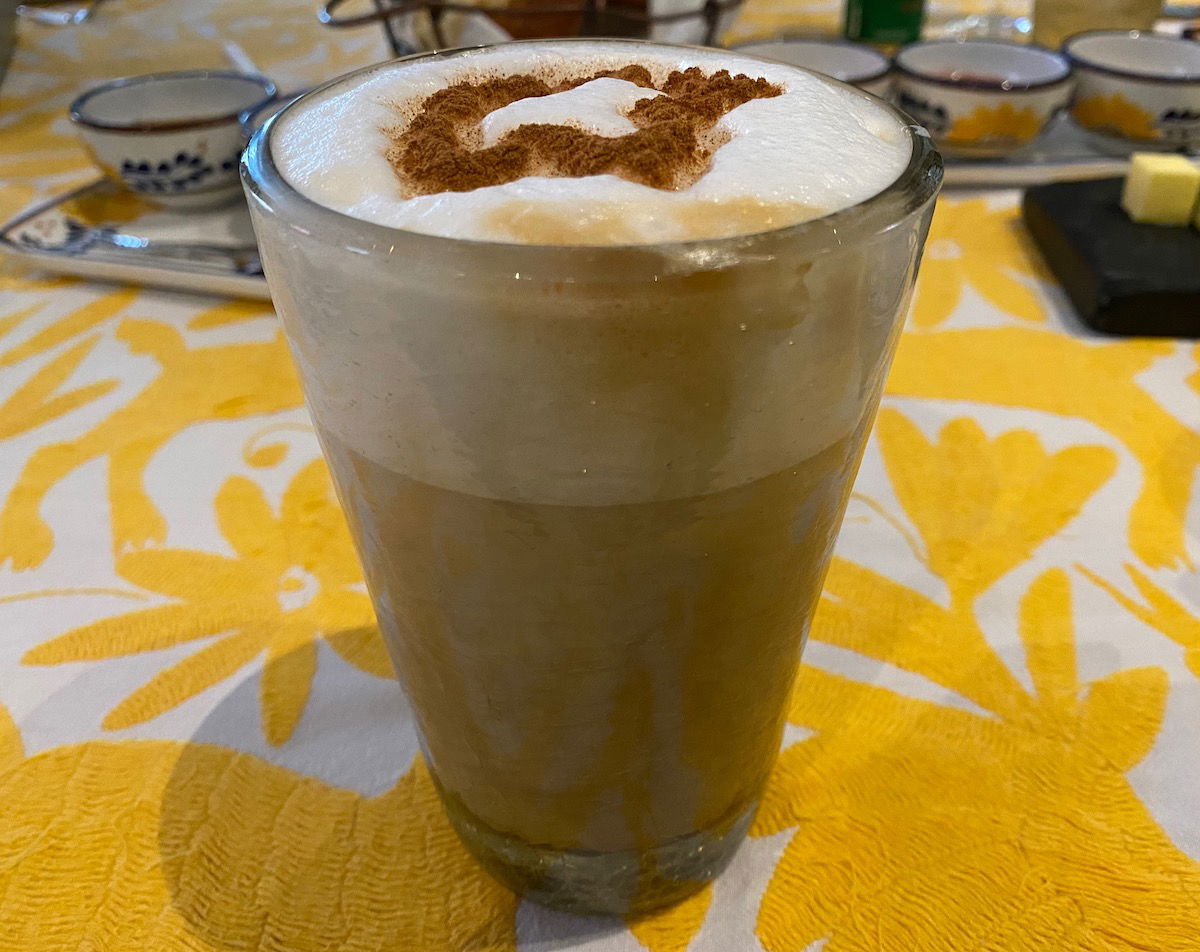 We were then brought a basket with delicious pastries, followed by a fruit plate.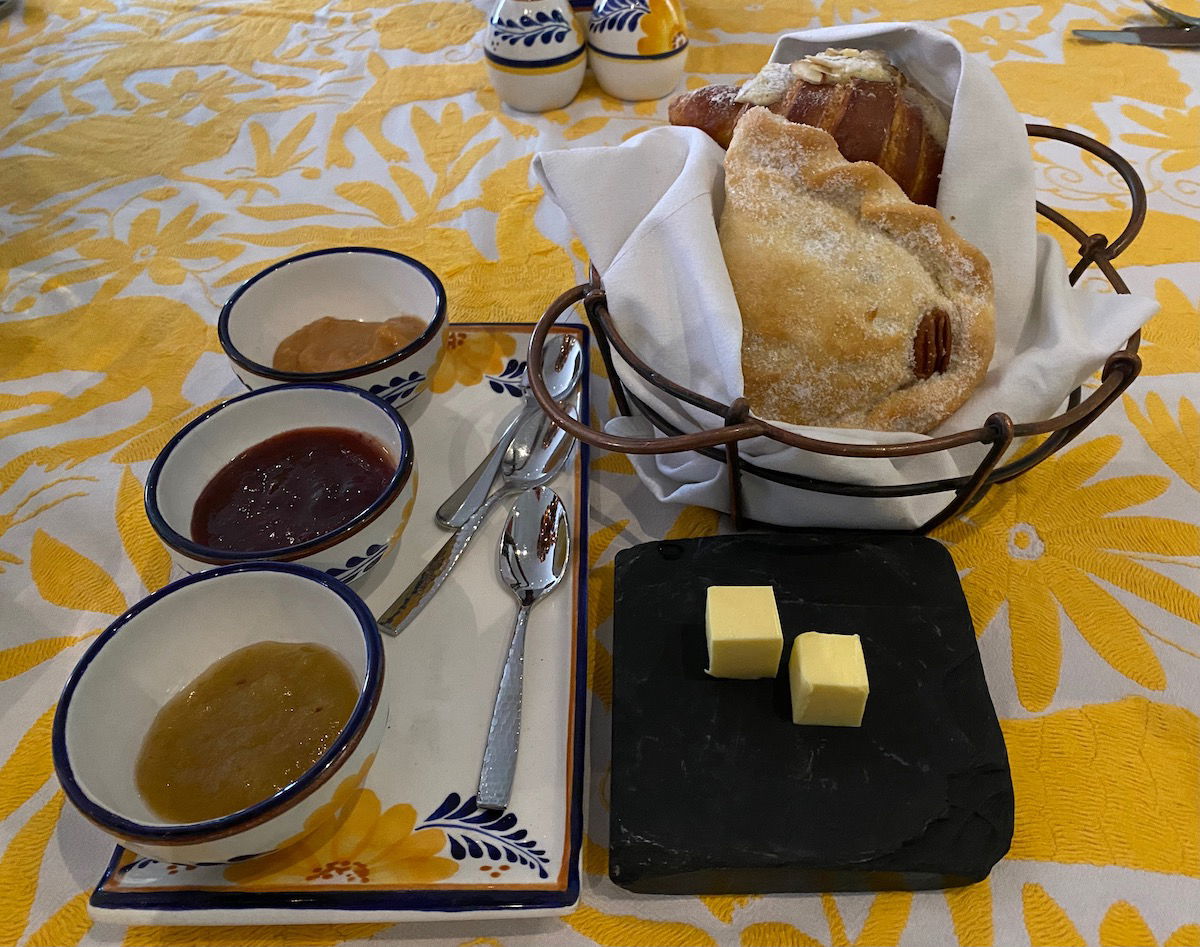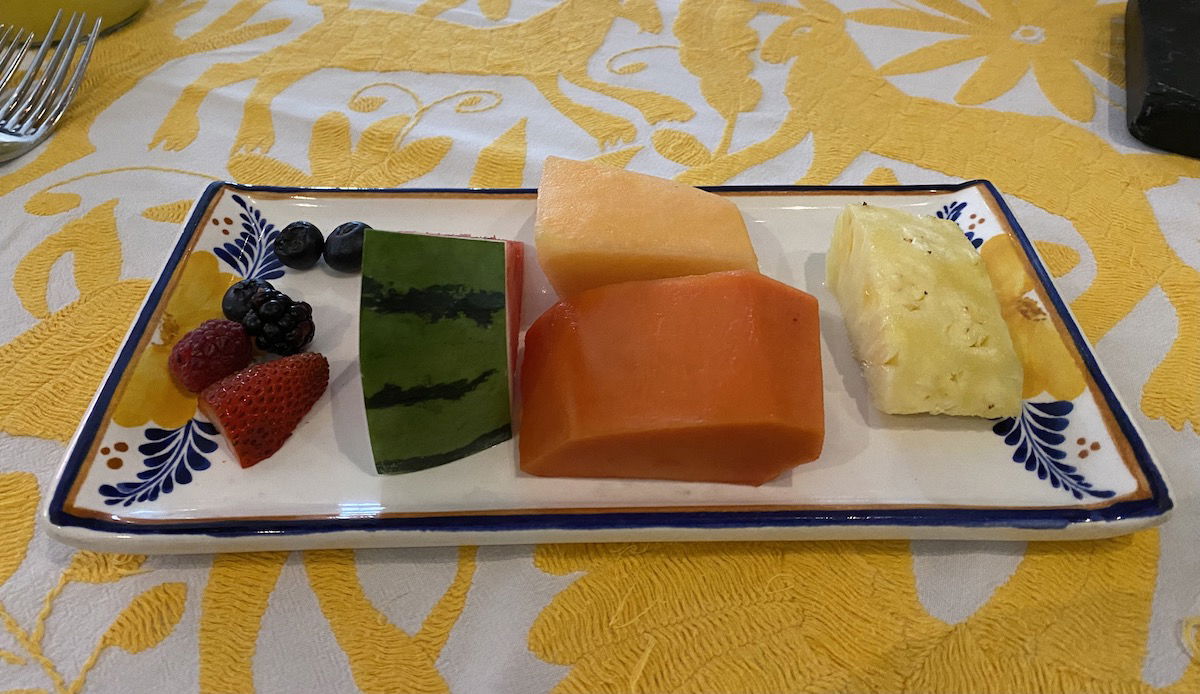 For the main course, I had the huevos guanajuato, while Ford had the huevos motuleños.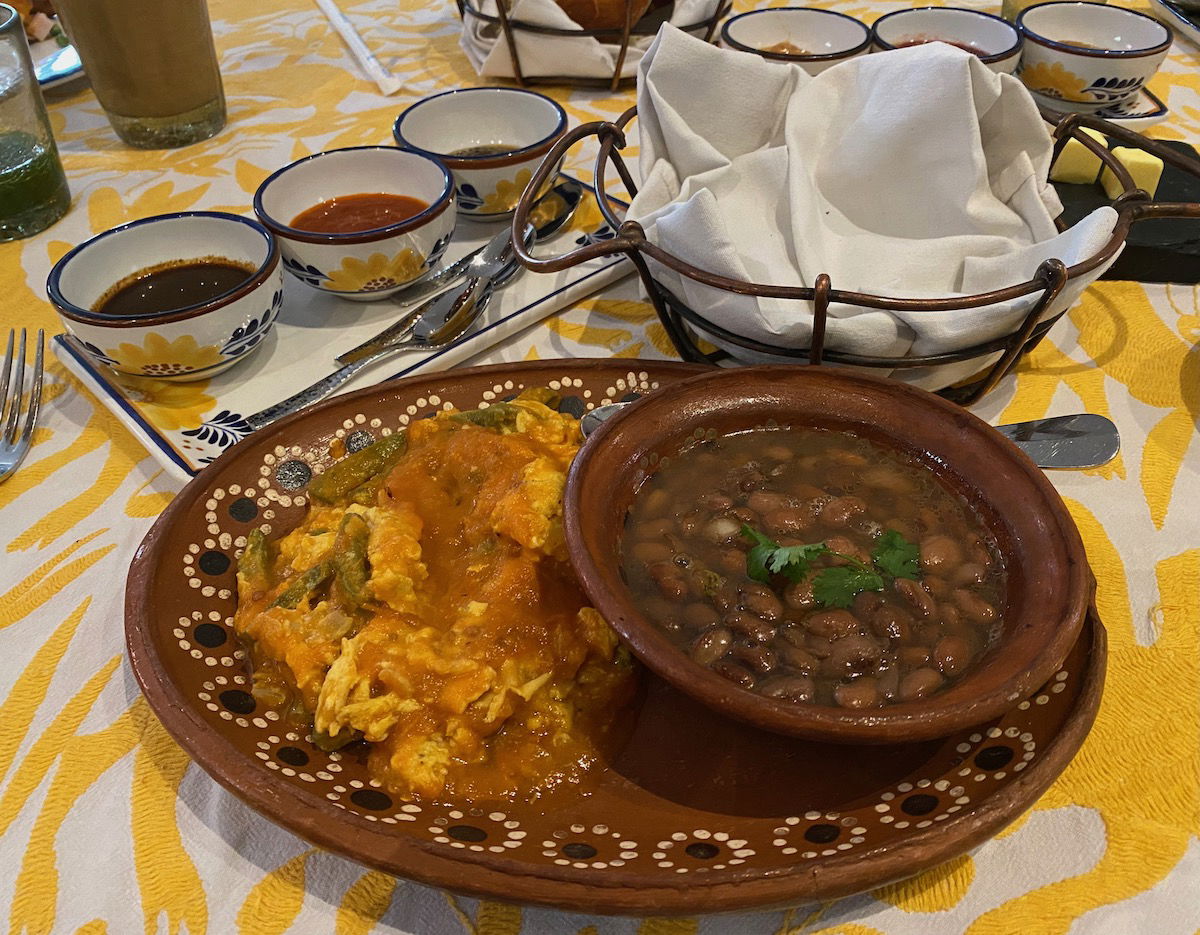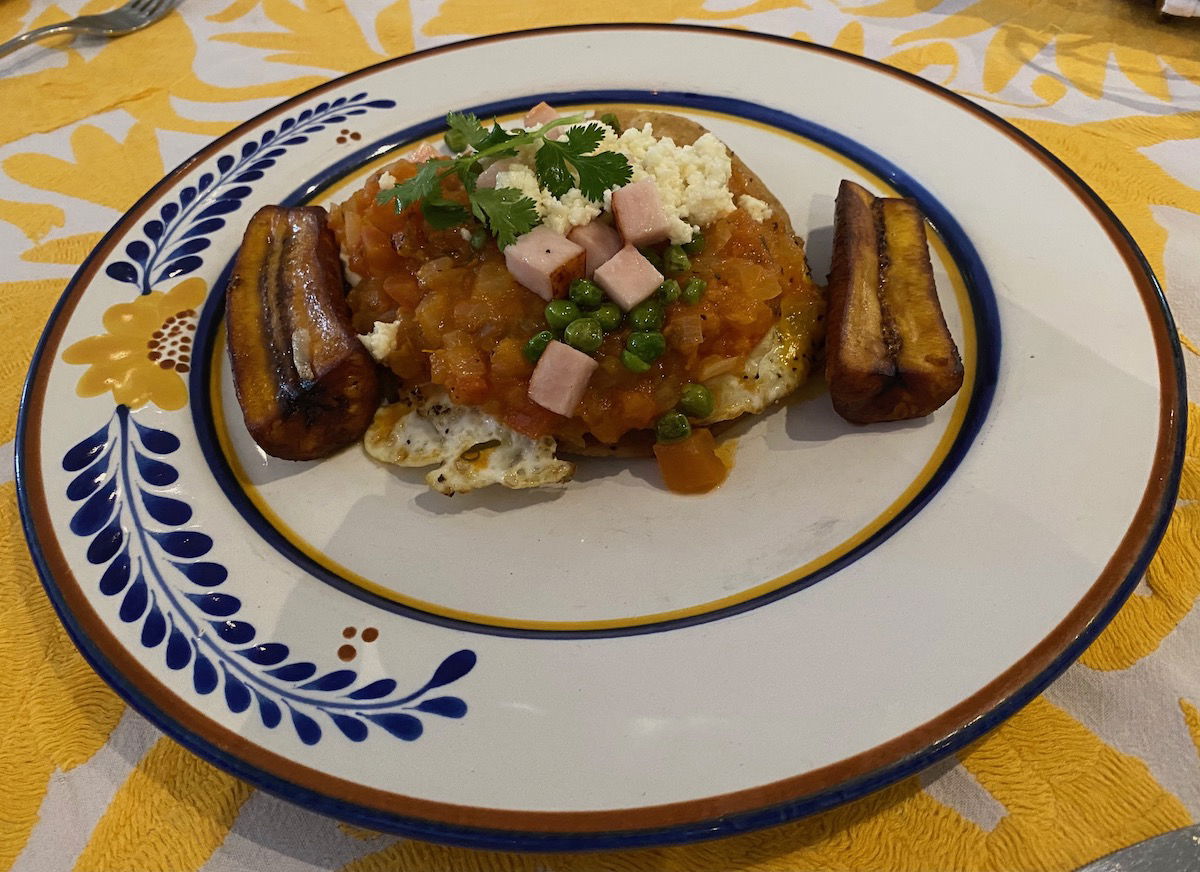 The food was delicious — in fairness, I could eat nothing but Mexican food for the rest of my life and be a very happy man.
Rosewood San Miguel de Allende pools
While we didn't use the pools during our short stay, the hotel does have a pretty nice pool setup. The pools are located in the lush gardens behind the hotel, and the pathway leading to the pools is pretty, with plenty of seating.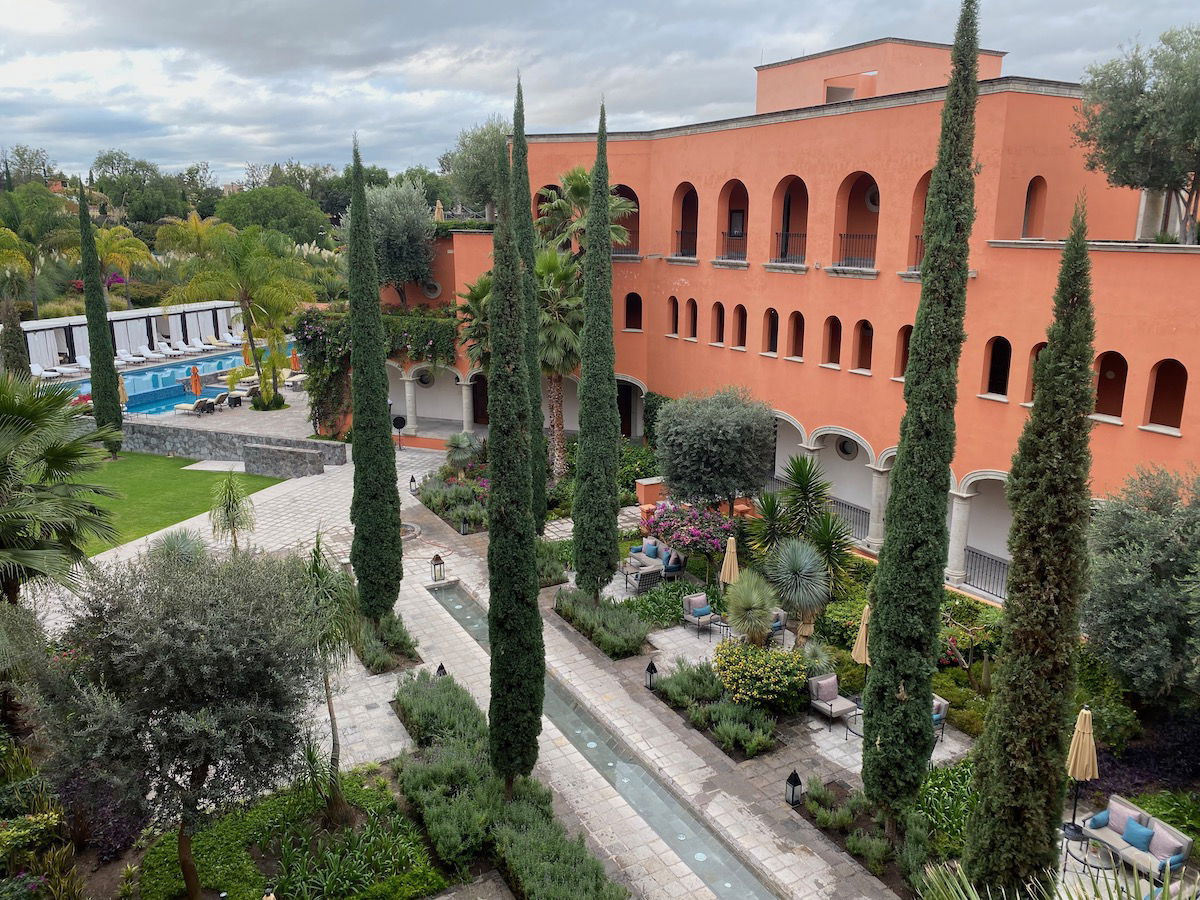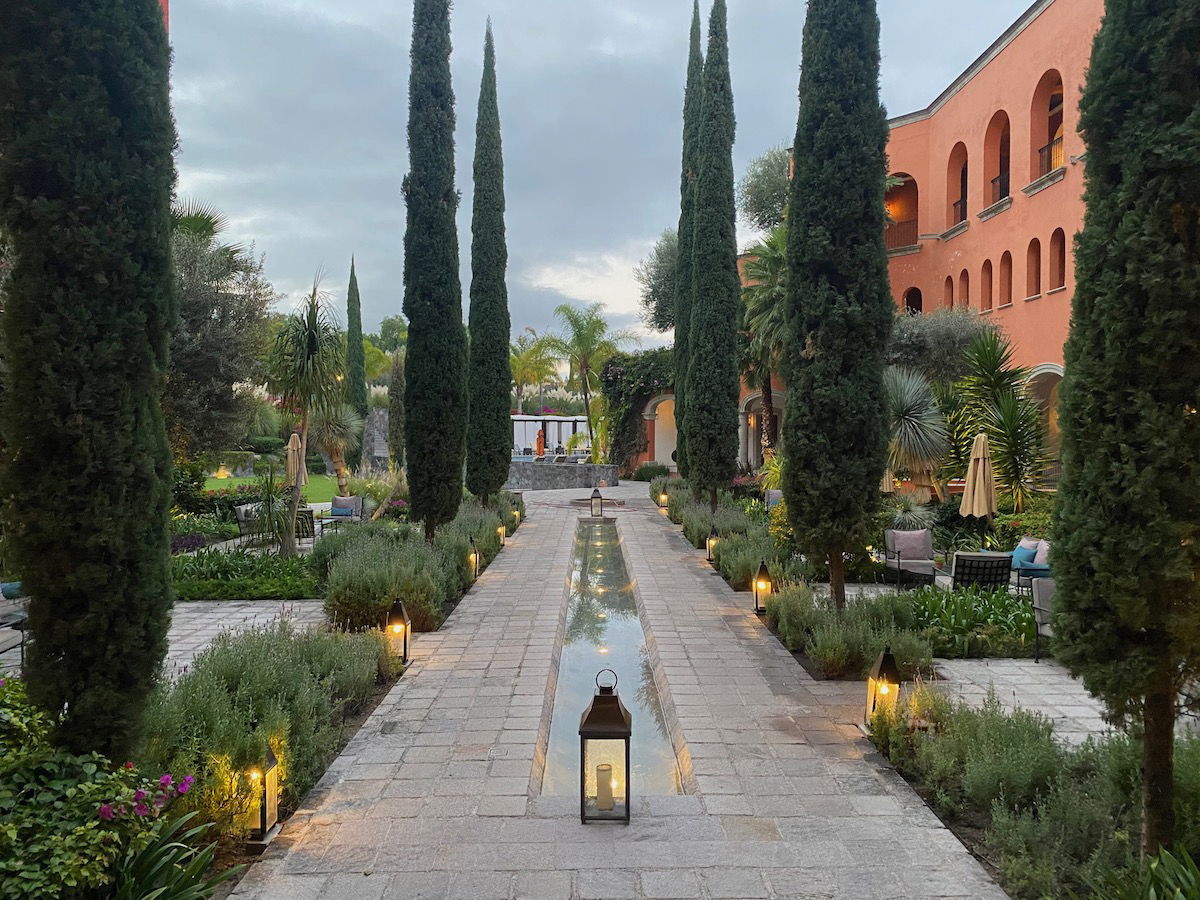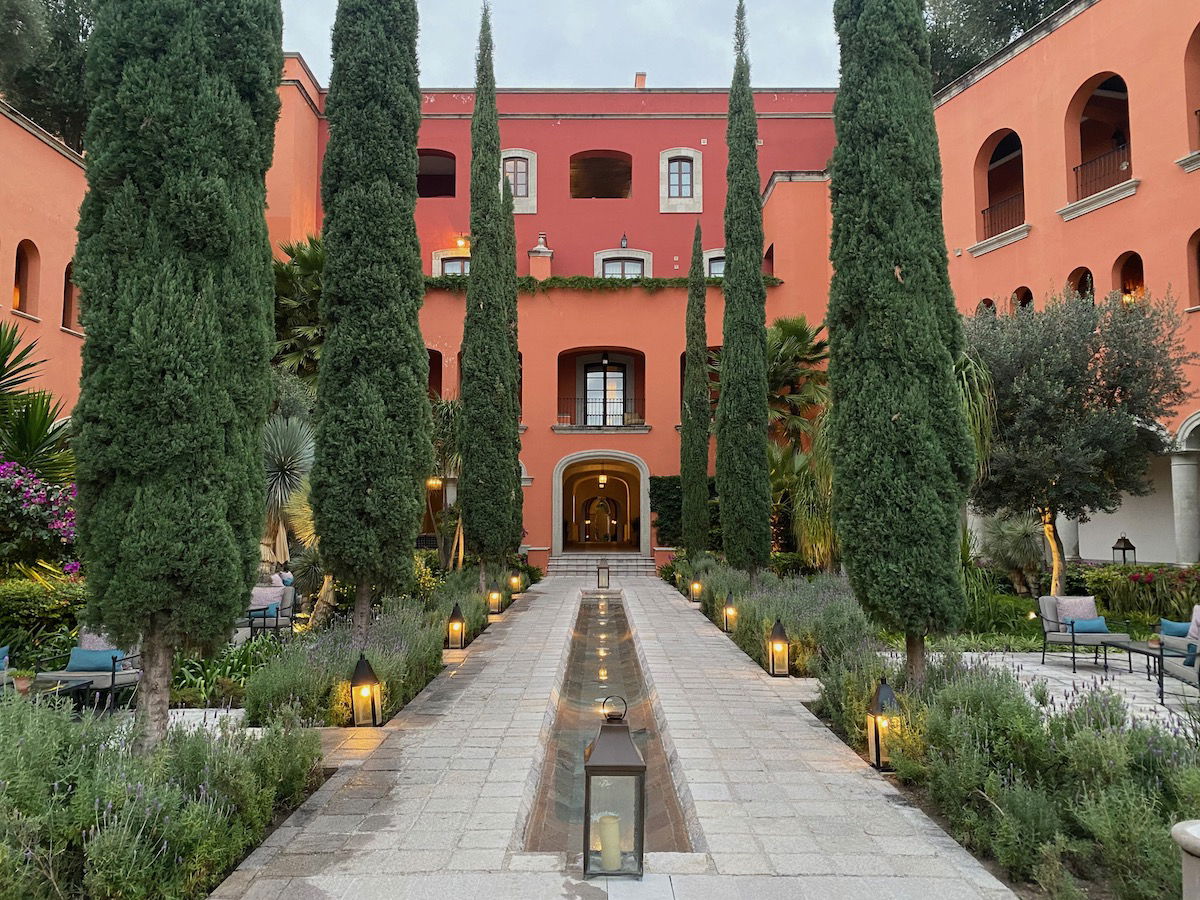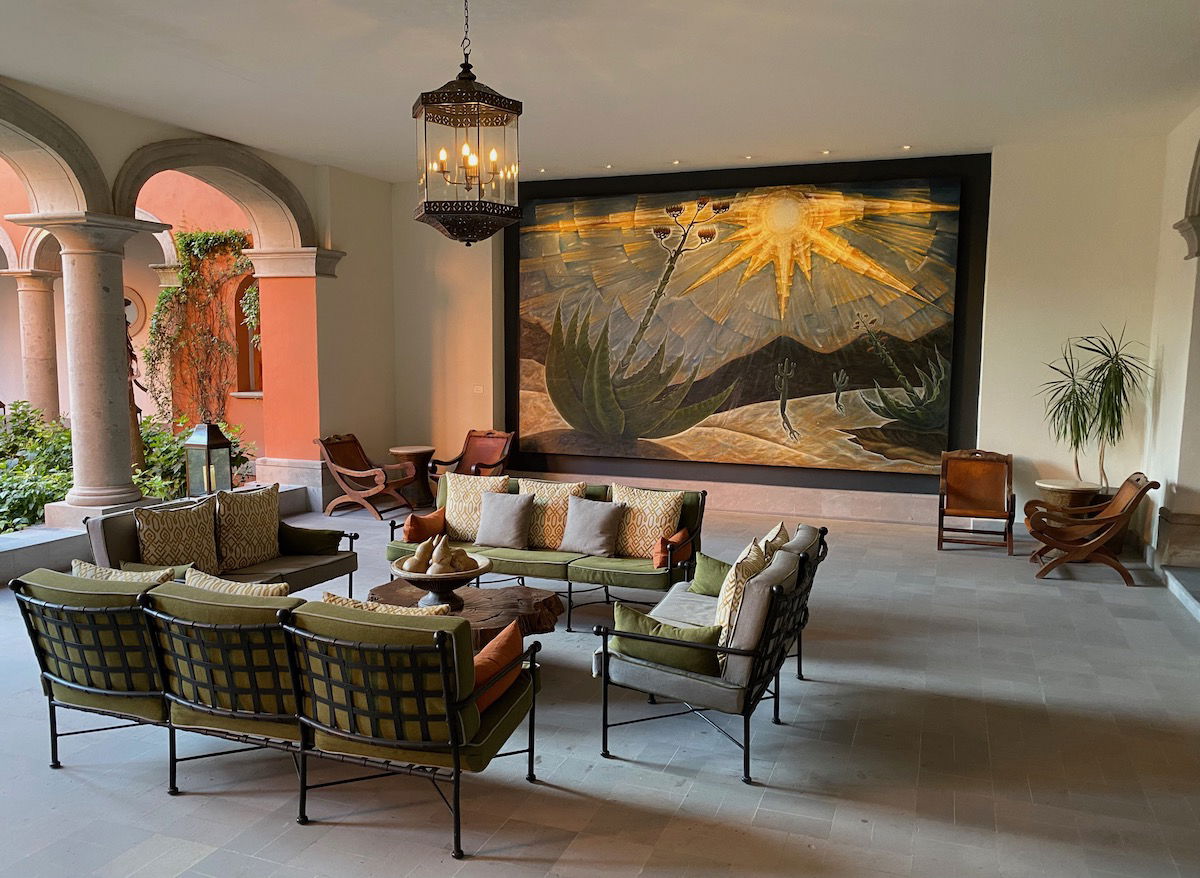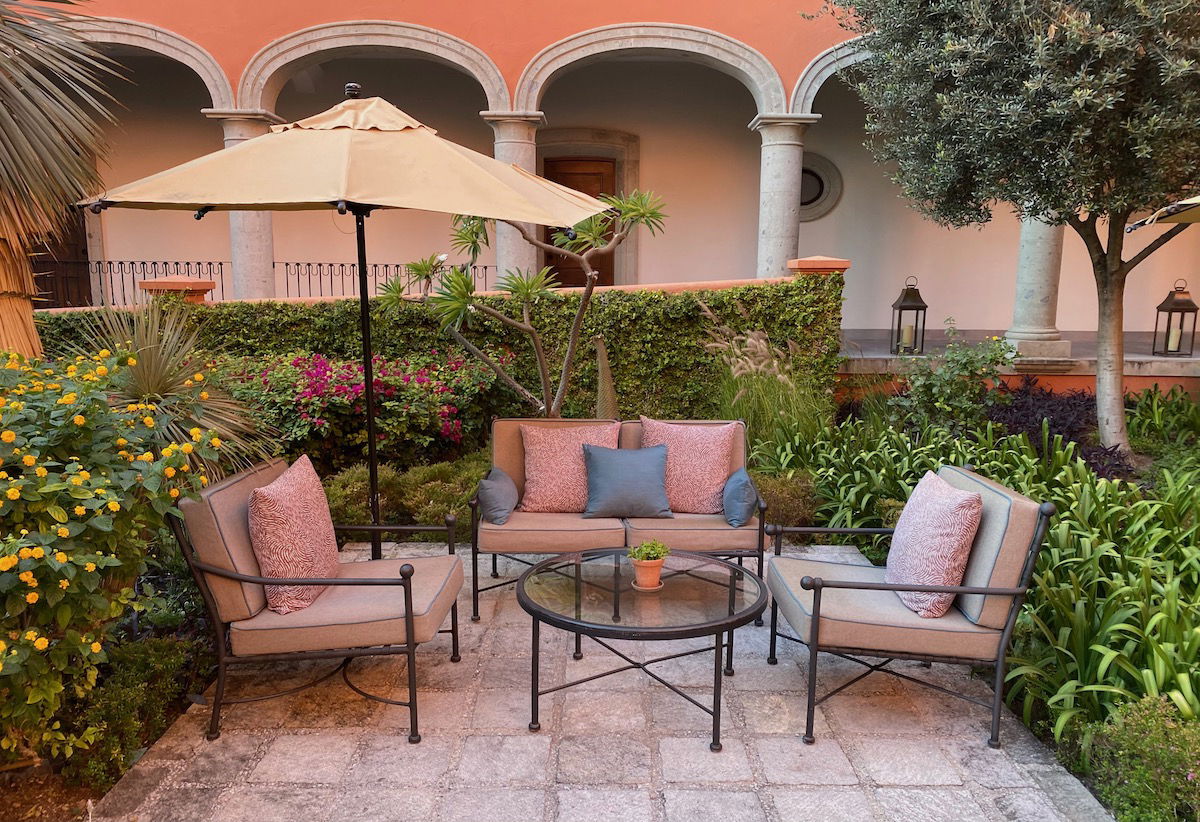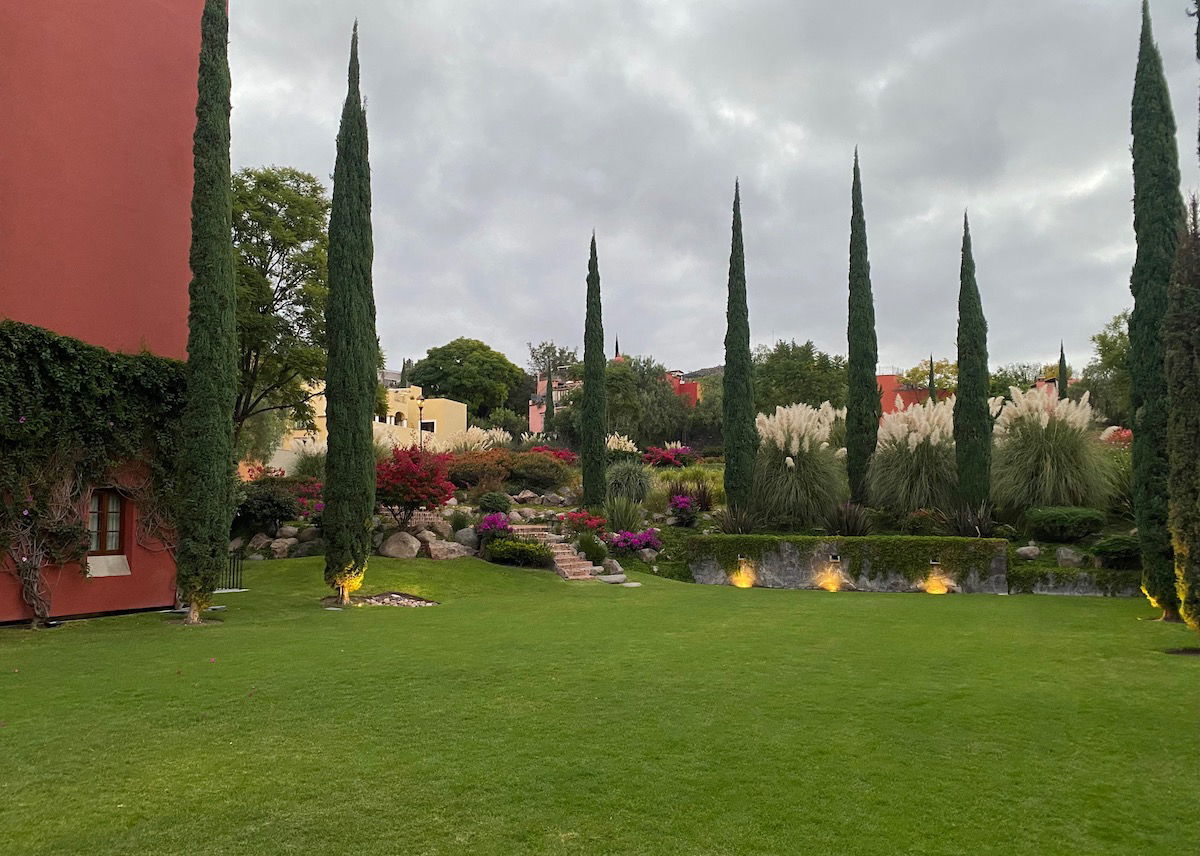 The main pool is an 82-foot lap pool, allegedly the only lap pool in San Miguel de Allende.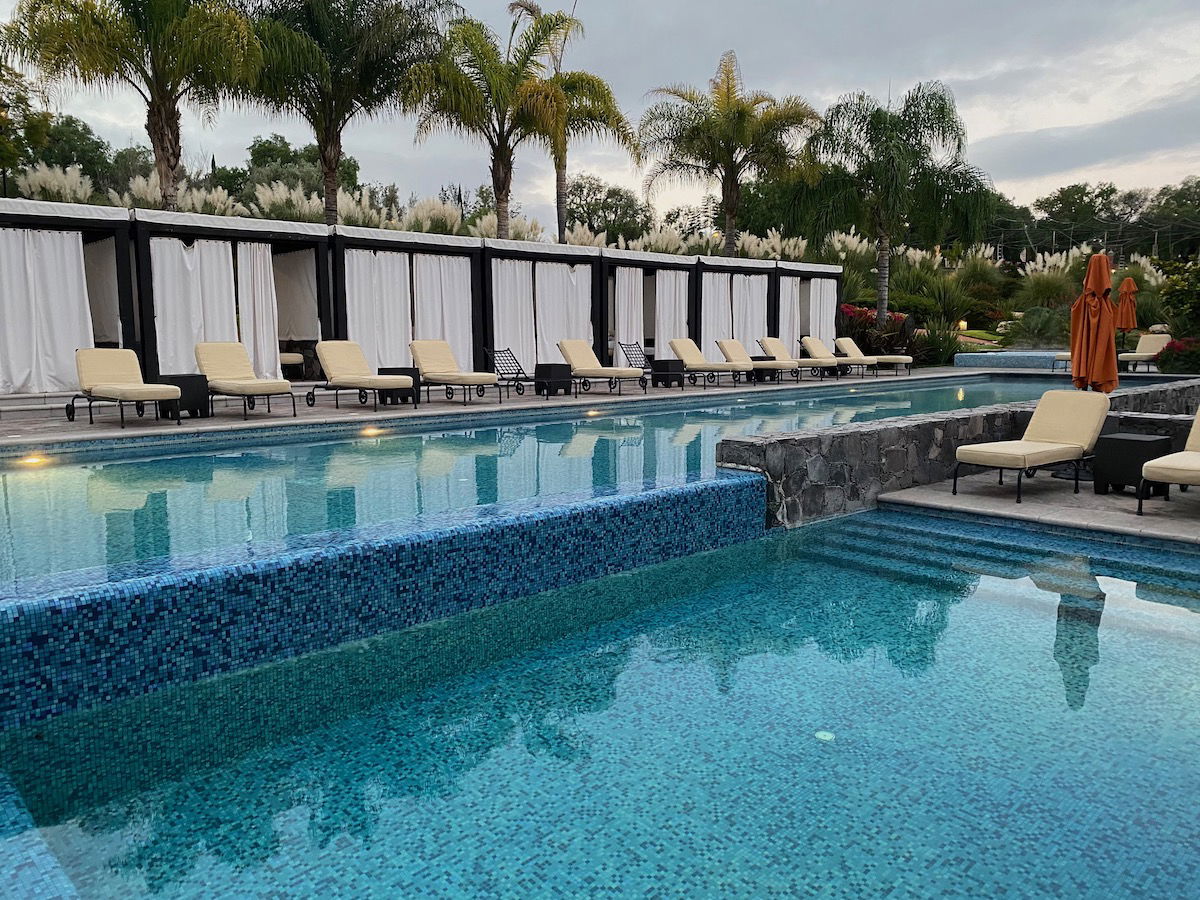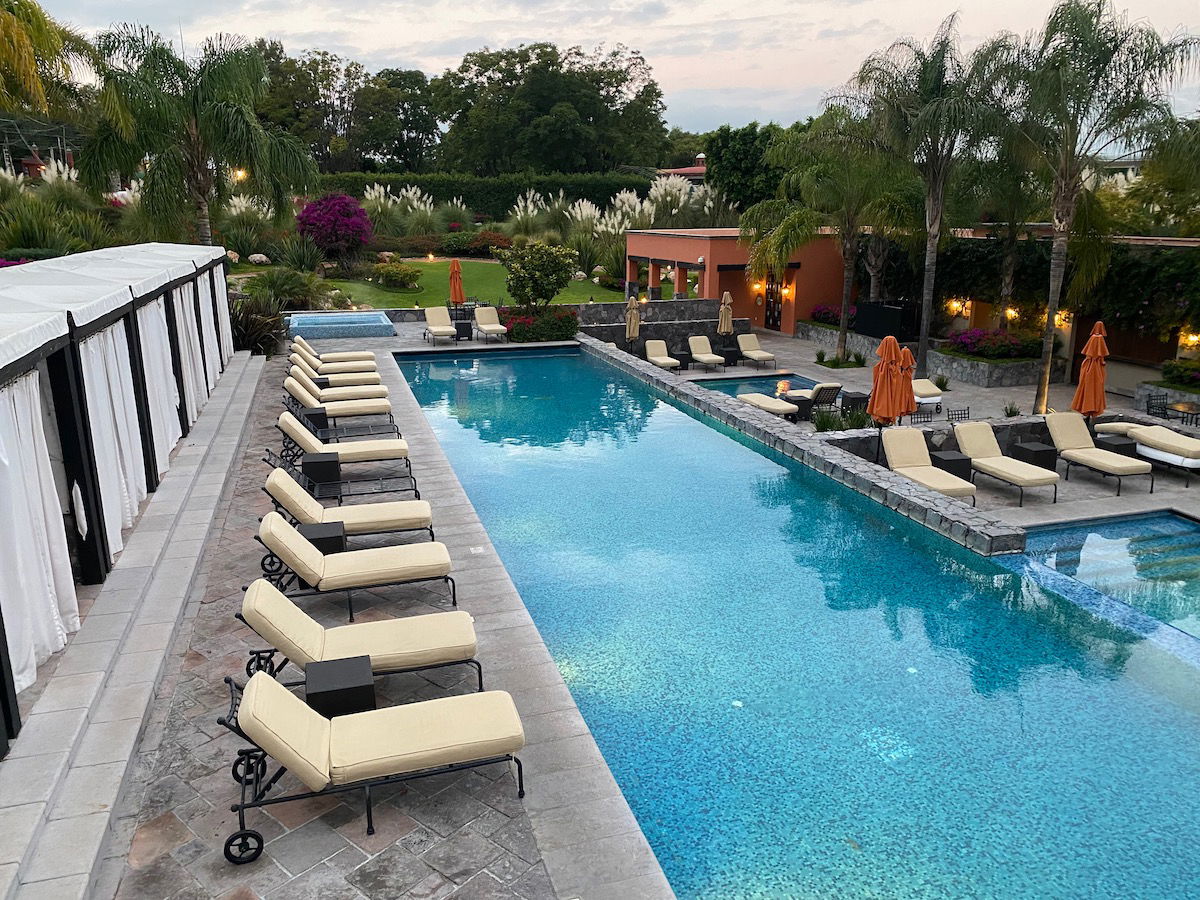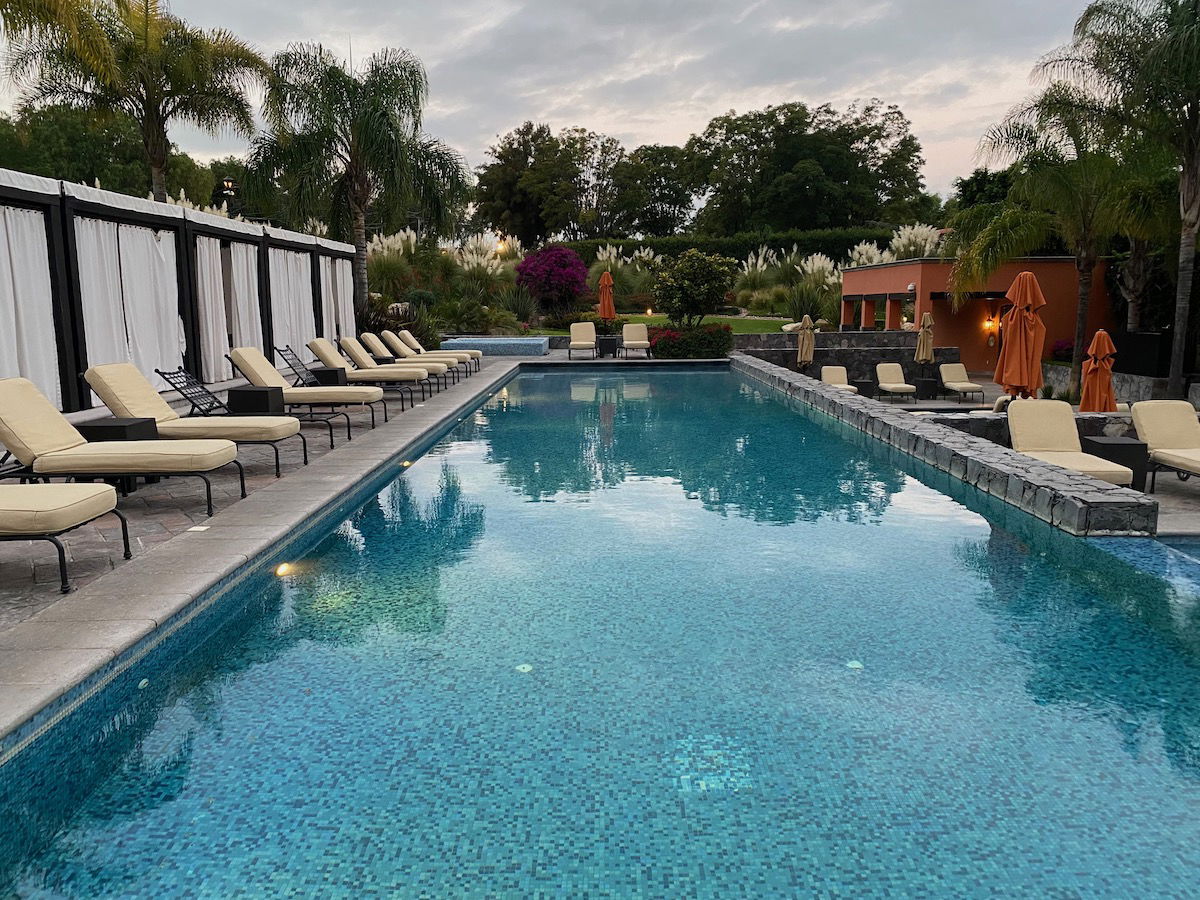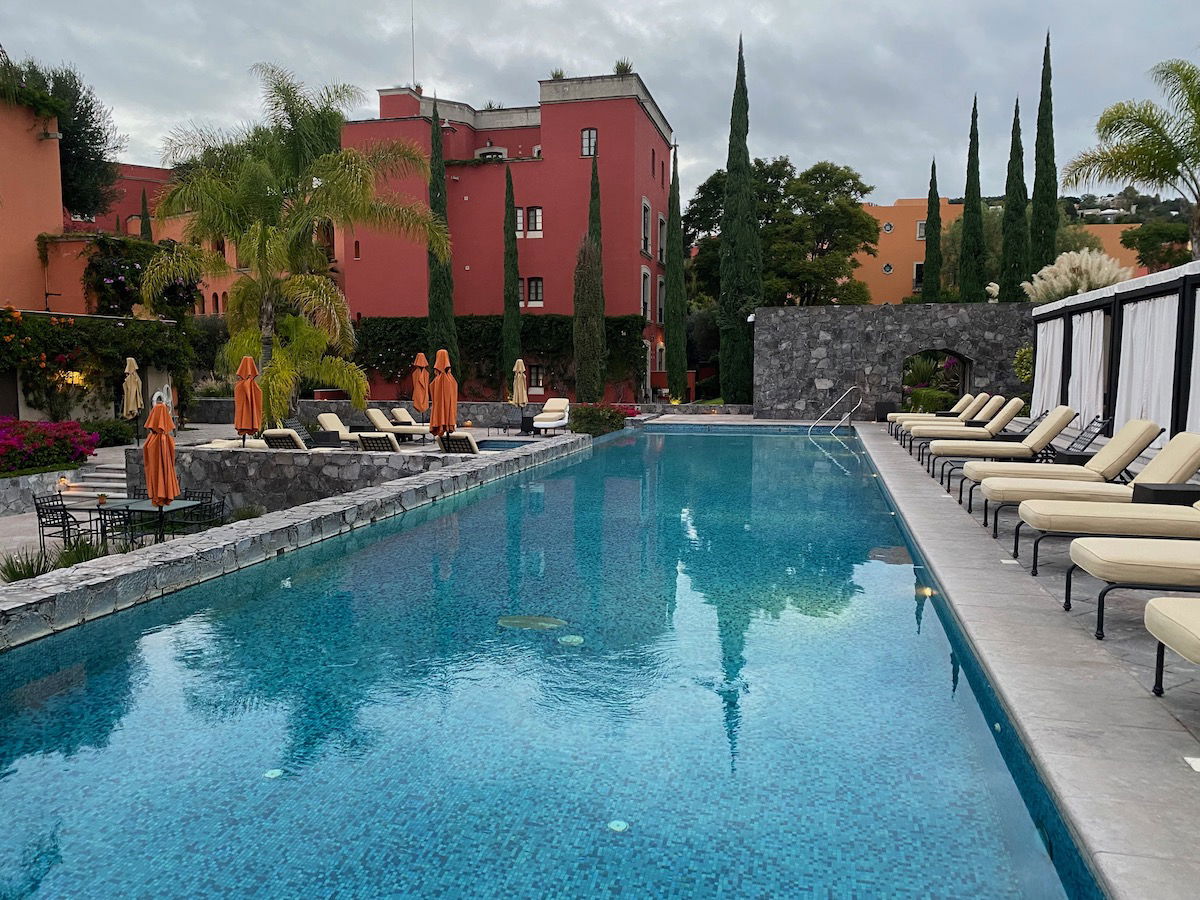 There are a couple more small pools one level down, plus a jacuzzi and a pool for kids.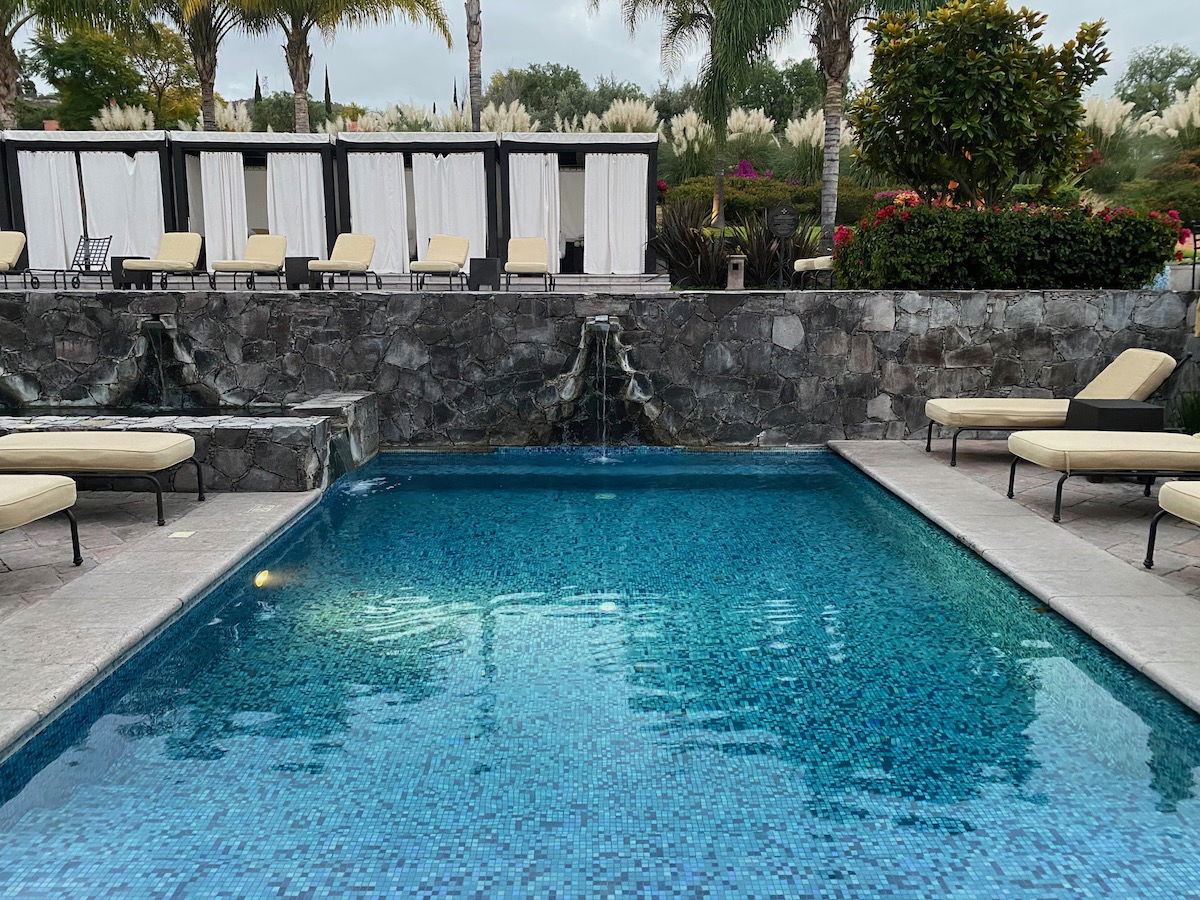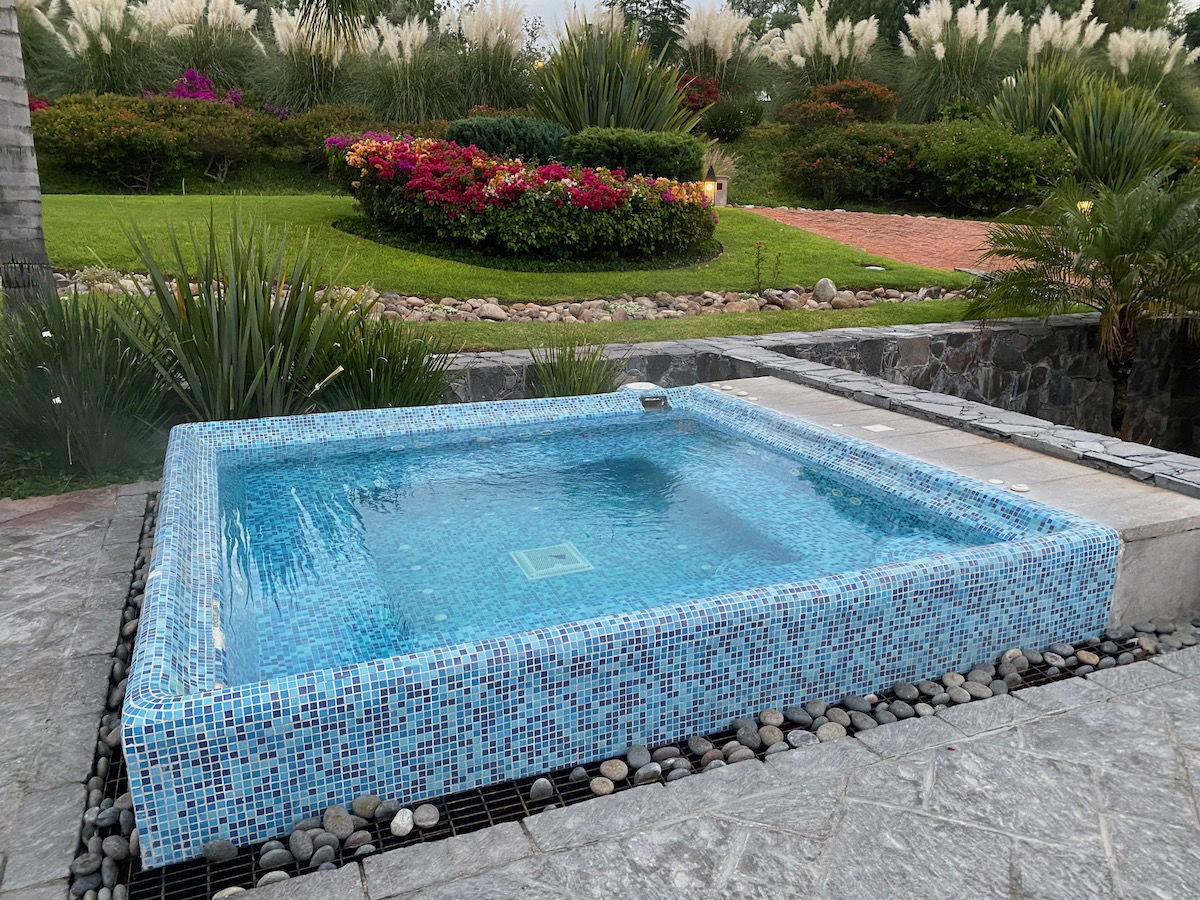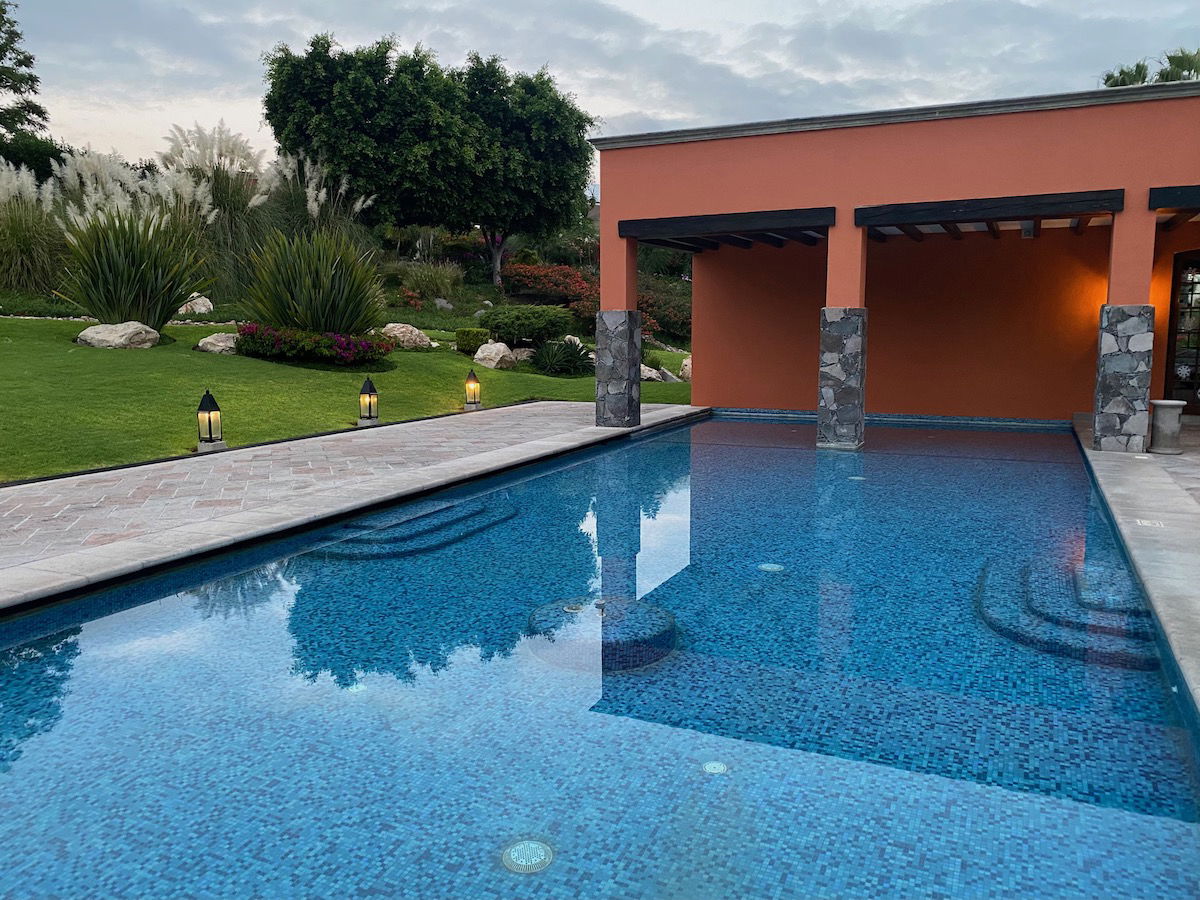 Rosewood San Miguel de Allende spa & gym
The Rosewood San Miguel de Allende has a massive gym, much bigger than I would have expected for a hotel this size. I guess the hotel sells gym memberships to locals (there's a big expat population), which explains why it's so big.
While the equipment was great, the room itself was depressing — there was little natural light, the lighting was way too bright, and the room was bland.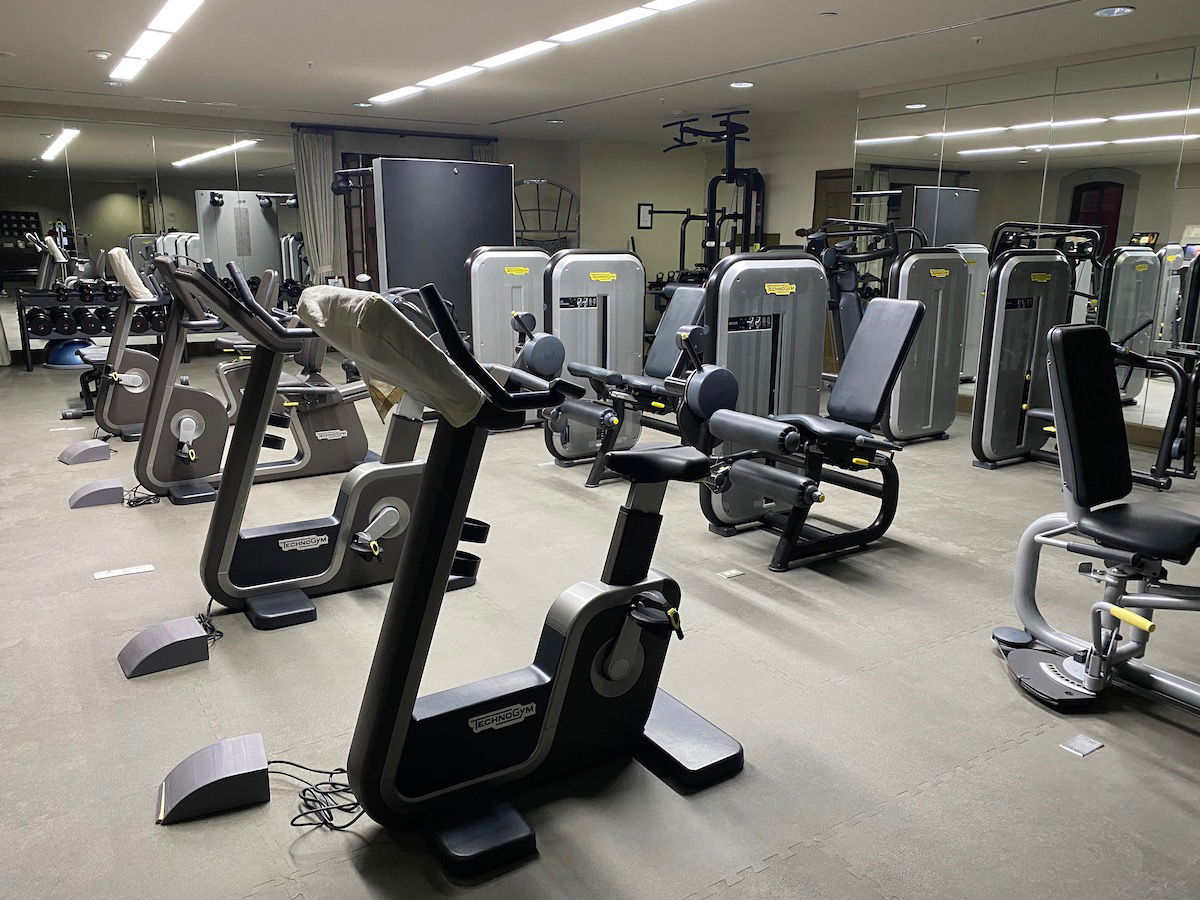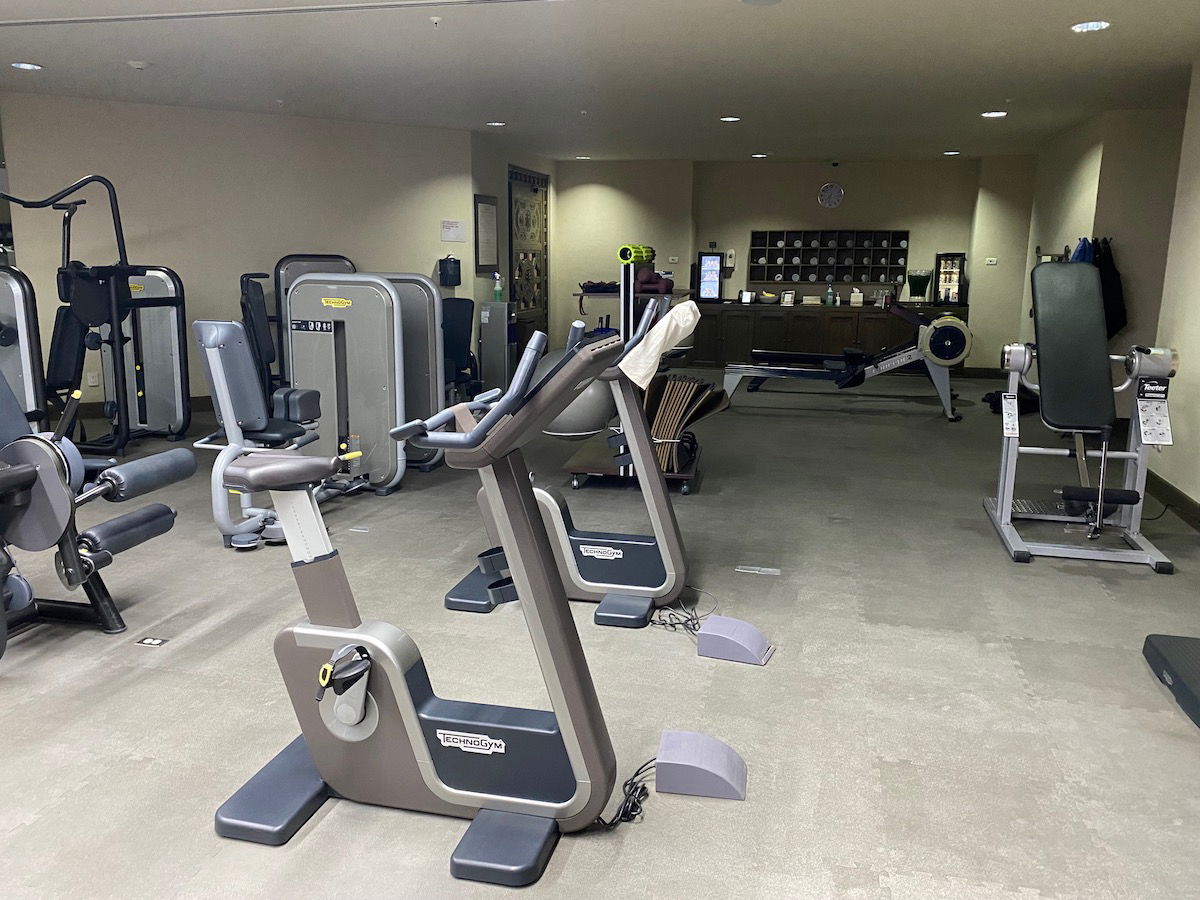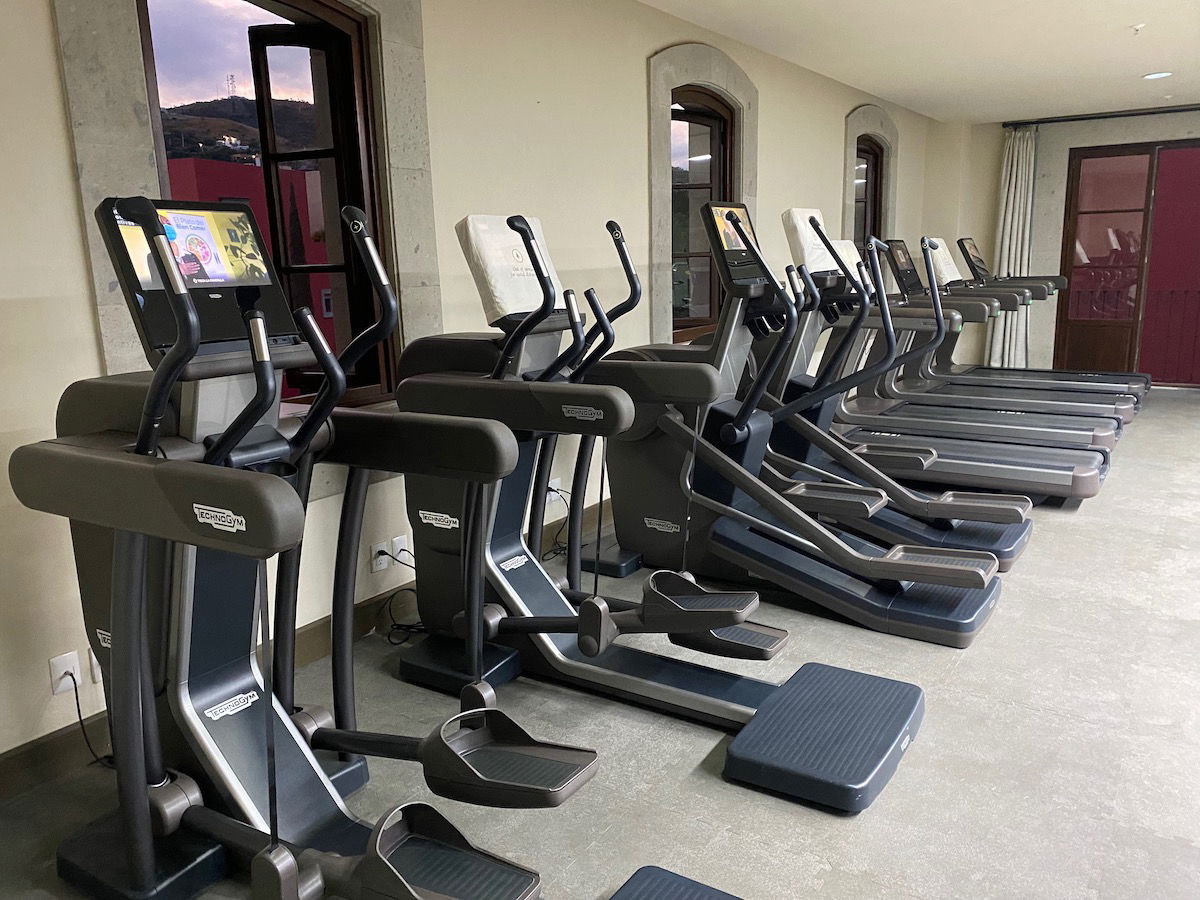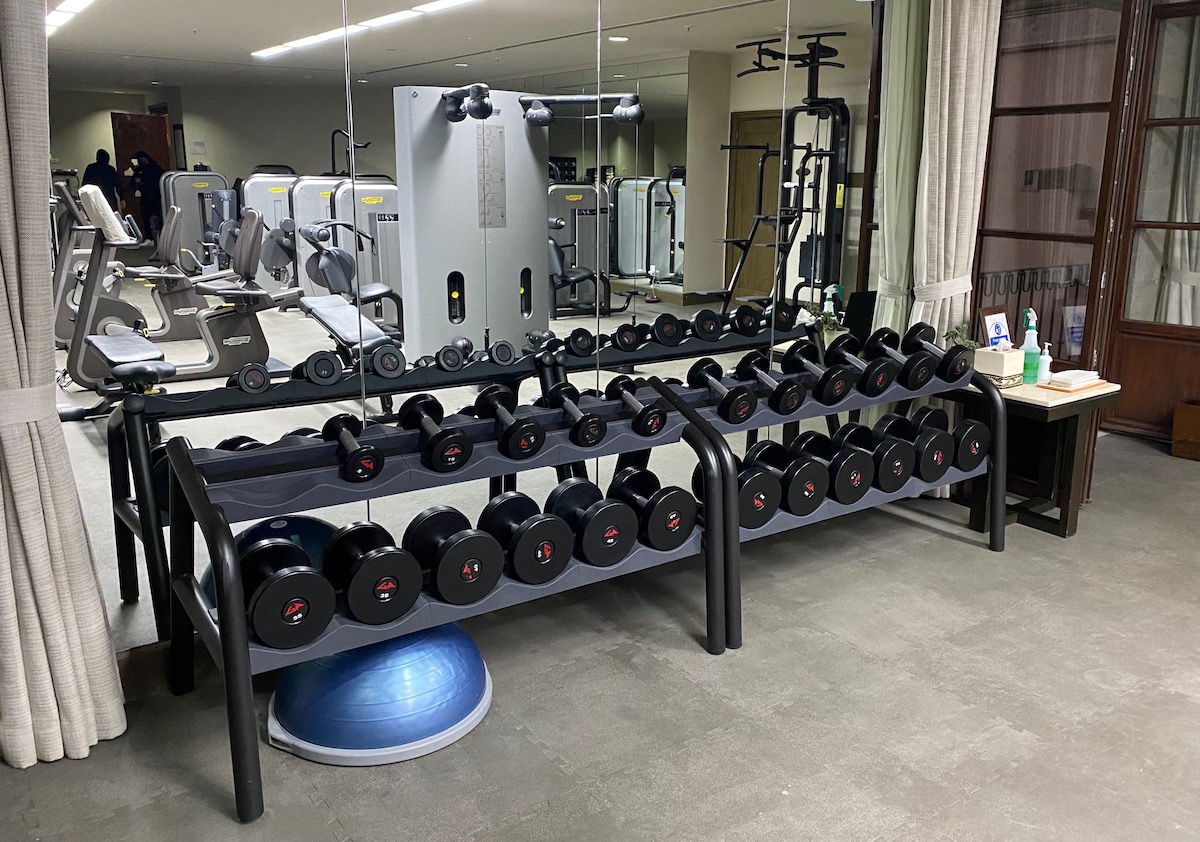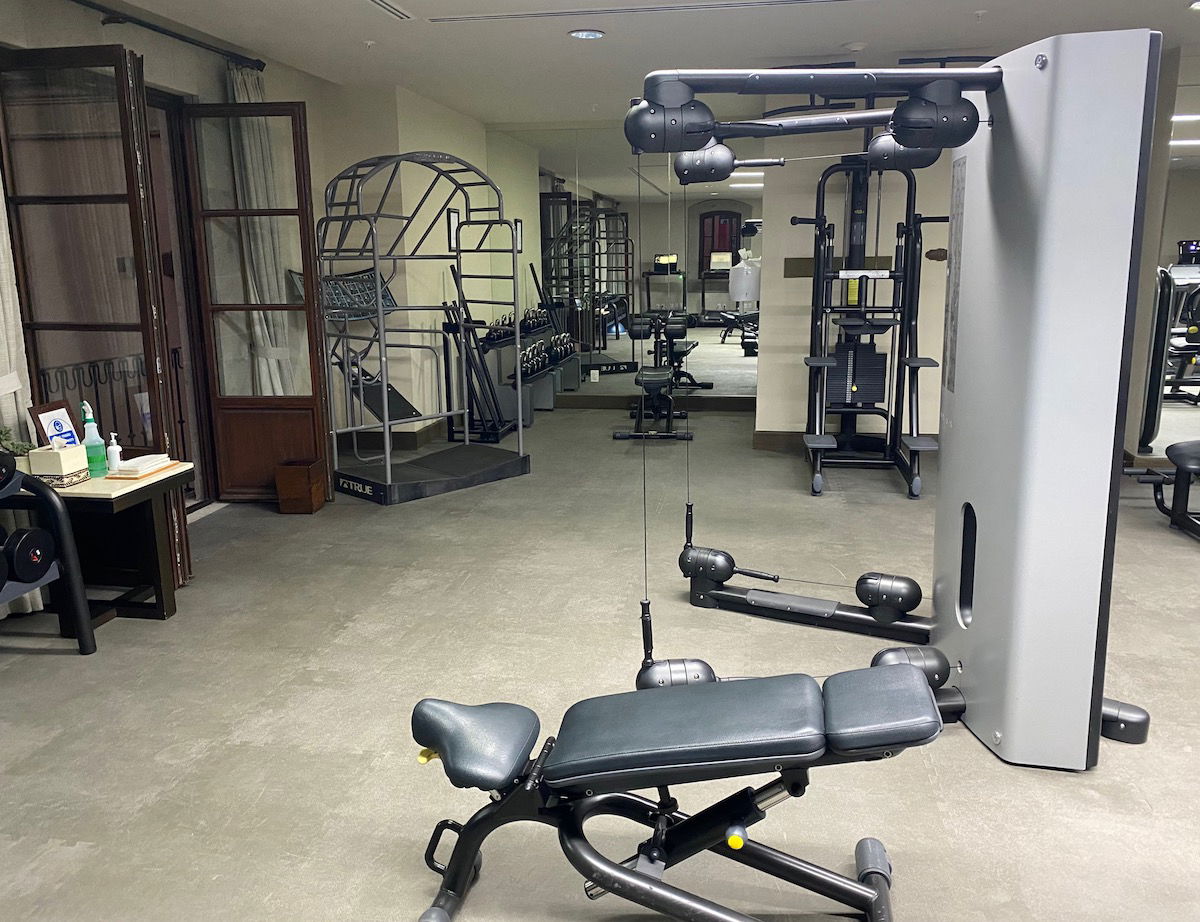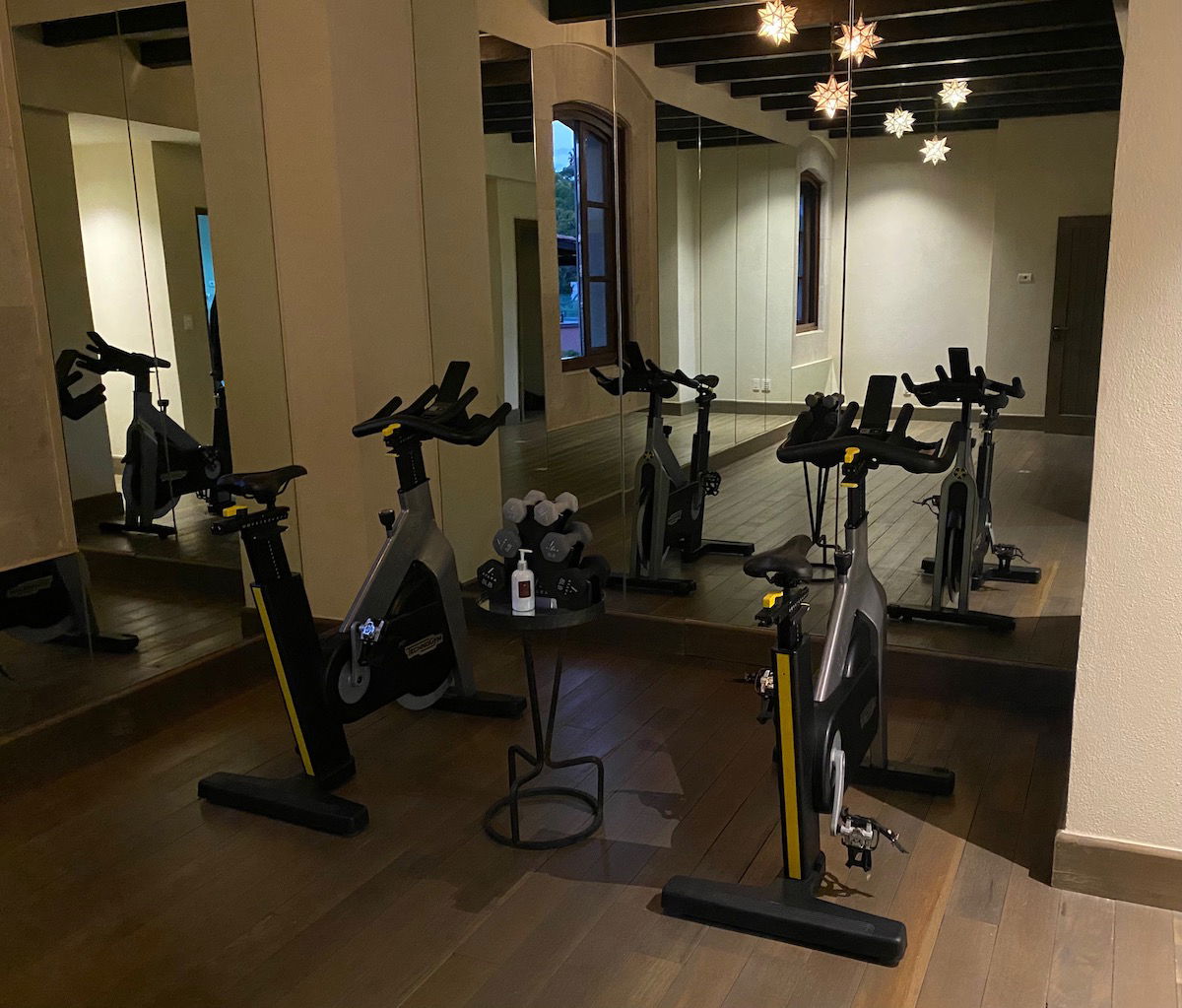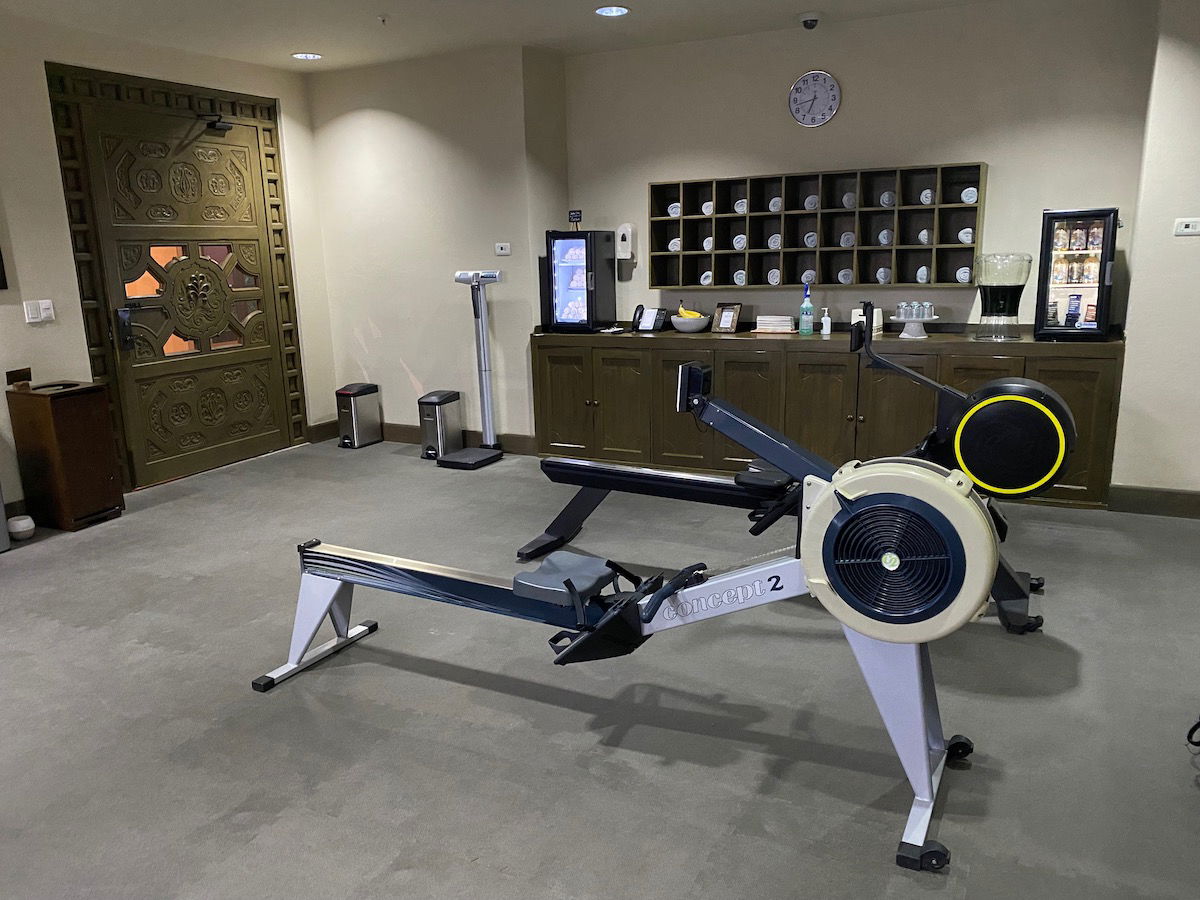 The Rosewood's spa, Sense, was located right next to the gym, though we also didn't use that during our stay.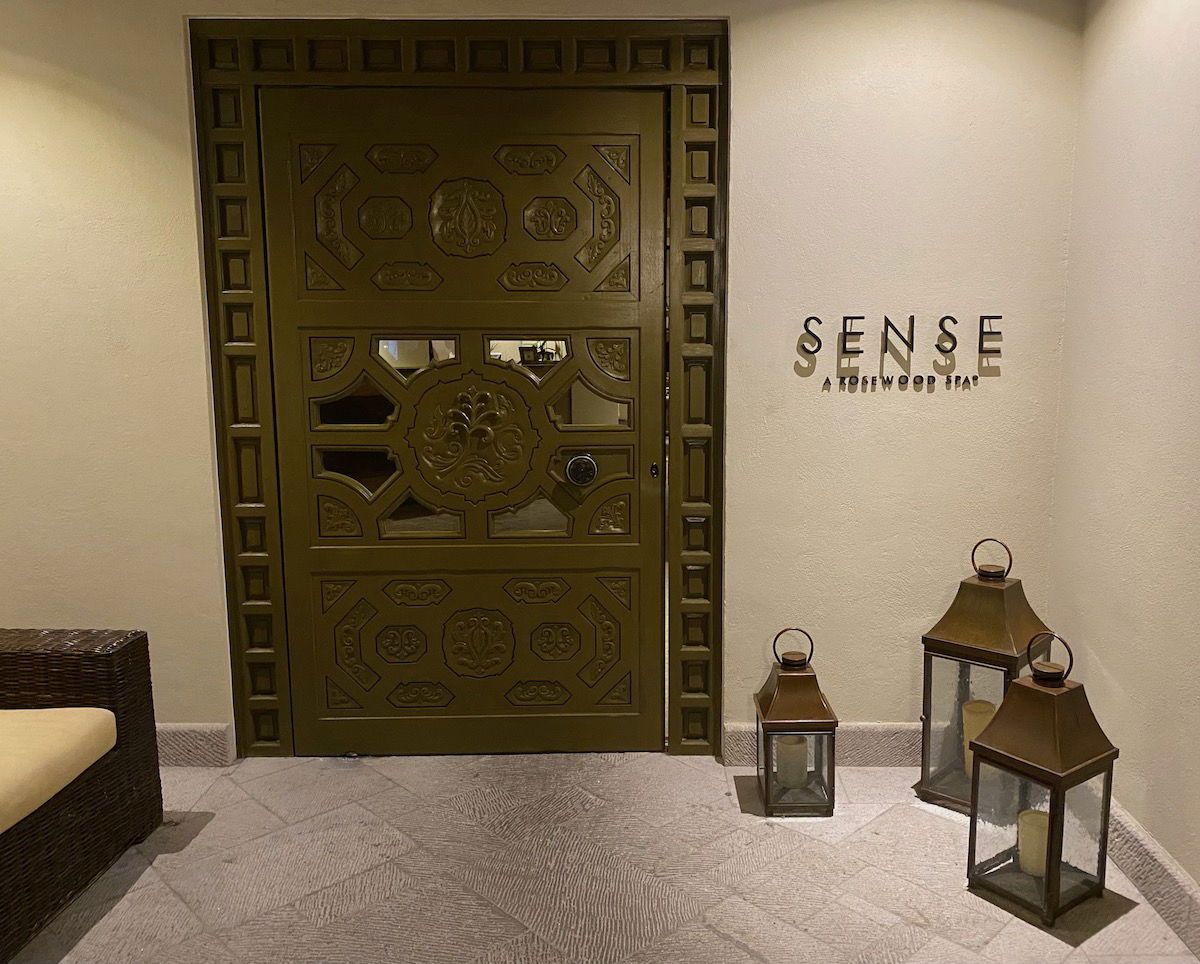 My issues with the Rosewood San Miguel de Allende
You might be thinking to yourself that the hotel looks great (or at least pretty nice), and are wondering why I'm rating this hotel 3.5 stars (and just to clarify, that doesn't mean I'm suggesting this is a 3.5 star hotel, but rather that this reflects my overall feelings about the property, compared to my expectations).
It's entirely possible we were unlucky, but too many things went wrong on our one night stay for me to want to return (or at least to get me to stay here again over trying the Belmond). For one, while the hotel has 67 rooms, it seems heavily geared towards conferences and conventions.
Hosting huge conferences (especially with non-guests) at a boutique hotel really changes the vibe, and I'll go out of my way to avoid properties like this. For example, across from Luna there was a huge banquet setup for an HSBC event that was going on.
This created quite a bit of noise, not to mention you had dozens and dozens of people in suits with lanyards walking around the property. This wouldn't be a huge issue at a 400+ room hotel, but for a hotel with just 67 rooms, having a conference for well over 100 people impacts the experience.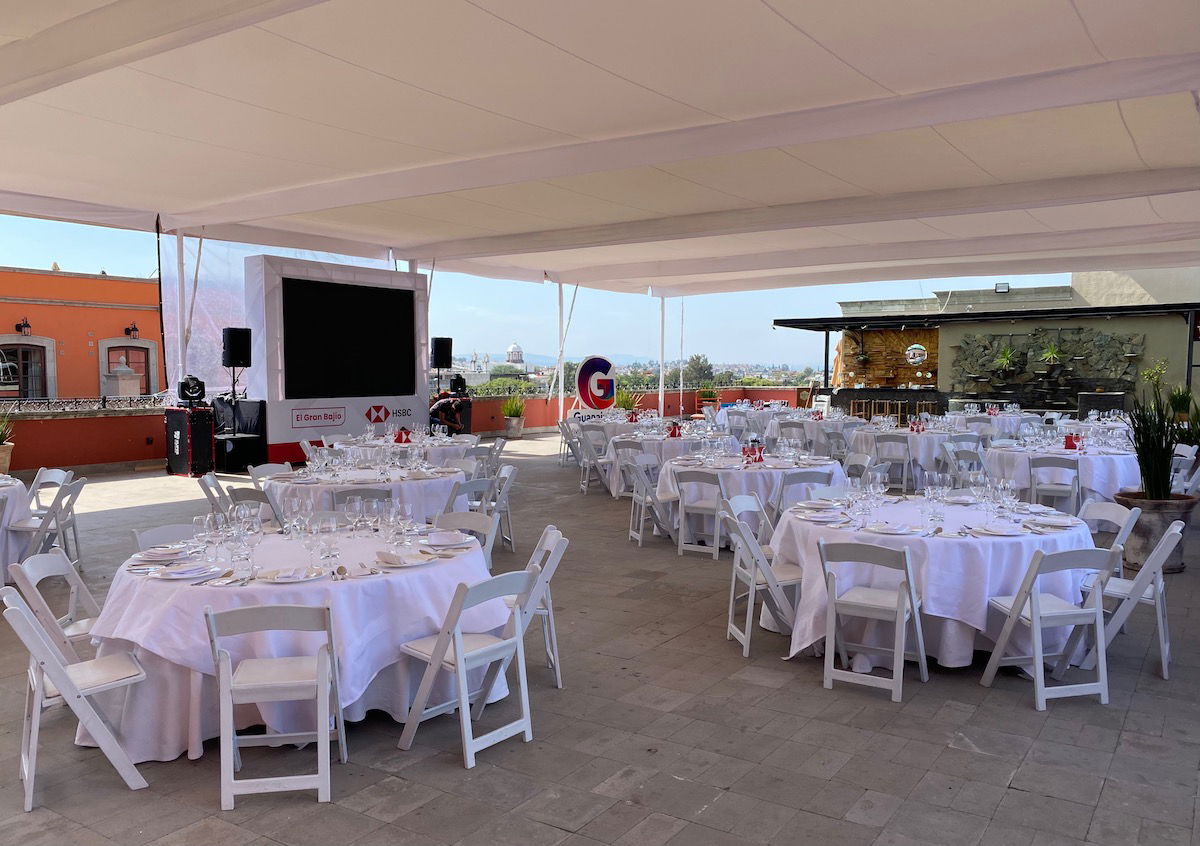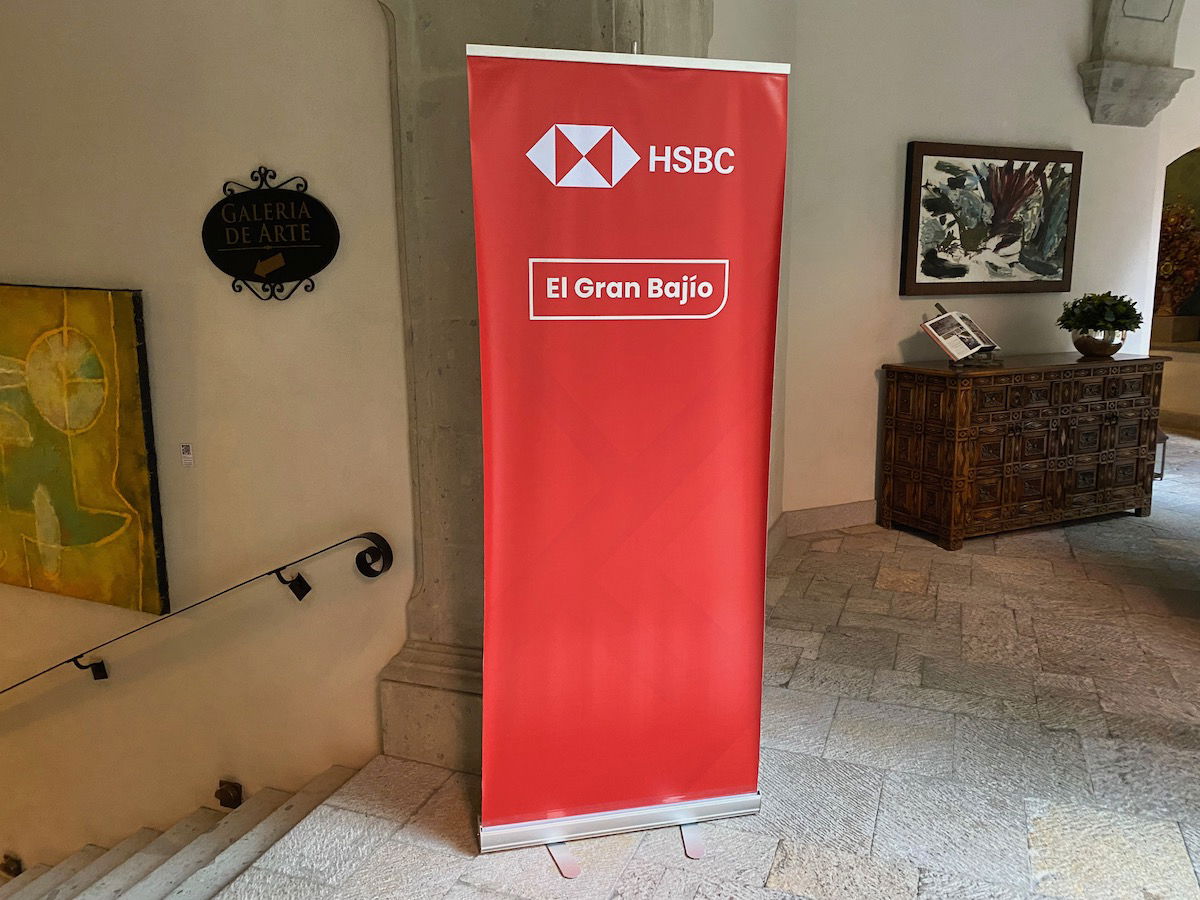 Furthermore, the hotel has no issues closing facilities for conferences. For example, we went to the Tequila Bar at 5:10PM for a drink, and were told we'd have to leave by 5:30PM, because the bar was being closed down for the private HSBC event. It's the hotel's prerogative to be conference-focused, and it's my prerogative to avoid hotels like this, which don't mind watering down the guest experience for these kinds of events. I should also mention that we weren't informed in advance that this would be closed, or else we could have timed our bar visit differently.
My other major issue with the Rosewood was the service. I absolutely love Mexico, and find it has some of the best service in the world, especially in high-end hospitality. While most staff at this hotel were well intentioned, service simply wasn't polished or detail-oriented:
When we went to Luna, we were asked if we had any dietary restrictions, and I said I don't eat pork; when we ordered guacamole, it was served with those fried pork chip things, and only after I asked did they realize the mistake they made
We were waiting for Ford's mom at breakfast, and we told them from the moment that we sat down that we got to the restaurant that there would be three of us, and we were waiting for a third person; on three separate occasions servers came by to attempt to remove the cutlery for the third person before she arrived, so there's clearly not very good communication and organization between staff here
Late at night five of us ordered room service, including food and two bottles of wine, and we asked for the wine to be brought up soon, and the food to be brought up when it's ready (they said it would take 45 minutes); that shouldn't be a big ask when we're talking about fairly pricey bottles of wine and a luxury hotel, and they acknowledged that they'd do it and it wouldn't be an issue, but then they didn't end up doing it
The biggest issue was when we tried to leave the hotel on the morning of departure, as we were going to the house we were renting. Taxis are plentiful in San Miguel de Allende, and we asked the bellmen to order a taxi for us. Long story short, we had to ask five different times for a taxi, and were completely ignored by the bell staff. The issue wasn't that it was taking so long, but rather that every time we asked, they acted surprising that we wanted a taxi, as if we hadn't asked for one before.
To be clear, individually none of these things are big problems, and for that matter it's possible we were just unlucky. However, I can only share my experience based on our (admittedly) short stay, and it just wasn't great. For what it's worth, Ford had a friend who had stayed at the property a while back. During our stay Ford asked him what he thought of the hotel, and he said he had a not-great experience as well.
For the record, I shared all of this feedback with the hotel at check-out (I think that's important, rather than pretending everything is great and then leaving constructive feedback online). The front desk agent documented much of it, but there was no attempt at service recovery otherwise.
Bottom line
The Rosewood is one of the top luxury hotels in San Miguel de Allende. Physically the hotel is nice, with large rooms that have a good sense of place. Unfortunately the soft product at the hotel leaves a bit to be desired, and would prevent me from returning.
The Rosewood seems to be heavily conference-oriented, which takes some of the charm out of staying at a boutique property. Furthermore, we had several service issues — while mostly minor, I expect better at a luxury property. Hopefully we just had a bad experience, and this doesn't reflect how the hotel usually operates, though unfortunately I'm not convinced that's the case…
If I returned to San Miguel de Allende, I'd probably try the Belmond next time (or somewhere else, but I wouldn't return to the Rosewood).
If you've stayed at the Rosewood San Miguel de Allende, what was your experience like? How forgiving are you of consistent minor issues like these?