Hello from Doha! My dad and I are taking a quick round the world trip (he doesn't know where we're going). After flying Etihad's Boeing 787 first class from Washington to Abu Dhabi, we made the short hop to Doha in Qatar Airways' Boeing 737 MAX first class (really business class, but on short haul flights it's marketed as first class).
I was excited about this flight, not only because Qatar Airways offers the world's best premium short haul experience, but also because this flight was operated by an aircraft that's brand new to Qatar Airways' fleet. Prior to my flight, I hadn't yet seen any reports of what the interiors of these planes are like, so I'm happy to report back with that! First some background…
Qatar Airways picked up nine Boeing 737 MAX 8s
Qatar Airways recently picked up nine Boeing 737 MAX 8 aircraft, in order to be able to increase short haul capacity. This wasn't initially part of Qatar Airways' long term fleet strategy, but the airline saw an opportunity.
Specifically, these planes were intended for Russia's S7 Airlines. However, due to sanctions in place, Boeing isn't able to deliver these planes to a Russian carrier, so these planes became available, and Qatar Airways seized the opportunity.
For context, this is only a very small part of Qatar Airways' narrow body fleet renewal plan:
While you can expect that the A321neos and 737 MAX 10s will feature signature Qatar Airways interiors, the priority with the 737 MAX 8s was getting the planes into service as quickly as possible. They just started operating passenger flights as of May 2023.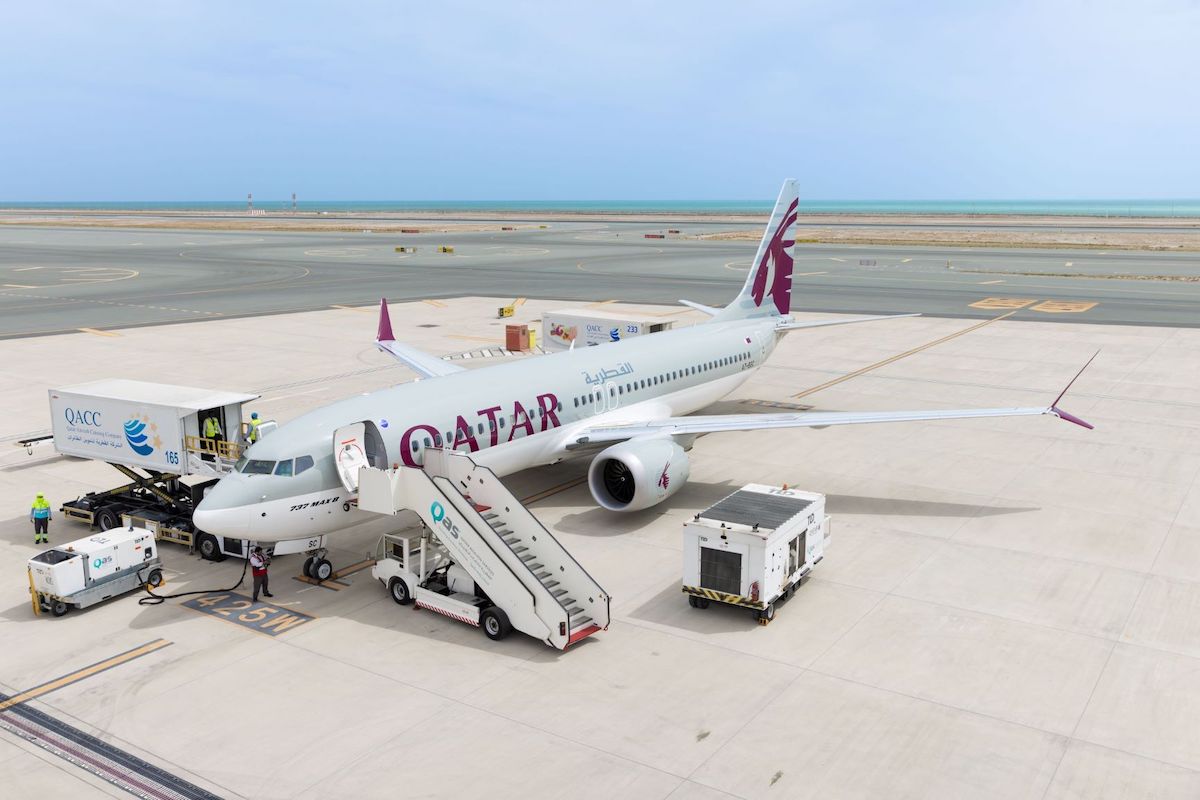 Qatar Airways' Boeing 737 MAX 8 interiors
While Qatar Airways is planning on eventually introducing what I'm sure will be an industry-leading interior on its narrow body jets, the airline is taking a different approach with these 737 MAX 8s.
These planes already had interiors installed for S7 Airlines, so Qatar Airways has essentially just updated the cabin finishes to better reflect the carrier's branding, but the airline isn't otherwise introducing its premium product on these planes, at least for now.
It's worth noting that Qatar Airways seems to intentionally be using these planes on very short flights, typically under an hour in length.
Qatar Airways' Boeing 737 MAX 8s feature a total of 176 seats, including eight business class seats (marketed as first class on many flights within the Gulf), and 168 economy class seats. Let's take a look at the interiors.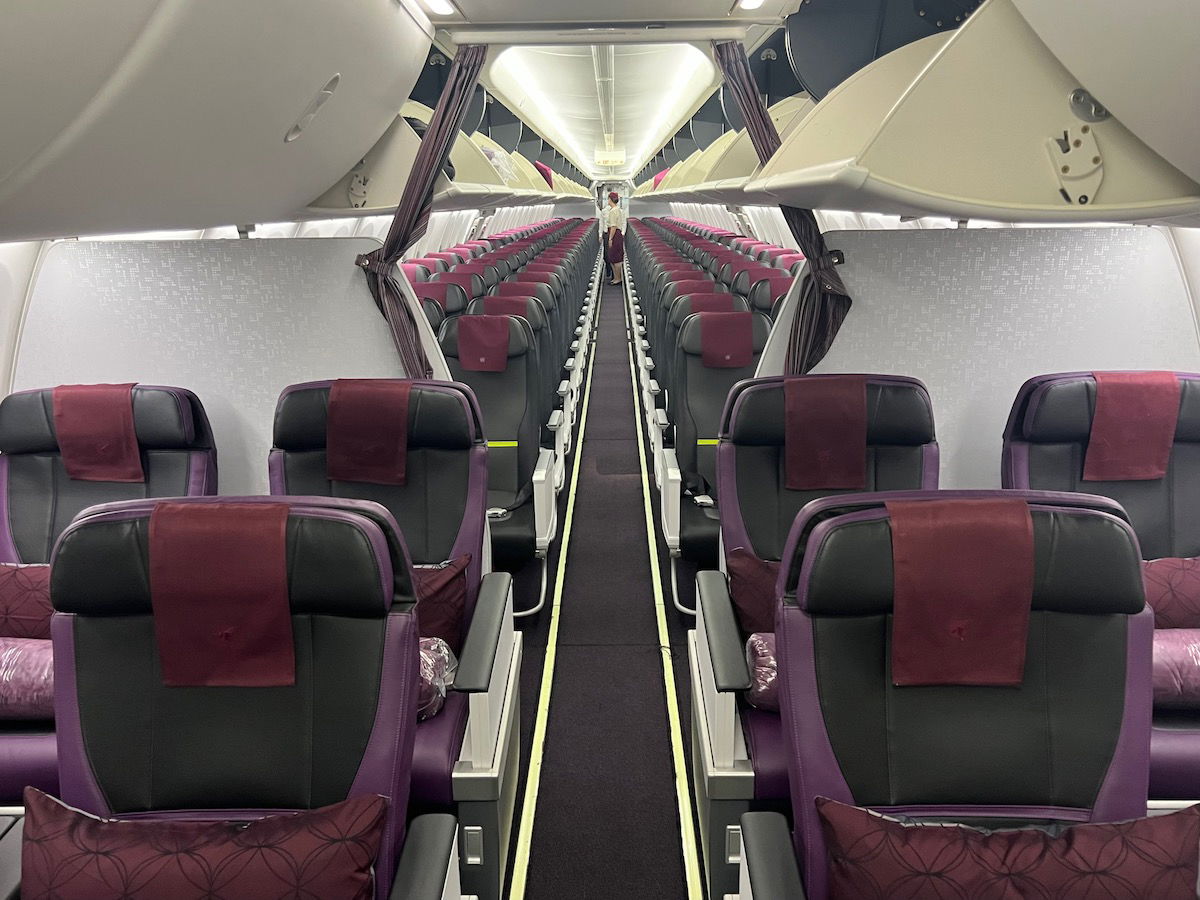 Qatar Airways' Boeing 737 MAX business class
Qatar Airways' 737 MAX business class cabin consists of just eight seats, spread two rows in a 2-2 configuration. These planes have the same seats you'll find in premium cabins on everything from American Airlines to Bamboo Airways, except with Qatar Airways' colors.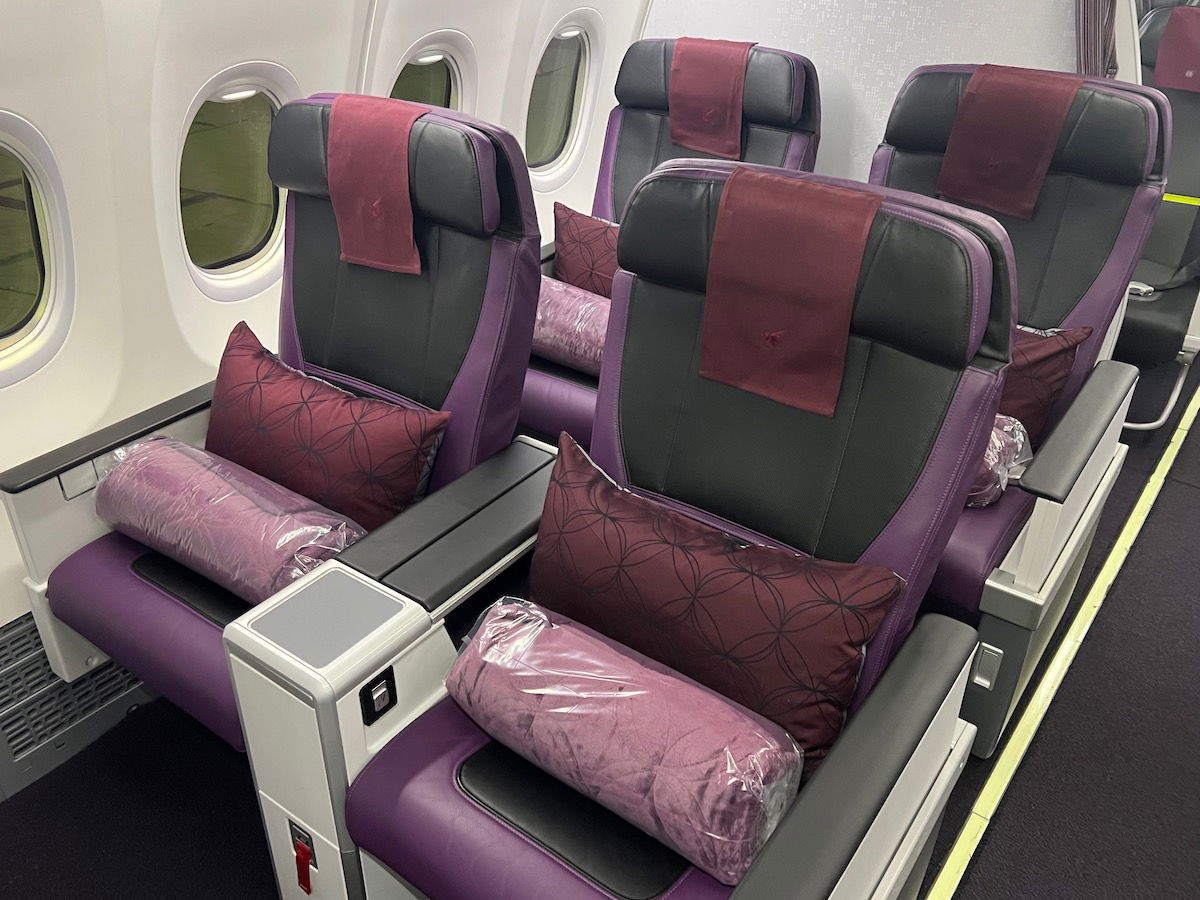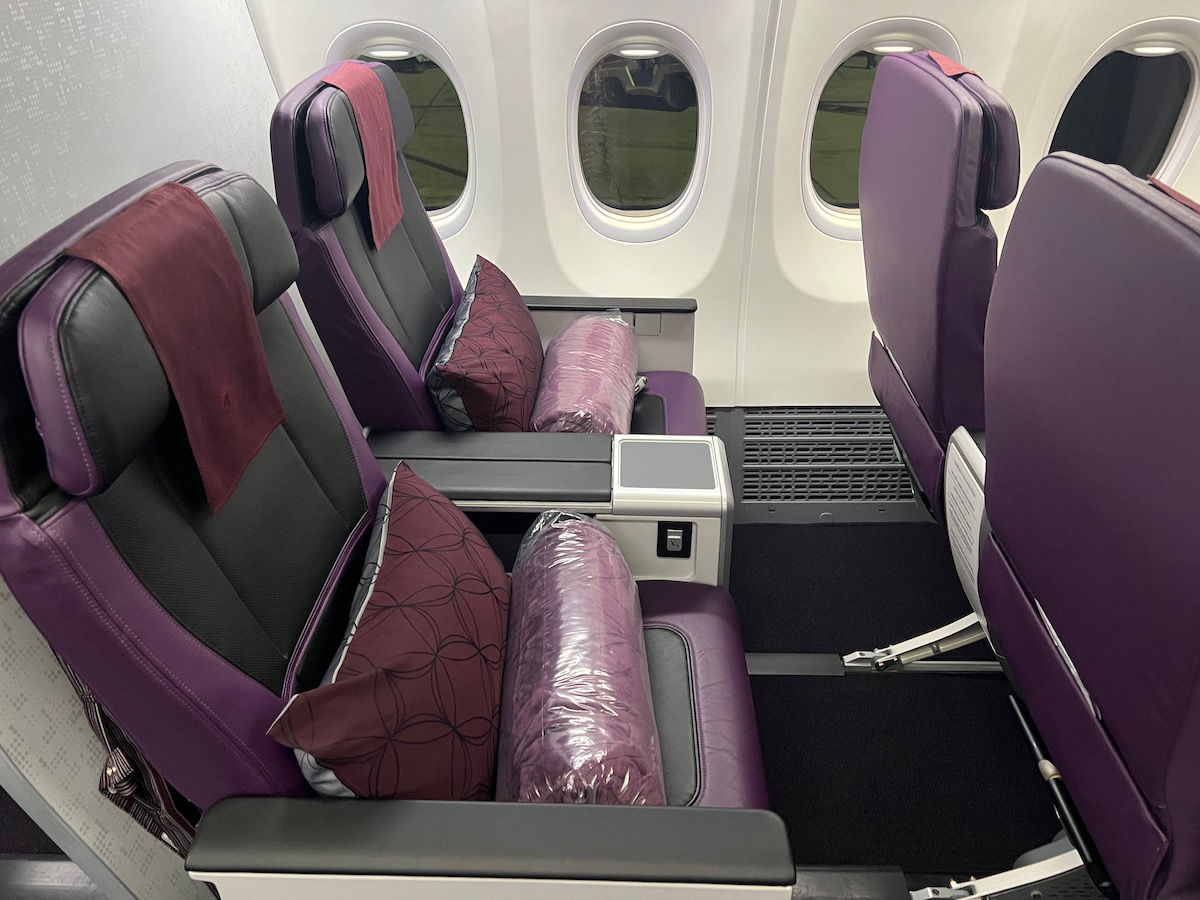 The legroom is quite good, there are footrests, and there are power ports at each seat.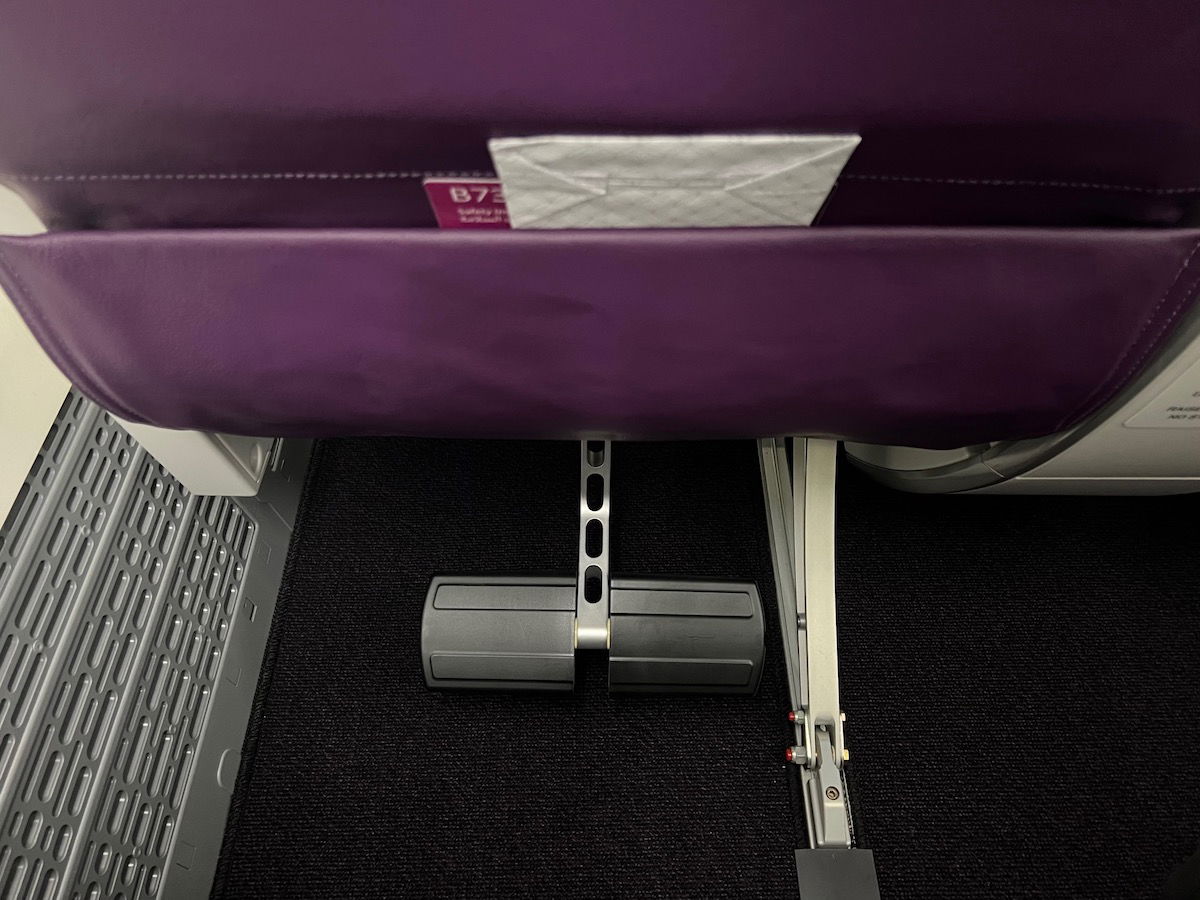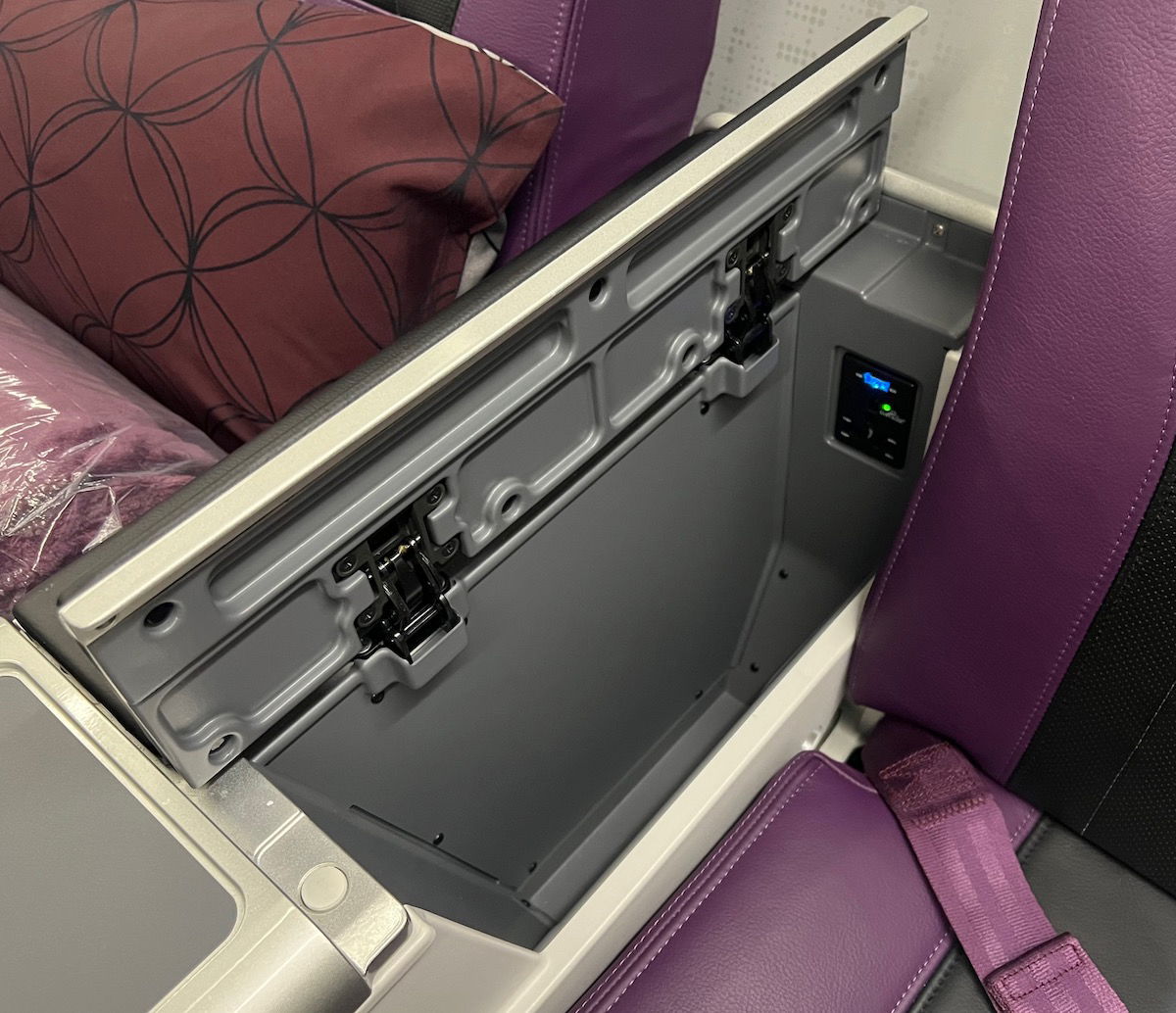 There isn't Wi-Fi on these 737 MAX 8s, though Qatar Airways distributes iPads in business class. I couldn't help but laugh at how over-the-top that is for a flight that's not even 40 minutes long. Why yes, I'd love to watch a movie while also enjoying the nonstop service on these short flights.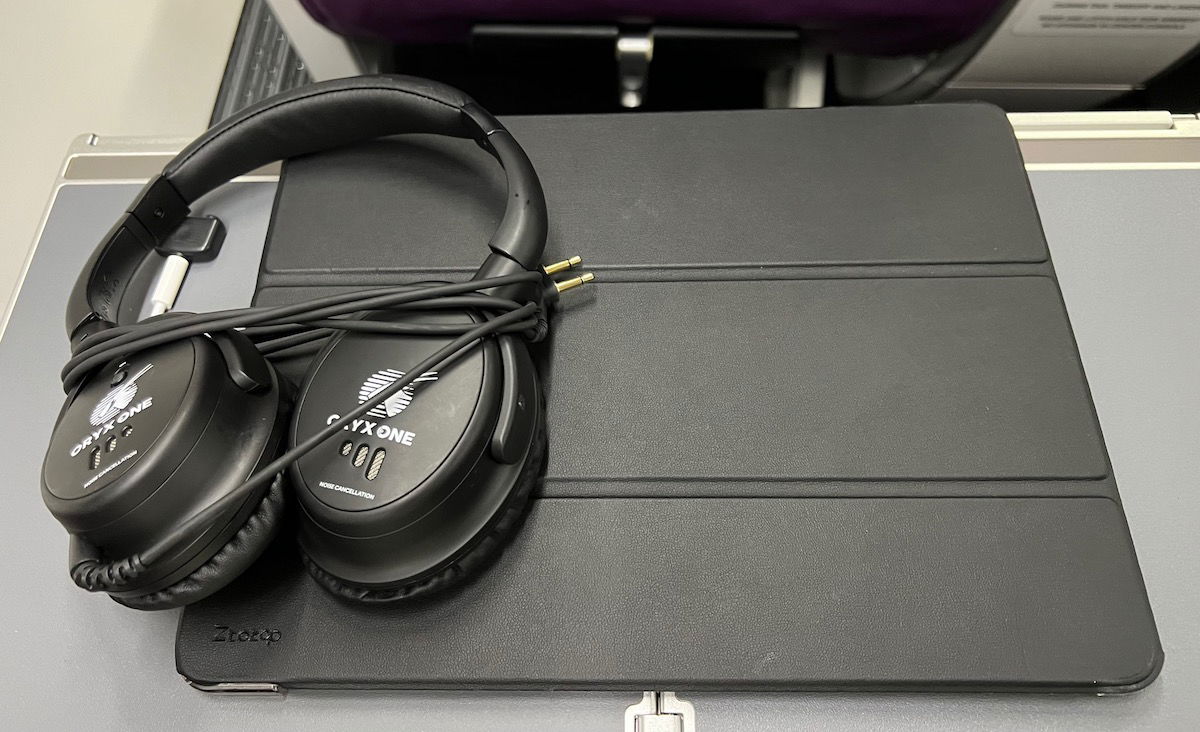 Unfortunately these planes have Boeing's new standard 737 MAX bathrooms, which are awful. I don't know what Boeing was thinking with these lavs, but they're tiny, and the sink in particular is too small. But at least on Qatar Airways it's kept spotlessly clean, and you get Diptyque toiletries.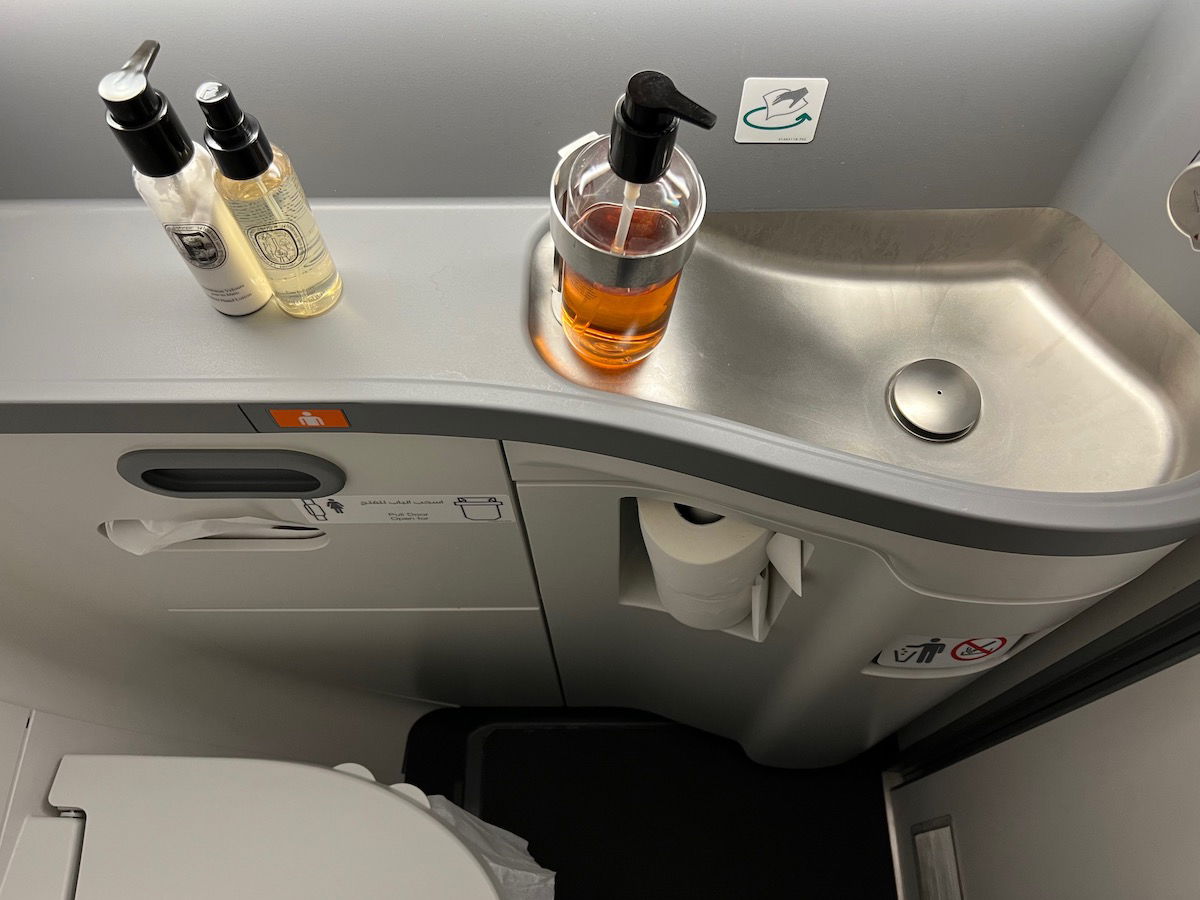 The only other thing that made the premium cabin experience different is that there isn't an espresso machine onboard these planes, so you can't enjoy an espresso or cappuccino. Hardly a big problem on a 200-mile flight at 2AM!
Qatar Airways' Boeing 737 MAX economy class
Qatar Airways' 737 MAX economy class cabin consists of 168 seats, spread 28 rows in a 3-3 configuration. These seats are also the same that you'll find in American Airlines economy. There are power outlets at each seat, as well as personal device holders.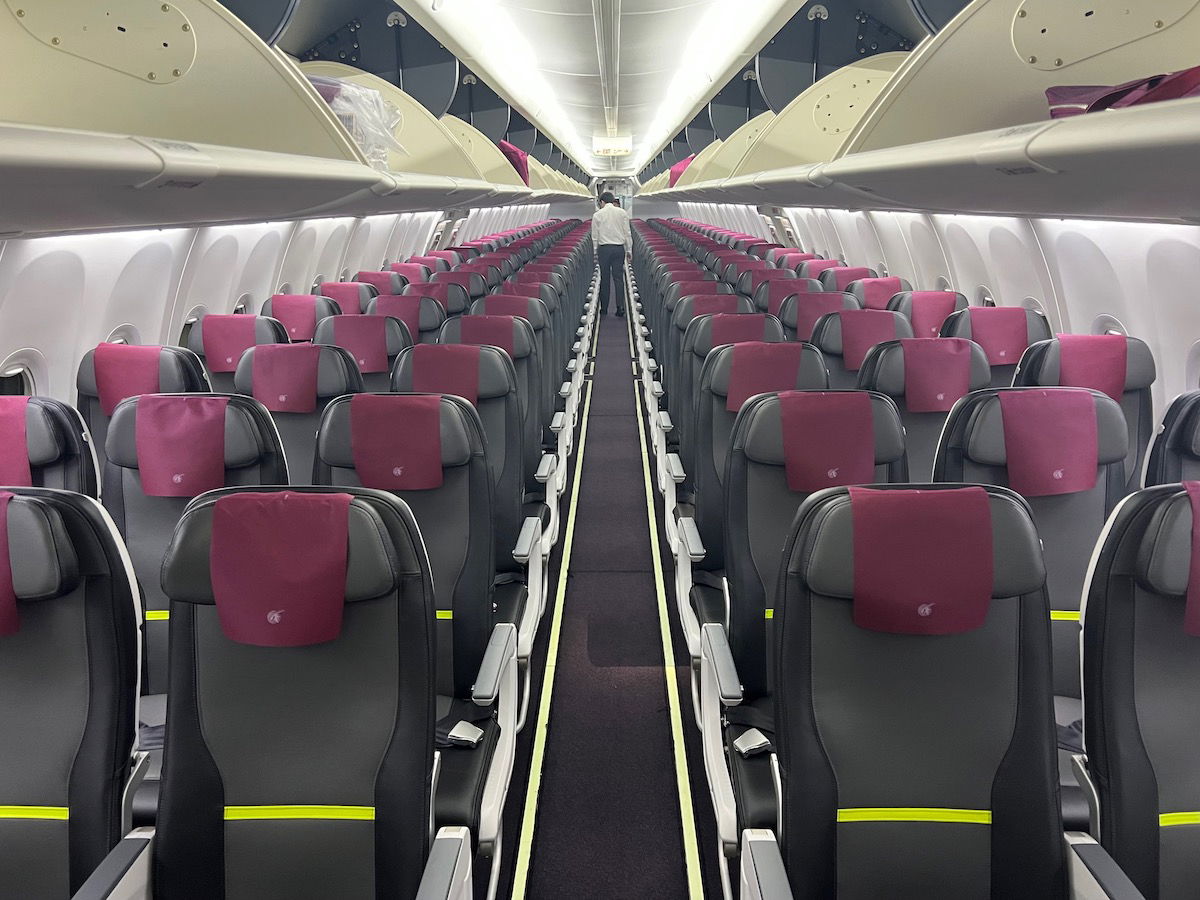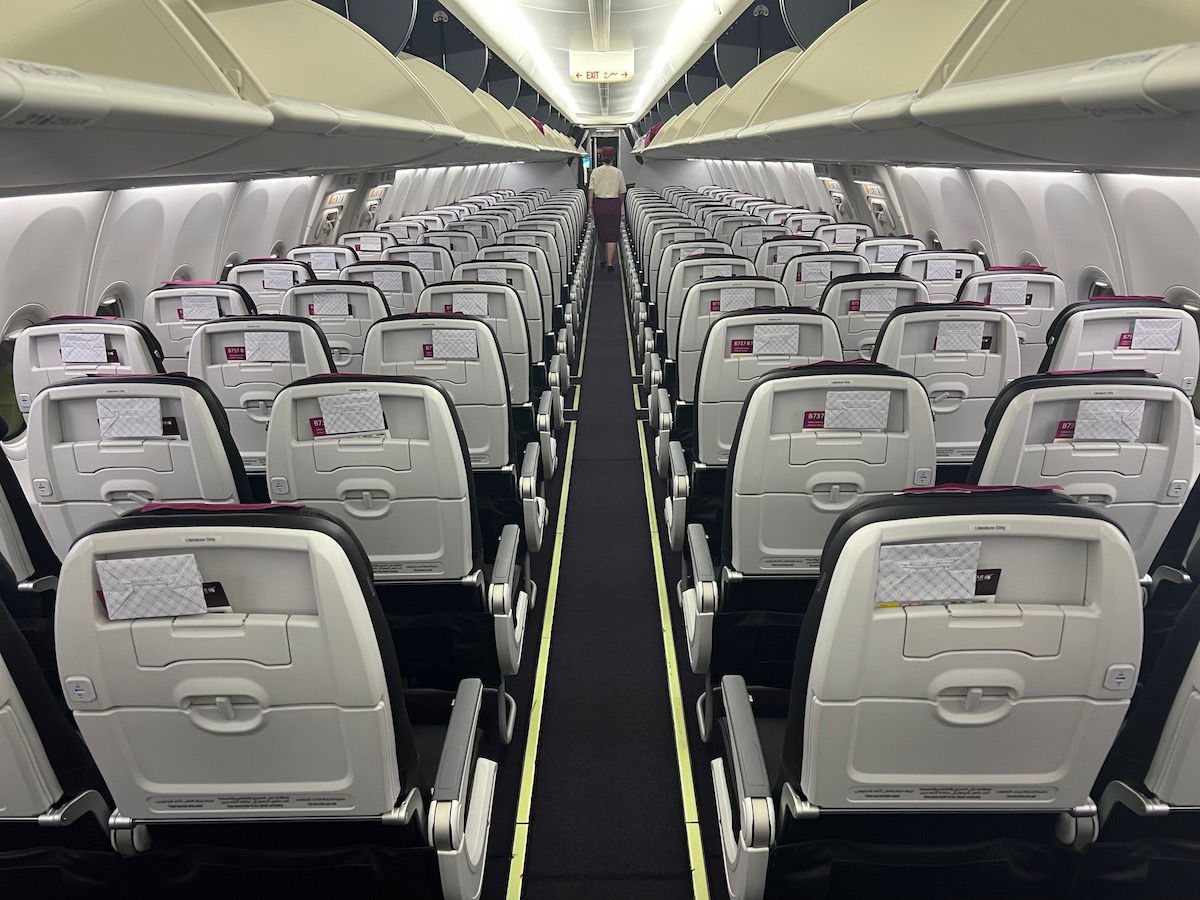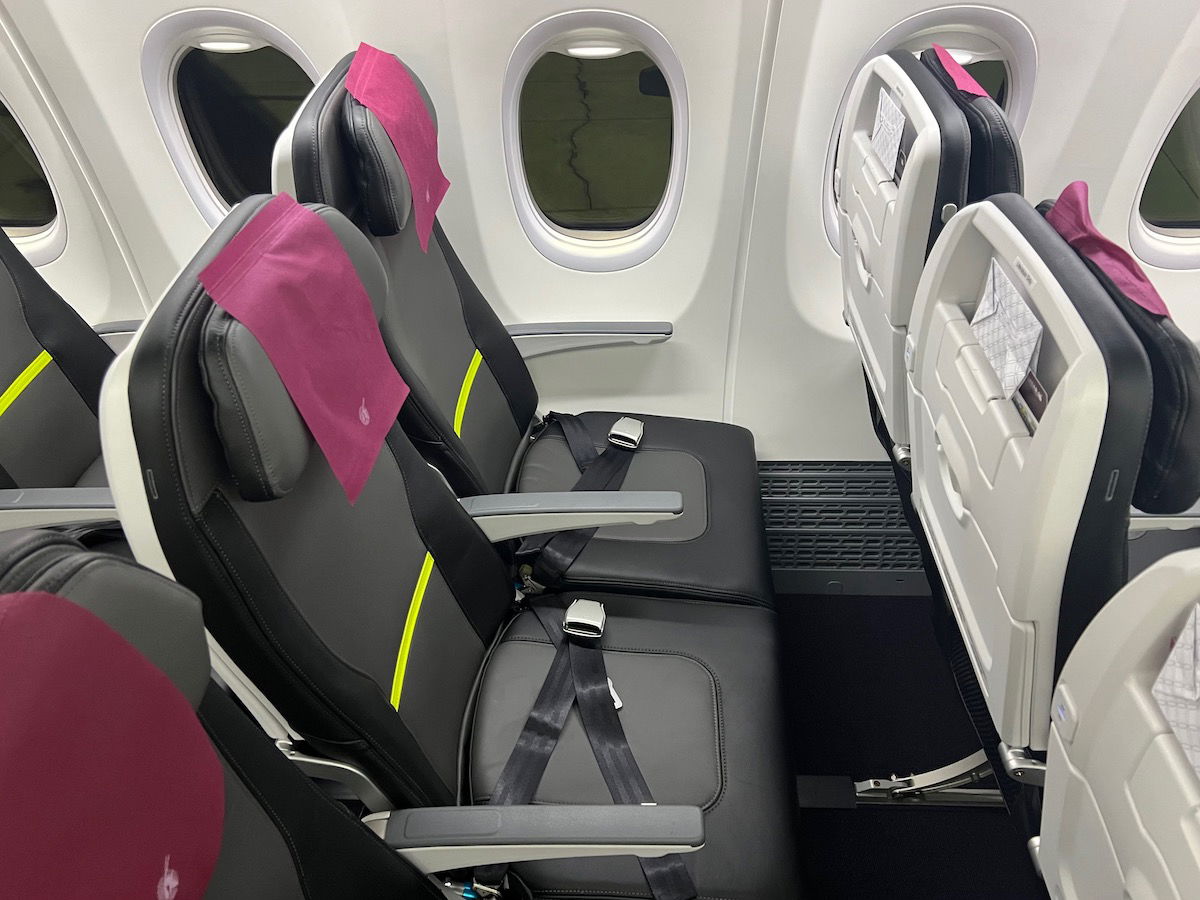 Qatar Airways' phenomenal soft product
While I'll have a full review soon, Qatar Airways' short haul first class soft product is just out of this world, the best of any airline, in my opinion. The flight was in the air for less than 40 minutes, and it was at 2AM. Despite that, there were pre-departure drinks of choice, Arabic coffee and dates, menus, towels, a meal, time for a coffee service, and more.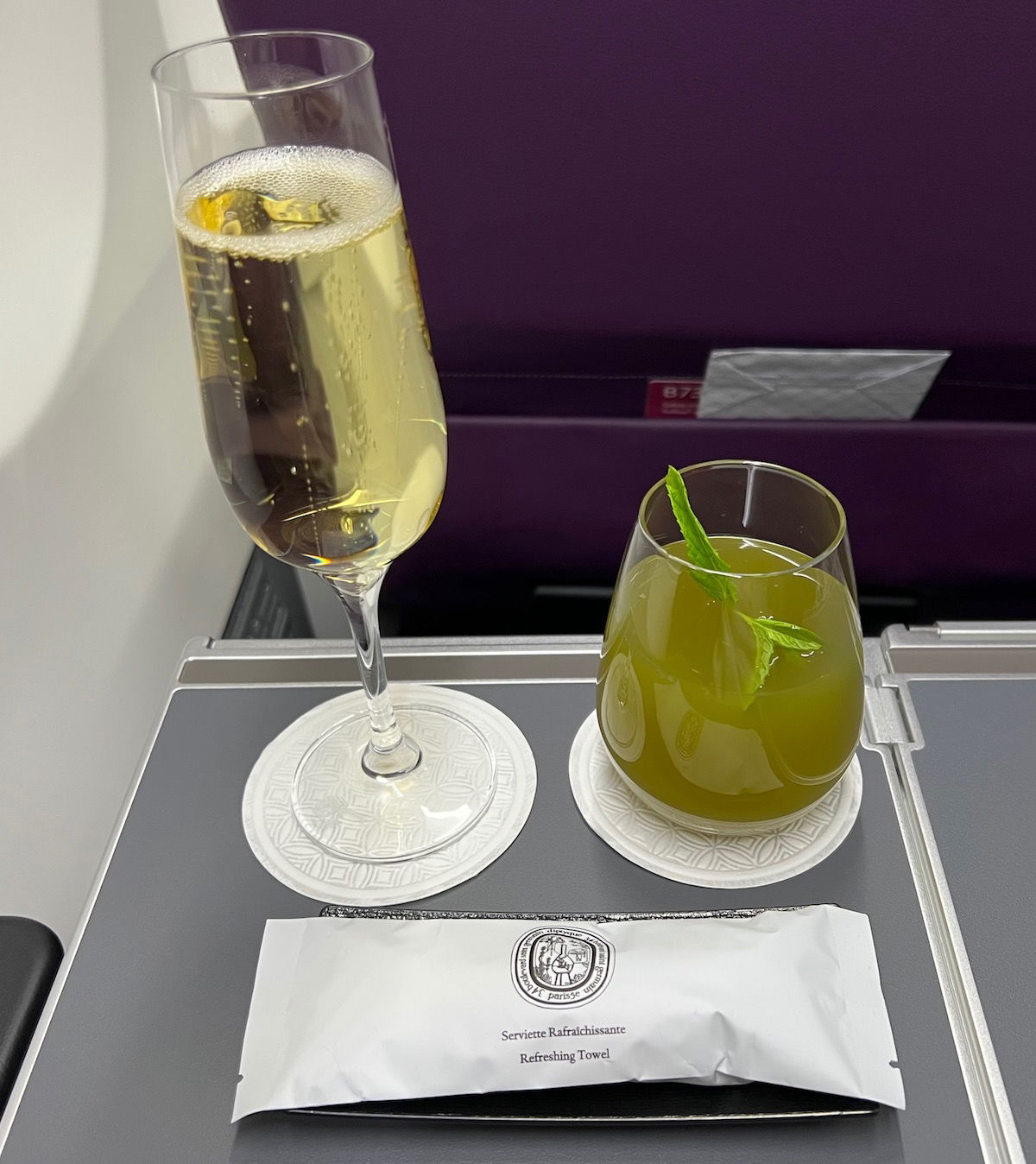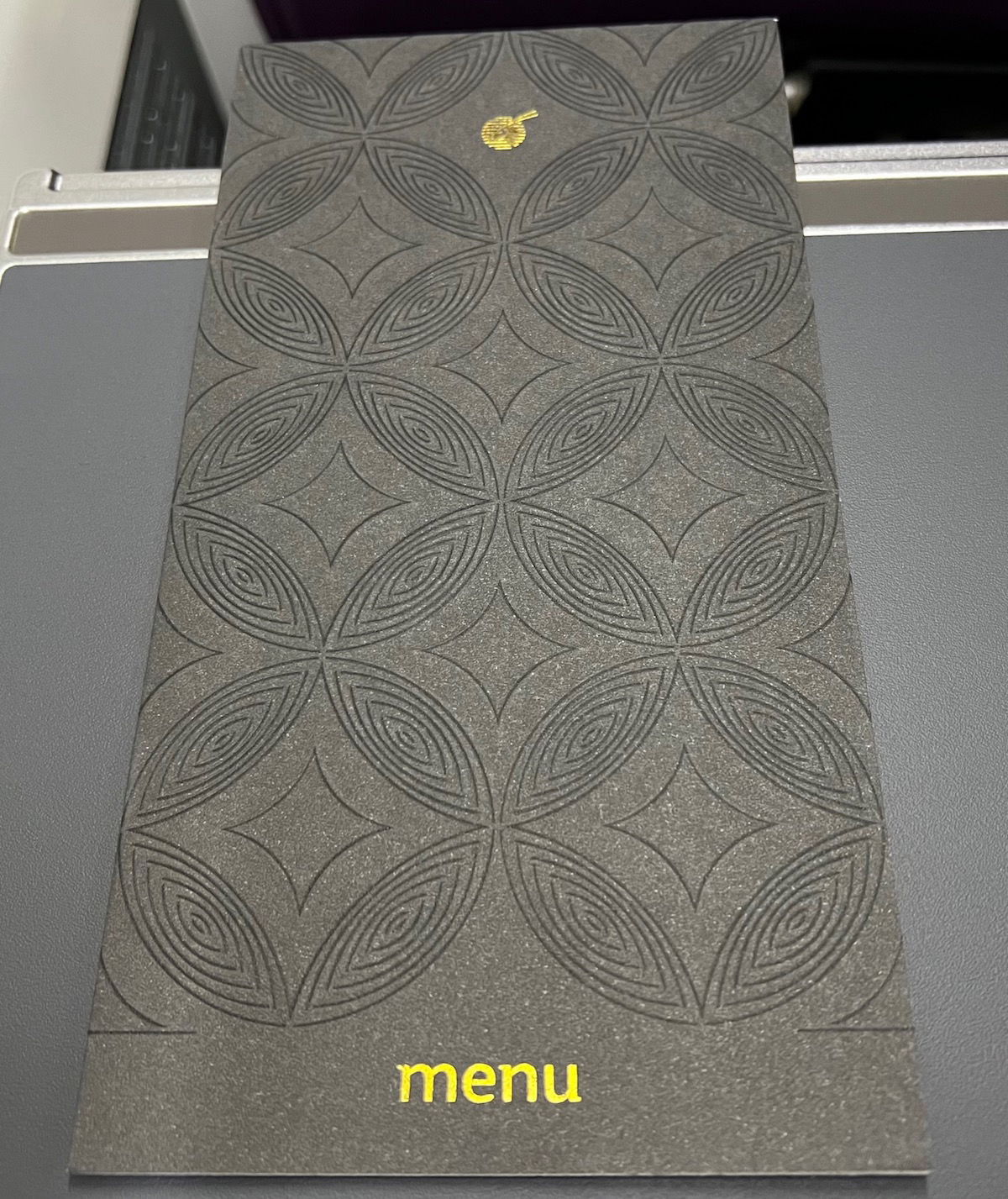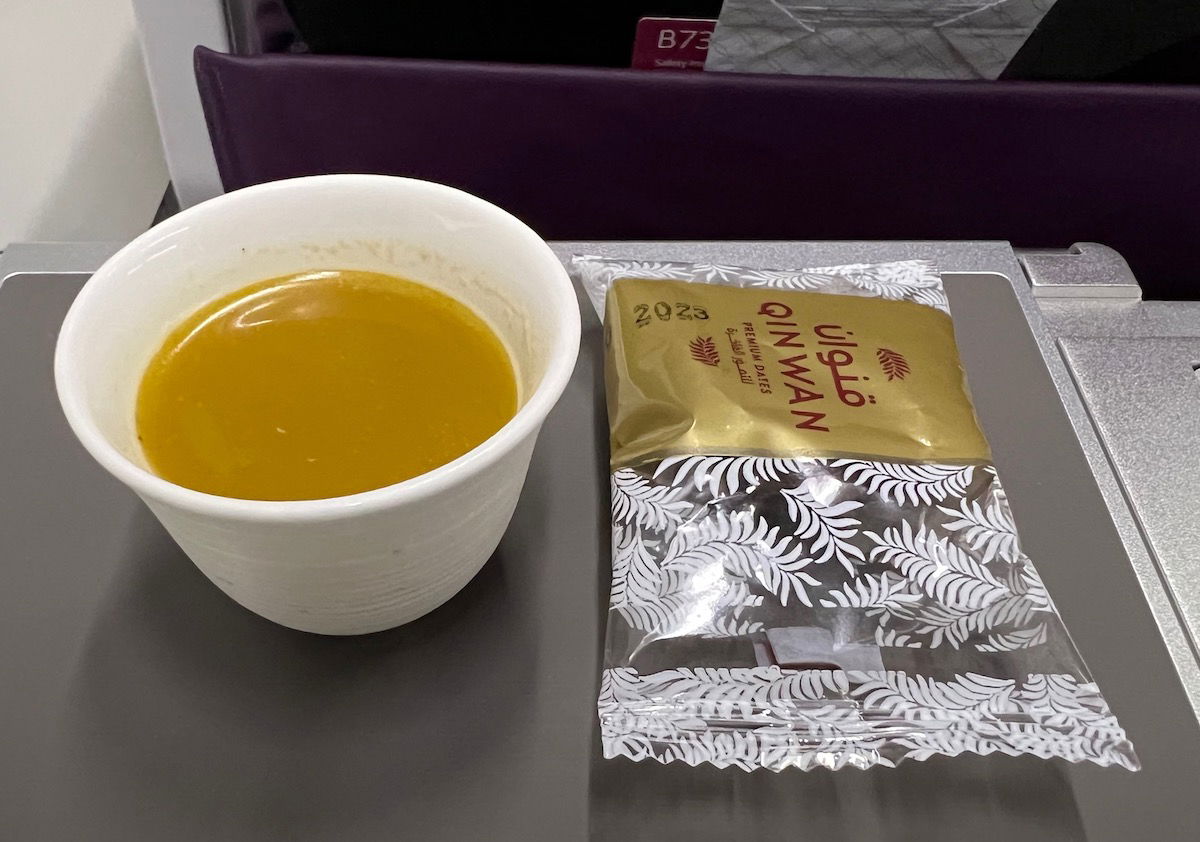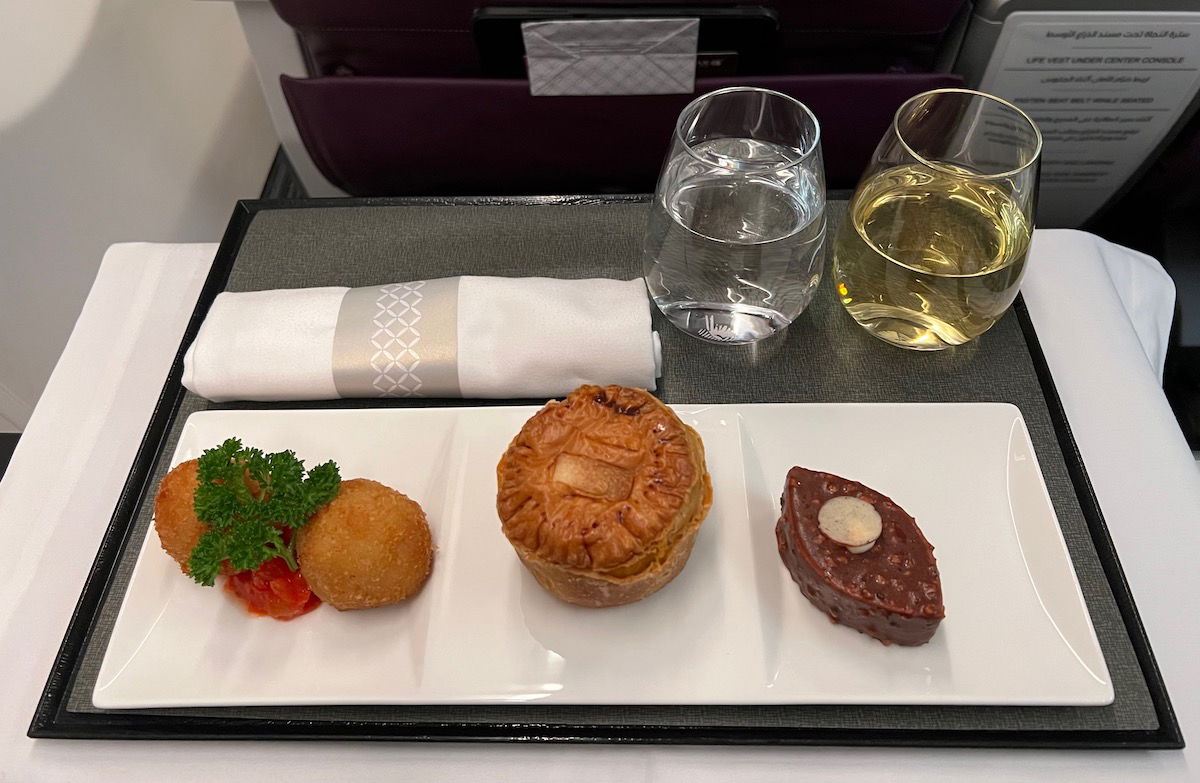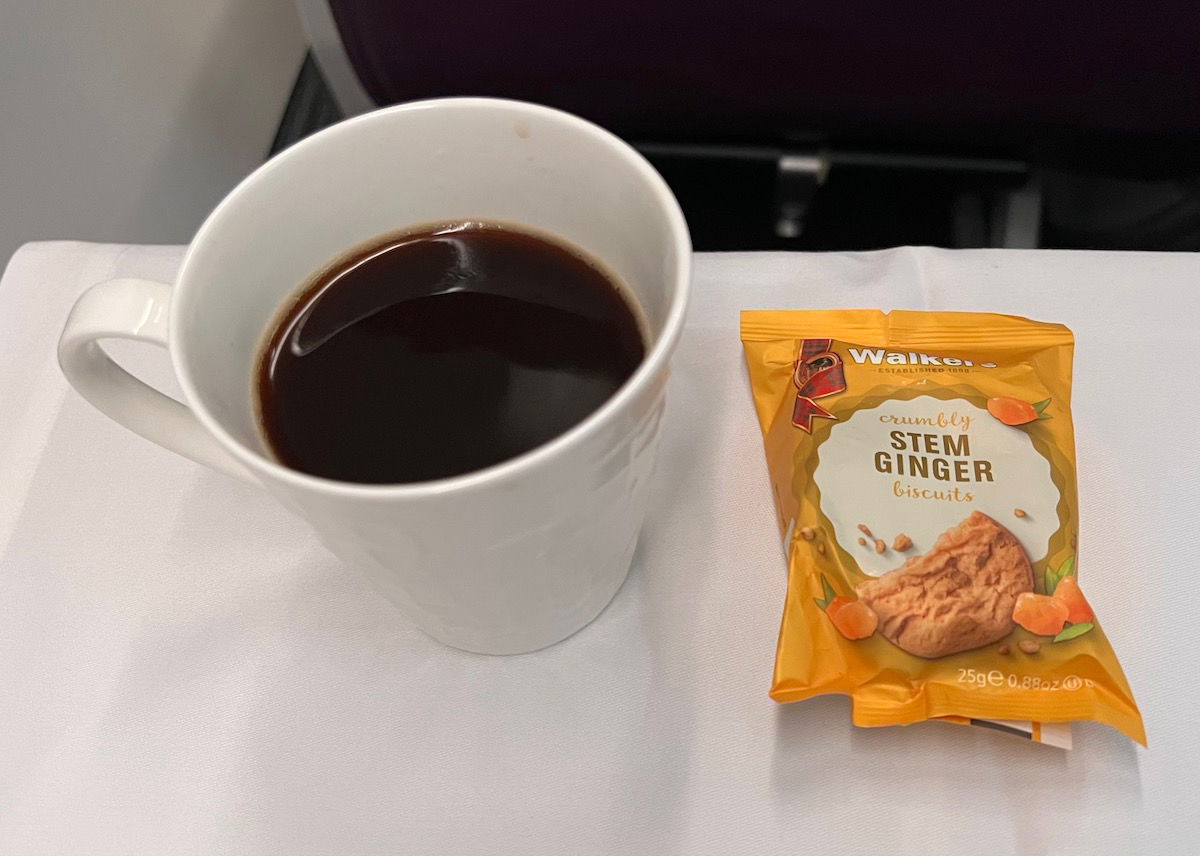 Then if you arrive at a remote stand, there's even a separate first class bus to the terminal. It didn't hurt that we had the cabin to ourselves!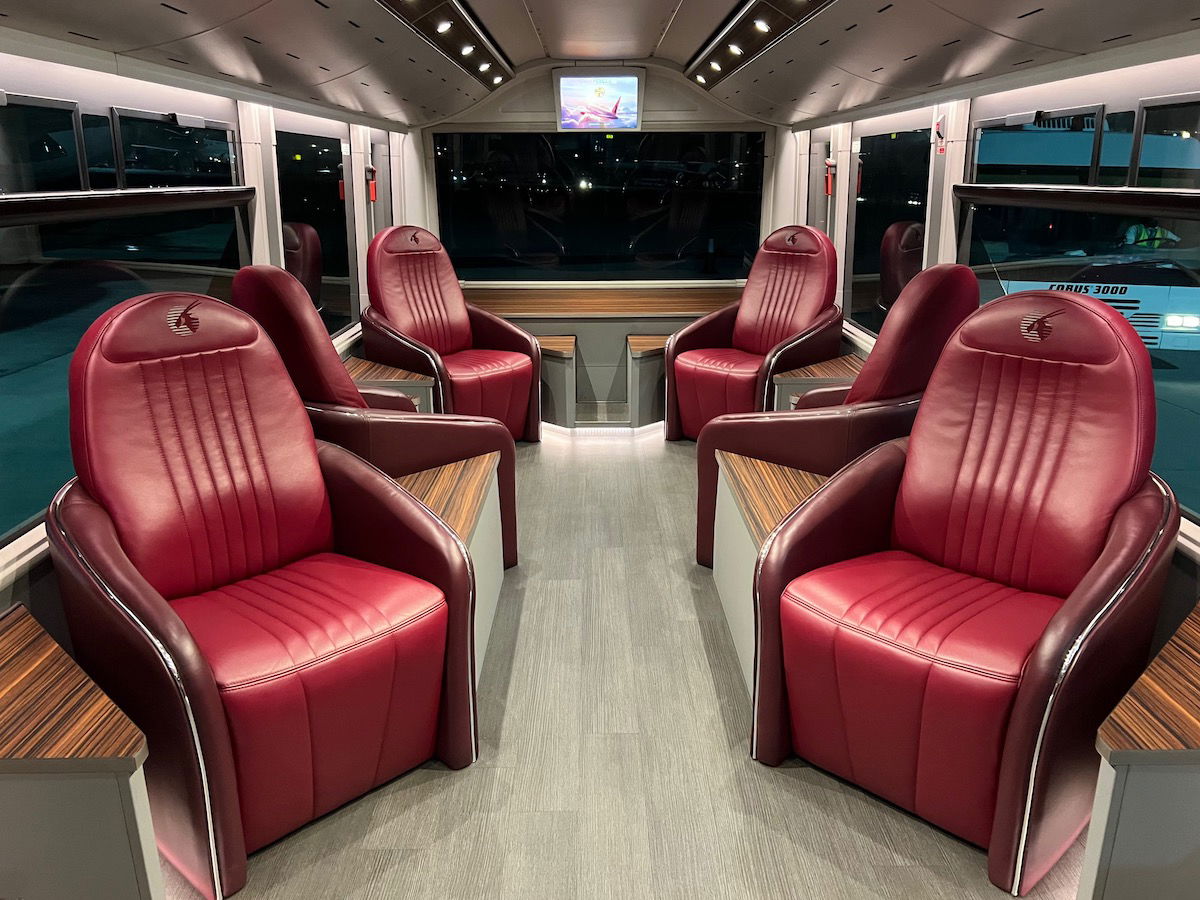 Bottom line
I'm happy I had the chance to fly Qatar Airways' intriguing new Boeing 737 MAX. The airline is taking delivery of nine of these jets in the coming months, and admittedly they're intended as a temporary solution for adding capacity. These planes were supposed to go to S7 Airlines, but due to Russian sanctions, Boeing could no longer sell these planes to the airline. As a result, Qatar Airways opportunistically picked them up.
These jets are perfectly pleasant, though I'm sure Qatar Airways' upcoming narrow body aircraft (the A321neo and 737 MAX 10) will impress a lot more.
What do you make of Qatar Airways' Boeing 737 MAXs?